This planet is pretty special. As far as we know right now, it's the only planet with intelligent life anywhere in the cosmos… We all want to do our part to protect our amazing home and this means we all have a duty to ensure we are sourcing products that have as little negative impact as possible on the environment.
Well friends, whether we are hiking, traveling, or just heading down to our local cafe for a work session – a solid go-to backpack is an essential piece of kit. Let's be honest – we all need a solid backpack for our everyday life and adventures…
Here at The Broke Backpacker, we review many of the world's best backpacks. The more backpacks I test out, the more I question how they were made and what sort of manufacturing ethics were involved. Sometimes, I am not pleased with what I learn and we have to stop promoting certain products or companies.
As issues of climate change, environmental collapse, and destructive government policies loom large on the horizon, we all need to step back and re-think how the gear we buy for our adventures impacts the planet and the people working in the production side this industry.
I know the terms "sustainable" and "eco friendly" get thrown around a lot these days. But when it comes to backpacks – how do those terms apply and which companies are making the best sustainable backpacks right now?
Well, there is a lot to learn about the world of sustainable backpacks. And this is something I've taken a DEEP dive into over the last two years. Right now, I'm working on a top-secret project – Neco backpacks – the world's most epic travel eco backpacks made out of recycled ocean plastic… Stay tuned, we hope to launch in June 😉
But till then, let me share with you guys some other quality options! We have put together this mega review of the best eco-friendly backpacks our team has tested recently. ..
What is a Sustainable Backpack?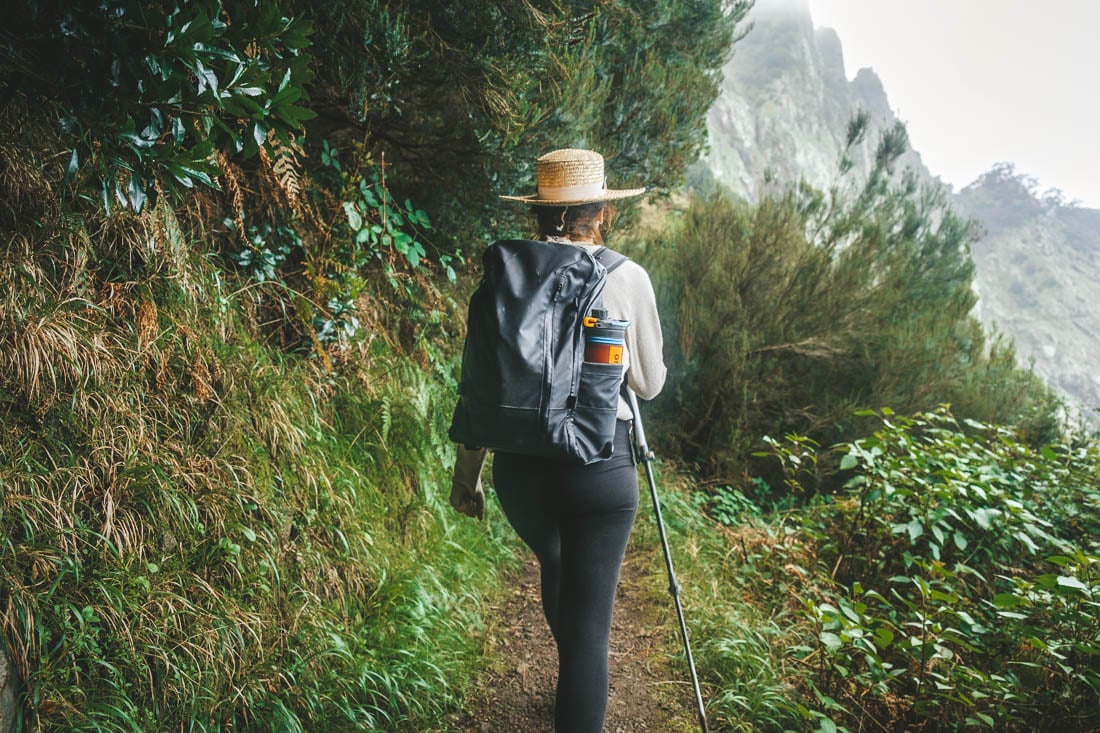 Before we get started here, I want to explain how we define the best sustainable backpacks.
In order to be considered a "sustainable" or "eco-friendly" backpack, the pack needs to have one or more of these specific criteria:
Be manufactured using sustainable methods, IE made from recycled fabric, plastic, etc.
Produced by a company with high ethical environmental standards and/or an active contribution to environmental projects (as an example: working with non-profit groups for land conservation projects.)
Free of animal products and GMO corn or soy (probably grown in a burned down rainforest).
Produced by workers paid a fair wage.
Now that we have gotten that out of the way, let's take a look at some of the best sustainable backpacks for hiking and travel that are currently on the market. Meet the eco backpacks!
Best Sustainable Backpacks: Our Top Picks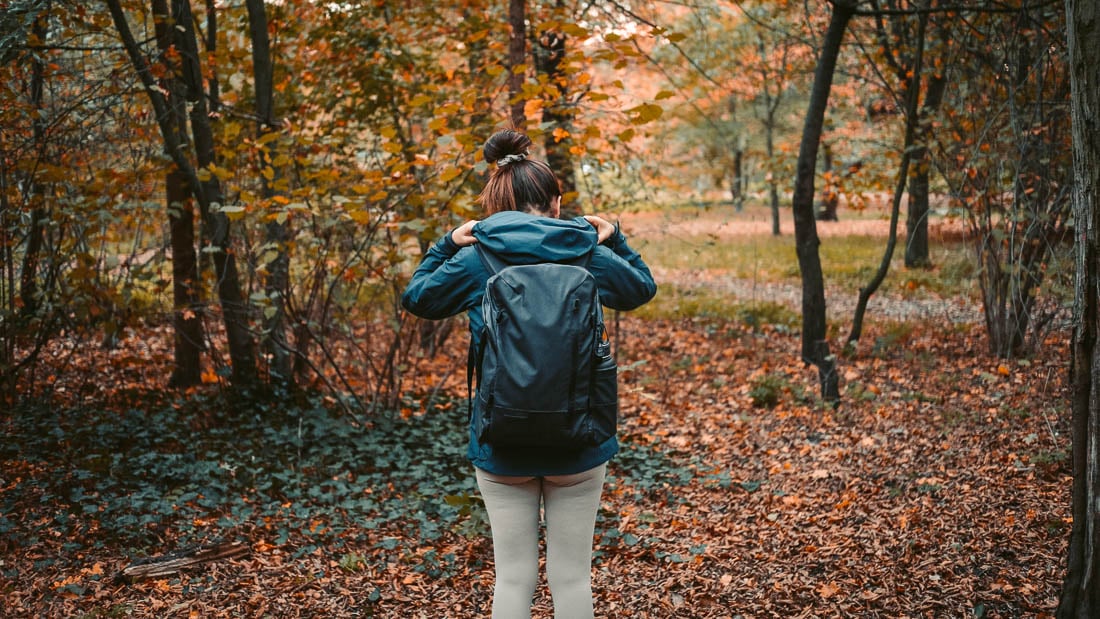 When choosing your next backpack it is important to consider:
Size and functionality – What purpose do you want this backpack to serve?
Features – Do you want more of a laptop-ready digital nomad pack or a full-sized trekking backpack?
Price – What is your budget?
Carry-On – Anything over 40 liters probably won't be accepted by airlines as a carry-on item.
Ecological footprint – Being a conscious consumer and a mindful traveler.
Need to Know
Wide range of sizes (25 – 70 liters)
Global Recycle Standard (GRS) certified recycled materials
Backed by Osprey's "All Mighty Guarantee" (free repairs under warranty)
Best Use: Travel, Hiking, Everyday bag
Earlier this year, Osprey released a whole line of sustainable backpacks. The Archeon series became the first line of Osprey backpacks to be made out of Global Recycle Standard certified recycled materials.
Now, Osprey has been making outstanding gear for decades, but this new line of Archeon packs is truly something special and different…
Depending on what your needs are, there is literally the whole size spectrum to choose from. On the more compact end, the Osprey Archeon 25 is a great everyday backpack or commuter bag.
The smaller Archeon sizes are a sort of urban-hiking pack hybrid, with minimalist features and a roll-top closure. You won't find a laptop sleeve, but the pack does have several handy side access pockets for storage and an internal frame for a more comfortable carry.
For a larger hiking or multi-day travel pack option – the Archeon 45 – 70 liter range is where it's at. The larger versions have a few more interesting features like more access points, a hydration reservoir, and a rain fly.
If you are in the market for a technical, fully-featured hiking backpack with lots of storage options and exterior fixing points, the Archeon falls short when compared to Osprey's flagship Aether series.
Pros
Wide size range
Durable, tough materials
Comfortable fit
Cons
No laptop sleeve
Roll-top closure takes a bit of getting used to
Not as fully-featured as some of Osprey's other hiking packs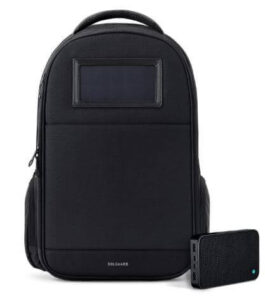 Need to Know
Made from up-cycled ocean plastic
Anti-theft
Solar charging bank compatible (power bank included)
Best use: Travel, everyday bag
When we did a full review of the Solgaard Lifepack last year I was really impressed by the idea of having a solar power bank integrated (and fully functional) into a backpack design.
Having mobile solar charging capabilities is pretty handy for a variety of reasons – but perhaps the best part of the Lifepack is that you don't have a clumsy solar panel dangling from your backpack. The solar bank sits in its own compartment, exposed to outside light, charging as you walk around.
The Lifepack is outfitted with a padded pocket your laptop and has individual storage compartments for storing all of your day-to-day bits and pieces.
Being made from recycled ocean plastics, the Solgaard Lifepack earns big sustainable backpack points as one of the few backpacks on this list who employ both solar power and ocean plastic to create a sleek, functional backpack for digital nomads and travelers.
Pros
Excellent organizational features
Optimum size for a day pack
Integrated solar battery bank
Cons
No hipbelt
Too small if you have lots of camera gear
No real waterbottle pocket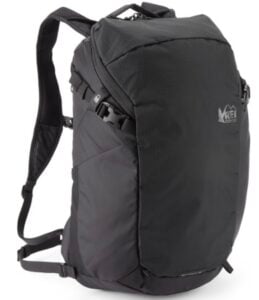 Need to Know
Made with rugged, recycled ripstop nylon (18 liters)
Full-zip access for improved accesability
Hydration pack compatible
Best use: Travel, day hiking
The REI Ruckpack 18 Recycled Daypack is a conventional daypack built to handle years of abuse whilst carrying the daily essentials. Each pack earns its eco-cred by employing recycled nylon fibers.
18 liters is probably the minimum size that I would travel with as my day hiking or "in-the-city" pack. REI still managed to squeeze in some handy features here like a hydration reservoir, lockable zippers, and a Nalgene-sized water bottle pocket.
For a smallish day pack, the carry feel is aided by padded shoulder straps (though not as padded as you will find on a full-sized backpacking backpack).
Perhaps best of all, this backpack is affordable. The price varies depending on if you catch this pack on sale, but the normal retail price is around $65 – which is hard to beat for a backpack that you could potentially use every day.
For a bare-bones essential sustainable backpack that won't break the bank, the REI Co-op Ruckpack 18 Recycled Daypack is a fine choice.
Pros
Very affordable
Comfy fit
Features a laptop compartment
Cons
Too small for adventures where carrying lots of stuff is necessary.
Shoulder straps can dig in if the pack is overloaded.
No way to stash hip belt straps when not in use
Need to Know
Recycled ballistic nylon base for durability
Comes in various sizing options
Versatile carrying options: backpack or duffel
Best use: Travel, expedition/base camp bag
Before you say "Hey! That's a duffel bag, not a backpack!" I can tell you that you're not wrong – because this bag is both a duffel and a backpack.
Featuring removable shoulder straps (so it can be carried like a backpack or a duffel bag), the REI Big Haul 60 Recycled Duffel is a handy option for road trips, extended vacations, and even as a primary base camp bag whilst on an expedition or a long-distance trek involving porters.
Depending on how much gear you have, the REI Big Haul series comes in a few sizes, all the way up to 120 liters if you are looking to pack a ton of gear and equipment.
The bag storage features are all (literally) tied together with an interesting compression strap system that helps to maximize the space available.
Like other REI bags made from recycled materials, the Big Haul 60 contains materials that meet the Bluesign criteria – a certifying body that ensures products are meeting requirements of the strictest and most advanced regulations worldwide concerning sustainable textile production.
Pros
Easy to pack and organize
Tough and very practical for a variety of travel scenarios
Versatile carry options (Shoulder straps/duffel handle)
Cons
Not a proper hiking backpack
Big sizes can easily go over airline weight limits if over packed
Limited individual pockets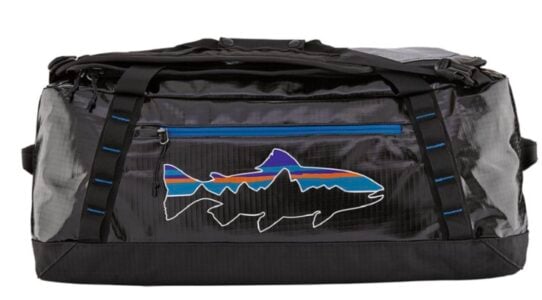 Body fabric, lining fabric and webbing are all recycled material
Well padded and re-enforced bottom pannel
Versatile carrying options: backpack or duffel
Best use: Travel, expedition/base camp bag
Like the REI Big Haul Duffel above, the Patagonia Black Hole Duffel 55L is one of the best sustainable backpack duffel hybrids out there. Patagonia has been making this bag for years now, and it is tried and tested across the globe.
In keeping with Patagonia's strong environmental ethos, the new version of the Black Hole Duffel incorporates recycled materials into most of the main construction design.
So why go with the Black Hole vs the REI Big Haul bag mentioned above? It's actually a hard call really as the two bags are quite similar. The major difference I found lies in the thickness of each bags material. The Big Haul employs 400-denier recycled ripstop whilst the Black Hole uses a beefier 900-denier post-consumer recycled ripstop polyester.
Overall the Patagonia Black Hole is the tougher bag (though the base of the REI Big Haul offers,1680-denier recycled ballistic nylon.) Both have similar strap systems, daisy chain tie-on options on the exterior, and limited extra pockets.
Strictly from an environmental point of view, Patagonia wins every time as they are likely the most environmentally active big company in the outdoor space.
Pros
Super tough: perfect for an expedition haul bag
A majority of the bag is made of recycled materials
Comes in a big range of sizes (25 – 100 L)
Cons
Can feel a bit stiff when brand new
55 liters too big to be a carry-on
Limited internal pockets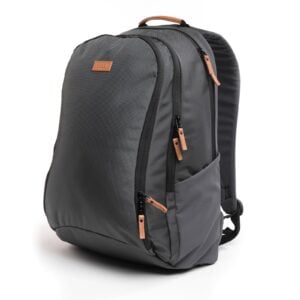 Meet the best EDC pack for university Commuters: Gulu Made Motivator Pack
Best Use: Going to work and urban, travel
Weight: 2 pounds
Liters: 25 liters
Rain cover included: No
Gulu Made are a socially conscious ethical start up based in Uganda who's credentials are amazing. The team who work at Gulu Made all trained to sew in the aftermath of Joseph Kony's horrible civil war. They now leverage their skill to make beautiful bags and to build a future for themselves and their families.
The pack itself has certainly impressed me. It zips down into 3 main storage compartments so you can organise your files, gym kit and lunch as you see fit and there is a dedicated laptop sleeve. There is no front pocket, but the pack does have 2 water bottle slide in pockets at the sides. Best of all, the bag is lined with beautiful colourful traditional African fabric.
This pack is great for commutes, day trips and is roomy enough for short stay vacations. It could also be used for easy day hikes but does not have a hip/waist support belt so is perhaps less suitable for strenuous mountain treks.
The pack also comes with a lifetime guarantee which is testament to the sheer quality.
Pros
Lovely internal fabric
Great storage layout
Handmade in Uganda by War Survivors
Lifetime Guarantee
Cons
No hip belt
No front/lip pocket
Need to Know
Made from ECONYL fiber, which is recycled from discarded fishing nets and other nylon waste
3 pockets plus the main compartment
Padded laptop sleeve (fits 13-inch laptop)
Best use: Day pack, everyday bag
How cool is it that Pacsafe has created a bag out of old fishing nets? Pretty damn cool indeed. Thus I bring you another fun day-use sustainable backpack…
Pacsafe outfitted this thing with just about every feature you can reasonably expect from a backpack of this size (15 liters). Apart from the main backpack "belly" there are 3 additional pockets for storing your various bits and pieces plus a water bottle pocket.
The MetroSafe LS350 ECONYL Daypack also has interesting security features like RDIF blocking technology.
For me personally, 15 liters feels small if I want to carry anything other than snacks, water, my wallet/phone, etc. That said, many people don't have a need to carry around a camera body, four lenses, and a drone like I do, so from that perspective, the minimalist approach can be enticing.
The MetroSafe LS350 ECONYL Daypack isn't very big but it also is not too bulky either, making it ideal for short hikes and getting from point A to B in the city.
Pros
Well built and durable
Good storage options for a pack this size
Made from fishing nets – come on.
Cons
Maybe too small for carrying anything other than essentials
Can't fit 15-inch laptops
Water bottle pocket too small for 32 oz. Nalgene bottles
Need to Know
Features 100% recycled 40-denier nylon canvas shell
Expands to 45 liters, collapses to 35 liters
Laptop sleeve plus plenty of room for large camera kit
Best use: photography, travel, weekender bag
Alas, we finally have a legit camera bag. The Peak Design Travel Camera Pack 45 liter is a fully-featured sustainable backpack specifically designed for photographers.
Expandable to 45 liters and collapsible to 35 liters, the Peak Design Travel Camera Pack is large enough for extended weekend missions when you need to pack some clothes, your laptop, plus your camera kit.
Security features are found everywhere and Peak Design went so far as to say that this backpack is "pickpocket-proof." Hidden stash pockets (for cash/your passport) plus clever hideaway zippers don't make it easy on thieves.
If you are wanting to use this pack as a camera bag only, you'll have plenty of room to work with. Like many camera cube designs, the "camera zone" of the pack has a network of customizable dividers for lenses, a camera body, a drone, batteries, etc.
The main camera body I use is a Fujifilm X-T3 and it fits fine here (along with four lenses). I can't say if a full-frame Canon body with a massive lens would fit, but it looks like it should do, especially if you detach the big telephoto (something like a 100-400 mm) from the camera body.
Overall, the Peak Design Travel Camera Pack is a interesting pack for travelers packing a big kit plus clothing and other essentials.
Pros
Multiple access points (back, side, bottom)
Big enough for extended travel
Shell is made from 100% recycled material
Cons
Unproven as a trekking camera bag
No rain fly (though Peak Design claims it is waterproof)
Heavier than many other 45 liter packs out there
Need to Know
Constructed from 420-denier high-density nylon/135-denier high-density 50% recycled polyester
58 liters
Breathable, 3D perforated foam breathable back panel with adjustable torso length
Best use: Backpacking
One of my favorite sustainable backpacks – you might be thinking "Wait…Gregory? This is a sustainable backpack?".
Yes, indeed it is as the Gregory Paragon 58 is made using 135-denier high-density recycled polyester. It may not be made from 100% recyclable materials, but we will give it a pass for now.
I used the Paragon 48 for a few years including when I traveled in Pakistan some time ago. After hundreds of trail miles logged, I can say that the Paragon series packs are one of my top all-time favorite backpack picks.
This backpack is the best hiking backpack on this list and apart from being eco friendly, it offers an all-around solid design, fit, and carry capacity.
The back panel has just the right amount of curve to encourage airflow even on sweaty, steep ascents. With 58 liters, you can definitely pack in enough gear for 2-3 days out – and for thru-hikers out there this is the kind of backpack candidate I would consider for a big trek like the AT or PCT. (I hiked a majority of the AT with a 70-liter pack).
The Paragon 58 has a pocket for every purpose too, including hip belt pockets, a top lid pocket, sleeping bag compartment, and a hydration reservoir zone.
Not too much negative to say here, the Paragon 58 is just a bread and butter hiker pack.
Pros
Very comfortable for long-distance backpacking
Great storage options and exterior strap features for hauling extra gear
Excellent suspension system for carrying big loads
Cons
Too big for a carry on
No laptop sleeve (it's a hiker pack, duh!)
Pack will not hike the trail for you
Best of the Rest… Even More Epic Sustainable Backpacks
Need to Know
Made from 50% recycled/50% high-tenacity fabric
Full-sized 28-liter day backpack
2 main compartments for storage
Best use: Day hiking, travel, everyday bag
Another great eco backpack from Patagonia worth noting is the Patagonia Chacabuco 28L Pack. This day pack is significantly larger than my previous day pack recommendations and is the ideal candidate for hikers/commuters looking for more gear carrying capacity.
The Chacabuco 28 is a no-frill pack capable of housing a 15-inch laptop, which can be accessed from a pocket separate from the main pack "belly".
This women-specific pack is decently padded and well ventilated, offers storage options in all the right places, and generally ticks the boxes most day hikers are after from a feature and comfort point of view.
I would have liked to have seen Patagonia include a rain cover here, as they are pretty crucial to have for any hiking-specific backpack. While buying a rain cover separately is annoying, the Chacabuco 28 will be well-equipped for harsh weather on your commute or up a high mountain pass once paired with a rain fly.
Pros
Individual padded laptop sleeve
Balanced suspension and decent breathability
Large enough for serious all-day hiking missions
Cons
No rain cover
Water bottle pocket can push into laptop compartment when in use
The laptop compartment can't be locked
Need to Know
Made with 500-denier recycled polyvinyl butyral (RPVB)
40-liters
17 in. laptop compartment
Best use: Travel
Ok, so buying a sustainable backpack for hiking or expeditions might be overkill if you're not the type. Maybe you must want a purpose-built travel pack instead.
The Eagle Creek Wayfinder 40L is one of the few travel-specific backpacks out there made using recycled materials. I'd describe this pack as a "made-for-digital-nomads" sort of deal.
40 liters might be too small for some travelers though. Before you plan out your next long-term backpacking trip, consider this: if you are going for the minimalist approach (laptop, shorts, a few shirts, sandals, other essentials) then 40 liters you can get away with. Otherwise, the Wayfinder 40 makes a great secondary pack if traveling with a slightly larger second main backpack.
The Wayfinder 40 literally has pockets everywhere – three outside, plus two main compartments. Finding the right place for your stuff won't be a problem; remembering what you stashed where might be though!
As mentioned, this backpack is not intended to be used as a hiking pack. In terms of other travel backpacks made by the likes of Nomatic or AER – the Wayfinder 40 is nearly there in terms of performance, costs less, and is eco-friendly (well, at least eco-friendlier).
Pros
Tons of storage pockets
Fits a 17-inch laptop (though who uses a 17-inch laptop)
Padded, ergonomically shaped shoulder straps with an adjustable sternum strap, plus a hide-away hipbelt and comfy back panel
Cons
No rain fly (when will they learn!?)
Lacking side compression straps
Water bottle pocket not compatible with larger bottles if pack is very full
Want to save the world?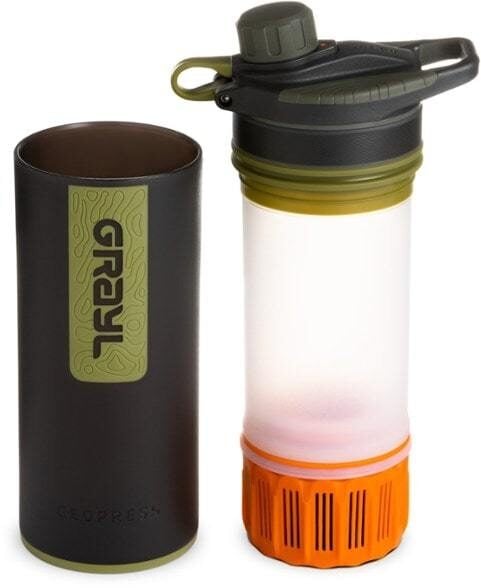 Since we are on the topic of sustainable backpacks – here is another great piece of kit to help be a part of the solution.
The GRAYL GEOPRESS water bottle is the ONLY all-in-one filter water bottle setup you'll need. Whether you need to purify the water from a hostel sink in Kathmandu or a stream trickle in the Andes, the Geopress has got you covered.
Read our full review of the GRAYL GEOPRESS!
How to Choose a Sustainable Backpack
As travelers, hikers, digital nomads, and environmentalists – we all have different needs. Choosing a backpack from this list is not rocket science and it doesn't have to be an anxiety-inducing experience.
From the various options listed above, you'll have to ask yourself what exactly you are in the market for.
A new day pack? A long-haul backpacking pack? A photographer-friendly camera pack? These are all pretty specific backpack genres, so if you take a minute to reflect on what you're after, making a section should be easy.
Companies like Patagonia are leading the fight against environmental destruction from big business and political machinery – and they have our full respect in terms of being an eco-conscious company.
Other big brands like REI are on their way there too in terms of broad minimum eco-standards, but as you search for a sustainable backpack or any piece of outdoor gear – keep in mind what kind of company you are supporting and how the gear you are purchasing is being produced.
Is Recycled Material as Tough as Brand New Material?
You might be wondering if a product is made from recycled fishing nets, will it be as strong as a material that has had no former life before.
From all of our product testing, I'll say that there is no evidence to suggest that recycled fiber/fabric is any less tough or durable than brand new material.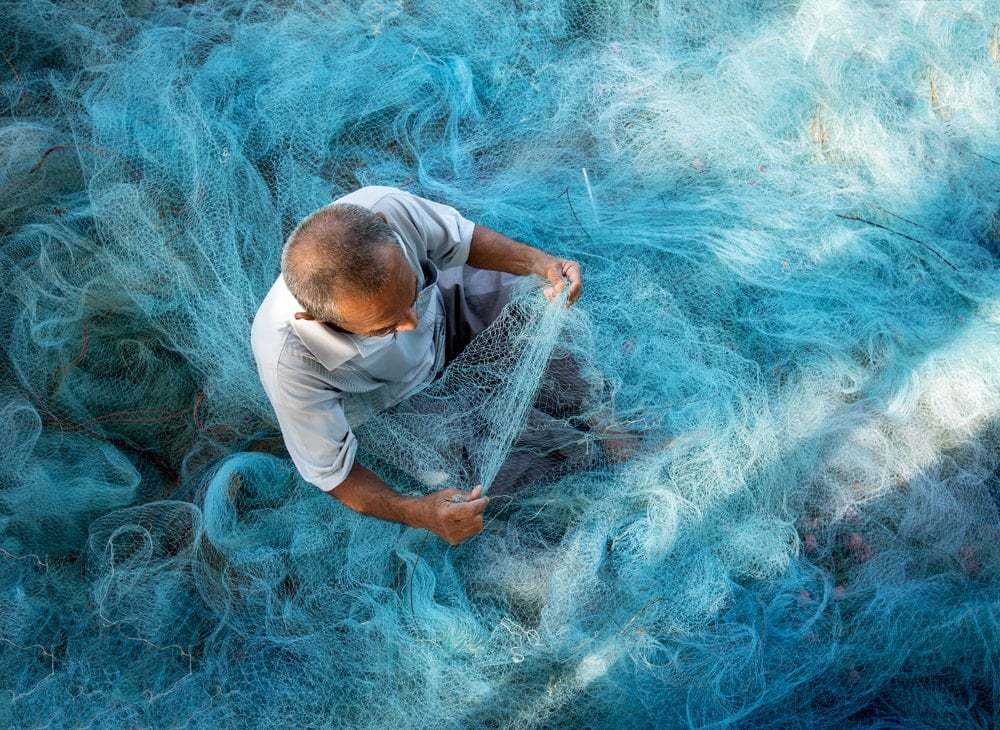 The fabric recycling process involves a complete transformation of the old material into a like-new material manufactures can use to produce backpacks. From a toughness perspective, you can have full confidence in recycled fabrics.
Fair Wages and Eco-Friendly Backpacks
When we are talking about sustainable backpacks, we are not just considering what is good for the earth. The people and the conditions they work in are equally important factors to consider.
More and more outdoor gear companies are embracing fair wage practices that go hand in hand with the production of sustainable backpacks. For decades, some people working in factories in a developing country have been desperately exploited by the garment industry players in the west.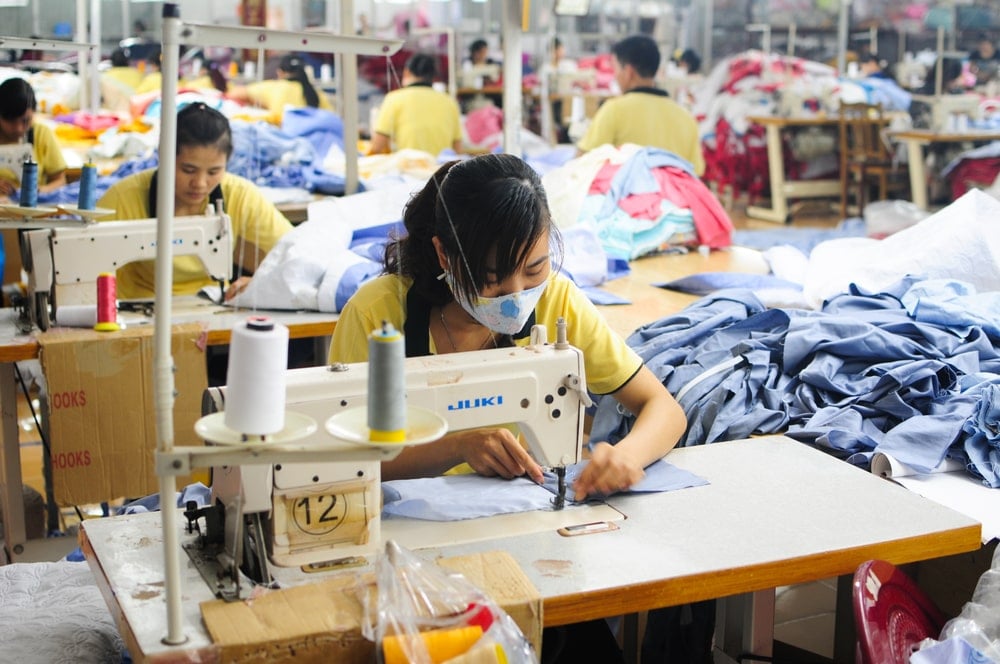 When seeking out your next eco-friendly backpack purchase, look for brands who are transparent about how they employ and support their workforce abroad.
We at The Broke Backpacker love inexpensive, quality products as much as anyone – but if the price tag of a piece of gear seems higher to you, try to remember the individual who created it – consider the human element that went into making the beautiful new backpack you are after.
Neco Backpacks Coming Soon…
2021 is going to be an exciting year for The Broke Backpacker team! For over two years now, I've been working with my good buddy Aaron on a top secret project… Neco backpacks. Our very own line of truly epic and truly sustainable travel backpacks.
The goal of project Neco is to produce the world's best travel backpack made from recycled ocean plastics. The backpack is currently in the final stages of design (we're on prototype number 8!) and we are aiming to launch our Kickstarter in June, stay tuned friends!
Look for the launch of Neco in 2021!
Best Sustainable Backpacks by Comparison
Best Sustainable Backpack Line
Best Sustainable Backpack Line
Osprey Archeon Series
Liters > 25 – 70
Weight > 2.97 – 6.1 lbs
Best Use > Travel, Hiking, Everyday bag
Best Solar Charger Backpack
Best Solar Charger Backpack
Solgaard Lifepack
Liters > 18
Weight > 4 lbs
Best Use > Travel, everyday bag
Best Eco-friendly Duffel Bag
Best Eco-friendly Duffel Bag #2
Best Eco-friendly Commuter Pack
Best Sustainable Camera Backpack
Best Sustainable Hiking Backpack
Best Sustainable Hiking Backpack
Gregory Paragon 58
Liters > 58
Weight > 3 lbs. 9 oz.
Best Use > Backpacking
Final Thoughts on the Best Sustainable Backpacks
There you have it guys – you are now equipped with some solid buying advice when it comes to choosing some eco-friendly luggage.
Becoming a responsible consumer does not happen overnight. It takes effort and awareness to actively seek out brands and products that are doing the right thing for the environment and their workers.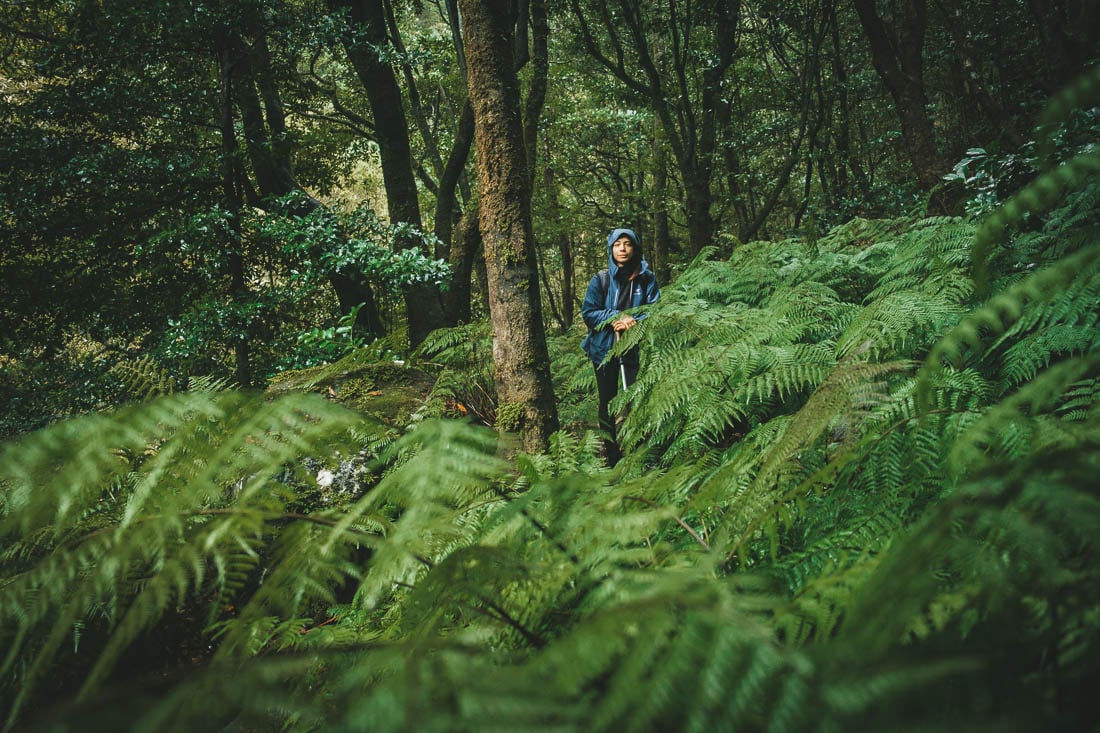 Thankfully though, the outdoor industry is trending towards offering more and more sustainable backpacks and eco-friendly outdoor product options – which is defintiley a good sign.
Do you have direct experience with a backpack on this list? Did we miss a wonderfully-designed sustainable backpack that you love? Let us know in the comment below!
Want to support the site? We work hard to put out the best backpacker resources on the web, for free! It's all about helping out our tribe of awesome backpacker readers [that's you!]. Want to know how you can show your support – find out here!
For the sake of transparency, some of the links in our content are affiliate links. This means that if you book your accommodation, buy a backpack, or sort your insurance, we earn a small commission at no extra cost to you. I only link to stuff I've actually used and never endorse products or services that are not up to scratch. Thanks for your support.