There's a new sheriff in town, and it ain't Reggie Hammond. Stubble & Co. pushed, shoved, and shaved their way through a crowded field of backpack makers to find themselves on the shoulders of modern travellers and gearheads alike.
The company's main claim to fame is its robust outer layers that bring real waterproofing down to a more affordable price point. The Tekwax canvas and recycled PET fabrics feel different than other bags, and they'll help you keep your gear dry and safe for years to come.
Tekwax is found on Stubble & Co's backpack models, providing water and dust resistance that gets 'er done. But to these guys, that'll do will never do.
Some models take things a step further with the power of PET. This sustainably sourced fabric makes the company's most robust backpacks virtually waterproof. It's the final push for their pledge to provide the best backpacks for pretty much any adventure you can throw at them.
Each one of these backpacks can handle the city and stop just shy of being full-on hiking packs. Each model has a cushy back support system with their mountain logo subtly adorned against the mesh, but the bag is not quite designed for the backcountry.
Instead, it works much better in the urban jungle and also functions strongly when the line between the two starts to blur. The tough exterior Stubble & Co employs works well in the airport and can also handle itself on a Tuk-tuk and the odd trek a backpacking trip often throws up.
The final touch of these hardy traveller packs is the muted exterior. The company makes many bags that mean business even when travelling for pleasure. Let's take a closer look at the line-up.
Who Are Stubble & Co? About The Brand
Stubble & Co. is all about that action. From the jump, Stubble & Co. sought to position their bags for modern travellers, folks who might spend a few months on the road or gamble on working from their backpacks. And yet, the core of this brand is way more than terminal commutes.
The brand gets through security and also sneaks through the back alley, fitting in well in crowded streets and busy metros. Most of their backpacks come in a few different monotone colour choices, but their main selling point is the crisp All Black. There is no better backpack colourway than a solid black, especially if you don't want your backpack to stand out in the crowd or get dirty easily.
These bags blend in well, but the secret is slowly getting out. Look closely, and you'll see the mountaintop logo plastered on the backs of motorcycles, nestled atop raincoats, and speedwalking pedestrian bridges from continent to continent.
Each of the Co.'s backpacks and luggage options aims to conquer every adventure and day of hard work it comes up against.
The best part is, Stubble & Co. didn't just create waterproof, stylish, professional backpacks, they created those bags sustainably, with workforces supported by the Business Social Compliance Initiative. There's nothing better than companies who know that to be truly sustainable, you've got to treat your employees with respect.
The environmental commitments look good, the company ethos is moving forward, and there is even a repair shop to stretch out your bag's lifespan. All that's left to do is make a few great backpacks. Here's what Stubble & Co came up with.
Stubble & Co Bags Reviewed
These bags can handle the rain, see through the dust, and bounce off bruises. Most options use the exact same materials: a blend of recycled PETs or Tekwax canvas protecting the exterior and YKK zippers to batten down the hatches.
From hip belts all the way up to 60-liter duffels, each bag brings similar industrial functionality to the way the bag looks, feels, and stows. Beyond the brand ethos, each option takes a niche shape and steps Stubble & Co into new scenarios.

Do You Want to Travel FOREVER??
Pop your email in below to get a FREE copy of 'How to Travel the World on $10 a Day!'.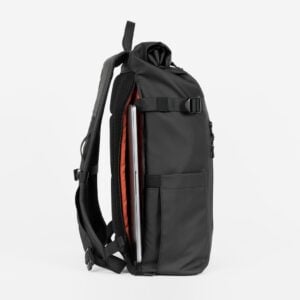 SPECS
Volume (L): 20
Dims (In): 17 x 12 x 6
Best Use: Getting out there.
Price ($): 145
The best way to start any day is with forward movement. Use The Roll Top and hit the door without hesitation. Rain, sleet, snow, or shine, this sleek backpack will be as ready as you are. A sensible reflective trim even helps you attract traffic's attention in low visibility.
Once you march through the revolving doors, adjust your jacket and get to work. The exterior rocks some of the industry's best water protection, while the interior keeps everything organised. It's a work-life combo pack you can trust on the worst days of the week.
The shoulder support system will get you through a few miles, but It's not a heavy hiker. The bag won't hold up well against an overnight expedition in the backcountry either. The same goes for off-road sports, although there is one handy sternum strap that helps things stay in place.
It's not a specialist, it's an all-around work of art. The bag fits as well on the back of your bike as in the front of the meeting room, staying ready to roll every day of the week. Its handy separate laptop compartment makes it perfect for digital nomads, students and daily commuters alike.
Looking for something similar? Check out our rundown of the best Hipster bags for a few more ideas.
SPECS
Volume (L): 21
Dims (In): 12 x 19 x 5
Best Use: School, work or trade
Price ($): 145
This Tekwax specialist is ready to hit the road, metro, or well, anywhere you wanna take it in the urban jungle! This bag brings thoughtful touches and tough edges to get there in one piece, finishing off the details with a snug fit to keep everything neat and tidy. An extra trim on the bag's lid doesn't look like much, but it dramatically protects its contents.
Once you've cleared customs, there's plenty of space to stretch out. The inside of The Backpack has a laptop compartment and a zippered pocket to separate and organise your storage. It's this cooperation between tech specs and durability aspects where it really gained our respect.
It's important to remember that a jack of all trades is a master of none. While The Backpack fits in airports, subways, crosswalks, and biking trails, this bag isn't a great choice to take far from the nearest parking lot.
There is nothing this backpack does better than every other bag on the market. Instead, it focuses on scoring high marks across the board and letting the specialists handle extreme outdoor adventures. The Backpack is a great choice to take care of the rest.
Looking for a backpack for school or college? Check out our guide to the best college bags if you're stuck for ideas.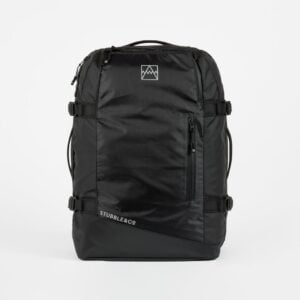 SPECS
Volume (L): 42
Dims (In): 22 x 15 x 9
Best Use: One bag travel
Price: 275
You could argue that the only thing holding back Stubble & Co's backpacks so far are hip straps. The Adventure Bag takes care of the final touch to truly bring Stubble & Co to the mountaintop. The Adventure bag finds space for a hip strap that smiles back and an extra splash of lumbar support to take on extra mileage.
The two straps of support are there for more than hiking comfortably. The Adventure Bag packs the most lumbar protection because it is also Stubble & Co's largest backpack and its size is ideal for one-bag travellers keeping things light. With the different carry options, it's also a great duffel-backpack hybrid option too.
While our testers were extremely impressed that the backpack kept its weight down, there is still a bit of fluff in this bag that keeps it feeling bulky. The bulky bag fits squarely across your shoulders, leaving some space between your upper back and the signature mountain cushion.
As long as you don't shove the loose canvas full, The Adventure bag can shrink and shape into all sorts of sizes, including Houdini-ing itself inside of gate side baggage checkpoints.
Have a look at our Stubble & Co Adventure Bag in-depth review for more information.
SPECS
Volume (L): 20
Dims (In): 17 x 12 x 8
Best Use: Clocking in late, clocking out early
Price: 155
Most of the Stubble & Co. bags we've looked at so far cast wide nets in terms of usage. The Commuter niches down and carves out a solid name for itself at the office. This bag's signature difference is a dynamic selection of organizers inside the outer pocket.
The outer pocket starts with tablet storage before rocking a solid zipper pocket and using dividers to create five additional folders. Everything you need to get from door to door should fit in that outer pocket, helping you keep things shut until you get sat down. All those options don't even include the full-sized laptop compartment inside your main storage.
This pack comes coated in plenty of Tekwax, but it doesn't have the recycled PET material necessary to be fully waterproof. It can get you out of a surprise shower but don't wouldn't trust it to walk through the rain for more than a mile or two. So this bag is firmly aimed at those hopping on and off the metro, bus, or train rather than trudging the whole way to work. A raincover is a great addition for extra peace of mind.
There's not a whole lot you can bring to work that you can or would want to keep in the rain for hours! The bag does just enough to keep things under control while you step out of the shower. Rainy days are exactly what work from home is made for, anyways.
Looking for a backpack for work? Check out our guide to the best commuter bags for some more options.
SPECS
Volume (L): 40 (60 Liter XL version available)
Dims (In): 22 x 12 x 10
Best Use: Gym, tan, Bonnaroo
Price: 215
Backpacks bring you to school, duffels help you go to work. This bag earns its keep as a daily gym bag and excels on long weekends. Coming in sizes up to 60 litres, you can easily stretch your weekend out a day or two and still store it all in this sizable duffel.
Stubble and Co sized this bag out for the overhead cabin. Relaxed edges help the bag squeeze its way into stuffed compartments and make sure you're never forced to pay to check bags.
You would struggle mightily to get this bag underneath most seats, especially at full size. It's a bit too boxy to sneak onboard as a personal item too. If you do get caught at gate check, you can trust the durability of this pack, plus the reinforced leather edges, to meet back up with you in one piece after a trip in the hold.
Because weekends can get just as messy as Mondays, this duffel comes with the same hardened water-resistant Tekwax Canvas Stubble & Co hang's its hat on.
In the market for something other than a backpack? Have a look at our guide to the best duffel bags for a few more options.
The best present of all… is CONVENIENCE!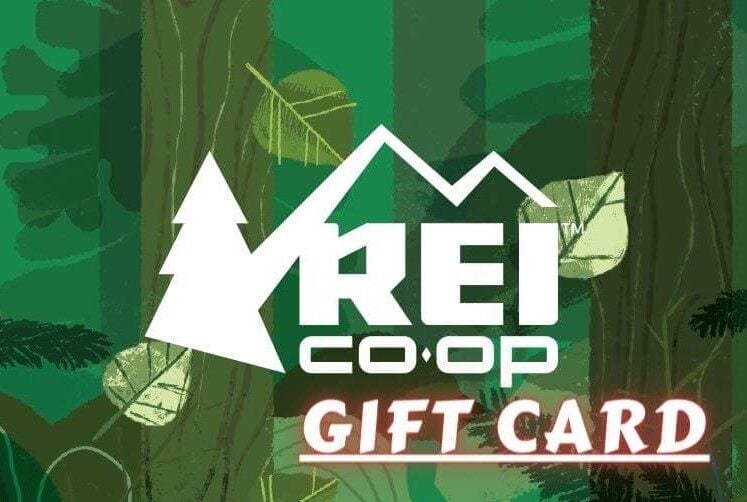 Now, you could spend a fat chunk of $$$ on the WRONG present for someone. Wrong size hiking boots, wrong fit backpack, wrong shape sleeping bag… As any adventurer will tell you, gear is a personal choice.
So give the adventurer in your life the gift of convenience: buy them an REI Co-op gift card! REI is The Broke Backpacker's retailer of choice for ALL things outdoors, and an REI gift card is the perfect present you can buy from them. And then you won't have to keep the receipt. 😉
Buy on REI!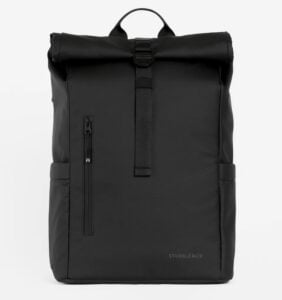 SPECS
Volume (L): 14
Dims (In): 16 x 11 x 5
Best Use: Shrinking things down a size
Price: 135
Most commutes won't need more than the storage brought on by Stubble & Co's miniature model. Shaving six litres off the company's flagship rolltop and keeping all the same weatherproofing and comfort features resulted in a bag that moves quickly and stays dry.
The biggest perk of the mini model is its portability. Fully loaded, the larger Roll Top could turn into a bit of a black hole, as well as feeling heavy on your shoulders after a few miles. This slim frame will float on your back wherever the day takes you.
Of course, cutting things down comes at a cost. At 14 litres it's starting to get close to waist-pack territory. You won't be able to squeeze much more than a laptop, your lunch, and a fresh pair of shoes for the bike ride home. But hey, sometimes that's all you need!
The exterior zip pocket and two water bottle holders help stretch out the sizing just enough, and the roll-top opening completes the ensemble.
It all easily slides underneath the seat as a free personal item. Those cheeky bastards took a TSA handbook with them into the lab and cooked up a bag that will beat even the strict Ryanair carry-on guidelines.
SPECS
Volume (L): 10.5
Dims (In): 13 x 11 x 4
Best Use: Keeping the essentials close
Price: 135
The Backpack Mini is Stubble & Co's smallest full backpack, shrinking storage to such a small size that even Ryanair wouldn't even dare charge you to bring this bag onboard. The bag fits high on your shoulders and snugs across your back, sneaking in a 13" laptop compartment and an exterior zippered pocket to stretch out storage.
Anything you store inside this backpack will get there in one piece. The Backpack Mini protects the goods with two separate closures; one drawstring strap, and one hefty clip. These extra reinforcements let the Tekwax exterior fully protect your gear.
While we are big fans of shrinking things to be more compact, The Backpack Mini does take things one step too far. This model removes both water bottle holders, leaving you thirsty or filling up the inside of your pack with unnecessary volume. If there was a backpack bill of rights, item #4 would be that every backpack needs to provide exterior access to fresh water.
As long as you don't get too far from the nearest water fountain, this miniature backpack brings a whole lot of value in carrying your valuables. As part of a larger arsenal, this bag will save you time and energy at the airport and in the subway. Stubble & Co squeezes serious versatility into a lightweight frame.
Looking for something compact but slightly bigger? Have a goose at Nomatic's collapsable Navigator bag instead.
Not Convinced? Stubble & Co Alternatives
There are plenty of alternatives to a bit of stubble on your chin. The upstart company isn't the only brand with a finger on the pulse. Although there is no other backpack on the market using Texwak canvas, here are a few backpacks that provide equally timeless protection and futuristic storage potential.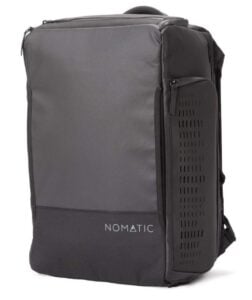 SPECS
Volume (L): 40 (30L version also available)
Dims (In): 21 x 14 x 9
Best Use: International itineraries
Price: 289
Nomatic competes with Stubble & Co's sleek and sexy exterior while turnings up a notch inside the bag. Both the bags are cabin-approved carry-ons, although, at 40 litres, Nomatic's bag won't sneak under the seat of some budget flights. It's still overhead compartment compatible, and it puts every single one of those forty litres to good use.
The Travel Bag comes fully loaded with a detachable hip strap and a deployable laundry bag. This bag can look and feel like a duffel with two top straps and a solid back support system that doubles as grit-resistant. When the situation requires a horizontal approach, the shapeshifting backpack provides the same easy access to your gear.
Nomatic's Travel Bag brings more organisation to the table, but there is one key area Stubble & Co might have it beat: the last line of defence. Nomatic's backpacks have their fair share of weather resistance, but Stubble & Co's signature exterior layer is better. Plus, Nomatic's manufacturing process can't rival Stubble's sustainability.
Both of these durable gear providers bring a whole lot to the table. You can't go wrong trusting your next carry-on to either one of these two modern backpacks.
Want more info? Check out our comprehensive review of the Nomatic Travel Bag.
SPECS
Volume (L): 35
Dims (In): 21 x 13 x 9
Best Use: Always pullin' up
Price: 249
Comparing Stubble & Co to the Travel Pack 3 is a lot like comparing Lebron to Michael. You can choose various statistics to bring one over the other, but fervent supporters on both sides will never change their minds.
The Travel Pack 3 has one of the internet's most dedicated backpack fanbases. Its name is legend on certain message boards, often referred to simply as TP3. The backpack built a cult following because of its variable capability.
Redditors often hark TP3 as one of the best one-bag travel options out there, and AER listened. Its runaway success in long-term travel prompted different size options that brought the pack to even more places. Nowadays, you can find an AER travel pack for every occasion.
Whether you're trying to narrow everything down into one bag or bring the office with you on the road, TP3 can't be beaten. However, Stubble & Co's loose options are still better for many commutes that don't require passports.
Have a look at our Aer Travel Pack 3 in-depth review for more information on this epic bag!
SPECS
Volume (L): 26
Dims (In): 20 x 9 x 8
Best Use: Money laundering
Price ($): 1225
This Weekender is the only other bag on our list that comes close to Stubble & Co's style. Out of any backpack we've looked at today, The Weekender would be the most comfortable heading to the airport early and slipping into the lounge for a pre-departure bevvy.
Its crisp look isn't deceiving you: that's genuine leather wrapped around every inch of this pack, which stays within Europe for every step of production. Designers map out the bags in the UK, sending the plans down to meet up with German microsuede in sunny Spain. There, leather crafters hand-stitch the goods.
Once it's all sewn together, the leather bag only grows better with time. Combined with proper care, this Weekender should last you for life. That's where the justification for the higher price point comes in. While it's true that paying extra for quality can save you money in the long run, you could have 6-8 Stubble & Co backpacks for that price.
The truth is, Stubble & Co's choices get the job done equally well while saving you hundreds. There's just one thing you can't put a price on in this comparison: Leather. Harbor London bags bring the extra craftsmanship and durability to feel like great choices if you didn't keep your money in Silicon Valley Bank.
Need more deets? Have a look at the in-depth review of the Harber London Weekender we've put together.

Our GREATEST Travel Secrets…
Pop your email here & get the original Broke Backpacker Bible for FREE.
Final Thoughts On The Best Stubble & Co. Bags
At first glance, most Stubble & Co. bags don't garner much attention. But, much like a blooming flower, you might find god if you look at them closely. Even if you don't, you'll see the light. These bags are legitimately waterproof, stylish and functional … all while staying affordable.
As we saw today, options like The Roll Top and The Backpack come in hundreds of dollars cheaper than some competitors' options while fulfilling relatively similar goals. They're perfect for travellers who would rather save a hundred dollars and not have a shoe compartment, and their smaller stature also makes them a great everyday carry.
We've got one more piece of good news. Not only are these bags technically efficient, but they're also environmentally sound. Stubble & Co take their conservation efforts further than many bagmakers, working to supply sick bags while remaining climate neutral. That's a win for us here at TBB.
Unfortunately, we've got one more piece of not-so-good news, too. Stubble and Co use two main exteriors: Tekwax canvas and Recycled PET. Only the bags with PET are fully waterproof. The others offer some protection, but not enough to dampen a deluge. However, some models do come with a rain cover and if not, one can easily be picked up for a few $.
Shop wisely and plan ahead, and you'll get further out there, rain or shine. Stubble & Co has found a great balance of functionality, style, and sustainability to help you do more.
So, which bag are you thinking of buying next?
---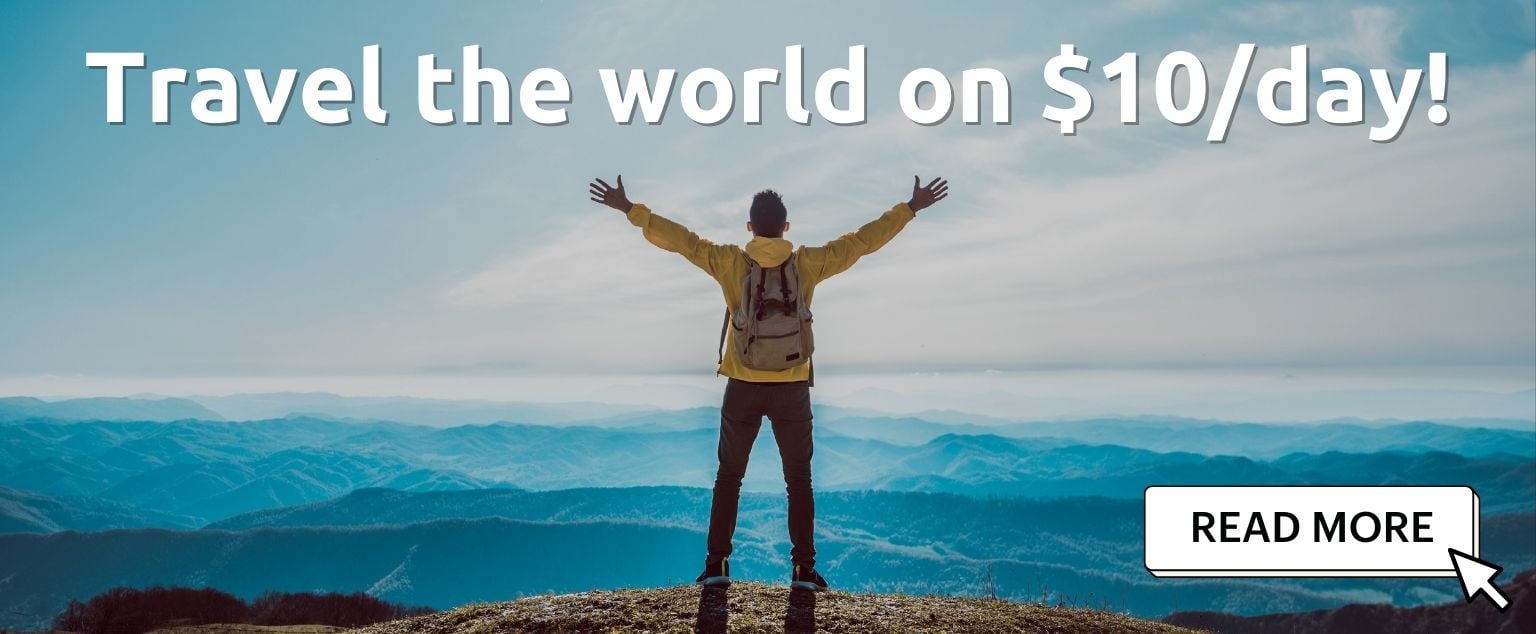 And for transparency's sake, please know that some of the links in our content are affiliate links. That means that if you book your accommodation, buy your gear, or sort your insurance through our link, we earn a small commission (at no extra cost to you). That said, we only link to the gear we trust and never recommend services we don't believe are up to scratch. Again, thank you!