Broke Backpackers know as well as anyone that just because something is a tradition doesn't mean it's not full of shit. Airline travel is an excellent example of a system ripe with places ready for change. Before we can change the industry, we'll have to change ourselves.
Waiting in lines all day used to be synonymous with suitcases and day bags or checking a bulky backpacking monstrosity and carrying a fanny pack.
For many years these were the only real options. Early duffles weren't much more than lightweight, and large empty spaces that were inconvenient to haul through the airport. But the times are a-changing, and so are the duffle bags.
Nowadays, You can't get much more carry-on compatible than the right duffel bags. Built to be handled with one hand, casually thrown over a shoulder, and easily fit under the seat in front of you, this bag style is slowly becoming perfect for one-bag travel or working as part of a more extensive arsenal.
The Best duffel bags in the business will be tough enough to handle more than a few different countries and fit snugly in whatever mode of transportation gets you to the hotel fastest. Beyond that, no two duffels will work precisely alike, so you'll have to obtain a pretty good idea of what you want out of your bags.
Ask yourself tough questions like how much room you want for souvenirs and how long you plan on being gone at once to arrive at the best bag for your travels. But first, let's get an idea of what the best in the industry can provide.
It's time to upgrade your luggage and check out our buying guide to the best carry-on duffel bags for travel in 2022!
Quick Answers – These Are The Best Carry-On Duffel Bags
#1 Best Technical Carry On Duffel Bag – WANDRD Hexad
#5 Duffle & Backpack Hybrid Bag – Monarc Settra
#10 A Great Carry On Duffle Bag – AER Duffel
All About Duffles
These bags ain't your papa's canvas sacks! The Duffel bag style got its start working as a 50L+ black hole, but stylish duffel bags have caught up to the times. No longer made to be slung on horseback, these bags are for air travel and a nomadic lifestyle ready for carrying in one hand. 
The duffel bags on our list will offer several carrying options that give the genre incredible versatility. They can be comfortably hoisted with one hand and fit more than a backpack, all in an easy-to-access main pocket that keeps clothes fresh. 
Believe it or not, some of the best one-bag-travel options out there come duffel-sized, and today we'll introduce you to the cream of the crop. A 40 Liter duffel with optional shoulder straps and plenty of storage options is the new go-to for simplicity gone global. 
Minimalist travelers can find lightweight duffles that comfortably pack space for everything they need for month-long adventures or your next long weekend. 
If your duffel is going to serve you correctly, you'll need a few external pockets and subtle features that allow easy access to the important stuff. These splashes and design ingenuities make your life easier and are what makes the best carry-on duffel bags. 
Carry-on Requirements
Most of the duffel bags on our list were designed, made, and optimized with TSA restrictions in mind. These duffels bend the system's rules and redefine what a carry-on bag is capable of, but it will all come down to your specific airlines. 
You won't have trouble carrying on any of the bags on our list into 90% of airline companies. Some (looking at you, Ryanair) have ridiculous bag policies that may deny the most significant duffel bags entry into the main compartment. Still, you should have no trouble getting through security with any of these options.
Any duffel 40 Litres or lighter should get easy access to every airline worldwide. 45 liters is pushing the limits but will squeeze through practically every flight. Anything larger than that will start to cause problems.  
The easiest way to be sure that your bag will work as a carry-on is to avoid causing any trouble. It's easy to forget when your flight is canceled, and the person behind the desk isn't offering up much help, but airline employees are, in fact, just people who have to go to work like the rest of us. They don't make the bag policy, but they have to enforce it.   
If you happen to catch a gate agent on a bad day, they may try to force you to check a duffel bag, but a bit of patience and a friendly demeanor will help sort out your troubles. 
Best Technical Carry On Duffel Bag
Best Technical Carry On Duffel Bag
WANDRD Hexad
> $$
> Plenty of plush pockets
> Separate shoe compartment
Most Stylish Carry On Duffle Bag
Best Practical Carry On Duffel Bag
Best Practical Carry On Duffel Bag
Osprey Transporter 40L
> $
> Water-resistant materials
> Plenty of compression straps and external pockets
Duffle & Backpack Hybrid Bag
Duffle & Backpack Hybrid Bag
Monarc Settra
> $
> Come with flimsy shoulder straps or uncouth handgrips
> Made out of 50 recycled plastic bottles
Best Vegan Duffel For Carry On Bag
Best Vegan Duffel For Carry On Bag
Mahi Vegan Cork Duffel
> $$
> Synthetic materials
> Powerful water and weather resistance
Best Light Carry On Duffle Bag
Best Light Carry On Duffle Bag
Osprey Daylite Duffel 45L
> $
> Lightweight and straightforward
> Waterproof nylon casing made from recycled materials
Best Sport Carry on Duffel
Best Sport Carry on Duffel
Patagonia Black Hole 40L
> $
> Large open compartment and one exterior zippered pocket
> Multiple carrying options and lightweight straps
Best Small Carry on Duffel
Best Small Carry on Duffel
Osprey Arcane Duffel 20L
> $
> Includes shoulder straps
> Intelligent pockets and a monotone exterior
A Great Carry On Duffle Bag
A Great Carry On Duffle Bag
AER Duffel 3
> $
> Quick access top pockets
> Interior organizational dividers
These Are The Best Duffels For Carry On
From multi-faceted compartmentalizing experts to lightweight bags that can store some serious gear, these duffels can do it all! 
Three key features make up a great duffle: material quality, the look, and the packability. Don't forget one key ingredient added on in the post: the price. These four things work together to pack up your trip in style. 
Looking for a more generalised rundown of the best travel duffel bags, check out our post as well for more options.
Do You Want to Travel FOREVER??
Then pop your email address in below and we'll send you a FREE copy of 'How to Travel the World on $10 a Day!' – make travel your LIFE.
#1 Best Technical Carry On Duffel Bag – WANDRD Hexad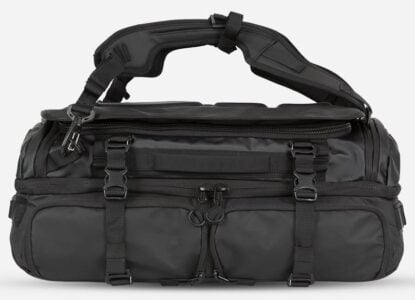 WANDRD Hexad is our top pick for the best technical carry on duffel bag
Specs
Price (USD): 259
Weight (KG): 1.8
Capacity (L): 45
Don't take this carry-all bag lightly. WANDRD is a company committed to providing a home in a bag for as many nomads as possible. This bag is their most professional option, kitted out for travelers who need serious organization to get the job done. 
Everything Wandrd makes is done through the eyes of a lens. This bag is no different, with plenty of plush pockets that keep your camera gear or electronic equipment untangled and unscratched if you're forced to gate check. 
Shoulder straps that double as your duffel handle help keep the number of straps down, and a separate shoe compartment provides a great space to separate stinky sneakers or wet clothes. All of these pockets are protected by a water-resistant nylon shell that stays subtle yet pops. 
Our top pick for most stylish carry on duffle bag is Harber London Weekender Bag
Specs
Price (USD): 1369
Weight (KG): N/A
Capacity (L): 26
Treating yourself on your next vacation starts at home. This bag was handmade by expert Spanish craftsmen to provide first-class care for your luggage. The full-grain leather duffel has enough exterior pockets to access travel documents and in-flight entertainment without opening up the main compartment.
Once you do poke inside, you'll find a soft stain-resistant Microsuede that protects your gear and helps your clothes stay fresh upon arrival and a sleek zippered sidewall pocket that helps your trinkets avoid getting lost amongst your socks. 
Harber London also offers up a line of packing cube organizers that help the weekender bag further compartmentalize. Those accessories and this bag have high-quality build materials to guarantee it may be the last duffel bag you'll ever have to buy.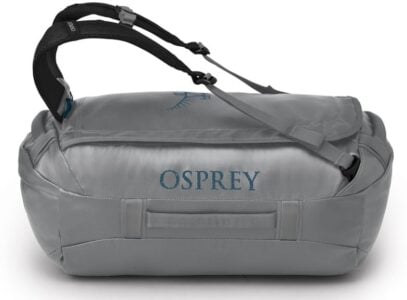 For best practical carry on duffel bag, check out Osprey Transporter 40L
Specs
Price (USD): 130
Weight (KG): 1.13
Capacity (L): 40
40 Liters has slowly become the minimalist archetype for one bag travel, and the Osprey Transporter has played a prominent role in proving the perfection of 40 Liters. When done right, 40 liters is the perfect size to store everything you need without running the risk of being too big for overhead bins, and Osprey did the Transporter right. 
All Osprey bags use water-resistant materials ready for the backcountry. The Transporter takes their all-terrain effectiveness and turns it into an up-to-date travel duffel bag that fits in an urban jungle as well as the amazon. 
It's a minimalist duffel bag with shoulder straps that wants to serve as your only bag for the weekend or month-long trips, and it pulls it off by providing plenty of compression straps and external pockets. You can bend and adjust this bag until you've got the perfect fit, sling it over one shoulder, and get off to the races. 
By the way, Osprey is a our favourite brand – check out of Osprey travel bag guide for more info and Inspo.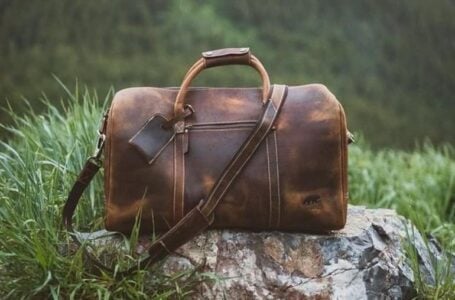 Kodiak 30l Weekender is one of the best leather duffle bag
Specs
Price (USD): 340
Weight (KG): 2
Capacity (L): 30
Kodiak churned out our favorite leather bags of all shapes and sizes, so I wasn't surprised at all to find their signature duffle one of the best in the business. The weekender takes top-grain Buffalo leather and preps it for adventures across all terrains; all finished with a signature style that only gets better with age. 
This leather travel bag will fold, crease, and color with every adventure, taken from where the buffalo roam and turned into a carry-on friendly powerhouse. Keep your travel documents and phone chargers close in the exterior pockets protected by brass hardware and get through security in no time. 
The 30L size disqualifies the bag from working for longer trips, but Kodiak has a few 60L options if you need to call in the big guns. Its slim shape makes this leather duffle a perfect everyday bag or a carry-on with some serious style. 
#5 Duffle & Backpack Hybrid Bag – Monarc Settra
Meet duffle and backpack hybrid bag: Monarc Settra
Specs
Price (USD): 149
Weight (KG): 2
Capacity (L): 40
Loads of duffel bags come with flimsy shoulder straps or uncouth handgrips that allow the bags to serve as a hybrid technology, but few packs have paid more attention to the details than the Settra. 
Galvanised metal clips and hip straps combine to make a comfy bag to carry for a few kilometers or through the Madrid airport. Lightweight back and shoulder pads are what make the Settra stand out. These extra protections are unheard of on most duffles and make this Monarc the best hybrid in the business.
It's not just technically advanced, it's also eco-friendly. Made out of 50 recycled plastic bottles, Monarc proved you can get technically advanced benefits from recycled materials to complete an indestructible hybrid bag that does it all. 
I love this back so much I even went and wrote a full Monarc Settra review.
The best present of all… is CONVENIENCE!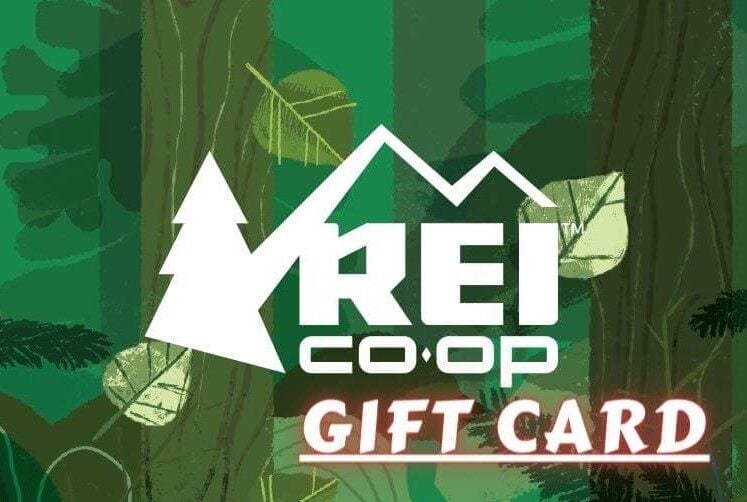 Now, you could spend a fat chunk of $$$ on the WRONG present for someone. Wrong size hiking boots, wrong fit backpack, wrong shape sleeping bag… As any adventurer will tell you, gear is a personal choice.
So give the adventurer in your life the gift of convenience: buy them an REI Co-op gift card! REI is The Broke Backpacker's retailer of choice for ALL things outdoors, and an REI gift card is the perfect present you can buy from them. And then you won't have to keep the receipt. 😉
Buy on REI!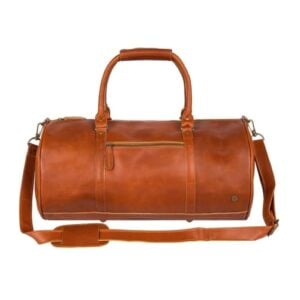 Our top pick for best vegan duffel for carry on bag is Mahi Vegan Cork Duffel
Specs
Price (USD): 200
Weight (KG): N/A
Capacity (L): 30
Give the Earth a break on your way to see it all. Mahi's lines of vegan cork bags can go anywhere synthetic materials can, all without causing a ruckus. Cork isn't entirely waterproof, but it offers surprisingly powerful water and weather resistance, and the natural brown fits any occasion. 
The edges and details are taken care of with brass hardware and a detachable shoulder strap if you feel like traveling bud light. This duffel is slightly on the smaller end of our list, but it makes the most of its space with two zippered pockets that keep it separated. 
One of those pockets is smack dab in the middle of the bag's cork exterior. Each will have subtly different shading and only grows in personality over the years, giving you a one-of-a-kind cruelty-free duffle.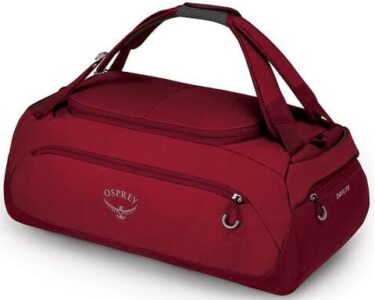 Meet the best light carry on duffle bag: Osprey Daylite Duffel 45L
Specs
Price (USD): 80
Weight (KG): .58
Capacity (L): 45
I don't usually expect much from bags that you can find new for less than 100$, but this Daylite Duffle blew me away. It's as lightweight and straightforward as they come, all protected by a waterproof nylon casing made from recycled materials. 
This bag is uniquely malleable and storable, perfect for shoving under the seat in front of you or into crowded hostel lockers. You choose your carry style and head off for the day, taking advantage of the long exterior pockets and massive interior to store it all without breaking your back. 
Osprey has never been a budget bag brand; their gear is built for the mountaintop and protected for life. The fact that this bag is one of the cheapest on our list is just the cherry on top. 
Patagonia Black Hole 40L is our top pick for the best sport carry on duffel
Specs
Price (USD): 129
Weight (KG): 0.93
Capacity (L): 40
The folks at Patagonia aren't much for gimmicks. The Patagonia Black Hole Duffel isn't here to reinvent the travel duffel industry but to set the standard. The black hole pays homage to simple army duffels by offering a large open compartment and one exterior zippered pocket. 
Unlike most skinny exterior duffel pockets, Patagonia's can handle more than a passport and a cell phone. The pouch opens up and can provide storage for a few books or an iPad without cramming everything in there. 
The bag has modernized in all the right places to provide multiple carrying options and lightweight straps easy to sling onto tuk-tuks. And of course, coming from Patagonia, you can expect all materials to be weather resistant and completely satisfied. 
Osprey Arcane Duffel 20L is one of the best small carry on duffel
Specs
Price (USD): 130
Weight (KG): .86
Capacity (L): 20
Are you starting to notice a pattern? You should probably see a few Osprey options on any list of the best travel bags. The Arcane Duffel is the third Osprey bag on our list, and it's an excellent wingbag to serve as a carry-on alongside a larger piece of luggage. 
 20L isn't quite enough storage for one-bag travel for most people. This bag works best as part of an ensemble cast. It can easily be hooked on the back of a wheeled case and has plenty of space for everything you need past security. 
It includes shoulder straps that make it suitable as a day bag and everyday carry ready, an advantage over choosing a giant duffel bag. The entire Arcane series is about sustainable simplicity. You'll find intelligent pockets and a monotone exterior, all built from 12 plastic bottles. 
#10 A Great Carry On Duffle Bag – AER Duffel 3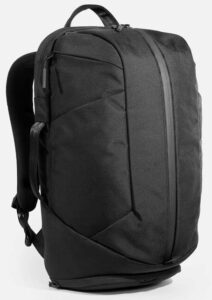 Our top pick for a great carry on duffle bag is AER Duffel 3
Specs
Price (USD): 175
Weight (KG): 1.3
Capacity (L): 21
There may be no other duffle bag on our list useful in more scenarios than this duffel to the power of three. Aer's latest model will get you through the day no matter where it takes you. 
This bag didn't come to the table with carry-on travel in mind, which loses it a few spots in the leaderboards on this specific list. However, its value to the daily commute easily translates to air travel. The number of separate compartments that come together to make these luxurious bags is just too good to pass up. 
You'll find water bottle pockets, luggage handle pass-throughs, shoe compartments, laptop pockets, quick access top pockets, and interior organizational dividers. That's a whole lot of storage options.
Get Your Copy of the Backpacker Bible Totally FREE!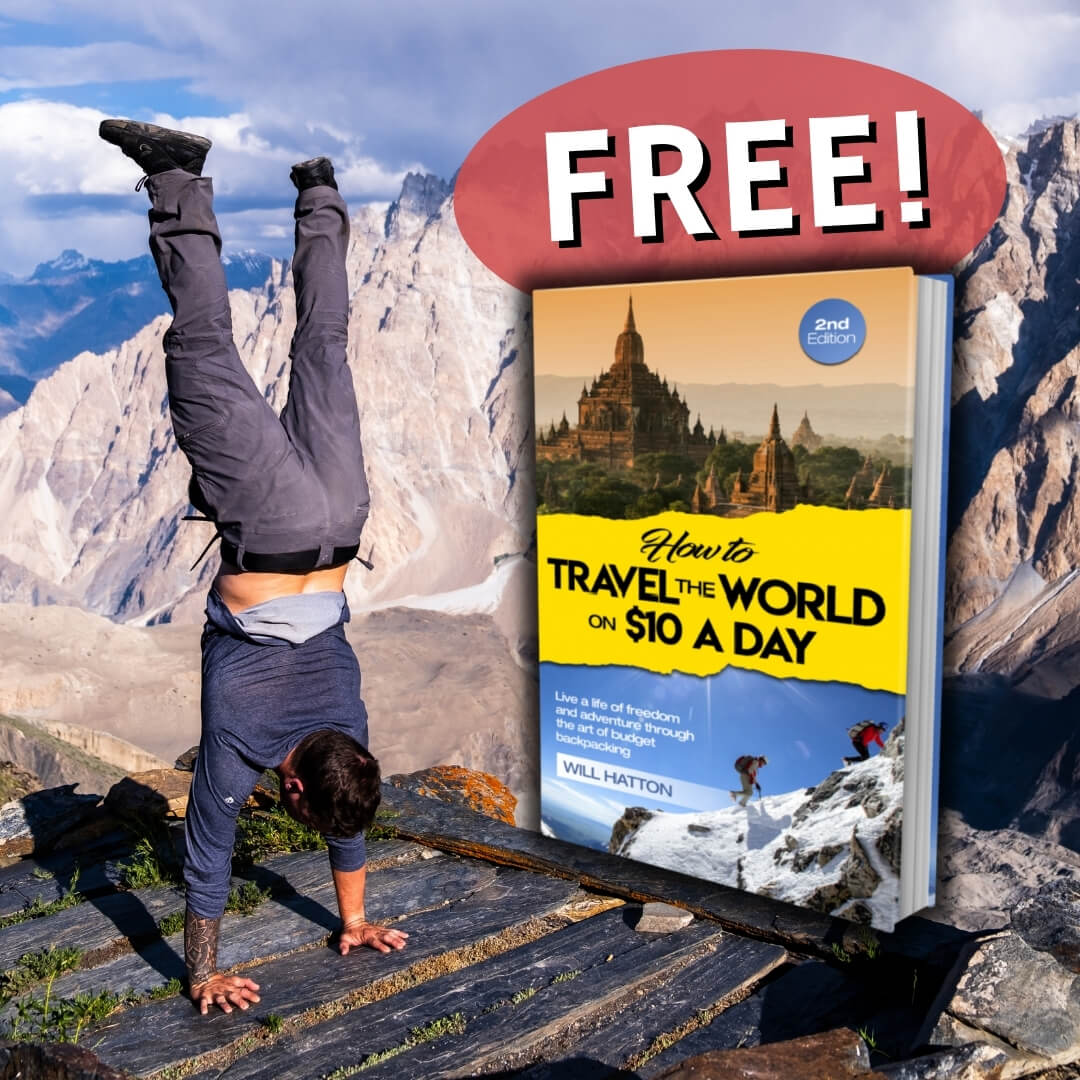 Learn how to travel the world on just $10/day with the Backpacker Bible – Will Hatton's own personal guide to the life of a budget traveller!
This book is the ULTIMATE culmination of more than 10 years of travel experience. It's full of valuable insider hacks and secrets that will help you unlock your full potential as a traveller.
AND… it's also FREE at the moment! All you need to do is click this link (or the sexy image of Will flexing his handstand skillz), provide your email, and we'll email you the ebook lickety-split!
Final Thoughts on The Best Carry on Duffles
Those are a lot of high-quality options! Modern travelers have more options than ever, and if you can wade through the ranks to pick out the gems, you can find the piece of gear uniquely suited to your specific lifestyle. 
Any duffel bag on this list is capable of saving you time through security, saving you space for knickknacks, and saving your back from trying to haul the world on your shoulders, all with a signature style. 
There is no such thing as one bag perfect for every adventure. While we would all love to have a closet full of gear storage options, we are broke backpackers, after all, so we'll have to take whatever we can afford this year. 
That being said, it's never a bad idea to pair your carry-on duffel with a packable day bag or a fanny pack small enough to qualify as a personal item to maximize your potential. 
Regardless of what you choose to pair them with, the bags on this list walk the tightrope between storage space and packed weight to provide a new contender for lightweight travel excellence. Gone are the days of retrofitted backpacking backpacks or rolling suitcases through the unpaved streets of Columbia. 
There's a new sheriff in town. More travelers than ever are switching to a versatile duffel to take them further. All that's left for you to do is pick the best travel duffel bag for fitting your gear. 
Not taken on the duffel? Check out our guide to the best carry on backpacks instead then!
---
Thanks for reading – that was fun! 😀
We bring you epic FREE content!
Find out how YOU can help support us.
We're a big site with a big team and this job isn't always easy. But we do it because we love it – we love providing epic and free content. We love the knowledge that our content keeps you adventuring. We don't ask for money, but if you'd like to find out how you can help the site in more organic ways, click the button below.
Thank you for your support 🙂
---
Bye for now, but not forever!
If you want MORE top-tier Broke Backpacker content like this, then sign up for our weekly newsletter below to get the latest and greatest!
And for transparency's sake, please know that some of the links in our content are affiliate links. That means that if you book your accommodation, buy your gear, or sort your insurance through our link, we earn a small commission (at no extra cost to you). That said, we only link to the gear we trust and never recommend services we don't believe are up to scratch. Again, thank you!