Most people tend to travel with a suitcase or backpack, but we're here to review the best duffel bags and highlight their many advantages.
Now that big outdoor brands like Marmot, The North Face, and Patagonia have put their know-how and years of experience into this marketplace, the duffel bag has been revolutionized, no longer just an oversized bag to get from point A to point B.
Even the simplest travel duffel, however, have their advantages. For one, they're the best option if you are traveling with bulkier items such as snow boots, life jackets, or camping gear.
All of that being said, not all duffel bags are created equal. Whether you need a bag for your next adventure or simply a sleek bag to travel for work, we've reviewed dozens and dozens of duffels and compiled a list of the top ones on the market.
So if you think your luggage is due for an upgrade, check out our comprehensive reviews of the best travel duffel bags around, and get yourself a duffel worthy of broke backpackers, adventurers, vacationers alike!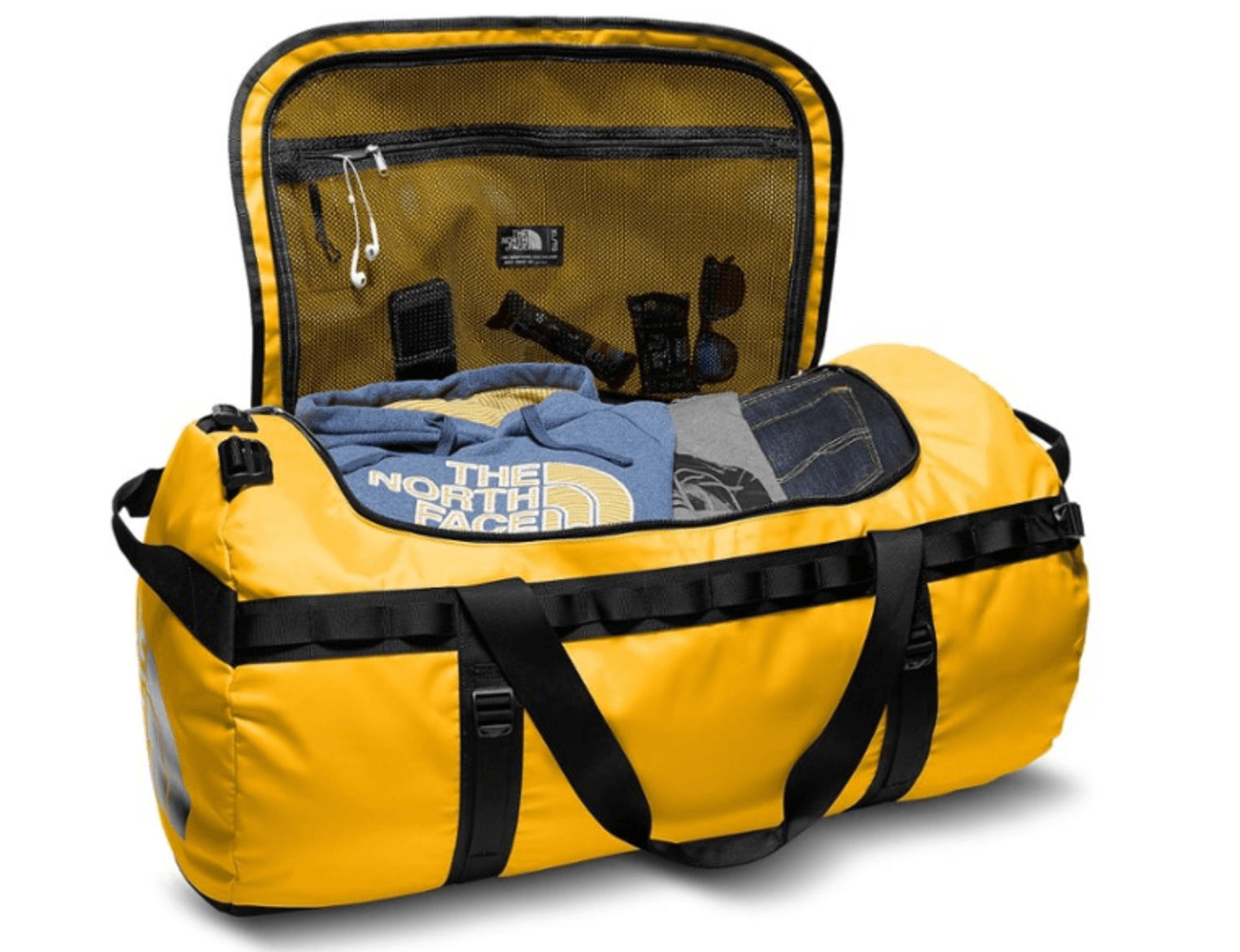 Quick Answer: The Best Travel Duffel Bags on the Market
THE BEST OF THE BEST TRAVEL DUFFEL BAG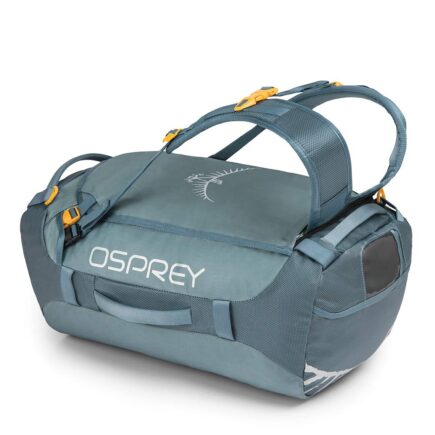 THE BEST OF THE BEST TRAVEL DUFFEL BAG
Osprey Transporter Expedition Duffel
Price: > $$
> Stowable padded backpack straps
> Rain flaps
THE BEST OF THE BEST TRAVEL DUFFEL BAG (Runner-up)
THE BEST OF THE BEST TRAVEL DUFFEL BAG (Runner-up)
Tortuga Setout Duffel Bag
Price: > $$$
> Wonderful design
> Laptop compartment
DUFFEL BAG MEETS HIGH-UTILITY BACKPACK
DUFFEL BAG MEETS HIGH-UTILITY BACKPACK
Nomatic Travel Bag
Price: > $$$
> Highly-functional backpack with a duffel mode
> Durable and modern traveler equipped
BEST LEATHER DUFFEL BAG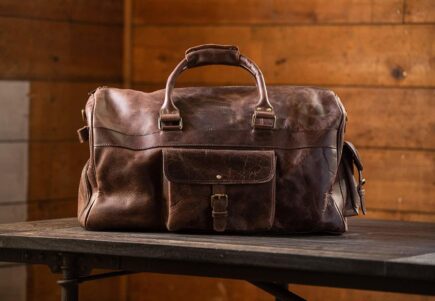 BEST LEATHER DUFFEL BAG
Kodiak 60l Weekender
Price: > $$
> High quality leather
> Roomy and spacious
BEST CARRY ON TRAVEL DUFFEL BAG
BEST CARRY ON TRAVEL DUFFEL BAG
Filson Duffel
Price: > $$$
> Durable
> Cool Vintage Look
BEST MEN'S TRAVEL DUFFEL BAG
BEST MEN'S TRAVEL DUFFEL BAG
Eagle Creek Cargo Hauler
Price: > $
> Backpack handles and grab handles
> Very lightweight
BEST WOMEN'S TRAVEL DUFFEL BAG
BEST WOMEN'S TRAVEL DUFFEL BAG
Under Armour Women's Favourite 2.0
Price: > $
> Lightweight
> Water Resistant
BEST WATERPROOF DUFFEL BAG
BEST WATERPROOF DUFFEL BAG
YETI Panga 50 Dry Duffel
Price: > $$
> Durable
> Water-resistant
BEST BUSINESS TRAVEL DUFFEL BAG
BEST BUSINESS TRAVEL DUFFEL BAG
SUVOM Suit Travel Duffel
Price: > $
> Rolls out flat to take suits
> Wrinkle-free clothes storage
BEST DUFFEL BAG FOR EXPEDITIONS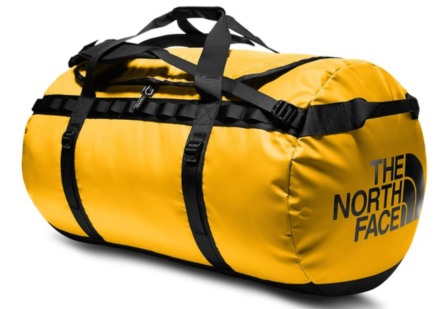 BEST DUFFEL BAG FOR EXPEDITIONS
The North Face Base Camp Duffel
Price: > $$
> Just 4 lbs in weight
> Come with backpack straps
BEST LARGE TRAVEL DUFFEL
BEST LARGE TRAVEL DUFFEL
Marmot Long-Hauler
Price: > $$
> Made for tougher travel assignments
> 105 litres
BEST SMALL TRAVEL DUFFEL BAG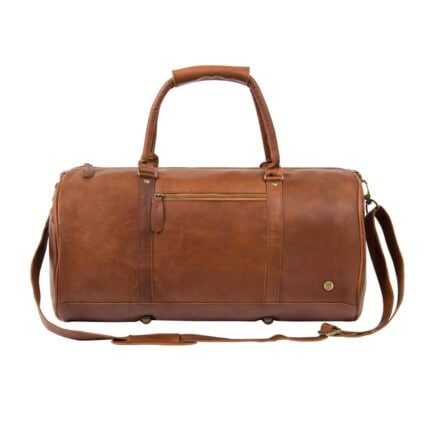 BEST SMALL TRAVEL DUFFEL BAG
MAHI Leather Duffle
Price: > $
> Compact and 28L
> Tons of organizational pockets
How to Choose a Travel Duffel Bag
So first of all, Duffel Bags are awesome. They're physically tough, your belongings are easy to access and kept safe by the waterproof fabric – even the worst baggage handler can't do much harm! Below are the most important features to pay attention to when you are deciding on your purchase because there are so many bags on the market!
However, not all Duffels are the same. Choosing the right one requires looking at different factors. Our list of factors below will give you a rough idea of what you should be looking out for when being on the hunt for a new Duffel Bag.
From detachable backpack straps to a rolling duffel, there are more options than you might first think!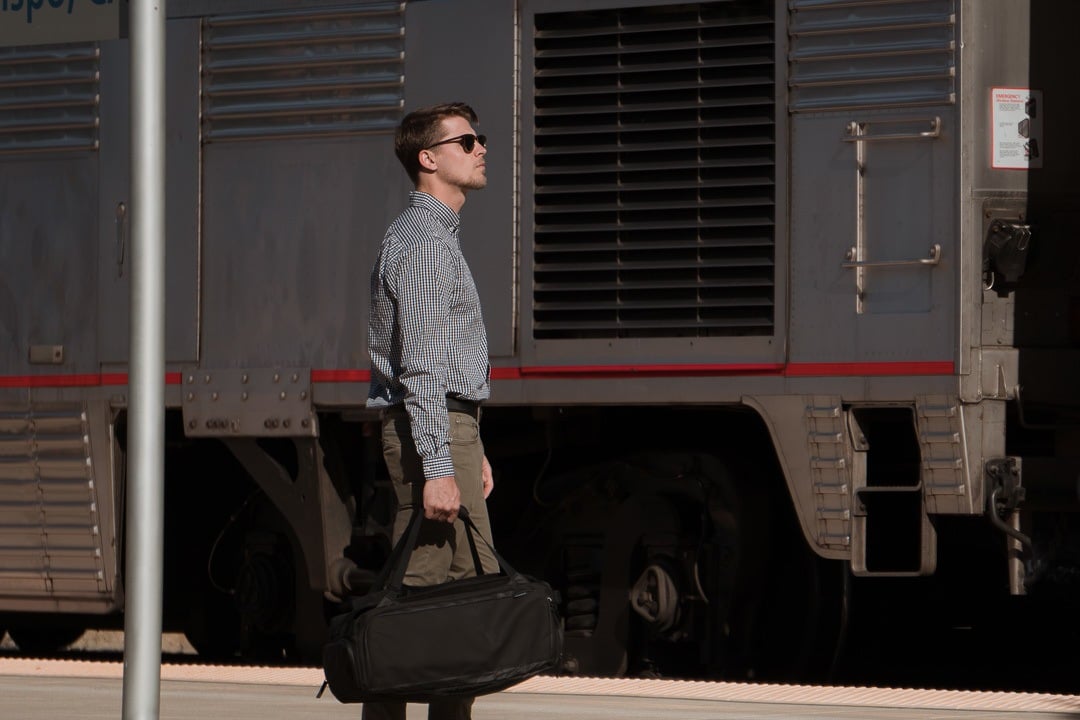 Durability
What do you plan to carry in your duffel bag? And where are you travelling to? You may need an ultra-durable duffel backpack that can handle the abuse of long-term and international travel, or you may only need a simple bag to get you to/from the airport.
Perhaps you're going on a boat or river adventure or travelling around Europe in winter. Either way, a waterproof or weatherproof bag is the ticket! Pay attention to the bags' materials!
Packing
When deciding which travel duffel bag for you, you need to first think about your style of packing. Are you looking for a duffel bag that consists of a single large main compartment, or one with several compartments and an internal mesh pocket in addition to the main one?
If you're travelling for business, you should consider a bag that protects tech gear, such as a laptop, as well as allows you to pack your clothes without creases. You might also want to look at features such as compression straps that keep everything neat and in place.
If you've got heaps of gear to organise and need things easy to access you might also want to consider exterior pockets.
Design
Ask yourself: what are you using your travel duffel bag for? There are some excellent duffel bags with incredible style if you're looking for a bag to take your belonging to a hotel for a weekend of relaxation. Likewise, there are a great number of travel duffels more suited to the great outdoors – offering different levels of weather protection, and weighing more or less too.
Also, consider how comfortable the bag is going to be compared to other duffel bags. Does it offer a padded shoulder strap or even two removable backpack straps? If you're going to be wearing it for a long time and it's packed full of all your travel gear, padded straps are a lifesaver!
Finally, you may want the classic duffel bag functionality or one with wheels and/or backpack straps. Whether detachable or integrated, padded shoulder straps don't add a lot of weight, but can make a bag a lot more comfortable in the long term.
Weight
If you're planning to carry your travel duffel bag for long periods, such as on a camping trip or up and down cobblestone streets in search of your hotel room, weight is going to be a hugely important factor in your decision making.
Duffel bags with wheels can weigh significantly more, but if you're planning to get a rolling duffel and use the wheels versus carrying it on your shoulder, this won't be a major concern!
Top Picks of the Best Travel Duffel Bags
Do You Want to Travel FOREVER??
Then pop your email address in below and we'll send you a FREE copy of 'How to Travel the World on $10 a Day!' – make travel your LIFE.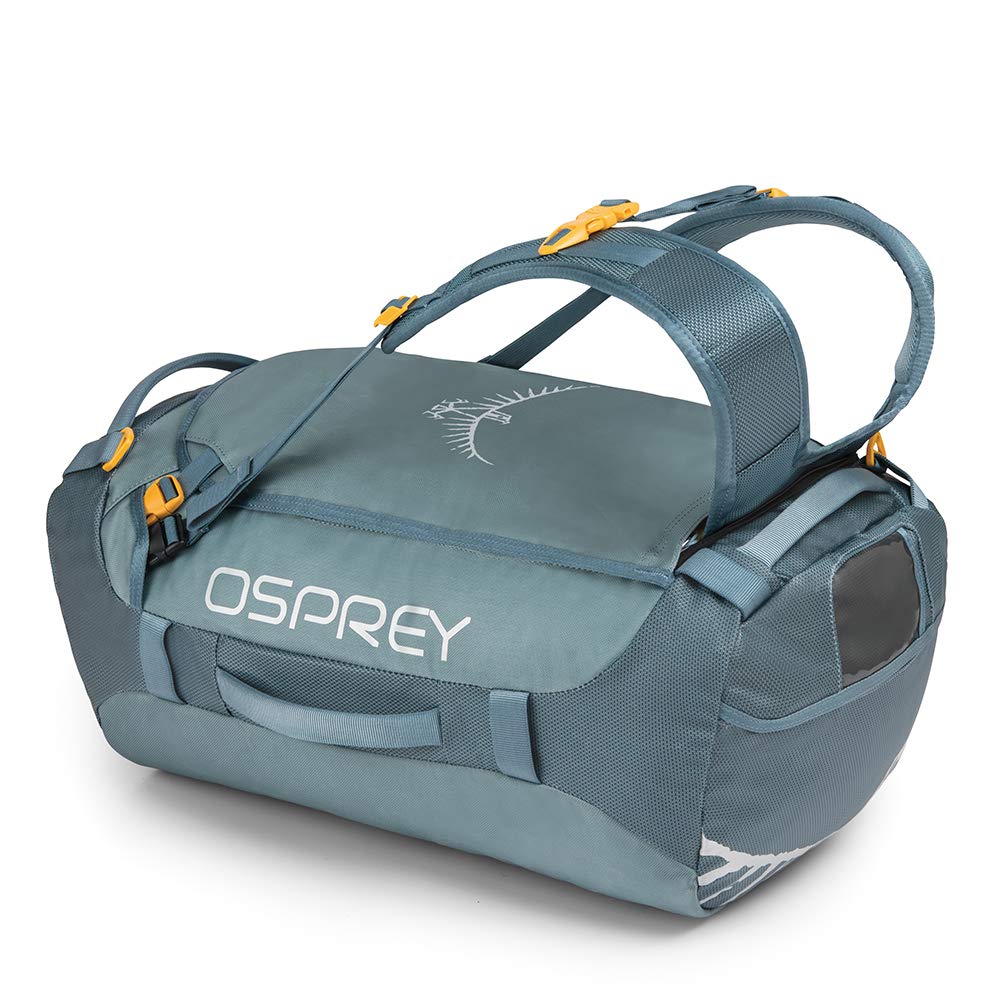 The Osprey Transporter Expedition Duffel offers its users the best of both worlds. It has all the features that drew you to a travel duffel bag in the first place, along with a comfortable set of stowable, padded shoulder straps if you have to carry it for a longer period.
This duffel's zippers are lockable, giving added peace of mind if and when you need to let it out of your eye line – such as on an aircraft or in a hostel room – and also has the bonus of a padded internal compartment to keep your delicate tech safe while on the move.
What's more, the quickest of touches will convince you of the long-lasting durability of the materials used, together with a rain flap to keep precipitation from ruining your time away!
Pros
Stowable padded backpack straps
Zips can be locked
Padded compartment for tech
Rain flaps
Cons
Not fully waterproof
40 liter might be too small for some
Not guaranteed to be carry-on compliant
Rigid construction
Is the Osprey Transporter Expedition Duffel for me?
If you love the idea of a travel duffel bag but worry about how you're going to transport it further distances, then the Osprey Transporter Expedition Duffel has it all figured out thanks to the incorporated backpack straps! It's one of the reasons it stands out amongst the other duffel bags.
The padded tech compartment is a great addition, as is the ability to lock the zips!
Tortuga backpacks are among the hardiest and most respected in the travel world. Their Setout Duffel Bag is no less impressive!
This duffle bag was specifically designed for air travel, so it really shines when it comes to internal organisation in the main compartment with a dedicated area for your laptop and chargers. It includes a separate zippered pocket for your shoes! It pairs well with a rolling suitcase with a handle that slips over a luggage handle.
Pros
35 L perfect carry on size
Wonderful design
Laptop compartment
Tons of organisation
Cons
Not fully waterproof
Straps are not as comfortable as their backpack!
Only fits 13″ laptop
No water bottle pocket
Is the Setout Duffle Bag for me?
This is a well made and well thought out travel duffel bag. Its features, pouches and external pockets are perfect for a short trip. It's very durable and aesthetically pleasing. This carry on duffel bag is great for business trips because it stores your tech with ease. The only thing we're a bit disappointed about is that it doesn't fit a 15″ laptop — you've got other packs for that.
Duffel Bag Meets High-Utility Backpack – Nomatic Travel Bag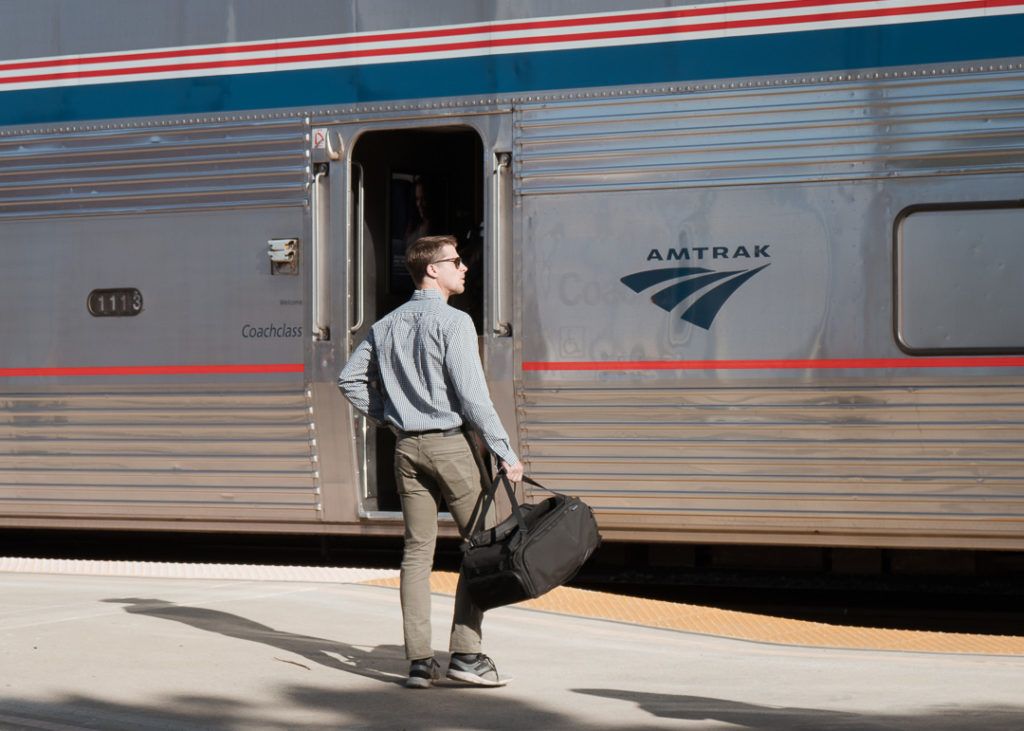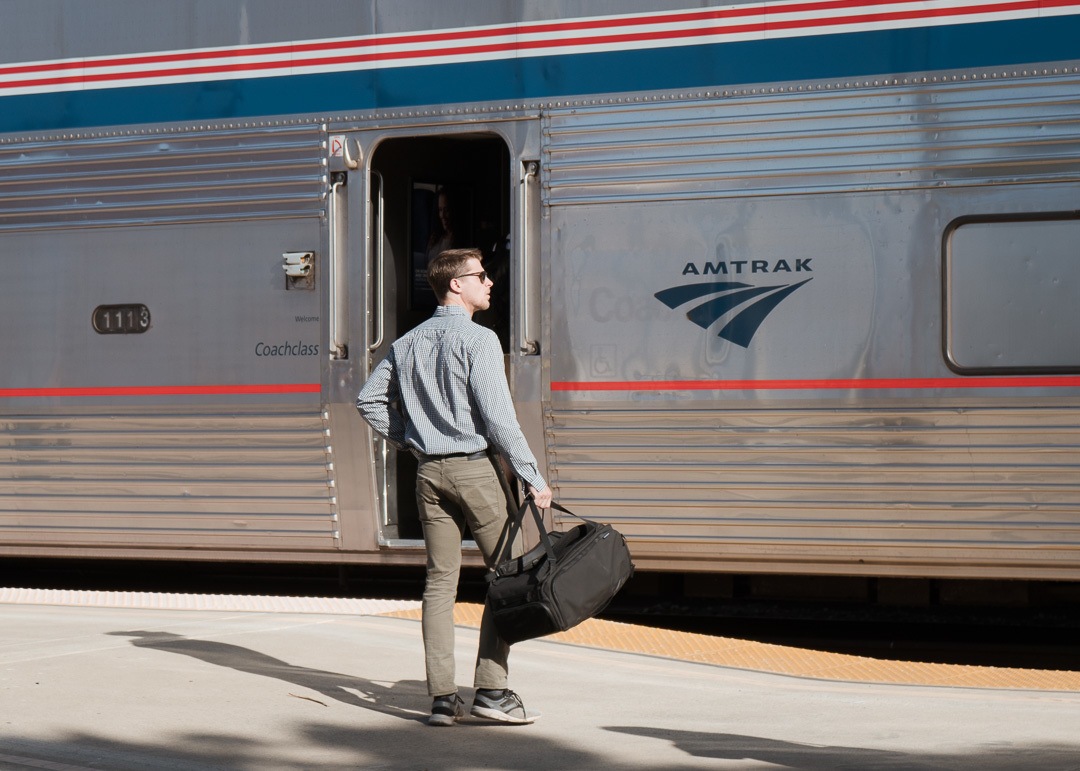 This duffel bag is not purely a duffel bag. In fact, it's not even primarily a duffel bag. And that's why we like it so damn much!
The Nomatic Travel Bag is a backpack for the modern-day traveller. It's loaded on the organization without an excess of empty space for unnecessary packing. Tech gear gets sleeves, shoes and dirty laundry get dedicated compartments, and everything else gets a space too!
But the best part is that if you flip this bad boy over and modify the straps, you have a completely functional duffel bag! Could we say it's like a transformer. Yes, it most certainly is.
It functions as a very structured duffel bag with a lot of interior organisation, however, to be totally honest, that's kinda rad!
Pros
40 L of pure organizational storage
Qualifies for carry-on luggage
Incredibly durable design
Doubles as a backpack!
Cons
Not a traditional duffel bag
Kind of cube-like in duffel-mode
Premium pricing
Not the right choice for everyone
Is the Nomatic Travel Bag for me?
For people seeking a traditional duffel bag, no. However, for those that dig the option to wear it as a backpack and travel for work and with a certain selection of gear they need to keep protected (eg. a laptop and tablet), it's perfect.
If you're on the fence, we'd recommend checking out the Nomatic Travel Bag review.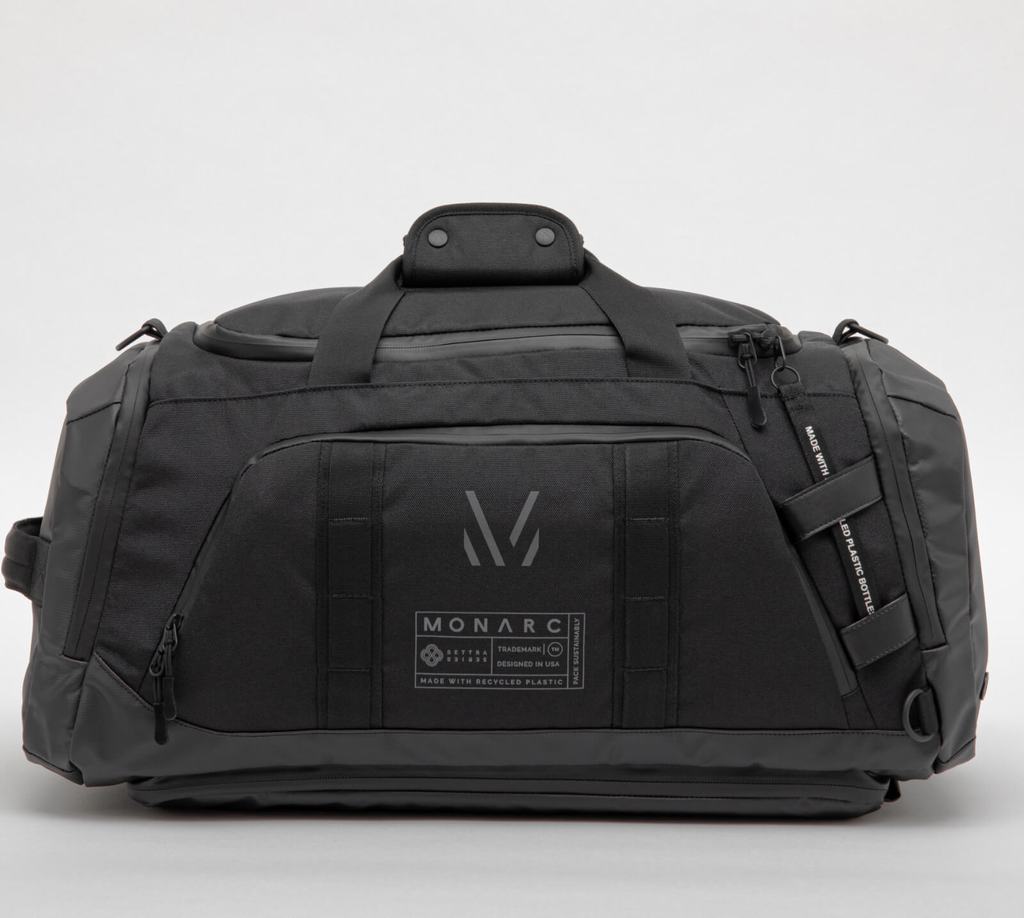 The realities of travel can really take their toll on the planet. It's no surprise that Ecological and Sustainable travel initiatives are now really gaining momentum. The Monarc 2-in-1 Duffle-Backpack is the world's first backpack made from 100% recycled bottles and the producers have been awarded a highly coveted "plastic negative" rating.
But here this, not only is this backpack totally eco-friendly but it's also a bloody great pack. Firstly, its 2-1 concept design means it can be worn as a backpack or carried as a duffel using the comfortable handle/ shoulder strap. If you do wear it on your bag, there are adjustable straps to help carry the weight.
Pros
Made from recycled plastic bottles
TSA Carry-on compliant
Duffel and Backpack
Cons
Kinda heavy
No compression straps
Is the Monarc Settra Duffel for me?
Then there are the organisational possibilities. Its' 40L of storage can go pretty far and the pack offers a shoe compartment and a 17" laptop sleeve. Coming in at $149.00, it's well worth the bucks although if you have the budget we also recommend picking up the full set including camera cube, compression cubes and laundry bags.
Anything else? Oh yeah, it's also water-resistant, TSA Carry-on compliant and comes with a lifetime guarantee!
North Face makes some of the best bags with integrated wheels, such as the North Face Maleta! If you're caught between deciding whether to take a duffel bag or a carry on case, then this rolling duffel bag is like a Franken version to cover all bases!
Turn your duffel into a wheelie suitcase when surfaces allow – such as the endless hall spaces of airports. It's really super easy to transport this wonderful duffel wherever you are. It also includes an extendable metal handle as you would find on a wheelie suitcase; there are three good-sized grab handles, making the Maleta very easy to, well…handle!
At 22" and with a capacity of 40 litres, the Maleta is also a great size for shorter trips of a few days, and fits the requirements for a carry on item for most major airlines too! If you need a bigger travel duffel bag, then no worries! We have also reviewed North Face's 80 litres Thunder Wheeled Duffel below!
Pros
Integrated wheels
Good mid-range size for shorter trips
Compression straps
Fits most airlines' carry on restrictions
Cons
3kg boxed weight
Wheels can't be hidden
No compression straps
Softshell bag without rigidity
Is the North Face Maleta for me?
The integrated wheels of the Maleta by North Face make this a travel duffel bag that is going places – literally. Save your hands and shoulders the hard work as you zoom about rough and smooth floor surfaces while taking advantage of all the reasons you wanted a duffel in the first place! You really can't beat the versatility of this rolling duffel bag.
While we love The North Face's Maleta, the rolling thunder is equally as great. This wheeled duffel provides traction in all conditions, but the Sherpa strap lets you carry your duffel when you need to.
Its handle and back-panel structure add durability to the rolling duffel bag. You also have an internal split mesh pocket, 2 external zippered pockets, and a small zippered pocket on top for organisation.
Pros
Integrated wheels
Large for longer trips
Good Capacity
High quality
Cons
Heavy
Wheels can't be hidden
The handle needs both hands to pull up
Might be too big for some
Is the North Face Rolling Thunder for me?
Perfect for a month abroad, The North Face Rolling Thunder wheeled duffel bag has 80 litres of interior space and ample organisation to take you (and your gear) around the world. However, there are no removable backpack straps so you're stuck to wheeling it around!
This duffel pack is a functional bag that converts into a backpack when you need to use the removable shoulder straps. It's a perfect carry on duffel bag at 40-litres and its full-length padded back pocket will protect your 15″ laptop.
It also has plenty of organisational pockets, like lined external pockets that are water-resistant to separate wet and dirty gear and a side pocket with an inner zipped security pocket. The bag features removable backpack straps as well as a padded shoulder strap so you can wear it how you like.
Looking for more options, check out our best carry on duffel bags post if this is what you're specifically looking for.
Pros
Cool vintage style
Durable 600-denier nylon
Padded backpack straps & a removable shoulder strap
Separate compartment for dirty and wet clothes
Cons
No waist straps for backpack use
No water bottle pocket for backpack use
Is the Filson Duffel Pack for me?
Carry the Filson Duffel pack as a duffel or a backpack. This all-purpose travel bag is made with lightweight, tear-resistant matte nylon and has protective padding so you can carry everything all day.
Although you could easily use the North Face Maleta as your carry on travel duffel bag, our top pick in this category is the Tileman Canvas Duffel!
So, why's that? This bag belongs in the 'weekend away in a fancy hotel' class of duffel bags; this duffel oozes class with its classic look of canvas and faux leather. Durable thanks to its tough materials, it will survive the knocks, dust, and dirt of travel while weighing just 1.25 kg. This might just be the most stylish carry on duffel bag on the market!
It has the potential capacity of 55 litres while still being suitable as an airline carry on. Inside you'll find two zip-close security pockets and a further two open pockets for smaller items, while the outside of the duffel has a further couple of small compartments and external pockets. It also features a removable shoulder strap for great wearability.
Pros
Excellent style
Durable canvas construction
Weighs just 1.25 kg
Stud feet
Cons
55 liters may be a little large for some
No dedicated laptop sleeve
Faux rather than real leather
Zips can't be locked
Is the Tileman Canvas Duffel for me?
If you're looking for a travel duffel bag that will set the scene for a luxurious or romantic couple of days away, you've found it with the Tileman Canvas Duffel!
But more than simply a pretty face, its durability and relative lightness of weight make it a duffel bag you'll want to reach for again and again!
If you need a bag for a weekend getaway, for everyday use, for business, the Kodiak 60L is definitely the best all-around men's leather duffel bag. This stylish choice won't look out of place anywhere: on a high-end weekend getaway, or just running some errands around town.
Made from all thick top-grain leather by the folks at Kodiak 60l Weekender which is sturdy hardwearing and bloody beautiful.
Not a typical chuck-it-all-in duffel, the Kodiak weekend bag has a few organisation options. The bag includes three exterior pockets that use YKK zips, as well as a zipped shoe compartment and a dedicated laptop sleeve at the bottom of the bag. This external pocket means you can easily take your laptop out, and put it in again when it comes to airport security.
Looking specifically for a men's bag for the weekend, check out our post for more options.
Pros
Backpack handles and grab handles
Great material and build
Padded bottom
Range of volumes
Cons
Expensive
Not designed for backpackers
Not one for harsher adventures
Is The Kodiak 60L Weekender For Me?
Speaking of which, this bag is carry-on compliant, so you'll be able to throw it over your shoulder and breeze right past the luggage carousel on your next trip, which makes this high-quality bag all the more convenient.
This is a stylish, hardwearing and uber-masculine duffel option. Oh, and there's also a removable shoulder strap for a variety of carrying options.
Who can argue with a duffel bag that even calls itself the Women's Favourite? Its smaller size compared to some of the travel duffel bags on our list make it great for throwing in some clothes for a last-minute night away from home, or as an everyday duffel for carrying your gym kit.
Its softshell construction means it also folds down incredibly small and can be used as a spare bag without adding much weight to your other luggage! This duffel has a good degree of water resistance, which will keep your kit safe from light rain showers, with other features including a hanging internal pocket to keep small items safe.
Pros
Specifically designed for women
Lightweight
Water-resistant
Hanging internal pocket
Cons
Softshell construction
Not fully waterproof
No backpack straps
Not suitable for business travel
Is the Under Armour Women's Favourite 2.0 for me?
Women looking for a simple, lightweight duffel to get their kit from A to B without spending hours packing to fill every nook and cranny of a backpack will be very happy to buy Under Armour's Women's Favourite 2.0. A great everyday travel duffel bag, it also has a great price!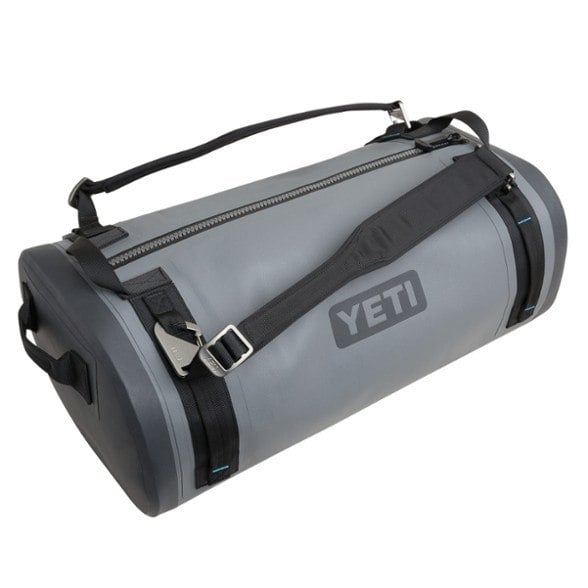 Considering YETI makes the most durable coolers, insulated tumblers, and packs, expect the same emphasis of quality and durability from their dry duffel. You could probably throw this duffel over a waterfall and your stuff would still stay dry!
This is the best travel duffel bag if you are doing any type of water activity – rafting down a river; living on a boat; travelling in monsoon season; you name it, YETI's got you.
You could simply attach this to the side or a river tube and it would hold up! It has 6 lash points and 2 long straps so you can haul your bag in multiple ways. 2 easy-to-access mesh pockets keep your valuables safely tucked away. We think 50 litres is a perfect size, but if you need something bigger, this bag also comes in a 75 litre and 100-litre size.
Pros
Most durable duffel bag ever
Fully Waterproof
Water-resistant
Hanging internal pocket
Cons
Heavy (price you pay for durability)
Might be overkill for basic trips
Expensive
Is the YETI Panga 50 Dry Duffel for me?
Keep your gear dry on your next trip with the YETI Panga 50 dry duffel. This fully waterproof bag is designed to handle total water submersion while remaining 100% dry on the inside.
Need a seat? Grab your Panga. Need a backpack? Grab your Panga. Need a personal floatation device? Grab your Panga. This is the most durable travel duffel bag on this list. Use it for your craziest adventures!
Thanks to the SUVOM Suit Travel Duffel, you can still use a duffel bag and travel with the smarter clothes of a business trip. This duffel cleverly opens out flat to create a dedicated compartment for laying suits and shirts flat without folding them tightly; you'll find them as wrinkle-free when you arrive at your destination as when you packed them away.
There's also another dedicated compartment for your business shoes, and four internal zip pockets and a small zip-close external pocket. Lastly, at 55 litres, this duffel both has enough volume for a few days away, and is generally airline carry on compliant.
Pros
Rolls out flat to take suits
Wrinkle-free clothes storage
Dedicated shoe compartment
Internal zip-close pockets
Cons
No backpack straps
Made from synthetic materials
No dedicated tech sleeve
Not for adventure travel!
Is the SUVOM Suit Travel Duffel for me?
Need to keep a suit and shirt crease-free while travelling? Here's the answer, the SUVOM Suit Travel Duffel! Its fold-out design makes it super-easy to transport business wear without the need to iron at your destination and takes care of all those little extras with its shoe compartment and necktie pocket to name just two.
The best present of all… is CONVENIENCE!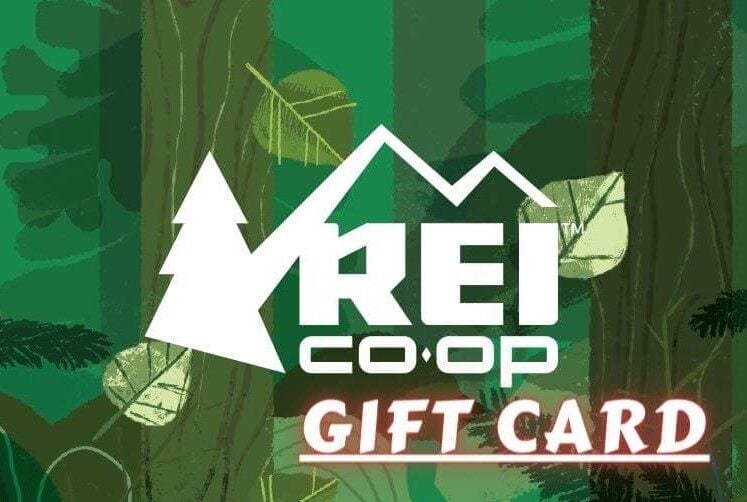 Now, you could spend a fat chunk of $$$ on the WRONG present for someone. Wrong size hiking boots, wrong fit backpack, wrong shape sleeping bag… As any adventurer will tell you, gear is a personal choice.
So give the adventurer in your life the gift of convenience: buy them an REI Co-op gift card! REI is The Broke Backpacker's retailer of choice for ALL things outdoors, and an REI gift card is the perfect present you can buy from them. And then you won't have to keep the receipt. 😉
Buy on REI!
When you are hitting the mountains for days on end, you'll need a duffel bag that is up to the challenge. The North Face Base Camp duffel has been an essential piece of kit for explorers, mountaineers, and adventurers for decades.
I have taken this bag into the depths of the Karakoram range in Pakistan. It has been snagged against a barbed wire fence, stepped on by pack mules, dropped in the mud, and snowed on for hours. Whenever I head to the mountains for an extended adventure, you better believe that this bag is coming with. 10 stars.
Pros
Comes in multiple sizes
Just 4 lbs in weight
Ultra Durable
Come with backpack straps
Cons
Lacks a little rigidity
Not fully waterproof
Not all versions carry on compliant
The big sizes are awkward to carry when packed full
Is the The North Face Base Camp duffel bag for me?
Are you going on a serious adventure and needing to haul all of your gear along for the ride? This is the bag for you.
Well, never thought I would take a duffel bag on hikes and bike rides, but Osprey has done it again! This is one of the best all-around travel bags, no question!
You can toss this on top of your car or stow it away on a flight. This bag can easily be used for ANY type of adventure.
The bag unzips for easy access to the main compartment. There is a vented shoe storage area (a huge plus, in my opinion), a top padded pocket for delicate items, side pockets for a water bottle and small items, and internal zipper pockets for organization. There is even a helmet holder!
The straps and back support are not as padded as Osprey's hiking backpacks, but it will do the trick for shorter hikes and rides! They even have a sternum strap for added comfort.
Pros
Ripstop Nylon material
Versatile backpack/duffel
Plenty of organizational compartments
Lightweight
Cons
Not as comfortable as hiking backpacks
Not fully waterproof
40 liters might be too small for some
Is the Osprey TrailKit Duffel for me?
The Osprey TrailKit is a mobile base camp for all your mountain-biking, trail-running and skiing escapades. It has all the organizational bells and whistles you need to organize your gear, and multiple uses mean it is a functional bag for a wide array of trips.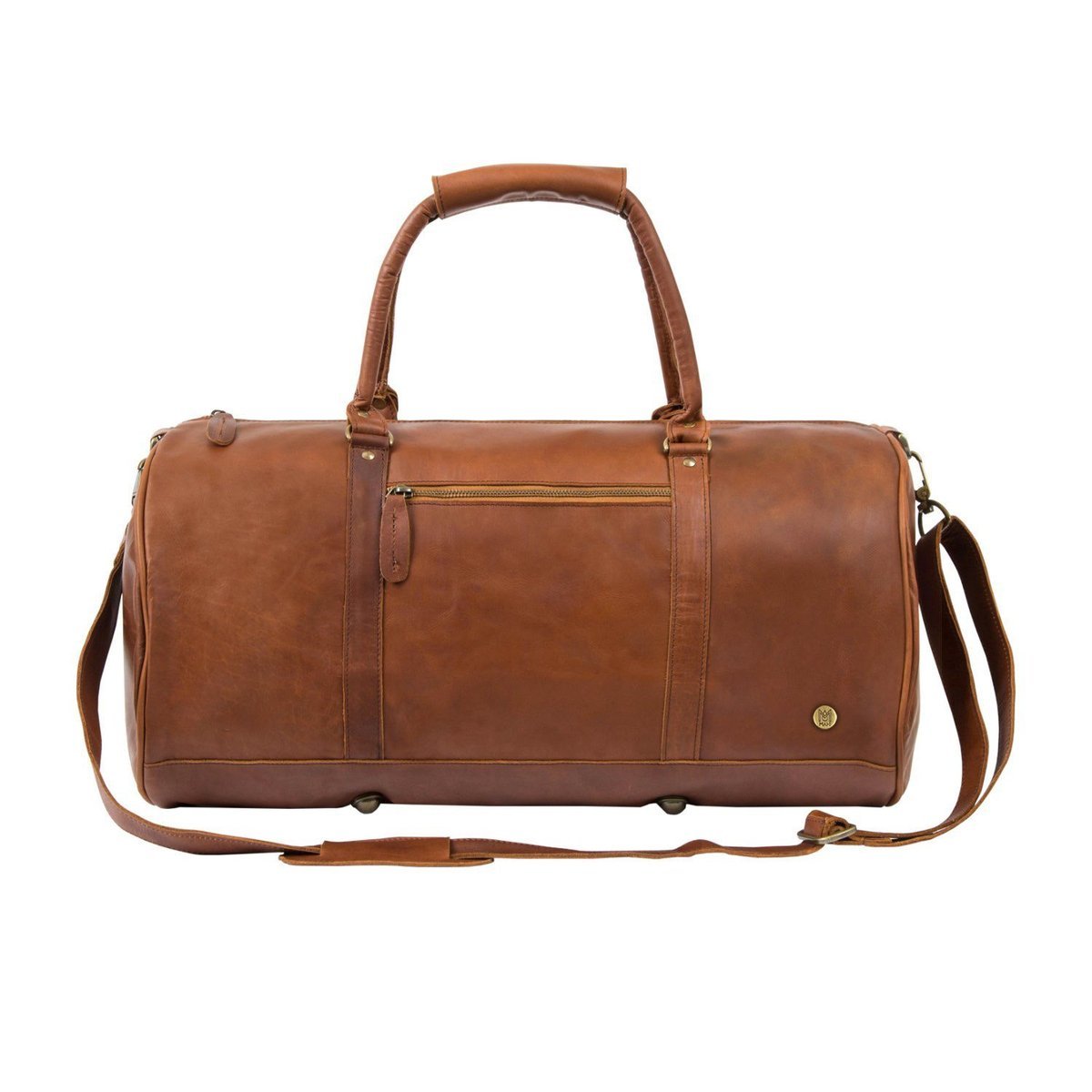 Looking for the great men's leather duffel bag days out and short trips? If so, the Classic Duffle by Mahi may be just for you.
Combining traditional elegance with rugged practicality, the MAHI Classic Duffle in Vintage Brown is a lovely luggage piece for those looking for a stylish gym bag, weekend or overnight bag.
It's made with beautifully supple full-grain leather on the main body and complimented with a fawn cotton lining. Other features include four brass studs on the base, a front zipped pocket for easy access to your essential items, a smaller zipped pocket on the inside and a detachable and extendable shoulder strap with additional padding for comfort..
Pros
Designed for low-cost carrier use
Soft Leather
Multiple zippered pockets
Cons
Heavy for size
Not big enough for many trips
Not waterproof
Is the MAHI Leather duffel for me?
Being a small bag, this one is approved for carry-on by most airlines either the super strict budget ones. When it comes to packing, this thing thankfully stands up on its own, not falling in on itself as some duffel bags tend to.
Looking to travel with a lot of kits? You're going to need a large travel duffel! The Marmot Long Hauler comes in a variety of sizes, much like Patagonia's Black Hole duffel series, and runs up to the 105 litre XL version. It is available at a very reasonable price tag for the volume size of the bag.
What else do you get for the price? You get a duffel specifically intended for rougher travel, made from 600 Dernier waterproof materials with a large D-zip opening for easy access. You also get two removable shoulder straps and a side zip-close pocket for smaller items.
Pros
Made for tougher travel assignments
105 litres
Waterproof
Large opening
Cons
No major internal divisions
Not for business travel
Has to go in the aircraft hold
Weight of 1.6kg
Is the Marmot Long Hauler for me?
This unisex travel duffel bag by Marmot certainly fits the definition of a large travel duffel with a capacity of 105 litres. Is it the best? Well, we think it is! Tough and ready for anything, simply throw your kit in, and start your adventure!
Best Large Travel Duffel (#2) – Mammut Cargon
The Mammut Cargon is a travel duffel bag for anyone who needs to transport larger amounts of baggage since it has a volume capacity of 90 litres.
Rather than having an external compartment at one end of the bag, it has one at either end helping with the organization of large amounts of kit.
The main compartment has a wide D-shaped zip-close opening that makes it simple to load and unload, while the large tags on the zips make them easy to shift even with cold fingers! Water-resistant all around, it has a waterproof bottom so there are no worries about lowering the bag onto the wet ground.
Pros
Large capacity
The external compartment at both ends
Wide D-shaped opening
Large zip tags
Cons
Water-resistant but not fully waterproof
Too large a capacity for many
Weight of 1.3 kg
Not ideal for business travel
Is the Mammut Cargon for me?
If you need a travel duffel bag with a large capacity, the Mammut Cargon could well be the duffel bag for you! Its 90-litre capacity is divided between the main compartment at two end compartments, while the waterproof base is another fine addition.
Best Travel Duffel Bag for the Mountains (DURABLE) – North Face Base Camp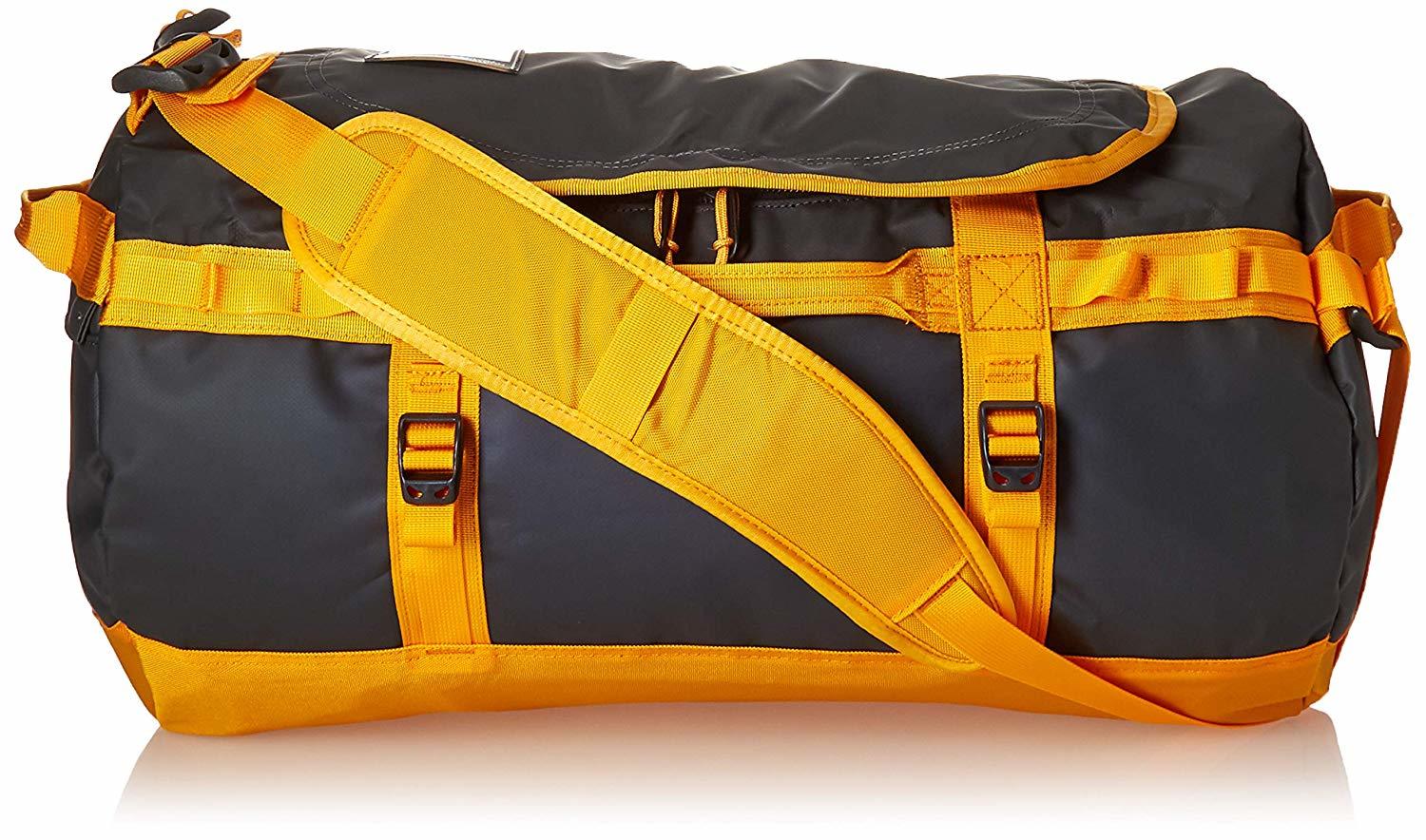 The cylindrically-shaped Base Camp duffel by North Face is a 50-litre capacity bag with an empty weight of just over 1.23 kg. They do carry sizes up to 90-liters as well!
As you would expect from North Face, the Base Camp Duffel is made from durable materials of 80% polyester with 20% polyamide. There's a separate compartment at one end, and a zipped mesh pocket within the main compartment for easy access to smaller items.
The duffel comes with wide, adjustable, shoulder straps designed to avoid twisting, and padded grab handles. External compression straps around the circumference of the main compartment and at either end of the bag help reduce down and secure your contents.
Pros
Good empty weight
Made from durable materials
Pockets for smaller items
Ergonomically-designed shoulder straps
Cons
Not fully waterproof
Not ideal for business travel
Softshell duffel
Synthetic rather than natural materials
Is the North Face Base Camp for me?
This is an iconic, super-tough expedition duffel from The North Face. The separate end compartment means you can keep clean and dirty items divided without endless periods of repacking, while the durable materials used will ensure the Base Camp can be used for more than just the one adventure!
This stylish bag is one of the best travel duffel backpacks if you're on a budget! The Fresion Vintage Canvas Duffel is listed under $40 and is perfect for a weekend in the city versus a few days of camping in the wild.
It comes in a very attractive grey canvas and leather-coloured webbing styling. It incorporates zipped compartments at either end and another on the side in addition to the duffel's main compartment. Expansion zips give a total overall volume of 39 litres, plenty for that weekend away, while there are also lock-together carry handles and an adjustable shoulder strap.
Pros
Lovely design
Comprises zipped compartments
Expansion zips give 39-liter capacity
Adjustable shoulder strap
Cons
Not very durable
Capacity may be too small for some
Not fully waterproof
Hand wash only
Is the Fresion Vintage Canvas Duffel for me?
Any man or woman about town will readily fall in love with this unisex vintage canvas duffel. The ideal size for a weekend away, it consists of smaller end compartments and pockets as well as the main compartment and also boasts an adjustable shoulder strap.
We end our tour of the best duffel bags with the simple and effective Granite Gear packable duffel. This duffel is a packable duffel designed for when you might need extra carrying capacity during one part of your trip, but not for all of it – use it, then pack it away in your primary luggage bag and forget about it!
This packable duffel from Granite Gear only weighs 1 lb and 8 oz of durable fabrics and with reinforced straps that are also padded in places for additional comfort.
Pros
Choice of 4 volumes
Packable
Weighs very little
Durable
Cons
Imported into the UK
Straps would benefit from additional padding
Not fully waterproof
Doesn't have a rigid structure
Is the Granite Gear Packable Duffel for me?
The Granite Gear Packable Duffel cannot entirely compete with some of the 'standard' travel duffel bags we've already reviewed, but it is a fantastic answer to anyone who needs a duffel for a short period on a longer trip and then needs to pack it away!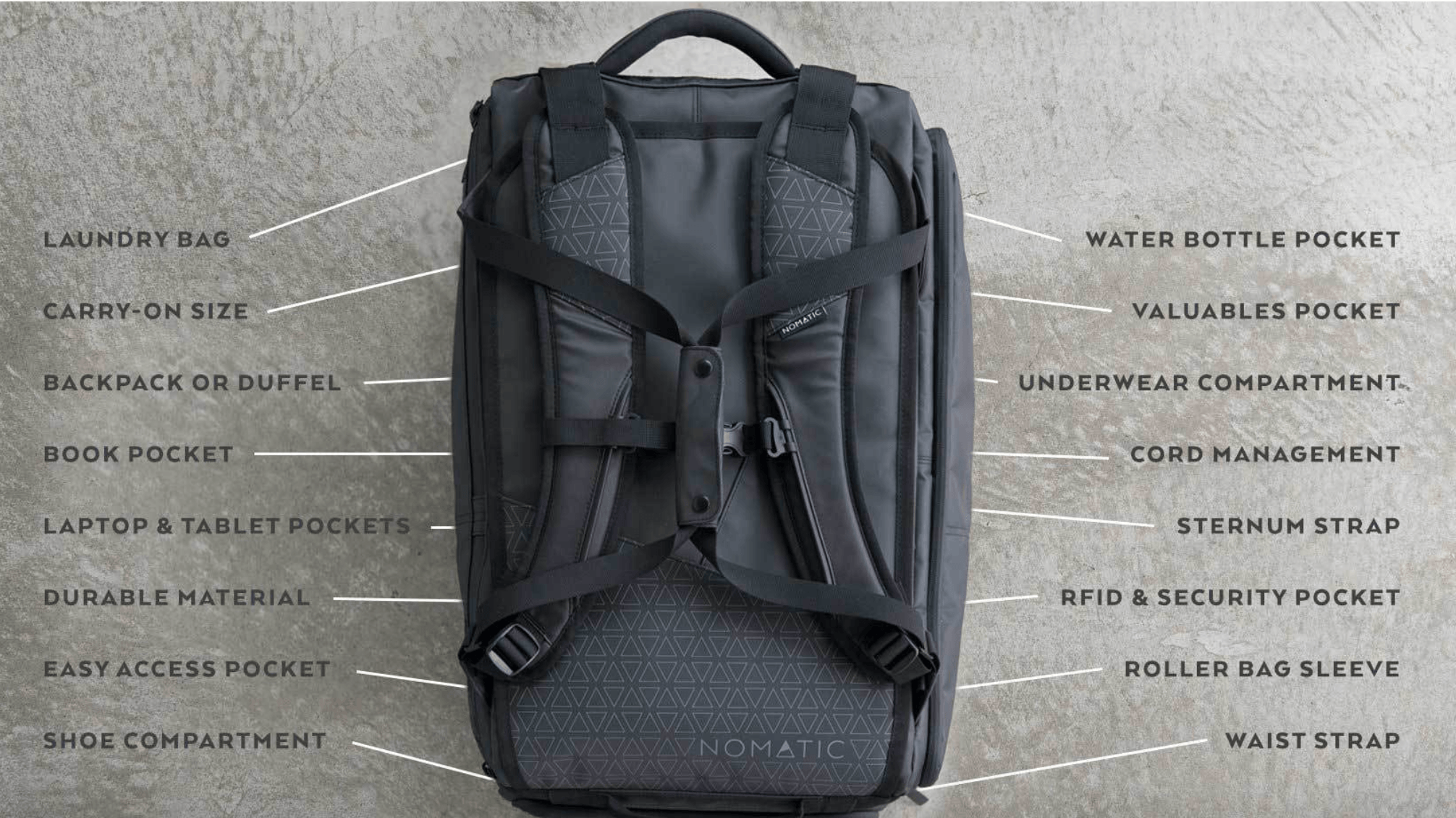 Okay, so it's not PRIMARILY a duffel bag, and much better known as a travel backpack BUT it was designed to be a duffel backpack. For its versatility alone, it deserves a spot on this list! This bag is modern, and extremely well designed for efficiency. With its clever design, size and portability it can easily be used for one bag travel if you're trying to lighten the load.
There are so many cool features on this bag, so read our full review of the Nomatic Travel Bag!
Pros
40 L perfect carry on size
Adjustable shoulder and waist straps
Laptop compartment
Tons of features
Cons
Not fully waterproof
Expensive
Not primarily a duffel bag
Is the Nomatic Travel Bag for me?
Here at The Broke Backpacker, we are big fans of Nomatic – and the Travel Bag is their best backpack to date. Nomatic bags are designed to be modern, sleek, and provide ultimate packing efficiency. This is accomplished by great design, tons of features, and more pockets and sleeves than you'll know what to do with.
Whether you are traveling for a business trip or you are a Digital Nomad traveling the world, this will keep your laptop and valuables well secured all while looking stylish.
FAQ about the Best Travel Duffel Bags
Still have some questions? No problem! We've listed and answered the most commonly asked questions below. Here's what people usually want to know:
Get Your Copy of the Backpacker Bible Totally FREE!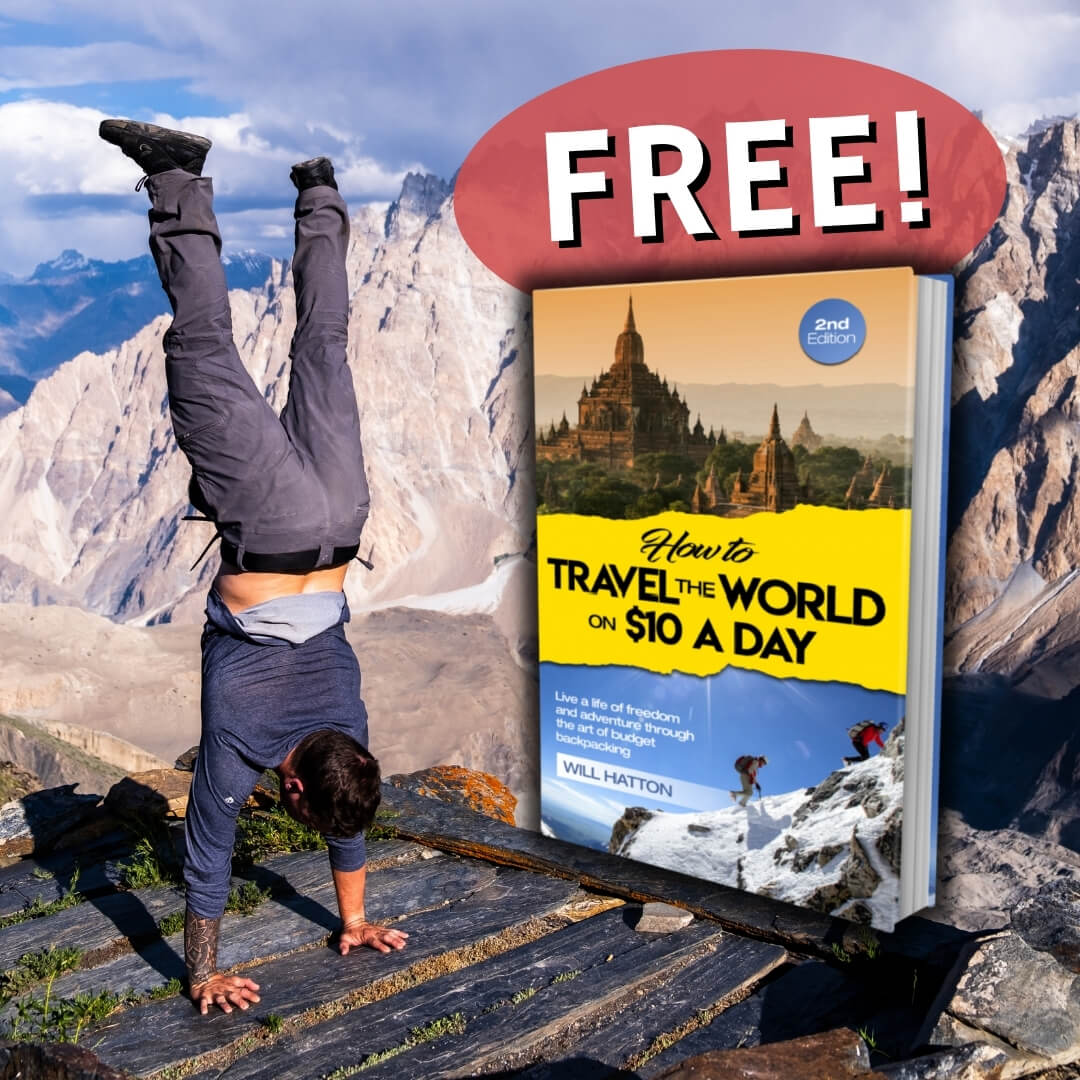 Learn how to travel the world on just $10/day with the Backpacker Bible – Will Hatton's own personal guide to the life of a budget traveller!
This book is the ULTIMATE culmination of more than 10 years of travel experience. It's full of valuable insider hacks and secrets that will help you unlock your full potential as a traveller.
AND… it's also FREE at the moment! All you need to do is click this link (or the sexy image of Will flexing his handstand skillz), provide your email, and we'll email you the ebook lickety-split!
What is the Best Travel Duffel Bag? – Final Thoughts
In this guide, we've covered the 17 best travel duffel bags on the market. From the big players to smaller brands, we've reviewed the ones fit for the great outdoors, your next business meeting, or a short hotel stay.
Nowadays, you're spoilt for choice when it comes to travel gear. Do you want a duffel bag with wheels? One that is lightweight? How about a fully waterproof duffel backpack? All you need to do is pick out the best travel duffel bag for you!
Still not sure duffle bags are for you? Check out our rundown of the best travel bags instead and see what works best for you.
---
Thanks for reading – that was fun! 😀
We bring you epic FREE content!
Find out how YOU can help support us.
We're a big site with a big team and this job isn't always easy. But we do it because we love it – we love providing epic and free content. We love the knowledge that our content keeps you adventuring. We don't ask for money, but if you'd like to find out how you can help the site in more organic ways, click the button below.
Thank you for your support 🙂
---
Bye for now, but not forever!
If you want MORE top-tier Broke Backpacker content like this, then sign up for our weekly newsletter below to get the latest and greatest!
And for transparency's sake, please know that some of the links in our content are affiliate links. That means that if you book your accommodation, buy your gear, or sort your insurance through our link, we earn a small commission (at no extra cost to you). That said, we only link to the gear we trust and never recommend services we don't believe are up to scratch. Again, thank you!