Most people tend to travel with a suitcase or backpack, but we're here to review the best duffel bags and highlight their many advantages.
Now that big outdoor brands like Marmot, The North Face, and Patagonia have put their know-how and years of experience into this marketplace, the duffel bag has been revolutionized, no longer just an oversized bag to get from point A to point B.
Even the simplest travel duffel, however, have their advantages. For one, they're the best option if you are traveling with bulkier items such as snow boots, life jackets, or camping gear.
All of that being said, not all duffel bags are created equal. Whether you need a bag for your next adventure or simply a sleek bag to travel for work, we've reviewed dozens and dozens of duffels and compiled a list of the top ones on the market.
So if you think your luggage is due for an upgrade, check out our comprehensive reviews of the best travel duffel bags around, and get yourself a duffel worthy of broke backpackers, adventurers, vacationers alike! We've got everything from duffel bags with compartments, those with backpack straps and weather resistant numbers too!
So, ya'll want to find out what THE best travel duffel bag is, you're in the right place! Let's go!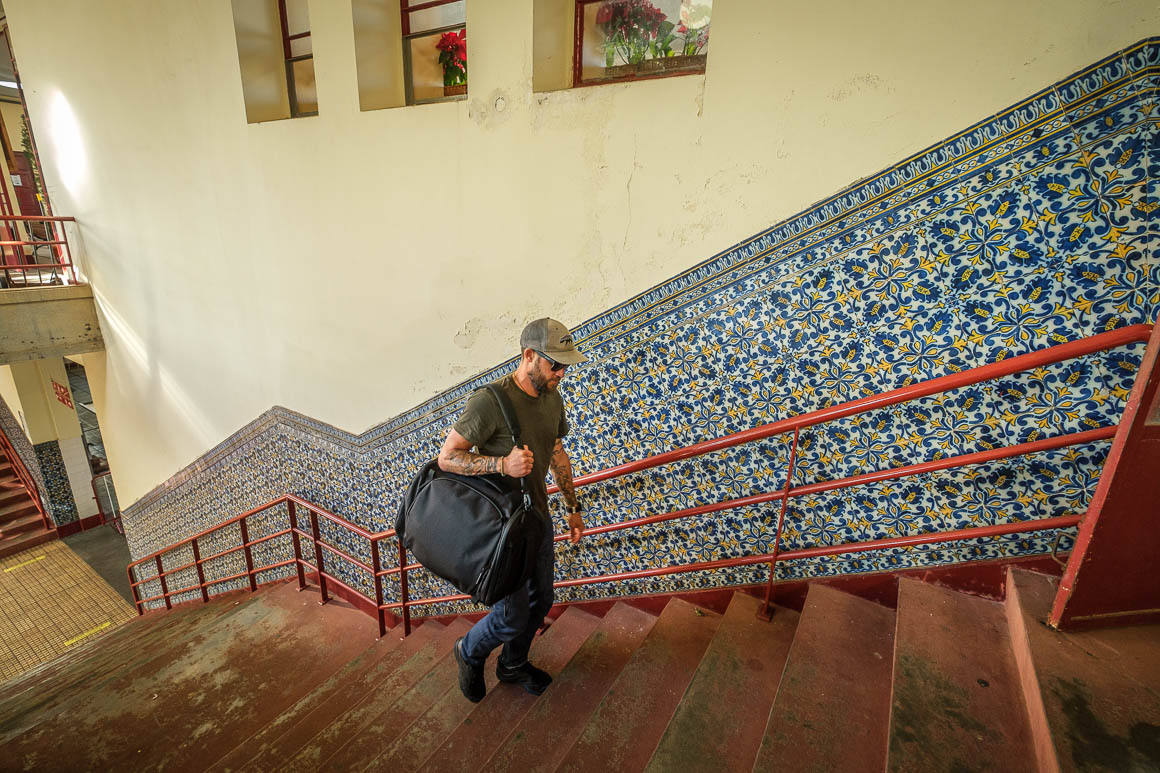 Quick Answer: The Best Travel Duffel Bags on the Market
THE BEST OF THE BEST TRAVEL DUFFEL BAG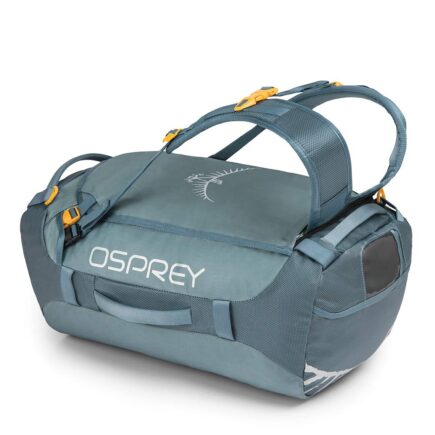 THE BEST OF THE BEST TRAVEL DUFFEL BAG
Osprey Transporter Expedition Duffel
Price: > $$
> Stowable padded backpack straps
> Rain flaps
THE BEST OF THE BEST TRAVEL DUFFEL BAG (Runner-up)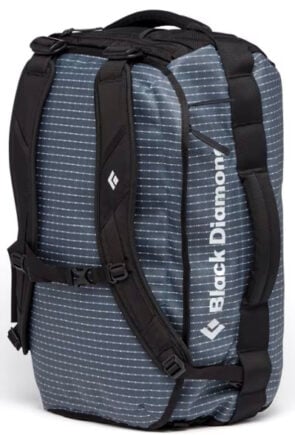 THE BEST OF THE BEST TRAVEL DUFFEL BAG (Runner-up)
Black Diamond StoneHauler Pro 30 L Duffel
Price: > $$$
> Wonderful design
> Laptop compartment
DUFFEL BAG MEETS HIGH-UTILITY BACKPACK
DUFFEL BAG MEETS HIGH-UTILITY BACKPACK
Nomatic Travel Bag
Price: > $$$
> Highly-functional backpack with a duffel mode
> Durable and modern traveler equipped
BEST LEATHER DUFFEL BAG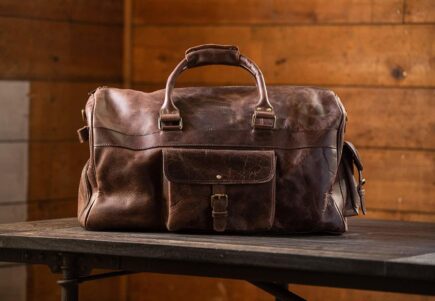 BEST LEATHER DUFFEL BAG
Kodiak 60l Weekender
Price: > $$
> High quality leather
> Roomy and spacious
BEST CARRY ON TRAVEL DUFFEL BAG
BEST CARRY ON TRAVEL DUFFEL BAG
Patagonia Black Hole Duffle
Price: > $$
> Backpack handles and grab handles
> Nice and light
BEST WOMEN'S TRAVEL DUFFEL BAG
BEST WOMEN'S TRAVEL DUFFEL BAG
Under Armour Women's UA Motivator Duffle Sport Bag
Price: > $
> Lightweight
> Water Resistant
BEST WATERPROOF DUFFEL BAG
BEST WATERPROOF DUFFEL BAG
YETI Panga 50 Dry Duffel
Price: > $$
> Durable
> Water-resistant
BEST BUSINESS TRAVEL DUFFEL BAG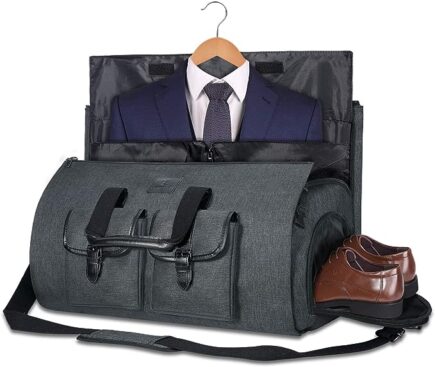 BEST BUSINESS TRAVEL DUFFEL BAG
UNIQUEBELLA Suit Travel Duffel
Price: > $
> Rolls out flat to take suits
> Wrinkle-free clothes storage
BEST DUFFEL BAG FOR EXPEDITIONS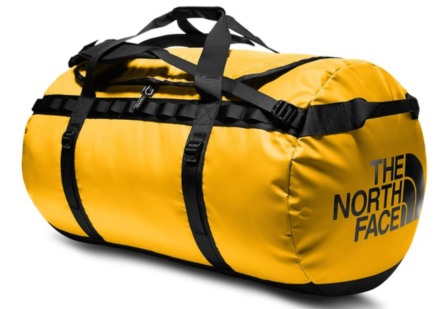 BEST DUFFEL BAG FOR EXPEDITIONS
The North Face Base Camp Duffel
Price: > $$
> Just 4 lbs in weight
> Come with backpack straps
BEST LARGE TRAVEL DUFFEL
BEST LARGE TRAVEL DUFFEL
REI Co-op Big Haul Recycled Duffel
Price: > $$
> Made for tougher travel assignments
> 105 litres
BEST SMALL TRAVEL DUFFEL BAG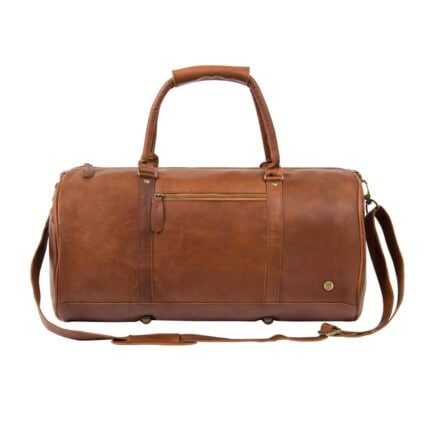 BEST SMALL TRAVEL DUFFEL BAG
MAHI Leather Duffle
Price: > $
> Compact and 28L
> Tons of organizational pockets
Top Picks of the Best Travel Duffel Bags
Ladies & Gents, It's Time to Step Your GEAR Game Up. 😉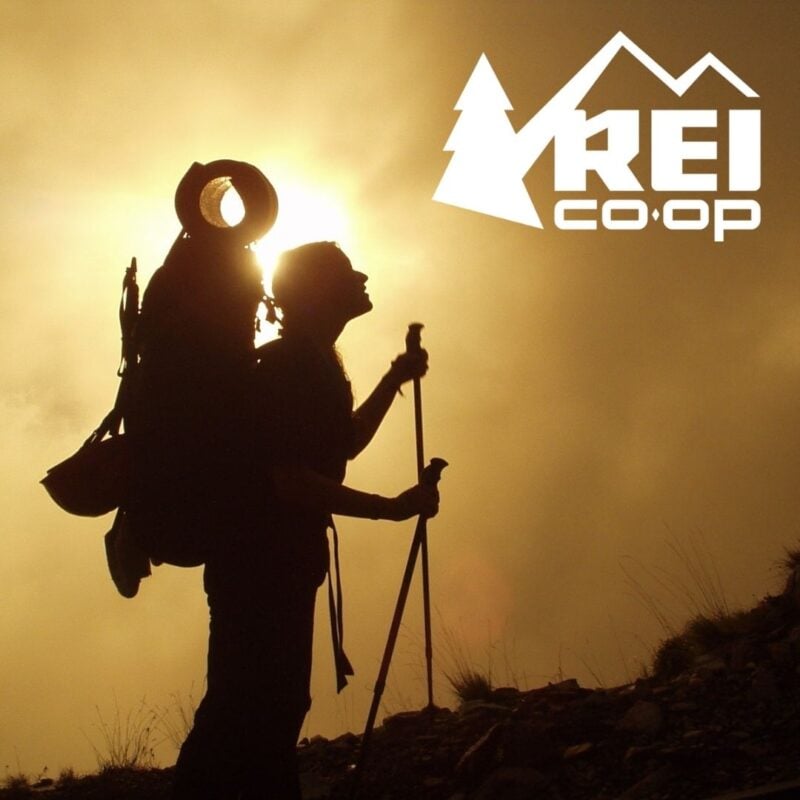 REI is one of America's biggest and most-loved outdoor gear retailers.
Now, for just $30, get a lifetime membership that entitles you to 10% OFF on most items, access to their trade-in scheme and discount rentals.
Join REI Today!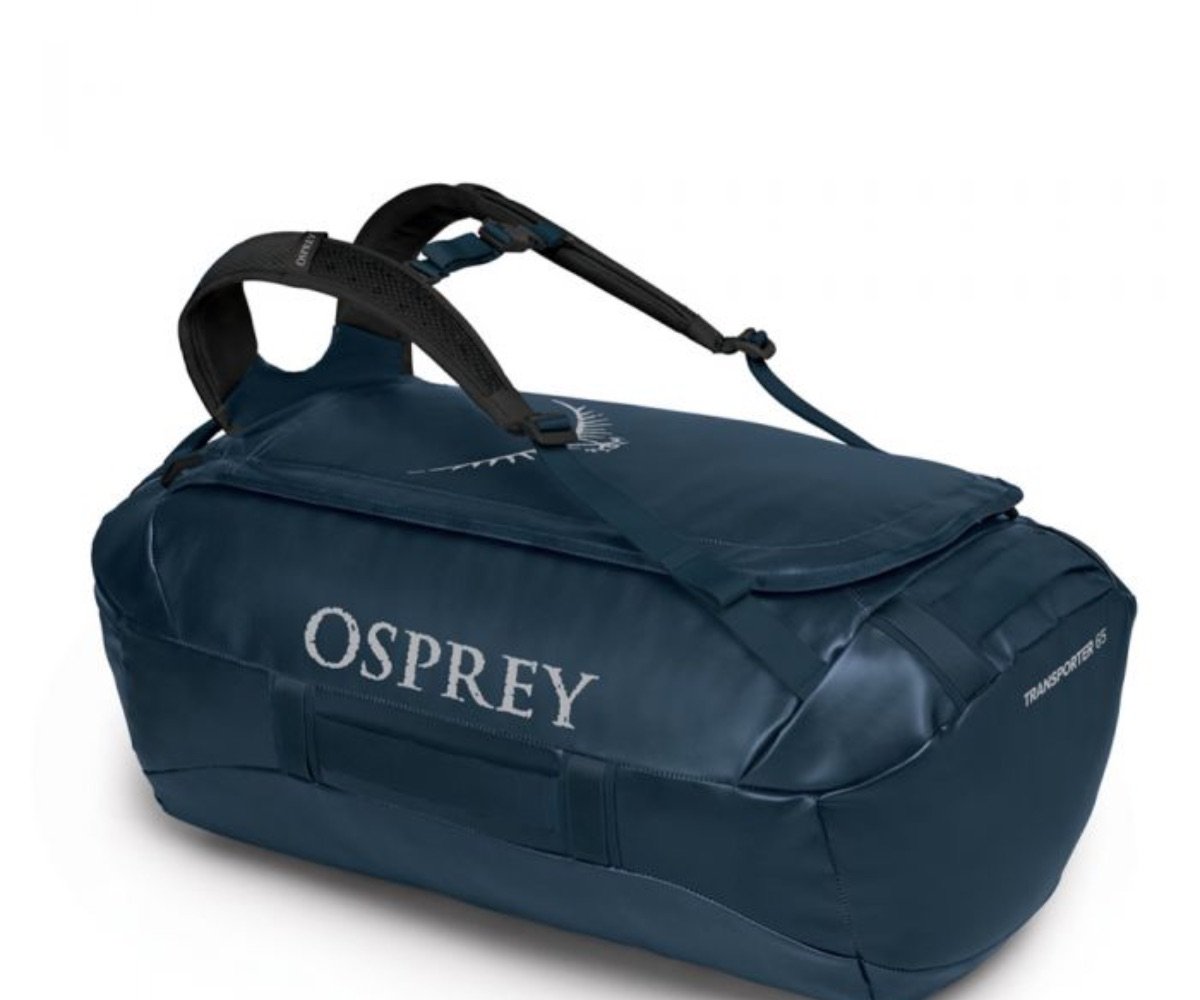 The Osprey Transporter Expedition Duffel offers its users the best of both worlds. It has all the features that drew you to a travel duffel bag in the first place, along with a comfortable set of stowable, padded shoulder straps if you have to carry it for a longer period.
This duffel's zippers are lockable, giving added peace of mind if and when you need to let it out of your eye line – such as on an aircraft or in a hostel room – and also has the bonus of a padded internal compartment to keep your delicate tech safe while on the move.
What's more, the quickest of touches will convince you of the long-lasting durability of the materials used, together with a rain flap to keep precipitation from ruining your time away!
Pros
Stowable padded backpack straps
Zips can be locked
Padded compartment for tech
Rain flaps
Cons
Not fully waterproof
40 liter might be too small for some
Not guaranteed to be carry-on compliant
Rigid construction
How The Osprey Transporter Tested
I have personally tested dozens of Osprey travel packs now and its rare I encounter one that I don't love. We took the transporter on a road trip across the Atlantique region of France and packed it full of enough gear for 2 people. It felt very strong, rigid and weatherproof and I have no doubt that it would withstand a goos few years of abuse. The organisational layout is highly intuitive and we found it easy to pack, and retrieve our gear when we needed it.
In terms of downsides, I am just not all that sure about how much I like backpack /duffel hybrids and this one does feel slightly awkward to me when I wore it as a backpack. Sure, the backpack straps do pack away but this adds to the weight and I did feel it.
Is the Osprey Transporter Expedition Duffel for me?
If you love the idea of a travel duffel bag but worry about how you're going to transport it further distances, then the Osprey Transporter Expedition Duffel has it all figured out thanks to the incorporated backpack straps! It's one of the reasons it stands out amongst the other duffel bags.
The padded tech compartment is a great addition, as is the ability to lock the zips!
Our team rated this as their "best travel duffel backpack", which means kinda what it says, a duffel that works just as well as a backpack and they love that versatility. They felt it had most of the features of some of the best Osprey backpacks whilst having the ability to be used as a duffel. They really love that it opens up more like a clamshell backpack into a super roomy interior.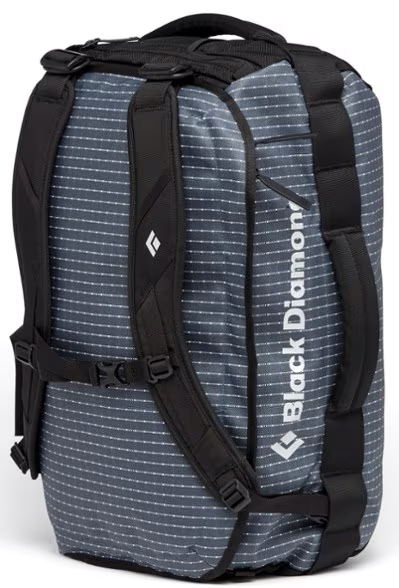 Black Diamond backpacks are among the hardiest and most respected in the travel world. Their StoneHauler Duffel Bag is no less impressive! If you're looking for a duffel bag with compartments then this is the perfect option.
This duffle bag was specifically designed for air travel, so it really shines when it comes to internal organisation in the main compartment with a dedicated area for your laptop and chargers. It includes a proper set of backpack straps that really do feel, well, like an actual backpack, which we found to be a great feature when we tested it! Its size makes it perfect for carry-on-only travel for week-long breaks.
Pros
3o L perfect carry on size
Wonderful design
Weather resistant material
Fully padded exterior zippered laptop sleeve
Cons
Not fully waterproof
Backpack straps on the same side as main zipper
Zips are a big fiddly
No water bottle pocket
How The Black Diamond StoneHauler Tested
To put the Black Diamond StoneHauler through its paces we brought it along on a weekend escape. Firstly, it passed the "will Ryanair actually let me take this into the cabin test?" comfortably which is pretty much 101 for any would-be carry-on piece. Moving on, the Black Diamond StoneHauler feels nice to the touch and its suave, blue-grey shades suited our clothes wonderfully. Zips and fittings all work very well and show no sign of breakage and we found the extra pockets and pouches great for packing in chargers and snacks.
It didn't rain during our trip so cannot comment on the weatherproofing but all things considered, we were very impressed by the StoneHauler.
Is the Black Diamond StoneHauler for me?
This is a well made and well thought out travel duffel bag. Its features, pouches and external pockets are perfect for a short trip. It's very durable and aesthetically pleasing. This carry on duffel bag is great for business trips because it stores your tech with ease. The only thing we're a bit disappointed about is that it doesn't fit a 15″ laptop — you've got other packs for that.
Our team loved this bag and felt it was the best duffel bag with internal compartments. Our team tends to travel with quite a bit of tech gear so they really love how these pockets and compartments can be used to store things like cables, chargers and hard drives. They also thought it was a great size for carry on without becoming too heavy.
Duffel Bag Meets High-Utility Backpack – Nomatic Travel Bag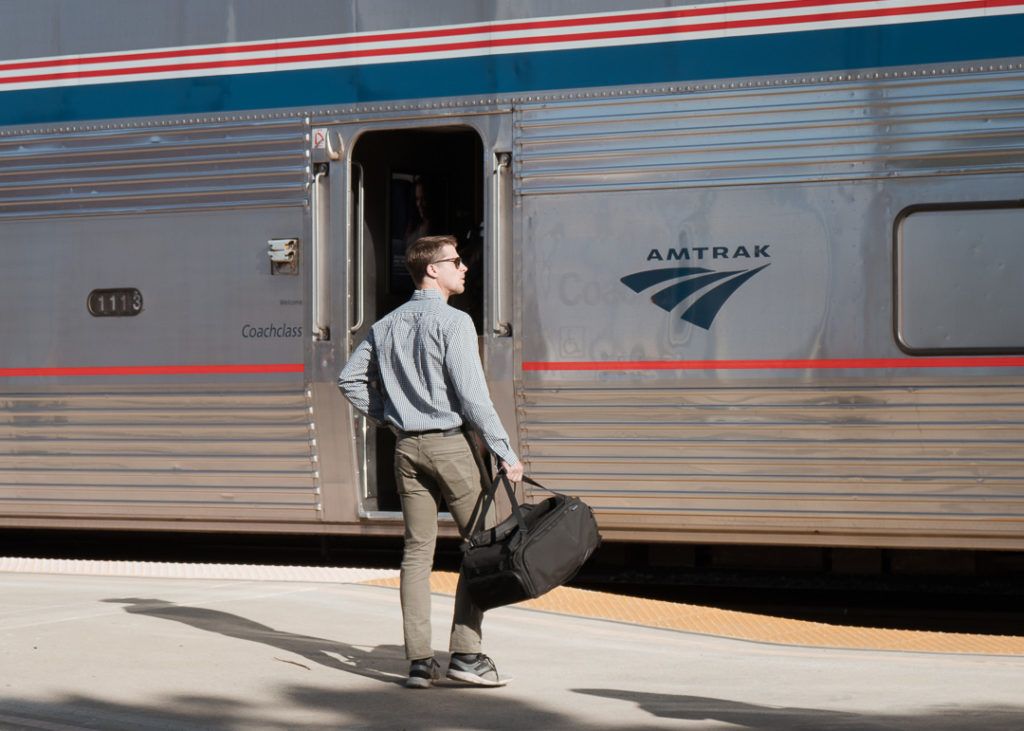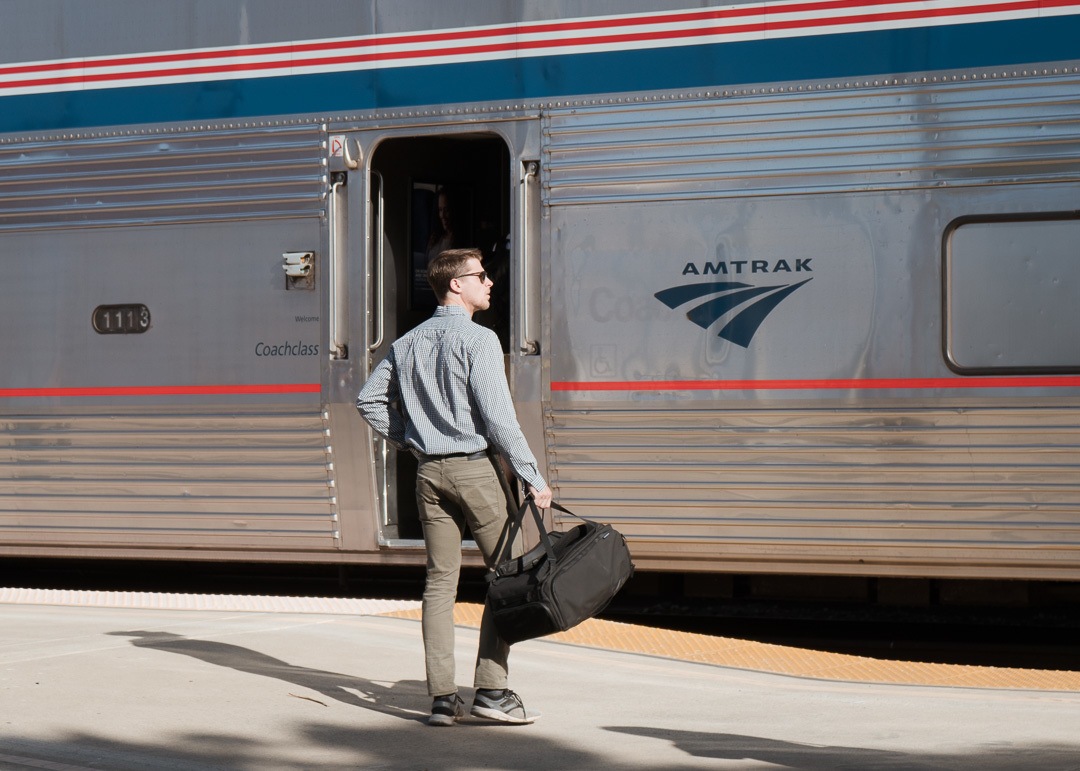 This duffel bag is not purely a duffel bag. In fact, it's not even primarily a duffel bag. And that's why we like it so damn much!
The Nomatic Travel Bag is a backpack for the modern-day traveller. It's loaded on the organization without an excess of empty space for unnecessary packing. Tech gear gets sleeves, shoes and dirty laundry get dedicated compartments, and everything else gets a space too!
But the best part is that if you flip this bad boy over and modify the straps, you have a completely functional duffel bag! Could we say it's like a transformer. Yes, it most certainly is.
It functions as a very structured duffel bag with a lot of interior organisation, however, to be totally honest, that's kinda rad!
Pros
40 L of pure organizational storage
Qualifies for carry-on luggage
Incredibly durable design
Doubles as a backpack!
Cons
Not a traditional duffel bag
Kind of cube-like in duffel-mode
Premium pricing
Not the right choice for everyone
How The Nomatic Travel Bag Tested
We're pretty intimate with the Nomatic travel bag now and it has accompanied various team members all over the world. We love its high quality materials and the fact it looks and feels new even after a year of use. We always make the most of its packing and organisational capabilities where everything has its right place. In fact, the Nomatic travel bag performed so well during a recent trip to Barcelona that a street thug could not help but steal it from us…is there any higher accolade that can be bestowed upon a bag?!
Is the Nomatic Travel Bag for me?
For people seeking a traditional duffel bag, no. However, for those that dig the option to wear it as a backpack and travel for work and with a certain selection of gear they need to keep protected (eg. a laptop and tablet), it's perfect.
Our team are really massive fans of this bag and for a few different reasons. Firstly, the actual functionality between using it as a duffel and a backpack is second to none and it really means this bag can be used in so many different situations. On top of that its organisational features were a real selling point for our team.
If you're on the fence, we'd recommend checking out the Nomatic Travel Bag review.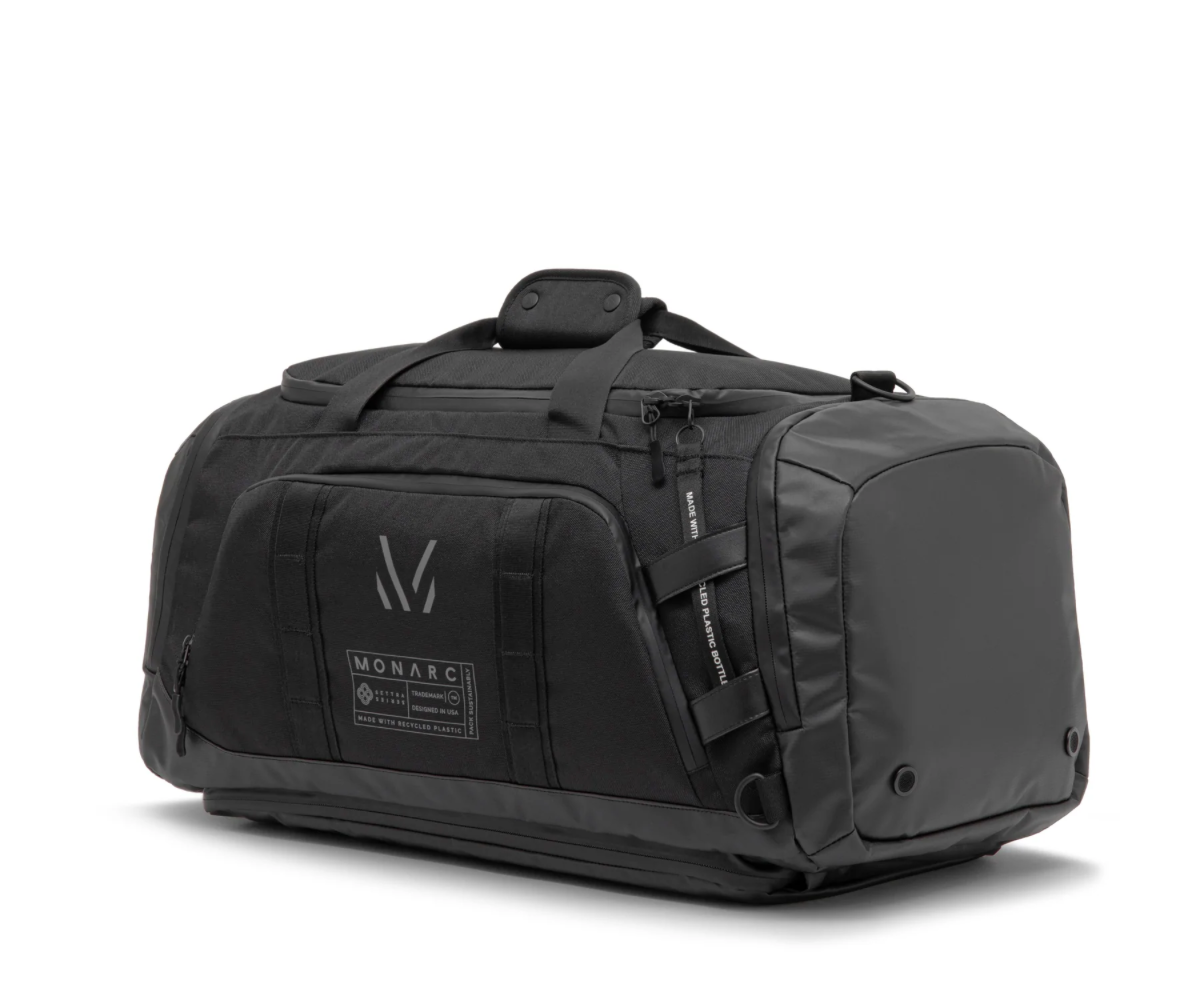 The realities of travel can really take their toll on the planet. It's no surprise that Ecological and Sustainable travel initiatives are now really gaining momentum. The Monarc 2-in-1 Duffle-Backpack is the world's first backpack made from 100% recycled bottles and the producers have been awarded a highly coveted "plastic negative" rating.
But here this, not only is this backpack totally eco-friendly but it's also a bloody great pack. Firstly, its 2-1 concept design means it can be worn as a backpack or carried as a duffel using the comfortable handle/ shoulder strap. If you do wear it on your bag, there are adjustable straps to help carry the weight. I really love this pack, even though I am not a HUGE duffel fan I have now had this bag for years and tested it extensively.
Pros
Made from recycled plastic bottles
TSA Carry-on compliant
2 in 1 Duffel and Backpack!
Cons
Kinda heavy
No compression straps
How The Monarc Settra Tested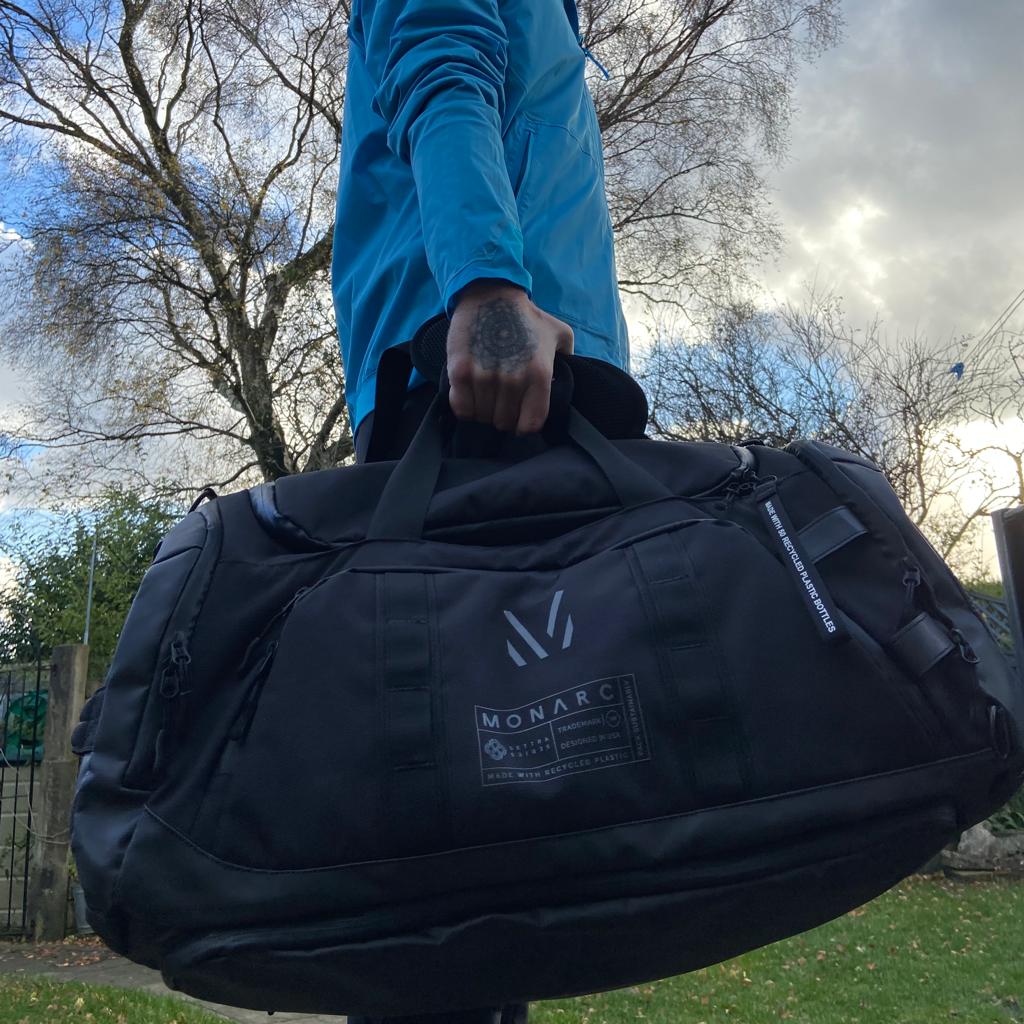 I have had this pack for over a year now and so Ive tested it extensively. It performs really well for weekend break type trips by public transport where you can need to pack a change of shoes. It slots into over-head compartments on planes/trains/buses nicely and the organisational layout makes it really easy to find your gear when you need it. I have been rained on quite heavily with this pack and it stayed perfectly dry.
In terms of downsides, it does feel quite heavy after carrying it for a while and I am not a fan of how it feels when worn as a backpack at all.
Is the Monarc Settra Duffel for me?
Then there are the organisational possibilities. Its' 40L of storage can go pretty far and the pack offers a shoe compartment and a 17" laptop sleeve. Coming in at $149.00, it's well worth the bucks although if you have the budget we also recommend picking up the full set including camera cube, compression cubes and laundry bags.
Anything else? Oh yeah, it's also water-resistant, TSA Carry-on compliant and comes with a lifetime guarantee!
Our team are a real environmentally conscious lot and any product that offers features such as being made out of recycled ocean plastic is a winner for them! On top of the sustainable side of the bag, they feel it packs some great features too and they particularly love having the security of both the dedicated laptop pocket as well as the lockable zippered sections.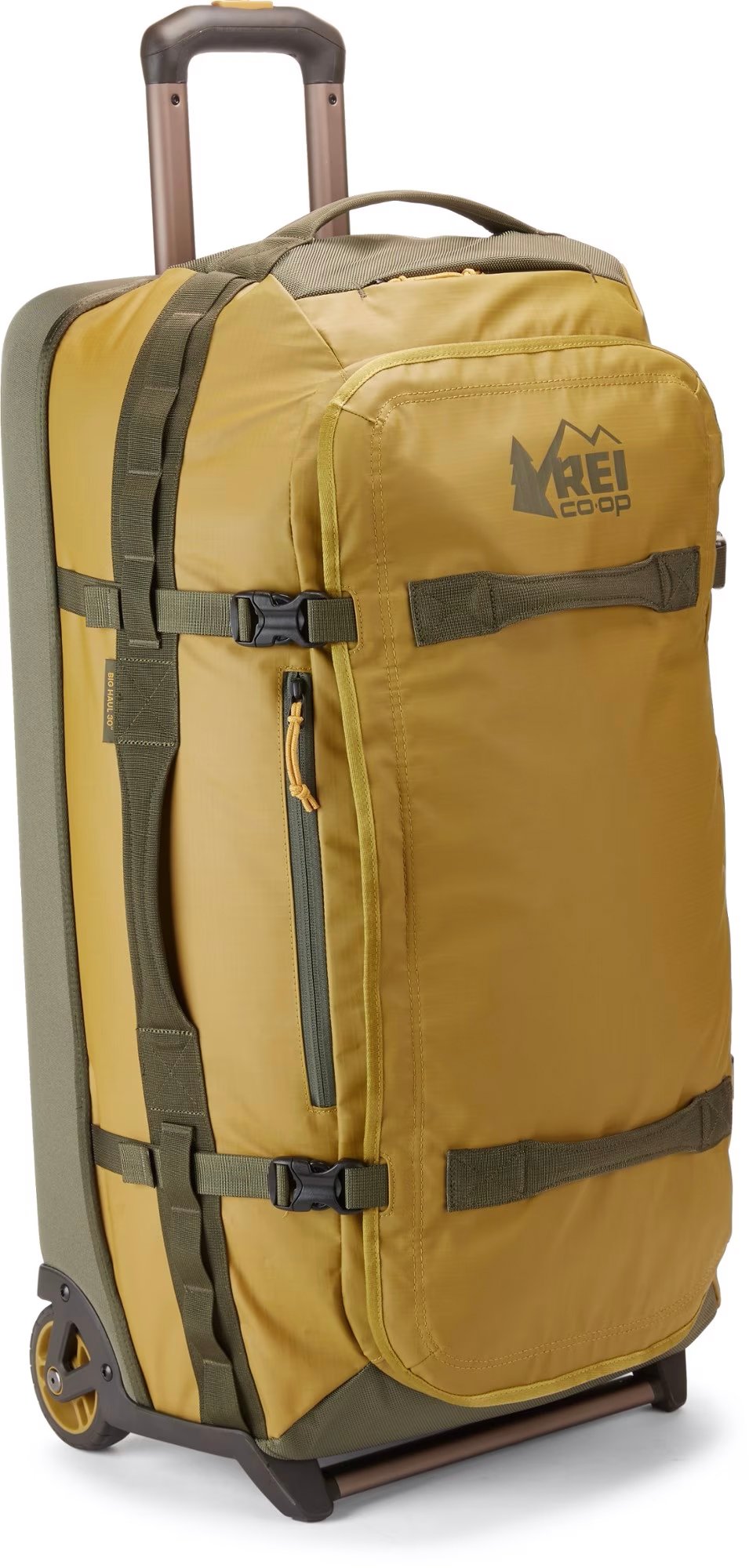 While we love The North Face's Maleta, we also tested the REI Co-op Big Haul and can confirm it is equally as great. This wheeled duffel provides traction in all conditions, but the Sherpa strap lets you carry your duffel when you need to.
Its handle and back-panel structure add durability to the rolling duffel bag. You also have internal compression straps, external zippered pockets, and a small zippered pocket on top for organisation.
Pros
Integrated wheels
Large for longer trips
Good Capacity
High quality
Cons
Heavy
Wheels can't be hidden
No added backpack straps
Might be too big for some
How The REI Co-op Big Haul Tested
Ok, so we found the REI Co-op Big Haul was easy to neatly pack and unpack, and it slotted easily into the overhead compartments. However, the wheels do make it heavy to carry, (and you will have to carry some of the time) and my arm was aching by the end of the day.
In terms of the materials, the main materials feel strong and the weatherproofing stood up to a bit of rain very well. However, I have felt better quality zippers and wonder if the ones on the Big Haul may start to wear and break after a bit of abuse.
Is the REI Co-op Big Haul for me?
Perfect for a month abroad, The REI Co-op Big Haul wheeled duffel bag has 87 litres of interior space and ample organisation to take you (and your gear) around the world. However, there are no removable backpack straps so you're stuck to wheeling it around!
For those of our team who need to travel with heavy gear, like the climbers and filmmakers in the gang, the REI Co-op Big Haul really works perfectly for their needs. They feel it offers them much more versatility and durability over a traditional wheeled suitcase with both the carry options and the additional compartments and pockets.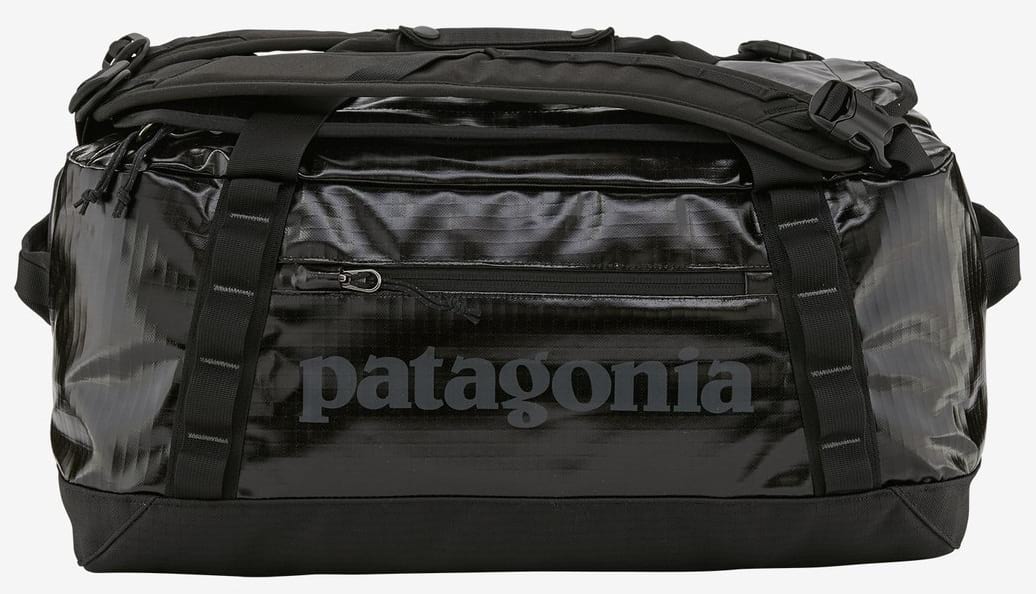 This mid-length machine can store everything you need for weekend trips or even entire vacations for light packers. We tested it out on a weekend trip across Europe that took in planes, buses and trains so the old Black Hole got a good and proper trial.
Store your goods in a bag that just barely sneaks under strict carry-on regulations while staying light as a feather. Once you've unpacked, you can neatly store this Patagonia bag inside of itself, using its own pockets to compact.
If you are specifically looking for more carry-on options, check out our best carry on duffel bags post if this is what you're specifically looking for.
Travelling in cattle class? Have a look at our Ryanair carry-on bags for more specific packs.
How The Patagonia Black Hole Tested
Firstly, even though I have said I am not a fan of wearing duffels as backpacks, this one actually feels ok so big hurrah! When we tested this out we were impressed by its versatility and it performed as well for business trips as it did for weekend expeditions. It isn't a thick as some other duffels on this list which makes it lighter to carry but may mean it doesn't last as long although we hasten to point out it felt solid and rugged enough to our testers touch.
Is the Patagonia for me?
Carry the Patagonia Black Hole pack as a duffel or a backpack. This all-purpose travel bag is made with lightweight, tear-resistant matte nylon and has protective padding so you can carry everything all day.
Our team have been big fans of this bag for a while and feel the Black Hole is a classic duffel that does what it sets out to do really well without any bells and whistles. Where the back is lacking slightly on organisational features it makes up for with its incredible durability, weather resistance and all-around versatility. The fact it can be folded down into it's own little bag and thrown into larger packs as an overflow is also something our team is a big fan of.
Want something more? Well, check this out, Patagonia now also make a rolling duffel version of the Black Hole too!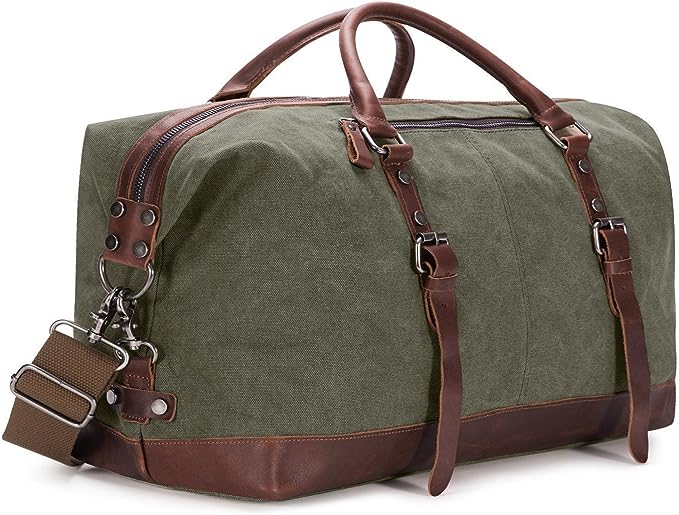 Although you could easily use the North Face Maleta as your carry on travel duffel bag, our top pick in this category is the BAOSHA Canvas Duffel!
So, why's that? This bag belongs in the 'weekend away in a fancy hotel' class of duffel bags; this duffel oozes class with its classic look of canvas and faux leather. Durable thanks to its tough materials, it will survive the knocks, dust, and dirt of travel while weighing just 2.8 Pounds. This might just be the most stylish carry on duffel bag on the market!
It has the potential capacity of 55 litres while still being suitable as an airline carry on. Inside you'll find two zip-close security pockets and a further two open pockets for smaller items, while the outside of the duffel has a further couple of small compartments and external pockets. It also features a removable shoulder strap for great wearability.
Pros
Excellent style
Durable canvas construction
Weighs just 2.8 Pounds
Stud feet
Cons
55 liters may be a little large for some
No dedicated laptop sleeve
Faux rather than real leather
Zips can't be locked
How The Tileman Canvas Duffel Tested
So, this is not a duffel for serious travelers or outdoor heads. When we tested it we soon came to lament the lower quality material and its lack of special features. While it performed adequately for our testers weekend retreat, he commented that he felt like it may begin to fray in the face of heavier usage.
Is the Tileman Canvas Duffel for me?
If you're looking for a travel duffel bag that will set the scene for a luxurious or romantic couple of days away, you've found it with the Tileman Canvas Duffel!
But more than simply a pretty face, its durability and relative lightness of weight make it a duffel bag you'll want to reach for again and again!
For those on our team who aren't always living the dirtbag lifestyle, this duffel finds the perfect balance between cost, functionality and business style. Here at TBB we feel it's the perfect duffel for commuting with large amounts of gear or people who need space for their gym kid as well as business travellers wanting to look swish on the go.
If you need a bag for a weekend getaway, for everyday use, for business, the Kodiak 60L is definitely the best all-around men's leather duffel bag. This stylish choice won't look out of place anywhere: on a high-end weekend getaway, or just running some errands around town.
Made from all thick top-grain leather by the folks at Kodiak 60l Weekender which is sturdy hardwearing and bloody beautiful.
Not a typical chuck-it-all-in duffel, the Kodiak weekend bag has a few organisation options. The bag includes three exterior pockets that use YKK zips, as well as a zipped shoe compartment and a dedicated laptop sleeve at the bottom of the bag. This external pocket means you can easily take your laptop out, and put it in again when it comes to airport security.
Looking specifically for a men's bag for the weekend, check out our post for more option
How The Kodiak 60L Weekender Tested
When our tester got his hands on this duffel it wasn't so much love at first sight as love at first scent – the finished leather smelt just lovely! Anyway the bag is not the lightest duffel on this list and our tester did feel the weight of the leather after long periods of carrying. The zips and fittings all felt solid and the pack generally feels built to last.
All in all this is a super simple, stylish pack well and truly earned its place on this list.
Is The Kodiak 60L Weekender For Me?
Speaking of which, this bag is carry-on compliant, so you'll be able to throw it over your shoulder and breeze right past the luggage carousel on your next trip, which makes this high-quality bag all the more convenient.
This is a stylish, hardwearing and uber-masculine duffel option. Oh, and there's also a removable shoulder strap for a variety of carrying options.
For the ultimate in style and durability, our team felt this Kodiak leather duffel was a real winner. In fact, they felt if you were looking for a bag you'd have for decades to some, this would be a real sound investment. They just loved how high quality the materials and construction felt alongside the sleek and timeless style.
Best 50 Litre Travel Duffel Bag – Kuhl Escape 50
The KUHL Eskape 50 is a high versatile and durable duffel, custom designed for outdoor travel, and everyday use.
Here are key features of the KUHL Eskape:
The KUHL Eskape 50 offers litres of storage which provides enough space for a few works worth of travel gear. It has one large main compartment with a U-shaped opening, and then several external pockets for easy access to essentials.
Its is made from tough and weather-resistant materials, including a 1680D ballistic nylon bottom and a 500D Poly-TPU coated body. This ensures that the Eskape can withstand a bit of battering and is suitable for outdoor use, protecting your gear from the elements.
Pros
Stylish design – looks great in both urban and outdoor settings
Quality materials that both durable yet comfy to wear
Loads of storage space.
Cons
Can be a tad heavy – especially when loaded
Not be as breathable as some other packs and can get sweaty
It ain't cheap
Is The Kuhl Eskape 50 For Me?
The KUHL Eskape boasts padded, adjustable shoulder straps as well as a removable padded shoulder strap. This allows users to carry it comfortably as either a backpack or over a shoulder like a classic duffel. It also has reinforced grab handles on each end for easy lifting and carrying.
The KUHL Eskape 50 has several internal and external pockets. These include a zippered mesh pocket inside the lid, a side pocket with a water-resistant zipper, and a front pocket with a key clip and organizational compartments.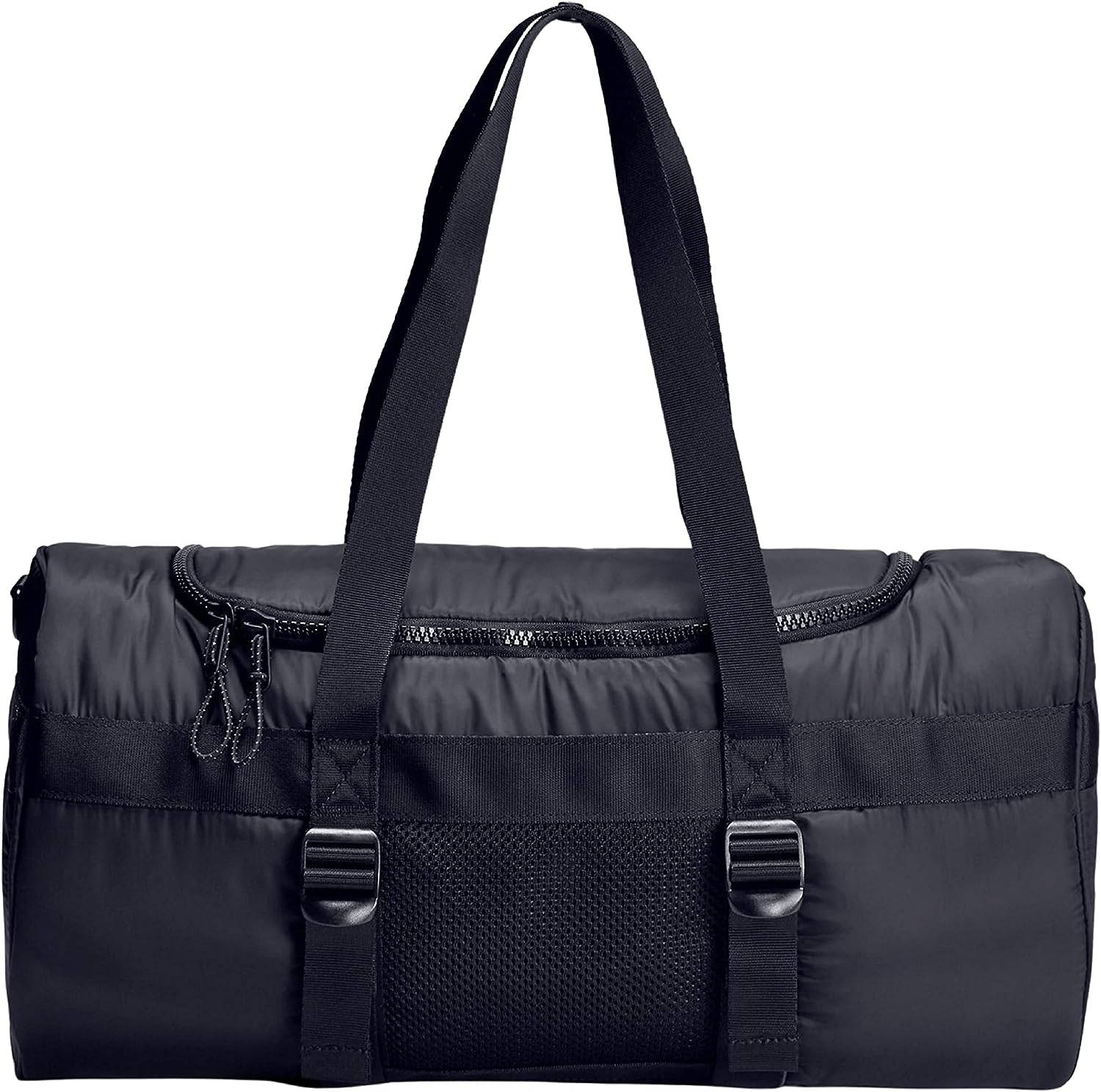 Its smaller size compared to some of the travel duffel bags on our list makes it great for throwing in some clothes for a last-minute night away from home, or as an everyday duffel for carrying your gym kit.
Its softshell construction means it also folds down incredibly small and can be used as a spare bag without adding much weight to your other luggage! This duffel has a good degree of water resistance, which will keep your kit safe from light rain showers, with other features including a hanging internal pocket to keep small items safe.
Pros
Specifically designed for women
Lightweight
Water-resistant
Hanging internal pocket
Cons
Softshell construction
Not fully waterproof
No backpack straps
Not suitable for business travel
How The Under Armour Tested
The tester brought this duffel bag along to a weekend athletic meet. She commented that the colour scheme was a bit too bland for taste, but did appreciate the way in which the bag can be packed down and minimised for day and gym use. In summary, we found this to be a perfectly serviceable day duffel but do question how well it would perform on longer trips in testing weather conditions.
Is the Under Armour Women's UA Motivator Duffle Sport Bag for me?
Women looking for a simple, lightweight duffel to get their kit from A to B without spending hours packing to fill every nook and cranny of a backpack will be very happy to buy the Under Armour Women's UA Motivator Duffle Sport Bag. A great everyday travel duffel bag, it also has a great price!
Our team felt this was the best small duffel bag because it just got the job done without being heavy or cumbersome. They felt it was a great affordable and lightweight duffel to use for everyday trips like heading to the beach or the gym and it's light enough to fold up and throw into your backpack to use whenever you need on your trip.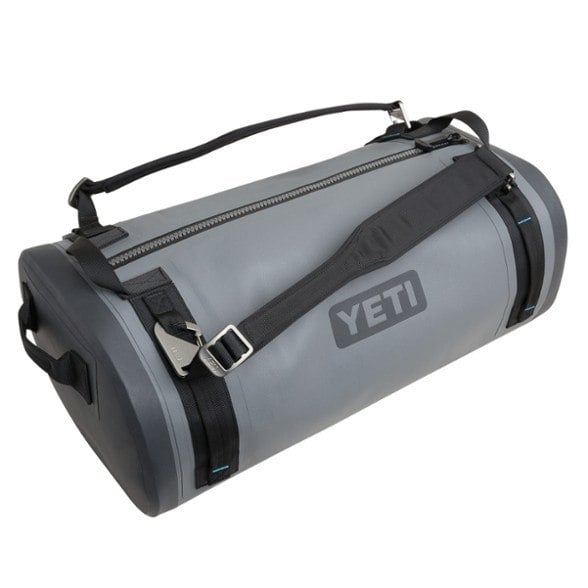 Considering YETI makes the most durable coolers, insulated tumblers, and packs, expect the same emphasis of quality and durability from their dry duffel. You could probably throw this duffel over a waterfall and your stuff would still stay dry!
This is the best travel duffel bag if you are doing any type of water activity – rafting down a river; living on a boat; travelling in monsoon season; you name it, YETI's got you.
You could simply attach this to the side or a river tube and it would hold up! It has 6 lash points and 2 long straps so you can haul your bag in multiple ways. 2 easy-to-access mesh pockets keep your valuables safely tucked away. We think 50 litres is a perfect size, but if you need something bigger, this bag also comes in a 75 litre and 100-litre size.
Pros
Most durable duffel bag ever
Fully Waterproof
Water-resistant
Hanging internal pocket
Cons
Heavy (price you pay for durability)
Might be overkill for basic trips
Expensive
How The Yeti Panga Dry Duffel Tested
We'll confess now, we did not test this duffel by taking it white river rafting. However, we did fill it up with clothes and drop it in a bath tub to test the water proofing and are pleased to report that the inside stayed perfectly dry.
Of course, the waterproofing may begin to wear off after extended periods of use but based on what we have seen the Yeti Panga feels pretty solid.
Is the YETI Panga 50 Dry Duffel for me?
Keep your gear dry on your next trip with the YETI Panga 50 dry duffel. This fully waterproof bag is designed to handle total water submersion while remaining 100% dry on the inside.
Need a seat? Grab your Panga. Need a backpack? Grab your Panga. Need a personal floatation device? Grab your Panga. This is the most durable travel duffel bag on this list. Use it for your craziest adventures!
Our team are big fans of how well-made this duffel is and how much confidence it gave them when it came to protecting their gear. They really put it to the test and our team were super impressed. In fact, one member ended up capsizing on a fishing trip and this bag held tight full of clothing, gear and phones for over an hour as well as keeping our team member afloat too. Pretty impressive!
Best Business Travel Duffel Bag – UNIQUEBELLA Suit Travel Duffel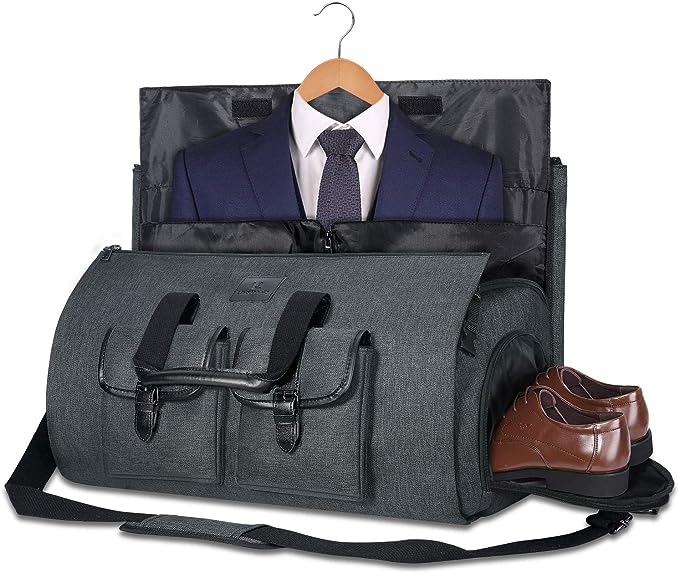 Thanks to the UNIQUEBELLA Suit Travel Duffel, you can still use a duffel bag and travel with the smarter clothes of a business trip. This duffel cleverly opens out flat to create a dedicated compartment for laying suits and shirts flat without folding them tightly; you'll find them as wrinkle-free when you arrive at your destination as when you packed them away.
There's also another dedicated compartment for your business shoes, and four internal zip pockets and a small zip-close external pocket. Lastly, at 55 litres, this duffel both has enough volume for a few days away, and is generally airline carry on compliant.
Pros
Rolls out flat to take suits
Wrinkle-free clothes storage
Dedicated shoe compartment
Internal zip-close pockets
Cons
No backpack straps
Made from synthetic materials
No dedicated tech sleeve
Not for adventure travel!
How The UNIQUEBELLA Suit Travel Duffel Tested
When we tested this duffel travel bag we were quite taken by the novel design and by the dedicated suit compartment. Whether it truly keeps clothes "wrinkle free" does seem like a bit of an exaggeration although none of us owns a business suit so we could not actually test this out.
Is the UNIQUEBELLA Suit Travel Duffel for me?
Need to keep a suit and shirt crease-free while travelling? Here's the answer, the UNIQUEBELLA Suit Travel Duffel! Its fold-out design makes it super-easy to transport business wear without the need to iron at your destination and takes care of all those little extras with its shoe compartment and necktie pocket to name just two.
Even us vagabonds need to don a suit from time to time and though our team did feel this bag was a little niche, they felt it cornered position perfectly. They were unsure if the bag would be a little gimmicky but in practice they felt the design actually worked well in practical use and kept their gear wrinkle-free and ready to rock!

Do You Want to Travel FOREVER??
Pop your email in below to get a FREE copy of 'How to Travel the World on $10 a Day!'.
When you are hitting the mountains for days on end, you'll need a duffel bag that is up to the challenge. The North Face Base Camp duffel has been an essential piece of kit for explorers, mountaineers, and adventurers for decades.
Pros
Comes in multiple sizes
Just 4 lbs in weight
Ultra Durable
Come with backpack straps
Cons
Lacks a little rigidity
Not fully waterproof
Not all versions carry on compliant
The big sizes are awkward to carry when packed full
How Did the North Face Base Camp Duffel Test?
We tested this bag in the depths of the Karakoram range in Pakistan. It has been snagged against a barbed wire fence, stepped on by pack mules, dropped in the mud, and snowed on for hours. Whenever I head to the mountains for an extended adventure, you better believe that this bag is coming with. 10 stars.
Is the The North Face Base Camp duffel bag for me?
Are you going on a serious adventure and needing to haul all of your gear along for the ride? This is the bag for you. Our team really loved the simple but high-quality nature of this duffel and generally North Face bags as a whole. They liked that this duffel added a bit more in the way of organisational pockets than the Black Hole and also offered a matt style rather than the shiny exterior of the black hole, which some of the team really preferred.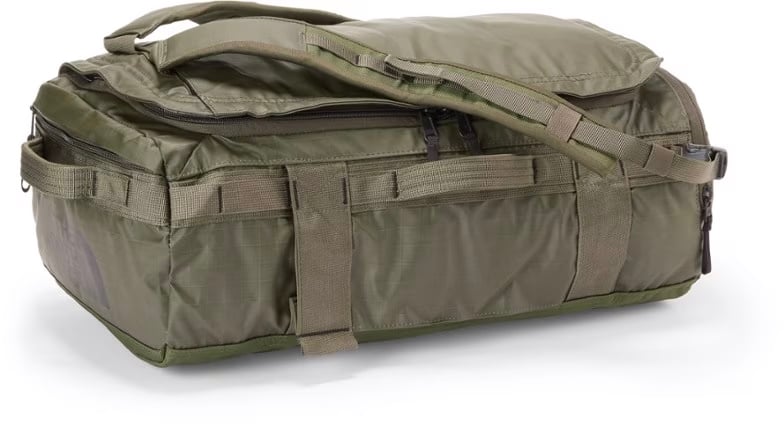 Well, never thought I would take a duffel bag on hikes and bike rides, but North Face has done it again! This is one of the best all-around travel bags, no question!
You can toss this on top of your car or stow it away on a flight. This bag can easily be used for ANY type of adventure.
The bag unzips for easy access to the main compartment. There is a top padded pocket for delicate items, side pockets for a water bottle and small items, and internal zipper pockets for organization.
The straps and back support are not as padded as The North Face's hiking backpacks, but it will do the trick for shorter hikes and rides!
Pros
Ripstop weather resistant Nylon material
Versatile backpack/duffel
Plenty of organizational compartments
Lightweight
Cons
Not as comfortable as hiking backpacks
Not fully waterproof
32 liters might be too small for some
How The North Face Base Camp Voyager Duffel Tested
To test this pack out we brought it along on a multi day camping trip into the wild mountains of Northern Spain. Of course, it did not feel quite as comfortable as a proper hiking backpack would and I did miss the additional support from a dedicated backpack. Still, the straps felt OK and the pack had plenty of room to fit our gear.
Is The North Face Base Camp Voyager Duffel for me?
The North Face Base Camp Voyager Duffel is a mobile base camp for all your mountain-biking, trail-running and skiing escapades. It has all the organizational bells and whistles you need to organize your gear, and multiple uses mean it is a functional bag for a wide array of trips.
Our team felt this was the perfect duffel for those who love adventure travel and outdoor sports. They were particularly impressed by how comfortable it was to carry heavy gear like climbing equipment, especially when the hike in itself is pretty challenging. They also felt it offered a level of organisation for their gear that is pretty rare with these types of large gear bags.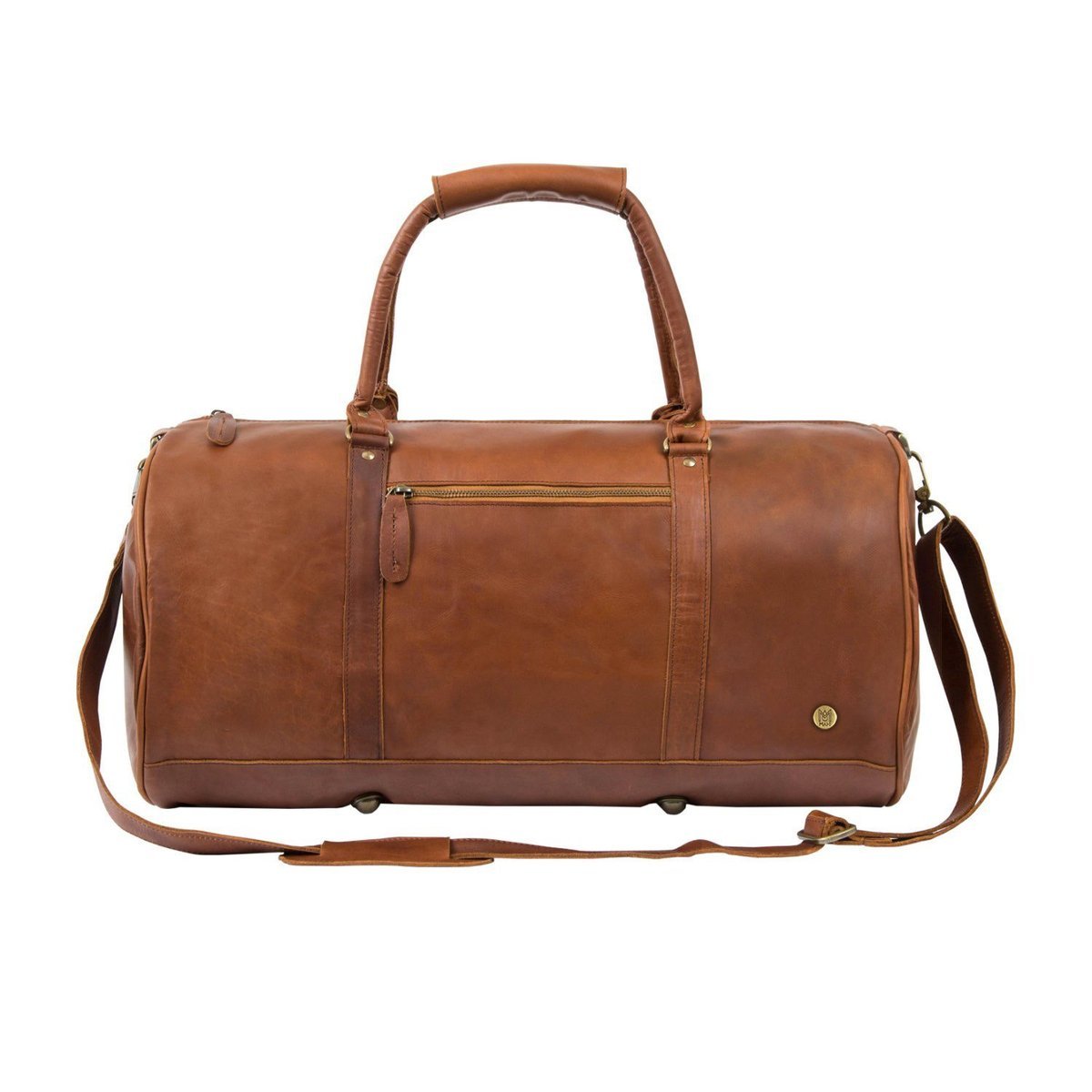 Looking for the great men's leather duffel bag days out and short trips? If so, the Classic Duffle by Mahi may be just for you.
Combining traditional elegance with rugged practicality, the MAHI Classic Duffle in Vintage Brown is a lovely luggage piece for those looking for a stylish gym bag, weekend or overnight bag.
It's made with beautifully supple full-grain leather on the main body and complimented with a fawn cotton lining. Other features include four brass studs on the base, a front zipped pocket for easy access to your essential items, a smaller zipped pocket on the inside and a detachable and extendable shoulder strap with additional padding for comfort.
Pros
Designed for low-cost carrier use
Soft Leather
Multiple zippered pockets
Cons
Heavy for size
Not big enough for many trips
Not waterproof
How The MAHI Leather Duffel Tested
I've tested quite a few pieces from the MAHI leather range. The leather on all of them isn't exactly high grade, but feels very good for the price point.
Is the MAHI Leather duffel for me?
Being a small bag, this one is approved for carry-on by most airlines either the super strict budget ones. When it comes to packing, this thing thankfully stands up on its own, not falling in on itself as some duffel bags tend to.
Our team felt this was a great compact duffel that still offered good space optimisation. They felt for the minimalist traveller or commuter that doesn't need a whole heap of gear, it's the perfect option. They also felt the bag offered decent quality in terms of materials for the money.
Looking to travel with a lot of kits? You're going to need a large travel duffel! The REI Co-op Big Haul Recycled Duffel comes in a variety of sizes, much like Patagonia's Black Hole duffel series, and runs up to the 90-litre XL version. It is available at a very reasonable price tag for the volume size of the bag.
What else do you get for the price? You get a duffel specifically intended for rougher travel, made from 600 Dernier waterproof materials with a large D-zip opening for easy access. You also get two removable shoulder straps and a side zip-close pocket for smaller items.
Pros
Made for tougher travel assignments
40-90 litres
Waterproof
Large opening
Cons
No major internal divisions
Not for business travel
Has to go in the aircraft hold
Weight of 1.6kg
How The REI Co-op Big Haul Recycled Duffel Tested
We tested this REI Co-op Big Haul Duffel by adding it to our Pakistan expedition arsenal which means that it gets used to carry packed tents and camping equipment up and down mountain sides. Of course, carting a duffel up a mountain side never easy but this one felt relatively light. It was able to withstand classes with jagged rocks and stayed dry despite drizzle. Result!
Is the REI Co-op Big Haul Duffel for me?
This unisex travel duffel bag by REI certainly fits the definition of a large travel duffel with a capacity of 90 litres. Is it the best? Well, we think it is! Tough and ready for anything, simply throw your kit in, and start your adventure!
Our team just loved how rugged this bag felt and many of them described it as pretty much bulletproof when it came to throwing anything at it! In fact, a few of the team have owned this bag for years on end and it's been abused in all corners of the world and stood up admirably. They also loved the large zippered compartments that were big enough to use for their shoes or bigger items.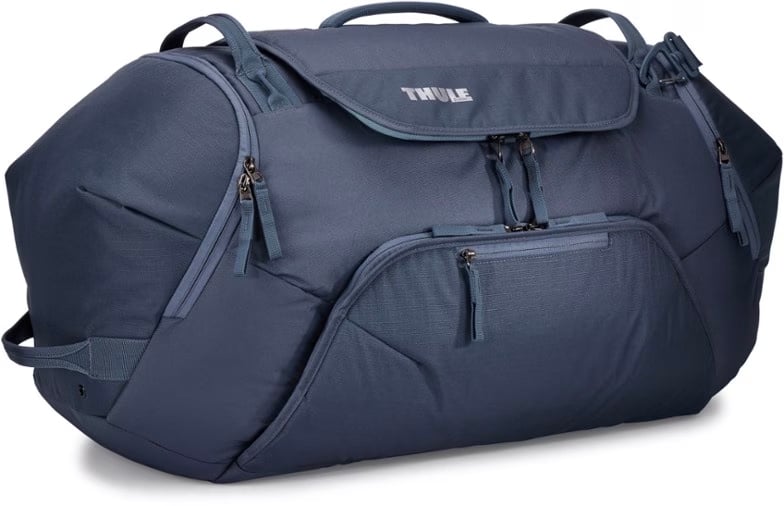 The Thule RoundTrip Snowsports Duffel is a travel duffel bag for anyone who needs to transport larger amounts of baggage since it has a volume capacity of 80 litres.
Rather than having an external compartment at one end of the bag, it has one at either end helping with the organization of large amounts of kit.
The main compartment has a wide D-shaped zip-close opening that makes it simple to load and unload, while the large tags on the zips make them easy to shift even with cold fingers! Water-resistant all around, it has a waterproof bottom so there are no worries about lowering the bag onto the wet ground.
Pros
Large capacity
The external compartment at both ends
Wide D-shaped opening
Large zip tags
Cons
Water-resistant but not fully waterproof
Too large a capacity for many
Weight of 3 lbs. 5.9 oz
Not ideal for business travel
How The Thule RoundTrip Snowsports Duffel Tested
When compared to other duffels on this list the 80-litre Thule RoundTrip Snowsports Duffel is a giant and our tested had no issues in fitting all of his camping gear in. Of course, big bags are heavier and bulkier and our tested did remark that a full packed 80-litre duffel isn't the easiest carry. The waterproof base was kind of put to the test when the bag was laid on wet ground and we're pleased to confirm that the pack remained nice and dry.
Is the Thule RoundTrip Snowsports Duffel for me?
If you need a travel duffel bag with a large capacity, the Thule RoundTrip Snowsports Duffel could well be the duffel bag for you! Its 80-litre capacity is divided between the main compartment at two end compartments, while the waterproof base is another fine addition.
Our team are big fans of the Thule brand and expected big things from these duffels. They were of course suitably impressed by the durability and high quality of the bag but mostly their feedback featured high praise for the larger end compartments as well as loving the range of sizes available.
Best Travel Duffel Bag for the Mountains (DURABLE) – North Face Base Camp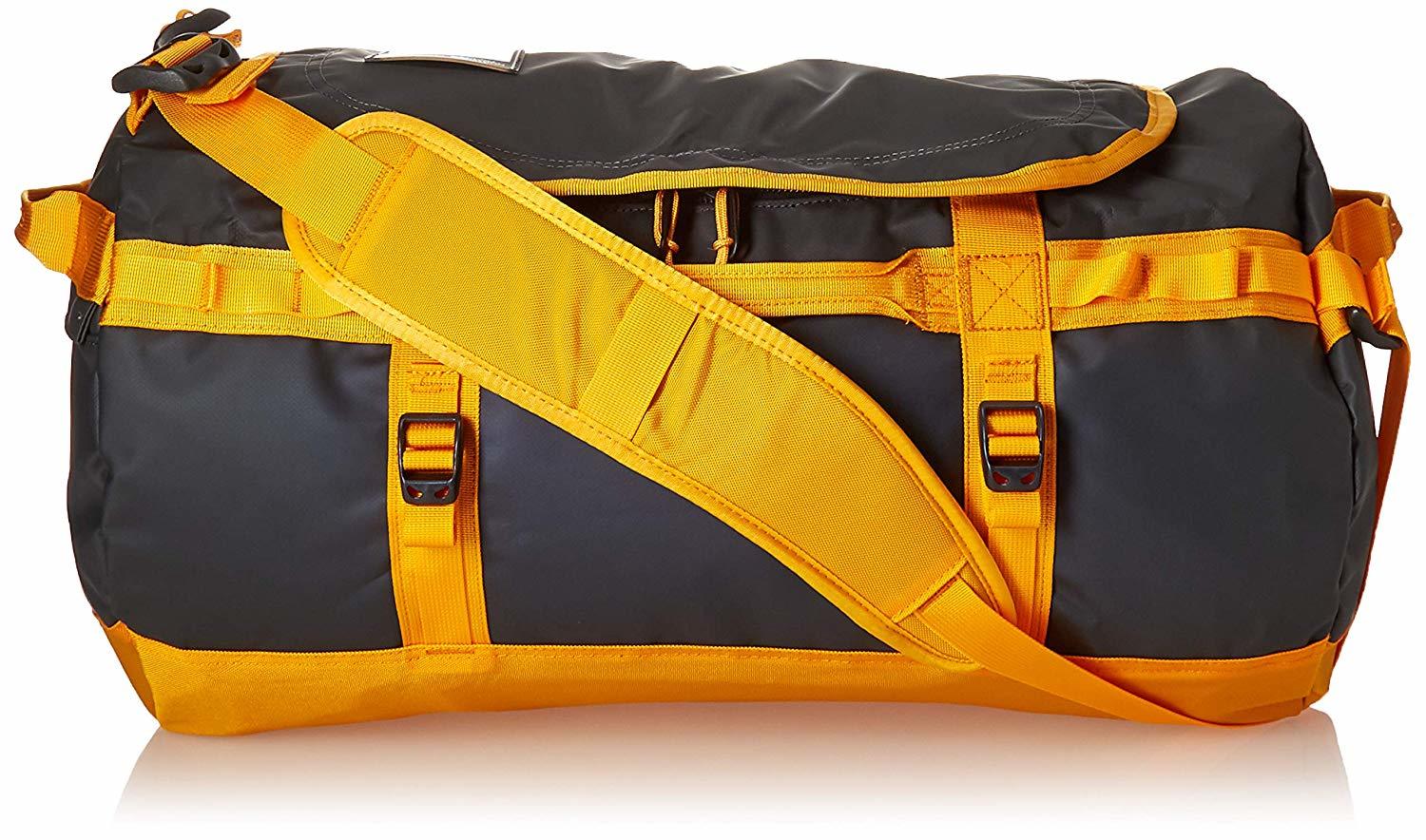 The cylindrically-shaped Base Camp duffel by North Face is a 50-litre capacity bag with an empty weight of just over 1.23 kg. They do carry sizes up to 90-liters as well!
As you would expect from North Face, the Base Camp Duffel is made from durable materials of 80% polyester with 20% polyamide. There's a separate compartment at one end, and a zipped mesh pocket within the main compartment for easy access to smaller items.
The duffel comes with wide, adjustable, shoulder straps designed to avoid twisting, and padded grab handles. External compression straps around the circumference of the main compartment and at either end of the bag help reduce down and secure your contents.
Pros
Good empty weight
Made from durable materials
Pockets for smaller items
Ergonomically-designed shoulder straps
Cons
Not fully waterproof
Not ideal for business travel
Softshell duffel
Synthetic rather than natural materials
How The North Face Camp Tested
Our first impressions upon taking out the North Face camp were that it very much looks and feels like an expedition piece – as such we are not sure how well it would translate to more "normal" travel usage. As a heavy duty camping and expedition piece its certainly rugged although the fact that its not fully water proof does cost it some points.
Is the North Face Base Camp for me?
This is an iconic, super-tough expedition duffel from The North Face. The separate end compartment means you can keep clean and dirty items divided without endless periods of repacking, while the durable materials used will ensure the Base Camp can be used for more than just the one adventure!
Another fine North Face duffel! Our team once again had high expectations but also wanted to know what made this stand out against the brand's other offerings. Firstly they felt the Base Camp offered the most durable and weather-resistant materials, meaning they could really push where they could take this thing. With it's larger size they also appreciated the additional of compression straps to keep everything compact and maximise space.
This stylish bag is one of the best travel duffel backpacks if you're on a budget! The Sweetbriar Vintage Canvas Duffel is listed under $40 and is perfect for a weekend in the city versus a few days of camping in the wild.
It comes in a very attractive tan canvas and leather-coloured webbing styling. It incorporates zipped compartments on the front of the bag as well as plenty of internal zippers and organisational features. Expansion zips give a total overall volume of 39 litres, plenty for that weekend away, while there are also lock-together carry handles and an adjustable shoulder strap.
Pros
Lovely design
Comprises zipped compartments
Expansion zips give 39-liter capacity
Adjustable shoulder strap
Cons
Not very durable
Capacity may be too small for some
Not fully waterproof
Hand wash only
How The Sweetbriar Vintage Canvas Duffel Tested
What we really loved about this travel duffel bag was that in the flesh, it looks and feels like it cost a lot more than $40. If you are looking for a hardcore travel duffel that will survive all weather and last for years then this may not be the one for you. However, if you are after a budget travel bag for an upcoming trip, then perhaps you have found what you need?
Is the Sweetbriar Vintage Canvas Duffel for me?
Any man or woman about town will readily fall in love with this unisex vintage canvas duffel. The ideal size for a weekend away, it consists of smaller compartments and pockets as well as the main compartment and also boasts an adjustable shoulder strap.
Our team felt that for a pretty run-of-the-mill duffel, this thing doesn't look cheap and with the canvas material it's also really durable too. They also loved that it was packed full of features like interior pockets, side shoe compartments and hidden valuable pockets.
We end our tour of the best duffel bags with the simple and effective Carhartt packable duffel. This duffel is a packable duffel designed for when you might need extra carrying capacity during one part of your trip, but not for all of it – use it, then pack it away in your primary luggage bag and forget about it!
This packable duffel from Carhartt only weighs 0.7 pounds of durable fabrics and with reinforced straps that are also padded in places for additional comfort. For under 40 bucks to get the durability of a trusted brand like Carhartt is pretty awesome.
Pros
Trusted brand
Packable
Weighs very little
Durable
Cons
Basic interior
Straps would benefit from additional padding
Not fully waterproof
Doesn't have a rigid structure
How The Carhartt Packable Duffel Tested
When we tested this out we packed it inside the Tortuga Setout (where it fit quite snuggly) and busted it out for a day trip into town. We'll be honest, when we laid our hands on it it did look and feel like a low budget duffel (which it is) and it does not feel like it is made to last the years. Still, as a packable duffel/bag-within-a-bag it did the trick very nicely.
Is the Carhartt Packable Duffel for me?
The Carhartt Packable Duffel cannot entirely compete with some of the 'standard' travel duffel bags we've already reviewed, but it is a fantastic answer to anyone who needs a duffel for a short period on a longer trip and then needs to pack it away!
Our team felt this bag was perfect for folding up and throwing inside their other bags for those times when they needed an extra bag for either overflow or maybe a beach bag. It might not be the highest quality but it's super light and folds down mega small.
How to Choose a Travel Duffel Bag
So first of all, Duffel Bags are awesome. They're physically tough, your belongings are easy to access and kept safe by the waterproof fabric – even the worst baggage handler can't do much harm! Below are the most important features to pay attention to when you are deciding on your purchase because there are so many bags on the market!
However, not all Duffels are the same. Choosing the right one requires looking at different factors. Our list of factors below will give you a rough idea of what you should be looking out for when being on the hunt for a new Duffel Bag.
From detachable backpack straps to a rolling duffel, there are more options than you might first think when it comes to the best travel duffel.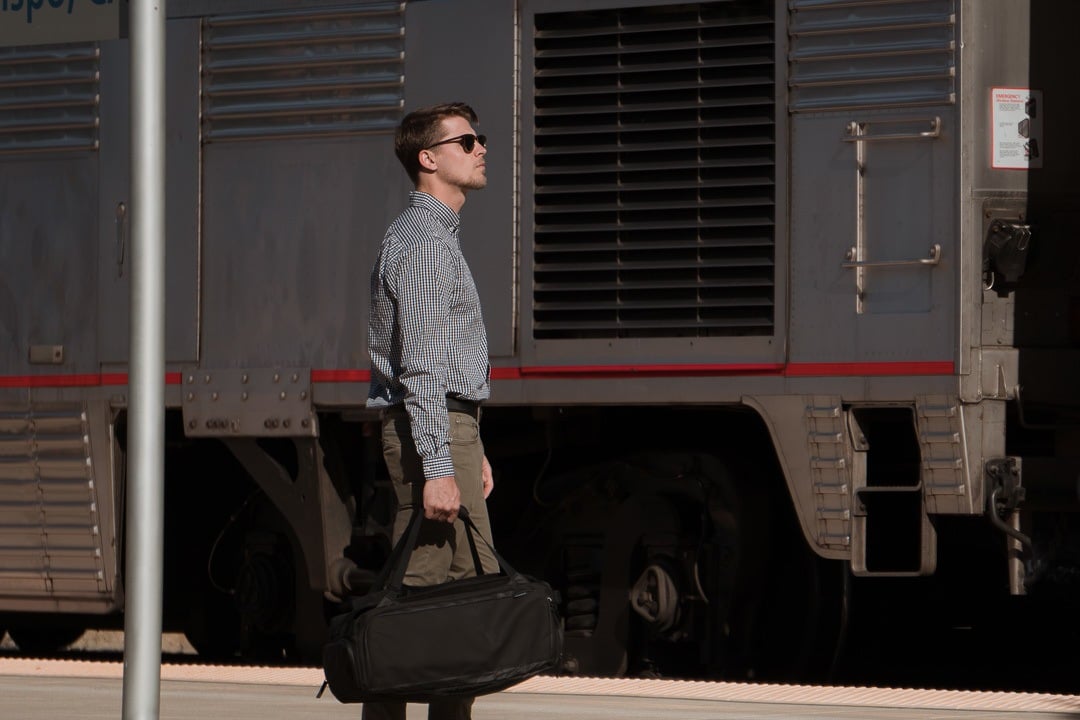 Durability
What do you plan to carry in your duffel bag? And where are you travelling to? You may need an ultra-durable duffel backpack that can handle the abuse of long-term and international travel, or you may only need a simple bag to get you to/from the airport.
Perhaps you're going on a boat or river adventure or travelling around Europe in winter. Either way, a waterproof or weatherproof bag is the ticket! Pay attention to the bags' materials because the best traveling duffel bags are tough enough to deal with your adventures!
Packing
When deciding which travel duffel bag for you, you need to first think about your style of packing. Are you looking for a duffel bag that consists of a single large main compartment, or one with several compartments and an internal mesh pocket in addition to the main one?
If you're travelling for business, you should consider a bag that protects tech gear, such as a laptop, as well as allows you to pack your clothes without creases. You might also want to look at features such as compression straps that keep everything neat and in place.
If you've got heaps of gear to organise and need things easy to access you might also want to consider exterior pockets.
Design
Ask yourself: what are you using your travel duffel bag for? There are some excellent duffel bags with incredible style if you're looking for a bag to take your belonging to a hotel for a weekend of relaxation. Likewise, there are a great number of travel duffels more suited to the great outdoors – offering different levels of weather protection, and weighing more or less too.
Also, consider how comfortable the bag is going to be compared to other duffel bags. Does it offer a padded shoulder strap or even two removable backpack straps? If you're going to be wearing it for a long time and it's packed full of all your travel gear, padded straps are a lifesaver!
Finally, you may want the classic duffel bag functionality or one with wheels and/or backpack straps. Whether detachable or integrated, padded shoulder straps don't add a lot of weight, but can make a bag a lot more comfortable in the long term.
Weight
If you're planning to carry your travel duffel bag for long periods, such as on a camping trip or up and down cobblestone streets in search of your hotel room, weight is going to be a hugely important factor in your decision-making. The best travel duffel bags are those that maximise their space and minimise their weight.
Duffel bags with wheels can weigh significantly more, but if you're planning to get a rolling duffel and use the wheels versus carrying it on your shoulder, this won't be a major concern!
How We Tested These Duffel Bags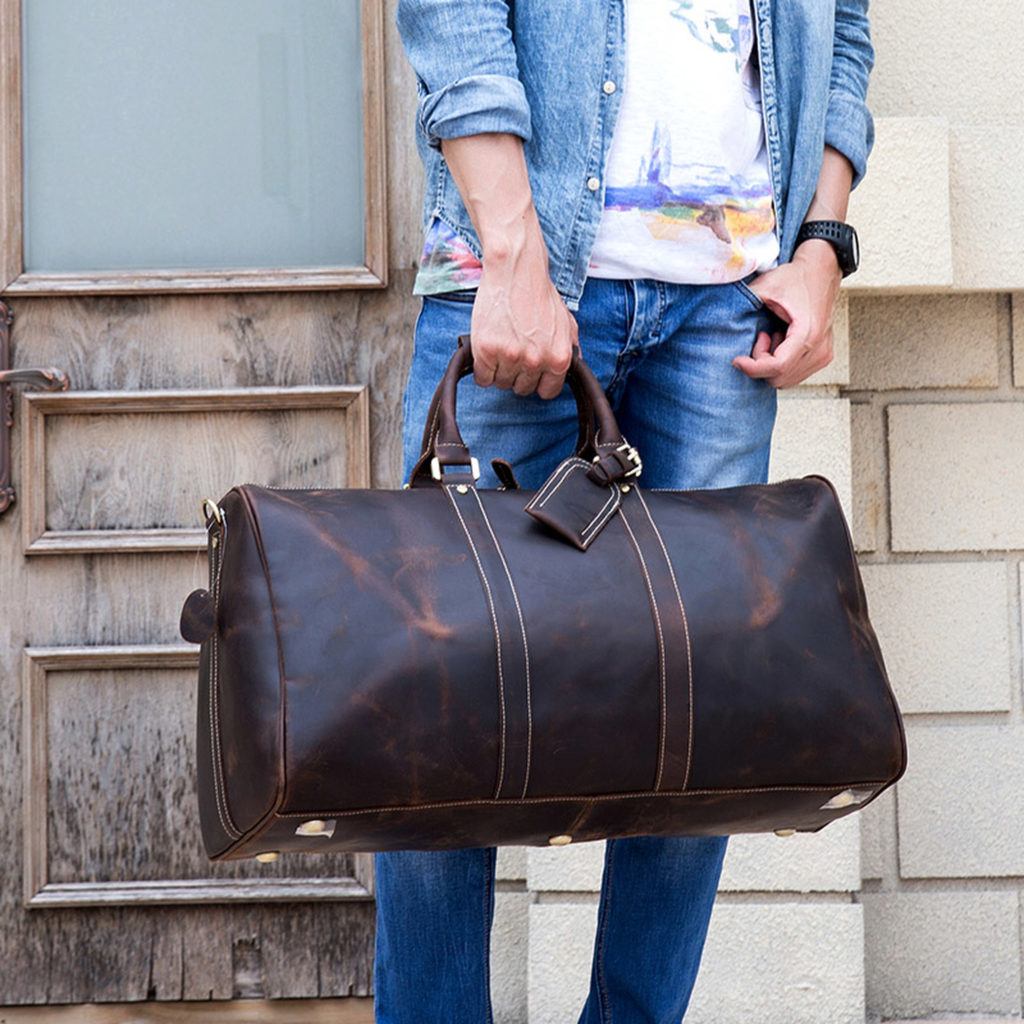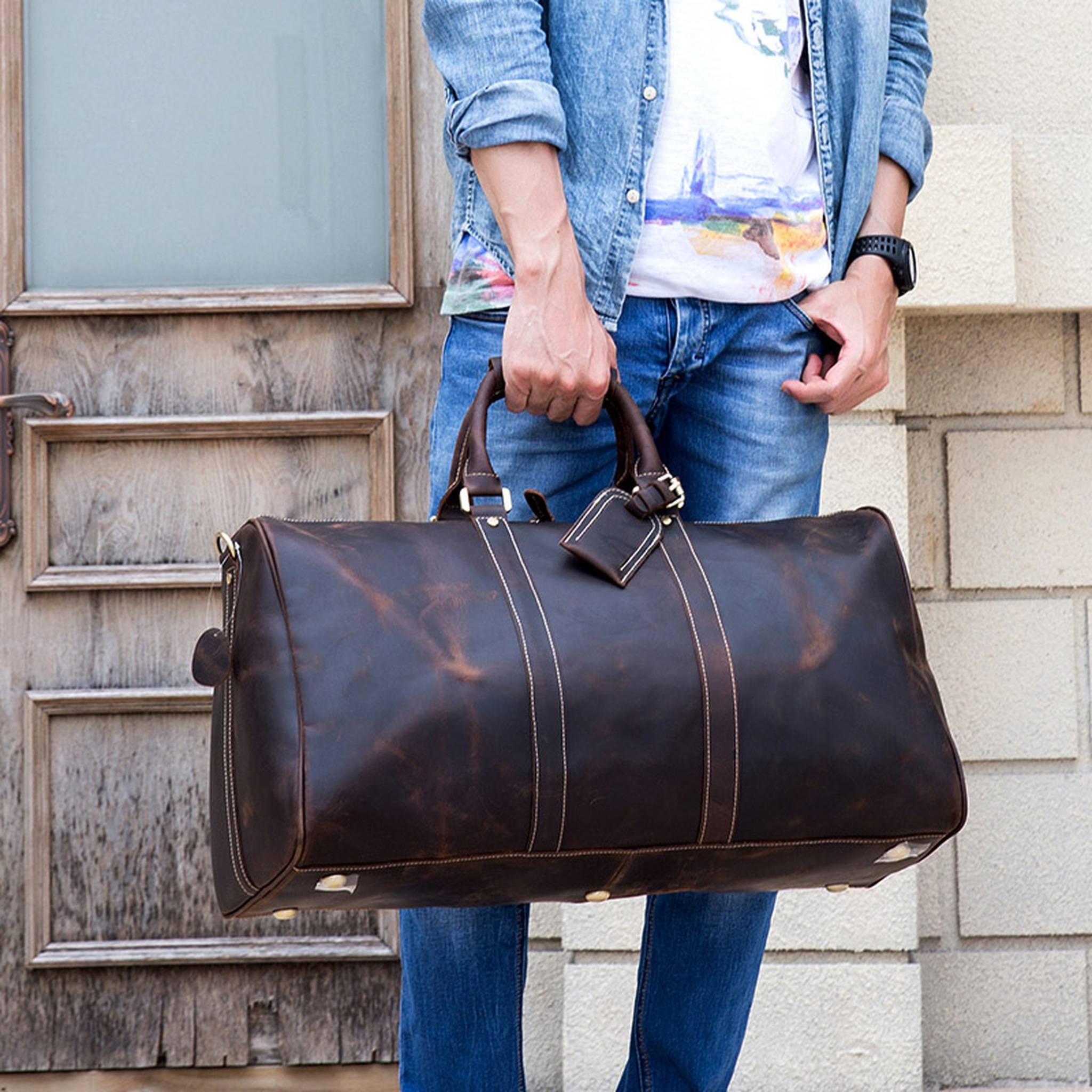 In order to compare these duffle bags against one another, we threw them into a gladiatorial pit and forced them to fight to the death…OK so no that did not happen. Instead, various members of Team Broke Backpacker tested these duffels over a period of a number of years taking them on trips. That means that some duffels got put through the gauntlet of a month long vacation whereas got off lightly with a weekend trips. As such, the science isn't exactly exact here.
Still, we stand by our findings. With each duffel we paid close attention to capacity and packing functionality, we compared how comfortable each duffel felt to carry, assessed how rugged and resilient each one felt and awarded bonus points for style.
The best present of all… is CONVENIENCE!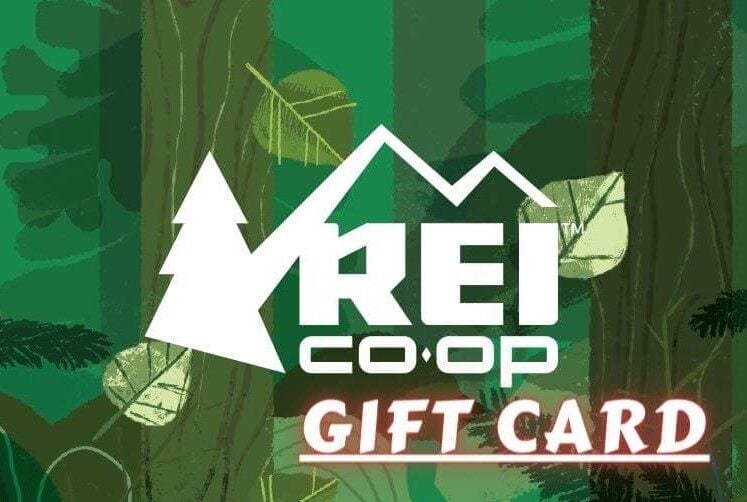 Now, you could spend a fat chunk of $$$ on the WRONG present for someone. Wrong size hiking boots, wrong fit backpack, wrong shape sleeping bag… As any adventurer will tell you, gear is a personal choice.
So give the adventurer in your life the gift of convenience: buy them an REI Co-op gift card! REI is The Broke Backpacker's retailer of choice for ALL things outdoors, and an REI gift card is the perfect present you can buy from them. And then you won't have to keep the receipt. 😉
Buy on REI!
The Best Travel Duffel Bags – Comparison Table
Best Travel Duffel Bags – Comparison Table

| Bag | Price | Weight | Capacity | Backpack? | Wheels? |
| --- | --- | --- | --- | --- | --- |
| Osprey Transporter Expedition | From $160 | 2 lbs. 8 oz. | 40, 65, 95L | Yes | No |
| Nomatic Travel Bag | $289 | 4.6 lbs | 40L | No | No |
| Monarc Settra | $149 | 4.5 lbs | 40L | Yes | No |
| Patagonia Black Hole | From $149 | 2.05 lbs | 40, 65, 100L | Yes | No |
| North Face Base Camp | From $159 | 4 lbs 0.9 oz. | 31, 50, 71, 95, 132, 150L | Yes | No |
FAQ about the Best Travel Duffel Bags
Still have some questions about the best travel duffels? No problem! We've listed and answered the most commonly asked questions below. Here's what people usually want to know:

Our GREATEST Travel Secrets…
Pop your email here & get the original Broke Backpacker Bible for FREE.
What is the Best Travel Duffel Bag? – Final Thoughts
In this guide, we've covered the 17 best travel duffel bags on the market. From the big players to smaller brands, we've reviewed the ones fit for the great outdoors, your next business meeting, or a short hotel stay.
Nowadays, you're spoilt for choice when it comes to travel gear. Do you want a duffel bag with wheels? One that is lightweight? How about a fully waterproof duffel backpack? All you need to do is pick out the best travel duffel bag for you!
Still not sure duffle bags are for you? Check out our rundown of the best travel bags instead and see what works best for you.
---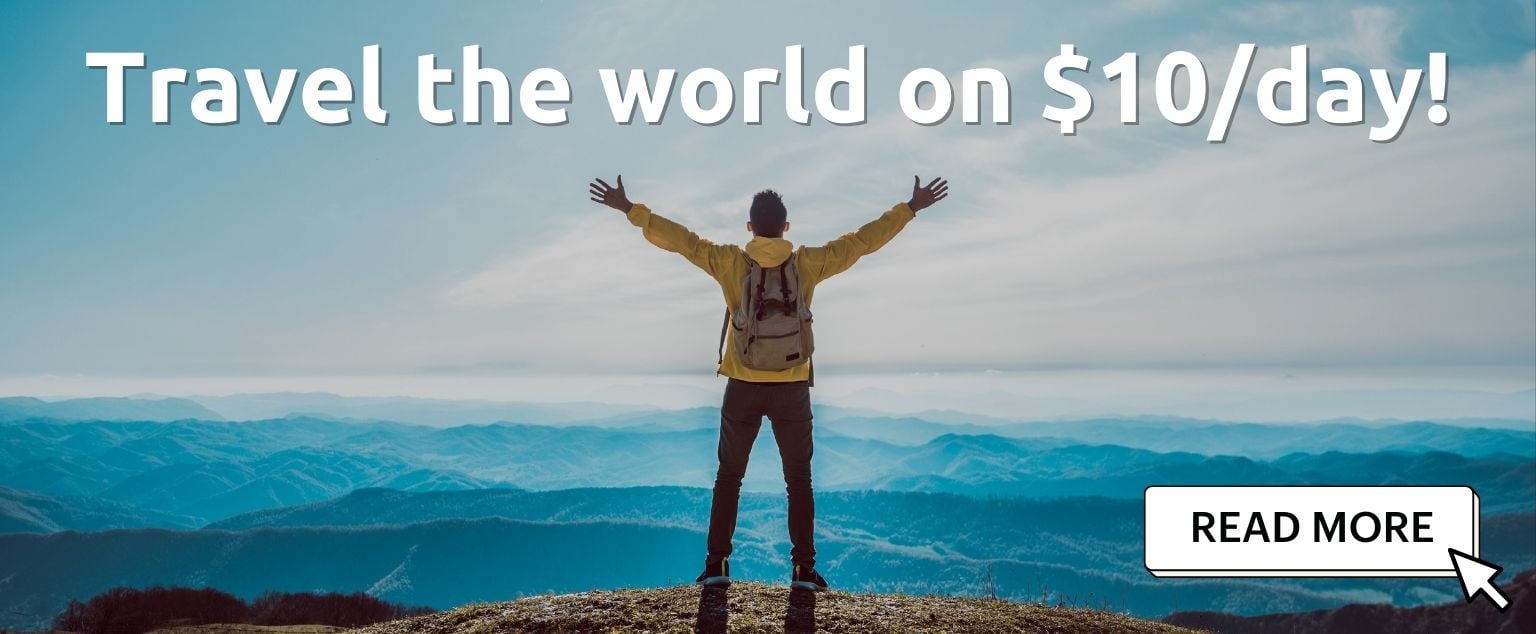 And for transparency's sake, please know that some of the links in our content are affiliate links. That means that if you book your accommodation, buy your gear, or sort your insurance through our link, we earn a small commission (at no extra cost to you). That said, we only link to the gear we trust and never recommend services we don't believe are up to scratch. Again, thank you!