Sure, there is a time and a place for wheeled suitcases and heavy-duty backpacking bags, but duffel bags have their place to when it comes to travel luggage. We've been around the block enough to know when and where a duffel really does come into its own … and trust us, there are times when it's the perfect option!
The Patagonia Black Hole Duffel takes the classic one hand travel style and optimises it like no one else can with an epic weatherproof coating and lightweight flourishes. The resulting bag has become a best-seller and can frequently be spotted at baggage claims the world over… and in our hands too of course!
At 55 litres, this bag excels once the packing list starts to add up and the itinerary stretches out. Once you start packing for extended missions or hauling a whole lot of gear, there's no need to complicate things further than a simple but well designed duffel.
The right travel duffel keeps the essentials close by, opens up wide and helps you take your adventure further. You can personalise your storage and organise the gaping interior as you see fit, or throw everything together and beat the traffic to check-in.
You can't expect any old duffel to make your life easier. As the leading duffel bag from a top brand, the Black Hole Duffel has a heavy load to bear (literally!) This Modern duffel bag has several carry options and all sorts of reinforced materials that hold strong while staying light and comfortable.
It's always worth investing a bit extra in high-quality travel gear. Your duffel bag will hold your entire trip within its thin polyester and nylon, so cheap materials will prove costly in the long run. Y'all don't want to be waiting at the baggage claim watching you're undies going round and round after your bag spring a leak! (not speaking from experience of course!)
Today we'll find out if the Black Hole Duffel lives up to the hype. Despite its relative affordability, the black hole duffel is held to as high a standard as any contender and for us has been our go to bag for climbing and hiking trips the world over.
So, let's crack on with this Patagonia Black Hole duffel review!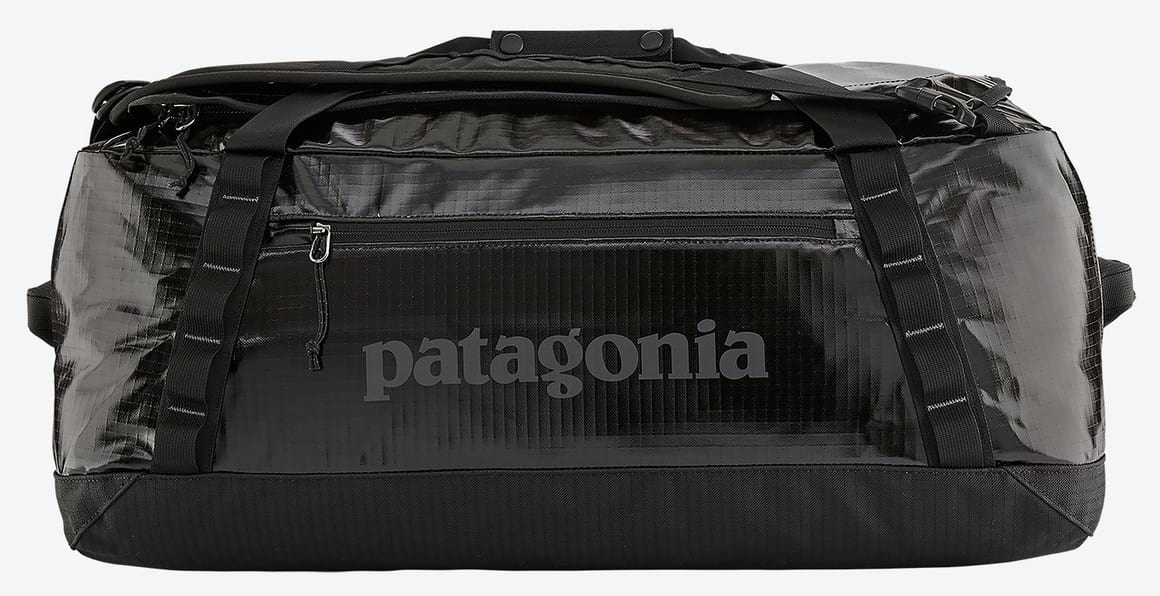 Size: 26.7" X 15.7" X 11.8"
Weight: 2 lbs 9.09 oz (0.9 kg)
Storage: 55L
Fasten Type: Square
Price: $139
Key Features at a Glance
Made using 100% recycled body fabrics
Three different carrying styles
Water-resistant finish
Plenty of daisy chain lashing options
Available in a plethora of colour schemes
Clothing compression options to reduce the size
Can bend and fold inside it's own carrying case
Shoulder straps are comfortable and removable
Ripstop material can handle scratches
Large mesh pocket underneath lid
The padded base really works
Available in storage sizes from 40-100 Litres
The Lowdown on the Patagonia Black Hole duffel – 55L
The Black Hole series is Patagonia's most recognisable baggage line, covering a range of different scenarios. You can optimise this bag in whatever way you see fit for your trip. From the 6L packing cubes and 100L kits, there are plenty of options and it all comes wrapped in recycled, waterproof, ripstop fabric.
The 55L duffel stands out as a great midway point when it comes to the different sizes on offer. It's also a great amount of room for a longer trip or a specialised vacation where you need to pack more gear. The flexibility and packability of the Patagonia Black Hole 55 mean that it can be squished down when needed.
The Black Hole name can get close to literally fully packed. As the name suggests, it's pretty much a bottomless duffel bag!
Sometimes 55 litres can seem like overkill, but it gives you an extra bit of space while staying lightweight and eco-friendly. The Black Hole name is apt too, inside this beast you can fit a whole heap of gear, but be sure to throw in a few packing cubes to keep it all organised.
This Patagonia 55-litre duffel passed all our tests yet just missed that 'wow' factor. This bag isn't trying to reinvent travel, it just serves as a pack-it-all professional option that's more resilient than your stomach after six months of sampling street food!
In our experience, we've utilised the duffel most often for adventure travel. The tough, waterproof exterior combined with the massive storage area means it really came into its own for camping and climbing trips in particular. The large opening makes it perfect for climbing ropes, quickdraws, harnesses and warm clothing.
Though we've also found it worked just as well for "conventional" packing and trips, though we wouldn't recommend replacing our main 'backpacking' backpack with a duffel for longer trips.
Ladies & Gents, It's Time to Step Your GEAR Game Up. 😉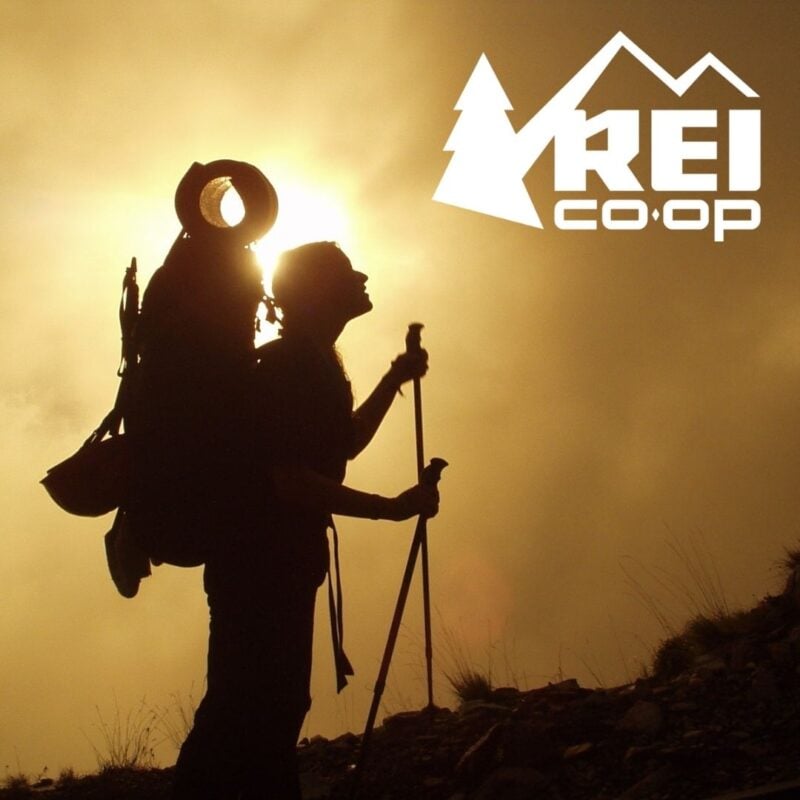 REI is one of America's biggest and most-loved outdoor gear retailers.
Now, for just $30, get a lifetime membership that entitles you to 10% OFF on most items, access to their trade-in scheme and discount rentals.
Join REI Today!
Is the Black Hole Duffel Perfect For You?
As a balanced part of any wanderer's diet, this Black Hole Duffel is bound to provide valuable nutrients to your lifestyle, but it's not always the perfect bag.
The Black Hole Duffel is NOT for you if…
Tip #1 – You are heading miles from the nearest set of wheels
A black hole implies a bottomless pit. While the Patagonia Black Hole 55l pack boasts healthy organisation features and reinforcements in all the right places, it's still 55 litres of open storage, which won't be easy to carry on your shoulders over long distances.
The Duffel's comfortable one-shoulder strap can start to weigh down at full volume, and you won't find the same back support and weight-bearing features you may expect out of a dedicated backpacking bag.
The 55l Black Hole duffel ain't made for putting serious mileage underneath your feet. You could instead look at a duffel backpack hybrid if you like this style of carry option.
Tip #2 – You need specialised storage options
The Black Hole duffel is a carry-all, not a specialist. You won't find camera cubes or a laptop compartment inside the main storage area of this duffel (although it is easy enough to accessorise!)
Instead, you might want to check out a dedicated camera or laptop backpack instead if you're worried about keeping your gear safe.
For the unorganised traveller, the black hole can be quite literal. There is nothing I love more than throwing all my gear in a heap at the end of the trip and letting the washing machine sort it all out. The Patagonia 55l duffel bag has enough stretchy storage to ensure everything makes it home.
Anyone who needs to know where everything is at all times may feel a bit lost in the gaping opening. The bag helps out by adding an external zipper compartment and a mesh internal pocket. Beyond that, you can roll it up, throw it all in and hope for the best when it comes to the Patagonia duffel 55l.
But like we said, we've found that massive open space ideal for bigger items like a climbing rope, so if you utilise the duffel for your personal needs then you'll find that massive space perfect for your trip.
Tip #3 – You are hoping to meet carry-on requirements
Most flight attendants and ticket agents are willing to haggle with carry-on requirements if you smile and nod at the attendants, and don't fly Spirit Air! Stuffed to the brim the Patagonia Black Hole 55 won't qualify for carry-on on most commercial airlines, but the duffel has a few tricks up its sleeve.
A variety of nifty features like the compression clips in the main compartment will help this bag drop down quite a few sizes. Unlike most carry-on compatible rolling luggage, the foldability of this bag means it can squeeze its way into a surprising amount of overhead bins. Still, it won't fit underneath your seat.
It's a bit large to take onto a plane, and instead of lugging the thing around all day, I would take advantage of gate check.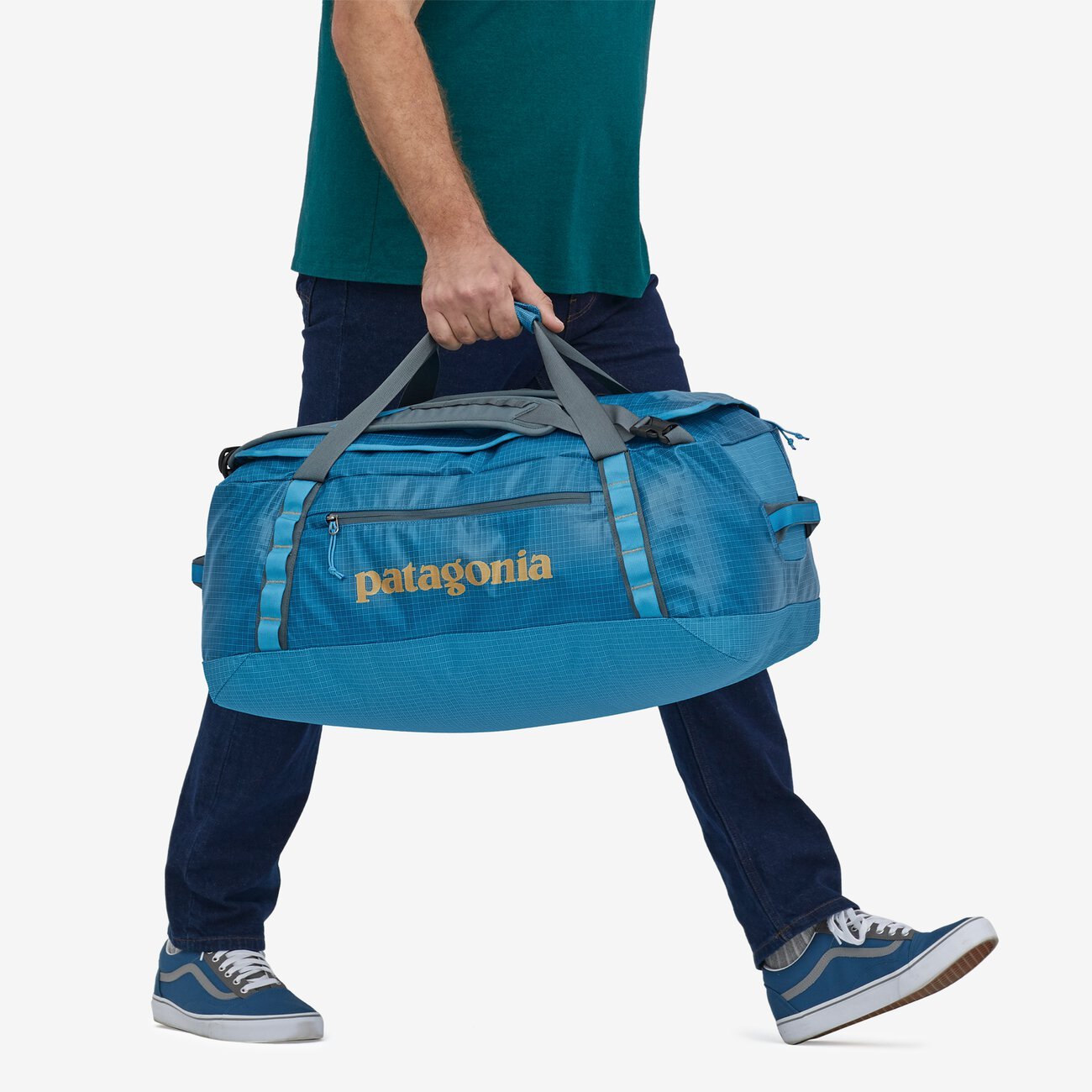 The Duffel is PERFECT for you if…
Tip #1 – You want one bag to pack it all
At 55 litres, you won't have to see how many days you can get out of one pair of underwear. Hardened one-bag travellers will swear you can fit everything into 40 litres, but the extra fifteen included in this black hole duffel come in handy time and time again in our experience.
Lightweight materials and its ever-expanding interior combine for a great bag for longer trips or multi-terrain adventures and allow your gear to grow with your journey. Hand grips on the side, reinforced attachments across the centre and comfortable duffel-style main handles further help get from point A to point Z.
You can fully pack this duffel with a month's worth of tropical clothing, plus a few bottles of sunscreen, and still handle it with ease. Or, you can stack a bunch of them full with an arsenal of adventure gear and pretty much tackle any mountain, crag or expedition you can think of.
It's one of the reasons we consider it to be up there with the best duffel bags on the market and why you'll always find these piled up at the check-in queue to destinations like Nepal, Switzerland or New Zealand.
Tip #2 – You are expecting some nasty weather on the way
Weather delays can keep you in the airport and keep your luggage sitting out in the rain. So with its lightweight 100% recycled polyester ripstop TPU-film laminated fabric ( a mouthful for sure), you'll be able to sit and enjoy your coffee with peace of mind! Many fabric backpacks can become saturated should the weather turns, but here with the Black Hole duffel, there are no worries about your baggage getting ruined!
You just never know when you might get caught out on your travels, even a short trip from the airport to the city can ruin your gear if a storm hits. Forget fiddling around with rain covers and running for shelter, you can stride through the rain with confidence knowing you've got its polyurethane coating for protection. This stuff is pretty tough too, repelling scrapes, scuffs and abrasions along the way.
We've taken these bags out into some pretty wild locations with the weather to match, each and every time our gear has been safe and dry when we've come to use it.
Tip #3 – You want the safest bet in the duffel bag market
It's large enough, weather-resistant enough, and light enough to qualify for practically any day, weekend, or month-long trip. The only thing that could make this travel gear better is decades of experience endorsing the build quality, oh wait! Yeah, it's got that! That's why Patagonia are one of the best outdoor brands and they're a brand we're personally very familiar with and have sworn by for years.
As long as Patagonia's purple mountain majesty adorns the packing slip, you can protect all your gear with a duffel bag with pedigree. Every other outdoor company in the business has one goal: to take up a market share half as large as Patagonia.
You don't reach the levels of success they have without providing quality products with every chance you get, and this duffel brings that high performance out of the backcountry and into the travel industry. There are not many backpack brands that can say the same thing!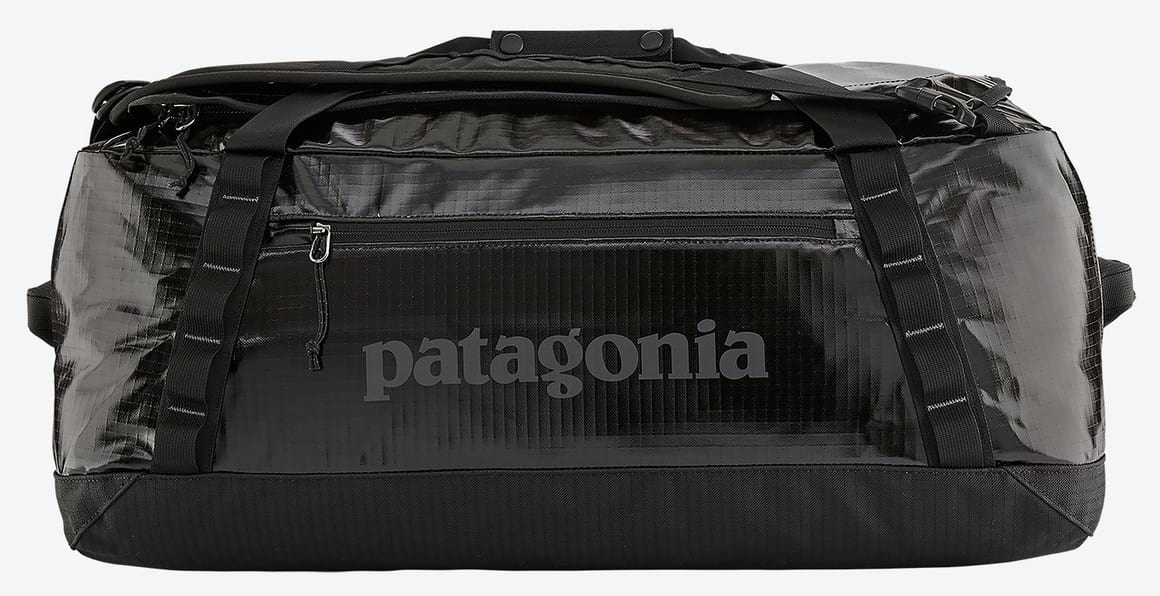 Top Patagonia Duffel Features
Materials & Aesthetic
The most important details of your pack all surround what it's made out of. Patagonia spared no expense finishing off their Black Hole, coating the entire bag in a durable water-repellent outer layer.
Inside that membrane lies a completely recycled polyester body that bends and folds alongside your gear. The resulting fabric is rip-resistant and can fully handle a few drops and scrapes on the road.
The hardcore materials used to protect this bag create a one-of-a-kind aesthetic. Patagonia finishes off the look like only they can, adding a monotone exterior that can blend in on the trolley or stick out in the crowd, depending on what colour scheme you go with for your 55l Patagonia duffel.
Any colour you choose, the glossy finish fits with travels of all styles and protects your gear while protecting the earth and the people who made it.
Looking for something different? A leather duffel also offers a great level of protection too.
Weight & Comfort
The weight and comfort of this bag is largely up to you. At 55 litres, there is no way to sugarcoat things once fully packed. The Patagonia 55l Black Hole duffel will be heavy, especially if you use it to haul around your bowling equipment!!
The Black Hole knows its strengths and tries to help out where it can. You can configure three different carrying styles, so you won't have to bear the brunt of your gear on one shoulder. Ouch!
Side straps help the bags loop around support systems and give you plenty of lashing options to take the load off. No matter how much you pack, the lightweight duffel will only add 2 lbs 9 ounces to your total weight, a remarkable feat for a bag so capable of storage.
It's that versatility that makes the Black Hole duffel one of the best Patagonia bags on offer, especially at this size.
Storage & Access
You'll either love or hate the large opening that defines this duffel bag. A large square zipper opens up fully on three sides and gives you plenty of access to your interior, but 55 litres of gear can easily get messy in the large main pocket.
To make things a bit easier, a large zippered exterior compartment can store everything you need to get through the day's journey, so you won't have to open up the literal black hole until it's time to grab a fresh pair of underwear! The main pocket offers up a mesh organiser on the underside of the lid for paperwork, cords, and small electronics away from the hold.
When not full of my sh*t, this bag is incredibly easy to store. The entire thing folds down into its own storage bag and can fold up to fit in any closet corner. Unpack your gear once you make it to your final destination and you can get this empty bag out of the way.
The best present of all… is CONVENIENCE!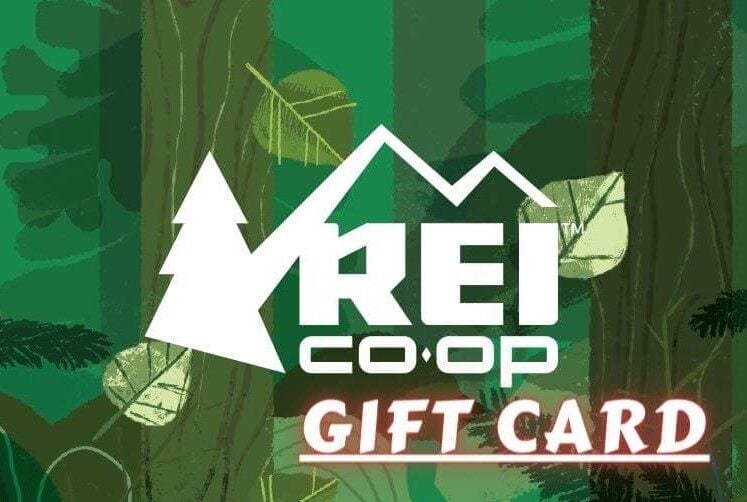 Now, you could spend a fat chunk of $$$ on the WRONG present for someone. Wrong size hiking boots, wrong fit backpack, wrong shape sleeping bag… As any adventurer will tell you, gear is a personal choice.
So give the adventurer in your life the gift of convenience: buy them an REI Co-op gift card! REI is The Broke Backpacker's retailer of choice for ALL things outdoors, and an REI gift card is the perfect present you can buy from them. And then you won't have to keep the receipt. 😉
Buy on REI!
Patagonia Travel Accessories
You can pack it all inside a black hole, but it's not always easy to find a fresh pair of socks amongst the madness. Just like a proper night out, a great trip is all about accessories and we've got plenty to fit in and work with the Patagonia Black Hole 55l duffel bag.
Stealth Hip 11L
A key aspect of one-bag travel is deception. You won't need more space than the Black Hole Duffel provides, but you may want to guarantee a few details have easy access.
The Stealth Hip belt comfortably fits inside larger bags and confidently holds everything you need to get through security, a day tour, or an overnight flight.
Clip it to your waist, tuck it underneath your coat, or sling it across your back and take off through crowded city streets. Pack it inside your Black Hole Duffel, store the dang thing overhead, break out your hip pack snacks, and enjoy the flight.
Black Hole Cube
Keeping everything organised inside the Black Hole isn't an easy task without a bit of assistance! This is where packing cubes come into their own! These durable little cubes are made of the same tough materials as the larger bag, so they can explore on their own as well as inside your larger duffel. Adding to the overall versatility of the Patagonia 55l Black Hole.
At 200 grams each, they won't add on noticeable weight either. The larger six-litre cubes open up into two with mesh dividers to further organisation while the three-litre cubes weigh less and squeeze down even smaller.
These handy packing cubes and their separate compartments make them handy for far more than keeping the muscle tees from the tank tops. Keep your electronics untangled and your bedtime kit on standby with versatile internal organisers like these that will solve so many headaches!
Patagonia Paxat Backpack
Sometimes we've got loads of equipment to haul with us. For complicated mobile desktops, one-person film crews, and anyone hauling along a few toys, Paxat packs that and protects it.
Keep the dirty work for the duffel bag, and bring your mobile office on your back. Not only does it help keep the valuables from the erm, 'unvaluables', it means you can keep your laptop and camera close whilst throwing your duffel in the hold or somewhere else out of sight!
Patagonia Black Hole duffel 55l Pros and Cons
+Pros
Provides the storage to stay away from home longer
If you pack light, you might still fit it overhead
Protect its massive storage space with high-tech weather and rip resistance
Stuffs into its own pocket and easily fits in the closet
External zippered compartment and internal mesh organiser help reduce the noise
-Cons
Slightly too large to confidently use this bag for carry on travel
Large main compartment can get messy fast
Fully packed you probably won't last too long carrying this duffel in one hand
Black Hole Duffel vs the Rest
There could be billions of black holes out there, and duffel varieties aren't that far behind. Take a look at a few options to better understand the Patagonia Black Hole duffel 55's place in the market.
Osprey Transporter Expedition Duffel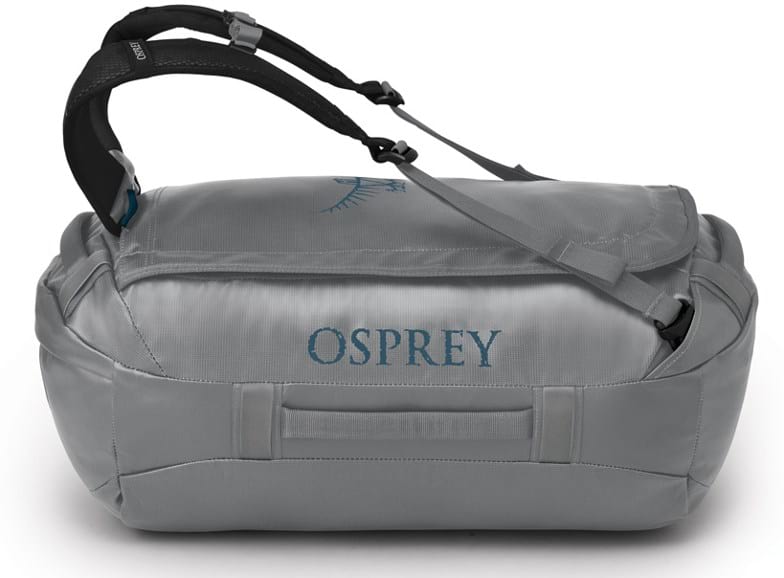 For less traditional travellers, this Osprey Duffel Bag blurs the line between duffel and shoulder carry. It's smaller than the Black Hole and less flexible, but with a few perks of its own. If a 55l duffel bag is too big, then this might be a great alternative.
The 40L max size fits inside any and all overhead compartments and shouldn't get you too much trouble trying to avoid carry-on penalties. What makes this bag really stand out is the enhanced shoulder straps. These two features make it one of the best carry on duffels currently on the market.
At a full load, you aren't likely to carry the Black Hole over your shoulders for too long, especially with the thin included straps. The transporter is different. If different isn't for you, Lock up the zippers and stow the padded shoulder straps and you've got a traditional duffel.
Monarc Settra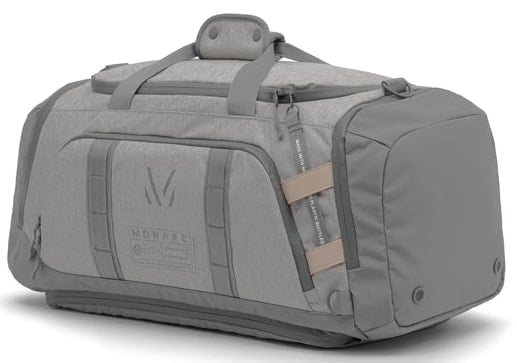 Some trips require a more locked-in approach. This sleek black bag takes an eco-friendly mindset and channels industrial functionality to create a bag that fits every shoulder.
Do you look at bags and think, "I'd like one of each please"? Here's a kit that can do it all in a weekend. Proponents call it a carry-on duffel backpack, or a little bit of everything you need to comfortably live for a week.
Compression packing cubes ship inside the recycled plastic bottle exterior. Once a Coca-Cola now a polyester powerhouse, the exterior of this bag comes draped with two side pockets and a multilayered zippered opening.
Patagonia certainly still sits atop the throne, but these Monarc bags are starting to live up to their royal pedigree.

Our GREATEST Travel Secrets…
Pop your email here & get the original Broke Backpacker Bible for FREE.
Final Thoughts
What a long, strange trip it's been! There's nothing else to say about the Patagonia Black Hole Duffel that hasn't already been said! Now, it's decision time. Full of perks and not without its flaws, this bag is a safe choice that ain't too hung up on being pretty.
Fully loaded the Black Hole duffle is a beast, so you won't have to leave a single thing behind. I tend to err on the side of caution when shopping for luggage, as I rarely find myself leaving empty space in my gear. If my bag fits 55 litres, that's how much I'm going to pack!
Hardcore one-bag-travellers will swear all you need is the Black Hole at its slightest, a 40-litre duffel that delicately expands. Anyone with extreme packing needs should skip straight to the 100-litre option that fills and fills and fills.
But that's where the Patagonia duffel bag 55l fits neatly in the middle and that's why we've used it time and time again for our adventure trips, where it's never let us down.
Whatever your storage needs, you'll find awesome materials sustainably sourced and built to last waiting for you with this mid-range duffel bag. 
But wait, there's more! Patagonia now makes a version of this bag that's been recently added to our list of best rolling duffel bags.
---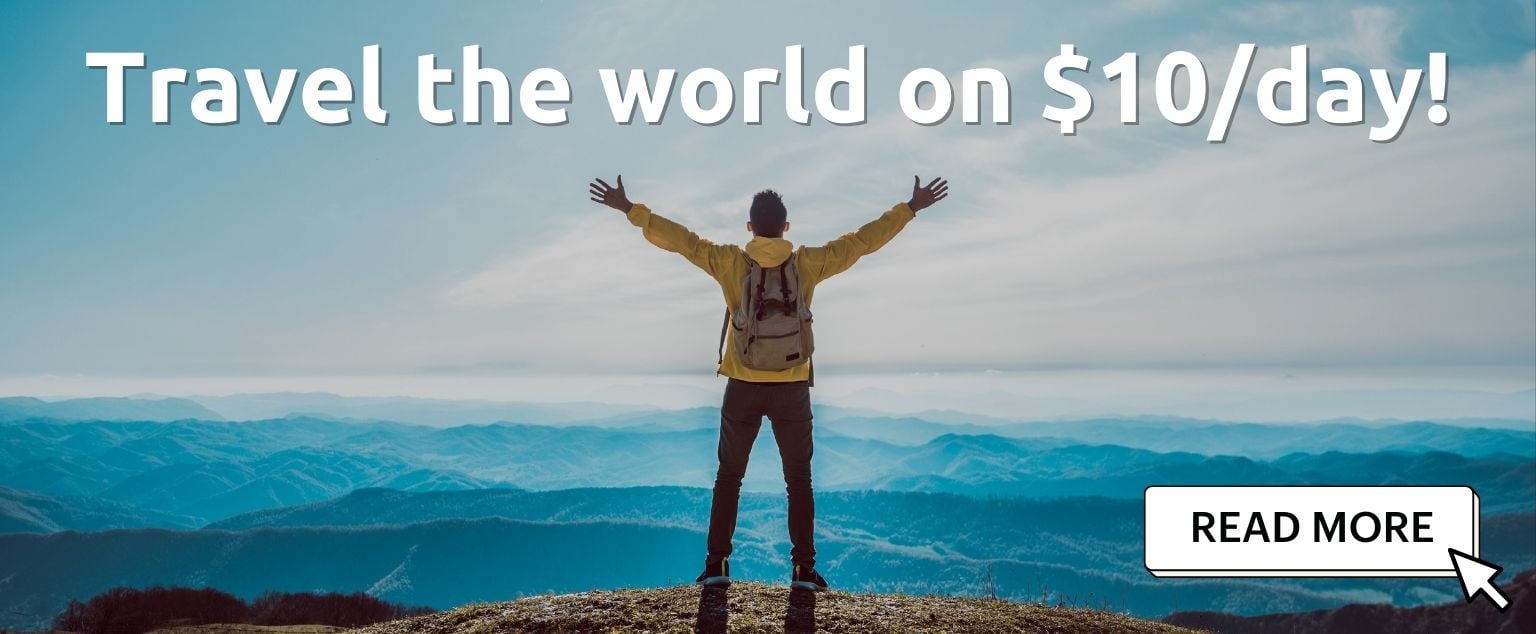 And for transparency's sake, please know that some of the links in our content are affiliate links. That means that if you book your accommodation, buy your gear, or sort your insurance through our link, we earn a small commission (at no extra cost to you). That said, we only link to the gear we trust and never recommend services we don't believe are up to scratch. Again, thank you!