There's no denying it – the great outdoors has made an impressive comeback since international travel has been interrupted. Not that being outdoors wasn't always an excellent way to spend your time, but it has undoubtedly become a vacation of choice for more of us over the past few years.
There's nothing better than spending time outdoors in nature, doing what you love in the fresh air and in beautiful locations. Spending time in nature is known to make us feel better about ourselves and our lives, and some of the best outdoor brands on the market are out there to help with this.
Depending on your physical ability and personality, there are endless outdoor pursuits that could tickle your fancy. Some prefer sailing, canoeing, surfing, or SUPing in beautiful river and ocean locations, while others would rather rock climb, hike, and do snowsports on the tallest mountains. One thing is for sure, whatever outdoor pursuit you follow, having the right gear and equipment is always very important.
Without the right outerwear, gear, and equipment, not only will your adventure be less pleasant and often uncomfortable, but it can also be super dangerous. Nature is equally as powerful as it is beautiful, and we need to be prepared for anything, whether we're on the water or in the mountains.
There are a multitude of top outdoor brands on the market, each serving different outdoor pursuits. So many, in fact, that it can get super confusing when you're trying to find the best product from the best brand. You can find anything from high-end technical equipment to budget-focused gear, and everything in between.
But don't stress, we're here to make your life a little easier! We've broken down this year's best outdoor brands from lifestyle clothing, to technical outerwear, to ingenious outdoor equipment.
Quick Answers – Are These The Best Outdoor Brands?
#1 Best Camping Brand – REI
#2 Best Hiking Brand – Salomon
#3 Best Cycling Brand – Cannondale
#4 Best Ski Brand – Arc'teryx
#5 Best Bouldering Brand – Black Diamond
#6 Best Action Camera Brand – OCLU
#7 Best Kayak Brand – Riot
#8 Best SUping Brand – TAHE
#9 Best Outdoor Tool Brand – Leatherman
#10 Best Outdoor Backpack Brand – Osprey
#11 Best Outdoor Jacket Brand – Patagonia
How To Choose The Best Outdoor Brands
Each of the brands we've featured here has its own strengths and specialities. Some are wholly committed to one type of adrenaline sport, while others offer a broader range of equipment for a bunch of different activities. By no means is this list extensive, and while we go into depth on eleven premium outdoor brands, there are tons more on the market that are also worth looking at.
One of the best ways to make sure you're picking a brand that produces high-quality products and equipment is by taking a look at the company's online reviews. In addition to reading a few reviews, it's always a good idea to get some first-hand knowledge on a product from friends who have tried the products (if possible). Adrenaline sports communities are typically small and close-knit, so if you're new to a sport, you can always ask the opinions of those who aren't.
While we don't recommend blindly trusting a product because of its brand name, it can be helpful to know which brands offer what, what their specialities are and what others think about them. This way, you will at least know where to start when finding reliable equipment and gear.
What Makes a Great Outdoor Brand?
When it comes to the best outdoor brands on the market, there are so many factors that make an outdoor brand great. If you can't decide between two brands with similar products, the most important thing to look out for is the quality of the products. While the best way to do this is to touch and physically try on the products, you can also simply read online reviews.
Another thing to consider is the backstory and reputation of the company. Some companies have been operating for decades, while others are new to the scene. There is usually a good reason companies survive for so long, but this doesn't mean that newer producers aren't manufacturing competitive products.
You should also do some background research into the supply chain and ethos of the company you're buying from. Naturally, outdoor adventure companies should have some sort of commitment to the environment. This also includes making sure the materials are sustainably sourced and of high quality. Many companies are fully transparent about their supply chain, making it easy to judge the true intentions of the brand.
Going camping? Check out our guide to the best camping brands instead.
Best Camping Brand – REI
Best Camping Brand – REI
Half Dome SL 2 Tent
> $$
> With spacious vertical walls
> Unzippable mesh panels
Best Hiking Brand – Salomon
Best Cycling Brand – Cannondale
Best Cycling Brand – Cannondale
Quick CX 4 Bike
> $$$
> Ultra-light and super durable
> Internally routed cables
Best Ski Brand – Arc'teryx
Best Ski Brand – Arc'teryx
Arc'teryx Sabre AR
> $$$
> Super breathable
> Designed for advanced skiers
Best Bouldering Brand – Black Diamond
Best Bouldering Brand – Black Diamond
Momentum Climbing Shoes
> $
> Slip-resistant and flexible midsoles
> With a neutral flat base
Best Action Camera Brand – OCLU
Best Kayak Brand – Riot
Best Kayak Brand – Riot
Intrigue Kayak
> $$$$
> Flexible four-comfort seat
> Comes with self-rescue straps
Best SUping Brand – TAHE Sport
Best SUping Brand – TAHE Sport
YAK Inflatable SUP
> $$$
> Lightweight
> Comes with a leash strap, a paddle, and a pump
Best Outdoor Tool Brand – Leatherman
Best Outdoor Tool Brand – Leatherman
Skeletool CX
> $
> Offering only the most essential multi-tool
> Super lightweight
Best Outdoor Backpack Brand – Osprey
Best Outdoor Backpack Brand – Osprey
Daylite Plus
> $
> Range of color combinations
> Bunch of quick-access pockets
Best Outdoor Jacket Brand – Patagonia
Best Outdoor Jacket Brand – Patagonia
M's DAS® Light Hoody
> $$
> Has PlumaFill synthetic insulation
> Water-resistant with a coated shell
The World's Best Outdoor Brands
Ladies & Gents, It's Time to Step Your GEAR Game Up. 😉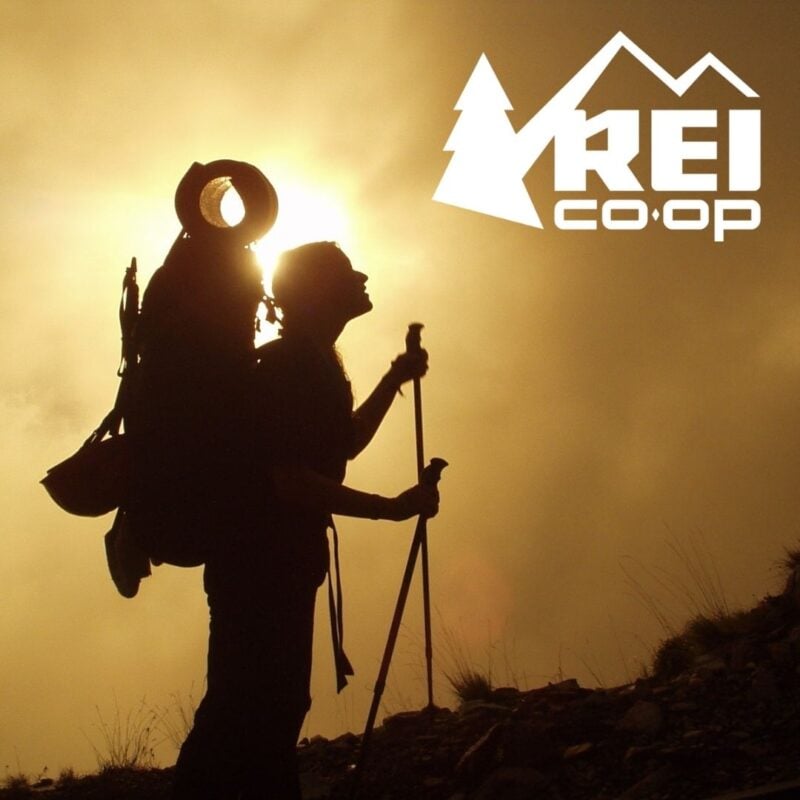 REI is one of America's biggest and most-loved outdoor gear retailers.
Now, for just $30, get a lifetime membership that entitles you to 10% OFF on most items, access to their trade-in scheme and discount rentals.
Join REI Today!
#1 Best Camping Brand – REI
REI is an American company that produces and sells a range of outdoor equipment and outerwear, ranging from leisure apparel to ski jackets to camping equipment. The company also offers membership deals, adventure guidance, and other services, including courses and vacation planning.
REI was founded in 1938 in Washington state and is now found in almost every state across the country. They also have a massive online shop that sells a range of different brands that specialize in various outdoor activities.
While they can be seen as a cooperative of different brands, REI has their own in-house brand known as REI Co-op, which manufactures and produces a wide variety of gear and clothing for a super reasonable price. As one of the best outdoor brands for camping, they're most well known for their affordability while not skimping on quality. They're one of the best tent brands on the market.
As any sizeable outdoor corporation should, REI makes a significant impact on the community and environment. They invest in renewable energy and have pledged to be carbon neutral in the near future by investing in more green buildings, products stewardship and recycling projects. In fact, the company even has a Re/Supply project where REI Co-op members can shop and trade in their used gear for store credit, keeping even more out of landfills.
Be sure to grab a REI membership card to take advantage of their great deals.
REIs Half Dome SL 2-man tent is the perfect place to rest your head on any adventure. It's manufactured using ultra-light materials and weighs only 3 lbs 15 oz, making it easy to carry around with you on your trip.
With spacious vertical walls, it's perfectly sized for two people plus additional gear, and even has space for a furry friend! Ideal for summer, autumn, and spring; the tent has unzippable mesh panels that offer the best views and ventilation.
Need more options? Check out the best hiking tents on the market.
#2 Best Hiking Brand – Salomon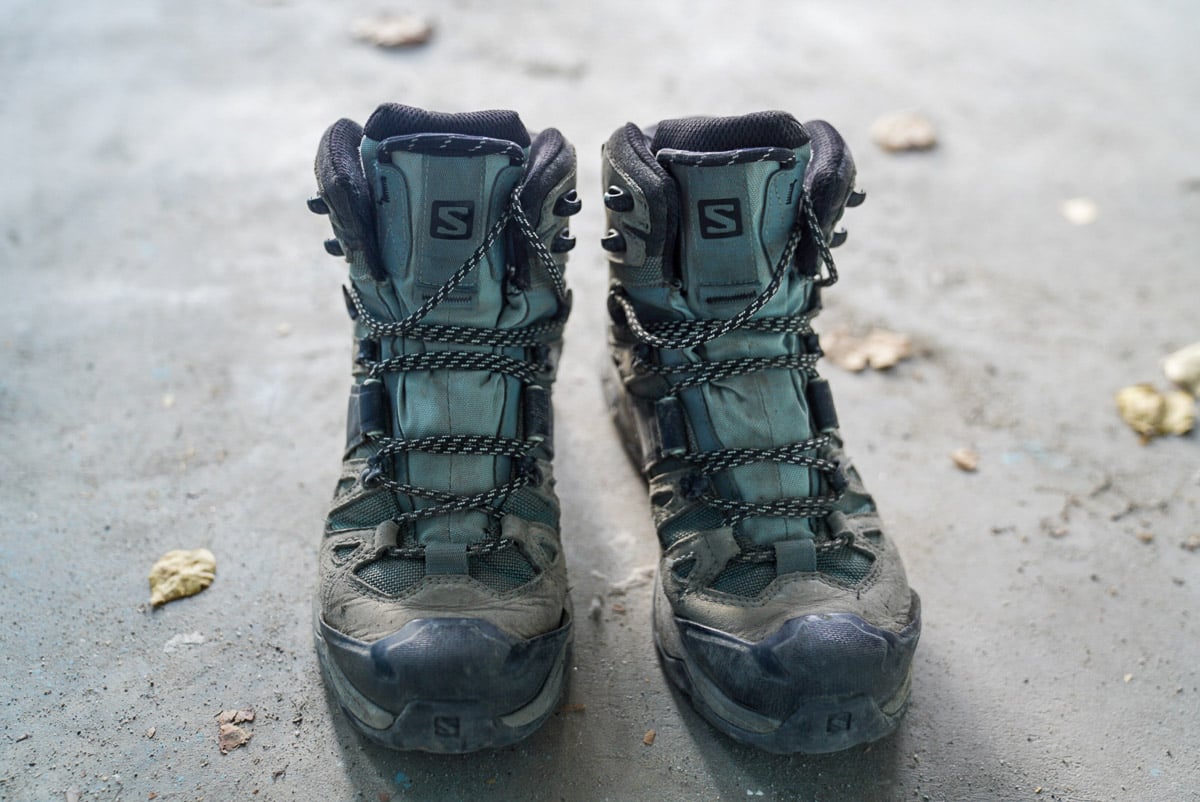 Salomon was founded in 1947 in Downtown Annecy, France, by the Salomon family, who would handmake skis and bindings from their at-home workshop. Salomon got their good name from inventing the world's first ski binding with a self-release heelpiece – the very technology that most skis still use today.
They quickly became the world's top binding sellers and producers, allowing them to venture into a summer range of hiking shoes. Salomon strives to give people the gear to be able to progress in their chosen sports while connecting with nature. By seeing the outdoors as a natural playground, they have put 'play' at the core of their values, encouraging customers to spend time enjoying themselves outdoors as much as possible.
As one of the best outdoor brands for skiers, Salomon creates minimalistic inspired gear using top-of-the-range materials and professional workmanship. Of course, the company also has a big commitment to the environment.
Not only do they give a portion of each sale to worthy NGOs and source their materials from sustainable compliant origins, but they also pride themselves on their own employee experience, vouching for gender equality and fair wages. It's one of the reasons we've named them top of the best hiking boot brands.
Salomon has designed the X-Ultra 3 Mid GTX Hiking Boots for the most adventurous hikers. They are made from a combination of fully waterproof yet breathable Gore-Tex materials and leather, allowing your feet to breathe while being protected from the elements.
Like all of Salomon's boots, they are moulded to the shape of your feet with foam cushioning midsoles to help stabilize your heals in place, making them super comfortable for a long and treacherous hike.
When things get messy, the mudguards and rubber toe caps will protect you from unexpected roots and stones.
Need more ideas? Check out our guide to the best hiking boots on the market.
#3 Best Cycling Brand – Cannondale
Cannondale was founded in 1971 as the American decision of the Canadian Dorel Industries company, at a time when cycling was a much more conventional sport than it is today. The company's headquarters are in Connecticut, they have engineering offices in Germany, and their bikes are assembled in Taiwan, the US, and the Netherlands.
The brand wanted to revolutionize cycling for the better by pioneering new materials and ergonomic bikes using unique technology. Although they aren't all handmade in the US anymore, Cannondale is one of the best outdoor brands for producing high-end bicycles made using carbon fibre, an ultralight material that they were pioneers of.
They're a quirky company that takes pride in designing unique bicycles for different terrains, conditions, and riders. Their product ranges from road to mountain to active to electric bikes. They also have a children's range and manufacture top-rated gear for cyclists.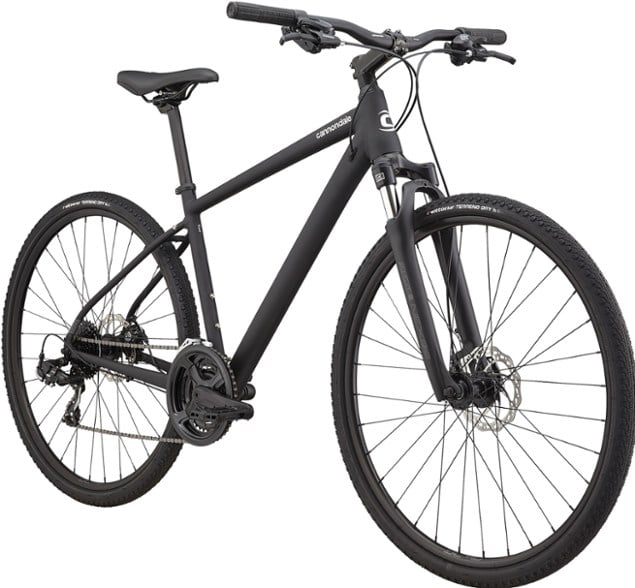 Made from high-quality aluminium, the Quick CX 4 Bike is designed to be ultra-light and super durable. The bike has three 7-speed Shimano shifting gears and 700c wheels with multi-surface tires, making it a perfect everyday bike for on and off-road exploration.
The seat is designed to keep your back in an upright position like a mountain biker, giving you more control and stability as you ride. A favourite feature of this bike is the internally routed cables, which makes it super easy to wash and keep clean.
Going bikepacking? Check out our guide to the best bikepacking bikes on the market for your trip.
#4 Best Ski Brand – Arc'teryx
Arc'teryx might be one of the more expensive ski apparel brands on the market, but it's not without good reason. The brand was founded in the Canadian Coast Mountains in 1989 and is now manufactured in Munich, Shanghai, and Tokyo and sold worldwide. There are over eighty Arc'teryx branded stores worldwide and over 3000 other shops that sell their products.
The brand creates the highest quality products using influential technologies from the best possible materials. They have many different lines and subsidiaries, but we're here to talk about their ski and snowsports lines.
Arc'teryx designs and manufactures super technical products that are waterproof, breathable, and durable, designed to protect you from the harshest weather conditions on the planet. They are one of the best travel jacket brands out there.
As you can expect, their products are beautifully designed, following the trendiest styles. A winning feature that makes this one of the best outdoor brands on the market is how they test their products. With their main offices and factories located right in the heart of the mountains, they test each product firsthand in the most intense conditions.
The Sabre AR Jacket is a high-performance ski jacket with a price tag to match. However, you'll be getting what you pay for with this specced-out jacket made from Gore-Tex materials. A flannel lining makes it super breathable, allowing your body moisture to leave the jacket while keeping the warmth inside.
This jacket is designed for advanced skiers committed to the slopes and is created to manage big-mountain terrain and backcountry conditions. It's equipped with practical and technical features for both skiers and snowboarders, including underarm zips, powder skirts, pockets, and a helmet-compatible hood.
#5 Best Bouldering Brand – Black Diamond
If you know anything about bouldering, you'll be familiar with Black Diamonds gear. Black Diamond is one of the best outdoor brands for rock climbers, skiers, and other mountaineering sports.
The company was founded in Utah in 1989 by Yvon Chouinard who started hand-forging his pitons and selling them out of his car trunk in Yosemite. He quickly gained a reputation for his quality equipment, and the brand was born. Today, Black Diamond has a global presence across Europe and America.
The brand manufactures everything from ropes and climbing shoes to outerwear and harnesses built from the most durable materials to withstand heavy weights across tricky terrains. A lot of their product offerings have to do with mountain safety, and they even offer a bunch of avalanche beacon tools for safe backcountry skiing. While priced high, Black Diamond is known for hosting seasonal sales where they sell their best products for a discounted price.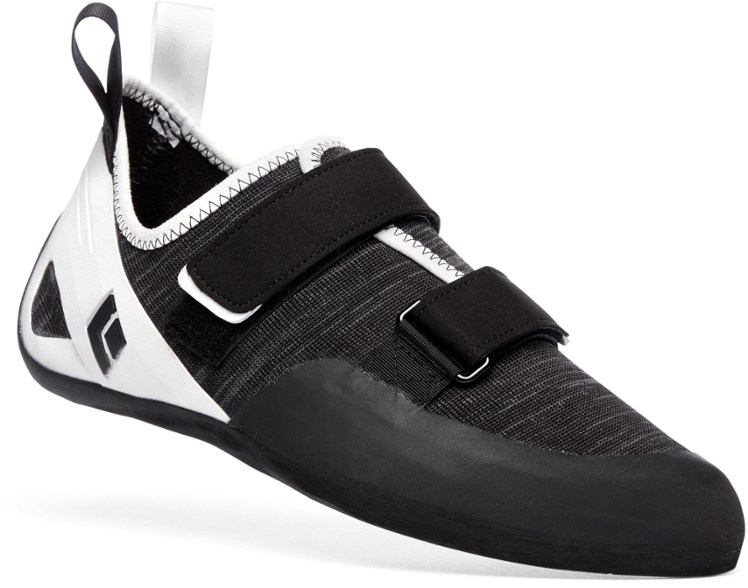 If you're getting into rock climbing, the Momentum Climbing Shoes from Black Diamond are an excellent bet for beginners and advanced climbers. They're designed with flexible and breathable knitted uppers and molded rubber outsoles to maximize support.
Of course, slip-resistant and flexible midsoles give the shoes added sensitivity for edging along tricky terrain. With a neutral flat base, they're also comfortable walking around between your hiking spots.
Need more options? Check out our guide to the best bouldering shoes.

Do You Want to Travel FOREVER??
Pop your email in below to get a FREE copy of 'How to Travel the World on $10 a Day!'.
#6 Best Action Camera Brand – OCLU
There's nothing better than perfectly capturing an adventurous moment, and the only way to do this is with a unique outdoor adventure camera designed to withstand the elements.
OCLU is one of the best outdoor brands for cameras, manufacturing compact and lightweight devices with different accessories to attach them to your SUPs, helmets, and cars. In fact, the company offers different accessory bundles for different sports. For example, the Ride Bundle is perfect for cyclists, the Snow Bundle for skiers and snowboarders, the Ocean Bundle for surfers and kayakers, the Moto Bundle for speed enthusiasts, and so on.
OCLU's Action Camera is the perfect size to bring along on your adventure of choice. It's designed to be sleek and aerodynamic, to reduce its impact on your outdoor pursuit, whether surfing, cycling, or motorsports.
OCLU cameras are super durable and can withstand a hefty drop down a cliff face. Of course, they're also waterproof and can be used in the ocean or rivers and lakes. OCLU also has a practical smartphone app that allows you to view and share your videos and photos in real-time. Even though there is a small screen on the device, this easy-to-use app is a gamechanger for outdoor adventurers and allows you to see what you're filming without having to unstrap or unclip the camera.
Want to know more? Check out our detailed review of the OCLU camera here.
#7 Best Kayak Brand – Riot
If you're after the best outdoor brand for kayaking and canoeing, Riot is the first place you should look. The company manufactures and sells all sorts of equipment, from sea kayaks to fishing kayaks to inflatable canoes to white water rafts and more.
Riot manufactures their kayaks using the best-of-the-best materials, including high-grade rotomolded polyethene, which offers the perfect combination of stiffness, durability, and weight. Their kayaks are also constructed using ultra-light materials that are extremely durable and tough.
They believe in the importance of comfort, with each boat having fully adjustable seas to fit different body shapes. Of course, safety is also a big concern, and Riot has added sealed bulkheads, self-rescue straps, and reflective paint lines for ultimate safety in the water.
Featured Product: Intrigue Kayak ($1099.95)
Riots Intrigue kayak is 10 feet long and easy to carry around and store at home. It comes with a flexible four-comfort seat that is fully adjustable, padded with foam, and covered with dry-tech removable fabric covers. This makes it one of the most comfortable vessels in its range.
There's a watertight compartment at both the front and the back of the kayak for you to store your goodies. Of course, the kayak comes with self-rescue straps to help make your life easier if you do end up falling in the water.
Looking for a kayak for travelling? Check out our guide to the best lightweight kayaks here.
#8 Best SUping Brand – TAHE Sport
SUPing (Stand Up Paddling) is basically like walking on water, and let's face it; there's nothing as unique and exciting as gliding over the water with confidence. TAHE Sport is a brand born between TAHE Outdoors and BIC Sport, both of which are famous companies known across the watersports world. Between BIC Sports manufacturing expertise and TAHE Outdoor's dedication to water exploration, it's no wonder TAHE Sport has such a great reputation.
As one of the best outdoor brands for SUPing, the company offers a wide range of products, from rigid boards to inflatables, paddles, and accessories. Their most well-known offerings are their lightweight inflatable SUPs, which are hard enough when inflated for high-performance SUPing, but light and compact enough to be transported across the world.
TAHE Sport is the go-to SUP provider for all types of watermen, from first-time SUPers to experts to SUP yoga practices and everything in between. Their boards and accessories are made using quality materials and components, ensuring they are durable enough to survive some turbulent water conditions.
The YAK Inflatable SUP is the perfect piece of equipment for SUPers who like to travel yet can't fathom carrying a huge board around. The 10-foot 6-inch board has a pointed nose for easy manoeuvrability. It has a thruster fin setup (three fins) which offers stability in the moving water.
The SUP is lightweight, stable, and has an option to ride standing or sitting down. With a strap-in seat, this SUP doubles as a sit-on-top kayak. Of course, your investment comes with a leash strap, a paddle, and a pump to get your SUP ready for action anywhere.
#9 Best Outdoor Tool Brand – Leatherman
If you haven't heard of Leatherman, are you even an outdoorsy person at all? Leatherman was founded by Tim Leatherman nearly four decades ago, and what started as a backyard project has now become a household name across the world. Leatherman saw a gap in the market for a compact multi-purpose tool and created the first pliers-based tool that can be used for pretty much anything and everything.
Leatherman's goal was to provide everyone from business people to extreme mountaineers with a single tool that could help fix many problems. Without a doubt one of the best outdoor brands on the market, whether you need to fix a leaky pipe, measure something, open a can, saw some wood, or pop open a cold beer, your trusty Leatherman has you covered.
The brand has tons of products ranging from six to twenty-one tools-in-one, typically connected to a pair of pliers. If you're big on camping, mountaineering, or like doing work on your car, a Leatherman will be one of the most valuable pieces of equipment you can own.
Featured Product: Skeletool CX ($89.95)
Leatherman's Skeletool CX is one of the brand's more basic tools, offering only the most essential multi-tool features. These include a needle nose and regular pliers, wire cutters, four bits, a bit driver, and a bottle opener.
It's super lightweight and has a practical clip to keep on your person, making sure you'll never be without your Leatherman again.
Looking for something similar? Check out our guide to the best knives and travel multitools.
#10 Best Outdoor Backpack Brand – Osprey
Founded in 1974 by Mike Pfotenhauer, Osprey is an outdoor adventure brand that specializes in all things bags. Whether you're looking for an everyday backpack, hard case luggage, day packs, or a super technical backpack, Osprey is one of the best outdoor brands for backpacks and bags.
Pfotenhauer founded the company at the young age of sixteen and has ever since been super involved in the design and quality testing of every product released into the Osprey range.
Our favourite feature about this brand is their guarantee for each product. No matter if you purchased a bag yesterday or a decade ago, Osprey promises to repair any damages for no extra charge. This is one of the most wholesome ways to keep outdoor equipment out of landfills and shows customers how invested the brand is in creating high-quality products.
They are also very environmentally conscious, and all Ospreys bags are made using high-quality sustainable and recycled materials that are both durable and long-lasting.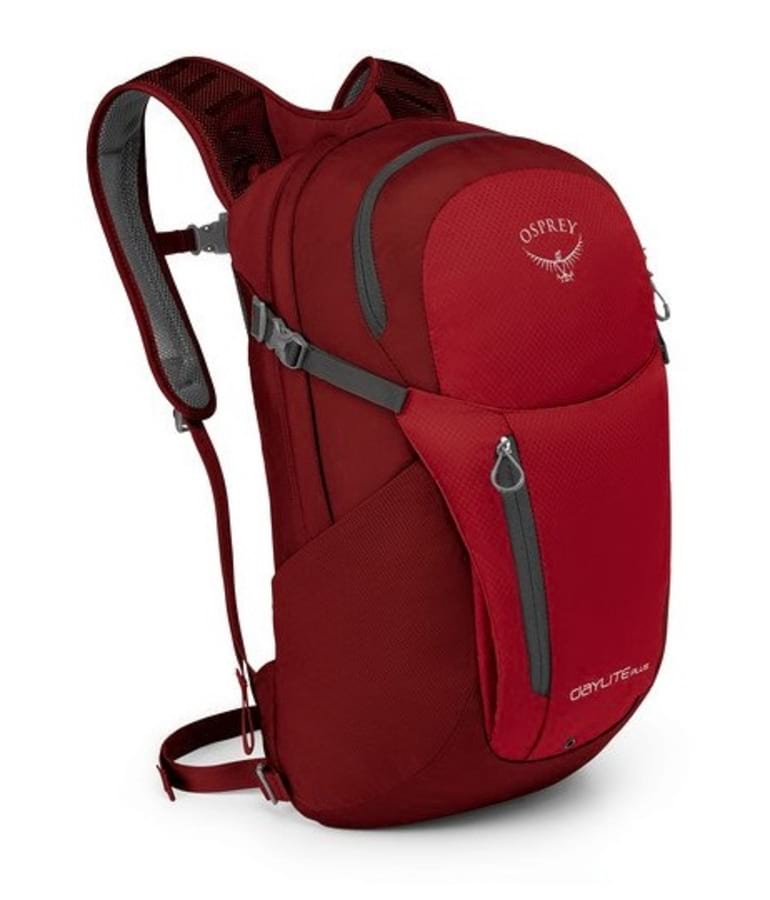 Ospreys Daylight Plus is the perfect backpack for everyday adventures. This bag is sleekly designed in a range of colour combinations with only the most necessary pockets, making it ideal for travelling, school, and daily hikes and adventures. It's also a great small camping backpack for shorter trips.
The bag has one main compartment and is compatible to attach to Osprey's bigger packs and bags. You can fit a 15-inch laptop inside the bag, as well as a water bottle in the side mesh pockets. There are also a bunch of quick-access pockets to store all your devices and goodies safely, so you'll always know where everything is.
Want more options? Check out the best backpack brands for some more ideas.
The best present of all… is CONVENIENCE!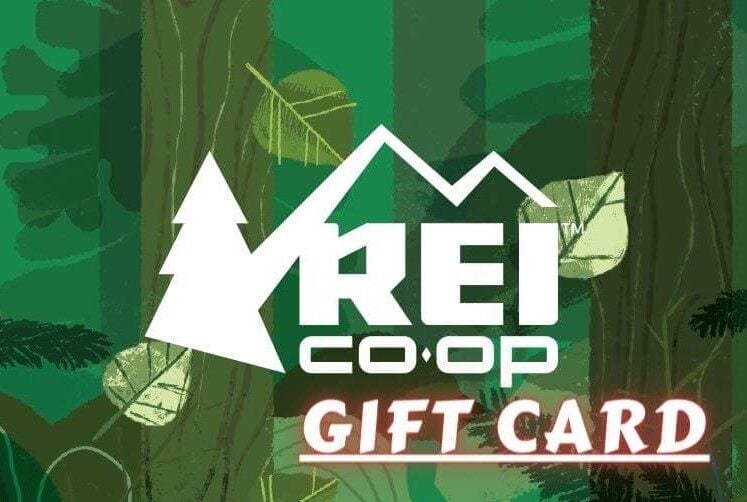 Now, you could spend a fat chunk of $$$ on the WRONG present for someone. Wrong size hiking boots, wrong fit backpack, wrong shape sleeping bag… As any adventurer will tell you, gear is a personal choice.
So give the adventurer in your life the gift of convenience: buy them an REI Co-op gift card! REI is The Broke Backpacker's retailer of choice for ALL things outdoors, and an REI gift card is the perfect present you can buy from them. And then you won't have to keep the receipt. 😉
Buy on REI!
#11 Best Outdoor Jacket Brand – Patagonia
Patagonia is, without a doubt, the best outdoor brand when it comes to apparel and accessories. Mountain enthusiast Yvon Chouinard founded the brand in California in 1973.
Chouinard and his mountaineering and surfer friends had a vision to create sustainable and environmentally friendly apparel and equipment of the highest quality. Today, the company sells across five continents. It's a household name that any outdoor enthusiast should be familiar with.
Patagonia products are relatively pricey, but for great reason. Their apparel is designed to be super functional, durable, and easily repairable without causing harm to the planet. Naturally, Patagonia has made a massive commitment to the environment, and they bring this value into every aspect of their business model.
They have a fully transparent supply chain, so you can track where and how your apparel was made. Not only do they use sustainable materials and recyclable packaging, but they also donate a percentage of their sales to worthy charities. Patagonia even has a trade-in system that allows you to get credit for trading in used clothing.
Patagonia's Das Light Hoody is the perfect combination between a lightweight jacket and a hoody. It is designed using ultralight materials and has PlumaFill synthetic insulation, making it the ideal outerwear for after a day on the mountains.
It's also water-resistant with a coated shell, making it perfect for windy or chilly weather. Like all Patagonia's products, the hoody is fair trade certified sewn using recyclable materials.
Looking for something different? Check out the best Patagonia jackets for more options.

Our GREATEST Travel Secrets…
Pop your email here & get the original Broke Backpacker Bible for FREE.
Final Thoughts on The Best Outdoor Brands
With the outdoor adventure scene booming in recent years, tons of new outdoor brands have popped up worldwide. Some specialise in specific adventure equipment, while others have a more generalised product offering for various activities.
Any good adventure starts with having the right equipment and being underprepared for a SUPing trip or a hiking adventure can quickly lead to injuries and other problems. This is why you must invest in the right equipment for your outdoor pursuit.
Need more info? Check out our ultimate camping checklist.
But with so many brands out there, it can be hard to know which of the best outdoor brands manufacture the best gear and equipment for your particular adventure. A company's reputation is a sure way to gain trust in a brand, but it's not the only factor that matters. The ethos, sustainability commitment, and product quality are all super important too.
Investing in quality equipment can get pricey quickly, so we hope that this list of the top outdoor adventure brands has at least made your search for the perfect equipment a little easier.
---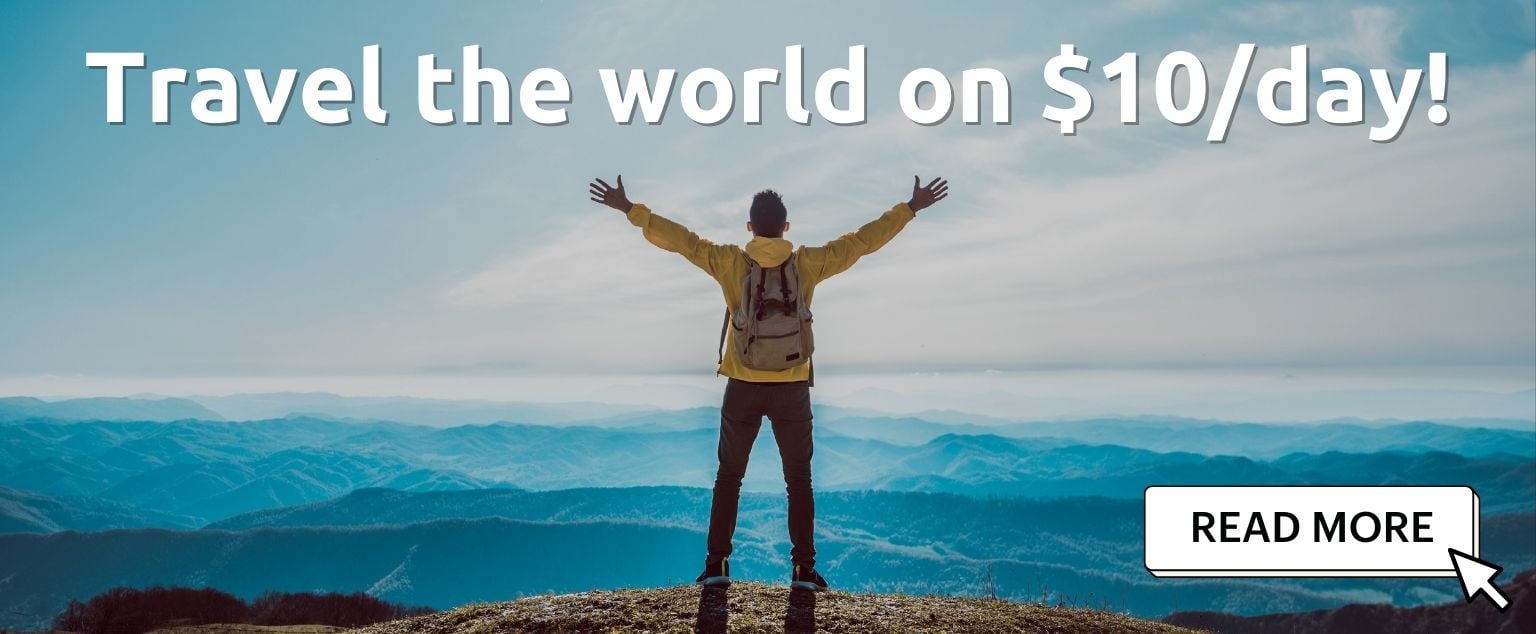 And for transparency's sake, please know that some of the links in our content are affiliate links. That means that if you book your accommodation, buy your gear, or sort your insurance through our link, we earn a small commission (at no extra cost to you). That said, we only link to the gear we trust and never recommend services we don't believe are up to scratch. Again, thank you!