There is no doubt about it, hiking does something special for the soul, and there is a bucket load of research to prove it. Being outdoors in nature has numerous benefits for the human mind and body, and has even been linked to reducing our risk of heart disease, high blood pressure, and anxiety, all the while keeping us fit and healthy.
I mean, it's just awesome to be outside exploring the beautiful world around us whether you enjoy a short trail walk or prefer heading off on overnight hiking adventures. That being said, the key to having a good time on a hike is rocking up with the right equipment.
Preparation is key, and if you aren't set up with the gear and equipment, your epic adventure will be ruined! If you opt for regular shoes instead of one of the best hiking boot brands and products, you're not gonna have a good time! Hiking boots are the foundation of any mountain adventure. They provide you with stability and grip in tricky terrains, protect you from weird-ass bugs, and keep your feet cushioned and comfortable.
In this article, were going to focus on one of the most important pieces of gear you'll need for any hike, whether it's one hour or three days long – hiking boots. Hiking boots are an unmistakable investment for anyone who spends a bunch of time hiking or walking through rough terrain.
If you're on the hunt for the perfect pair of boots, you'll know that there are tons of brands and products on the market to choose from. We put this list together to introduce you to the best brands to help you on your quest to find the perfect hiking boots for your adventure.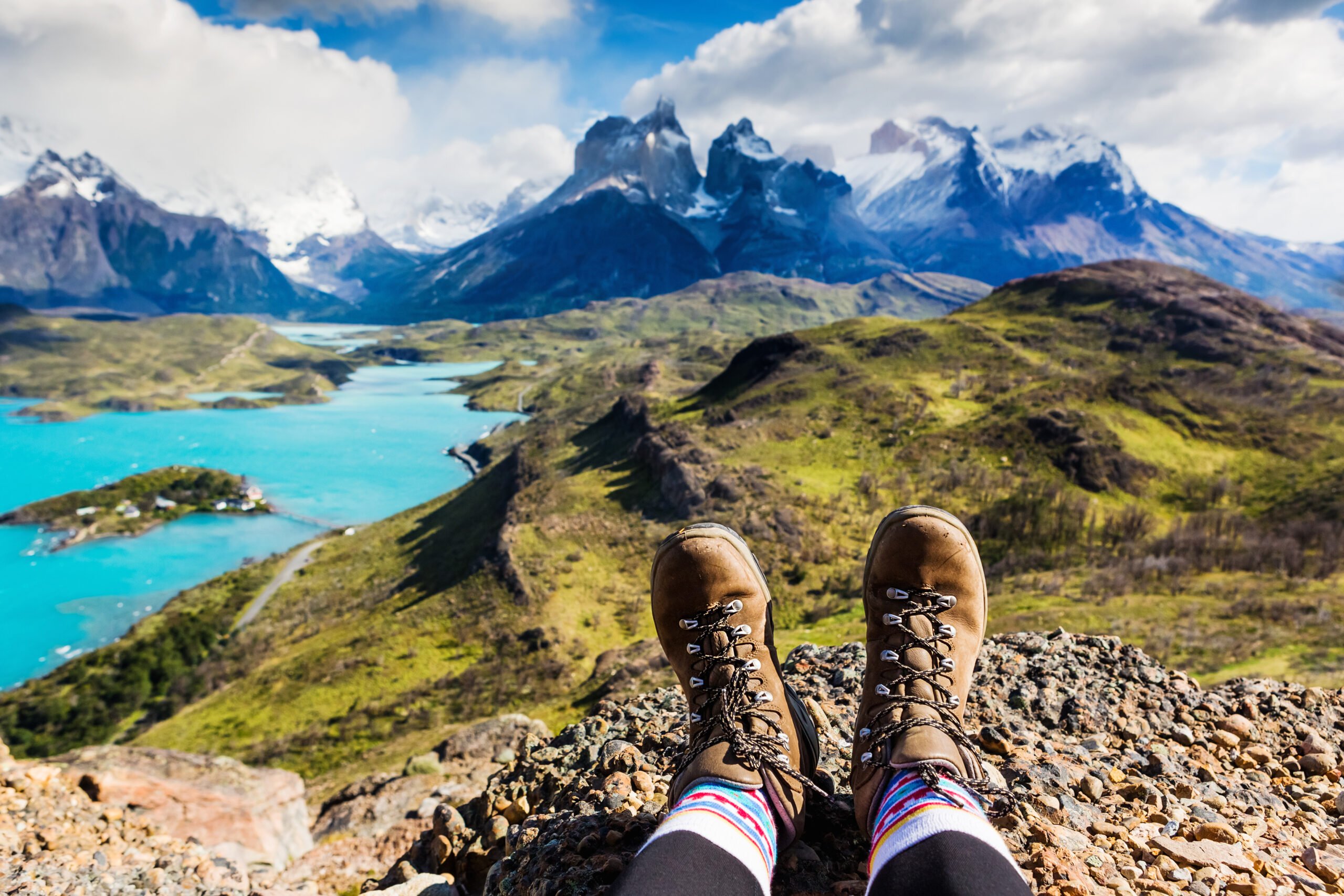 What Makes a Good Hiking Brand?
A good hiking boot brand combines a passion for the outdoors with technical innovation. There's a lot that goes into a good hiking boot, from the flexibility of the soles to the durability of the material and the quality of the lacing. For a piece of gear that should be practical for walking endless miles across the world's most unique and harshest terrains, this also means a lot can go wrong when designing the perfect hiking boot.
Not only do the best brands pride themselves on their product's high quality, but naturally, outdoor-focused brands should care about the environment around them. In this sense, the best hiking boot brands are committed to protecting the environment in one way or another – be it manufacturing products using sustainable or recyclable materials or donating a share of their profits to worthy causes.
Aside from having a good ethos and ethics, you're also going to want to purchase from a brand with a good customer support system. There's nothing worse than fighting with an incompetent computer bot when something goes wrong, especially if you've paid a pretty penny for your gear. The top brands should be willing and able to help you with whatever issues arise.
While this isn't an extensive list, the brands we've included have proved themselves time and time again over the years. This isn't to say that newer brands don't offer high-quality products, and you should always try a product out before judging it too harshly.
Merrell
Merrell
MQM Flex 2 (Women's)
> $
> Waterproof and tear-resistant mesh uppers
> With a bonded construction and kinetic fit base
Lowa
Lowa
Innox Pro GTX (Women's)
> $$
> Moisture-wicking and breathable materials
> Included double-injected DynaPU midsoles
The Best Hiking Boot Brands in the World Today
We've kept you waiting long enough. It's time to unpack eight of the top brands for hiking boots on the market today. We'll give you a small introduction to each company and then follow up with an example of one of their highest-rated hiking boot products:
Here we'll give you a rundown of the best boot companies as well as some of the best hiking boots on the market right now. Your feet will love ya!
Ladies & Gents, It's Time to Step Your GEAR Game Up. 😉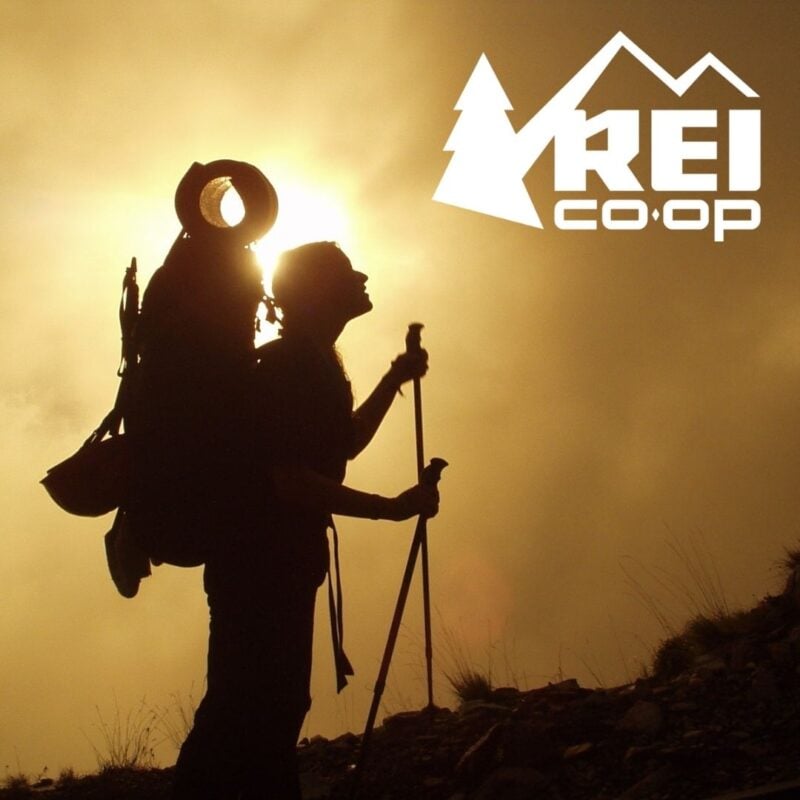 REI is one of America's biggest and most-loved outdoor gear retailers.
Now, for just $30, get a lifetime membership that entitles you to 10% OFF on most items, access to their trade-in scheme and discount rentals.
Join REI Today!
Salomon is known for manufacturing high-quality outdoor equipment. Founded in 1947 by Francois Salomon and his family, the brand has since been owned by Adidas and now is part of Amer Sports.
Their hiking boots are second to none and incorporate new technologies with top-of-the-range materials and fabrics. Salomon produces progressive gear enabling you to enjoy the great outdoors in whatever the weather can throw at you! Come at me, bro! Their gear is thoroughly tested in the elements and comes with solid guarantees, so you can rest assured you're investing in quality.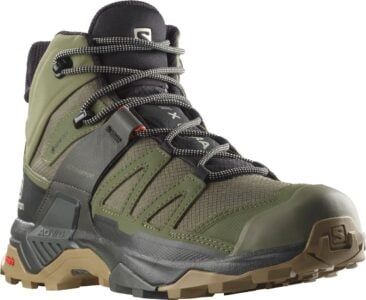 Specs
Material – Gore-Tex and leather
Approx weight – 1 lb. 14.4 oz. (0.86 kg)
Price (USD) – $175
As one of the best hiking boot brands out there, Salomon's X Ultra 3 hiking boots are designed to keep your feet dry, warm, and comfortable during wet conditions, tricky descents, and long hikes.
Made using Gore-Tex materials combined with natural leather, they offer the perfect balance between breathability and waterproofness. When conditions are messy, the mud-guards will ensure no debris or dirt gets into the boots. They're also sculpted to hold your feet in place with foam cushioning to help stabilise your feet as you climb steep rocky terrains.
We also published a Salomon OUTPulse review elsewhere on the site too.
Keen Footwear was founded in Portland, Oregon, in 2005 by Martin Keen, and their products are now sold across the world (particularly in the US and Canada). The company produces minimalistic inspired shoes made from sustainable and durable materials, hoping to reconnect humans with their active selves.
With a commitment to social and environmental preservation, Keen gives back to a range of NPOs worldwide, funding programs to make the outdoors more accessible to everyone. They also support grassroots efforts for kids, climate, and equality and are known for having minimal impact on the environment.
The company uses no PFC toxic chemicals in any of its products, a feat that isn't as simple as it sounds in today's plastic-dominated world. So with Keen, you can be guaranteed to be investing in not only top quality walking boots but one's that are ethical and bloody good looking too!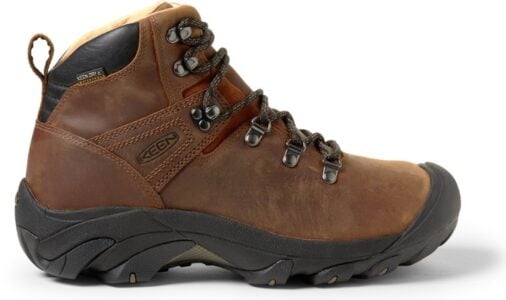 Specs
Material – Nubuck leather
Approx weight – 2 lbs. 8.4 oz (1.28 kg)
Price (USD) – $179.95
If you're looking for all-rounder classic hiking boots, Keen's Pyrenees Waterproof boots will do the trick for keeping you comfortable and dry.
Manufactured with KEEN.DRY waterproof and breathable membranes, your feet will be able to breathe without worrying about getting wet. These technical boots also have an odour-reducing fabric that keeps them fresh even after the longest hikes. No one wants to be the one stinking out the hut after a day on the peaks!!
Founded by Clark Matis, John Schweizer, and Ivan Merrell in 1981, Merrell was established to develop a high-performance boot for an affordable price. The company has since grown to be a multinational corporation that sells its footwear worldwide and is one of the best hiking boot brands today.
Merrell believes in the importance of spending time outdoors and thrives on removing as many barriers as possible to enable us to live our most adventurous lives, no matter your background, fitness level, or personality.
As one of the best hiking boot brands on the market, Merrell designs durable, versatile, and comfortable boots, all while being affordable to the masses. They also make some pretty lightweight hiking shoes and boots so they're a great piece of backpacking gear too if you think you're going to be hiking the trails on your travels.
The company also has a big commitment to sustainability and preserving the natural world and uses recyclable and natural materials while supporting social and environmental causes along the way.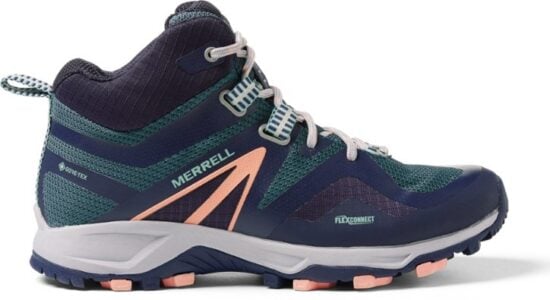 Specs
Material – Gore-Tex waterproof mesh
Approx weight – 1 lb. 7 oz (0.77 kg)
Price (USD) – $160
Merrell's Flex 2 MQM Mid Hiking Boots are manufactured with waterproof and tear-resistant mesh uppers that fend off the water like the back of a duck's back. They have protective polyurethane toe caps to protect your feet from falling rocks and stubbed toes. Ain't no one about stubbed toes yo!
With a bonded construction and kinetic fit base, they are designed to fit the ergonomics of a woman's foot perfectly. Perfect for all-mountain conditions, the flexible soles help you glide over rocks and debris as you walk, while the foam midsoles enhance flexibility and stability.
Self-defined as minimalist and natural footwear, Vivibarefoot specialises in running shoes and hiking boots. The company was founded in 2012 by Galahad and Asher Clark, who had a vision for more sustainable, grounded footwear.
The company uses the natural barefoot as their main inspiration, manufacturing durable shoes with the optimal biomechanics for good hiking posture. Their footwear quite literally brings you closer to nature than any other product, with a hope that being grounded in the natural terrain will regenerate your physical and spiritual wellbeing.
Simply speaking, they have the vision to reconnect people to the planet and are doing a great job at it by producing regenerative footwear like no other. We can't argue with that! No wonder Vivobarefoot is one of the world's best hiking boot brands!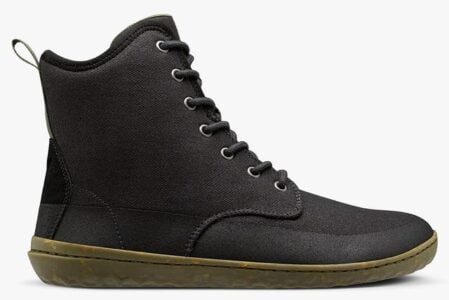 Specs
Material – Recycled plastic waste, vegan materials
Approx weight – 10 oz (0.28 kg)
Price (USD) – $190
Vivibarefoot designed this all-rounder hiking boot to take you from city exploring to mountain adventuring. The boots are super insulated to keep you warm during mid-winter conditions and are simply designed using recycled water-resistant materials that are cruelty-free, making them one of the best pairs of Vegan hiking boots.
True to all Vivobarefoots best products, the shoes are designed for ultimate comfort to let your feet do what they need to do while being ultra-lightweight. These particular shoes are a wide fit, allowing for natural stability. They also have a thin yet strong sole, offering ultimate flexibility to make you feel as close to walking barefoot as possible. They're a great lightweight boot to add to your travel packing list.

Do You Want to Travel FOREVER??
Pop your email in below to get a FREE copy of 'How to Travel the World on $10 a Day!'.
Lowa was founded in Germany in 1923 and today produces over 2.7 million pairs of shoes each year. Lowa puts a lot into its corporate social responsibility, ensuring its entire supply chain is sustainable from start to finish.
They produce high-quality, long-lasting products using women and men-specific technologies. Lowa recognises the different anatomy of different feet and believes that one size does not fit all.
They also use a bunch of high-tech materials, including waterproof and breathable Gore-Tex, Vibram Grip soles, and Primaloft linings, designed to keep your feet dry and comfortable while limiting your chances of slipping.
Lowa shoes are designed and manufactured in Europe following the EU's stringent labour and environmental regulations. This has led the company to be labelled as one of the best hiking boot brands, adhering to high-quality construction and process standards.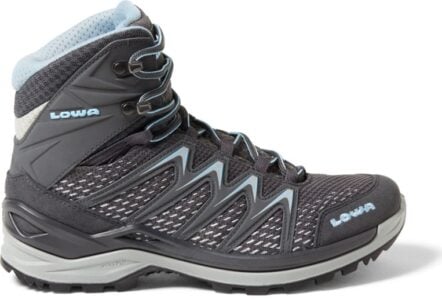 Specs
Material – Vegan synthetic linings, multi-trac rubber
Approx weight – 1 lb. 10.1 oz (0.74 kg)
Price (USD) – $245
Designed specifically for a woman's foot shape, Lowa's Innox Pro Mid hiking boots are perfect for warm-weather adventures. They're lightweight, streamlined for maximum speed, and manufactured using moisture-wicking and breathable materials to let the sweat of your feet out while keeping the inside of the boots dry.
Lowa has included double-injected DynaPU midsoles to offer the ultimate durability, cushioning, and support for long hikes. Another plus? They're 100% vegan, so you can rest assured you're doing your part for the environment. In case these aint the boots for you, then check out our Lowa Renegade GTX review.
Timberland is an American manufacturer that produces and sells outdoor apparel and shoes across the world. The company was founded in 1952 by Nathan Swartz, who identified a need for all-weather shoes.
If you're after a trusted, high-quality company, Timberland is your brand. The company works hard to protect the environment by producing sustainable products while maintaining the highest possible quality.
Timberland's mission is to 'Equip people to make a difference in the world' by manufacturing high-quality products designed to handle adventures in all four corners of the world. Best of all, their products look as good as they sound and have recently become high-fashion statement pieces craved by all types of consumers.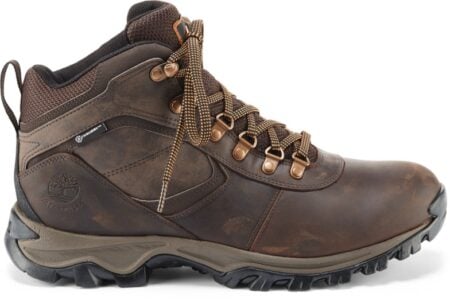 Specs
Material – Leather, recycled rubber outsoles
Approx weight – 3 lbs (1.4 kg)
Price (USD) – $109.95
True to Timberland's ethos as one of the best hiking boot brands in the business, their Mt Maddsen hiking boots are as good-looking as they are practical. Designed using full-grain waterproof leather (that follows strict sustainability standards), they're ultra-comfortable, durable, and can weather just about any storm.
These boots are pretty heavy and rigid, making them great for off-roading adventures where you'll be cruising over endless stones and scree. They include Timberland's patented anti-fatigue technology, offering all-day comfort and support during long hikes.
Altra is a British running shoe brand founded by Brian Beckstead and Golden Harper as an innovative approach to running shoes. Today, the company produces running shoes and hiking boots for all types of adventures. Their boots are of excellent quality and are designed using durable materials to last super long.
If we put hiking and running together, Altra is one of the leading producers of trail running shoes. One of the most impressive features is their FootShape Toe Box Design, which uses wide lacing shoes and individual toe spaces to allow your toes to relax and spread out in their natural formation while still providing you with the stability and speed you need on the trails.
As one of the best hiking boot brands for technical footwear, Altra even has a Fit4Her technology designed to fit the narrower heel and higher instep arch of a woman's foot.
Specs
Material – Durable mesh, rubber, foam
Approx weight – 1 lb. 7 oz (0.7 kg)
Price (USD) – $160
Designed to be worn on outdoor trails and around the city, these men's hiking boots are designed with high-spec trail capabilities combined with a lightweight, urban feel and look.
If comfort is what you're after, the Lone Peak Hikers are made using Altra EGO midsoles which offer maximum responsiveness no matter the terrain. The shoe also uses Altra's toe boxes, which help keep your toes in the healthiest position during a long day on your feet.
Arc'teryx is one of the most well-known outdoor adventure and best hiking boot brands globally. Founded in the Canadian Coast Mountains in 1989, their products are now manufactured and sold worldwide, with over 80 branded stores across the globe.
Arc'teryx creates the highest possible quality products using influential technologies, and only the best of the best materials and fabrics. Their products take technical to the next level, intending to create waterproof, breathable, and durable hiking boots designed for the harshest conditions and terrains.
To attest to this, they test all of their new products first-hand in their own Canadian country backyard. Of course, each of their products is beautifully designed with a minimalist aesthetic flair.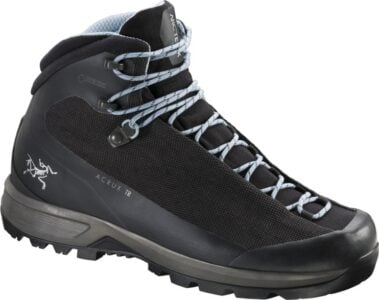 Specs
Material – SuperFabric polyester, resin
Approx weight – 2 lbs. 1.2 oz (0.9 kg)
Price (USD) – $250
Arc'teryx's Acrux hiking boots are designed for multiday hiking adventures, which require the most durable and comfortable boots. Thanks to Gore-Tex materials, the shoes are designed to keep your feet breathing and dry, while Vibram Megagrip rubber is added for extra durability and grip.
They're a top-of-the-range product with a price tag to match, but for a good reason. The Acrux boots have SuperFabric uppers with micro-plated technology to keep them flexible and lightweight while resisting tears and abrasions.
Just remember, if you invest in a good pair of boots, even though they might cost more at the time, they're last years and years! These guys are designed to tackle some of the best hiking trails in the world, so you won't be let down!
The best present of all… is CONVENIENCE!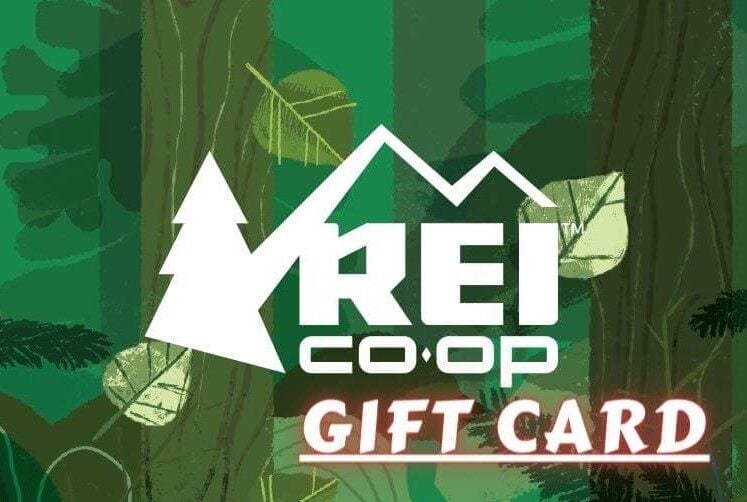 Now, you could spend a fat chunk of $$$ on the WRONG present for someone. Wrong size hiking boots, wrong fit backpack, wrong shape sleeping bag… As any adventurer will tell you, gear is a personal choice.
So give the adventurer in your life the gift of convenience: buy them an REI Co-op gift card! REI is The Broke Backpacker's retailer of choice for ALL things outdoors, and an REI gift card is the perfect present you can buy from them. And then you won't have to keep the receipt. 😉
Buy on REI!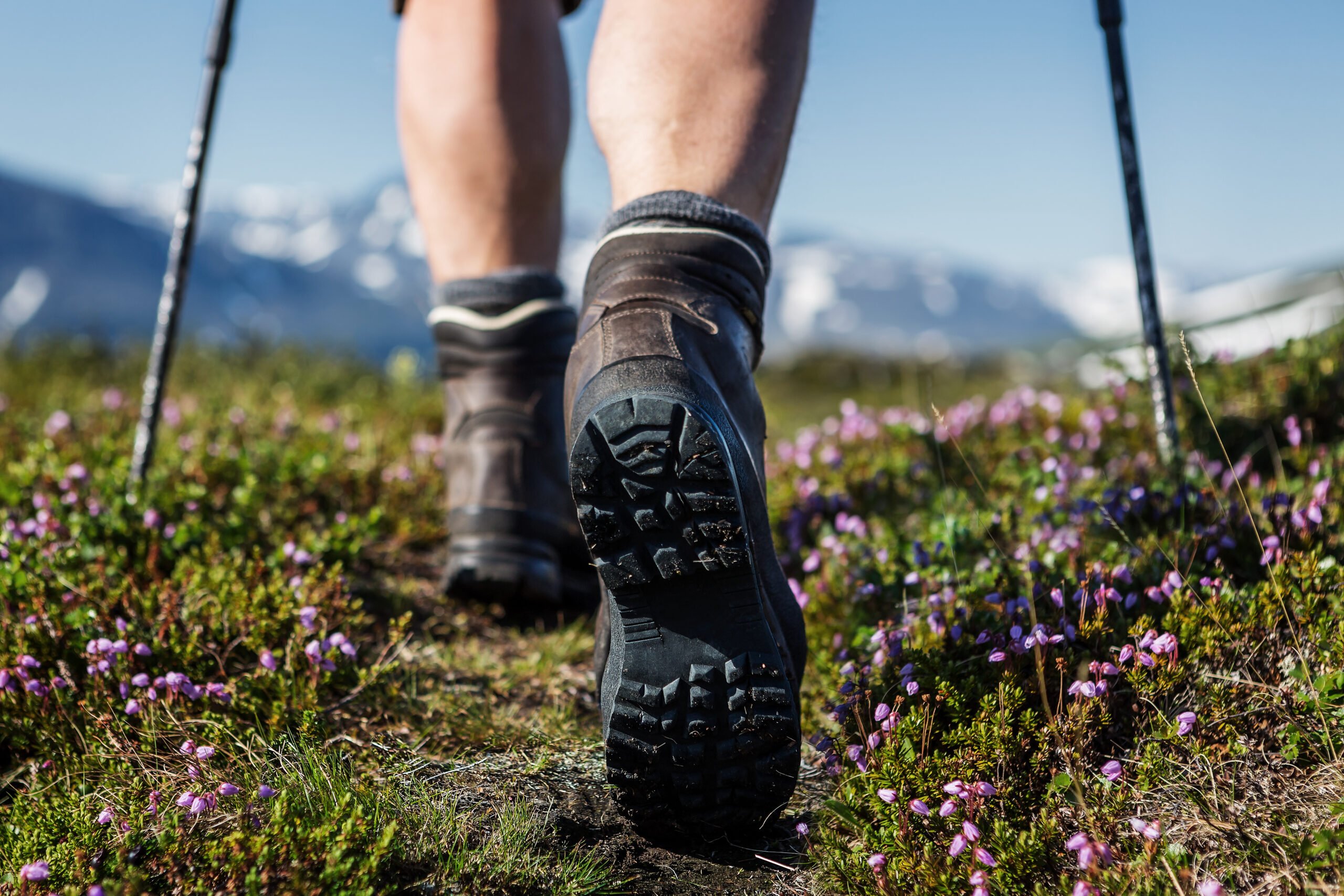 Our GREATEST Travel Secrets…
Pop your email here & get the original Broke Backpacker Bible for FREE.
Final Thoughts on the Best Hiking Boot Brands
There's no denying that spending time outdoors does wonder for the body and the mind. Not only does hiking and trail running improve your physical fitness and core strength, but it's also a great way to maintain your mental wellbeing.
Hiking and trail running are quickly gaining traction as two of the most popular mountain activities, and it's easy to see why. They're a fun way to explore our world whether in your backyard or in fair off lands.
However, if you aren't set up with the right gear and equipment, you could easily hurt an ankle or much worse. This is why you must pick out products from one of the best hiking boot brands on the market to ensure you're investing in quality. With a good pair of boots, nothing will stop you!
We hope this list of the top eight brands for hiking boots and trail running shoes has helped make your search for the perfect footwear a little bit easier, and that you'll be out on the mountain in no time!
---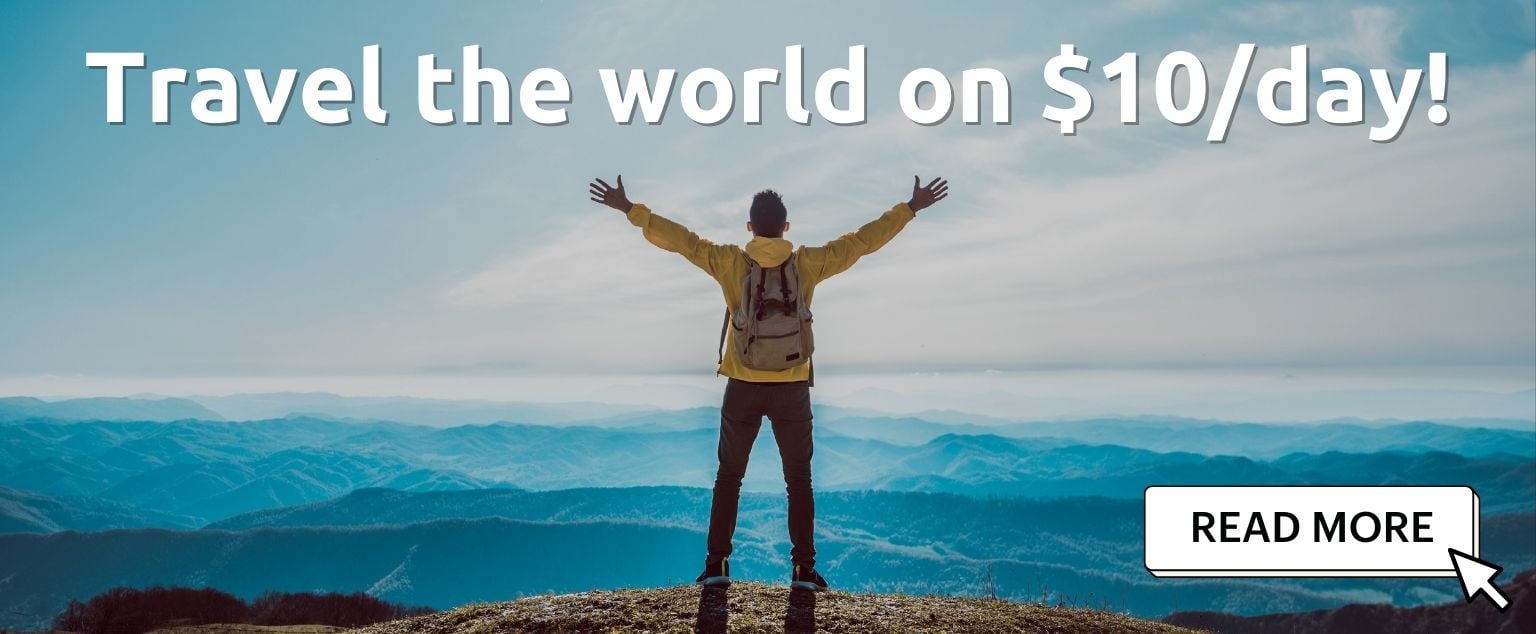 And for transparency's sake, please know that some of the links in our content are affiliate links. That means that if you book your accommodation, buy your gear, or sort your insurance through our link, we earn a small commission (at no extra cost to you). That said, we only link to the gear we trust and never recommend services we don't believe are up to scratch. Again, thank you!