It goes without saying that you if you plan on doing a lot of backpacking, you'll need a good pair of travel shoes.
Believe it or not, a lot of people neglect this part of their packing list and just bring whatever's available. In the process, they end up neglecting their body and start to suffer from ailments like joint pain or achy arches.
To help you find the right pair, I have assembled my top picks in this epic review of the best travel shoes!
I have spent that last eight years traveling around the world and know a thing or two about footwear. This review is a reflection of my experiences and research getting to know the best of them on the market.
By the end of this review, you will have all of the best travel shoe options at your fingertips. With the right pair of shoes, you can focus your time and energy on what really matters: having fantastic travel experiences!
Quick Answer: These are the Best Shoes for Travel in 2023
To make choosing the perfect pair of travel shoe even easier, I have assembled my top picks into a few different categories. I do, however, want to make one thing clear before we begin.
I am a firm believer in practical, versatile, multi-use shoes. You won't find any pair of shoes on my list that only offer a singular purpose. Backpackers are dynamic people with dynamic needs.
Of course, some traveling shoes will serve you better for certain specific applications, but generally speaking, you will be able to use any of my selected shoe options in a variety of different travel scenarios.
My goal in writing this review was to help each individual backpacker find the best travel shoes to suit their own individual needs. I am certain that there is a pair on my list for every type of backpacker.
Let's now check out my top picks for the top shoes for backpackers in 2023…
Overall Best Travel Shoes for Men
For my overall top pick regarding the best travel shoes for men, meet The North Face Hedgehog 3 hiking shoes. If ever there was one single shoe to pack along for just about any adventure, the North Face Hedge Hogs are where it's at.
The outside material of the Hedgehogs features polyurethane-coated leather uppers and a waterproof, breathable Gore-Tex membrane that does a good job of keeping your feet protected from water penetration.
For chaffing management and control, the abrasion-resistant, breathable textile mesh lining virtually eliminates unwanted movement and rubbing.
For a versatile, lightweight, tough waterproof shoe that is up for any adventure that you are, The North Face Hedgehog 3 shoes are a sure bet.
Even better is the price tag. For $135.00 you can score a truly excellent pair of waterproof hiking shoes without breaking the bank. These have got to be the best shoes for backpacking!
Our team rated these as their best waterproof shoes for travel because they seem to just cover all areas you'd want in a travel shoe. They were super impressed by how well these shoes kept water out whilst also being really breathable and felt they worked well in most non-extreme climates. They also loved how light they felt to carry around and also thought for technical shoes they looked pretty cool too.
Best Waterproof Shoes (Lightweight) for Men and Women
Finally – a lightweight travel shoe that can keep your feet dry without all of the bulk. Like me, you had probably never heard of Loom Footwear before reading this – but let me tell you – their new Waterproof Sneaker is a great option for backpackers traveling to most destinations.
Obviously, if you submerge the shoes completely in a river they will get wet – but the good thing about the Loom Sneakers is that they dry fast. In your average rain storm or puddle splash, the shoes will keep your feet dry. I especially recommend these travel trainers for hot-weather regions like South East Asia or Central America. The breathability factor is huge. You don't your feet to be more sweaty than they have to be.
The temperature regulation technology uses merino wool to keep your feel cool, while also serving as an anti-microbial agent. This translates into less stinky feet over time, which is something every traveler (myself included) can use some help with. On the other hand, they might be a bit cold if you're looking for shoes for backpacking Europe in winter.
For the price, build construction, and minimalist look you'd be hard pressed to find a more versatile waterproof travel shoe.
If you're looking for lightweight waterproof shoes for traveling then our team felt you couldn't go wrong with the Looms. Our team loved these minimalist travel shoes and felt they were the most stylish on the list as well as being the lowest profile and lightest. They loved that these shoes just looked like regular trainers but offered great functionality for the traveller.
Check out the women's Loom Waterproof Sneaker.
Most Versatile Travel Shoe (Men and Women)
Hiking, walking, scrambling, standing, moving. This is the ultimate durable, versatile movement shoe.
The La Sportiva TX4 is technically what's called an "approach shoe". Originally designed for backcountry climbers who need the all-in-one movement shoe, which is the ideal travel shoe.
Vibram rubber lines the bottom of the shoe. What does that even mean? Think of the rubber that comes standard on the bottom of climbing shoes. In most places general hiking shoes/boots will lose traction, the Vibram rubber allows you to commit to that delicate step without concern.
The wide fit of these shoes is also perfect for those of us out there rocking our Frodo feet in the wild! This is also great for climbers looking for shoes that have a bit more give than your average pair of rock shoes.
Our team reckon these are the best shoes for backpacking Europe due to their lightweight construction and versatile usage. They are comfortable pounding the pavements of Paris whilst also being able to hold their own on the trails of the alps. They're also a good shout for the best travel hiking shoes with their super grippy sole and the team loved how functional there are on the trails.
Hey ladies! Interested in making this purchase for yourself? Thankfully La Sportiva makes the TX4 Approach Shoes for women too.
Best Hiking Shoes (Men)
The Merrell Moab 3 WP Low hiking shoes are also some of the best travel shoes for men on the market. Why? I really appreciate their versatility, comfort, and waterproofness.
I have been using some version of the Merrell Moab (either the Moab 3 WP low or the Merrell Moab 2 Mid WP) shoes for many years now and I have always been pleased by their performance.
On any given adventure, you never know when you might set off into the jungle, desert, or the mountains. With the Moab 3 WP low hiking shoes, you will be ready to take on most outdoor activities with confidence. They are also supremely comfortable for walking around cities too.
They feature waterproof breathable membranes that protect your feet from wet weather. The breathable mesh lining in the interior of the shoe allows for ventilation.
For comfort, the Moab 3 Wp low shoes come equipped with Merrell air cushion technology in the heels which absorbs shock and adds to stability/balance.
Like the North face Hedge Hogs featured above, the Merrel Moab 2 WP low hiking shoes are some of my favorite hiking shoes for men out there.
The Moab 3 low also comes in a non-waterproof version.
Our team rated these as their top packable hiking shoes due to just how well they performed on the trails and mountains. Merrell is a pretty trusted brand amongst our team when it comes to hiking shoes and they felt the Moab 3 really lived up to the quality they would expect. The only qualm our team had was that these shoes did look a little geeky.
For even more hiking-related awesomeness, check out my in-depth review of the best hiking boots to take traveling here.
Best Shoes for Backpacking in Hot Climates (Men)
In recent years, Adidas has expanded into a whole new line of adventure footwear. The Adidas Terrex Swift R2 GTX shoes are ultralight, waterproof, attractive, and designed to crush warm-climate travels.
Now I say that these shoes are best for backpacking South East Asia, but really they are perfect in any warm region of the world.
From my experience, I only wore actual shoes about 50% of the time I was backpacking around South East Asia. That said, when the time came to do some trekking, visit cities, or head to the jungle, I absolutely needed a decent pair to throw on.
A big advantage is that the Terrek Swift R2 GTX shoes is that they are light and super flexible. If you are only carrying a 40 liter backpack, you can easily strap them to the outside or if you don't have a ton of stuff, even fit them inside the backpack.
Of course, the Gore-Tex lining will keep your shoes waterproof and breathable for the days where you head out into the mountains and jungle.
All said, the Adidas Terrex Swift R2 GTX shoes will keep your feet happy while you are backpacking your way around the warmer parts of our planet.
Our team loved that Adidas made some pretty cool-looking travel shoes that buck the trend when it comes to nerdy-looking shoes. They were also pleasantly surprised to find that these travel shoes were also really durable and super functional too. Having teamed up with Gore-tex they effectively kept their feet dry and comfortable and they found the sole mega grippy on slick rock too.
Best Walking Shoes for Travel (Men)
If you are not a super keen hiker, but still want to have the best walking shoes for travel and a bit of light hiking, the Vasque Satoru Trail LT Low shoes make for a good balance.
If you have ever done even a little bit of backpacking abroad before, you know that you often walk. Like, a lot. Having the best walking shoes for travel—the Vasque Satoru Trail LT Low — will help your feet stay comfortable during all day sight seeing escapades.
Whilst not a shoe I would recommend for long distance hikes, the Vasque Satoru Trail LT Low is certainly up to the challenge of walking around cities and even extended day hikes.
I really like that the Grand Traverse shoes were meant to take a beating. The come equipped with Vibram Ibex soles which are molded with two grippy rubber compounds—Idrogrip for wet-rock traction and Megagrip for maintaining balance. I'm into that; you will be too.
For the best walking shoes for travel, look no further than the Vasque Satoru Trail LT Low.
Our team loved features such as the protected rubber toe box that added to the durability of these shoes when it came to taking them on rough terrain. They also loved how soft and comfortable these shoes felt right out of the box with virtually no break in time.
Overall Best Travel Shoes for Women
Well it is about time I cover the best traveling shoes for women in this review! Since, I am a dude, I have reached out to a few trusted female travel experts/friends of mine who have provided me with more than enough feedback to present you this my top picks for the best travel shoes for women.
First up on my list is my top choice for the best overall travel shoes for women: the Salomon XA PRO 3D V9 GORE-TEX hiking shoes.
For long, tiring days of travel the Ortholite sock liners combine a specific Ortholite foam with the contoured EVA heel cups for enhanced heel support and cushioning. Furthermore, they were sculpted specifically for women's feet with the intention of preventing slippage and chaffing after prolonged use.
To deal with some of life's wild cards, the mud guards and integrated rubber toe caps provide durable protection from roots and rocks. These boots also come with Gore-Tex protection to keep your feet dry and happy.
For adventurous ladies seeking fully-functional, versatile travel shoes that will cover your bases from the city to the mountains, the Salomon XA PRO 3D V9 GORE-TEX hiking shoes are an excellent choice.
Our team were big fans of these shoes and loved them for several different reasons. They felt they hit the holy grail of keeping their feet dry and comfortable whilst being super light and portable. To add to that they also felt these shoes looked really cool and loved the different colourways they came in.
Th check out the cheaper, non-waterproof women's Salomon X Ultra 2 Low hiking shoes here.
Top Travel Shoes for Hiking (Women)
For the best women's shoes for hiking, my top pick are the KEEN Targhee III Mid WP boots.
Evolving from the beloved Targhee 2 model, the new Targhee III has received a few improvements that make these kickass boots even sweeter. The Targhee III Mid WP shoes are now leaner, tougher, and grittier for an even better hiking performance.
First off, the KEEN DRY waterproof breathable membranes keep feet dry while allowing perspiration to dissipate. Despite what society might tell you, ladies are just as prone to stinky, sweaty feet as men. To combat this the Targhee III shoes feature Cleansport NXT treatment to combat foot-funk odor.
The Targhee III provide great ankle support, traction, waterproof protection, breathability, and style points; it is easy to see why they are the best women's shoes for hiking. Plus they are durable and can handle plenty of the inherent abuse any given backpacking journey will bring. Enjoy…
Our team felt that for those who want something more specific to hiking then these were a great option. Though there were bulkier than some of the lower-profile shoes, they felt they were still super lightweight being only a few ounces heavier than many of the smaller shoes on our list. For the extra size, they were really impressed by their performance on the trails when it came to being waterproof, durable and offering extra ankle support.
FYI I am not sure why these boots are so expensive on Amazon. Check out the KEEN website for the latest deals.
Best Shoes for Backpacking in Hot Climates (Women)
The Women's Merrell Moab 3 Gore-tex shoes have made it back on my list, this time for the women's model. The women's Merrell Moab 3 WP offer up the same awesome features as the men's version, with female-specific tweaks to crush your travels like a pro.
Again, the Moab 3 WP shoes are not only good for a South East Asia backpacking trip – they kickass in most 3-season conditions! However, they perform exceptionally well in warm climates.
They feature great shock absorption, waterproof protection, ventilation qualities, and a low, sleek cut that won't crowd you backpack too much when not in use.
For women backpacking in hot/wet climates, the Moab 3 WP are great because they really do breathe, are light, and can provide for an excellent hiking experience in the cities, jungles/mountains of Colombia or Thailand (or where ever the jungle may be).
When backpacking in South America or South East Asia, you'll probably find yourself in sandals a lot of the time. That said, you will absolutely want to have an awesome pair of shoes for traveling, like the Moab 3 WP model. With these, you'll tackle any and all adventure opportunities that may come up.
Our team felt that these shoes looked pretty cool for Merrell's which can sometimes look a little on the geeky side. There's no doubt when it comes to Merrell's that you get superb quality and our team was not let down when it came to this pair. But a stand-out feature for them was how comfortable they felt from the get-go and how well they fit.
Best Walking Shoes for Travel (Women)
Like I said before, us backpackers spend a TON of time just walking around. I am going to invent a statistic here, but I don't think it is to hard a stretch to say that over the course of a 3-month trip, you probably will walk well over 80 miles (at 5-10 miles/week)!
For that, you'll need the best walking shoes for travel even if you are not into hiking much. Enter the Oboz Sawtooth X Low Cut shoes.
Like any good walking shoes for travel, cushion and support are very important. The supportive BFit deluxe insoles are engineered for fitting and comfort. Also, the dual-density EVA midsoles and nylon shanks provide cushioning and ankle support. The ankle support is not as good as a higher cut shoe, but the Oboz Sawtooth Low model provides decent support all the same.
When considering all your daily walking needs, you can't go wrong with the Oboz Sawooth Low hiking shoes. Even better – when the opportunity to do a couple of day hikes presents itself, you'll be ready. Very ready.
Our team loved the fit of the Oboz shoes including their roomy toe box and wider profile size which they felt was quite rare in Women's footwear. The larger footbox also made them much more comfortable when it came to hiking on tough terrain. Another feature for comfort and functionality was the additional arch support which made them feel much more suitable for longer hikes.
For women travelers, the Oboz Sawooth X Low shoes are the best walking shoes for travel on my list. Get stoked!
Best Travel Shoes Comparison Table
Now that you have seen my top picks for the best travel shoes, we will further explore the factors that go into buying the right pair.
Depending on the type of backpacking adventure you plan on embarking on, you'll need the best shoes for the job – a pair that can meet the demands of your own preference and plans.
Let's now examine some of the important things to consider when buying your next pair of shoes to take backpacking…
Shoe Performance
Above all else, the best travel shoes should have the necessary performance and be able to meet your needs. If you plan on going to New Zealand or Nepal and doing heaps of hiking, you'll most likely need a sturdy pair of hiking boots. Backpacking Europe on your itinerary? You'll need the best walking shoes for traveling around Paris, Rome, and wherever else.
Point being, you'll need realistic expectations for your shoes. Many experienced travelers have a favorite pair of shoes for traveling that they buy over and over again. For me, it is the Merrell Moab 3 WP Low hiking shoes. I love them, and can't get enough.
Be honest with your self and go with shoes that leave the door open for a wide range of adventures. Some do lean towards better performance in different categories but all of the top shoes on my list are versatile. Finding the right balance of performance is crucial and they key to long term happiness on any backpacking adventure.
Shoe Comfort
After dialing in what type of performance you are seeking in a travel shoe, comfort is an obvious close second.
Most shoes these days are blessed with plenty of cushion and padding but the exact fit each pair offers varies wildly. Some tend to be narrow, while others are meant for wider feet. The lighter the shoes, the likelier it is to have less padding.
Top Comfort Tip: Consider buying a full size (or at least a half size) larger than you normally wear. The purpose of doing this is to allow room for your feet to swell over the course of a busy day. In the hiking boots world, it is standard practice to go a size up.
For the first half of my adult life, I wore a size 10. Now, whether I am buying shoes for traveling or hiking, I always go with size 11. My feet never feel cramped and they also don't feel loose or too big.
Everybody's feet are different, so maybe go a half a size bigger at first and go from there.
Shoe Weight
Weight it typically tied to both performance and comfort. You'll want your travel footwear to be relatively lightweight because, when not in use, they will be inside your backpack. The last thing you want is super heavy, bulky travel boots cramping your style.
If you are traveling around South East Asia or another warm part of the world, I recommend going as light as possible. The reality is you'll probably only be wearing shoes for half the time anyway when visiting hot climates.
A higher performing hiking/travel boot will of course weigh more. Don't go for ultralight flimsy shoes if your backpacking trip will revolve around lots of hiking. The good news is that all of the hiking shoes on my list are lightweight and will serve you well whether you're trekking or in town.
Even a midweight models like the women's KEEN Targhee III Mid WP hiking shoes only weigh 1 lb. 12.4 oz. per pair! If that isn't a great weight to performance ration I don't know what is.
Shoe Packability
Countless beaches, cities, jungles, forests, train stations, airports, hostels, Airbnbs, small towns, and everywhere in between. These are the places you are likely to haul your rucksack to on any given backpacking trip. In order to have your travel shoe choice integrate seamlessly into your backpacking gear kit, you'll need them to match what your packing system.
What I mean is, if you are an ultra minimalist traveler (or at least trying to be) you don't need me to tell you that buying massive travel boots, that you have no hope of actually fitting in your 30 liter backpack, is a bad idea.
When not in use you'll need a spot to store your shoes. For long term travelers, going with something lightweight, flexible, and versatile is the obvious way to go.
In terms of packability, the North Face Hedgehog Fastpack GTXs are a great example of what we like. They will serve you well in a variety of situations without bogging you down with a burden in your backpack.
Waterproof Shoes
Going with waterproof shoes is a personal choice. Some people say that waterproof materials tend to have poor breathability, which then causes your socks to get more sweaty faster. For these people, sweaty feet is apparently an issue.
For me personally, I don't notice much of difference in terms of breathability. My feet just sweat and it is a fact of life I live with while traveling or doing anything else. I prefer to have waterproof shoes because I also do lots of trekking and sometimes have to cross a river. In the end, sweaty feet are better than soaking feet.
Waterproof shoes also tend to be more expensive and weigh more. That said, they are freaking awesome to have when conditions turn wet, even in a city. You will have noticed that a majority of the shoes on my list are indeed waterproof.
The good news is that if you are not so keen to have waterproof shoes, most models featured in this review have cheaper, non-waterproof alternatives. These are basically the same exact travel shoe minus the Gore-Tex.
Breaking in Your Traveling Boots
I don't know how many times I have heard backpackers say "Ahh these shoes are so damn uncomfortable!" Usually, they are talking about shoes they have just put on out of the box.
For most hiking boots, YOU NEED TO BREAK THEM IN. This isn't always true for lightweight/flimsy shoes but the break-in period should certainly be on your radar.
Indeed, some shoes for traveling may straight-up feel uncomfortable, even after breaking them in. In that case, clearly the shoes are not meant for you. The good news is that a lot of retailers, like REI, have an awesome exchange policy. You can take the shoes back even after you have worn them should they not fit right.
Point being, you need to break in your shoes before traveling to achieve the right fit. It is as simply as that.
If you plan on going on a backpacking trip, take a few weeks to break in your shoes. Wear them every day or go on a few small walks and see how they feel. That way, you can avoid many problems and the inevitable disappointment that will result from wearing shoes that were not properly broken in and/or do not fit right.
After saying all that I have about breaking in your shoes, I'll add this: the Merrell Moab 3 WP Low hiking shoes have always felt great right out of the box for me. I can pop them on my feet right after receiving them and head up a mountain with no problems. But again, everyone is different and I certainly would not assume other shoes will be the same.
Costs and Budgets
Most of the shoes featured in this travel shoe guide are neither super cheap nor super expensive. For non-technical, high-performing shoes, you'll probably end up spending between $120 – $160 for a good pair and even less if they are not waterproof.
High-quality shoes for traveling just cost money. Not lots of money, but enough for you to notice and expect great things from them.
Just ask Mimi over at Atlas Heart about her new Tieks shoes: she hesitated to buy them at first because of the pricetage but has since gotten more than enough use of them to justify the price.
Of course, you can find a cheap pair of backpacking shoes for $30. If you just want something to cover your bare feet and nothing else, going with a budget pair of shoes for traveling might work for you… for a while.
Don't be surprised when they start falling apart on you within a couple of weeks though.
I'll end with this: if you spend the money on quality, high performing shoes for travel, you can assume that you will be reaping the associated benefits. Having the right pair that fit great and feel comfortable day after day is so damn crucial that I will repeat it again.
In my opinion, investing in a quality pair of backpacking shoes the first time around is always the way to go.
Bonus Tips for Using Your New Pair of Shoes
Here are a couple of extra words of advice for getting the most out of your traveling shoes!
If your pair of hiking boots look a little beat-up, don't throw them out immediately. Try fixing them yourself first or take them to a cobbler. I've seen shoe repairmen work wonders.
Don't wear boots to an American airport – it's a nightmare getting those suckers on and off.
Attach your boots to your backpack using a carabiner. If you have a small pair of traveling shoes, stick them in the water bottle pouch.
Avoid submerging non-waterproof shoes in water because it can take hours for them to dry. Take them off before crossing deep rivers or streams.
Socks are almost just as important as shoes! Get a good heavy pair if you're trekking in colder climates and a light pair for hotter ones. If either has the ability to wick away moisture, great! If you only use sandals, we suggest traveling to Germany then.
No matter what shoes you choose for travel, pack a pair of sandals with you as well. Just remember that they aren't meant for every activity.
In order to put these shoes through their paces, we grabbed a pair of each one, shoved them on our well-worn feet and gave them a good old test, er, walk! To give each pair a proper chance we were sure to walk at least 5km in each pair before judging them.
We also sent pairs out to several team members dotted around the world in heaps of different climates, time zones, seasons and environments just to be sure we covered all bases.
Comfort and Support
A wise man once said, "you never truly know a pair of shoes until you've walked a kilometre in them" or some-shizz along those lines! Basically, trying on a pair of shoes in a shop is one thing, but seeing how they actually perform on the trails is another. This is when you really get a feel for their breathability, comfort, fit and support!
Breathability and Waterproofing
While testing these shoes out we paid close attention to how well they kept out rain, dew and moisture whilst at the same time giving equal weight to how well they breathed. No one wants swamp foot whilst travelling, so any pair found leaking or holding excess moisture was banished from our list!
Weight
For this one, we first paid attention to how light or heavy they feel to wear. Light shoes make traversing the trails that much easier on the legs so that's always a bonus. But for travel shoes we naturally wanted them to be as light as possible when thrown in or attached to our bags. We took into consideration the intended use of each pair, hiking-specific shoes would be a little heavier for example, and judged whether we felt the weight was justified for each pair.
Traction
One of the core tenants of how good a piece of hiking footwear is how grippy it is! But we're talking all-purpose travel shoes here, so we judged each pair on its versatility in terms of being good for both hikes and city travel too depending on the specifications of each shoe.
Again, this is something you can only really get a feel for by putting yourself in a slippy situation and seeing how well your shoes deal with it … so that's what we did!
Quality and Durability
When we looked at these shoes we paid close attention to the materials used, the quality of the seam sewing, how well glued the eyelets are and of course the soles. Obviously, when it came to durability this is where testing them out over a few months came in so we could really see how each pair held up.
Still have some questions about the best travel shoes for 2021 and beyond? No problem! We've listed and answered the most commonly asked questions below. Here's what people usually want to know:
Final Thoughts
Well there you have it amigos. We have arrived at the final act of my best travel shoe review.
As you now know, finding the absolute best pair of shoes for traveling in an ocean of footwear is a challenge. The last thing you want is to end up with a shit pair of shoes for backpacking around God knows where!
I want your traveling shoes to be so damn comfortable and practical that you forget about them completely. That way you can focus on what's really important: exploring new places, conquering new mountains, and make awesome memories along the way.
After reading this review, you are now in full possession of the absolute best, most versatile travel shoe options around. Which ever travel shoes you end up going with, you can purchase them with the confidence knowing that I have turned over every stone in search of only the best shoes for backpackers.
If you are still unsure about which traveling shoes to go with, I recommend going with my top picks for the overall best…
Don't agree with my choices? Post your own favorite backpacking shoes in the comment section below and tell me why you love them!
---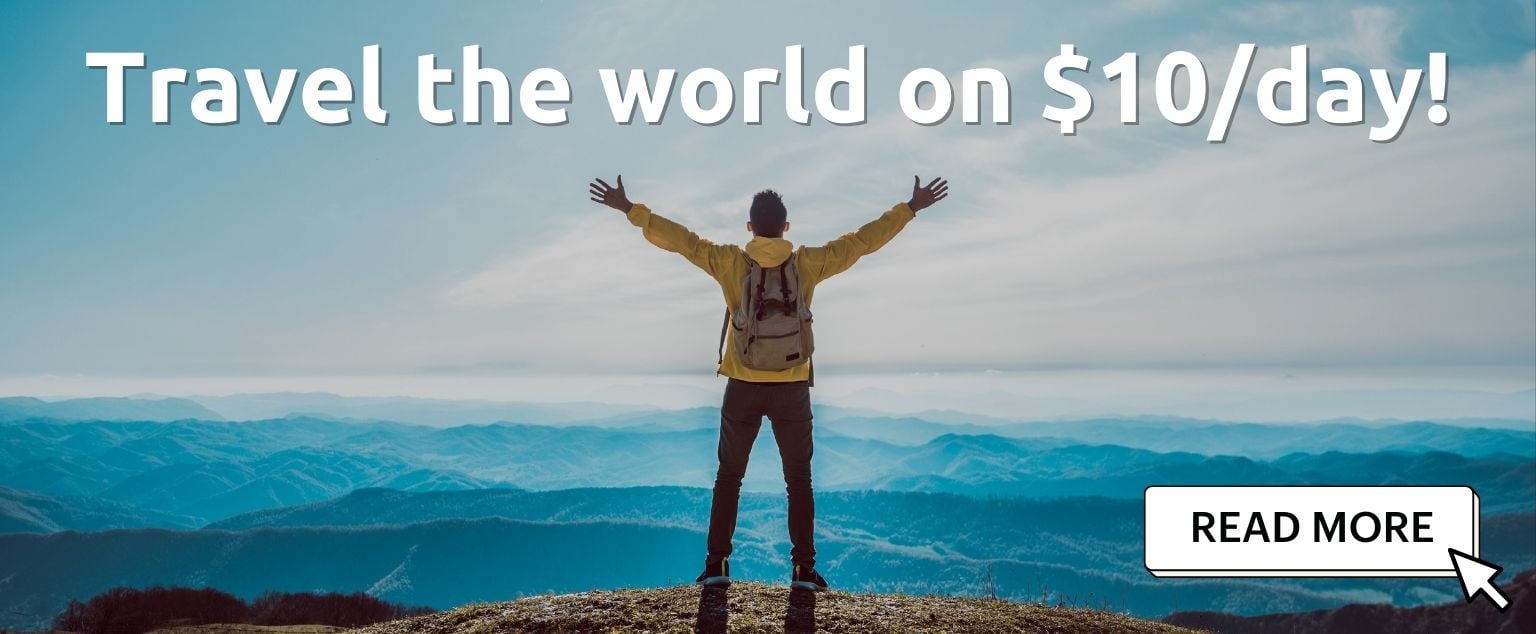 And for transparency's sake, please know that some of the links in our content are affiliate links. That means that if you book your accommodation, buy your gear, or sort your insurance through our link, we earn a small commission (at no extra cost to you). That said, we only link to the gear we trust and never recommend services we don't believe are up to scratch. Again, thank you!