If you're reading this, then I guess you need a backpack and are interested in the Osprey 40l Backpack. But is it the perfect bag for you and your personal style?
Don't worry, all of your questions will be answered in this Osprey 40 review.
Premium backpacks don't come cheap, so choosing the perfect one is super important. This is the exact reason we put together this Osprey Farpoint 40 review for you.
This brutally honest Osprey Farpoint review will show you the MUST know information, so you can know for sure whether this is the bag of your dreams.
Whether you are traveling, hiking or camping, when it comes to the best travel backpacks, Osprey is the cream of the crop, and the Osprey Farpoint 40 is one of my favorite carry on backpack out of the lot!
With the help of this Osprey Farpoint 40 review, you'll know everything there is to know about the Osprey Farpoint 40. Most importantly, you'll know whether it's the perfect bag for your adventures…
After three months of using this pack on my own travels, I can confidently say that for the price, it's one of the best carry on backpacks I've ever used…
I recommend the Osprey Farpoint 40 for a specific type of person…
Let's jump into our Osprey Farpoint 40 review to see if this is the backpack for you!
Ladies & Gents, It's Time to Step Your GEAR Game Up. 😉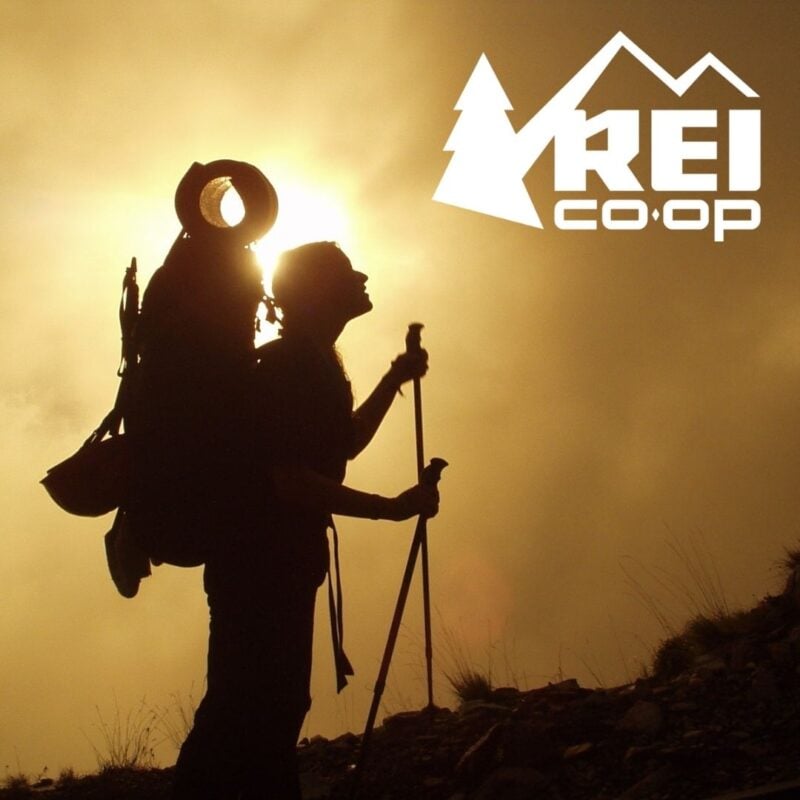 REI is one of America's biggest and most-loved outdoor gear retailers.
Now, for just $30, get a lifetime membership that entitles you to 10% OFF on most items, access to their trade-in scheme and discount rentals.
Join REI Today!
Quick Answers:
The Osprey Farpoint 40 can be taken into the cabin as carry-on on most airlines
The Osprey Farpoint 40 is perfect for you if you are a traveler who likes to travel light and stress free
But, our all-time favorite bag is still the AER Travel Pack 2.
The Osprey Farpoint 40 is not the cheapest or most expensive options for its size, and offers great value which is something we'll go into more detail above further in our Farpoint 40 review.
There are hundreds of backpack choices out there, but the Osprey Farpoint 40 is absolutely one of the best.
This bag is not the ideal bag for everyone, and I would highly recommend considering what you want to get from this bag before buying. It's one of the reasons we wanted to do this detailed Osprey travel backpack review.
The Osprey Farpoint 40 IS perfect IF…
You are a world traveler who wants to travel light
You want one of the biggest carry on backpacks to save money on luggage
You are a Digital Nomad who wants to travel very light
You are looking for a decent urban bag for everyday use
Overall, you should get the Osprey Farpoint 40 if you are traveling the world, and like to pack super light (like me!).
If you are looking for a nearly indestructible carry on backpack which can actually carry, and compartmentalise, a lot of stuff – this backpack might be your match made in heaven.
Because of it's 40 litre size, the Farpoint 40 is a near-guarantee to carry on no matter the airline. This will save you hundreds of dollars in checking fees, and countless hours waiting in baggage claim. And as we will look at later in this Osprey 40 review, there is plenty of space to make sure that light traveling does not mean bad traveling.
In my opinion, the Osprey Farpoint 40 is the best value carry on backpack on the market right now.
The Osprey Farpoint 40 IS NOT for you if….
You want a more modern backpack with next-level organization and features – if so go with the AER Travel Pack 2
You are a casual traveler and you need a ton of extra room
You are a digital nomad who carries a ton of gear
You are an avid hiker looking for a proper hiking/camping bag
Ultimately, if you are packing a ton of stuff, the Osprey Farpoint 40 is NOT the best backpack for you. Whether you are packing camping accessories, or a ton of travel/electronic gear – a 40 litre bag is not a 70 litre bag. It can only carry so much stuff!
If you are planning on packing heavy, go with something bigger bag.
Conveniently, Osprey has actually made a special hybridized bag just for those who something like Farpoint 40 and want to trek as well. It's called the Farpoint Trek and it can hold a much more spacious 75 liters worth of stuff.
If you want to learn more about this new bag, then be sure to read out review of the Farpoint Trek 75.
Our Osprey Farpoint 40 travel pack review will now look at the features. As travel becomes more and more 'in', new, trendier travel bags are becoming quite popular. Some are awesome, others… not so much.
But in contrast, Osprey has stood the test of time, having made quality backpacks for decades. Osprey is one of the best known producers of backpacks in the world, and have built a great reputation for delivering quality products. They specialise in making awesome hiking backpacks but backpackers have been using them for their travels for decades.
Osprey are popular among world travelers on account of their extremely high quality products and unwavering commitment to their customers.
As of November 2019, Osprey will be planting a tree for every pack that they sell online!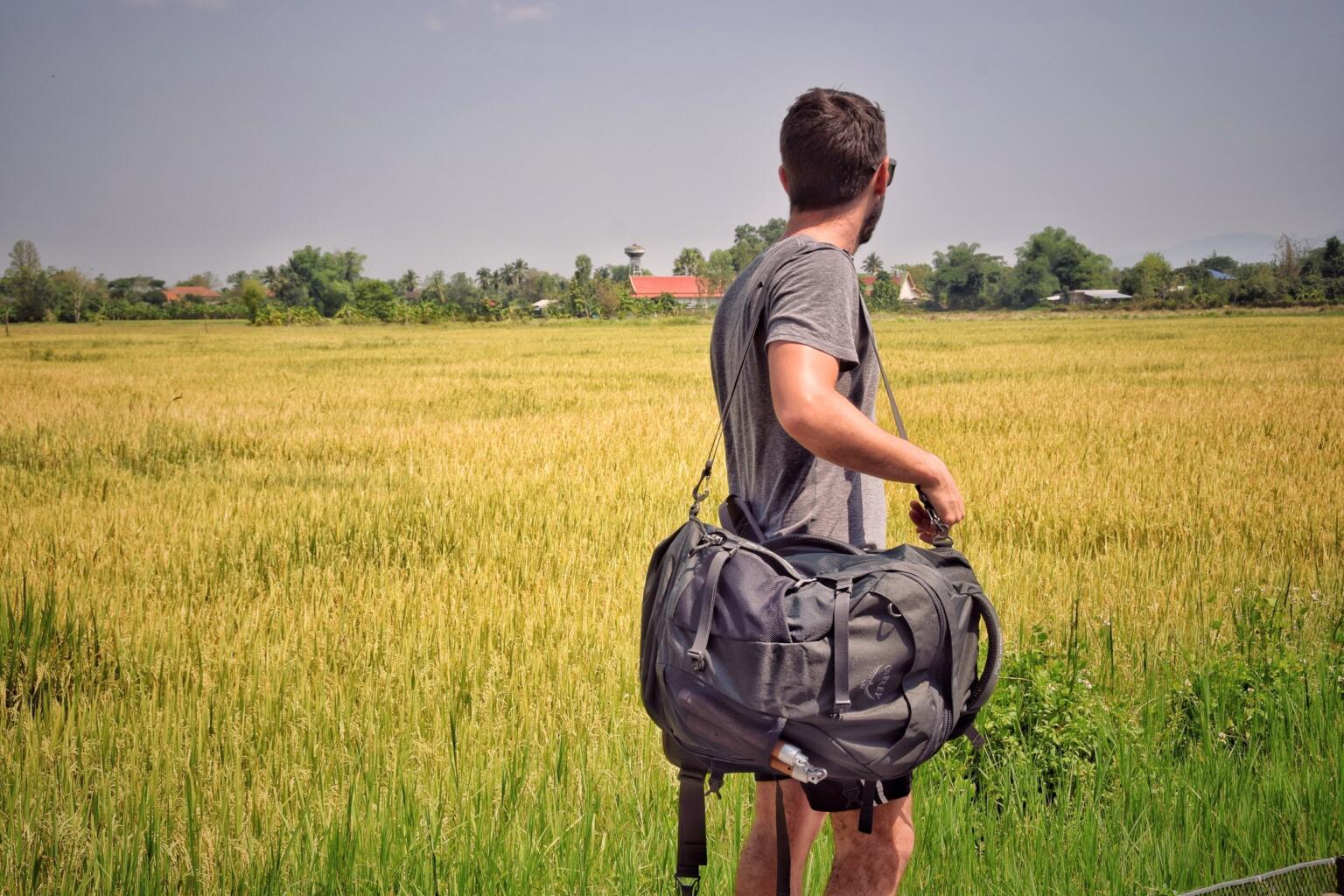 Osprey Farpoint 40 Warranty (The awesome 'All Mighty Guarantee')
First thing is first – one of the best parts about Osprey's products is their lifetime warranty (dubbed the All Mighty Guarantee!). Ultimately, the All Mighty Guarantee is a lifetime warranty.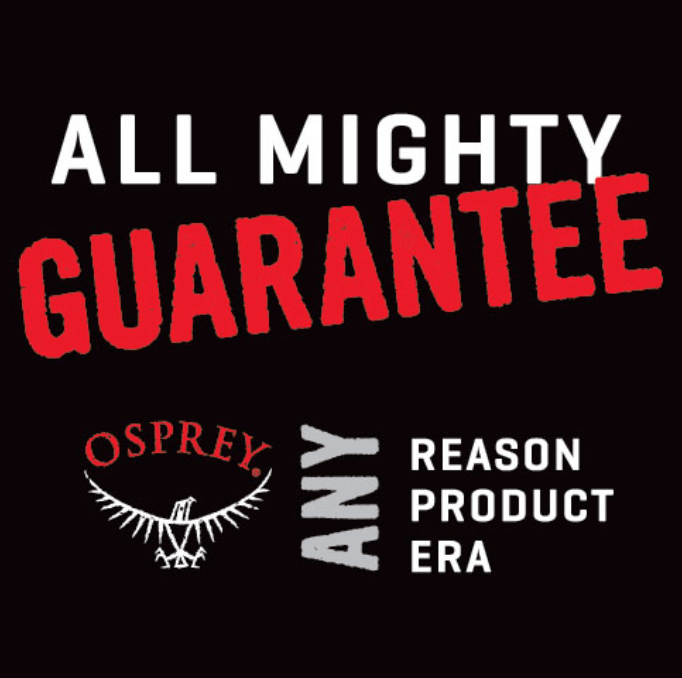 No matter when you bought your bag, or what condition it is in, if you have a problem with your bag, you just mail it into Osprey and they fix the problem free of charge.
Free. Of. Charge. (You just have to pay the shipping cost)
This is a godsend for travelers and hikers. Roaming the planet can be a dangerous, action-filled business. Between countless airports, buses and hikes – backpacks are going to break!
Will has been using the same tattered Osprey backpack for nearly a decade of travel, every couple of years he sends it in to Osprey and they replace or fix any part of the pack that is broken – for free!
Because of this, a lifetime warranty for your backpack is one of the most valuable things you can have.
This can be the LAST backpack you ever have to buy…
This is a testament to the high quality of a) Osprey's products and b) Osprey's company. They truly create quality backpacks, and their number one goal is taking care of their customer base.
However, there are some important things to note. You do have to pay postage. Also, the AMG no longer covers water damage, airline damage or general wear and tear. It's still one of the best guarantees on the market.
Osprey Farpoint 40 Size Guide S/M vs M/L
This bag comes in two sizes S/M and M/L.
The S/M is 38 litres (2,319 cubic inches)
The M/L is 40 litres (2,441 cubic inches)
Osprey recommends different sizes for different body types. Keep reading for Osprey's official sizing chart.
Osprey Farpoint 40 Weight (Light travel = stress free travel)
Both sizes weigh in just a little bit over 3 lbs, which is super lightweight, making it an awesome travel backpack.
The M/L weighs 3 lbs/2.7 oz
The S/M weighs 3 lbs/1.75 oz
In the backpacking world this is super lightweight and over the course of years will save your back a ton of pressure and pain.
Osprey Farpoint 40 Size (Hint, the best part)
I need to make something very clear here…
As mentioned, if you are planning on traveling the world with four suitcases worth of stuff in your bag…. this is not the bag for you.
If you are planning on going on an epic hike with tents, sleeping pads, cooking materials and an extra pair of boots… this is not the bag for you.
So, who exactly is the Osprey Farpoint 40 for?
It's the perfect bag for people like me – those who LOVE to travel light! Unless you absolutely require a ton of stuff, you'll see that traveling light is an absolute game changer.
If you haven't traveled light before, don't stress! You'll quickly realize that a 40 liter pack provides more than enough space, and as you travel with it you'll be happier and happier with your decision.
Because the Osprey Farpoint 40 is a universal carry on backpack!
The Osprey Farpoint 40's compact size means you can bring it as a carry on.
The biggest reason is that a 40 litre bag means carry on compliance. Most airlines will let you use this bag as a carry on, which over your travels will save you a ton of time and money. #gamechanger.
No more paying for checked bags. No more waiting in the carousel for your bag. No more hoping it wasn't accidentally shipped to the wrong country. This is one of the best carry on bags, period.
By going with travel-light bag like the Osprey Farpoint 40, you'll be able to keep all of your valuables with you, and save a ton of money (which pays for the bag ten times over!).
If you think 'traveling light sounds awesome!' – it is. And this Osprey Farpoint 40 is the bag for you.
But you have to understand something….
Just because you are traveling light, doesn't mean you are making big sacrifices….
As you can see, the Osprey Farpoint 40 still has plenty of space. It's main compartment is very deep, and will allow you to pack more than you'll need for your travels.
I've traveled the world for years, living out of nothing but a 40 litre bag (and a drawstring bag for a day bag). While it might seem scary, you'll soon learn that traveling super-light means traveling super-free. You'll feel less weighed down by your bag, and less weighed down by material possessions in general.
Plus, you'll smirk to yourself every time you see another traveler dragging around an 80 litre bag. Once you travel light, you'll never go back – the Osprey Farpoint 40 carry on is a game changer.
Osprey Farpoint 40 Size Guide
To get the perfect bag size, Osprey recommends measuring your torso to find the backpack that best fits your body.
To do this, just follow a couple of quick steps. (Click on the picture to make bigger)
Then, compare your measurements to Osprey's official size guide to find the perfect size for you…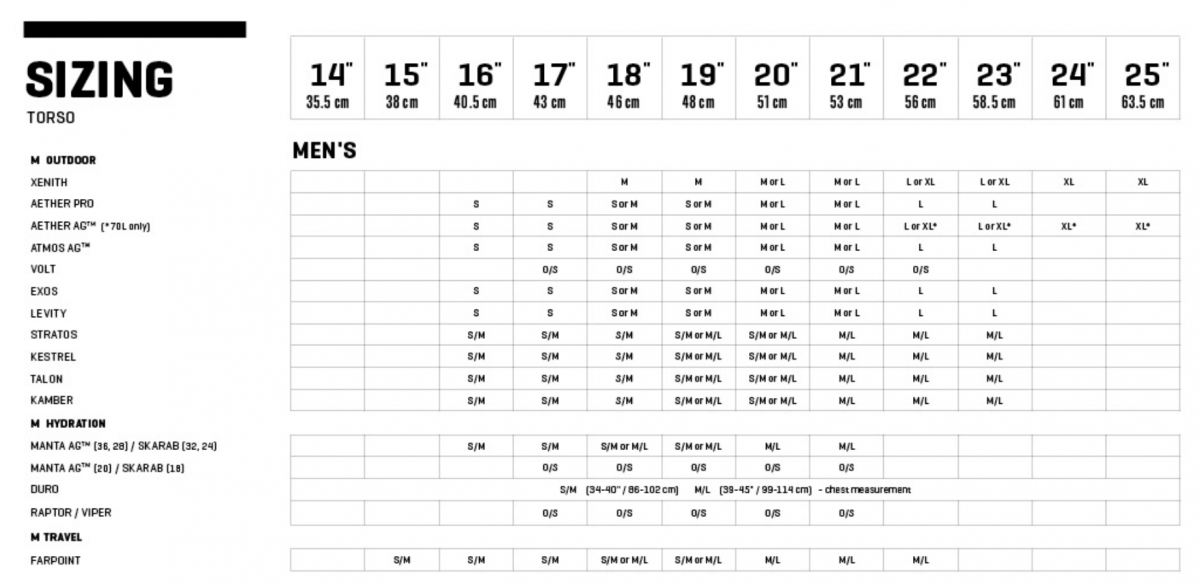 This is a unisex bag and looks fine on both men and women. Follow the sizing chart above to find the size that is best for you.
More information on Osprey's sizing charts can be found on their website.
Osprey Farpoint 40 Comfort (Fits like a glove!)
Osprey's focus on quality products = Osprey backpacks are super comfortable. And the Osprey Farpoint 40 is no exception. Reviews on Osprey's website for the Farpoint 40 seem to agree.
Overall, the quality and comfort of Osprey backpacks is one of their biggest selling points.
Osprey Farpoint 40 Suspension (Good for back support and additional comfort)
The Osprey 40 suspension is great, transferring the load from the harness to the hip belt. A decade ago this was impressive technology, but now it's fairly standard for hiking/travel backpacks (actually, more like crucial!).
The mesh/suspension area is also lined with foam to help increase comfort and overall breathability, and the light wire frame gives comfort, cushioning and great ventilation. This is because of the mesh.
More mesh = more ventilation. More ventilation = less sweat. And less sweat is a good thing.
There are also adjustable sternum straps for extra support. If you find yourself walking long distances, your back will thank you. And as a special bonus, Osprey adds a rescue whistle to the sternum strap. (Safety first guys.)
Osprey Farpoint 40 Suspension features
Now while the suspension is standard, and mesh is nice, one of the more unique features of the Osprey Farpoint 40 is the ability to stow the hipbelts and harness.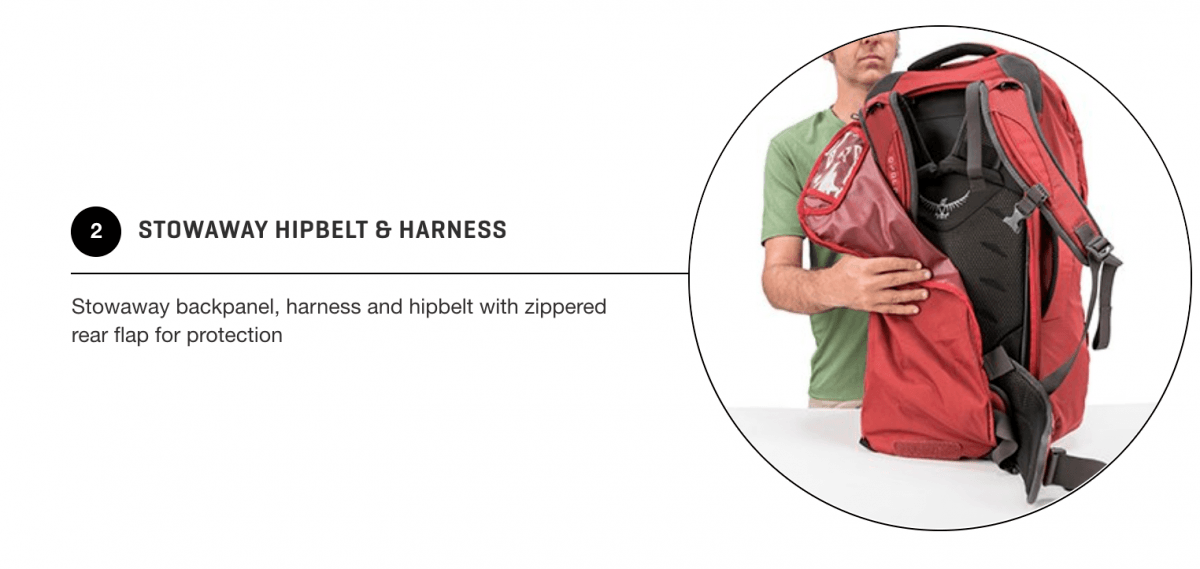 The suspension and straps come with a protective cover which is easily zipped around the straps, or easily rolled up and wedged underneath and out of the way.
While this feature is interesting, I don't see it serving too much of a practical purpose for travelers. But! If you wish you zip up your straps and carry the bag using ONE of the handles…. that is an option you'll have with the Osprey Farpoint 40.
Osprey Farpoint 40 Dimensions
The M/L is 21 x 14 x 9 inches, and the S/M is 20 x 14 x 8 inches.
These dimensions are actually on the larger side for a 40 litre, as the Osprey Farpoint has more space than REI and Northface in the same sizes. Another point for Osprey!
Osprey Farpoint 40 Laptop/Tablet Sleeve
If you are a Digital Nomad, Flashpacker, or just prefer to travel with a laptop then the Osprey Farpoint 40 has got you covered.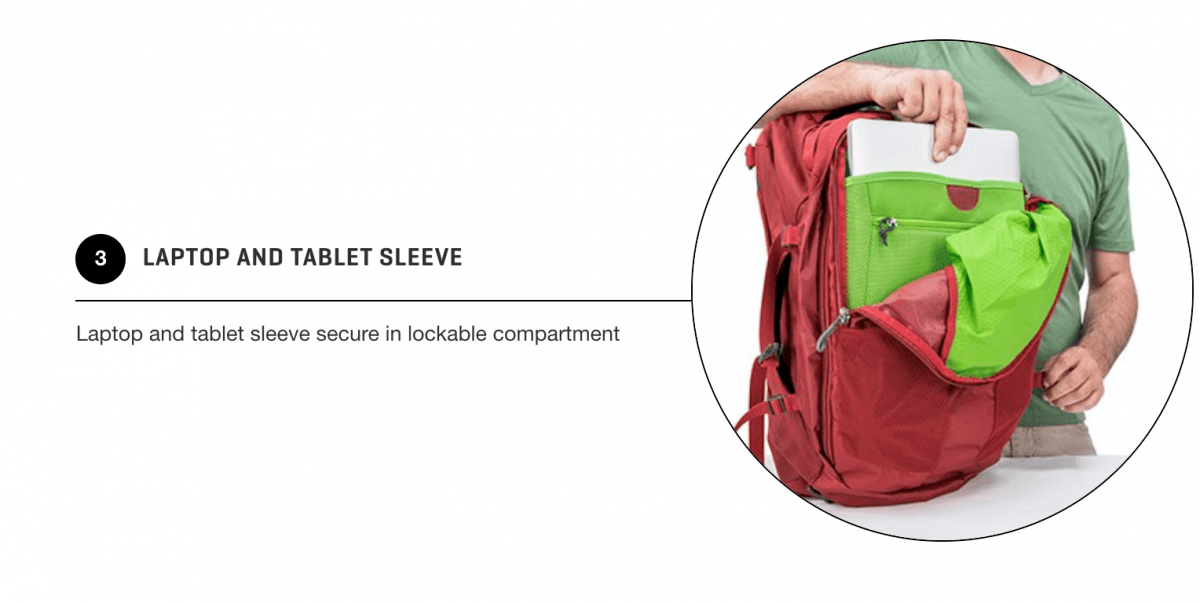 The laptop and sleeve tablet is large enough to fit laptops up to 15.4 (39 centimeters) inches (which as a digital nomad is a requirement).
*Quick warning for tablet users!* There have been complaints online about tablets breaking in this bag. This is because of the location of the sleeve. Since it is in the front, a full bag could bulge out, putting pressure on your tablet, causing it to crack. If you are traveling with a tablet with the Osprey Farpoint 40, make sure that your bag is not too full, or that your have a protective case to keep your tablet crack-free. (Or alternatively, just keep your tablet in the main compartment of the bag!)
Is the Osprey Farpoint 40 waterproof?
No.
But it is water-resistant! Which is better than not being water-resistant.
Many owners of Osprey Farpoint claim they got caught in the rain and were very pleased with the way the bag handled water.
Ultimately, the bag can handle a little rain… But don't test your luck by throwing it into a lake.
The best present of all… is CONVENIENCE!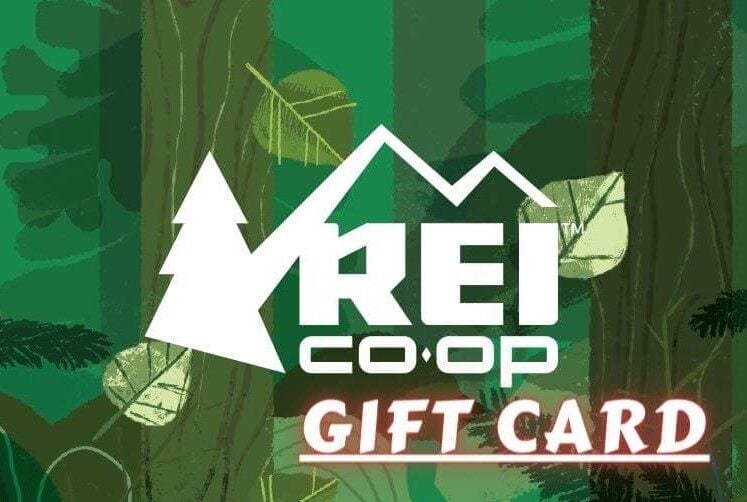 Now, you could spend a fat chunk of $$$ on the WRONG present for someone. Wrong size hiking boots, wrong fit backpack, wrong shape sleeping bag… As any adventurer will tell you, gear is a personal choice.
So give the adventurer in your life the gift of convenience: buy them an REI Co-op gift card! REI is The Broke Backpacker's retailer of choice for ALL things outdoors, and an REI gift card is the perfect present you can buy from them. And then you won't have to keep the receipt. 😉
Buy on REI!
Osprey Farpoint 40 as a Travel Backpack (Plus some pro packing tips)
While the Osprey 40 could be great for school, hiking, or everyday use, it is most specifically used by and designed for travelers.
If you are planning to do anywhere from light to heavy traveling, then you are going to enjoy the Osprey Farpoint 40.
Packing with the Osprey Farpoint 40 is a super easy and straightforward process. Other bag companies take their bags too far, giving you more pockets than necessary (which complicate the ease of use and opens you up to more zippers breaking.)
The Osprey Farpoint 40 is designed for simplicity, and makes packing easy. Here are a few additional features that specifically help travelers…
There are three main compartments to this bag.
Small Top Compartment – good for things you need to quickly grab. You should use this compartment for your wallet, passport, keys and anything else small and important. Also, this compartment is soft- lined which is good for keeping your sunglasses scratch free!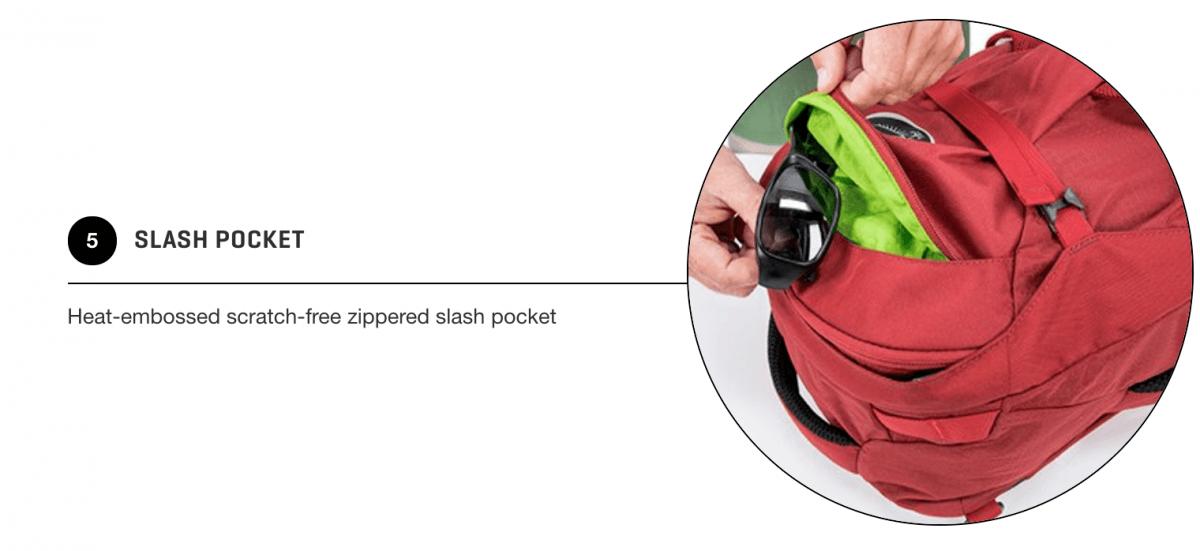 Good for your passport, wallet, keys and the protective mesh makes it perfect for sunglasses
Medium Compartment – A nice size, you can use this area for notebooks, a jacket, and use the fully padded laptop sleeve for your laptop and or tablet. While there is space, there isn't much else to this section (remember, simplicity is the name of the game with the Osprey Farpoint 40!). The mesh design is quite durable and gives the bag additional ventilation.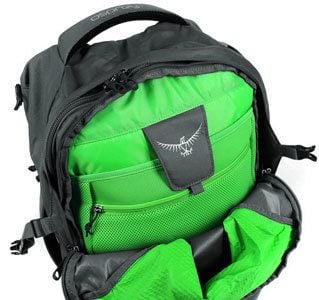 Main Compartment – The main compartment has more space than it looks like it would have, and the zips allow great access. Older bags only opened from the top which meant that if you wanted to get something out from the bottom of the bag, you'd have to pull out everything. But the Farpoint features a chunky compartment that opens more like a suitcase. It runs all the way around the bag making accessing the bottom stuff at the bottom of the bag easy.
Other great Osprey Farpoint 40 travel features
Notch for Zipper Locks – Keeping your stuff safe while traveling is super important, and Osprey makes safety easy. The zips are designed to easily integrate a lock to help keep your valuables safe and cozy.
Additional Interior Mesh Pocket – I've used this pocket for a few things, but I've personally found it most effective for shoes. With your laptop directly on the other side, I wouldn't recommend boots, but any shoes that don't take up a ton of space (flip flops/sandals) or can be compressed (some kind of athletic shoes, or regular sneakers) are perfect. Just be sure to always wrap your shoes in a plastic bag. It also serves as a great area for an easy-to-grab towel.
Internal Compression Straps – Another awesome feature for travelers, the compression straps will give you the ability to really squeeze a few extra things in your bag. I would recommend only using the compression straps for clothes, and doing so will really allow you to create twice as much space.
ID Slot – While I personally don't use it, some people like it as a nice extra compartment.
Shoulder Strap – This is a cool feature that I found out I liked more and more as time went on. Simply attach the shoulder strap to the two designated hooks (pictured below). I wouldn't recommend carrying your bag for long periods of time like this (especially if it's full and heavy) but it's nice to have to carry around a few minutes here and there, or especially if you have less weight than usual.
Osprey Farpoint Travel Accessories
While you won't need anything additional with this bag, a few extra buys will really help with convenience, and also make up for the few cons that the bad does have (I'll discuss cons of this bag in a bit).
If you are looking for some Osprey Farpoint 40 travel accessories, I'd recommend checking out a protective case for tablets, organizing bags, or zipper locks.
Osprey Farpoint 40 for Hiking
Some people prefer Osprey products for camping and hiking. If that's you, then you're on the right path!
Osprey is one of the premier companies for outdoor equipment and started by exclusively making outdoor hiking/camping gear.
But now they have switched to both camping and travel gear.
Truthfully, the Osprey Farpoint 40 is a travel bag, but it can be used as a simple hiking bag for basic day hikes.
If you are looking for an ultimate hiking/camping bag, do not get the Osprey Farpoint 40. Instead, check out our ultimate review of the Exos 58 Liter,or the smaller Osprey Talon 33.
If you are interested in doing some hiking with the Osprey Farpoint 40, you'll be pleased to see that it is very durable and very capable for day hikes or wandering around town, but shouldn't be considered for serious camps or hikes.
Osprey Farpoint 40 Rain Cover (For Hiking Adventurers!)
The Osprey Farpoint 40 has a rain cover that is available for any Osprey bags 30-50 litres. Be sure to check out the Osprey rain cover size chart to make sure you've got the right one!
This is also a great accessory for travelers. No matter where you are, the rain covers makes getting stuck in the rain a little less… damp.
Now, while the Osprey Farpoint 40 is a hell of a bag, it is not without its flaws, and a few of them are worth mentioning. I mean, when we go reviews we do them properly and our Osprey Farpoint 40 review is no exception god damn it!
Flaw #1 – Lack of internal organization
While simplicity is good, it would be nice to have a few more nooks and crannies or your personal items. Many of Osprey's competitors have adapted internal organization into their design, and a few extra zips and pockets would really help with organization in the Farpoint 40.
The way to combat this is by purchasing your own packing cubes… or if you are like me, just use plastic bags for clothes and zip locks for smaller items.
But I do accept that for someone looking for a bit more modern-travel-flash…. this bag may not have enough compartmentalization options.
Flaw #2 – Difficult to reach mesh pockets
The exterior mesh pockets on the Osprey Farpoint 40 are good for water bottles and snacks…. they are just difficult to reach whilst actually wearing the pack.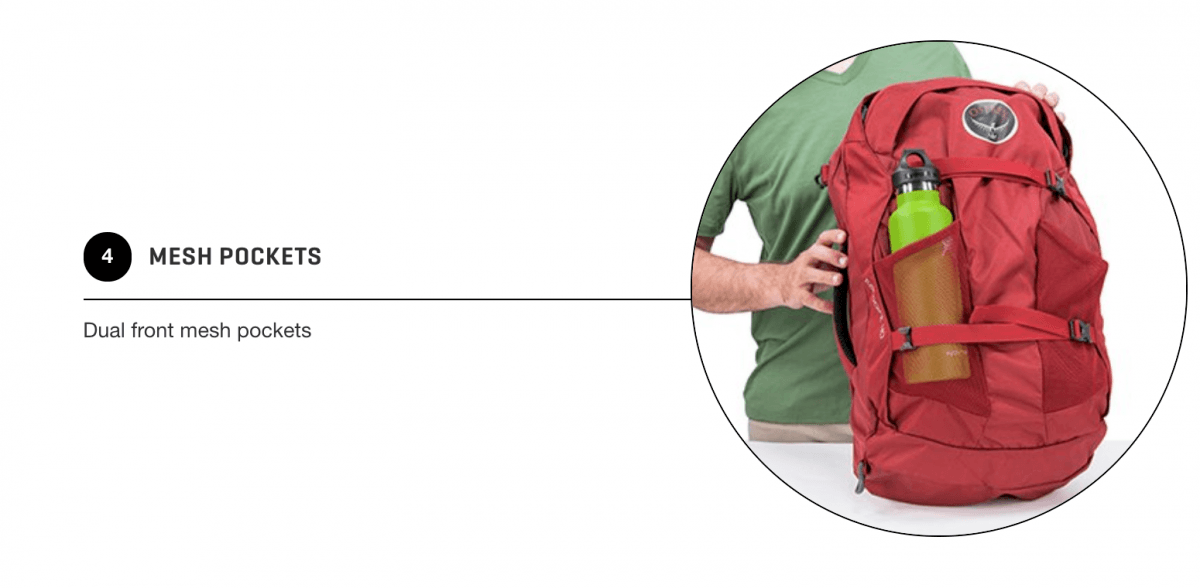 The dual front mesh pockets are nice to have but very inconvenient to reach when you are wearing this 40l Osprey backpack.
Typically these mesh pockets are located on the sides of the bag for easy accessibility. This is probably to help the overall design, it's just a bit annoying when you're thirsty.
Aside from that, I don't think there is anything particularly wrong with this bag. If you like to pack light and are looking for one of the best carry on backpacks, it's a great fit… simple!
The 'best' backpack will completely depend on you and your specific travel needs and style. There is no single backpack that is universally the best.
So to give more perspective, we compare the Osprey Farpoint 40 with some of the other top backpacks on the market.
Osprey Farpoint 40 vs 55
I'm going to be straight, from an awesome perspective, I do like the Farpoint 55 just a little bit more. Technically the 55 is TWO bags (a 15-liter day bag and 40-liter normal bag) and it has a handful more of bells and whistles than the 40 (namely storage compartments).
But while the 55 is cooler, I still go with the 40 overall.
Why?
Because while it splits into two smaller bags, the 55 is still big, and it's not guaranteed to be allowed as a carry on luggage. Most airlines will make you check the 55. The 40 will be OK as a carry on backpack 99% of the time.
For that one reason, I give the Farpoint 40 the win…
Osprey Farpoint 40 vs Porter 30
The 30 is small, light and minimal. It's easy super to use and organized. It's not heavily framed, so it's malleable and easy to mash down. The 30 also has better organization with more pockets and nooks and crannies where you can store pens, notepads etc. The 30 also has some nice latch points to hang gear on, and rings to attach a shoulder strap (purchased separately).
But as nice as it is, it's just not large enough for long-term travel. Would I love to be able to travel on 30 liters? Absolutely! Can I? hell no. The extra 10 liters the Farpoint 40 gives you is crucial for longer travel.
There is a 46 litre version of the Osprey Porter though and we have already pitted it against the Farpoint. Check out our Farpoint 40 vs Porter 46 comparison post and see which fared better.
Osprey Farpoint 40 vs Tortuga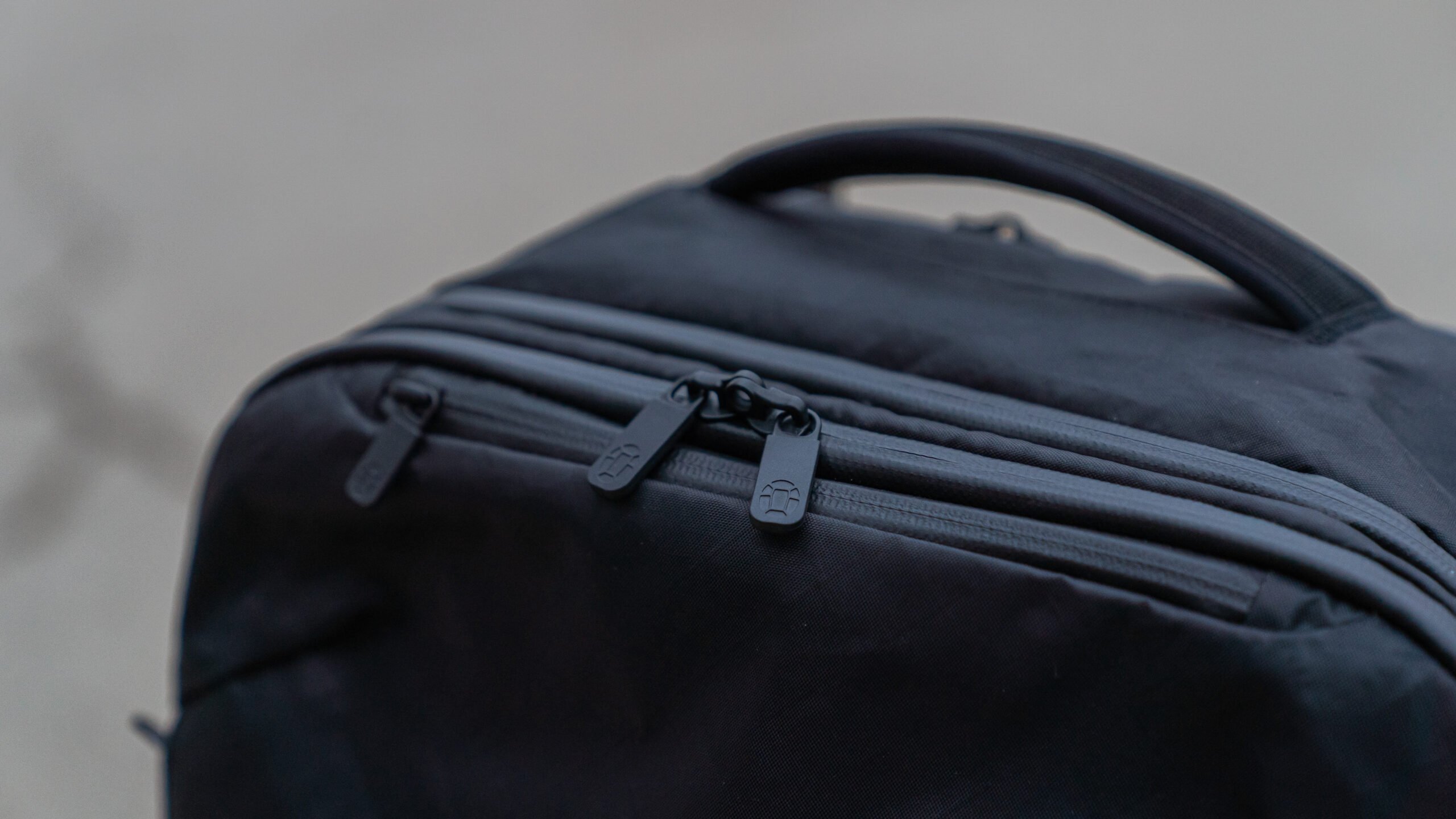 Tortuga is another phenomenal backpack company, and they differ a bit from Osprey.
If you are wondering which is better, the Osprey Farpoint 40 vs Tortuga's bags – it depends on your style…. literally.
Where Osprey has a more old-school design that is reminiscent of hiking gear, Tortuga's designs are very modern and much trendier. Tortuga bags are equipped with tons of useful pockets and crevices, as they are specifically designed for trendier traveler types.
You cannot go wrong with either. It's simply a matter of personal preference.
Check out the full Tortuga Travel Pack review.
Osprey Farpoint 40 vs AER Travel Pack 2
When it comes to travel backpacks – our favorite is ALWAYS the AER Travel Pack 3.
AER bags are sleek, sexy, modern and well designed. AER bags offer a lot more in terms of their organization and design, and this particular product is a backpack-masterpiece.
As long as you don't plan to do any serious hiking/camping with it – the AER Pack is a solid choice. Check out our epic AER Travel Pack 2 review here.
Osprey Farpoint 40 vs REI Trail
In the showdown of Osprey Farpoint 40 vs REI Trail 40…. it's a toss up!
Honestly the two bags are very, very similar – with just one glaring difference.
The Osprey Farpoint 40 is a good hiking bag but is specifically designed for travel.
And the REI Trail 40 is a good travel bag but is specifically designed for hiking.
So if you are here looking for a 40 L hiking backpack, it might be worth checking out the REI Trail!

Our GREATEST Travel Secrets…
Pop your email here & get the original Broke Backpacker Bible for FREE.
Final Thoughts on the Osprey Farpoint 40 Review
While they are technically an outdoors company, their dedication to quality products that are durable make their bags a wise investment for any traveler and thanks to the all mighty guarantee, you know you aren't wasting your money as Osprey will repair any damage to your pack until the end of time…
With the help of this review on the Osprey Farpoint 40, you'll have the information you need to buy a bag and travel the world like a boss!
If you think you can travel semi-light and are heading to climate's that don't vary too much, you might find that you were born to travel light with the Osprey Farpoint 40.
What is our final score for the Osprey Farpoint 40? We give it a rating of 4.7 out 5 stars!

---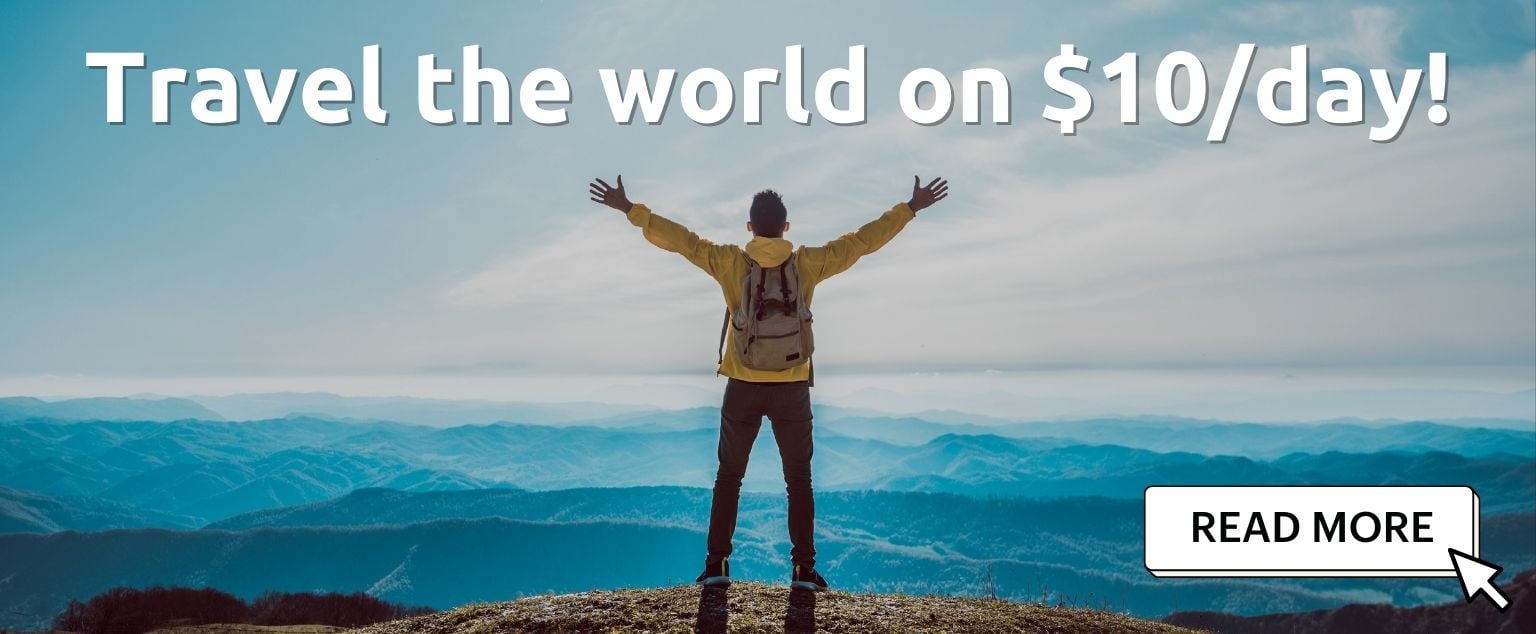 And for transparency's sake, please know that some of the links in our content are affiliate links. That means that if you book your accommodation, buy your gear, or sort your insurance through our link, we earn a small commission (at no extra cost to you). That said, we only link to the gear we trust and never recommend services we don't believe are up to scratch. Again, thank you!