How's it going my fellow broke backpacker gear junkies? We're back this week with a look at Tortuga's 40L Travel Backpack.
Travelers come in many shapes and sizes, so it's no surprise no two people are going to have the same preferences when it comes to finding the perfect travel backpack. Luckily, you have unsung heroes like me here to take the worry and stress out of selecting a bag online. Just kidding, but I do hope this can provide a little help when you're picking your next pack.
When I travel, I typically bring the same few items every time. Aside from clothes, my laptop and journals will always find their way into one of my bags. I'll level with you on this pack right away, Tortuga hit all my personal marks on this one.
With a tech compartment that houses everything that I need neatly in an organized fashion, while giving me the interior space to pack how I feel necessary on a trip-to-trip basis, this truly is a well thought out design for whatever kind of traveler you may be.
But I'll let you decide if this is the pack for you or not, let's take a look into what the Tortuga Travel Backpack 40L is all about.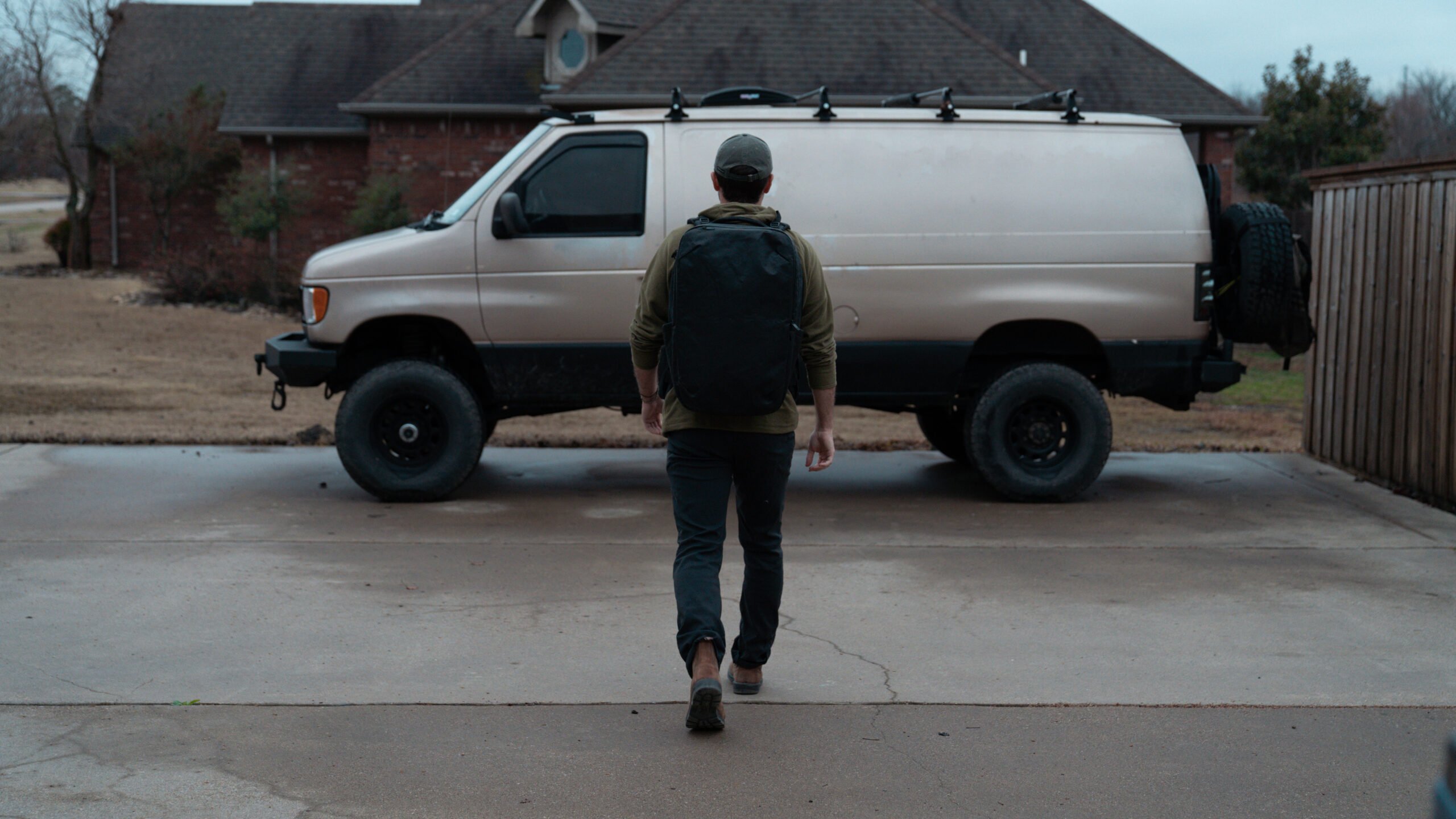 Tortuga Travel Backpack 40L Review Quick Answers: Specs
Price: $349.00
Volume: 40 liters
Weight: 4.5 lbs
Material: SHELL200D Recycled Polyester
Laptop Compartment: Yes
Carry-On Compliant: Yes
What I Liked About the Tortuga Travel Backpack 40L
Durable Material
Padded Laptop and Tablet Compartment
Adjustable Back Panel
Cushioned Shoulder Straps and Hip Belt
What I Didn't Like About the Tortuga Backpack 40L
No Compression straps on the right inside of the main compartment
Inside Zipper feels backward

Do You Want to Travel FOREVER??
Pop your email in below to get a FREE copy of 'How to Travel the World on $10 a Day!'.
Tortuga Travel Backpack 40L Review: Key Features and Performance Breakdown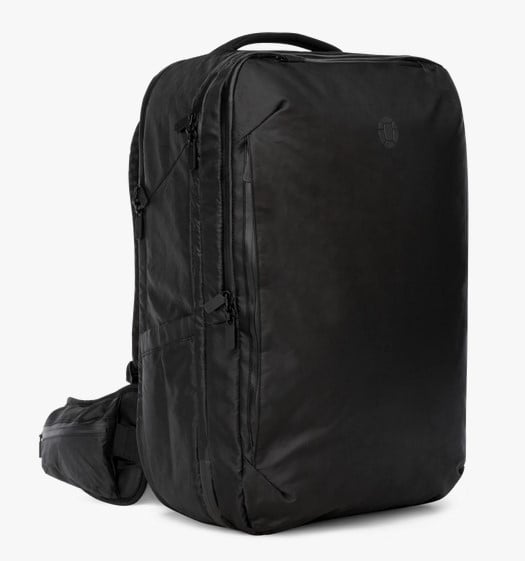 Interior Organization
The Tortuga Travel Backpack offers a ton of organizational features once you dive into the backpack, and I feel like one section summarizing all of it wouldn't be fair to the work and thought I think Tortuga put into crafting this travel backpack. So, because I love you all, I broke this bad boy down into more depth below, so have a crack at it.
Laptop Compartment
Something I've noticed a lot of lately is companies finding new and creative ways to incorporate your potential tech needs into your carry-on luggage. In the past, I would typically carry a large carry-on duffel bag for clothes alongside my 20L Black Diamond Day Pack, housing all my electronics and journals. Needless to say, I was extremely unorganized and did not provide the love and protection for my laptop one may expect from a digital nomad.
So all that to say, when there's a dedicated laptop sleeve offering protection for my 16" laptop (a size not all bags could handle with such grace) it's a big deal. This Tortuga backpack's laptop compartment is also home to a dedicated tablet sleeve that can hold up to a 12.9" tablet, an internal zipper pocket to house charging cords, and even has enough space left over to throw in a keyboard if that's your jam.
This laptop/tech compartment is also the section closest to your back, so pickpocketers will have a hell of a time trying to reach over the rest of the pack to get to your goods. Not to mention the YKK Zippers are lockable, giving you an extra layer of protection if you deem is necessary.
The laptop compartment is also very well padded, so you can leave the laptop case at home and save on some pack weight.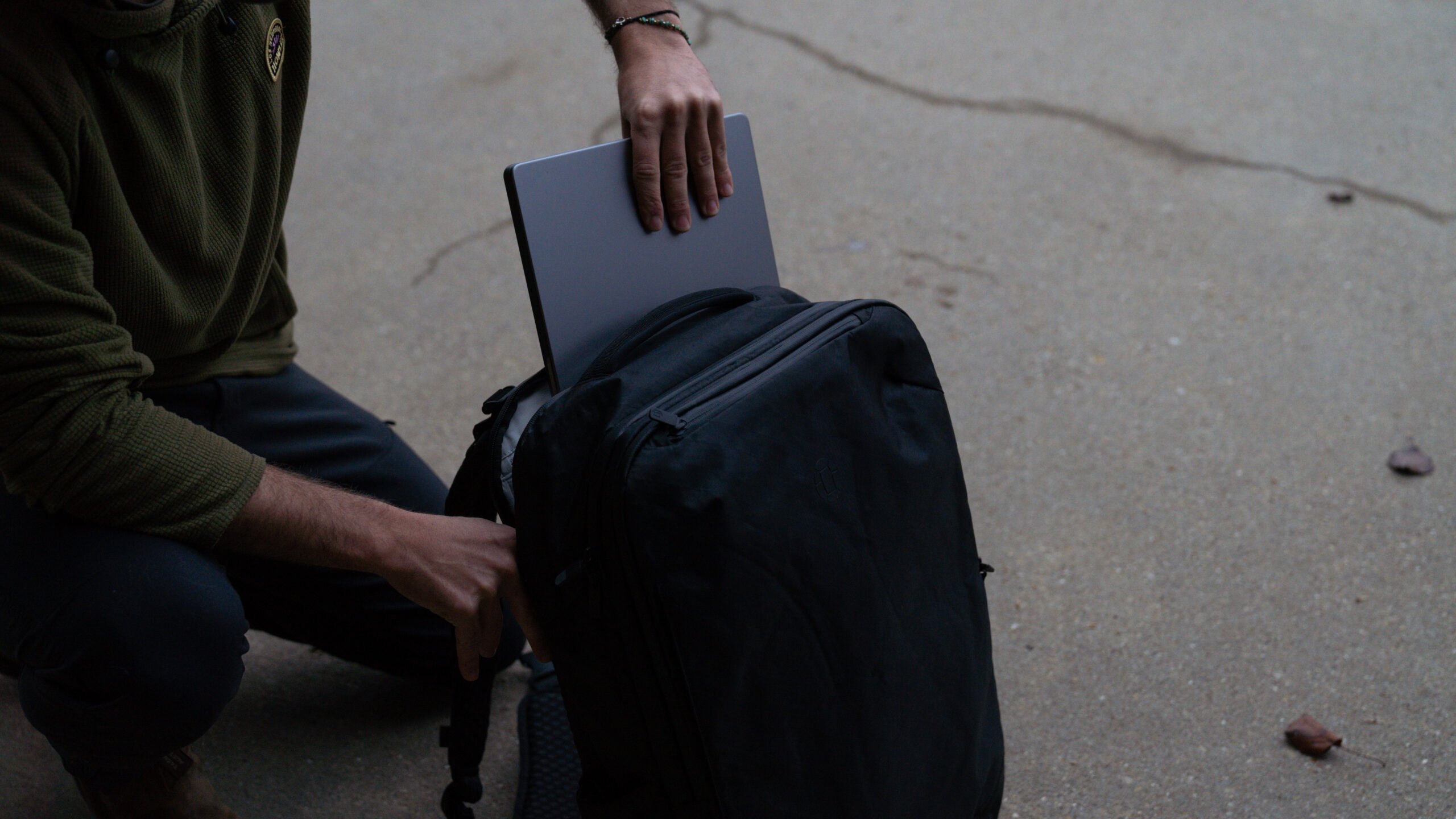 The Main Compartment
The main compartment resembles that of your standard carry-on suitcase, in that it unzips entirely to expose two large, bucket style compartments. This is a design that may have been around for a while, but this was my first time using a backpack like this.
The right side is an open design, featuring no zippers or compression straps, just a good ole' deep section to pack into. The left side is completely covered by a mesh panel, allowing you to secure your belongings down a little more.
Let me breakdown some quick pros and cons, in my humble opinion, about this backpack.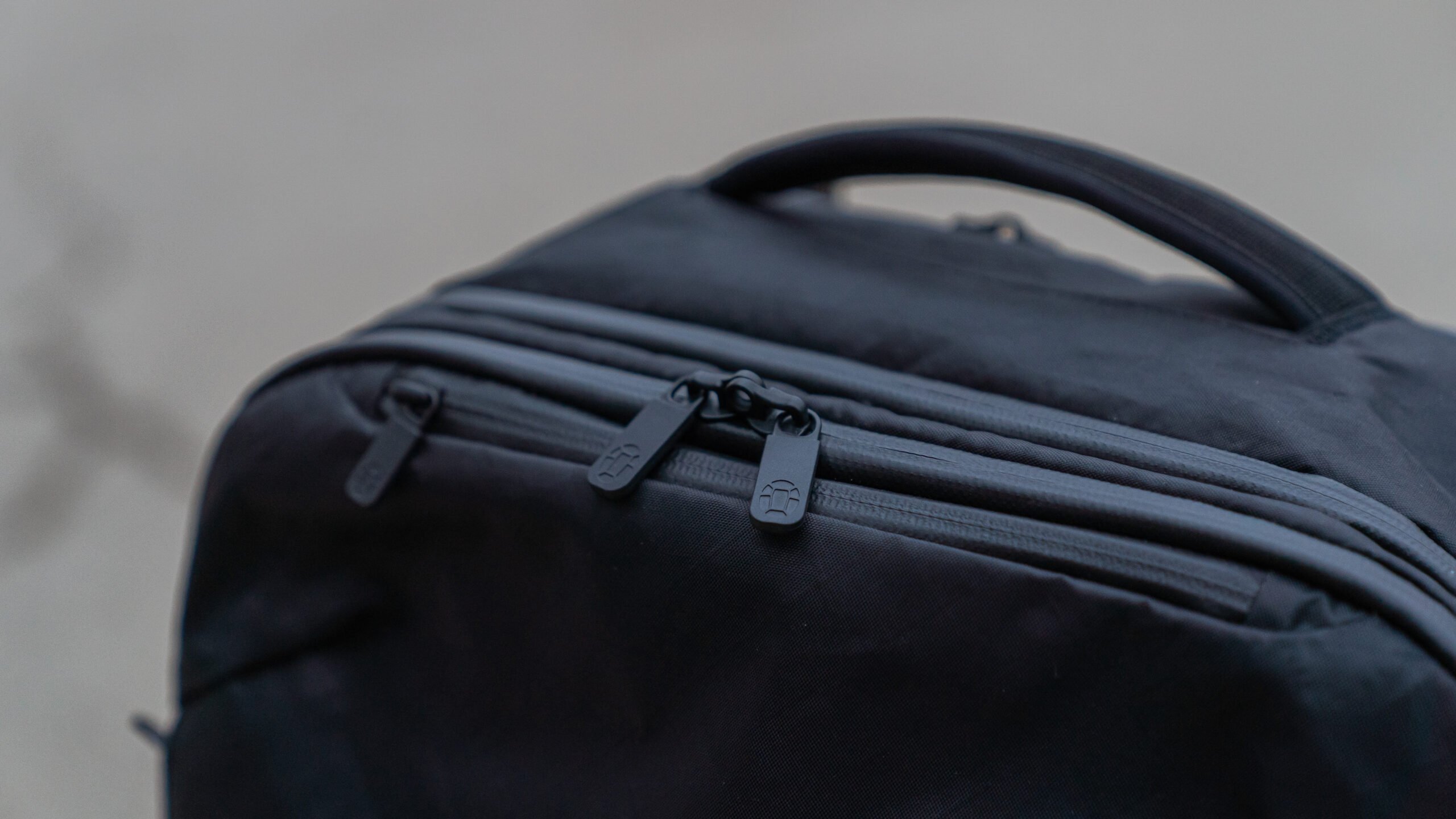 Okay so starting out with pros, if you pack strategically, you should be able to get a week or longer out of this thing. The open design really gives you the ability to pack the way you like to, with options to fit their packing cubes for some extra organization, should you desire.
Coincidently, I find the openness to be a bit of a con as well. The right side can really only be secured down, or rather organized, if you purchase the packing cubes. I think the inclusion of some sort of compression straps to give a little extra hold would've been really nice. Though keep in mind that this section is also the back of the backpack, so when you're opening up this backpack you'll more times than not have it lying flat on a bed or table.
The other small issue I had with this main compartment was the left zippered side. The zipper feels like it's the wrong way almost, making it difficult to access things on that side without completely opening the backpack. This isn't the biggest deal, I would just recommend not packing anything on that side you think you may need quick access to while on the go.
Overall I think the minimalist approach was a good choice, allowing you to pack the way you want with options to upgrade organizationally as you please.
Front Storage Compartment
The front storage compartment is the icing on the cake when it comes to all the internal storage options this pack brings to the table.
Starting with the fleece-lined smart device sleeve, it's the perfect size for you to throw your smartphone or kindle in when on the go. There are also dedicated spots for credit cards and pens, saving you the hassle of digging through what can sometimes feel like a bottomless pit of junk. There's also a mesh pocket that perfectly fits a passport or wallet, as well as a zippered pocket to house any cords or headphones you may want to bring along.
Another feature I really enjoyed with this front storage compartment was the extra space below all the organizational pockets. I typically travel with a large journal and two smaller ones to jot down any notes or thoughts I have while on the go. While I did opt to keep the larger journal in the back with my laptop, the two smaller ones fit with ease in the front area.
Additionally on the front of the bag, attached to the front compartment, there's another small stuff area with a side zipper access point. This portion does cut into the front storage space a little, but you should still be able to throw a journal or hat inside without too many repercussions.
The Exterior
Tortuga has upgraded from their previous backpack model's material, X-Pac VX21, to their new SHELL200D. This new material is comprised of three layers of laminated sailcloth (per their website):
Recycled polyester face fabric with C0 DWR treatment
45° recycled polyester cross-ply
Recycled ripstop polyester backing fabric
This material was originally created for use as the sails of racing boats, but Tortuga deemed it worthfully of racing you through the airport and all your travels. The material is also 100% recycled, in case you needed another reason to love this pack.
I really like the look of this material as well, with their black logo hiding in the matte black material, it truly looks and feels great.
The exterior also features two water bottle pockets, allowing you to stay hydrated on the go. They stretch to allow different sized bottles, though I wasn't about to fit my 64oz Hydro Flask in there. But again, a 64oz metal bottle is rather large and I don't ever travel with it, so take that with a grain of salt.
Fit and Sizing
Starting out with fit, this backpack feels really good on your shoulders and back, as the thick mesh shoulder straps and hip belt make for a comfortable ride.
Another really cool feature that I've never seen before was the adjustable back panel. With backpacks from brands such as Osprey and Gregory, you will typically get fitted for a pack that best suits your build, resulting in the same pack varying in back frame sizes of Small, Medium, Large, and so on. But Tortuga has found a way to more or less create a one-size-fits-all pack by incorporating an adjustable back panel with the ability to slide up and down, making sure it sits on your back perfectly.
Combining this feature with the hip belt, it was nice to really get the weight off my back and onto my hips, resulting in a rather pleasant backpack experience.
Carry Options
While the obvious carry option is the shoulder straps attached to the pack, Tortuga also tossed in a couple of handles for those times you want to slip through the airplane walkway without smacking poor fellow travelers.
The first is placed on the top of the bag between the tech compartment and main compartment zippers, giving a balanced feel in your hand. Most backpack top handles are stitched onto the back panel of the pack as though it was an afterthought, so I did like the forethought to allow this pack to be handled like your typical luggage.
The second is on the side of the bag, allowing the bag to be held sideways like a traditional suitcase or duffel bag.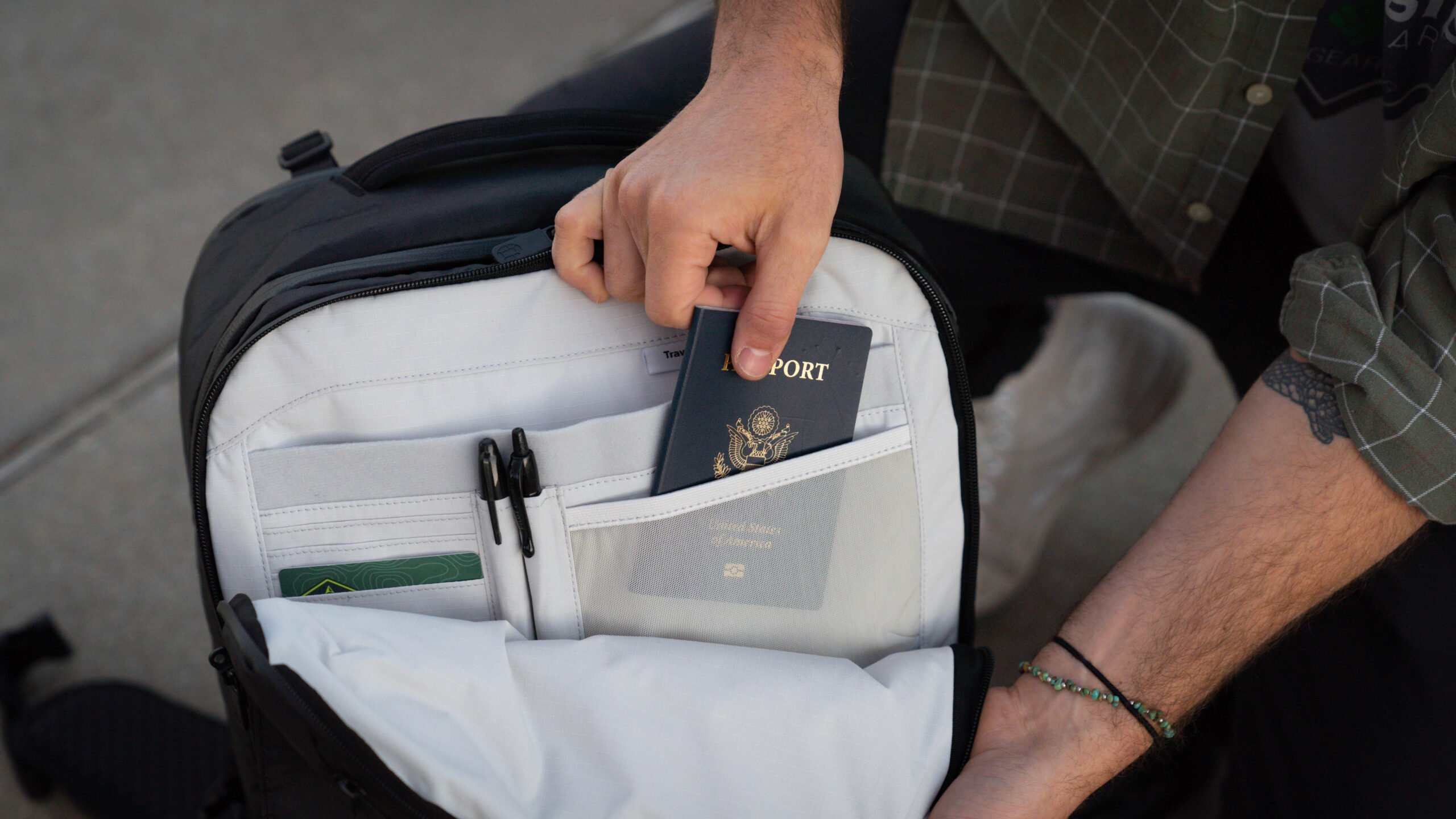 Weight and Capacity
Quick Answer:
Weight: 4.5 lbs
Capacity: 40 liters
Long Answer:
Offering 40 liters of space and a ton of different packing options, I think 4.5 lbs is extremely reasonable. I also think if you're traveling with this type of backpack, you're more than likely not standing on a scale and watching every last pound going into your pack.
Tortuga says this is perfect for trips a week or longer, and I would agree. Unless you like bringing your entire flat along with you, this bag offers more than enough space and packing options to comfortably hold your clothes and electronics.
I was even able to fit my AeroPress in alongside my belongings, so add coffee gear to the list of packing options I suppose.
Toughness and Durability
The SHELL200D feels as tough and durable as the specs lead it on to be. With the addition of the YKK Zippers, Woojin Buckles, and the waterproof nature of the material, you don't have to worry about your belongings getting damaged in a surprise storm.
Another thing sometimes overlooked is how easily some packs can pick up dirt. I tossed this thing on the ground when packing it, as well is carried it around the desert while I was there, and a couple lights pats cleaned this thing right up. Maybe you like a dirty bag, but people sharing the overhead space on the plane will probably appreciate this thing not taking your last adventure home with you.
Security
Now odds are when you're traveling, this pack will be close by your side or on your back the majority of the time. But for those time you want to leave this thing behind or add an extra layer of security, the YKK zippers include small holes for you to throw a lock on there.
Also, I'm not sure if you would consider this security, but I do like that the tech compartment is located against your back, giving you one less this to worry about someone trying to access it without you feeling or knowing about it.
Tortuga Travel Backpack Aesthetics
Tying back to my earlier comments about the matte black look, I personally think this bag looks great. I like to travel under the radar when possible, and this bag isn't flashy or attention seeking.
I also really enjoy the sailcloth material, as I don't feel like I'm carrying a massive cube of a suitcase on my back. Where some companies have tried to accomplish similar goals yet produce massive turtle-shell-looking bags, this flexible material looks and feels more organic to travel around in.
The best present of all… is CONVENIENCE!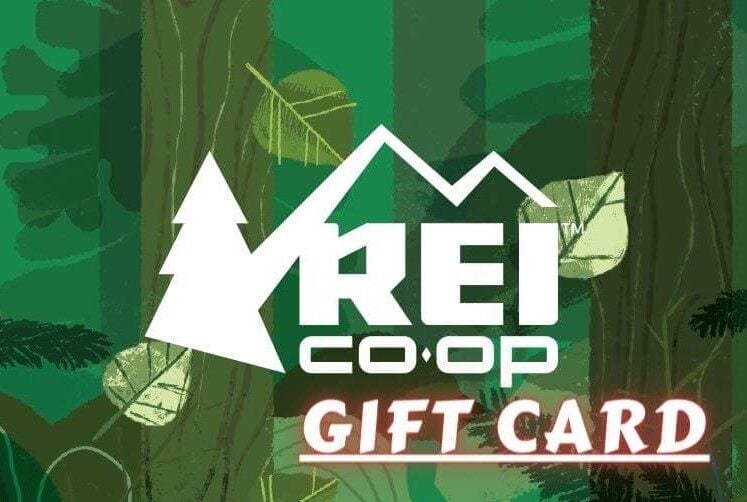 Now, you could spend a fat chunk of $$$ on the WRONG present for someone. Wrong size hiking boots, wrong fit backpack, wrong shape sleeping bag… As any adventurer will tell you, gear is a personal choice.
So give the adventurer in your life the gift of convenience: buy them an REI Co-op gift card! REI is The Broke Backpacker's retailer of choice for ALL things outdoors, and an REI gift card is the perfect present you can buy from them. And then you won't have to keep the receipt. 😉
Buy on REI!
Is The Tortuga Travel Backpack Worth The Price?
You will have noticed that this pack does not come cheap. In fact at $349 its decidedly bloody expensive so the question inevitably arises as to whether or not its worth it.
The answer is never quite so clear as a straightforward yes or no and the truth is more nuanced. In our view, good quality travel gear is worth investing in. We are the kind of travellers who use our gear a lot and spend large chunks of time living out of backpacks and cases so we well and truly value them. The Tortuga Travel Backpack has enough good features and is made from high quality materials to justify the price tag in our experience but we know that it is simply going to be over the budget of some potential buyers.
Just remember that if you do opt for a cheaper piece of gear then you will end up having to replace it within a few years whereas the Tortuaga Travel Backpack is built to last for life – in fact it comes with a pretty strong lifetime warranty…
The Tortuga Lifetime Warranty
Tortuga offers a Worldwide Warranty promising protection against defects in materials and craftsmanship for as long as you own the pack. If it fails on you due to a defect, they'll repair it, replace it, or refund you. A little piece of mind when trekking around never hurt anyone, and with a company that stands behind its products, you can be that much more confident in your investment.
We feel that this alone says a hell of a lot about the sheer quality of this pack and we hope you keep this in mind when mulling over the price tag.
The Tortuga Travel Pack Vs The Rest
Not connived yet? Want to know how the Tortuga Travel Pack compares against its rivals? Well let's now take a moment to see how the Tortuga Travel Pack 40L compares to other, similar packs.
Nomatic Travel Bag 40L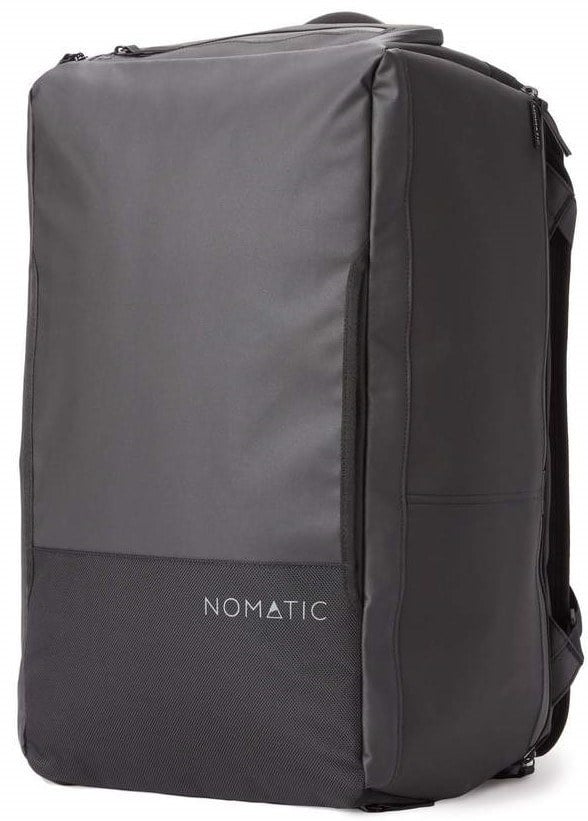 When I first saw the new Tortuga Travel pack 40l, my initial thought was that it was reminiscent of Nomatics 40l travel backpack. Both travel packs are designed for carry on, utilize space in the same way, offer similar packing options and the laptop sleeves feel similar too. Further, both are sleek and stylish, both fashioned from high quality materials and both at a similar price point.
In all honesty I struggle to choose between the two. Both are great. If you want to know more about the Nomatic then check out our detailed Nomatic Travel Bag review.
TropicFeel Shell Backpack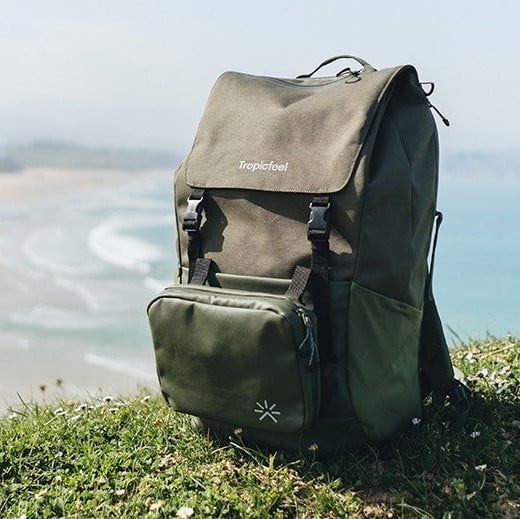 If you are after something a bit different, then check out the Shell Backpack by TropicFeel. It's basically a highly innovative backpack that adapts from a 22l daypack into a 40l travel pack. The most novel feature is probably the "pull out wardrobe" which makes packing and staying organized seriously efficient.
It also has an attachable toiletry bag, is carry on ready and uses excellent materials. Well worth the €200 price. Read our TropicFeel Shell review for more deets.

Our GREATEST Travel Secrets…
Pop your email here & get the original Broke Backpacker Bible for FREE.
The Tortuga Travel Backpack 40L: The Verdict
If you're looking to get away from the roller suitcase, but keep the same packing capabilities and style, I think this pack will be your new best friend.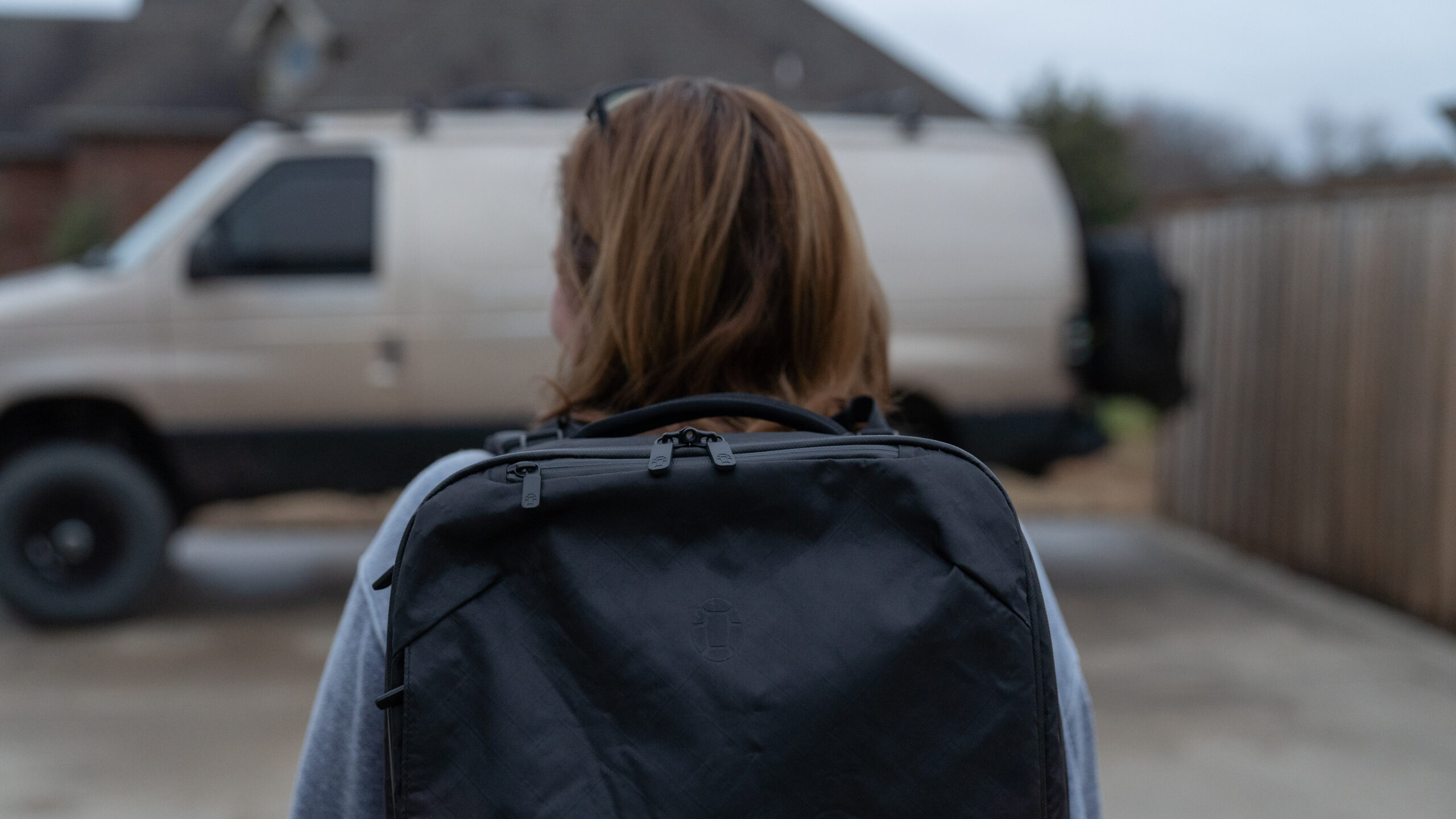 This pack really allows you to ditch the traditional suitcase and throw everything you could need into one sleek bag. I'm a big fan of the Tech Compartment and suitcase/backpack hybrid design. I would definitely recommend this bag to anyone looking for a good on-the-go pack for week trips, businessmen and nomads alike.
Thanks for checking out my review of the Tortuga Travel Backpack 40L, happy travels.
---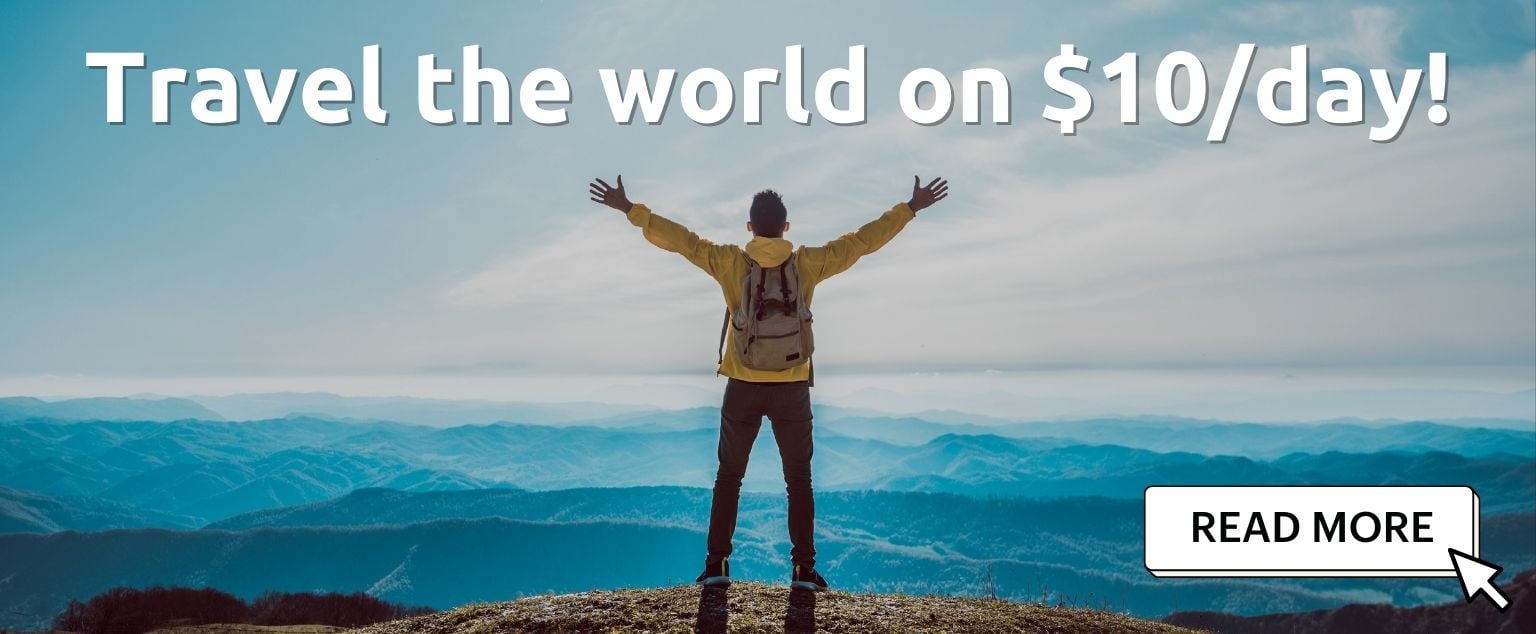 And for transparency's sake, please know that some of the links in our content are affiliate links. That means that if you book your accommodation, buy your gear, or sort your insurance through our link, we earn a small commission (at no extra cost to you). That said, we only link to the gear we trust and never recommend services we don't believe are up to scratch. Again, thank you!