I use Osprey bags for all of my adventures, whether I'm backcountry camping or traveling around the world. This isn't my first Osprey backpack review, in fact, I'm pretty well versed in their lineup.
The Osprey Talon 33 is one of my favourite bags of all time, not just from the extensive Osprey line up, but across the board! I've used it many times from multi-day hikes to short camping trips and 6 month long backpacking stints in Asia. This thing ticks all the boxes for me when it comes to a high quality and adaptable mid-sized backpack.
But while this bag is perfect for some people (including myself), it's not as ideal for others… So to help you, I've put together this monster review of the Osprey Talon 33.
In this brutally honest guide, I tackle everything you need to know before you buy an Osprey Talon 33. I'll discuss my personal experiences with this bag and cover its pros and cons, and tell you some insider tips about how to get the most of it!
By the end of this review, you'll definitely know whether or not the Talon 33 is the perfect backpack for you! I've put in the hard yards and asked the tough questions to make this one of the most in-depth and honest Osprey backpack reviews out there!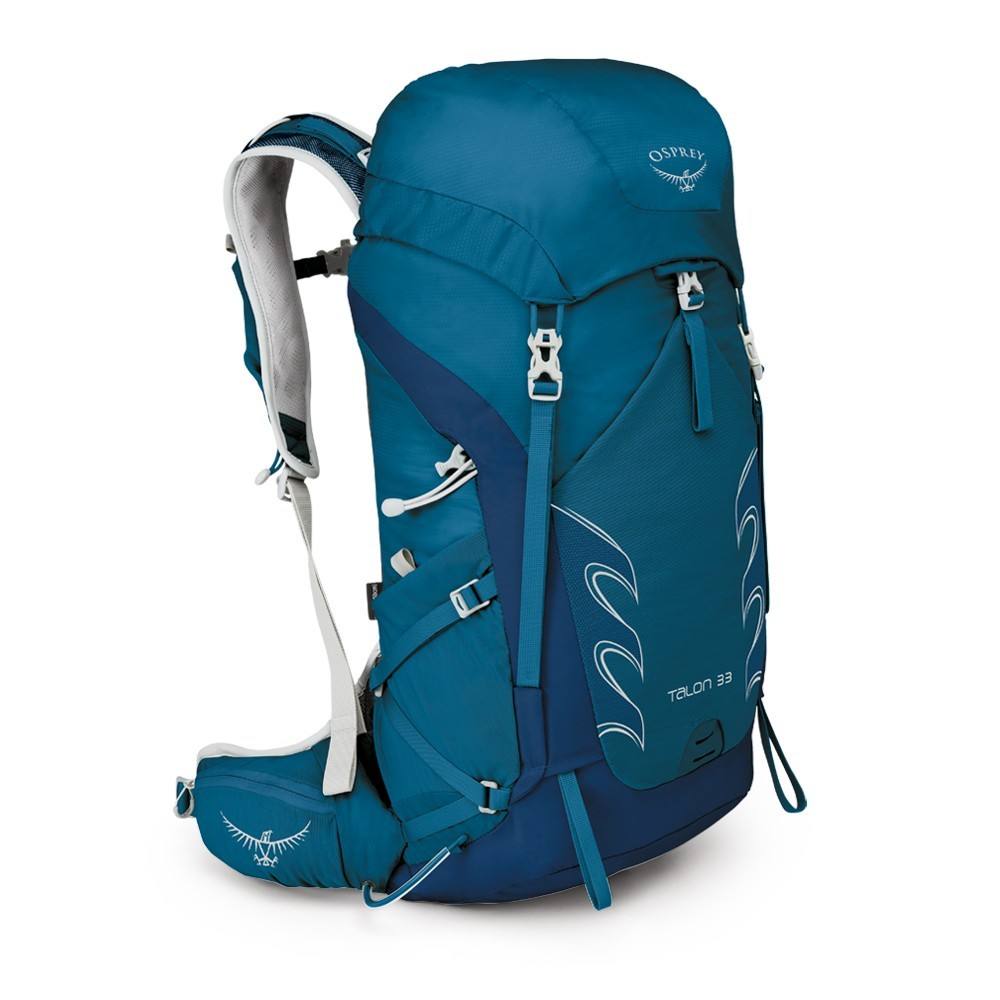 Quick Answer: The Osprey Talon 33 is perfect for you if you…
…are an ultralight trekker.
…need a durable day pack.
…are traveling to hot-climate regions and do not want to check-in a bag.
…want to travel and hike with a lightweight backpack.
…prioritize technical backpack performance.
…want a lightweight bag without sacrificing durability or comfort.
…need a backpack with a lifetime guarantee
Here's what I love about the Osprey Tallon 33.
At 33 liters, this backpack is both lightweight and versatile, making it the perfect backpack for big-mile day hikes and overnight camping trips, as well as a solid choice for minimalist travelers (who don't want to deal with check-in luggage).
The Osprey Talon 33 backpack is a lightweight, versatile bag designed for mountaineers too, meaning it's durable and reliable. Osprey has designed an all new back panel called the AirScape, which increases air flow, and therefore ventilation, while still keeping the load close to your body.
You can also adjust the back length to fit your torso. Not many 33 liter packs have this type of customizable build for comfort. Nor do most bags of this size come with this level of durability or nice-to-have features for the mountain: trekking pole and ice-axe attachments, compression straps, a hipbelt with accessible pockets, and a top lid.
Personally, I am a huge fan of multi-purpose gear because when I travel, I am also hiking, climbing, and jumping on local transport. And when I'm home (in sunny California and beyond) I spend a lot of time in the outdoors, so Osprey's backpacks are almost always my choice of bag because their products work for my travel and hiking needs.
Here is why I choose the Osprey Talon 33, specifically. If I am traveling in the summer or to hot, humid regions, like South East Asia, I am going to choose a smaller backpack – under 40 liters – every time. Whether that's the Talon 33 or the Osprey Apogee, it'll be a lightweight backpack with a good ventilation system. You'll be sweating enough in the heat anyway!
The Talon 33 makes sure you pack light, and its ventilation system is unmatched (which is necessary when you are drenched in sweat scouting out accommodation or waving down a taxi.
The Talon 33 also comes in handy for shorter trips (with 1-2 pairs of shoes, ladies), or trips where you're constantly on-the-go. When I'm moving around a lot, I don't want a heavy pack and a bunch of stuff to weigh me down or take up a bunch of space on public transportation.
The added bonus of traveling with the Talon 33 backpack is that you can carry it on flights. This will save you plenty of time, money, and hassle if you are traveling by plane.
If I'm going on an overnight camping trip or an extended day hike where I'm logging 10+ miles, then I want a lightweight hiking backpack that still has support, waist straps, proper organization, and space for my water, layers, food, etc.
Ladies & Gents, It's Time to Step Your GEAR Game Up. 😉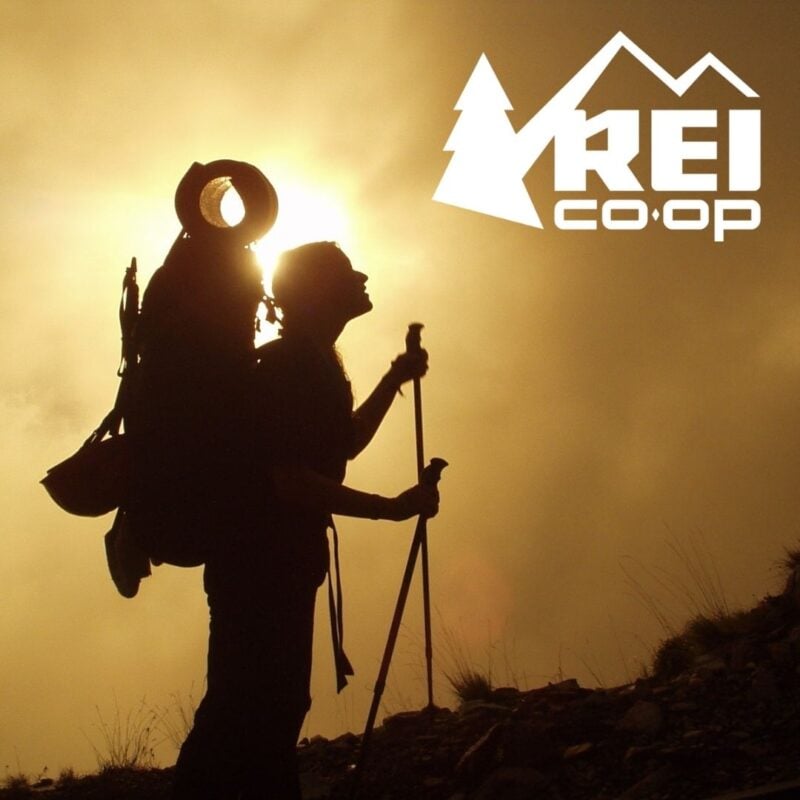 REI is one of America's biggest and most-loved outdoor gear retailers.
Now, for just $30, get a lifetime membership that entitles you to 10% OFF on most items, access to their trade-in scheme and discount rentals.
Join REI Today!
Is the Osprey Talon 33 the right backpack for you?
As I mentioned above, there are certain situations where I will choose the Osprey Talon 33 over, say, the Osprey Ariel 65. If you are also traveling or hiking light, or need a backpack for shorter trips, then I highly recommend checking out the Osprey Talon 33.
When it comes down to buying a backpack, there is no "one-size-fits-all" bag. Everyone has different needs at different times. Here are a few reasons the Osprey Talon 33 may not be the perfect backpack for you.
Quick Answer: The Osprey Talon 33 is not the perfect backpack for you if…
You need room for bulky gear and equipment, and shoes.
You want hiking backpack for 3+ multi-day hikes. It's just not big enough.
All you need is a suitcase to travel from the airport to your hotel. A hiking backpack is overkill.
You're traveling to cold places, and need to pack a lot of layers and boots.
The Osprey Talon 33 is not intended to lug around a ton of heavy gear, but it's only 33 liters in volume, so you won't be able to carry a ton of gear anyway. This is a backpack for shorter hiking and camping trips and travel trips with minimal stuff.
If you are looking for a larger backpack for travel or hiking, I recommend checking out our reviews of the best travel backpacks and the best hiking backpacks.
The best present of all… is CONVENIENCE!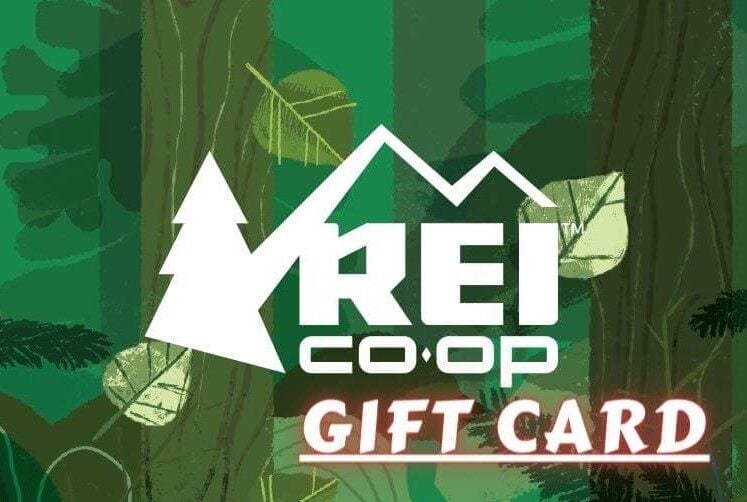 Now, you could spend a fat chunk of $$$ on the WRONG present for someone. Wrong size hiking boots, wrong fit backpack, wrong shape sleeping bag… As any adventurer will tell you, gear is a personal choice.
So give the adventurer in your life the gift of convenience: buy them an REI Co-op gift card! REI is The Broke Backpacker's retailer of choice for ALL things outdoors, and an REI gift card is the perfect present you can buy from them. And then you won't have to keep the receipt. 😉
Buy on REI!
Osprey Talon 33 Warranty: The All Mighty Guarantee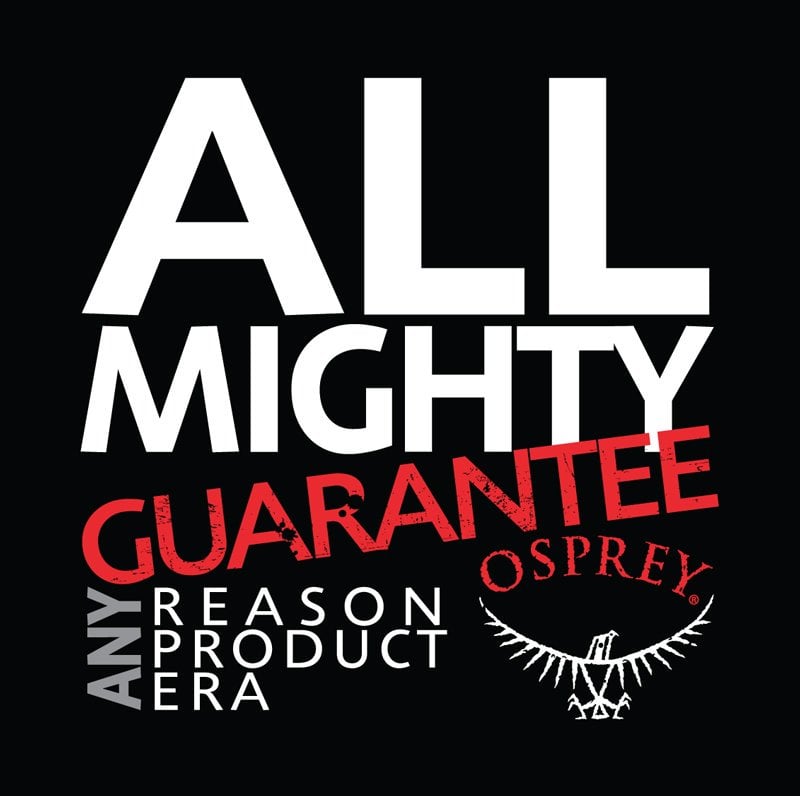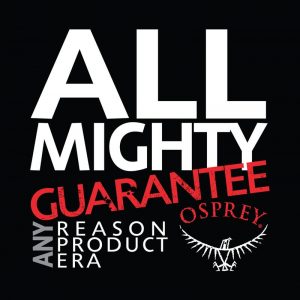 Like all of Osprey's backpackes, one of the best parts about this product is its lifetime warranty known as the All Mighty Guarantee!
Osprey will replace or repair just about anything you need. If you notice a factory defect or have issues with your Talon 33, Osprey will come to the rescue to repair or replace your backpack altogether.
Honestly, the All Mighty Guarantee is there to give you peace of mind. If a company is willing to repair or replace your backpack on their error, then it's a testament to their emphasis on quality and durability.
Moreover, backpacks do end up needing repairs; even if you take very good care of your equipment, hefty trips, and the outdoors are bound to eventually wear and tear your bag.
However, note that there are some exceptions to the All-Mighty Guarantee. They will not fix airline damage, accidental damage, hard use, wear & tear or damp related damage. Still, it's a lot better than most guarantees on the market and has earned this bag extra point on our Osprey Talon 33 review.
Osprey Talon 33 Price:
Quick Answer: Osprey Talon 33 = Approx. $140 USD
Quality backpacking gear is never going to be cheap… but the Osprey Talon backpack is still reasonable considering how versatile it is. If you end up buying a full-sized hefty backpack it will run you $250 or more, so this is still a pretty good deal for a piece of gear you will have for years.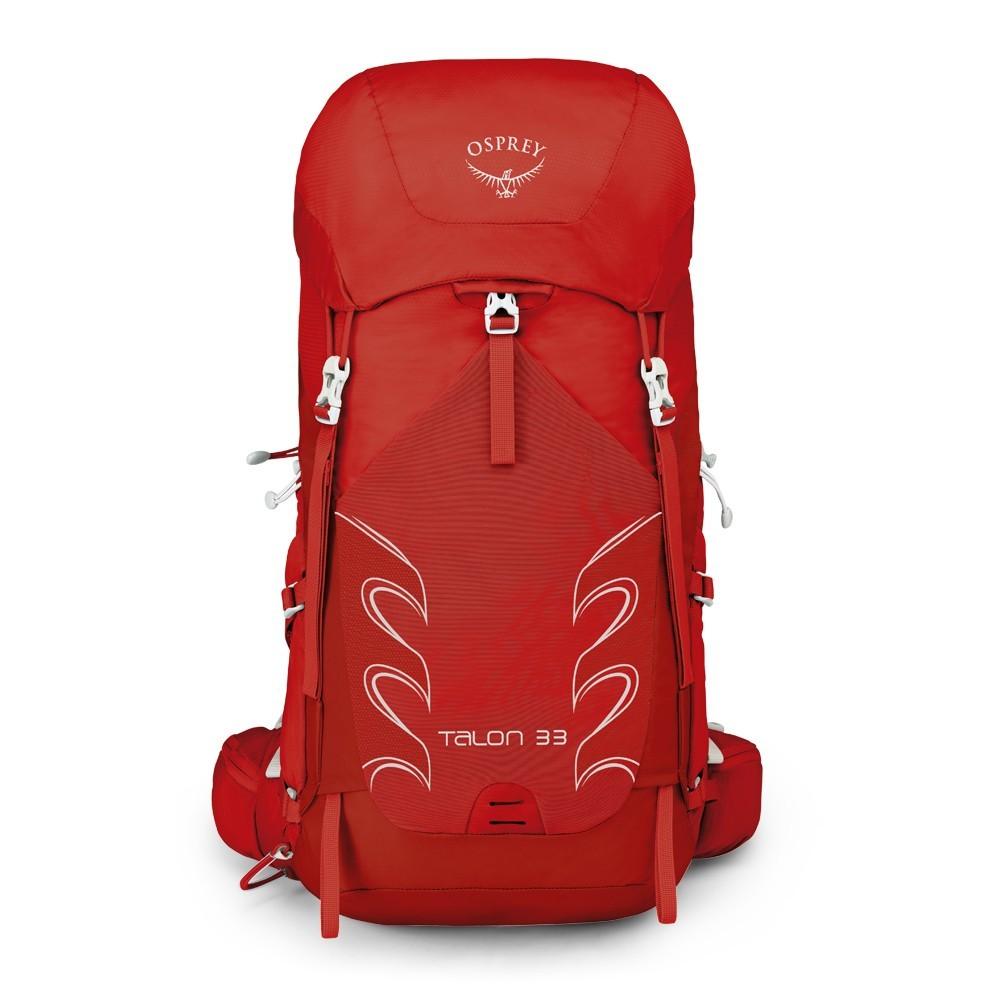 Osprey Talon 33 Size: Finding the Right Fit
The Osprey Talon 33 comes in two sizes:
Small/Medium: .87 kg/ 1.90 lbs
Medium/Large: .91 kg/ 2.02 lbs
Dimensions: (CM) 62 (l) x 30 (w) x 29 (d)/ (IN) 24 (h) x 12 (w) x 11 (d)
I always recommend trying on a backpack in store. Luckily, you can try on the Talon 33 at REI and other outdoor stores. Make sure to try on the backpack with 20 pounds of added weight, or whichever weight you plan to pack in it.
If you cannot try on a backpack in store, I have inserted an image below from Osprey's site for how to measure your torso to find your size.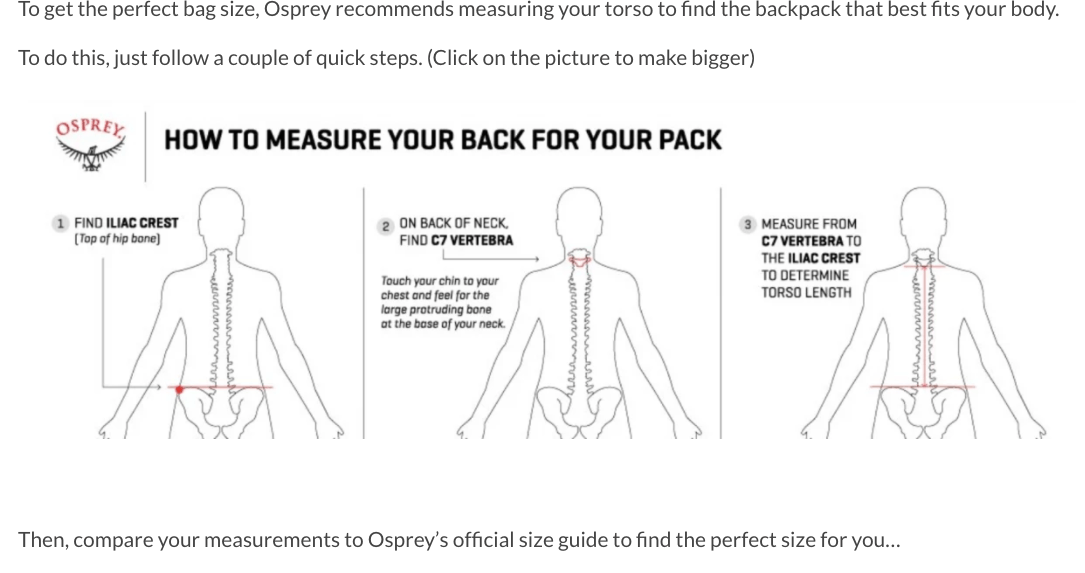 More information on Osprey's sizing charts can be found on their website.
Osprey Talon 33 Weight
Weighing 2.02 pounds at most, the Osprey Talon 33 is pretty light. Yes, you can find backpacks that weigh less for the same capacity, but then you won't be getting the storage features or comfortable padding that come with the Talon 33.
This bag is meant for getting off-trail and so you want a support system and padding. I've always foudn that this bag does a good job at staying lightweight while remaining comfortable.
Remember, you keep your pack light with efficient clothing layers, and a lightweight tent and lightweight sleeping bag. Your pack should around 20 pounds (7 kg) or less, though the Talon 33 can handle 30 pounds (13 kg) if needed.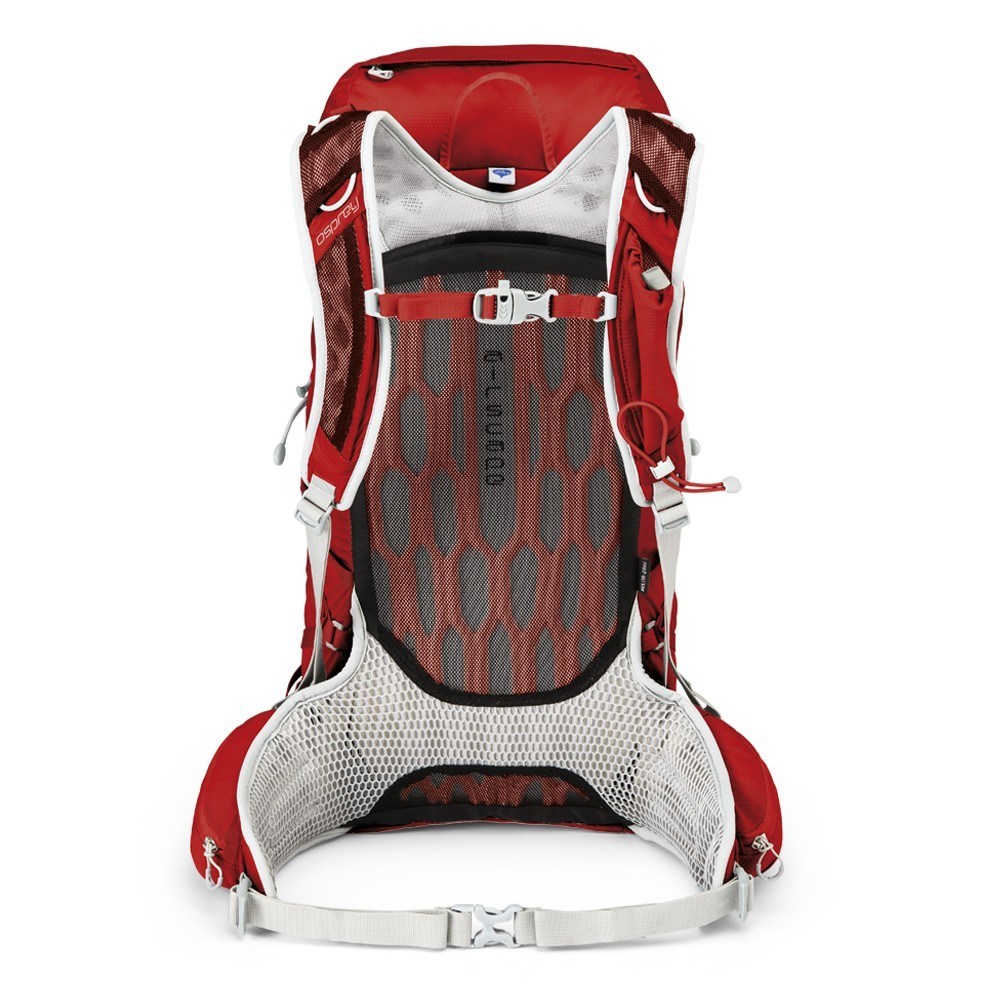 Osprey Talon 33: What's New?
Osprey just updated the Talon 33 and here's what's new. I mentioned earlier, but they redesigned the back system. The new Talon 33 now comes with the AirScape suspension system that I talk about below.
Osprey also changed the Talon's top lid, and it is no longer removable like the older model. Other small changes include different colors, a more durable accent fabric, and an added pocket on the left shoulder strap.
Osprey Talon 33 Comfort, Breathability, and Suspension System
Osprey introduced what they call AirScape suspension system on the Talon, which offers flexible and comfortable support. The suspension system allows for incredible ventilation so I didn't have a sweaty back, yet the backpack will still hug close to my body. I have found this system to be amongst the best when it comes to trekking in warmer climates.
The hip belt is adjustable and padded with continuous mesh from the back to the hip pads (see the photo below).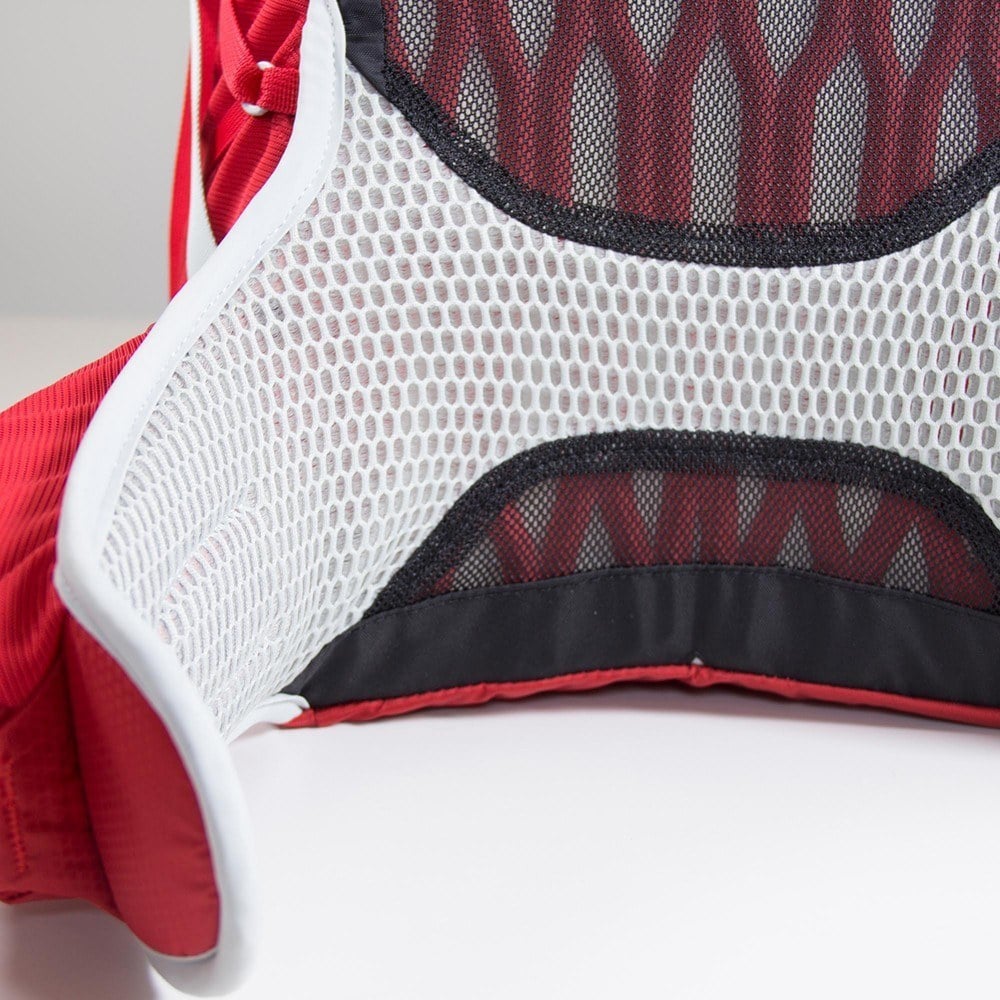 The Osprey Talon pack is ultra lightweight because they have left out a metal frame, which means you probably don't want to use this backpack for loads over 30 pounds. 20 pounds will be more comfortable.
That said, this backpack does use thick and generous padding compared to other 33 liter backpacks, and has been raved about time and time again for its comfortability. It's able to hug your body without feeling heavy; truly something awesome about every Osprey backpack I've used.
Another feature that makes the Osprey Talon 33 exceptionally comfortable is its custom sizing. The torso length is adjustable, and you can slide the harness up and down by disconnecting the velcro connection behind the back panel. This is great as, well, everyone has different sized torsos and I've found it to be easy to adapt to my size personally.
You also have an adjustable sternum strap with an emergency whistle in the front, which will make sure your should straps are in a comfortable position.
As I mentioned above, this backpack comes in two sizes for men. There is also a woman-specific pack that is built to accommodate women's shoulders and chest called the Tempest. However, I kinda don't like the idea of gender-specific packs and tend to think of them more in terms of body shape specific. Give either one a try and see which fits your body best.
Osprey Talon 33 Attachments and Straps
Exterior straps and attachment points are crucial for any hiking backpack, big or small, because they help you allocate your weight for maximum comfort.
The straps can also help you carry gear on the outside of your bag, like a tri-pod, waterbottle, or sleeping pad.
The Talon 33 has a "Z-shaped" side strap that helps you stow trekking poles and a waterbottle in the pocket (see the photo below). You also have dual loops for trekking poles and ice axes on the bottom of the pack.
I really like the elastic cords on the shoulder straps which can be used to hold your glasses! I've always found this super useful when I am traveling and hiking.
Osprey Talon 33 Organization Features and Pockets
Personally, I like to nerd out on the organizational features of a backpack, so here I go…
On the outside of the bag, the Osprey Talon 33 backpack has 8 pockets in total. There are dual stretch pockets on the sides, a stretch mesh pocket on the left shoulder strap, dual zippered pockets on the hip belt (great for your keys, phone, snacks, etc.), one zippered pocket on the lid, and another zippered mesh pocket underneath the lid.
There is an external bladder sleeve to hold 2 liters of water. Some Osprey bags keep the sleeve inside, but not the Talon 33. My favorite pocket is the large front pocket where you can shove an extra jacket or keep your wet clothing separate from your main compartment.
On the topic of compartments and pockets, there is no bottom compartment in this pack unlike other Osprey backpacks, so keep this in mind. You can only access the main compartment from the top.
Another feature or lack thereof, worth mentioning is that this is a top loading backpack and there is not a side or front panel. Usually, this would be an annoyance for a travel backpack, but at 33 liters, a panel isn't necessary. Frankly, for a pack this light, keeping it simple is better.
The Osprey Talon 33 Hydration Reservoir
Like all of Osprey's hiking backpacks, the Osprey Talon 33 does come with a hydration reservoir sleeve, though the hydration reservoir is sold separately. Therefore the Talon is NOT a bona-fide hydration backpack.
Having the option of hydration reservoir storage is great if you prefer hiking or traveling with one, especially for overnight hikes where water might not be available and you need to store extra water.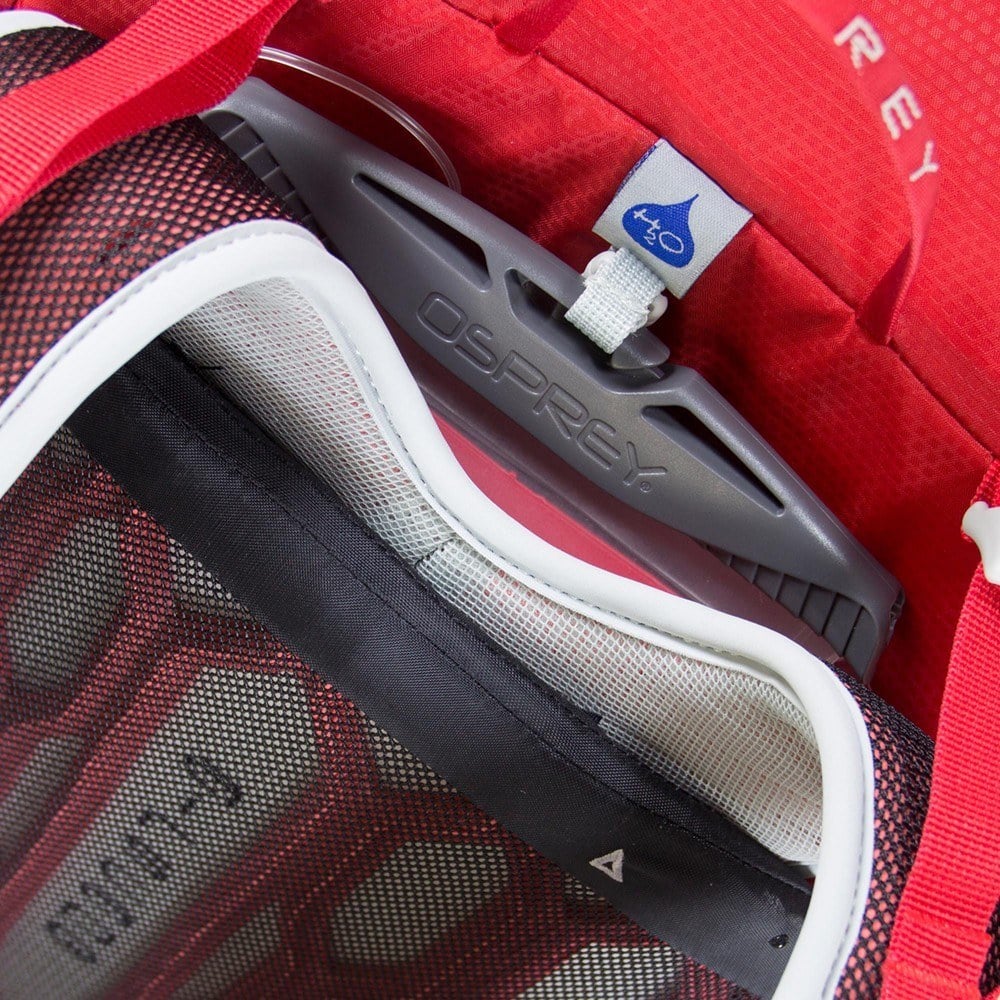 Osprey Talon 33 Rain Cover: Is it Included?
Unfortunately, the Talon 33 does not include a rain cover, which is a bummer as some of their newer Osprey models do. A rain cover costs around $35, which you should get if you will be traveling or hiking a lot. You're bound to get rained on eventually.
Osprey rain covers are top quality. I have used one in rainstorms and even a snowstorm, and my gear stayed dry.
The rain cover features an adjustable synch around the edge, so you can tightly secure it to your backpack in case of high winds or leakage. In addition to the synch feature, there two other attachment points located at the bottom end of the rain cover for more security.
If you are going to be hiking in poor weather, you should still use dry bags, especially for your sleeping bag… Trust me, you do not want your sleeping bag to get wet, and there's nothing better than dry, warm clothing and socks after surviving a rainstorm.
If you are going on some crazy adventure into the jungle and want a serious 100% waterproof backpack, check out Chris's in-depth review of the best waterproof backpacks for adventurers.
Osprey Talon 33 Day Pack Vs. Overnight
You can use the Talon 33 for daily use, day hikes, and overnight trips with ease.
If you are using this pack as a bag for daily use, then you are going to be more than happy with its versatility. Gone are the days of struggling to pack your school, office, and commute stuff in a tiny little backpack, or using something too bulky for commute use.
This bag was designed for the trails, so you will be more than prepared for any type of day hike, and you will have plenty of room to carry layers, food, and water.
If you are traveling with the Talon 33, it can easily pack for a warm trip, but as soon as you need to start carrying a sleeping bag, tent, stove, food, and other backcountry equipment, this bag is best for 1-3 nights max, and specifically for warmer weather.
Osprey Talon 33: Hiking vs. Traveling
To continue the section above, the Osprey Talon 33 is built for hiking, but handles traveling great too. You may want a lightweight travel bag that can also handle a fair bit of backcountry hiking. Lucky for you, the Osprey Talon 33 is perfect for both.
If you are like me, you like to hike when you travel. Sometimes you base your travels around the outdoors. If that's the case, you definitely want to travel with a hiking specific pack that can function as a day-to-day travel bag.
That said, the Talon 33 is classified as a hiking backpack as opposed to a travel bag. It is top loading (does not open like a suitcase), and has features to use on the trails (trekking pole storage, etc.)
There are more travel-specific backpacks out there, like the Osprey Farpoint 40.
But if you want a lightweight travel backpack that is a fully functional backpack for the mountains, then the Talon 33 is the perfect option without having to make too much of a compromise.
Why Lightweight Travel is the way to go
From a traveler's perspective, the Osprey Talon 33 is the perfect backpack for backpackers. This means you will be moving around a lot, and around a lot of people, think hostel to hostel, hopping on buses and small tuk-tuks, weaving through airports, etc.
Speaking of airports, this is a carry-on backpack. No need to lose your backpack on a long flight or pay baggage fees to every budget airline you board. Another tick for the Osprey Talon backpack!
From experience, I can say a smaller backpack is better when possible. With 33 liters, you will have to only pack the essentials, and your back will thank you!
Perhaps get a bigger backpack if you're a digital nomad like myself who's on the road for a long time. Sometimes I have no choice but to travel with a check on, but I also have to travel with a computer and electronics.
Sometimes I travel to the mountains and have to pack for the snow, so I use a bigger bag. In the end, finding the right balance of weight, size, and comfort is a personal preference, but I would bet most backpackers only need 33 liters as long as they have a strategy, which I cover below!
Osprey Talon 33 Packing Tips
Don't look at 33 liters as a limit, but as the ultimate freedom. Trust me; traveling light is the best way to go whether you're jumping on a moving train or hiking through the jungle. But that doesn't mean it's easy to pack in a 33-liter backpack, and you need a proper strategy.
Here are a few useful tips for packing the Osprey Talon 33:
Main Compartment:
This is where you store the majority of your gear, clothes, etc. A rule of thumb: Heavy and bulky items should be stored in the middle of the pack, towards the bottom.
This includes your clothes, food, books, a backpacking stove, etc. If you are camping, store your sleeping bag at the bottom of your compartment since you only have to access it once a day.
I suggest storing your rain jacket and other items you need to access either at the top, or in one of the external pockets. The front mesh pocket is a great spot for your rain jacket or wet clothing.
If you are traveling, it may make sense to have 1-2 packing cubes. From personal experience, more than 2 can be overkill and ends up packing bulkier. When you are traveling from point a to b, wear your bulkiest pair of shoes nad store your sandals in your bag (or the waterbottle pocket.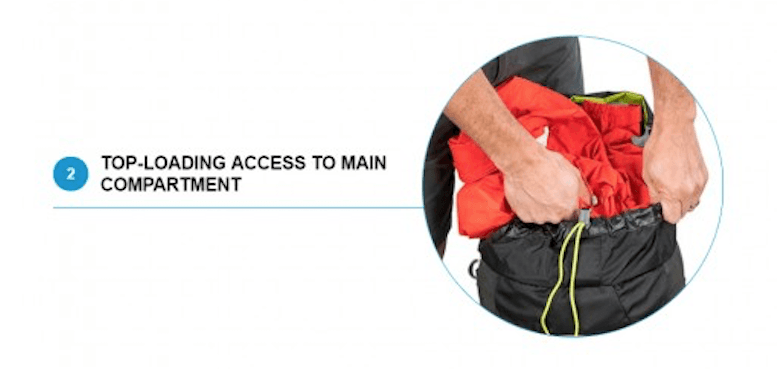 Top Lid:
The underside of the top lid is a great spot for your your toothbrush, make-up, and other personal items. It is also a safe place to store copies of your passport and eletronic cords.
For the top lid itself, I store my daily things: snacks, tickets, book, journal, etc.
Side Pocket:
Your side pocket is perfect for storing your water bottle! You can also store anything bulky with the compression straps too, like a tri-pod.
Other Pockets:
Keep your extra jacket in the front mesh pocket. You can also store smaller items in the hip belt pockets.
Osprey Talon 33 Cons
No backpack is perfect. Here are some of the cons of the Talon 33…
Flaw #1: Top Loading Only
Most travelers prefer a bag with multiple access pockets to the main compartment (either on the side or at the front). This backpack only has a top loading access point; it doesn't even have a separate bottom compartment.
This will be a deal breaker for quite a few, in which case I suggest checking out the Oprey Stratos 36. Otherwise, it's a minor flaw considering it's only a 33 liter backpack.
When you are packing, I recommend storing your lesser used items towards the bottom, and keeping your daily things in the separate compartments and towards the top!
Flaw #2: Too big for some
If you are buying the Talon 33 as a day pack (versus overnight or traveling bag) then the 33 liters might be overkill for you. This of course depends on what you plan to pack and how long your day will span.
In my experience, it's nice to have the extra room and a comfortable suspension system. Weighing 2 pounds, this bag isn't heavy anyway, so having a half empty bag for some day hikes isn't a deal breaker.
Flaw #3: Water Bottle Hard to Access from Side Mesh Pockets
Users have reported that the position of the side mesh pockets makes it difficult to reach your water bottle on-the-go.
Should you Buy the Talon 33 or Talon 22?
The Talon series at Osprey comes in multiple sizes, and the 22-liter version is also quite popular. Osprey often has multiple sizes for their series, but it's important to know that more often than not, different sizes also means different features.
Here is what the Talon 33 and 22 have in common:
Comfort and a back panel with foam
Adjustable back panel
The AirScape back panel for ventilation
External hydration reservoirs
Trekking pole attachments
Front pocket
The Talon 22 is obviously the smaller backpack and it's a bit cheaper because of that. I would go with the 22 if you are primarily biking or mountaineering, but the Osprey Talon 33 for traveling and camping.
There are a couple different features to note, and I'll start with the Talon 22. The Talon 22 backpack features a LidLock bike helmet attachment point, which is why I recommend this pack for bikers. This pack also has several pockets to organize your equipment that the 33 does not.
The 33 obviously has its size going for it. It also has a top lid; whereas, the 22 opens by zipper like a normal backpack. This means the lid on the Talon 33 that goes over the main compartment and has an extra pocket.

Our GREATEST Travel Secrets…
Pop your email here & get the original Broke Backpacker Bible for FREE.
Final Thoughts on the Osprey Talon 33 Pack Review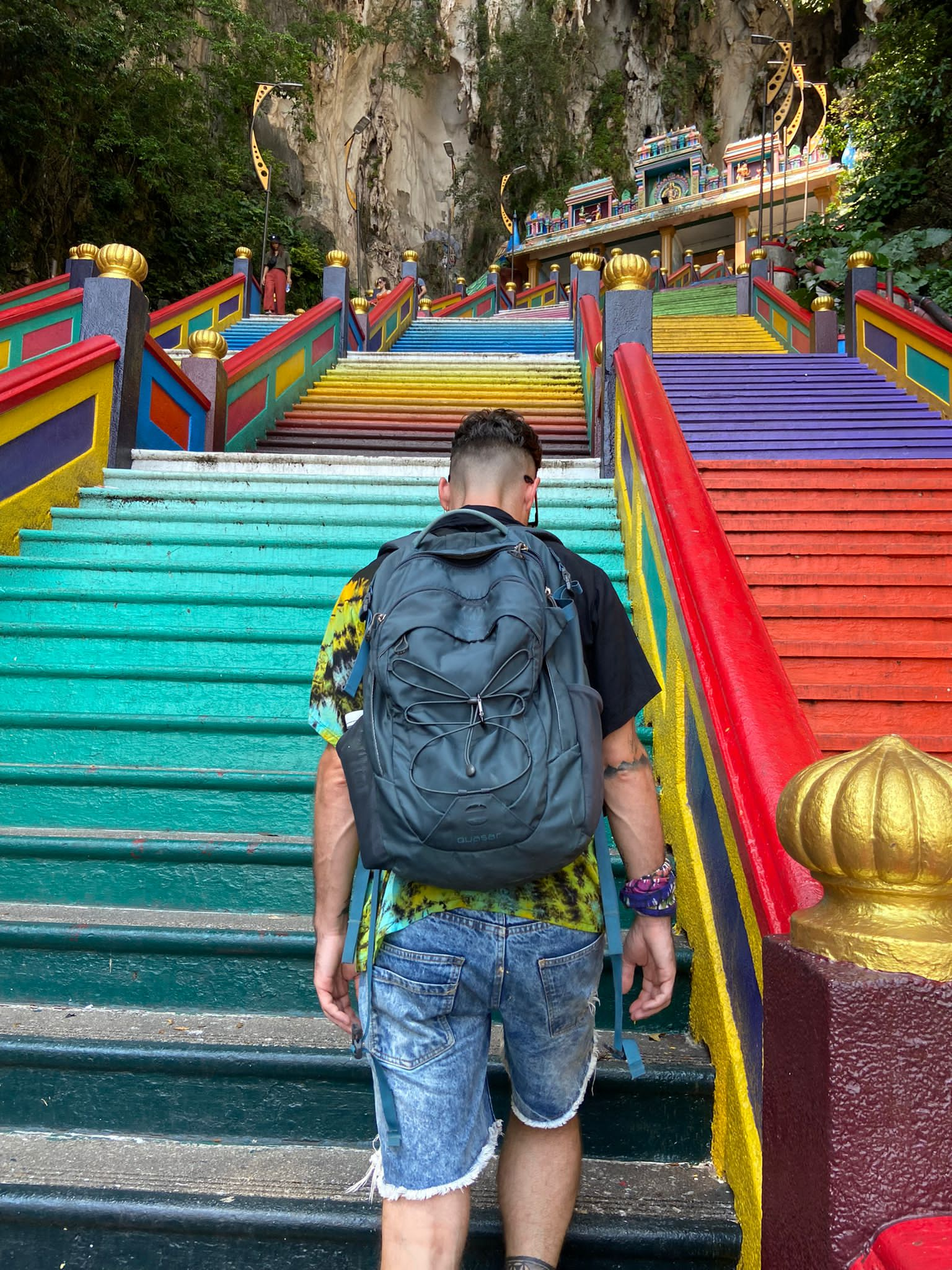 You have made it to the end of my Osprey Talon 33 review, where I discussed the pros and cons to purchasing the Osprey Talon 33.
This is a high-quality, versatile backpack that can be used in so many different circumstances.
At 33 liters, it's a roomy day pack that can hold anything you need to bring on the trails. It also makes for a great commuter bag since it has a roomy compartment and pockets for organizing your work, gym, and personal belongings, yet it doesn't have a metal frame or other bulky features.
The Osprey Talon 33 is built to handle the mountains too, so you can pack your ice axes and trekking poles, and feel confident that this backpack will last you a long time.
It's a bit small for long camping trips, but will hold up perfectly for 1-2 nights as it has a comfortable suspension system, hip straps for distributing weight properly, and durability to handle up to 30 pounds.
Finally, we deem this perfect for minimalist travelers. If you aren't carrying a sleeping bag, tent, mess kit, food, etc. the Talon 33 is a great travel bag, as it is lightweight, comfortable, and easy to carry on any type of transportation.
If you want to travel light, yet have a high-quality and durable backpack you can also take on an overnight hike, then this backpack is for you!
Happy travels friends! If you think we've missed anything off this Osprey Talon review then let us know.
What is our final score for the Osprey Talon 33? We give it a rating of 4.6 out 5 stars!

---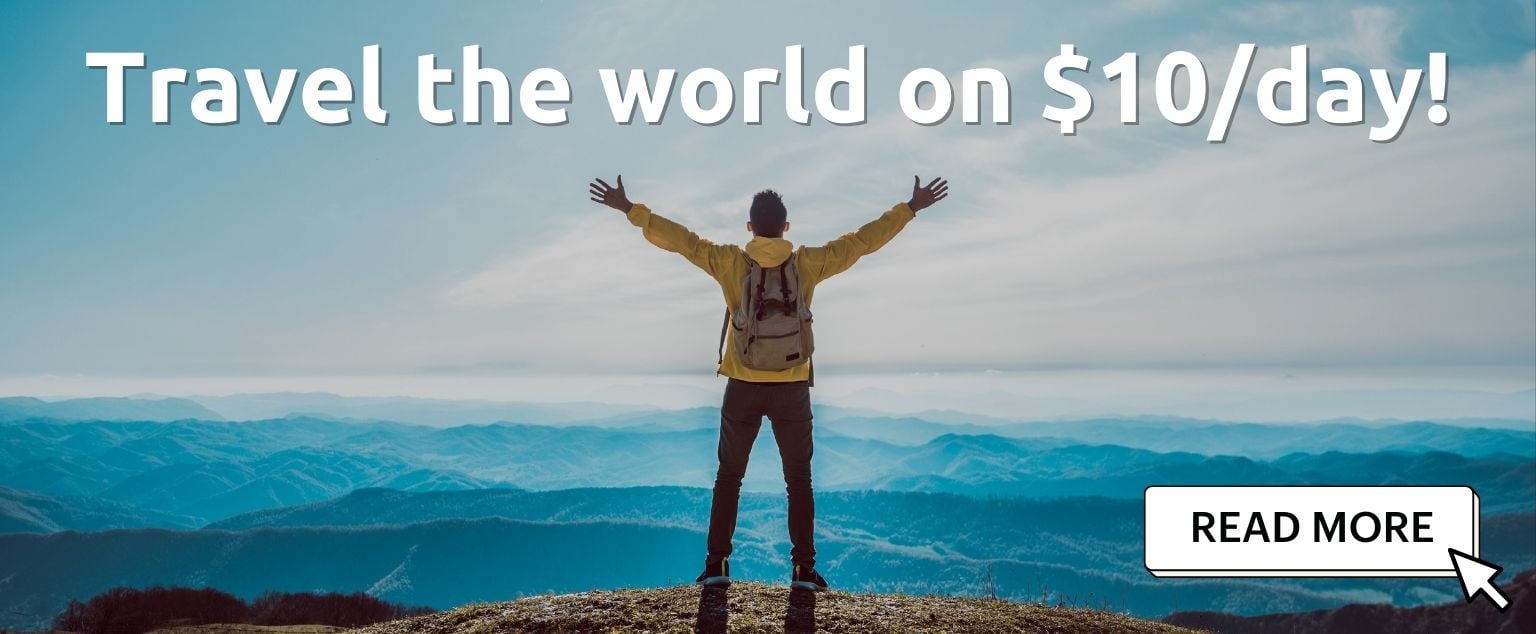 And for transparency's sake, please know that some of the links in our content are affiliate links. That means that if you book your accommodation, buy your gear, or sort your insurance through our link, we earn a small commission (at no extra cost to you). That said, we only link to the gear we trust and never recommend services we don't believe are up to scratch. Again, thank you!