In need of a waterproof backpack? You've come to the dry-ight place ?
Whether you are an adventure-seeking backpacker, a world traveler, or just need to keep your goods dry on your daily commute, you'll see that a waterproof backpack can be an absolute godsend.
Whilst it is true that investing in a quality waterproof backpack will certainly provide you with the protection you need, one thing is for sure: there are a ton of waterproof backpacks on the market, and each one of them performs in a different way.
That's exactly why I bring you this epic guide to the best waterproof backpacks of 2023.
I have spent countless hours researching the best waterproof backpacks money can buy. What I found will provide you with all the information you need to find the right waterproof backpack for yourself and your own gear protection needs.
Quick Answer: Coolest Waterproof Backpacks of 2023
Performance Breakdowns and Top Picks
To make choosing the best waterproof backpack for yourself a breeze, I have assembled my top picks into different categories. That way, you can base your next waterproof backpack purchase on your own specific needs.
This best waterproof backpacks review offers up a complete look at the absolute top waterproof backpacks on the market today. I examine factors like size, material composition, weight, price, color selection, carrying capacity, and more.
So without further ado, here are my top picks for the best waterproof backpacks in 2023:
BEST OVERALL WATERPROOF BACKPACK
BEST OVERALL WATERPROOF BACKPACK
SealLine Big Fork Dry Pack 30L
Price: > $$$
> Polyester with double-sided thermoplastic urethane laminate
> Front storage area
BEST WOMEN'S WATERPROOF BACKPACK
BEST WATERPROOF DAYPACK FOR HIKING
BEST SMALL WATERPROOF BACKPACK
BEST SMALL WATERPROOF BACKPACK
SealLine Skylake 18L Daypack
Price: > $
> 250-Denier polyurethane-coated polyester/nylon
> Cynandrical design
BEST WATERPROOF TRAVEL BACKPACK RUNNER-UP
BEST WATERPROOF TRAVEL BACKPACK RUNNER-UP
Chaos Ready Waterproof Backpack
Price: > $
> Two mesh side pockets and a (non-waterproof) quick access front pocket
> 500 PVC Tarpaulin material
BEST WATER-RESISTANT BACKPACK FOR COLLEGE STUDENTS
BEST WATER-RESISTANT BACKPACK FOR COLLEGE STUDENTS
Timbuk2 Tuck Pack
Price: > $
> Fully unzipping compartment
> Internal and external compression straps
BEST WATERPROOF LAPTOP BAG
BEST WATERPROOF BACKPACK FOR TRAVEL
BEST WATERPROOF BACKPACK FOR TRAVEL
Nomatic Travel Bag
Price: > $$$
> Fleece lined valuables pocket
> Laptop pocket
A Closer Look at the Top Waterproof Backpacks
Let's take a closer look at these water-resistant backpacks and see why each one is worthy of your attention.
Best Overall Waterproof Backpack
Specs
Price: $174.95
Weight:  2 lbs. 7 oz.
Capacity: 30 L
Material: 300-denier polyurethane-coated polyester
I am a big fan of durable, practical products that get the job done. That's exactly what the SealLine Big Fork Dry Pack 30 has on offer. The Sealine Dry Bag is designed for heavy use and features very sturdy laminated fabric and welded seams; they also have a high resistance to UV light and cold temperatures. the UV protection is great because the sun has a way of destroying gear quickly.
How does it keep water from penetrating inside? The thermoplastic urethane roll-top closure seals easily and provides reliable waterproof performance. Ain't no way water is getting in there.
The shoulder straps, chest (sternum) straps, and hip belt provide comfortable support for hiking and/or traveling distances. You'll see that not all of the bags on my list feature hipbelts and proper chest supporting straps, so that's a big win in my book.
Whether you live in a rainy city, are traveling to SEA during the monsoon, or just want an awesome bag to take on weekend kayaking missions, the SealLine Big Fork Dry Pack is one solid choice for a waterproof backpack.
Pros
Very durable
Great support
Cons
A Tad Bulky
Slightly Expensive
Winter is coming… WARM UP!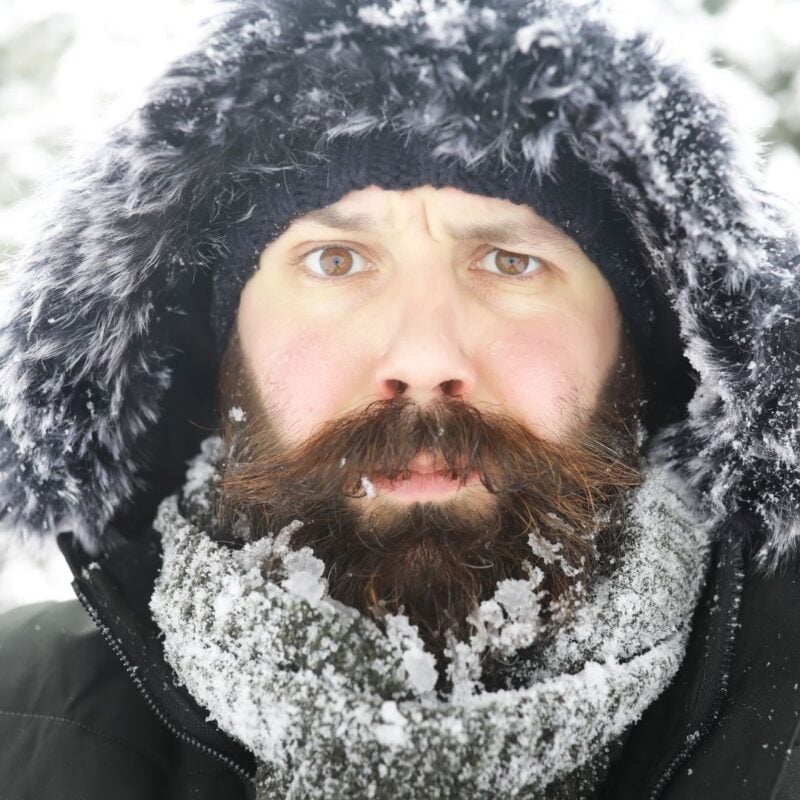 Get up to 50% OFF when shopping gear for the winter on REI.
Warm up for the holidays and SAVE on outdoor gifts all the way through Dec 18!
View on REI
Best Women's Waterproof Backpack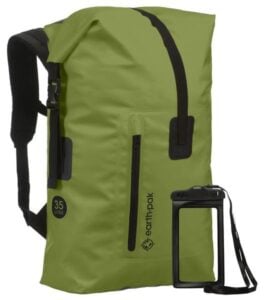 Specs
Price: $49.97
Weight: Not Available
Capacity: 35 L (comes in 55 L as well)
Material: 500D PVC
Right, so the Earth Pak Waterproof Backpack isn't specifically designed for women. It is a unisex waterproof backpack. Though, my thought is that lady adventurers need just as much badass waterproof protection as men do so, that is why the Earth Pak is the best women's waterproof backpack in this review.
The Earth Pak is super durable as it is made from 500D PVC. Whether it is coming with your down rapids, on a backpacking adventure, or to the local mountains on a rainy day, the Earth Pak will certainly cover all of your waterproof backpacking needs.
I really dig the padded back support. The ergonomically padded back panel allows for added comfort and breathability during long days on the water. For gear storage, you have two options. Interior and exterior zippered pockets: use the exterior "splash-proof" pocket for quick grab n' go items that are OK to get wet, and the interior pocket to safely store smaller items of more value. Easy.
For more added comfort and performance, the low-profile sternum strap takes the weight off of your back and shoulders while hiking and traveling.
Overall the Earth Pak waterproof backpack is great value for the money ($49.97!).
The Earth Pak comes in a variety of colors too so you are bound to find the right one to fit your style.
Pros
Smart design
Tough but afforadable
Cons
Doesn't have a hip belt.
Can have a slightly boxy look.
Best Waterproof Daypack for Hiking
Specs
Price: $175
Weight: 1lb 10 oz
Capacity: 21 L
Material: Polyurethane coated nylon
For a small waterproof backpack, I recommend the Ortlieb Commuter Daypack (21 liter). This waterproof backpack is simple, practical, sleek, and attractive. If you are not carrying lots of stuff, the Roll Pack is the perfect compact unit to protect your gear. It really is a masterpiece of minimalist engineering.
This Orilieb Commuter pack is the ideal daypack. Whether you're out and about exploring the rivers or exploring the city, 21 liters is enough to fit the essentials.
The best pieces of gear are always the most versatile. Why? Because its a better bang for your buck, pleain and simple. When you spend hundreds of dollars on a piece of gear it better get used more than a few times a year in order to be really worth it.
At $175.00 I feel like the bag is expensive for what you get. There are certainly cheaper options out there. That said, the Ortlieb Commuter Daypack is a fantastic waterproof backpack for traveling in the city, short hikes, and any activity involving water.
Cons
Expensive
Size limits pack to day use
Best Small Waterproof Backpack
Specs
Price: $99.95
Weight: 13.5 oz
Capacity: 18 L
Material: 250-Denier polyurethane-coated polyester/nylon
Imagine getting off work on friday afternoon, pack your boating gear, load your SealLine Skylake Day pack with the essentials. Day break comes the following morn, off you go. Sunset. Sunrise. Sunday afternoon comes along and its time to get back to the grind. Get home place your gear on the drying rack. Monday morn comes, time for work. Load your daypack with the work different essentials, hop on your bike. Off you go.
For years SealLine has been an industry leader in waterproof gear. Founded in the Pacific Northwest, made for those conditions. Sunshine, rain, salt and breeze. The SealLine Skylake 18L daypack is meant to handle it all.
Its cynandrical design not only makes it wearable but stowable as well. Whether you need to strap it to the deck of your raft or in the hatch of your kayak, accessibility to your pack won't be an issue.
Ideal for boaters, but versalite enough for diverse conditions and use. This is the daypack that can meet all your needs.
Pros
Versatile
Cylandrical design makes it wearable and packable
Cons
Straps aren't as comfortable compared to similar packs

Do You Want to Travel FOREVER??
Pop your email in below to get a FREE copy of 'How to Travel the World on $10 a Day!'.
Best Waterproof Backpack for Travel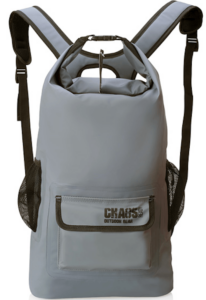 Specs
Price: $46.99
Weight: 1 lb. 1 oz.
Capacity: 22 L
Material: Heavy Duty 500 PVC Tarapaulin
Any traveler can appreciate a backpack that is purpose-built with travelers in mind. That is exactly what you get with the Chaos Ready Waterproof Backpack.
The main 22-liter compartment is 100% waterproof so you can have confidence that your gear will stay dry even if you drop the backpack in the river. For storage, it features two mesh side pockets and a (non-waterproof) quick access front pocket.
The Chaos Ready waterproof backpack was built to do battle. The outer backpack waterproof material is constructed using badass 500 PVC Tarpaulin material that can survive encounters with sharp rocks, branches, and other unexpected snags.
One of my favorite things about this waterproof backpack is how easy it is to clean. Simply spray it down with water and a gentle cleaning product, wipe it down, and you're good to go. If only my hiking backpack was this easy to clean, it probably wouldn't smell as bad…
The Chaos Ready Waterproof Backpack is perfect for every type of traveler looking for guaranteed water protection. The best part? At $46.99 the Chaos Ready backpack doesn't require a huge investment either.
Pros
Very easy to clean
Tough yet affordable
Cons
Some customers have reported signs of wear and tear after minimal use.
Shoulder straps are poorly/cheaply designed.
Best Water-Resistant Backpack for College Students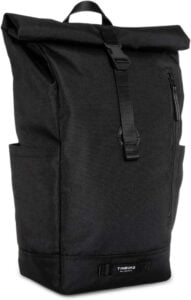 Specs
Price: $99.80
Weight: 3 lbs. 11 oz
Capacity: 20 L
Material: 900D polyester
Note – the Timbuk2 Tuck Pack is technically a HIGHLY water-resistant backpack, but it's not TOTALLY waterproof.
So why is the Timbuk2 Tuck Pack the best water-resistant backpacks for college students? Well, that's easy. Because it is an awesome two-for-one backpack. Having been a college student at one point myself, I know that having a multi-purpose backpack is crucial. Most college students (myself included) don't have lots of spare money to shell out on multiple backpacks.
The Timbuk2 Tuck Pack is a good water-resistant backpack for college students because it works great for daily class/campus use and doubles as an excellent travel backpack as well. The backpack features a fully opening compartment for easy packing and access. There is a padded laptop compartment that fits computers up to 15 inches, because what college student these days doesn't have a laptop?
Other features include dual side slip pockets for u-lock or an umbrella and a front pocket and organizer for pens, phones and other small odds and ends.
When protecting you stuff (especially important things like laptops and term papers) is a high priority, look no further than the Timbuk2 Tuck Pack. It's a good water-resistant backpack for college students and will keep their stuff dry, no matter how many keg-stands they do.
Pros
Lots of smart space for school supplies
Stealth side zip pocket for secret stuff
Cons
Lacks a hipbelt
Not comfortable for carrying heavy loads
Best Waterproof Laptop Bag
Specs
Price: $109
Weight: ?1.98 lbs.
Capacity: 30 L
Material: 630D Oxford Nylon
Another awesome backpack Timbuk2 makes is the Timbuk2 Spire: the best waterproof laptop backpack on my list. This waterproof backpack is smaller and lighter than the Tuck Pack listed above. It was specifically purpose-built to safeguard your electronics and important documents.
In addition to the laptop sleeve, the large main compartment is perfect for storing books, a jacket, and other daily essentials. The small front zip pocket is a great zone for cash, a passport, earbuds, and the like. The internal organizer keeps your phone, pens, and keys sorted too.
It has expandable volume via the flap or roll top main opening, which is cool when you don't need to pack heaps of stuff. Other backpacks end up being floppy and odd-shaped when they are not totally full.
Furthermore, all Timbuk2 products are backed by a lifetime guarantee. If something goes wrong with your Timbuk2 backpack you can get it fixed or replaced hassle-free, which is awesome.
If you travel often by bicycle, the Spire backpack will integrate into your routine very well.
For travelers and digital nomads alike, the Timbuk2 Spire is a solid, stylish, lightweight investment that looks great, functions like a charm, and is clearly one of the best waterproof laptop backpacks I have come across.
Pros
High quality product that will protect your valuables
Lifetime Guarantee
Cons
Straps can feel stiff.
I have questions about the zipper quality.
Some customers have expressed concern about the long-term quality of the bag.
The best present of all… is CONVENIENCE!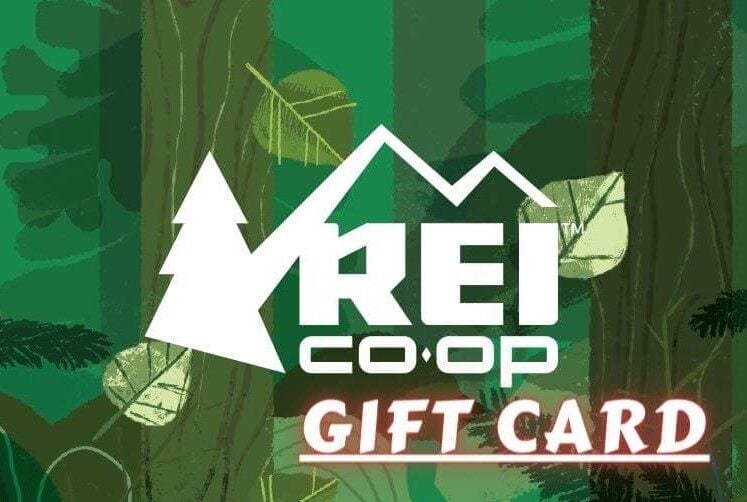 Now, you could spend a fat chunk of $$$ on the WRONG present for someone. Wrong size hiking boots, wrong fit backpack, wrong shape sleeping bag… As any adventurer will tell you, gear is a personal choice.
So give the adventurer in your life the gift of convenience: buy them an REI Co-op gift card! REI is The Broke Backpacker's retailer of choice for ALL things outdoors, and an REI gift card is the perfect present you can buy from them. And then you won't have to keep the receipt. 😉
Buy on REI!
Honorable Mention
Specs
Price: $229.90/279.00
Weight: 4 lbs.
Capacity: 40 L
Material: N/A
Possibly the most ingeniously designed travel backpack ever, the Nomatic Travel Bag is a sight to behold. It's similar to the Aer Travel Pack 3 but with waterproof features.
For travelers on the go, a new travel bag is taking the internet (and the travel world) by storm. The Nomatic Travel Bag is one sweet unit. Basically, if ever there was a travel bag to cover ALL of your short-term travel needs, the Nomatic Travel Bag would be at the very top of the list.
The Nomatic Travel Bag comes with an insane amount of brilliantly thought out pockets, compartments, and gear storage options. It even comes with a mesh laundry bag. No more cramming those dirty socks in the front pocket of your backpack eh?
From start to finish the Nomatic Travel Bag features one sleek design after another. My favorite features include the fleece lined valuables pocket, the laptop pocket, the high-quality water-resistant materials they used, and the specific compartment for your shoes (there is one for socks/underwear too)!
Now to be clear, the Nomatic Travel bag isn't totally waterproof on it's own. This isn't obviously clear upon first glance, but it is certainly worth noting. It does come with a waterproof vacuum sealing bag. That way you can make 100% sure that at least your most valuable items are safe and dry. Also, the zippers are apparently watertight.
Remember, the Nomatic Travel Bag is one of the best carry-on bags for travelers as well. Well done, Nomatic, well done.
Check out my in-depth Nomatic Travel Bag review.
Pros
Intituively designed
Very useful when traveling
Cons
Expensive
You'll need to pay extra if you want the travel bag plus all of the accessories.
How to Choose a Good Waterproof Backpack
When considering which waterproof backpack to go with, you'll need to factor in several things. Above all else, your main question to yourself should be: "what do I plan on using my waterproof backpack for?"
Once you have settled on your intended use (there may be several) you can then start to consider things like weight, price, carrying capacity, waterproof strength, and comfort among other factors.
Let's now get to know what goes into defining a great waterproof backpack:
Waterproof Rating of Waterproof Backpacks
Most of the best waterproof backpacks should come with a waterproof rating. That said, I had a hell of a time tracking down official ratings for the waterproof backpacks on my list. I don't know if the manufacturers simply did not have the backpacks rated, or they have chosen not to publish the information. I don't know.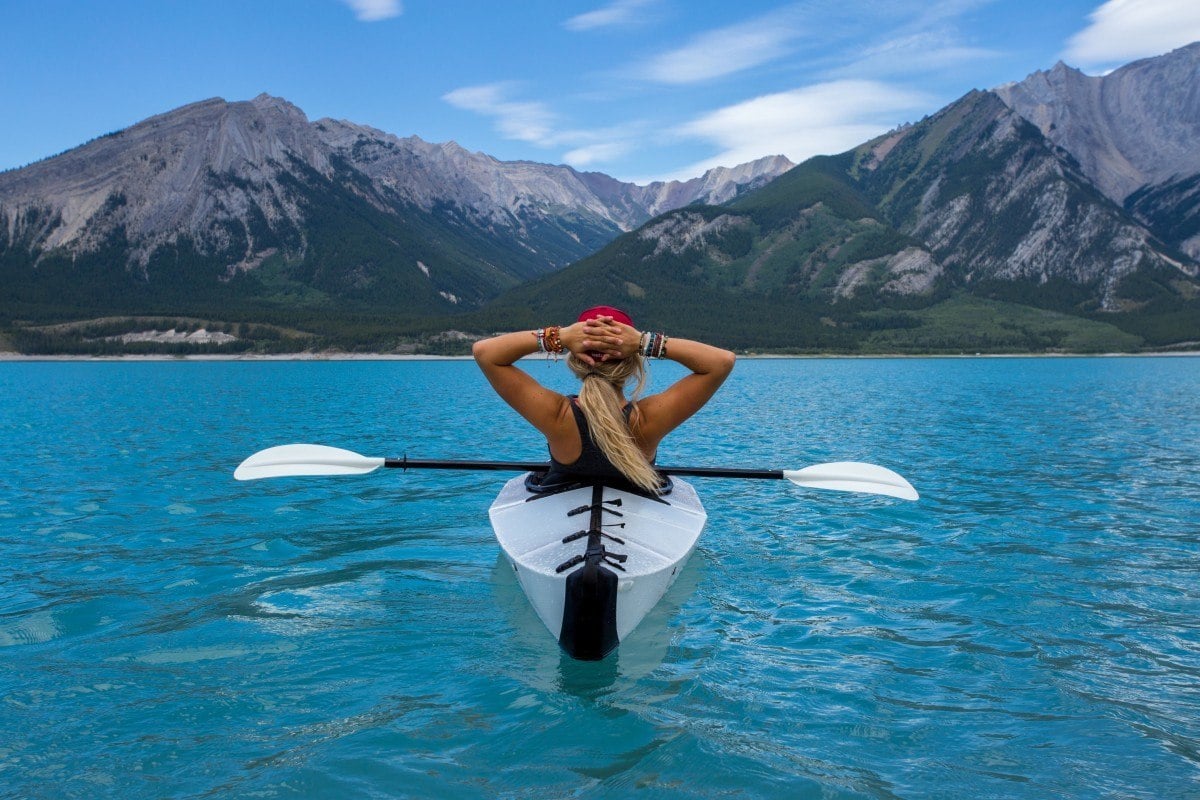 The system for rating a piece of gears' waterproofness is called the Ingress Protection Rating.
The IP Code, or Ingress Protection Rating consists of the letters IP followed by two digits and an optional letter. As defined in international standard IEC 60529, it classifies the degrees of protection provided against the intrusion of solid objects, dust, and water. The standard aims to provide a user with more detailed information rather than vague marketing terms such as waterproof.
However, I could not find the damn IP ratings no matter how deep I dug, so I apologize for not including them in this review. I certainly intended to. Shame on you—companies on this list— for not making it easier to figure out the dang IP ratings!
Here is how the IP rating system is categorized:
1 IP: Water resistant for light rain and spray.
2 IP: Foul weather and spray proof.
3 IP: Floats and can handle quick submersion.
4 IP: Submersible to depths of up to 1m / 3ft for 30 minutes.
5 Ip: Submersible to depths of up to 6m / 19ft for 60 minutes.
I'd say a majority of the waterproof backpacks on my list fall into the third category (IP3) unless clearly distinguished as "water resistant" not "waterproof".
Comfort of Waterproof Backpacks
Comfort is obviously a very important factor when choosing the best waterproof backpack for yourself. Generally speaking, the waterproof backpacks featured on my list were not designed to carry super heavy loads. Those sort of packs do exist, however the maximum comfortable load for the Sea to Summit Hydraulic Dry Pack 35L for example shouldn't exceed more than 25-35 lbs.
Also you should examine how the straps are designed. Are they padded? If so are the straps narrow or wide? Narrow straps tend to be less-comfy. Does the backpack have a sternum strap? If yes, is it fairly adjustable?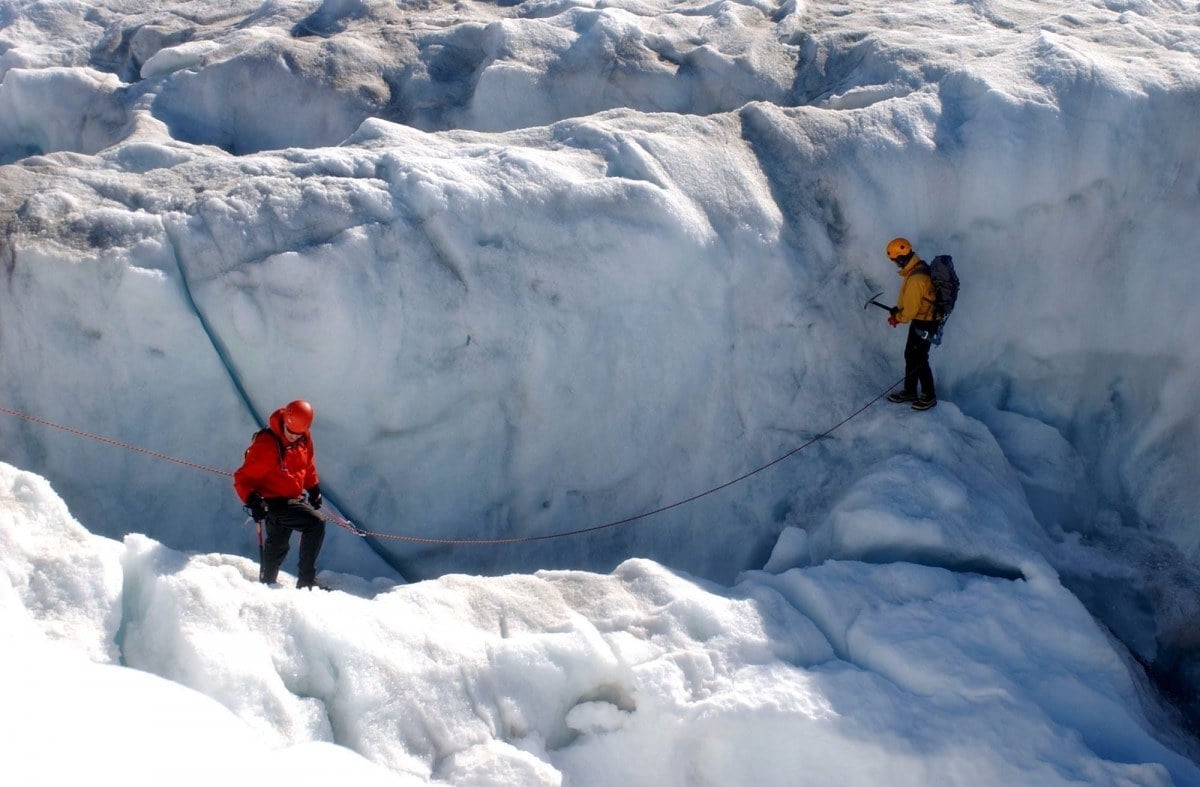 A big comfort-determining factor is the hipbelt. If a waterproof backpack (or any backpack for that matter) has a hipbelt, it will almost always provide more of a balanced load weight. For small waterproof backpacks, hipbelts are less important.
For me personally, I like a good balance of lightweight, durable, and functionality mixed in with plenty of cushion and padding to keep me comfortable for long periods of time. In terms of comfort, the Patagonia Black Hole 25 L Daypack kicks ass in that regard.
Weight of Waterproof Backpacks
Waterproof backpacks are inherently heavier than your standard hiking backpack. This makes sense as waterproof backpack material simply weighs more than ultra-thin nylon does. The more heavy-duty the waterproofing material is, the heavier the backpack will be.
If you are looking for an everyday use waterproof backpack, going light is probably the way to go. Most people have no need to cary 20-30 pounds on a daily basis.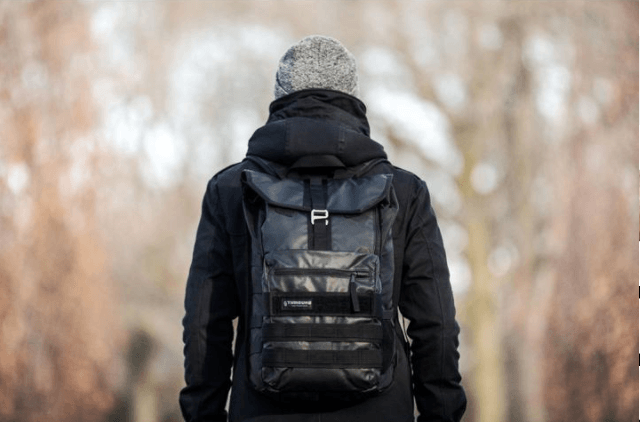 A 20-30 liter lightweight waterproof backpack like the Timbuk2 Spire Laptop Backpack offers up a good balance of lightweight and functionality.
For those will more demanding carry-needs, I suggest going with a waterproof backpack that is up to the challenge. Again, I like the Sea to Summit Hydraulic Dry Pack 35L. At just over 2 lbs 7 ozs. the Hyraulic Dry Pack is burly enough for serious adventures, yet damn near in the ultralight category. Overall it is a sweet pack for practical use in intense adventure scenarios.
Waterproof Backpack Construction and Design Features
Some waterproof backpacks tend to be super minimalist in design. This can translate into a big main compartment with a roll down top with limited pockets. I am not a fan. Pockets are an important ingredient to any awesome backpack.
A good thing to watch out for it how the seams of the backpack come together. If they tend to crease (you can usually see it in the photos) then red flags should go up in your mind. Creases usually equal splitting and damage after prolonged use.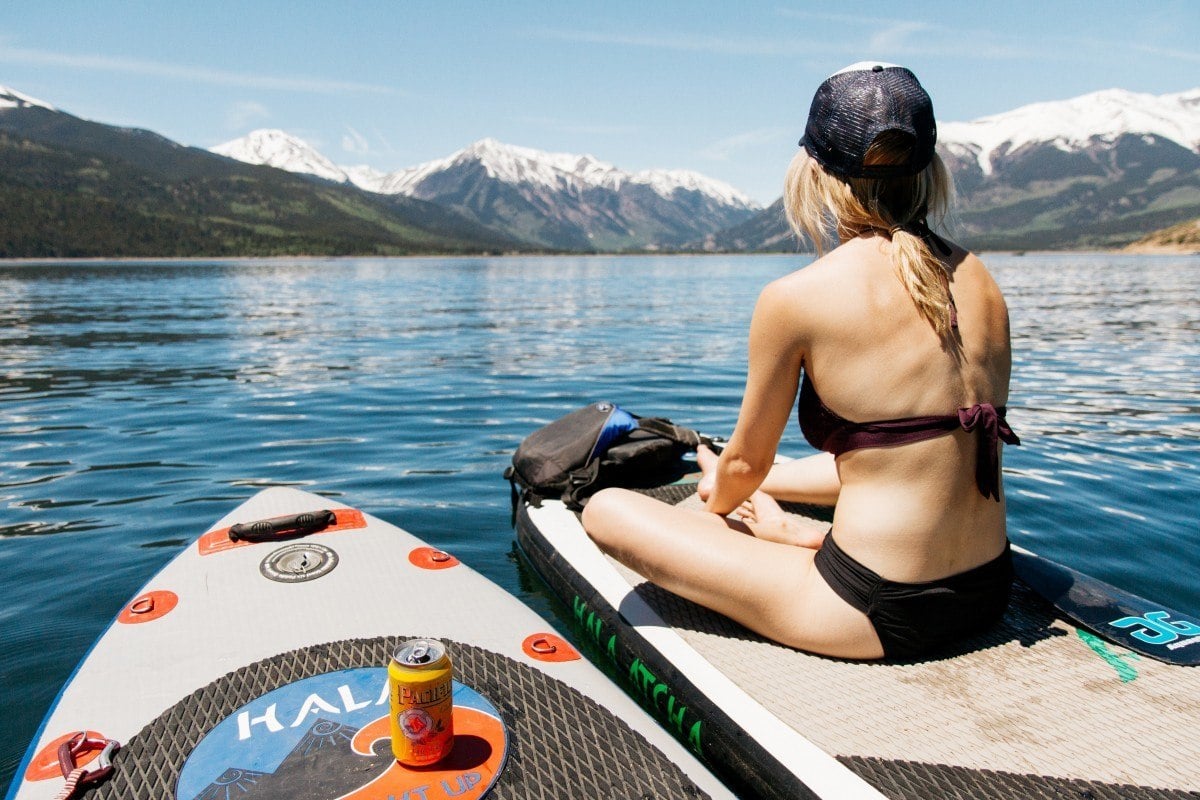 Nearly all the waterproof backpacks (even the minimalist ones) on my list are reasonably well endowed with pockets and organization features. That said, some backpacks are certainly better equipped than others. In terms of organization, the Nomatic Travel Bag blows away all the other backpacks. It's just a shame that it's not totally waterproof.
Price of Waterproof Backpack
Price can definitely be a make or break factor when it comes to choosing the best waterproof backpack for yourself. As you have seen, prices can be all over the show. The more cool features a backpack has certainly does play a part in how expensive it is. Also, as is the case sometimes in the outdoor gear world you are simply paying for the name alone.
A good example of this is with Patagonia. Now, I love Patagonia and I am a big fan of their products and environmental stewardship. That said, I feel like they lean a little to hard on their name sometimes when pricing things. The term "Patagucci" exists for a reason.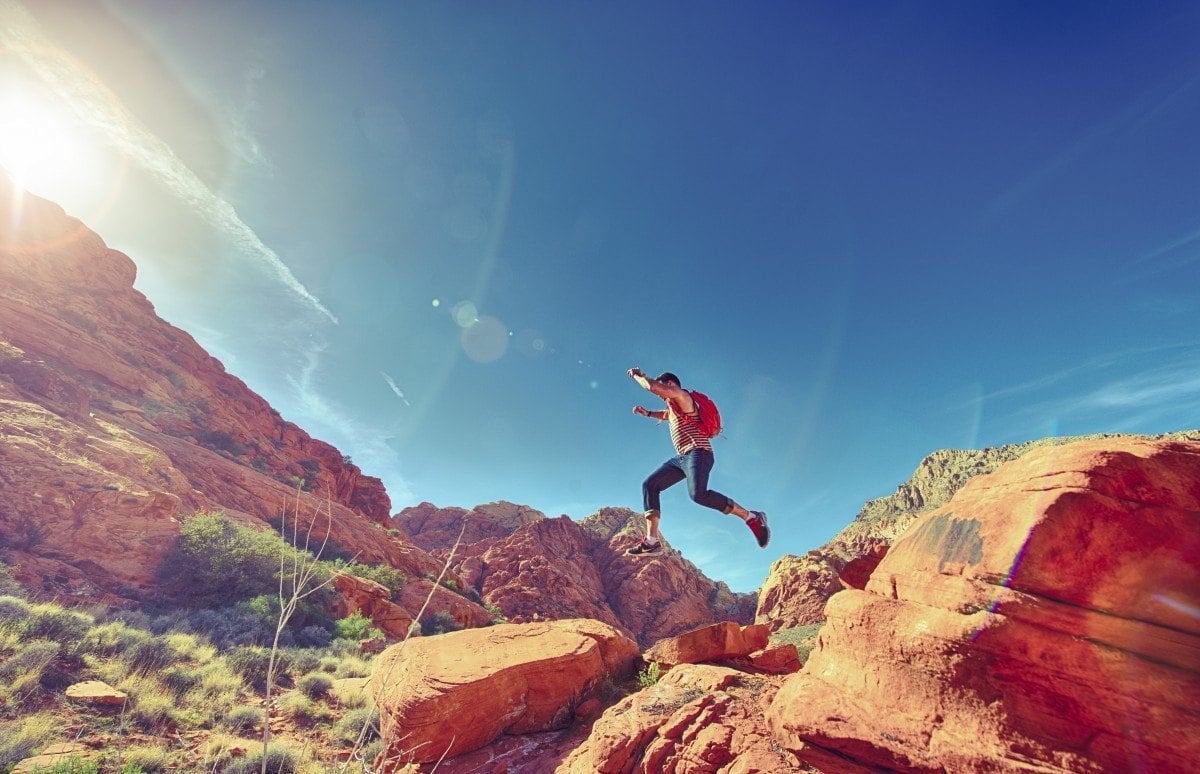 That said, I did not find that to be the case with the reasonably priced Patagonia Black Hole 25 L Daypack. Patagonia's older waterproof backpacks were pushing $300! At $129.00, The Black Hole 25 is great value for the money.
I am having a hard time with the price of the Timbuk2 Tuck Pack. It is a fantastic waterproof backpack, I just can't find a justification for the $179.00 price tag. Like anything though, you should (in theory) get what you pay for. If you shell out big money for a waterproof backpack, you can expect it to offer up a high performance.
FAQ about the Best Waterproof Backpacks
Still have some questions? No problem! We've listed and answered the most commonly asked questions below. Here's what people usually want to know:

Our GREATEST Travel Secrets…
Pop your email here & get the original Broke Backpacker Bible for FREE.
Final Thoughts
Ok amigos, you are now ready to go charging out into the rain! We have arrived at the end of my best waterproof backpacks review.
As you have seen, the best waterproof backpacks come in all shapes and sizes. Choosing the right one for yourself is difficult if you don't know what to look for. Remember too, these backpacks need to be cared for appropriately to retain their waterproof protection.
After reading this review, you can buy your waterproof backpack with confidence after learning everything there is to know about any given waterproof backpack on my list. Be sure, I have only examined the very best options out there.
I was not gifted any of the backpacks on my list by any of the companies featured. My goal was to provide you with honest, up-to-date knowledge from the perspective of a backpacker/traveler who has seen the best (and worst) of what waterproof backpacks can do.
Remember, if you're on the fence about which waterproof backpack to go with, the Sea to Summit Hydraulic Dry Pack 35L is a versatile high-performance backpack that will serve you well in a variety of situations.
I hope you have enjoyed my review of the best waterproof backpacks. Let me know how I did in the comments below.
Stay dry and happy my friends!
Need more protection? Check out the best travel umbrellas out there!
---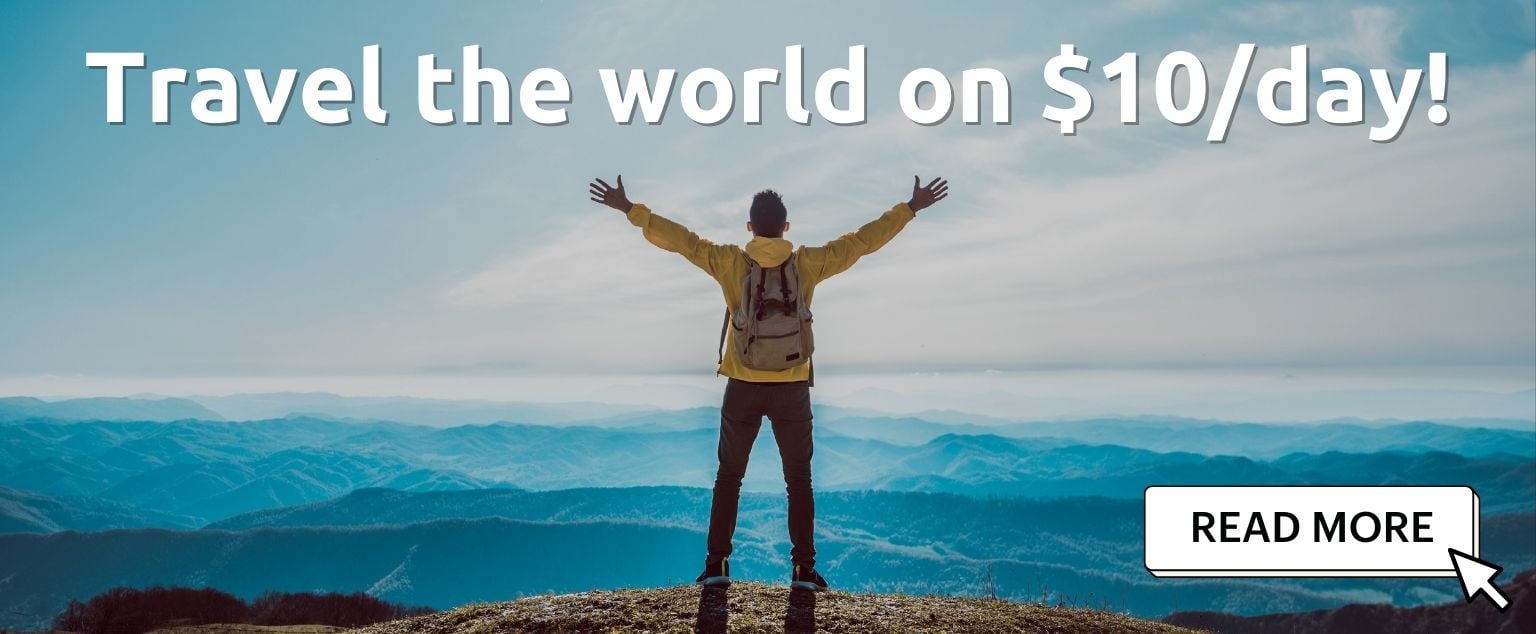 And for transparency's sake, please know that some of the links in our content are affiliate links. That means that if you book your accommodation, buy your gear, or sort your insurance through our link, we earn a small commission (at no extra cost to you). That said, we only link to the gear we trust and never recommend services we don't believe are up to scratch. Again, thank you!