When you're on the road, the only weather guarantee you can count on is the fact that nobody can predict what's coming. Forecasts are subject to change, and things can go from sunny to sour in a heartbeat.
For high-spirited travelers, a bit of rain is nothing a good hot choccy can't fix, but for some of the gear we take with us everywhere we go, a poorly-timed shower can erase hard drives and permanently destroy expensive equipment.
Luckily, there's no such thing as bad weather, only bad planning. Travelers ready for anything won't leave the house without a good Travel Umbrella to better protect their bags, gear, and cell phone from all sorts of weather.
Even tropical paradises change quickly in the rainy season, and before you know it, the clouds start rolling in. We've all felt the horror of feeling the first few drops and knowing you won't make it home in time.
Carry peace of mind with you wherever you go with one of the best travel umbrellas on the market. These slim protections fit in any gear bag or campervan and can quickly step in to save the day.
In A Hurry? Check out these travel umbrellas.
Best Quick Dry
Best Quick Dry
EEZ-Y Travel Umbrella
> $
> Vented double canopy
> affordable and variety of protection features
Repel Windproof Travel Umbrella is our pick for best overall
Specs
15 ounces
11.5 inches long
36.5 inches wide
$$
The consensus #1 travel umbrella sets the bar high. This umbrella is lightweight, strong, and even offers fully reversible designs that can withstand windy weather. The repel brand has earned acclaim across the world for its durability and quality design, and this travel umbrella is its flagship model.
Thanks to their lifetime guarantee, your affordable umbrella should be the last one you ever have to buy. In addition, the package comes with a travel case so your rain protection can easily fit into the most miniature carry-on bags.
Taking up less space than a raincoat and providing enough coverage for you and your bags, this top-of-the-line umbrella is a safe choice.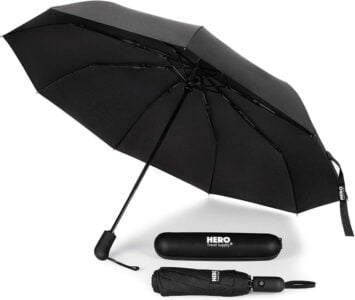 Meet the most portable umbrella: HERO Travel Umbrella
Specs
1.2 pounds
13.74 inches long
40 inches Wide
$$$
Gunning for the crown is this upstart travel umbrella, a new option that has turned heads as quickly as kept them dry.
We can be heroes with the right equipment in our pocket, and the convenient hard shell case allows your umbrella to be protected while compacting down to fit into any fanny pack. Once unraveled, the travel umbrella promises best-in-class rain coverage thanks to comprehensive and robust ribs and Teflon coverage.
With the same lifetime replacement guarantee as the repel umbrella, the only reason the HERO travel umbrella isn't higher on the list is the slightly larger price point. However, travelers looking to invest in an extra splash of coverage can rely on this option to help stay dry.
Our pick for best wind protection is McConnor Windproof Travel Umbrella
Specs
12.8 oz
12.4 inches long
40 inches long
$
With a simple yet colorful design scheme and top-notch reinforcements in the right places, this windproof travel umbrella is protection made interesting. The umbrella uses a mix of alloy steel and carbon fiber to strengthen its ribs while remaining one of the most lightweight options on the market.
We gave this McConnor Umbrella incredibly high rain-resistant ratings thanks to the Pongee material used in the outer layer, also giving the umbrella its signature look. The fabric naturally repels even the strongest showers.
Wrap it all up in the included carrying case and take this umbrella wherever the storm finds you.
Glamore Inverted Umbrella is one of the most convenient umbrella
Specs
1.5 lbs
42 inches wide
32 inches long
$
This umbrella thinks a bit differently. The handle slips right over your wrist which allows you easy access to your phone or an ice cream cone while the umbrella is in operation.
When it's time for storage, you won't find anything more convenient than Glamore's inside-out design. No more storing wet umbrellas inside your backpack!
Flip this umbrella over, and the umbrella will completely seal off the damp side of the product from the rest of your possessions until you get home. This umbrella can't entirely fold in half, but the inverted design still saves some space.
The cherry on top is the luminous band on the outside edges of the otherwise black umbrella that allows you to be spotted quickly crossing dark streets at night. Packed full of new features, there's something for everyone in this option.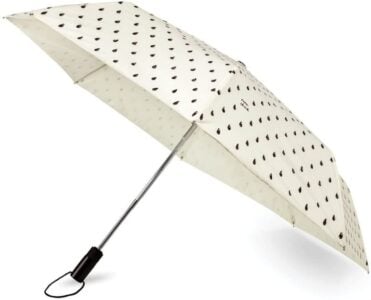 Meet the most stylish umbrella: Kate Spade Raindrop Travel Umbrella
Specs
12 oz
40 inches wide
12.75 inches long
$$$$
Sometimes it's worth splurging to look good. Pop-out in a rainstorm with the high-quality coverage provided by this less adventurous travel umbrella. It comes with a convenient wrist strap and automatic open capabilities.
This umbrella can't fold in half and won't break any space-saving records, but it doesn't weigh much more than some of the lightest travel options on the market, and it will provide a splash of much-needed color on a cloudy day.
Umenice Automatic Travel Umbrella is our pick for best lightweight umbrella
Specs
10.4 oz
11.5 inches long
39 inches wide
$$
Favored by travelers who take every ounce seriously, this lightweight umbrella still expands for enough coverage to protect two people. Tucked inside its travel case, you can slide this travel umbrella into a purse or jean pocket and carry rain protection everywhere you go.
While it lacks Teflon or other high-performance features to protect its ribs from the wind, the umbrella is made out of steel and fiberglass materials that won't crumble at the first gust.
Even the most lightweight backpackers can find the space necessary to bring along this automatic travel umbrella.
Our pick for best casing umbrella is BodyGuard Travel Umbrella
Specs
1 lb
13.3 inches long
37 inches wide
$$$
Each rib on your travel umbrella will help to protect you from windy conditions better, so it's never a bad idea to bring along a few extra. Unlike most travel umbrellas which feature eight ribs, this bodyguard spreads its rain coverage across ten ribs to provide more wind resistance.
The extra ribs better protect the Teflon technology that is spread across the canopy, allowing water to wick off quickly and helping the umbrella dry faster than the competition. Once it's dried up, it fits nicely inside the included leather case for a fashionable and protected look.
While slightly more expensive than some industry-leading options, this travel umbrella packs plenty of safety features to justify an extra few bucks.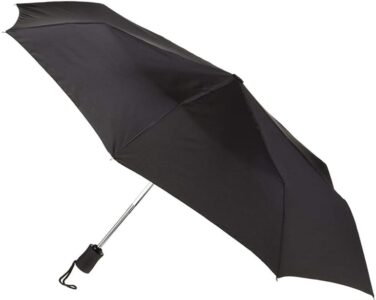 Lewis N. Clark Travel Umbrella is our pick for most variety umbrella
Specs
10 oz
11 inches long
38 inches wide
$
Lewis N. Clark surely wished they had the technologies included in this travel umbrella when they first crossed the country, as the rain coverage in this travel tool will make any trip better. The umbrella folds up smaller than some of the best travel umbrellas on the market, and when it's time to use it, the wide diameter keeps everything dry.
All of this in an affordable package makes the umbrella a no-brainer, and the company's one-year guarantee will make sure you get your money's worth.
You can choose between a variety of fun colors or stick to black. No matter what color you pick, you'll have lightweight rain protection that can survive winds up to 30 mph.
EEZ-Y Travel Umbrella is one of the best quick dry umbrella
Specs
1 lb
11 inches long
37 inches wide
$
Another option that isn't trying to do too much, this easy travel umbrella won't save you from a tropical storm, but it can hold its own in most rain showers. The umbrella has venting technology across the entire canopy, which allows the umbrella to dry faster than the competition.
This feature also allows wind to blow through without carrying you away. The vented double canopy still folds up to an incredibly compact size, and a reinforced steel frame should last a lifetime.
It's not as wide as the best umbrellas on this list, but its affordability and variety of protection features still make the umbrella a great addition to any arsenal.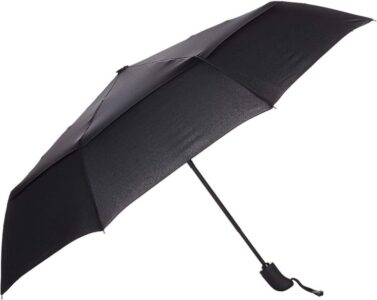 Our pick for most affordable umbrella is AmazonBasics Automatic Travel Umbrella
Specs
12.8 oz
11.2 inches long
37 inches wide
$
If you're not expecting much out of your travel umbrella, you won't need more than the basics. Amazon has provided enough lightweight features in a compact body to provide a quality travel umbrella as long as you're not expecting much wind.
The umbrella includes button-operated open and close features and still provides full-sized protection despite rolling up into an 11-inch package. Unfortunately, while slim and protective, you won't find any durable materials on this product, with a simple steel alloy frame.
Don't rely on it in every situation, but if you get caught in a drizzle from time to time, having this travel umbrella in your bag will prevent a bad day from getting worse.
How To Choose The Perfect Travel Umbrella
If you stick around long enough, there's bound to be some rain. Your perfect travel umbrella is small enough that you don't notice it in your bag for months but is ready to open up and protect you and your gear in a flash.
When it's time to open up your umbrella, you won't want to spend your walk home fighting with the wind.
Strong wind gusts are your umbrella's worst nightmare, and if you don't have the perfect travel umbrella, your protection could be gone with the wind.
Umbrella companies have taken measures to provide compact but resilient travel companions that offer varying levels of the following characteristics. Great umbrellas balance protection, hardiness, and compactness with keeping the costs down to qualify as a contending product.
Protection
What's the point of an umbrella if it is not good at protecting you? Protection should be the deciding factor when you are searching for the perfect travel umbrella.
Every travel umbrella may hold its own in a minor rain shower, but few can handle gale-force winds.
If you're expecting some foul weather, look for stainless steel frames and ribs that are malleable but resilient. Blending these frames with Teflon-coated exterior layers or flexible fiberglass allows certain high-tech travel umbrellas to tolerate windy conditions better.
Travel umbrellas that promise to be windproof can stay in shape through winds up to 60 mph. If you're experiencing winds any more robust than that, I highly suggest you get inside immediately.
The best brands have battle-tested their brolly's in various laboratory conditions to prove their worth on a windy day, and others have sacrificed a few high-performance pieces to be extraordinarily lightweight or compact.
Compactness
Every travel umbrella seeks to find the perfect balance between compact size and complete rain protection. You'll have to decide for yourself how much space in your luggage you're willing to sacrifice for a larger canopy.
A quality travel umbrella should fold up by telescoping to take up less precious cargo space, squeezing down to packages about a foot long. All of the umbrellas on our list can compact themselves to fit easily in any carry-on luggage.
These umbrellas are made lightweight to fit into more bags using light metals and sacrificing some canopy reach compared to an everyday parasol. Look for travel umbrellas to only weigh around one pound, while some of the best-in-class options are closer to half a pound.
Juxtapose the weight with your coverage requirements. Umbrella enthusiasts agree that a 23 inches canopy is the minimum length necessary to protect one person. However, you'll want your canopy to tack on a few inches if you expect it to guard your bags as well as your body.
Finding the perfect blend to these stats is the recipe for a great travel companion. If your Bumbershoot is too big, it might be tempting to leave it out of your day pack, which could be a fatal mistake.
On the other hand, an umbrella that is too small to protect you and your belongings entirely is useless no matter how little space it takes up.
Hardiness
Whether it's facing the wind, rain, sleet, or grumpy baggage handlers, you'll need a travel umbrella that can take a beating. Luckily, some of the most lightweight metals have also proven themselves capable of absorbing a few punches.
Fiberglass steel and Teflon will provide the hardiest protection, followed closely by lightweight aluminum alloy. Ideally, your umbrella will have a combination of a few of these elements that allow it to stay light and strong.
If you don't want to buy a new umbrella every year, it's worth investing a few extra dollars into a high-quality product that combines these metals. Cheap substitutes can talk a big game but can often snap after a few weeks in the bottom of your luggage.
Some of the best travel umbrellas on the market take protection a step further by providing a tough yet packable case that makes it easier to safely and compactly store your umbrella.
Final Thoughts
For many exciting and exotic locations, unexpected downpours are a part of daily life. Slip a travel umbrella into your luggage, and don't let it out of your sight.
No umbrella will protect you from an October in Costa Rica, and there is no one umbrella perfect for everyone. Only you can decide the best travel umbrella for your unique usage, but there is no risk involved in bringing along some extra rain protection.
We've laid out the best travel umbrellas that are capable of protecting you from tropical rainstorms, downpours, and too much sun. Lightweight and multifunctional, these umbrellas can fit in any bag.
Every traveler has a story or two about being in the wrong place at the wrong time and ending up drenched. Let us know about the times you wish you had a high-quality travel umbrella to save your day in the comments!