Why Go Backpacking in Germany
Munich and Berlin are Germany's most famous cities, but there is so much more to do and see in Germany wherever you stay. Hamburg is a great city, often overshadowed by Berlin. Cologne and Dresden offer awesome nightlife. The Romantic Road is what fairy tales were made of, and the Bavarian Alps are the gateway to your winter wonderland.
Below I have covered Germany with a couple itineraries and places to visit!
Germany has an extensive and efficient railway system, as well as some of the best highways in the world! This means you can cover a lot of ground in a little time.
Nevertheless, that doesn't mean you should cover a lot of ground. I suggest taking your time in Germany! The main cities (Berlin, Munich, Hamburg, for example) can keep you busy for at least a week each. Moreover, many tourists never get outside these cities and explore Germany's small villages, forests, mountains, and sea! (Yes, Germany has a coastline, but it's not very sunny.)
Backpacking Germany 3 Week Itinerary: The Highlights
3 Weeks: Germany's Highlights
What's great about this itinerary is that you can start anywhere since it's one giant circle. If you are arriving internationally by flight, you will probably start in Berlin, or fly into Frankfurt (in the middle of Germany).
If you fly into Berlin, I suggest an absolute minimum of 5 days here. There is so much to do and so many cool areas to stay in Berlin! Plus, the layout of the city isn't set up conveniently because Berlin was essentially two cities for so long. If you like art, culture, museums, and all night parties, this is the city for you.
Next, I suggest stopping over in Dresden for a couple days. It's a quaint university town with a fun bar scene. Afterward, head for Munich, Germany's most popular city. On the way you can also visit medieval towns along the Romantic Road. Munich is a great city to ride a bike around the parks, stopping over at different beer gardens along the way. Make a day trip to the Neuschwanstein Castle or the Bavarian Alps for some hiking!
Need help deciding between Munich or Berlin? Check out our helpful guide.
After Bavaria, head to the Black Forest. Freiburg is a university town, and a good base to explore the Black Forest. The local student population has given the town a lively nightlife scene. Cologne in West Germany has a beautiful cathedral and fun nightlife scene as well.
Check out my guide to the best Black Forest hostels here.
End with 4 days in Hamburg. Check out my more detailed explanations of these destinations below!
Check out my ultimate guide to the best hostels in Frankfurt here.
Backpacking Germany 10 Day Itinerary: Bavaria
10 Days: Bavaria
10 days is enough time to explore the Bavarian region, but with an extra few days, you can see even more! Munich is the capital of Bavaria and most logical place to start/end this trip. From Munich you can either go north and explore the towns along the Romantic Road, or south and discover the Bavarian Alps hidden gems.
The Romantic Road is a 261-mile road that strings together some of Germany's most beautiful and historic cities. While it would be easiest to do this road trip in the summer, the winter would be equally magical, especially because of Germany's Christmas Markets.
Make sure to visit the medieval monasteries and castles along the way. and keep in mind most of these towns are quite small, and easily visited on a day trip from one another. Popular towns include Rothenburg ob der Taube, Würzburg, and Bamburg.
It would be quite easy to combine this itinerary with Northern Italy or the Austrian Alps!
Backpacking Berlin
No backpacking trip to Germany is complete without backpacking Berlin, easily the edgiest city I've ever been to with arguably the best nightlife scene in Europe. The food scene has plenty of variety and it's always evolving. Check out the Vietnamese, Turkish, hamburger, and vegetarian scene. I know, not traditional Germany, right? But nothing in Berlin is traditional, and Berliners pride themselves on that.
I recommend spending at least a week in Berlin because it's a huge city and many of its neighborhoods and attractions are scattered throughout the city. Summers are a great time for outdoor events, concerts, and beer gardens, many of which close for the winter. For more information on where to stay in Berlin, check out this .
Every neighborhood has some type of great park, usually with a beer garden close by. My favorite is Mauerpark in Prenzlauer Berg because of its famous popular Sunday Flea Market. Tiergarten near Brandenberg Gate is Berlin's "Central Park." It's massive and a great place to bike ride, picnic, or jog. You can even do all this naked in some areas… Viktoria Park in Kreuzberg is a nice, quiet area to take a stroll and have a picnic. and Tempelhof Park in Neukölln is an old airport turned park. There are wide open spaces for kite surfing and land sailing, and you can run and bike on the old airport runaways. Plus, it's a great place to grill and picnic!
There are countless historical sites and museums to see in Berlin, and it would take you months to visit them all. I recommend picking a few within a topic that interest you, like The Third Reich, Cold War, Modern Art, etc. Many of Berlin's museums are congregated in the Mitte district. My personal favorite history museum in Berlin is the Jewish Museum in Kreuzberg. It's incredibly sad, and also incredibly well put together, and you'll learn a lot here.
The Reichstag is one of Germany's most iconic buildings, and it's free to visit, but make sure to reserve your spot. Spots sell out weeks in advance. My favorite historical site is a bit out of the way and off the beaten path, but so, so worth it. For 8 euros you can explore an old Cold War American spy station that was used to keep tabs on East Berlin. It's built upon an old WWII rubble that the Allies couldn't destroy. Now forests and grassy hills have built over the rubble. Talk about symbolism.
Berlin's multiculturalism and acceptance can be reflected in their variety of cuisines. Kreuzberg is home to the largest Turkish population outside of Turkey, so there are a lot of great Turkish restaurants here, as well as a budding vegetarian scene. (Check out Café V!)
And no trip to Berlin is complete without checking out it's non-stop nightlife. Every day of the week there is always at least one club open for 24 hours, so theoretically you could party here forever… Many clubs are built in multi-room warehouses. Some are open-air, along the river, etc. Locals use Resident Advisor to stay in the know of where each party is that night.
My main advice for clubbing in Berlin is to dress casually. The best outfit is a black shirt and black jeans with black Nike's or low-key sneakers. And avoid speaking English in line; the bouncers don't like drunk tourists, and it's pretty hard to get into a lot of clubs without a German native. If you don't get in, just know there's probably another great club around the corner.
Best Neighborhoods in Berlin
I recommend picking your hostel or Airbnb based on its neighborhood.
Kreuzberg: a hipster, slightly gentrified neighborhood with a large Turkish population. There are tons of great restaurants and bars here, and you're within walking distance to a lot of nightclubs. You're also walking distance from the East Side Gallery, and close to many touristic attractions by metro.
You're better off finding an Airbnb in Kreuzberg, but there are a couple hostels in the area. Grand Hostel Berlin has a bar area with a welcome drink on arrival, it's close to the U-Bahn, and has clean beds, and friendly staff!
Prenzlauer Berg: This area is also slightly gentrified and home to a lot of hip families. There are a ton of great restaurants, cafes, and shops here, and well as Mauerpark, a must visit for their popular Sunday flea market. You are nearby the touristy areas by metro.
While there aren't any hostels in the heart of Prenzlauer, Circus Hostel is pretty close. Built in an old brewery, this hostel has a café and bar onsite. The hostel is clean, and close to public transportation!
Neukölln: This neighborhood is out of the way of the typical tourist things, but it's an up-and-coming neighborhood with some great cafes, cheap dive bars, and underground clubs. There are not any hostels in the Neukölln area, so I recommend getting an Airbnb instead. Try to book a place near Weserstrasse, which has a great bar scene on weekends.
Mitte: This literally means "centre." It's a touristy, cosmopolitan area, and central to all. Tiergarten is a huge park you can visit in between museums. Stay in Mitte if you are just trying to see as many famous landmarks and museums as possible. Otherwise, I recommend staying in another area of Berlin. This is also where you'll find Museum Island, which incorporates several of Berlin's top museums. You can also go up Fernsehturm TV tower for a great view, but it's sort of pricey.
There are plenty of hostels in Mitte to choose from, but I recommend Wombat City Hostel. The rooms are spacious and clean. They have a rooftop bar and happy hour, and this hostel is in a central location!
For plenty of accommodation inspiration, check out our post on the 20 Best Hostels in Berlin!
If you couldn't tell, I love Berlin and have a lot to say about it. If you want to read more, check out another article I wrote on visiting Berlin.
Backpacking Dresden
Dresden was utterly destroyed by the World War II bombing raids, and what was left of the city center stood in rubble for decades, but Dresden has re-rebuilt their Baroque old city, and it's totally beautiful! Dresden has some lovely parks, restaurants, and museums to keep you busy for a few days, and it's a great stop between Berlin and Prague.
As for things to do in Dresden, I recommend exploring the city by bike, and watching the sunset on the Elbe River while overlooking the old city, as pictured below! Dresden is a college town with a fun bar scene in the Neustadt area. I recommend staying at Lollis Homestay because they are located in the Neustadt area and offer free bikes. At night, you'll see tons of young people chilling on the street curbs with a drink in hand. Who needs bars anyway? If you want to check out a beer garden, I recommend Louisengarten.
If you are hoping to take a day trip and get some fresh air, you can visit the cliffs and nature of Saxon. This is an awesome region for hiking and rock climbing. There are also some nice castles you can visit that are easily reached by public transportation: Schloss Pillnitz, Schloss Moritzburg, and Schloss Weesenstein.
Live like a local and know where the best places to stay in Dresden are!
Need more options for places to stay in Dresden? Check out my awesome post on the 10 best hostels in Dresden!
Backpacking Munich
Munich is Germany's third largest city, and the most popular German city with tourists, largely due to Oktoberfest, one of the most famous festivals in the world. Munich is absolutely beautiful, and it's pretty clear there is more money here than Germany's other cities. Be sure to check out Munich's Central Park, which is great for riding bikes and picnicking. There are a couple beer gardens here as well.
And speaking of beer gardens… no trip to Munich is complete without visiting a few traditional beer halls for food and beer! The Hofbräuhaus is the most famous beer hall in the world, and open year-round, but for a more authentic beer all with delicious Bavarian food be sure to check out Wirtshaus, which my local friend took me to. It was amazing!
Check out Viktualienmarkt in Munich, a permanent outdoor farmers' market that dates back to the early 1800s, and has over 140 booths full of delicious regional food, and fresh produce.
If you are looking for an emotional, yet educational activity, you can visit the Dachau Concentration camp 10 miles north-west of Munich. This was one of the first concentration camps of Nazi-Germany and offers guided tours. It goes without saying that this is a very sobering, and thought-provoking place to visit. If you are looking for another nice experience to stretch your legs, you can visit the Bavarian Alps.
For public transportation, you can use the S-Bahn in Munich, which is linked to the national rail network. It's pretty simple to use because all 12 lines go to the same 10 stops in the city center, so if you are sticking to the center of Munich, you can probably take any of them.
For where to stay in Munich, check out our guides: best areas to stay in Munich and the top 20 hostels in Munich!
Visiting Germany during Oktoberfest
If you are backpacking Germany in September or October, you have to check out Oktoberfest. This is a three-week beer drinking carnival that's actually free to visit. All of the big beer companies have their own tents, and some can sit 10,000 people! Everyone, young and old, is merrily drinking and singing, and it's just such a great time. (Wearing lederhosen and traditional clothes is totally encouraged.)
Tip: 1 Liter beers costed EUR 10 when I was there last. The beer tents open at 10AM, but I recommend lining up at least an hour before to ensure a spot. Once the tents fill-up, they stop letting people in!
If you do plan on visiting Munich during Oktoberfest, I recommend booking a hostel or place months in advance. Also, while Oktoberfest isn't that expensive, Munich is very expensive during this time. Accommodation and restaurants triple. Even the street food prices increase!
Backpacking Füssen and the Neuschwanstein Castle
You can visit the Neuschwanstein Castle, just a couple hours outside Munich, and hike around its surrounding area to get some epic views. It's one of Germany's most famous castles, and the inspiration for Sleeping Beauty.
To get here, take the hour-long train from München Hbf (Munich's central station) to Füssen. Trains leave hourly and don't require a reservation. Once you reach Füssen station, hop on a public bus to the Hohenschwangau / Alpseestraße stop. Check out this post for a full breakdown on how to get to Neuschwanstein Castle from Munich.
If you want to get an epic view overlooking the castle, walk up the mountain for about 39 minutes! There are multiple vantage points of the castle. Check out this post for some epic photos of Neuschwanstein Castle in the winter!
If you want to stay near the castle and explore a quaint, Bavarian town you can stay in Füssen.
Backpacking the Romantic Road in Bavaria Germany
The Romantic Road is a 261 mile road that strings together some of Germany's most beautiful and historic cities. It's a romantic area to visit with family or a loved one.
Along the road you can explore picturesque towns and the foothills of the German Alps, as well as visit medieval monasteries and castles. Most of these towns are quite small, and easily visited on a day trip. Popular towns include, Rothenburg ob der Taube, Würzburg, and Bamburg. There aren't very many hostels in these towns; you will most likely be staying in bed & breakfasts or smaller hotels and guest houses.
Backpacking the German Alps
With the Bavarian Alps at your doorstep, Germany has some great opportunities to stretch your legs, and get some fresh air. Check out the Deutscher Alpenverein for more information regarding the Bavarian Alps trails and Alpine huts. Berchtesgaden National Park, one of Germany's National Parks, offers some of the best hiking and mountaineering in Germany. If you're a serious mountaineer, summit Zugspitze for a four-country view at 2962m.
The Bavarian Alps also offers some nice opportunities to go skiing in winter! If anything, you can visit a couple Bavarian mountain towns as a day trip from Munich. If you want to stay closer to the action, Ochsenkopf, Nebelhorn, and Alpenwelt Karwendel are all nice ski resorts.
There are tons of adventurous opportunities around Nebelhorn and the Allgäu Alps. Canyoneering, rafting, paragliding…the list goes on. Thrill seekers should definitely visit this part of Germany for a shot of adreneline!
Backpacking the Black Forest
Located near the French border, the Black Forest is named so because of its dark green pine forests. The area is also famous for their cuckoo clocks, Black Forest cake, and rich, creamy food like their French neighbors. If you have a chance to visit the Black Forest while backpacking Germany, be sure check out the Black Forest Mile for some fairy-tale views.
The famous German fairy-tale authors, known as the Brothers Grimm, wrote the original (slightly darker) stories we grew up with – Snow White, Hansel & Gretel, and Cinderella, to name a few. They were inspired by their surroundings in Germany, especially the Black Forest, where you can encounter middle-of-nowhere lakes among forests and wooden trails. Just the trick to walk off that rich Black Forest cake!
As for where to stay if you are visiting the Black Forest, there are a few options. Baden Baden is a famous spa town, and nice for a pampering or romantic vacation, but not a backpacker spot.
Calw is a beautiful, traditional German town with a picturesque market town, and many bistros, shops and ice cream parlors that cater to tourists. Neither have a hostel spot. I think Calw would be well worth visiting as a day trip; however, there are a few nice university towns you can stay in that will have more going on at night – Freiburg and Heidelberg. I have sections on these two towns below.
Backpacking Freiburg
Freiburg is a university town, and a good base to explore the southern side of the Black Forest. The local student population has given the town a lively nightlife scene, and there are a few beer gardens along the canal. Freiburg has been named Germany's warmest city due to the year-round sunshine, so it's a great place to escape the cold! Hike up through the woods to reach the top of the Schlossberg mountain, where you can enjoy views of the city. That being said, there isn't a hostel scene here, so check out Airbnb or stay at a cheap hotel.
Backpacking Heidelberg
Heidelberg is the epitome of German romanticism with a popular castle and gorgeous cityscapes of Gothic and renaissance styles. Home to the country's oldest university there is a vibrant night scene as well! Take a walk through the baroque-style old town and view the old stone bridge by day, and hit the bars at night.
Find out where the best places to stay in Heidelberg are so you can be as close as possible to the attractions (or parties for that matter).
Backpacking Cologne
Located in West Germany, Cologne is famous for its medieval cathedral, and December Christmas markets. Compared to Berlin and Munich, Cologne is a less touristy, and makes for a great stopover if visiting neighboring countries like France or the Netherlands.
Cologne is a university town, and hosts a vibrant bar and club scene as well!
Looking for a fun place to get rowdy? Get to know some the best party hostels in Cologne.
Read up on the best areas to stay in Cologne using our comprehensive guide.
Hamburg is a diverse, beautiful city right on the water. Its downtown area reminds me slightly of Amsterdam because of its canals, but the buildings are built from red brick, and the streets are wider.
Hamburg's nightlife is legendary, and it's a great city for live music. Hamburg is famous for its Sunday Fischmarkt (Fish market). Locals use the Sunday morning market as an excuse to stay up partying all Saturday night, and grab some food in the early AM. St Pauli's Reeperbahn (Germany's Red Light district) is also pretty famous, though I found the bars, sex clubs, and pubs on the main street kind of sleazy, but the area is quite central to all of Hamburg's many attractions.
Hamburg is also home to many beautiful parks, and since it is on the water, you can visit its port area and beaches (just bring a jacket!).
If you want to go to a couple unique museums, I recommend checking out the Minitur Wunderland. This museum displays the largest miniature train set scenery in the world. I admit I was a bit hesitant about spending money on a miniature museum, but ended up really enjoying it. You can spend hours here analyzing the detail within the epic scenes.
I also enjoyed visiting the interactive exhibitions at DialogueHaus. You can go through the Dialogue in Darkness exhibit, where you experience the world in complete darkness as a blind person does, or you can also go through the Dialogue in Quietness exhibit, where you experience the world as if you are deaf. I only went through Dialogue in Darkness, but I highly recommend it.
As for day trips from Hamburg, there are a few pretty medieval cities nearby. We visited Bremen, a historical town full of small streets lined with charming 16th century houses. It is reachable from Hamburg by an hour train. A round-trip ticket costs about EUR 20.
If you're still looking for a place to stay, be sure to check out our in-depth accommodation guide for Hamburg as well.
Getting Off The Beaten Path in Germany
Getting Off The Beaten Path in Germany is surprisingly easy. Although the nation does welcome a good amount of tourists, they do tend to stick to the same places and of course, Germany is a pretty big country with loads of towns & villages to explore.
One top tip we can offer is check out the many alternatives to Munich's Oktoberfest that happen across the country in autumn. For example, if you want to stick with Bavaria then head to Straubing's Gäubodenvolkfest or if you want to see another Province of Germany, then go for Cannstatter Wasen in Stuttgart.
1. Explore Germany's medieval towns and monasteries
With too many options to name, you can spend weeks exploring medieval towns and monasteries. The most famous are along the Romantic Road.
2. Go clubbing until the sunrises
In my opinion, Berlin and Hamburg have the best nightlife in Germany!
3. Visit a fairytale castle.
Schloss Neuschwanstein, located outside Munich, is probably the most famous one, and for good reason, but there are tons of other beautiful castles you can visit, like Hohenzollern Castle and Heidelberg Castle. You can even book yourself a stay in some of Germany's best castles.
4. Drink beer
It goes without saying that Germany is popular for their beer. Make sure to visit a traditional beer hall or garden and drink a liter out of a traditional glass boot!
5. Eat fresh seafood at the Hamburg Fish Market
This is a 300-year-old, open-air market and historic fish auction hall. Even if you don't eat fish, it's well-worth visiting this market! Locals make their way to the market in the early morning after a night out at the clubs.
6. Eat traditional German food
These foods include schnitzel, wurst, and pretzels, of course.
While backpacking Germany, I used a combination of hostels, Airbnb, and couch surfing/staying with friends. Every city has plenty of hostel options, and it can be a great way to meet other travellers. As a travelling couple, we did both and often found that private Airbnb rooms were more affordable than hostels. Moreover, I think staying with locals gives you a more authentic experience.
Most of Berlin's best hostels are situated in more of the touristy areas. For the most part, Berliners like to avoid loud, obnoxious tourists on hostel pub crawls, and bouncers won't let foreigners into the cool clubs (more on that later), so I like staying in Airbnbs and Couch Surfing vs. Hostels.
Check out our other posts for more information on the best hostels in Hamburg, Cologne, Munich, and more!
The Best Places To Stay in Germany
Check out this post on the best hostels in Germany.
In comparison to the US, AUS, or other parts of Western Europe, backpacking Germany is quite affordable but it isn't as cheap as South East Asia or Central America.
Accommodation: Munich is probably the most expensive area in Germany. In general, hostels in Germany cost about $25-30 for a dorm bed, and private rooms at Airbnbs are around $60 in desirable neighborhoods.
Food: Produce and groceries are especially affordable in Germany, and a great way to save money. Cafés and restaurants are generally affordable by Western standards, but I wouldn't say they're cheap. An average meal may cost $6-8. Beers from the grocery stores or Spatis are about 1.50-2.50 euro for a 1/2 liter.
Transport: I recommend getting a 7 day pass in Berlin because you'll definitely use a lot of the public transport. Use the public transport in general! Individual subway tickets are about EUR 1.50.
Activities: Germany has a lot of great parks and markets, which are free! Museum and historical site costs vary, but they're pretty in line with other countries in Western Europe. I would expect to pay $8-$15 per entrance fee.
Money in Germany
Germany's currency is the Euro. The current exchange rate is 1 Euro: 1.17 USD (December 2017).
ATMs are widely available everywhere, but you can expect a withdrawal fee for international bank cards, which is why I travel with a debit card that refunds me for transaction fees. (Americans, I recommend checking out Charles Schwab!)
Always have cash on you when backpacking Germany! Many shops in Germany do not accept foreign credit cards. (This includes Visa, MasterCard, and Amex!).
Travel Tips – Germany on a Budget
Camp: With plenty of gorgeous places to camp, Germany can be a great place to camp in the rural areas. Check out this post for a breakdown of the best tents to take backpacking. Or, if you're feeling real adventurous and want to save some cash, consider picking up a backpacking hammock. If you are camping a lot, it could be worth bringing a portable backpacking stove.
Walk or use public transportation: Germany has a great public transportation system and most of their cities and towns are well-connected by buses and trains.
Eat Donor Kabab's: Ah, Europe's fast-food. A Donor Kabab shop is on every corner of every city in Europe. Donor Kababs were actually invented in Berlin!
Book your transportation early: Both plane and train tickets are much cheaper if you purchase them in advance.
Rideshare: Bla Bla Car is popular in Germany, and car pooling is much more affordable than the train! I used this app a lot while backpacking Germany.
Participate with Free Tours: There are so many cool tours to do in the cities. Be sure to hop on some of the walking tours, which are free with an optional donation.
Couchsurf: Germans are awesome, and I am so grateful I was able to explore its cities with local friends. Check out couchsurfing to make some real friendships and see this country from the perspective of locals.
Why You Should Travel to Germany with a Water Bottle
Plastic washes up on even the most pristine beaches… so do your part and keep the Big Blue beautiful
You aren't going to save the world overnight, but you might as well be part of the solution and not the problem. When you travel to some of the world's most remote places, you come to realise the full extent of the plastic problem. And I hope you become more inspired to continue being a responsible traveller.
Plus, now you won't be buying overpriced bottles of water from the supermarkets either! Travel with a filtered water bottle instead and never waste a cent nor a turtle's life again.
So when is the best time to visit Germany? Germany is rainy and cold for most of the year, but when the sun comes out, so do the Germans. Everyone just seems more alive. I think May-September is a great time to go backpacking in Germany because you are more likely have good weather and long summer nights. In Berlin, this is when a lot of the beer gardens and open air events start up again. And unlike most of Western Europe, July and August are neither painfully hot nor completely over-ran by tourists.
Winter can also be a great time to visit Germany if you are interested in the Christmas markets, skiing, and enjoying a German holiday season with mulled wine in hand. Just be aware the days are cold and short.
It can rain a lot in Germany so if you're hitching or planning on being outside a lot – it's worth packing a rain jacket. Bring warm layers when backpacking Germany. Even in the summer, the weather can be unpredictable. Most of the year, Germany can be cold, or brisk at the very least, so have a nice, warm jacket, boots, gloves, and a beanie. I have found that Berliners dress pretty casual, and tend to wear black and casual shoes. People dress up more in Munich.
On every adventure, there are six things I never go traveling without:

Somewhere to hide your cash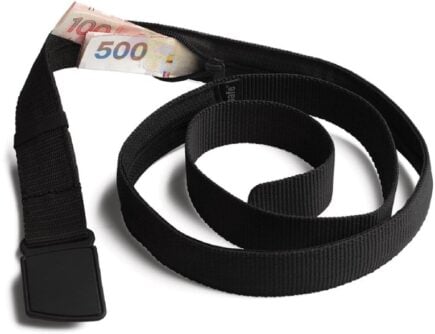 Somewhere to hide your cash
Travel Security Belt
This is a regular looking belt with a concealed pocket on the inside – you can hide up to twenty notes inside and wear it through airport scanners without it setting them off.
A travel water bottle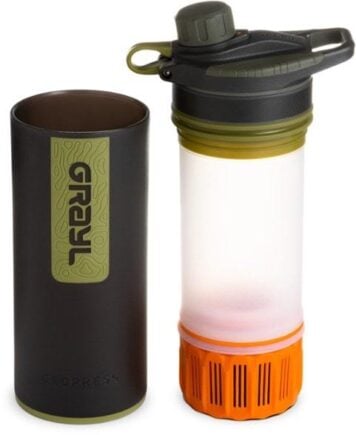 A travel water bottle
GRAYL Geopress Filtered Bottle
Having a filtered water bottle means you can drink from just about any source. The GRAYL Geopress is hands-down the most effective one we've ever used as well!
For those unexpected messes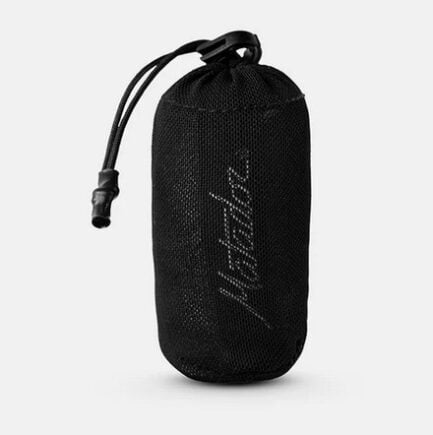 For those unexpected messes
Microfiber Towel
Hostel towels are scummy and take forever to dry. Microfibre towels dry quickly, are compact, lightweight, and can be used as a blanket or yoga mat if need be.
When the power goes out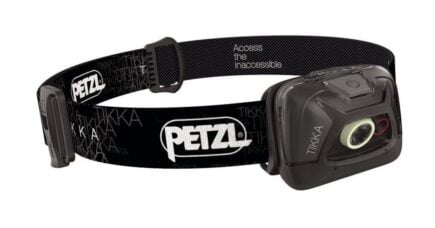 When the power goes out
Petzl Actik Core Headlamp
A decent head torch could save your life. If you want to explore caves, unlit temples, or simply find your way to the bathroom during a blackout, a headtorch is a must.
Sleep anywhere
Sleep anywhere
Camping Hammock
Taking a tent backpacking is not always practical but hammocks are lightweight, cheap, strong, sexy (chicks dig hammocks), and allow you to pitch up for the night pretty much anywhere.
To stay a clean backpacker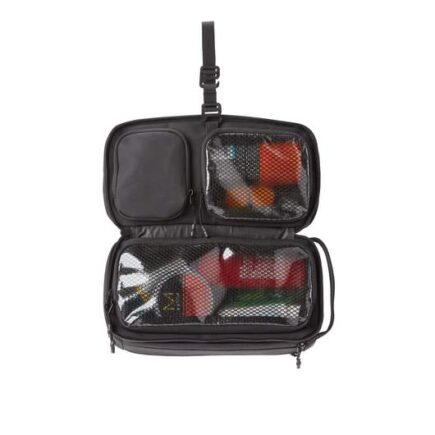 To stay a clean backpacker
Hanging Toiletry Bag
I always travel with a hanging toiletry bag as it's a super-efficient way to organize your bathroom stuff. Well worth having as it helps to have quick access to all your stuff.
While Germany is a safe country, one should always have common sense when travelling in a new country. In my opinion, most bad things happen after 2AM, so don't walk alone late at night, especially if you don't know the area.
If anything, you should watch out for petty theft/pick-pocketing while visiting touristy areas in Germany. Pick-pocketing is common throughout European cities (although not as common in Germany as it is Barcelona and Paris). To avoid pick-pocketing, be aware of your surroundings, and don't carry your wallet in your back pocket. Watch out for strangers coming up to you with petitions and signs; this is usually just a distraction to steal your stuff. Ladies, keep your bags and purses zipped up, especially on metros.
Pick yourself up a backpacker security belt to keep your cash safe on the road, and check out Backpacker Safety 101 for tips and tricks to stay safe whilst backpacking Germany. This post for plenty of ideas on ingenious ways to hide your money when travelling.
Sex, drugs and rock 'n' roll in Germany
Parts of Germany can be very conservative, but in general the entire country has a laissez attitude about social drinking. The cities are generally more liberal in regards to drinking, drugs, and "rock 'n' roll." Drugs are used more openly used in Berlin and Hamburg; whereas, Munich is more conservative. I wouldn't smoke in public in Munich, but you can get away with this in Berlin.
There are plenty of college towns that have a nice bar scene, like Dresden, Düsseldorf, Cologne, and Frieburg. If you are trying to party, bar hop, and club non-stop while backpacking Germany then I'd definitely spend some time in Germany's biggest cities – Berlin and Hamburg – where you can find some type of bar or club open 24/7.
Munich does have a club scene with venues open until sunrise, and a grittier, underground scene as well. You just have to look harder. Full disclosure, drugs are prominent in the clubbing scene in Germany, and easy to come across, but as always be careful, and check out Will's post on drugs on the road.
As I mentioned earlier, Berlin is considered to be the best clubbing city in Europe. The best-known club in the city, where many celebrities venture, is Berghain & Panorma Bar, but their are hundreds of other options for clubs with multiple dance floors and rooms, art exhibitions, open air venues, etc.
While you can find a club for pretty much any genre of music, techno is king in Berlin, and all of the best clubs are centered around electronic music. Berlin is also famous for its sex clubs. They're exactly what they sound like. I didn't go to one, but they're easy to find if you're interested.
Germany does prosecute for illegal drugs, but from my understanding, if you are caught with small quantities of cannabis or cocaine, German prosecutors have the option of dropping charges against you.
Travel Insurance for Germany
Traveling without insurance would be risky so do consider getting good backpacker insurance sorted before you head off on an adventure.
World Nomads' mission is to support and encourage travellers to explore their boundaries. They offer simple & flexible travel insurance, and safety advice to help you travel confidently.
They've been doing it since 2002 – protecting, connecting, and inspiring independent travellers just like you.
Get a quote below or read our in-depth review!
World Nomads provides travel insurance for travelers in over 100 countries. As an affiliate, we receive a fee when you get a quote from World Nomads using this link. We do not represent World Nomads. This is information only and not a recommendation to buy travel insurance.
If you're arriving in Germany by plane, you can fly into Frankfurt, Munich, or Berlin's international airports. In my experience, Germany is one of the cheapest European countries to fly into from North America.
Hamburg, Cologne, Dusseldorf, and other cities have European and domestic connections as well! And if you are flying within Europe, Germany is well-connected by budget airlines, like Ryan Air and Easy Jet.
While backpacking Germany, take advantage of Germany's extensive rail network that connects Germany to all of its neighboring countries. Many travellers backpacking Europe invest in a EuRail pass and this is well worth investing in if you plan to travel across Europe visiting multiple countries.
Entry requirements for Germany
EU citizens will only need their passport to enter Germany. Citizens of Australia, Canada, Israel, Japan, New Zealand, Poland, Switzerland, and the US do not need to pre-apply for a visa; their valid passport will be stamped on arrival. Other nationalities will need to apply for a Schengen Visa beforehand to visit all Schengen Area countries.
As a non-European traveller, you can only stay in Germany and other Schengen zone countries for 3 months out of every 6 months. Once 6 months have passed from your original arrival date, the visa resets.
The Schengen visa can be a bit confusing because not all European countries are part of Schengen zone. Germany, Spain, Portugal, France, Scandinavian countries, etc are all part of the Schengen zone. A few other countries – namely Switzerland, Iceland, and Norway – are not technically associated with the EU, but they are part of the Schengen zone.
Whereas, the UK, Ireland, and most Eastern European and Baltic countries, are not part of the Schengen zone, even though they are part of the EU. So theoretically, you can visit Germany and its neighboring countries for 3 months, then hop over to a non-Schengen country and jump back to Germany with a fresh 3-month visa.
A lot of long-term travellers plan their travels around the Schengen visa accordingly, and we wrote a full guide to help you do just that! Work your way around it and you'll be able to travel long-term in Europe.
While backpacking Germany and the rest of Europe, I have found budget airline flights are often cheaper than train tickets, but only if you buy your plane ticket at least one month in advance. Most German cities have their own airports, but they can be a hassle to get to/from.
Airports tend to be outside the city, especially smaller airports where many budget airlines fly into. Whereas, train stations are centrally located in the city. That being said, I have flown into Berlin and Hamburg, and both have an affordable metro that takes you to the center of the city.
Germany also has an extensive rail network, mostly monopolized by Deutsche Bahn, which controls the rail system and metro system in cities. If you plan to use the train to cover a lot of territories, but don't want to reserve specific dates, you can get around Europe with a Eurail Pass, or an Interrail pass if you're an EU/UK resident.
Sometimes it's cheaper to buy point-to-point train tickets in advance rather than get a Eurail or InterRail Pass, but last minute tickets are usually much more expensive. If you want complete flexibility, and you are including other European countries while backpacking Germany, check out the Eurail/InterRail pass options. I wrote an in-depth article on train travel in Europe, and when you should use the pass.
If you're trying to save some cash, I highly recommend using Bla Bla Car, a ride sharing app that's popular in Germany. I was able to snag a spot from Berlin to Munich for half the cost of a train ticket; it also takes way less time to drive on the infamous AutoBahn (no speed limit, ha) than take the train, and it's easy to book a carpool spot last minute.
Still, the train can be pretty scenic! I loved the train ride from Dresden to Prague.
Budget Tip: If you are planning to explore one region of Germany, like Bavaria, look into buying a regional day pass to visit towns outside Munich, versus point-to-point ticket. A regional day pass is usually cheaper than a round trip ticket – a trick my German friend taught me.
The cities and larger towns are connected by such great public transportation that I don't think it's worth renting a car unless you are trying to visit a lot of Germany's small fairytale and medieval towns, or Germany's Romantic Road. Germany is also a wonderful country to road trip, as there is so much to see in the countryside. You can rent an economy-size car for about 40-60 euros a day, but automatic rentals are rare.
As for getting around the cities, Uber is illegal, and taxis are expensive. I suggest sticking to public transportation, or walking when you can!
Overall, while backpacking Germany and Europe, I opted to use a train pass, a couple point-to-point tickets and regional passes, the app Bla Bla Car, and budget airline flights. If you're nifty, you can score surprisingly cheap transportation by using all of these methods of travel!
An alternative to public transportation is hiring a car. Renting a car is a great way to see Germany at your own pace. You can sort your car rental here in just a few minutes. Booking in advance is the best way to ensure you score the lowest price and your choice of vehicle. Often, you can find the best car rental prices when you pick up the rental from the airport.
Make sure you also purchase a RentalCover.com policy to cover your rental vehicle against any common damages such as tires, windscreens, theft, and more at a fraction of the price you would pay at the rental desk.
Campervan Hire in Germany
Traveling in Germany by campervan is another great way to experience this awesome country. Renting a campervan in Germany is super easy as you can pick up/drop off in many different cities.
Certainly having your own campervan to work with will open many more doors for you on your Germany backpacking adventure.
I highly recommend hiring a campervan if you can swing it.!
Hitchhiking in Germany
I saw plenty of people hitchhiking in Germany, and it's quite easy to do. It's legal to hitchhike in Germany as long as you are not standing directly on the autobahn. Your best bet is to wait at petrol stations off of the aut0bahn instead. Police are going to be more lenient in Berlin than Munich.
You should always have a couple markers/pens to make a sign of where you're going. Also, check the cars' licenses plates to see which city or region they are registered in. For example, look for license plates starting with B if you're hitching to Berlin.
For more hitchhiking tips, check out Will's hitchhiking 101 post.
Motorcycling in Germany
It is definitely possible to rent a motorcycle, just as you can rent a car. Summertime would be the perfect time to go on a motorcycle road trip, but I wouldn't recommend it during Germany's freezing cold winter.
Prices are going to range, but I'd say an accurate estimate for a motorcycle rental in Germany is EUR 50 a day. You could also tackle Germany, or all of Europe, with an RV – check out this post for plenty of inspiration on RVing Europe.
Onwards travel from Germany
Onwards travel from Germany couldn't be easier. Like I mentioned earlier, pretty much every city has an airport that connects Germany to other European countries, and the train system will connect you to all of Germany's neighboring countries.
Germany shares borders with these following countries: Poland, Czech Republic, Austria, Italy, France, Switzerland, Belgium, and the Netherlands, which makes it easy to include Germany in your Europe itinerary.
Many backpackers continue on from Munich to Northern Italy, Vienna or Prague, or from Berlin to Amsterdam or Prague on a multi-European city tour.
There are also many ferries leaving Germany's northern ports to parts of Scandinavia. Denmark and Sweden are both very close to Germany and make for easy maritime journeys.
As the economic powerhouse of Europe, Germany is an attractive place for migrant workers from all over the EU and the globe. Offering respectable wages and reasonable living costs, Germany is widely regarded as being amongst the best places to live and work in Western Europe. Why not try out a Germany gap year before fully committing to a move.
If you are hoping to work in Germany, then mastery of the language is a very valuable skill otherwise your options will be limited.
Work Visa's in Germany
Citizens of the EU and EEA have the absolute right to live and work in Germany. Everybody else will need a work visa. To obtain this, you firstly need to enter Germany on a residency visa and then in order to get the work visa you will need a formal job offer.
Teaching English in Germany
German's take learning English very seriously and as such, good English teachers are always welcome. However, that doesn't mean it's a free for all we're any native speaker is eagerly welcomed. Nope, teachers will need to have completed a bachelor's degree and, at a minimum, a TEFL (Teach English as a Foreign Language) or TESOL (Teaching English to Speakers of Other Languages) Certification.
Average pay ranges from $2500 to $4500 per month which can go pretty far outside of Berlin.
Au Pair in Germany
What better way to explore a new country than by pretending to be part of a local family. Au pairing in Germany is a great way to semi-immerse yourself in the culture if you've got a knack for understanding children and want to be paid for it to fund your future travels.
Volunteering in Germany
Volunteering abroad is an amazing way to experience a culture whilst giving something back. There are loads of different volunteer projects in Germany ranging from teaching, to animal care, to agriculture to pretty much everything!
As a wealthy western nation, Germany doesn't need the same support from backpacker volunteers as less-developed countries. That being said, there are opportunities for travelers to offer up some time and skills. Gardening, farming, and decorating are the most common areas where travelers can volunteer, but you can also find opportunities in hospitality and social work.
If you want to find volunteering opportunities in Germany, then we recommend that you Signup for Worldpackers – a volunteer platform that connects local hosts directly with traveling volunteers. As a Broke Backpacker reader, you'll also get a special discount of $10 when you sign up. Just use the discount code BROKEBACKPACKER and your membership is discounted from $49 a year to only $39.
Volunteer programs run through reputable work exchange programs like Worldpackers are usually very well-managed and reputable. However, whenever you are volunteering, do stay vigilant especially when working with animals or children.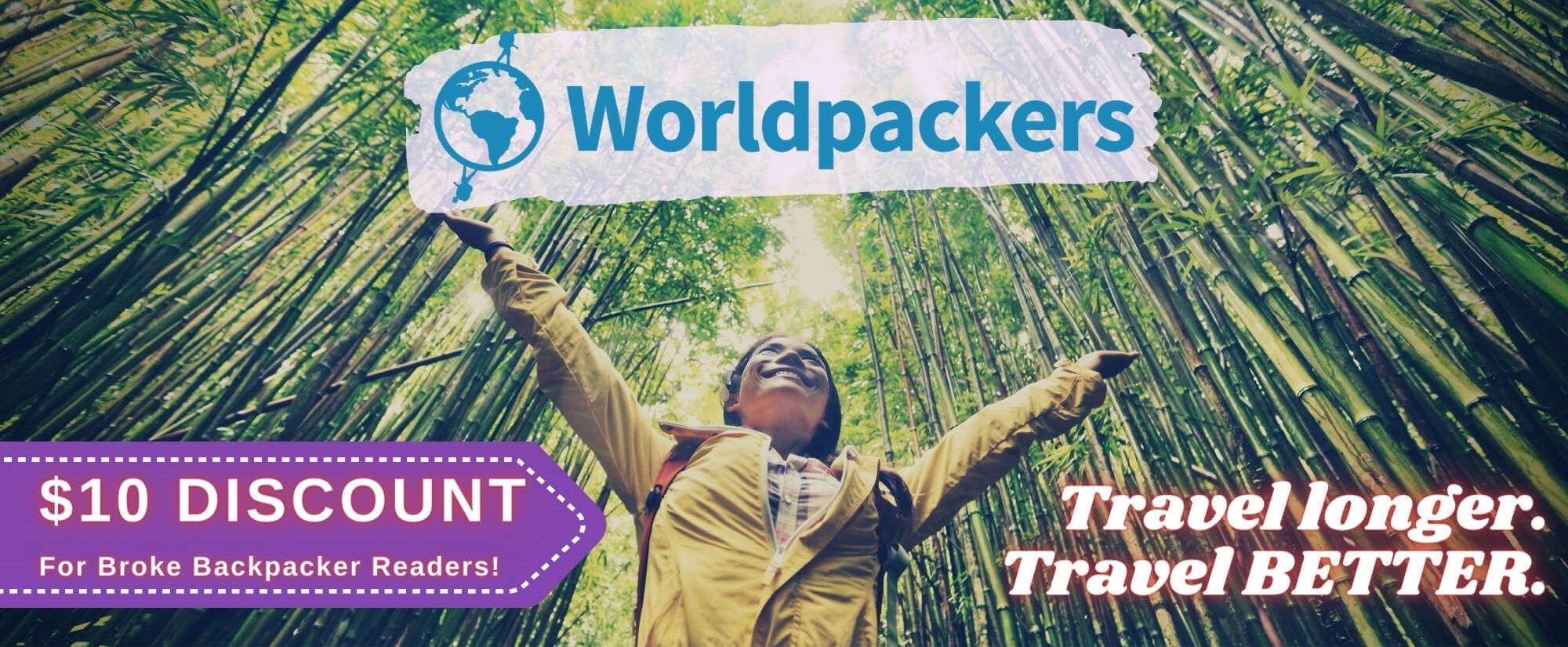 Worldpackers: connecting travellers with meaningful travel experiences.
When most people think of German food, they probably picture traditional Bavarian food: heavy meat and potato entrees, sausages, schnitzel, pretzels, and a liter of heavy beer. While yes, a lot of traditional food does center around meat and potatoes, don't miss out on all the other awesome food!
In general, I found that Germans value local, seasonal produce, and there was a lot of creative street food. And even though Germany is famous for its meat, a lot of my German friends are vegetarian, and I got a taste of that scene while backpacking Berlin and Munich.
Traditional Bavarian Food
A traditional Bavarian meal includes the following:
Schnitzel – breaded pork or veal
Sausage – Sausages vary regionally, and there are many different kinds. Blutwurst is blood sausage. Knackwurst has garlic, and Bavarian's classic breakfast sausage is a white sausage called Weisswurst (though honestly it didn't look very appetizing!)
Käsespätzle – German mac & cheese, made with egg noodles and doused in different cheeses and onions. My favorite!
Sauerkraut – Pickled Cabbage
Kartoffel – Potato oriented foods, like potato salad, pancakes, soups, and dumplings.
Bretzel (Pretzel) – No one does pretzels like Germany. You'll see more pretzel shops than bagels, so consider it your morning treat! Traditionally German pretzels are doughy, salty, and freshly baked, often served in beer halls/gardens. There are a ton of modern "twists" on the pretzel too. Cool bakeries, like Zeit fur Brot in Berlin, make laugencroissants (pretzel/croissant hybrid) along with other amazing treats.
Berlin Food
Berlin does everything opposite of Munich, including food. Bavaria traditionally has heavy beers. Berliners like lighter lagers. Munich is famous for the traditional Bavarian beer halls that serve the food I mentioned above. Berlin is famous for an evolving food scene influenced by completely different cultures.
Street Food – Like everywhere in the world, street food and food trucks are popping up everywhere. You can get stuff like gourmet burgers, ramen, tacos, etc. There seemed to be some type of food market every day of the week.
Currywurst – Curried sausage. The best restaurant is Currywurst in Kreuzberg.
Vietnamese – Back when Berlin was separated by the wall, East Berlin invited thousands of Vietnamese people to assimilate into their communist culture. Now-a-days, there is a ton of authentic Vietnamese food.
Turkish – Berlin has the biggest Turkish population outside of Turkey. It's actually where the Doner Kebab was invented, which is a doner pita wrap with salad and garlic and yoghurt sauce on lamb or chicken. There are endless Doner Kebab shops all over Europe, but the best ones are in Berlin.
Burgers – Speaking of burgers, I found that burgers are huge in Germany in general, but especially Berlin and Hamburg. There are so many good gourmet burger places, and some pretty affordable places as well.
Stuttgart and the Black Forest
This region of Germany makes rich, creamy foods, like…
Black forest gateau (cake) – Originating in the Black Forest, this is a multilayered chocolate sponge cake. Say no more.
Zwiebelkuchen – a deep-filled onion tart with cream, egg, bacon, and onions.
Zwiebelrostbraten – roast beef with onions and gravy
Check out this epic write up on the best hostels in Stuttgart.
Hamburg and the North
Influenced by Scandinavia, this area has more of a seafood influence, with a lot of herring, though it also has a few meat and potato dishes. The Hamburg fish market is huge and a must-see! And as one of Germany's biggest cities, you can expect an ever-changing food scene here too, with plenty of trendy cafes and restaurants.
Guide to German Beer
Few cultures love beer more than Germany, and that's saying something. It's legal to drink on the streets and with a Spati on every corner (convenient store that sells dozens of types of beers), it's pretty common to grab one for the road in the big cities.
Germans even have a word for a beer for the road: Wegbier. Germany is also known for its Reinheitsgebot (purity law) that demands breweries only use the classic four ingredients: malt, yeast, hops, and water. While no longer a legal requirement, many German brewers still pride themselves on pure ingredients.
Bock and Helles beers – These are the most popular, especially in Bavaria. They are both heavy lagers with higher alcohol percentages.
Pilsner – Originally from the Czech Republic, this is a bottom-fermented bear with a creamy head and lighter alcohol content.
Weissbier – My personal favorite type of German beer is the Weissbier made by top fermentation, with a creamy finish, and often with hints of spices banana (weird, I know).
Kolsch – Famous from Cologne, this is a light stout.
Craft Beer – like everywhere in the world, there is a large craft beer movement, especially in the major cities. In Berlin, check out Hops & Barley, and Hopfenreich.
Radlers – Tasty, light, and refreshing, this is like a beer and lemonade or soda put together without tasting too sugary.
While it's hard to stereotype an entire country, Germans are sort of known for being punctual, a bit reserved, and serious. I have befriended pretty much every German I've met, and in my experience, Germans love to travel (and escape the cold!), and are super friendly and welcoming, but yes they do tend to be punctual!
I have found that Germans are not "proud" to be German. (Coming from the US, this is pretty apparent, as we are very nationalistic.) There have actually been studies that Germans identify more with their European identity than German identity.
It's no secret that the 20th century is filled with a lot of oppressive, dark history, and for that, I think Germans feel really uncomfortable with nationalism, following the Nazi legacy. It wasn't until the 2014 World Cup win that Germans started to sport their flag "proudly" again, though even then, showing off their flag seems sort of strange.
In terms of strange or funny quirks, I noticed a lot of Germans like fizzy drinks. I don't know if it's just the people I visited, but everyone seemed to own a fizzy mineral water maker, and I've never seen so many alcohol-free beers before. Sometimes people just want a beer without the buzz.
Germany is also quite green, adamant on recycling, and value ecology. Their government puts quite a bit of money into their waste management system and has one of the best Recology systems in the world. Organic produce is generally affordable and easy to find.
In general, Bavaria and Munich are more traditional and conservative. Munich is also a richer city than the other major German metropolis. The city council isn't big on a huge "warehouse" club scene, street art, etc. and it's actually hard for business owners to start up a bar or club here. This doesn't mean there isn't a party scene, but you have to look a bit harder for it.
Berlin is on the opposite side of the spectrum. I think once the Berlin Wall came down, the pendulum swung, and Berlin fought oppression with progression and acceptance. For that, Berlin has painted their Communist style concrete block buildings with bright colors, and a lot of cool street art. There are edgy bars and clubs everywhere.
They have one of the biggest LBGTQ movements in the world. I mean this is where Pride Parade was founded. Hamburg and Berlin are both somewhat of arch-nemeses. Each city competes for the title of best nightlife, best parks, most creative scene, etc.
Useful Travel Phrases For Germany
I have listed a few help phrases to use while backpacking Germany:
As a native English speaker, I find the German language fascinating. The German language has way more words than English. I've listed a few German words that do not have a direct English translation.
Books to read while traveling in Germany
Berlin Noir (Philip Kerr, 1993): A mystery series set in 1930s/40s Berlin about an ex-policeman turned detective. who struggles with secrets and crime.
Peeling the Onion (Günter Grass, 2007): The Nobel Prize winning author's memoir recounts his childhood in Danzig and his experiences as a soldier in the Nazi Waffen SS.
The Innocent (Ian McEwan): A spy and romance novel about a man working with Western intelligence organizations to build a tunnel from West to East Berlin. During his mission he falls in love with a woman.
Lonely Planet Germany Travel Guide: Relevant, up-to-date advice and tips for backpacking Germany.
A Brief History of Germany
Brief is going to be the key word here, as there is so much German history. I'll focus on Germany's 20th century history, mostly because that is what you are going to come across most while backpacking Germany.
The Prussians unified Germany in 1871. During this time, their leader Otto Von Bismarck laid the foundation for Germany as a military nation. In 1914 Archduke Franz Ferdinand, heir to the Austrian throne, was assassinated and triggered a series of decisions that led to World War I (1914-1919), and then German empire was replaced by the Weimar Republic in 1918 after the first war, and found itself in total economic ruin.
I think you can attest Hitler's rise of power to much of the humiliation and bitterness caused by the WWI Treaty of Versailles (Peace Treaty). After WWI, the Treaty of Versailles held Germany responsible for the war's reparation payments. Coupled with the US stock market crash of 1929, millions of Germans were jobless and their economy plundered. Hitler wasn't popular at first; the National Socialist German Worker's' Party (Nazis) only gained 18% of national votes in 1932, but faced with failed economic reforms, Germany's President, Hindenburg, appointed Hitler chancellor. Hitler quickly began to consolidate power, and when Hindenburg died one year later, Hitler merged the offices of president and chancellor to become Führer of the Third Reich in 1933.
From there everything happened quickly: other political parties were disintegrated, political opponents and intellectuals were detained without trial, and the Nazis quickly began to terrorize Jews and set them up as a scapegoat for Germany's economic situation. Hitler pumped large sums of money into employment programs to win support of the suffering lower class.
Hitler invaded Poland in 1939 and triggered the second world war with plans to follow through with his Endlösung (Final Solution): a systematic, and bureaucratic annihilation of European Jews, political opponents, priests, gays, and gypsies.
If you are interested in learning more about the Holocaust, I recommend visiting the Jewish Museum in Berlin, or visiting a concentration camp with a guided tours.
Many historians agree that Hitler met the same downfall as Napoleon by breaking the USSR/Germany treaty and trying to attack the USSR (Russia). This operation failed once winter came, and the Germans were forced to retreat. Soon after Germany lost two key battles: when the Allied troops invaded Normandy in June 1944, and Soviet soldiers invaded from the east in mid-April 1945. In May 7, 1945 Germany surrendered.
Following Germany's defeat in the war, the country became occupied by British, French, US, and Soviet rule. This eventually led to the formation of two separate states: The German Democratic Republic (East Germany) and the German Federal Republic (West Germany). East Germany's constructed the Berlin Wall, which completely cut off its citizens from West Berlin. For decades Berlin remained divided, and family members on either side could only visit each other in life emergencies (if at all).
On the 9th of November 1989, the Wall was demolished, a significant moment in modern history. After 45 years of division, Germany was reunified with Berlin being made the Capital City.
Germany is famous for its beer, and for good reason, so go to to a beerhall, get drunk at Oktoberfest, and drink in a few parks (it's legal!). Just don't be a drunk jerk.
Go to Oktoberfest!
This is Munich's famous beer festival, a traditional three week carnival with beer tents, lederhosen, and lot's of singing and drinking! It's definitely a bucket-list worthy festival in Germany to check off your list.
Walk around Germany's legendary Christmas Markets
Many of Germany's cities and towns have beautiful Christmas Markets throughout December. Order some mulled wine to keep you warm!
Final Thoughts on Backpacking Germany
Have a case of wanderlust? All the more reason to visit Germany. (The Germans did coin the word, Wandern, after-all.)
If you are interested in military and medieval history, or enjoy cultural cities with a fun nightlife scene, backpacking Germany should be at the top of your list! Germany is a surprisingly affordable country, especially when compared to the rest of Western Europe, and there is no shortage of culture, beautiful cities, history, and nature here. It's a great addition to a Europe backpacking trip itinerary as well as a trip on its own. There is so much to see and do in Germany!
---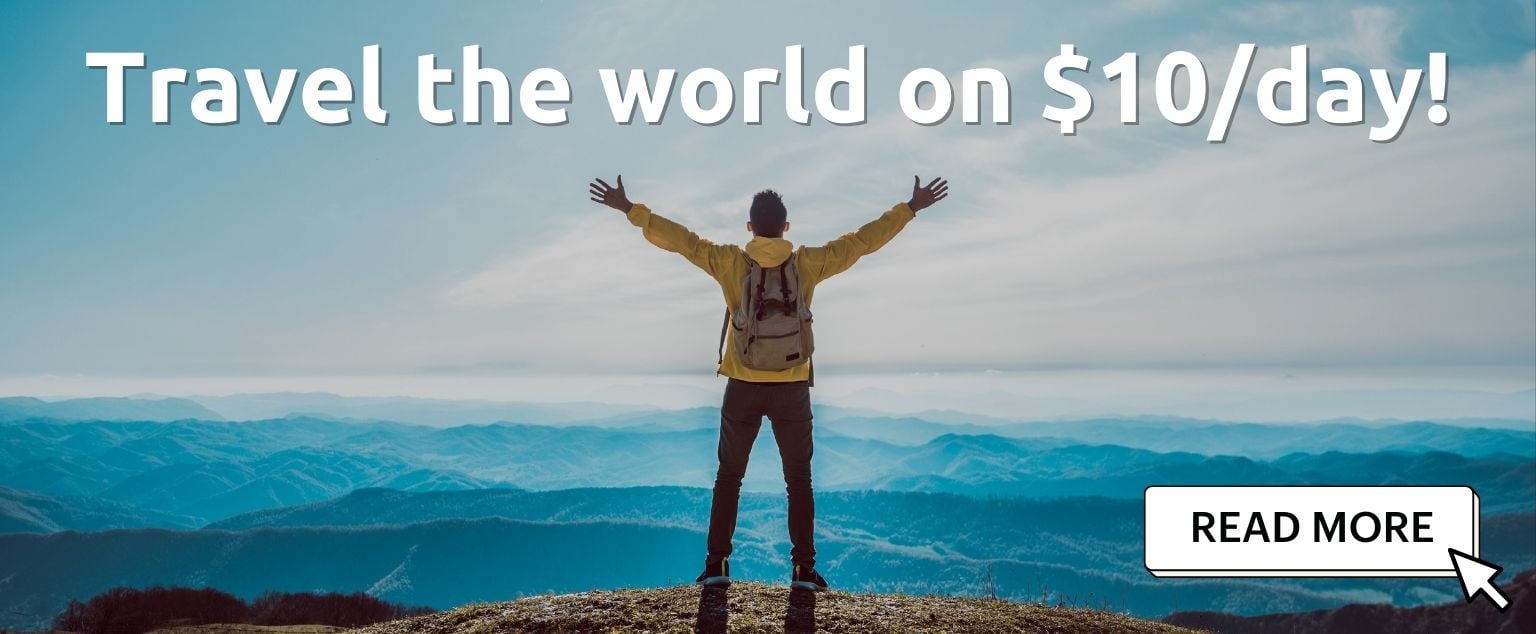 And for transparency's sake, please know that some of the links in our content are affiliate links. That means that if you book your accommodation, buy your gear, or sort your insurance through our link, we earn a small commission (at no extra cost to you). That said, we only link to the gear we trust and never recommend services we don't believe are up to scratch. Again, thank you!