You should always have some emergency cash hidden on your body, no matter where you are heading in the world. When I head into countries where cash is king, I often have a couple of thousand bucks hidden on my body as I know that ATMs won't work and travelling with concealed money already on you is the best bet. These days actually, I tend to mostly carry cash on my travels as I have figured out the best ways to hide money (nope, it's not in a travel money belt).
Quick Answer: Best Ways to Hide Cash when Travelling
In some countries, like Venezuela, there is a black market exchange rate on cash and this means that if you are to get the best bang for your buck you have to bring cash into the country. Venezuela, in particular, poses a bit of a problem for backpackers as it's a country with spiralling inflation and a crazy crime rate. Local thieves know that backpackers have foreign currency on them and with foreign currency worth an absolute fortune in Venezuela, this makes travellers a target.
Whilst travelling across Venezuela, I had a literal pillowcase of Venezuelan bolivars hidden away as well as a few hundred dollars which I kept on me at all times. I knew that I needed to hide my money while travelling in Venezuela and so, whilst in Colombia, I came up with a proper plan to conceal my money whilst travelling…
So, how should you carry cash when travelling? First things first, let me run you through my top tips for keeping your cash safe in general and then I'll introduce you to the best ways to hide your money when travelling…
Top tips for travelling with cash
Split up your money
To avoid losing everything, split up your money into three locations. There are lots of places to hide money when travelling but if you just hide everything in one spot, you could really screw yourself over.
On-body storage is best
Hide your cash on you when you are travelling. Try to avoid having your money hidden away in your backpack, whilst this will often be OK it only needs to go wrong once. A friend of mine had a thousand bucks stolen from his backpack, it sucked.
Be ready with small bills
Try to avoid flashing your cash and instead be ready with small bills. 99% of the time, the world is a very safe place to travel in. You can get that percentage up to 99.9% if you are smart – don't make it obvious that you are travelling with cash.
Use a dummy wallet
If you are in a 'shit I'm about to be mugged' situation, it helps if you have something you can surrender willingly. Enter the dummy wallet – a pre-prepared wallet with just a few bucks in it and some old library, or other largely useless, cards. You can hand this over knowing that your money is safely hidden away. I tend to travel with a dummy wallet, in which I keep small bills for day to day shenanigans and another proper wallet which rarely leaves my accommodation. I simply top up the dummy wallet as I go, this is also fairly helpful for budgeting! If you need to take more money out on the town, no worries, there are lots of ways to keep your money safe while travelling…  The best ways to stash your cash while travelling all have one thing in common – you should hide your money on your body.
How to hide money on your body
There are a ton of travel security products out there which are absolutely god-damn useless. Travel money belts and security neck pouches are useful for keeping your passport and money together in airports but are NOT a good idea if you are travelling through a country like Venezuela, Mexico or South Africa.  Travel money belts are a step up from carrying all your money in a wallet as it's not as easy to pickpocket a travel money belt. Unfortunately though, travel money belts are super obvious to the trained eye which means that if a thief tries for a proper mugging, your hidden money will not remain hidden for long. I hasten to add – the world really is a safe place, it just makes sense to properly hide your money when travelling. Most of the time, thieves will only strike when they can see a target.
Luckily, there are some travel security options out there which are a lot more subtle than the average money belt. When I travelled through Venezuela, I had my money hidden in three places…
I've been using these belts for years and they are hands down the best way to hide money on your body. Before I travelled around Venezuela, I actually commissioned a local dude in Colombia to make me one of these as I couldn't find exactly what I wanted on the market. These days, I go with the Zero Grid Security Belt – it's tough, airport-friendly (it won't set off a metal detector) and you can fit up to twenty notes inside – that's a lot of hidden travel money! I've travelled with a lot of cash on me, through Iran, Pakistan, Colombia and all over South East Asia thanks to this belt. This hidden security belt is my number one alternative to a traditional money belt and I never travel without it.
I sewed a bunch of hidden pockets into my trousers years ago and these are a great way to hide your passport and some money. Remember, you want to split up your cash so that if one of your ways to hide money is discovered, you don't lose everything. I think it is very unlikely that the security belt above would ever be discovered and the hidden pockets are also pretty damn sneaky – until someone pats you down. If you are really paranoid, read on to check out my own homegrown, broke backpacker friendly, way to conceal money while travelling. You can easily make these yourself or you can buy some ready-made pockets and just sew them in.
Laminated photo album
A few times now, I've taken my emergency money and placed it between two photographs of my family back home. I then laminate the two photos, back to back, with the money hidden in between. I do this a few times to create a photo album. This is a GREAT way to hide money in plain sight. A personal photo album is extremely unstealable and I figure that even if you were mugged, you could ask for the photo album back and be in with a pretty good chance of having your hidden cash handed straight back to you.
Even more ways to stash your cash when travelling
If you're looking for more nifty ways to stash your cash on the road, check out these options…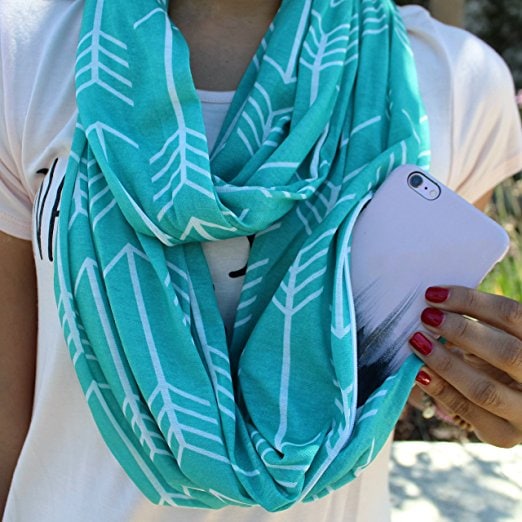 For all you ladies out there – perhaps this scarf with its hidden pocket is the best way for you to hide your money while travelling. The only problem is that scarves are pretty damn easy to lose so I'm not sure if it would be a safe place to hide cash. The best ways to hide money while travelling are the ones that require the least amount of messing around – hide your money in a belt, or in a leg wallet (see below), and boom – job done, you don't have to worry about it as it's strapped to your body. There are some bra money belts on the market but, for obvious reasons, I haven't tested these. Still, a hidden wallet in a scarf might be a good option for hiding a small amount of money on a night out.
If you are carrying large amounts of cash then an undercover leg wallet is a good way to conceal your travel money. The undercover leg wallet is the best body wallet I've come across so far and a decent way to hide money while travelling. If you are patted down though, I reckon there is a 50% chance that it will be noticed. The other problem is, and I speak from experience, that they get pretty uncomfortable – especially if you are somewhere hot. Prepare for a mighty sweaty leg!
Whilst wrist wallets for travel are a viable way for you to carry cash abroad they are not exactly subtle and even somebody with just one eye is likely to spot that you have something on your wrist. Some wrist wallets are better than others, I met a girl in India who had made one herself from a large piece of leather and it basically looked like a bracelet but most of the options available to buy online are fairly obviously hidden wallets. The whole point of a hidden wallet is that it's a subtle place to hide your money. Wrist wallets are handy for runners or perhaps a night out but not really a viable solution to hiding large amounts of money while travelling. Still, the link below takes you to the best one I found…
Whilst I don't use a money belt outside of airports, it is a popular way to hide money. There's a lot of money belts on the market so if you are going to get one then make sure it has RFID protection built in. The best money belts for travelling are comfortable and crucially, not too fat. The main advantage of money belts over the security belt, which is my first choice, is that you can keep your passport in there as well. When I'm catching a flight or crossing borders, I do often use my money belt as it's the most accessible place to keep my passport, debit cards, hidden money and photos for visas. However, I would not ever recommend wandering around streets, bars, museums or anywhere besides an airport or border crossing with your money belt on – if there is real crime in the area you are travelling than a money belt is only marginally better than a wallet as anybody who is determined to get your money will probably know where to look. I've been using a belt like this for years and recently me and my buddy DJ launched our very own travel money belt under our adventure gear brand, Active Roots. It's the most comfortable money belt I've used and crucially, it ain't too fat. Support the site, protect your shit and buy a belt today.
In your shoe
You can also simply stash your cash in your shoes! An oldie but a goodie, backpackers have been hiding money in shoes since the dawn of time. The only problem is that your money may endure a bit of wear and tear and eventually end up stinking of feet…
There are lots of ways to carry cash when travelling, for me though the answer is pretty obvious. The security belt is the best way to keep money safe while travelling and is the best backpacking belt out there. It's simple – stick your money in there and forget about it, your hidden cash is literally around your waist so unless you lose your trousers you are all good. The belt itself is not flashy and not steal-able and the zip is only on show if you flip it over, which you can't really do whilst it's in the belt loops.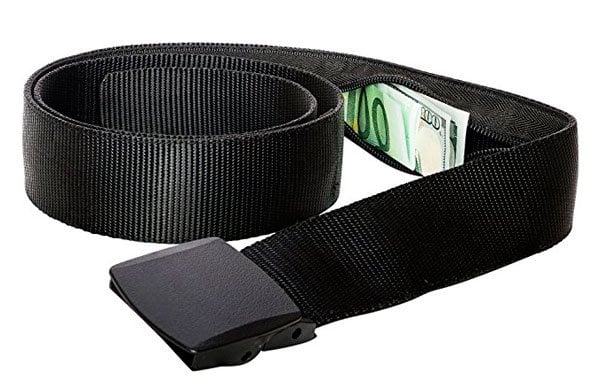 I'm fairly confident that you could be kidnapped and strip searched and your hidden money would still not be discovered. Remember though, always hedge your bets and split your money into a couple of places. The safest option is to combine the hidden security belt with some hidden pockets or the concealed leg wallet.
Yay for transparency! The links in this post are affiliate links. This means that if you buy anything, I'll earn a small commission at no extra cost to you. I only link to stuff I've actually used and never endorse crap. Your support helps me keep the site going.
Like this Post?! PIN ME!!