While the world is mostly safe to travel, it's an unfortunate fact that thousands of travelers are robbed every year – so it makes sense to be prepared for the worst, just in case.
In all of my world travels, I've only found one proven way to protect your hard-earned money. You have to conceal it and conceal it well. This is exactly why I wrote this article about the best travel money belts.
Investing in a quality money belt is an easy, inexpensive solution to protecting your cash while traveling. Money belts not only improve your security, but also help you keep your money organized and give you a sense of comfort and security.
In a nutshell? It's well worth the $10-20 investment. 
This guide tries to find the absolute best money belt for travel. Learn how to wear a money belt, what I like and what I don't about each belt on my list, features, costs, my top pick, and much more…
Let's look at the best security belts for you in 2023, so you can travel stress-free.
Quick Answer: What are the Best Money Belts for Travel?
Do I need a money belt for travel?
Buying a money belt may feel like overkill to a lot of people; others may find them redundant as you're painting an even larger target on your back.
These are both fair points – pickpocketing isn't guaranteed and carrying around a bulky money purse is pretty clear advertising anyway. Even the really subtle money belts are disarmed when you open them to access your cash. At this point, everyone knows it's a belt and it's kinda ridiculous the sight of someone rummaging through their own waist strap anyways.
Here's the thing – you're still at risk. Sure, 9 times out of 10 you may get away walking through a seedy street, but are you ready to cope with that 1 time?
Having you're money stolen can really screw a lot of plans up. If your credit cards were in that wallet as well, dealing with the company can be a huge pain as well.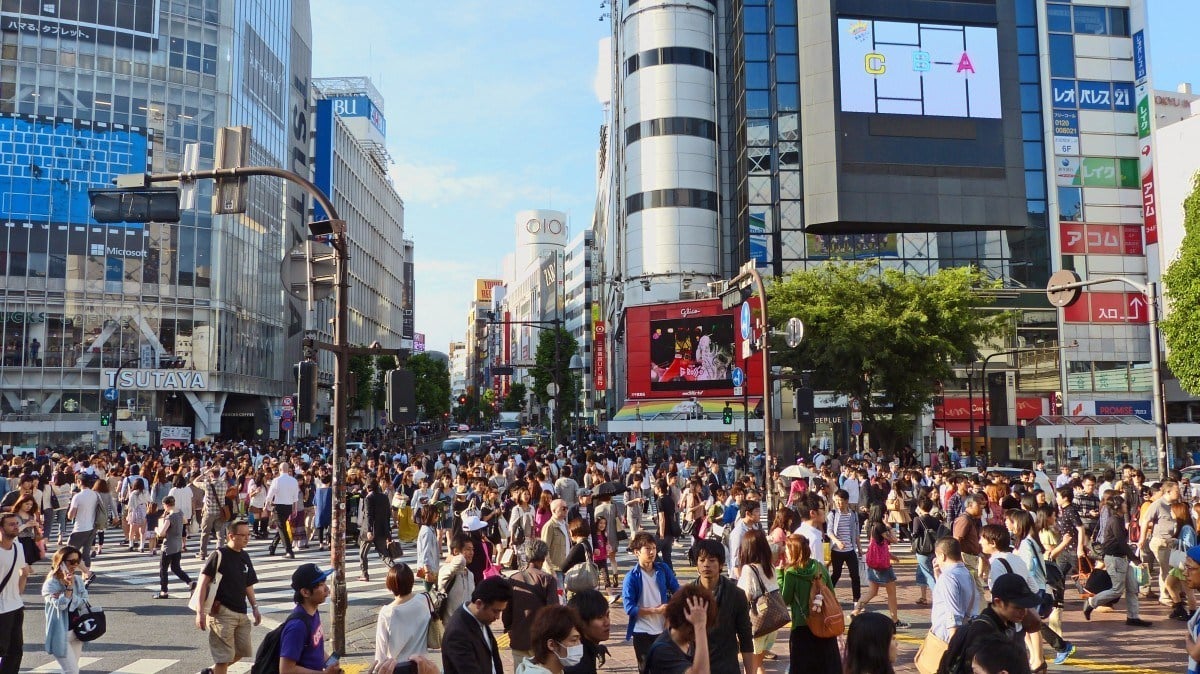 Having a money belt is more of an insurance than an actual deterrent. Hiding a bit of cash while traveling is a great way to relieve yourself in case the shit hits the fan. If the worst should come to be and your bag or wallet is stolen, you'll be in better shape because you had an emergency stash.
Money belts are not huge investments either – most are about the same price as a t-shirt. It's not like you have to take out a huge policy.
So do you need a money belt? Not necessarily. Are they convenient to use though? Yes – money belts will save you in a pinch. Like condoms, it's better to have one and not need it than need one and not have it.
So with that being said, let's take a look at the best money belts on the market real quick.
A Quick Review of the Money Belt Selections
Best Money Belt for Europe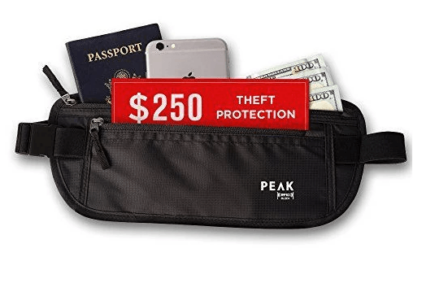 Best Money Belt for Europe
Peak Travel Money Belt
Price > $
RFID Blocking > Yes
Secret Stash Pocket? > No
Best Use? > Backpacking Europe, general travel.
Best Tech Bag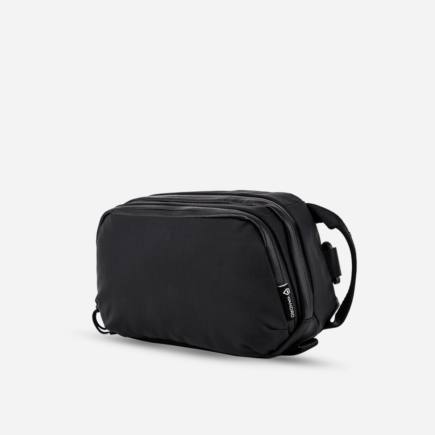 Best Tech Bag
Wandrd Tech Bag
Price > $$
RFID Blocking? > No
Secret Stash Pocket? > No
Best Use? > Urban
Best Traveling/Running Money Belt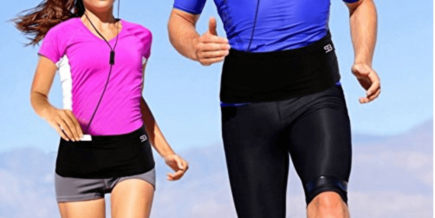 Best Traveling/Running Money Belt
Stashbandz Running Belt
Price > $
RFID Blocking? > Yes
Secret Stash Pocket? > No
Best Use? > Running, urban jogging, travel.
Best Money Belt for Electronic Security
Best Money Belt for Electronic Security
Alpha Keeper Money Belt
Price > $$
RFID Blocking? > Yes
Secret Stash Pocket? > No
Best Use? > RFID protection, general travel.
What are the Best Travel Money Belts?
Let's find out! We've got plenty of different options including the money belt for men and women and the waterproof money belts.
Ladies & Gents, It's Time to Step Your GEAR Game Up. 😉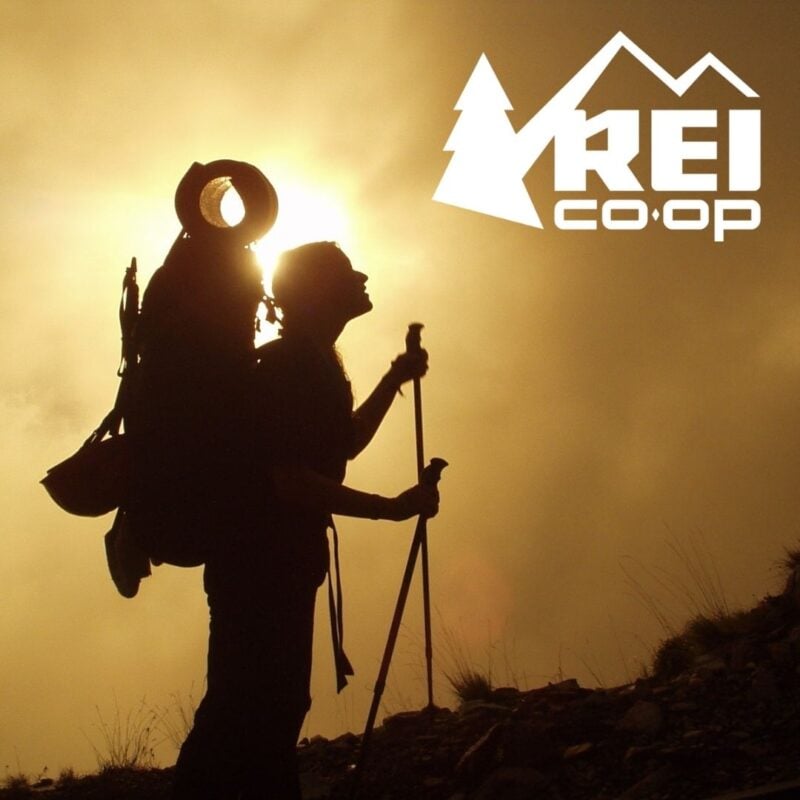 REI is one of America's biggest and most-loved outdoor gear retailers.
Now, for just $30, get a lifetime membership that entitles you to 10% OFF on most items, access to their trade-in scheme and discount rentals.
Join REI Today!
Quick Answer: Price: $34.27
The Wandrd Tech Bag offers the perfect solution to your tech organizational needs. Daily carry, short trips, are all covered with this money belt.
Each bag size has been thoughtfully designed with unique organizational elements and built out of the highest quality materials, so your gear is easy to access and protected.
Each bag has a unique webbing loop and clip system on its back panel so that you can connect any two together to create a mega bag.
You can also use this system (in the medium and large) to attach the Tech Bag to the Accessory Strap loops on the outside of the PRVKE or DUO. Wandrd also offer an elegant Carry Strap that attaches to any size bag making it a great daily carry.
Things to note:
Our team are big fans of Wandrd Gear and this tech bag lives up to the brand quality. Though this bag isn't technically a waterproof money belt they felt it offered the best level of protection for their gear with its resistant tarp material. They love how much this little bag can fit in and the level of organisation the internal design gives them.
Quick Answer: Price: $16.97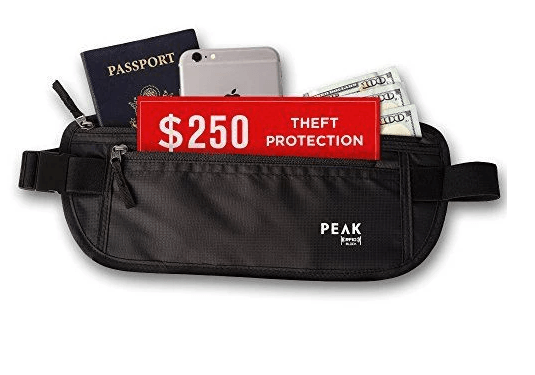 Why Europe? Well, because you need a bit of style in addition to theft-protection whilst backpacking in Europe. Duh!
The Peak money belt is another "not a belt" belt, fitting just around your belly under the shirt. The design is sleek, practical, and is very comfortable to wear.
What sets the Peak travel belt apart from the rest is its insurance policy. If some James Bondesque pickpocket somehow manages to get to your stuff, the company will pay you $250 (which isn't all that much in my opinion). That said, no other security belt company I know of offers insurance, so I guess it is better than nothing.
The Peak money belt is equipped with an RFID reflector to combat electronic pickpockets.
Also, the belt is made from 210D water-resistant (not waterproof) nylon so if you get caught in a heavy rain, no need to panic.
Things to note:
Not actually a belt
Not as cheap as the Ray Tix travel belt
Our team really liked the low and flat profile of this belt. They felt it offered the perfect compromise between the mega small traditional style belts and the larger money belts that are more like small bags. It easily sits flat with a passport and some money whilst remaining breathable and water resistant making it really comfortable to wear underneath clothing all day.
Quick Answer: Price: $23.99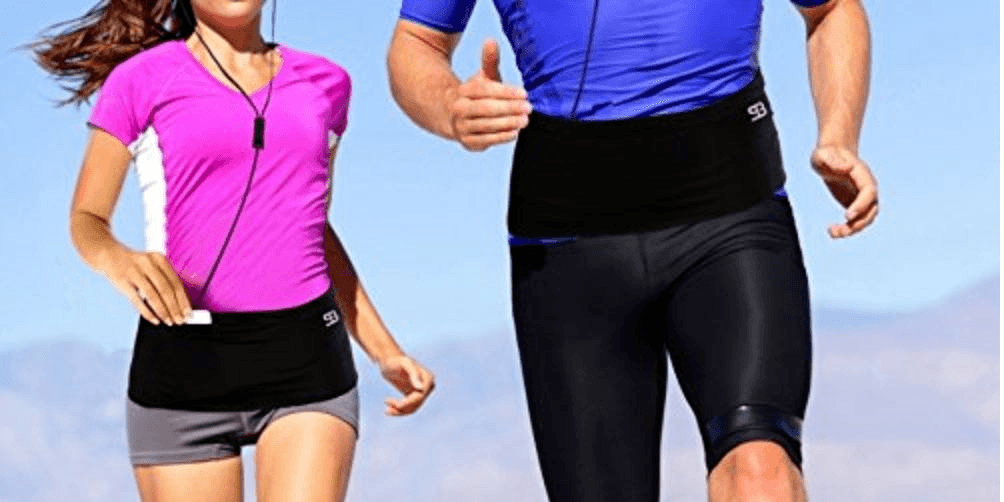 Are you a compulsive jogger or trail runner even when you are traveling? Do you just want a secure stash pocket to wear when you are running at home? Stashbanz has come up with the ultimate running belt to meet your needs.
This travel belt is made from a moisture-wicking quick-dry spandex material and includes four secure pockets and a new zippered concealed pocket.
You can really store a ton of stuff in this thing. If you are the kind of traveler that always seems to have a loaded wallet, a passport, phone, earbuds, hostel keys, debit cards, lip balm crammed into your pockets, this money belt might be the answer to your prayers.
The Stashbanz running belt comes in five different sizes and fits easily under or over your clothes depending on your activity.
Made in the USA.
Things to note:
Not adjustable
Slightly overkill (too many pockets) if you are just wanting to hide your money
Our team were impressed by the versatility of this belt and liked that it was useful for more than just keeping their gear safe. In fact, they used it for jogging and bike rides on their travels too. They also liked that is was super low profile and light and rolled or folded really small.

Do You Want to Travel FOREVER??
Pop your email in below to get a FREE copy of 'How to Travel the World on $10 a Day!'.
Quick Answer: Price: $16.98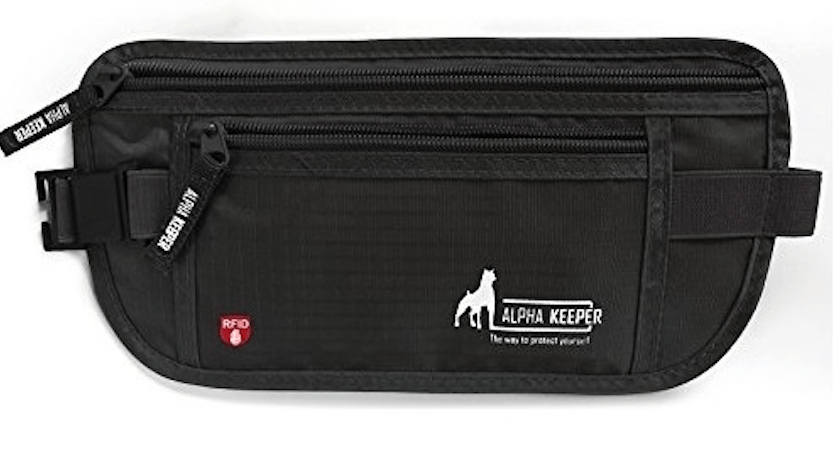 Traveling with heaps of credit cards? Have you been burned already by an electronic thief? Do you want to take your electronic security a step further? Alpha Keeper will meet all of your needs and then some.
The Alpha Keeper money belt is made with three layers of 100% RFID blocking material to ensure your valuables stay safe. It is made out of high-quality water-resistant 210D rip-stop nylon toughness and durability on the road.
If those three layers of RFID protection are not enough, the Alpha Keeper money belt also comes with seven protective sleeves, so you can add additional barriers to things like your phone, wallet, and passport even when you are not traveling (for example sleeping at the hostel).
I have certainly never heard of anyone being electronically robbed at a hostel, so please don't be paranoid. That said, having more protection is never a bad thing.
Long story short, there is no way in hell that an electronic thief will get to your valuable items when you are using an Alpha Keeper money belt.
Things to note:
Reportedly not as comfortable as other travel money belts.
Not actually a belt
Our team liked that this belt easily lay flat on their stomach or back whilst still offering a good amount of storage. The two-pocket design was great for keeping passports and money organised and they even found they could easily fit 2-3 passports if needed. So it's great for families too.
Quick Answer: Price: $10.99
Our pick for the best leather money belt, the LeatherBoss men's leather money belt is another great option for backpackers looking for a practical piece of gear that also hides your money.
This leather money belt does not feature all of the stash pockets and features some of the other "belts" do, but that is what makes it great. No one can tell that you are indeed wearing a belt containing hidden money.
It looks just like any old belt you would wear any day of the week.
The LeatherBoss money belt certainly wins big on style points. It is attractive, simple, and an all-around great way to stash your cash on the road. This is one of the best men's money belts on the market.
Things to note:
Leather material not conducive to getting wet, hiking or other outdoor adventure sports.
Non- RFID blocking
Our team loved this leather money belt and in particular just how lightweight, low key and inconspicuous it is. Literally, no one will suspect that you've got cash hidden in this thing and they felt it still functioned just as well as a "normal" belt. The only issue is that they felt it was a bit more fiddly that the others to access your stash and obviously it holds a lot less.
Quick Answer: Price: $16.99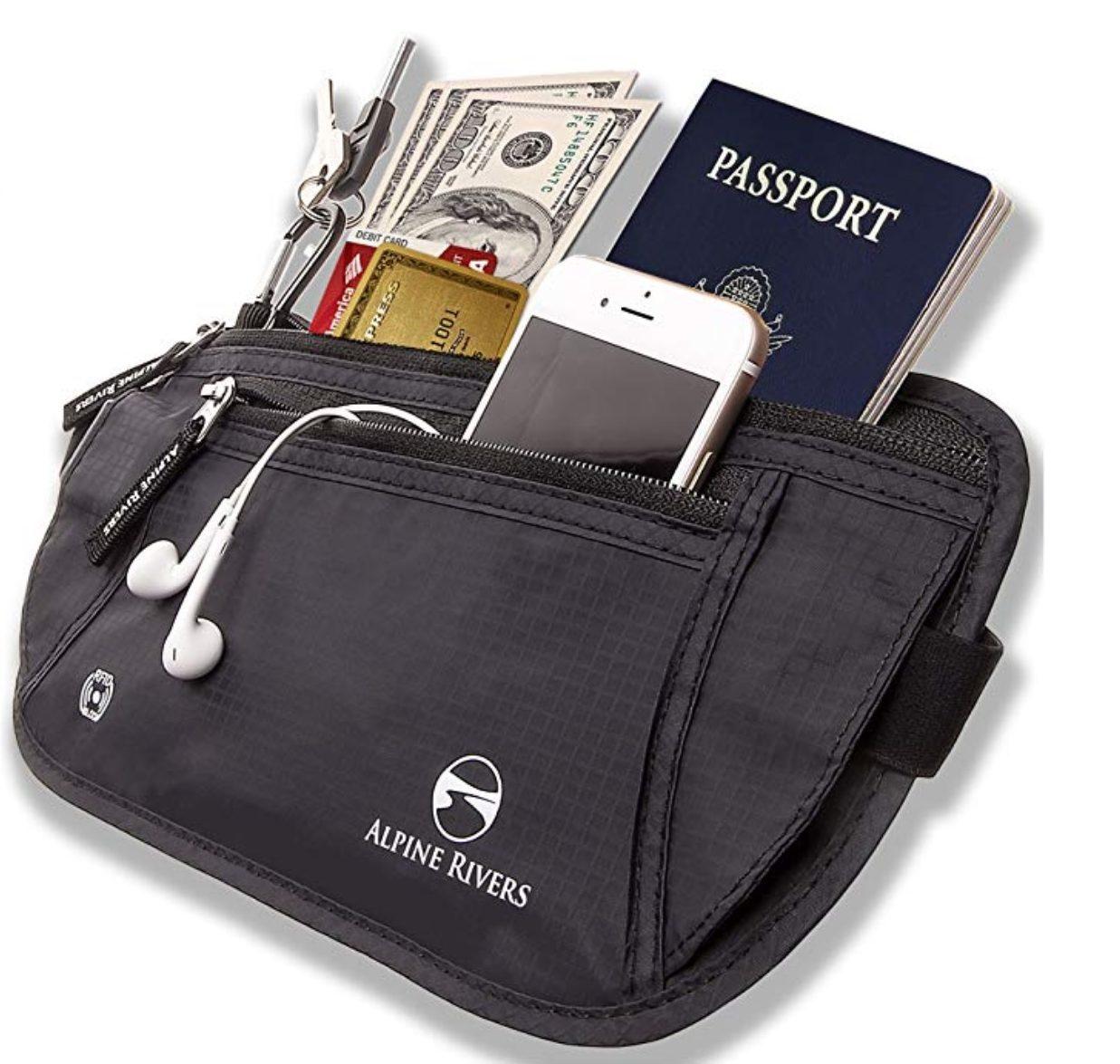 The Alpine Rivers travel belt is also very focused on electronic data protection. The belt is made from 100% RFID blocking material & Water-resistant 210D rip-stop Nylon.
The sleek, compact design allows for plenty of space and easy access to your most sensitive possessions and cash.
Features include two front zippered pockets and a large concealed rear pocket. The inner pockets allow convenient organization of passports, tickets, credit cards and cash.
Like the Alpha Keeper money belt, the Alpine Rivers model also comes with RFID blocking sleeves to add an extra layer of protection to your credit cards and phone.
The Alpine Rivers money belt is well made, durable, and should be able to handle all of the years of wear and tear that backpacking gear faces.
Things to note:
Slightly larger than other travel belts.
Quite bulky under tight-fitting clothing.
Received a few poor reviews involving cases of theft out of the money belt. Ouch.
Our team loved the size of this money belt when it came to carrying more gear. Some of the team wanted to be able to carry a phone and other items like headphones alongside their cash and passports and this belt made that easy and comfortable without taking up a massive amount of room. It did show a little more than other as might be expected, but if you wear a baggy shirt or hoody over the top it still covers well.
Quick Answer: Price: $9.99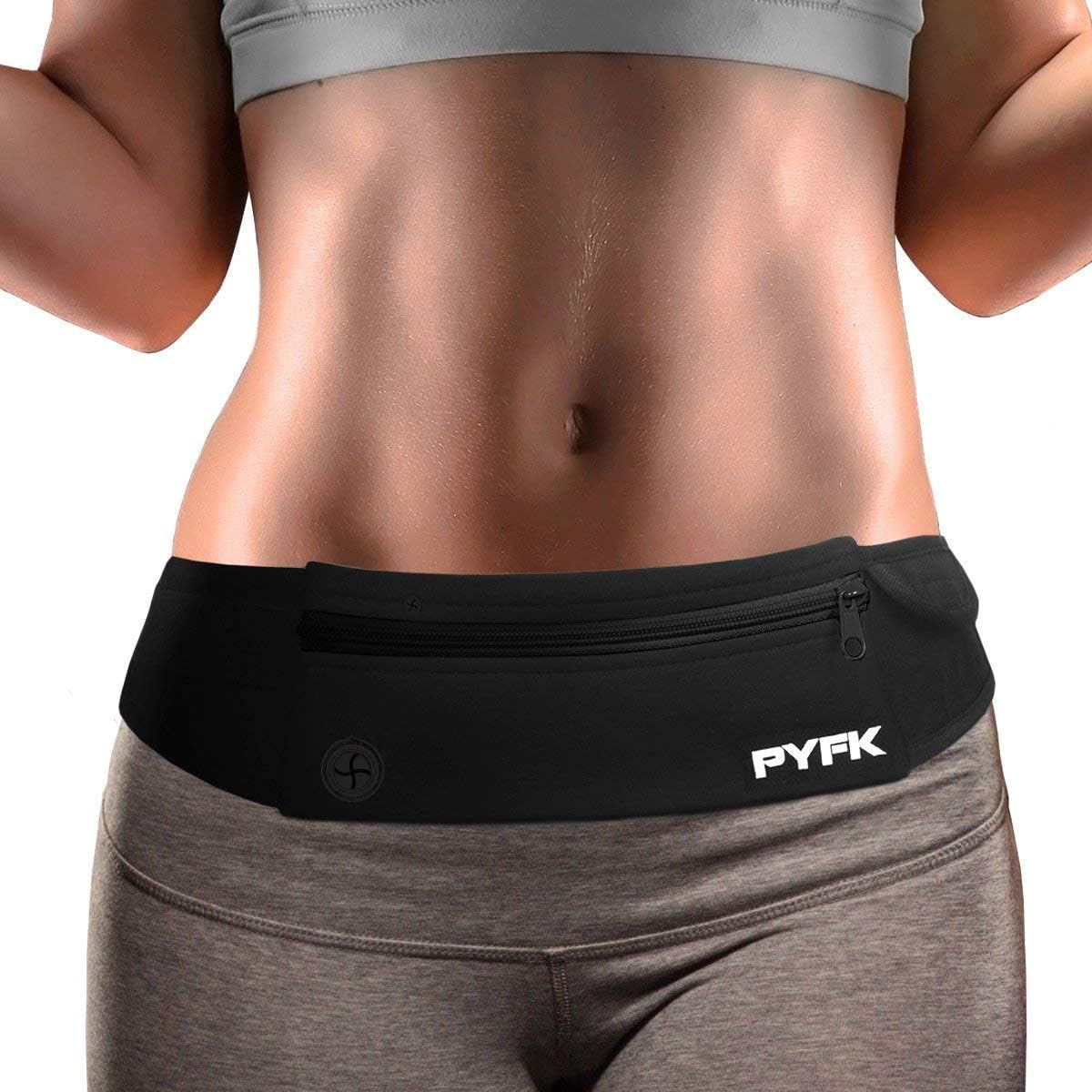 Similar to the Stashbanz running belt (what the hell is it with these running belts and the use of the letter "z"??), the CyberDyer running belt is designed specifically for active people.
I almost like the CyberDyer more than the Stashbanz running belt because there is only one main pocket compartment to deal with.
The belt is made from a high-quality blend of Spandex material that is soft as silk and it stretches well. This is the perfect belt for the people who are running in big cities either at home or whilst traveling.
The Amazon reviews have mostly raved about fit and comfort, so you can expect a comfortable running belt that won't bother you when you are out jogging.
The CyberDyer running belt comes in a wide range of sizes so you can be sure to find the perfect fit.
Things to note:
Reportedly can slip and ride up
Edges have been known to lose their shape and curl over time
Can feel bulky
The CyberDyer might sound like a cyborg washing machine, but our team felt it was a really simple and comfortable solution to keeping their gear safe. The material sits on the skin well without rubbing and allows it to fit virtually anyone perfectly. They felt it was a bit basic with only the one pocket, but for keeping bare essentials safe whilst travelling or running it was ideal for those not wanting all the bells and whistles.
Quick Answer: Price: $28.99
The Flipbelt travel belt is another unit designed for active people. The belt is made from spandex/lycra material. A big plus with the design is that there are no buckles to rub against your body, thus eliminating chaffing.
There are many knock-off imitators on the internet who have copied the Flipbelt construction. Don't be fooled. Flipbelt is still making the best money belt of its type.
Features include multi-access pocket openings found throughout the belt for easy access and organization.
The money belt is machine washable, which is good news if you plan on exercising while wearing it.
Things to note:
Sizing can be different depending on the country that it is manufactured in.
Pocket a little small for storing iPhone 6 or larger.
Our team loved how this belt kinda skirted between being a belt and a proper travel pouch. They loved the soft material that fit them well without being bulky and too large. Rather than layering pockets on top of each other, this belt spreads them around to keep everything flatter and easier to conceal.
The best present of all… is CONVENIENCE!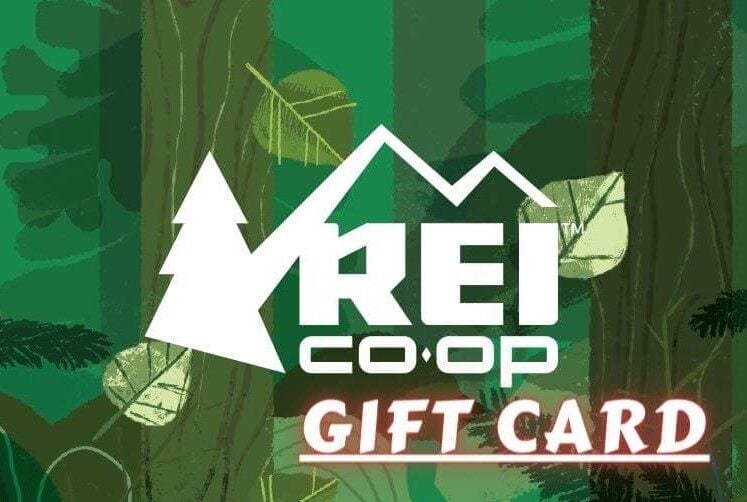 Now, you could spend a fat chunk of $$$ on the WRONG present for someone. Wrong size hiking boots, wrong fit backpack, wrong shape sleeping bag… As any adventurer will tell you, gear is a personal choice.
So give the adventurer in your life the gift of convenience: buy them an REI Co-op gift card! REI is The Broke Backpacker's retailer of choice for ALL things outdoors, and an REI gift card is the perfect present you can buy from them. And then you won't have to keep the receipt. 😉
Buy on REI!
The idea of a money belt is simple. They are designed to keep your money safe by concealing it all together in a zippered pocket that stays fixed close to your body at all times. Pickpockets cannot reach your money if it is hiding on the underside of your belt or shirt!
Security belts have been popular for a long time. Styles, performance, and best utility vary across the board. There are MANY travel money belts on the market. So, how does one find the right belt to fit your own individual taste?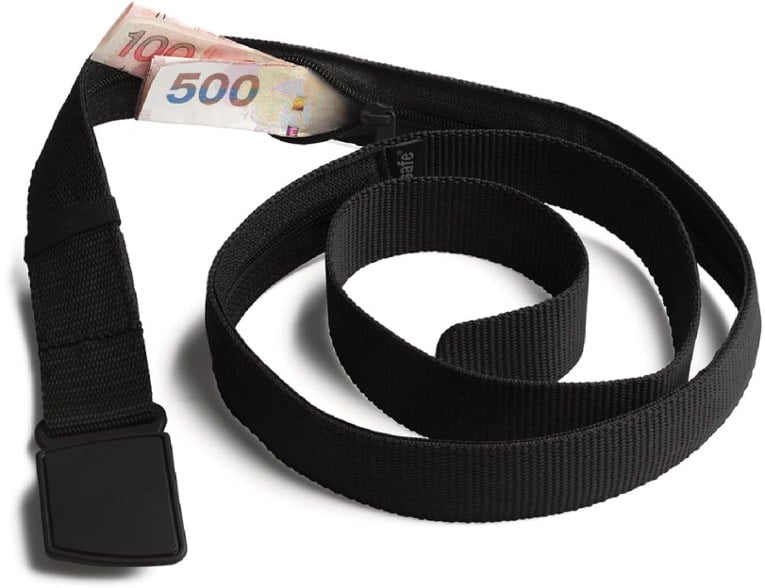 Features
When you begin the process of looking to buy a money belt, you'll need to first ask yourself some questions.
What are you looking for the security belt to do? Are you after a belt that will hide your money only? Do you want a money belt that can also hold your phone, credit card, and passport? Will you be active while you are wearing your travel belt?
Each belt has different features including pockets, zippers, buckles, clips, and bands. You'll need to ask yourself "what style works for me?" when you are thinking about buying a money belt.
Personally, I like a simple money belt like the one pictured above. For hiding cash, you simply don't need a ton of pockets, but every backpacker has different needs so the choice is up to you.
Fit
You want a money belt that is comfortable. Very comfortable.
You will likely be wearing your travel belt most days whilst out on a backpacking trip. Essentially, it will become an extension of your own body.
You want to be damn sure that it fits you perfectly and does not produce any rubbing or chaffing that will irritate your skin and disrupt your day.
Alternatively, if you don't like the idea of wearing a belt at all, there are scarves with hidden pockets as well.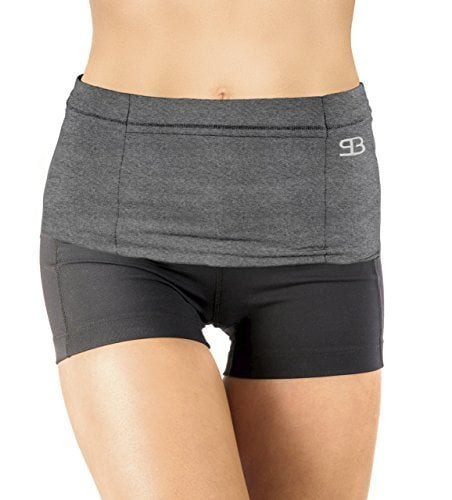 Intended Use and Activity
If you are after a running belt or find yourself outdoors, you will want to consider a money belt specifically designed for that purpose. Running belts are great for people who are jogging all the time. They keep your stuff organized, safe, and in theory, do not move when your body is in motion.
Other designs include waterproof or water-resistant fabric. If you do a lot of camping or hiking, you might want to consider a water resistant model, though you probably have camping dry bags that can protect you from rain anyway.
Also, if you hike or run a lot, you should probably stay away from a leather travel belt.
RFID-Blocking
What is RFID? RFID ( radio frequency identification) is the use of radio waves to read and capture information stored on a tag attached to an object; for example your credit card.
In this day and age, you have to worry about that kind of thing. Now to be clear I have never had an issue with an electronic thief, but that is not to say that it doesn't happen. Electronic theft in public places is certainly on the rise. You'll have to decide whether or not having an RFID-blocking money travel belt is important to you.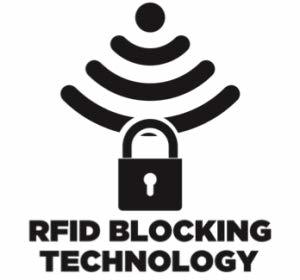 Materials
Most of the travel money belts on my list are made from tough nylon, though a few of the running belts are made out of a Spandex blend. Typically, the nylon travel belts will last you longer and hold less of a smell over time.
The good news is you can throw just about any travel belt (that isn't leather) in the washing machine (at a low spin cycle). This allows you to wash off sweat, dirt, and other unpleasantness that you don't want to fix to your body day after day.
Staying Safe While Traveling
On any given backpacking adventure there will be potential thieves lurking with the hopes of stealing your money. I say this to not induce a state of travel paranoia, but out of the need for every backpacker to be aware of the risks of traveling. It is common sense really.
Many budget backpacker destinations are so cheap to travel in because the local economy is in shambles. People are out of work and when people have no employment, they turn to crime. They target foreigners who do have the plentiful cash that they themselves do not.
I can't say that I blame them.
Us backpackers are extremely lucky and fortunate to be able to afford to go backpacking at all. That said, in order to keep traveling long term you simply can not have your money taken from you. For some travelers, myself included, losing a big wad of cash in a single moment could end up completely derailing an otherwise awesome backpacking trip.
Having a security belt and putting it to use is a great preventative measure for keeping your cash away from potential pickpockets. There are however other steps you can take to ensure that your cash stays in your pocket (or in your belt).
Top Tips For Guarding Your Cash While Backpacking
If you plan on going out for a night on the town, take only the cash you need.
Finding yourself drunk, alone, and loaded with cash in a foreign city is a recipe for disaster anywhere in the world. Don't do find yourself in that position!
Use extra caution in crowded public spaces. Train stations, public markets, bus depots, major tourist attractions… all very prone to pickpocket activity.
Be sneaky when you take money out of your money travel belt. Plan a little in advance if you know you will need a bit of cash for any given situation. Don't go lifting up your shirt in a crowd of people, thus exposing exactly where your valuables are hidden.
Don't overload your money belt. If it is making you look pregnant (assuming you're not pregnant) through your shirt, you have taken away the hidden aspect of your security belt.
Travel with plenty of cash, but generally, avoid traveling with thousands upon thousands of dollars on your person. You never know what could happen and you don't want to put all of your eggs in one basket as they say.
Don't fall for pickpocket tricks and distractions. For example, someone might squirt paint or ketchup on you and make it seem as if it was an accident. IT WAS NOT AN ACCIDENT! They are trying to scam you, so get the hell out of there, ketchup and all.
Don't be overly paranoid. The majority of people in the world are fine people. Keep your wits about you at all times, but don't think that every single person is out for your money, because they are not.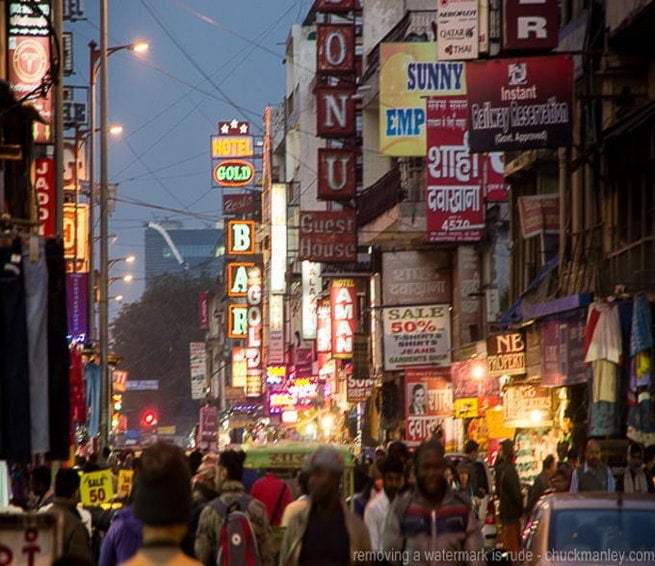 How We Tested This Gear
There is no perfect or exact science when it comes to testing out travel gear. Having said that, The Broke Backpacker team has gotten pretty close given our levels of experience in this area. So, we're a solid bet when it comes to sound advice when it comes to picking a money belt for travel.
Whenever we test a piece of gear, a brave and bold member of the team takes it out and puts it through its paces, Royal Marine style! We also make sure to pay attention to the build quality of each item, considering things like how well-stitched it is and the materials used. We also test out how heavy the gear is and how well it fits its primary purpose. So when it came to finding the best money belts for travel, it's keeping your money safe that seals the deal!
Finally, we also take into account how an item is priced – for example, expensive items that perform not so great will lose points. On the other hand, budget items may be given more leeway and minor failures treated less harshly.
FAQ about the Best Travel Money Belt
Still have some questions about the best moneybelt? No problem! We've listed and answered the most commonly asked questions below. Here's what people usually want to know:

Our GREATEST Travel Secrets…
Pop your email here & get the original Broke Backpacker Bible for FREE.
Final Thoughts on the Best Money Belts for Traveling
Well amigos, you have made it to the end of my money belt review article!
Traveling is not without its dangers, but most of the time the power to take preventative steps lies in your hands. Picking up a quality travel belt is the best way to protect your money, period.
You are now in full possession of the top travel belts on the market. The choice of which one to pick is now up to you!
I hope you found my list of money belts super valuable and informative. It is my wish that you stay safe while traveling and have the time of your life on every single journey you embark on.
A good time starts and ends with a hassle-free/theft-free trip. So, do yourself a favor and prevent any future pickpockets from scoring your hard-earned money…
Pick up a security belt and hit the road with confidence. If you're after something with a bit more size than a travel belt, so you can organise your documents, why not check out the best travel purses, there's even a Pacsafe one to protect you from slash and grabs.
---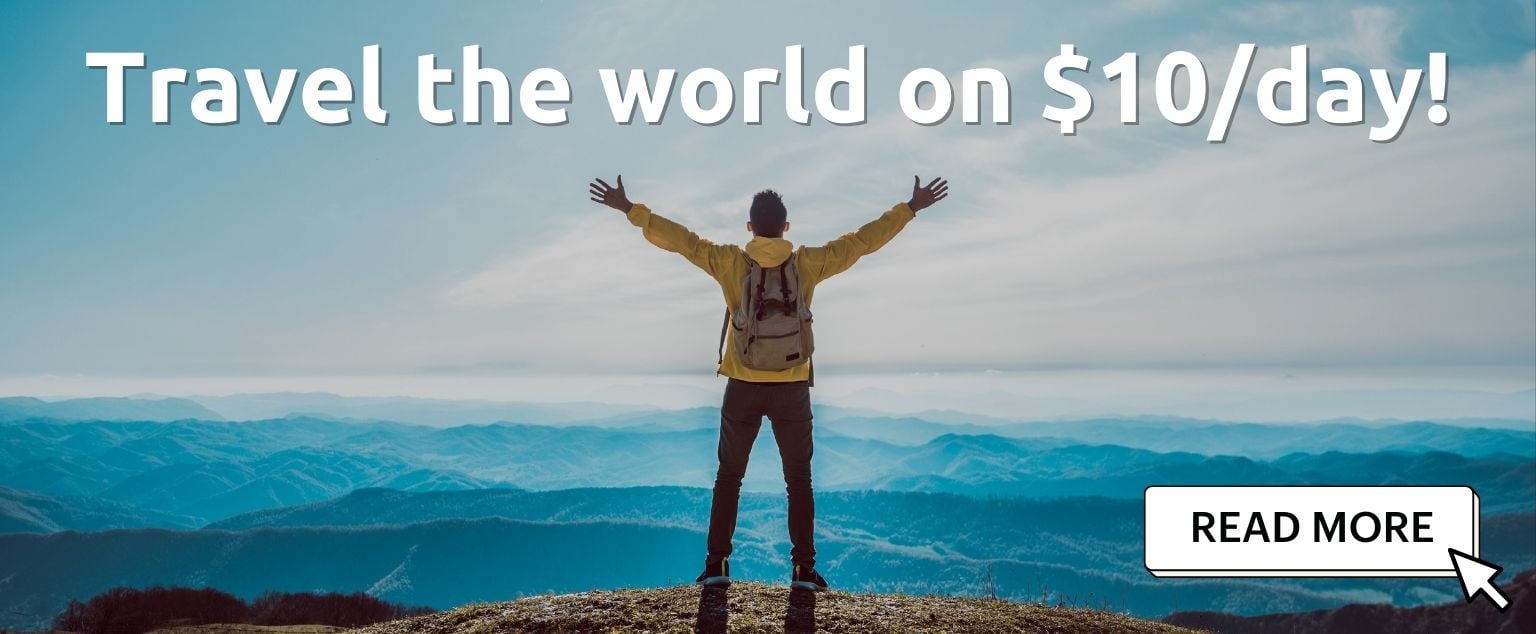 And for transparency's sake, please know that some of the links in our content are affiliate links. That means that if you book your accommodation, buy your gear, or sort your insurance through our link, we earn a small commission (at no extra cost to you). That said, we only link to the gear we trust and never recommend services we don't believe are up to scratch. Again, thank you!