Travel scarves (or travel scarfs, if that's how you fancy them) keep your money safe, your body warm, your spine aligned, and…  Not convinced? I'm about to show you how for many fashionable backpackers and jet-setters, a good travel scarf has gone from superfluous accessory to travel necessity!
These versatile rectangles of fabric are an incredibly handy piece of kit to have while on the road, whether you're on a weekend away or on the extended trip of a lifetime. Not only can they protect against the heat, cold, dust, and sweat that travel can involve, the best travel scarves even have a hidden pocket in which to safely store a passport or other valuables.
So what are the best travel scarves on the market? Read on to unwrap our top picks!
Quick Answer: The Best Travel Scarves
OVERALL BEST TRAVEL SCARF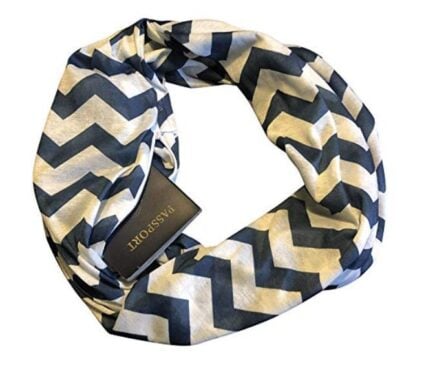 OVERALL BEST TRAVEL SCARF
Zipper Infinity Scarf
Price > $
> Fashionable
> Well-sized hidden pocket
BEST TRAVEL SCARF BLANKET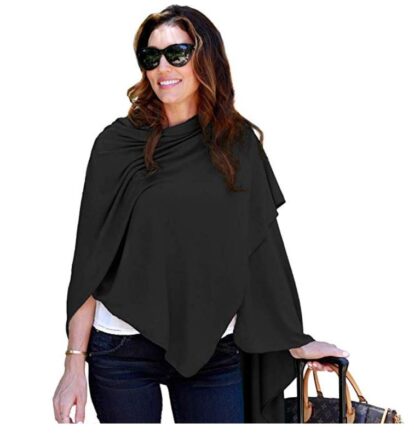 BEST TRAVEL SCARF BLANKET
HappyLuxe Travel Wrap and Blanket
Price > $$
> Multipurpose
> Eco-friendly
BEST TRAVEL SHAWL
BEST TRAVEL SHAWL
Kooshoo Multi-use travel shawl
Price > $$$
> Extraordinarily versatile
> 100% Tencel
BEST INFINITY TRAVEL PILLOW
BEST INFINITY TRAVEL PILLOW
Trtl Pillow
Price > $
> Adult and child versions
> Brilliant neck and head support
BEST TRAVEL NECK WARMER
BEST TRAVEL NECK WARMER
Elzama Travel Neck Wrap
Price > $
> Very lightweight
> Looped infinity design
Ladies & Gents, It's Time to Step Your GEAR Game Up. 😉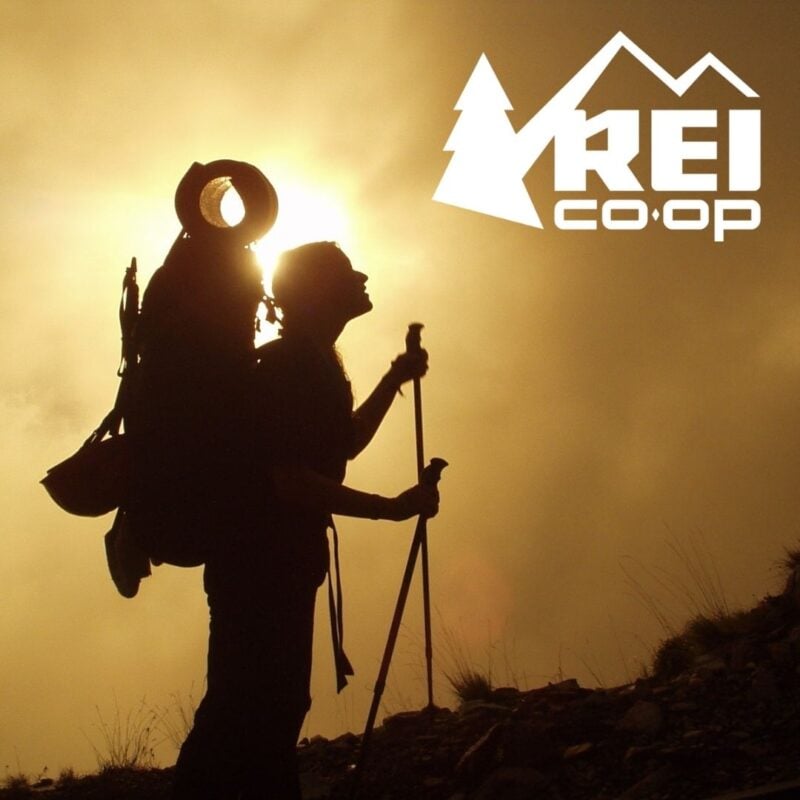 REI is one of America's biggest and most-loved outdoor gear retailers.
Now, for just $30, get a lifetime membership that entitles you to 10% OFF on most items, access to their trade-in scheme and discount rentals.
Join REI Today!
Overall best travel scarf
The Elzama Infinity Scarf hits the top spot for us for a number of reasons. First off, the Infinity Scarf is a very stylish number! Available in three colors – a zigzag blue stripe, similar purple stripe, and plain black – it really doesn't look out of place as a fashion accessory, whether you're a guy or a gal. What's more, there's a brilliantly hidden zipper pocket, large enough for a passport and smartphone.
The natural folds of the fabric make the pocket invisible and anything you slip inside won't look bulky or obvious at all. Isn't a travel scarf a super awesome way to hide money when traveling? Then there's its very attractive price point, which means getting hold of a Zipper Infinity Scarf isn't going to break the bank or affect your vacation plans!
Pros
Fashionable
Well-sized hidden pocket
Adaptable
Good price
Cons
Right now only 2 styles, 3 colors to choose between
A little light for brutal winter
Designed for women (but good for men too!)
Not water resistant
Is the Zipper Infinity Scarf for me?
As travel scarves go, it's difficult to see any great fault in this Zipper Infinity Scarf! It's got a very cool look and an all-important hidden passport pocket which has a zipper closure for extra security. This is an excellent option if a money belt wouldn't feel natural with your wardrobe. It's also well-priced and as always, supports various charitable organizations with each sale.
Best travel scarf blanket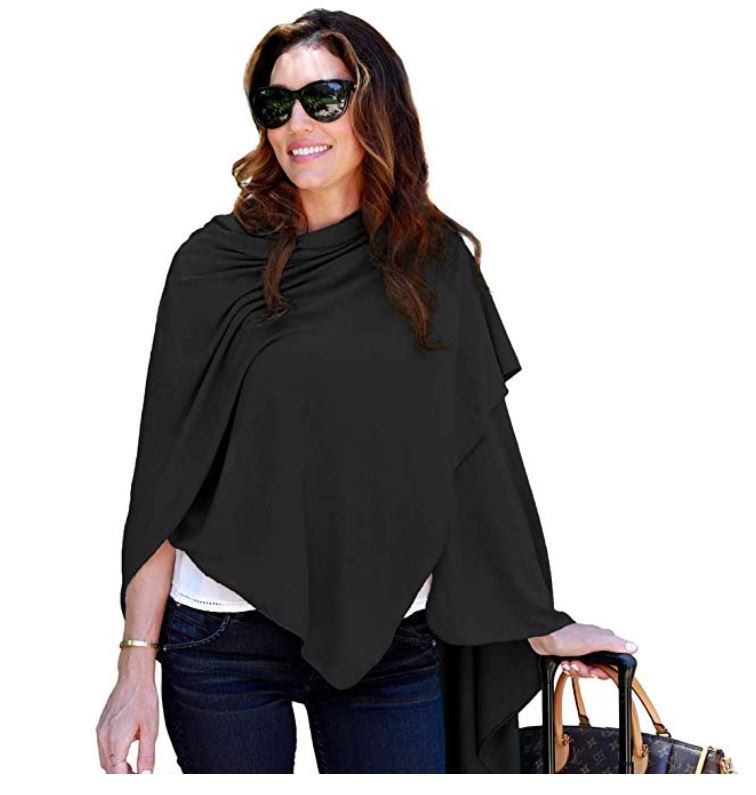 It may not come with a hidden pocket like the Elzama Infinity Scarf does, but boy is the HappyLuxe Travel Wrap and Blanket versatile all the same! An ideal addition to anyone who likes to travel light, and wants to stuff their sack with multipurpose items, you can use this HappyLuxe product as a traditional next scarf, a shawl for when the temperature drops a little at night, AND a blanket for flights and train journeys. It's produced from high-quality eco-friendly micromodal fabric that makes it incredibly soft to the touch, and very lightweight, so you won't have any problem with carrying it around with you every day. It also comes in a huge range of colors, for all styles!
Pros
Multipurpose
Eco-friendly
Soft to the touch
Good range of colors
Cons
No hidden passport pocket
Must be washed on cold cycle
Designed for women
A little costly
Is the HappyLuxe Travel Wrap and Blanket for me?
If you're searching for a multipurpose travel scarf, things don't get much better than the HappyLuxe Travel Wrap and Blanket – able to convert from scarf, to shawl, to blanket, and back again. Ecologically-minded, super-soft, and lightweight too, this will answer the prayers of many a traveler, that's for certain!
Best travel shawl
Travel shawl doesn't quite describe the Multi-use travel shawl by Kooshoo, which is less a travel shawl and more an entire travel wardrobe! Ideal for warmer destinations where lighter clothing is the order of the day, this travel shawl easily converts into a top – and even a summer dress – of various styles, thanks to a row of well-placed buttons. Made from 100% Tencel lyocell rayon, it's easy to keep clean and sustainable, since Tencel is made from the natural cellulose extracted from eucalyptus trees, and hand-dyed its evocative sea blues in the world's only solar-powered dye house!
Pros
Extraordinarily versatile
100% Tencel
Eco-friendly
Great Look
Cons
Comes in just the one color
No hidden pocket for valuables
Quite pricey
Buttons might be hard to close on your own
Is the Kooshoo Multi-use travel shawl for me?
Kooshoo means 'feeling good', and that's the perfect way of describing the Kooshoo multi-use travel shawl in a couple of words. Though it doesn't have the hidden pocket some will now expect from a travel scarf or shawl, it converts into 12 different looks, which is perfect for travel when you don't want to be dragging about as many different outfits!
Best summer travel scarf
Pierron + Co Half Moon Infinity Scarf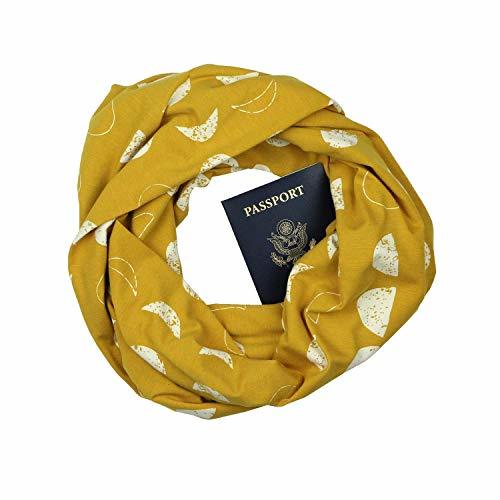 Travel scarves definitely aren't just for winter, and certainly, aren't just a means of having valuables safely about your person either! A good travel scarf, such as the Pierron + Co Half Moon Infinity Scarf, can really enhance your summer look. Handmade in Illinois, this beautiful mustard colored travel scarf is decorated with half and crescent moons in white, making it a great accessory for all manner of colors and styles. It also incorporates a hidden passport pocket that hangs well and discreetly even when loaded up with your valuables and is 96% cotton – perfect for keeping your skin cool in higher temperatures. The remaining 4% is elastane, giving the scarf a little bit of give.
Pros
Great for accessorizing
Handmade in Illinois
Highest quality
Hidden passport pocket
Cons
Must be washed on delicate cycles
Only one color/style available
Intended for women only
Wraps just twice around the neck
Is the Pierron + Co Half Moon Infinity Scarf for me?
Neatly balancing the need for somewhere to store your valuables while on the move, and the need to look great when traveling too, the Pierron + Co Half Moon Infinity Scarf is a wonderful option. Its cotton construction keeps you cool while protecting your skin from the heat and sun, safe in the knowledge your passport, smartphone, or other valuables are hidden from view!

Do You Want to Travel FOREVER??
Pop your email in below to get a FREE copy of 'How to Travel the World on $10 a Day!'.
Best infinity travel pillow
Available for both adults and children thanks to a dedicated child-friendly size, the Trtl Pillow has rightly been getting rave reviews for some time now. Taking the idea of a travel scarf to new heights, the Trtl Pillow is a soft, scarf-like construction that wraps around your neck to keep your head up while sleeping on trains, planes, and other forms of transport. It manages to support your head, preventing a cricked neck, because of a cleverly hidden internal support, which is the only thing that limits its packability. However, it can also be hung from your bag without issue, weighs just half a pound, and is machine washable too. How good's that!
Pros
Adult and child versions
Brilliant neck and head support
Weighs just half a pound
Machine washable
Cons
Internal support limits packability slightly
Not for use as a travel scarf
A little warm for some people
No valuables pocket
Is the Trtl Pillow for me?
Anyone who has ever struggled to sleep while traveling, or indeed has nodded off only to get a sore neck as a result, will appreciate the cunning new design of the Trtl Pillow, which is not only compact and lightweight, but also supportive, and very easy to use!
Best travel neck warmer
The Elzama Travel Neck Wrap is, like all the best travel scarves, lightweight, so won't feel like a burden either when you're wearing it, or when you're carrying it! It's also incredibly soft to the touch and durable thanks to its blended construction of polyester and cotton in a jersey knit with a mélange (varied tone) color. As a looped infinity scarf, it's very difficult for anyone to snatch from around your neck, making the hidden passport pocket all the more secure a place to hide your valuables will enjoying the sights your destination has to offer. It has a great price too, and though the advertising suggests this is one for the ladies, we reckon it wouldn't look out of place on the shoulders of a fashionable dude either!
Pros
Very lightweight
Durable
Looped infinity design
Hidden passport pocket
Cons
Designed primarily with women in mind
Loop design might mess up carefully made hair
Not enough protection for winter breaks
So good you'll want more than one!
Is the Elzama Travel Neck Wrap for me?
Stylishly produced with an attractive mélange jersey knit, this Travel Neck Wrap from Elzama is another good addition to the travel scarf family. Lightweight and well-priced to boot, it not only provides protection against chill winds and the hot sun, but also has a zippered hidden pocket where you can keep your passport and other valuables safe.
Some more of our Favorite Travel Scarves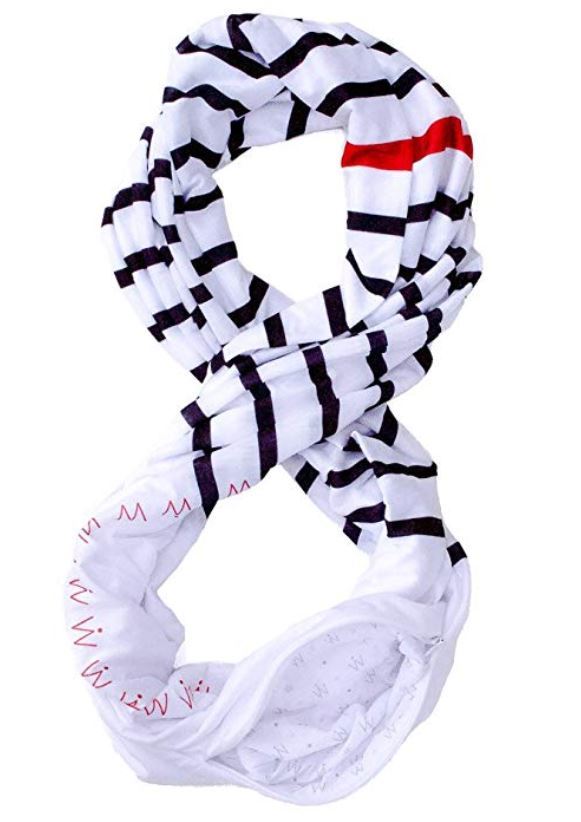 Coming in a huge range of fabulous designs, from the Breton stripe to bold blocks of contrasting colors, the Waypoint Goods travel scarf is, however, more than just a pretty face (as it were)! Clearly made with an attention to quality and detail, this travel scarf is made is durable yet soft fabrics, with a zippered hidden pocket measured to ensure the fit of a passport and smartphone the size of the latest iPhones. Constructed as a loose infinity loop scarf, the Waypoint Goods travel scarf is difficult to snatch, leaving your hands free for the delights of your vacation destination.
Pros
Lots of brilliant designs to choose from
High quality
Large zippered hidden pocket
Loose infinity loop design
Cons
Polyester
Infinity loop design means it can't be unwound
Too many colors to opt for
Best for spring/summer
Is the Waypoint Goods travel scarf for me?
The Waypoint Goods travel scarf does exactly what you would expect a travel scarf to do. Its infinity loop design makes it difficult for thieves to snatch, while the zippered hidden pocket is specifically designed to fit passports and larger smartphones. Finally, more than being simply utilitarian, it comes in a wide range of fantastic designs!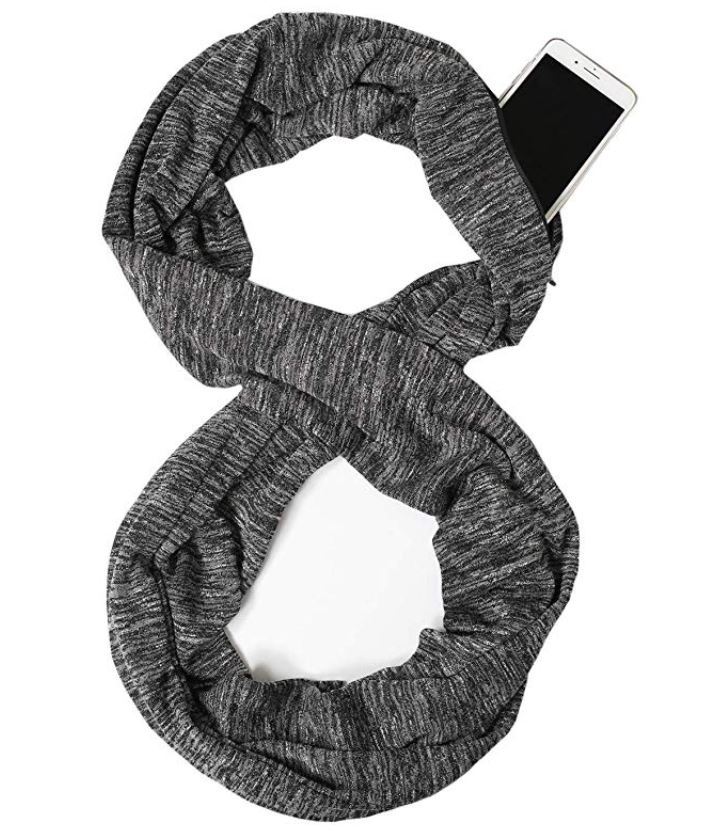 Sharing many of the design features of the Waypoint Goods travel scarf, but at a slightly lower price point for all the budget travelers out there, the Genovega USAstyle Infinity Scarf should not be overlooked. Made from a mix of polyester and bamboo, giving it a sustainability edge some other travel scarves cannot match, it remains soft to the touch so there's absolutely no risk of chaffing to the neck. The zippered hidden pocket is very subtle and well hidden, and the scarf hangs well even with the pocket loaded up with a smartphone, so it's definitely not obvious you've got valuables to hand!
Pros
Excellent price
Sustainable
Zippered hidden pocket
Hangs well
Cons
Imported to the US
Hand washing best
Not for winter climes
Infinity loop design
Is the Genovega USAstyle Infinity Scarf for me?
Clearly the Genovega USAstyle Infinity Scarf is a pretty awesome travel scarf or it wouldn't appear on our list of the top scarves on the market! What do we like about the Genovega USAstyle? For one thing, it's very competitively priced, for another it has some eco-friendly credentials from the use of bamboo, in addition to its helpful hidden zippered valuables pocket.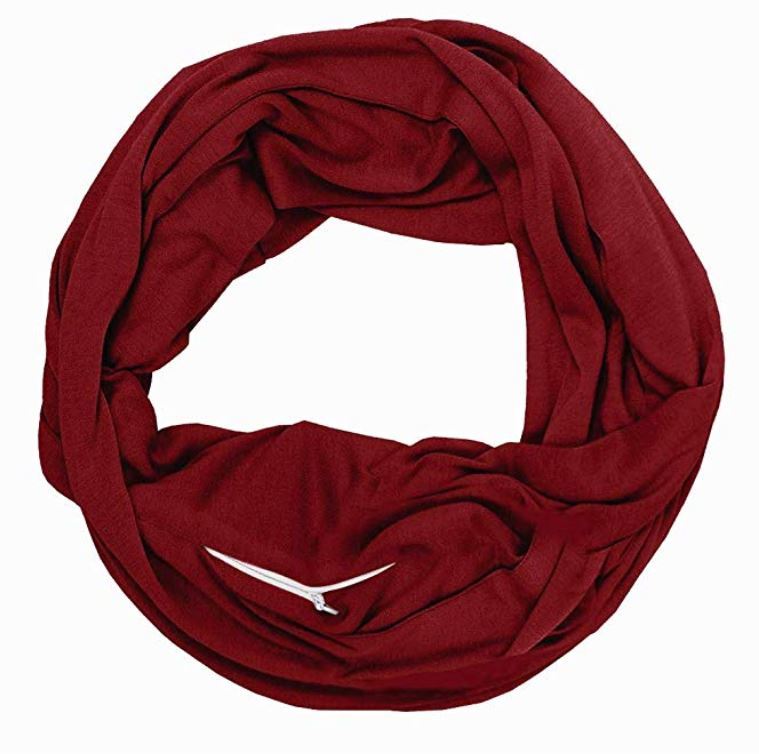 While most of the travel scarves we've found are made from lighter materials intended for use over the warmer months of the year, the Sealen Travel Scarf is one of just a handful made from weightier materials specifically designed to keep you warm in the winter months. It is made with 100% cotton, making the infinity loop design breathable despite its extra warmth, but is still surprisingly lightweight despite this additional thickness. Needless to say perhaps, there's also a hidden valuables pocket hidden within the looping structure, so even during the colder months, you don't have to head out with a bag if you want to go light.
Pros
Made for winter
100% cotton
Infinity loop design
Hidden valuables pocket
Cons
Infinity loop design
A little heavy for summer use
Cannot be machine washed
Limited color choices
Is the Sealen Travel Scarf for me?
Need a little more warmth than the standard travel scarves? Then the Sealen Travel Scarf is the travel scarf for you! Even though it's constructed from thicker fabric, 100% cotton means it remains breathable, and pretty lightweight too. While its color range is limited to just five options at present, its overall design more than makes up for it!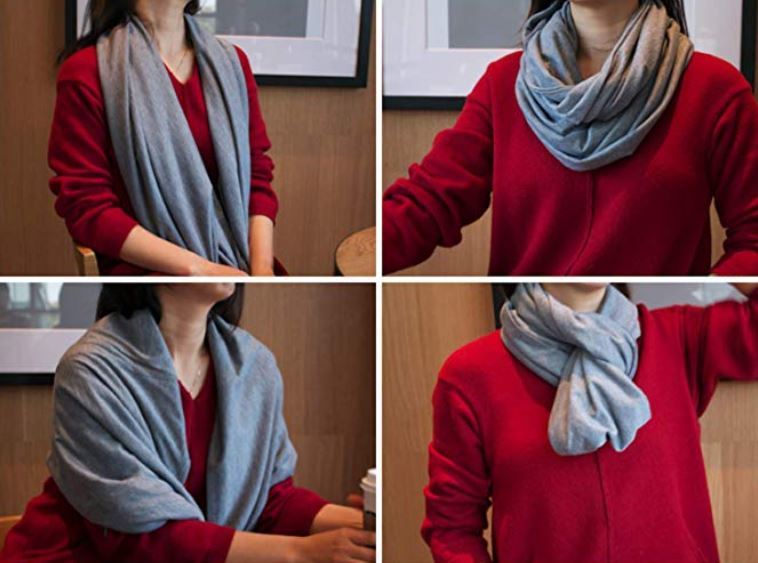 Another travel scarf that's trying to move the market on and improve the lives of travelers at the same time is this RFID travel infinity scarf by the Ready+Steady team. The fact it is made with soft yet durable fabric is only the start, since this unisex travel scarf contains not the usual one hidden valuables pocket, but two, enhancing the protection it offers users. Further (yes, further!), one of the pockets on this Ready+Steady design incorporates RFID protection, meaning that passports, identify cards, and credit/debit cards can't be scanned by electronic devices nearby, stopping the theft of valuable data! All this security comes in at a very reasonable price too!
Pros
Unisex design
High quality
Two hidden security pockets
RFID protection with one pocket
Cons
Infinity loop design
Hand washing preferred
RFID pocket quite small
Colors a little variable from images
Is the Ready+Steady RFID Travel Infinity Scarf for me?
The phrase 'last but not least' comes to mind in our discussion of the Ready+Steady RFID Travel Infinity Scarf! If you want the electronic protection of RFID blocking without the need to carry an additional sleeve or pocket, this travel scarf is a great alternative. Though the RFID blocking pocket is a little small, there's a second larger hidden pocket, to ensure enough space to keep all your valuables safe!
The best present of all… is CONVENIENCE!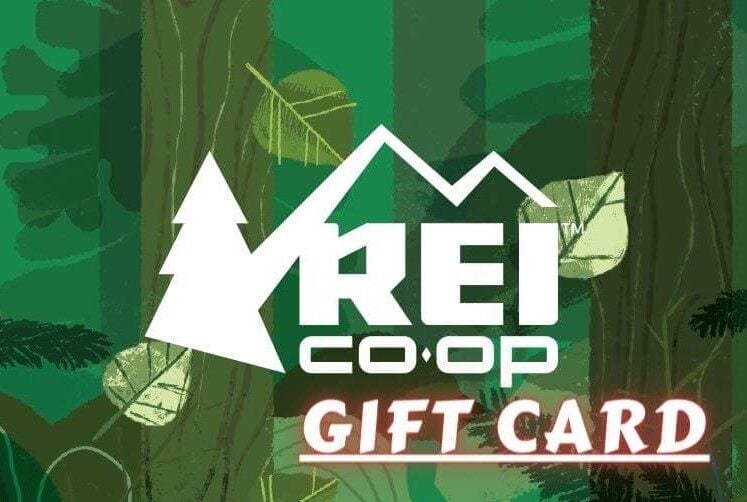 Now, you could spend a fat chunk of $$$ on the WRONG present for someone. Wrong size hiking boots, wrong fit backpack, wrong shape sleeping bag… As any adventurer will tell you, gear is a personal choice.
So give the adventurer in your life the gift of convenience: buy them an REI Co-op gift card! REI is The Broke Backpacker's retailer of choice for ALL things outdoors, and an REI gift card is the perfect present you can buy from them. And then you won't have to keep the receipt. 😉
Buy on REI!
How to choose the best travel scarf
You've decided on a travel scarf as a way of keeping your valuables safe without the need for a bag or money belt – great! But how do you know which of the many travel scarves now on the market is the best one for you?
Destination
A good place to start is to think about when and where you plan to use your newly purchased travel scarf. If, like most, you're aim is to use the travel scarf as a spring/summer accessory, providing a little protection from the sun and evening chills, then you'll want to opt for one of the lighter styles. The great news here is that the majority of travel scarves fall into this bracket. If you're heading to cooler climes during the winter, you'll probably be looking for a travel scarf with a heavier fabric.
Style
Then think about your own personal style. If you end up picking a travel scarf that doesn't match your personality or go with the majority of your clothes, you're likely to leave it unused at home! Worse still, you might carry it around the world with you, but never want to put it on! This is possibly more important for male travelers, as many travel scarves appear to be aimed at the women's market, and some can seem a little feminine for some tastes (both male and female). If this is you – keep an eye out for unisex options!
Purpose
Remember also to think carefully about what exactly you want your travel scarf for. Is it to use as a shawl or wrap if it gets chilly, as a sleep aid on flights and other forms of transport, or as a hands-free means of keeping valuables close at hand? Your thoughts on this question will help you narrow your search, while knowing exactly what you plan to store in the hidden pocket (if that's the sort of travel scarf you're after) will ensure you also end up purchasing one that fits everything in!
Cost
Finally, there's pricing. Everyone has a budget, and as you'll see from our lowdown of the best travel scarves there are a wide range of price tags associated with this accessory. That, of course, means that there's probably a travel scarf out there that will meet your budgetary requirements, whether you're a hard-up vagabond, or someone looking for extras (such as RFID protection), or someone who doesn't mind splashing the cash for the perfect travel scarf for you!
FAQ about the Best Travel Scarf
Still have some questions? No problem! We've listed and answered the most commonly asked questions below. Here's what people usually want to know:

Our GREATEST Travel Secrets…
Pop your email here & get the original Broke Backpacker Bible for FREE.
Final Thoughts
That's about it for my review of the best travel scarves available right now!
Not just for winter, not just for women, and not just for the backpacker set, travel scarves are a really useful, lightweight accessory for anyone's travels. Check out the very best travel scarves of here and now with our detailed reviews!
---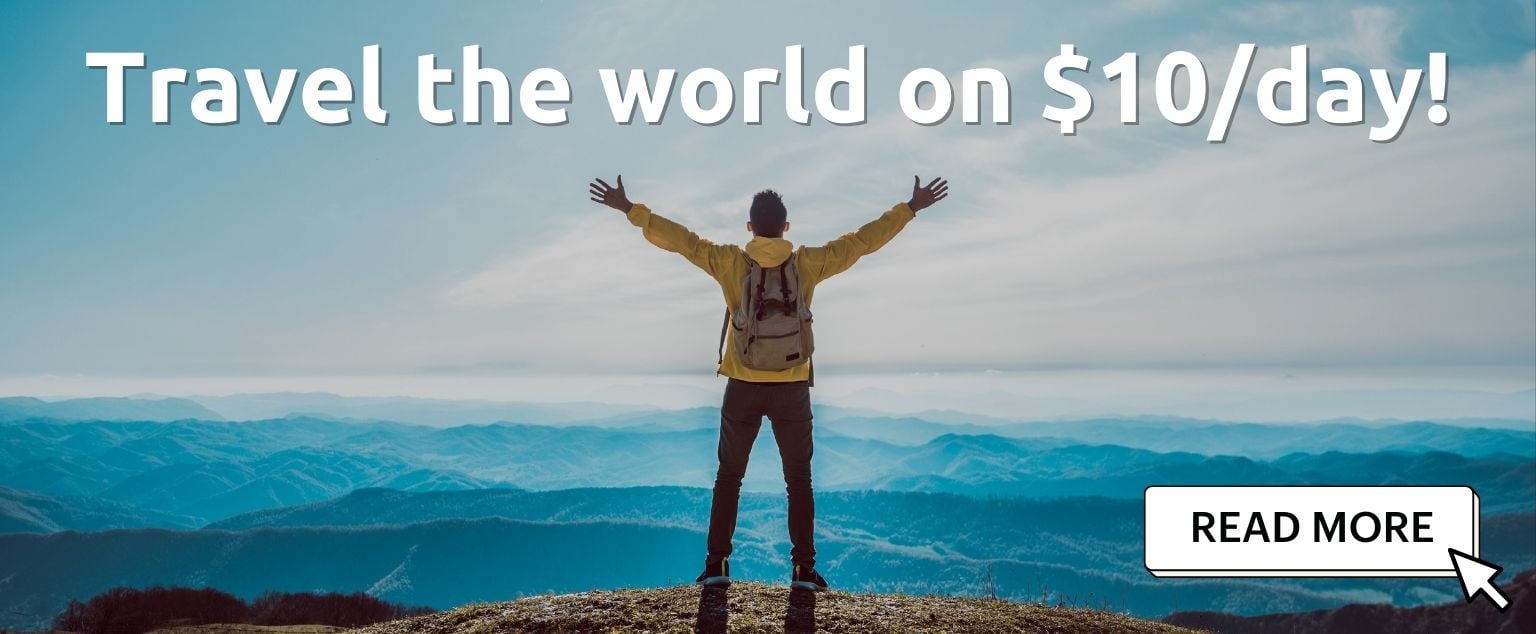 And for transparency's sake, please know that some of the links in our content are affiliate links. That means that if you book your accommodation, buy your gear, or sort your insurance through our link, we earn a small commission (at no extra cost to you). That said, we only link to the gear we trust and never recommend services we don't believe are up to scratch. Again, thank you!