Before talking about responsible travel, let's discuss travel in general. In this day and age, traveling has never been easier. Anyone can do it, right? With enough determination and savviness, most people can travel almost anywhere in the world with hardly any money, plans, or concerns.
Longtime travel experts, like Will at the Broke Backpacker, blazed a trail for aspiring adventurers to hit the road in search of life changing experiences. Back in the day, there was limited info online but today – travel blogs covering far flung lands like Pakistan, Iran and Venezuela make travel more accessible than ever.
Currently, 1.2 Billion people travel per year. which is roughly 15% of the population, crazy right?
Before the internet, before vast flows of shared information and experiences, much of the world was hidden behind a mysterious curtain of misinformation and many travelers would never dream of stepping off the beaten path because it was to step into the great unknown. Nowadays, the unknown is a little more known and a little less intimidating!
In some ways, the internet helped create the mass tourism we now experience, and with more and more people hitting the road it's crucial that we take some steps to ensure that our travels are not damaging the world, the places we wish to see and the people we meet along the way.
One of the most disturbing consequences of mass tourism is its environmental impact, and a pressing example is the current devastation being wreaked upon tropical reefs all across the Caribbean.
It's important that we promote responsible tourism and sustainable travel and the good news is – it isn't that hard to be a responsible traveler. By modifying your behavior only slightly, you can be part of the solution and not part of the problem.
What is Responsible Travel?
Also known as intentional, mindful, conscious, no footprint and green travel… The basic premise of responsible travel is to limit any negative impacts your travel could have on the planet.
Can any type of tourism be done responsibly? – Tourism CAN be a positive thing.
Do you have to volunteer to have the mindful badge? – Hell no.
There are many definitions of what is responsible travel, like a formal version created in Cape Town in 2002…
According to Will at The Broke Backpacker, responsible travel is "Travelers that give a fuck, people who don't litter and do not abuse the environment, culture, traditions or people of another place. Travelers who have enough self-respect to hold their shit together in a foreign land and represent themselves and their countries in a way their Mum would be proud of."
In other words, "Don't be a dickhead."
Will's definition is pretty spot on but I'm here to take this a step further for you guys, to lay out my tried and tested formula for responsible travel. In my opinion, responsible travel has three ingredients…
1. Define your travel purpose
Sounds simple, but it's not. Traveling aimlessly and without purpose is fun for a time, but ultimately, that road will lead to many problems.
Are you traveling because that's what you do when you have your long awaited yearly holidays? Will any beach with cocktails be enough? Fine, if that is your purpose of travel: you need a place with no worries and a pristine beach.
Are you on a gap year, and want to party and flirt as much as you can before going back home? Alright, fair enough, then let's have those goals in mind.
You want to learn mindfulness and intend to do a retreat? Well, even that type of travel has a mass tourism effect too.
Set up your goals, your intention for your travels, and move to the next point.
2. Now choose your destination mindfully
No matter your reasons, research where you want to go and see if you are adding to the problem. Are the full moon parties resulting in Thailand's mass ocean pollution we already see in the news? Find other party destinations that are more earth conscious, and this does not need to be an eco-village.
Want your beach and cocktails destinations? Look for eco-resorts or another kind of initiatives that do as little harm as possible without jeopardizing the style of holidays people are looking for. Luckily, there are better options for anything you want to do; just do some research, ask and think before you commit.
3. Leave your destination equal to or better than before
Now it's time to travel and to enjoy that dream destination and experience. But it's also time to do it with responsibility, to feel if you are helping out the local community and business without burdening the environment.
To give back instead of just take. Show you are a different person, and when you return home you will feel proud for having done the right thing. In a nutshell, leave your destination the same or better than before you got there, to leave your footprints, but no footprint.
What to Bring on Vacation to Reduce Environmental Footprint
Before we discuss responsible lodging, transportation, activities, and cultural sensitivity, I have listed a couple of things I recommend that you traveling with to reduce your environmental impact. You should start with grabbing an eco friendly backpack or eco-friendly luggage.
Always travel with a reusable water bottle! I also carry a foldable, reusable bag for groceries and shopping, and reusable dishware, if possible. Most travelers contribute far more waste on the road than at home, but these easy-to-carry items help you reduce your footprint considerably!
Another great travel hack is to travel with a reusable, biodegradable straw.
Our friends at Lucky Straw are on a mission to replace single-use plastic straws with eco-friendly, reusable, organic bamboo straws. They're safe (chemical and BPA free), easy to clean (with the included cleaning brush), and durable! Bamboo lasts a long time, but when it comes time to replace your straw, rest easy knowing bamboo is a natural, biodegradable material! Check them out here. You can buy a straw on their site or buy a bamboo straw on Amazon.
When all is said and done, try to limit the amount of plastic waste you produce… In many countries, there is no efficient recycling system, nor is there a way to deal with plastic.
Most of it inevitably ends up in the ocean, so your best option for sustainable travel is to reduce plastic consumption altogether. Here is our post with tips on how to reduce your plastic footprint.
Want to save the world?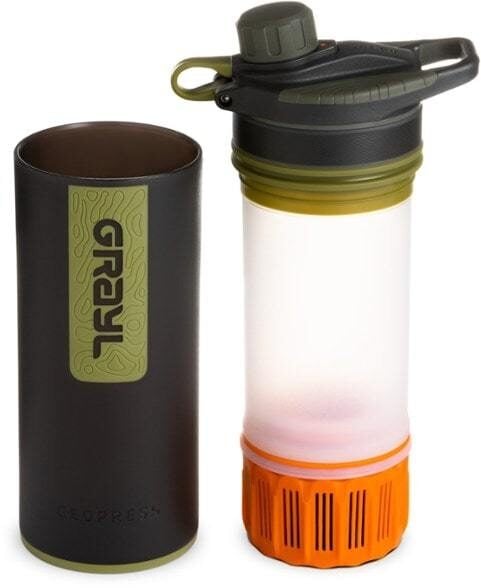 Single-use plastic bottles are a huge threat to Marine Life – Be a part of the solution and travel with a filter water bottle.
The GRAYL GEOPRESS water bottle is the ONLY all-in-one filter water bottle setup you'll need. Whether you need to purify the water from a hostel sink in Kathmandu or a stream trickle in the Andes, the Geopress has got you covered.
Read our full review of the GRAYL GEOPRESS!
How to Travel on a Budget and still Travel Responsibly
Is it possible to travel responsibly while on a budget?
Of course you can, actually, it's even easier when you are looking for cheap travel options, and I'm going to show you how and why. When you are on a tight budget, you tend to be more mindful, at least for the sake of your wallet.
Now, if we join those concerns with the ones we discussed above, we get to wonderful travel opportunities: a brand new world of traveling that will without a doubt change you forever. Let's look at the options:
Staying and Traveling with Locals
Thanks to various apps, it's easier than ever to meet with locals and have meaningful experiences.
Let's be honest. Traveling to a hostel or hotel with a guidebook to only visit landmarks can be superficial. Whereas, having direct contact with locals, whilst mingling with them and letting them show you your destination's real culture is the ultimate traveling experience.
Will from The Broke Backpacker says "In my early years, when I spent two years in India surviving on less than $10 a day, staying with locals was a crucial part of my experience – it helped me get to grips with the culture, see a different point of view and explore parts of India I may never have seen otherwise, plus it saved me plenty of money. Staying in hostels is fun but you're rarely challenged, hotels are commercial as hell and often not even owned by locals so should be avoided."
Luckily, there are many easy ways to meet locals, and the best is still the oldest: local hospitality. The most famous resource is Couchsurfing, but there are many more that will do the same as you can see on the table.
By using these websites, you will be able to stay in someone's home for free. Yes, for free, if someone allows a stranger to stay for free in their house, you can bet they're already a special person in this world of unshared mentality.
I've hosted and stayed with many people, and for me is still the best way of traveling, and saving money is not the main reason.
Will has Couchsurfed over 200 times and hosted people from all over the world.
Couchsurfing is a great way to connect with locals and travel sustainably, but it's not recommended for stays longer than 4-5 days. If you want to stay longer then I suggest you find other options – like a guesthouse – or a series of hosts! Or, of course, you can camp.
There is no written rule for the length of your Couchsurfing stay, but it is a kind of a hidden etiquette rule to have a reasonable limit of 4-5 days.
Besides the length issue, you may even be more active and give back to your hosts, community and sometimes the planet by participating in a work exchange, which I discuss below. Cooking dinner is always a nice basic gesture.
Airbnb and Local Guest Houses
In recent years, a company took the lodging internet by storm and is now the biggest database in the world for places to stay, I'm talking about Airbnb.
Many think that Airbnb is a way to travel cheaper because you will find nonofficial renters that despite Airbnb taxes can make better deals because there is no middleman.
This is correct, but it's far from the full story. Airbnb can be an amazing source of paid couch-surfing because many people are only renting rooms and not full house and apartments. And in many cases, it also means they live in the house too.
When looking for rooms to rent, check the description and reviews, you will quickly understand if the owner spends some time with their guests or not. Contact them beforehand, discuss your intentions and see if you are going to have an authentic travel experience or just an empty house to rest and sleep.
For either budget, you have two great options to have an authentic local experience and travel responsibly. You will be sharing resources with someone, a house, kitchen, everything. Your impact will be minimum and your traveling experience will be maximum. Honestly, it can't get much better than that.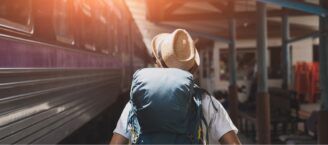 Unlock the secrets of traveling on a budget!
Sign up for The Broke Backpacker newsletter to receive regular tips on how to travel for less plus a FREE copy of The Backpacker Bible!
Work Exchanges
This option has some similarities to volunteering projects, but the spirit is not the same. Here, your objective is to have free room and board in exchange for some pre-arranged hours of work, which can be anything. From maintenance work to gardening and even pet care.
I say the spirit is not the same because many people want to volunteer as their main travel purpose, either to learn new skills or to give back to society, they are not doing it to save money.
If Couchsurfing requires a lot of communication beforehand, then work exchanges requires much much more to avoid any misunderstandings that could lead to stressful stays.
Luckily, the platforms where you can find these opportunities make it really easy to search and discuss with hosts before committing to anything. Below is a table of the main resources to look for these opportunities:
By using a work exchange, you will also have a local perspective as you will interact intensively with local people. You may also learn or improve specific skills which are an amazing travel bonus. I was wrong in the last chapter of couch-surfing, you can get much better in terms of your travel footprint, by doing the work exchange.
House sitting or Swapping
This style of travel takes the same approach of sharing economy while traveling. The second option, house swap, is much harder to achieve but is the lowest footprint possible because no extra lodging is needed, just changing the occupants of existing ones.
For house sitting many resources exist and in some regions of the world with some patience, you can find amazing opportunities.
You will live in a local house, probably in a residential neighborhood, which is still much better than a hostel in terms of travel experience. The only disadvantage is that you will be alone in the house if you housesit alone. Well, maybe not completely alone if you are doing pet sitting too.
Some owners will even pay you for some activities you may need to do, like caring for animals or watering gardens, but most of them will just be a free stay as long as you keep everything in place. The real challenge is to find the location and dates that you want, but when you find it, it's a jackpot.
It may be harder to successfully land a gig in the beginning because your profile will be new and lacking references, but once you get a few under your belt, you have a long future of free lodging in most western locations of the world.
The next table lists the main resources for finding house sitting opportunities. Bear in mind that the best ones charge for access:
House swaps also have great resources, some with more than 70 years. Another cool tip that many people do not know is that rooms and rentals work too, so house swapping is not only restricted to homeowners.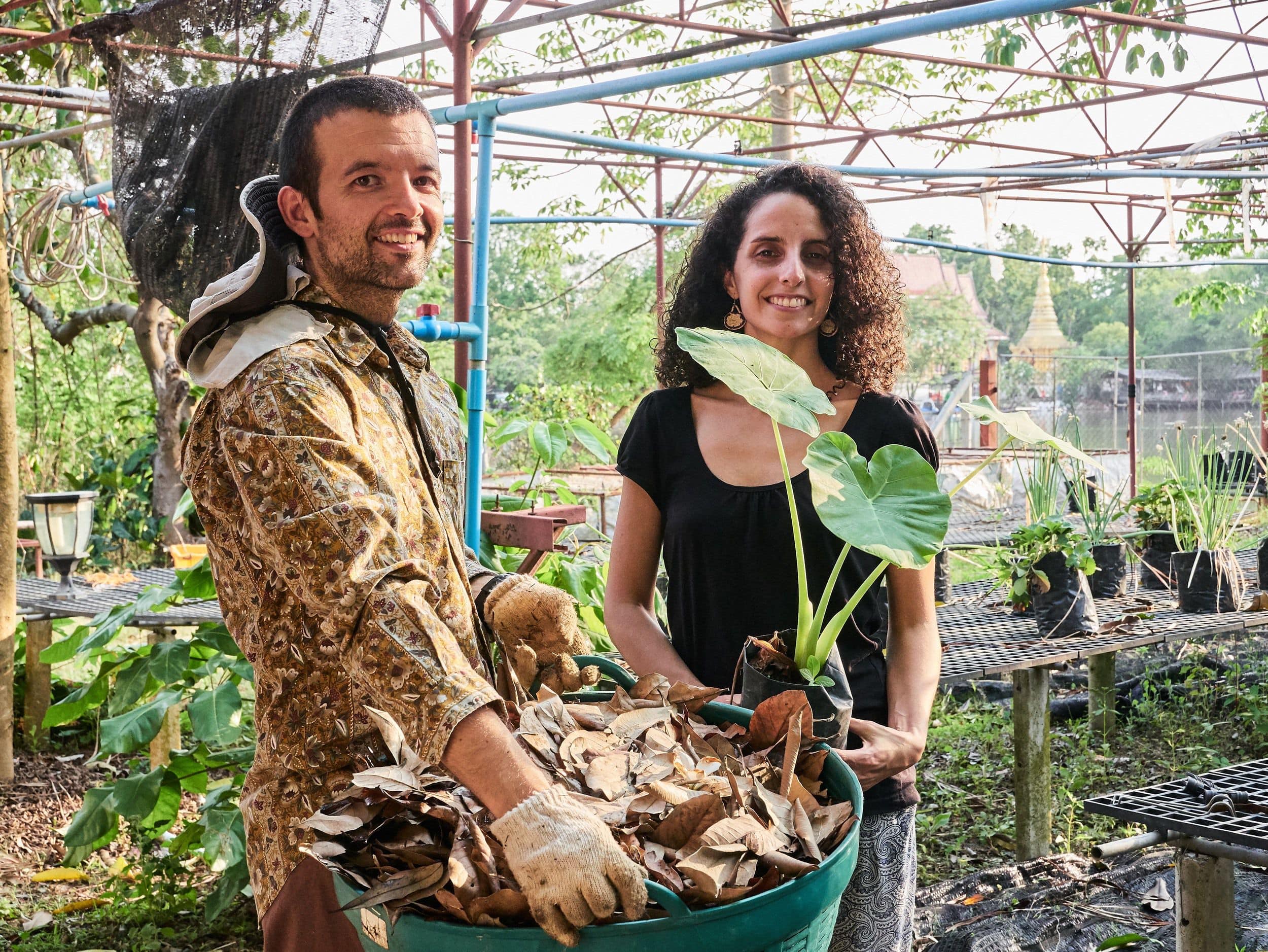 Here are the main resources to explore:
House swapping does require you to own some property unless you are renting a house or an apartment that allows you to sublet, in which case house swapping is also a strong possibility. This option will require a lot of research, but a great reward at the end if you find someone to swap with.
House swapping is not for everyone, but house sitting is accessible to anyone, no requirements whatsoever besides being a trustworthy person. I know of people house sitting in an island house in the Maldives 6 months a year. Yeah.
There are many resources to help you find the best house sitting experiences, and there's even an Academy to help you with all the process including mentoring services. They will train you and prepare you for the house sitting life, which for anyone that feels unsure about doing this can be very useful.
It does come with a cost, so if you decide to enroll you should plan it for the long run. If you are just doing a one-off trip then you shouldn't do this at all and go straight to the individual websites.
Stay in Hotels and Hostels and still Travel Responsibly
Eco-lodging
So have the resources to travel, and you don't want to be sharing your space or taking someone else's house. You prefer a simple hotel room that gives you the maximum flexibility and freedom to explore your destination. No worries, you can do that and still choose green options for responsible travel. Welcome to the world of eco-lodges.
Eco-travel or Ecotourism is definitely on the rise, and if you search for eco-accommodation your destination, it is very likely you will find plenty of options. The eco-friendly hostel business is booming and many backpacker abodes are embracing the trend.
Even using tools like TripAdvisor and Agoda you search eco and a huge list will show up. This is great, and a good resource to start your search.
The idea is simple: lodgings try to reduce as much as of their footprint as possible, so if you stay in those places you are supporting a greener business.
In some cases, they even have a positive impact by supporting local business, participating in reforestation projects, or supporting entities with a positive purpose.
And once more, the internet is ready to help us out with this search, websites like bookdifferent.com or bookgreener.com have extensive databases to search from.
Don't forget to always do some extra research before you commit. Try to find out about some of their claims, news about it, users reviews and everything that can confirm they are doing what they say they do for responsible travel.
Unfortunately, greenwashing is always around the corner and eco-terms are so trendy now that businesses try to take advantage of it without actually practicing sustainable and responsible practices. Extra research is the key to traveling ethically and responsibly.
Unique lodgings
For the lowest footprint for lodging, try to look for farm home-stays, tiny tree houses, or houses with gardens. Imagine the experience of staying on farms, close to nature and animals.
It's so different from an urban touristic center, filled with vendors, noise, and pollution. Relax in a homestay, and take your time while visiting the surroundings of the city.
You will be helping out places that already have a positive impact on our environment, so your responsible travel index will hit new highs. Houses with gardens is also an excellent option if you want to be more central. There are even hotels that are 100% vegan as well!
In Penang, Malaysia we stayed downtown in a house full of plants and nature. And downstairs there was a garden where we could compost our leftovers and pick up some organic vegetables to cook; it was an amazing experience.
Once again, the websites above will help you on this search, but we now have a new ally. Airbnb has a new search option that allows you to look for what they called Unique Homes, and you will find all these gems of places to stay. Just scroll within the search filters until you find this option.
You will have a chance of truly unique experiences and to have a smaller footprint.
How to Travel Responsibly when choosing Transportation
Alright, responsible tourism is not just about lodging. The way you move around also has a lot of impact on our environment, as do your travel activities.
It's difficult to calculate a real estimate, but I've seen some numbers that more than half of your footprint is spent on transportation: flying to your destination and using local transports. Let's look at some responsible tourism examples below…
If you traveling very long distances across oceans, then there isn't much you can do other than book a flight and consider offsetting your carbon footprint. Some companies already have that option when you buy plane tickets, but most of them don't, so you would have to buy the offset from a third party.
Ana at the Broke Backpacker says, "Sometimes you can't avoid flying, even though air travel contributes a ton of carbon emission. One way I try to offset my carbon footprint is by buying as much of my food, clothing, and other items as local as possible, while also trying to limit my consumption, in general."
"By eating local – whether at home or when I am traveling – I am eating healthier while supporting our planet. Remember, if the food wasn't grown locally, it had to be transported by truck. If you're eating out of season, it was probably transported by plane." Ana continues, "Plus, eating local means you put money back into the local economy, rather than lining the pockets of big money and processors."
Now, back to travel. On the other hand, if you are talking about shorter travel distances, then shared transportation would be a better option for fewer pollutants. This means always opt for trains and buses when you are trying to travel responsibly.
The bigger the better because of economies of scale, so between a big bus or a van, go on the bus. Besides, local transport makes for great travel experiences.
Rent or drive an individual car as the last option, and if you do, try to rideshare or carpool. Websites like Bla Bla car will help you with that.
When moving around locally, try to use the same approach following this order: walking, bicycle, bus/train, van, a shared car – like uber carpool – and ultimately renting a car. Be mindful of the environment when considering your travel requirements and comfort, and remember to minimize your impact in regards to your lifestyle.
How to be a Responsible Tourist and Do Cool Things
Choosing your activities is probably the easiest aspect of traveling responsibly. Below are some responsible travel tips for things to do on the road.
Join ethical tours that focus on local handcrafts – just double check they are the real producers and not a middleman
Do some eco-outdoor activities – much better for the environment and for your health
Volunteer with local entities – give back some of your time and skills to the population or the environment if you find something green related
There is a large wildlife tourism industry throughout the world, especially in Asia, Africa, and anywhere along the ocean. I cannot stress enough, that it's important to choose companies with ethical business solutions. Companies that make a better impact on wildlife, not a destructive one.
Ana at the Broke Backpacker says, "Look up ethical animal sanctuaries, educate yourself, learn the truth about elephant riding, and don't visit drugged-out tigers in Asia. Research companies beforehand, and find out where they get the animals – were they rescued or taken from the wild – and how do the sanctuaries treat them? If I am going to visit animals in captivpity, I aim to support organizations who rescue and/or rehabilitate them."
Ana also says, "Africa is another world when it comes to traveling responsibly. Yes, it'll take some extra homework, but always research the companies you use, how you view animals, and how your money helps the local economy."
"Canned hunting – lions and other animals raised for profit and for trophy hunting under false pretenses of "lion walking, etc." – is a pretty common form of tourism. Many tourists participate in it unknowingly, Ana continues, "All of that being said, don't beat yourself up. It's hard to be a "perfect" tourist, but consciously put your money towards companies you support, and you can make a real difference."
I'm not saying you can't do anything touristic to be responsible, quite the contrary, as ethical animal tourism can have a positive effect and also encourage locals to follow green practices.
Participate in non-harmful tourist activities, help the local economy, communicate with locals, and share your culture too – they are just as curious about you as you are about them.
Grab your copy of the Backpacker Bible for Free!
Learn how to travel the world for less than $10 per day with the Backpacker Bible!
This book is the culmination of over 10 years of travel and living on a shoestring budget. It's full of valuable insider hacks that will help you unlock your full potential as a traveller.
It's also FREE at the moment! All you need to do is click the button below, provide the necessary information, and you'll be emailed the ebook.
I want it!
How to Practice Ethical Tourism and Cultural Sensitivity
For most of this post, we have focused on how to reduce your footprint for the sake of our environment. I think it's also important to discuss ethical tourism and how to travel respectfully too.
Firstly, we know most people plan to drink and party on vacation. We're not going to say you shouldn't, we're just going to leave a friendly reminder that you are representing your country, and no one likes a drunk, disrespectful twat.
Secondly, respect the history and culture around you. I can't tell you how many people I've seen in temples and mosques wearing inappropriate clothing or carving their name into temples…
Let's preserve and respect these areas' cultures! Isn't the main reason we travel to experience different cultures? To not be respectful of them is sort of hypocritical.
Finally, remember that you are traveling to learn more about a place and its people. I think a lot of travelers forget they are not better than the locals because they have more money…
Humans are humans; treat people you meet along the way with the same respect you would show your friends and family back home.
You are not superior to anyone including the girls/guys walking the streets. Sex workers in South East Asia are people like you and me; they may enjoy what they do, or they may be on the darker side of it.
Go on vacation, and have the time of your life, do the things you've dreamed of but be respectful along the way. You have the power to make a positive impact on people and diminish ugly stereotypes that may be associated with your country; you also have the power to do the opposite.
Final Thoughts on How to Travel Responsibly
If you are conscious about the way you travel, you are already mindful, and that is a step in the right direction. We want you to always travel responsibly when you have the option, but sometimes constraints arise and you can't always choose the greenest or most sustainable route.
You may not know if a company is shady or their business practice is harmful. And if you didn't know, now you do for the next time.
Imagine the 1 billion travelers in the world, if all of them tried to travel responsibly, how much of a difference we can make for this planet. Let's keep on dreaming and do our share.
Happy green travels!
About the guest author: Joao Reis
Joao has been on the road for 8 years now, and a lot has changed in his life. What started with a simple round the world trip, with no special plans or purpose became now a lifestyle. Becoming a digital nomad and being able to travel the world with a no footprint approach became his new reality, and when he is not researching new ways to travel with less impact you can find him harvesting greens from his garden to do his beloved green juice just after morning yoga.
He is committed to becoming a greenpreneur and has already co-founded a startup in Brazil to promote ethical products, just like a green Amazon, and is now creating his own online zero waste travel brand at www.nofootprintnomads.com .