Three months! That's the completely arbitrary number I just pulled out of my ass. How to learn a new language in three months.
To become fluent? Hah, no, you're dreaming. It's going to take a lot longer than that to become fluent in another language.
But to a communicational point? Yeah, easy-peasy.
Here's some context for how much you can achieve in three months. In roughly four months, I taught myself the entire Japanese writing system usually spread throughout twelve years of Japanese school education (roughly 2300 unique characters) and was speaking conversationally (albeit a jilted conversation). And, mate, my brain ain't anything special; I've taken well over the statistical average amount of drugs for any single person's lifetime.
But we're not just talking about learning a new language; we're talking about learning one for travel (and through travel). And, honestly, I can't see any better way to learn a second language: immersed in the culture and language surrounded by people wanting to help and teach… it's actually, to be frank, a spiritually-fulfilling experience. It's rewarding, challenging, and teaches you to see the world with a whole new set of eyes (and ears).
I would consider it the pinnacle of cultural immersion (which is why it's also part of the The Broke Backpacker Manifesto).
So, what is the best way to learn a language for, through, and while travelling? Well, that's a complex subject with a variety of answers depending on who you ask…
But you're asking me! And I'm answering – my way! So here is what I can teach you: methods, techniques, and tools to learn a new language… for travel! Consider it a 'Language Learning 101'.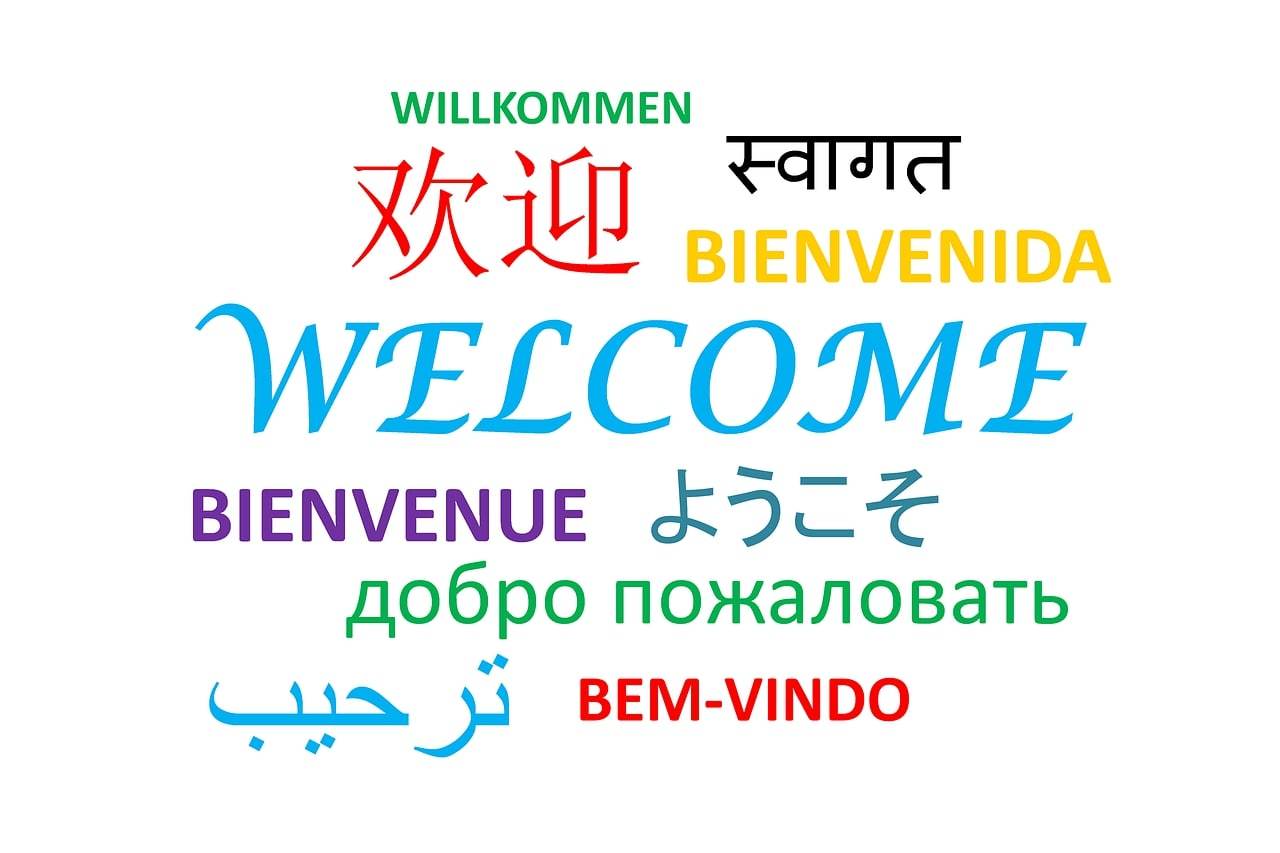 Why Learn a Foreign Language
Here's a thought experiment: think of everyone you've ever met in your travels who spoke English as a second language. Presumably, that's pretty much anyone who spoke with a funny accent. That's a lot of people.
Now, imagine if none of them had spoken English. All those previous encounters have just been retroactively wiped. Poof, gone; oh no, how sad.
I imagine you've just lost some pretty beautiful memories. Some significant conversations… some intimate friendships. Because you couldn't communicate.
I think, sometimes, we take for granted the importance of learning a foreign language because we don't have to. We're already sitting at the top of the ivory tower with the peasants coming to us to offer their tithes. English is the desired language to be taught around the world and that makes us, in a way, ignorant.
My first experience of learning another language was eye-opening. Previously to that, I had been backpacking in New Zealand with a Japanese "eccentric" who had rudimentary English abilities. After our big journey, I went with him to Japan… and it was a complete role-reversal.
It was hours spent in car rides watching pretty views and trying to decipher what pieces of native Japanese conversation I could. Plus, the occasional nap. Realistically, that's not such a bad way to travel.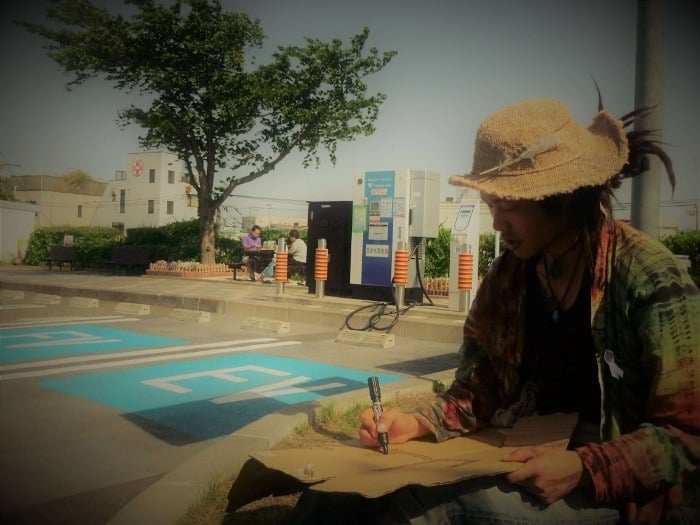 So, I hit the books hard. But here's the cool thing, right. I didn't just start learning to speak Japanese; I started learning to communicate better all around.
Because of my studies, I started to understand how to simplify my speech for communicating with non-native English speakers and I started to empathise with their difficulties. I learnt about the intricate stupidity of the English language (dude, it's such a dumb language). I even started to see how the nuances of language affect culture and people.
The list benefits of learning a foreign language that I discovered goes on, but storytime is over. Consider that tale context for the basis of this article. But also consider it context for the 'Why?'.
If none of us ever made the effort to learn another's language, we'd just stay in our bubbles. Communication, I'd argue, is the top reason why learning a foreign language is important. The world needs more communication.
Of course, that's not all, right? There's gotta be more reasons to learn another language, especially for a traveller. Oh sure, there are most definitely some pretty major benefits of learning a second language for travel.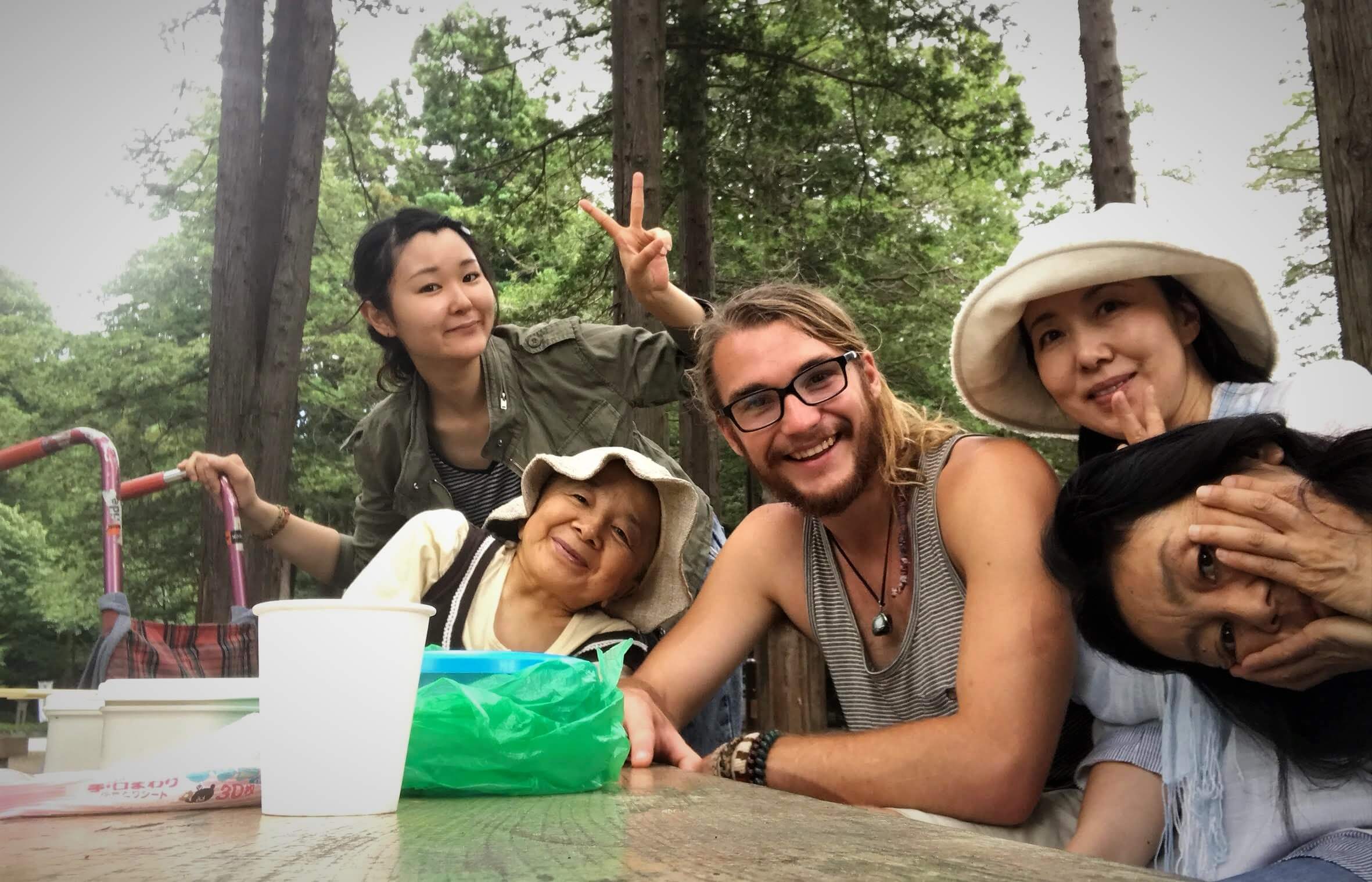 The Benefits of Learning a Foreign Language for Travel
I'm not going to stand here and preach to you on the necessity of learning a new language for travelling. It's far from necessary and I really don't care for the mentality that it is. Miming a poop-squat is a perfectly legitimate form of communication and will point you in the right direction 90% of the time!
All that said, there are some pretty major benefits of learning a foreign language for travel:
There are significant cultural benefits to learning a second language and it's a guaranteed method to reach a deeper level of cultural immersion. Talking with locals, understanding music and TV shows, and telling stray dogs off in their native tongue (Indians, in particular, love this).
Learning another language is a lot of fun. Okkkkk, so you're going to have days where you want to throw your study notes and phone off the nearest overpass. But then, sometimes, you'll have a day conversing with a kid who's never spoken to a foreigner before and it'll all just feel so damn whimsical!
On a personal note, it feels like a matter of respect to me. I'm not saying you need to become fluent in another language but making an effort shows. Even taking the time to learn a few short travel phrases separates you from other tourists in a really genuine way.
It opens up a lot of opportunities as you travel. As the intrepid traveller, you're always going to find yourself being a point of interest. Being able to communicate means you'll inevitably be asked to come to stay in people's homes (more so), go on adventures, or even be offered work.
Actually, hey! Let's talk about that!
The Benefits of Learning a Second Language for Jobs
Speaking a foreign language inevitably leads to opportunities as you travel; I feel that's a given. Have some basic and important phrases down and you may find yourself being offered some menial cash work. Even in places like Japan you can easily find under-the-table farm work if you know how to ask.
But if the long-term goal is becoming fluent at speaking a foreign language, things get more interesting. Translation, interpretation, tour guiding, or even working in foreign affairs for big-shot companies. The employment opportunities are a damn good reason why learning a foreign language is important.
But here's the sweet part: English is a monumentally valuable language. It's the most valuable language. You've already mastered the hardest part.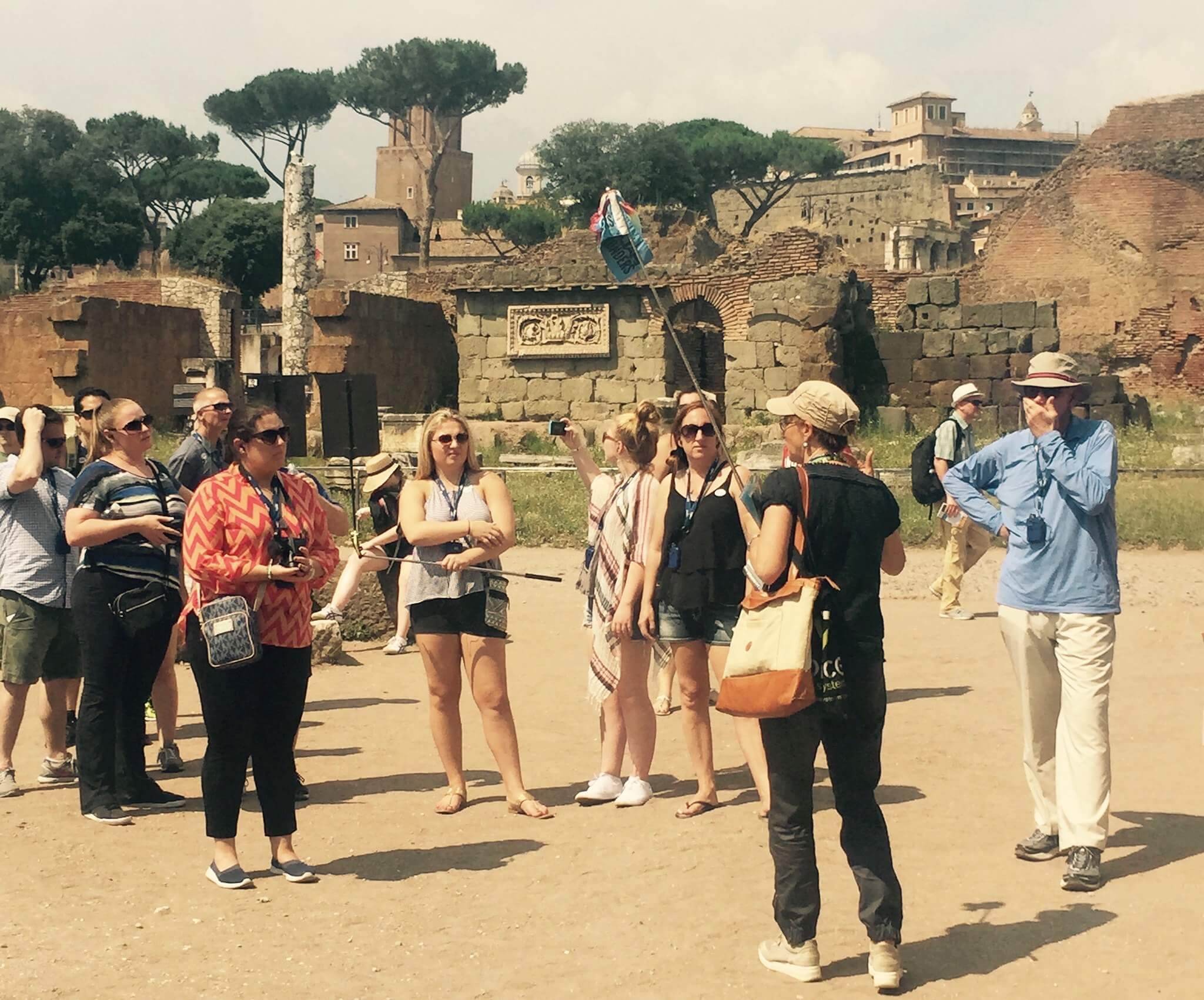 English teachers are sought after the world over. Anyone with the right qualifications can take this route. And it's a damn good route for anyone seeking to make money while travelling.
Now, it's certainly not necessary to know the language of the country you're aiming to teach in, but it's a helluva leg up over the other candidates. And immersion is also the surefire best method to learn a language – any language.
The best part is, with experience and skills, you can take this English teaching gig one step further and start teaching online. Seriously, getting involved in learning and teaching languages could be your gateway to that holy grail that is the digital nomad lifestyle.
But, to reiterate, you've gotta have the right qualifications i.e. a TEFL certificate. But, tell you what: if you go here to MyTEFL, enter the code BACKPKR for a 35% discount on your course, you can get your certificate online. Sign yourself up with the right employment agency and you're away – easy-peasy-Japanese-y!
The Best Way to Learn a Language
There's no shortage of different methods of learning a language but not all methods are created equal. Largely, it hinges on your intentions. You can learn a few of the few key phrases to know when travelling and you'll be coasting along smoothly pretty much anywhere in the world. Spend a week mastering them, and your backpacking trip is sorted.
But that's not what we're talking about. I'm not talking about asking where the bus stop is; I'm talking about learning a foreign language.
To paraphrase a favourite book of mine, asking someone where the bus stop is when you could be asking them their opinion on foreign immigration policy is watching pornography when you could be having great sex.
Right, ok so let's not get carried away. If you're wondering how to teach yourself a language fluently, then you're in for the long haul. That whole 'How to Learn a Language in 10 Days' stuff… yeah, it's BS. It takes time and it takes hard work but the basic process of learning a new language – any language – from scratch tends to remain the same across the board.
The first consideration on how to learn any language is to choose the method and environment. That choice will affect the direction of your studies.
Of course, this is primarily a travel website. Therefore, I am always going to say that the absolute best way to learn a language will be by any method that gives you full cultural immersion, by which I mean, actually being in the country.
Studying a Language Abroad
Oh, formal studies. The antichrist of any anti-establishment, backpack-wearing, address-less millennial. Sadly, you do still have your uses.
The benefits of learning a new language by studying abroad are, I would hope, pretty obvious. Structured learning founded in classical education strategies all the while surrounded by like-minded individuals.
Mind you, this is proper formal study I'm talking about – not a weekly meet-up. Not a small collective of mostly middle-aged adults who meet at the local community centre twice a week; Tuesday is Spanish classes with Gabriela and Thursdays are salsa dancing with Antonio.
This is the difference between saying 'I'm learning French' and 'I'm studying French'. I'm talking you catch a plane, go to the country, and – boom – you're enlisted in a regular curriculum at a language school: full-scale immersion.
If that's a route you're interested in, then I'd recommend checking out services like Go Overseas or Go Abroad. At the very least, it's a start in finding your preferred international language school.
The downside of this method is that it is perhaps, for many, not the most fun way to learn another language. It's quite possibly the most efficient to learn a language fast and fluently, but it's also exhausting.
You need to remember that while you're assimilating to living in a brand new country and culture your brain is going a bit haywire – culture shock is a bitch. Compound that with a rigorous study schedule and a disconnection from home and you're in for a challenge. A damn rewarding challenge!
How to Learn a Language by Yourself
Nothing quite impresses a native speaker like telling them about how you learnt a foreign language on your own. It's easily one of the best ice-breakers.
Of course, that's fair, because the process of learning a new language by yourself is no less challenging than by formal study. In many cases, it can be more challenging.
My journey of learning Japanese by myself was a mission in self-flagellation (of the character-building variety). This was my morning routine for 3-and-a-half months:
6 A.M. – Wake up!
Make coffee.
Drink coffee while doing kanji and vocab revision.
7-7.30 A.M. – Excercise, yoga, and meditate.
8.30-9 A.M – Brush my teeth and make the bed.
Breakfast!
Short ukulele sesh.
Boom! Begin the first big study session of the day.
Every. Goddamn. Day.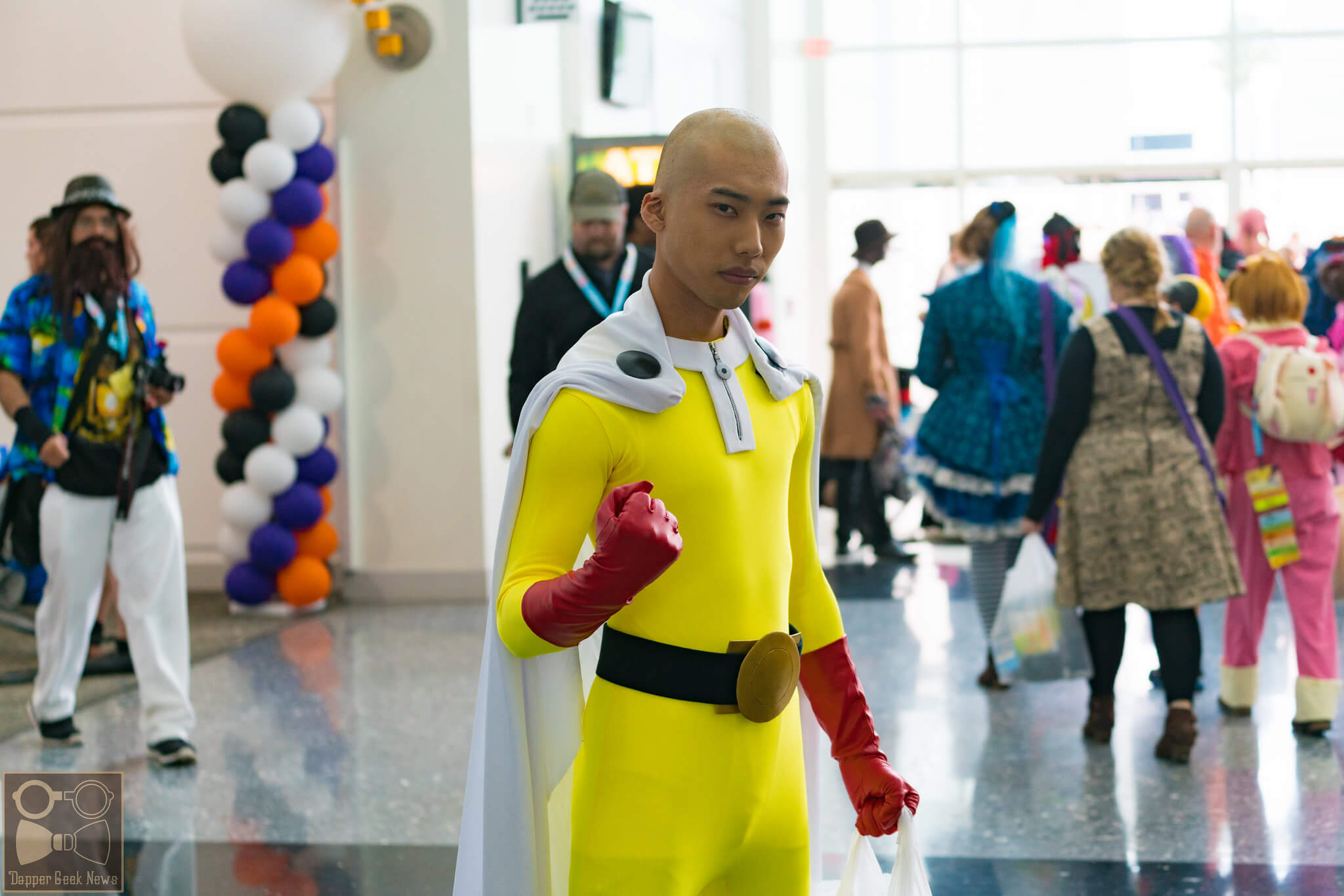 It was hella rewarding but it also requires hella discipline. If you're the kind person that tells yourself 'I could never study from home' or '…be self-employed', then learning a new language by yourself may not be the right method for you.
The added bonus of using this method of learning a language was that I got to still do me. I was still a traveller, not a student. I got to immerse myself in the culture, and meet a lot of wonderful humans that I wouldn't have met had I chosen a different path.
There were still adventures, connections, hitchhikes, and ridiculous moments trying to have conversations with eccentric elderly Japanese men in parks.
The other important bonus was that I got to take my time. No darting around on a 3-week backpacking itinerary. And that's because of the next method I want to talk about.
Learn a New Language by Volunteering Abroad
Now, this is a rewarding and fun way to learn a new language! This was the other half of my quest to learn a foreign language on my own.
A huge portion of my time studying and travelling in Japan was spent in and around the Sapporo area helping where I could. In return, I would always be gifted a bed and food (in that oh-so-lovely Japanese-hospitality fashion) and also plenty of study time. Of course, that includes practical study listening and speaking with native speakers (by volunteering).
In fact, most of my volunteering was with kids. Kids are fun and they teach you the best words; onibaba is the word for an old, hagged witch. There was no way anyone other than a 6-year-old boy playing with my dictionary app was going to teach me that word and now it's one of my favourites.
Volunteering is, by far, one of my favourite methods of learning a foreign language. It's rewarding as hell, it's something that takes your mind out of the grammar studies for a bit, and it drastically reduces your travel expenses.
I'm someone that's always encountered volunteering opportunities by word of mouth and meeting people, but that stuff is old fashioned! We have the internet today which is so much more convenient!
The Broke Backpacker recommends Worldpackers as a reputable source for finding good opportunities to get involved with 'voluntourism'. It's safe, it's international, and you can check out our full review on it here.
Honestly, combining some sort of volunteering with self-orientated study methods is one of my favourite language learning approaches.
Save $$$ • Save the Planet • Save Your Stomach!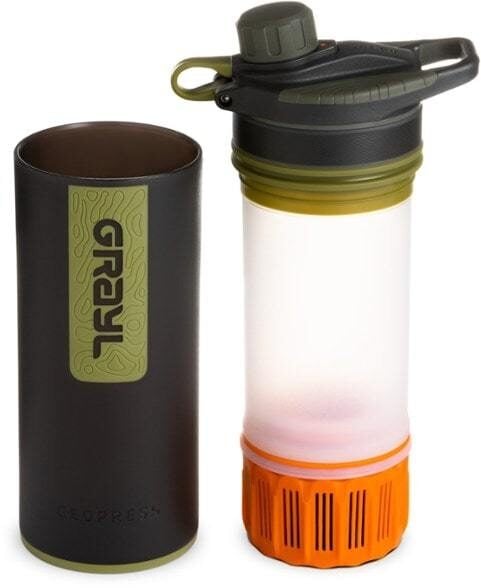 Drink water from ANYWHERE. The Grayl Geopress is the market's leading filtered water bottle protecting your tum from all the waterborne nasties. PLUS, you save money and the environment!
Single-use plastic bottles are a MASSIVE threat to marine life. Be a part of the solution and travel with a filter water bottle.
We've tested the Geopress rigorously from the icy heights of Pakistan to the tropical jungles of Cuba, and the results are in: it WORKS. Buy a Geopress: it's the last water bottle you'll ever buy.
Buy a Geopress!
Read the Review
Language Learning Technology
Luckily for you, we have modern-day technology to assist in the process of learning a new language. We're not exactly downloading entire foreign lexicons directly into our brains yet, but it's still come a long way since the textbook, notebook, and pen days.
The options for language learning apps available is huge. andLearning a new language by app alone is an entirely viable method nowadays. I'll cover a variety of options and different language learning techniques applied through different apps in the Language Learning Apps section.
But the spread of language learning technology and the fun ways to apply it doesn't end there. You have heaps of options:
HelloTalk – There are other services in the same vein but I use HelloTalk. Basically, find yourself a language buddy. A pen pal you can chat to over the phone and swap campfire stories with!
Podcasts – There's a wealth of language learning podcasts around and chances are that there's one dedicated to your chosen language too!
Youtube (or websites featuring video content) – A super integral ace-in-the-hole if you want to learn a language by yourself. Find a video series with a teacher you vibe with and stick to their course before moving on.
Forums – Reddit (ew), language sites, or anywhere else you can meet up and talk some smack with other like-minded students. Having peers in some form helps; we are social creatures, after all.
Music – Yay, you get to make a playlist! Music creates further immersion to aid in language acquisition plus slowly being able to appreciate new kinds of music is another benefit of learning a new language.
TV shows/Movies – Start off with subtitles with on with the end goal being to not need them. It's a good end-of-the-study-session chillout.
Language Learning 101: How to Learn a Language in 3 Months for Travel
Disclaimer: How to learn a language in three months within reason. Becoming fluent is an admirable goal but it's also one that takes a lot of time and energy over a long long period.
The execution of learning a new language specifically for travel depends on your goal. A month backpacking around a country means you're likely after some functional speaking knowledge, for example, 'Where is the nearest accommodation?' or 'Help! I've just been stabbed and I can't stop the bleeding!'.
But if it's long-term travel, working, or even volunteering that you're interested in, you'll want to learn actual conversational abilities. Is it necessary? No, but it's a damn sure way to connect at a deeper level with the people you're travelling amongst.
"Right," you say, "Tell me how to learn a new language fast then!"
Sure, I can do that, but you might not like the answer. You have to study! Oh nooooo…
The secret to learning a new language fast is that it isn't about speed; it's about efficiency. It's about reducing the number of false starts and wasted time as much as possible to where some progress, even a small amount, is being made every day.
Your pace and your process is your journey. Everybody learns at a different pace in their own unique way is what the institution of schooling has taught us. Trying to fit a square peg in a round hole just results in deep self-loathing and substance abuse. Yay, high school!
These aren't necessarily the best language learning techniques, but they're my language learning techniques. An efficient process to cover the basics of learning a new language. To be used at your discretion for your unique travel language needs.
Language Learning 102: Can Your Read It?
I'm guessing you're not illiterate. I mean, you're reading this so you're probably not… which is good! Because illiteracy sucks. Imagine if every time you had to open a door it was a 50/50 chance whether it was a push or pull scenario.
Illiteracy slows down the process of learning a new language with a different alphabet. It might feel faster to skip straight to speaking a foreign language but long-term it's an inefficient method. Remember, it's about efficiency.
So don't be illiterate.
Legit, it sounds difficult but – unless it's the Chinese or Japanese many-thousands-characters – it really isn't. You grab a pen, scrap paper, and just start writing lines; you'll be done in a week if you're lazy and a day if you're hardcore.
If you're just learning your important phrases to know when travelling, you can move on. Everyone else: don't you be skipping this step, it's important later.
(As a complete side away, on the chance you are learning the Chinese hanzi or the Japanese kanji, I want to send you to this resource. It is a mega-piece on how to practically tackle that behemoth of foreign language studies and the only reason I reached the point I did in my Japanese.)
Language Learning 103: Learn Your Important Phrases List
This is your list; I can't tell you what should be on it. Ok, I can and I will in the Key Phrases to Learn in a Foreign Language When Travelling section.
But besides that! I really urge you to sit down with a pen and paper (iPad, word processor, chisel and stone) and put some thought into your important phrases list. What's important to you? Chances are, asking 'Has anyone seen my keys?' takes precedence over learning the words for ten different colours.
But there is one thing to take note of: notice how it's an important phrases list. Memorising words is still good but learning phrases in a foreign lesson is crucial. That's the next lesson.
Language Learning 104: The Next Lesson
Phrases yeah, but, more crucially, patterns.
Ok, it's time for a practical example. Don't get too bogged down on the details; just be aware that I'm illustrating a greater example in how to learn any language.
Here are some words in Japanese:
okaasan – mum
itta – went
ni – to
wa – the (sort of but not really)
mise – store
How do you say "Mum went to the store?" Actually try it.
…
Time's up! Was your guess "Okaasan itta ni wa mise"? Congratulations! Nobody has any idea what you just said; that was utter gibberish, you fool!
Now, what if I told you the correct answer was "Okaasan wa mise ni itta"? Well, you'd probably dislike me for asking such a blatantly loaded question – which is fair – BUT, I did just teach you how to speak a shitton of Japanese.
Eeeeeeee????? (That's Japanese for "Whaaaaa????")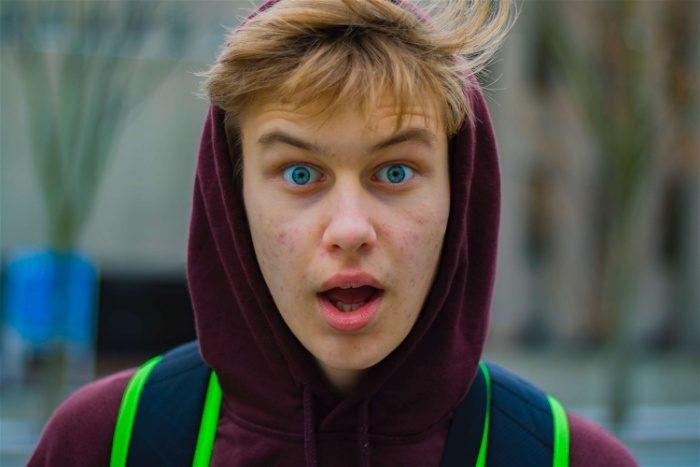 Let me throw a few new words at you:
otousan – dad
kuruma – car
eigakan – cinema
hato – pigeon
Well shit… that's a lot of sentences. Before you read this post you probably couldn't even speak Japanese. Now you can say "Dad went to the store," "Mum went to the car," and even "The pigeon went to the cinema." (consult fig. 1). You still only know one verb too!
One of the absolute best methods to learn a language fast and fluently is to focus on learning sentence patterns. The vocab will come naturally as you need it and pretty soon, as your skills expand, you'll be merging patterns into brand new ones. That's when you'll really be talking the talk.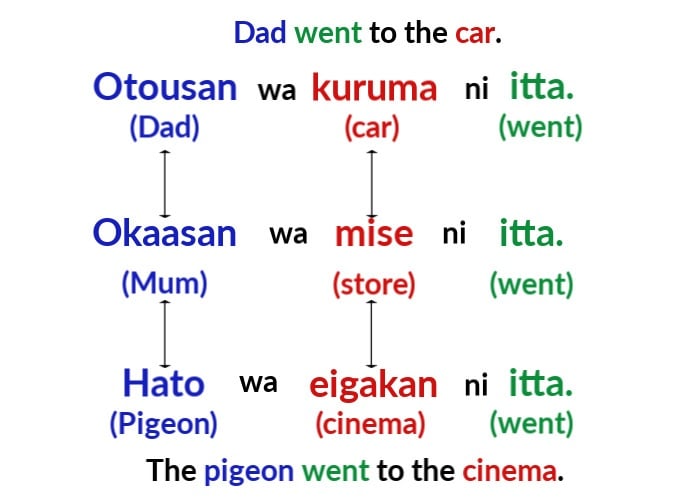 Language Learning 105: Grammar is Important… Sort Of…
The importance of grammar in language learning is a murky debate at best and long-standing feud soaked in the blood of our enemies at worst. As with most things in life, perhaps the truth is somewhere in the middle.
It is entirely possible to learn a language without grammar studies. But if I'm honest, you kinda miss out on the magic of it. That's right, I just said grammar was magical: deal with it!
Grammar is the cypher that unlocks the puzzle of language. Understanding language grammar means knowing why you're saying something and not just what you're saying.
Studying foreign language grammar means sitting down with a resource and taking the time to learn and take notes. Yeah, it's not particularly fun but you'll quickly begin to understand why you're doing it.
Your grammar studies will largely depend on your chosen foreign language, but there's something super-duper important for learning any language which really helped me: word order typology. Word order is actually an aspect of linguistics but it's something that applies to all language studies.
If you're serious about learning and becoming fluent in another language, I highly recommend getting a grasp on word order. Identifying the linguistic typology of your language is the first step in foreign language grammar studies. Basically, it means you know how to put words together (consult fig. 2).
Alright, now that I've overwhelmed your brain with grammar lessons, I need to remind you…
Language Learning 106: Grammar is Not THAT Important
This is something I partially regret about my time in Japan and that's overvaluing the importance of grammar in language learning. There's something way more important when learning another language and that is – to bring it around circularly – communication!
All the grammar in the world don't mean shit if you can't use it. You need to speak, as much as possible, all the time. That's why I say immersion in a country is, by far, the best way to learn a new language; it needs to be an all-day-every-day occurrence.
Communicating, conversing, and – most importantly – asking questions is undoubtedly always going to help your speaking and comprehension more than sitting alone in a room with your notes. The sooner you can ask your friends "What is this called in [language]?" or "What does [so-and-so] mean?", the sooner you won't need your dictionary app anymore. Sure, you'll be an extremely annoying friend, but get used to it.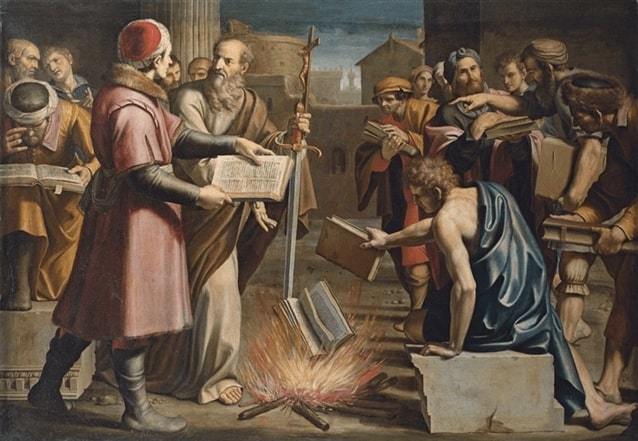 And similarly, on the note of good communication, put effort into your pronunciation. Some languages it is 100% vital in (eg. tonal languages like Burmese), and some languages it's better just to avoid condescending looks from the locals (eg. French). Either way, communication is the key.
You can completely butcher a sentence grammatically but that won't matter if you're capturing the feel of the language. Take my Japanese friend for example. He almost definitely couldn't converse with you about your fractured relationship with your parents but he always knew just the right way to say "Fuck yeah, cheers, man!" when the joint arrived.
As he would say: "It's about feeling."
Language Learning 107: Everything is a Language Lesson
I want to call this passive learning but I don't feel like that's a fair term. Remember how I said to learn your bloody ABCs? This is why.
You're a traveller; that means you're travelling! Think of everything around you that is absolutely plastered with study materials: street signs, kids' books, advertisements, menus, conversations… eavesdropping on conversations! Everything is a lesson!
Read, listen, pay attention, and, as soon as a new word or expression comes your way, note it. Where do you note it? In your damn notes, of course! You're learning a new language so you better have some form of note-taking.
It's ok, your note-system is something I'll cover in The Flashcard-Shark Method of Learning a Language section. The most important thing to remember about cultural immersion is that you're always learning. Even when you feel like you just want a break, your brain is always chugging away and moving… like a shark.
Language Learning 108: Oh Boy, Language Revision!
Yep, this is a part of the process of learning a new language you have to deal with. Much like grammar studies, arguments exist on both sides of the fence as to it's actual usefulness but that doesn't mean you get to skip over it!
It really doesn't have to be too overwhelming. The extent of my language revision was anywhere from 15-60 minutes a day of flashcards. That was it.
The goal is not to never forget anything; mate, I can't even remember where I left my pants most of the time. The goal is simply to revisit old content occasionally to stop it completely decaying. The natural selection of speaking will decide, in time, what language is actually more relevant.
I'll cover how to revise a language in the upcoming section also because it's all linked. Lucky you.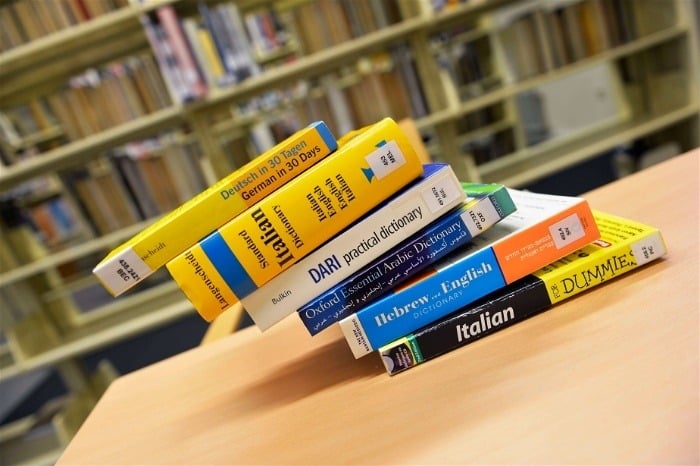 Tips on Learning a New Language
Practical and mindset tips on learning a foreign language, the primary phrases to know when travelling, plus my own personal (and, I feel, efficient) method on learning a new language. With all these goodies, you should be able to learn any language in three months to a basic-intermediate level.
First up, ten tips on learning a new language: fresh from my brain to your plate! Ew, gross, don't eat them! I just told you where they came from…
1. SPEAK IT!
You might be surprised at just how easy it is to be a cheaty-pants and take shortcuts. Be it shyness, laziness, or just tiredness, sometimes defaulting to English or just keeping your mouth shut becomes a preferable option.
The absolute golden number one rule of learning another language is to talk-talk-talk and keep talking. Ask lots of questions; fearlessly make mistakes right, left, and centre; tell people to correct you. If you wanna walk the walk, you gotta talk the talk.
2. Say what you can say, not what you want to say.
When you're learning a new language, it's like you lose a part of your personality. You won't be able to say everything you want and that's just part of the process. Maybe you can't say "I'd like 2 sugars in my coffee stirred counter-clockwise," but you can say "Coffee with sugar, please." So say just that and take the coffee however it damn well comes.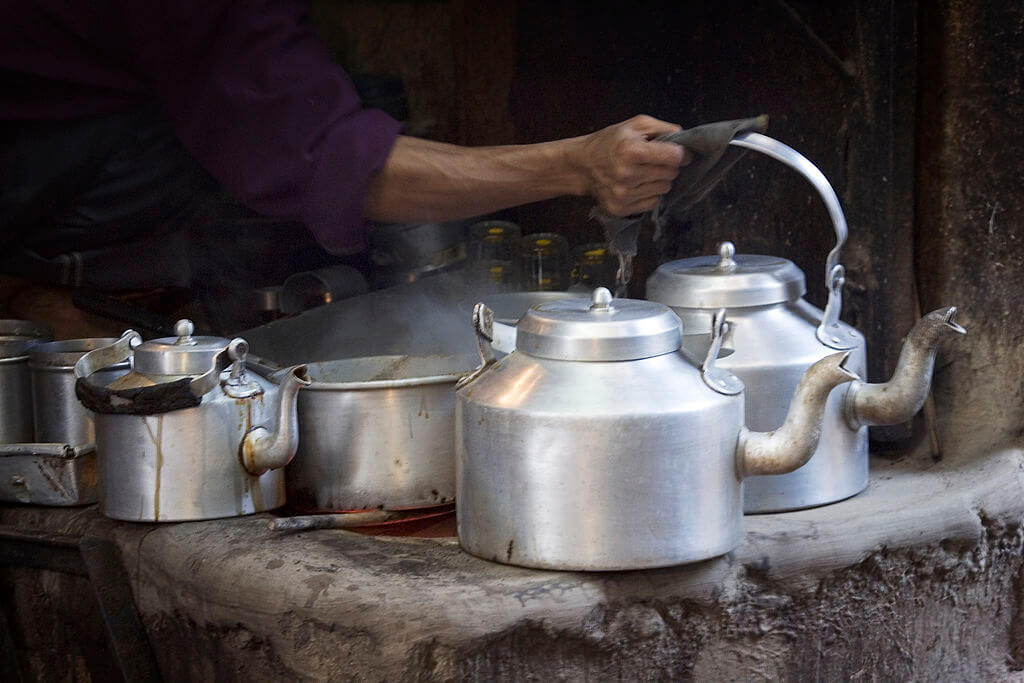 3. Talk around a wall.
It's easy to hit a wall in the flow of a conversation when your brain starts farting uncontrollably. The real step forward in speaking a foreign language is to verbalise your brain farts. In many ways, it's the mark of becoming fluent in a language.
Have you forgotten (or don't know) the word for 'divorce'? Try asking "What is the opposite of marriage?" or "What's the name of the thing mommy and daddy do when they don't love each other anymore?"
These last three tips were built around the idea of always keeping a conversation moving. Don't get stuck in the mud of details when you're learning another language. Just keep practising; sooner or later it will click.
4. Find fun ways to learn.
Get creative and find your own fun language learning technique! For example, I like finding songs in Japanese and learning to play them on the ukulele. It's speaking, reading, translation, and comprehension all rolled into one plus the increased returns when busking is another reason why learning a second language is beneficial! There are heaps of different ways to learn a foreign language so find something you enjoy more than just flashcards.
5. Prioritise learning the most common words in a language.
Fun fact: statistical analyses performed on conversational English found about 50% of our speech was comprised of only 100 words. After that, it's all diminishing returns: 400 words cover about 75% of our regular speech with 1000 words taking us up to 80+%.
That means with a solid list of 400 common and relevant-to-you words, you can cover nearly 80% of conversational speech requirements. And realistically, 400 words is nothing: I can name that many Pokémon.
I'm linking you to a source of the 500 most common English words and from there you can tailor it to your own foreign language studies. A surprising amount of words remain equally common across countries and culture with some exceptions: I imagine 'rice', 'chai', and 'Shiva' rank a bit higher in Hindi.
6. Keep 'chunking' your language learning.
I covered this in learning patterns but I really want to drill it in as much as possible as it's possibly the most valuable language learning tool for travellers. Chunking is the antithesis of long hours of rote memorisation and a necessity if you want to learn a language without grammar studying. Focus on them patterns!
Chunks are just groups of words that tend to always go together and thus our brain recognises collectively without ever considering the grammar implications. 'How's it going?', 'by the way', or 'at the end of the day' are good examples of chunks. Once you have a natural grasp of a chunk, it becomes second-nature to utilise it eg. 'at the end of the race' or 'at the end of the street'.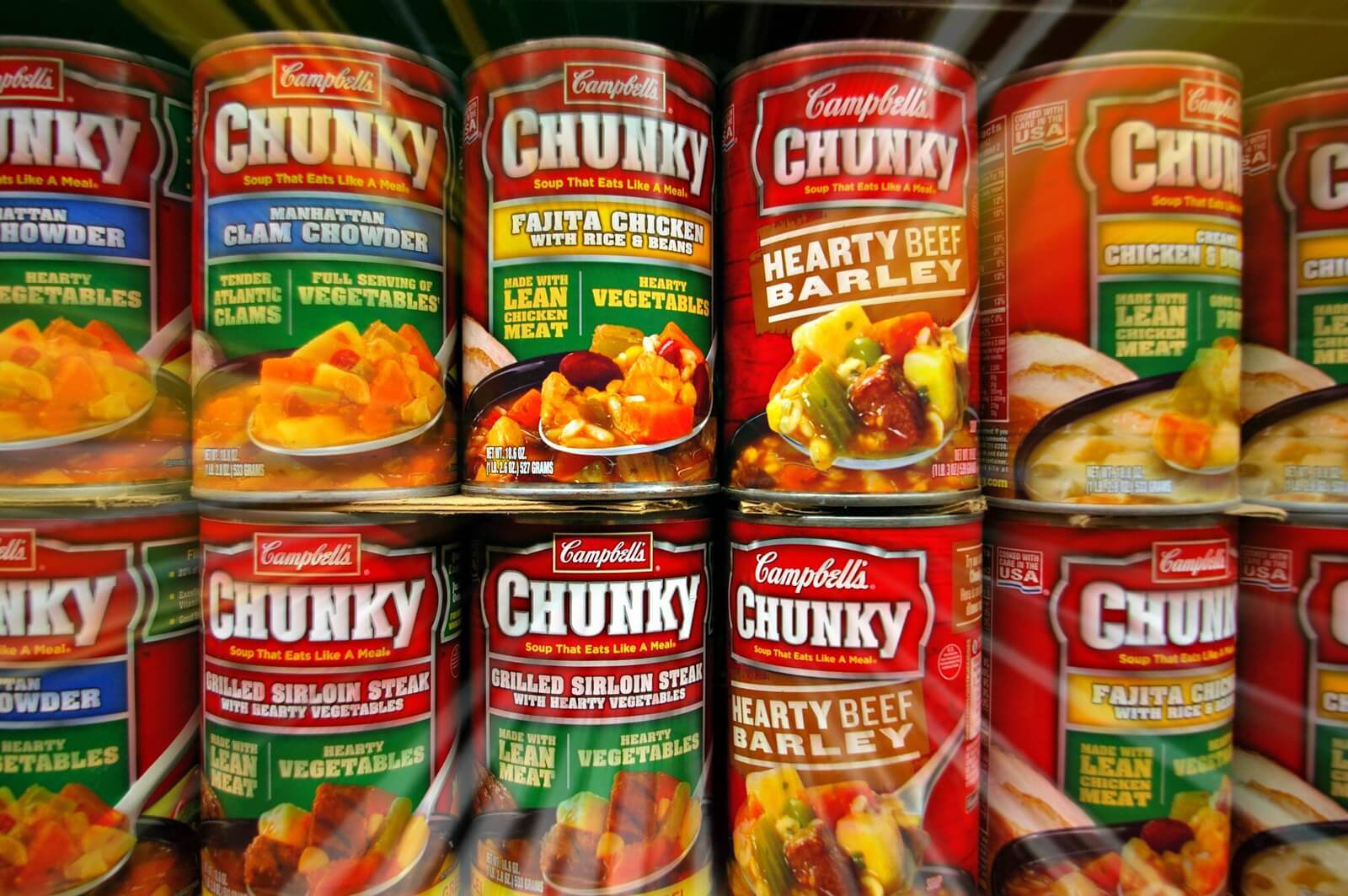 7. Remember: it's about the long-game.
HOW TO LEARN A LANGUAGE IN 10 DAYS!!! Does that sound familiar? It's the dream, right? Forget that, it's the linguistic equivalent of developing body issues from looking at too many photoshopped photos of Instagrammers.
It's a marathon, not a sprint to the finish. The truth about learning a new language is that it takes a long time. Think about English: 10 to 12 years of schooling and I'll bet you still can't explain why it's at 3 o'clock on Sunday in March.
Take your time.
8. It's ok to feel the burnout.
You're gonna have up days and you're gonna have down days and you're gonna have days where all your study time gets spent procrastinating on Youtube. Cut yourself some slack; learning a new language is really hard, and so is travelling – beware the burnout.
. If all you learnt that day was one new word, then that's one more word than you knew the day before. Be like the shark: just keep swimming.
9. Don't forget that you're fucking awesome.
You know how people say "Man, I'd so love to learn French!" Well, you're actually learning French. You're not just learning French… you're speaking French! Just take a moment to appreciate how seriously fucking awesome that is and how awesome you are for doing it… you fucking legend.
10. Appreciate the little victories.
Storytime! When I first parted ways with my Japanese companion, I found myself hitchhiking solo in Japan. Despite our most earnest efforts, the conversation with my kind driver was stilted. A lot of referring to dictionary apps, translators, and just generally getting lost.
Fast forward a couple months and I'm hitchhiking again! Only this time, I'm talking. Yeah, it's not an extremely deep conversation but there is mutual understanding, flow in the conversation, and no crutching on goddamn smartphones! Needless to say, I was one pretty chuffed white boy in Japan!
When a moment comes along that makes you go: "Hell yeah!"… appreciate it.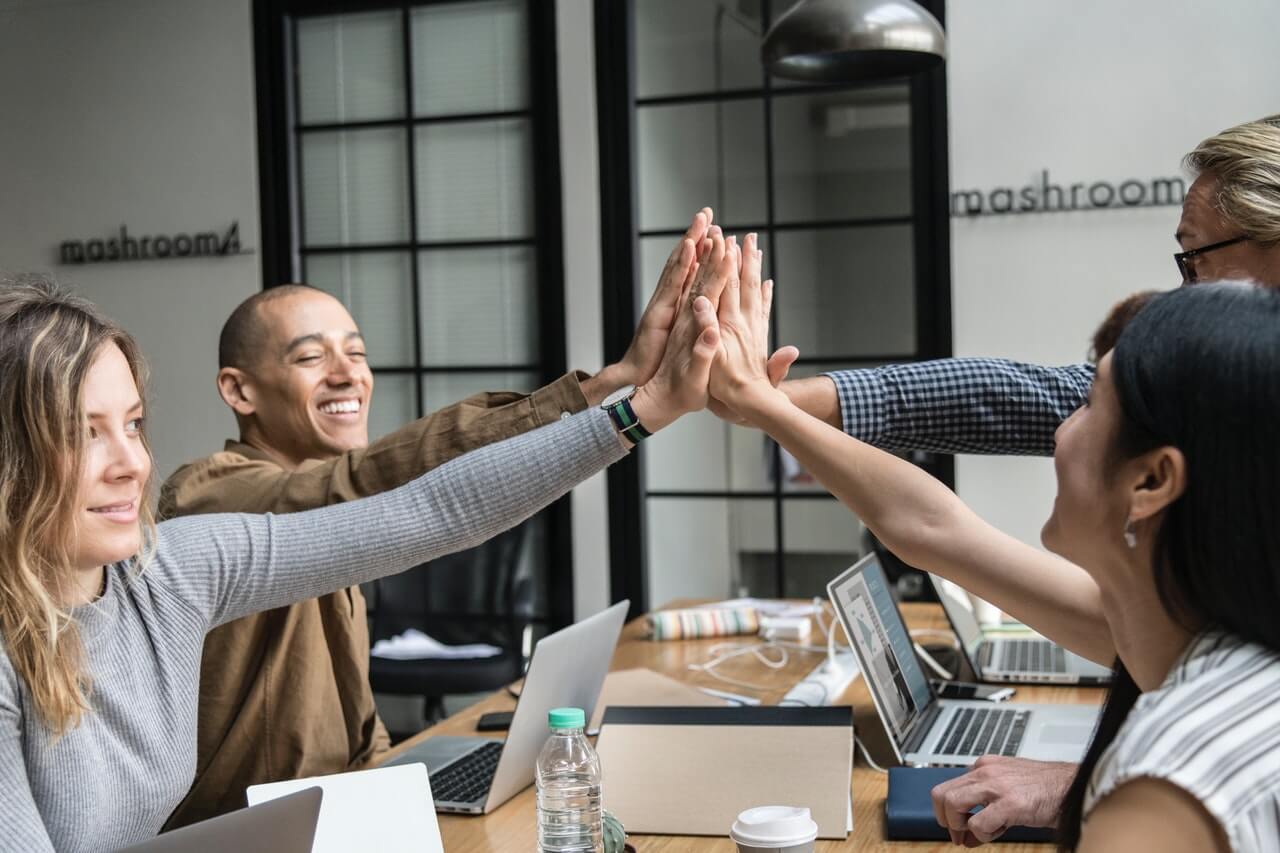 Bonus tip! Get yourself a hot piece of ass!
Right, so I've never actually partaken in this particular method because girls are icky and have cooties, but I have it on multiple good authorities that it's a damn fine way to learn a second language fast. Nab yourself a date (locals love adventurous foreigners) and pretty soon you'll be getting all kinds of free language lessons. Sex, cuddles, and language lessons… this may actually trump all the previous advice I've given you…
Language Learning Apps
I'm going to be a renegade and recommend you away from learning a new language through apps like Duolingo. It's not that they're completely unhelpful, but I do I believe them to be a far inferior method of learning a language than structuring your own study plan using all the techniques I've spoken about. I think if we could all learn foreign languages by spending an hour a day playing minigames on our smartphones, we'd all be polyglots by now.
However, that's not to say that your smartphone isn't an indispensable language learning tool. As much as I like to be a whingey-whiner about modern technology, the truth is we're walking around with a miniature god in our pockets. Legit, the thing is omnipotent.
So, I'll steer clear of the generic recommendations for language learning apps, but there are a few that I would consider integral:
Dictionary app – An app that has all the vocabulary you'll need, translated from your mother-tongue to your chosen language. There's no top dog here; the choices change from language to language. My modus operandi is to download five or so and see which I like best. Bonus tip for learning languages with different alphabets: if there is a setting to turn off romanisations (foreign scripts converted into the Roman alphabet), use it!
Translator app – I'm begging you not to rely on this over your own brain in conversation, but it can still help you out in a pinch. Sometimes you need more than what a dictionary can provide. Again, there are lots of options, but Google Translate is one of the best travel apps for its offline capabilities with many languages.
HelloTalk – Mentioning this again for anyone that is having trouble finding someone to practice speaking with because it's a godsend. Italki is another hella good option with the choice to pay for online language lessons from actual teachers.
AnkiApp – I have to talk about Anki and I have to talk about its applications but that deserves a whole goddamn section because this is easily one of the best programs to learn a language with. Long story short: it's a build-your-own flashcards program. I'll get to how to utilise it in a minute.
Key Phrases to Learn in a Foreign Language When Travelling
This is just a short-list to get you started. As I said, your list of important phrases will be tailored to your experiences as you travel and dabble in different languages. This is just some of the key stuff that I found never escapes my early vocab list and the goal of it is not to learn these words in a vacuum but as part of greater chunks and phrases with more applicability.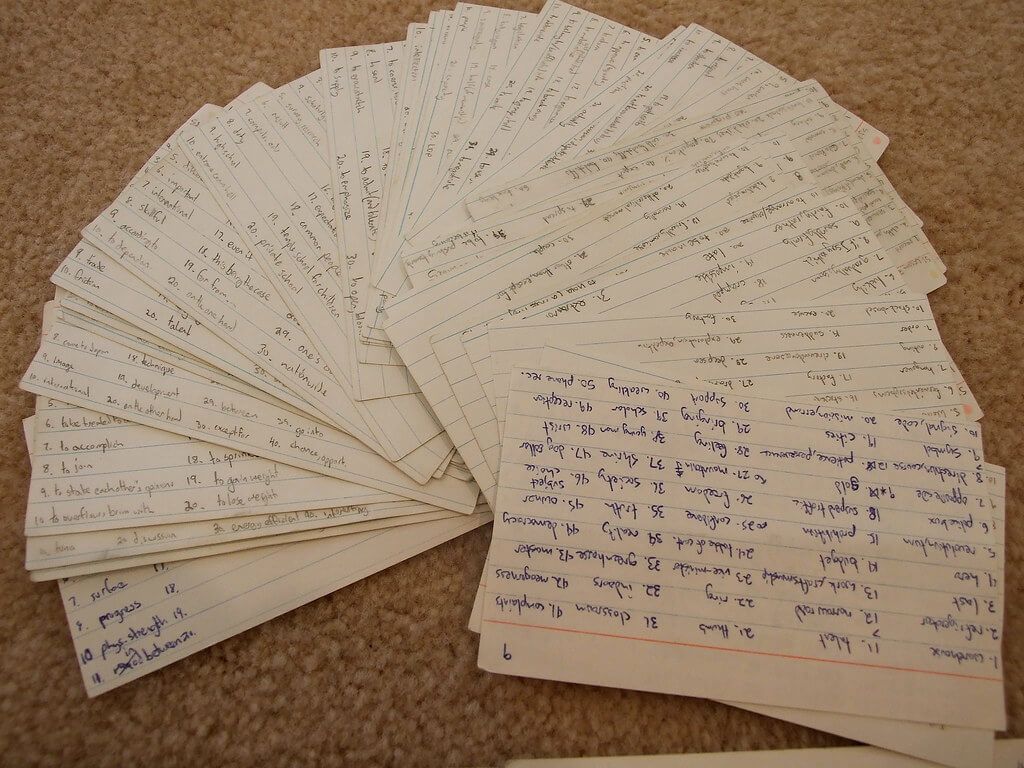 You'll probably notice that there are some curious absentees. That's because I don't consider counting numbers or asking mundane things like 'How are you?' essential to the basics of learning a new language. The goal here is to get some rudimentary communication.
Category
Words
Pattern Examples
Polite Words
-Please
-Thank you
-Excuse me/sorry
-Yes/no/maybe
-Ok/fine/alright
-Good morning/good night
Self-explanatory, I should hope…
Question Words
-What
-Where
-When
-Why
-Who
-How
See above.
Demonstratives
-This/that
-These/those
-Here/there
-What is that?
-Where is here?
Pronouns
-I/you
-He/she
-We/they
-It
-Where are you?
Existence Verbs
-Am
-Is
-Are
-Was/were
-Who is she?
-I am ok.
-Are you there?
Temporal Words
-Now
-Later
-Today/tomorow/yesterday
-Where is he now?
Nouns
-Food/water
-Accommodation
-Dog/cat


-Where is accommodation?
-Water, please.
Adjectives
-Pretty/beautiful
-Good
-Tasty
-Fun
-Hot/cold
-It's tasty!
-That was fun.
-He is pretty dog.
-Today is hot!
Verbs
-Go
-Need/want
-Eat/drink
-Sleep
-I want food, please.
-I sleep now.
-I eat later.
-Where are you go(ing)?
See? That's exactly what I mean!
That's a list of only 59 words (I counted) and look at all the sentences you can make! Some of my sentence examples don't have good grammar, but that's my point: grammar isn't the be-all-end-all. Communication is.
The grammatical translation of many of these words is very different in many languages. For example, Japanese drops pronouns by default unless contextually necessary. Also, many Asian languages conclude a sentence with a verb, so that's where 'is', 'are', or 'am' is usually placed.
Regardless, look at all those damn sentences! And how many more you can make simply by swapping words interchangeably. In the beginning phases of learning a new language, often less is more.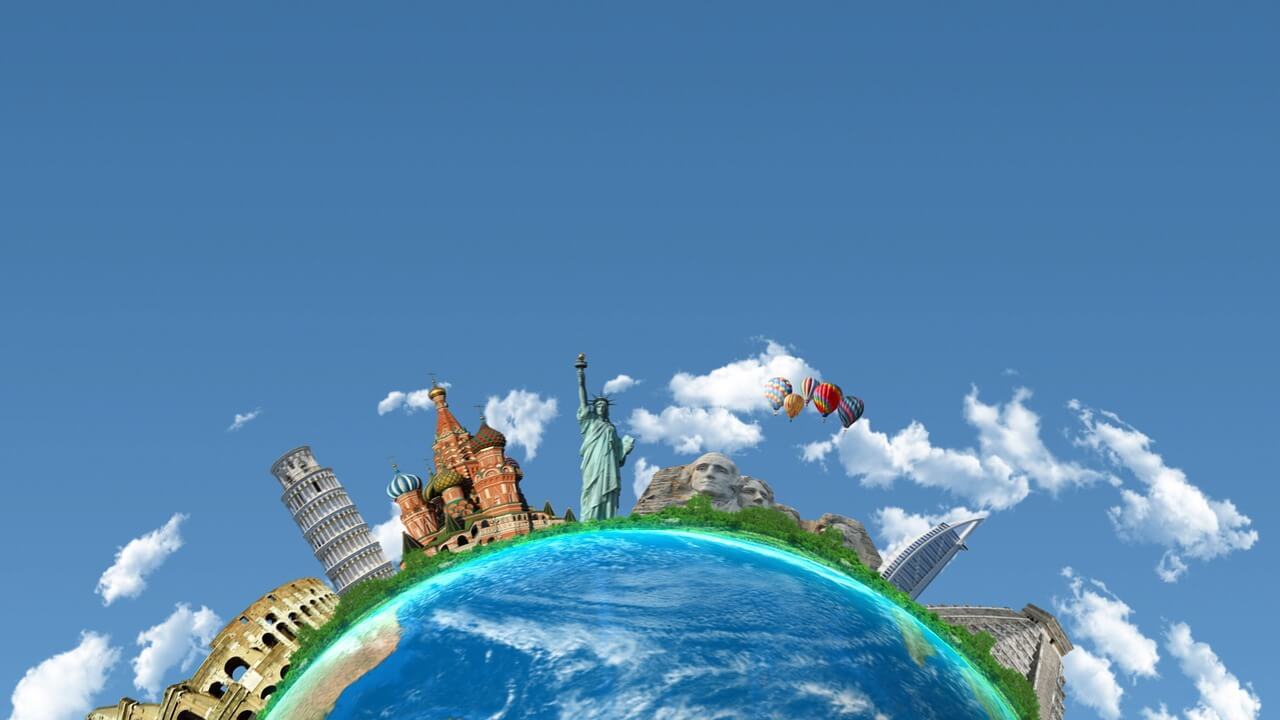 Ok, so here is something I would call the ace up my sleeve in my language studies. It, by no means, is entirely sufficient as a singular method, but, as I'm sure you've noticed, learning a second language is about having as many tools at your disposal as possible. It's also an efficient method for the intrepid immersed traveller.
The Tools: Anki
Anki… let's talk about this again because I swear it is the best program to learn another language with that exists… if applied right. It's a flashcard building program with a huge array of customisation options (pictures, audio, video…). There's even a database of downloadable decks people have shared which will probably have any language you're interested in; for the record, I just had a browse and found Mongolian, Creole, and Swahili so you'll easily find what you're after.
"Excuse me, sir, but this sounds like an ad."
Hah, nope! It's totally free! (For everyone except iPhone users… suckers!) So if you don't grab it, you're a dumb-butt.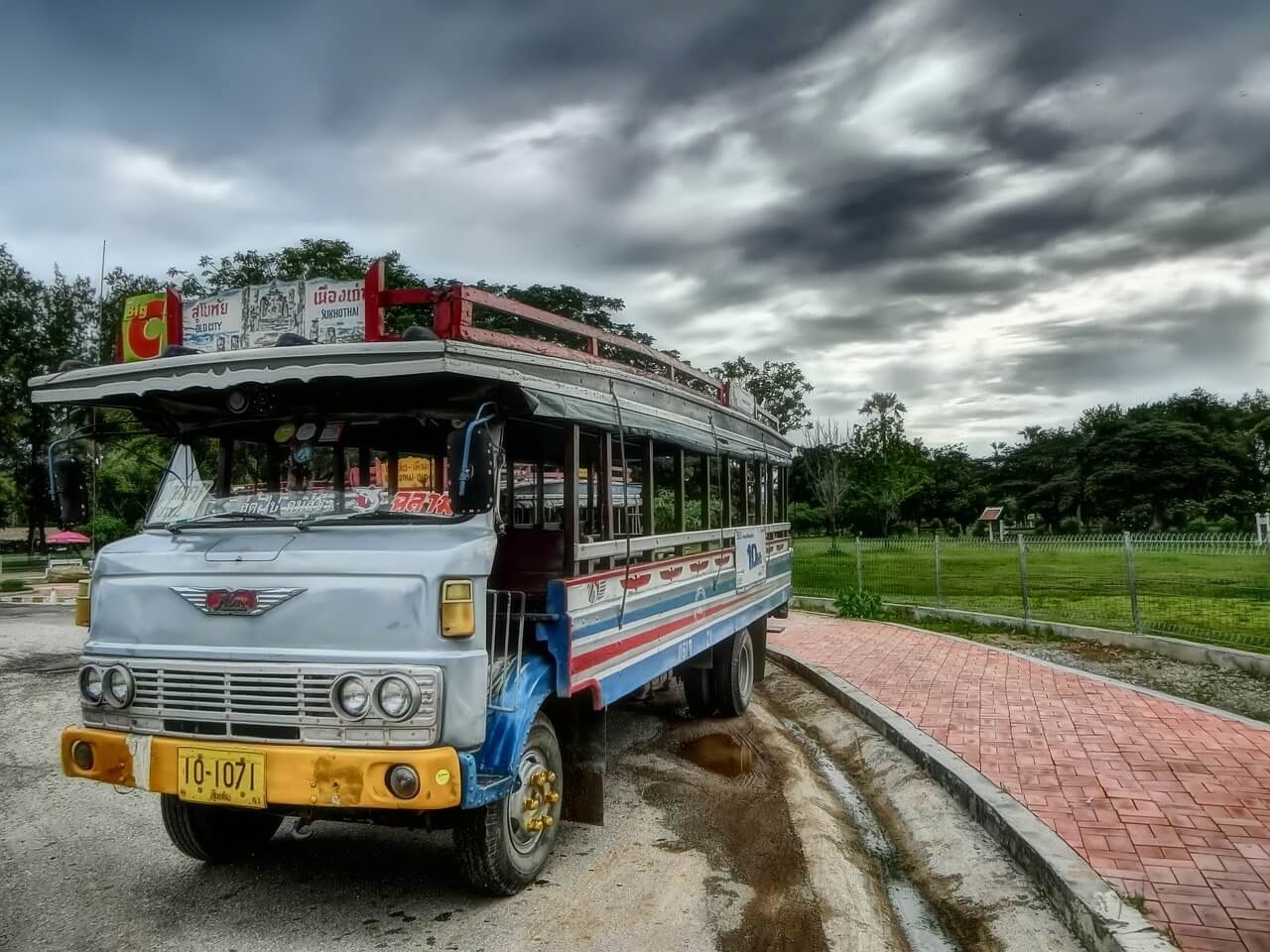 Some dictionary apps even come with a built-in "Send to Anki" function. My Japanese dictionary app does and, oh my god, that function is so so wonderful.
What's my point? Get Anki.
The Method: Build That Deck!
You're travelling, you're immersed, and you have a miniature god in your pocket at most times. How can you use this to learn a new language by yourself?
Easy! Everything that can go in the deck, does. Someone asks you to get their phone from upstairs… that's a new pattern!
Grandma locked herself in the car again. Well, now you know how to say 'grandma' so add that shit!
All your new vocab and grammar rules that you take notes on… those notes go in the Anki deck. That means all that information is somewhere other than a notebook you're never going to open (plus, you're not travelling with 5 different notebooks).
Anytime I found myself in a conversation in Japan and a new piece of vocab appeared I would exclaim 'Atarashii kotoba da!' (New word!) and I would pull out my phone to add the card. Over time, my deck expanded to incorporate grammar, words, expressions, lists (eg. counting), chunks… you name it!
And every day, I would revise. If you're on top of your daily revision, it seriously takes half-an-hour max. Again, the purpose is not to remember everything; only to keep any learnt content from slipping into the aether.
The best part about this method is that it's highly efficient for travellers. You'll stumble across new words, slang, and phrases all the time. And, if you're kicking around on transport, you have plenty of time to flick through your revision or cram in a few more cards.
Just slam it all in one deck. It's like having a daily random selection of revision material.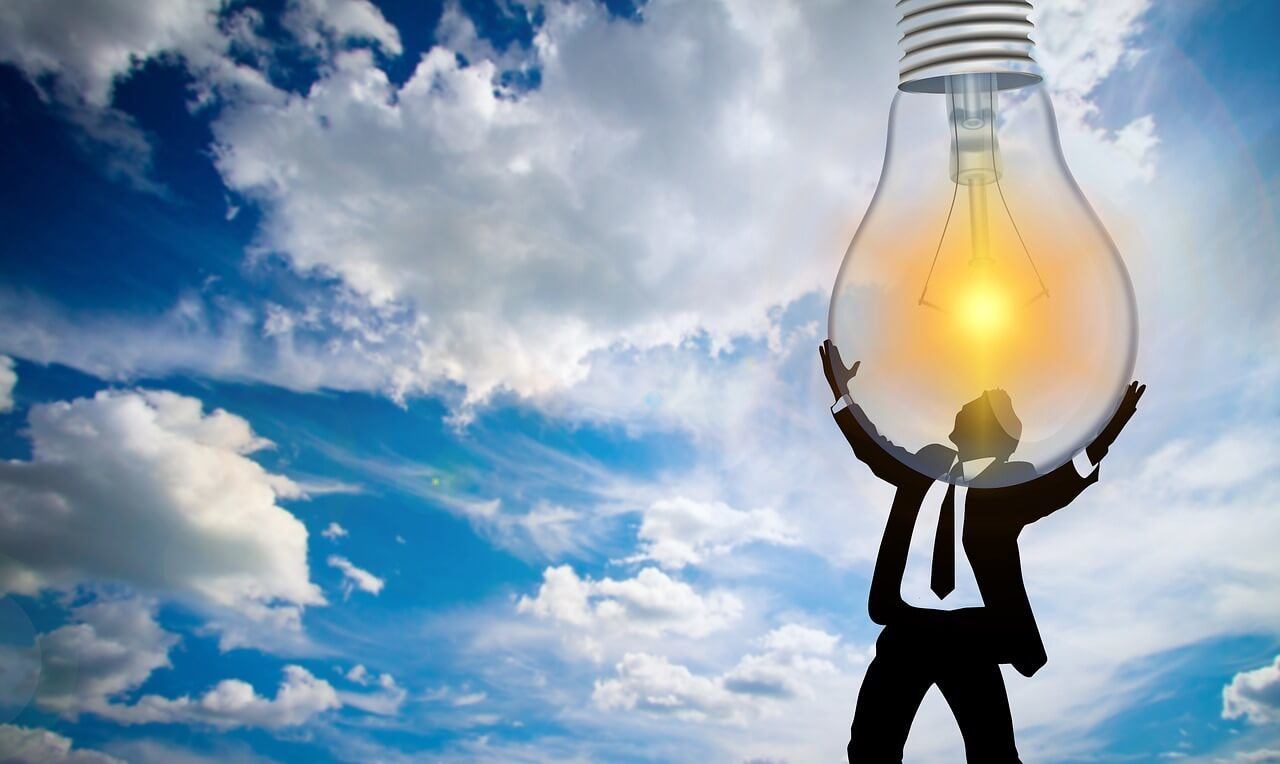 Final Thoughts on Learning a New Language for Travel
If you're still telling yourself, after that buttload of information, that it's too hard to learn a new language and you can't do it: shush your face! Anyone can learn another language, no matter how hard they try to convince themselves they can't.
Do you know how I know? Because you've already mastered a language. You're actually fluent in one of the most difficult and finely-nuanced languages around. I'm talking about English, ya dope! Learning English is way, way harder than Japanese or Swahili or Mongolian.
"Oh, but I was a kid and had parents who spoke English and blah-blah…"
Yeah, and what do you think learning another language as a traveller is? It's like being a kid and all the way back at square one again. Except, now you're old enough to drink – yay!
If there's any penchant inside of you to learn a new language for travel, then I highly recommend it. At best, you'll experience a culture at a whole new level that you never have before. And, at worst, you'll come away with some rudimentary knowledge in another language and some new neural pathways. Not a bad deal at all, really.
To be honest, I've kinda fallen off the wagon with my Japanese and I can feel it rusting. So thanks, you've inspired me! So today I'm going to do my own studies: hit up HelloTalk, phone a friend, and practice speaking a bit. Always keep practising!
---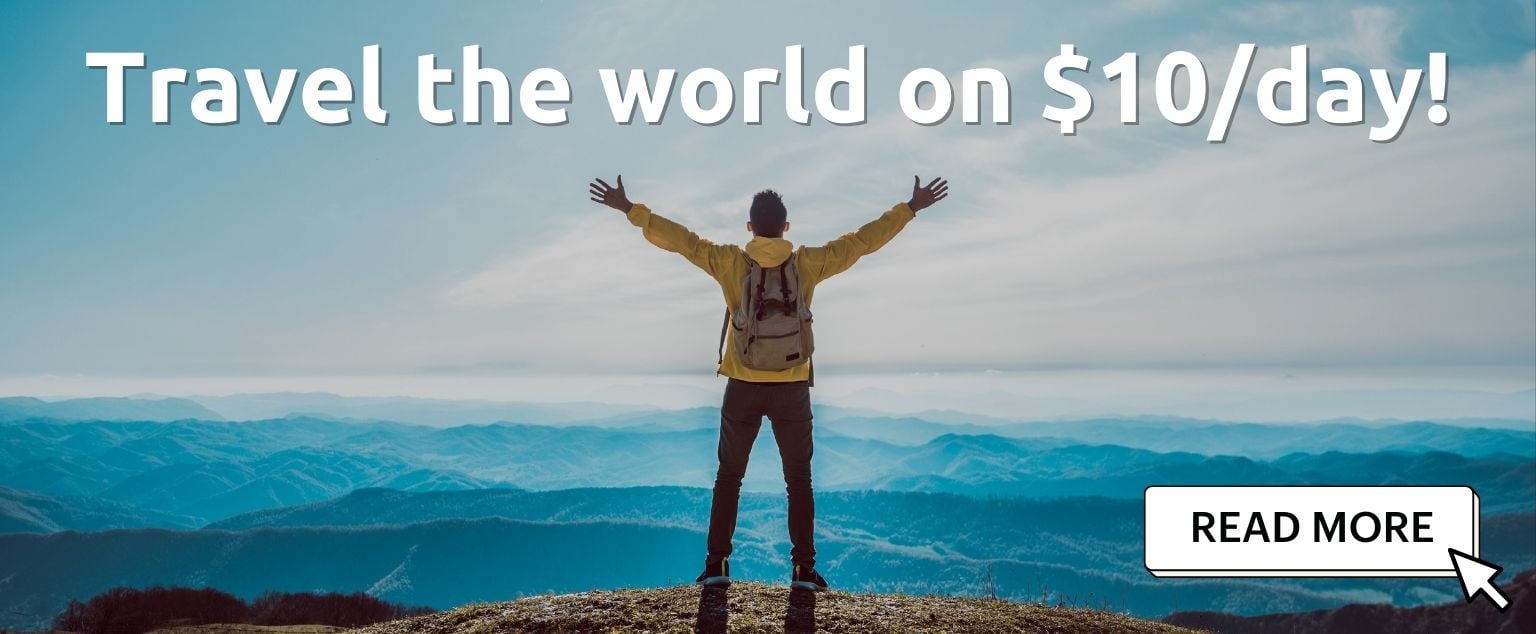 And for transparency's sake, please know that some of the links in our content are affiliate links. That means that if you book your accommodation, buy your gear, or sort your insurance through our link, we earn a small commission (at no extra cost to you). That said, we only link to the gear we trust and never recommend services we don't believe are up to scratch. Again, thank you!