Traveling the world and playing the guitar are my two greatest passions. But, unfortunately, they don't seem to go hand-in-hand, do they? Traveling requires minimalism, and guitars are big, awkwardly shaped and are not fun to haul around in airports and buses.
For years I had to make the tough decision –  to either travel without a guitar, or to painfully drag my oversized acoustic around the world. Both options sucked, and after years of this, I needed something different.
So finally, I bought myself one of the best travel guitars and my life literally changed forever.
As a guitarist of 15 years, and a non-stop world traveler of 10, I know exactly what is needed from a travel guitar.
With the help of this guide, you'll be able to easily know which of the best travel guitars is perfect for you and your style of music and travel. We're going to cover a whole scope of six-stringed sweeties in this post: travel acoustic guitars, travel electric guitars folding neck guitars. Something for every homeless musician out there!
Get excited because here are some of these best traveling guitars and they are epic!
Unfortunately, as I was researching which travel guitar to buy, I realized there are hundreds of travel guitars… and a ton of them suck.
Which is exactly why I wrote this epic guide to the best travel guitars.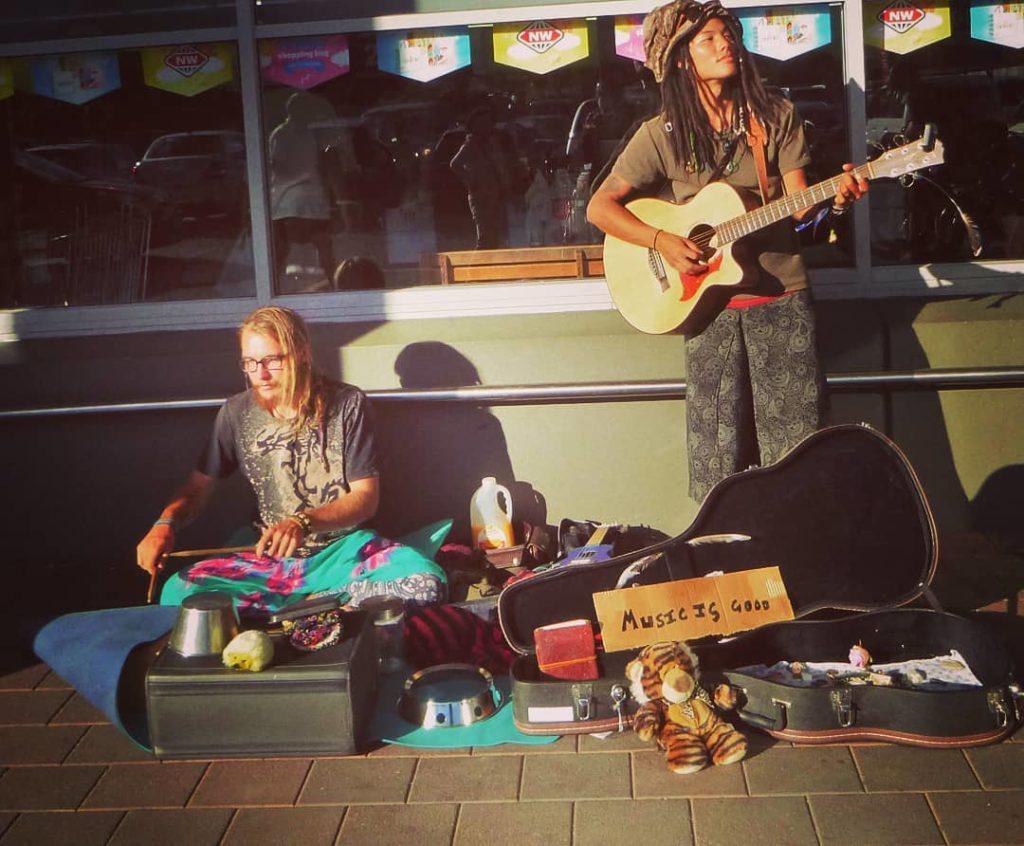 Quick Answers – The Best Traveling Guitars
The Best Traveling Guitars Mega-List: Acoustics, electrics, and a few bass guitars because why not?
Today, we're cutting straight to the goodies because goodies are delicious! First, we'll round up the most portable guitars just built for travel and worldwide escapades. After that, I'll get to the no less delicious goodies on choosing the right travel guitar for your needs.
Are you ready? Ok, you sexy shredder; let's do this! The best guitars for travel that most certainly do not weep.
BEST TRAVEL ACOUSTIC GUITAR #1

BEST TRAVEL ACOUSTIC GUITAR #1
Ultra-Light Classical 6-String Guitar
> $$
> 2 lbs
> Great action
BEST TRAVEL ACOUSTIC GUITAR #2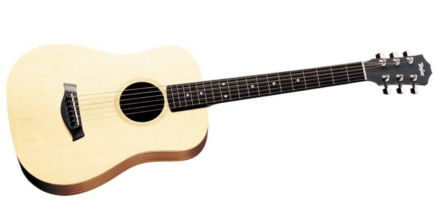 BEST TRAVEL ACOUSTIC GUITAR #2
Baby Taylor BT2
> $$
> 4.41 lbs
> Taylor-made
BEST TRAVEL CLASSICAL GUITAR
BEST TRAVEL CLASSICAL GUITAR
Yamaha Guitalele
> $$
> 2.5 lbs
> Vibrant classical tone
BEST BUDGET TRAVEL GUITAR
BEST BUDGET TRAVEL GUITAR
Yamaha GL1 Guitalele
BEST TRAVEL ELECTRIC GUITAR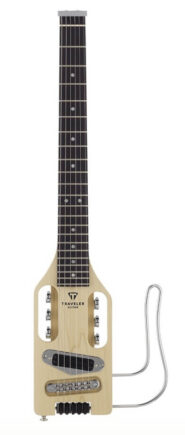 BEST TRAVEL ELECTRIC GUITAR
Traveler Guitar Ultra-Light Electric Travel Guitar
> $$$
> 3.13 lbs
> Humbucker pickups
BEST TRAVEL ELECTRIC-ACOUSTIC GUITAR
BEST TRAVEL ELECTRIC-ACOUSTIC GUITAR
Best Travel Electric-Acoustic Guitar
> $$$
> 2lbs 14 oz
> Great neck
Best Folding Guitar for Travel
Best Folding Guitar for Travel
Journey Instruments OF660M Carbon Fiber Acoustic Guitar Matte
Best Folding Travel Guitar > $$$$$
> 9.35 lbs
> Great for professionals
Best Travel Bass Guitar
Best Travel Bass Guitar
Traveler Guitar TB-4P Electric Travel Bass
Best Travel Bass Guitar > $$$
> 6 lbs 8 oz
> Great for professionals
BEST UKULELE

BEST UKULELE
Kala Teak Tri-Top Concert Acoustic-electric Ukulele
> $$
> 2 lbs
> Level-10 Portability
The Best Travel Acoustic Guitars
For the natural earthy sound. The downside of the portable guitars is the sound isn't so rocking as an electric baest. The upside?
…Well, you don't need an amp.
These are the travel guitars you can bring to the campfire or out at the hostel at night to the sneak into the hearts (and pants) of wayward travelers around the globe. Sexy and swooning.
Ladies & Gents, It's Time to Step Your GEAR Game Up. 😉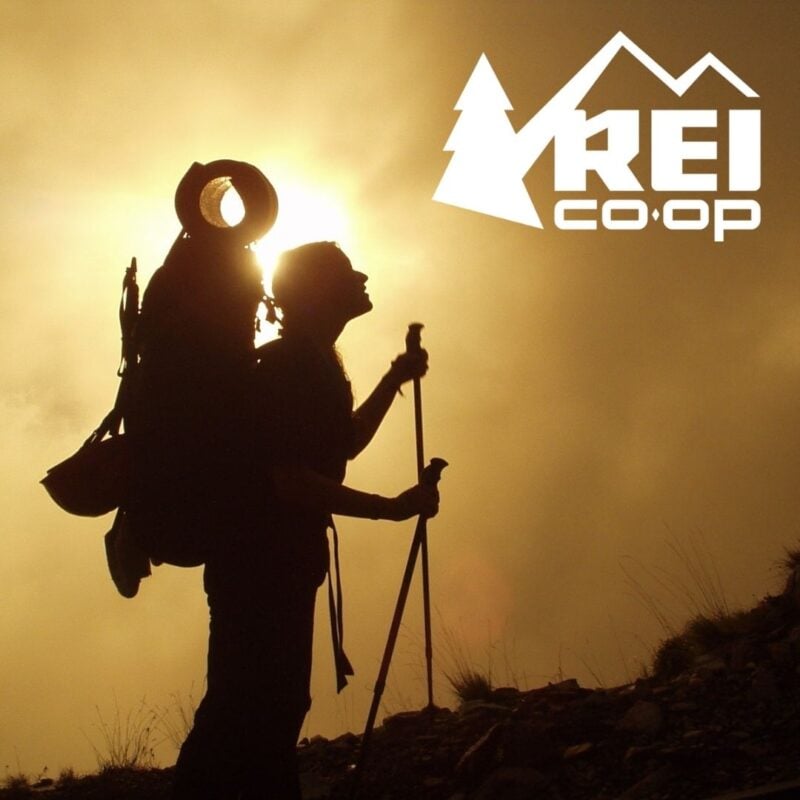 REI is one of America's biggest and most-loved outdoor gear retailers.
Now, for just $30, get a lifetime membership that entitles you to 10% OFF on most items, access to their trade-in scheme and discount rentals.
Join REI Today!

If you are looking for the best travel acoustic guitar, do yourself a favor and stop right here because this creature is as good as it gets.
This compact travel guitar is an extraordinary instrument and they have accomplished the goal of creating an affordable yet high-quality travel acoustic guitar.
In TBB fashion, you get only the best of the best! A solid mahogany top, a unique fret design, and a 24-inch scale length mean that you'll never have to sacrifice quality to have an amazing travel guitar.
This guitar was designed for lightweight travelers in mind. The guitar and strap only weigh a total of 2 lbs. 14 oz combined, making this our smallest travel guitar. And when placed in the included protective bag, the two combine to weight a total of 3lbs. 12oz!
Pros
Removable lap rest
Only 2 lbs 14 oz – the perfect small travel guitar
Low action
Cons
Shape can be awkward or uncomfortable to some
Very small – not ideal for professionals
Leg rest is a bit slippy
While I clearly think this guitar is the cream of the crop… I don't recommend it for everyone.
This traveling guitar is for backpackers; perfect for those who love to travel with their guitar but aren't trying to do anything too hardcore with their music career. Why?
In an effort to make this mini guitar as travel-friendly as possible there is a detachable leg rest, whilst this is amazing meaning you can get the benefit of playing a full-size guitar sat down, I have found it to be a bit slippy on my pants! I've remedied this by wrapping a cloth around it but it's not the ideal solution.
Bottom line:  If you are a traveling professional musician, this might not be the guitar for you. Everyone else – if you can afford it – this tiny Guitar is literally as good of a travel guitar you can get. Click the button below to see the best price.
Taylor guitars are one of the most reputable acoustic brands on the planet and this guitar is an incredible example of why.
The Taylor Baby BT-2 is not technically a travel guitar; it's just one of the best 3/4 guitars out there. This means that it's 25% smaller than a normal-sized acoustic guitar, and many 3/4 guitars are made for kids.
But obviously one can see why 25% less guitar would be very beneficial for travelers. An extra 25% of the guitar means an extra 25% weight off your back and the ability to stow this guitar on tons of flights.
Plus, along with a smaller size, you also get everything else that is amazing about Taylor guitars – solid wood, ebony fretboard, and a beautiful sound that resembles a choir of glowing angels.
Pros
High quality and long term durability. This guitar will purr
Great for traveling professionals
Come with a gig bag
Cons
Almost weighs 8 lbs with the case
Pricier
Probably too big for lightweight backpackers
19 frets might still not be enough for some
What you've got to love about this guitar is that for a 3/4 guitar's size, it almost sounds exactly like a full-sized acoustic guitar. That's why it's easily one of the best travel acoustic guitars on the market. Typically 3/4 guitars sacrifice sound for size but with this Taylor, the tradeoff is barely noticeable.
Taylor has earned their reputation, and this compact guitar is another sterling example. If you don't mind dishing out a bit more cash, you'll be very pleased with the tone and sound of this instrument.
Bottom line – The Baby Taylor BT-1 delivers a phenomenal sound and long term durability all of which comes at 3/4 the size of a regular acoustic guitar. If you are looking for an ultralight travel guitar, look elsewhere. But if the quality is your number one concern, you may have found the mini travel guitar of your dreams.
What happens if you cross a guitar with a Ukulele? The Yamaha Guitalele is what! This is a masterpiece of instrumental engineering, and could quite possibly be the best travel guitar ever made!
With a solid spruce top, rosewood fingerboard, and a gorgeous mahogany body, this classical guitar is stunning in that sexy classical fashion like a finely produced oil painting. Yamaha clearly invests a lot of time in design, and this travel classical guitar is one of the best examples of that.
And thankfully it sounds as good as it looks! This classical, nylon string Guitar-Ukulele is well-reviewed, giving warm and bright tones. This ensures it delivers the best sound for its size and build.
Pros
Nylon strings for the nylon lovers
Gorgeous looks and sound
Comes with gig bag
Cons
If you prefer steel strings,then this is not the guitar for you
It ain't too pricey and it ain't too big – good things come in compact and affordable packages! You are getting an extremely well-designed and beautiful acoustic classical guitar that is built just for travelers.
Bottom line – Whether you are a professional or casual musician – if you are looking for a travel classical guitar, this is a fantastic option at a good price.
I've gone through a ton of guitars in my life, but one of the best, most durable acoustics I ever owned was a $200 Yamaha. Did it have the rich sound of a Martin? Obviously not. But it played well, had great action, and was so durable I was convinced it would survive a nuclear apocalypse.
This is exactly why the Yamaha GL1 Guitalele is my pick for the best cheap travel guitar!
Yamaha makes solid guitars for low prices, and the GL1 Guitalele is a perfect example. Well reviewed and affordable, this was an easy pick for the best budget travel guitar.
Pros
Super affordable and well-reviewed!
Yamaha's products are always durable
A cool fusion of a guitar and ukulele and their A/D/G/C/E/a tuning ensures you get a great sound
Cons
It's still cheap, but for $75 more you can get something significantly better
Alternate tuning might dissuade some
Nylon strings may not be ideal for others
Something to consider is that this is technically NOT a travel guitar. As the name would suggest, this is a hybrid between a ukulele and an acoustic guitar. To accomplish this fusion in the best way possible, Yamaha strings this guitar up to the 4th in the tuning of A/D/G/C/E/a.
If this scares the crap out of you – don't worry! It just means due to its smaller size, this guitar sounds best with a non-standard E/A/D/G/B/e tuning. Since this is a great cheap travel guitar, this also makes for a great traveling gift!
Bottom line – If an alternate tuning doesn't scare you and you are on a budget, then this is the best budget travel guitar. A cool guitar-ukulele-combo, the Yamaha Guitele is a solid choice for a traveler looking to save a bit of money on their instrument without compromising too much on quality. It also just happens to be the best guitalele – go figure!
OK, before I continue, I should clarify: this is absolutely, without a doubt, 100% a toddler guitar. This is, however, one of the best inexpensive guitars you'll find.
It's small, not of the highest quality, and won't last a lifetime… And that's exactly why it's the best budget travel guitar on this list! A bargain guitar this cheap means all feelings of love and affection go out the window: throw, bang, and transport this instrument on buses in Asia to your heart's content… unless you get attached.
But we're travelers; we don't go in for that attachment nonsense anyway.
Think of it this way… have you ever been to a hostel and they have that small, beat up, classical guitar sitting in the main room? Or have you ever been to a beach party, and some dude with dreadlocks busts out a nylon-stringed guitar that looks like it was made in 1953 for a hobbit?
That's exactly what this guitar is. It won't win you a grammy, but it's cheap, and you better believe that it will play… albeit maybe slightly out of tune.
Cons
It's a cheap guitar… don't get your hopes up
The Hohner 1/2 Sized is for anyone looking for a cheap travel guitar to buy online. Simple as that.
Bottom line – This is the 'I'm on a shoestring budget backpacking through Southeast Asia. I'm going to party on beaches and all I want is a throwaway guitar I can play some Sublime singalongs on in between cheap beers in hopes of getting laid' choice. If this sounds like you, then look no further.

Do You Want to Travel FOREVER??
Pop your email in below to get a FREE copy of 'How to Travel the World on $10 a Day!'.
Best Travel Electric Guitars
Do you want to power those chords properly? Whammy those sustains? Really get that cheap meaningless sex at hostels in Thailand?
Then here we are: the best electric travel guitar. Something with a bit more shazam for the busker in all of us.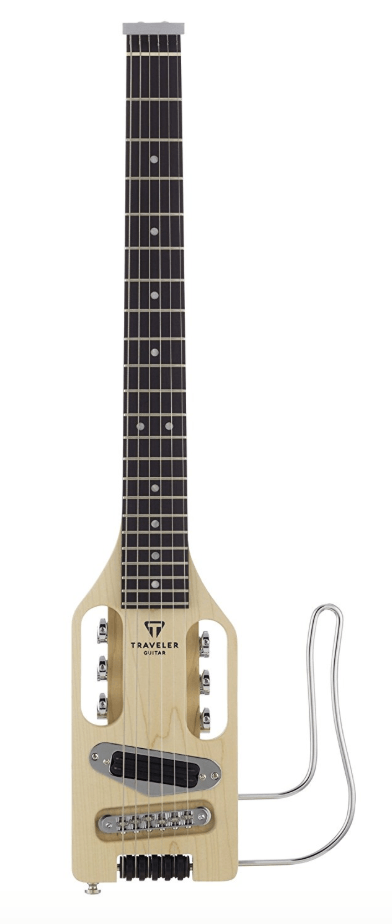 While not the most creative company name, Traveler Guitar has put together some pretty impressive traveling instruments and this was an easy pick for the best travel electric guitar.
Amazing design and stellar reviews make this electric guitar one of the coolest travel guitars on the market. The Traveler Ultra-Light comes with dual rail humbuckers and packs an impressive sound. Depending on your amp and pedals setup, this electric should be able to get whatever sound you need out of it.
The Ultra-Light guitar is 28% shorter and 68% lighter than a typical electric guitar all the which while retaining 100% of its size between the nut and the bridge. This means that while this guitar is not going to feel 100% like a full-sized electric… it'll come close. Plus, you shed all of that weight in the process.
Pros
68% lighter than a standard electric guitar
Humbucker pickups
A gig bag is included
Lap rest is included as well
Cons
Might not be enough for professional traveling musicians
Mixed reviews on comfort of detachable lap rest (and overall balance in general)
This travel electric guitar is perfect for super lightweight travelers who need an electric guitar with them at all times. But unfortunately, the lightweight build comes with some sacrifices. And the sacrifice here is the balance.
By eliminating 68% of the weight, some reviews claim the guitar is difficult to balance, or that it's too light to play or solo on comfortably. Others claimed this was easily overcome with a couple days' practice. Regardless, if you are considering purchasing, expect a bit of discomfort and imbalance at first, but don't worry: you'll be rocking that Red Hot Chili Peppers cover in no time 😉
Bottom line – Maybe not the best choice for professional musicians but this is still a great travel size electric guitar for someone who loves to shred while they journey. While the balance might take a bit of getting used to, there is simply no better-designed travel electric guitar on the market.

Just like the Ultra Light Travel Guitar, this model is unique in its design. But unlike its sibling, Traveler Guitar looked at the Hofner as an opportunity to give you a full electric experience while still trimming as much weight as possible.
To accomplish this, they've basically cut out everything in the body apart from a tiny area roughly the size of a pick guard on a regular guitar!
By cutting out the majority of the body, Hofner has created an electric guitar that is 14% shorter and 35% lighter than a typical electric guitar. And the impressive part? All of that is done while still keeping the guitar 100% at scale from the bridge to the neck!
Pros
Full electric experience, but 14% shorter and 35% lighter
Awesome for traveling professional musicians
Gig bag included
Cons
Too large for casual musicians
Won't play like a Strat (please don't expect it to)
Mixed reviews on its playability out of the box – might take some tweaking to get desired the feel and sound
Aside from its innovative design, this kickass travel electric guitar comes with 3 single-coil pickups, 1 volume knob and 1 tone knob.
While this compact electric guitar is highly recommended, you will still have to accept that its bold design can cause some complications. While this travel electric attempts to mimic a full-sized electric – don't expect it to feel exactly like a Strat or Tele. It comes close, but you can't expect the same feeling (especially when sitting down).
Truthfully, if you are looking for one of the best electric travel guitars, there aren't tons of well-reviewed options and Hofner is the only company putting out quality products.
Bottom line – If you are a traveler looking to shed a few pounds off your electric guitar – this is a kickass option. The Hofner was meant to be lightweight while sacrificing as little playability as possible… Highly recommended for a professional who isn't sure if the Ultra-Light can make the cut for them.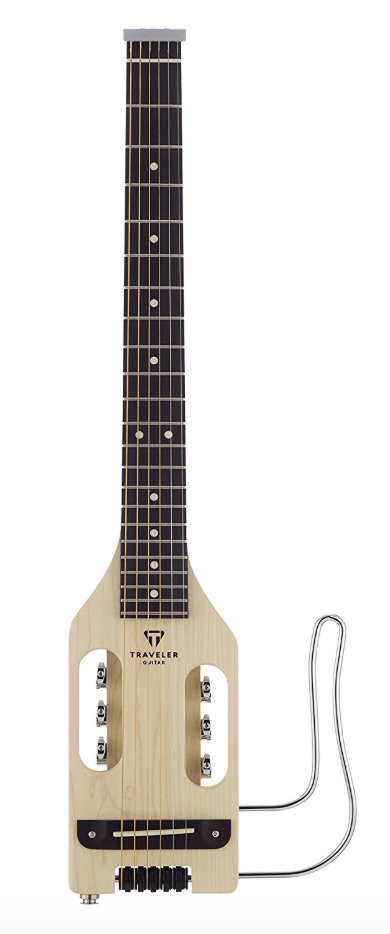 Welcome back Traveler Guitar! Lemme make you a tea; you're welcome anytime as long as you keep pumping out the grade-A stories.
With their third product on this list, I have to say I'm impressed by Traveler Guitar's commitment to their niche. This product is one of their best!
It's 100% full scale from the nut to the bridge, but 31% shorter and 43% lighter than a typical acoustic guitar. In particular, this guitar has a nice aesthetic and a gorgeous finish. Reviews claim the neck is smooth and that the guitar is durable and stays in tune very well.
Pros
43% lighter than a typical acoustic guitar
Great finish – well-reviewed neck
Gig bag comes included as well
Cons
Too niche – only recommended for those who ALWAYS plug in their acoustic (or record acoustic)
But where I think their other products are more versatile… I would only recommend the Traveler Guitar Ultra-Light Acoustic-Electric for a very specific person.
Simply put – this guitar only sounds great when it's plugged in. Why?
Well, think about it. This guitar has no body (aka – where an acoustic gets that warm, vibrant, reverb-y sound from). In the pursuit of lightness, Traveler Guitar made an instrument that only sounds good when plugged into an amplifier – which can totally work for the right person!
When it is plugged into an amp it sounds delicious! But otherwise, it's basically just another electric guitar that gives much less when unplugged. It's good for recorders, buskers traveling with an amp, and people gigging… and that's about it.
Bottom line – Look at the Traveler Guitar Ultra-Light Acoustic-Electric as an electric-acoustic guitar, and ONLY as an electric-acoustic guitar. If you love to record acoustic while you travel, or play a ton of live shows – this could be your axe. Everyone else – look elsewhere.
You could get a mini guitar that carries on your back… or you could just get one that folds in half completely! Holy folding guitars, Hendrix! Lookout virtual reality and simulated blowjob machines – the future is here!
In all seriousness, a folding guitar is a supreme traveling instrument. Easy to carry, stow on planes, and you're not so likely to snap the neck. Trust me: nothing breaks your heart quite as much as a broken guitar neck.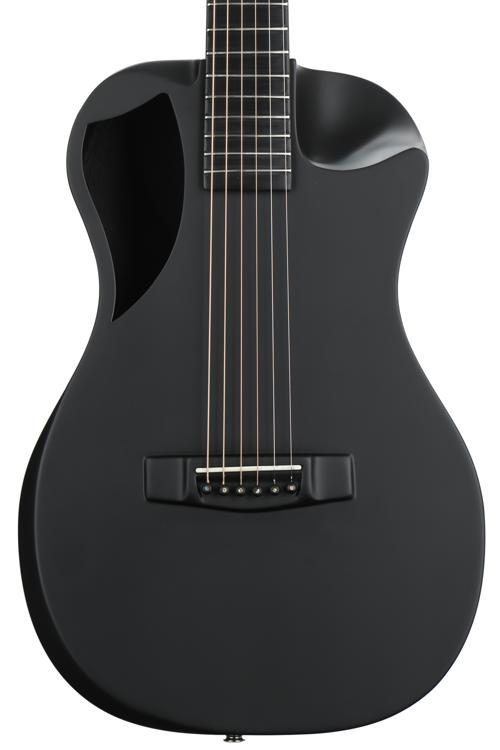 To be fair – in terms of quality, this is absolutely the best travel guitar that money can buy. It's the best sounding travel guitar, it's got a gorgeous make, and it packs up real nice.
But here's the con – it's ridiculously expensive. Like, I peed myself a little when I first saw the price tag.
But if you have no problem dropping a bit more money, this is a guitar that will not only be your primary travel guitar… it will be your primary guitar – period. Made from carbon fiber, the Journey OF660M is a modern, durable, sexy looking axe. This guitar gives a super warm, bright and rich tone, and is extremely versatile.
Pros
The best travel guitar on the market
Rich sound – every note rings
Carbon fiber is the real deal, making this guitar super-durable (important for travel!)
Cons
Most expensive guitar on the list
10lbs means what you gain in quality, you lose in travel convenience
Old school guitarists might not like the new school design or the fact that it's made of carbon fiber, but I must disagree… While I think carbon fiber is an amazing material for any guitar, it's especially perfect for traveling guitarists!
Traditional wood guitars need to be kept out of humidity and heat to keep them from warping. In contrast, carbon fiber means you can bring your guitar in any weather and travel to any climate stress-free. While I respect the traditionalist view, carbon fiber has proven to be a durable material for guitars, while also providing the guitar with a modern, cool look. No warping, no fear of heat or humidity; this is a huge factor to consider for any traveler guitar.
Bottom line – If you have the budget, don't need something super-light, and are looking for the best sounding travel guitar money can buy, you've found your match.
Time for Some Other Stringed Travel Instruments
Everyone and their mom knows how to play the guitar! Well… that's quite true. It would be fairer to say that everyone and their mom knows how to play a C, G, Am, and F chord. So let's branch out… starting with a travel bass guitar.
Bass players are sexy. Have you seen their fingers? Think of the things they could do with those fingers…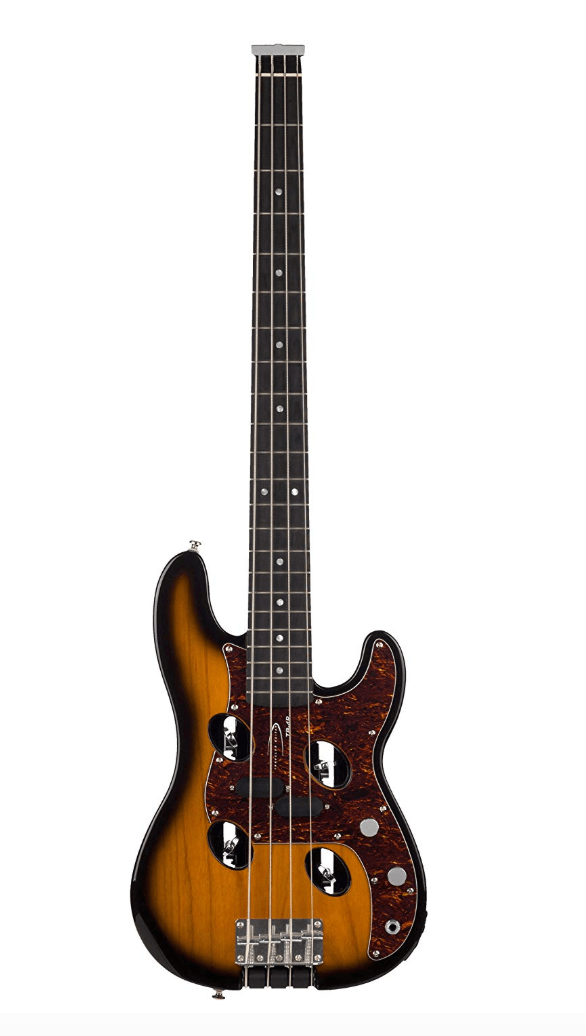 Another Traveler Guitar? Seriously? What can I say: this company does it right!
Similar to their travel guitars, this awesome travel bass guitar is designed to feel as much like a standard bass, while trimming as much of the weight as possible.
The Traveler Guitar TB-4P is well reviewed and well designed. It weighs in at 25% lighter than a standard bass – which you will definitely appreciate while traveling – an also measures at 22% shorter than a standard bass. Slap that sucker across all seven continents!
Pros
25% lighter and 22% shorter than a standard bass!
Good sound
Well designed – innovative wrap around tuning design
Cons
Balance might be an issue for some
Not going to sound as chunky as a standard bass
Not cheap
The Traveler Guitar Travel Bass comes with volume controls, tone controls, and the standard electronics to get your bass rigged up to any pedal or amp you need! A cool side-perk is they also include a 1/8 inch headphone jack. This means that while you are at your accommodation, you can still pop some headphones in and really jam out!
Remember though, the sound will be nice, but not as full as a typical bass. Duncan pickups help this bass to deliver some great tones but don't expect to sound exactly like Flea.
Bottom line – This is the best travel bass guitar money can buy. Like all of the best travel guitars, you are definitely going to sacrifice some tone for the sake traveling lighter, but if light is what you need, then Traveler Guitar TB-4P Electric Bass got you covered.
C'mon, you had to see this coming. It's the quintessential rookie-backpacker move. Buy a uke, learn the aforementioned C, G, Am, F, 'Somewhere over the Rainbow' and 'I'm Yours', strap your new companion to your backpack, and you're officially that guy!
I'm taking the piss. I adore ukes! …In the hands of someone who actually plays the ukulele. Once you learn the chord variations up and down the fretboard and some scales, they're actually quite darling.
So, what's the best ukulele for travel? Well, that's the beauty of ukes… they all are! They're all small enough to go as carry-on on a plane and they strap nicely to most backpacks.
So what's the best ukulele? Well, probably not this one; I imagine the best ukulele was crafted by an ancient Hawaiian God and is sitting lodged in a rock at the bottom of some volcano somewhere waiting to be exonerated by the chosen one. Otherwise, though, there's this one!
Pros
Electric-acoustic so plug in for an even sweeter sound
Built-in tuner
Unique shape and design
Cons
The intonation isn't perfect for a connoisseur's ear
Excellent for beginner's and a great intermediate uke but experts may seek elsewhere
It's a sexy uke that sounds pretty. The built-in tuner is a massive plus and plugging to an amp is really gonna make this bad-boy shine (yes, I did just refer to a ukulele as a "bad-boy"). Kala make good gear and they're not just in the ukulele space either.
Also, the Kala Teak Tri-Top Concert Acoustic-electric Ukulele just looks mega-pretty. Koa, mahogany, walnut, and a seductive satin finish to seduce the park hippies (and South Asian men) with.
All in all, if this is just you following the stereotypical first-time traveler route, there are cheaper ukuleles you can spend your money on and that'll do the job right. But, if you're upgrading from that phase, or are just genuinely interested in learning the ukulele it's a fine choice.
Bottom line – Well, my mom says ukes are cool! Actually, she hates them but she has to put up with me anyway. This may not be the best travel guitar but it's certainly a good deal lighter and smaller than any portable guitar you'll find.
Protip: Try finding nylon guitar strings that fit the gauges (it's super doable) and putting them on to swap that high G out for a low one; a uke with a bass not – yum!
The best present of all… is CONVENIENCE!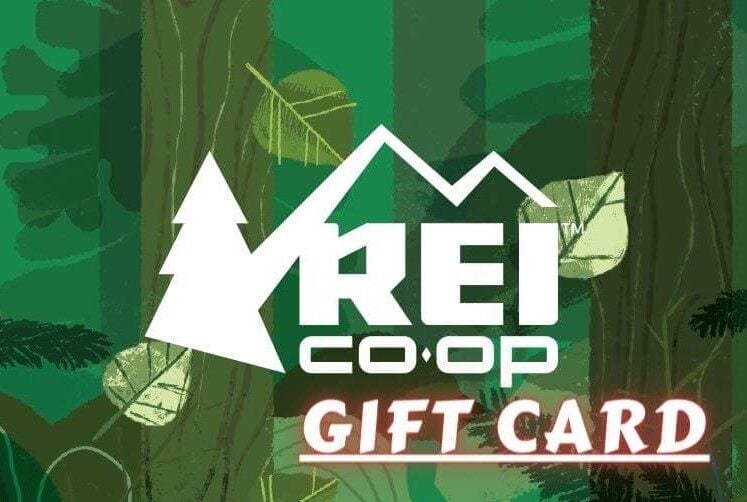 Now, you could spend a fat chunk of $$$ on the WRONG present for someone. Wrong size hiking boots, wrong fit backpack, wrong shape sleeping bag… As any adventurer will tell you, gear is a personal choice.
So give the adventurer in your life the gift of convenience: buy them an REI Co-op gift card! REI is The Broke Backpacker's retailer of choice for ALL things outdoors, and an REI gift card is the perfect present you can buy from them. And then you won't have to keep the receipt. 😉
Buy on REI!
Traveling with a Guitar – What to Look For
As an avid traveler and musician, I can tell you that buying a great travel size guitar was one of the most important decisions I ever made. I can now easily transport a guitar anywhere I go in the world, meaning never have to be without a guitar again!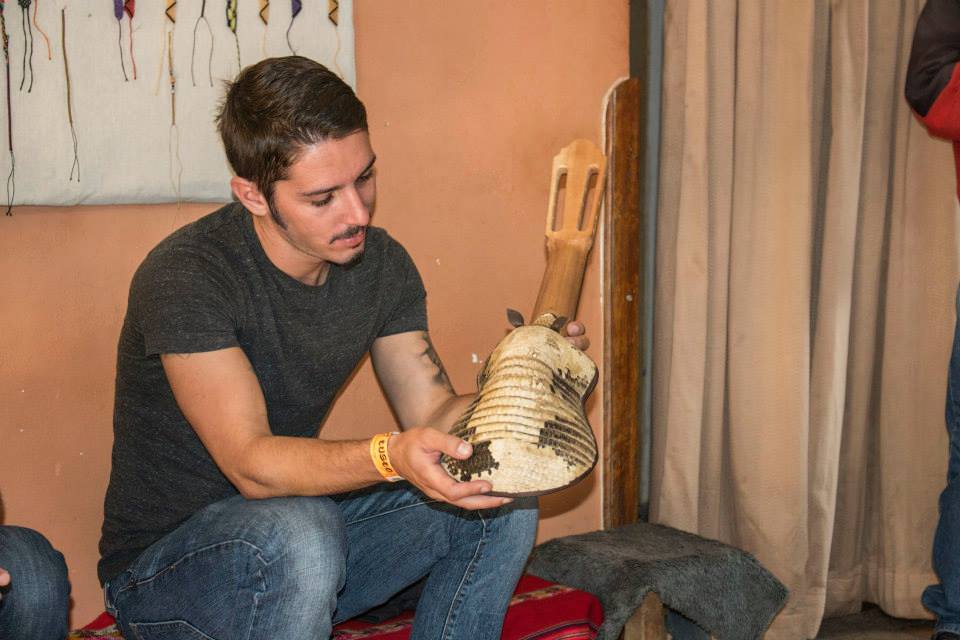 When it comes to the best travel guitars, there are a few things, in particular, you want to keep an eye out for. Here are some important things to consider when you are trying to pick your personal travel guitar.
1. Do you need a top quality travel guitar?
The guitars on this list are certainly some of the best travel guitars on the market… but some are certainly higher quality than others. Keep an eye out for prices. Yes, we are all trying to save money with our broke backpacking ways, but sometimes spending the extra $50 can be the difference between a just-ok travel guitar that will get you by or an exceptional travel guitar that will literally change the game.
This is especially true if you are a traveling professional musician. Do not try and get something cheap – it will quickly come back to haunt you.
Backpackers looking for a travel-friendly guitar that they can just jam on, have a bit more leniency in their choices.
2. How many frets for your travel guitar?
Something I overlooked was the fact that travel guitars don't always have the standard amount of frets! Obviously it makes sense as the smaller the neck, the more travel-friendly the guitar. Consider your guitar playing style. Do you prefer to shred solos high up the neck? Or are you just looking for something to jam out with beachside, and play some zombie chords?
If you don't need the additional frets, you'll find that your options are better and the portable guitars to choose from will be much more compact.
3. What about the length and weight of your travel size guitar?
The first thing you need to consider is your travel style. Are you a fast traveler or slow traveler?
If you travel the world spending a month at a time in AirBnb's , you won't be as concerned about the size and weight of the guitar. If you blitz from hostel to hostel, then you should seriously consider purchasing one of the lighter and more compact travel guitars.
4. Remember this one important fact…
Here's the deal…
The standard guitar is literally a miracle. It's a perfectly crafted instrument. Over the past 500+ years the guitar has slowly been tweaked to perfection. With the modern-day guitar, the size, shape, and build of a standard guitar ensures that you get the absolute best comfort, sound and durability from this amazing instrument.
This is where traveler guitars screw the proverbial pooch.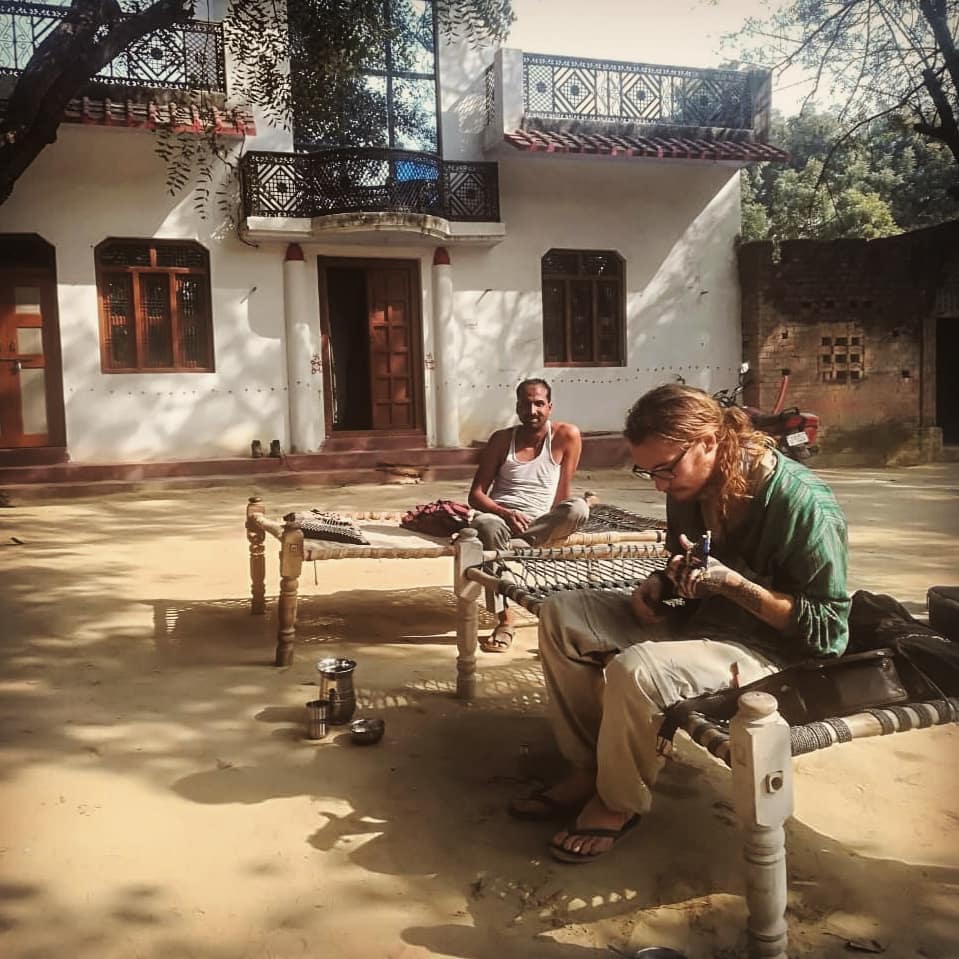 Ultimately, travel guitars are smaller, and because they are smaller they aren't going to sound as good as a standard guitar. There is no way around this. If you want a smaller guitar, you are going to have to make some other sacrifices. To get a guitar smaller, lighter, and more travel-friendly means sacrificing a few other important things (like possibly sound, comfort, balance).
Don't worry- the best travel guitars sound amazing! Just don't expect it sound like a song from 'Eric Clapton Unplugged'… Because it won't.
But I promise you, whatever travel guitar you choose it will sound awesome, it'll be lightweight, and it will accompany you around the world 🙂
Can a travel guitar replace my primary guitar?
The easy answer – absolutely.
The more complicated answer… well, it depends on your needs.
If you are more of a casual guitar player (like I am these days) then you will be stoked to know that a travel guitar can absolutely replace your primary guitar (especially if you don't mind spending a bit more). The selections from Cordoba, Martin, and Taylor on this list are truly epic instruments, and if you don't need to worry about gigs, then you'll be pleasantly surprised that your travel guitar can absolutely become your primary guitar.
But people that are truly invested in their musical journey, possibly even at the sake of their world-wandering journey, a travel guitar, long-term, isn't going to cut it. Eventually, the lack of frets, or the lower quality sound, or some other aspect is going to wear thin.
Eventually, in your world-wandering journey, you're going to stumble across a truly magnificent instrument and that's when your mini guitar built for travelers isn't going to feel so special anymore.
FAQ about the Best Travel Guitars
Still have some questions? No problem! We've listed and answered the most commonly asked questions below. Here's what people usually want to know:

Our GREATEST Travel Secrets…
Pop your email here & get the original Broke Backpacker Bible for FREE.
Closing thoughts on the Top Travel Guitars
There you have it! The 10 best travel guitars (plus two extras).
I know that with the help of this epic buyer's guide, you'll easily be able to identify and buy the travel guitar of your dreams. Get out there and find your baby.
Treat her well too. It's a lonely road and there may come a night in the future where it's just you and her alone under a bridge in the storm. Trust me, on that day
Is there anything I missed? What's your favorite travel guitar? Comment below! It'll help other travelers know which guitar is best for them – safe travels!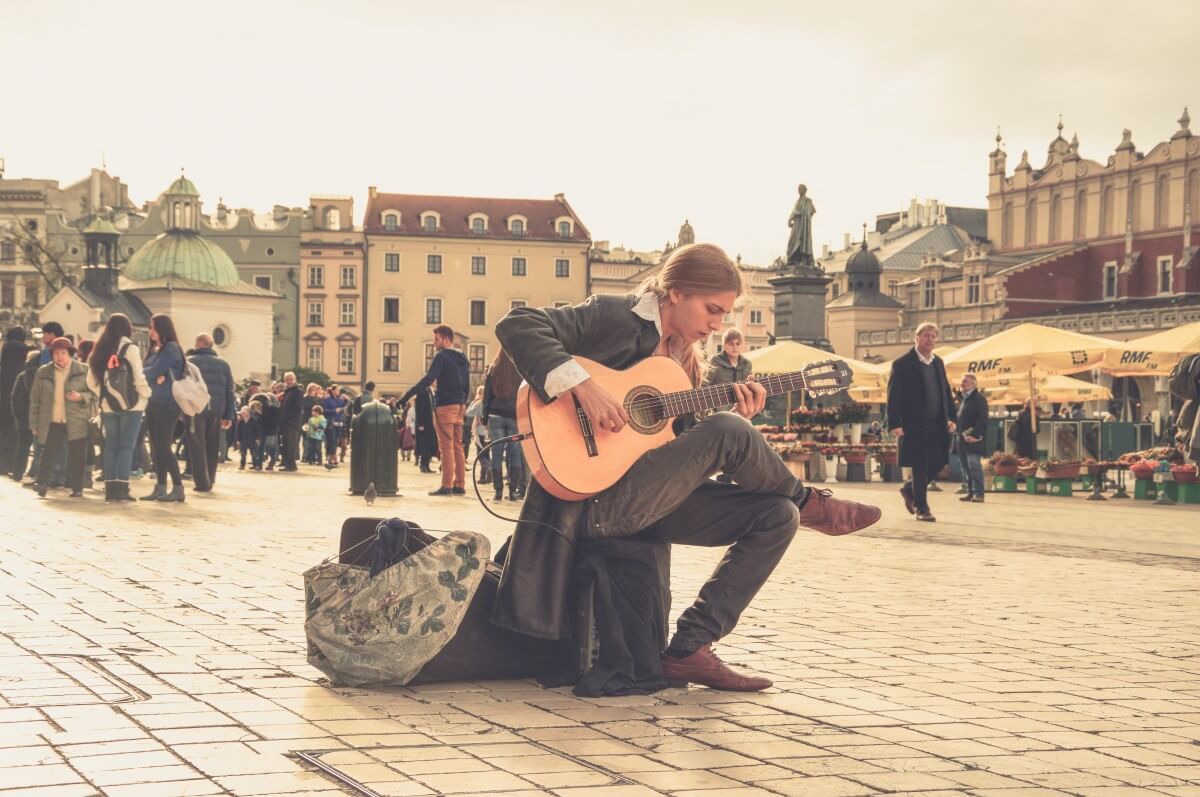 ---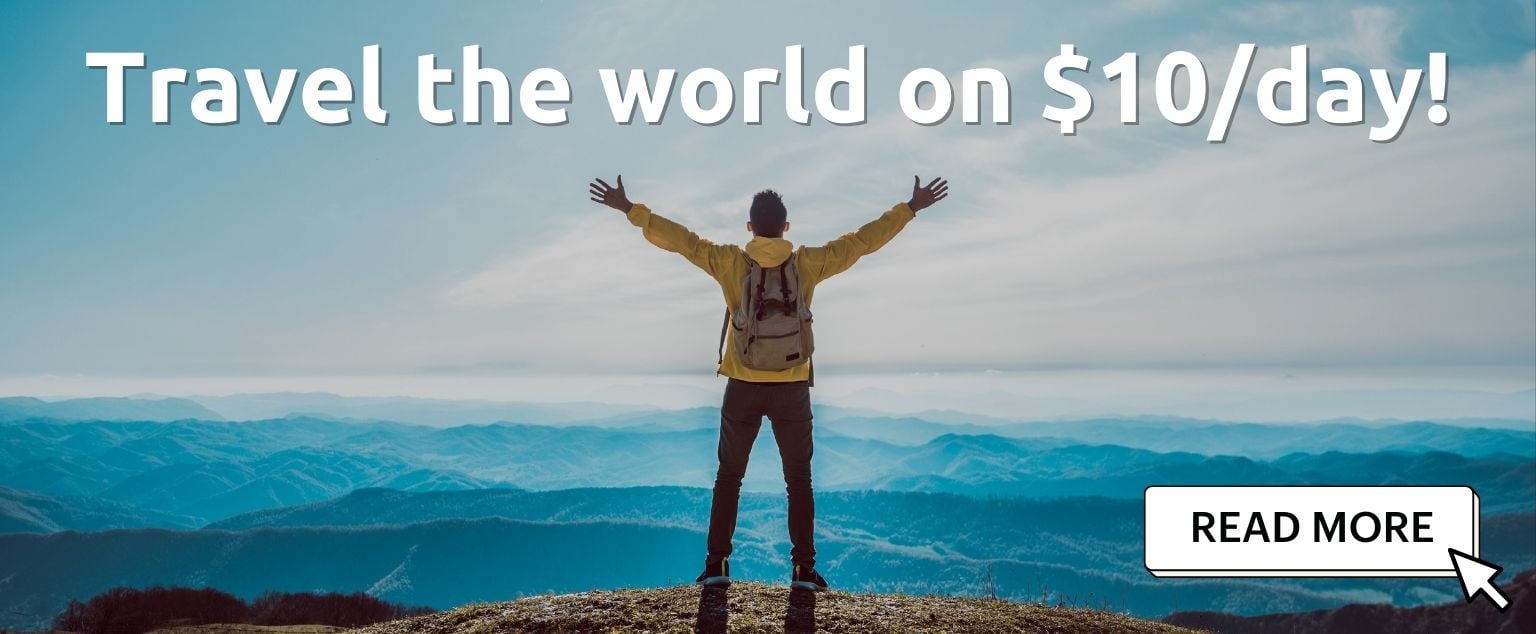 And for transparency's sake, please know that some of the links in our content are affiliate links. That means that if you book your accommodation, buy your gear, or sort your insurance through our link, we earn a small commission (at no extra cost to you). That said, we only link to the gear we trust and never recommend services we don't believe are up to scratch. Again, thank you!