Ahoy amigos! It's that time of the year once more – the time to treat your favourite traveller to something special… The only problem? You're not quite sure what are good gifts for backpackers.
"Will they like it?"
"Will they need it?"
"Will it save their life when they come face to face with angry bears, difficult treks or Delhi belly?"
"What on earth is a good travelling gift for someone who is always on the road, scrambling up mountains, partying in Thailand and lazing upon palm-fringed beaches?"
Well, probably not a flat-screen TV…
Luckily, there are a ton of great backpacking gifts for those who travel a lot. From nifty little trinkets to essential items to an actual backpack (you know, the thing they live out of), there's a lot to choose from.
I've popped together a list of some of the best things in my own bag and I think that these would make some excellent gift ideas for backpackers!
So what do all of those security guards see when they run my bag through the X-Ray machine? Well here's a good look. Take these as inspiration for own backpacking gift ideas when shopping for that special someone.
This list comprises useful items that myself or my intrepid team of nomads have actually used over the years. This stuff has been tried and tested by hardcore backpackers and travelers…so get ready.
Read on amigos…
Every traveler needs a camera right?
The performance of action cameras has increased significantly, whilst the overall price has come down – making them more affordable. Whilst GoPro's are still kind of pricey for most travellers, the OCLU is a worthy affordable replacement.
For any backpacker having an awesome action camera is the dream. This is a pretty fail safe gift for the backpacker in your life. Give the gift of photography and the recipient will make memories with it for years to come.
You read our full OCLU Action camera review here. If you decide its not the right gift for airy needs, then cool – check out our bargain guide to the best GoPro Alternatives.
Want to save the world and stay hydrated? Single-use plastic bottles are a huge threat to the oceans and planet – Be a part of the solution and invest in a filter water bottle.
The Grayl Geopress water bottle is the ONLY all-in-one filter water bottle setup you'll need. We use it on our own adventures to purify often nasty looking water and it does a beautiful job – we have yet to get sick! This is what the whole Broke Backpacker team uses– in mountains, cities, jungles – we love it – it's a total game changer.
This is not a cheap gift but its guaranteed to go down well, be used, loved and simply appreciated by the lucky recipient.
I never travel without a head torch. Whether you are drunkenly rolling around your tent, descending into the depths of the earth or simply walking home in the dark, every backpacker should have a torch and this makes a great gift for travellers.
Like all decent people, us backpackers love coffee. However, when we head out camping or trekking, our mornings really are the worst without our helping of the black stuff. Fortunately though, with this purpose built camping coffee press, we can get our fix even when deep in the woods.
Give the gift of sweet, sweet coffee to the caffeine addict in your life. Its a travel coffee maker for caffeine connoisseurs.
Keeping a journal is one of the best things to do when traveling. The Drifter Leather Journal by Kodiak is our favorite, it works great for digital nomads and organized backpackers and can be used as planner or a dream diary – whatever you want!
Keep on track with your goals, travels and save those precious memories, especially the ones you do not want to share online. This one is bound in beautiful leather so it looks beautiful and will withstand life in the road.
Hand's down, this is a must-have for any nomad, backpacker, hiker, adventurer or regular traveller. You can conceal PLENTY in here and since the belt clasp is not metal, you can wear this belt through an airport scanner without setting it off.
This is my favourite travel accessory and is vital for keeping my cash and Rizla papers safe when I am backpacking. I never travel without it. Buy it for the adventurer in your life and they are sure to be pretty stoked that they have the perfect way to hide their emergency money.
The ultimate in adventure sunnies, these sunglasses are pretty much bulletproof and are very affordable. Best of all, you can design your own pair online out of thousands of possible combinations making these ones of the best gifts for backpackers around! Want more info, check out our in-depth sunglasses review on these epic sunglasses.
If you're keen to up your photo game but don't want to splash out on (or carry around!) a massive camera, I strongly recommend Moment Camera lenses. I've been messing around with mine for a couple of months now and they have turned my average photos into something a lot more special.
The best thing about these camera lenses, they are surprisingly affordable compared to lens for DSLR cameras! I recommend the super fisheye lens.
Every traveler needs a good rain jacket for those not exactly infrequent occasions when the heavens open. This Packable and lightweight rain jacket is rain proof, stylish and wonderfully priced. It ill easily pop into your big backpack or your day pack so its great for taking hiking or even for days out to the shops when its looking a bit cloudy over-head.
I have tried many rain jackets over the years and this one has offered by the best performance of any other by far.
We haven't tried this out yet so it's hard to say if it's as good as it looks but holy moly! – A fingerprint padlock?! The future is here!
You can use it to lock your backpack when you check it into flights our put it on the bust. You can use it to secure your hostel locker or could simply use it to punk somebody by locking their wrist to a chair!
Supposedly, once fully charged, the padlock can be used for up to two years and perform 30,000 unlocks… That's a ton of unlocks. This is a product which every backpacker will want at some point on their adventures….
Travel guitars have come a looong way in recent years. They used to be flimsy, unreliable, or very expensive. Now things have changed for the better, as the best travel guitars are well built, sound great and are super affordable (by guitar standards). Believe me, this is the best gift you could ever get for a traveling musician.
Our highest recommendation for a travel guitar is the Martin Travel Guitar (pictured above), but if you are looking for some more music inspiration, check out our awesome guide to the top travel guitars.
I spend a lot of time in the Pakistani mountains, where electricity isn't always guaranteed. No matter how many gadgets I have to keep myself entertained on that 14-hour bus ride, they are all rendered useless as soon as their batteries die. Thankfully, there are super lightweight, compact, and powerful as hell external batteries out there. I am a huge fan of RAVpower portable batteries.
They come in a variety of energy storage options. I personally go for the biggest one they have as I can keep my phone charging for weeks.
I usually travel with a couple of portable batteries because, if the opportunity arises, they make a truly excellent gift for people you may meet living in the mountains. A must-have in any backpacker's checklist.
I am somewhat obsessed with Buffs, having a collection of half a dozen. It's always worth having one on your wrist; I use them to cover tattoos from the sun and keep my mouth covered from dust when in smoggy Asian cities…
Luci lights have been a TBB team favorite for a number of years now. We use them on all of our backpacking and camping trips…or in rooms with bad/harsh light. They are great for camping trip but what I really like about them is that the soft, warm light can make any old hostel dorm a bit more of a home.
Powerful, lightweight, water-resistant and inexpensive, this little guy is amazing for sharing tunes with new friends from around the world. A great gift idea for men who travel.
There are load of USB and wireless speakers out there and they seriously differ in quality. For something that mixes good sound quality, battery life and compatibility with a range of devices check out this one.
The best part about this camp stove is it is absolutely TINY! Worried your backpacker pal isn't getting enough nourishment on the road? Get them this so they can cook no matter what random places they wind up at.
I've cooked in deserts, on the side of the road and upon towering mountains in The Himalayas; my MSR pocket rocket is hands down one of the best bits of kit in my pack.
On the Road is the seminal novel by beat writer Jack Kerouac. It's a stream of consciousness account of 2 buddies hitting the in 1950's America encountering jazz, drugs and good times as they go.
Based on the writers own, real life adventures its the original pilot for the buddy, road trip genre as well as the bible for travellers hitting the road for the first time and in need of some adventure inspiration on how to travel with no money. Jack Kerouac is the daddy of all backpackers and he writes like a dream.
Here are some other great books for some on-the-go reading.
A smartwatch is a great gift for travellers who move around constantly. It has a range of apps for health and fitness, social networking and tons of fun entertainment apps – something to keep them occupied on arduous train journeys and long haul flights!
This is definitely an expensive gift but is a bloody good one!
I never hit the road without a trusty knife, or two. I own over a dozen knives but the Swiss Army Knife is hands down the best knife in my collection. It has a decent blade and loads of awesome accessories such as a tin opener, bottle opener and tweezers all of which are ideal for backpackers.
If you're looking for the perfect gift for a male or female traveller, a knife is always a good choice!
Another backpacker favorite for staying organized is a hanging toiletry bag. It's extremely helpful to have all of your accessories neatly gathered in one bag that you can hang for easy accessibility, especially when counter space isn't plentiful or even available. A well-organized bag is worth having whether you're tree whilst camping or a hook in the wall – it helps to have quick access to all your stuff.
This one is water proof and stain resistant which means it last for years and years. Its a high quality piece of essential backpacking gear which makes a great for any traveler.
World Nomads travel insurance has been designed by travelers for travelers, with coverage for more than 150 activities as well as emergency medical, lost luggage, trip cancellation, and more.
Still have some questions? No problem! We've listed and answered the most commonly asked questions below. Here's what people usually want to know:
World Nomads provides travel insurance for travelers in over 100 countries. As an affiliate, we receive a fee when you get a quote from World Nomads using this link. We do not represent World Nomads. This is information only and not a recommendation to buy travel insurance.
---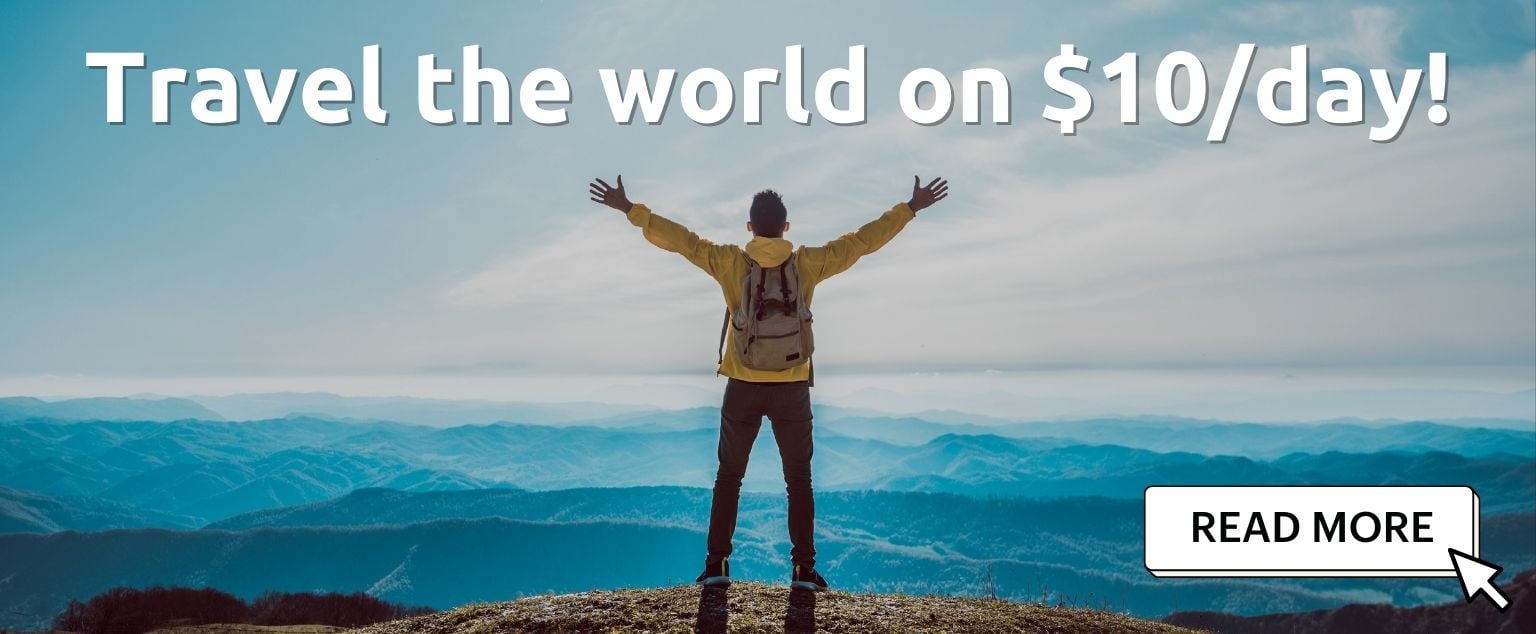 And for transparency's sake, please know that some of the links in our content are affiliate links. That means that if you book your accommodation, buy your gear, or sort your insurance through our link, we earn a small commission (at no extra cost to you). That said, we only link to the gear we trust and never recommend services we don't believe are up to scratch. Again, thank you!