The first time I stood on the side of the road I was scared shitless.
I was a relatively shy kid and the idea of throwing my backpack into some unknown person's car and then asking them for something for free, a lift, made me feel uncomfortable.
Still, I was far more scared of remaining in England, of getting a job I hated to pay off a mortgage for a house I didn't want and so I stuck out my thumb.
My first ever lift was an older Polish lady who drove me nearly fifty miles out of her way to drop me near the coast where I caught a ride on a boat headed to France. Sensing, perhaps, that I was a little uneasy, she talked none-stop.
She told me about how she used to hitchhike a lot as a girl in Poland but had not seen anybody trying to hitchhike before in England. She asked me where I was going and I remember answering 'further than France' but thinking 'I have no idea'.
Hitchhiking is a fantastic experience and one of the oldest methods of Backpacker travel out there. There is something intoxicating about rocking up to a lay-by, sticking out your thumb and seeing where the road takes you.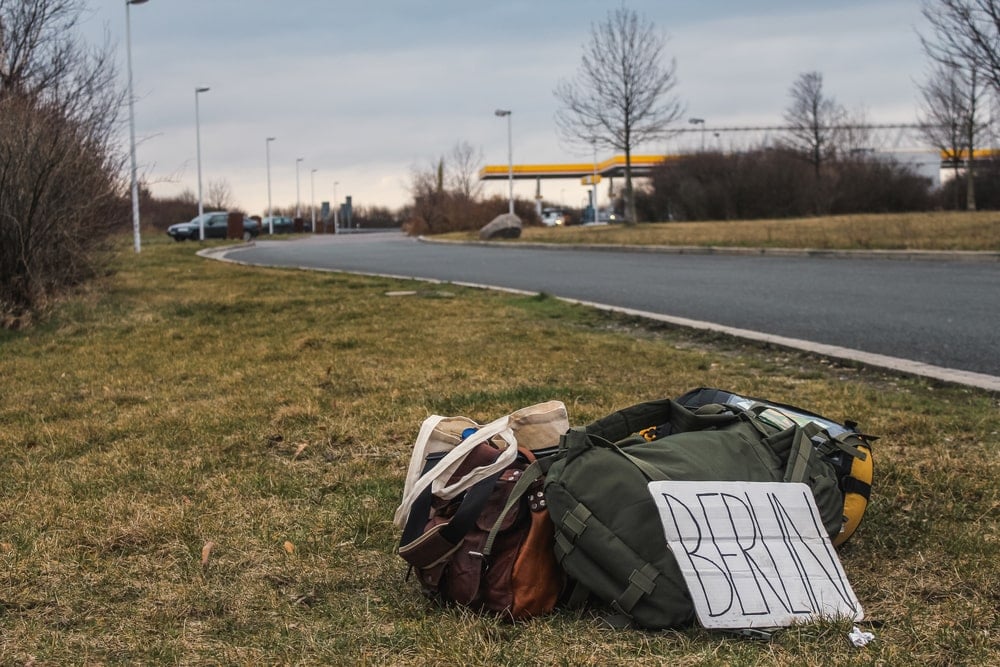 My first hitchhiking journeys in Europe are still some of my fondest travel memories… I didn't take a phone, just half a dozen books to read, and I camped most nights. It was simple. I enjoyed the daily routine of waking up, cooking some beans on my stove and making my way to the road to try and catch another ride going further East.
Fast forward nine years and I've hitched on four continents whilst travelling on a budget of $10 a day. I've racked up tens of thousands of miles and caught hundreds of rides. Hitchhiking has been a highlight of my travels and I've had some incredible experiences that have only been possible because I was hitchhiking.
I hitched from England to Africa, from France to Romania, from Albania to Azerbaijan; multi-month hitchhiking expeditions that forced me to step out of my comfort zone, to meet amazing people and to get to grips with the local culture.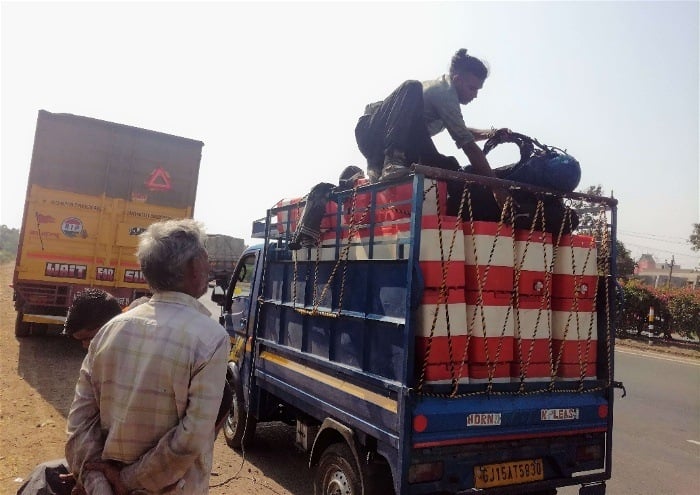 Hitchhiking is, simply, one of the best ways to get around the globe and to actually connect with amazing people whilst travelling. Some of the most interesting, unbelievable, shocking and inspiring conversations I have experienced have been with random folks who have picked me up.
Hitchhiking has been around for decades and was first made popular in the times of the hippies. As a kid, I read On The Road by Jack Kerouac (a hero of mine) and was inspired to try living the hitchhiker-bum life myself. Hitchhiking is perfect for broke backpackers as it's a free way to get from A to B…
So, how exactly do you hitch a ride? Are there any good hitchhiking websites you can check out? Is hitchhiking legal? Read on amigo to find out everything you need to know about hitchhiking…

Do You Want to Travel FOREVER??
Pop your email in below to get a FREE copy of 'How to Travel the World on $10 a Day!'.
Top Tips for Happy Hitching
Be flexible, be happy: hitchhiking is a great way to save money but you have to realise that hitchhiking often makes it impossible to plan when and where you will turn up. You need to be flexible, enjoy the ride and accept that sometimes you will have to wait a while to get picked up. If you look approachable and happy you are far more likely to get a ride, make sure you are not wearing sunglasses or a cap covering your face, eye contact is key!
Take lots of pens: I am a fan of big, simple signs (usually with just one word such as 'South' or a road code like M6) when hitchhiking and although you can often find cardboard or other junk to use as a sign, you need to have a pen handy.
Take the right equipment: If you are hitchhiking any real distance you must be prepared to spend the night under the stars. Sometimes drivers will offer you a place to stay in their house but you cannot rely on this, take a tent or a camping hammock and make sure you have lots of warm gear as well as a good map. Check out my detailed breakdown on the best tents to take backpacking.
If camping, invest in your gear: If you are going to be camping out regularly, I strongly recommend investing in a sleeping pad – you can often make do without a proper sleeping bag but a decent mat will keep you warm and save you from aches and pains. You should also definitely have a headlamp.
Use your imagination: You can hitch literally anywhere in the world, obviously some areas are more dangerous than others but it can be done. There are no limits to the number of awesome adventures you could have hitchhiking.
Pick your hitching spot carefully:  I tend to go for a lay-by on a long straight road or a service station. If you are not getting picked up do not be afraid to walk down the road a bit and find somewhere better to hitch from. Basically, you need to find a spot where drivers are naturally forced to slow down. There is some great information on choosing a good hitchhiking spot here.
Be polite and friendly: Once your driver has pulled over, run up to them – do not make them wait. Thank them for stopping and find out if they are going in the right direction, even if they aren't, make sure to say thanks properly before they leave. Once in the car shake their hand and tell them your name as well as asking theirs. A lot of the time drivers pick up hitchers because they are bored and want a distraction, they will probably expect you to make small talk with them.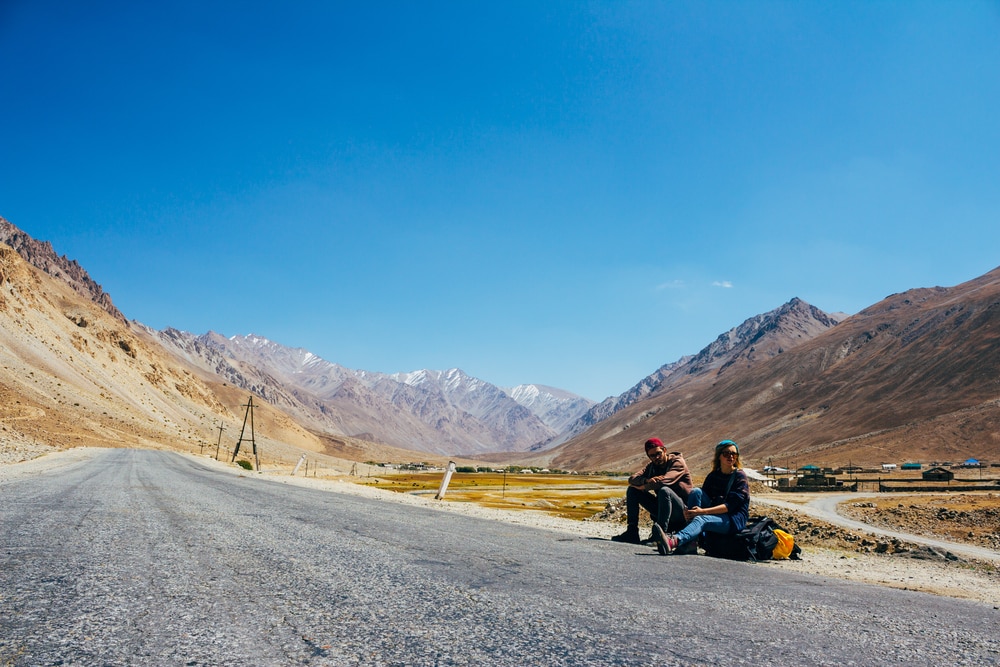 Do not do anything in the car, e.g. eating, smoking, rolling down the windows, without first asking the drivers opinion. Try to negotiate where you will be dropped off before you arrive, you do not want to end up in a dodgy area or the middle of a big town when you could have found yourself on a nice straight road instead. For more information on hitchhiking etiquette check out Hitch The World.
Utilise online resources: My favourite hitchhiking resource is Hitchwiki as it has a fantastic database of quality hitching spots for all over the world. It really is a fantastic website and I highly recommend using it to help plan your route or to get advice if you are stuck somewhere. Another great place to get decent info is the hitchhiking forum on Couchsurfing.
Stay safe: If someone gives you a bad vibe do not get in the car with them. At the risk of annoying feminists everywhere, I am going to voice my opinion that women should avoid hitchhiking alone. A boy and girl combo will get the most lifts. If you need to find a hitchhiking buddy this is relatively easy thanks to Hitchhiker Facebook Groups. For general travel safety tips, check this out. 
Is hitchhiking legal?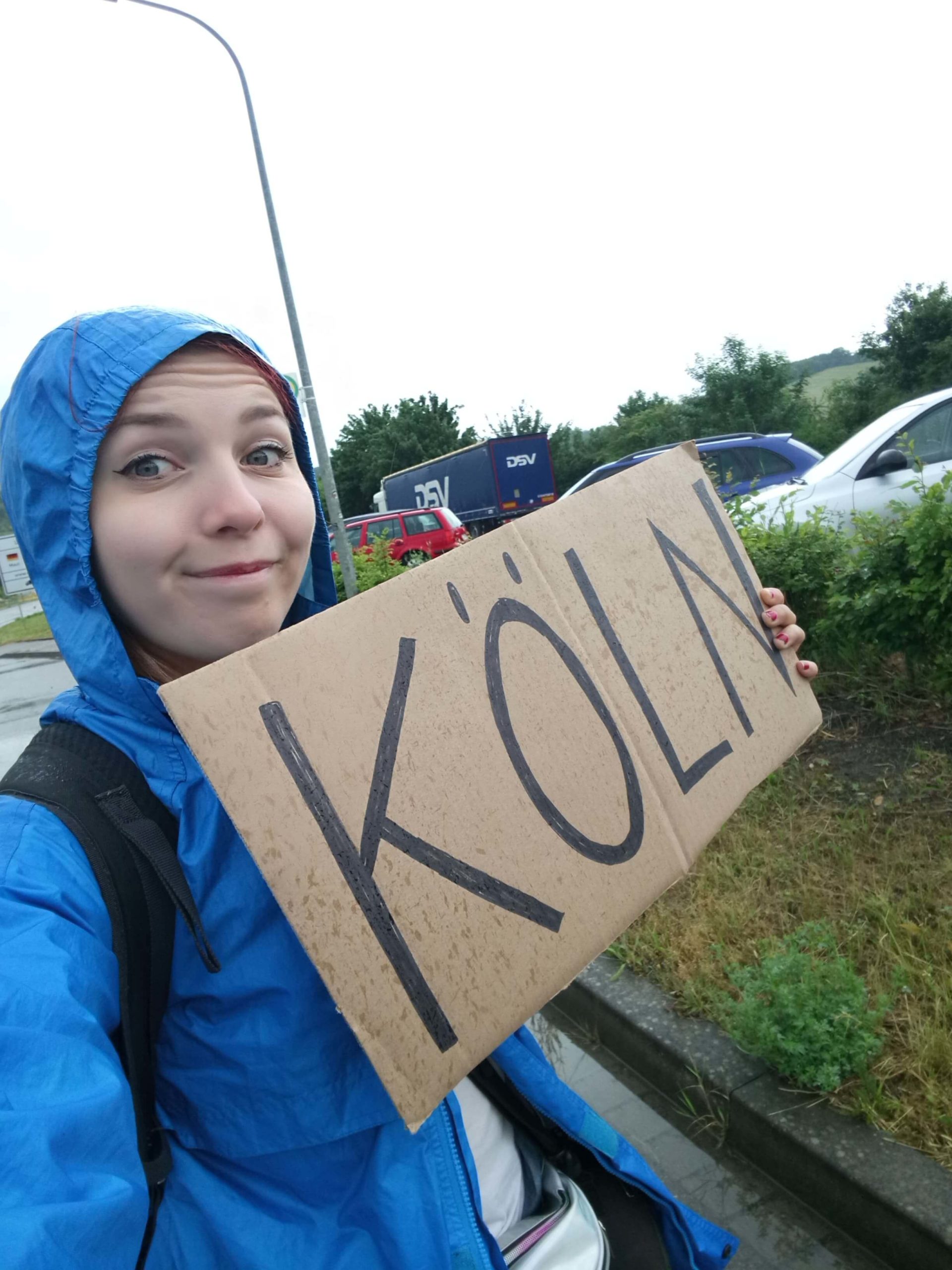 Hitchhiking is legal in most countries, including the USA, but you can get in trouble if you try hitching from somewhere stupid – like a motorway. In general, avoid trying to flag down cars that are travelling super fast and instead find a gas station or laybay where cars can easily stop to pick you up.
Is hitchhiking fun?
Hell yes, it's simply the best way to get around if you are broke and is possible pretty much everywhere… Happy journeys amigos!
Get decent insurance
Hitchhiking is for everybody… even if you have no money, this is a way to get on the road and head out on an adventure. If you have a small amount of money, invest it in decent camping gear. If you have a bit more than a small amount of money, do get travel insurance – it can save you a fortune if you end up injured or sick abroad and if you're a long term nomad it's a sound investment.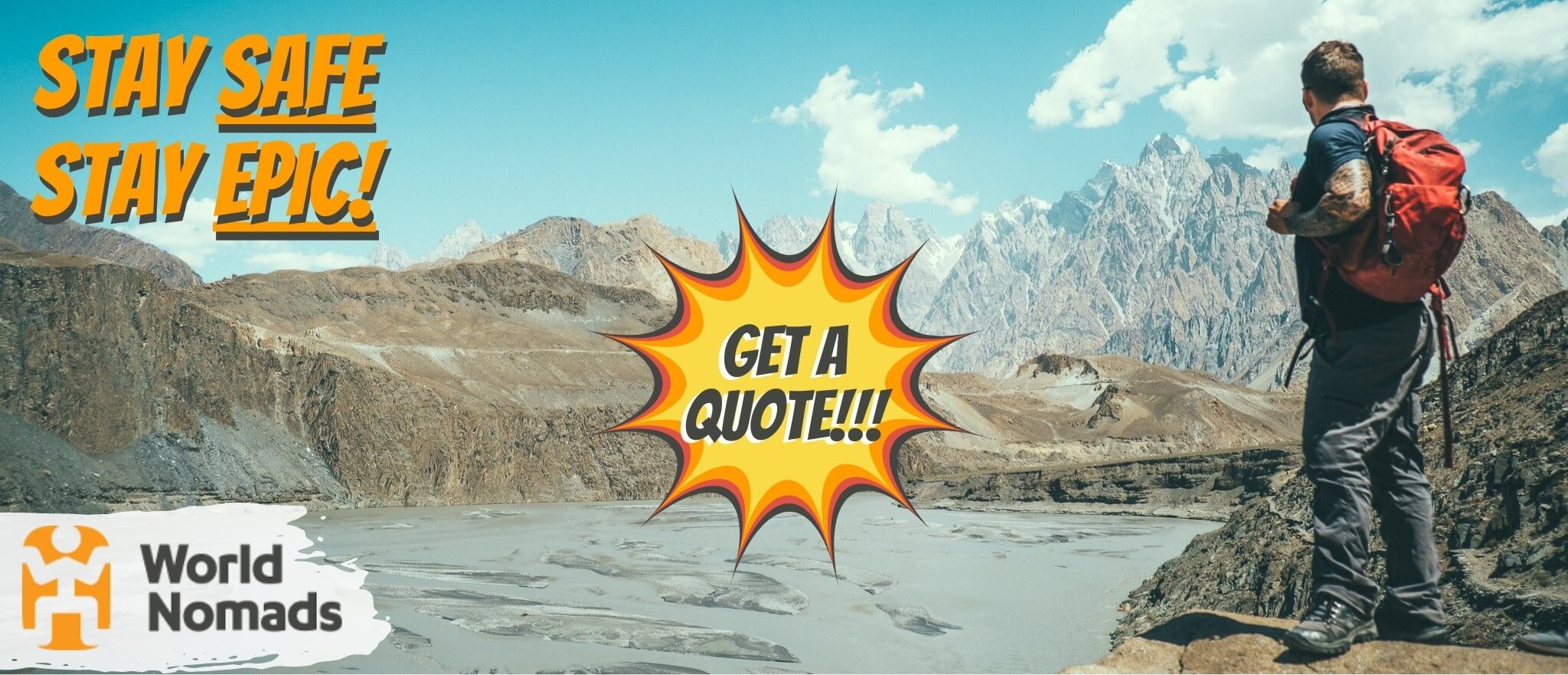 World Nomads' mission is to support and encourage travellers to explore their boundaries. They offer simple & flexible travel insurance, and safety advice to help you travel confidently.
They've been doing it since 2002 – protecting, connecting, and inspiring independent travellers just like you.
Get a quote below or read our in-depth review!
---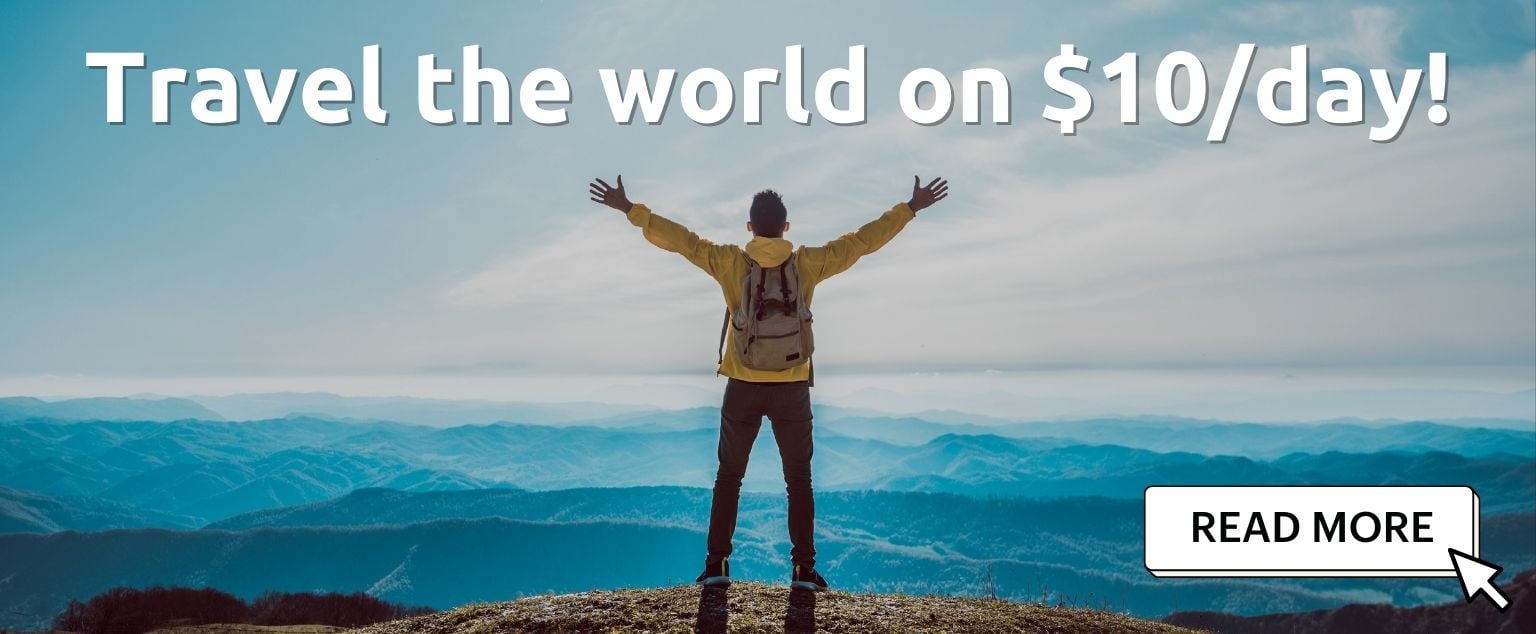 And for transparency's sake, please know that some of the links in our content are affiliate links. That means that if you book your accommodation, buy your gear, or sort your insurance through our link, we earn a small commission (at no extra cost to you). That said, we only link to the gear we trust and never recommend services we don't believe are up to scratch. Again, thank you!