English Teaching Abroad jobs are perhaps one of the best ways to see the world and to earn an income at the same time! But just how easy is it to take to the road and find paid teaching work in far-flung lands?
I am lucky enough to have many friends in the blogging community who have taught English as a second language, often after acquiring a TEFL course online, and these lovely people have come together to share their experiences teaching english and their top tips for finding paid teaching placements abroad.
Everything You Need To Know About English Teaching Abroad Jobs
The whole point here is to arm you guys with as much information as possible so that you can take the plunge and get a kick ass job, teaching English abroad, with a difference – the ability to travel…
Top Travel Bloggers Teaching English Abroad
English Teaching Abroad Jobs in China: Richelle at Adventures Around Asia
My experience teaching English in China was definitely… an experience. After studying abroad in both Beijing and Xi'an in college, I knew I needed to return to China post-graduation to teach some English. I found an English teaching job through Ameson Year in China and figured I'd be set. They promised a free TEFL certificate, free flights, health insurance, orientation, and that we'd all be placed together at schools in Chinese cities. Unfortunately, it wasn't until I arrived at my school that I realised I'd be living in the middle-of-nowhere "factoryville" China just outside Ningbo, Zhejiang.
As far as English Teaching Abroad jobs go, it was a very interesting year. I taught 1,000 high schoolers oral English. With 50 students to a class, it took me 3 months to realise I had a deaf student in one of my classes. Most of my students, with names like "Hamburger", "Nate 'little' Smith", "Future Summer Boy" and "M-hey!", had never studied with a foreign teacher before. I was also the only foreigner in the entire town, which made me an insta-celebrity. I was a bit lonely all on my own, but my co-workers were very inclusive, inviting me to their homes to eat dinner and play with their kids. About four months in I discovered the school was assigning them weekends to hang out with me… Like I said, it was definitely an experience!
TEFL Top Tips For China
1. Purchase your own TEFL certificate. You can get teaching jobs that include a 'free TEFL' but they pay far less so I strongly recommend getting your TEFL certificate sorted before you start looking for a job.
2. Stand up for yourself and avoid signing contracts that have crazy stipulations. One contract tried to charge me up to $8,000 USD if I left my contract early!
3. Go with the flow. Things happen on their own time in China; Classes and schedules will often change at the last minute. My school didn't even set the end date for our winter vacation until the vacation had already started!
My Experience Teaching English to Adults and Businesses Abroad in China: Liz from Peanuts Or Pretzels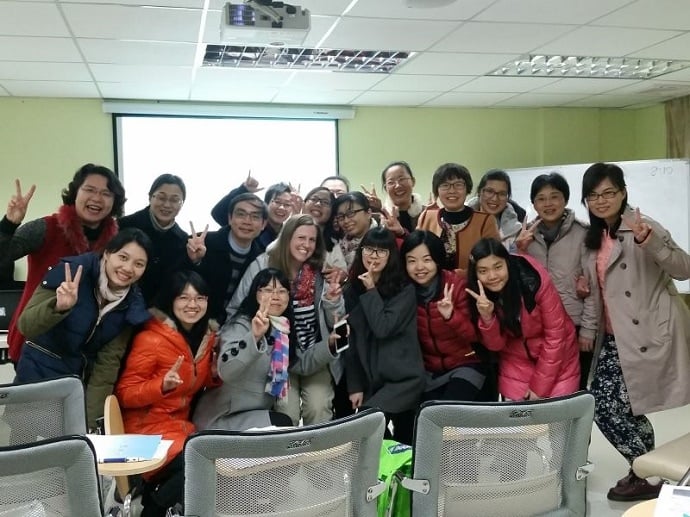 China is probably the ultimate destination to teach English right now.  The market is growing fast and there's lots of money to be made, but it's not only for teaching children. One of the primary markets is teaching English in China to adults. They have more disposable income and want to travel more to foreign countries, as well as business men and women who are doing more international work. I taught English in Guangzhou, China and it was an absolutely wonderful experience!
If you are looking for an experience outside of the mainland, teaching English in Taiwan should definitely not be over looked. The pay is good and the island has its own strong identity and culture for you to immerse yourself in.
My students were genuinely curious, they were like sponges really, and longing to learn as much as possible. They were friendly beyond compare and I truly feel like I've made lifelong friends and business contacts in China (I still keep in touch with many of them). I wouldn't trade my experience for the world and from a business standpoint, feel like I'm in a better position than ever now that I understand doing business in China!
3 tips for Teaching English in China
1. Know your strengths and look for a school who is interested in your abilities (beyond just knowing English) – it will make your experience much more enjoyable if you can do more.
2. Know who you want to teach (kids / adults / businesses) and where (city or countryside) and what kind of school (a public school / international school / university / or private language institute) – experiences, teaching hours, and pay vary dramatically!  So choose what is right for you and your english teaching strengths.
3. Realise that you will encounter situations and questions that you are not used to, and may not be comfortable with.  It can be shocking at first but keep in mind they aren't trying to be rude, it's just a different culture.  So be open to it, don't take offence, and use it as a learning opportunity to share with them your cultural norms.
Need more information about Teaching English In China? Joe's ultimate guide to teaching English in China is going to help you!
English Teaching Abroad Jobs in Peru: Kach at Two Monkeys Travel
Jonathan and I both taught English as TEFL teachers in Peru and at first it was quite a shock after having taught for almost a year in Vietnam. Our initial salary at a language centre was less than $5 an hour, a far cry from the $20 an hour minimum we were used to! Another challenge was me being a Filipino TEFL teacher as most students really want native speaker teachers. We overcame these hurdles by stepping out of the general TEFL market where most teachers competed for pennies, instead gathering our own materials and creating customised lesson plans for private students preparing for their IELTS and TOEFL exams. By doing this we attracted focused, dedicated students with solid goals and aspirations, who were prepared to pay more for a personalised service to get where they wanted to be. Luckily, Peru is a very cool place to live!
TEFL Top Tips For Peru
1. First of all, don't expect the high salaries you have heard about in Asia, because they simply don't exist for TEFL teachers in Peru. To teach in Peru, you have to love the country, the lifestyle and your students, because the money won't keep you there otherwise!
2. Get involved! There are plenty of english teachers in Peru and you will be competing with semi-retired expats who offer cheap classes on the side to supplement their lifestyle. You have to go find your students by getting to know people and thinking outside the box to connect with potential students. Attending Couchsurfing meet-ups and other local events are a good start.
3. The schools and language centres pay very little for the most part, so it's really important to decide what you really want to get out of teaching English in Peru – life experience, giving back to a community, cultural immersion, making friends, making money, extending your travels, a long-term career – all of these are very different motivations and will decide what kind of job you pursue.
English Teaching Abroad Jobs in Korea: Chris Backe at One Weird Globe
English Teaching Abroad Jobs in Vietnam: Alice Teacake at Teacake Travels
English Teaching Abroad Jobs in Italy: Margherita at The Crowded Planet
I am from Italy, and I taught English in Italy – so I guess it doesn't really count as 'abroad' in this case. I was teaching ESL (English as a Second Language) though, so I hope my experience will be useful to those planning to move to Italy and considering teaching as an option to support themselves.
First things first – no serious school will ever hire you unless you have a TEFL qualification. CELTA is preferred, but any TEFL will do really and it makes sense to go for one of the mid-range budget options where possible. Schools usually tend to cater to either children or adults, and times and pay vary. Some schools organise classes for businesspeople in their offices early in the morning, other hold General English lessons for groups or individuals in the evening, or tutor students for exams like TOEFL or IELTS during lunch.
Schools generally pay around €20-25 an hour for English teachers – after tax, you'll end up pocketing around €1200-1500 per month for a 20 hour week, enough to survive and pay for a couple holidays abroad a year. Not being a native English speaker, finding work for me was quite tough – many Italians (especially parents) only want native speakers as teachers. I decided to specialise in exams (FCE, TOEFL and IELTS especially) as I found several people asked for that, and after a few months of advertising my services through schools and Uni notice boards I was fully booked, and no one cared I was born in Italy.
English Teaching Abroad Jobs In Japan: Becky at Trekking With Becky
Epic TEFL discount for Broke Backpacker readers
Like this Post? PIN ME!!