If you're looking for that beautiful European city getaway without those not-so-beautiful European city prices, Prague is the place to be. With a gorgeous and well-preserved historical centre full of cathedrals, museums, bridges, and even a castle on a hill, the city is often described as something out of a fairy tale.
Prague has been a political and cultural center of Europe for centuries. In previous lifetimes, it was the capital of Bohemia, a residence of Holy Roman Emperors, an important city during the Austro-Hungarian Empire, and the capital of Czechoslovakia.
These days it's the capital of the Czech Republic, one of the largest cities in Central Europe. Miraculously, the city was relatively unscathed in World War II. The historic centre of Prague remained intact, and it made the UNESCO World Heritage list in 1992.
While the city survived WWII, it almost didn't make it through communism. During the period of Soviet rule here, it would be years without basic items such as oranges. Some people still freeze fruit to this very day as a result.
Things finally changed in 1989 with the Velvet Revolution, a series of peaceful protests that finally helped free the country of one-party rule.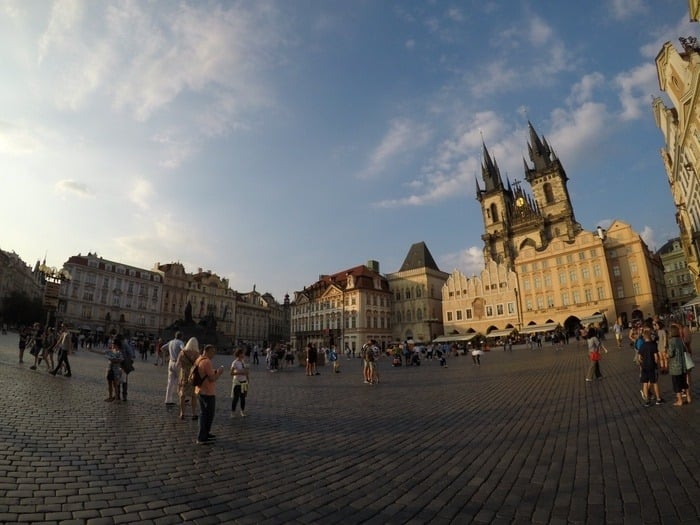 In the last decade, more and more people have been travelling here to stroll along the cobblestone streets to take in the sights of this gorgeous and historical city.
Even though it's a very touristy city, backpacking Prague is still an awesome experience. It's not that hard to ditch the packaged tour groups and dive into the local culture, and I'm going to show you how.
You can fill your days with walking or cycling tours to learn more about the city and its history. In the evening, hit a beer garden for cheap drinks and sunset, then go out and party all night if you've still got the energy for it.
Make the most out of your trip with this comprehensive Prague travel guide covering everything from the cost of travel, awesome budget hacks, the places to stay in Prague, and my very own crafted, jam-packed itinerary for three badass days.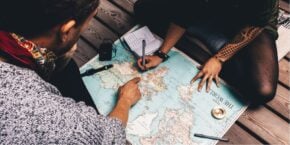 Heading Off-Grid? • Download This Guide as a PDF!
Sign up to The Broke Backpacker's EXCLUSIVE VIP AREA below and download our top backpacking guides as PDFs – go offline with peace of mind!
While it's true that it is one of the most popular cities to visit in the region, backpacking Czechia and Prague doesn't have to come at a huge cost.
You'll find that your money goes a lot further here than it does in other European cities like Paris or Amsterdam. As far as bang for your buck goes, it's really hard to beat Prague.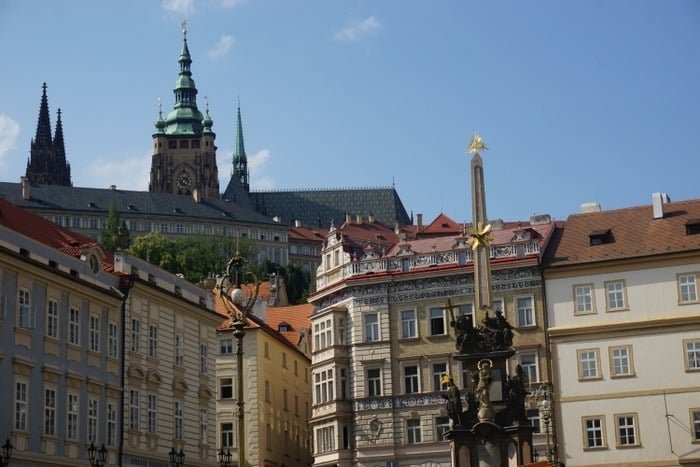 On the lower end of the spectrum, you can get by with around $40-50 a day if you're doing Prague on a budget. For this amount, you'll get a dorm bed in a decent hostel, take advantage of lots of free activities, use the excellent public transportation, and keep it simple with food and drink.
By spending around $70-80 a day, you can upgrade to a private room or even an Airbnb apartment outside the center, buy a couple entrance tickets a day, and enjoy some nicer nights out.
Average Costs of a Trip to Prague
Here's a breakdown of a daily Prague budget:
Dorm bed in a hostel: $15-30
Small basic room for two: $40-50
Airbnb in a shared apartment: $25-30
72-hour transport card: $14
Airport express bus: $2.75
Prague Castle: $16
Street food snack: $3-4
Local restaurant for dinner: $10-15
Draft beer at a beer garden: $1.50-2
Cocktail at a bar: $8-10
Prague Budget Backpacking Tips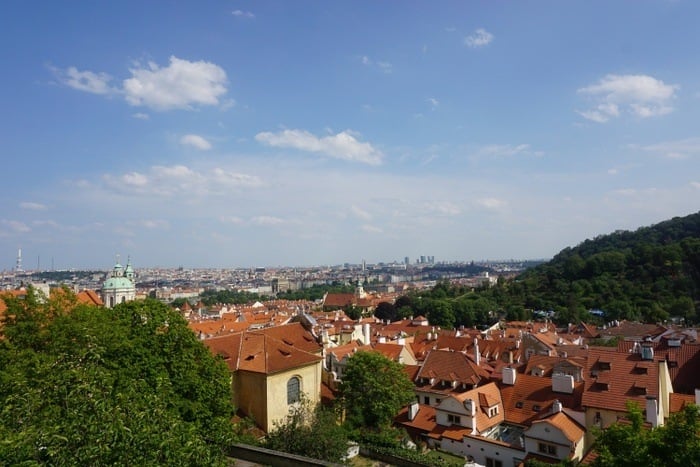 Prague is definitely a great bargain compared to many other European cities. Of course, there are still some strategies you can use to spend even less in Prague. Here are a few tips to help you visit Prague on the cheap:
Travel during shoulder season: While Prague is beautiful and tons of fun in the summer, you'll be sharing the city with hordes of tour groups. The same is true around Christmas and New Year's Eve. Consider visiting in a month like March or November, when crowds are smaller and prices are lower.
Couchsurf: There are plenty of excellent hostels in Prague, but you could eliminate accommodation costs entirely by finding a host on Couchsurfing. There are many locals and expats who you can reach out to and possibly crash on their couch.
Eat and drink outside the centre: Prague's historical centre is a great place to explore, but it's an expensive area to eat and drink in. There's definitely a bit of tourist pricing that goes on here, so walk a few blocks out of the way to find a more local restaurant or bar.
Buy a transport ticket: It's easy to get around Prague by public transportation. If you're going to stay a while, consider buying a 3 or 7-day transport ticket that covers you on the metro, trams, and buses. You'll save money and save the hassle of always trying to find change to buy a single fare.
Do the free stuff: You may look at the price of an entrance ticket to visit the castle and feel that it's not worth it to make the trek up the hill to see it. It's possible to visit without paying anything though. Sure, you can't go into all of the exhibits, but it's still a nice way to spend a few hours while spending barely any money.
Stick to beer: Did you know that beer is technically considered a food item in the Czech Republic? Due to this status, the country avoids paying high taxes on it. Drink the famous Czech pilsner on draft instead of ordering cocktails or wine.
Pack a travel water bottle and save money every day!
Why You Should Travel to Prague with a Water Bottle
Plastic washes up on even the most pristine beaches… so do your part and keep the Big Blue beautiful
You aren't going to save the world overnight, but you might as well be part of the solution and not the problem. When you travel to some of the world's most remote places, you come to realise the full extent of the plastic problem. And I hope you become more inspired to continue being a responsible traveller.
Plus, now you won't be buying overpriced bottles of water from the supermarkets either! Travel with a filtered water bottle instead and never waste a cent nor a turtle's life again.
Save $$$ • Save the Planet • Save Your Stomach!
Drink water from ANYWHERE. The Grayl Geopress is the worlds leading filtered water bottle protecting you from all manner of waterborne nasties.
Single-use plastic bottles are a MASSIVE threat to marine life. Be a part of the solution and travel with a filter water bottle. Save money and the environment!
We've tested the Geopress rigorously from the icy heights of Pakistan to the tropical jungles of Bali, and can confirm: it's the best water bottle you'll ever buy!
View on REI
Read the Review
Wondering where to stay? Check out our insider guide for the best neighborhoods to stay in Prague.
IN A RUSH? THIS IS OUR FAVORITE HOSTEL IN PRAGUE!
Trying to figure out the layout of Prague can be a bit confusing because the city is split up into different numbered districts, but there doesn't appear to be any rhyme or reason to their organization.
District 4 is right next to 10, while 13 is right next to 5. A majority of tourists choose to stay in Prague 1 so they can easily walk to and from the Old Town.
By staying in Prague 3, however, you can find some cheaper options and still be close to the action. There's an area here known as Zizkov that's said to have the most bars per capita in all of Europe. Party on, Wayne!
Be sure to check out our Prague hostel guide for 20 different options. I've highlighted our top three picks for hostels in Prague below:
Overall Best Backpacker Hostel in Prague – Hostel Downtown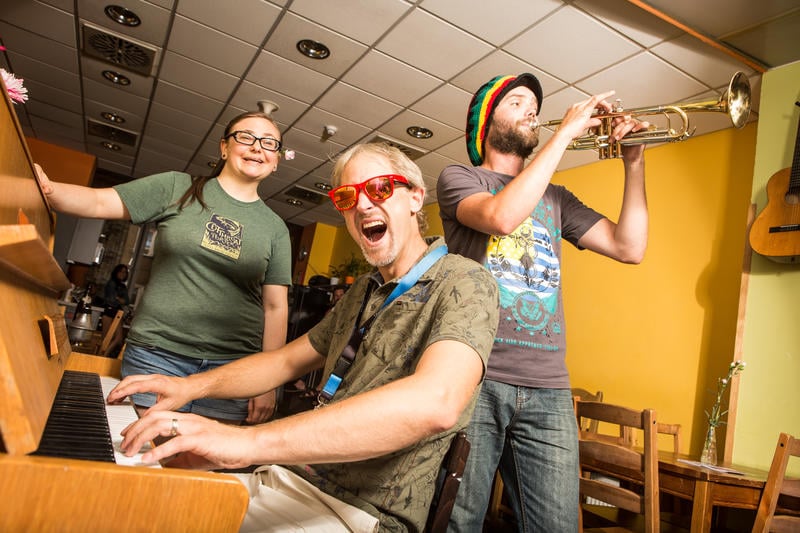 With a 9.3 average on Hostel World and nearly 4,000 reviews, it's clear that Hostel Downtown is doing something right. You're just about a 10-minute walk from many points of interest, so you won't have to spend much time or money on getting around.
They arrange lots of activities, from walking tours to pub crawls, and they have a substantial breakfast for pretty cheap.
Highlights include: Central location, a wide variety of activities, foosball, board games, piano, and guitar available.
Best Hostel for Solo Travelers in Prague – The Roadhouse Prague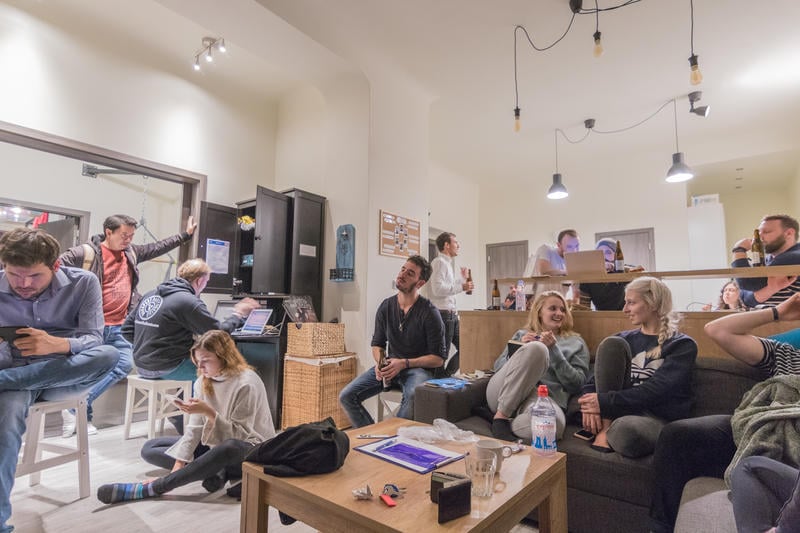 Meeting other travellers is super easy at this great hostel. They don't allow groups over four and have an age restriction of 18-45, making it a true youth hostel meant for solo travellers or small groups.
They also organize activities everyday, from attending a concert to just hitting up a local bar. In addition, there are nightly family dinners where you can enjoy delicious food while you meet some cool backpackers.
Highlights include: Social activities every day of the week, well equipped dorms (reading lights, outlets, free and ample storage), and a lounge with Netflix and a Wii.
Start exploring in the heart of Prague while still on your budget. This home is in the best location for solo and couple travelers looking to hit everything at once in the city.
You will be facing the beautiful courtyard to enjoy a glass of wine that also has quick access to the Astronomical clock, which is a 5-minute walk. So like we said, if you're into hitting all the sweet tourist spots, then this is the home for you.
And if it's summer, the owner may even offer to take you paddle boarding. On the nights you aren't at the Dlouha, well known for its restaurants, bars, clubs, and nightlife, there's a selection of books you can choose from to read while you are snuggleing up in the loft bedroom overlooking the city.
Best Party Hostel in Prague – Hostel One Prague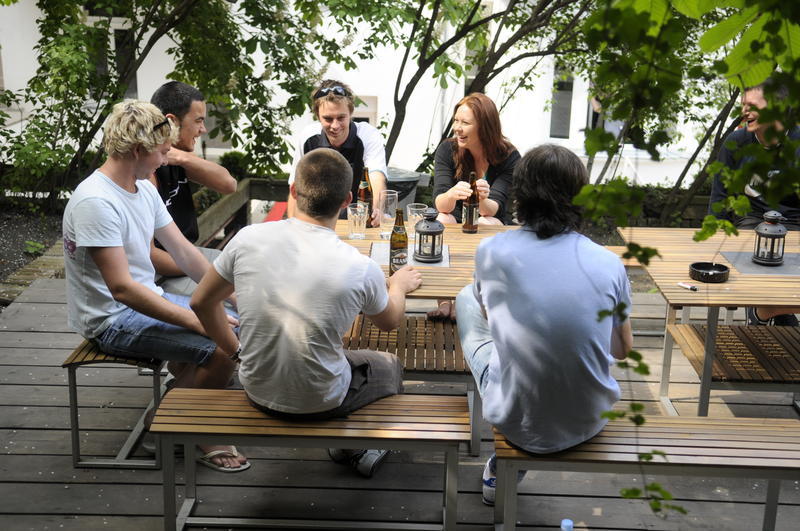 What makes this the best party hostel in Prague? Their bar is called the Rave Cave. Enough said! It's the perfect place to start your night having drinks with fellow backpackers before tearing up the dance floor at the city's bars and clubs.
When you need to recover from that big night out, you can kick it in their TV lounge on the comfy couches.
Highlights include: Awesome bar, fully equipped kitchen 24/7, free tea & coffee and luggage storage.
Hostel One Prague is one of our favourites in Prague but they're not taking guests right now. We're not sure if they're closed for good but we hope they'll come back soon.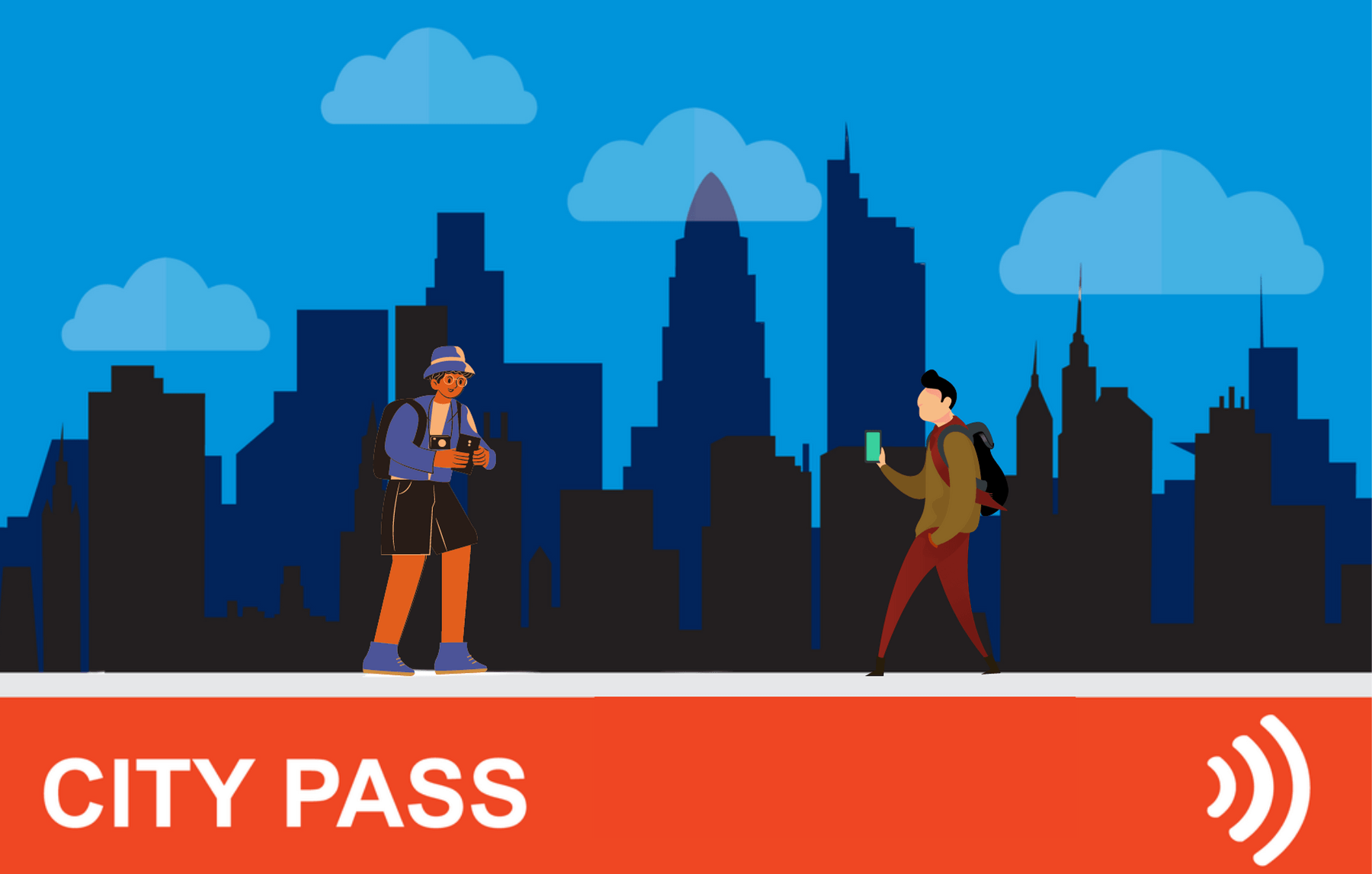 Travelling to Prague? Then plan yo' trip the smart way!
With a Prague City Pass, you can experience the best of Prague at the CHEAPEST prices. Discounts, attractions, tickets, and even public transport are all standards in any good city pass – be sure invest now and save them $$$ when you arrive!
Buy Your Pass NOW!
There's enough to see and do to keep you busy for a while in Prague. Thankfully there are many great activities that are either free or super cheap. Here are our top 10 things to do in Prague to help you make the most of your trip there.
1. Join a free walking tour
As with many cities around the world, Prague has a few different groups running free walking tours several times a day. Joining a tour on your first full day is the best way to get an introduction to the city.
You'll learn a ton about the history and culture of Prague, as well as get tips from the guide on where to eat and drink, tourist traps to avoid, and even a few words in Czech. Keep in mind that all of these companies run off your tips, so leave a good one if you enjoy the tour.
2. Climb the hill to Prague Castle
The fact that Prague is home to a stunning castle on a hill probably has something to do with people often referring to the city as a fairy tale. It's the largest ancient castle in the world, and undoubtedly the most famous landmark in the city.
There's a lot to see in the greater castle complex, including the stunning St. Vitus Cathedral, the Old Royal Palace, and St. George's Basilica. You can visit the grounds for free, but you'll have to buy a ticket to go into most of the buildings. There are a few different options for tickets depending on what you want to see.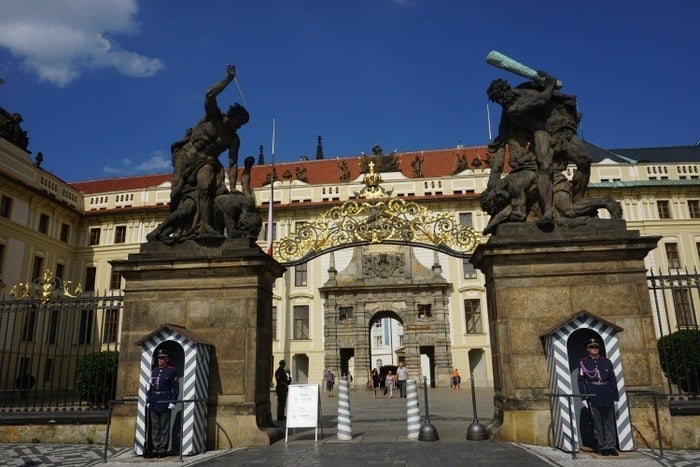 3. Stroll Across Charles Bridge
While you will most definitely have to endure hordes of selfie-stick waving tourists and plenty of touts, it's worth it to take at least one stroll across the scenic Charles Bridge.
The bridge connects Old Town with Lesser Town across the Vlatva River and is full of beautiful statues. If you don't mind spending a few bucks, you can climb the Old Town Tower Bridge for an elevated perspective.
4. Visit Petrin Hill
A great way to spend a relaxing afternoon in Prague is heading to Petrin Hill. It's not a bad walk up the hill, but you can hop on the funicular if you're feeling lazy.
It's actually included in the city transportation card, so you might as well take the lift if you already have one. Up here you'll find gardens, a lookout tower, and peaceful walking trails that offer excellent views.
5. Old Town Square
The Old Town Square of Prague just might be one of the most beautiful and well-preserved in all of Europe. It was established way back in the 12th century when it served as the city's main marketplace. If you don't mind braving the crowds, this is where you'll find one of the best Christmas markets in Europe.
There are many important landmarks here, such as the Old Town Hall Tower. You can head to the top for about $5 to enjoy some fantastic views of the square.
You can also check out the little show put on by the astronomical clock, which happens every hour on the hour. Apparently, it was voted the 2nd most disappointing tourist site in Europe, but I can't share my opinion as it was closed for renovations on my recent visit.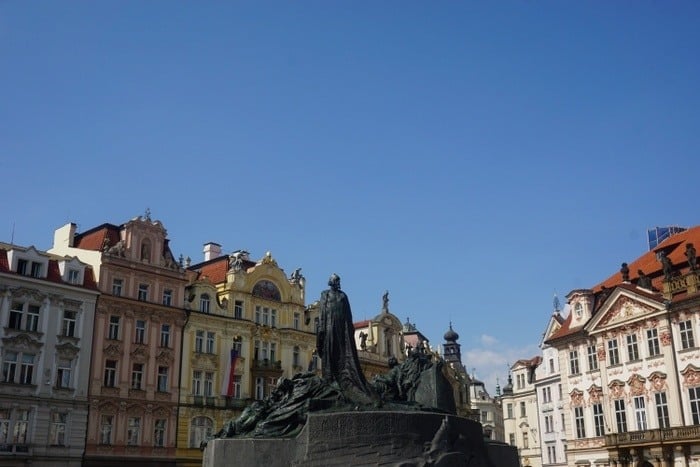 6. Explore the Jewish Quarter
The Josefov area of Prague is known as the city's Jewish Quarter. Here you'll find the Old-New Synagogue, which is believed to be the resting place of the famed Prague Golem. While in this part of town, you can also pay a visit to the Jewish Museum, the cemetery, and the former house of the famous writer Franz Kafka.
7. Brews and views at Letna Park
Just across the river from Old Town is Letna Park. It's a short walk uphill to find the Prague Metronome, which was put in as a replacement for the statue of Stalin that once stood here. This is a popular spot to hang out around sunset for a few drinks.
If you didn't bring your own, never fear – there's draft beer available for just $2. There's also an excellent beer garden on the other side of the park that's well worth checking out.
8. Dig in to Czech Cuisine
While it many not be one of the most famous cuisines in the world, Czech food is damn good. Be sure to try classic dishes such as roasted pork with dumplings and cabbage, goulash, fried cheese, and a wide variety of sausages.
Of course, you can't forget one of the most important food groups in Czech culture – beer! The food here is hearty and filling, so you'll probably need a nap, a walk, or both after a big meal.
Wonder what to do in Prague for 3 days? Head over to our insider's Weekend in Prague guide!
9. See a show
Prague is home to several world-class venues, such as the National Theatre and the Rudolfinum concert hall. Seeing a classical music performance, a ballet, or an opera should definitely be on your itinerary in Prague.
Of course, you can also find jazz, rock, electronic, and just about every other genre of music here as well. The city also has several "black-light theatre" venues. Some of these are blatant tourist traps, but the Image Theatre comes recommended.
10. Have a big night out
If you're looking to let loose and have a big night out while backpacking Prague, you're in luck because the city is home to tons of bars, beer gardens, casinos, night clubs, and strip clubs; the list goes on and on.
Start out with sunset drinks somewhere along the river, head to a beer hall for dinner and pints, join a pub crawl, or just aimlessly wander the streets stopping wherever looks fun. The party goes late here in Prague, so be sure to pace yourself! Check out this post to see the best places to visit in Prague!
Is This the Best Daypack EVER???
Now that we've covered some of the basics, it's time to plan out an epic itinerary for 3 days in Prague:
Day One in Prague: The Highlights
If you're a Broke Backpacker looking to visit Prague on a budget, the best way to start your trip here is with a free walking tour. Ok, so they're not really "free," as you're expected to leave a tip for your guide at the end of the tour. That being said, these tours are still an excellent value.
You'll cover a lot of ground in just a few hours, learn a ton about the history and culture of the city, get some solid recommendations, and probably make a few friends along the way. I make it a point to do free walking tours in every city I visit now and always enjoy them.
While you're on the tour, be sure to ask your guide for some ideas for lunch. This is the biggest meal of the day here, with many restaurants offering up a set menu for a very reasonable price. Try out some Czech food and go ahead and wash it down with a delicious Czech beer, as day-drinking is not at all frowned upon here.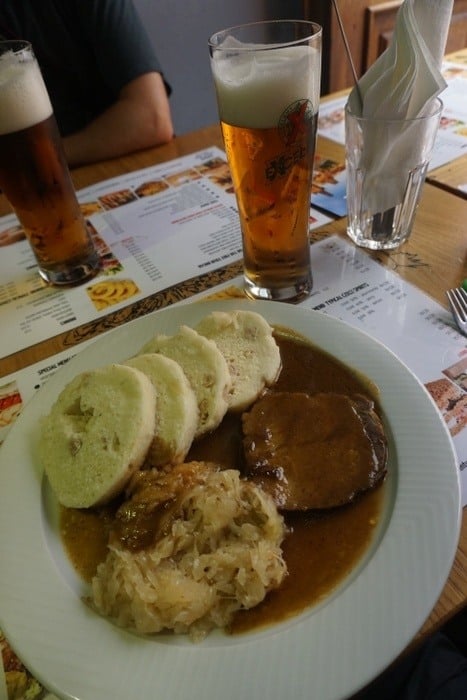 Even though you probably saw it on the tour, it's worth it to head back to the Old Town Square on your own. Here, you'll be able to admire a variety of architectural styles such as Gothic and Baroque.
It's also a great place for people watching, as you'll see street performers, punks, confused tourists, hipsters, protesters, and everyone in between. There are plenty of museums, cathedrals, shops, cafes, and more to keep you busy around here for the afternoon.
Around sunset, go for a stroll along the Charles Bridge. Take your time so you can admire the views of the river and the 30 or so statues that line the bridge. You'll also find musicians busking, artists doing portraits, and plenty of interesting characters. As you'll probably have noticed by now, one of the best things about backpacking Prague is simply walking around and admiring the sheer beauty of the city and its landscape.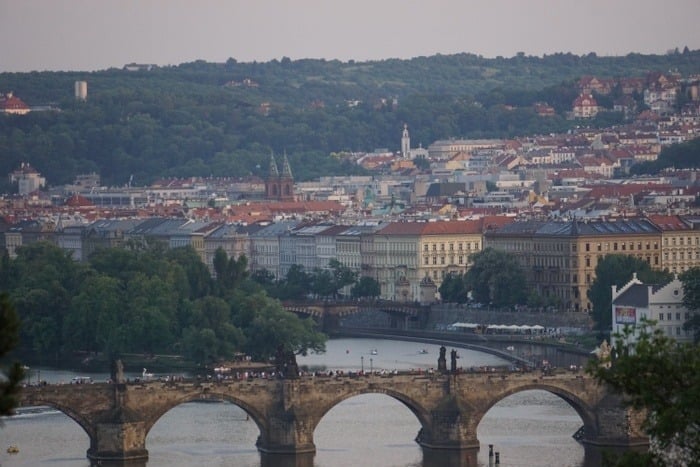 On the other side of the river, you can walk or hop on the tram to get you up to Letna Park. Take a short walk up the hill to the Prague Metronome, where a statue of Stalin once stood.
Here you'll find locals playing a pick-up game of roller hockey, skateboarding, or just enjoying beers with friends. No worries if you forgot to bring your own beer, as there are a few bars set up here pouring cheap draft beers. There's also an excellent beer garden on the other side of the park, where you can get cheap snacks to go with the $2 pilsners.
For dinner and more Czech beers, head over to Lokal Dlouhaaa. This is one of several Czech beer halls with "Lokal" in the name, so any of the others will do just as well if you find yourself closer to one of those.
Order up some Czech classes like fried Camembert cheese and pickled sausages to go with those cheap brews. These places fill up, meaning you'll likely end up sitting with strangers.
Go ahead and make friends and see where the night takes you! The options for nightlife in Prague are pretty much endless, and the night may quickly turn into morning here.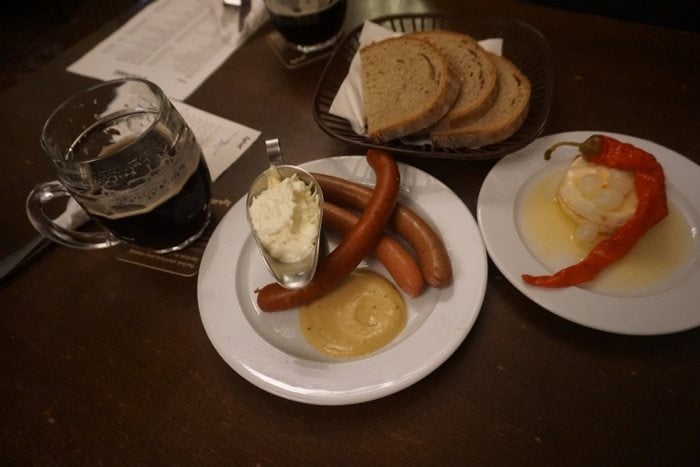 Day Two in Prague: Explore a Castle
Chances are you may have had a big night in Prague, so there's nothing wrong with sleeping in a bit here. After a nice big breakfast and some coffee, it's time to head up the hill to the Prague Castle. Thankfully, you can take the tram all the way up there.
What you choose to see and do once up there depends on how much time and money you want to spend. Those doing Prague on the cheap will want to skip out on the entrance ticket and just take in the parts that are free to visit. If you don't mind shelling out the $15 or so, it's well worth it to go inside the cathedral and some of the other exhibits.
After exploring the castle, you can head down the hill and spend some time walking around the area known as Lesser Town. Here you can admire the beautiful architecture, pose for pictures at the John Lennon wall, stroll down Prague's narrowest street, and much more.
It's the perfect place to aimlessly wander with your camera for a couple of hours.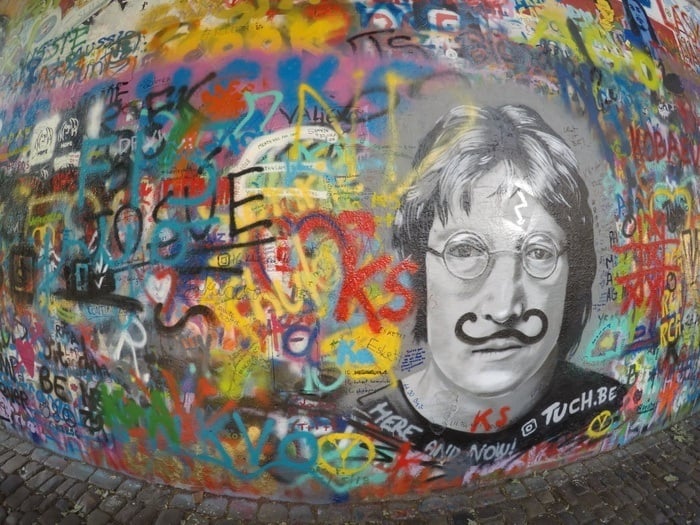 Once you've worked up an appetite, head to U Magistra Kelly. We met up with some friends who have been living in Prague for a year, and this is their favorite restaurant in the whole city. This is a great place to try a Czech favorite – pork knuckle. Portions are quite large, so you might want to share it along with an appetizer.
Walk off that dinner by heading down to the Vlatva River. There's a nice little island in the river that's worth a visit. Find a bench or just plop down in the grass and chill out for a while.
Once that food coma has subsided a bit, it's time to hit one of the bars set in a docked boat. Grab a drink and sit down to enjoy some tunes courtesy of a live DJ as you get ready for another night in Prague.
For your second night here, you might want to consider joining a pub crawl. Many hostels arrange these, and they make for a fun and carefree night out. It's a great way to meet fellow travellers and check out a bit of what Prague has to offer in terms of nightlife.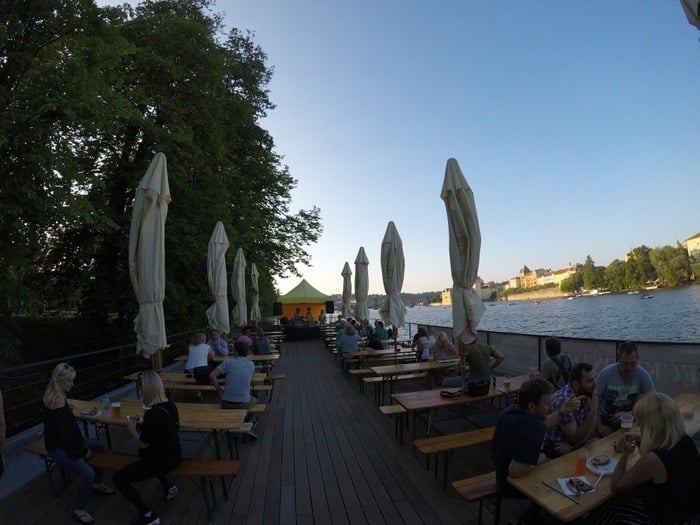 Day Three in Prague: Take it easy
For your third and final day in Prague, you can take it easy. After a casual brunch, head to the top of Petrin Hill by riding the scenic funicular. Here you'll find the Petrin Lookout Tower, which is basically a smaller replica of the Eiffel Tower.
There are also some lovely gardens and plenty of walking trails up here. It's a great place to spend a few hours away from the crowds and the perfect place to wind down after a busy couple of days.
Since you've already taken in the scenery along the river on foot, why not check it out from the comfort of a boat? There are plenty of river cruises available to suit all types of budgets. Sit back, relax, and enjoy the scenery of one of Europe's most beautiful cities.
Hopefully, you're not sick of beer by now because it's time to hit yet another beer garden. Riegrovy Sady is a local favorite and is worth the short hike from Old Town.
Thanks to its location on a hill, you'll be able to enjoy some of the best views of the sunset from here. With cheap draft beers and local food, you may just want to stay here all night.
If you've still got the energy for another night out, why not get a little culture? There are several different theatres in Prague where you can see opera, ballet, or classical music. If you want to try something different, you can hit one of the many black-light theatres for an interesting performance.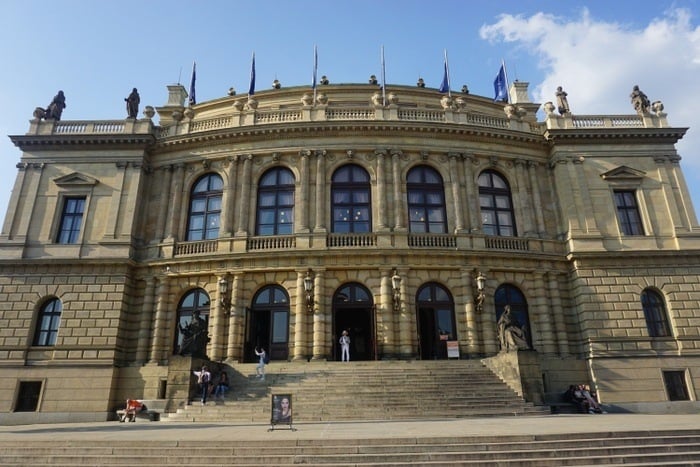 Prague off the Beaten Track
If you're in the Old Town during the busy summer months, Prague can feel overwhelmingly touristy. Thankfully, it's not too hard to get off the beaten track in Prague.
For starters, you can look for a hostel or an Airbnb place outside of Prague 1. Staying in one of the nearby districts will automatically give you a far more local experience, and you'll still be a quick tram or metro ride away from the sights.
Even when you're in the Old Town, you can easily avoid tourist traps and enjoy a more local side of the city. If a restaurant, cafe, or bar has only English on the sign and menus, then you can go ahead and assume it will be full of tourists and will come with a higher price tag.
Try going into places that only have Czech on the menu and use Google Translate if need be. We ended up in one bar right smack in the heart of Old Town where no one spoke any English. The place was packed with locals and draft beers were only about $2.
If you really want to get off the beaten track in Prague, you can rent a bicycle or do a cycling tour to get away from the super busy central part of town. It doesn't take long to escape the hordes of tourists on a bike, and find yourself in a quiet, scenic part of the city.
Best Walks in Prague
Prague is a city best explored on foot. Whether you're taking in the sights of Old Town, walking up to the castle, or just wandering around different neighborhoods, hoofing it is the way to go. As I mentioned in the top things to do section, taking a free walking tour is an awesome way to see a lot of the city while learning about its history.
Another great option is walking across the Charles Bridge over to Petrin Hill. You can choose to walk up the hill or take the lazy way and ride the funicular.
Once you're up there, you can follow the trails all the way to the castle. After you have finished visiting the castle, you can continue on foot all the way to the Prague Metronome, where you can wind down with cheap beers and a stunning sunset.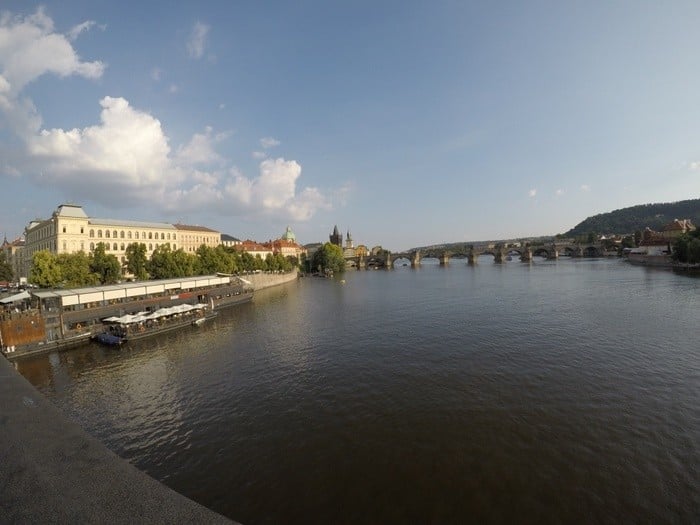 Best Time of Year to Visit Prague
There are advantages to backpacking Prague in all four seasons, so it's hard to pick a definitive best time to visit. It really depends on what you want to do and whether or not you mind crowds.
While it can get quite cold in the winter, the city is beautiful in the weeks leading up to Christmas because of all the lights and the bustling Christmas markets. Prague rarely gets a white Christmas, but you can expect to get some snow between January and March.
The summer months are hot and dry in Prague, and the sun doesn't go down until 9-10 PM. As you might expect, this time of the year also sees the biggest crowds and the highest prices. If you don't mind these things, then this is definitely a great time to travel to Prague.
Those who prefer mild weather and smaller crowds will want to visit Prague in late spring (May-June) or early fall (September). The weather is quite pleasant in these months and there are far fewer tourists than you'll see during summer or around the holidays.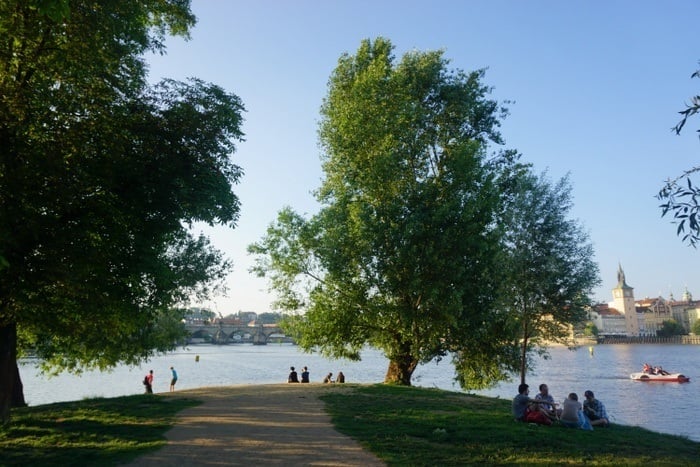 Getting in and out of Prague
You can get in or out of Prague by plane, train, bus, or car. If you're flying, you'll be arriving at the Václav Havel Airport Prague (PRG). The airport is located about 20km northwest of the city centre and is around a 30-minute drive.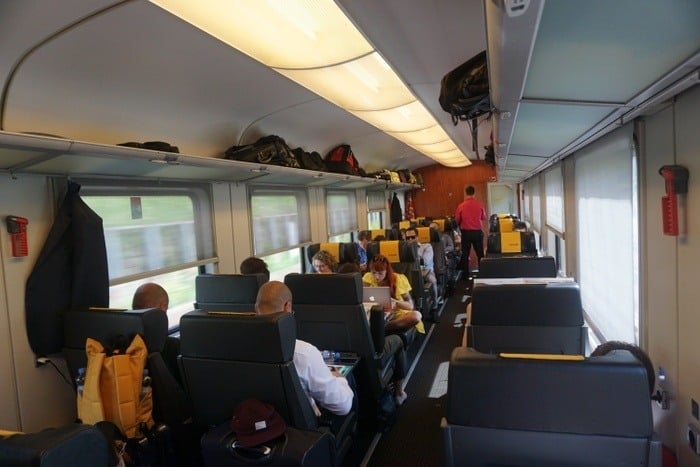 You have several options for travelling to and from the airport, including the Airport Express Bus, taxis, and private airport transfer.
Prague is very well-connected by rail, meaning you can travel to or from several other cities in Europe. There are a few different companies operating these train lines, so they vary in quality and price. Many routes have cheap fares available well in advance, so it's worth trying to figure it out early to save some money.
How to get around Prague
The public transportation system is excellent in Prague. There are a few metro lines as well as an extensive network of buses and trams. Your best bet is to purchase a 3-day card that's good for all of them if you plan on hopping around a lot.
Just be sure to validate it immediately and keep it on you. Prague operates on the honour system, and if you're caught travelling on public transport without a valid ticket, you'll be slapped with a hefty fine.
Prague is also a very walkable city, especially in the Old Town. Just keep in mind that many of the streets are cobblestone, so you'll want to wear some decent walking shoes.
If you're feeling lazy and want to take a cab, don't just hail one on the street. It's better to call a reputable company or have your accommodation do it for you. While Uber is in a grey area here, I used it just fine when I travelled there last month.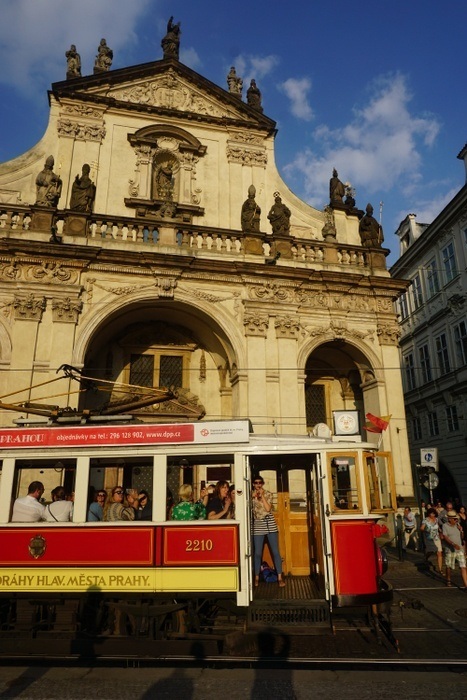 Long Distance Trains from Prague
There are several long distance train lines connecting Prague to other Eastern European countries. You can travel to/from Berlin, Vienna, Budapest, Bratislava, Copenhagen, Warsaw, and even all the way to St. Petersburg.
All international trains come and go from the Central Station, which is called Praha hlavní nádraží and often abbreviated to Praha hl.n. For more information on European travel, check out our in-depth Europe Travel Guide.
If you plan on visiting multiple cities/countries in Europe, it might be best to buy a Eurail pass, as explained in the guide above.
Use Bookaway to find the best deals on transport – buses, planes, trains, and ferries. It'll save you a load of time when organising transport and you'll probably nab an EPIC DISCOUNT too!
Book your transport on Bookaway NOW. Get the best price for the best ride… then use those savings to buy the best feed in town!
Book Your Transport Here!
Prague is generally a very safe city to travel in. Your biggest concerns here will be pickpockets, rip-off money changers, and unsavory taxi drivers. When riding public transport or walking around crowded areas, don't leave your wallet sitting in your back pocket and don't flash valuables like nice phones and cameras.
Money changers in Prague are known to give terrible rates or even worthless currency like Belarusian Rubles instead of Czech Korunas. Be sure to ask around and find a reputable money exchange if you need one, and never agree to make change for some random person on the street.
Taxi drivers are notorious for scamming tourists in Prague. The mayor even went undercover as an Italian tourist one time and was ripped off! It's totally possible to explore Prague on foot and public transportation and never even need to take a taxi. If you must, be sure to have someone help you call a legit company or just use Uber.
Travel Insurance for Prague
Traveling without insurance would be risky so do consider getting good backpacker insurance sorted before you head off on an adventure.
I have been using World Nomads for some time now and made a few claims over the years. They're easy to use, professional and relatively affordable. They may also let you buy or extend a policy once you've started your trip and are already abroad which is super handy.
If there's one insurance company I trust, it's World Nomads.
ALWAYS sort out your backpacker insurance before your trip. There's plenty to choose from in that department, but a good place to start is Safety Wing.
They offer month-to-month payments, no lock-in contracts, and require absolutely no itineraries: that's the exact kind of insurance long-term travellers and digital nomads need.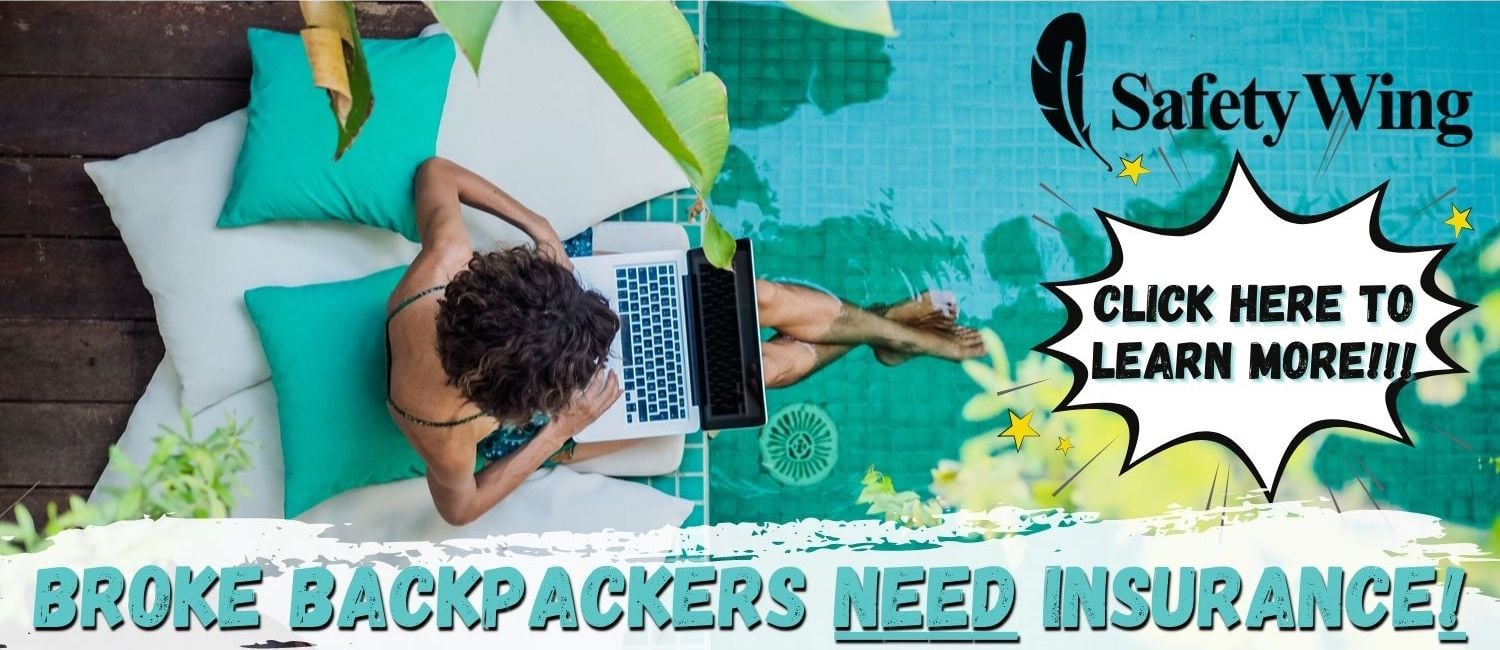 SafetyWing is cheap, easy, and admin-free: just sign up lickety-split so you can get back to it!
Click the button below to learn more about SafetyWing's setup or read our insider review for the full tasty scoop.
Prague Accommodation Travel Hacks
It's easy enough to find an affordable dorm bed in Prague, but there are still some accommodation hacks you can employ to save even more money.
First of all, you can look for a hostel that's just outside of Old Town. Staying in nearby districts will most certainly be cheaper than staying in Prague 1, and you'll still be really close to the action.
Many hostels in Prague have free breakfast and fully equipped kitchens. If you book one of these you'll be able to save a lot of money on food and drink. Take advantage of the free breakfast, find a cheap local lunch, and cook something yourself for dinner.
If you plan to stay in Prague for a week or more, it's worth trying to bargain with a hostel for a better rate by contacting them directly. You could also look for a room or an entire apartment on Airbnb, as most hosts offer weekly discounts.
Stay close to public transport so taking some of the Prague day trips is easier!
Eating and Drinking in Prague
Czech cuisine is usually based around pork or chicken with starchy side dishes, such as dumplings or potatoes. They also love their sausages and cheese here. As a result, it's best to save that diet for after your trip to Prague.
Lunch is the main meal in Prague and across the Czech Republic. Many restaurants offer a set menu for lunch between 11 and 2 for just around $6-7. However, a lot of places aren't very up front with this lunch deal as they'd prefer tourists to order off of the more expensive English menu. Ask them "denni menu, prosim" to get the local menu.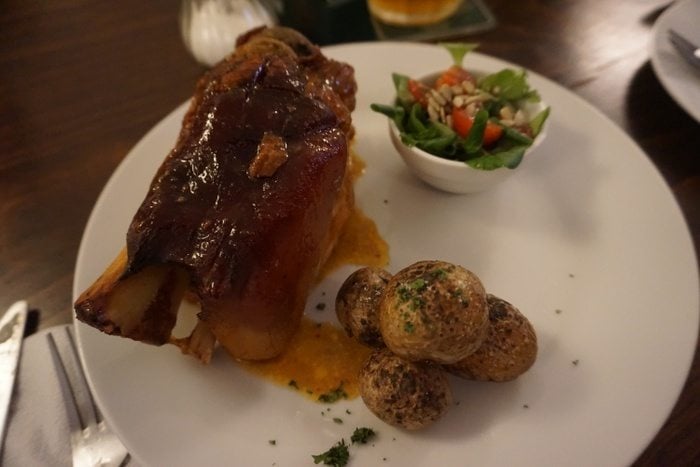 Beer is a very important part of the Czech diet. As a matter of fact, people from the Czech Republic drink more beer than any other nation! The most famous style of beer here is definitely pilsner, which is named after the Czech city of Pilsen where it was first produced back in 1842. A pint of local beer usually only costs around $2, so go ahead and have a few!
If you're backpacking Prague in the colder winter months, be sure to try the delicious, hot mulled wine known as svarak. With a cup of this stuff in hand, you'll be ready to explore the city's famous Christmas markets.
Nightlife in Prague
The nightlife in Prague is pretty epic. There are so many beer gardens, bars, and clubs to choose from that you could go big every night and still barely scratch the surface. The party starts late and goes late here, so it's best to start out at a beer garden or up at the Prague Metronome. With $2 draft beers and cheap snacks, this is the perfect way to kick off a great night in Prague.
Where you take that night is totally up to you. You can find everything from crowded beer halls, to dingy dive bars, to classy cocktail joints with live jazz. You can't throw a dead cat without hitting a bar in Prague.
Of course, they're not all created equal. If you'd like to check out a bunch of bars in one night without having to find them for yourself, there are plenty of people running great pub crawls here.
If you're looking to dance the night away, Prague has several clubs to choose from. They typically don't get going until after midnight, so you should be nice and lubed up by the time you get there.
One of the most popular spots is Chapeau Rouge. It has three levels, so you should easily be able to find something you want to dance to. This is the kind of place where you order shots, dance on couches, and leave a sweaty, haggard mess as the sun gets ready to come up.
Books to Read on Prague
Below are 5 books and guides to add to your Prague reading list:
Lonely Planet Prague & the Czech Republic – Everything you need to know and then some about backpacking Prague and the rest of the country.
Prague Travel Tips – An American's Guide to her Adopted City – Krysti Brice has lived in Prague for over two decades and has put together this great guide on the city.
Rick Steves Prague & the Czech Republic – The famous travel show host and writer has an excellent guide full of useful tips and recommendations.
Prague Winter – One of the awesome books set in Prague, this is a fascinating tale from the former US Secretary of State Madeline Albright spanning the turbulent years of 1937-1948.
Volunteering in Prague
Long term travel is awesome. Giving back is awesome too. For backpackers looking to travel long-term on a budget in Prague whilst making a real impact on local communities, look no further than World Packers. World Packers is an excellent platform connecting travelers with meaningful volunteer positions throughout the world.
In exchange for a few hours of work each day, your room and board are covered.
Backpackers can spend long periods of time volunteering in an awesome place without spending any money. Meaningful life and travel experiences are rooted in stepping out of your comfort zone and into the world of a purposeful project.
Worldpackers opens the doors for work opportunities in hostels, homestays, NGOs, and eco-projects around the world. We've tried and approved them ourselves – check out our Worldpackers in-depth review here.
If you're ready to create a life-changing travel experience and give back to the community, join the Worldpacker community now. As a Broke Backpacker reader, you'll get a special discount of $10. Just use the discount code BROKEBACKPACKER and your membership is discounted from $49 a year to only $39.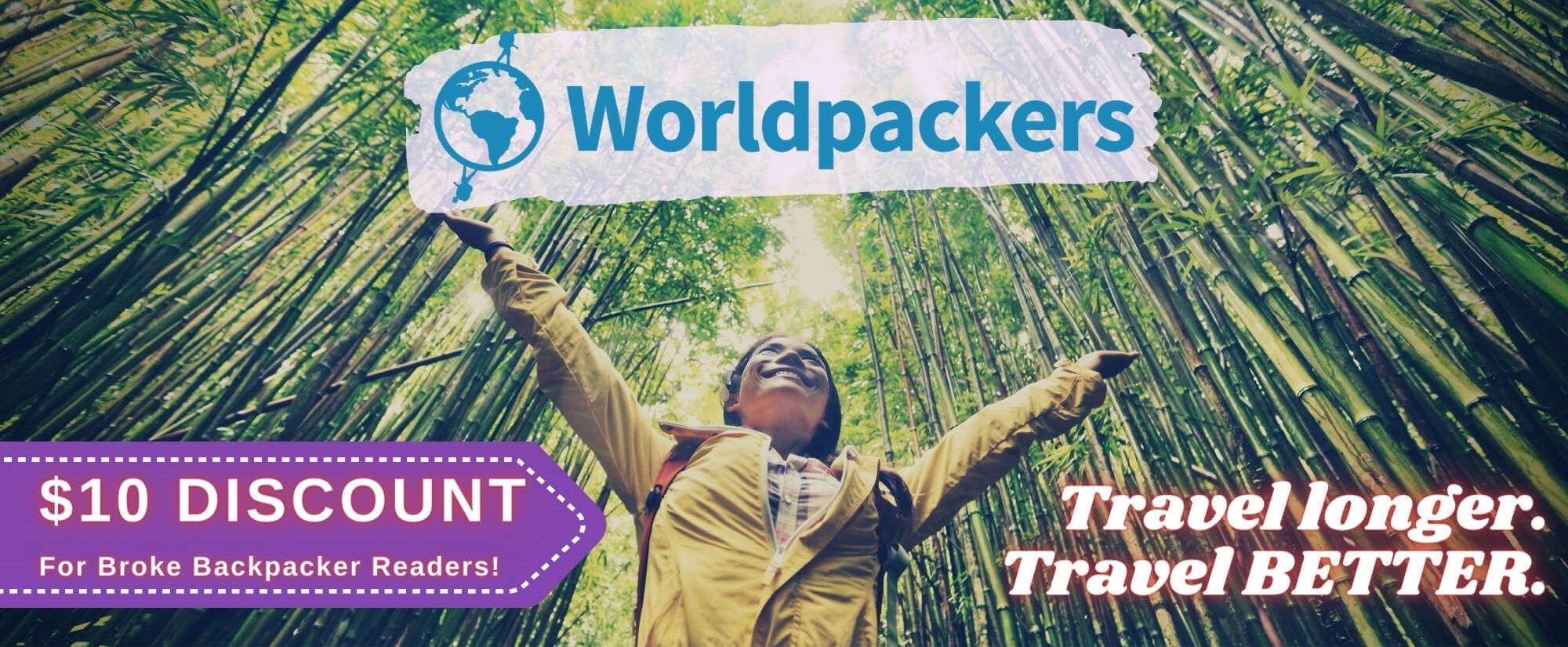 Worldpackers: connecting travellers with meaningful travel experiences.
Make Money Online Whilst Backpacking Prague
Traveling in Prague long-term? Keen to make some cash when you are not exploring the city?
Teaching English online is a great way to earn a consistent income—from anywhere in the world with a good internet connection. Depending on your qualifications (or your motivation to obtain qualifications like a TEFL certificate) you can teach English remotely from your laptop, save some cash for your next adventure, and make a positive impact on the world by improving another person's language skills! It's a win-win! Check out this detailed article for everything you need to know to start teaching English online.
In addition to giving you the qualifications to teach English online, TEFL courses open up a huge range of opportunities and you can find teaching work all over the world. To find out more about TEFL courses and how you can teach English around the world, read my in-depth report on teaching English abroad.
Broke Backpacker readers get a 35% discount on TEFL courses with MyTEFL (simply enter the code BACKPKR), to find out more, please read my in-depth report on teaching English abroad.
Whether you are keen to teach English online or looking to take your teaching game a step further by finding a job teaching English in a foreign country, getting your TEFL certificate is absolutely a step in the right direction.
Being a Responsible Backpacker in Prague
Reduce your plastic footprint: Perhaps the best thing you can do for our planet is to make sure you do NOT add to the plastic problem all over the world. Don't buy one-use water bottles, the plastic ends up in landfill or in the ocean. Instead, pack a tough travel water bottle.
Go and watch A Plastic Ocean on Netflix – it'll change how you view the plastic problem in the world; you need to understand what we are up against. If you think it doesn't matter, get off my fucking site.
Don't pick up single use plastic bags, you're a backpacker – take your daypack if you need to go to the shop or run errands.
Bear in mind, that many animal products in countries you travel through will not be ethically farmed and won't be of the highest quality. I'm a carnivore but when I'm on the road, I only eat chicken. Mass-farming of cows etc leads to the rainforest being cut down – which is obviously a huge problem.
Need more guidance? – Check out our post on how to be a responsible backpacker.
Backpacking in Prague will bring you ample opportunities to participate in debauchery, and it is very important to have fun, let loose, and get a bit wild at times—the beer is so cheap and plentiful in Prague!. Most backpacking trips I have been on across the world have included at least a few mornings where I wake up knowing I went too far.
There are some things that will put you in the category of a straight up jackass if you do them. Being super loud and obnoxious in a tiny hostel at 3 AM is a classic rookie backpacker mistake. Everyone in the hostel will hate you when you wake them up. Show your fellow travelers (and locals) respect whilst backpacking in Prague and anywhere else for that matter!
---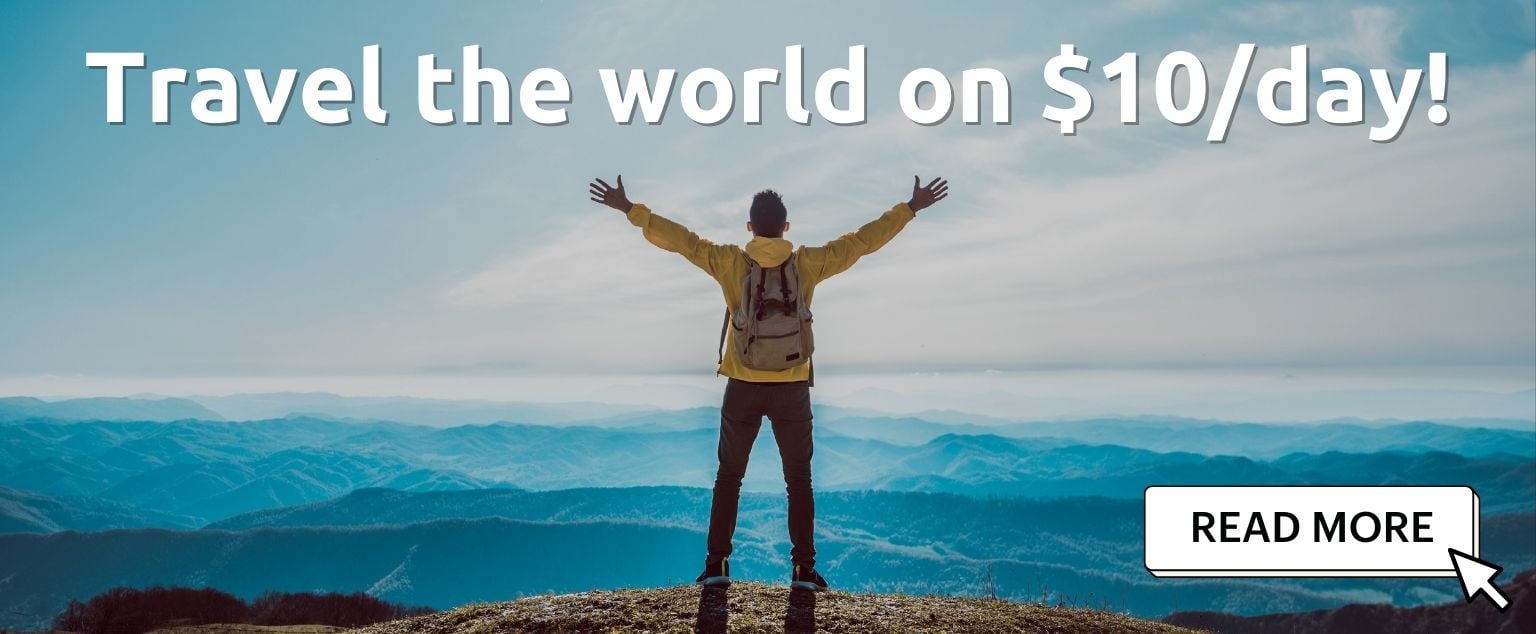 And for transparency's sake, please know that some of the links in our content are affiliate links. That means that if you book your accommodation, buy your gear, or sort your insurance through our link, we earn a small commission (at no extra cost to you). That said, we only link to the gear we trust and never recommend services we don't believe are up to scratch. Again, thank you!