Prague, capital of the Czech Republic, is located in Central Europe. While the city is relatively small, it offers the advantage of being packed with history and being walkable. From the rooftops and the beer gardens, you will be able to admire the charm of Old Town Prague, presenting a real architectural melting pot.
Still, it can be tough to figure out what's the best place to in Prague to stay. But deciding where to stay in Prague should not be a headache!
This is the reason why I have created this no-stress guide on where to stay in Prague.
After reading this guide, you will be a real expert on the city and will be able to choose the coolest area and accommodation Prague while keeping your cool and looking forward to your holiday.
Without further ado, let's begin! There is an option for everyone, whether you are a backpacker, a first-time visitor or coming with the kids. Here is my guide on the best neighbourhoods in Prague to stay.
These are some of the best places to stay while traveling around Prague…
This colourful and bright apartment sleeps up to 7 guests. It offers a fully equipped kitchen, sound-proof windows, and a modern interior combined with beautifully preserved old wooden floors. The apartment is within walking distance of top attractions like the old town square and sits in one of the coolest neighbourhoods in the city, so you can fully make the most of exploring Prague.
The Roadhouse Prague is a modern backpackers hostel that only opened up in 2017, but has already won the favours of hundreds of guests. Its central location is close to heaps of tourist attractions and the Vltava River. It offers bunk beds in mixed dorm rooms, fitted with privacy curtains, lockable under bed storage and individual power outlets.
Best Budget Hotel in Prague – Hotel Inos
Hotel Inos offers spacious rooms located 10 minutes away from the Old Town by tram and right on the Vltava River. Each room features a private bathroom, a flat-screen TV and a free wifi connection. Some rooms also have a balcony. In the morning, a buffet breakfast with traditional Czech items is served to guests.
Prague, the capital of the Czech Republic, is relatively small for a European capital. However, it has been a destination loved by many travellers thanks to its cheap prices, great atmosphere and wonderful architecture. There are heaps of amazing places to visit in Prague for such a compact city.
You will be a short walk or tram ride away from all the main attractions regardless of which neighbourhood you decide to stay in.
First-time visitors to the city will love the charm and central location of Old Town Prague, where a lot of tourist action happens on the daily. This is where you will find Prague's most famous sights such as the old town square, Wenceslas Square, Charles Bridge and the astronomical clock. It's what most consider to be central Prague.
On the other side of the Vltava River, the Mala Strana, also known as Little Quarter, offers a quieter atmosphere. It is great for families looking for a more peaceful environment while staying in the heart of the action. This is the neighbourhood where Prague Castle and the Charles Bridge are located.
Despite being more than 700 years old, the area surrounding the Old Town is the Prague New Town. Being located a bit further away from the main attractions, it offers cheaper, hostel accommodation and is a perfect choice for backpackers visiting Prague. Prague New Town is also packed with restaurants and cafés.
Finally, Vinohrady has lately become Prague's coolest neighbourhood. It has a relaxed atmosphere and a lot of dining options including restaurants, cafés and bars that will please the hippest crowd among us. In the summer, Havlickovy park is a great place to enjoy some greenery away from the bustle of the city centre.
If you fancy doing some of the great day trips in Prague then be sure to base yourself near some public transport!
Let's take a look at the top 5 areas in Prague to stay, so you can choose which one is best suited for you.
#1. Old Town – Where to stay in Prague your first time
Old Town is the most centrally located neighbourhood in Prague and is a great location to stay if you're planning your first trip there. This is where most tourists stay for their first time in Prague, as the area concentrates many historical sights and restaurants. The city centre is where you'll see the Charles Bridge and is where most of the luxury hotels are located.
One of the highlights and most famous things to do in Prague is the astronomical clock that dominates Old Town Square. This medieval clock is located in the Town Hall Tower. Make sure to be there when the clock strikes the hour, as the Apostles come out in a procession and offer a little show.
The Square itself is a lovely place to sit for a drink, a snack or a warming hot chocolate during the winter. The Old Town Hall building can also be visited, and the top of the tower offers a unique bird's eye view over the city.
Take a walk around this beautiful area to admire some of Prague's finest architecture, some of which date back to the 8th century.
Prague has some truly awesome accommodation options, but this Airbnb definitely counts as one of the best. The amazing apartment is located in a top area in Old Town. Unlike most homes in the city centre, it's got super spacious rooms, with two bedrooms and enough space for up to 6 guests at a time. You'll be living on a higher level, with stunning views of the city and the river. It is also just a few steps away from Old Town Square and Charles Bridge, with all the major sights and attractions. If you're looking for some real bang for your buck, this Airbnb should be your go-to!
As the name might've told you already, this hostel is a dream come true for every backpacker in Prague. Dream Hostel Prague easily counts as the best hostel in the city at the moment. Not just because it's super stylish and its amazing staff, but also because it's one of the cheapest hostels in Prague.
Whether you need advice on what to visit or just simply help, you'll always be greeted with open arms and some kind words. For such a low price, you can really enjoy a lot of value when staying at this accommodation. Check out the pictures and reviews yourself, you won't be disappointed!
The Old Prague Hotel is centrally located and offers comfortable rooms fitted with air conditioning, a private bathroom and a flat-screen TV. A tea and coffee maker are also provided, as well as a free Wifi connection. A very good buffet breakfast is served in the breakfast room every morning. It's one of the best located Prague hotels for the money.
Best Mid-Range Hotel in Old Town – Hotel Melantrich
The boutique Hotel Melantrich has been recently renovated and is located in a pedestrian area near Old Town Square. Every room is fitted with air conditioning, a private bathroom, a flat-screen TV and a hairdryer. Free wifi is available everywhere in the hotel and pets are allowed.
Things to see and do in Old Town
Look at the city from above on the rooftop of the Old Town Hall
Watch the show at every hour on the astronomical clock
Walk the Royal Route like ancient Czech Kings on their way to Prague's castle
Sit in a café on Old Town Square
#2. New Town – Where to stay in Prague on a budget
New Town is located right next to Old Town. Although it is called New Town, most of the neighbourhood actually is around 700 years of age! Though not quite as stacked with as many of Prague's tourist attractions and major things to see, there are still some pretty cool highlights in New Town.
This neighbourhood is home to Prague's quirkiest building, the Dancing House. Designed by Frank Gehry, it was inspired by dancers Fred Astaire and Ginger Rogers and presents a modern architecture that is not to be missed.
New Town's main square is Wenceslas Square, where you will be able to taste some of the best food the Czech Republic has to offer. This is also where the National Museum is located and the square boasts some beautiful buildings worth looking at.
Finally, if you have time to stop and indulge in a cultural treat, stop at the National Theatre and attend one of the shows on the programme.
Hostel One Home will be your home away from home in New Town. This hostel is especially adapted to backpackers who love being social, making it one of the best party hostels in Prague and ideal if you want to meet new people. Every evening, the staff cooks a free meal and will show you a good time around the town's bars and pubs. The rooms offer dorm beds along with a free Wifi connection.
The Wenceslas Square Hotel offers clean and comfortable rooms for an affordable price. Each room is fitted with a private bathroom, a flat-screen TV, a fan and a free Wifi connection. During the summer, guests can relax in the garden. The hotel also has a bar and a restaurant serving a good breakfast in the morning.
The Hotel Majestic Plaza is an elegant boutique hotel located walking distance from Wenceslas Square and is hosted in two different historical buildings. Each room in the hotel is fitted with air conditioning, a private bathroom, a flat-screen TV and a tea and coffee maker.
Best Airbnb in New Town – Chic Modern Home
With all the modern interior design this place has, you won't believe the price point it's placed at even during high season. Feel right at home with fresh flowers on the table and watch either Netflix or Hulu on the TV lying on the retro blue velvet couch that just walked off set of Pulp Fiction. It's actually pretty cool, just imagine you're sitting on the same couch. The home is inside a historic building right on top of some cafes and around the corner from Wenceslas square. Matter of fact the whole neighbourhood is worth scoping out on foot with all the authentic pieces that make Prague the dreamy destination it is.
Things to see and do in New Town
Try some local Czech food on Wenceslas Square
Catch a show at the National Theatre
Look at the unique architecture of the Dancing House
Appreciate the bizarreness of the Cerny statues in Lucerna Passage and Narodni
#3. Zizkov – Where to Stay in Prague for nightlife
Zizkov is a mainly residential neighbourhood but is also a vibrant and alive Prague nightlife district. As it is located a bit further away from the historical city centre, it also offers more budget-friendly accommodation for travellers visiting Prague on a budget. Don't worry though, there are great public transportation options around here, just pop to a metro station to get into the city centre.
Back in the day, it used to be one of the most important Communist strongholds in the country. Today, it is said to be the neighbourhood with the most bars per capita in Europe, making it the best location to stay in Prague for nightlife.
Zizkov's most iconic landmark is certainly the TV Tower, which funnily enough used to be used not to broadcast, but to block signals coming from the West. There is now a restaurant at the bottom of the tower, and visitors can get to the top to appreciate the view over Prague.
Yeah, it might not be the biggest home in Prague, but this stunning studio really offers everything you might need! You'll have a TV, a fully equipped kitchen, an amazing location close to loads of nightlife options, and one of the comfiest beds you've ever slept in! If you're a nightlife enthusiast, this place is the ideal home to cure your hangover the next morning. With a mix of hip, green, authenticity and beauty, it'll feel like a true home away from home!
The Clown and Bard hostel offers private rooms for up to 5 people as well as single beds in dormitory rooms. Some of the private rooms have an ensuite bathroom, while others provide a shared bathroom. Each guest can use a free Wifi connection and will be given a personal locker to use.
The hotel Amadeus offers spacious and comfortable rooms in Zizkov. Each room is fitted with a private bathroom, a patio and a seating area at this cute boutique hotel. It is located in a quiet area of the neighbourhood and a good breakfast is served in the morning. An airport shuttle service is available and it's less than half a mile from the nearest metro station.
The Carlton Hotel has been recently refurbished and offers modernly decorated rooms featuring a private bathroom, air conditioning and a flat-screen TV. All the rooms are non-smoking and offer a free Wifi connection. A very good buffet breakfast is served every morning. The front desk is open around the clock and there's public transportation nearby.
Things to see and do in Zizkov
Catch a sunset on the Prague castle from Riegrovy Sady, one of the best parks in the city
Get a bird's eye over Prague from the top of the Zizkov TV Tower
Admire the largest clock in the country at the Church of the Most Sacred Heart of Our Lord
Party the night away in Zizkov's numerous bars and beer gardens
#4. Vinohrady – The coolest place to stay in Prague
What used to be a big vineyard in the 14th century has now become Prague's coolest neighbourhood. It is well located a few tram stops away from the New Town and Old Town, and staying in Vinohrady will allow you to have a bit more peace and quiet.
Vinohrady is home to Havlickovy Sady, Prague's second largest park. Walk around to look at the beautiful Italian Renaissance-inspired villa and the vineyard reminding visitors of Vinohrady's past. During the Nazi occupation, the park was used as a training centre for the Hitler Youths.
Peace Square is also a must-see place in Prague. It is quite small and is home to a cute little market during the time around Christmas and Easter. While you are there, take a look at the Cathedral of St Ludmila, built in Gothic style during the 19th century.
If you're staying in one of the coolest areas in Prague, your accommodation should be living up to the exact same standard. And this Airbnb couldn't be better. The stylish minimalistic apartment offers space for up to 2 people. You'll be in a perfect location to explore the city. Everything is within walking distance and only a few steps away from many of Prague's monuments. Your host will also provide a travel guide tips and a detailed map of the neighbourhood, so you won't get lost while exploring Prague!
The Arkada Hotel Praha is located in a restored Art Nouveau building, typical of the Vinohrady area. It offers comfortable rooms with a private bathroom and a view over the city. There is also a fan and heating at this boutique hotel. A good breakfast is served in the morning and a free Wifi connection is available.
Best Mid-Range Hotel in Vinohrady – Elizabeth Suites
Elizabeth Suites offers modernly decorated rooms fitted with a seating area, a kitchenette, a private bathroom and a flat-screen TV with satellite channels. Some of the rooms also have a terrace. It's one of the most kitted out Prague hotels! A free Wifi connection is available and the hotel provides an airport shuttle service. All rooms at the hotel are non-smoking.
Another Great Airbnb in Vinohrady – American Loft in the Heart of Prague
Want to treat yourself to a really cool Airbnb, well forget luxury hotels! Choose this stylish American loft, you won't regret it! With exposed brickwork, an indoor sauna (you'll need to pay to use it), and a special room for wine storage, you'll realise quite fast that this isn't just a normal home. There's enough space for up to 6 guests at a time. With the massive living room and kitchen area, it's great for socializing, having a drink and exchanging travel stories. If you've got an eye for great design and charming details, you'll love this home!
Things to see and do in Vinohrady
Spend some relaxing time in Havlickovy Sady, Prague's second-largest park
Wander around the streets to look at the beautiful Art Deco houses of the area
Try one of the only street foods in Prague, a hot dog from the Peace Square
#5. Mala Strana – The best neighbourhood in Prague for families
Mala Strana, or Lesser Town, is located on the other side of the river from the Old Town. It provides a quieter environment than Old Town while remaining in the heart of Prague and close to all the main sights of the city. It's the perfect neighbourhood for a family enjoying a short weekend trip to Prague.
From Old Town, you will access Mala Strana by crossing the Charles Bridge, which was built in the 14th century. Two iconic towers are located at each end of the bridge. From the bridge, you can enjoy beautiful views over the Vltava River while surrounded by street musicians and performers.
In Mala Strana, visitors have access to Prague Castle, which is actually the largest coherent castle complex in the world. The castle was founded in 880 and remains the most important monument in the Czech Republic. It is listed as a UNESCO World Heritage site.
Across the river from the Bonvivants and Hemingway bar, is where this lovely living space is nestled. There's enough room for 4 people to lay their heads and a fully renovated kitchen to cook your meals. The huge windows in this home create an incredible space full of natural light. The apartment is also in one of the best locations, with the tram is just minutes away on foot, taking you to the many destinations you and the fam will be stopping at during this holiday. Yet it's located in a neighbourhood peaceful enough to get a well-rested night of sleep.
With a total of three bedrooms and enough space for up to 7 guests at a time, this Airbnb is the ideal home for you and your family. You'll be in one of Prague's hottest locations, close to many attractions and public transport options. The colourful and bright apartment offers a fully equipped kitchen, sound-proof windows, high-quality mattresses for a comfortable sleep and a modern interior combined with beautifully preserved old wooden floors. The host also provides a personalised guidebook for their local recommendations so that guests can enjoy their stay to the fullest.
Best Budget Hotel in Mala Strana – Hotel U Schnellu
Hotel U Schnellu is located a 5-minute walk away from Prague Castle and is a family-run establishment. It offers comfortable rooms featuring a private bathroom with a bathtub, air conditioning and a flat-screen TV. Each room also has a view of the city's beautiful architecture.
Best Mid-Range Hotel in Mala Strana – Hotel Pod Vezi
The Hotel Pod Vezi is located in a historical building right next to the iconic Charles Bridge. It offers rooms featuring an ensuite bathroom, air conditioning, soundproofing and a flat-screen TV. The hotel has a restaurant, a bar and a very good breakfast is served in the morning.
Things to see and do in Mala Strana
Visit the largest coherent castle complex in the world at the Prague Castle
Take in the views over the Vltava River from the 14th century Charles Bridge
Learn more about Czech writer Franz Kafka at the Franz Kafka Museum
Pay a tribute a the John Lennon Wall
Here's what people usually ask us about the areas of Prague and where to stay.
World Nomads' mission is to support and encourage travellers to explore their boundaries. They offer simple & flexible travel insurance, and safety advice to help you travel confidently.
They've been doing it since 2002 – protecting, connecting, and inspiring independent travellers just like you.
Get a quote below or read our in-depth review!
World Nomads provides travel insurance for travelers in over 100 countries. As an affiliate, we receive a fee when you get a quote from World Nomads using this link. We do not represent World Nomads. This is information only and not a recommendation to buy travel insurance.
Prague is one of the most beautiful cities in Europe, with lots of historical architecture and sights to offer. It is also one of the cheapest places in Europe to stay and eat. When visiting the continent, Prague should most definitely be on your bucket list.
My top pick for where to stay in Prague is the Hotel Savoy. Located in the heart of the city, it offers world-class service for an incredible price.
If you are travelling on a budget, I can recommend The Roadhouse Prague, a new hostel that opened in 2017 but has already become one of the most popular addresses in town.
---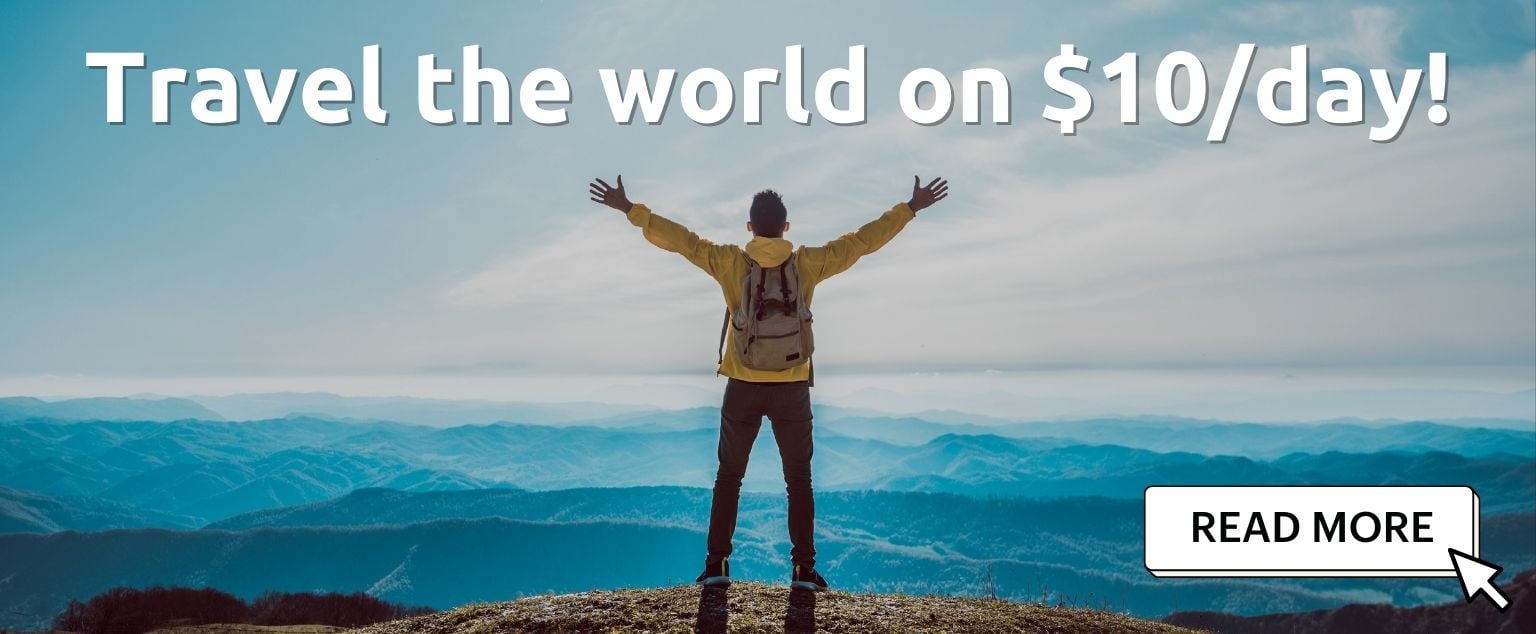 And for transparency's sake, please know that some of the links in our content are affiliate links. That means that if you book your accommodation, buy your gear, or sort your insurance through our link, we earn a small commission (at no extra cost to you). That said, we only link to the gear we trust and never recommend services we don't believe are up to scratch. Again, thank you!