Travelling with a good-quality camera is one of the best ways to relive your trip and bring your travels to back life at any time. Photos are also the best way to show your family and friends where you went, what you did, and who you met along the way. These days, it's even possible to make a business out of the photos you take along your journey.
If you're a seasoned travel photographer, you'll know just how hard it can be to pick the best travel camera for your adventures. Whether you're buying your first camera or replacing an old one, cameras are an expensive piece of equipment. Like any electric device, there's a lot that can go wrong while you're on the road.
In fact, camera brands can be so different that they could shape your entire photography style and the quality of your photos. Typically, the more expensive cameras offer the best quality images, but that isn't to say there aren't some great budget options out there too.
In this guide of the best camera brands for travel photographers, I'm going to help you narrow down your search by giving you all the necessary information to pick the best camera for your needs (and budget). While this list is by no means extensive, it should offer you a glimpse into the top ten camera brands on the market today.
From shock and water-proof action cameras to polaroids and DSLRs, we're going to introduce the top camera brands and then give an example of one of their best products. Each of the models we recommend has a range of superb features for travelers, whether they be lightweight, compact, have a high zoom capacity, or are shock resistant.
Quick Answers – The Best Travel Camera Brands
Choosing The Right Camera
There's no quick answer to this question. With so many options, the best camera brand for you will depend entirely on your travel destination and photography needs.
A lightweight and compact camera like the Panasonic Lumix G4 would do well for most casual travel photographers. However, if you're planning on doing high-impact adventures with your camera, you should probably opt for something like a GoPro or OCLU. These cameras don't often take the best quality photos but are designed for action videography. It's not uncommon for travel photographers to have both an action camera and a generic camera on hand during their adventures.
While DSLR cameras are a heavier option, it's only because they're packed with intricate features and advanced settings. If you want to take professional photographs, you'll usually need to sacrifice the weight and pick a DSLR, although these days a top-end mirrorless camera can be a good compromise.
Before you invest in an expensive camera, you need to understand exactly what you're using your camera for. Some cameras are better for landscape images, and others are more suitable for portraits of people. You'll also need to figure out how much you're prepared to spend, as cameras can range in price dramatically.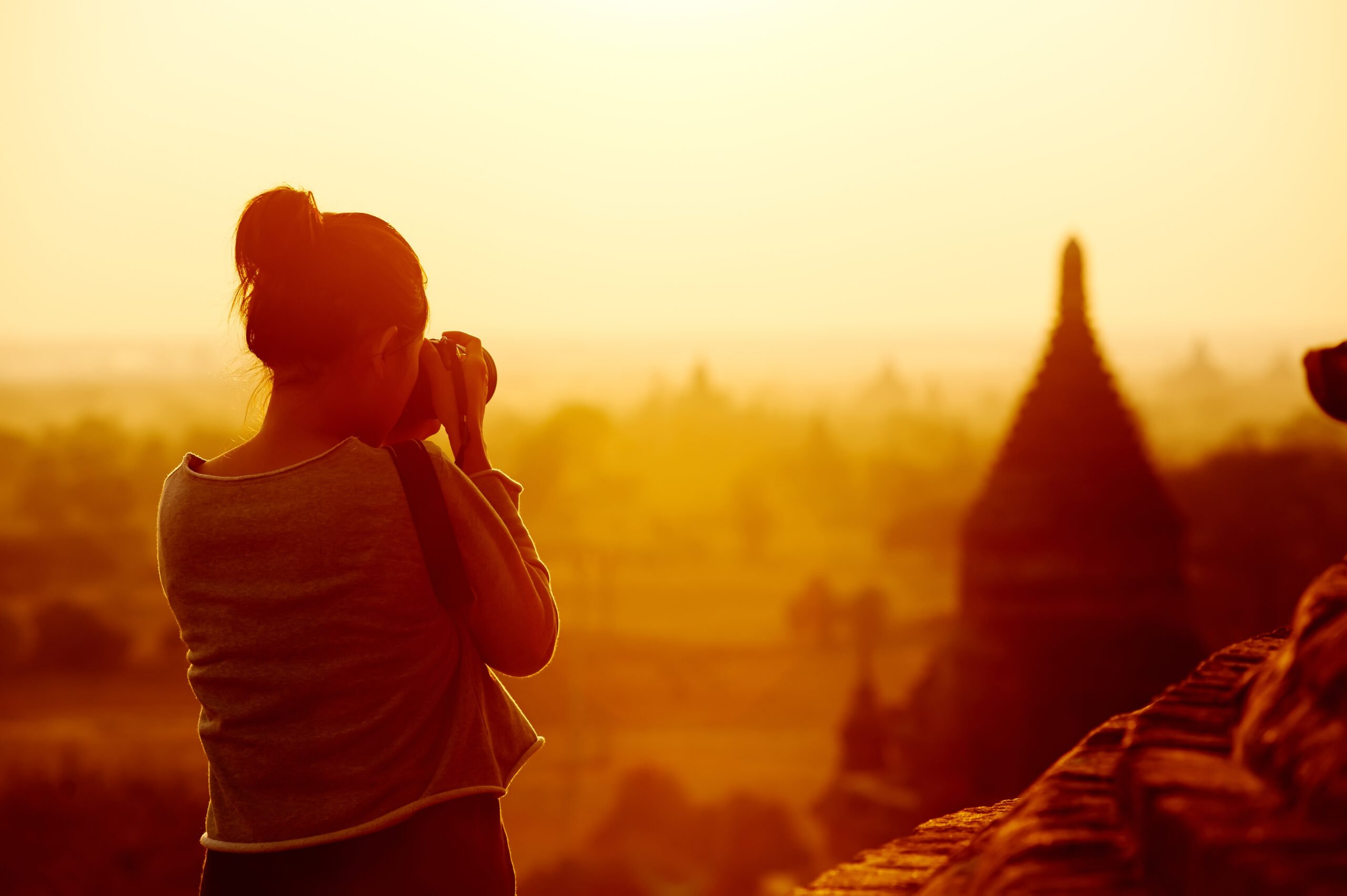 Some other things to consider before purchasing your next camera:
Whether it's manual or automatic
How many megapixels does it have
What is the sensor size
What is the max aperture on your lens/ lenses available
What is the zoom range
Does it have stabilization features
Does it have built-in Wi-Fi or Bluetooth
Can you use interchangeable lenses with the camera
How strong is the battery life
Best Pro Camera Brand – Canon
Best Pro Camera Brand – Canon
Powershot G9X Mk II
> $$
> Super small and lightweight
> With 20.1 Megapixels and a 21-84mm lens
Best Digital Camera Brand – Panasonic Lumix
Best Digital Camera Brand – Panasonic Lumix
Lumix G4
> $$
> Durable magnesium alloy body
> Built-in Wi-Fi and NFC technology
Best Action Camera Brand – GoPro
Best Action Camera Brand – GoPro
Hero 10
> $$
> Tiny and lightweight
> Comes with many accessories
Best DSLR Camera Brand – Nikon
Best DSLR Camera Brand – Nikon
Z50 Mirrorless
> $$$$
> Ultrasharp electronic viewfinder
> Includes a large tilting touchscreen
Best Fun Camera Brand – Polaroid
Best Fun Camera Brand – Polaroid
Originals Instant Camera
> $
> Comes in a range of trendy colors
> Automatic exposure and autofocus
Best Budget Action Camera Brand – OCLU
Best Budget Action Camera Brand – OCLU
OCLU Action Camera
> $
> Super sleek and aerodynamic body
> Waterproof
Most Established Camera Brand – Kodak
Most Established Camera Brand – Kodak
Astro Zoom AZ901
> $$
> 3 inch LCD screen
> Built-in flash
Best Expensive Camera Brand – Pentax
Best Expensive Camera Brand – Pentax
K3 Mark 3
> $$$$$$
> Wide-angle viewfinder
> Shake reduction mechanism
Best Camera Brand For Vloggers – Sony
Best Camera Brand For Vloggers – Sony
ZV1
> $$$
> Built in microphone
> Excellent autofocus features
Best Entry Camera Brand – FujiFilm
Best Entry Camera Brand – FujiFilm
X-T20
> $$$$
> Interchangeable lenses
> 3-inch tilting touchscreen panel
The Best Camera Brands For Travelers
Now that we've covered the basics, let's take a look at the top camera brands and cameras on the market today. We're going to cover everything from the top-of-the-range DSLRs to action cameras and everything in between.
You'll also need some camera accessories too like a tripod, memory cards, filters etc. too, so check them out once you've picked out your new camera!

Do You Want to Travel FOREVER??
Pop your email in below to get a FREE copy of 'How to Travel the World on $10 a Day!'.
#1 Best Pro Camera Brand – Canon
Canon has a reputation for being one of the most reliable camera brands in the world, producing a wide range of products from household and corporate printers to DSLR cameras to cropped sensor cameras with a variety of lenses. 
Founded in 1937, Canon joined the game later than its main competitors Panasonic and Nikon but has done well to gather a considerable share of the market as one of the world's best camera brands.
The company produces cameras and lenses to suit all photography styles, needs, and budgets, and their cameras are usually compatible with third-party lens producers.
Canon is our top pick for the best pro camera brand
Specs
Type – Compact digital
Weight – 0.45 lbs
Price – $605
Sensor Details – 1 inch, 21-84mm lens, 20.1 MP
The Powershot G9X Mk II is Canon's smallest compact camera with a 1-inch sensor. It's super portable and lightweight, weighing only 206g, making it easy to stash in your bag without taking up too much space. With 20.1 Megapixels and a 21-84mm lens, it's one of the best compact cameras out there for low-light photography as with its small size it's an ideal travel camera for backpacking.
The camera looks as good as the photos it takes too, with a sleek gun-metal silver exterior and leather-inspired grip pads. The back panel has a three-inch LCD screen, and the buttons are limited to a navigation dial, making it easy to navigate the settings whether you're a professional or a beginner. The only thing lacking in this camera is its zoom, which isn't ideal for taking long-distance shots.
Want something a little more advanced from Canon? Have a look at the Canon EOS 80D, it's an APS-C sized DSLR perfect for amateur photographers looking for an entry-level DSLR.
#2 Best Digital Camera Brand – Panasonic Lumix
Panasonic was founded in 1918 and has since been creating innovative electronic technologies and distributing them globally. Their head office is in Japan, where many of the best camera brands were established in the early 1900s.
The company designs and manufactures a wide range of products, including software systems and services, industrial electronics, and building products. However, their specialties lie in personal electronics and cinema-quality video cameras. They also manufacture high-quality lenses for both their brand and the more expensive Leica lens brand.
For best digital camera brand, checkout Panasonic Lumix
Specs
Type – SLR style mirrorless digital
Weight – 1.23 lbs
Price – $698
Sensor Details – 16.05 MP Digital Live MOS Sensor
The Lumix G4 is a hybrid camera designed for both professional photography and videography. It's built with a durable magnesium alloy body to make sure it meets the demands of professional use. The specs in the table below are for the basic camera body and don't include the different lenses attached to the device, which will add a bit of weight to the device.
Although a bit bulky, this camera has a lot packed into it. It has a 3-inch LED screen with a digital viewfinder and features built-in Wi-Fi and NFC technology. If you're a travel photographer who juggles videography with still images, the camera has UHD 4K 3840×2160 30p/24p and cinematic DCI 4K 4096×2160 video at 24p. 
If you're looking for something similar, have a look at the Panasonic Lumix FZ1000 instead, it's a super-powerful bridge camera capable of recording in 4k and comes with a Leica lens.
#3 Best Action Camera Brand – GoPro
When we think of action cameras, we immediately think of GoPro. This has a lot to do with the brand's great marketing, which has overtaken the world through social media platforms and YouTube.
GoPro was founded in 2002 by videography enthusiast Nick Woodman, who realized there was a gap in the market for a stable, waterproof action camera able to go anywhere with you. The brand has grown into an innovative action camera brand known worldwide for its versatile cameras and accessories. 
Action cameras have really transformed the travel videography and photography world in recent years, and GoPro makes it possible to record anything, just about anywhere!
Our top pick for the best action camera brand is Go Pro
Specs
Type – waterproof action camera
Weight – 0.35 lbs
Price – $500
Sensor Details – 23MP 1 / 2.3 in
As the best camera brand for action cameras, GoPro has stuck to its clearly successful action camera formula with the Hero 10, which delivers the most up-to-date technical features. The camera is tiny, lightweight, and comes with an endless number of accessories to connect it to your surfboards, helmets, or even moving vehicles. 
It has the same 23 Megapixel 1 /2.3-inch sensor as its predecessor, the Hero 9, but has much more power using a GP2 processor, enabling you to shoot 5K videos at 60 frames per second. 
Not to mention, they've really perfected their slow-mo technique, and this camera can deliver 4K slow-mo videos at 120 frames per second. When it comes to stabilization, GoPro does the job best. The Hero 10 combines HyperSmooth 4.0 image stabilization with improved horizon leveling performance, meaning you'll get a stable video even if you're violently bouncing around.
#4 Best Mirrorless Camera Brand – Nikon
Nikon has been designing and manufacturing high-quality DSLR cameras since 1917, supplying everyone from entry-level to professional photographers. Nikon's cameras are super user-friendly no matter your experience level. The brand's biggest competitor is Canon and both companies were founded around the same time in Japan. 
Nikon offers a huge range of lenses for their DSLR cameras, but you can also pair your Nikon with lenses from different companies. The result of this makes Nikon an affordable option for any type of photography, whether you're looking to take high-quality portraits or long-exposure landscape photos.
Nikon also does its part for the planet, supporting a host of programs, partnerships, and environmental initiatives, including recycling programs and energy-efficient partnerships. This makes it one of the best camera brands when it comes to corporate social responsibility.
Meet the best DSLR camera brand, Nikon
Specs
Type – DSLR camera
Weight – 1.17 lbs
Price – $1135
Sensor Details – 20.9 MP DX-format (APS-C) CMOS sensor
The Z50 Mirrorless is Nikon's first Z Series DX mirrorless camera. It comes with a Nikkor Z DX 16-50mm zoom lens and a DX 50-250mm lens, which are known to capture 4K videos with precise detail, depth, and color. This camera is also great for taking wide-angle pictures and telephotos.
The Z50 has an ultrasharp electronic viewfinder that can display a natural image. It also includes a large tilting touchscreen, making it easy to see what you're photographing (which is super for vloggers who need to take self-portraits).
The wide-angle zoom is ultra-portable with a fast-focusing lens with a wide-angle to normal 16-50mm focal length range. The camera can capture beautifully clear images in low light and record steady footage even when there's a bit of turbulence.
Looking for other mirrorless cameras? Check out the Sony Alpha a5100, it's an incredible little camera and it's half the price of the Nikon!
#5 Best Fun Camera Brand – Polaroid
There's no doubt about it; the instant gratification a polaroid picture offers is something just about everyone enjoys. Polaroid was founded in 1937 in Massachusetts, USA, by Edwin H. Land, and its products are now sold all over the world. While the company has produced polarised sunglasses, mobile printers, and floppy disks, Polaroid is best known for its instant film and cameras.
Its mission is to provide people with a way to preserve everything from everyday moments to life-changing ones in an age where everything feels temporary and disposable. 
They have done an excellent job at it, too, allowing people to connect on a different level to the contemporary digital format. Instead of airdropping a new friend a picture, why not give them a physical token to remember the moment forever?
Polaroid is one of the best fun camera brand
Specs
Type – Instant camera
Weight – 0.95 lbs
Price – $120
Sensor Details – Two lens system 35-40 mm
Polaroids Originals I-Type is the icon of instant cameras. It comes in a range of trendy colors and immediately prints your photo out, making it a great device to keep on hand at parties and events. It's got automatic exposure and autofocus and is super basic for a point-and-shoot analog instant camera. Polaroid is the best camera brand for bringing the '70s back! Far out, man!
You can frame two moments in one image using the double exposure feature or use the self-timer to get a shot of yourself. The camera also has an effective flash which produces high-quality images in low light. Of course, you'll need to buy your film separately, which costs about $30 for a roll of 16 color photos. Shake it like a Polaroid picture yo!
The best present of all… is CONVENIENCE!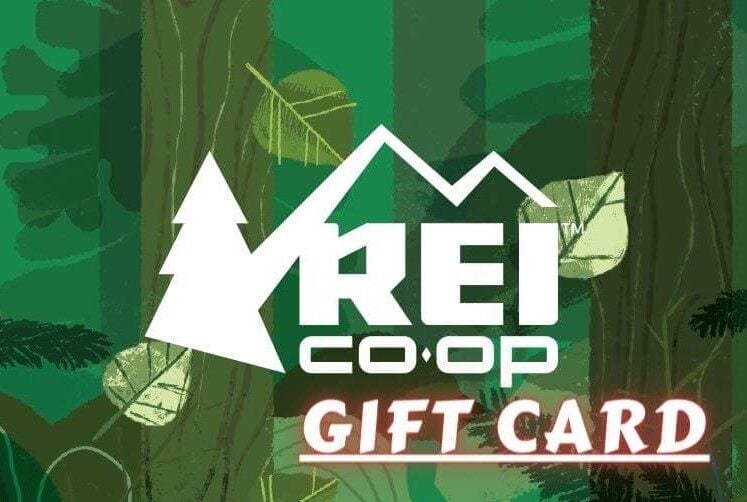 Now, you could spend a fat chunk of $$$ on the WRONG present for someone. Wrong size hiking boots, wrong fit backpack, wrong shape sleeping bag… As any adventurer will tell you, gear is a personal choice.
So give the adventurer in your life the gift of convenience: buy them an REI Co-op gift card! REI is The Broke Backpacker's retailer of choice for ALL things outdoors, and an REI gift card is the perfect present you can buy from them. And then you won't have to keep the receipt. 😉
Buy on REI!
#6 Best Budget Action Camera Brand – OCLU
OCLU is new to the action camera scene, producing a more affordable option than their main competitor – GoPro. They manufacture aerodynamic, lightweight, and compact cameras best used for action photos or videography. Designed to withstand the elements, these cameras are waterproof, shockproof, and resistant to just about any weather conditions and high-stress environments, from the depths of the ocean to the highest snow-capped peaks.
The camera brand has been awarded for its ingenuity with four industry awards before it was even released to the public, giving it a solid reputation in the adventure sports world.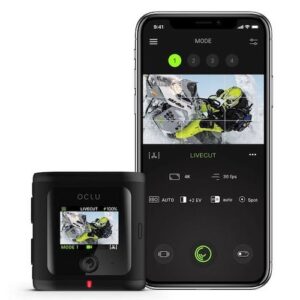 Our top pick for the best budget action camera brand is OCLU
Specs
Type – Action camera
Weight – 0.22 lbs
Price – $299
Sensor Details – 12MP, 4k 30 fps 1080p 120fps resolution
The OCLU action camera is the perfect size and weight to bring along with you on any adventure. It's designed to feel like it's not even there with a super sleek and aerodynamic body, perfect for all types of outdoor pursuits. 
Built to survive harsh conditions, these cameras are super durable and can withstand a tumble. They're also waterproof, making them a perfect addition to your surfing, diving, or boating adventure. 
OCLU has an online application that allows you to manage your images and videos without disconnecting the camera from its mount (which can get annoying quickly). 
While it's not the best for capturing day-to-day scenic moments, it's ideal for adventures where you're bound to move fast. The OCLU includes low light modes, sport mode, time-lapse, simultaneous video and photography settings, as well as built-in wireless Wi-Fi and Bluetooth,
As the best camera brand for budget action cameras, the company also sells different bundles of mounts for the camera. For example, the Ride Bundle is perfect for cyclists, the Snow Bundle for skiers and snowboarders, the Ocean Bundle for surfers and kayakers, the Moto Bundle for speed enthusiasts, and so on.
Looking for an even cheaper action cam? Have a look at the Akaso Brave 8 as a very capable and well-priced alternative. Then there is also the Akaso V50 Pro to check out as well.
#7 Most Established Camera Brand – Kodak
Founded by George Eastman in 1888, Kodak was the first user-friendly digital camera brand to grace the planet. Eastman had the vision to make photography convenient and straightforward for all, paving the way for his user-friendly camera company to take the world by storm. 
In fact, this company is so historic that its first commercial roll of film enabled Thomas Edison to develop the first motion picture camera. The company also helped open the doors to color printing in books and magazines.
Since its founding, Kodak has been awarded nine Oscar Statutes for its ingenuity in the film and camera industry. Today, the company is focused on a new direction – bringing sustainable camera equipment and solutions to commercial printers and digital cameras.
For most established camera brand, checkout Kodak
Specs
Type – Point-and-shoot bridge camera
Weight – 3.5 lbs
Price – $470
Sensor Details – 90x Optical Zoom and a 20 MP CMOS Sensor
A digital snap-and-shoot camera might be your best bet if you're after something affordable, compact, and lightweight to keep on hand for everyday adventures. 
Kodaks Astro Zoom is a point-and-shoot camera marketed to professionals. It's an excellent camera to keep on hand throughout the day and can take beautifully clear images from portraits to scenic mountain ranges. It has a 3-inch LCD screen, making it easy to see what you're photographing.
The AZ901 has a built-in flash as well as optical image stabilization and can be set to old-school Ektachrome, Kodachrome, and Kodacolor film settings. Although it's a bit on the heavier side, it's not without good reason. This camera can do just about everything you want it to do, and more!
#8 Best Expensive Camera Brand – Pentax
Pentax was founded in Tokyo in 1919, where it began manufacturing lenses for glasses. Their optic experience went on to change the camera game. Pentax launched its first SLR camera in the 1950s and has since then continued to produce an award-winning selection of DSLR cameras, lenses, and compact digital cameras. There's no doubt about it, Pentax is one of the best camera brands on the market.
Pentax is our top pick for the best expensive camera brand
Specs
Type – APS-C sensor DSLR camera
Weight – 2.7 lbs
Price – $1996
Sensor Details – 25 MP, 55mm filter, 22-32 aperture
If money isn't an issue, Pentax's K3 Mark 3 might just be the best investment you ever make. The camera has a sleek weather-resistant magnesium alloy body with an LCD touch screen and retro black grip pads in all the right places.
The body is manufactured to withstand variable weather conditions, ocean air, and humidity, with a rugged and durable exterior that protects the internal mechanics from harsh conditions. It's crafted with the old-school look of a heritage camera, yet is packed with top-of-the-range technologies.
Some notable features of this camera include its wide-angle viewfinder, which offers 1.05x image magnification. It also includes a shake reduction mechanism using 5.5 shutter step image stabilization, making it possible to take crystal clear images even when you're bouncing around. It also offers high-speed continuous shooting of up to 12 frames per second, so you'll be able to get that action shot!
#9 Best Camera Brand For Vloggers – Sony
Sony has gained a reputation for producing a wide variety of technological devices from PlayStations to TVs – but we're here for their high-quality cameras! The company manufactures everything from compact cameras suitable for entry-level photographers to high-tech full-frame mirrorless cameras for professional photographers. 
If you're a vlogger, you'll know the importance of traveling with a light and small device with long battery life and good quality videography settings. Not only are Sony leaders in autofocus technology (ideal for filming yourself), but they are also one of the best camera brands for their lightweight, compact digital cameras suitable for vlogging and filming videos.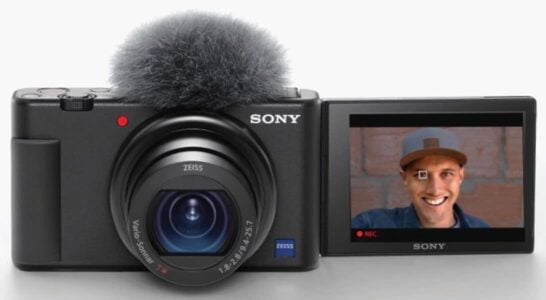 Sony is one of the best camera brand for vloggers
Specs
Type – Compact digital
Weight – 0.65 lbs
Price – $950
Sensor Details – 20.1 MP with 1 inch Exmor RS CMOS Sensor
Sony designed their ZV1 specifically with Vloggers in mind. It looks similar to the Sont RX100 range but offers so much more for videographers. The camera has a 24-70mm lens with 4K max video resolution.  On top of its built-in microphone, it has a port to connect an additional microphone and offers a 3-inch variable angled touchscreen for easy use.
While it doesn't have a viewfinder (which can be useless for vloggers filming themselves anyway), it offers excellent autofocus features, meaning you won't accidentally film yourself in pixelated quality.
#10 Best Entry Camera Brand – FujiFilm
Founded in 1934 as a photographic film manufacturer, FujiFilm is known for producing everything from old-school retro cameras to innovative digital ones. In fact, this company manufactured some of the first digital cameras for consumers and has since held its status as one of the best camera brands for budget mirrorless digital cameras.
Their cameras range from entry-level to professional, with the main difference between their professional and entry-level cameras being the lenses that come with the cameras. This makes it easy to start with an entry-level camera and progress to a more high-tech one as you invest in additional lenses.
Meet the best entry camera brand, Fujifilm
Specs
Type – Mirrorless digital camera
Weight – 3.5 lbs
Price – $1198
Sensor Details – 18-55mm lens
FujiFilm's X-T20 is a mirrorless camera with an 18-55mm lens is designed for amateur photographers who are interested in the art of photography (and have a bank account to support it). The camera has interchangeable lenses making it a great learning tool for beginner photographers who are keen to try out different lenses.
The X-T20 has a 3-inch tilting touchscreen panel making it easy to operate the camera from any angle. You'll be able to shoot videos in 4K and can playback your footage using the HDMI port. You'll even be able to record high-quality audio from an external microphone. 
If you're after the action shot, this camera can capture eight frames per second in high quality. It also has a self-timer feature and wide-angle and panorama shooting capabilities.

Unlock the The Broke Backpacker's GREATEST Travel Secrets!
You pop your email here, and we promise to send you only travel content that's actually relevant — sounds like a pretty good deal to us!
Found the right camera? Now make sure you've got a good quality camera bag to keep it in for your trip!
Final Thoughts on The Best Camera Brand
Well, we hope you learned a bit more about the best camera brands and different types of cameras on the market. If you're a travel photographer, journalist, or vlogger, having the right camera equipment can be make-or-break for your business.
There are a bunch of things to consider before investing in a pricey piece of equipment, including what exactly you're going to use the camera for, whether you need specific lenses, zoom or aperture capabilities, and how lightweight or compact the camera needs to be to join you on your adventures.
There are so many options out there and a bunch more brands and cameras that we haven't included in our list. So, make sure you do your research, read some reviews, and chat with others with similar cameras before you pay a pretty penny for your next camera.
---
Thanks for reading – that was fun! 😀
We bring you epic FREE content!
Find out how YOU can help support us.
We're a big site with a big team and this job isn't always easy. But we do it because we love it – we love providing epic and free content. We love the knowledge that our content keeps you adventuring. We don't ask for money, but if you'd like to find out how you can help the site in more organic ways, click the button below.
Thank you for your support 🙂
---
Bye for now, but not forever!
If you want MORE top-tier Broke Backpacker content like this, then sign up for our weekly newsletter below to get the latest and greatest!
And for transparency's sake, please know that some of the links in our content are affiliate links. That means that if you book your accommodation, buy your gear, or sort your insurance through our link, we earn a small commission (at no extra cost to you). That said, we only link to the gear we trust and never recommend services we don't believe are up to scratch. Again, thank you!