It used to be that if you wanted an action camera, you could choose between a GoPro… or a GoPro. Indeed, GoPro revolutionised if not INVENTED the action camera market and for a long time had the entire space all to themselves.
However, those days are now behind us and there are loads of GoPro alternatives available. The action camera market has expanded greatly and the competition has really got its act together in giving GoPro a run for its money.
But unfortunately, there are still TONS of knock-offs and bad products out there. We don't want you to get ripped off or spend your money on a crap camera.
So to help, we at Broke Backpacker have put together this epic guide for the best GoPro alternatives. In this bargain guide, we break down 12 unbelievable action cameras and show you why they're great GoPro alternatives.
By the end of this article, you'll know EXACTLY which action camera is best for you (and your wallet!).
Quick Answers: Best GoPro Alternatives in 2023
These are the 12 best GoPro substitutes on the market. Also, check out the end of the article where I highlight what the pros look for when buying an action camera. Some of the tips are next-level…
BEST OVERALL GOPRO ALTERNATIVE
BEST OVERALL GOPRO ALTERNATIVE
Garmin VIRB Ultra 30
Price > $$$
Weight > 3.2 ounces
Size > 2.4 x 1.2 x 1.6 inches
BEST BUDGET GOPRO ALTERNATIVE
BEST BUDGET GOPRO ALTERNATIVE
OCLU Action Camera
Price > $$
Weight > 101g (with battery & metal door)
Size > 6.15 mm / 2.4 inches
BEST PREMIUM GOPRO ALTERNATIVE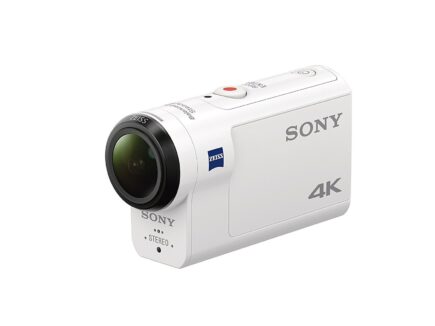 BEST PREMIUM GOPRO ALTERNATIVE
Sony FDR X3000
Price > $$
Weight > 3.2 ounces
Size > 1.2 x 1.9 x 3.3 inches
BEST ULTRA BUDGET GOPRO ALTERNATIVE
BEST ULTRA BUDGET GOPRO ALTERNATIVE
Akaso Brave 7 LE
Price > $
Weight > 2.9 ounces
Size > 2.4 x 1.6 x 1.4 inches
BEST HIGH QUALITY GOPRO ALTERNATIVE
BEST HIGH QUALITY GOPRO ALTERNATIVE
Sony RX0
Price > $$$$
Weight > 110 g
Size > 2.38 x 1.63 x 1.19 inches
Can't Beat The Real Thing?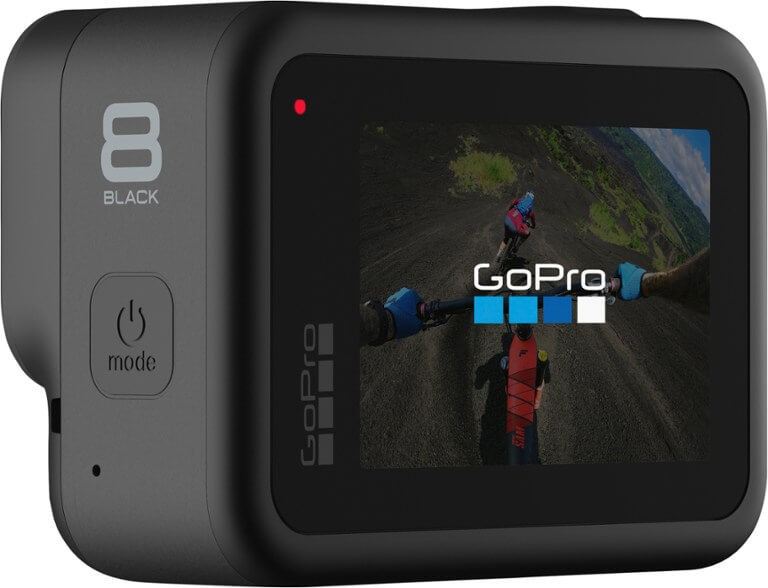 Let's be honest here, whilst some alternatives are great products, sometimes you really cannot beat the real thing. Just like with Coca Cola, the original GoPro is still the best and if you can stretch to it and find the extra bucks, may be a sound investment. A proper GoPro will serve you well for miles and miles and years and years of adventuring. If your budget stretches, then why opt for a GoPro knock off when you can have the real deal, innit?!
Don't worry too much though the Go Pro rivals we have reviewed in this post still pack a helluva punch…
Ladies & Gents, It's Time to Step Your GEAR Game Up. 😉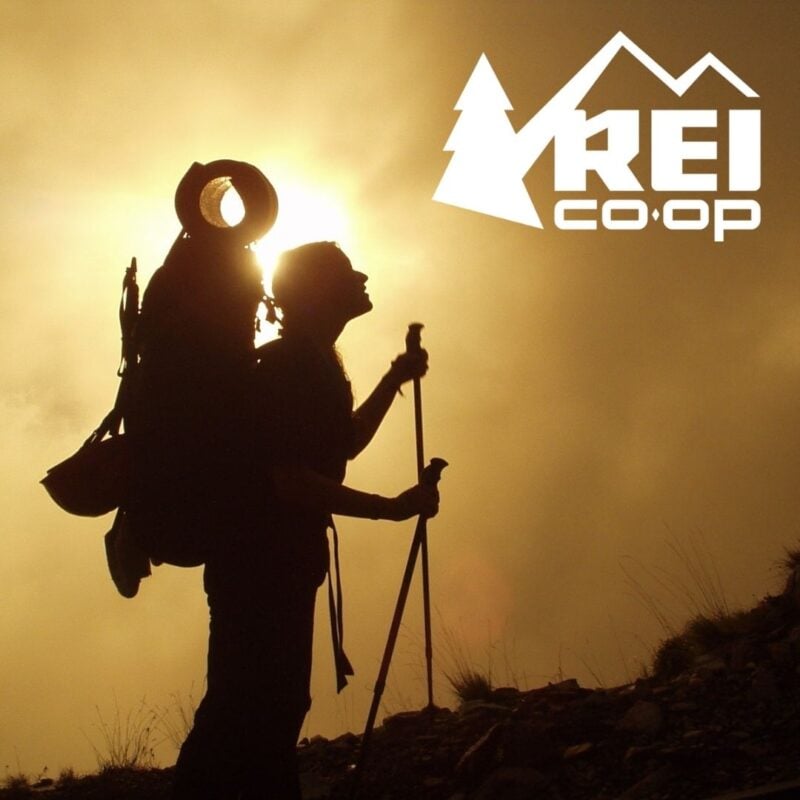 REI is one of America's biggest and most-loved outdoor gear retailers.
Now, for just $30, get a lifetime membership that entitles you to 10% OFF on most items, access to their trade-in scheme and discount rentals.
Join REI Today!
The Best GoPro Alternatives
Without further ado, let's dive in and look at the best non-Go Pro action cameras on the great global free market today.
#1 OCLU Action Camera: Our Pick For The Best Go Pro Alternative
Specs:
Weight: 93.5 g
Waterproof Depth: 10m (33ft)
4K Videos: Yes, up to 60fps
1080: Yes, up to 240fps
Still Resolution: 12 MP
Battery Life: Up to 1 hour and 15 minutes of continuous recording
What to start capturing excellent 4k footage straight out of the box? Meet the OCLU action camera. This cleverly designed action cam has been turning heads for the last few years – at a cost that won't totally upend your gear budget for the year.
This may well be my favorite new camera I have tested this year. Why? It has all of the features I look for and a few other unique features exclusive to OCLU.
The Live Cut features allow you to manage your clips on the go so that you only end up with the best shots when the shooting day is done – being able to edit on the fly, using my iPhone made my life a lot easier and made me for more likely to actually bust out and use the camera. The camera further integrates with a smartphone app, giving the user easy access to the different modes and settings. One can enjoy smooth image stabilization when shooting at 1080P @ 30 / 60 FPS – and let's be honest most of us don't need to be shooting at 4k all the time anyway.
Still, though, the camera captures 4k footage at 30 FPS. Not back for a knock off Go Pro!
The shape of the camera took us a little getting used to, but it should be noted that it is indeed small, and perfect for those looking to travel light – its fits right in your hand and hardly weighs a thing.
OCLU offers a few interesting accessory add-ons as well including a waterproof housing, various helmet, and body mounts (I put mine on the bike) depending on the activity, and an expandable grip mount for recording vlogs or POV. The waterproof housing allows for shooting at depths up to 165ft (50m).
GPS tracking allows you to log location data on every adventure as well.
Our team felt this was the best "Go Pro knock off" for a few reasons. One of them is that rather than trying to replicate the GoPro exactly, the OCLUAction Camera has a completely different profile which makes it much more suitable for plenty of different activities such as biking. The unique LiveCut setting was also something the team enjoyed using, especially for those filming things like skateboard tricks where it's easy to just delete the last shot and try again… and again!
All and all a dope camera at a budget price. If you need more deets, check out our OCLU camera review.
Pros
Has a wide variety of shooting modes; timelapse, burst, loop record.
Compatible w/ many different mounts made my OCLU
Live cut editing
Cons
No image stabilization in 4k.
Photo quality is not as high as other cameras.
Requires additional case to be totally waterproof.
#2 Akaso Brave 7 : Best Ultra Budget GoPro Alternative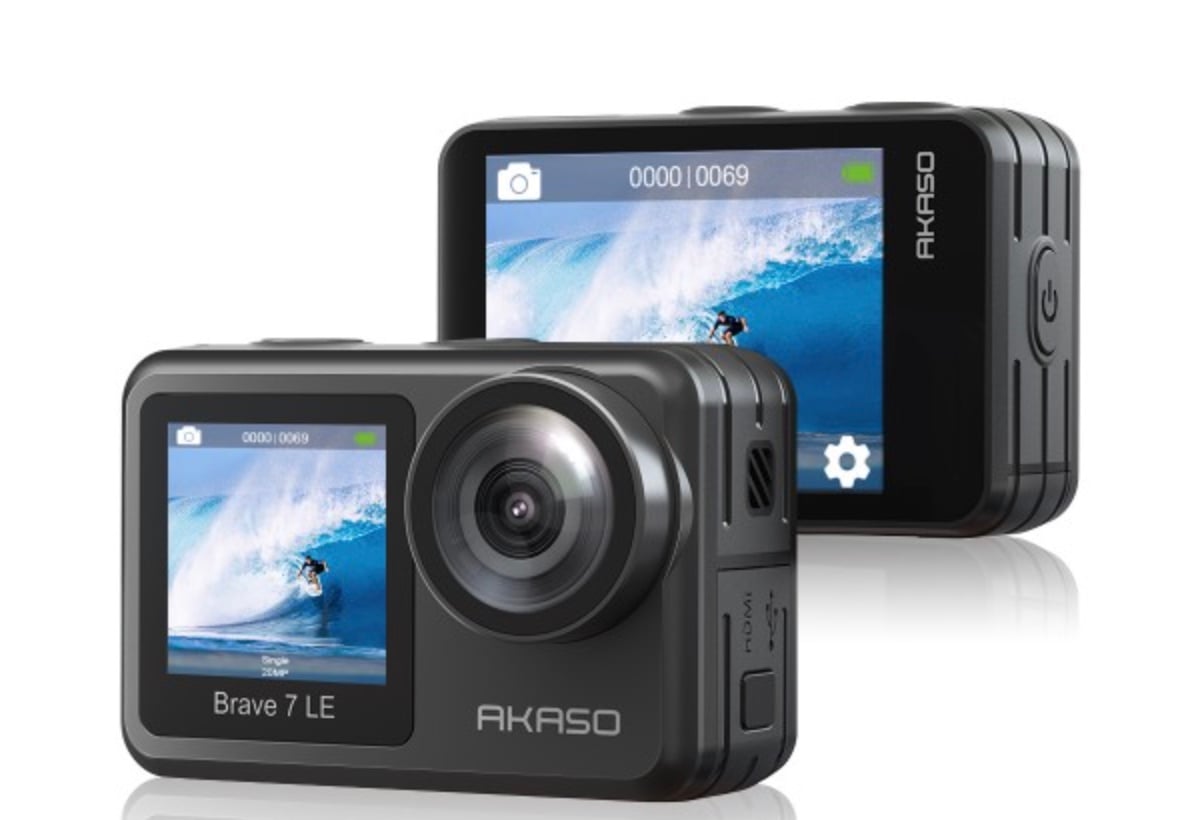 Specs:
Weight: 108 g
Waterproof Depth: 10m (33ft)
4K Videos: Yes, up to 30fps
1080: Yes, up to 60fps
Still Resolution: 20 MP
Battery Life: Up to 90 minutes of continuous recording
At a fraction of the price of the current GoPro cameras, the Akaso Brave 7 LE is the latest and greatest model in the budget cam lineup from Akaso. For around $80, you get 4k recording, a remote control, dual-screen recording, and a couple of extra batteries to sweeten the deal. If you're looking for an action camera that's really cheap, then the Akaso Brave 4 LE is the best ultra-budget alternative out there!
The Brave 4 LE's recording capabilities are commendable, being able to record up to 30 fps at this resolution. Higher frame rates are possible at lower resolutions – 120 fps at 720p is the cap.
A built-in electronic image stabilizer helps to eliminate shakes and create smooth videos though the amount it does so is not as much as some other action cameras in this guide. The Akaso's microphone is not as good as a GoPro model but over the last year, so for this version of the latest Akaso camera, they have also improved the sound quality.
The Brave 4 comes included with a remote control that can be used to take and start recordings. It is a very basic remote and doesn't offer any live-view features but it gets the job done. Built-in WiFi also allows users to link up with their smartphones via an app (iSmart Pro +).
Construction-wise, the AkasoBrave 4 comes with a touchscreen in addition to the usual USB and HDMI ports. The camera is waterproof on its own up to 1m without a case or 30m with the included case
The Brave 7 LE does not come with an SD card so you'll have to purchase yours separately. It does come with extra batteries, which kind of offsets the expenses of buying an SD card. Also included is a large selection of accessories that can be used to mount the camera.
The team were impressed by the power of the Brave 7 LE especially as it comes with accessories like a remote control which is an extra purchase with the already pricy GoPro. Not only that but you get a selection of mounts, tethers and a protective backdoor included. They also loved that the Brave 7 LE didn't need any extra casing for up to 5m of water, meaning for those not interested in SCUBA diving, it was pretty much good to go for any adventure. They also felt the battery lasted a good amount of time.
If you want to learn about this action cam, be sure to read our in-depth review of the Akaso Brave 7 LE!
Pros
Clean 4K recording.
Dual screens.
Very affordable.
Cons
Sound quality is not the best.
No SD card included.
Limited quality above 30 fps

Do You Want to Travel FOREVER??
Pop your email in below to get a FREE copy of 'How to Travel the World on $10 a Day!'.
Specs:
Weight: 160 g
Waterproof Depth: 10m (33ft)
4K Videos: Yes, up to 30fps
1080: Yes, up to 120fps
Still Resolution: 15 MP
Battery Life: Up to 1 hour and 5 minutes of continuous recording
Thanks to its excellent construction, superb video quality, and the inclusion of several innovative features like voice recognition and informative overlays, the Garmin VIRB Ultra 30 is our choice for the best overall GoPro alternative!
Build-wise there's little wrong with the Garmin VIRB Ultra 30. Without any extra accessories, the VIRB 30 is quite small and features a tough shell and an equally resistant touchscreen.
There's more.
Although not waterproof on its own, the Garmin VIRB becomes so with the addition of an external housing, which is rated at a maximum water depth of 131 feet. Amazingly, the touch screen and voice recognition controls still work with the housing installed.
In terms of video quality and recording, the Garmin VIRB Ultra delivers yet again. For the first time in the Garmin line, 4k recording is possible at 30 fps. There are several other recording options, like 1080p at 120fps, 720p at 240fps, etc. Video/image quality is superb with rich colors and excellent sharpness, perhaps even sharper than the most recent GoPro models.
The Garmin VIRB Ultra 30 comes equipped with a voice control feature that, though not perfect, performs very well. WiFi connectivity is included and can be used to sync up with your phone and even stream live videos on Youtube. With Garmin's own G-Metrix system present as well, you can overlay several metrics over your videos including heart rate and distance traveled.
Pretty awesome, right?
The Garmin VIRB Ultra does have some flaws though. Battery life is limited, especially when the camera's more demanding tech is used – users have reported that 4k shooting can last less than an hour. Batteries are removable and can be changed on the fly though. The built-in image stabilization, though commendable, is only electronic and not very effective at times.
The team love their Garmin watches, so they were pretty interested in how their action cams would perform. One of the things they felt from the off is that being a trusted brand known for its excellent gear, they felt they could trust their cameras to be of high quality. They loved the high level of durability that the camera provided and the confidence it gave them out in the field.
If you are still not convinced and want to see how the brand new GoPro Hero11 Black compares, well then I don't blame you.
Pros
Excellent connectivity thanks to solid voice recognition and the G-Metrix system.
Compatible w/ GoPro mounts and accessories.
Excellent video and image quality.
Cons
Shorter battery life.
Image stabilization isn't great.
Requires additional case to be waterproof though touch screen and voice recognition still works.
#4 Yi 4k +: Best Budget GoPro Alternative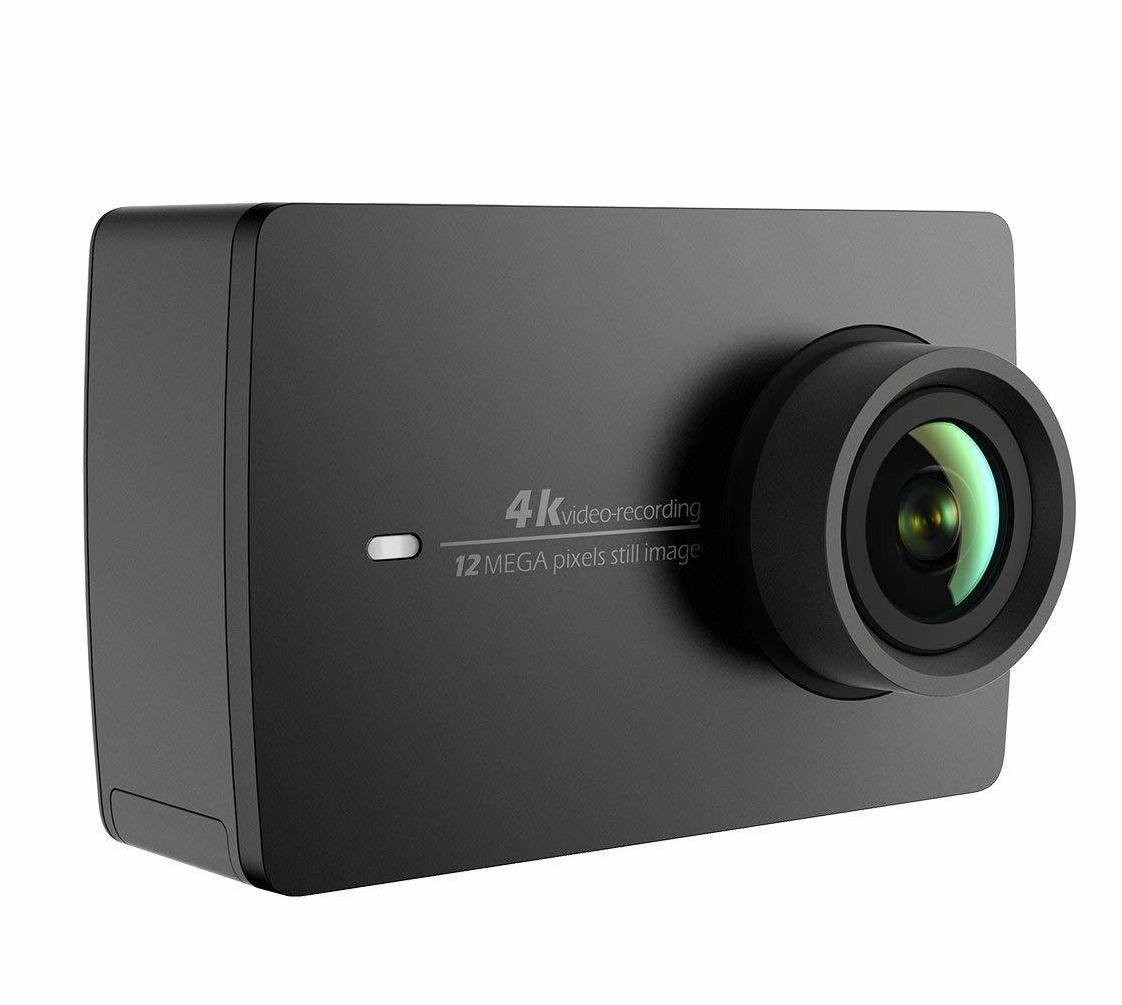 Specs:
Weight: 93 g
Waterproof Depth: 40m (131ft) with included housing
4K Videos: Yes, up to 60fps
1080: Yes, up to 120fps
Still Resolution: 12 MP
Battery Life: Up to 70 minutes of continuous recording
The Yi 4k + can stand up to many GoPros and for almost half the price. With stellar 4k recording, a rugged touchscreen, and long battery life, this camera takes the award for best budget GoPro alternative.
Optically, the Yi 4k + can give GoPros a run for their money. Videos are crisp and, quality-wise, equal to those from the GoPro HERO4.
That's not all.
As the name implies, 4k video recording is possible at up to 30 fps. 240 fps is possible at 720p. Electronic image stabilization is present in the Yi but, like most other electronic stabilization systems, it's nothing too spectacular.
On the flip side, the Yi 4k + does lack a lot of shooting modes found in GoPros though popular ones like slow-motion and time-lapses are still possible. Images taken from Yi 4k + are still very attractive and are surprisingly devoid of vignetting, chromatic aberrations, and other distortions. You can thank in-camera corrections for the lack of these tarnishes.
The Yi 4k + is a built-in similar fashion to the GoPro – it's tough, small, and somewhat utilitarian in aesthetics. What stands out though is the large touchscreen found on the back of Yi 4k +, which is where most of the camera's settings are changed. Though responsive and gorgeous to look at, the touchscreen suffers in bright light. The inclusion of some additional mechanical controls would've been nice.
One of the greatest pluses of the Yi 4k + is its stellar battery life. It beats the GoPro HERO4 easily in recording times at all resolutions. The Yi 4k + can reportedly sustain 4k recording for over 90 minutes, which is fantastic.
But there are some downsides.
Note that the Yi 4k + comes with no additional accessories, not even underwater housing. You'll have to buy everything separately, which may or may not feel defeating when buying this action camera.
The TBB team were a little split when it came to the Yi 4k +, they loved how lightweight the camera was which made it easy to throw it into their bags without even knowing it was there. The touchscreen was also bigger than the GoPro meaning it was easier to see what was going on which can be a bit tricky at times on these teeny tiny cameras. Some of the team couldn't get past the fact that the camera itself wasn't waterproof and still needs extra housing like GoPro's back in the day. This meant they needed to pack an additional case. But for the most part, they felt for the price is was still a wicked camera.
Pros
Solid 4k video recording.
Large responsive touchscreen.
Great battery life.
Cons
No extra accessories or waterproof housing.
Reliance upon touchscreen hampers usability.
Somewhat stripped-down version of a GoPro feature-wise.
How to Capture Better Content with Your Action Camera
Action cameras are amazing tools for capturing life's most epic adventures. The question is do you know enough about the mechanics of photography and storytelling to actually make the most of the camera?
For any adventure photographer – one of the best things you can do to seriously up your photography game and skill set is to join the Roam Academy. Specifically, take the Adventure Photography class by Cory Richards.
Roam is a pretty new organization, but their content is top tier and they are coming out with new material all the time. Check them out!
#5 Sony FDR X3000: Best Premium GoPro Alternative
Specs:
Weight: 114 g
Waterproof Depth: 60m (197ft) with included housing
4K Videos: Yes, up to 30fps
1080: Yes, up to 120fps
Still Resolution: 8.2 MP
Battery Life: Up to 1 hour and 5 minutes of continuous recording
The Sony FDR X3000 stuns with its excellent built-in image stabilization, top-of-the-line video quality, and a useful Live View Remote. Because of its stellar performance, we believe that the Sony FDR X3000 is the best premium camera and is worth the money for those willing to spend a little more.
Believe me, it's worth it.
The Sony FDR X3000 shoots high-quality video as befitting its higher price tag. Shooting in 4k is, of course, an option and the FDR X3000 does so very well. Thanks in part to the highly effective built-in image stabilization, videos are even more crisp and smooth.
Due to its bullet shape, the Sony FDR X3000 may not fit in the same places that smaller cubical action cameras could. The X3000 does come with a built-in tripod mount that is compatible with GoPro accessories though so there are still lots of mounting options. Note that the body itself is only splashproof and that an external case will be required for underwater use. With the case, this action cam is waterproof up to 197 ft.
Uniquely, the Sony FDR X3000 comes with a separate Live View Remote accessory, which is meant to be mounted on a nearby surface like a bike handle or a wrist. By doing so, you'll be able to view the live video without actually stopping the recording.
While practical in theory though, connectivity can be an issue with this remote. There's a smartphone app, called PlayMemories, that can be linked with the Sony FDR X3000 via the built-in WiFi that behaves in a very similar way to the remote.
The Sony FDR X3000 does suffer from a poor battery. The battery can be changed though and you'll need a few spares for a full day of shooting. Also, this camera takes less than inspiring still photos.
The photographers on our team swear by Sony gear and can usually be found with an a7 iv around their necks! So when it comes to action cams many of them were pleased to find their favourite brand made an excellent version. They loved the superior CMOS sensor within the camera that produced high-quality images that far out perform other cameras of this size. They also loved the unique shape and remote function offered by the Sony action cam.
Pros
Some of the best image stabilization in an action camera.
Live View Remote.
Top video quality
Cons
Not so good still image quality.
Shorter battery life.
High price that may dissuade some.
#6 Garmin VIRB 360: Best 360 GoPro Alternative
Specs:
Weight: 160 g
Waterproof Depth: 10m (33ft)
4K Videos: Yes, up to 30fps
1080: Yes, up to 120fps
Still Resolution: 15 MP
Battery Life: Up to 1 hour and 5 minutes of continuous recording
For those who are interested in trying their hand at a 360 camera and still want something rugged and durable, the Garmin VIRB 360 is the best that you can find for under $1000. With superior optics, the ability to shoot at 5.7k, and at a reasonable price, the Garmin VIRB 360 is the best action camera for those who want to shoot in 360.
As the name implies, a 360 camera records video in 360 degrees i.e. in every direction around you. This type of recording creates very immersive videos and has been touted as the beginning of a VR-like experience. The development of 360 recording technology is still developing and most viewing platforms e.g. Youtube can't even render the videos properly. Buying a 360 camera is certainly an investment in the future though and those looking for a new and exciting shooting experience would be wise to try one out.
The Garmin VIRB 360 offers very impressive optics. Notably, it can shoot 5.7k video, which is a greater resolution than GoPro's own 360 camera, the Fusion. 360 videos are crisp though still not as much as a traditional non-360 video (resolutions haven't reached the point of rendering full 360 videos optimally yet). You can, of course, record regular 4k videos at 30 fps and 120fps at 720p with the VIRB 360, thus making it an effective action camera as well.
360 videos have to be stitched via multiple captures to be rendered fully. This is done either in-body or through a companion software.
Unfortunately, the VIRB 360 cannot stitch 360 videos that are shot in 5.7k in-body – for these, you'll have to use a companion software.
Build-wise, the VIRB 360 delivers in every way that Garmin action cam should. The camera is waterproof without a separate housing for up to 100 feet and is, overall, very durable. Control-wise, the VIRB 360 is very straightforward, offering a series of physical buttons and an LCD screen for accessing in-camera menus.
Like many other Garmin products as well, the VIRB 360 is equipped with several sensors as well that record various metrics like speed, elevation, and GPS coordinates.
The team love how durable this little tank of a camera is. On top of that the 360 field of view was mega fun to use and gave them a lot more flexibility. The addition of Garmin's classic metrics worked perfectly for the trail runners on our team looking to track their runs in more detail. The Garmin app and editing software was also super easy to use.
Pros
Can shoot 5.7k.
Is still very rugged and waterproof.
Is reasonably affordable.
Cons
Stitching 5.7k can be a hassle.
Battery drains quickly with 360 videos.
Is still expensive by action camera standards.
Are you a content creator looking for your tribe?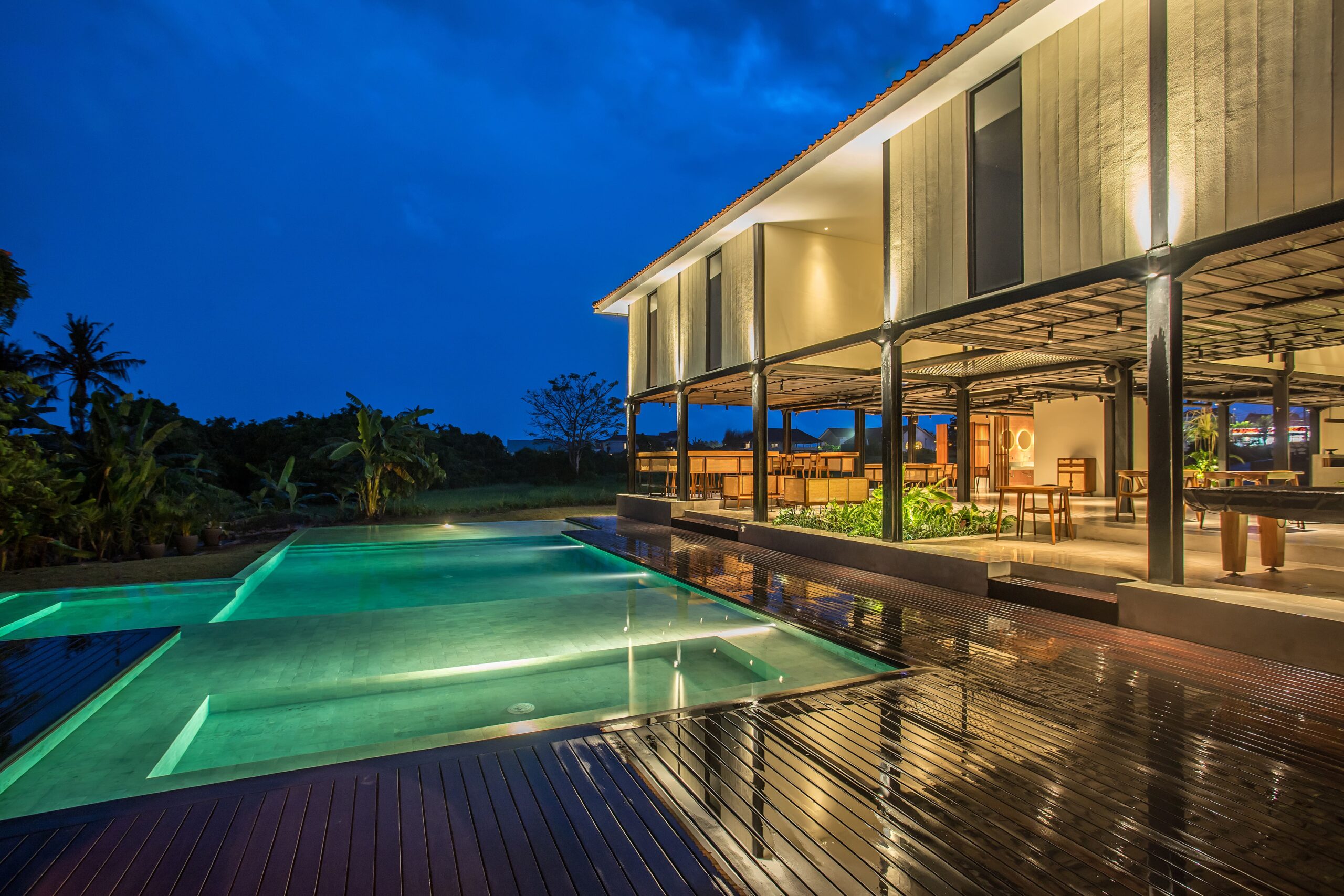 Tribal Hostel is Bali's first purpose-built co-working hostel, and perhaps the greatest hostel in the world!
An ideal hub for Digital Nomads, content creators, and backpackers, this very special hostel is finally open…
Come on down, mingle with fellow creators, and enjoy amazing coffee, high-speed wifi, and a game of pool.
#7 SJCAM SJ6Pro: GoPro Alternative Honorable Mention
Specs:
Weight: 74 g
Waterproof Depth: 30m (98ft) with included housing
4K Videos: Yes, up to 30fps
1080: Yes, in fact, it does 4k!
Still Resolution: 24 MP
Battery Life: Up to 110 minutes of continuous recording
Like the Yi 4k +, the SJCAM SJ6Pro Star takes much of what made GoPro successful and creates a more stripped-down, budget-friendly camera. With its competitive 4k recording and touchscreen, the SJCAM SJ7 Star is a solid competitor in the race for the best action cam.
The SJCAM SJ6Pro Star offers the usual video resolutions that have become standard in 4k action cameras. 4k is obviously possible and caps out at 60 fps. 240fps videos are possible at 720p. The quality of video that the SJCAM SJ6Pro creates is perfectly fine and causes no complaints here. There is built-in electronic (Gyro) image stabilization and it performs ok but is inferior to other mechanical image stabilizers.
The SJCAM SJ6Pro is built from aluminium and is acceptably durable. Of concern though is how hot the body can get when the camera is used for long periods of time and the processor begins to overheat. Overheating can, besides causing catastrophic failure, affect battery life (which is average already in the SJCAM SJ6Pro) and even render the camera unholdable at times.
The majority of the camera's settings and controls are found within the LCD menus that are accessed via the rear touchscreen. Though responsive, the rear touchscreen suffers from glare in bright lights, which is a common phenomenon. There is a settings button in addition to a power found at the front camera but that's all.
The SJCAM SJ6Pro is not waterproof on its own and requires a separate housing (100 ft) to be so. Unlike the Yi 4k +, the housing in addition to several other accessories is included with the SJCAM SJ6Pro camera package. Oddly enough, there is no tripod threading found on the bottom of the camera, the inclusion of which is pretty much industry standard in all cameras these days.
The team weren't blown away by this camera in many ways, but when told the price, they changed their minds! For those wanting an action cam that will be used occasionally or by the kids in the pool, a GoPro is probably overkill and an expensive one at that. For the money, this camera offers decent durability for occasional use and impressive 4k quality videos perfect for capturing family memories.
Pros
Excellent 4k video recording.
Decent image stabilization.
Good price.
Cons
Aluminum body gets very hot.
No tripod mount threading.
Suffers from the usual frustrations of touchscreen-reliant cameras.
Have you sorted your accommodation yet?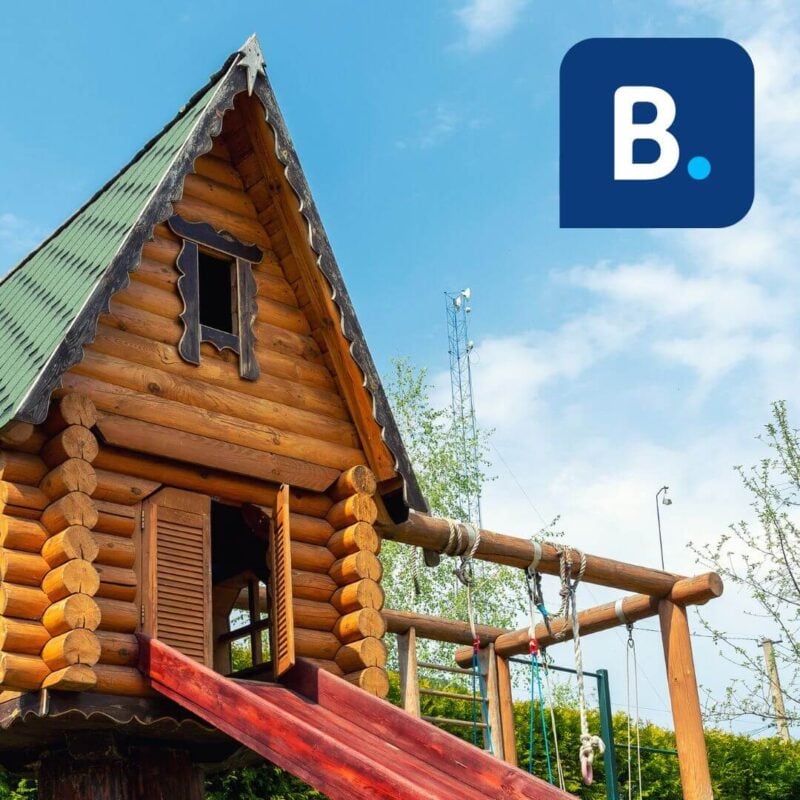 Get 15% OFF when you book through our link — and support the site you love so dearly 😉
Booking.com is quickly becoming our go-to for accommodation. From cheap hostels to stylish homestays and nice hotels, they've got it all!
View on Booking.com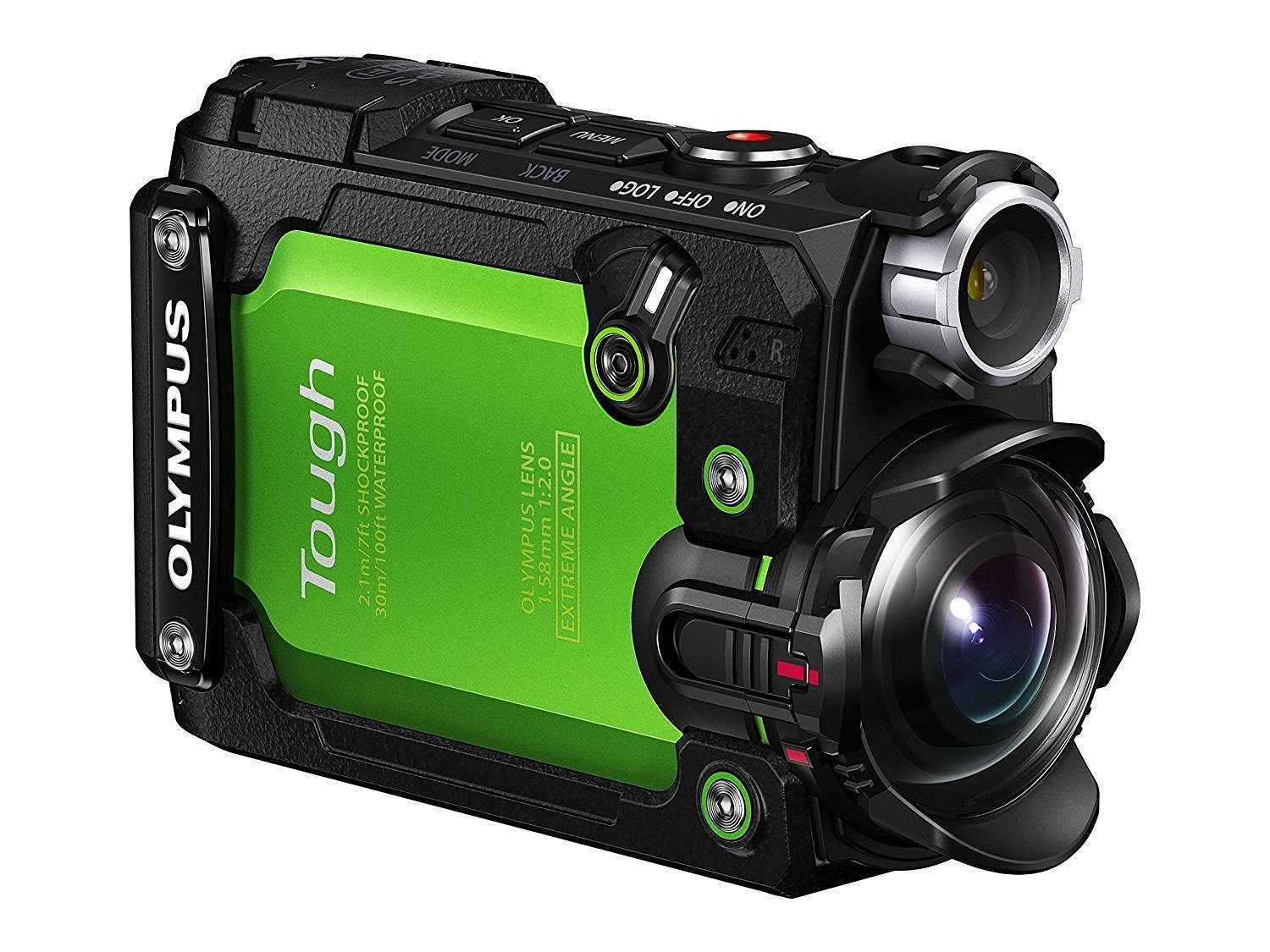 Specs:
Weight: 180 g
Waterproof Depth: 30m (98ft) without housing
4K Videos: Yes, up to 30fps
1080: Yes, up to 60fps
Still Resolution: 8 MP
Battery Life: Up to 95 minutes of continuous recording
The Olympus Tough TG-Tracker is one of the best action cameras thanks to its superlatively robust design and myriad features that make shooting exciting!
The Olympus Tough TG-Tracker is a bullet-shaped action camera. Unlike other bullet-shaped cameras on this list, the TG-Tracker is very light and weighs only 180 grams. This camera can easily fit in your pocket and, since it's fully waterproof by itself, won't get any bigger with the addition of a separate housing! You will need to mount a small waterproof cover for the lens to make it 100% waterproof though.
The Olympus Tough TG-Tracker is very straightforward and easy to use. There are multiple buttons on the camera body for changing settings and starting videos. The LCD screen flips out like most camcorders but cannot be rotated. A small LED light is also present for low-light shooting.
Video quality is excellent with the Olympus TG-Tracker. All the usual bells and whistles of a good action camera are present – 4k, 240fps at 720p, and image stabilization – and these do a fine job. The 8 Mp sensor creates decent still images though they tend to be a little soft and lack contrast.
The FOV of the Olympus Tough TG-Tracker is a whopping 204 degrees, which is even wider than the GoPro. Some users find this angle to be a bit too much as fish eyeing is very present. You can change the FOV of the TG-Tracker in the on-screen menus though these are kinda buried deep.
I'd say that the TG-Tracker's most commendable features are its inclusion of superior GPS and environmental sensors. With these sensors, the TG-Tracker can record a large array of metrics, more so than any other action camera on this list. These include temperatures, barometric pressure, GPS tracking, and much more.
The team loved how compact and light this camera was, fitting easily into their pockets so they can bring it along on any adventure. Being fully waterproof from the off too meant they didn't have to worry about bringing extra bulky housing. They also loved the GPS tracker meaning they could easily see where their adventures had taken them after the event.
Pros
Special environmental sensors.
Fully waterproof without case.
Excellent performance.
Cons
Complicated menus and mobile app.
The lens may be too wide and changing FOV is tedious.
Still not as small as a GoPro.
#9 Sony RX0 II: GoPro Alternative Honorable Mention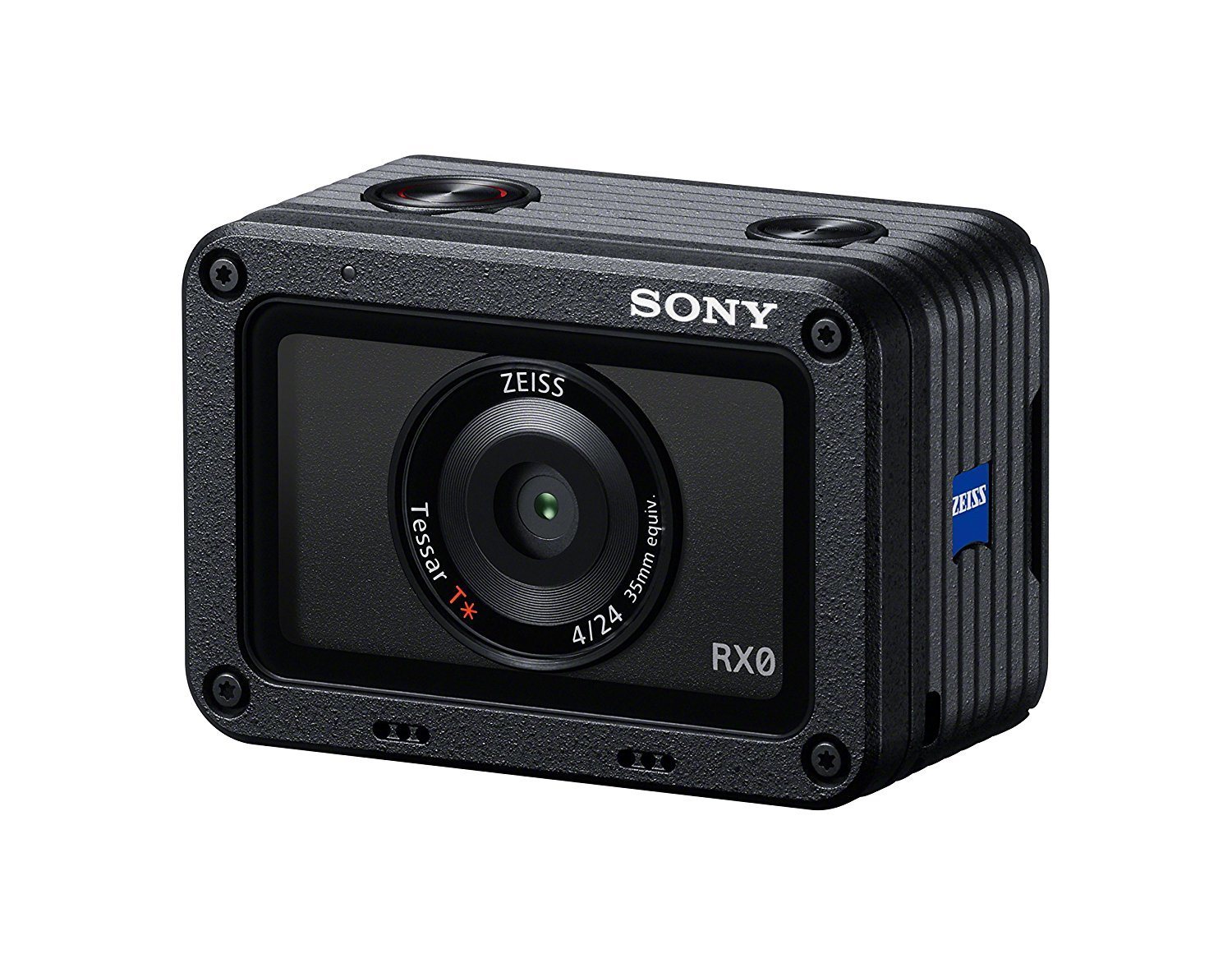 Specs:
Weight: 117 g
Waterproof Depth: 9.14m (30ft) without housing
4K Videos: Yes, up to 30fps (via HDMI output only, not internal recording)
1080: Yes, up to 60fps
Still Resolution: 15.3 MP
Battery Life: Up to 60 minutes of continuous recording
Those who want an action camera that offers a slightly different shooting experience should check out the Sony RX0. With a more reasonable FOV and superlative optics, the Sony RX0 feels less like an action cam and more like a hybridized compact camera. It's a unique camera, one that maybe deserves its own classification. Regardless, it's still one of the best action cameras available.
The Sony RX0's greatest weapon is its gorgeous 24mm f/4.0 Zeiss lens, which offers stunning optical quality. Images shot with this camera are sharp and have good contrast. With a maximum image resolution of 15.3 megapixels, there's plenty of captured detail as well. Though the f/4.0 aperture is somewhat slow and may not contribute greatly to low-light performance, the larger image sensor does a good job of controlling noise.
At 24mm (FF equivalent), the Sony RX0's FOV is much narrower than the usual action camera. Those who hate the fisheye effect that is present in action cameras will feel much better about the RXO's tighter, more photographer-friendly framing. Obviously, though, the Sony RX0 will not be able to capture those huge scenes, the likes of which have become popular with athletes who use GoPros.
The Sony RX0 offers decent video recording. Full HD is possible at 100 fps while 4k is only possible with an additional external recording device. In a sense, the Sony RX0 sacrifices some video capability for better still images.
Though the RX0's optics feel more like a conventional camera, its construction is still purely an action camera. The RX0 is tiny – around the size of a GoPro – and fully waterproof. There are several ports as well that can accommodate additional accessories like a microphone, HDMI cord, and a small travel tripod.
As we mentioned before, the photographers on the team love their Sony's and for those wanting superior image quality from an action cam, they felt the RX0 was unbeatable. They have managed to pack in as much as they can from their larger cameras into this little beast in order to achieve that. The functionality of the camera will also be family to Sony users and offers a great range of manual controls for those who know what they're doing.
Pros
Excellent image quality – some of the best on this list.
Fully waterproof.
Still tiny.
Cons
Expensive.
No internal 4k video recording.
Narrower FOV.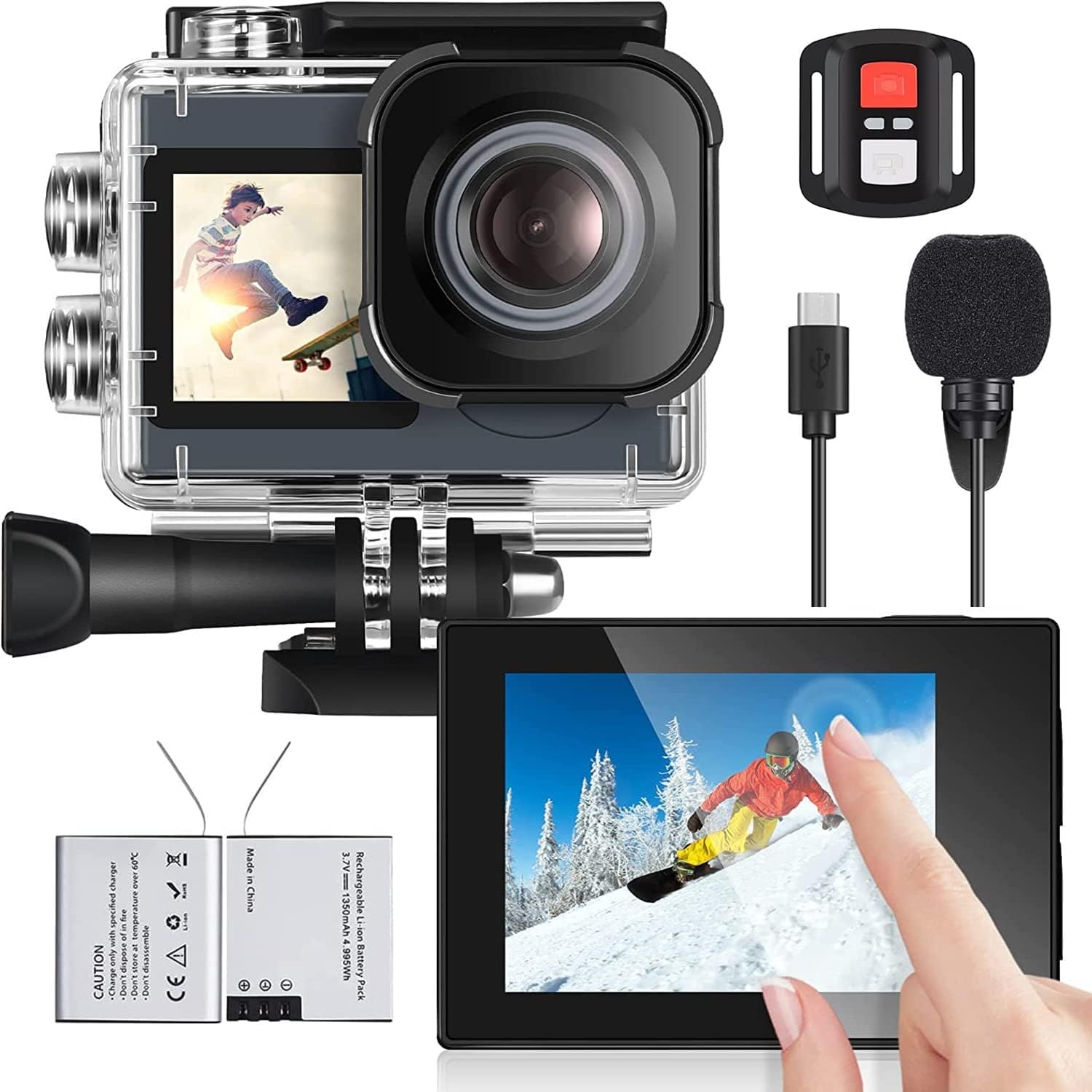 #10 icefox Action Camera: GoPro Alternative Honorable Mention
The icefox Action Camera is another budget-friendly action camera. Like many action cameras on this list, the icefox Action Camera is built very similarly to the GoPro but is offered at a much lower price.
Optically the icefox Action Camera is a solid performer. Both videos and still images are crisp and look very good. The icefox Action Camera can shoot 4k and at a decent 60 fps. Maximum fps in the iSaw Edge is 720P to 240fps.
The icefox Action Camera is built very well and rivals the GoPro in ruggedness and portability. The icefox Action Camera is around the same size as the GoPro both in and out of its waterproof housing. When inside of the housing, the icefox Action Camera is waterproof up to 40 meters.
Overall, the icefox Action Camera is very easy to use. There are three physical buttons that are used for turning the camera off/on, shooting, and changing settings – these are all very straightforward and very useful. There is a touchscreen LCD screen as well but it suffers from the usual glare that afflicts such screens.
Battery life is rated at 2 hours of video recording. The battery can be replaced and the camera can even be charged in your car, which is great for those who like to shoot dashboard videos. The included pack also comes with a second battery too.
The icefox Action Camera comes bundled with a plethora of accessories for mounting purposes. Should these not be sufficient, the icefox is compatible with GoPro accessories thus expanding your accessory library greatly.
The icefox Action Camera has a companion mobile app that can act as a Live View and remote control. The app has trouble staying connecting with the camera and is generally unreliable.
The team feel for half the price of a GoPro this camera offers a performance that is only slightly below that of the more expensive option. The rugged exterior easily withstands pretty much anything you could throw at it and the additional case makes it waterproof to an incredible depth. In terms of how this camera beats the GoPro, well, the number of top-quality accessories that comes in the box pushes it above the rest and saves you even more money.
Pros
Cheap.
Good video quality.
Lots of included accessories plus the ability to use GoPro mounts
Cons
Limited FPS, especially at 4k.
Unresponsive smartphone app.
Unoriginal.
The Best Go Pro Alternatives – Comparison Table
Go Pro Alternatives

| Model | Weight | Waterproof | 4k Videos | 1080 | Still Resolution | Battery Life |
| --- | --- | --- | --- | --- | --- | --- |
| GoPro Hero 11 | 12.6 oz | 10m (33ft) | Up to 5.3K at 60fps | Yes, up to 240fps | 27MP | Up to 1 hour and 15 minutes of continuous recording |
| Garmin VIRB Ultra | 3.2 oz | 10m (33ft) | Up to 30fps | Yes up to 120fps | 12 MP | Up to 1 hour and 15 minutes of continuous recording |
| OCLU Action Camera | 3.56 oz | 10m (33ft) | Up to 60fps | Yes, up to 60fps | 12 MP | Up to 1 hour and 15 minutes of continuous recording |
| Sony FDR X3000 | 3.2 oz | 60m (197ft) with included housing | Up to 30fps | Yes, up to 30fps | 8.2 MP | Up to 1 hour and 5 minutes of continuous recording |
| Akaso Brave 7LE | 2.9 oz | 10m (33ft) | Up to 30fps | Yes, up to 30fps | 20 MP | Up to 90 minutes of continuous recording |
| Sony RX0 | 110 g | 10m (33ft) | Up to 30fps | Yes, up to 60fps | 15.3 MP | Up to 1 hour of continuous recording |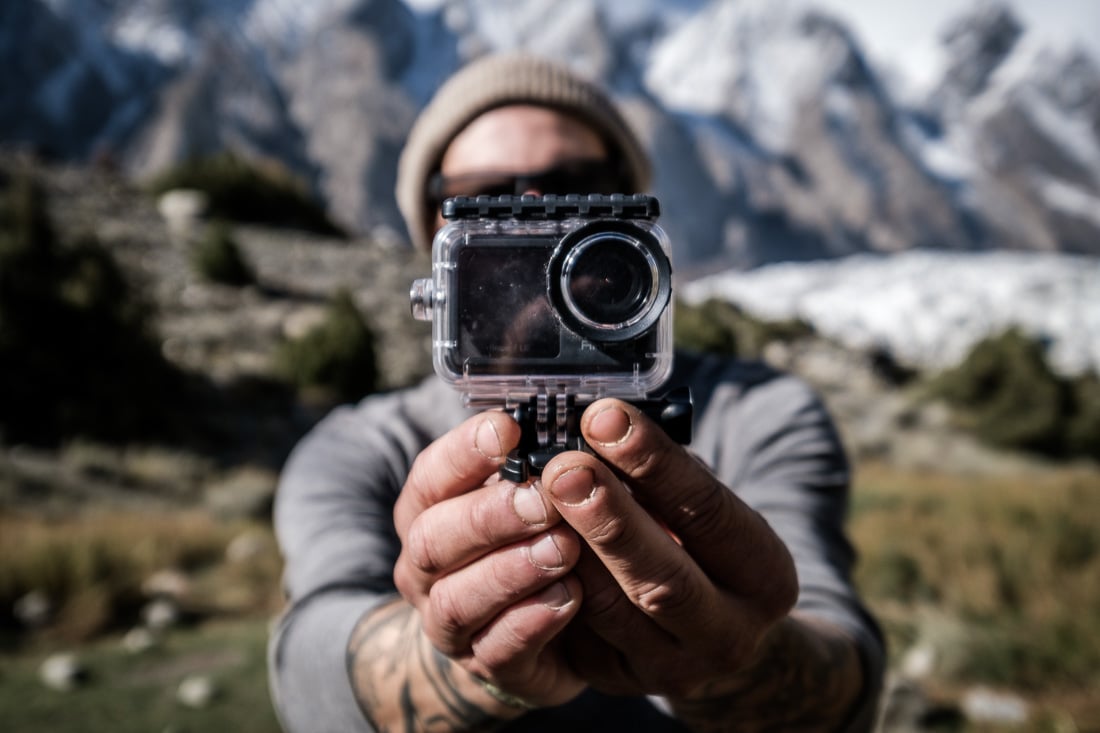 Buying an action camera is a slightly different experience than buying a regular DSLR. Though certain features are still taken into consideration – like sensor quality, size, weight, etc – more emphasis is put on other aspects.
With an action camera, the most important features are related to video quality, durability, and battery life. Essentially, a good action camera will shoot better, longer, and in more unfavorable conditions. Other features, like where you can mount the camera and built-in WiFi are nice added bonuses and, depending on your shooting style, may actually be vital.
Below I've created a list of things that one should consider when buying an action camera. Take them into consideration when choosing the right camera for you.
Video Resolution
These days, the video quality that action cameras offer runs the gamut from basic to professional-level videography. Add in many new technological developments like image stabilization and adjustable field of view and you can find some really crazy cameras out there.
The highest current video recording resolution is 4k. Several action cameras have the ability to shoot 4k and, though they shoot with fewer megapixels, these videos are still gorgeous to look at. If 4k is not possible, then nearly every action camera shoots at least 1080p (HD Quality), speaking for the ones in this article at least. Think about whether or not 4k is necessary in the first place as well – if your videos are just put on a 1080p screen, then 4k is worthless.
Frame rate (FPS) is something else that one should consider when buying the best possible GoPro alternative. 30 fps is the standard for most cameras these days and is used most frequently. 25 fps, once the industry standard for cinematography, creates a lovely "motion picture" look. If one intends to catch some very intense action scenes or even slow-motion videos, then they'll have to crank up the fps – 60 fps, 120 fps, and 240 fps are all becoming common features and will create smoother slow-motion videos as the fps increase.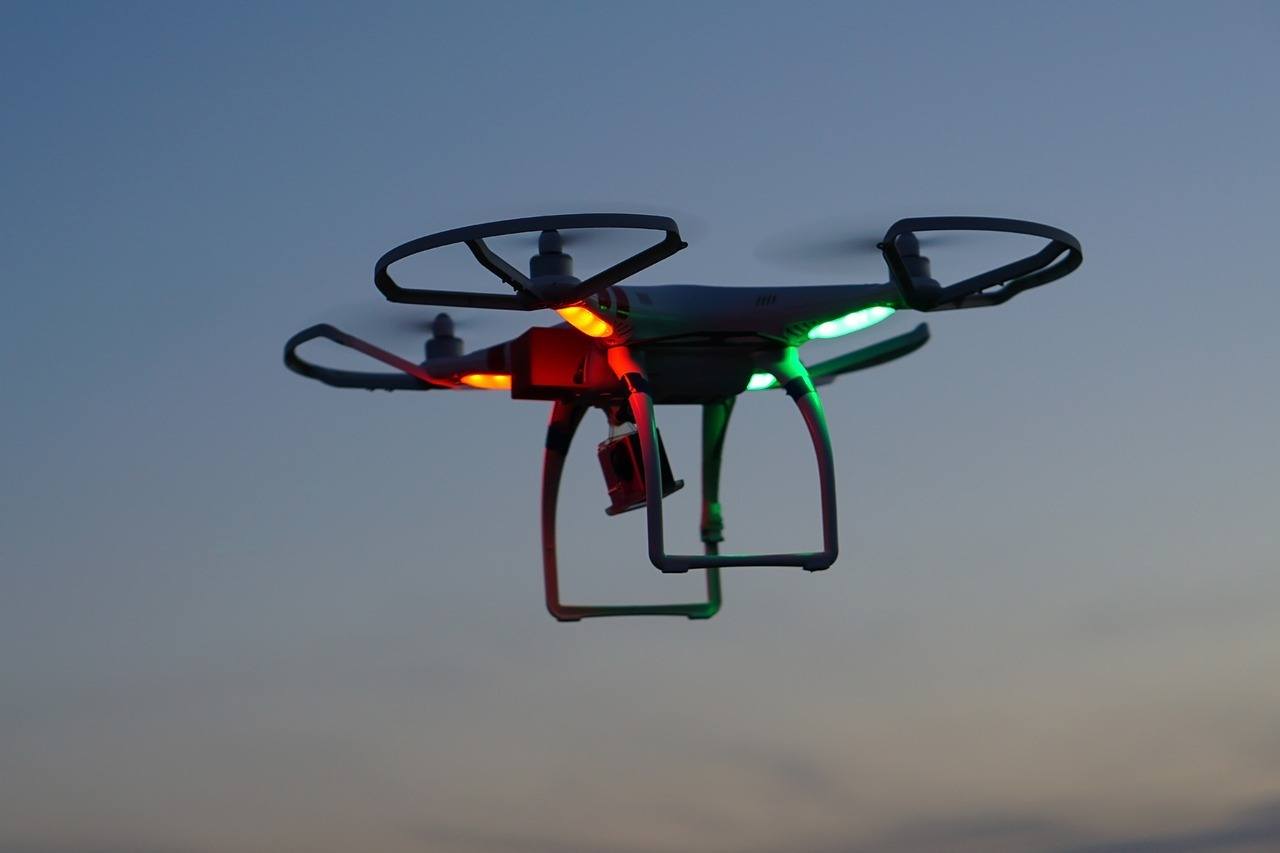 Construction/Durability
Action cameras are supposed to be built to last; how well they're built and how much of a beating they can take is imperative. Of equal importance are their size, shape, and weight as well – being able to mount the camera on your body or whatever object, for that matter, and not feel encumbered can make or break your shooting experience.
Most action cameras these days are built fairly well and can be beaten up a lot. How well they hold up under duress really comes down to building quality. Even many lower quality Go Pro clones offer decent housing.
Of special note is the waterproof depth of an action camera, that is, how far it can be submerged before the sealing is compromised. 30 feet is generally the shallowest depth for action cameras though an increasing amount can go upwards of 150 feet. If you're a deep-water diver, these numbers will mean more to you.
The size and weight of an action camera are pretty straightforward. The smaller and lighter it is, the more useful it is. Be careful when buying as many are built from less reliable materials and are, thus, more prone to breaking.
Action cameras come in two shapes as well – cubical and bullet. Cubes are the most common variety and are most often very useful. Bullet shapes may suit other people more though and often bullet shape cameras come with more tech and features due to their increased size.
Ergonomics/Connectivity
For many, the biggest complaint that they have with action cameras is that they're a little hard to use due to their limited surface area and controls. Many modern actions camera developers have alleviated these problems, somewhat, thanks to some pretty intuitive technologies.
Touch screens are becoming increasingly common and are usually quite useful. These eliminate the need to have and use manual controls on the camera. Of increasing occurrence are voice controls, which, though in their fledgling years and not totally effective yet, are still an inspiring step in the right direction.
WiFi connectivity is practically mandatory in action cameras these days. With the ability to connect your action camera to a phone or electronic device, you can share photos wirelessly and even take remote photos. Even though most if not every action camera has some sort of WiFi feature included, not everyone performs well. Keep an eye out for wireless efficiency when looking for a good action cam as well.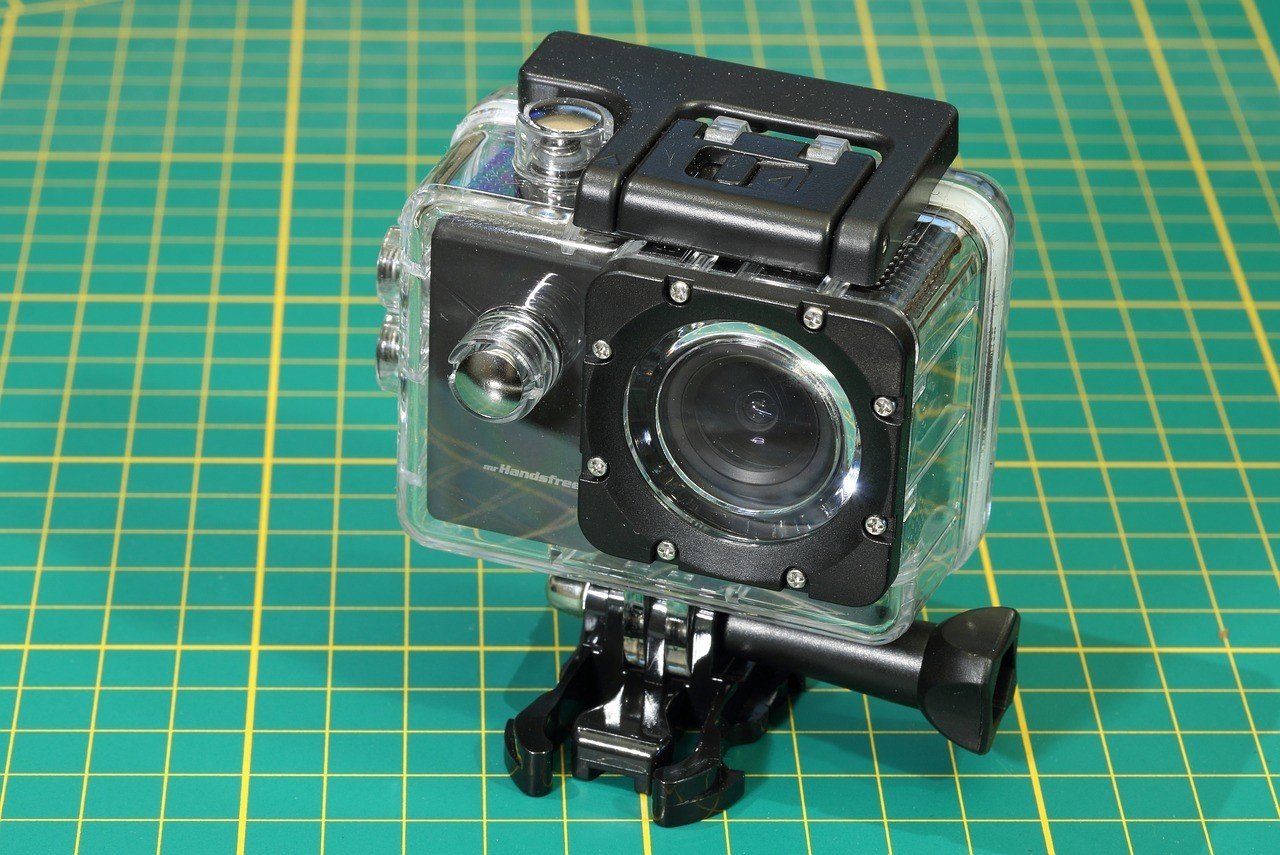 Battery Life
All of those 4k and slow-motion videos mean jack if you're camera runs out of battery after only a few moments. Nothing is more frustrating than filming some amazing, action-packed scene, only to have your action camera die right at the best part. How long the battery lasts for your GoPro alternative is thus one of the most important aspects that you need to consider.
Most action cameras last anywhere between 1 and 3 hours if recording continuously. Most manufacturers will withhold official battery lives for whatever business reasons as well so judging an action camera based on official numbers can be tricky. The best thing is to just listen to reviews and see what the consensus is.
Certain activities, like filming in higher resolutions, higher fps, and using WiFi, can drain a battery faster. For this reason, higher-end cameras with more advanced technology will need better batteries to run longer. Some lower-end cameras with less energy-consuming tech may last a greater amount of time.
Many action cameras have batteries that can be changed on the fly. Investing in several spare batteries is probably your best bet when it comes to extending shooting times. If an action camera's batteries are not interchangeable, then you can send them to a third party for replacement. Prices for this service vary but are usually reasonable.
FOV/Image Stabilization
Most action cameras have a field of view (FOV) of between 140 and 170 degrees – this is equivalent to 17mm and 20mm on a full-frame camera. Some only provide one setting for the field of view while others are able to switch between multiple angles. Note that these angles are very wide (so that they can capture lots) and that a fisheye effect is often a symptom. Most post-production software has the ability to fix fish eyeing though.
Image stabilization is a relatively new form of technology that is being incorporated into action cameras. Image stabilization or IS essentially compensates for a shaky camera and makes footage more smooth. This is done either mechanically or electronically. Note that incorporating IS technology into cameras usually jacks the price up.
For more on IS in action cameras, check out Action Cam Guide's informative article.
Accessories
For extreme videographers and athletes, an action camera is only as good as its accessories. You can't carry that camera all the time, especially if your hands are full with the task at hand, so being able to mount the camera quickly and effectively is key to a good shooting experience.
Depending on your intended activity – i.e surfing, traveling with a drone, mountain biking – you'll need to consider the size, weight, and shape of the camera, and if the proper mount is available. Each brand produces its own mounts and accessories so be sure to check their catalogs. Some cameras may even be compatible with GoPro's own extensive line thus poaching the competition. Several other third parties produce mounts and accessories as well that may be compatible with your action camera.
Some action cameras will require separate housing for submersion. Even if a camera is rated for, say, 33 feet, it can still be comprised at lesser depths in rare occurrences. Having extra protection against water can be a good idea. Most GoPro's are now at least rated as waterproof without casing for shallower depth, but many knock off GoPros still require housing.
Value
At the end of the day, it's all about what you're willing to spend on a GoPro alternative. Thankfully, action cameras come in many shapes and sizes these days and at many different price points. You can, with research, find the perfect action camera for you at the price you want to pay. The thing about choosing an off brand Go Pro is that sometimes you just don't actually need all the bells and whistles of the OG, so why pay for them!?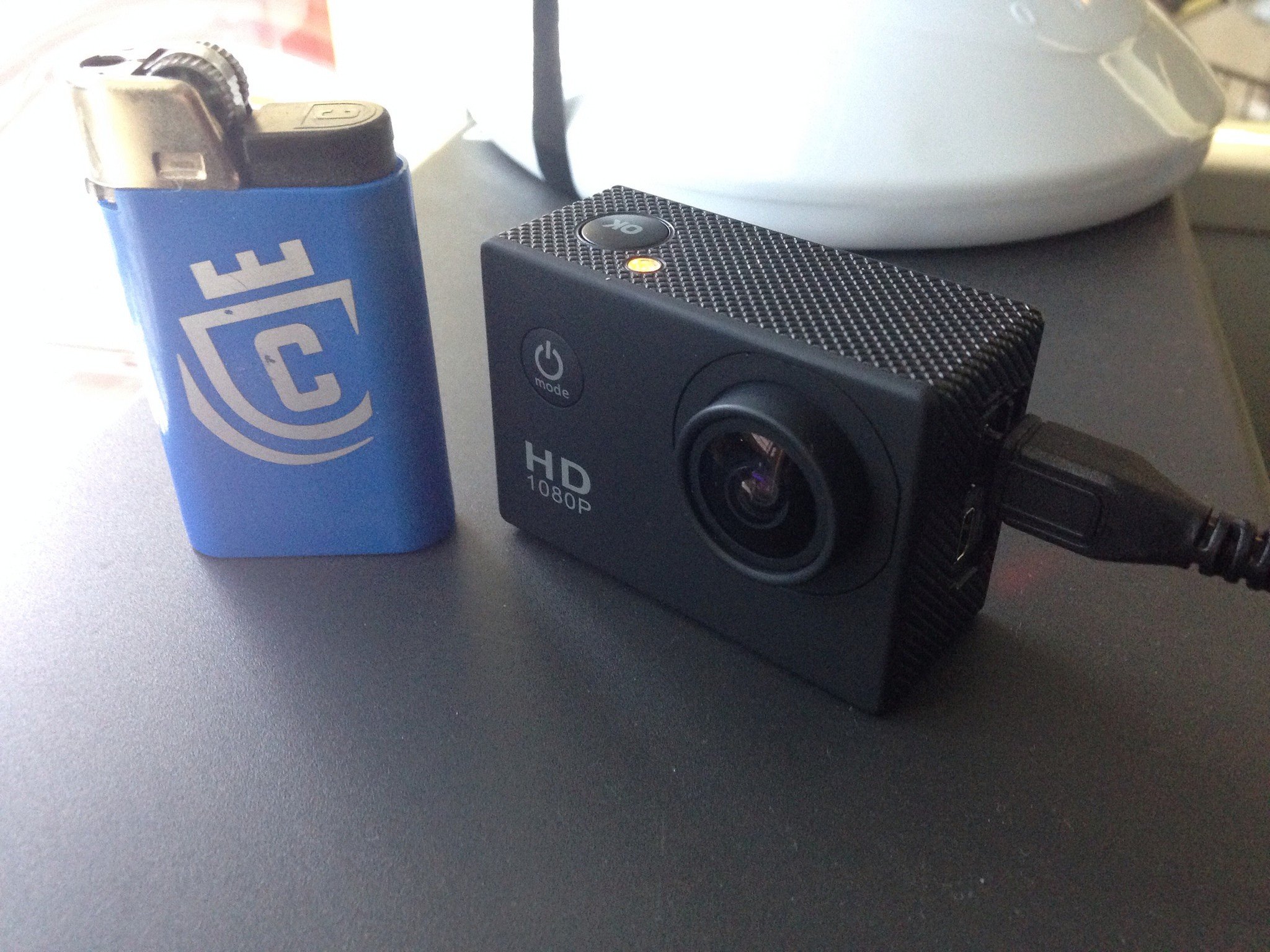 How We Tested To Find The Best GoPro Alternatives
Over a period of time and between all of the members of our team we've tried out heaps of different camera gear in a variety of different locations the world over… so we've got pretty decent at assessing which ones are good at their jobs and which ones are a letdown. To fairly compare them we looked at the following criteria when it came to the best "knock off GoPro!"
User Friendliness
Only a small number of our team members are serious photographers. So with that in mind we prefer cameras that are easy to use and 'normal' travellers can easily get a hang of. Often professional-level cameras might have the capability of producing better images… but only if you know how, if not, you can be left with out-of-focus/overexposed pics.
Image Quality
We all want the best image quality possible right? This is where the camera lives and dies. Image quality isn't cut and dry, however, it's somewhat subjective depending on your expectations, usage of your photos once taken and the device used.
Most people who aren't photographers won't be pixel-peeping or printing images off at billboard-level sizes. Equally, those using a phone camera will have different expectations from their images compared to someone getting around with a $15,000 Leica.
With that in mind, we assessed the image quality of each camera bearing in mind the anticipated expectations of the intended user and what they'll be doing with their pics and vids.
Features
Not everybody likes their camera to have loads of extra features. Sometimes all those extra buttons and functions can be confusing and the usability of the camera can suffer as a result. On the other hand, those with more experience will be on the search for cameras that offer a bit more control.
The best cameras for the average traveller include these functions for those who can take advantage of them whilst retaining a simple enough base interface for those wanting to just shoot auto.
When it came to the features of the best off brand GoPro, we were looking at things like image stabilisations, shooting RAW as well as the ability to control things like shutter speed, aperture and ISO.
Battery Life
One of the main areas many GoPro replicas suffer is poor battery life. If you're going to be spending hours deep underwater on a SCUBA trip, you can't exactly swap over your battery! So you want it to last the trip. Rather than looking at the website of each camera, we took them out and used them in a variety of different conditions and climates to see exactly how they performed.
Packed Weight
Most action cams are pretty small and light, to begin with, so compared to larger cameras weight isn't as much of an issue. Having said that, if you follow our site you'll know we like to shave off as many lbs as possible. So lighter models that retain quality and durability were given extra points. For example, those that didn't require extra waterproof housing meant fewer accessories to carry, less weight and a smaller amount of space taken up in our backpacks!
Frequently Asked Questions
Still have some questions? No problem! We've listed and answered the most commonly asked questions below. Here's what people usually want to know:

Our GREATEST Travel Secrets…
Pop your email here & get the original Broke Backpacker Bible for FREE.
Final Thoughts
So there you have them – the best GoPro alternatives of 2023! Over the course of 12 different action cameras, we've covered nearly every basis from more budget-friendly selections to upgrades to even a 360 camera. As you can see, it's not just GoPro rip offs, but legitimate alternatives that offer different features and functionality.
If you can take anything away from this guide it's that, whilst GoPros are still good cameras, you don't have to settle for them to take great adventure videos! Consider your options wisely and then invest in the perfect GoPro alternative for you.
---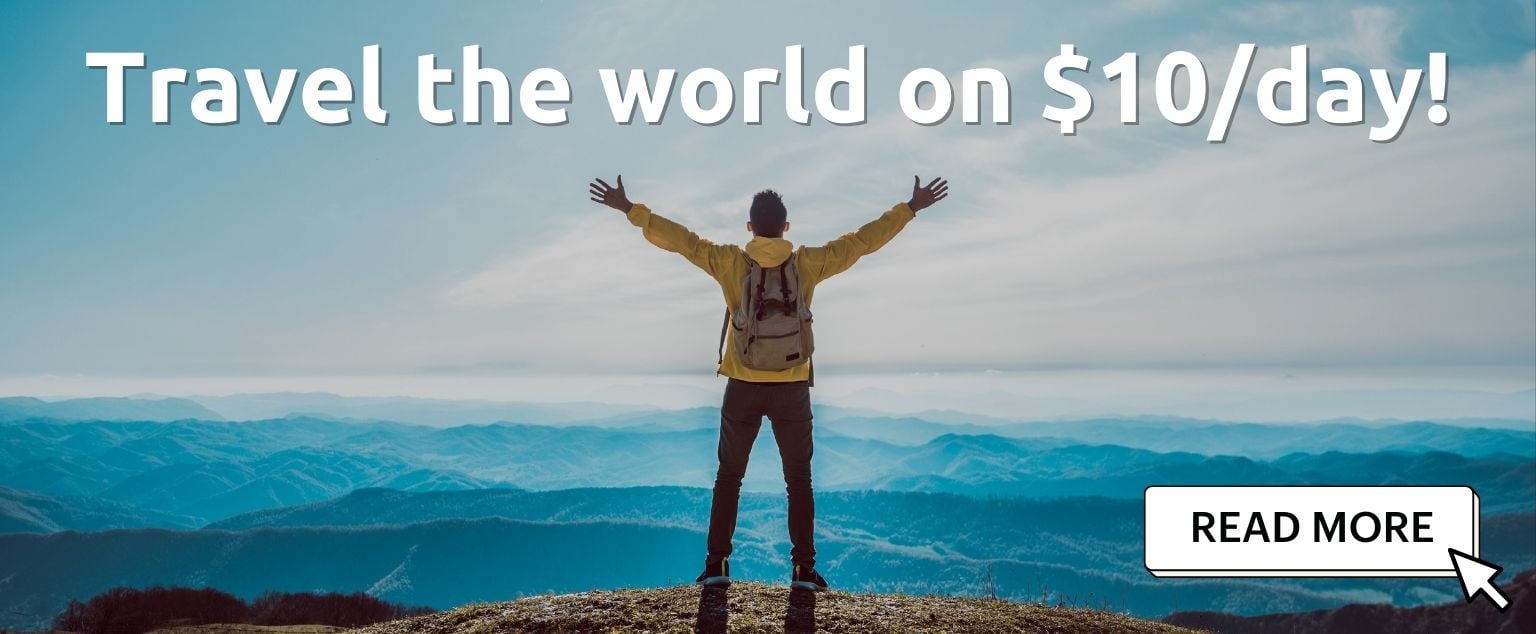 And for transparency's sake, please know that some of the links in our content are affiliate links. That means that if you book your accommodation, buy your gear, or sort your insurance through our link, we earn a small commission (at no extra cost to you). That said, we only link to the gear we trust and never recommend services we don't believe are up to scratch. Again, thank you!