While there are splashes of every life worth capturing, it's not always easy to justify investing in an expensive action camera like a GoPro. Luckily, the free market has us covered.
Whether you're just looking to get your feet wet in the portable camera industry or are out searching for alternatives to some of the top products, Akaso has a range of cameras that prove you don't need a hefty price tag to provide a high-quality action camera.
For budgets large and small, Akaso cameras can provide 4K HD video, wide-angle lenses, 20 MegaPixel photos, and seamless wireless communication that makes transferring your content as easy as pushing a button.
Akaso offer a whole range of action camera and we're gonna help you decide which is the best.
An Honest Take on Akaso….
Word Up Cameraheads – The Akaso range is all good and well but they do not NOT make the best GoPro alternatives out there. Not at all and not a LOOONNNGGG stee-retch.
Rather. If we had to choose just one GoPro alternative action camera then it would be the OCLU Action Camera. It boasts all the GoPro goodness for under $200.
Check it out!
View on OCLU
Quick Answers – Which is the Best Akaso Action Cam?
#1 – Best Value Akaso Action Camera – AKASO Brave 7
#2 – Best Akaso Action Camera Under $100 – AKASO EK7000
#3 – Best Overall Akaso Camera – AKASO V50 Elite
#4 – Best Cheap Akaso Camera – AKASO Brave 4
#5 – Best Akaso Camera For Vlogging – AKASO V50 Pro
Best Value Akaso Action Camera
Best Value Akaso Action Camera
AKASO Brave 7
> $$
> Waterproof without a case
> Dual screens
Best Akaso Action Camera Under 100
Best Akaso Action Camera Under 100
AKASO EK7000
> $
> Waterproof up to 98 ft. with case
> Affordable
Best Overall Akaso Camera
Best Overall Akaso Camera
AKASO V50 Elite
> $$
> Ships with spare batteries
> 170-degree wide-angle lens
Best Cheap Akaso Camera
Best Cheap Akaso Camera
AKASO Brave 4
> $
> Ships with two batteries
> Comes with 19 different mounts
Best Akaso Camera For Vlogging
Best Akaso Camera For Vlogging
AKASO V50 Pro
> $$
> Syncs to an app
> Dual touch screen technology
Choosing The Best Akaso Camera For Your Next Adventure
Choosing a camera is never easy. The more you're willing to invest in your camera, the more you'll get out of it. Luckily, Akaso lets you decide exactly how much you want to pack into your action camera. Low budget options still shoot in HD, easily transmit footage through HDMI or Wi-Fi, and offer up good photo quality.
High-end Akaso cameras are competitive with industry-leading action cameras thanks to their gyroscopic image stabilization, 4K 60 fps ability, and wide-angle lenses that can capture an entire landscape.
If you're a first-time action camera owner, there is nothing wrong with choosing an Akaso camera for under $100. These tools will still capture your moments, and you can play around with different settings and features until you understand exactly what you want out of your action camera before investing in top-of-the-line products.
Take a look at the best Akaso cameras for all budgets and adventures to understand which camera will work best with your lifestyle.
Can't Beat The Real Thing?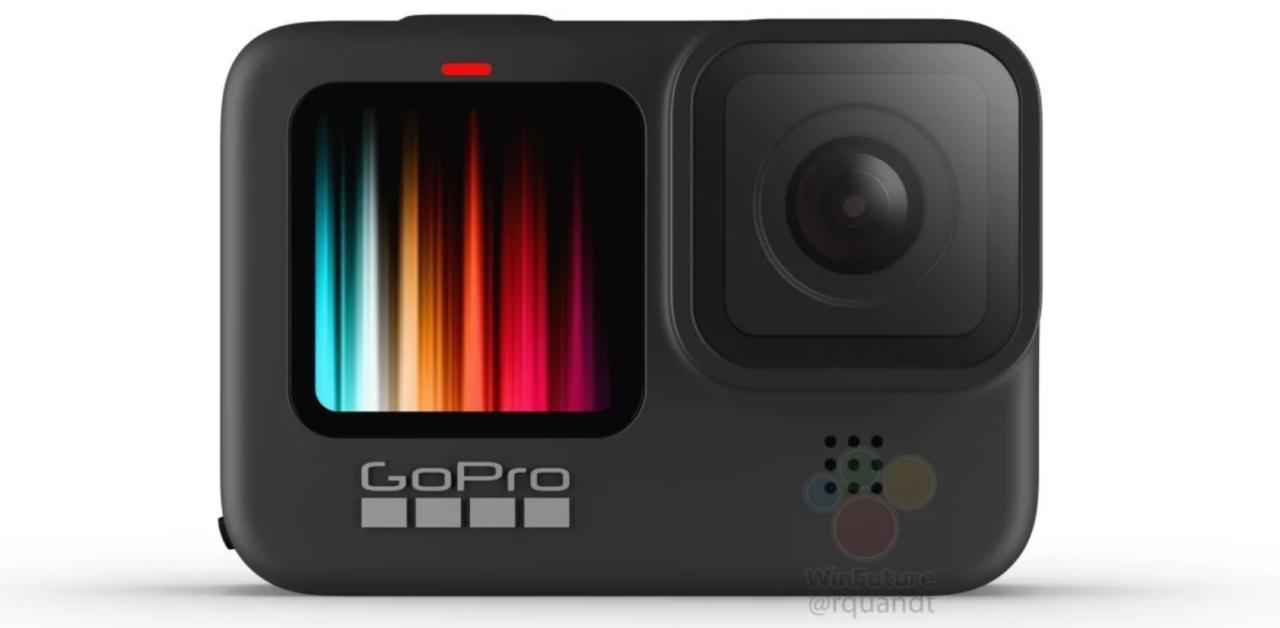 Akaso cameras have come a long way and can often rival Gopros flagship hero model in terms of camera quality and durability. At the end of the day, Akaso is still just a copycat GoPro, and budget's aside, nothing can quite beat the real thing.
A proper GoPro reinvented the portable camera industry for a reason, and you'll have to take some time to consider investing the extra mile in a GoPro.
With that being said, GoPro's aren't for everyone, and Akaso action cameras do pack some features that Go Pro's don't, like a dedicated tripod insert. Akaso also provides loads of mounts and extra accessories free with every camera purchase. Your Akaso ships with a waterproof case and up to 19 different mounts and ways to shoot.
All that comes together with cameras of all budgets and abilities, so you're sure to find an Akaso action camera that can help you capture your adventures and make memories that last. We'll take a look at everything this action camera brand is capable of so you can find your perfect GoPro alternative.
Winter is coming… WARM UP!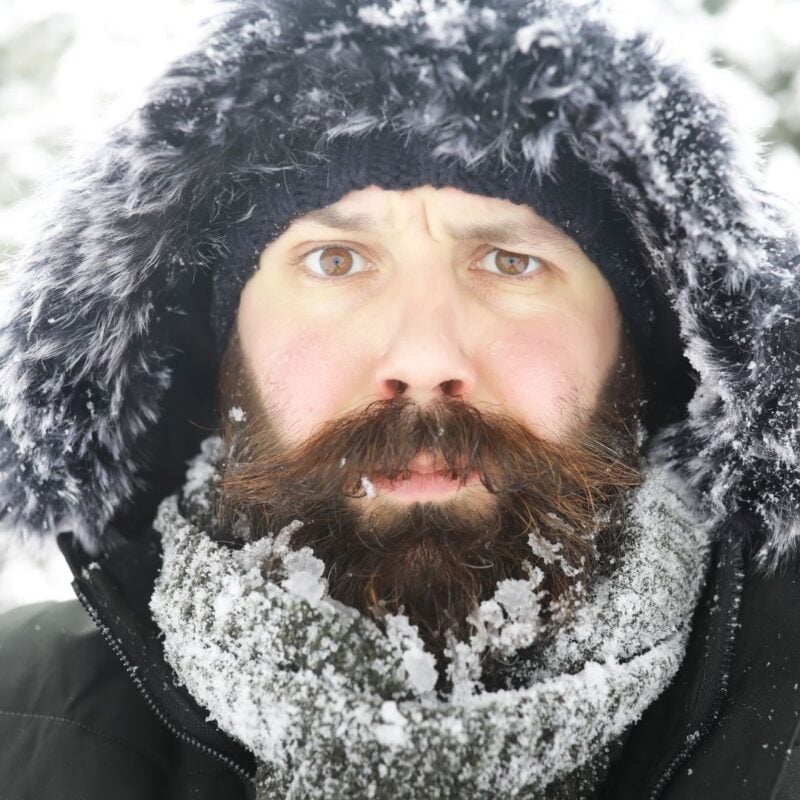 Get up to 50% OFF when shopping gear for the winter on REI.
Warm up for the holidays and SAVE on outdoor gifts all the way through Dec 18!
View on REI
#1 – Best Value Akaso Action Camera – AKASO Brave 7
AKASO Brave 7 is our top pick for best value akaso action camera
Specs
Resolution: 4K 30 fps / 20 MP
Battery Life: 120 minutes
Connectivity: Wi-Fi
Special Features: Dual Screens, Remote
Price: $160
The Akaso Brave 7 proves once and for all that you don't have to look to a GoPro for professional-quality images and videos. Loaded with the most modern technical features like image stabilization, voice control, and dual-screen control, this action camera will capture adventures of all sizes.
The camera ships waterproof up to 33 feet, and various case accessories allow you to take the tech scuba diving, surfing, or while bombing hills on your next powder day.
You can hook the camera up to an included remote control or use your voice to stop and start filming. We love hands-free features on our action cameras, and the extra options the Brave 7 allows you to get the camera rolling without popping up one-handed.
Once you've got the shot, you can send your footage straight to your smartphone with the wifi-equipped technology. GoPro may be the first name in action cameras, but this Akaso offering will make you quickly forget about the competition.
+Pros
Waterproof without a case
Dual screens
4K ultra HD filming
-Cons
Low sound quality without an external mic
No SD card included
#2 – Best Akaso Action Camera Under 100 – AKASO EK7000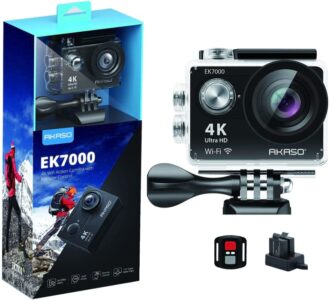 Meet the best akaso action camera under 100: AKASO EK7000
Specs
Resolution: 4K 30 fps / 12 MP
Battery Life: 90 minutes
Connectivity: Wi-Fi
Special Features: Ships with accessories
Price: $54
You don't have to break the bank to get the shot. While this camera may not be capable of the highest quality video and photo, not all of us need 45 60 FPS shots of our next beach days. For casual adventurers, the EK7000 offers more than enough value to capture our next vacations.
This barebones camera still ships with plenty of tools. Two batteries and various attachments are included with the camera to let you quickly hook up the device to a helmet, tripod, beach chair, or anything else nearby when it's time for a selfie.
It even comes with a rudimentary remote control that allows you to remote start video and snaps photos hands-free. This isn't the most technologically advanced camera on the market, but it is one of the cheapest, and it offers up surprising value at an affordable price.
+Pros
Wirelessly transmits photos
Waterproof up to 98 ft. with case
One of the cheapest action cameras on the market
-Cons
No image stabilizing
No external mic support
#3 – Best Overall Akaso Camera – AKASO V50 Elite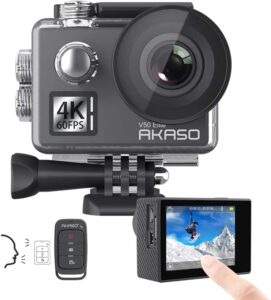 Our top pick for best overall akaso camera is AKASO V50 Elite
Specs
Resolution: 4k 60 fps / 20 MP
Battery Life: 90 minutes
Connectivity: Wi-Fi
Special Features: Loads of mounts, voice control
Price: $140
The V50 Elite is AKASO's most expensive action camera, so the stakes are high. The camera cuts a few corners compared to industry-leading options, but it also cuts off a significant chunk of change to offer a 4K HD camera at a fraction of the price of the competition.
The camera packs in image stabilization and easy sharing Wi-Fi features you can expect from any of the best in class action cameras on the market and provides loads of extra accessories and batteries to make sure you have everything you need to get the shot on day one.
Loads of time went into making this camera as small and lightweight as possible. It scraps 16 grams from the competition by only providing one small screen and one button. The video quality won't win awards, but it can certainly capture all kinds of scenes, especially due to the voice control and included remote control.
All the additional accessories the V50 Elite ships which push it over the top. For one price, you'll be able to mount this camera, protect it in a waterproof case, and start/stop filming with remote control.
+Pros
Ships with spare batteries
170-degree wide-angle lens
Provides loads of resolution options
-Cons
Needs external case for waterproofing
Small Touchscreen

Do You Want to Travel FOREVER??
Pop your email in below to get a FREE copy of 'How to Travel the World on $10 a Day!'.
#4 – Best Cheap Akaso Camera – AKASO Brave 4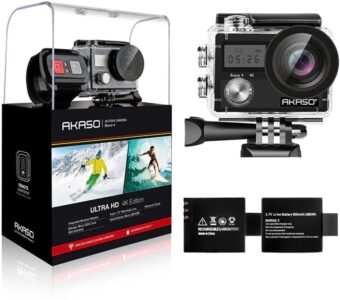 AKASO Brave 4 is one of the best cheap akaso camera
Specs
Resolution: 4k 24 fps / 20 MP
Battery Life: 60 minutes
Connectivity: Wi-Fi
Special Features: Dual Screen
Price: $89
A great way to save money on action cameras is to look towards an older model (but no we don't mean buy a retro camera!). When it came out, the Brave 4 was a revolutionary introduction to the entry-level action camera market and quickly pushed AKASO to the top of the affordable camera food chain.
Four years and three updates later, the Brave 4 is still a powerful camera with high-quality footage and features, and it's now a fraction of the cost. The features are all a few years old now, but the only modern tech we really missed was the lack of a touchscreen.
The prehistoric push-button function means there are a few more buttons on this camera than you would find on modern iterations. However, the camera is still waterproof with an additional case. The ultra HD offered by this camera is achieved through digital upscaling, so sort through the different resolutions and lens angle options until you find the perfect settings for your footage.
You won't find revolutionary new features on this old camera. Still, you will find plenty of accessories and options shipping with the camera to get high-quality images of your footage at an incredibly affordable price.
+Pros
Ships with two batteries
Comes with 19 different mounts
5X zoom
-Cons
No touchscreen
Not waterproof on its own
#5 – Best Akaso Camera For Vlogging – AKASO V50 Pro
AKASO V50 Pro is our top pick for best akaso camera for vlogging
Specs
Resolution: 4K 30 fps / 20 MP
Battery Life: 90 minutes
Connectivity: Wi-Fi
Special Features: Touch screen, remote
Price: $119
Hey guys! Start practicing your openers in front of the mirror and this V50 Pro, a great camera for any burgeoning Youtube sensation. Starting a vlog typically doesn't come with a high budget, and you won't need more than the V50 Pro to get your feet wet and see if Vlogging is right for you.
You can connect the camera to your phone or through an HDMI port to quickly transmit your footage, but unfortunately, you can't Livestream through this camera. When you're first starting a vlog, it's probably a good idea to avoid live streaming anyway, so you won't have to try to figure out your voice on the spot.
The camera comes with all the mounts and accessories you can expect from an AKASO product and will have you ready to start rolling on day one.
Whether you want to show the world your travels or send your parents a few updates so they know you're still out there somewhere, the image stabilization and 4K quality on this affordable camera will get the job done.
+Pros
Excellent photo and video quality
Syncs to an app
Dual touch screen technology
-Cons
Poor microphone
No live stream
The best present of all… is CONVENIENCE!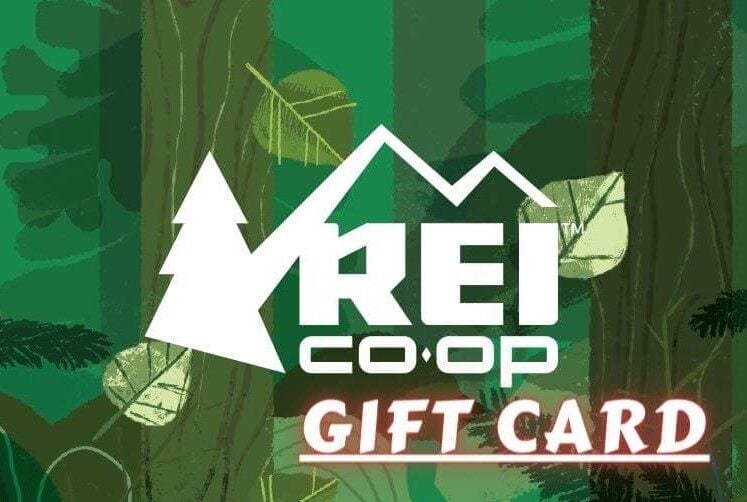 Now, you could spend a fat chunk of $$$ on the WRONG present for someone. Wrong size hiking boots, wrong fit backpack, wrong shape sleeping bag… As any adventurer will tell you, gear is a personal choice.
So give the adventurer in your life the gift of convenience: buy them an REI Co-op gift card! REI is The Broke Backpacker's retailer of choice for ALL things outdoors, and an REI gift card is the perfect present you can buy from them. And then you won't have to keep the receipt. 😉
Buy on REI!
BEST ALTERNATIVE TO AKASO
AKASO may be the most well-known Go Pro competitor, but it's not the only fresh face on the market. While Akaso has made its name by mimicking typical GoPro features, this alternative is trying to change the game.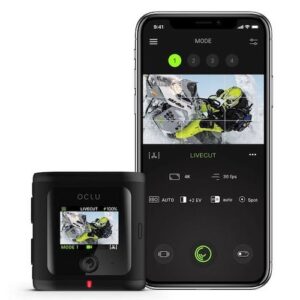 Specs
Resolution: 4K 30 fps / 12 MP
Battery Life: 90 minutes
Connectivity: Wi-Fi
Special Features: Live-cutting, stabilization
Price: 119
Taking an ovular shape to an industry full of squares, this action camera makes tons of promises. The spec list is impressive – full HD shooting, image stabilization, even live-cutting which is the ability to edit and delete unwanted shots at the click of a button. It's one of the smallest and lightest action camera's on the market and comes with magnetic mounting options that no other cameras can pull off.
Unfortunately, a few problems do start popping up when it's time for these technical specs to get to work. The company has a long way to go before having the infrastructure available to support this camera fully. For now, you'll have to deal with a shoddy app and poor wifi connectivity.
While some high-end cameras allow full operation from your cell phone with the OCLU you'll have to heavily rely on the built-in LCD touch screen to keep track of your shots and make magic. OCLU made it easier to view this screen, placing it on top of the camera for better hip-height filming.
For the price, it's a great point-and-shoot camera that is more than capable of capturing HD video, and we applaud OCLU for trying to be more than just a copycat Go Pro. A few updates to the user app would go a long way, and we have no reason to believe they're not working on those changes daily. You can check out our full OCLU camera review elsewhere on this site.
+Pros
Great photo and video quality
Smaller design than most cameras
Waterproof with the right accessories
-Cons
Poor accompanying app
Stabilization needs some work

Our GREATEST Travel Secrets…
Pop your email here & get the original Broke Backpacker Bible for FREE.
Final Thoughts
While nothing on the market can beat a GoPro, some of these Akaso action cameras pack some serious value into a lower price point. Being the underdog can have its perks. GoPro may be at the head of the table in this industry, but Akasos is banging on the door, and someone will have to let them in pretty soon.
One of the most significant drawbacks of relying on companies other than GoPro is the programs built into the cameras. All the 4K shooting ability in the world means nothing if you can't easily upload and share your footage.
Akasos is on it, offering up a dedicated app that streamlines communication between their camera and your cell phone. We feel confident that Akasos infrastructure will continue to improve which will constantly keep your cameras updating with new operating systems and new ways to share.
Companies like GoPro may have a larger marketing budget, but Akaso has a chip on its shoulder and is out to prove it can hang with the industry leaders. Any one of these cameras can do amazing things in the right hands.
If you're looking for a camera trying to reinvent the industry, take a long hard look at the OCLU Action Camera. For GoPro alternatives, Akaso can't be beaten.
The choice is a personal one, but as the company's flagship model, the AKASO Brave 7 has the quality, software, and accessibility required to rank as the best Akaso action camera on the market. Serious photographers can look towards the AKASO V50 Elite to provide the best image quality of any Akaso option, as this model is the only choice for shooting in 4k 60 fps.
Let us know about your favorite fledgling action camera company in the comments below, and whatever camera you end up choosing, don't forget to share your footage with us so we can see what you and your new action camera capture.
---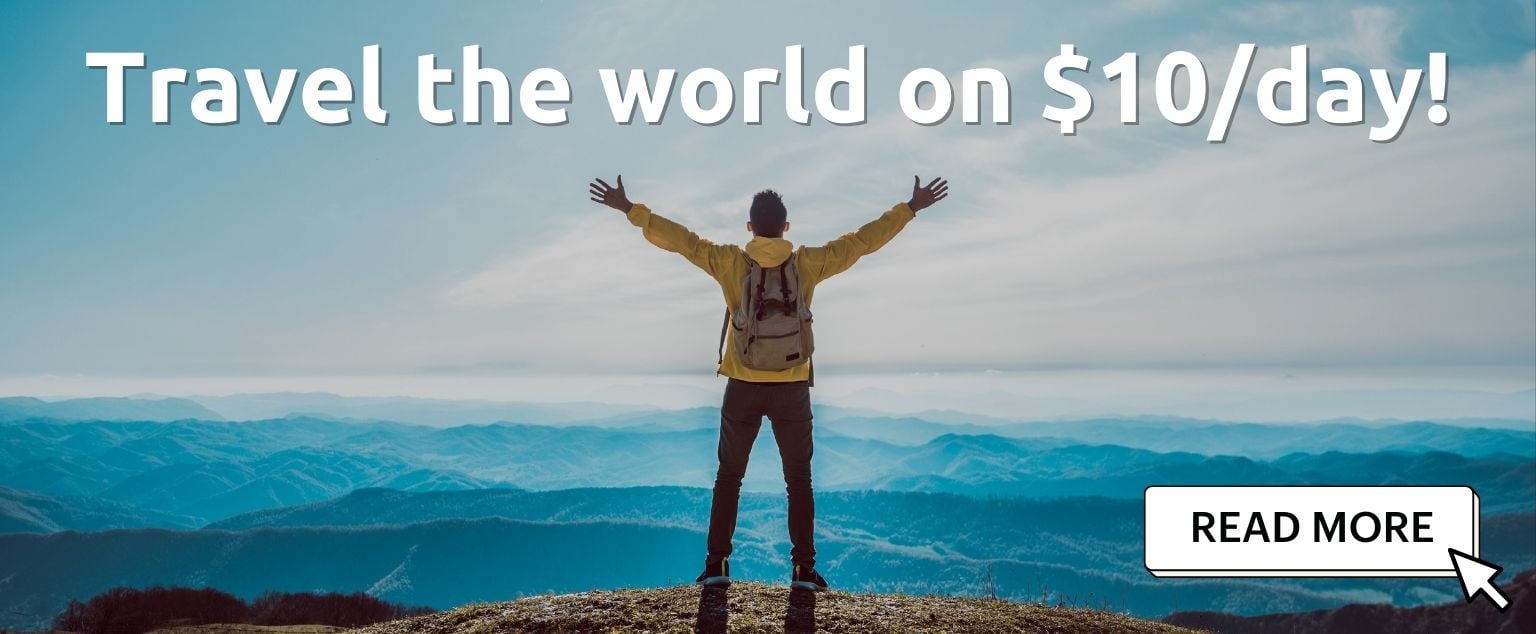 And for transparency's sake, please know that some of the links in our content are affiliate links. That means that if you book your accommodation, buy your gear, or sort your insurance through our link, we earn a small commission (at no extra cost to you). That said, we only link to the gear we trust and never recommend services we don't believe are up to scratch. Again, thank you!