Action cameras are all the rage these days and now pretty much every dog in the street is wearing one round its neck!. And the, good news: they keep getting better and cheaper and long gone are the days where you would need to drop $500 on a decent action camera.
Akaso is one of the leading GoPro alternative brands out there and we always jump at the chance to test their new cameras.
The Akaso Brave 8 dropped a few months back and I have had some time to give it a proper test run in the mountains of Pakistan and beyond.
This review of the Brave 8 gives you a quick run-down of all of the need to know information regarding this fully-featured budget action camera.
If you are in the market for an action camera that will cover the content needs of most people right out of the box, this is the one review you don't want to skip over.
Let's get right to it and have a look at the AKASO Brave 8 action camera.
Word up boys and girls – whilst the AKASO 8 is a decent action can, we are now recommending the OCLU Action Camera as THE ultimate GoPro alternative.
It does cost a few more bucks but is worth it. Check it out in all its glory right here.
Check It Out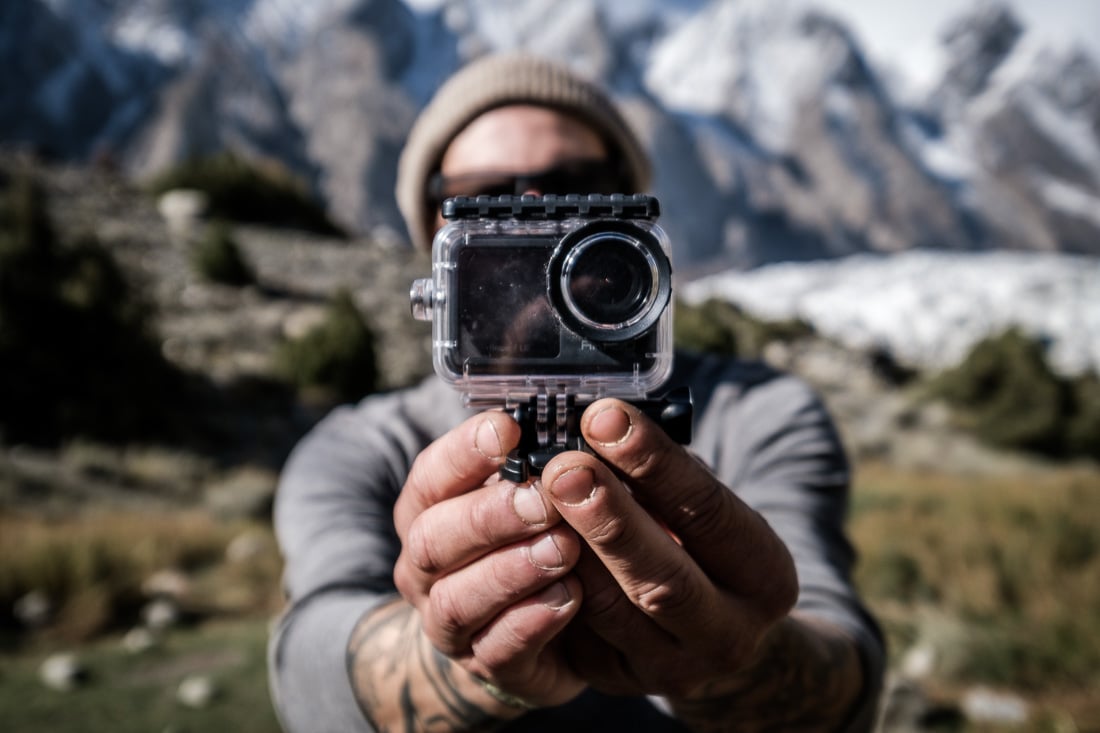 Ok, let's start this AKASO Brave 8 review by addressing the elephant in the room … GoPro!
For years, GoPro has dominated the portable action camera space. And for good reason – they were kinda a trailblazer and the products they make are in many ways miles above the competition.
This article does not try to argue that the Akaso Brave 8 is a more powerful, better camera than the GoPro Hero 11 Black or GoPro Max 360 – because it simply is not.
BUT – Akaso Brave 8 is a good bit cheaper- and for many content creators or folks who just want to mess around with a fun action camera – it boasts more than enough features to satisfy.
If you are looking for a great value budget action camera, then the Akaso Brave 8 might just be right up your alley.
Ladies & Gents, It's Time to Step Your GEAR Game Up. 😉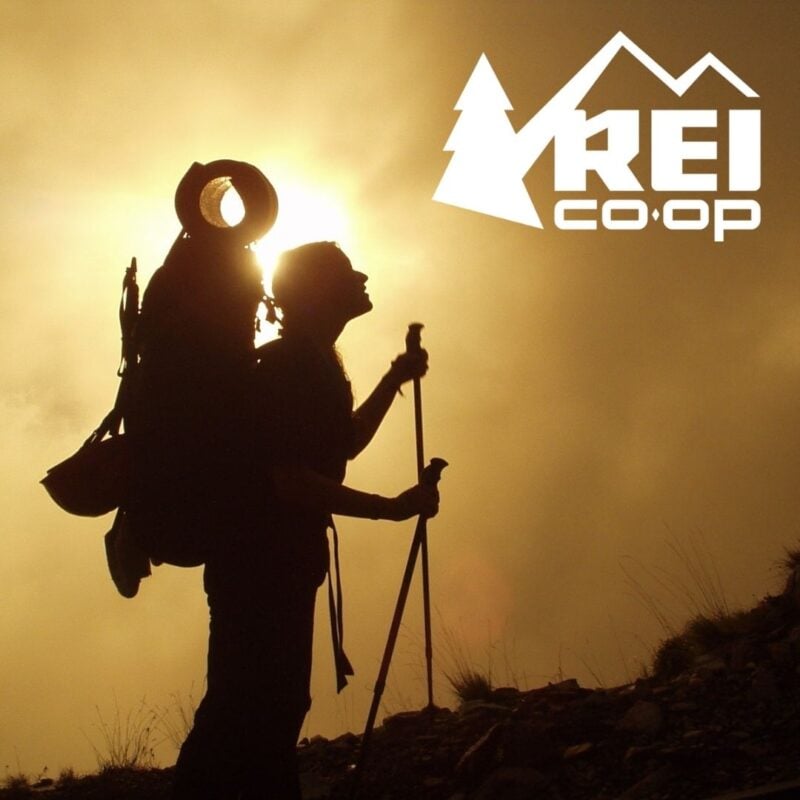 REI is one of America's biggest and most-loved outdoor gear retailers.
Now, for just $30, get a lifetime membership that entitles you to 10% OFF on most items, access to their trade-in scheme and discount rentals.
Join REI Today!
Akaso Brave 8 Specs
Video: 4K60, 2.7K60, 1080P120, 720P240
Photo: 48MP
Digital lenses: Super wide, wide, medium, narrow
Burst: 3, 7, 15 and 30 shots
Time-lapse: 3, 5, 10, 30, 60 second intervals & 8k.
Long exposure: 1, 2, 5, 8, 30 and 60 seconds
Screens: 2-inch rear touchscreen and 1.5-inch front screen
Waterproofing: Waterproof up to 10M/33FT without a case for up to 30 minutes
GPS: No
Voice control: Yes
Stabilization: 6-axis EIS 2.0
App support: Yes
SD card included: No
Live Streaming: No
Remote Contol Included: Yes
Image Stabilization
Image Stabilization is probably the most important feature of any action camera – full stop. Inherently, you will be purchasing your action camera to film fast-paced activities, vlogging, action sports, or other content that must be filmed on the go. Without image stabilization – you got nothing.
Thankfully the Brave 8 excels here!
So how does the image stabilization perform on the Brave 8? I'd say this is the main, noticeable area where GoPro has all Akaso Cameras beat. That said – hear me out.
The burly 6-axis image stabilization gyroscope design found on the Brave 8 does perform well – I just would not call it industry-leading performance. When I tested this camera, I was mostly filming bumpy jeep rides on dirt roads in Pakistan, POV hiking shots, and a few underwater shots in a high-altitude alpine lake.
The raw footage did not come out silky smooth most of the time – like you would get with the GoPro HyperSmooth 3.0 technology – but after a bit of work in post – I got the footage to a point where it was looking pretty damn stable.
My verdict? If combined with some post-production image stabilization, the native image stabilization of the Brave 8 is good enough for the likes of most vloggers and enthusiast content creators.
Image Stabilization Performance: 2.5/5 stars
Touch Screen and Front POV Screen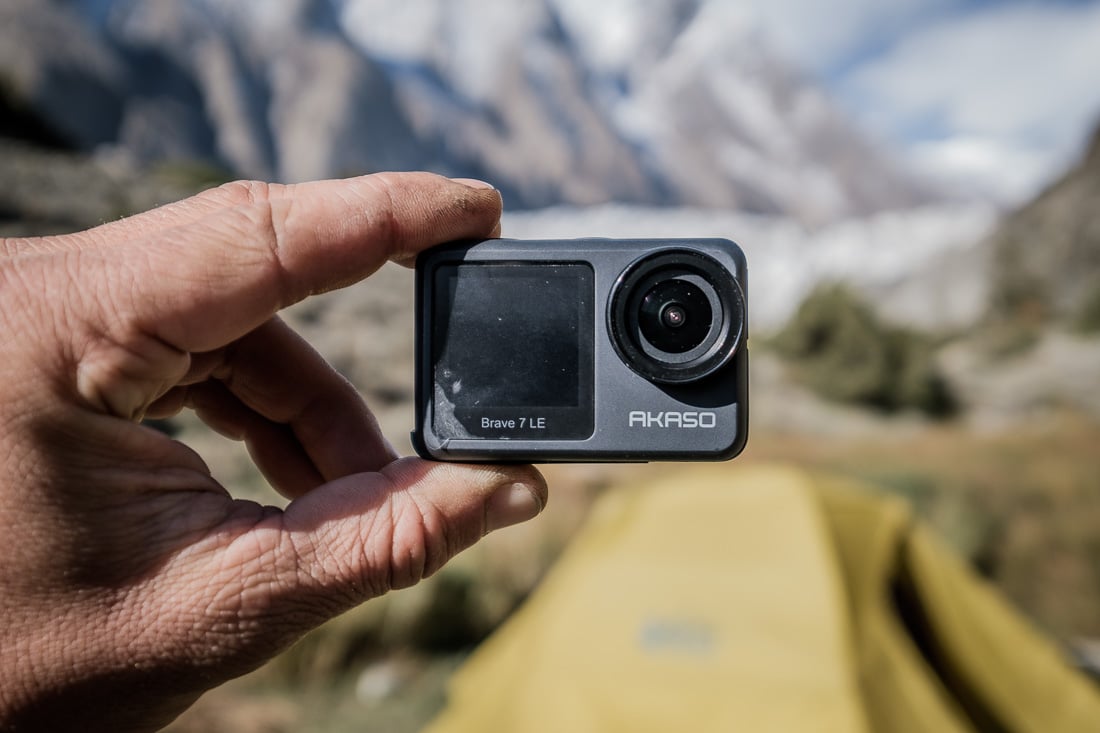 Like other action cams on the market the Akaso Brave 8 is equipped with two screens (this is new for Akaso). The back screen serves as the touch screen and menu navigator whereas the front screen is used for selfies, POV shots, etc.
The back screen allows you to really manage the settings on the fly: change between modes, scroll through photos/videos, or switch to "vlog mode", to use the front screen.
How did I find the user-friendliness of this touch screen? More or less once I spent 15 minutes going through the various modes – it was all pretty straightforward.
There are 3 main operator buttons that work together with the touch screen and most mode adjustments – switching between photo/video/time lapse/slow motion/etc – can all be done in a few taps.
The front screen is a really solid addition to this Akaso camera as it gives you more visual control when you need to shoot in POV/selfie mode.
Touch Screen Performance: 4.5/5 stars
Camera and Recording Quality
All the video shot in the above clip that is NOT drone footage was shot with the Akaso Brave 8.
Along with image stabilization the camera quality and recording capability rank among my highest priorities for any action camera. This is where the Akaso Brave 8's price makes it that much more interesting: a 4K camera that shoots at 60 fps for under $250? Yeah, that's pretty awesome.
The 1080 res at 60 fps does leave something to be desired as the shot quality is markedly less than when shooting at 30 fps. If attaining super crisp slow motion clips is something you are after – don't expect to get your mind blown here.
The photo image quality is consistently pretty good. The Brave 8 gives you 48 mp res, which is actually better than some of the newest GoPros on the market (GoPro Max is 18 mp).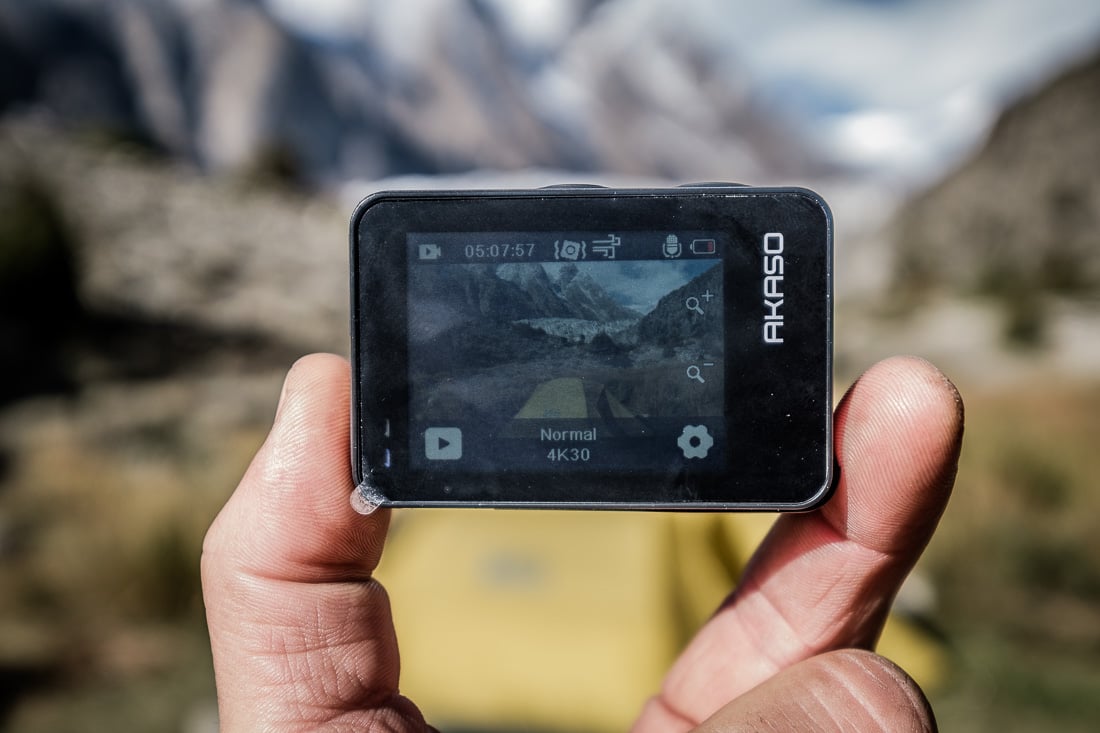 Just as is the case with DSLR cameras – megapixels actually don't mean that much – it is all about the glass and lens quality. Overall photo performance is comparable to GoPro and Osmo action cameras – but personally, I tend to just use this camera for capturing video and keep the photo shooting with my Fujifilm XT-3.
You do have full control over the video and photo quality you want to shoot at; it's all adjustable. That said, to avoid the disappointment of pixelated footage, I always recommend shooting at 4k and 30 fps.
Camera and Recording Quality: 3/5 Stars
Timelapse and Burst Settings
Let's start with the timelapse feature. This setting allows you to capture and speed up epic sunrises or the movement of clouds in relatively good detail. I noticed that in general, the Brave 8 did not perform as well in low-light situations. My verdict? It gets the job done.
The burst settings are another interesting staple for any action camera. For capturing photos of people or things in motion, using the burst feature is a must. Again, I was not super stoked on the Brave LE's burst performance in low-light. You do have some shot flexibility and control with the burst frame rate which are 3, 7, 15, and 30 shots respectively and it also claims "8k" time lapse too.
The Camera Body and Battery Compartment
The quality feel of the build and weighty design took me by surprise when I pulled this thing out of the box. For an action cam under $250 – I was expecting some sort of cheap, light-weight plastic unit that felt more like a toy than an actual camera. Not the case here.
Akaso has done a good job to keep its build design inline with other comparable cameras on the market. It is worth noting that the Brave 8 is notably bigger than the V-50 camera by Akaso (but it also is a much better overall camera).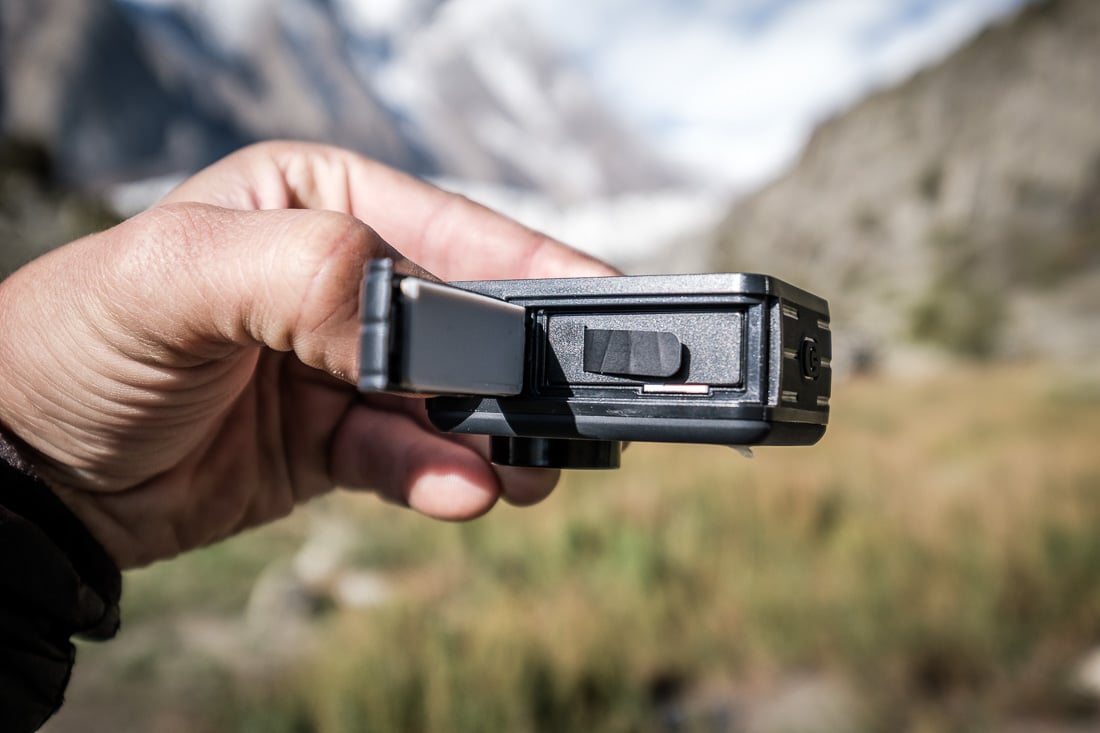 The battery and memory card compartment is located on the underside of the camera body. This sleek little zone also feels well designed and the battery door takes a bit of effort to open – which tells me the door won't suddenly spring open if it is knocked by a tree when mounted on a mountain bike for example.
Camera Body Score: 4/5 stars
Waterproofing
The upgraded version of this camera is now rated at IPX8 meaning the camera is waterproof up to 10M/33FT without a case for up to 30 minutes. This is great and a vast improvement on previous models as it means it can be used in a whole heap of other scenarios without the annoying rattly housing ruining the sound quality.
30 mins isn't epic, and it's not going to cut it on a Scuba diving trip let's be honest, for that you'll need additional housing, but for activities where the camera is going to be in danger of getting wet or just capturing some selfies in the pool, it's a welcome improvement and bring it inline with some of the features of more recent GoPros.
Waterproof Housing Performance: 4/5 stars
Sound Quality
I admit I did not do too many recordings where I needed the sound to be tip-top. I was mostly using my Brave 8 to record B-roll footage to supplement the drone footage I was filming (see above video).
Most action cameras are not geared towards capturing professional-level sound bites and the Brave 8 is no different.
Without the case one is able to capture decent ambient sound or a person talking to you. But still, I would not conduct an interview on the top of a windy mountain and expect the audio from that scenario to come back with any degree of respectability.
On a quiet street in a city or inside of a room, the sound quality is actually fairly decent but comparable to other cameras like it. Overall – I was pleasantly surprised by the sound quality of the AKASO Brave 8, given my expectations (but again, not pro grade).
Sound Quality Performance: 3/5 stars
WIFI Capabilities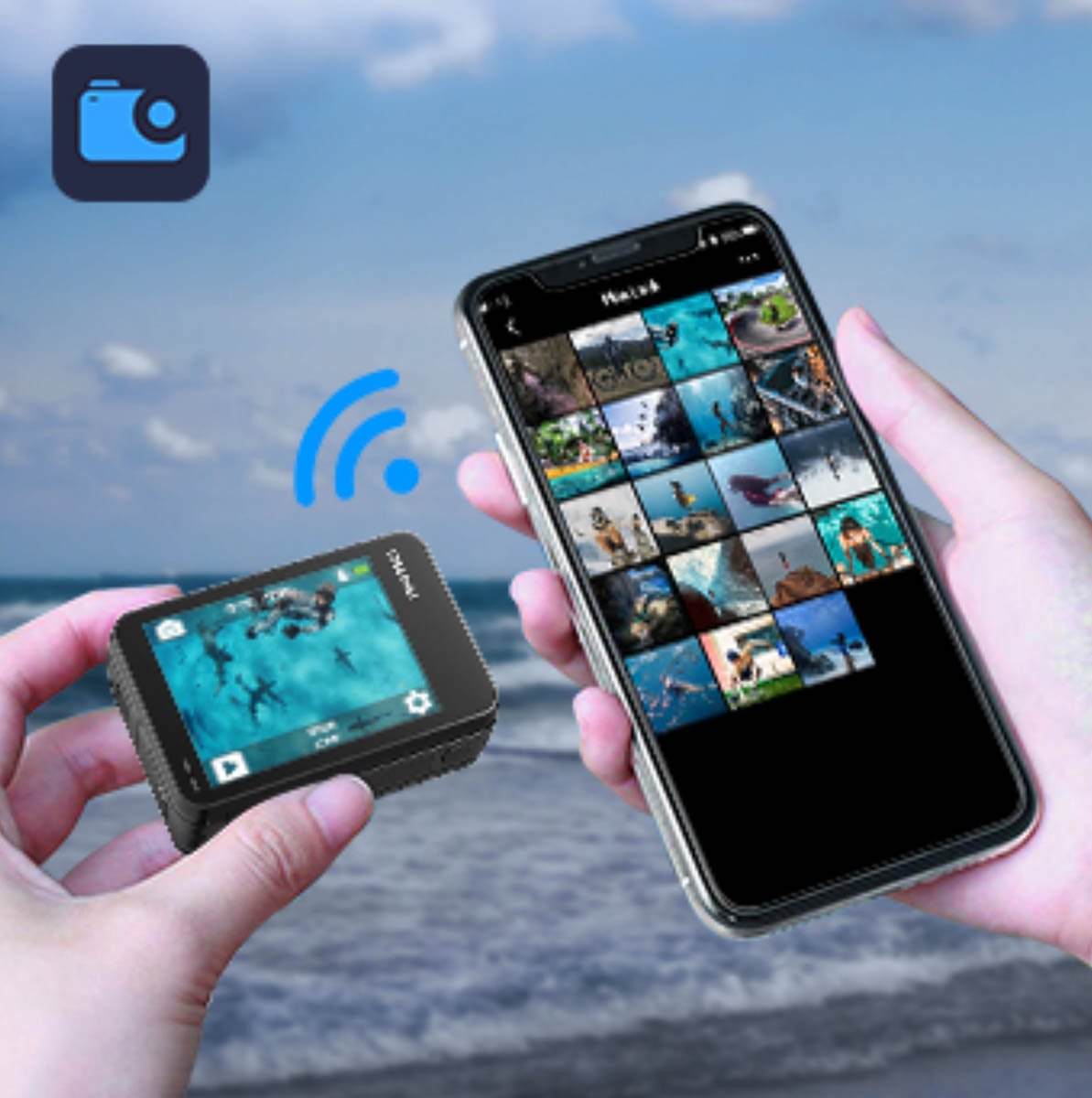 Akaso has also made another step toward the light of progress by incorporating local wifi and HDMI capabilities.
The AKASO Brave 8 is WIFI supported and provides wireless photo/video sharing via App (iOS & Android system compatible). This gives you the ability to easily use the camera for YouTube/Instagram vlogging. Meanwhile, the built-in HDMI Port enables you to directly connect it with television.
Keep in mind that it is not possible to live stream with the Brave 8 – but I guess that is something that can be done on your smartphone.
In the Box: AKASO Brave 8 Accessories
When I unboxed the Akaso Brave 8 for the first time, I was like "what the hell is all of this stuff?!" Point being – there is a lot of stuff that comes in the box. Some of it useful, other stuff not so much.
Probably the accessories that you will use the most are the various mounts. If you want to do any kind of real action cam shooting like filming surfing, snowboarding, mountain biking, etc – then you will need to utilize the mounts. A head mount, wrist mount, bike mount – it's all in there.
A handy feature I appreciate is that the Brave 8 has a standard tripod mount (tripod not included) – which is useful for shooting time lapses or shooting in low light situations.
Here is a breakdown of all of the trinkets included in the box:
Bike mounts
Screw fittings
Head strap mount
Wrist strap mount
Adhesive pads
Remote control
Spare battery
Zip ties
Lens cloth
Waterproof housing
Spare mounting screws
$100 cash (just making sure you are paying attention)
Akaso Brave 8 vs GoPro Hero9 Black
As I mentioned earlier the Akaso line of cameras is on its way to becoming a serious competitor of GoPro from a performance perspective. But as of now, it is clear to me that the GoPro Hero9 Black is the superior product. But that doesn't mean there isn't a place for the AKASO Brave 8.
The quality of the image stabilization found on GoPro cameras is part of the reason GoPro leads the industry: it is unmatched.
So why choose the Akaso over a GoPro? The main reason is the money. The Hero9 Black costs more than $200 more than the Akaso Brave 8 – which is significant. If your priority is saving money the clear winner is the Brave 8.
If you want the best of the best from an image quality and image stabilization perspective, well, that choice is easy: go with GoPro Hero9 Black.
Here is a breakdown of the specs of these two cameras side-by-side: AKASO Brave 8 vs GoPro
Akaso Brave 7 LE vs GoPro Hero 9 Black
Specs
Akaso Brave 7 LE
GoPro Hero9 Black
Price
$250
$350
Video:
4K60, 2.7K60, 1080P120, 720P240
Max bit rate: 60 mbps (1080p)
5k, 4k, 2.7, 1080p
Max bit rate: 100Mbps (2.7K, 4K, 5K)
Photo:
48MP
20MP
Digital lenses
Super wide, wide, medium, narrow
SuperPhoto + Improved HDR, Continuous Photo,
Wide, Linear, Narrow Lenses
Burst
3, 7, 15 and 30 shots
Auto, 30/10, 30/6, 30/3, 25/1, 10/3, 10/1, 5/1, 3/1 Intervals
Wide, Linear, Narrow Lenses
Long exposure/Night
1, 2, 5, 8, 30 and 60 seconds
Auto, 2s, 5s, 10s, 15s, 20s, 30s Shutter
Wide, Linear, Narrow Lenses
Time Lapse
3, 5, 10, 30, 60 second intervals & 8k
TimeWarp 3.0
Screens:
2-inch rear touchscreen and 1.5-inch front screen
2 Screens
Waterproofing
30ft/ 10 m for 30 mins without case
33 feet / 10 meters without case
GPS
No
No
Voice control
Yes
Yes
Stabilization
6-axis EIS 2.0
Hypersmooth 3.0
App support
Yes
Yes
SD card included
No
No (with extra fee, yes)
Live Streaming
No
Yes
Remote Control Included
Yes
Yes

Our GREATEST Travel Secrets…
Pop your email here & get the original Broke Backpacker Bible for FREE.
Akaso Brave 8 Review: Final Verdict
Right then, we've reached the finale of this AKASO Brave 8 review, time to wrap things up neatly!
Shooting action videos is a whole lot of fun. The sky is the limit in terms of the kind of content one can make. For those looking to break into the vlogging or video creation world with an action camera, the Akaso Brave 8 is a fine option for beginners or those looking to upgrade from their smartphone.
If you just want an easy to use, versatile action camera to take on your next vacation or backpacking trip, the Akaso Brave 8 will meet all of your needs and then some.
As discussed, the Brave 8 does have its limitations. For the price and what it can deliver, the Brave 8 is an excellent value – just don't go expecting it to perform like the latest GoPro.
Overall Performance Score: 4.4/5 stars

---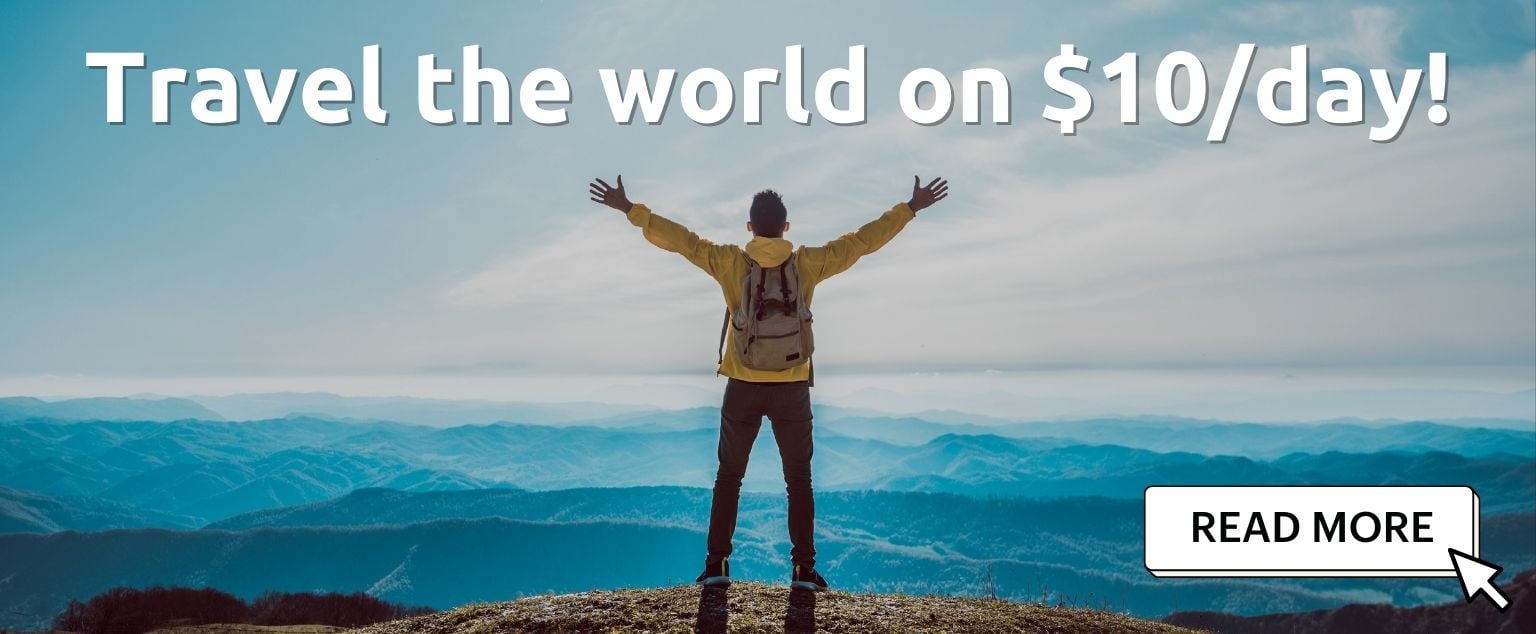 And for transparency's sake, please know that some of the links in our content are affiliate links. That means that if you book your accommodation, buy your gear, or sort your insurance through our link, we earn a small commission (at no extra cost to you). That said, we only link to the gear we trust and never recommend services we don't believe are up to scratch. Again, thank you!