I just spent 15 minutes trying to brainstorm a way to open this article without mentioning the Go Pro. Clearly I failed! And that tells us all just how ubiquitous the mighty GoPro Action Camera has become.
However, despite its towering reputation and despite the fact it has become a cultural touchstone, the reality in 2022 is that there are now BETTER action cameras on the market.  Just as an (illegitimate) son can exceed the father, and just as the moon can eclipse the sun, there are now several pretenders to the Action Camera throne.
In this post, we are going to take a deep dive and detailed look at the OCLU 4k Action Camera. We're going to run through its specs, its best uses and how it compares to the original GoPro.
I'm even going to tell you how you can Get $100 Off OCLU with code OCLU100…
What Is The OCLU 4k Action Camera?
The OCLU 4k is a water-resistant, award winning action camera designed for adventurers and adrenaline junkies who want to capture their action.
Unlike the angular GoPro, the OCLU has a nicely rounded, aerodynamic body and unusually, the lens sits tucked into the camera's edge. The battery powered camera does not have a touch screen, but works using up/down toggle and select buttons located on the side.
The recording and playback quality is pretty high res and the camera also allows for some very useful editing on the fly.
Let's get into the details and find out how the OCLU rates amongst the best GoPro alternatives.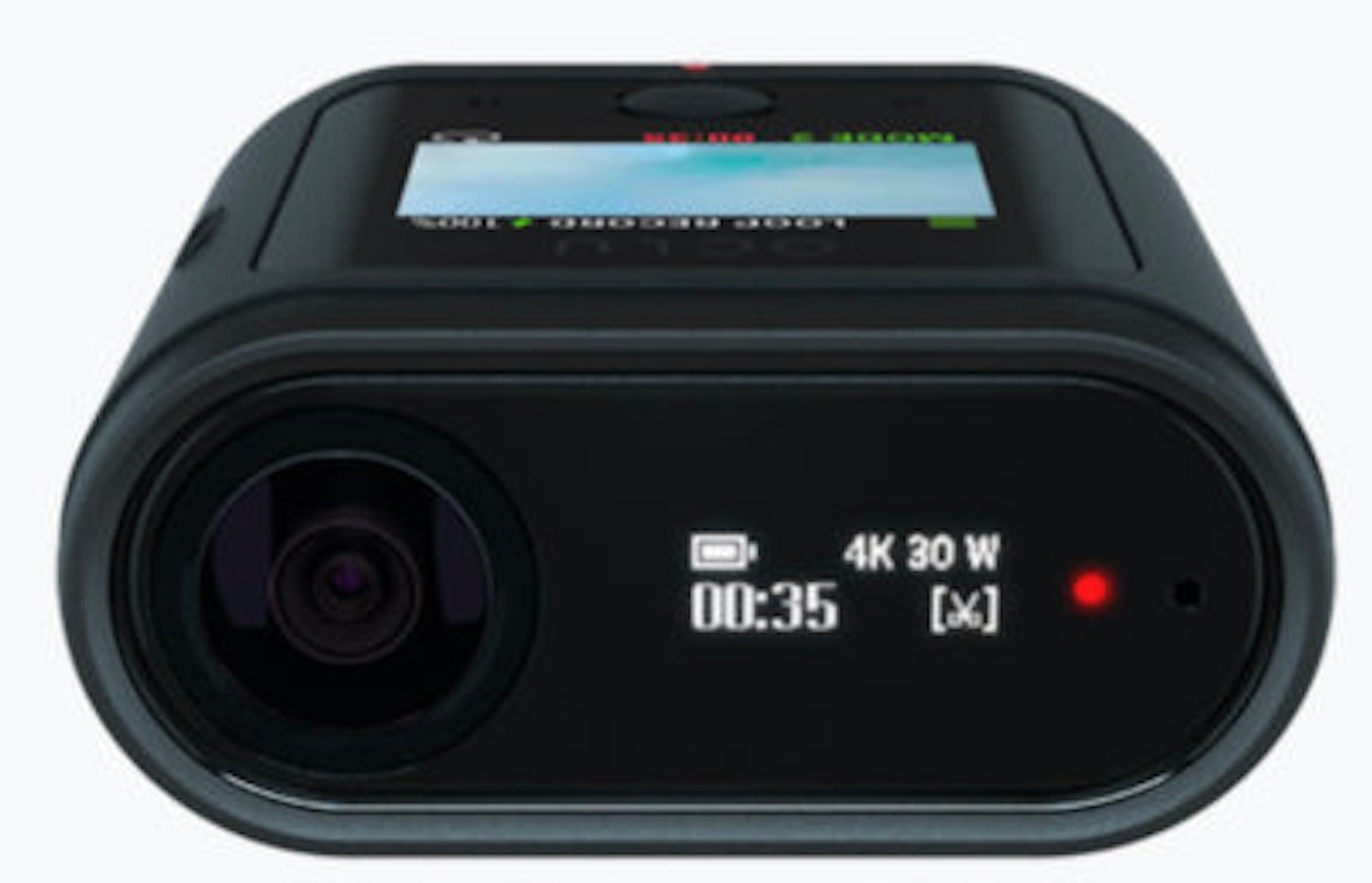 If you are after a versatile lightweight, low profile camera, for multiple uses then this may be the action camera for you. It can shoot still photos and videos in 1 of 8 different modes to get the perfect shots and capture memories. 
The LiveCut® technology allows on the fly, live editing – you don't have to wait until you get to the computer to start the edit. If this unique feature sounds good to you, then the OCLU action camera will not disappoint.
With a Water Resistance of IPX7, the OCLU can only handle 1 metre of water depth. It is not suitable for divers or people with especially deep baths
This is not a camera for photographers. Whilst the OCLU can take pictures, this is not its intended primary function at all. Just use your Smartphone if all you want are rudimentary stills or invest in a great DSLR camera.
If you are on a budget, don't buy this camera. This action camera is fairly priced, but is not cheap. If you are after a cheap camera then consider checking out our Akaso Brave 7 review. That said, you can now Get $100 Off OCLU with code OCLU100.

Do You Want to Travel FOREVER??
Pop your email in below to get a FREE copy of 'How to Travel the World on $10 a Day!'.
OCLU Action Camera Specs
Dimensions: 62.5mm x 61.5mm x 28mm
Weight: 101g (with battery & metal door)
Lens:  f2.5 150°  glass lens
Water Resistance: IPX7
Memory: up to 128GB max capacity (memory card not included)
OCLU 4k Action Camera Resolutions:
The OCLU video resolutions are as follows:
4K 16:9 (30,24 fps)
2.7K 16:9 (30,24 fps)
2.7K 16:9 SuperView (30, 24 fps)
2.7K 4:3 (30, 24 fps)
2.5K 16:9 (60, 30, 24 fps)
1080 FHD 16:9 (120, 60, 30, 24 fps)
1080 FHD Superview (60, 30, 24 fps)
720  HD 16:9 (240, 120, 60, 30, 24 fps)
OCLU 4k Action Camera; Design & Features
Video Quality
For such a compact little camera, the OCLU boasts a really good level resolution. It can record in 4K at 30 frames per second, or 1080p at 120 frames per second. But what does that actually mean? It means the recording image quality is going to be good enough for just about anybody except perhaps for pro film-makers seeking Hollywood standards. 
Furthermore, the motion stabilization mode can be activated and its algorithm will smooth out rough footage. This is especially useful for bump rides. However there is a trade off and using the motion stabilization mode will limit your quality to 1080p at 30 or 60 frames per second.
Super wide shots can also be recorded at 2.7K resolution with a 4:3/16:9 aspect ratio.
What about photographs? Well the still camera can take pictures at 12 megapixels. This is decidedly meh compared to even basic DSLR cameras (and modern smartphones) but is perfectly adequate to get a snapshot. Of course the reality is that people don't buy action cams wanting to take landscape pictures so this is not any kind of hindrance. 
However, the camera does lose a few points for the lack of  night vision or low light mode.
Sound
The OCULUs built-in microphones are located on the front and the top. They are also independently isolated which helps with the automatic wind reduction feature; by isolating the sound from both mics, the software can filter out unwanted noise. 
In summary, the audio is refreshingly clear even when there is wind noise and shouts of "Woo!!".
Battery
The OCLU action camera charges its battery with the OcSnap magnetic USB charging cable – it's pretty convenient and the battery charges quite fast (around 90 minutes).
In terms of battery life, in ordinary conditions you should get over an hour of recording in 4K. Obviously, if you reduce the resolution you will get longer and I believe the lowest resolution can be pushed to offer battery life of about 4 hours.
Remember that weather conditions as well as the camera's conditions and life will affect battery life.
Overall, this isn;t amazing and some action cameras do offer longer battery lifespans. The solution here is to buy a 2nd battery and remember to keep it charged.
Size & Weight
I've already set out the dimensions and weight. Basically, this camera is VERY light and very compact for its class.  See the way it fits inside my hand?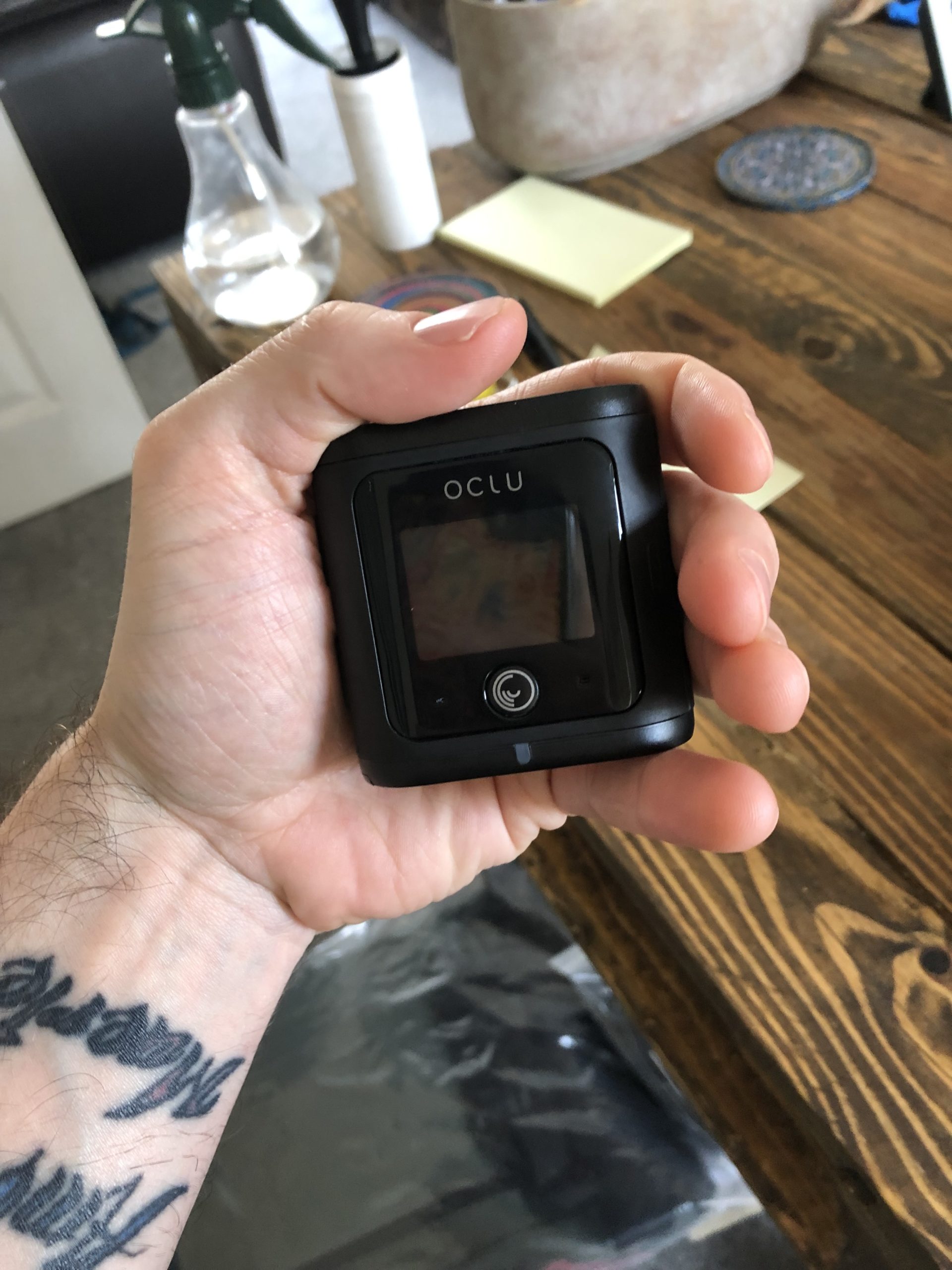 This means it can be mounted more easily than bulkier cameras – the last GoPro I tried felt substantially heavier and used to actually give me a slight neck-ache after a few hours on my bike helmet.
As a bonus, the small size also makes the OCLU a more stable product as compact cameras are less likely to be dropped and knocked.
LiveCut® Pre Editing
One of the key features that truly sets the OCLU action camera apart from the crowd, is the LiveCut® feature.
It's a pre-editing software that allows you to delete footage as it's happening so it takes up storage space. I like to use this for "pre-editing", sorting the wheat from the chaff and cutting out all the boring bits of reel you don't need. I then transfer the footage onto my Mac to give it a proper edit and turn it into a blockbuster.
Note that using LiveCut does tend to cut into the battery life a bit though so try to be mindful of overusing it.
The best present of all… is CONVENIENCE!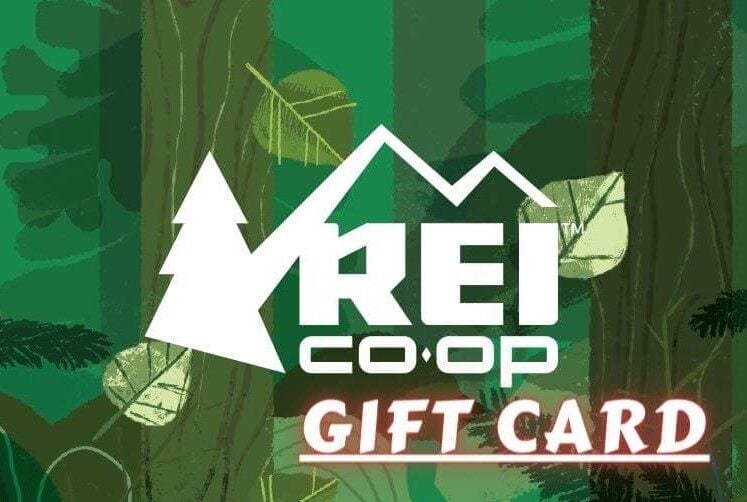 Now, you could spend a fat chunk of $$$ on the WRONG present for someone. Wrong size hiking boots, wrong fit backpack, wrong shape sleeping bag… As any adventurer will tell you, gear is a personal choice.
So give the adventurer in your life the gift of convenience: buy them an REI Co-op gift card! REI is The Broke Backpacker's retailer of choice for ALL things outdoors, and an REI gift card is the perfect present you can buy from them. And then you won't have to keep the receipt. 😉
Buy on REI!
Best Uses For the OCLU Action Camera
This is an action camera and one of the leading action camera makers. This means it's great for filming landscapes roll by from car windows on epic road trips and the likes. Other popular uses include mounting them on helmets for activities like cycling, skiing or skateboarding. 
OCLU offers a pretty decent range of accessories for the camera so you fix it to any number of things including helmets and bike handlebars.
Alternatively, you could just attach it to a mount or selfie stick and use it to record monologues or sweeping landscape shots for Instagram.
Of course, if you fall off your skateboard or crash your bike the camera is at risk and doesn't have much in the way of protection. That said, its aerodynamic, compact shape and lightness do work in its favour here and unless you fall on top of it, it may well escape any mashup better than you do. It may sound counter intuitive but think of it like a cat falling from a high window. 
However, please note that this is not a proper under-water camera. A water resistance rating of IPX7 means that it can withstand about 30 minutes of exposure to depths of 1 metre. What this means is that you could use it in a swimming pool or bath quite safely but it is not a diving camera; that said, you could mount it in your head if you were going snorkeling.
If you do need (or think you might need) a proper underwater camera, then look elsewhere.
OCLU 4k Action Camera: Price
Quick Answer – $299 (But Get $100 Off OCLU with code OCLU100)
At $299 the OCLU is at the midpoint of the Action Camera range.  The GoPro Hero8 is currently changing hands for $350 so the OCLU does come in a bit cheaper. Furthermore, if you buy direct from OCLU they often offer various deals and incentives so you may well pick one up for around $199. It is one of the best camera brands for travel when it comes to value for money.
If you are after a cheap camera, then check out the Akaso EK7000 which costs about $60. 
In summary, for a high resolution, good quality action camera then the OCLU is fairly priced.
OCLU Accessories
Note that you don't get many accessories or mounts with the OCLU. It comes with a carry pouch and a nice little travel case and the leads you need to charge it and connect it to a computer. But that's it.
Mounts, memory cards, spare batteries and selfie sticks, all need to be purchased separately.
Pros & Cons of the OCLU 4k
Pros
Live Cut feature
Two Independent microphones
Image quality
Water resistant
Cons
Can't film 60 FPS at 4K
Not waterproof – IPX7 means it can resist water up to 1 meter for 30 minutes
The OCLU Action Camera Versus the Rest
Ultimately this camera is a rival of GoPro. Therefore it ultimately lives and dies by how it compares to the real thing.
OCLU Review

| Model | Max Res | Size | Weight (oz) | Battery Life (Mins) | Water Resistance (M) | Price |
| --- | --- | --- | --- | --- | --- | --- |
| OCLU | 4k | 62. x 61.5 x 28 | 3.6 | 90 | 1 | $299 |
| GoPro Hero 7 | 720p | 62 x 45 x 33 | ?2.27 | 146 | 10 | $322 |
| GoPro Hero 8 | 1080p | 62.3 x 44.9 x 33 | 4.13 | 120 | 10 | $350 |
| Akaso Brave | 4k | 59.5×41.8×30.3 | 2.2 | 120 | 5 | $150 |
Can't Beat The Real Thing?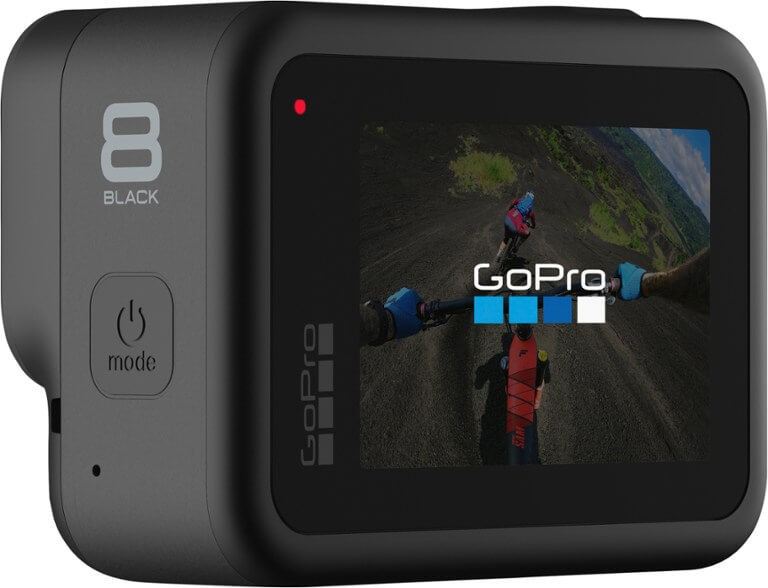 Let's be honest here, whilst some of these GoPro alternatives are great products, you really cannot beat the real thing. Just like with Coca Cola, the original GoPro is still the best and if you can stretch to it and find the extra bucks, may be a sound investment. A proper GoPro will serve you good for miles and miles and years and years of adventuring.
Personally, I prefer the shape and feel of the OCLU to the GoPro but that's kind of subjective. Besides that, I appreciated that sometimes you just can't beat the real thing. If you do decide to go for a GoPro, I get it and won't hold it against you.

Unlock the The Broke Backpacker's GREATEST Travel Secrets!
You pop your email here, and we promise to send you only travel content that's actually relevant — sounds like a pretty good deal to us!
Final Thoughts
So that's it! By now you should know whether this awesome action camera is right for you and for all of your adventuring needs. It is definitely one of the best action cameras I have tried in a while and is a worthy rival to the GoPro.
Whatever adventure you are looking to film, have a blast!
See you on the road.
---
Thanks for reading – that was fun! 😀
We bring you epic FREE content!
Find out how YOU can help support us.
We're a big site with a big team and this job isn't always easy. But we do it because we love it – we love providing epic and free content. We love the knowledge that our content keeps you adventuring. We don't ask for money, but if you'd like to find out how you can help the site in more organic ways, click the button below.
Thank you for your support 🙂
---
Bye for now, but not forever!
If you want MORE top-tier Broke Backpacker content like this, then sign up for our weekly newsletter below to get the latest and greatest!
And for transparency's sake, please know that some of the links in our content are affiliate links. That means that if you book your accommodation, buy your gear, or sort your insurance through our link, we earn a small commission (at no extra cost to you). That said, we only link to the gear we trust and never recommend services we don't believe are up to scratch. Again, thank you!