If you're a travel photographer, you've probably heard about the new Nomatic Camera Pack, a labor love between the travel backpack company and photographer Peter McKinnon.
Together, Nomatic and Peter McKinnon spent 18-months creating this masterpiece!
Below, I review its key features, functionality, what I LOVE, and what I'm not sold on.
Now, I've tested out a few incredible camera backpacks over the years. It takes quite a bit of innovation and creativity to catch my eye.
Rest assured: the bag checks all the usual boxes required from a travel backpack: sleek design, thoughtful organization and functionality, and necessary comfort.
But of course, it's magic lies in its ability to double as a professional camera bag AND an overnight travel bag.
The removable folding dividers, 7L expansion, and external carry straps allow you to pack for like a pro photographer OR a hobbyist. Fill 'er up with mostly clothes or mostly camera equipment.
Nowadays, long-term travel is often synonymous with photography and the digital nomad lifestyle, and a bag that can accommodate such a lifestyle is welcomed with open arms.
Even the most adventurous (and minimalist) backpackers travel with multiple pieces of tech: a laptop, multiple cameras, lenses, and travel insurance to prove it (hopefully).
Ready to jump in? Keep on reading as I dish all of the details on the ultimate Nomatic Camera bag below.
This is the ultimate camera bag for travel and weekend trips. The quality and design are top-notch and made to handle years of plane travel abuse. Its not the nest hiking camera backpack in the world but is still adaptable for any occasion.
Nomatic thought of everything: tiny, foldable dividers to customize and organize your bag for your gear; magnetically closed side pockets; a sturdy slip to slide the bag over your luggage hand-holder; plenty of pockets for organization, and sleek, black design.
I can fit my camera, 3 lenses, drone, laptop, kindle, clothes for a few days including a jacket, chargers, and accessories with ease. Frankly, I'm impressed with how much stuff I can fit in this bag while still being able to store it in a plane compartment with ease.
Finally, one of the coolest accessories has to be the Mckinnon Cube Pack 21L. As the name suggests, it's a camera cube that unfolds into a lightweight solid-sized day pack with ease. This is super useful if you want to head out for the day with your camera and some of your gear without lugging your entire bag.
This takes "one bag travel" to the next level.
Ladies & Gents, It's Time to Step Your GEAR Game Up. 😉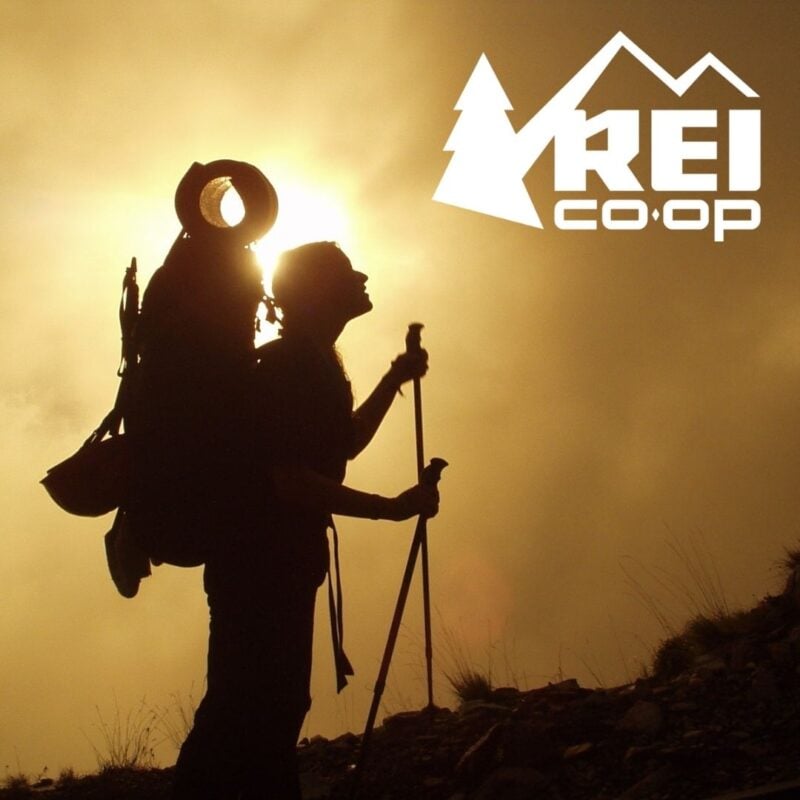 REI is one of America's biggest and most-loved outdoor gear retailers.
Now, for just $30, get a lifetime membership that entitles you to 10% OFF on most items, access to their trade-in scheme and discount rentals.
Join REI Today!
The Main Compartment
First and foremost, the main compartment has everything you need to achieve an OCD-like organization. This is the cornerstone feature of this pack, in my humble opinion. With four large dividers, two medium-sized dividers, and three small-sized dividers, you can truly customize your main compartment in the best way for your gear/trip!
For a complete visual breakdown, check out our friends over at Nomads Nation for a super in-depth video review:
Moreover, the filter case, accessory case, and smaller battery/memory card cases allow you to organize every piece of equipment you own. No more digging through your bag looking for a spare battery or your lens cleaner. All your gear has a rightful place.
The best camera bags offer full accessibility to your stuff. This one is no different. The back of the pack opens like a clamshell to fully expose the main compartment with room and functionality to keep your gear safe and sound.
As you open the main compartment, you'll notice there are a few pockets on the backside of the pack for further organization. I like that the two main pockets are see-through mesh. There is also a large pocket that could easily fit papers, a binder, more clothes, etc. It's a solid spot for a laptop in addition to the laptop sleeve reviewed later in this article.
As a camera backpack, this section gets a 5-star review. It has a roomy compartment with plenty of organization and dividers to use (or not use). That said, there isn't enough room to travel longer than a few days, or a week if you're an ultra-minimalist with one pair of shoes.
Don't worry though; Nomatic has come through with their usual innovation and creative problem-solving. *Cue the next section.*
Main Compartment Score 5/5
Front Compartment
The bag has another set of zippers that fully opens like a suitcase, this time revealing a smaller section with four mesh pockets on one side, and two larger pockets on the other side where you can easily store socks and underwear, or more accessories. Behind the two larger pockets is a giant zip pocket. This area is great to stash your toiletry bag.
The actual front compartment isn't large but does offer some more room to stash a couple of packing cubes and clothes for longer trips. It also includes straps to compress your gear.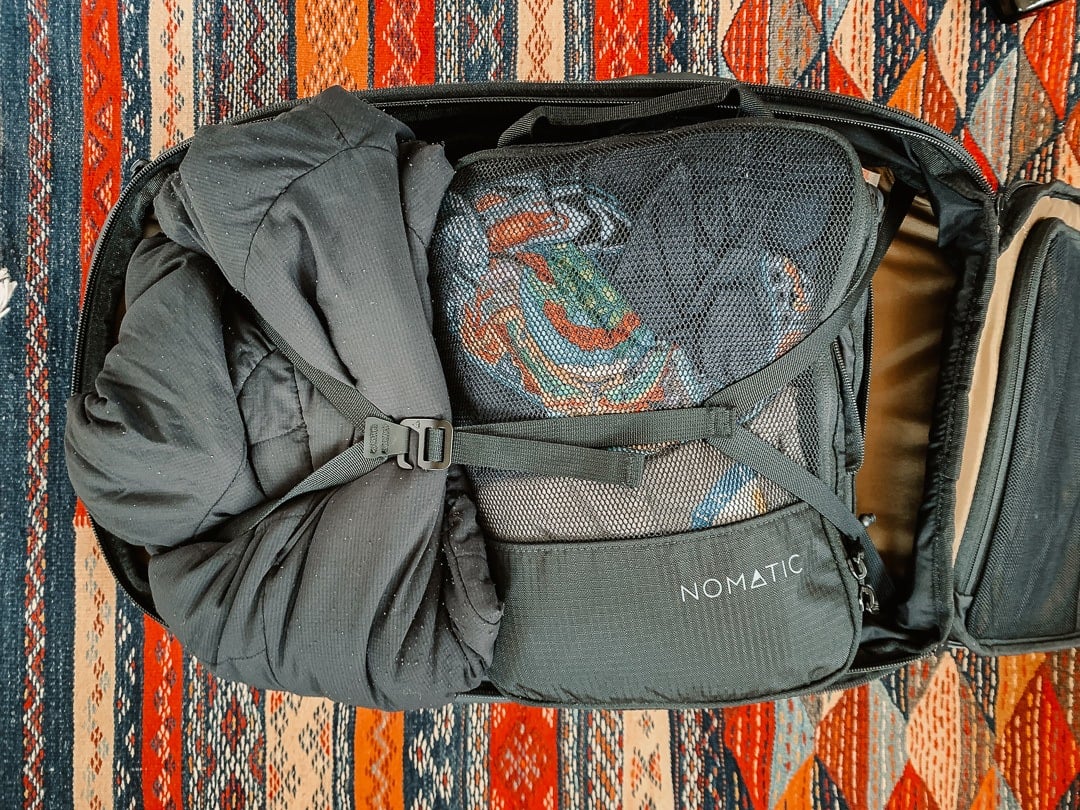 Make sure to expand the bag with the 7 extra liters if you are planning to use this compartment.
While I like this extra feature, there still isn't that much space… the trade-off for keeping this bag sleek and well within carry-on compliance. I recommend using Nomatic's or another brand's compression cubes, so you can store and an extra set of clothes.
Main Compartment Score 4/5
Meet The Peak Design Capture Clip…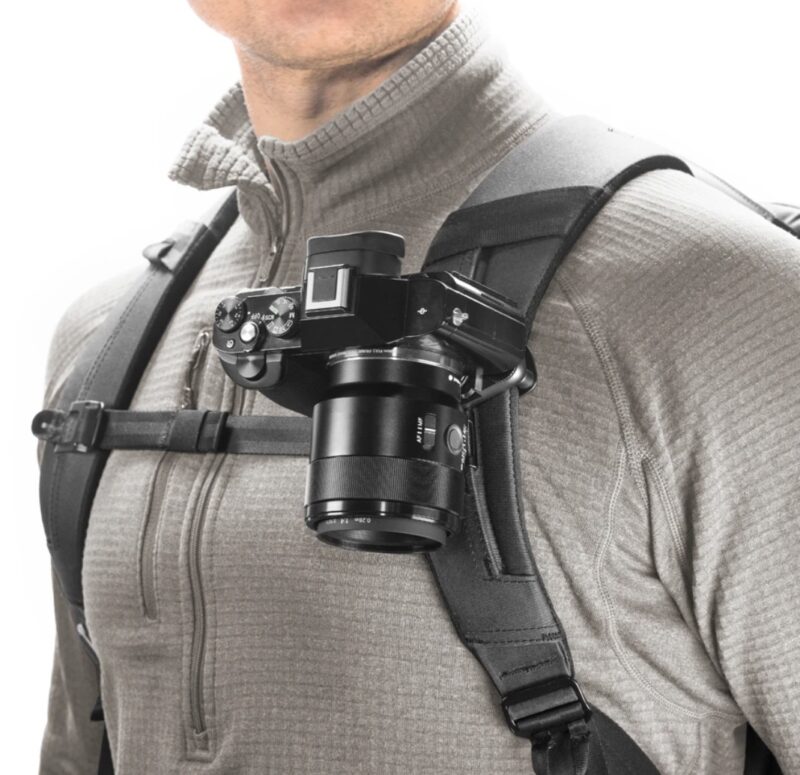 Before we go any further, I need to drop some knowledge on you. The Peak Design Capture Clip is a cheap, game-changing tool for adventure photographers that lets you keep your camera within arm's reach when hiking or moving about a city, without the camera ever getting in the way when you are not taking photos.
Clip it in, clip it out in one quick motion. Boom.
Investing in one of these is probably the best small adjustment you can make to your adventure photography setup. Just sayin'.
Check on Peak Design
Laptop Sleeve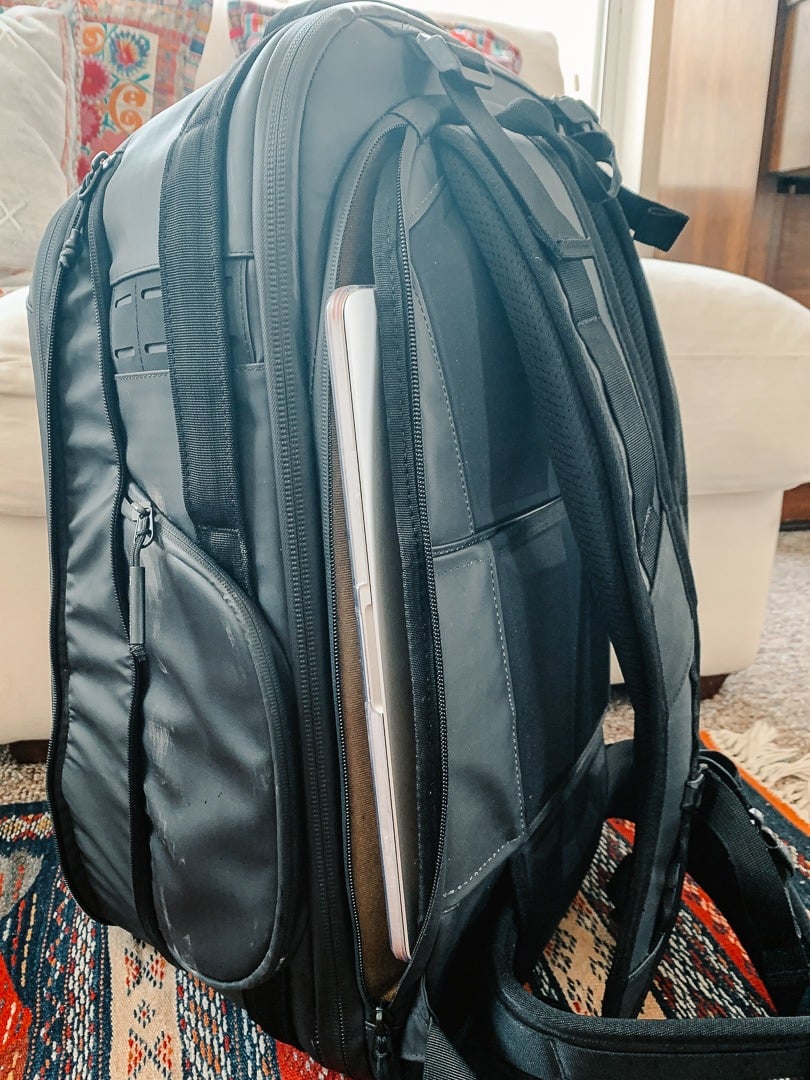 The Mckinnon has a dedicated 16" laptop sleeve at the back of the bag. The modern traveler travels with a laptop and/or tablet. Therefore, safe storage is essential. Safe storage of these valuable items is critical.
The sleeve is well padded and easily accessible to take your laptop out with ease, yet it's hidden from sight. There is no way anyone would know it's there.
Despite the fact this a compartment that is designed for a laptop or tablet, that does not limit its use to those items specifically. Not traveling with a laptop?
You can store external drives, more gear, or anything valuable here instead.
My only criticism is that it fits 16" laptops versus 17" laptops.
I travel with a 13″, so this doesn't bother me, but a lot of videographers and editors are going to want a 17″ screen.
Laptop Compartment Score 4.5/5
The Exterior of the Nomatic Camera Pack
The outside of the bag utilizes every square inch to serve an essential purpose, including external side storage for a tripod or water bottle.
This clips to the bag via a magnetic snap when not in use.
Unfortunately, there is only one water bottle/tripod storage, so if I'm hiking with both a tripod and a water bottle, I'll use the daisy chain loops on the front side to secure a tripod.
This is because the other side is dedicated to quick side access to your main compartment, so you never miss the shot!
I'll take one water bottle pocket for this feature any day. With access to your camera right from your hip, you can easily grab it or put it away on the move.
The exterior also has an RFID safe pocket for your valuables at the front, perfect for holding your keys, wallet, and passport.
Speaking of cards and cash, check out the awesome new Nomadic Wallet.
Sizing and Comfort
The Nomatic Camera bag is a unisex backpack and comfortably fits people of average height to tall dudes.
Thick shoulder pads and adjustable tensions straps make this pack comfortable AF. Like, it's ACTUALLY comfortable with heavy camera gear inside.
As for the hip belt, I love how easy it is to attach/detach. Let's be honest: most "detachable" backpack hip belts are a pain, but this one detaches with ease.
Since camera equipment can get heavy, the bag includes thoughtfully designed internal supports to help distribute the weight, along with the hip belt to take the weight off of your shoulders. Like a hiking bag, it includes external adjustment and support straps to help lighten the load while wearing this pack.
Now, let's get to the size. There are a few things I LOVE, and also a few things I am disappointed in.
At 35L, this Nomatic camera bag is a bit too big to use for casual day to day use, but that's okay. This bag was designed for travel and for professional photographers with plenty of gear. I can see how landscape, wedding, and family portrait session photographers will find this bag to well suit their needs, especially if they travel for jobs.
Anyone who also does video (with extra lenses and a drone) will find this bag a great size as well… Even the hobbyist will find this bag size useful for travel because it is designed with clothes in mind.
On the other hand, if you need MORE space, this bag expands from 35L to 42L, quickly and conveniently.
Carry-on sized to allow you to fit under the seat, or in the overhead bin in airplanes, with a laptop sleeve, tablet sleeve and magnetic water bottle pockets on the side of the bag quickly snap back into place while not in use.
Now, as for the size. I am a 5'6" woman with a smaller upper body frame. The hip belt JUST fits me. If I was any smaller, it would be too big to comfortably carry a full-weighted pack. For that, I cannot recommend this bag based on comfort and fit for smaller women. Unfortunately, that dock this section 2 points.
Sizing and Fit Score: 3/5 stars
Weight and Capacity
Quick Answer:
Weight: 5.75 lbs.
Capacity: Expands from 35L to 42L
Included McKinnon Cube Pack: 7L collapsed and 21L expanded
At 5.75 lbs. this is definitely a heavy backpack, but to be expected from a fully-featured camera bag of its size and class. Keep in mind that the Mckinnon cube is an additional 1.36 pounds… And then you have the other accessory holders.
Here is what I fit into my backpack:
13? Macbook pro
Sony 6300 camera with lens
Laptop + all accessories
Phone, and charger
Jungle of cables
Solar bank
4 pairs of shirts
1 pair of shorts; 1 pair of pants
Down jacket
Earbuds
Full-sized notebook/planner
Few pens
Water bottle
Passport, wallet, keys, glasses in the front pocket
Other random pieces of my life
Weight Score: 2.5/5 stars
Toughness and Durability
As long as you don't throw the Nomatic McKinnon off a cliff, it should last for 15+ years, at least.
The actual material and exterior of the Nomatic Travel Bag is 100% waterproof tarpaulin material. You can rest assured that your gear is safe from rain and chaotic weather! All in all, I have no complaints about the material and durability of this bag.
While not an issue, per se, this is such a nicely designed bag that I wouldn't want to trash it on a hiking trip or bring it along for my roughest travel trips. For that reason, I'm not sure if it would be my first pick for rough travel because of how much attention it would draw.
Toughness Score: 4/5 stars
Security
As previously mentioned, the Mckinnon camera backpack is well equipped to keep your possessions safe. The limited (and strategic) amount of pockets found on the exterior of the pack make sure your prized possession stays hidden and out of sight.
The zippers on all of the 3 main compartments can be locked for additional security.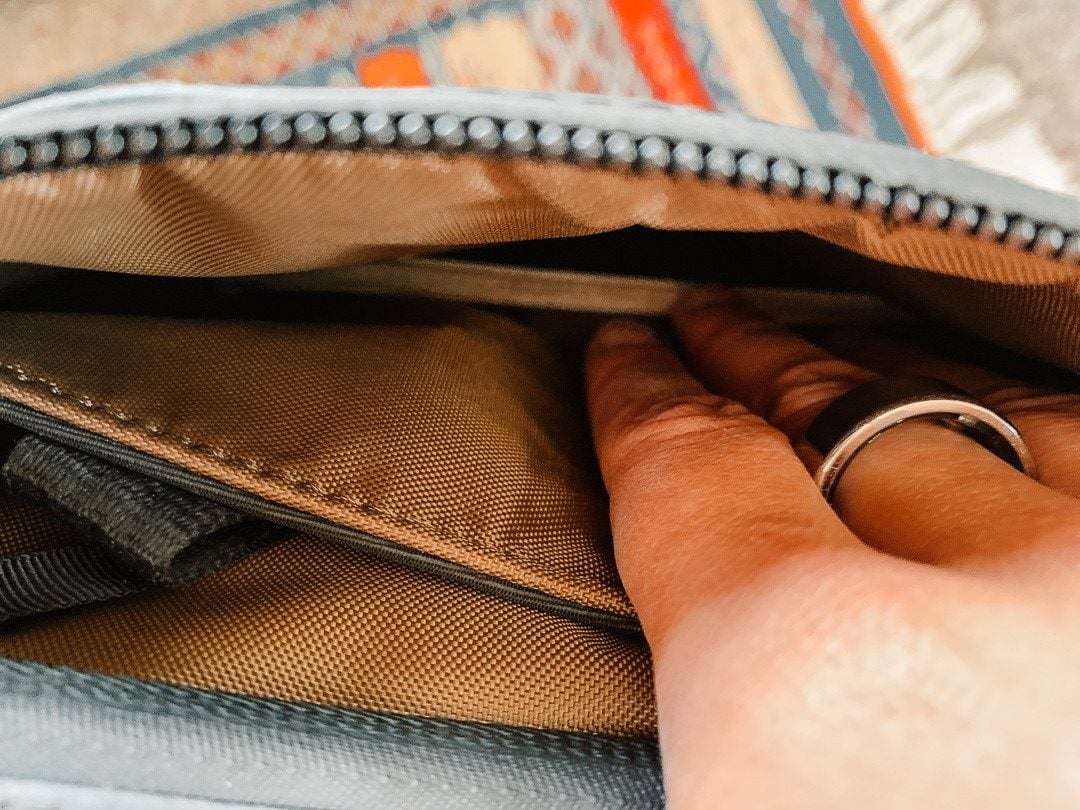 Realistically, it is almost impossible for a thief to steal your laptop out of your backpack whilst you are wearing it because the laptop compartment rests directly against your back.
Moreover, the front pocket where I store my valuable passport and wallet is extremely deep, so it's much harder to steal anything out of.
Security Score: 5/5 stars
Nomatic Camera Pack Review: Aesthetics
The Nomatic Mckinnon Camera bag has the same look and feel as the Nomatic Travel Backpack.
I don't love the futuristic capsule-look of the newest travel backpacks, but I do like the look and style of this bag as a camera bag. Esthetics are important, especially if you are traveling for business, as many photographers do.
The pack looks great on guys and taller girls, but as previously mentioned I think it's too big for smaller, shorter men and women.
Aesthetics Score: 4/5 stars
The McKinnon camera bag 35L is made for travel. Its size is the exact reason they made the Mckinnon cube that transforms into a daypack! Honestly, this may just be the best accessory Nomatic has ever made.
I love how you can still use it as a camera cube when not in use. Since the full Mckinnon camera bag is too big for a few hours on the town, the McKinnon Cube Pack is your handy day pack! You can even use it if you want to forego one bag travel, and fill up both bags for your trip!
The cube area at the bottom of the cube pack is big enough to fit a camera and 1-2 lenses. The actual backpack can fit everything you need for a day of shooting: your jacket, snacks, and water bottle. It does NOT have a water bottle holder, however, so make sure it is sealed tight inside your bag!
I appreciate how the top of the cube (when the bag is folded) becomes a back padding when the bag is in use. Nicely done, guys.
McKinnon Camera Bag Accessories
You can also buy tons of great accessory cases, depending on your needs! Nomatic has a memory card case that holds up to 6 SD cards and 2 c-fast cards securely thanks to the magnetic closure. The small zipper pocket allows you to store micro SD cards or other small items.
The filter case holds up to 6 filters securely, keeping dust and other elements out thanks to the zipper closure.
The Nomatic battery case is my favorite accessory. It holds three camera batteries securely thanks to the magnetic closure. Additionally, it comes with sticker indicators that help you know when your batteries are charged or dead. Excellent detail, as I am always unsure which batteries are ready to go!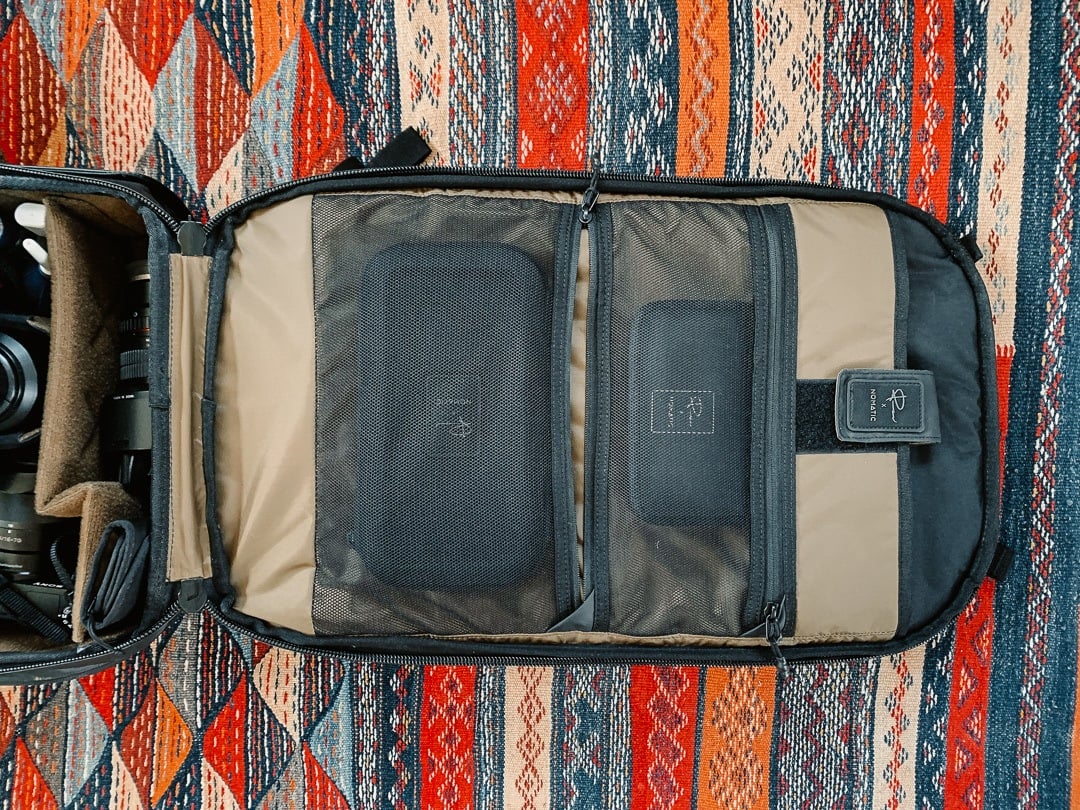 The larger boxed accessory case is the perfect place to store smaller items. With the protective EVA molded foam, your accessories can be protected from abrasion and shock.
Want the whole ensemble? Nomatic gives you the option to own all of these accessories with the Nomatic Camera Pack Bundle. But if you just want the 35L camera bag (with or without the Cube Pack 21L, you have those options too.)
What I LOVE About the Nomatic Camera Pack
Excellent organizational features.
Tons of dividers for the main compartment
Durable and water-resistant
Quick side access
The laptop compartment is a stand-alone compartment and extremely secure
The quick access outer pocket for storing a passport, phone, power bank, etc. is deep and easy to fill, even when the backpack is full!
Magnetic snap for tripod pocket
Lots of potential for customization.
Expands for more room
What I Didn't Like About the Nomatic Camera Pack
Extremely heavy… almost 6-pounds with no gear.
Pay extra for the Nomatic rain fly. Understand though.
Too nice for the roughest and most adventurous trips
Too big for tiny girls and guys! Perhaps Nomatic will make a smaller size in the future.
The best present of all… is CONVENIENCE!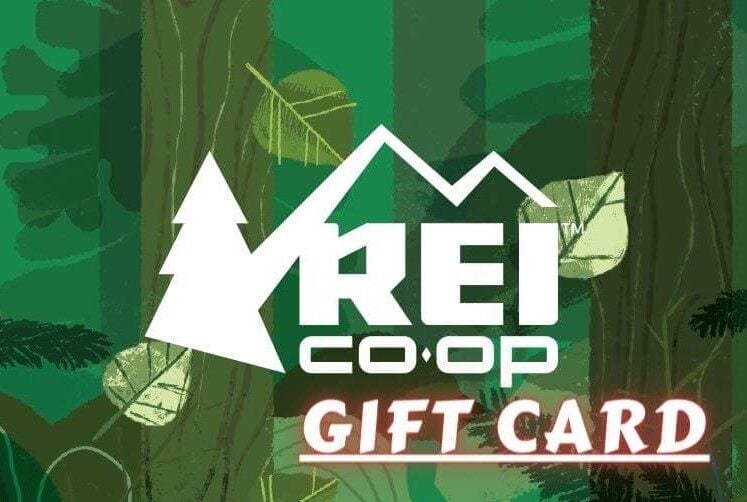 Now, you could spend a fat chunk of $$$ on the WRONG present for someone. Wrong size hiking boots, wrong fit backpack, wrong shape sleeping bag… As any adventurer will tell you, gear is a personal choice.
So give the adventurer in your life the gift of convenience: buy them an REI Co-op gift card! REI is The Broke Backpacker's retailer of choice for ALL things outdoors, and an REI gift card is the perfect present you can buy from them. And then you won't have to keep the receipt. 😉
Buy on REI!
Nomatic Camera Pack vs the Competition
In the land of camera bags, this one may be one of the best. That said, there are a few camera bags that stand the test against this Nomatic Camera bag, and might be a better fit, depending on your style and needs!
The WANDRD PRVKE 31 is designed with security, protection, and customization to appeal to both casual and professional photographers alike. It's not as spacious or fully-fledged out as the Nomatic camera bag; however. I like that the WANDRD PRVKE has a classic backpack look with a modern twist.
If you're planning to fill the WANDRD PRVKE to the brim, then I'd definitely go with the Nomatic bag. The WANDRD is not as comfortable for long hikes.
Check out our in-depth WANDRD PRVKE 31 Review.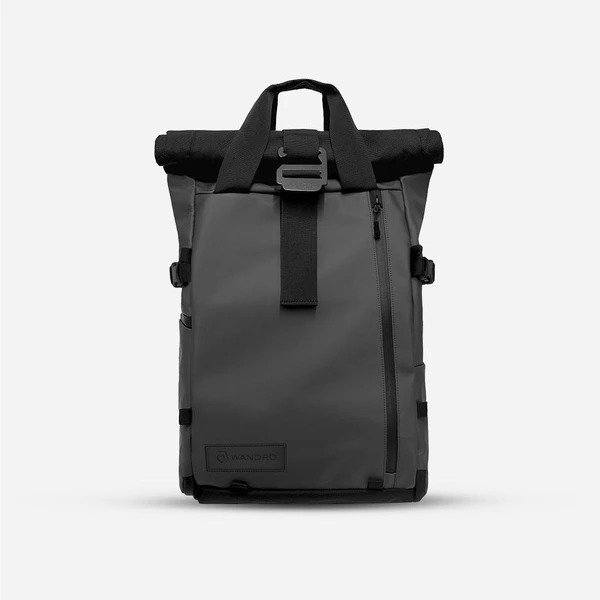 Both of these bags were designed in collaboration with professional photographers, so you can imagine how thoughtful they are to the essentials of travel photography. They just scratch different itches.
The Mountain Smith Camera Backpack was designed for hiking specifically, and for securing camera gear in its extra boxed camera bag (that fits inside this main backpack). Like all good hiking backpacks, this bag has a comfortable and durable waist strap, shoulder pads, and padded back panel. It is loaded with organizational pockets, modules, and more.
Both backpacks include seemingly indestructible water-resistant material, but the Mountain Smith also includes a waterproof and abrasion-proof bottom.
Both bags are also on the heavier side, but extremely durable.
Check out our Mountain Smith Camera Backpack Review.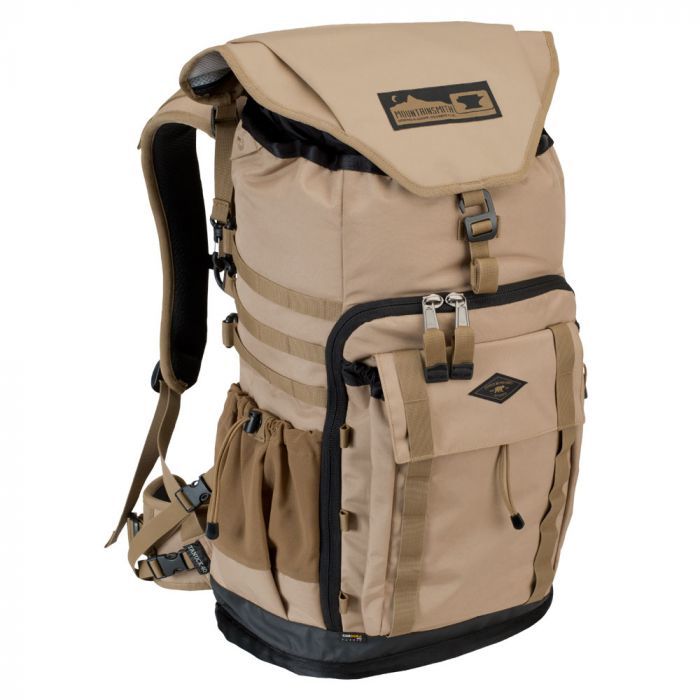 As for hiking, the Mountain Smith has two large water bottle side pockets, and huge front pockets to store your wet gear, fins, etc.
All in all, I think the Mountain Smith is great if you plan to travel in extreme conditions, hiking for days and miles. I think of Patagonia, Iceland, the Rocky Mountains, and Greenland when I think of the Mountain Smith. Whereas, the Nomatic bag is less rugged, and much more geared to plane travel, city travel, and casual day hiking use.
All in all, the Nomatic bag is much more versatile, but the Mountain Smith is made for the mountains themselves.
If you're looking for a Nomatic pack with similar features that isn't specifically designed for photography, then have a look at the Nomatic Travel Pack instead.

Our GREATEST Travel Secrets…
Pop your email here & get the original Broke Backpacker Bible for FREE.
Nomatic Camera Pack Review: Final Thoughts
The McKinnon Camera Pack 35L is part travel backpack, part camera bag. Its strengths lie when you plan to do both. The removable folding dividers, expansion, and external carry straps allow you to pack it any way you want. I admire how much detail and creativity went into this camera bag.
From its sleek exterior to the impressively organized interior sections, this bag is great for weekend adventures, minimalist international travel, and professional and hobbyist photographers alike.
The main compartments offer truly excellent organization options if you're traveling with a laptop, clothing, electronics, work supplies, notebooks, chargers, etc. Everything has its place.
If you are looking for one travel and camera backpack in the 30-40 liter range to serve your photography needs, you've come to the right place.
Overall Performance Score: 4.7/5 stars

---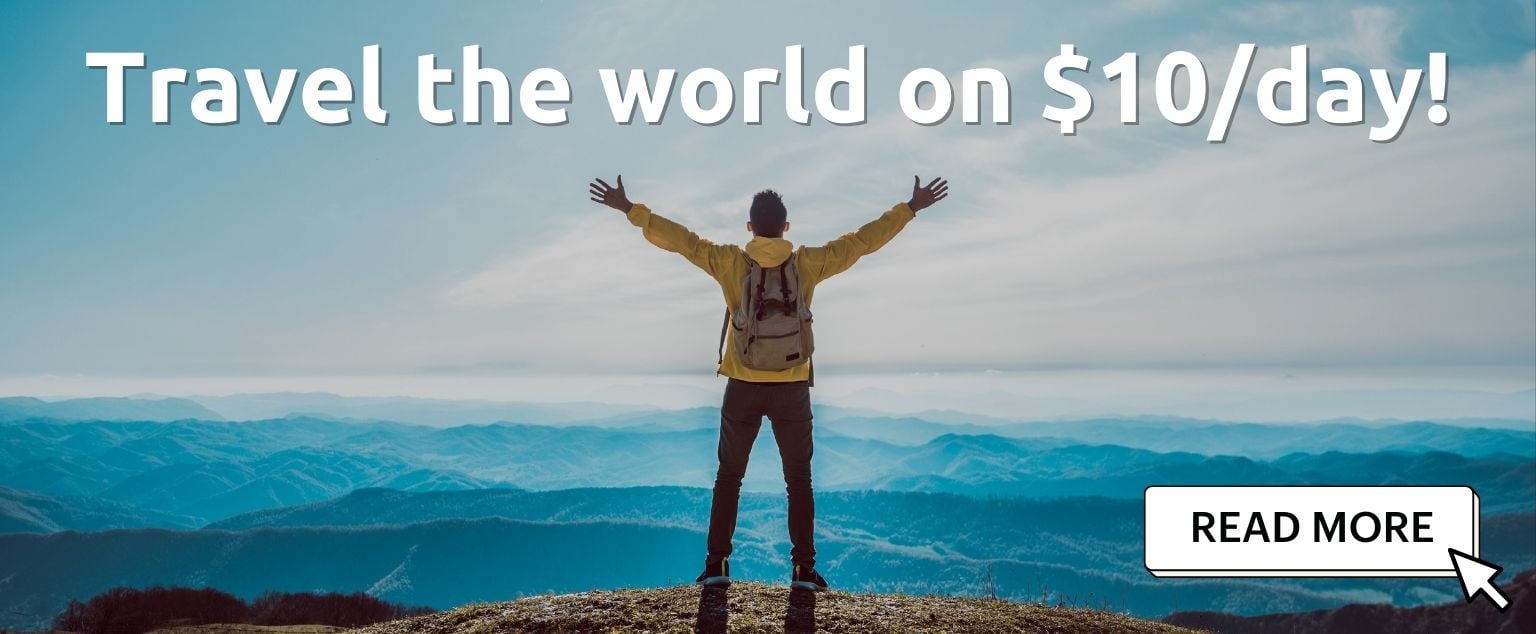 And for transparency's sake, please know that some of the links in our content are affiliate links. That means that if you book your accommodation, buy your gear, or sort your insurance through our link, we earn a small commission (at no extra cost to you). That said, we only link to the gear we trust and never recommend services we don't believe are up to scratch. Again, thank you!