Hiking with an expensive camera without a great camera bag is asking for trouble. Between rivers, rocks, and roots, there's bound to be a moment you're glad your camera is protected.
With so many camera bags out there and so many products promising the world, it may seem easy to buy any old cheap bag and get trekking. However, saving a few bucks up front could end up costing you in the long run.
It only takes one broken strap or zipper to ruin a trip and potentially ruin your gear.
Fear not! We're here to navigate you through a crowded market and highlight some of the best hiking camera bags the industry has to offer.
Hiking camera bags can fill in all sorts of voids. Heading to spot some wildlife or a day trek doesn't require the same technical specs as the perfect bag for thru-hikers. We'll show you loads of the best-in-class bags that excel in different areas, as well as walk you through everything that makes a hiking camera bag shine.
By the end of the guide, you'll have an idea of what you need out of a camera bag and which bags can help out.
What are the Best Hiking Camera Bags of 2022?
The Most Versatile Camera Backpack for Hiking
Best Camera Backpack for Urban Hikes
Best Camera Backpack for Urban Hikes
WANDRD PRVKE 31
> $$
> Waterproof exterior
> Easily attachable rainfly
The Best Small Camera Backpack
The Best Small Camera Backpack
WANDRD PRVKE Lite
> $$
> Loads of zippered pockets and organizational cubes
> Weather-resistant
Most Professional Camera Hiking Backpack
Best Messenger Style Camera Bag
Best Messenger Style Camera Bag
Sitka Leather Messenger
> $$
> Full-grain buffalo leather
> Separate laptop compartment
Most Affordable Hiking Camera Backpack
Most Affordable Hiking Camera Backpack
Bagsmart Camera Backpack
> $
> Three different camera access points
> Plenty of convenient storage space
For Those Who Are Traveling and Hiking
For Those Who Are Traveling and Hiking
Lowepro ProTactic 45 AW
> $$
> Space for a drone, laptop, and two DSLR cameras
> Loads of add-on accessories
The Camera Backpack for Chris Burkard Fans
The Camera Backpack for Chris Burkard Fans
Mountainsmith TANUCK 40L
> $$
> Tough as nails, versatile and reliable
> Weather protection features
The Best Camera Backpack for Backpacking Trips
The Best Camera Backpack for Backpacking Trips
WANDRD FERNWEH
> $$$
> Room for the tent
> Synthetic padding and velcro straps
An Alternative for Photography Backpacking Trips
The Toughest Hiking Camera Backpack
The Best Hiking Backpack for Drones
The Best Hiking Backpack for Drones
Vanguard Alta Sky 45D Backpack
> $$
> Robust protection and storage space
> Space for lenses, cameras, drones, and laptops
A Killer Ultralight Camera-Hiking Backpack Combo
How Did We Choose These Camera Bags for Hiking?
Well, we packed our bags and got out there. Together, broke backpackers have gone on tons of trips and gone that extra inch to get the perfect shot. Through trial and error, we've learned exactly what our camera equipment needs to show up ready to shoot.
Camera bags for hiking must be versatile and durable, but that doesn't mean they can't have any convenience.
While versatility is a great character trait in a camera bag, no one camera bag works best every time. Each bag has strengths and weaknesses that make them excel in different scenarios. The 12 best bags in the market excel in a few specific areas while receiving high marks across the board to justify their ranking on our list.
These camera bags have been dutiful assistants for millions of brilliant captures, and all of them will make your life a bit easier.
The 13 Best Camera Backpacks for Hiking
Ladies & Gents, It's Time to Step Your GEAR Game Up. 😉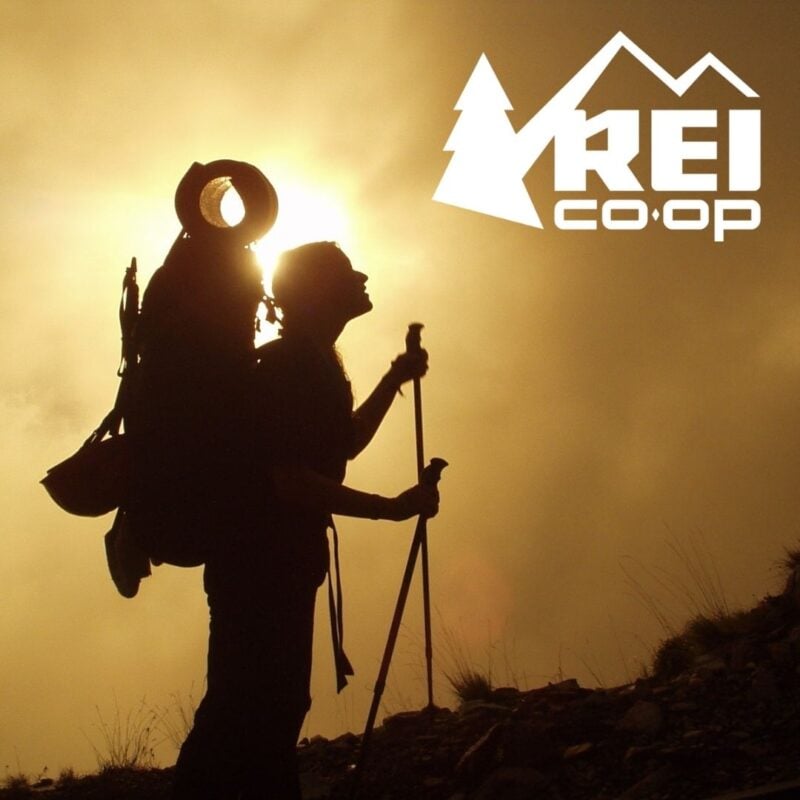 REI is one of America's biggest and most-loved outdoor gear retailers.
Now, for just $30, get a lifetime membership that entitles you to 10% OFF on most items, access to their trade-in scheme and discount rentals.
Join REI Today!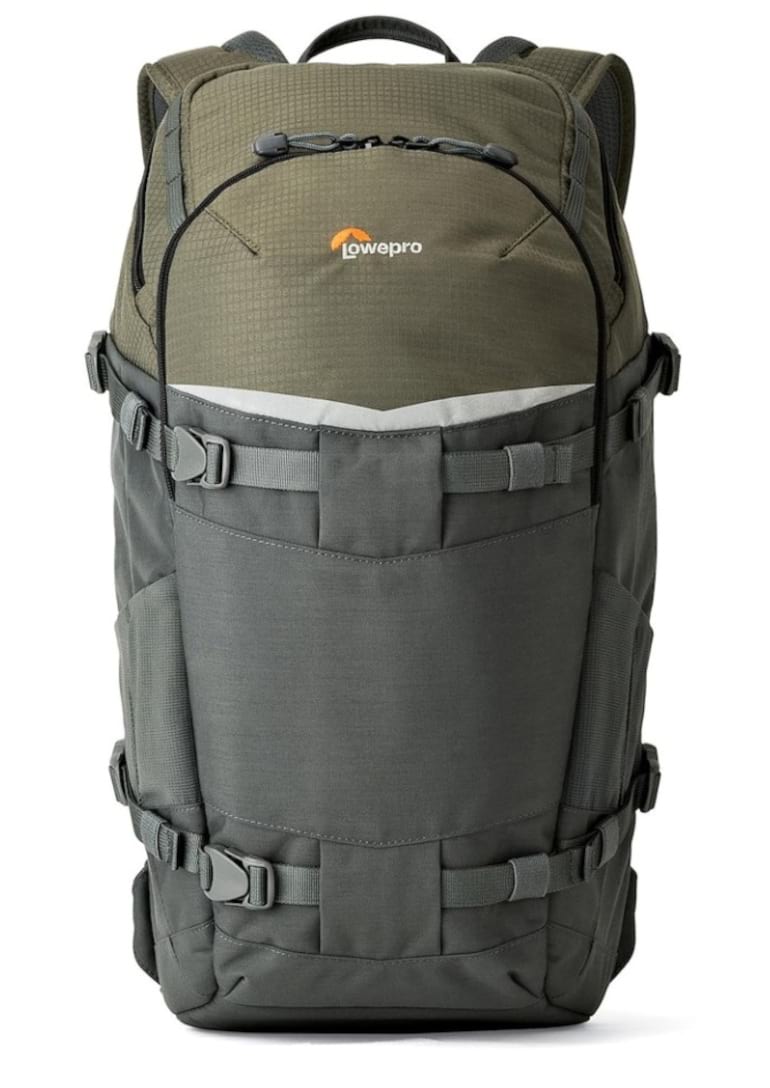 Our favorite camera bag has vastly improved over older Lowepro models to set a new standard in the market. The most considerable improvement made is the addition of various external pockets that hold water bottles, raincoats, and two zippered pockets on the waist belt.
These extra pockets are entirely separate from the main camera storage compartment, allowing you to store dirty, wet clothes without ruining your electronics and favourite camera. The camera storage is located in the back of the bag to protect your gear further.
The addons in this pack make it stand out from the crowd. With excellent back support, tons of organizing space, and ultra-padded camera storage, this bag will protect your tools so you can focus on getting to the summit in time to capture the sunrise.
#2 – Best Camera Backpack for Urban Hikes – WANDRD PRVKE 31
Wandrd is the best backpack brand for dedicated camera packs. In this, they have provided a Day pack, camera bag, and dry bag all in one. This pack does a bit of everything – it's got separate storage compartments for your laptop, quick access points for your passport and phone, and a sleek look that won't stand out in a crowd.
The waterproof exterior can roll up and create additional liters of storage space and seals tightly with a zippered velcro combination. Since their Kickstarter beginnings, Wandrd has been turning heads on the bag market by creating bags designed explicitly for nomads. The PRVKE is the culmination of their efforts – travel, camera, and everyday bag.
Our favorite feature of this bag is the easily attachable rainfly that will protect your valuables from unexpected showers. You can count on this bag to carry your gear through airports, cities, and all sorts of travel days.
FYI – WANDRD have now realised a smaller version. You can find out all about the WANDRD Lite in our review.
#3 – The Best Small Camera Backpack – WANDRD PRVKE Lite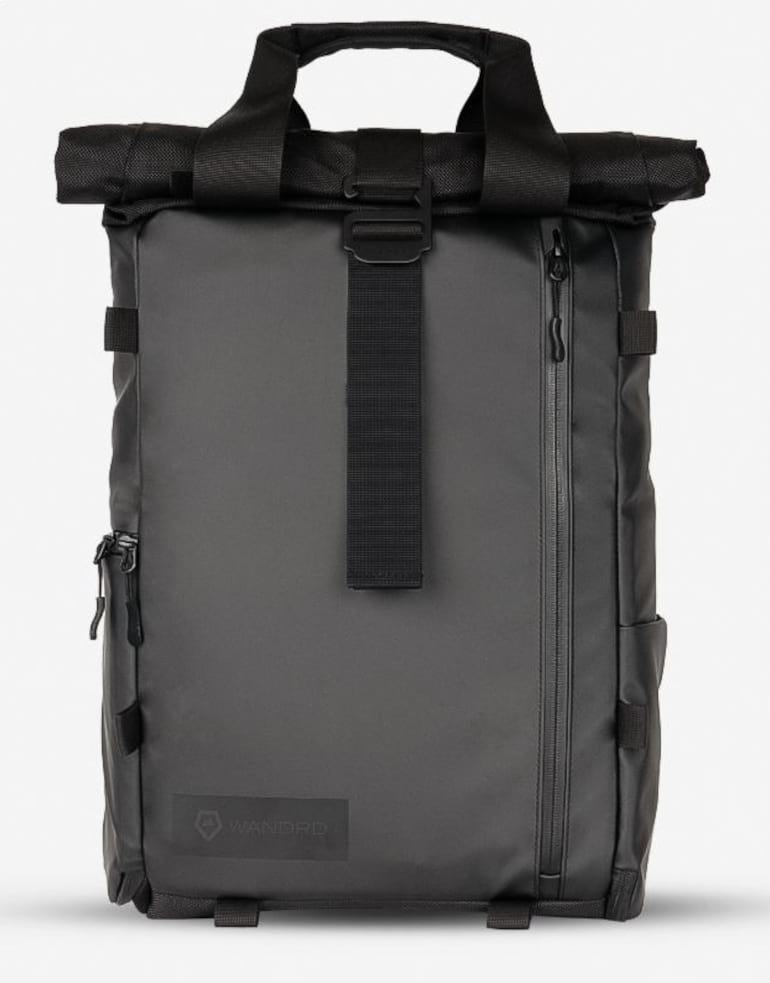 Just because this bag is small doesn't mean it can't pack a punch. There is no wasted space inside the WANDRD lite option, with loads of zippered pockets and organizational cubes for your various camera parts.
There's even space for your editing equipment too with an exterior laptop sleeve. The entire bag is weather-resistant, thanks to enhanced zipper technology and lightweight nylon shells.
The cherry on top of this small bag is the rolltop opening style favored by WANDRD, which opens up room for your tools inside the small packaging.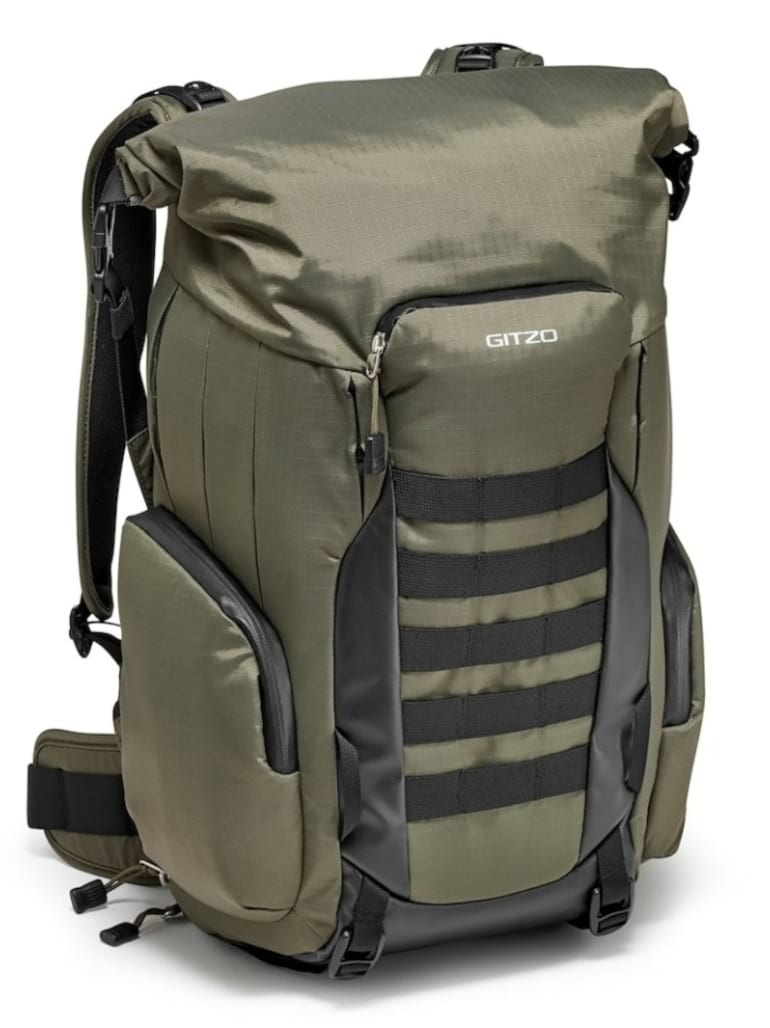 This pack can carry some serious gear. With two multi-link straps on the exterior as well as two large pockets, you can strap on your tripods, extra battery packs, and zoom lens with ease. Inside the bag, thick dividers keep everything exactly where it needs to be.
Gitzo's famous water-resistant technology is on display again in this model. Marketed towards top adventure photographers, the interior and exterior pockets of this bag have weatherproof zip closures.
You often have to travel far to get the right shot, and this bag has added sternum and waist belts to let you handle a few extra pounds without wearing out your back. Efficient and high-tech in the right places, this is a one-of-a-kind bag perfect for wildlife photography.
Showing up with a full-grain buffalo leather messenger bag immediately sets a professional tone for your next photoshoot. Whether heading to work or the woods, this classy bag provides a camera case insert along with a plethora of pockets that help get the message across.
The genuine and complete leather exterior means this could be the last camera bag you ever buy, and the brass buckle clips help ensure a durable product. There is a separate laptop compartment on the inside and nylon stretch pockets for your cords.
Offering up unparalleled style and value, this messenger camera bag crafted from cowhide has quality in every corner.
If you've already got a closet full of bags, you may not need a high-tech option when you're looking for your next hiking camera bag. This backpack doesn't have the durability you would expect from one of the best camera bags on the market, but its affordability and wide-ranging features still earn it a spot on our list.
The bag looks and wears like an everyday bag, but the interior compartments come alive for proper equipment organization. Sometimes, you only have a few seconds to get the shot, and three different camera access points in this bag let you snap photos faster.
You can't expect this bag to last a lifetime, but you can expect plenty of convenient storage space at a great price point.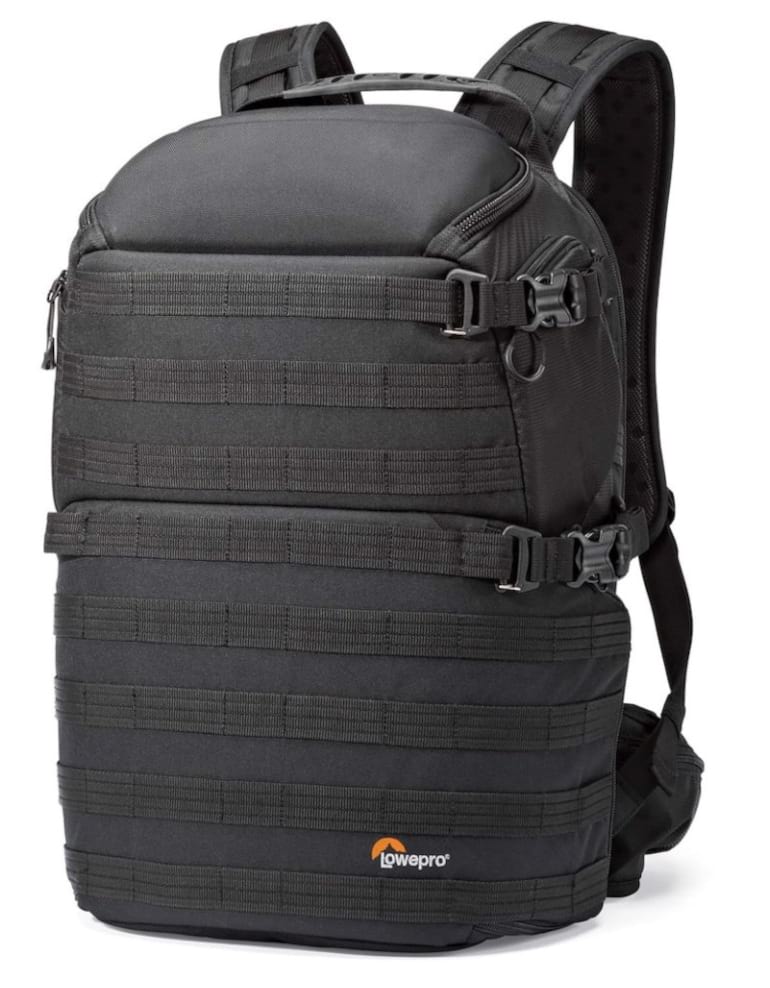 One of the largest camera bags on the market that will still fit in the carry-on compartment, this modular bag has space for a drone, laptop, and two DSLR cameras, so you can get all the angles you need in your next shoot.
The bag is for hardcore photographers, evidenced by the four different ways to access your camera quickly. There are loads of add-on accessories and additional customization options within these 45 liters.
If you don't need to carry three cameras on your next hike, the dividers easily collapse and create a day bag-style interior.

Do You Want to Travel FOREVER??
Pop your email in below to get a FREE copy of 'How to Travel the World on $10 a Day!'.
#8 – The Camera Backpack for Chris Burkard Fans – Mountainsmith TANUCK 40L
Some experts argue to be the best, you have to learn from the best, and Mountainsmith teamed up with professional photographer Chris Burkard to design a bag for photographers who like to push the limits of the art.
Burkard has gone to the edges of the earth to capture powerfully untouched landscapes and extreme sports. To get there, he's had to deal with backpacks of all shapes and sizes. Eventually, he couldn't stand the available camera bags anymore and designed the dang thing himself.
Tough as nails, versatile and reliable, the bag has support and weather protection features to go anywhere inspiration may drive you.
#9 – The Best Camera Backpack for Backpacking Trips – WANDRD FERNWEH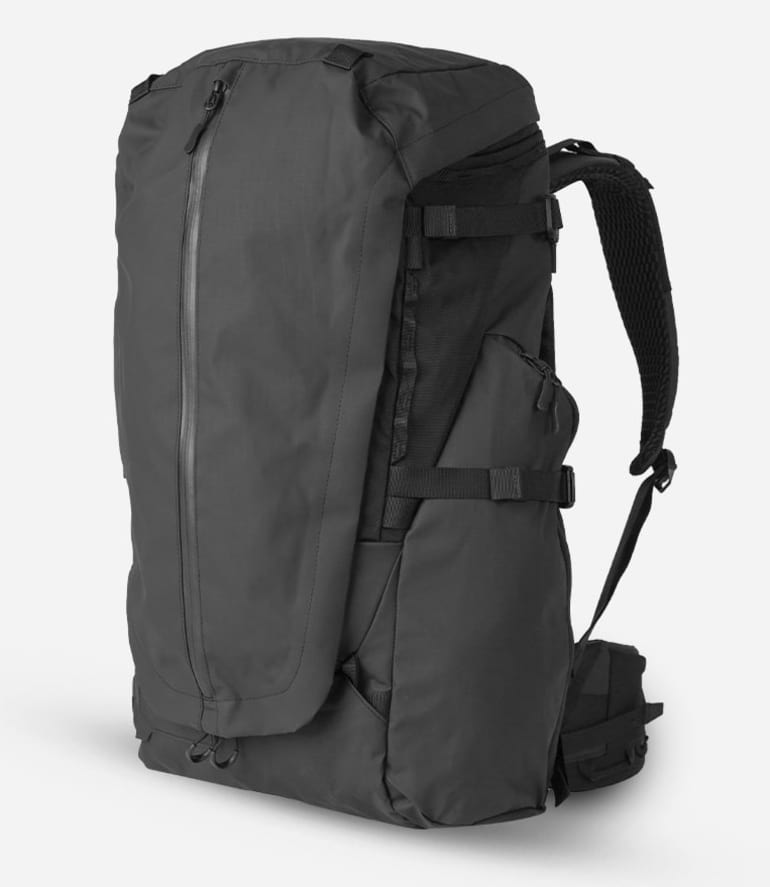 One bag that can safely pack everything you need for a week in the woods may sound too good to be true, but Wandrd begs to differ. The number of features in the 50L bag wowed the folks at outside magazine enough for the bag to earn "Gear of the Year" honors in 2021.
Many camera bags may fit in laptops, cords, and cameras, but this one left room for the tent, too. The camera compartment is still highly organized and well protected, thanks to synthetic padding and velcro straps.
The bag lacks some waterproofing features, but water-resistant nylon will protect your gear from surprise showers. The backpack allows you to pack everything you could need for your next quick backpacking trip while keeping things organized.
While it does sound great to have one bag that does everything, there's nothing wrong with a bit of teamwork. Slip this Tenba BYOB bag inside the magnificent Osprey Aether for a formidable backpacking and photography combo.
With 70L's of storage and high-quality strap systems, this is the bag for heading deep into the woods. The only flaw is, there is no separate compartment for your camera. That's where the Tenba steps in.
The Tenba is not much more than 10 inches full of exterior water and phone pockets, but it's too small to work on its own. Simply slip it on top of your gear inside the Osprey bag, and you've got an incredibly high functioning photography backpacking set up.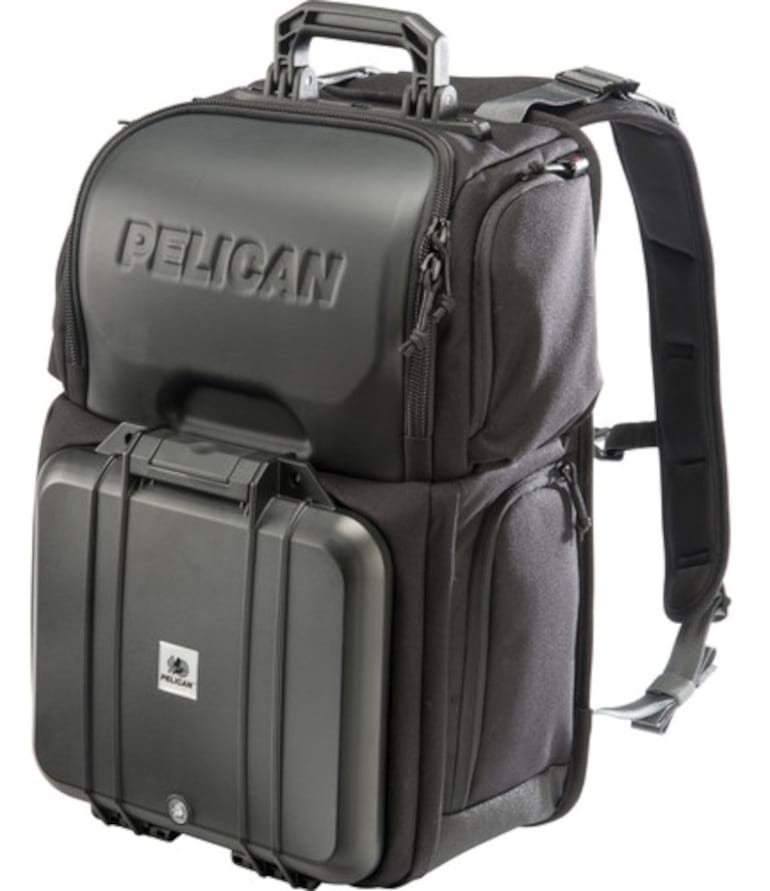 From coolers to cell phones and high-tech lighting equipment, the Pelican brand has proven they can withstand a few beatings. Every one of the companies products lasts for life, and the camera case on this backpack is no different.
The bag is a mix of lightweight material and military-grade protection, all constructed in the USA. The camera compartment opens up easily right out front, making grabbing quick shots a breeze.
Your camera will be protected from fall damage, rain damage, and anything life could throw your way.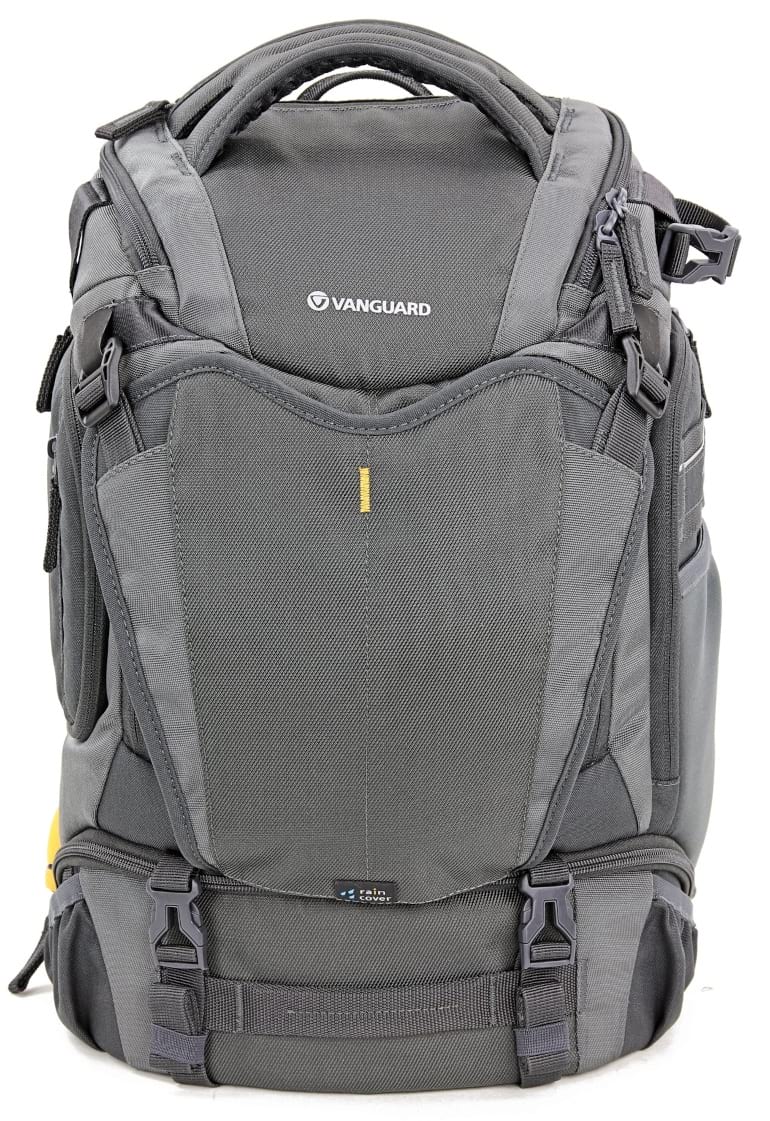 Take to the skies with Vanguard protection provided in this pack. This bag has favored robust protection and storage space over all else and has delivered room for all your toys in a well-protected shell.
While not close to the lightest pack on the market, there's space for lenses, cameras, drones, and laptops in the 45L bag, and each compartment has plenty of organization to help you keep on top of everything.
Outside the bag, external straps and pockets are perfect for water bottles and tripods. If you favor storage space over all else or have loads of equipment to haul, this bag will get the job done.
Every ounce matters. Instead of finding one bag to do it all, grouping up the most efficient hiking pack with a great camera bag could yield better results.
The Osprey EXOS is a world leader in ultralight hiking equipment. You can spot the pack across the Appalachian Trail, PCT, and Camino del Santiago thanks to the 40-pound load capacity held within a 2.3-pound bag.
The spider-light backpacker kit won't add on much more weight. The simple yet effective holster system keeps your camera within easy reach without busying up your hands. The kit hooks up to your bag's shoulder strap and keeps your camera secure throughout your thru-hike.
The best present of all… is CONVENIENCE!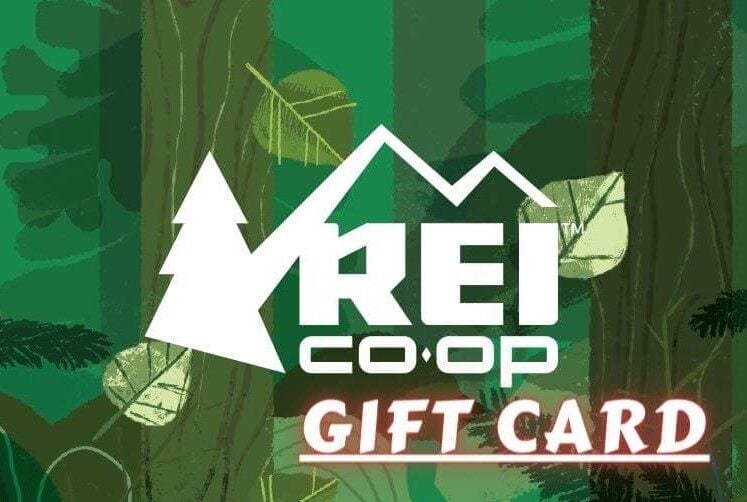 Now, you could spend a fat chunk of $$$ on the WRONG present for someone. Wrong size hiking boots, wrong fit backpack, wrong shape sleeping bag… As any adventurer will tell you, gear is a personal choice.
So give the adventurer in your life the gift of convenience: buy them an REI Co-op gift card! REI is The Broke Backpacker's retailer of choice for ALL things outdoors, and an REI gift card is the perfect present you can buy from them. And then you won't have to keep the receipt. 😉
Buy on REI!
What Makes a Good Hiking Camera Bag?
Just like the equipment it protects, a good hiking camera bag will capture the details. Any burlap sack disguised as a cheap bag may work for your next hike or two, but one day, you'll need superior protection.
Good hiking camera bags stay loose on your shoulders while creating enough storage capacity to carry everything you need for a lunchtime photo shoot. That means finding ways to store more, keep everything cleaned and accessible, and keeping your devices in good working condition.
Ask yourself what equipment you'll be carrying, where you plan on shooting, and how long you plan on traveling with your gear on your back to help understand what you need out of your camera bag.
Extra Storage
Modern camera operators are relieved that cameras have gotten smaller, but that doesn't mean their packs have gotten much lighter. Between go pros, drones, editing equipment, and the occasional mic, your lightweight bag might just fill up.
The best bags will be able to safely and comfortably store extra lenses, cables, and hard drives alongside laptops, personal equipment, and of course, your camera.
Ideally, your camera bag will be home to an ever-growing network of equipment. As your photography expands, it's only natural to expand your toolbox. Make sure you're buying a camera bag that will fit your needs five years down the line, as well as it will suit you tomorrow.
If you're just heading out on a day hike, you may not need a bag with loads of storage space, but if you want a bag that helps you go the extra mile, it's worth investing in a few additional liters.
Effective Organization
Making the situation even more tricky is the fact that not all storage capacities are equal. Sure, a 40L bag can store all your equipment, but if it's just one large opening, you'll spend the weekend untangling everything. Creatively and literally, great photos require organization.
The best camera bags on the market take organization seriously. It starts on the outside of the pack with secure and effective exterior pockets. These spaces should carry items as large as your tripod and a good bottle of water.
Towards the top of your bag, you should look for a secure pocket for your cellphone, keys, wallet, and passport. These aspects are commonplace on most good hiking bags, but the interior is where a good camera bag stands out from the crowd.
With something like the Lowepro Flipside, you'll find the perfect spot for everything on your packing list.
Bags established as market leaders have separate spaces for your editing equipment, camera tools, and day-to-day needs like a raincoat and a snack. These dividers keep everything organized and add an extra layer of protection for your electronic instruments.
Organization is the first step towards making a trip come together, and the best camera bags will make it easier to get everything sorted.
Enough Protection
Everything has to arrive in one piece. Between banging it on a corner, slipping on a river crossing, and flying over the handlebars, your bag will eventually be put to the test. Lightweight nylon materials may save ounces, but they won't withstand a rock slide.
While you can't expect every bag to be shockproof, if you're planning on tackling any ascents or rocky areas, it's a good idea to have an extra barrier between your gear and the rock.
That's where bags like this Pelican U160 Urban Elite step in. With a practically bulletproof casing, the most protective bags on the market are waterproof, crushproof, and scratchproof.
Natural elements aren't the only dangers you'll meet exploring the world. The right camera bag has security features at every corner, such as protected pockets for your phones and zippers that tie together.
Ensure your camera's pocket isn't too easy to access and that your camera bag isn't too flashy. You want to find a backpack that can support everything without making it evident that there's expensive equipment inside.
Between proper cushioning, low-key security features, and weather-resistant technology, the best bags on the market stand out by protecting your gear no matter the scenario.
Easy Access and Ergonomics
There's nothing worse than trekking for six hours to spot a Toucan only to scare it off while struggling to get your camera out of your bag. If you haphazardly store your camera inside any old sack, don't expect to whip it out in a hurry.
Look for camera bags with multiple ways to open or exterior camera compartments to make the job a bit easier. Camera bags like the Lowepro ProTactic 45 AW take it even further and offer four ways to get your camera out fast.
Ergonomics implies your bag is just as comfortable getting to the shoot as it is in action. If you're lugging tons of gear with you, every extra support strap will be essential.
Comfort
Great camera bags are aware that extra storage space needs additional lumbar support. Between sternum straps, waist belts, and shoulder padding, the right bag makes the trip easier.
An underrated aspect of comfort is the weight distribution of your bag. If all of your camera equipment is loaded up at the farthest point from your center of gravity, 15 pounds can feel like 45.
Great bags will spread the weight evenly across the storage capacity through varying pockets and compartments. The back support on offer in the market's best bags will offer ventilation to keep sweat from pooling up on a humid day.
The Manfrotto Gitzo's focused its unique ventilation system towards wildlife and bird photographers which has created a camera back with unparalleled breathability.
A comfortable camera bag will make the hike easier by ensuring you don't carry everything on your shoulders.
Water Resistance
Most of the best camera bags on the market offer up some degree of waterproofing technology. Some bags are made out of water-resistant materials, while others go a step further and make sure everything down to the zippers is watertight.
There's no such thing as a cheap bag that is also waterproof, and it is an area worth investing extra money in. If you're taking this bag hiking, you're bound to run into some foul weather. Make sure a surprise thunderstorm doesn't ruin your afternoon by understanding exactly how waterproof the bag of your choice is.
Best Hiking Camera Bags

| Name | Volume (Litres) | Weight (lbs) | Waterproof (Y/N) | Padded? (Y/N) | Price (USD) |
| --- | --- | --- | --- | --- | --- |
| Lowepro Flipside Trek BP 350 AW | – | 3.08 | – | Y | 234.99 |
| WANDRD PRVKE 31 | 31 | 2.8 | Y | Y | 191.20 |
| WANDRD PRVKE Lite | 11-16 | 2.5 | Y | Y | 191.20 |
| Manfrotto Gitzo Adventury 30L | 30 | 4.52 | N | Y | 30.99 |
| Sitka Leather Messenger | – | 4.15 | – | Y | 269 |
| Bagsmart Camera Backpack | – | 1.65 | N | Y | 39.99 |
| Lowepro ProTactic 45 AW | 45 | 5.73 | – | Y | 219.95 |
| Mountainsmith TANUCK 40L | 40 | 5.29 | N | Y | 229 |
| WANDRD FERNWEH | 50 | 5 | N | Y | 258.30 |
| Osprey Aether AETHER AG70 | 70 | 3.15 | N | – | 299.99 |
| Pelican U160 Urban Elite Half Case Camera Pack | – | 7.1 | Y | Y | 324.97 |
| Vanguard Alta Sky 45D Backpack | 45 | 4.9 | – | – | 199.99 |
| Osprey EXOS 58 | 55 | 2.10 | – | – | 109.83 |
FAQ about the Best Hiking Camera Bags
Still have some questions? No problem! We've listed and answered the most commonly asked questions below. Here's what people usually want to know:

Our GREATEST Travel Secrets…
Pop your email here & get the original Broke Backpacker Bible for FREE.
Final Thoughts
Hiking camera bags in 2022 have reached new heights of storage, comfort, and protection to rise to the top of a market full of contenders. While artists are known for taking chances, gambling on the safety of your gear is rarely a great idea.
Every bag on this list has versatile options, high-quality craftsmanship, and the technical specs necessary to give photographers, amateur and professional, the edge they need to snap the perfect shot.
You can't go wrong with our personal favorite, the Lowepro Flipside, which can handle all types of equipment and adventure with a great combination of photo and gear storage.
Like the Vanguard Alta, others have so many extra features and pockets they satisfy even the neediest camera operators.
Or, you can go for a more stylish approach with a full-grain option like the Sitka Leather Messenger.
There's no single hiking camera backpack that's perfect for everyone, but if it's on our list, the bag of your choice won't be a bad pick.
---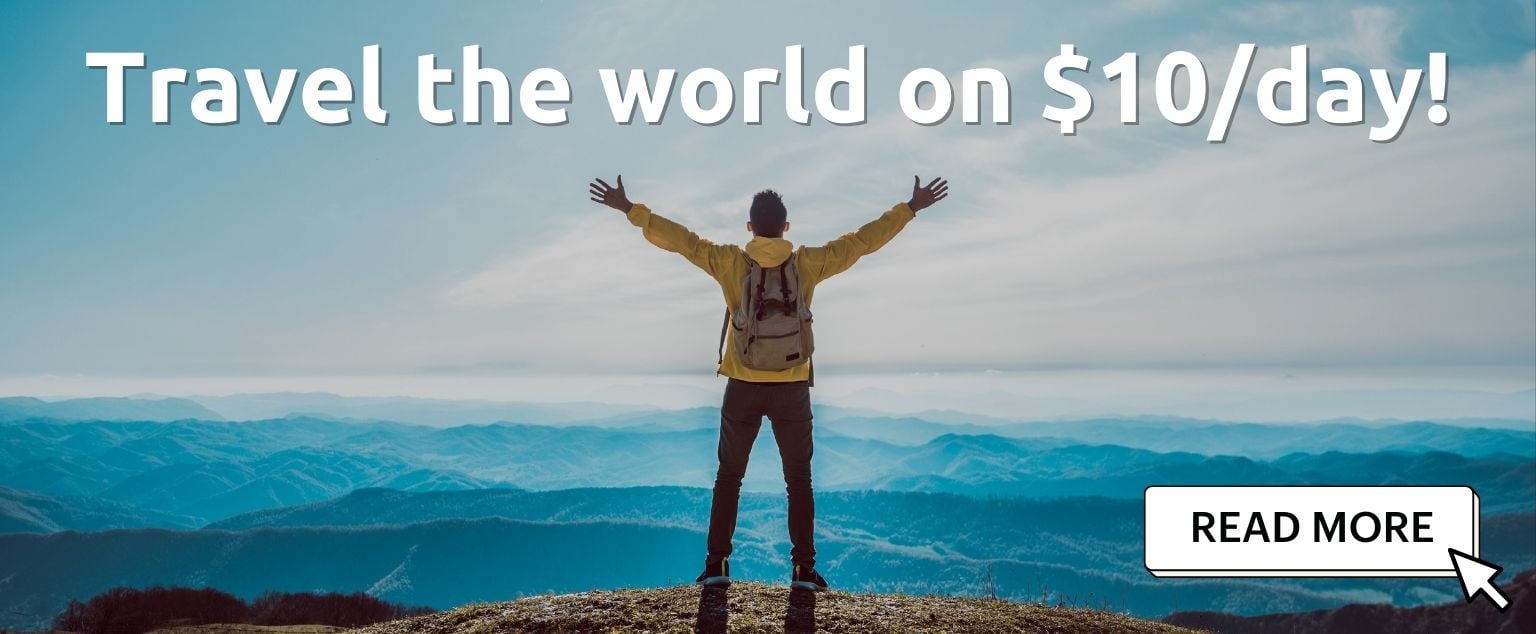 And for transparency's sake, please know that some of the links in our content are affiliate links. That means that if you book your accommodation, buy your gear, or sort your insurance through our link, we earn a small commission (at no extra cost to you). That said, we only link to the gear we trust and never recommend services we don't believe are up to scratch. Again, thank you!