By now, the Sony Alpa a5100 is kind of an old camera. 5 years after its initial release though, this camera still manages to impress. The Sony Alpha a5100's 24MP APS-C CMOS sensor and pint-sized proportions are still useful to travel photographers, even with competitors constantly surfacing which is why we felt this Sony a5100 blog was worth updating.
In our updated review, we break down how the Sony Alpha a5100 performs in a more modern setting, how it falters, and if it's still worth attention. We'll talk about its focusing power, image quality, ease of use, and much more throughout the course of this guide.
This camera model is showing some age but, like a fine wine, it's doing so gracefully. Best of all, it's cheaper than ever. By the end of our Sony Alpha a5100 review, you'll see why we think this is still one of the best budget travel cameras on the market today.
Alright… let's get going on this epic Sony Alpha a5100 mirrorless digital camera review.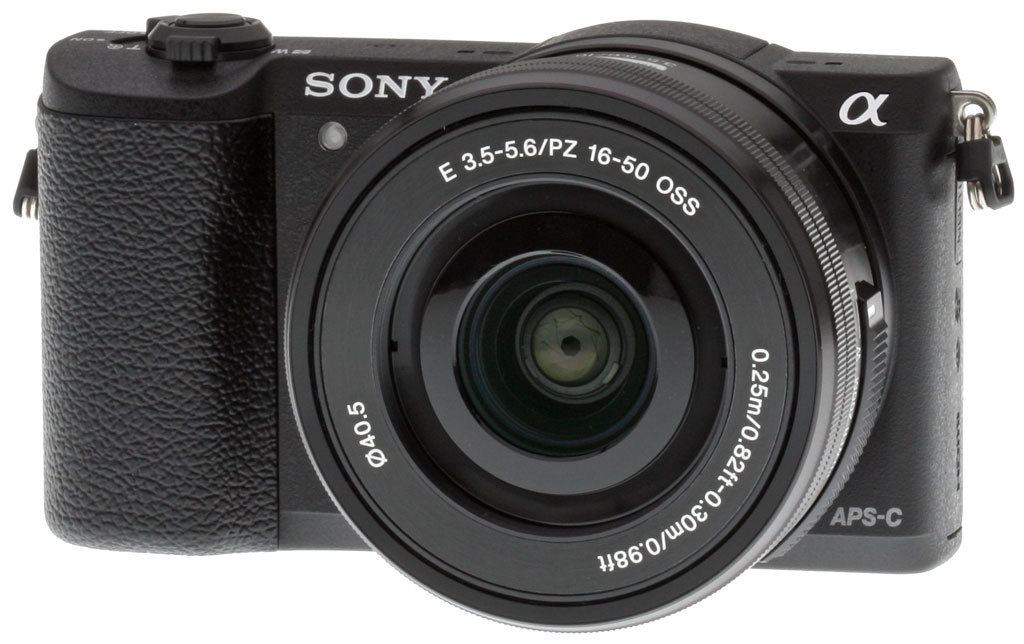 Here are the Sony Alpha a5100 details:
Size: 4.3 x 2.5 x 1.4"
Weight: 10 oz (body only)
Sensor Size: 24.3 MP APS-C CMOS Sensor
Lens Compatibility: Sony E-Mount has 20+ native lenses + adapters allow for exponentially more non-native lenses
Video Quality: AVCHD/XAVC 1080p at 60p/50p/25p/24p
Other Features: Touch and flip screen
Dony a5100 Release Date: Aug 2014
Ladies & Gents, It's Time to Step Your GEAR Game Up. 😉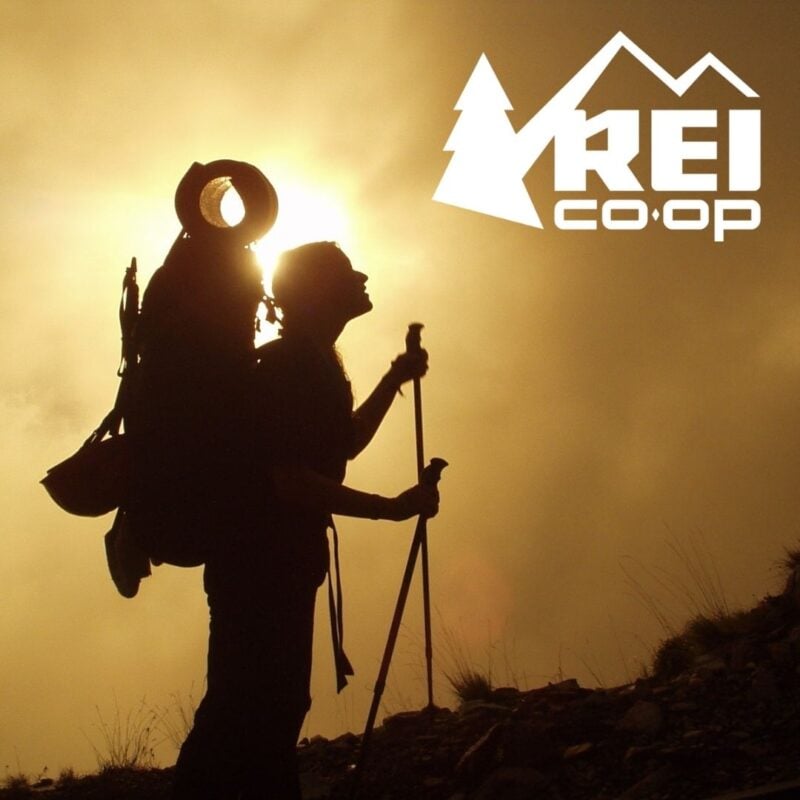 REI is one of America's biggest and most-loved outdoor gear retailers.
Now, for just $30, get a lifetime membership that entitles you to 10% OFF on most items, access to their trade-in scheme and discount rentals.
Join REI Today!
Ok, let's get on with the meat of this Sony a 5100 review.
Ergonomics
The first thing that you'll notice about the Sony Alpha a5100 is that it's small, like really small. The body alone could easily fit in your pocket. Thanks to its solid grip and rubberized texture, the Sony Alpha a1500 doesn't feel dainty or likely to fall out of your hands either.
The body of the Sony a5100 is fairly blank – hell, the camera is nearly all sensor/mount and rear touchscreen. There are some buttons on the back of the camera as well as a few more controls on the top. Button functions can be customized within the camera's digital menus.
Though the physical controls are all well-placed and the camera's minimal design does look pretty sexy, the lack of physical controls can be both a blessing and a curse.
You'll have to scroll through the menus in the a5100 to change some settings, which could have been an easier process with actual buttons.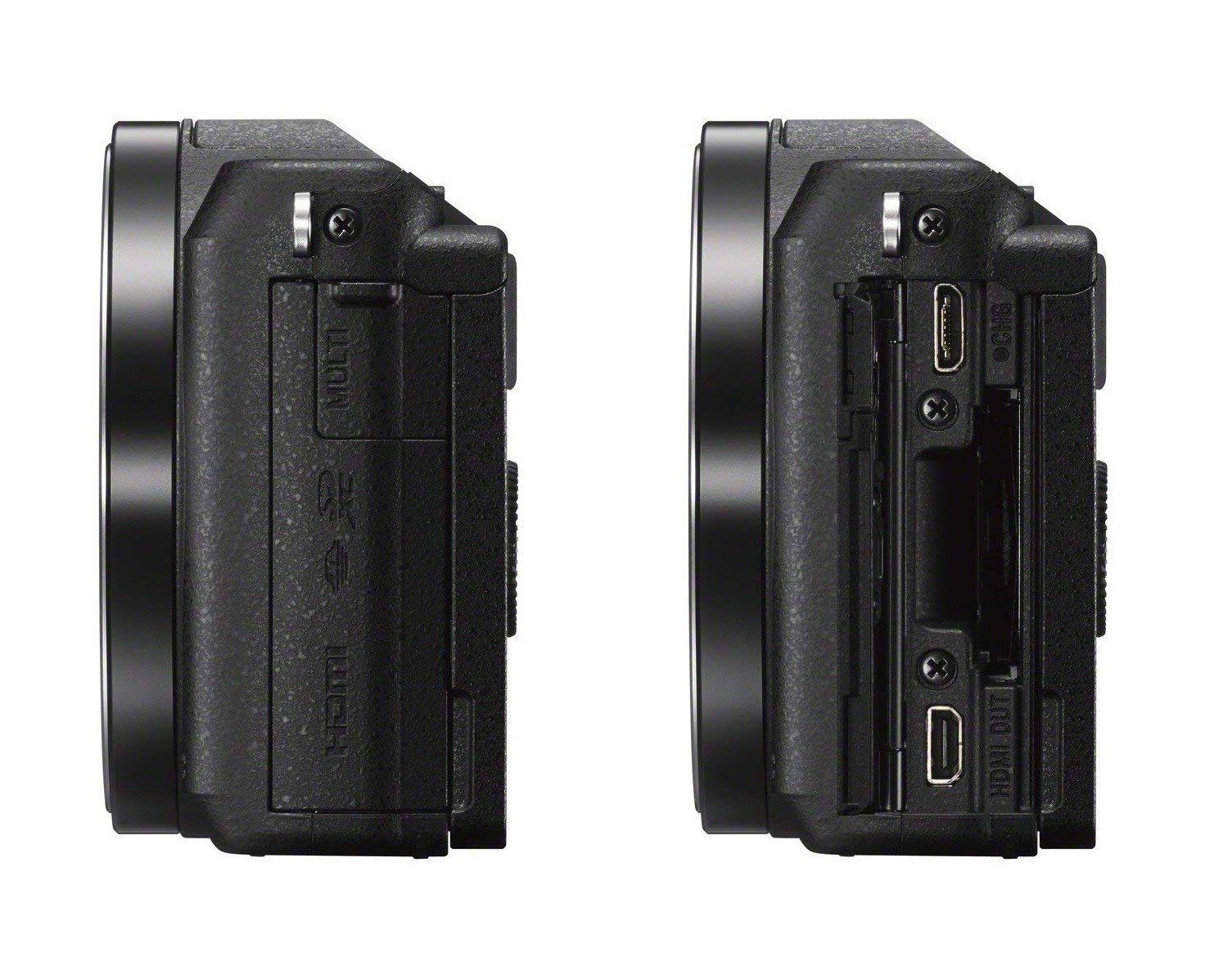 The touchscreen is responsive if not limited in what it can do. It can only be used to focus and take a shot, which is still convenient for casual photographers but a little tedious for those who shoot a lot. The screen is adjustable but only up and down and not side to side.
The Sony Alpha a5100 does omit an electronic viewfinder, which is not unheard of in a mirrorless camera; viewfinders are usually the bulkiest piece of tech in a camera.
The real issue is that you can't mount a separate viewfinder on it because there is no hot shoe, the ramifications of which we'll get into later. In the meantime, you'll just have to deal with the glare on those bright sunny days.
Score: 4/5
Features and Performance
When it was originally released, the Sony Alpha a5100 packed a processor that was already ahead of its time. Normally found in the next generation of compacts, the Sony Alpha a5100 came equipped with an excellent BIONZ X processor. This processor performed very well at the time and did a very good job for what it's worth.
The Sony Alpha a5100 is able to shoot 6 continuous frames per second in burst mode with full tracking autofocus. While 6 fps may have been acceptable when the a5100 was first released, that number is becoming slightly dated.
Most APS-C cameras offer around 8-12 fps these days and many MFT cameras can shoot even faster than that. As such, the Sony Alpha a5100 may be appropriate for more sedentary subjects these days but maybe not for sports or action shots.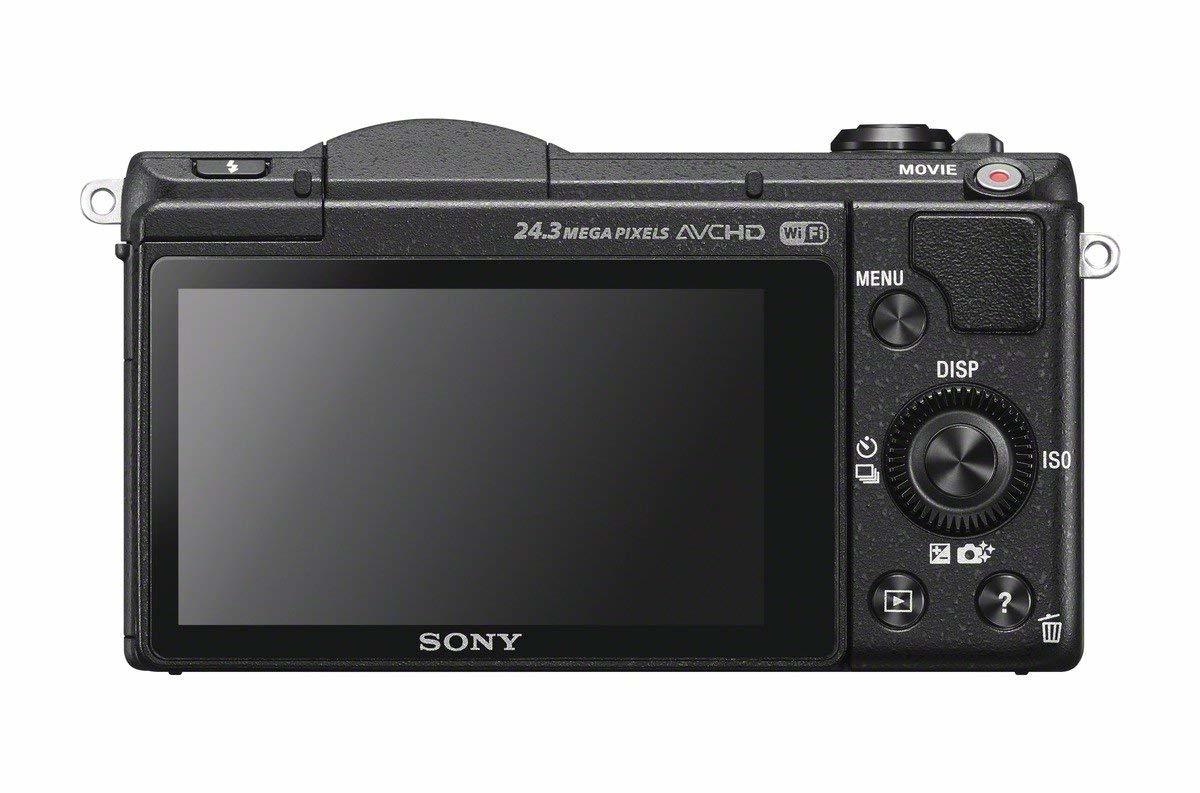 The Sony Alpha a5100 does experience some startup lag with the built-in power zoom lens. Unless you really want a power zoom, we suggest buying the body-only model and putting your own lens on the camera to both alleviate this problem and have more lens options.
Most settings can be found in one of the camera's extensive menus. Via these menus, you can change just about anything exposure-wise that a semi-professional camera can. This makes the Sony a5100 one of the best travel cameras for beginners who want to break into photography without breaking the bank.
Conversely, it can be really frustrating to scroll through multiple screens just to change something like the shutter speed. Your attention will instantly be diverted from the scene if you intend on setting the exposure manually with this camera.
Score: 4/5
Image Quality
It really is astounding what Sony has done with the Alpha a5100. They've created a camera whose images could rival those of a much larger DSLR, yet it could still fit in your front pocket.
For a very reasonable price, you get a mirrorless camera equipped with a staggering 24-megapixel APS-C sensor that might normally be found in a $1000 body. That's pretty impressive.
The image quality of the Sony Alpha a5100 doesn't disappoint – colors are accurate, noise is well controlled, and dynamic range is pretty good for an APS-C sensor. Like it's processor, the Sony Alpha a5100's sensor is the same found in the a6000.
Colors are fairly subdued in the Alpha a5100, which leads to more natural looking photos. They are not as vivid some of Sony's competitors (Fujifilm) but, if you shoot in RAW, you still have some control over the color range.
Thanks to its 24-megapixel processor, the Sony Alpha a5100 produces very sharp photos. Noise is notably controlled and very few distracting artifacts are present. JPEGS shot at higher ISOs are also of an impressively high quality and do not appear smeared, which is usually the product of too much in-camera noise reduction.
When shooting RAW, images may look a little soft straight out of the camera so you'll need to do some extra sharpening.
Score: 4.5/5
Focusing
Sony notably upped their game with the Sony Alpha a5100 and gave it a 204 point Hybrid autofocusing system as opposed to a now rudimentary contrast-phase detection one. The result was a noticeably faster autofocus system that was competent in both generous and low-light situations.
At the time, the Sony Alpha a5100 was able to perform admirably and even impressed many seasoned photographers, but how does the Sony Alpha a5100 perform in a modern setting?
Well, the autofocus is still respectively zippy and snaps to subjects as quick as ever. Moving subjects were, and still are, a problem for the a5100.
I feel like autofocus technology has come a long way since the a5100 was released, and I can't help but feel like the a5100 is starting to get left in the dust.
Granted, the autofocus of the Sony Alpha a5100 is still very respectable. The low light performance is solid even by modern standards. Given these facts, the autofocus of the a5100 is still capable and shouldn't at all be considered a crutch just yet.
In the hands of a good photographer who knows how to focus properly, the Sony Alpha a5100 is still a great camera.
Score: 4/5
Video
Sony deserves some props for consistently investing in video recording technology within its cameras. The Sony Alpha a5100 is no exception; with the capability to shoot full HD in 60 fps, this camera is very capable.
From a technical point of view, the Sony Alpha a5100 can shoot full 1080p at varying fps of (60p/50p/25p/24p) and with AVCHD and XAVC codecs. In layman's, this means the Sony Alpha a5100 has a lot of options when it comes to making videos.
It does lack the option of shooting 4K or at 120fps, which is standard in most videography cameras. Most casual backpackers will find HD to be more than suitable for their needs, as 4K is bit overkill anyway.
Videos shot with the a5100 look very good. Fps is smooth, sharpness is crisp, and the sound is relatively clear, thanks to the stereo microphone. The autofocus also does a very good job of staying on target. Videos shot at higher ISOs do suffer from a lot of noise at times.
Overall, the Sony Alpha a5100 offers an excellent filmmaking experience. It may not appeal to professionals but for casual traveler photographers that need something reliable, the a5100 is an excellent choice.
Score: 4/5
Battery Life
Mirrorless cameras are notorious for draining batteries quickly and DSLR owners like to point this fact out to an irritating extent. Though the Sony Alpha a5100's battery life still can't stand up to a DSLR, it is noticeably better than most other mirrorless cameras out there.
Sony claims that the a5100 will get about 400 shots and 75 minutes of video per battery. Company-provided battery estimates are notoriously inaccurate though.
Some users have put the Sony Alpha a5100 through the ropes and gotten way more than 400 shots/75 minutes of video from the battery. In summary, the Sony a5100 battery life is still excellent (for a mirrorless) and should last you most of the day.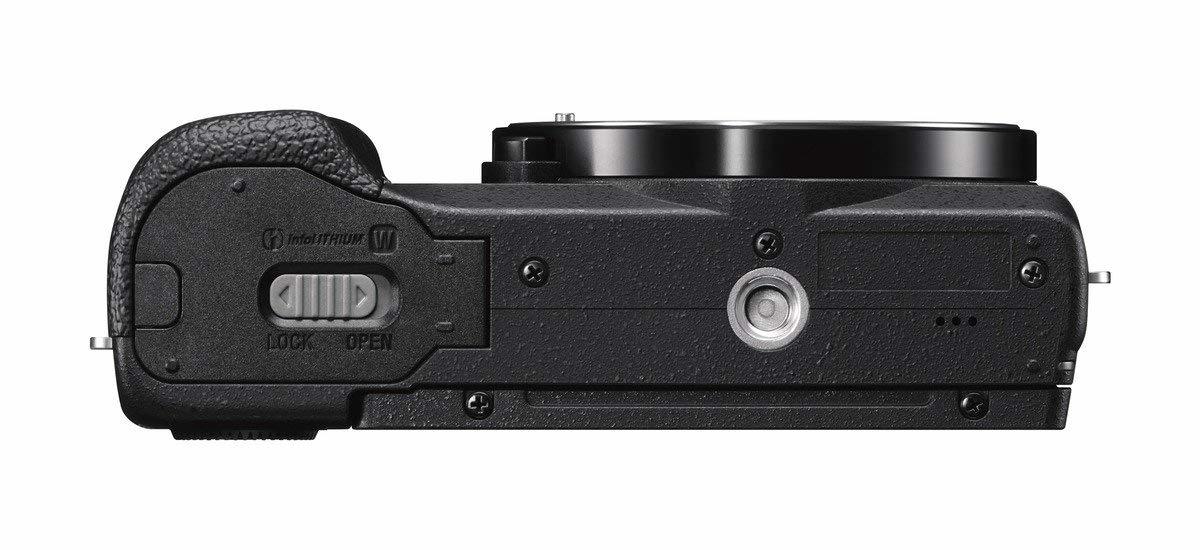 Score: 4/5
Lenses and Accessories
In itself, the Sony Alpha a5100 is a pretty complete package so long as you don't need anything extra, but you wanted to modify this camera in order to enhance its performance, you may be frustrated.
The Sony Alpha a5100 lacks some very key features that are pivotal for customization. In addition, the Sony lens library is still trying to catch up to the competition although 3rd party adapters and lenses somewhat alleviate this problem.
Most glaring is the fact that the Sony Alpha a5100 doesn't have a hot-shoe. Without this key feature, photographers will be unable to mount important equipment that would otherwise improve performance.
Now, I can forgive Sony for not including a built-in viewfinder for the sake of saving space; but not including a hot shoe, which could be used for mounting a separate viewfinder or even a flash? That's a real shame.
Those who need to use flash will have to settle for the a5100 built-in one, which is needless to say, uninspiring. Like most other mirrorless built-in flashes, the a5100's isn't very powerful.
The Sony lens library is all over the place as well. Though there are some really, really nice lenses out there made for the Sony E-Mount, these cost upwards of $1000 or more, which is prohibitively expensive. Many of Sony's standard lenses are mediocre and leave much to be desired. The a5100's kit lens, ironically, performs well but it's still behind the competition.
Sony does make up for this a bit because most of their cameras can accommodate adapters that allow rival-brand lenses to be attached. Enthusiasts could certainly mount a Canon lens on the Sony Alpha a5100 or a Leica for that matter. Regardless of which lens you choose, there are enough options to make the E-Mount worthy of investing in.
Score: 3.5/5

Our GREATEST Travel Secrets…
Pop your email here & get the original Broke Backpacker Bible for FREE.
The Verdict
Right, now were at the end of our alpha a5100 review, we need to come to a conclusion!
Synonymous with the word camera, Sony is one of the worlds leading photography brands. Time has been good to the Sony Alpha a5100 and many of the features that made this camera popular in the first place are still relevant today. Even now, the Alpha a5100 can take amazing photos that rival plenty of more expensive cameras and it's one of the reasons Sony remains one of the best camera brands for travel.
It amazes me still how Sony was able to put a larger APS-C sensor in such a small package without frying the poor thing. Color me impressed.
The body of the Sony Alpha a5100 has aged very well too. Its size is still unmatched by that of the competition. The touchscreen, though limited in utility, was still pretty cool and set the tone for future models.
I personally would've liked to see more physical buttons on the Sony Alpha a5100 but these controls may become a thing of the past given the new developments in popular camera design.
In our Sony Alpha a5100 review, we did notice some faults with the camera. The exclusion of a viewfinder is understandable but the exclusion of a hot shoe is downright frustrating. Also, the in-camera menus, though useful, are not the easiest to navigate.
In the end, the most redeeming part about this camera is that it's so damn affordable these days! Sure, you can invest in the a6000 and your money would be well spent, but the a5100 does so much of the same for a fraction of the price! Those looking for a good bargain will be hard pressed to find a better deal than the Sony Alpha a5100.
So are you looking for a compact camera that packs a punch? The Sony Alpha a5100 is for you then! This mighty mouse of a camera is small, inexpensive, and takes gorgeous photos, making it one of the best budget travel cameras available.
Final Scores
Ergonomics: 4/5
Features and Performance: 4.5/5
Image Quality: 4.5/5
Focusing: 4/5
Video: 4/5
Battery Life: 4/5
Lenses and Accessories: 3.5/5
The Sony Alpha a5100 is for you if you…
Want superb image quality.
Need something light and small.
Like to shoot JPEGs at higher ISOs.
Are a beginner in photography and want to improve your skills.
Want above average battery life for a mirrorless.
Want quick and reliable autofocus
Don't want to break the bank.
Need solid video recording.
Don't mind using third party lenses.
The Sony Alpha a5100 isn't for you if you…
Become frustrated by multiple menus.
Like physical controls.
Like to use an Electronic Viewfinder.
Need to use hot shoe accessories i.e. speedlites.
Mind that videos show considerable noise at higher ISOs.
Below is a selection of samples assembled from various photographers using the Sony Alpha a5100.
We hope you've enjoyed our Sony 5100 camera review, let us know if you have any questions.
---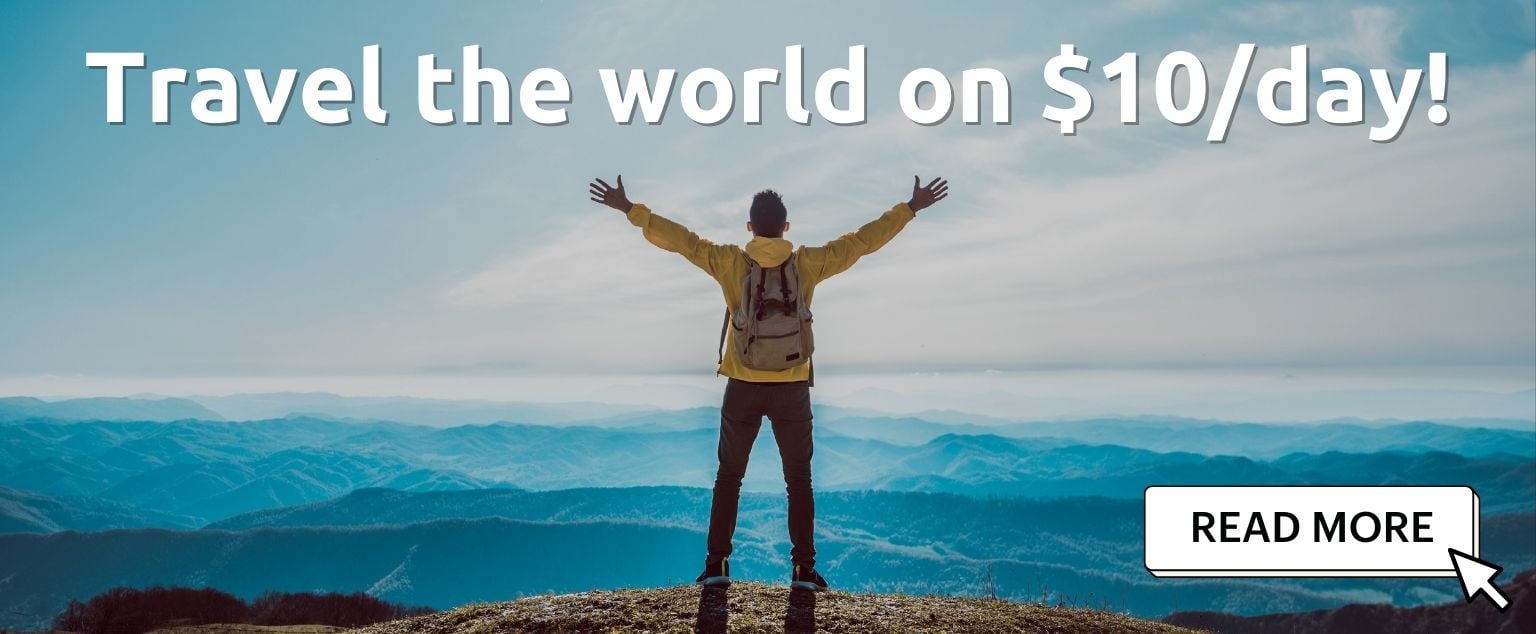 And for transparency's sake, please know that some of the links in our content are affiliate links. That means that if you book your accommodation, buy your gear, or sort your insurance through our link, we earn a small commission (at no extra cost to you). That said, we only link to the gear we trust and never recommend services we don't believe are up to scratch. Again, thank you!