If you are a traveler who takes photography seriously, then you need to think about finding the perfect backpack for your travels. Whilst you could simply opt for any old general, multi-purpose bag, there are now a great selection of dedicated camera backpacks out there.
In this review, we will take a close look at the WANDRD PRVKE Lite (pronounced Wandred Provoke), a new to market 11 litre camera backpack. The PRVKE Lite is the smaller and amended version of WANDRD's flagship products, the PRVKE 31 and 21. If you are familiar with the 31 or 21, then do pay attention to this review as there are some very important differences between the 2 models.
Stay tuned and we're going to give you the full low-down on all the key features including the materials, size and weight, the key features, best uses and of course, its value for money.
By the end of this review, you will know whether this pack is for you or not.
The WANDRD PRVKE Lite Review
Let's make this clear now, like with the PRVKE 31, WANDRD have primarily created this pack for use by photographers. The pack's layout, storage and accessibility are purposely designed to hold a camera plus accessories.
Whilst this pack could easily be adapted and used by non-photographers, there are simply more appropriate backpacks out there for those of you who do not travel with a camera.
Also bear in mind that 11 (expanding to 16) litres of storage space is quite limited. Generally, 11 litres is the size of a commuter backpack or a hiking daypack. Overnight bags on the other hand tend to start from the 28 litre range unless you are a particularly light traveller.
Winter is coming… WARM UP!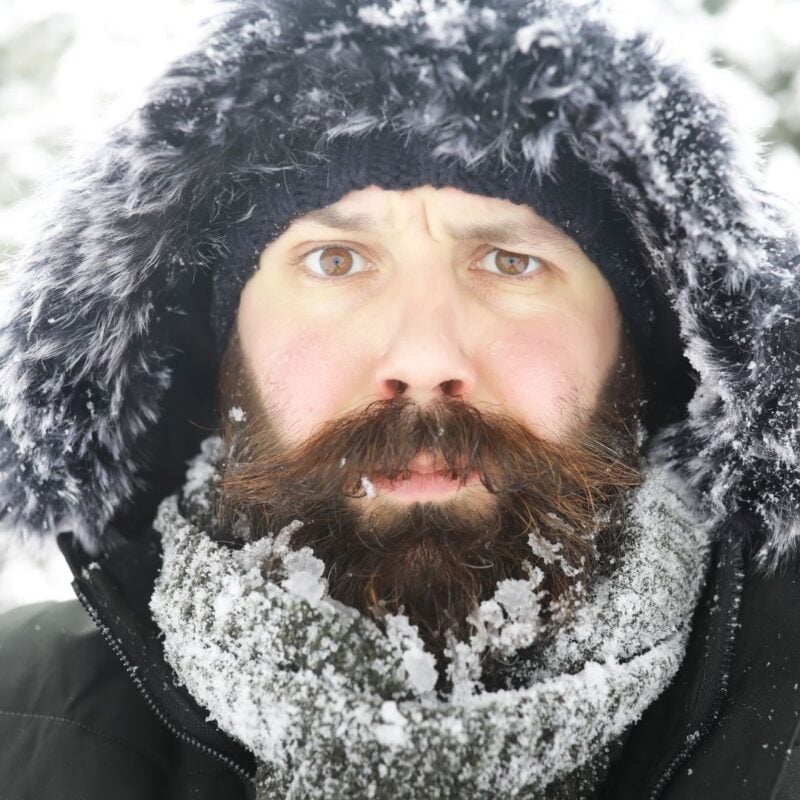 Get up to 50% OFF when shopping gear for the winter on REI.
Warm up for the holidays and SAVE on outdoor gifts all the way through Dec 18!
View on REI
The WANDRD PRVKE Lite At A Glance
Specifications
Exterior: 53.3 x 30.5 x 14cm (21 x 12 x 5.5 in.)
Interior Volume: 11L (14L with roll top fully extended)
Laptop/Tablet Sleeve: 31.8 x 24.1 x 2.5cm (12.5 x 9.5 x 1 in.)
Weight: 1.1kg (2.5lbs)
Key Features
Detachable Camera Cube
"Quick Draw" side pocket
Easy access laptop sleeve
Durable, protective build material
Loads of pockets
The best present of all… is CONVENIENCE!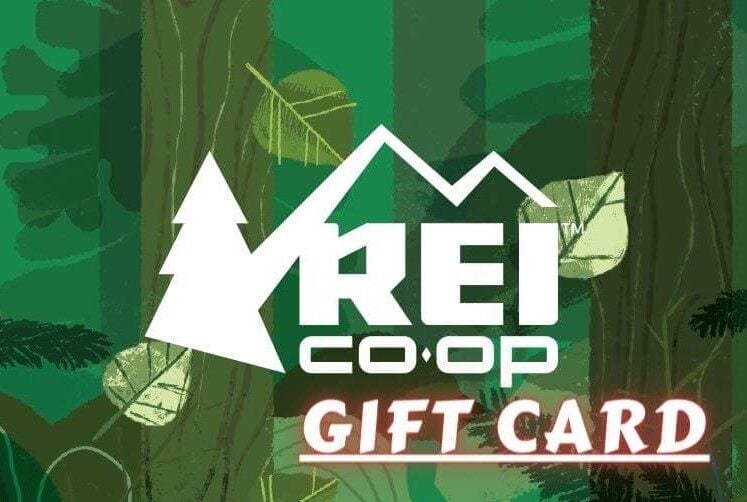 Now, you could spend a fat chunk of $$$ on the WRONG present for someone. Wrong size hiking boots, wrong fit backpack, wrong shape sleeping bag… As any adventurer will tell you, gear is a personal choice.
So give the adventurer in your life the gift of convenience: buy them an REI Co-op gift card! REI is The Broke Backpacker's retailer of choice for ALL things outdoors, and an REI gift card is the perfect present you can buy from them. And then you won't have to keep the receipt. 😉
Buy on REI!
WANDRD PRVKE Lite – Quick Answers
In case you're in a mega hurry, these quick answers may help you make a snap decision about whether this is the backpack for you.
Who Is The WANDRD Lite For?
The WANDRD Lite is a great pack for photographers. If you love taking pictures and use a DSLR or "proper" camera, then this pack is perfect.
Who Isn't The WANDRD Lite For?
If you are not a photographer and do not use a proper camera, then this pack isn't really for you. Whilst it can be used for other purposes, there are more suitable day and commuter backpacks out there.
How Much Does The WANDRD Lite cost?
The WANDRD PRVKE Lite costs around $265.
WANDRD Lite – Size & Weight
Weighing in at 1.1 kg (2.5 lbs) and having a volume of 11 -16 liters the PRVKE is kind of mid range for its capacity. It isn't exactly light, but is not heavy enough to warrant complaint.
The PRVKE Lites' relative lightness is remarkable once you feel for yourself how rugged and solid the sturdy material feels to the touch – such solid packs are normally heavier. Also, despite only holding 11 – 16 litres of capacity, it still somehow seems able to hold a lot of stuff when packed.
Measuring 40 X 28 X 14 cm (16″H X 11″W X 5.5″D) the PRVKE Lite is also pretty compact given its total volume capacity. As you will see later in this review, this is because no space is wasted and every inch of this bag is utilised for storage.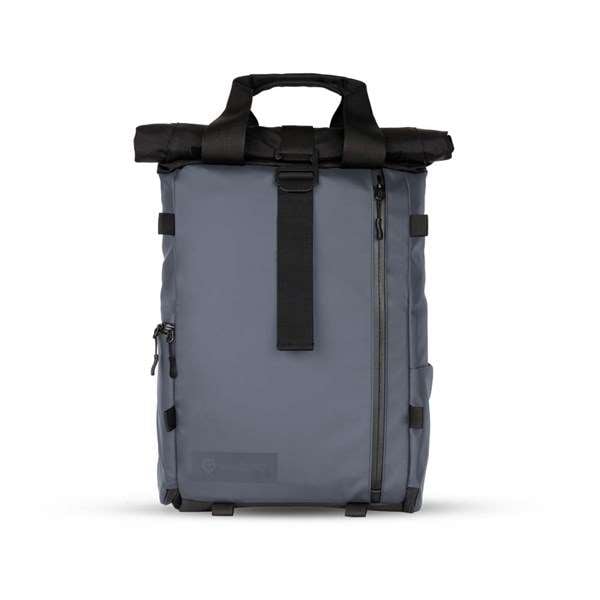 For those who fly often, the PRVKE Lite is a very handy travel companion as it meets carry-on requirements easily – you won't have to worry about your gear and precious camera getting knocked around down in the cargo hold. On the other hand, 16 litres is not a great deal of space and only light travelers will be able to pull off multi day trips using the PRVKE Lite.
As an added bonus to travelers taking this pack on flights, WANDRD also promises that getting through airport security with this bag will be a breeze, thanks in part to its "lay flat design" that is TSA friendly. By just opening the bag and laying it flat on the belt, the bag can easily pass through the TSA's X-Ray machines without a hassle. However, I have not yet had the opportunity to test this myself.
WANDRD PRVKE Lite – Material & Construction
The PRVKE Lite is primarily made from a combination of tarpaulin and robic nylon. Tarpaulin (known as tarp to friends) is water proof, tough, and flexible. Robic nylon, of ubiquitous use in outdoor gear, is equally reliable and known for being very resistant to the elements. These materials do their job very well and feel very damned tough.
The high quality materials are also put together very well. The seams and stitchings of the PRVKE Lite all appear to be very well made. The pack is made in Vietnam but rest assured that the quality of the workmanship is sublime.
The overall design of the PRVKE Lite is very direct and efficient. Functionality is at a premium and the materials used are both practical and good looking. There isn't a single part of this pack that feels superfluous or unnecessary which is actually quite rare.
Of a small complaint, the magnetic tote handles at the top of the bag aren't very strong and come apart easily. Honestly, I could really care less whether or not these handles actually stick together – fastened or not they get the job done.
WANDRD PRVKE Lite – Protection & Durability
Remember, this is a camera ready backpack so you need to be rest assured that the several thousands of dollars worth of gear you pack inside is relatively safe. The good news is that owing to its solid construction and ergonomic design, the PRVKE Lite offers top rate protection for all types of gear.
There is a built-in camera cube which will hold your camera in place using soft sponge. The spongy cube can very easily be removed for when you are NOT using the camera.
With lots of weather sealing in addition to a rain fly (sold separately) the PRVKE Lite should stand up very well to the elements. This means that even if you get caught in a monsoon style rain storm, your packed belongings should stay dry.
Nearly all of the WANDRD PRVKE Lites exterior zippers are weather-resistant due in part to sealings. The tarpaulin, found mostly on the dorsal side of the bag is quite durable as well and should repel most hazards.
Also, the posterior of the bag (the side that lays flat on your own back) is very well padded. Aside from being comfortable to wear this provides extra protection for your contents as well.
The walls of the PRVKE Lite are well padded and every internal compartment has protection. This is absolutely crucial for protecting your gear. Remember that standard, non-camera backpacks do NOT tend to have padded walls.
In short, we would feel pretty confident if the PRVKE Lite were exposed to some sort of real blunt trauma, our camera would be safe. Of course, there are always going to be limits to this and should you drop the pack down a ravine or something, all bets are off.
Those looking for a travel backpack that will stand-up to the harshities of life should feel very confident with the PRVKE Lite.
WADNRD PRVKE Lite – Capacity & Storage
There are 3 main compartments that serve as the bag's main storage units.
The top lid is the bit that pulls up and increases the bags capacity from 11 to 16 litres. It is accessed by unfastening the clip and the roll top and is best used to store bits of clothing and the likes.
The camera compartment is primarily accessed from the back of the pack by zipping it down. This compartment has a built- in camera cube made from a soft sponge. You can therefore pop your camera in here safely. Note that this is in contrast to the PRVKE 31 which did NOT include this feature – instead the camera cube had to be purchased separately.
The Camera Cube does a good job of holding camera gear. I will say that the actual space available, though appropriate for my mirrorless system, may seem a little cramped for some full frame users or those with a ton of gear. Combine with a good travel organiser and you're good to go.
Upon initial inspection of the PRVKE Lite, you may well be struck by the apparent abundance of pockets. Hidden away in seemingly every nook and crevice of this backpack is some sort compartment to stuff more stuff. It seems that no part of this bag is left unused and every little bit is used for storage. I was quite impressed by the efficiency of this bag's storage capabilities.
There are loads of zippable pockets. Between them, you can store everything from a passport to extra gear to a pack of smokes. However, note that the side water pocket is a little tight and will only hold smallish bottles.
There is also a laptop sleeve which is conveniently strategically placed at the back of the pack making it very easy to access no matter how much you packed.
I would also recommend picking up one of WANDRD's Packable Daypacks in case you need to carry some more stuff.
WANDRD PRVKE Lite – Aesthetics & Discreteness
From a cosmetic point of view, the PRVKE Lite is very handsome, dapper and stylish. A lot of outdoor gear tends to look a bit lame but this is not the case here and you could happily bring this pack to a hip neighbourhood. The one I tried, comes in a sleek grey but I understand matt black is also available (we're still waiting on pink).
Even when fully packed, the bag doesn't bulk out awkwardly either and retains its suave appearance.
However, there is a downside to this. It's stylish, almost professional look may kind of act as a beacon for thieves and bag snatchers – the last thing you want is to lose a bag that has your camera inside! Of course, crime is rare in most areas so this probably need not be a major concern. In any event, expensive electronic gear should be properly insured just in case.
WANDRD PRVKE Lite – Comfort
One of the most important factors for any backpack, is how comfy it is to carry. And lets remember, with the WANDRD PRVKE Lite you will probably be carrying a heavyish camera around on your back for prolonged periods.
The PRVKE Lite does have a lot of padding and additional straps for distributing weight but it does lack certain key features that make it truly adept at carrying heavier loads. When fully extended and loaded, the pack simply feels top heavy making it a bit unsuitable for any kind of serious hiking.
The shoulder straps are well padded and feel comfortable on the shoulders. The straps can be loosened and tightened via a synch found at their bottoms and doing so will make the bag more or less comfortable.
Unfortunately, there are no synches at the top of the shoulder straps, which would help to bring the top of the bag closer to the shoulders for proper weight distribution. The inability to synch the bag at the shoulders, though somewhat minor and only hampering when the bag is fully loaded, was perhaps our biggest gripe that we had with the bag.
Should you be packing heavier loads, there are waist/hip straps available but these that are generally straps sold separately or included in a bundle -this is almost unprecedented and deeply annoying right? These straps (of course) have their own pockets that add on to the PRVKE Lite's already impressive capacity.
Aside from the few issues that arose when trying to adjust the PRVKE Lite's straps, this backpack overall is still quite comfortable. The padded back should stop any packed items from jamming into your back and, at more reasonable weights, the shoulder straps feel good.
WANDRD PRVKE Lite – Ergonomics and Intuitiveness
Happily, for a backpack with so many hidden pockets and chambers, the PRVKE Lite is still relatively easy to use. This is not always the case and some tech spec packs can be damned hard work to use and operate.
As well as being custom designed to be airport inspection easy, the pack layout is very logical and easy to navigate. You can very easily access the PRVKE's three main compartments via a number of entry points. As previously mentioned, a lateral zip provides access to the big main compartment, which is where the bulk of your camera gear will be stored. At the top of the bag is the rolltop, which too is pretty easy to access. A clip at the top of bag secures the rolltop and is quite snug and easily adjusted.
Furthermore, most of the zippers are very nice and smooth and haven't snagged on me at all. The many access points are thoughtfully placed in addition to being conveniently accessible.
As is fairly commonplace with hiking camera bags, there is a "Quick Draw" access point found on the lower side of the bag, which provides access to the Camera Cube. This is quite intuitive – by tossing the bag over your left shoulder, you can access this pouch and grab your camera or lens directly from the compartment and begin shooting.
Whilst this feature is certainly convenient, this pocket gives you access to only one item at a time – this may not be enough for you and I personally like to have more options.
WANDRD PRVKE Lite – Extra's
This pack is pretty customizable and you can tweak it to suit your own needs. Between the many loops found on the pack as well as the ability to attach adjustable accessory straps (sold separately), you should be able to find many alternative means of packing your stuff.
For example, there are four loops located on the rear of the pack and four more located on the bottom. You can use these loops to attach something like a camera tripod, a yoga mat or a blanket. Of course, anything you do attach will add to your load weight and may also jar against your body and your back so do keep this in mind.
You can also attach accessories on one of several loops found on the PRVKE Lite shoulder straps. Outdoors people going hiking may find these a good place for fixing something like a radio while photographers may wish to use these for a camera clip.
We have tried bags with more loops and customizable features but there are still enough to satisfy me. The PRVKE Lite fully succeeds in providing the right kind of customizable options by allowing users to secure large objects snugly on the rear and underneath.
WANDRD PRVKE Lite – Value For Money
Let's talk about money. The WANDRD PRVKE Lite does not come cheap and can generally be picked up for around $265.
However, the price tag does reflect the high quality build and performance of the pack. Remember that it is hard wearing and durable and pretty firmly padded. It is primarily intended to be used to store expensive cameras and has been designed to keep them safe.
Our view is that if you have shelled out good money for a camera, you should also be ready to invest in a good quality backpack to carry it around safely and effectively.
Remember that if you buy a regular backpack, it will not offer any protection whatsoever for your camera in case of a bang or a drop.

Our GREATEST Travel Secrets…
Pop your email here & get the original Broke Backpacker Bible for FREE.
Final Thoughts on the WANDRD PRVKE Lite
Overall, this pack is excellent for serious photographers looking for a high quality, innovative and ergonomic backpack. Its solid build and thoughtful design place it amongst the best camera packs we have tried.
The pack is less suited for more casual travellers and commuters Whilst it could be adapted and used by anybody, there are simply much more suitable and affordable packs out there.
---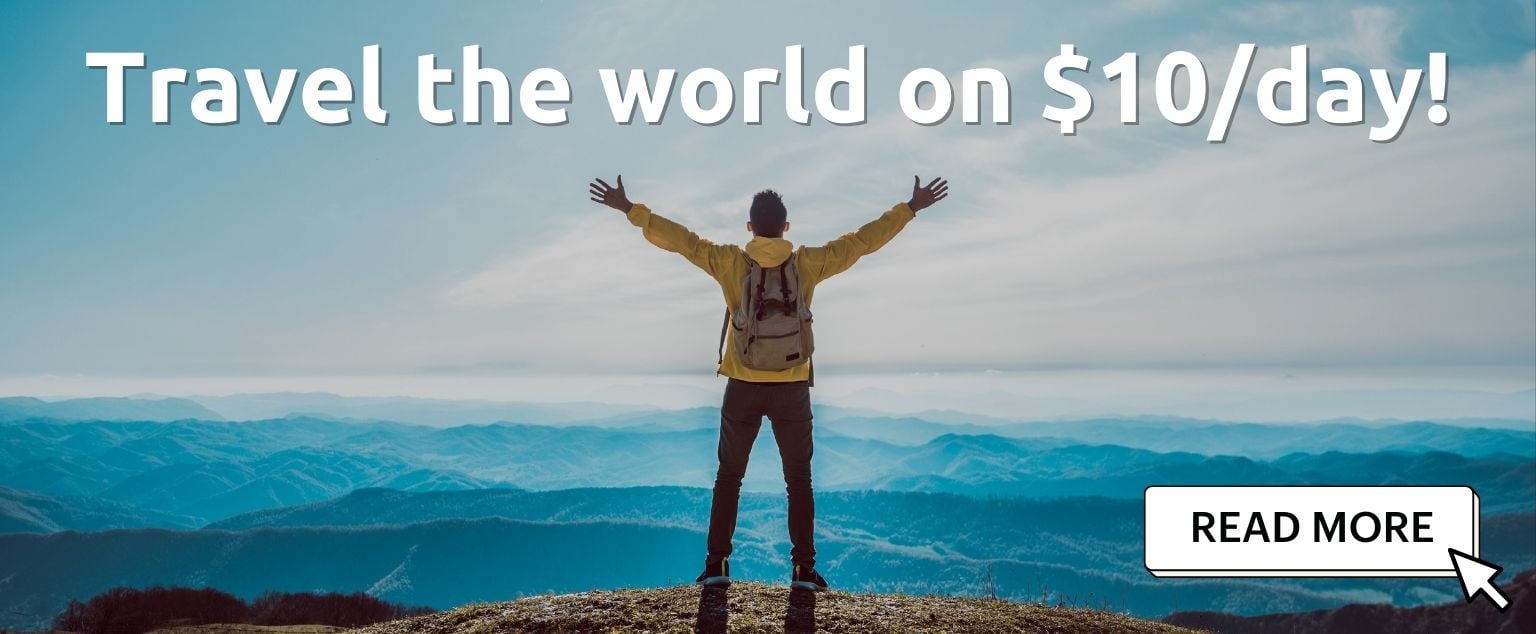 And for transparency's sake, please know that some of the links in our content are affiliate links. That means that if you book your accommodation, buy your gear, or sort your insurance through our link, we earn a small commission (at no extra cost to you). That said, we only link to the gear we trust and never recommend services we don't believe are up to scratch. Again, thank you!