The WANDRD VEER 18L is a packable daypack with an inflatable camera cube. It's a highly innovative and useful pack made by WANDRD, a kickstarter who have developed into a really exciting player in the travel gear scene.
Packable backpacks have pro's and con's. Whilst we need them to be compact, we still want them to have some storage. And whilst we need them to be light, they also have to be sturdy enough to hold some weight. Finally, we need them to be affordable as they are ultimately, a niche product which may not get all that much use.
In this post, we will  roadtrest the WANDRD VEER 18 taking a look at its spec and key features. By the end of this post, you should know whether this is the pack for you.
Why Pack a Packable Backpack?
If you're a serious traveller, hiker, camper or festival goer then you've probably come across packable backpacks before. If not, then the concept is quite simple. A packable backpack is a backpack that magically folds up into a fraction of its size and can usually fit inside a pocket.
Why would you ever need a packable backpack though?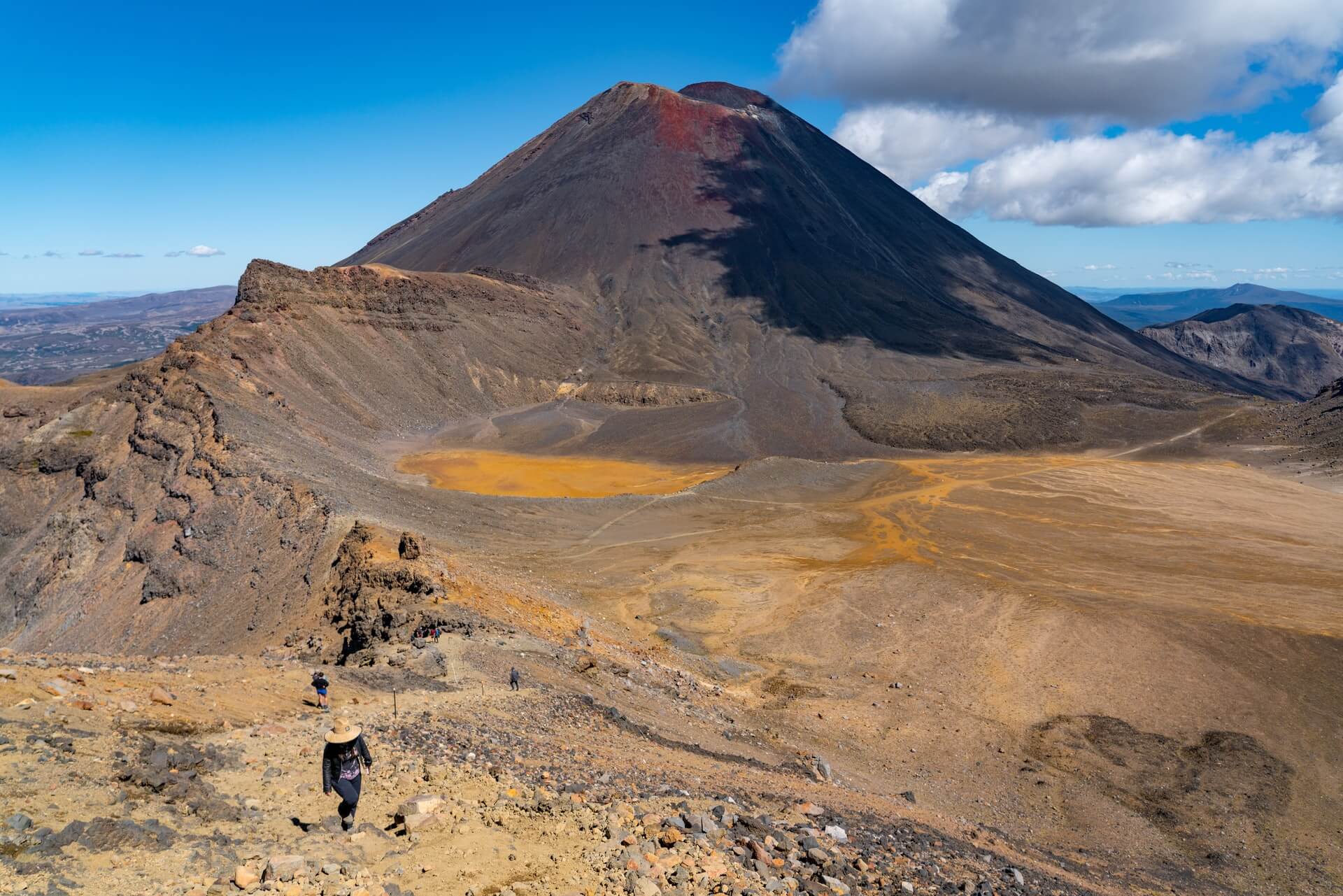 Well, packable backpacks are great for when you need a bag, some of the time but not all of the time and don't want to carry a heavy, bulky backpack for no reason.
They are REALLY useful for camping trips when you maybe bring a big 60 litre backpack with your tent and shizz, but need a little, light pack for day trips and side quests. Likewise, I find them awesome for vacations when I travel with carry-on only – you can throw the pack inside your carry-case and bust it out when you reach your destination.
Over the last few years, I have tried a few packable backpacks and quite a few of them were pretty terrible. Typically, I found that either they didn't pack up small enough or if they did, the material was too weak and they ended up ripping and tearing. Happily, I can confirm that the WANDRD VEER 18L has began to reverse this trend.
Ladies & Gents, It's Time to Step Your GEAR Game Up. 😉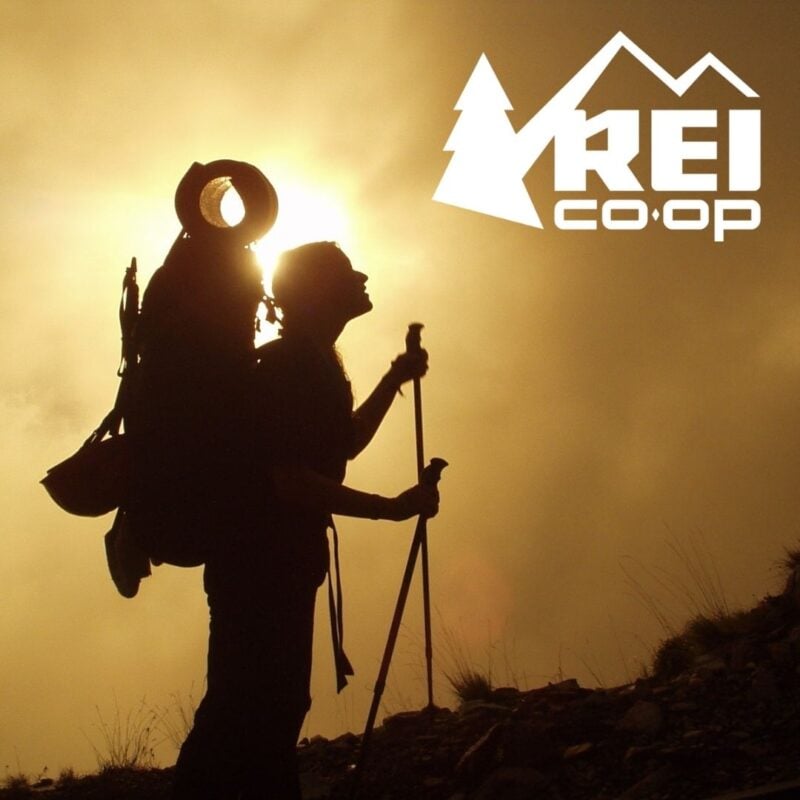 REI is one of America's biggest and most-loved outdoor gear retailers.
Now, for just $30, get a lifetime membership that entitles you to 10% OFF on most items, access to their trade-in scheme and discount rentals.
Join REI Today!
WANDRD VEER Review: Design and Performance Features
WANDRD VEER 18L Build Material & Design Aesthetic
Forged from Weather Resistant N100D Robic Dynatec N210D Robic HD Oxford. This fabric type is incredibly resistant to strain and tear and offers a pretty solid level of water resistance. The VEER 18 feels as hardy and tough as any full size ultralight backpack I have tried.
It is definitely not as strong as the material in my Osprey Quasar 28l daypack but remember that it is not going to ever have to carry as big a load.
I don't know what the advised maximum load weight is, but bear in mind that this pack is designed to carry camera's and a water bottle so can bear pretty much any sensible load weight you will ever need for a day trip. The only possible exception I ca n think is if you try to fill it with canned/tinned food or drink in which case it may feel the strain a bit.
It also comes in 3 sexy colours, comes in three colors: black, cobalt blue, and rust brown.
You will note from the pictures that the WANDRD VEER 18L is also pretty stylish looking. The middle zip down gives it almost a militaristic feel which offsets nicely against its serious, almost Batman-esque vibe. I would NOT hesitate to be seen wearing this bag even in the trendy city streets of Manchester where I live. Note that *most* other packable backs tend to look either incredibly nerdy or flimsy.
Ok this is where the important stuff begins so listen up closely. When "packed", the WANDRD VEER 18L folds into a nice little rectangular-square type shape which measures 6" x 9" x 3" (approx 7 x 15 x 21cm). If you don't have a tape measure to hand, then that's the size of a tissue box. Note that this is a LOT bigger than some other products in this space and the WANDRD VEER 18L will probably not fit into your coat pocket.
When unpacked and ready for use, the WANDRD VEER 18L measures 18" x 11" x 9" (46cm x 28cm x 23cm).
Its weight is 14.60OZ pr 414g which remains constant whether the pack is packed or unpacked. Note that the weight does increase if/when you inflated the inflatable back support. Either way, this is very light. There are lighter packs out there, but they are weak and will not hold a camera for long periods without tearing.
As the name kind of suggests, this pack holds 18L of personal clutter. This is typically enough for a day hike (water, sandwich, sun cream, jacket) or an overnight trip if you care traveling light. Note that this is probably not enough space for trip to the gym (unless you wear your gym shoes all the way) and I even bring a bigger pack when I go food shopping.
However, for trips to the beach, for exploring in cities or for day hikes in the woods it really is the perfect size.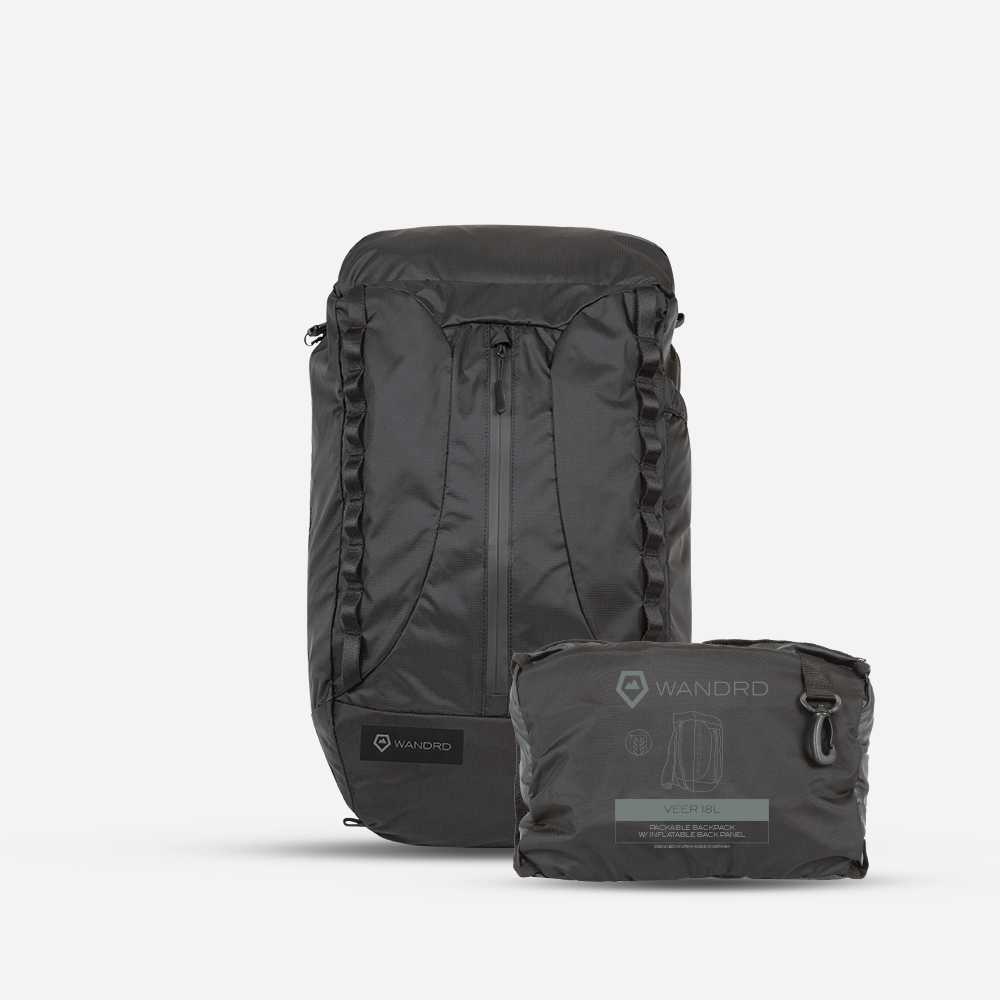 There are 4 different storage segments in the pack. Firstly, we have the "main compartment" which can be accessed from the top (the zip access sits just under the top lid) or from the side which offers a much bigger opening. If you are packing a camera, it will go here.
Then, the top lip zips open and will accommodate either a bottle of water or maybe a light sweater. Finally, there is the front middle zip down compartment – again you could put a water bottle in here, or some light clothing.
In case you need to bring even more water, there is a dedicated water bottle pouch on the side.
To be perfectly honest, given that the WANDRD 18L has a water bottle pocket, I would personally struggle to find any serious use for the top lip or front mid storage compartments.
18L of ultralight backpack isn't really going to cause anybody too much discomfort but WANDRD have not rested on their laurels here. In fact this is where things get really kinda interesting.
One of the big gripes with packable backpacks is that they don't offer any kind of cushioning or support. As such, shoulder straps and especially back panels can sometimes be a bit gnarly. If you are carrying something heavy and jagged, you will normally feel it digging into your back as you walk.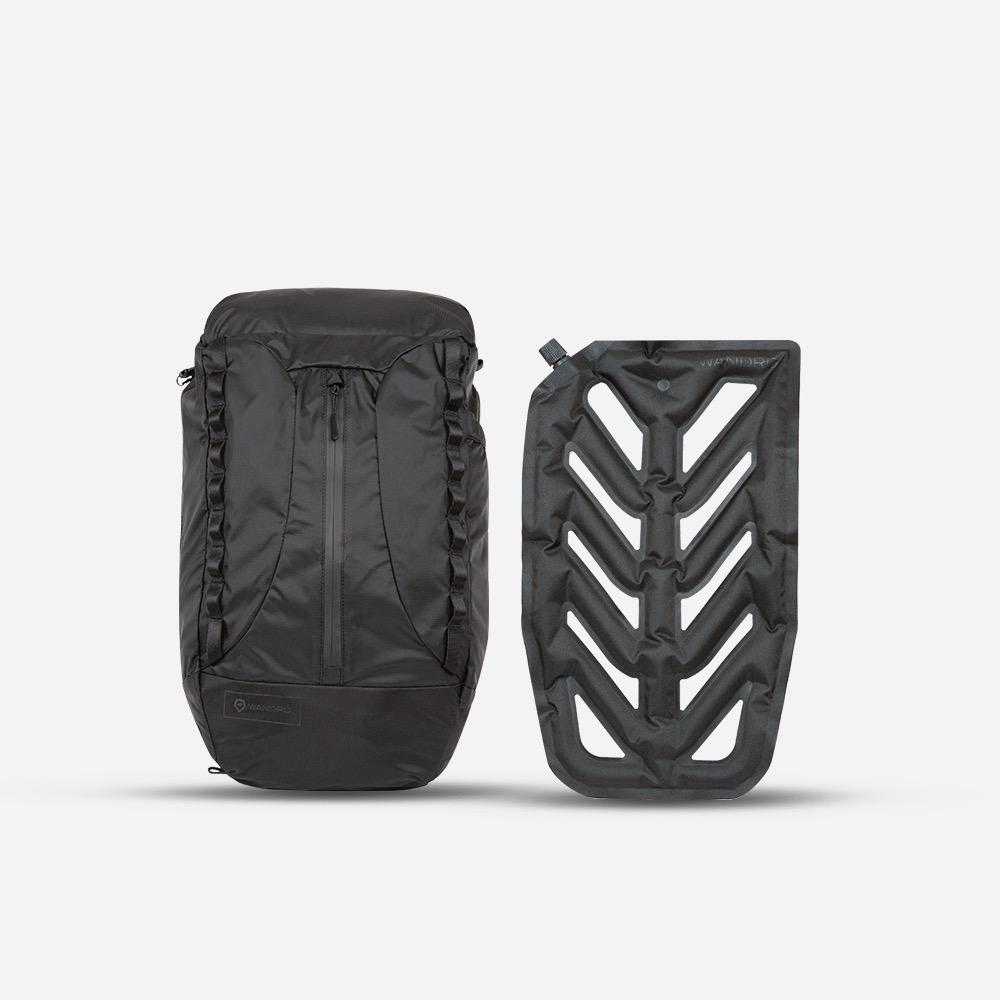 With the VEER 18L however, WANDRD have built the shoulder straps from light, soft mesh so that they are at least breathable (meaning your shoulders wont get too sweaty) and they feel ok if you wear it against your bare skin.
In teams of back support, you have the option to use the inflatable back panel. You basically pull it out, blow it up, and slot it in. It acts as a nice soft, airy cushion meaning you won't feel anything digging into your back.
Finally, the WANDED VEER 18L also comes with a fastanable hip belt which you can clip to spread the weight across your body.
WANDRD 18L & The Inflatable Camera Cube
It seems that WANDRD have gone all crazy with the inflatable stuff this season. The VEER 18L is custom designed to be used in conjunction with WANDRD's Inflatable camera cube.
Sold separately, the inflatable camera cube is essentially an inflatable, square shaped camera pack designed for serious photographers with high quality cameras to protect – think of it as an airbag for your camera.
Whilst you don't need to use this, the alternative does mean throwing your camera into an ultralight backpack with almost no cushioning – so if you drop the pack or bang it on a rock, your camera is gonna take the hit.
Whilst it is a nice novel innovation, I found it to be kind of reductant in that, if you are traveling with a proper camera you are probably not so fussed about being "ultralight" and will probably have a good camera bag. Or you may just prefer a 28L daypack that offers some proper protection. If you are serious photographer, check out the Wandrd Prvke – the companies flagship product, instead.
Buying the cube also adds another $50 to the price tag which may push it into the dark dusky realms of counter-economics.
Personally, I only intend to ever use this back as an ultralight day pack and won't be putting a camera in it. If you are interested in light camera bags, then WANDRD recently launched the PRVKE Lite too.
Quick Answer: Approx $100
Like any odious two bit daytime TV salesman, I kept the price until the end.
Most quality outdoor gear comes at a price, and the VEER 18L is no different. Whilst it may feel slightly overpriced for what it is, you certainly get what you pay for. As with any good outdoor product, you should only have to buy a daypack once every 10 years (and sometimes they can go for much longer than that). Take it from me, I have had packable daypacks tear at absolutely fucking horrendous moments.
Which brings me to my next point….
WANDRD's "Worry Less Guarantee"
Like any self respecting manufacturer of high quality wares, WANDRD are happy to stand by their product and are offering what looks like a LIFETIME guarantee. The wording says something to the effect of "reach out and we will make it right".
It sounds positive but I have no experience of what it actually means in practice (because my bag is still in one piece!!!!). For example, if you "overpack" your bag and it tears, will it be covered or not?
Once upon a lifetime, Osprey used to offer a more emphatic and clear guarantee but have withdrawn it in recent years. Therefore whatever the practical reality, WANDRD do appear to be going above and beyond their competitors here.
The best present of all… is CONVENIENCE!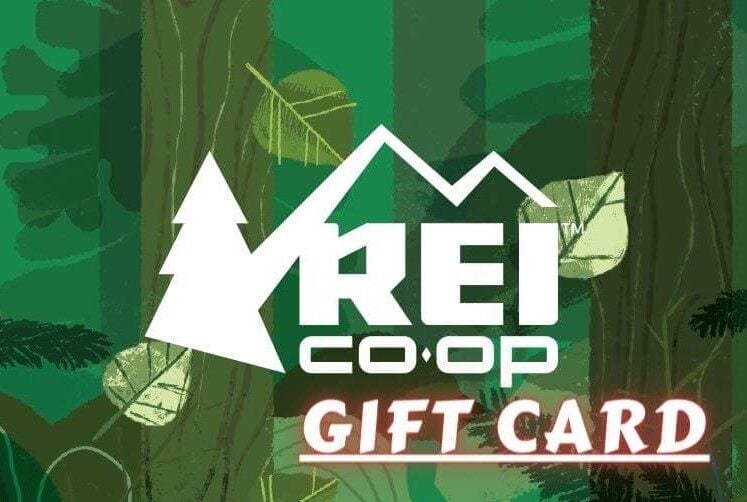 Now, you could spend a fat chunk of $$$ on the WRONG present for someone. Wrong size hiking boots, wrong fit backpack, wrong shape sleeping bag… As any adventurer will tell you, gear is a personal choice.
So give the adventurer in your life the gift of convenience: buy them an REI Co-op gift card! REI is The Broke Backpacker's retailer of choice for ALL things outdoors, and an REI gift card is the perfect present you can buy from them. And then you won't have to keep the receipt. 😉
Buy on REI!
Pro's and Con's of the WANDRD VEER 18L
There is one big con which I do need to draw attention to. I found this backpack kind of hard to get my head around. I mean, it took me a while to work out how to find and use the inflatable back cushion and I still find it a bit fiddly to slot in its place. I also found it awkward working out how to fold the pack back up again once I had finished using it.
Now I was born with a touch of dyspraxia which may account for this but some other users have said the same thing. It is not a huge problem, but I found myself getting a tad frustrated with the pack at one point!
Pro's
Ultralight

Strong Material

Stylish

Has inflatable options
Con's
Too big when packed

Kind of awkward

Not cheap
WANDRD VEER 18L Vs The Rest
Maybe this pack isn't for you. Maybe you just can't afford it right now. Worry not, there are plenty of other decent packable backpacks out there just iching to fold up and pack up into your hearts, minds and travel plans.

Our GREATEST Travel Secrets…
Pop your email here & get the original Broke Backpacker Bible for FREE.
Final Thoughts on the WANDRD VEER 18L
Did you enjoy that? Did you at least find it semi useful? If this pack is for you, then great. If not, then good luck finding a suitable alternative. We always love to hear from you so if you have any experience of using this pack, leave a comment below.
---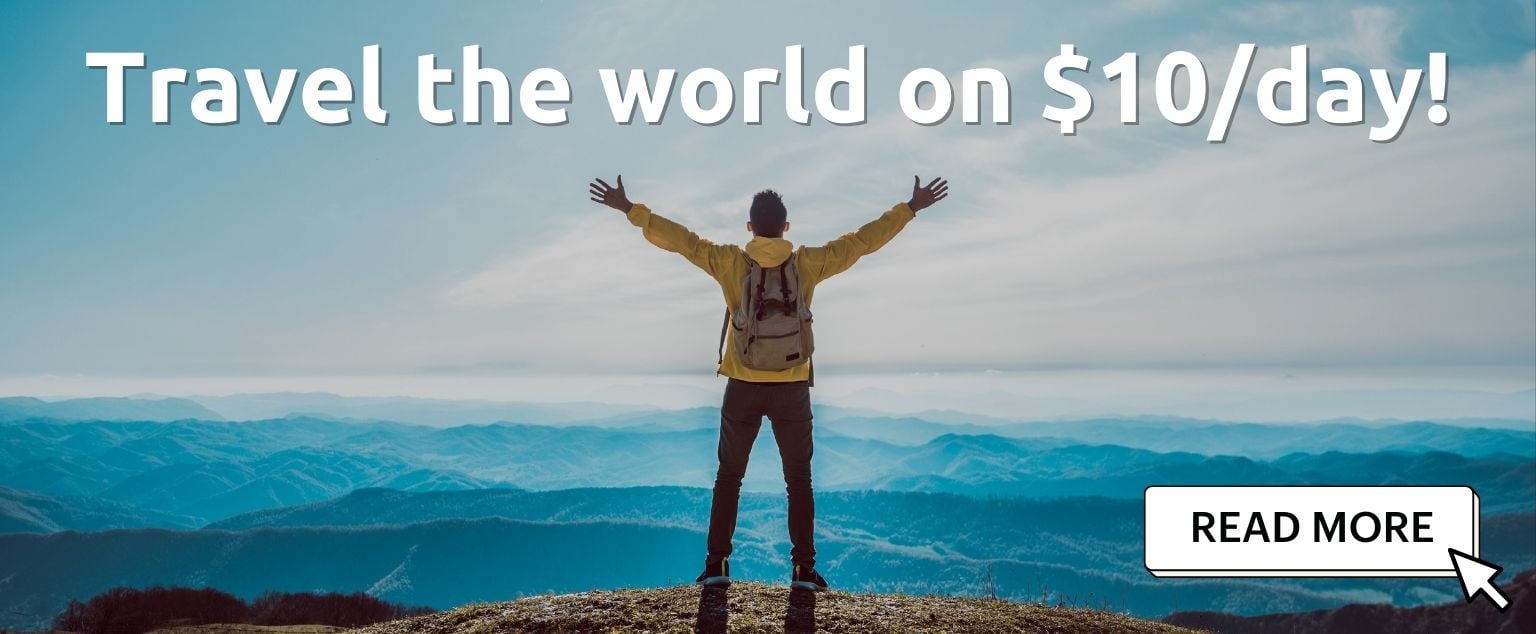 And for transparency's sake, please know that some of the links in our content are affiliate links. That means that if you book your accommodation, buy your gear, or sort your insurance through our link, we earn a small commission (at no extra cost to you). That said, we only link to the gear we trust and never recommend services we don't believe are up to scratch. Again, thank you!