Hopefully, you know by now that staying hydrated is kinda essential! However, when you head out into the great outdoors it can prove kinda challenging sometimes. After all, water bottles can only carry so much and they are not always that convenient.
Thankfully there is gear out there to cater to this eventually. Hydration packs, wearable reservoirs and filter water bottles are all awesome accessories that can really come in useful when we go hiking, cycling or running.
In this post, we are going to take a look at some of the best outdoor gear from CamelBAK. We have handpicked and road-tested a whole smorgasbord of their wares so stay tuned to find out just what made the shortlist.
Quick Answers – The Best CamelBAK Gear
All About CamelBak
Before we begin, let's take some time to look at who exactly CamelBak are and what the brand is all about. Heck, we'll even throw an "origins" story in!
CamelBak is an outdoor gear company based in the United States, currently headquartered in California. As the name suggests they are primarily known for their hydration products and in particular their hydration packs and water bottles.
These days, CamelBak's hydration packs are routinely used in outdoor activities such as hiking, running, and cycling, as they allow the user to drink water without using their hands.
Now for the origins tale…
CamelBak was founded in 1989 by Michael Eidson after he competed in a 100-mile bike road race in the Texan summer. To stay hydrated, Eidson had filled an I.V. bag with water, slipped it into a tube sock, and then stuffed the homemade contraption into the back of his bike jersey. He then fastened a thin hose over his shoulder to drink from as he pedalled. This in-genius hands-free hydration method essentially became CamelBak's first product, the "ThermoBak". Pretty wild right!?

Do You Want to Travel FOREVER??
Pop your email in below to get a FREE copy of 'How to Travel the World on $10 a Day!'.
These Are The Best Products From CamelBAK
We have scoured the CamelBAK inventory and have hand-picked some of the best and most useful products that they have on offer. We have chosen an altogether pretty damned fine mixture of bottles, bike bags and hike packs.
The brand new A.T.P. 26 is an all-in-one backpack companion for every adventure. Its 26 litres of storage offers a really usable small travel backpack. Utilising an expandable top-loading structure with a central zipper, it provides easy access to your belongings at all times.
Then there are the adaptable compression straps for better load management and a proper padded detachable laptop compartment. The A.T.P. 26 really is designed to accompany you on more extensive explorations. Aesthetically, it comes in classic black or brilliant white for those who want to get noticed.
It is designed to work with most CamelBAK reservoirs in case you want to use it for those long hikes on hot days. So it's a great all-around travel bag that can be easily used for other activities whilst out on the road.
Constructed using vacuum-insulated stainless steel, the CamelBAK Fit Cap 32oz Water Bottle is assured to keep your liquids cold for up to 24 hours, or hot for up to 6 hours. It is a perfect companion for many kinds of outdoor adventures, gym sessions, or just keeping by your desk at the office. The leak-proof cap projects against spills, and the bottle's design also fits comfortably in most cup holders and backpack pockets.
And there is more – In a world increasingly concerned about sustainability, the CamelBak Fit Cap Water Bottle is an eco-friendly alternative to disposable plastic bottles. Its durable construction ensures it withstands daily wear and tear, giving years of good use. The stylish design, coupled with the practicality of the cap, makes this water bottle an ideal choice for active individuals who value both function and style. All in, this is one of the best water bottles for travel and hiking we've used.
The Fourteener 32 is CamelBak's high-capacity hiking hydration pack that comes equipped with a 3L Crux reservoir. This pack has been carefully designed and constructed to help keep users properly hydrated and comfortable during long hikes. It features a unique Air Support back panel for excellent ventilation which reduces sweating on the trails. The built-in Crux reservoir delivers more water per sip than many competitors and features an easy-to-use on/off lever to prevent leaks.
Apart from its hydration efficiency, the Fourteener 32 also offers plenty of storage space with multiple pockets and compartments to secure all your hiking essentials. The pack's design strikes the perfect balance between weight distribution and storage capacity, ensuring maximum comfort throughout any hike. For those of you who are seeking a hydration pack that does not compromise on capacity, then the Fourteener 32 stands out as a top contender as the best hiking daypack on the market.
Designed for convenience and comfort, the M.U.L.E. 5 Waist Pack is a total game-changer for outdoor enthusiasts. The waist pack features a Crux 1.5L Lumbar Reservoir, designed to sit lower on the back for better stability and weight distribution. Its highly intuitive design delivers high water flow with less effort, ensuring that you stay hydrated without having to slow your pace.
Compact but efficient, the M.U.L.E. 5 Waist Pack provides just enough storage for your essentials without the bulk of bringing along a full backpack. The ergonomic design hugs the body, reducing movement and providing a secure, comfortable fit, even during rigorous activities. This waist pack is ideal for those seeking lightweight, hands-free hydration for biking, running, or hiking adventures. Not only that but the design of the bag means you can also easily use it as a sling pack too if that's more your style.
Specifically designed to complement the female form, the Women's Zephyr Limited Edition Vest is perfect for long-distance runners and hikers alike. This hydration vest features the innovative Fusion Reservoir which is designed for a lower center of gravity and optimal weight distribution. The vest also features multiple front pockets for easy access to nutrition and other essentials without breaking stride.
The Zephyr vest is lightweight, breathable, and also offers adjustable dual sternum straps for a customized, comfortable fit. Whether training for a marathon or embarking on an all-day hike, the Zephyr vest provides reliable, comfortable hydration that goes the distance.
The best present of all… is CONVENIENCE!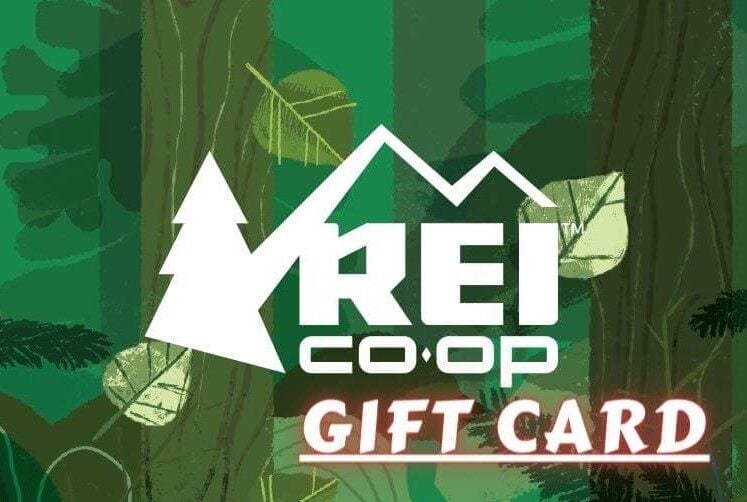 Now, you could spend a fat chunk of $$$ on the WRONG present for someone. Wrong size hiking boots, wrong fit backpack, wrong shape sleeping bag… As any adventurer will tell you, gear is a personal choice.
So give the adventurer in your life the gift of convenience: buy them an REI Co-op gift card! REI is The Broke Backpacker's retailer of choice for ALL things outdoors, and an REI gift card is the perfect present you can buy from them. And then you won't have to keep the receipt. 😉
Buy on REI!
The M.U.L.E. 22 Commute Backpack is a seriously versatile hydration pack designed to transition almost seamlessly from trail to office. It offers a variety of pockets and compartments that will keep your gear organized and secure. This includes a dedicated laptop compartment as well as pockets for electronics and associated accessories. Its sleek design and urban appeal make it every bit as suitable for the city streets as for mountain trails.
This backpack incorporates a hydration reservoir with an easy-to-use leak-proof cap, delivering hydration whenever you need it, whether that's on a tough trek or simply the cycle to work. The M.U.L.E Commute 22's padded shoulder straps and back panel also offer comfort and breathability, while its reflective accents increase your visibility in low-light situations – it's all about safety people! This may just be the perfect backpack for the modern commuter who appreciates the combo of outdoor style and functionality.
Purpose made for camping trips, picnics, and beach outings, the ChillBak Cube 18 Soft Cooler offers superior cooling performance in a neat and manageable package. The pack excels at keeping your food and drinks chilled for extended periods. The innovative design includes a Fusion 3L Group Reservoir for hydration, making it more than just a great cooler pack. The cube shape is easy to carry and the pack fits comfortably in the trunk of your car, in a boat, or even attached to a canoe.
The ChillBak Cube is designed to withstand the demand of outdoor activities. The insulated walls of this cooler maintain temperature control, and the easy-to-clean interior makes post-outing clean-ups a breeze. Whether you are planning a day trip to the beach or a weekend camping adventure, the ChillBak Cube 18 is an altogether excellent choice.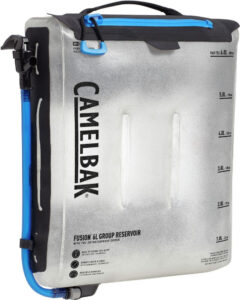 The Fusion 6L Group Reservoir is designed for outdoor activities for larger groups with thirstier throats! With an impressive 6L capacity, this reservoir ensures plenty of hydration for everyone. It features the TRU Zip Waterproof Zipper, an incredibly durable and easy-to-use sealing solution that helps to protect the reservoir from leaks.
The Fusion 6L Group Reservoir is a bloody fantastic solution for group hiking, camping, or any outdoor activity where shared hydration on a larger scale is necessary. It's also easy to fill and clean, thanks to the wide mouth opening and the innovative TRU Zip design. With its sturdy construction and high capacity, this reservoir is a staple for any group-oriented outdoor adventure.
Good gear needs looking after and that primarily means proper cleaning. If you want to maintain the freshness and extend the life of your CamelBak water bottles and reservoirs, then a water bottle cleaning kit is the way to do it. These kits include brushes specially designed to clean every nook and cranny of your hydration systems. The long-stemmed brush is perfect for tubes and the smaller, flexible brush is made for cleaning the bite valve and straws.
Hygiene is essential, especially when it comes to water storage. Grime, scum, dirt and germs get everywhere and combating them can be a real challenge without the right gear. Regular cleaning with this kit ensures that your hydration systems stay free from residue and odor, providing clean and fresh water every time. Easy to use and durable.

Our GREATEST Travel Secrets…
Pop your email here & get the original Broke Backpacker Bible for FREE.
Final Thoughts
CamelBak strives to innovate and continues to lead the way in outdoor hydration solutions. From their humble, tube sock-shaped beginnings, they've now branched out to an extensive range of products, each designed with specific activities and user needs in mind.
Whether you're a seasoned hiker, a daily commuter, a weekend warrior, or just somebody who really loves water, then CamelBak surely has a product designed with you in mind. So here's to our next adventure – and to staying well-hydrated with CamelBak as we conquer the great outdoors.
See you on the road people!
---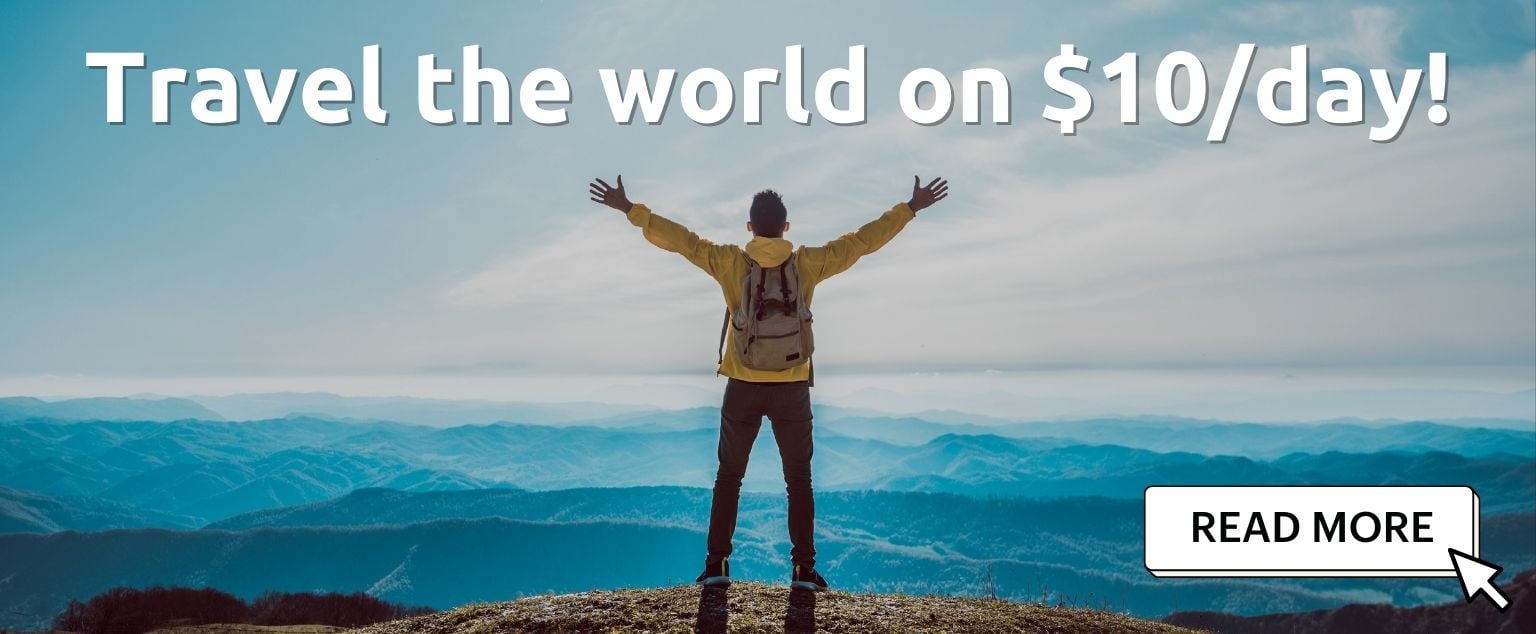 And for transparency's sake, please know that some of the links in our content are affiliate links. That means that if you book your accommodation, buy your gear, or sort your insurance through our link, we earn a small commission (at no extra cost to you). That said, we only link to the gear we trust and never recommend services we don't believe are up to scratch. Again, thank you!