Sling packs are all the rage at the moment. More and more backpackers are making the switch from the traditional day backpacks to the cross-shoulder sling pack.
And understandably so! Sling packs are great for keeping your stuff organized, they are easy to access, and they are extra secure from potential thieves.
But is traveling with a sling pack even a good idea? And what are the best sling packs on the market?
To help get you sorted and answer all your questions, I have crafted this ultimate review of the best sling packs for travelers! We're going to be brutally honest over the course of this review so that you can find the very best sling pack. By the end, you'll know exactly what's needed.
Let's dive right in…
Quick Answer: Best Sling Packs 2022 Review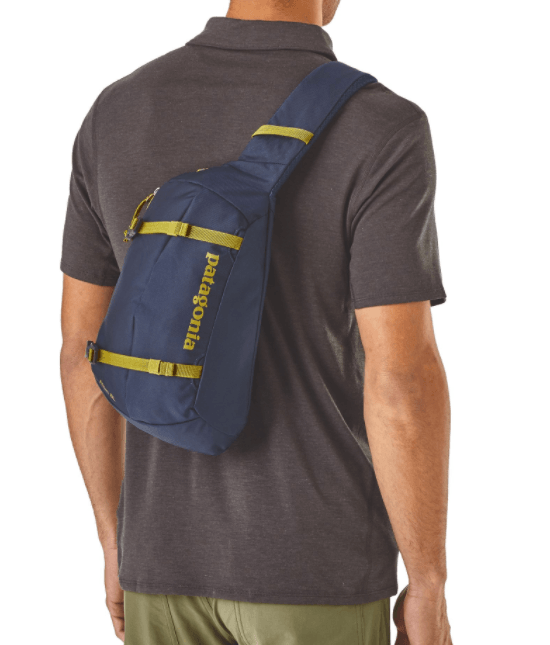 Performance Breakdowns and Top Tips
This epic review of the best sling packs of 2022 provides you with my top picks, a comparison table for easy cross-referencing, advice for first-time buyers, what I like and what I don't about each sling pack, advantages of sling pack use and much more! Slings make great travel organisers, so choose one that fits your style!
Let's take a look at my top picks for the best sling bags in 2022…
BEST OVERALL SLING BAG FOR TRAVEL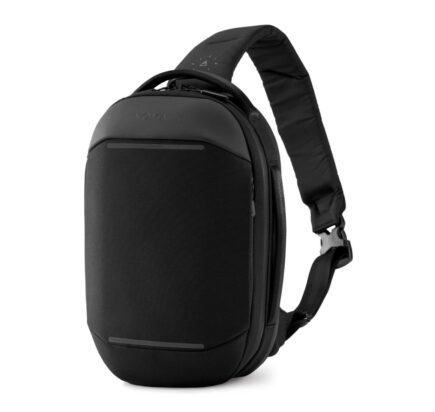 BEST OVERALL SLING BAG FOR TRAVEL
Nomatic Navigator Sling
> $$$
> 1.3 pounds
> 6 Liters
RUNNER-UP BEST SLING BAG FOR TRAVEL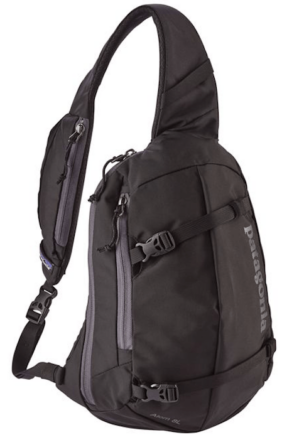 RUNNER-UP BEST SLING BAG FOR TRAVEL
Patagonia Atom Sling
> $$
> 10.1 ounces
> 8 Liters
BEST SLING BAG FOR LADIES
BEST SLING BAG FOR LADIES
Pacsafe Stylesafe Anti-Theft Sling
> $$$
> 11 oz.
> 6 Liters
BEST SLING BAG FOR HIKING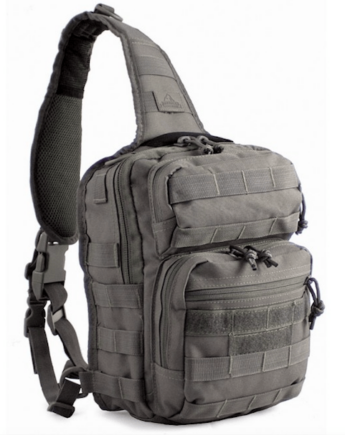 BEST SLING BAG FOR HIKING
Red Rock Rover Sling
BEST SLING BAG FOR LAPTOPS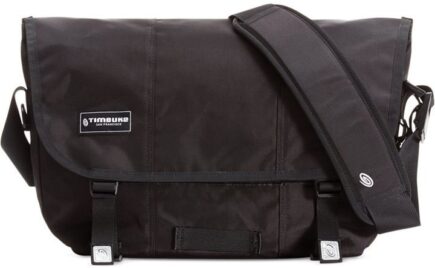 BEST SLING BAG FOR LAPTOPS
Timbuk2 Classic Messenger Bag
> $$$
> 1 lb. 15.4 oz.
> 21 Liters
BEST SLING BAG FOR MUSIC FESTIVALS
BEST SLING BAG FOR MUSIC FESTIVALS
Kavu Rope Sling
BEST CAMERA SLING BAG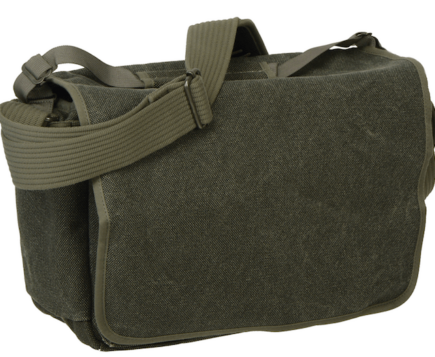 BEST CAMERA SLING BAG
Think Tank Retrospective 30
Review of the 10 Best Slings Packs
Do You Want to Travel FOREVER??
Then pop your email address in below and we'll send you a FREE copy of 'How to Travel the World on $10 a Day!' – make travel your LIFE.
Best Overall Sling Bag for Travel
Specs
Price -> $129.99
Weight -> 1.3 lbs
Capacity -> 6 Liters
Number of Compartments -> Main compartment (with interior pockets) + 2 more pockets
What I like: This durable little beast does everything you'd want a sling pack to do. It aces on the interior organization while still keeping everything easily accessible and even has an array of nifty features perfect for a traveler on the move.
As well as its main compartment and dedicated back pocket for tablets, there's a hidden bottle pocket that stows away when not in use. There's an in-built key leash, card slots on the shoulder strap perfect for transit card access, and the interior cord management even allows you to charge devices between the pockets!
On the build side of things, the Nomatic Navigator Sling is hella sleek and sits comfortably across the torso and back. The breathable back panel stops the ugly back sweats, meanwhile, the strength and water-resistance means this sling bag is even suitable for a day hike.
This all-black baby will look good in any outfit you pick, however, just for that one extra sexy feature, Nomatic has gone ahead and thrown some reflective visibility bars into the design to keep you safe at night!
What I don't like: Mainly, the price. For Nomatic products, you're always paying a premium, and when stacked up against the other sling bags on this list, the difference shows.
However, as with all things in life, you get what you pay for. And in this case, the extra dollaridoos certainly show their worth!
Best Packable Sling Pack
Specs
Tiny and light!
Ecological
High end quality
What I like: The WANDRD Detour is a PACKABLE sling which folds up into a neat, compact little square when you are not using it. Its designed to carry DSLR cameras so offers pretty generous storage space. It has a simple, sleek and suave design which makes it great for every day no-frills use. Use this pack as an airport bag, for hitting the beach or yeah, for carrying your camera.
What I don't like: First up, if you are going to use this as a camera bag then note that it does not offer much protection in case of knocks and drops. You will therefore need to also invest in the WANDED inflatable camera cube. Personally, I dislike the polyester strap on this pack as it doesn't feel great against the skin.
Runner-Up Best Sling Bag for Travel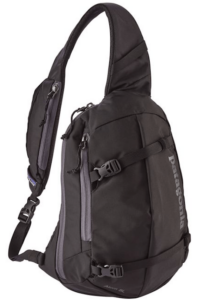 Specs
Price -> $59.00
Weight -> 10.1 ounces
Capacity -> 8 Liters
Number of Compartments -> 2 Pockets + Main Compartment
What I like: The Patagonia Atom Sling is the perfect sling bag to take traveling. Why? I like it because it is simple, durable, and can hold just enough stuff to keep the essentials close at hand. When you need to grab something from your pack, the single-strap design lets you rotate the Atom to the front for quick access.
If you are traveling with a Kindle or Ipad, the large, zippered main pocket has a dedicated, padded tablet sleeve inside for easy, safe storage.
A convenient stretch-mesh pocket on the chest/shoulder strap accommodates a wide variety of phone sizes. You can adjust the fit quickly and easily on the go. Adjustable exterior compression straps help to manage loads of various sizes.
Finally, the strong exterior fabric is finished with a durable water repellent (DWR) coating to protect items from light rain. This is a great minimalist sling bag for travel as long as you are indeed a minimalist and not trying to pack heaps of stuff into it (you won't be able to).  Good job Patagonia!
What I don't like: When the Patagonia Atom is super full, the balance can feel off. Your neck can end up taking a majority of the weight if you don't have the back properly adjusted. For carrying heaps of stuff, 8 liters is not much to work with. Some users have complained that it is simply too small to be practical.
Best Sling Bag for Ladies
Specs
Price -> $89.95
Weight -> 11 oz.
Capacity -> 6 Liters
Number of Compartments -> 3 Exterior Pockets + Main Compartment
What I like: The Pacsafe Anti-Theft sling is slightly smaller than the Patagonia Atom Sling listed above, though it still can basically hold the same amount of essential items. The Pacsafe sling is cool because it can be worn 2 different ways—as a sling or as a backpack. This sling pack is very safety conscious, which I like.
The N Lock security hooks which allow you to attach the bag strap to a secure fixture to avoid snatch-and-run theft. Hidden, stainless-steel eXomesh mesh slash guards protect against slash-and-run theft. Zipper pulls attach to discreet hooks, making them tougher for pickpockets to open.
A hidden pocket located on the backside of the bag keeps your most important small items closest to your body. A bonus is the RFID-blocking material located in a special pocket which helps prevent electronic identity theft. Whew!
The Pacsafe Anti-Theft Sling is my top pick for the best sling bag for women for all of the badass safety features listed above. You'll stay one step ahead of any potential thieves while keeping your most important gear safe.
What I don't like: Again, the Pacsafe Anti-Theft is quite small. You will have trouble trying to fit anything more than the bare essentials inside. Also the Pacsafe sling is a little more expensive then some of the other options found in this review.
Best Sling Bag for Hiking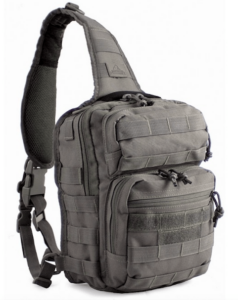 Specs
Price -> $39.99
Weight -> 3 lbs.
Capacity -> 9 Liters
Number of Compartments -> 3
What I Like: Technically, the Red Rock Rover Sling is a concealed carry sling. That means it was intended to stash a gun inside. That said, it is a tough, burly sling pack perfect for short hikes. Finding the best sling bag for hiking isn't easy because sling packs are inherently not really intended for hiking. The Red Rock Sling is going to be the most comfortable and most practical sling bag for hiking you will find.
The three storage compartments are large enough to pack snacks, water, a light layer, and other essentials. I am a fan of the fact that the internal and external pockets contain admin dividers and organizers.
For quick access to important items (IE snacks) the two external compartments make it easy for you. The Red Rover Sling comes in a variety of colors, so don't worry… you need not get a camouflage sling if that's not your thing! For the price, you won't find a better sling bag for hiking!
What I don't like: As a 9-liter sling bag for hiking, I feel like the Rover sling is far heavier than it should be. There are 50-liter+ hiking backpacks that weigh less! It's kind of weird too that this is a sling bag intended to hide guns and bullets. Can we all just get along?
Best Sling Bag for Laptops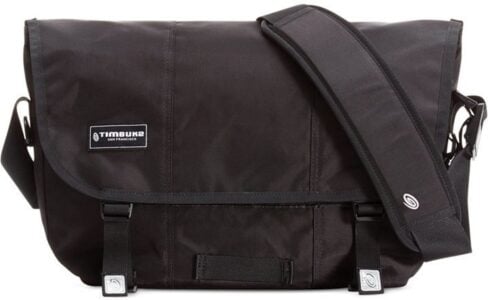 Specs
Price -> $99.00
Weight -> 1 lb. 15.4 oz.
Capacity -> 21 Liters
Number of Compartments -> 3 + Main Compartment
What I like: For a full-size sling bag for laptops and everyday practicality, the Timbuk2 Classic is a badass sling pack. With 21-liters, you can carry everything you need for a day in the city.
The thoughtfully distributed internal pockets balance the weight of your carry, which is hugely important! The fully adjustable shoulder strap features a super comfortable air-mesh strap pad. Digital Nomads rejoice!
A low-profile handle makes the sling bag easy to grab and go. The SR buckles are partially concealed behind the flap for a sleek but secure closure. Crucially, the flap corners fold into place for excellent weatherproofing.
If you are a digital nomad/city dweller looking for the best sling bag for laptops around, look no further than the Timbuk2 Classic. It's a hell of a sling pack!
What I don't like: The closure straps are too long. They tend to rub on the legs which can result in chaffing and if nothing else, annoyance. Short of cutting the end off with a knife, there isn't much to be done about that.
One major flaw is whilst the sling bag itself is rather padded, there is no individual padding for the laptop compartment. Several users of this bag have complained about poor customer service with Timbuk2. That's an unfortunate reputation to cultivate, as Timbuk2 typically makes awesome products.
Looking for more bags of this style, check out the best messenger bags on offer too.
Best Sling Bag for Music Festivals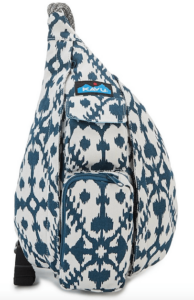 Specs
Price -> $50.00
Weight -> 12 ounces
Capacity -> N/A – My guess is between 6-8 Liters
Number of Compartments -> 4 Pockets + Main Compartment
What I like: When headed to a heady music festival or party, having a low-key, functional sling bag is awesome for storing your stuff. The Kavu Rope Sling is the perfect sling pack to take to festivals! I appreciate that the design is simple, practical, and functional! There are basically two zip compartments and two small Velcro stash pockets (perfect for keeping your festival drugs safe lol).
What's cool is that the Kavu Rope Sling is made of cotton canvas which means it can be washed. At a music festival or beach party, your bag ends up all over the place. Washing away dust, grit, and stale beer droplets is very important indeed!
The Kava Rope Sling also makes for a great sling bag for travel if you are not seeking to load it with stuff.
What I don't like: The bag was intended to be worn on the right shoulder only. If you are right handed—like I am— you'll find that the Rope Sling takes some getting used to. Because the bag is made of cotton canvas, it is pretty much at the mercy of the weather. In a heavy rain, your stuff will get soaked. Some users have found the shoulder straps to be uncomfortable.
The best present of all… is CONVENIENCE!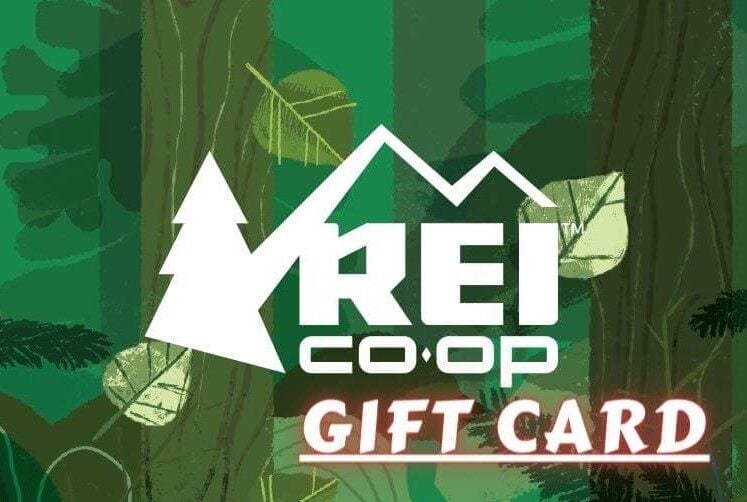 Now, you could spend a fat chunk of $$$ on the WRONG present for someone. Wrong size hiking boots, wrong fit backpack, wrong shape sleeping bag… As any adventurer will tell you, gear is a personal choice.
So give the adventurer in your life the gift of convenience: buy them an REI Co-op gift card! REI is The Broke Backpacker's retailer of choice for ALL things outdoors, and an REI gift card is the perfect present you can buy from them. And then you won't have to keep the receipt. 😉
Buy on REI!
Best Camera Sling Bag
Specs
Price -> $194.75
Weight -> 3.2 lbs
Capacity -> 15" W x 9.5" H x 6" D (38 x 24 x 15.2 cm)
Number of Compartments -> 4 + Main Compartment
What I like: For the best camera sling bag, the Think Tank Retrospective 30 has you covered. If you are a backpacker traveling with a fancy DSLR camera, you're going to need adequate protection to comfortably transport your kit. The Retrospective 30 sling pack provides that and more. It is absolutely loaded with storage and organizational features, which is a big win.
For photographers who need a little extra space in their camera bag, the spacious Think Tank Retrospective 30 is the way to go. At 3.2 pounds, the Think Tank Retrospective is quite heavy though relatively light enough carry over your shoulder. The internal dimensions – 15 x 6 x 9.5″ – are large enough to accommodate a larger camera system, like a Fuji X-Series.
The addition of several pockets ensures that you'll have enough room for all of your extra accessories as well. Other features, like an included rain cover and silenceable velcro, only add to the usefulness of this camera sling bag.
What I don't like: I am amazed that the main compartment doesn't zip! Bummer. The Retrospective 30 is definitely bordering on being too heavy to be a comfortable and practical camera sling bag. For nearly $200, this is the most expensive sling pack on my list. That said, if you own a nice camera, then you are probably used to spending heaps of money on your badass camera gear!
For even more camera bag ideas, check out our in-depth review of the best camera bags.
You've seen my top picks for the best sling bags for travel and other activities above. Here are a few more sling packs which are equally as awesome…
Honorable Mention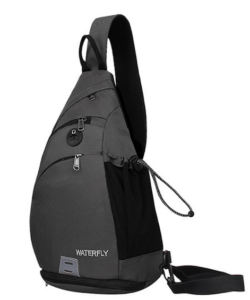 Specs
Price -> $19.99
Weight -> N/A
Capacity -> 15 Liters
Number of Compartments -> 1 + Main Compartment
What I like: For the price, the Waterfly Sling Pack is hard to beat. An investment in one of these sling packs is next to nothing! The Waterfly is marketed as a waterproof sling bag, though I think it is more water resistant. Either way, it does indeed offer up decent weather protection.
It's 15-liter inner compartment is perfect for day hikes and urban exploration. The breathable strap is comfortable even after wearing the bag for long periods.
What I don't like: I have questions about the Waterfly's long-term durability. But for 20 bucks, you can't expect the sling pack to last forever I guess. It is kind of annoying how this company claims the Waterfly is both waterproof and water resistant. It is one or the other, it can't be both! Come on!
Honorable Mention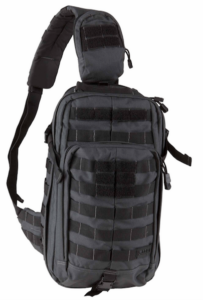 Specs
Price -> $99.99
Weight -> N/A
Capacity -> 18 Liters
Number of Compartments -> 3 + Main Compartment
What I like: The 5.11 Tactical RUSH Moab 10 is another one of the best tactical sling bags out there. Built for heavy outdoor use, the $99.95 price tag reflects a durable, versatile product. With 18 liters to work with, you can certainly pack everything you need for the day in the RUSH Moab 10.
I am a fan of the quick-adjust strap, which makes it easy to cinch the bag close to your body in an instant. The heavy-duty materials used to construct this sling pack means you can expect years of use. The 5.11 tactical RUSH Moab 10 is definitely another candidate for one of the best sling bags for hiking/outdoor use on the market.
What I don't like: Straps can dig into your neck if you overload the bag with too much weight. Many users have reported terrible customer service from the 5.11 company.
The body of the RUSH Moad is indeed very tough, but a few users have reported that the strap has broken after less then a year of use. Because of that, the shoulder strap does not have my full confidence.
Honorable Mention
Specs
Price -> $69.95
Weight -> 1 lb. 3.8 oz.
Capacity -> 1o Liters
Number of Compartments -> 1 + Main Compartment
What I like: Pacsafe has arrived on my best sling bags list again. This time it is for the Pacsafe Vibe 325. As another very safety conscious sling pack, the Vibe 325 is loaded with cool security features even if it is a minimalist sling pack.
The roobar AT locking system allows you to secure your zippers and helps prevent pickpocket theft. Furthermore, the RFID safe blocking material built into a pocket in the main compartment helps protect IDs and credit cards from electronic-scanning theft. It sucks a big one that we have to worry about this kind of thing nowadays, but it is the reality.
Finally, the hidden eXomesh Slashguard stainless-steel wire mesh embedded into fabric helps protect against slash-and-run theft. Thieves won't stand a chance. Bam.
What I don't like: The Pacsafe 325 does run a bit small so don't expect to pack anything other than the basic/important essentials. Some users have reported discomfort with the straps and the feel of carrying the pack.
Honorable Mention
Specs
Price -> $99.95
Weight ->1 lb. 10 oz.
Capacity -> 6 Liters
Number of Compartments -> 1 + Main Compartment
What I like: For another one of the best camera sling bags, I recommend getting to know the Mountain Smith Descent Small Camera Sling Pack. This camera sling bag is indeed small, minimalist and can only fit one DSLR camera. But, that's all you need right?
It features easy clamshell access to the main camera-carrying compartment and a front accessory organization pocket. The secondary chest strap provides additional security for when you are traveling in cities.
I have to give the Mountainsmith Descent camera sling bag big points for its weather conscious design. The outer fabric is water resistant (not waterproof). To top it off this camera sling bag comes with a removable rain cover. When the rain clouds roll in, there is no need to panic. Just throw on your rain cover and your stuff will stay dry.
What I don't like: For a 6-liter camera sling pack, I find the price ($99.95) to be expensive. For the price, I'd like to see a slightly larger sling bag with more features. If you are traveling with multiple lenses, then this pack is not for you.
Complete Comparison Table
How to Choose the Best Sling Bag for Travel
Now that you have seen my top picks for the best sling packs on the market, there are a few other factors to consider before buying a sling pack.
Every person has different tastes, needs, and expectations for any given sling pack. First, you'll need to ask yourself a few questions:
What purpose do I want a sling pack to serve?
How much do I want to spend on a sling bag?
What will I be using my slick pack for the most?
After you sort out some of these important questions, you can then base you final decision on which ever sling pack will be the best fit for your own personal travel style.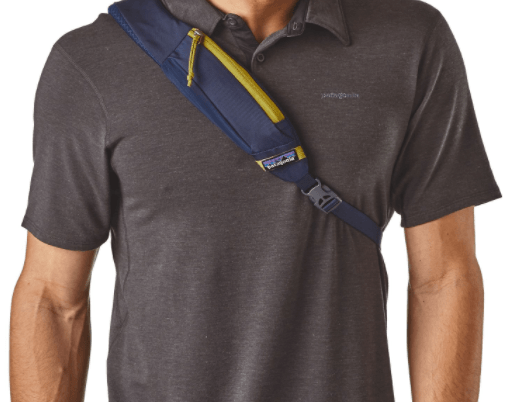 Finding the Best Sling Bag Size
Finding the best sling bag size for yourself is pretty easy really as mostly your options are not wide-ranging in terms of size. The biggest sling pack on my list is the Timbuk2 Classic Messenger Bag. At 21 liters, this sling bag is great for storing more than just the basics.
In most cases though, you have just 8 liters or so to work with. You must have realistic expectations regarding your sling pack! They are minimalist backpacks intended to contain small, useful items that you intend to keep close on your person.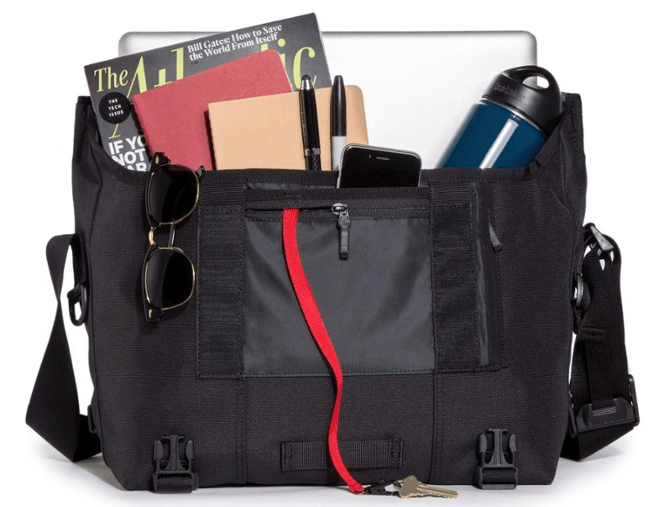 I love sling packs for festivals, beach days, city trips, and as a carry-on bag. They are NOT really best for hiking or as a primary daypack. If you expect to load your sling pack with plenty of shit, then you might want to reconsider getting one, or at least going with the biggest sling pack out there if that's what you need.
As I said, sling packs and minimalism go hand in hand. You'll find that traveling with a sling pack is awesome because you are not burdened with a heavy, bulky backpack. All of your items are easy to access, and most off all safe from external threats.
Which Sling Packs have the Best Features?
Just like every individual backpacker, each sling pack on this list has its own character and personality. Are you a fan of pockets, zippers, and compartments galore? Do you prefer a few pockets and a well organized main compartment? You'll need to ask these questions!
Point being, once you determine your personal organizational needs, you should target that kind of sling pack.
I personally find it handy to have a few zip pockets on the exterior. Once you starts having 5 or 6 different pocks plus the main compartment, you might find that to be excessive. Even in a small sling pack you can loose track of where the hell you put stuff!
I like a good balance of simple, practical, versatile, and reliable. Above all else, the best sling bag is the most functional sling bag for your own needs.
Having a spot to put your most important items is the goal. That is why I am a big fan of the Patagonia Atom Sling. It is simple, compact, and very functional, which is all I ask when considering which packs are indeed the best sling bags.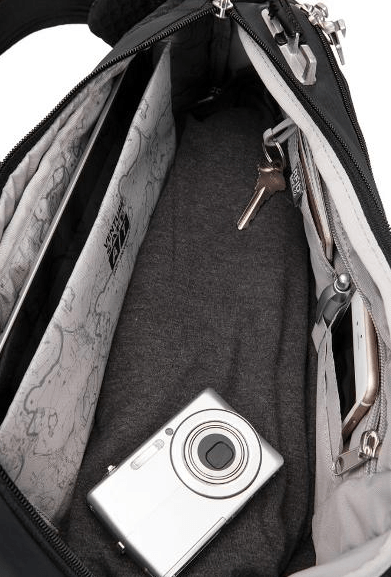 FAQ about the Best Sling Pack
Still have some questions? No problem! We've listed and answered the most commonly asked questions below. Here's what people usually want to know:

Unlock the The Broke Backpacker's GREATEST Travel Secrets!
You pop your email here, and we promise to send you only travel content that's actually relevant — sounds like a pretty good deal to us!
Final Thoughts on the Best Sling Packs
Congratulations, you have made it to the end of my best sling packs review! Well by now you are well of aware of the benefits of choosing an awesome sling bag for travel.
In the end, sling packs are great travel companions. They are compact, minimalist, and very handy little units to take on any backpacking adventure in addition to being extremely practical for everyday use.
Now that you know what to look for when it comes to picking the best sling bag for travel, you are now ready to make the informed choice of which one to go with.
I know that choosing the perfect sling pack can be a challenge, so I am glad you took the initiative to read this epic review!
If you are still having doubts about which sling pack is best, I recommend going for the Patagonia Atom Sling; my top pick for the overall best sling bag of the year.
Did you enjoy reading this best sling bags review? Let me know how I did in the comments. Happy travels amigos.
---
Thanks for reading – that was fun! 😀
We bring you epic FREE content!
Find out how YOU can help support us.
We're a big site with a big team and this job isn't always easy. But we do it because we love it – we love providing epic and free content. We love the knowledge that our content keeps you adventuring. We don't ask for money, but if you'd like to find out how you can help the site in more organic ways, click the button below.
Thank you for your support 🙂
---
Bye for now, but not forever!
If you want MORE top-tier Broke Backpacker content like this, then sign up for our weekly newsletter below to get the latest and greatest!
And for transparency's sake, please know that some of the links in our content are affiliate links. That means that if you book your accommodation, buy your gear, or sort your insurance through our link, we earn a small commission (at no extra cost to you). That said, we only link to the gear we trust and never recommend services we don't believe are up to scratch. Again, thank you!