After a few years of staying home and travelling only in our minds, borders are finally opening up for travel. There's nothing better than setting off on an adventure, whether you're crossing the ocean to a different continent or heading off on a backpacking trip around your home state. That being said, if you're a seasoned traveller, you'll know that a lot of preparation and packing goes into a trip, and it's super important you have your possessions organised before you leave.
There are two types of packers in this world, the organised packer, and the chaotic packer. We've all indulged in a bit of last-minute messy packing in our time, chucking everything into a backpack unfolded and in a disorganised manner. But truly, there's nothing worse than finding yourself at the check-in counter without knowing where your passport is or sitting on the flight wondering if you forgot to pack your toothbrush. Luckily, these experiences can only help teach us to be more organised in the future.
The easiest way to keep organised on your travels is by using a bunch of travel organiser bags, packs, and wallets to keep all your things in neat order. This way, there's a place for everything, and you can visually see if something is missing from your packing list.
Not only do travel organisers make your life much easier when you're packing and unpacking, but they also help you keep track of your possessions while you're out and about on your adventure.
In this post, we're going to highlight some of the best travel organisers for a range of adventures, from backpacks to electronics organisers, to make-up bags, to toiletry bags and everything in between. Whether you're heading off for a local camping trip or are embarking on a worldwide adventure, there are a bunch of travel organisers on the market that will make your packing and unpacking duties less stressful.
Quick Answers – Stay Organised On Your Travels
No time to read the full article? Take a look at our pick of the top eight travel organizers for a variety of occasions and types of travellers:
About The Best Travel Organisers
You'll need different travel organisers depending on where you're travelling to, how long you're going for, and the type of trip you are taking. We don't necessarily suggest you buy all of these organisers for one trip, but rather think about what will be most practical for you and your travel style. For example, a backpacking trip around Costa Rica will require you to pack very differently than if you were visiting Paris for Fashion Week.
The best travel organisers on the market are designed well-using quality materials and zippers. For many people, the whole point of packing well is to fit as much as you possibly can into a small space. For this reason, a good travel organiser should have practical storage compartments with optimised internal storage space for whatever they are designed to store. Some organisers even have customisable compartments, allowing you to design the internal storage space yourself.
If you're travelling by plane or planning to lug your bag around by hand, you'll also need to consider the bag's weight. There's no use being ultra-organised if you rock up to the airport with overweight luggage!
Price is also an important consideration, and you don't want to end up spending an arm and a leg on travel organisers before you even embark on your journey. Most of the time, the highest quality products are the most expensive, but this doesn't mean you won't find practical and stylish travel organisers for a low price. Sometimes, it's worth investing in a super high-quality bag if you plan on using it enough.
Best Electronics Organizer
Best Electronics Organizer
WANDRD Tech Pouch
> $
> Comes in three sizes
> Mesh organization pockets
Best Travel Document Organizer
The Very Best Travel Organisers in the World Today
We've put together a list of the top thirteen travel organisers on the market in 2022. Pick and choose as you wish, considering the type of trip you are taking as well as your travel style while you browse:
Winter is coming… WARM UP!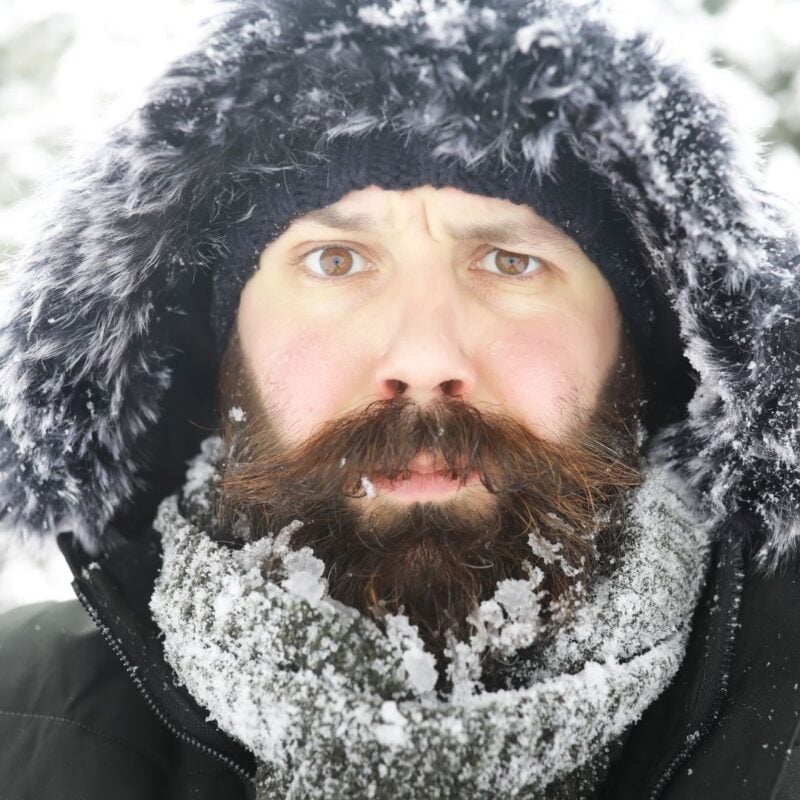 Get up to 50% OFF when shopping gear for the winter on REI.
Warm up for the holidays and SAVE on outdoor gifts all the way through Dec 18!
View on REI
Tropicfeel created the Shell Backpack for the most versatile travellers. Whether you're going on an adventurous camping trip or just a weekend away, this is the ultimate modern-day travel backpack and, without a doubt, one of the best travel organisers on the market.
While it's called the Shell Backpack, this is much more than your ordinary shell. The main feature of the Tropicfeel Shell is its wardrobe system. This allows you to carefully organise your folded clothing into an easy-access foldable wardrobe and compress it into a tight space using the built-in compression system. With this practical technology, you'll be able to fit in an additional 20% of clothing.
This 3-in-1 adjustable and adaptable design allows you to shift between a 22l and a 40l backpack. Expand it when you're settled in your hostel, and contract it when you're moving around.
The entire bag opens like a clamshell, meaning you can forget about digging your hand deep into the bag to unsuccessfully fish something out.
It also offers space to buy additional detachable accessories (such as a tech pouch, camera cube, and toiletry bag), which can be connected to the bag using magnetic Fidlock technology. This is ideal if you need a little extra space. Talking about space – there's also a 6l expandable kangaroo pocket at the base of the bag, which is excellent for overflow items.
Of course, fitting so much into a small bag is bound to increase its weight. Luckily, Tropicfeel has thought of everything and has created a super durable and ergonomic backpack that is ultra-comfortable even when packed at full capacity. This is owing to the ergonomic back panel made from foam for lumbar support, as well as the adjustable and cushioned straps, hidden hip belt, and dual handle.
On top of all this, the Shell is weatherproof and built using sustainable fabrics and recycled materials. What more could you possibly ask for?
A packing cube can be one of the most useful products and the best travel organisers for your clothes. They're small and compact and can fit into wheeled suitcases as well as backpacks.
Packing cubes are ideal for trips where you plan to move around every few nights. Without having to unpack and repack your suitcase at each destination, you can easily decompartmentalise the contents of your case without unfolding your clothes or losing track of anything along the way.
Nomatic has a range of three packing cubes (small, medium, and large) for different sized cases, all differing in thickness. They're built using durable materials, including high-quality zippers, and are lightweight enough not to make much of a difference to your overall bag weight.
Each packing cube is designed with a zippered compression system to help you pack 50% more than you otherwise would. The see-through mesh allows you to see what you've packed, making it easy to find what you're looking for without having to open up each pack.
Want a matching bag to put it in? Check out our review of the epic Nomatic flagship backpack, also be sure to check out the Nomatic Messenger bag for keeping your passport and wallet safe.
One of the most frustrating things you can do is forget a charger cable in a wall socket during your travels. Not only are cables, cords, and plugs super pricey, but it's also impractical not to have your device chargers on hand. Whether you work in the film or tech industry or you're going on a short or a long trip, these pouches have been thoughtfully designed using high-quality materials for all sorts of travellers.
The best travel organisers for electronics are also designed to keep your cables in good condition, reducing the possibility of them being bent at funky angles and breaking. We've all had a dodgy aux cable that just ruins the vibe!
To make your life a little bit easier, WANDRD has designed the ultimate tech pouch to stash your devices and electronic accessories. The pouch comes in three sizes (small, medium, and large), each of which has a unique webbing lock and clip system on the back panel, allowing you to connect two or three bags together depending on how much tech equipment you're carrying. These tech bags have mesh organisation pockets, as well as pen loops and cord pass-through holes.
For added convenience, the tech bags can also attach to two of WANDRD's most popular backpacks. However, if you aren't lucky enough to be kitted out with this brand's backpacks, you can also use the detachable carry straps to attach your tech organisers to any other bag. They might look small, but you'll be surprised at how much you can fit into these bags!
Fancy having a look at the WANDRD backpacks? Check out the WANDRD PRVKE 31 if you're after an epic backpack, or check out the WANDRD PRVKE Lite if you want something smaller. Also, check out the WANDRD Detour Hip Pack for a smaller pack you could also use as an organiser.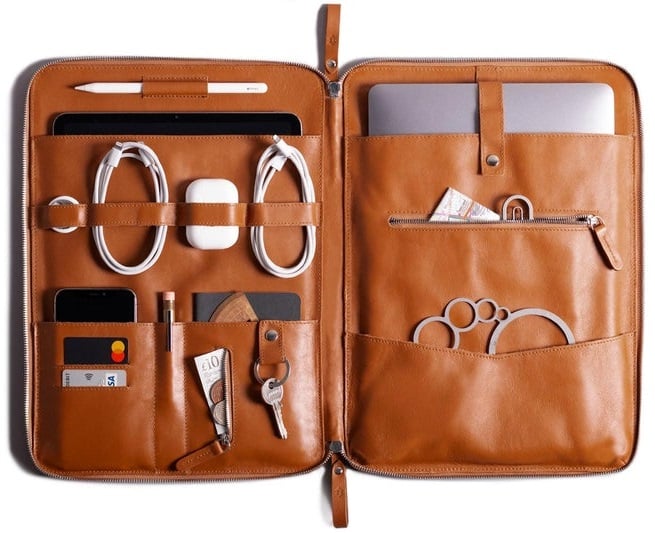 Harber London is known for creating quality leather products that are practical for a range of activities and uses. Suppose you're a digital nomad exploring the world while working. In this case, you'll want to have all your digital devices, notebooks, and stationery packed together in an organised and safe place at all times.
Harber's broad range can carry different sized devices from iPhones to iPads to personal laptops, all bundled together with your cables, earphones, papers, and more. Made from protective and durable leather, each of Harber's products comes in four different professional colours.
From their smallest digital nomad organiser to their biggest, each organiser comes with a range of practical sleeves, pockets, clips, and rings to hold everything you might need. Loops and rings are ideal for keeping your keys in one place, as well as organising your electronic cables so that they don't bend and get damaged.
You can even use the organiser as a wallet, with card pouches and zipper pockets added to keep your cards and cash safe. You also won't have to worry about your laptop slipping out, as the bags come with security fasteners to keep them safely in place. One big zipper then closes the entire bag ensuring nothing will slide out, and no outside spillage will get in.
Not only are these the best travel organisers for digital nomads, but they can even be used by office workers for everyday use.
Want something smaller? Check out the best travel purses instead.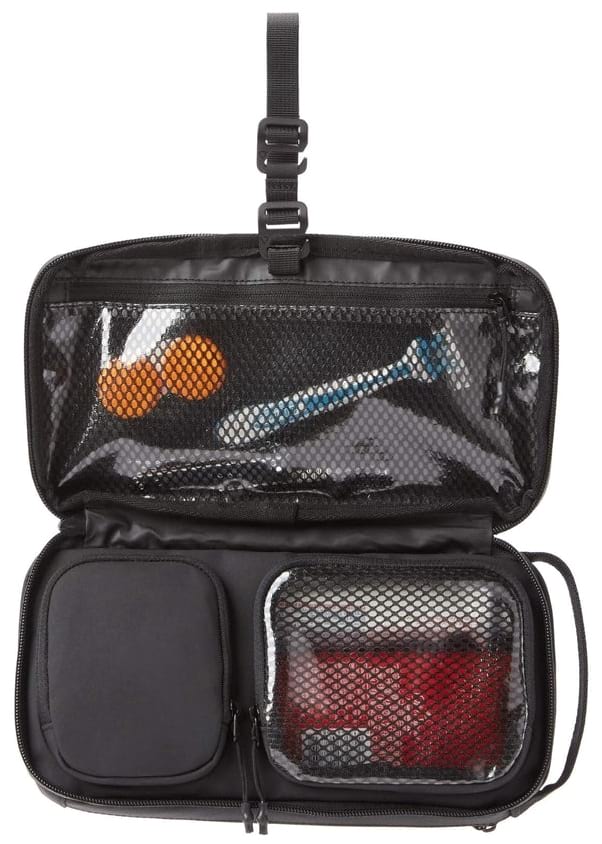 If there's one product on this list that you likely already have, we'd guess it was a toiletry bag. They're a common product that helps us keep all our toiletries in one place, but they're also super useful in case one of your products buckles under cabin pressure and explodes or leaks. If we packed our toiletries in and amongst our clothing, we would all land up with shampoo-drenched t-shirts.
The Nomatic Hanging Toiletry Bag is one of the best travel organizers in the business because of its hanging straps and internal organisational layout. Have you ever arrived at a hotel or hostel to realise the bathroom has no counter space to lay out all your things? Well, simply attach this bag to a hanger, the shower pole, or the door handle in your bathroom for easy access to your toiletries at any time.
This bag comes in small and regular sizes and is designed with a minimalistic style and slim profile, making it easy to pack into your suitcase or backpack. The bags are built using durable waterproof materials to ensure any leaks are contained (both from internal spills and outdoor weather!)
The Hanging Toiletry Bag is made up of a bunch of mesh compartments, making it easy to compartmentalize your products and see what is where at all times. There is even a dedicated toothbrush holder where you can stash your toothbrush and keep it clean.
Want to know more? We've only gone and done a full review of the Nomatic Toiletry Bag!
We've all felt our hearts sink when we think we've misplaced a passport, card, or money while travelling, so keeping your travel documents safe is a top priority for any global traveller. Harber London has designed a simple and ultra-sleek leather document pouch to keep your passport, travel cards, and cash safe and in one place.
The ultimate goal of this passport wallet is to eliminate bulky pockets. Without this nifty wallet, you'll have to store your passports separately from your cards and money, making for an uncomfortably chunky pocket.
The organiser can hold between one and two passports, many boarding passes and receipts, and up to four cards. The interior is made from a soft wool lining, which helps prevent your documents from getting scratched or damaged along your journey.
Need a wallet? Check out this list of best travel wallets to see if something suits your style.

Do You Want to Travel FOREVER??
Pop your email in below to get a FREE copy of 'How to Travel the World on $10 a Day!'.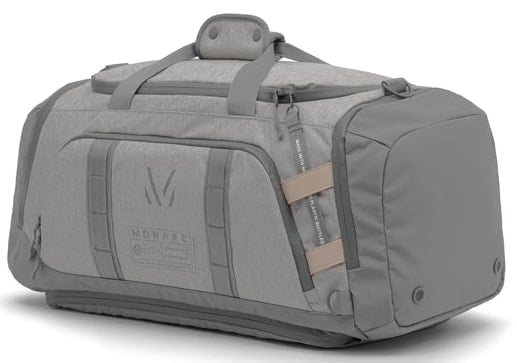 If you're looking for the best travel organiser to take with you as carry-on luggage, look no further. The Monarc Settra duffel is basically six bags in one, making it one of the most versatile bags on our list.
This dual function bag can be used as either a duffel bag or a backpack and is TSA-approved for carrying with you in an aeroplane cabin. The Settra comes in a grey or a black colour and includes five accessory bags that seamlessly fit into them.
Firstly, there's a large and a medium compression pack to store your clothing. Secondly, the bag includes a laundry pack which can double as a fashionable tote bag for daily use. You can even use this bag for groceries!
Third, there's a super practical camera cube with adjustable and removable section dividers. Design your own camera pack interior depending on the model camera you have, or remove the dividers entirely and use the cube for something else!
Fourth, you can make use of the tech pack to store all your devices, cords and cables, drives, journals, and pens. This section is even large enough to store an iPad Mini. There's also a laptop pocket in the main bag which is large enough to store a 17-inch laptop.
Comfort is key when you're backpacking, and while other duffel backpacks are typically less comfortable than traditional backpacks, the Monarc Settra has air mesh padding at the back to provide comfort and breathability.
Not only is it super functional and spacious, but it's also made using 50 recycled plastic bottles and water-resistant fabric that is ethically sewn. Labelled the world's first certified plastic negative bag, you can rest assured you're doing your part for the planet when buying this bag. If recycled, eco-friendly products are important to you, we definitely suggest you check out one of our favorite Earth-conscious boot brands, Vivobarefoot.
Looking for something similar? Check out our guide to the best duffel bags.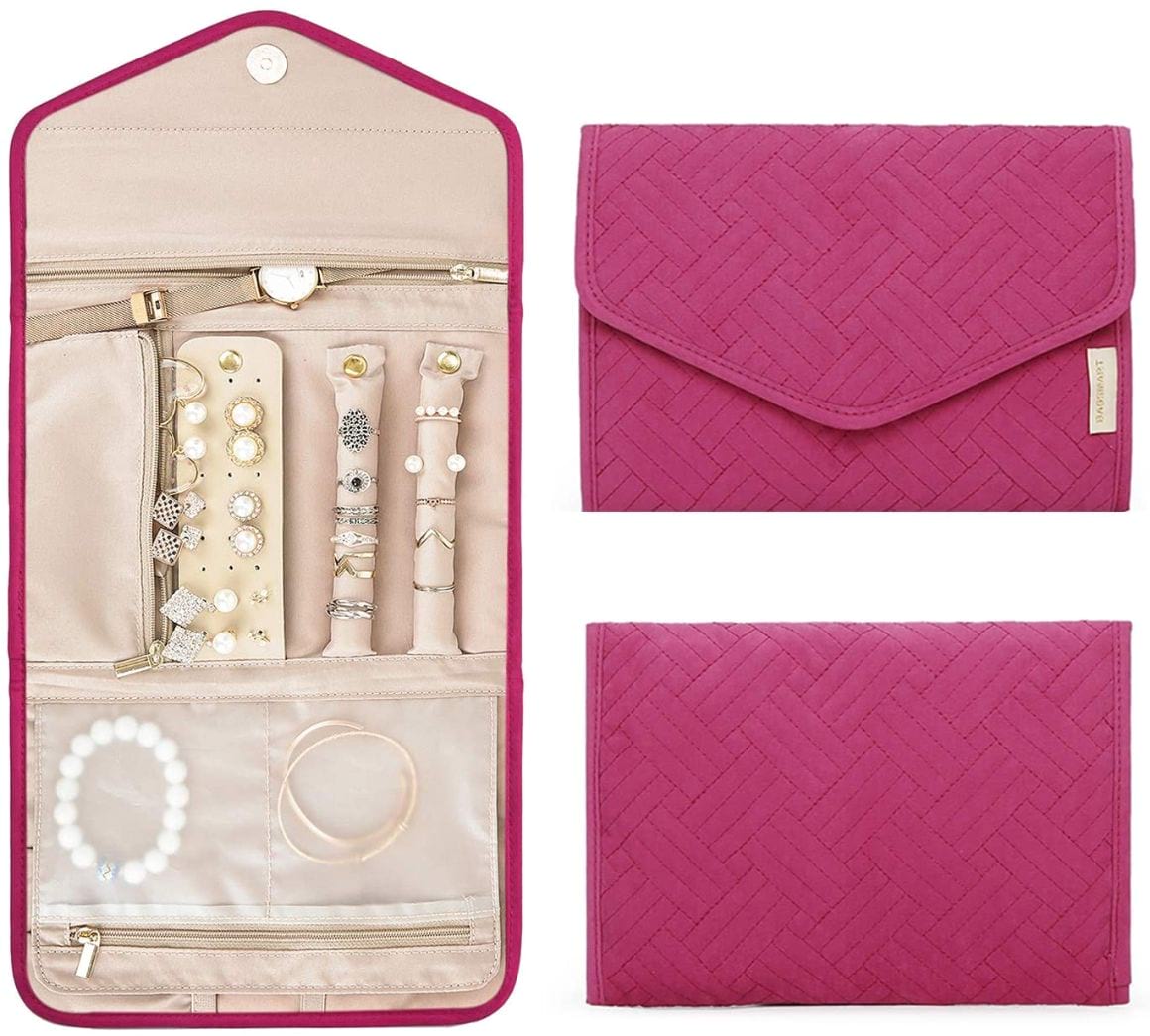 Small jewellery pieces are some of the easiest items to lose track of, so it's important to store all your jewellery in one safe place when you're travelling. Bagsmart has created an organized foldable jewellery case to keep all your rings, necklaces, bracelets, earrings, and watches together.
The compact polyester bag includes five different pocket zones; two lockable tubes to store all your rings, a panel to safely clip your earrings onto, perfectly sized bangle and bracelet compartments, a watch pocket, and separate clips and pouches to keep your necklaces from getting tangled together.
This compact bag folds up to the size of a small wallet and is the best travel organiser for jewellery for a quick business trip and other adventures. If you own valuable jewellery, you'll want to keep your valuables close to you at all times, and this organizer is conveniently small enough to keep in your handbag.
Some More Great Ways To Stay Organised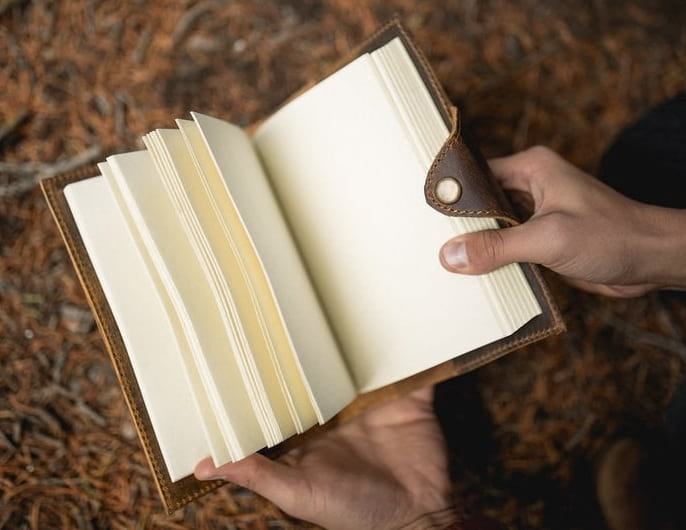 Journals are one of the best things you can take with you on your travels. Aside from being practical whenever you need to write something down, they're also great for documenting your experiences along your journey.
The Drifter Leather Journal is the perfect travel companion for any trip. It comes in two different colours and is made from 100% leather with handmade artisan paper. A snap button closure makes it easy to keep all your thoughts and writings protected from being bent and torn.
The journal comes with 210 blank pages and can be refilled once you've gone through all the pages. It's the perfect gift for someone about to embark on an exciting journey!
Check out the best travel journals for some more options.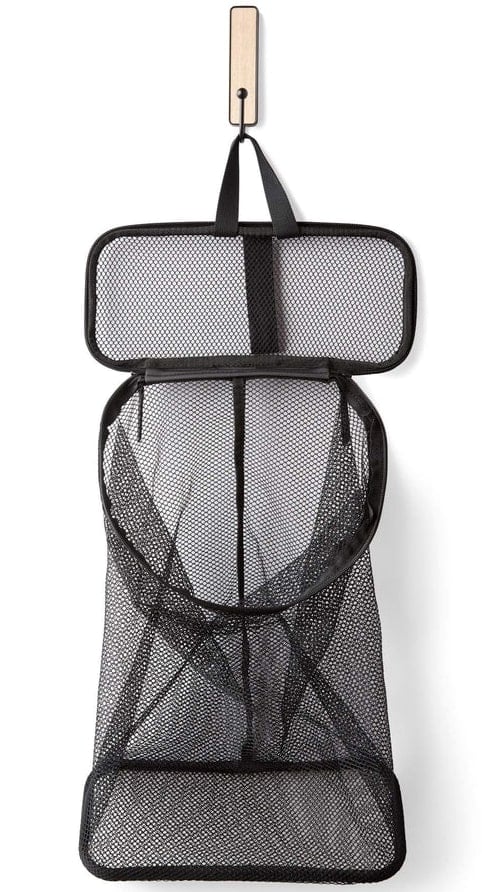 Every true backpacker will know the importance of having a laundry bag on their travels. Without one, it's easy to end up with a mish-mash collection of dirty, clean, and unfolded clothing all mixed up together.
The Nomatic Mesh Laundry Bag is designed with breathable mesh with a wireframe to help keep its shape. It also has a practical hanging strap so you can hand it in a closet or the bathroom instead of on a questionably dirty hostel floor.
Perfect for stashing in your backpack, the bag is collapsible and compact. In fact, it's designed to fit perfectly into the shoe compartment of Nomatic's travel bag.
There's nothing more useful than a practical sling bag, whether you're using it to carry your everyday goodies or safely protect your camera equipment. WANDRD's Roam 9L Sling comes in either 13-inch or 16-inch sizes with a colour option of black or tan.
This camera/everyday bag is as beautiful as it is practical. While it looks compact, you'll be surprised by how much you can squeeze into this bag. As a matter of fact, it even fits a 16-inch laptop.
As the best travel organiser sling pack on the market, the Roam Sling boasts a five-point adjustment system that can comfortably fit a bunch of different body types. Wear it over one shoulder, wear it around your waist; the choice is yours! Conveniently, the bag's back panel (which sits directly against your body) is made from a technical air mesh material, offering maximum breathability even in hot weather.
Ideal for photographers and camera lovers, the bag features removable and adjustable dividers to customise the bag to fit your specific camera model. It even has an expandable water bottle and/or tripod pocket underneath the bag.
Of course, this nifty sling bag includes other practical features, including a key clip, tightening straps and buckles, and three separate handles. Perfect for all weather conditions, it is made using waterproof material to keep your possessions protected from the elements.
Looking for more options? Check out our guide to the best travel slings on the market.
An avid traveller knows all too well how important it is to be prepared for anything. This is why it's always necessary to take a first aid kit with you wherever you travel. Even if you never end up using it, it's always better to be safe than sorry when it comes to your physical health.
This Combination Medicine Box isn't just one of the top travel organizers for your medication, it's also a nifty piece of equipment to keep on hand wherever you live. The box is made from a light but sturdy aluminium metal with a plastic lid and includes a safety lock to keep children from digging around. The clear cover is useful for seeing what's inside without having to unlock the box.
This box has six different removable compartments that can store syrups, pill tubs, plasters, gauze, and other first-aid equipment. Great for taking along with you on your travels, the box is small, lightweight, and compact. In fact, it could even double as a cosmetic or toiletry box.
looking for something similar? Check out the best travel first aid kits for your trip!
The best present of all… is CONVENIENCE!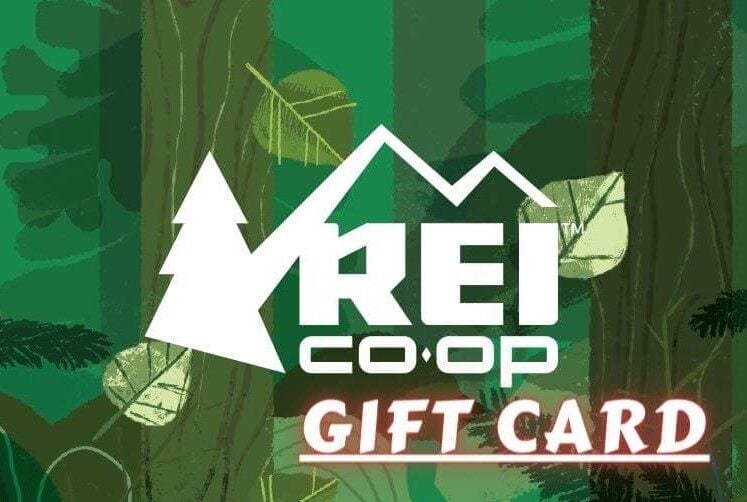 Now, you could spend a fat chunk of $$$ on the WRONG present for someone. Wrong size hiking boots, wrong fit backpack, wrong shape sleeping bag… As any adventurer will tell you, gear is a personal choice.
So give the adventurer in your life the gift of convenience: buy them an REI Co-op gift card! REI is The Broke Backpacker's retailer of choice for ALL things outdoors, and an REI gift card is the perfect present you can buy from them. And then you won't have to keep the receipt. 😉
Buy on REI!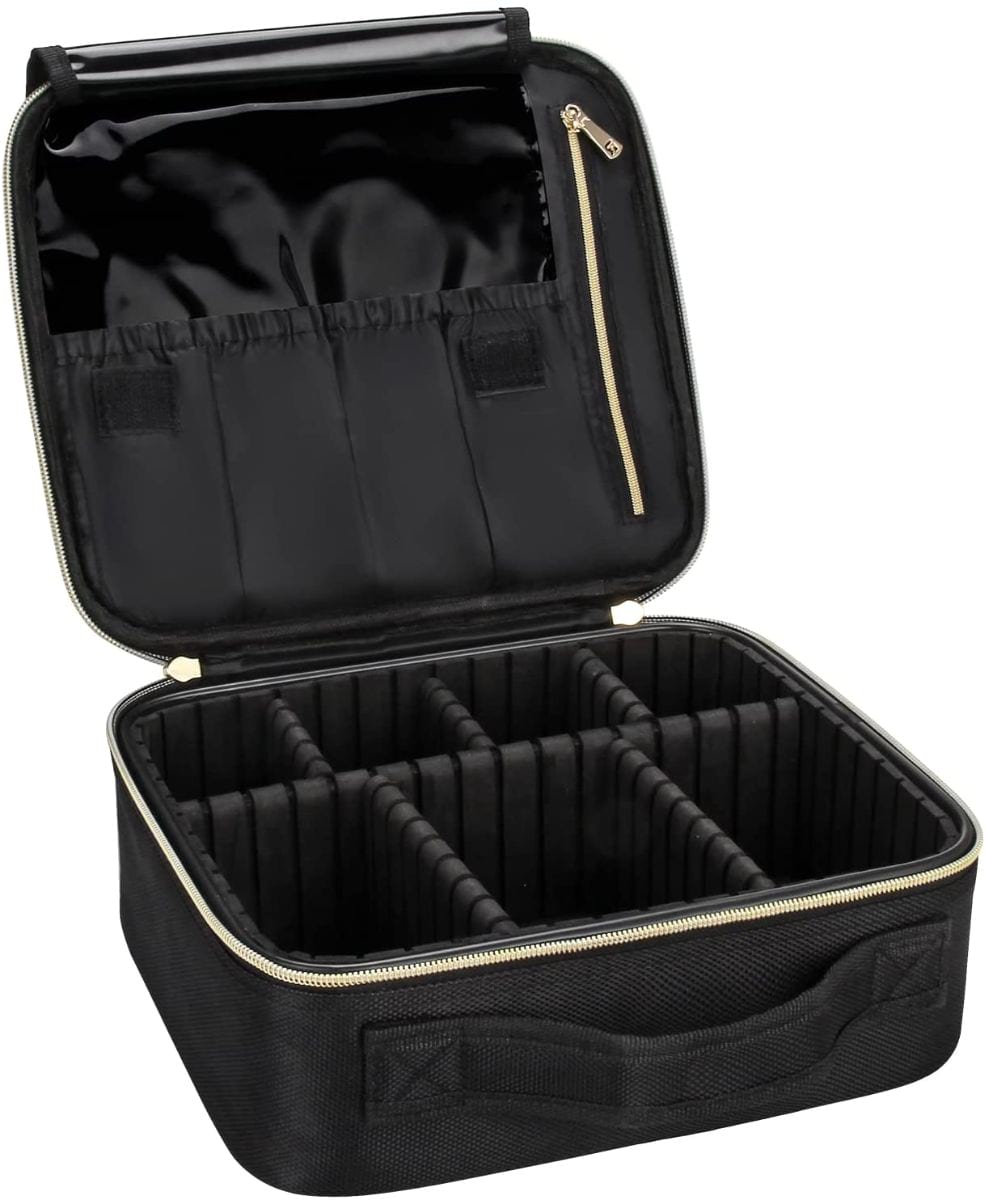 This portable make-up case was built for professional make-up artists and enthusiasts. It has more than enough space to store and organise all your best products. However, it's also compact enough to fit into a suitcase, making it one of the best travel organisers for an on-the-go artist or to take to a festival.
The internal dividers are entirely adjustable and customizable so that you can design your ideal partitions according to the make-up you own. The case opens out like a zippered suitcase, with adequate storage space for brushes on the underside of the lid flap.
Your brushes will be kept fixed in one position with the help of carefully designed elasticated pouches and a protective flap to cover the bristles, which means they will be kept in top condition for as long as you use this case.
The case is made using a durable and waterproof material, so you won't have to worry about your prized make-up brushes getting wet. This also makes it super easy to clean, and any professional make-up artist will understand the importance of this!
The Chomeiu Travel Make-Up Case comes with a sturdy and comfortable handle to help you transport your goodies with ease. In fact, it's a super multi-functional product that can also be used as a toiletry bag or a tech bag.

Our GREATEST Travel Secrets…
Pop your email here & get the original Broke Backpacker Bible for FREE.
Final Thoughts on The Best Travel Organisers
There's nothing worse than arriving at your destination and realising you've forgotten an essential charger cable or outfit for your holiday. A good travel organiser can make all the difference in your travel experience by allowing you to keep track of your possessions when you pack, during your travels and when you unpack.
That being said, there are endless travel organisers on the market, suitable for a range of needs and personal styles. A general Google can leave you feeling overwhelmed and confused, so it's important that you know what you want from your travel organizer before you look into buying one. The best travel organisers for you depend on your destination, bag weight limit, and the type of trip you're taking.
Aside from the weight, size, and practical aspects of a travel organiser, you'll need to consider the price and quality of the product. In our opinion, it's always better to invest in the best quality product that you can afford at the time, so it won't break or fail you during your trip. This way, you'll be splurging now to save later.
Preparation is vital when you're travelling, and being underprepared or disorganised can lead to a whole lot worse than having to buy some new toiletries. So, we hope this list of the top thirteen travel organisers has helped you clarify the type of organiser you think you need.
---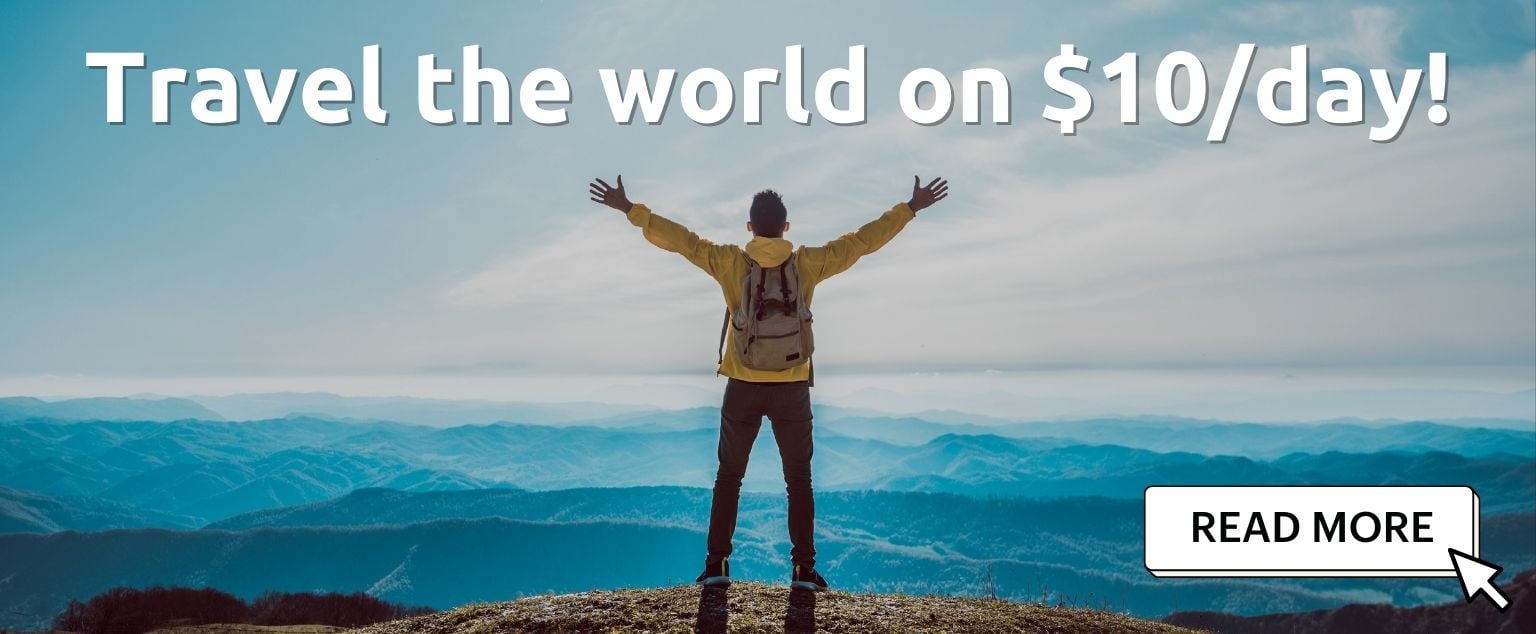 And for transparency's sake, please know that some of the links in our content are affiliate links. That means that if you book your accommodation, buy your gear, or sort your insurance through our link, we earn a small commission (at no extra cost to you). That said, we only link to the gear we trust and never recommend services we don't believe are up to scratch. Again, thank you!