One hook in every closet should reserve a space for a solid messenger bag. These daily specialists take the load off just like a backpack, keep things easier at hand and most importantly, look way more professional than a rucksack.
Bike commuters and delivery heroes have pushed these bags to the forefront, and now they're taking over in the mainstream. The same facets that make them great for bike travel translate to crowded streets, public transport and airport terminals.
Modern companies noticed the messenger potential and cranked it up a notch by adding cushy compartments for laptops and complicated camera equipment. That gives us the freedom of choice when it comes to carrying a wide range of gear.
There is a great chance that any specific job you need to take care of has a messenger bag specifically built to handle the task. Equally, if you're searching for a multifunctional bag that can handle the weekdays, as well as the weekend, there are great messenger bags for that too.
By combing every inch of the world's best bags inside and out, we were able to find out what it takes to be one of the best messenger bags for commutes and trips of all shapes and sizes alike. We asked the tough questions, left room for creativity, and accounted for all the variables to come up with our favourite messenger bags.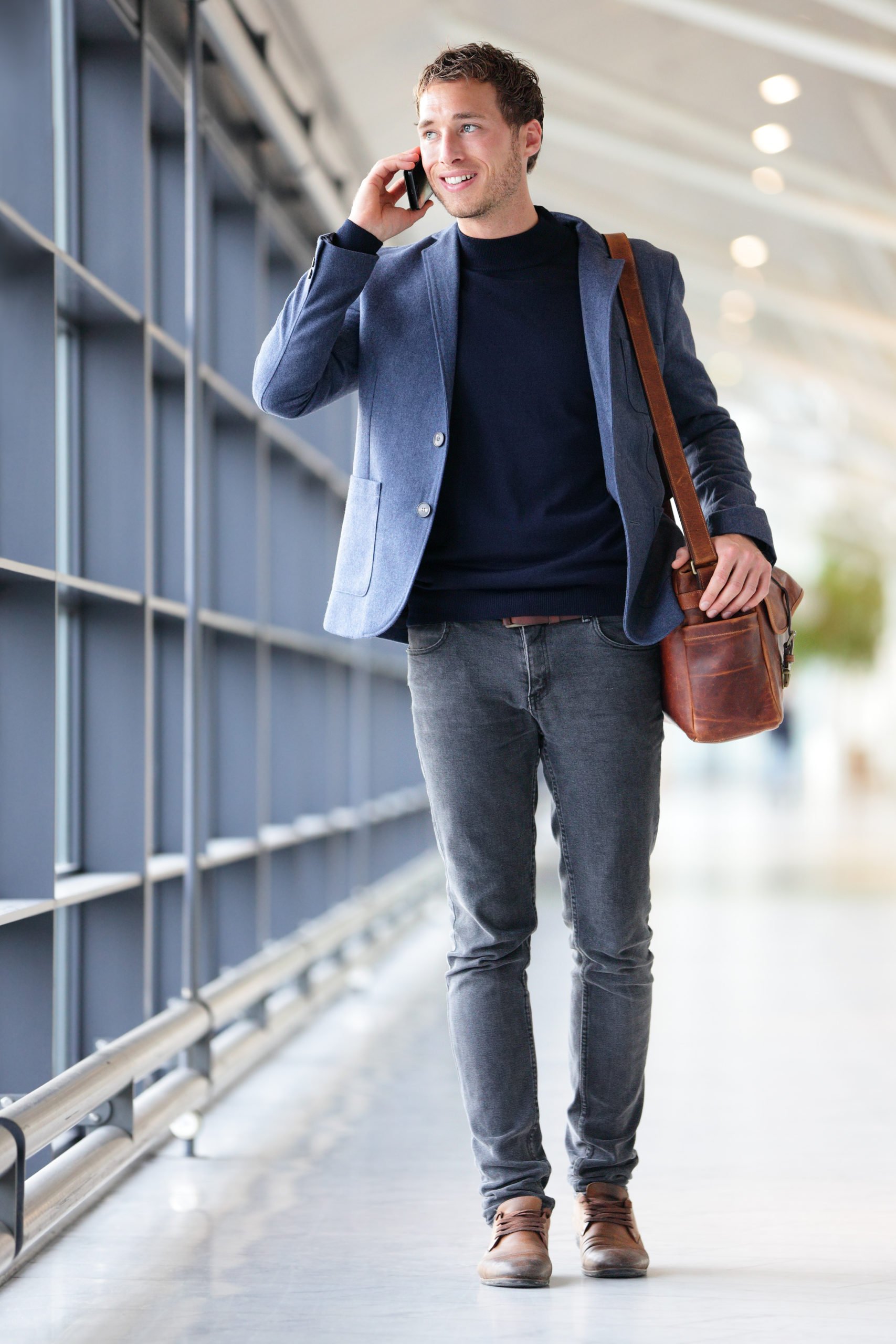 Quick Answers – What Are The Best Messenger Bags?
If you already know what you're looking for, here are our favourite bags broken down by function.
Best Overall Messenger Bag
Best Commuter Messenger Bag
Best Commuter Messenger Bag
Cordova Messenger
Price (USD) > 159
Capacity (Litre) > 5
Weight (KG) > N/A
Best Waterproof Messenger Bag
Best Waterproof Messenger Bag
Arcteryx Granville 10
Price (USD) > 140
Capacity (Litre) > 10
Weight (KG) > .5
Best Small Messenger Bag
Best Small Messenger Bag
Timbuk 2 Classic
Price (USD) > 89
Capacity (Litre) > 14
Weight (KG) > .69
Best Messenger Tech Bag
Best Messenger Tech Bag
WANDRD Tech Bag
Price (USD) > 75
Capacity (Litre) > 3.5
Weight (KG) > N/A
Best Leather Messenger Bag
Best Messenger Laptop Bag
Best Messenger Laptop Bag
Shoulder Messenger
Price (USD) > 55
Capacity (Litre) > 12
Weight (KG) > 1.3
Most Stylish Messenger Bag
Most Stylish Messenger Bag
The Harvard
Price (USD) > 152
Capacity (Litre) > 10
Weight (KG) > N/A
Best Airport Messenger Bag
Best Airport Messenger Bag
Timbuk 2 Flight
Price (USD) > 89
Capacity (Litre) > 14
Weight (KG) > .68
These Are The BEST Messenger Bags
Let's learn more about what makes a great messenger bag by looking at what the best in class has to offer. To get to the top, these messengers can help you on foot, two wheels or four. Each one provides a durable build that expects to last a decade with comfortable carry commitments.
The great thing about messenger bags is they tow the line between a good laptop bag and a great day backpack all whilst looking professional enough to rock up to your next meeting. They're also versatile enough to double as an ideal carry on luggage so whether you're headed for a weekend away or a business trip, you can still look the part.
Those two ingredients make a great messenger bag, but to be the best you need something more. These bags excel in a few categories and rank highly across the board to claim the crown.
Disclaimer: Whilst most of these bags are indeed carry-on compliant, you'll want to doublecheck before you travel and take note, particularly of the Ryanair carry-on bag rules
Winter is coming… WARM UP!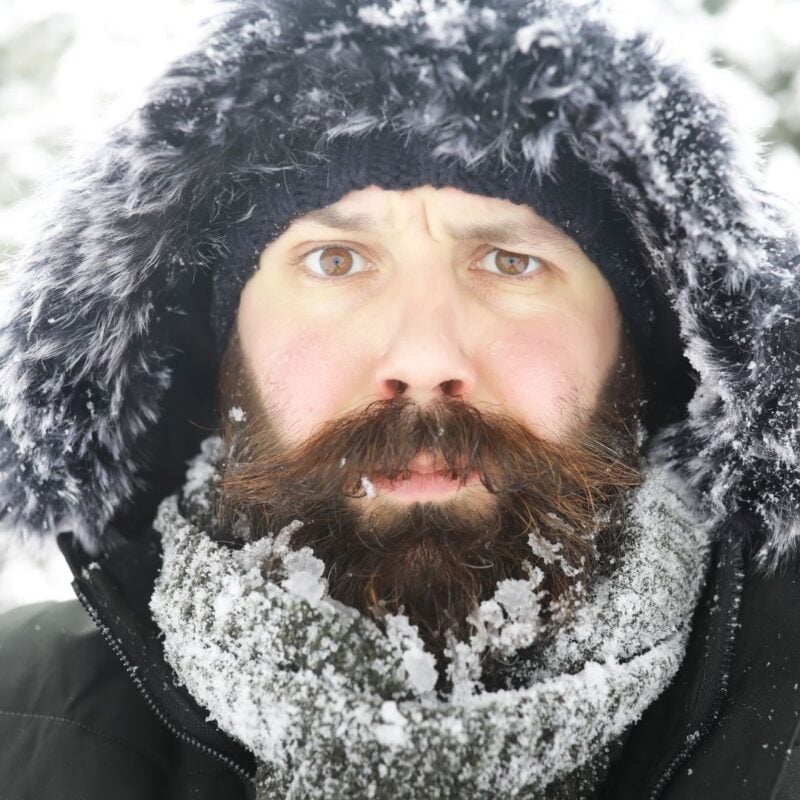 Get up to 50% OFF when shopping gear for the winter on REI.
Warm up for the holidays and SAVE on outdoor gifts all the way through Dec 18!
View on REI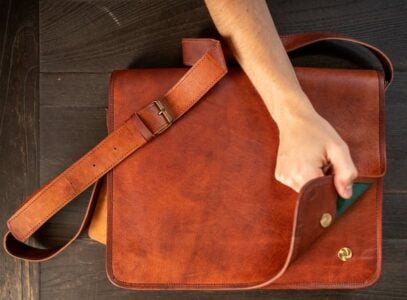 Kodiak Leather Messenger is our top pick for the best overall messenger bag
Specs
Dimensions (CM) – 38 X 27 X 10
Weight (KG) – N/A
Price (USD) – 175
Capacity (Litre) – 10
There is nothing more true to the messenger style than this Kodiak Leather all-rounder. Brass hardware rounds out the edges of this modern take on a classic shoulder carry bag. Ten litres is light enough to take on longer bike rides or lug through the subway on a busy morning.
With the optimised interior you'll still have enough space for the day's necessities. If you've got heaps of paperwork and general business shiz to keep organised, then no need to worry. The canvas-lined compartments are split into three sections to keep everything neat, tidy and organised. Having lowkey (read: high fucking key!) OCD, this pleases me no end!
This Kodiak Leather Messenger isn't trying to reinvent the satchel, but it might just have perfected it! Kodiak took the everyday carry appeal of a traditional messenger and encased it in timeless leather to set a new standard for the class. Plus, these natural materials ensure the bag is resistant to weather and hard-wearing enough to last a bloody long time, so you'll get your money's worth for sure!
Our team felt this was the best travel messenger bag on the market. They loved the sheer size of the thing when it came to packing in all that they needed for a day at the office or for heading to a cafe to work, in fact, they described it as a "Mary Poppin's bag!" The team also felt the bag felt super sturdy, hardwearing and high quality. They felt it was one of those bags that could last decades and wear and age along with your experiences.
Looking for something similar but a bit different? Kodiak makes a whole host of amazing leather bags in all shapes and sizes. Check out our rundown of the best Kodiak leather bags if you need more options.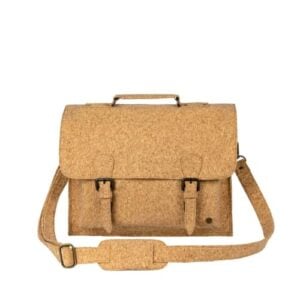 For best vegan messenger bag, checkout The Messenger (Vegan)
Specs
Dimensions (CM) – 37 X 28 X 8
Weight (KG) – N/A
Price (USD) – 141
Capacity (Litre) – 8
You can get to class without cowhide. Mahi made conscious shoppers' choices a little easier by providing a great example of what vegan cork leather can do whilst packing in all the same amenities with none of the ethical concerns. In fact, the use of cork as a material is revolutionising sustainable and ethical manufacturing.
This vegan model is an exact replica of the bag that put Mahi on the map. The company's success starts and ends in the factory. Each Mahi Messenger is handmade down to the comfy cotton interior lining.
That commitment to craftsmanship has just gone green. The human touch and the naturally sourced cork leather come together to create an everyday carry with a personal touch. Slap your initials across the centre to truly make the bag your own, or just embrace the uniqueness that comes from malleable cork over the years.
Our team loved that there was a vegan option on the market and they felt that the quality and hardiness of the product didn't suffer as a result of the materials used. In fact, they said it made the bag feel lighter and more comfortable on the shoulder which is much appreciated.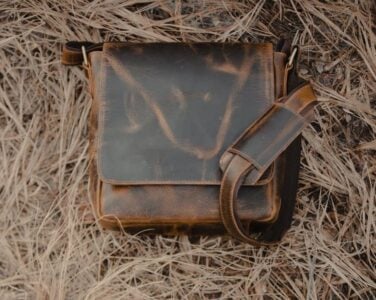 Our top pick for the best commuter messenger bag is Cordova Messenger
Specs
Dimensions (CM) – 27 X 30 X 7
Weight (KG) – N/A
Price (USD) – 159
Capacity (Litre) – 5
You won't find many days not well-suited for the Cordova even though it's the smaller bags on our list. That's because you won't find many leather bags as versatile, stylish or well-sourced as the to-grain water buffalo leather that makes up this secure messenger.
Your tablet and kindle will fit comfortably amongst the day's paperwork alongside a few smaller accessories… or snackies! Everything is locked into place with a magnetic closure and holds its shape thanks to the plush lining.
While it may be slightly too small to fit a raincoat, you can store a surprising amount inside this incredibly slim bag. The design means you can keep everything secure and close at hand without overdoing it, it's perfect for those wanting a slimline bag that will carry all the essentials whilst allowing you to be quick and light on your feet.
Its small size and efficient storage make it a great commuting companion whether you're heading across town or shooting through security. Keeping a few important items in the easy-access top zippered pocket and your headphones charged are simple steps towards a great day wherever you're headed.
Our team rated this as their best commuter messenger bag for several reasons, one of those being the beautiful and rugged appearance of the bag. The team loved the double protection for their gear with the zip closure and flap on the main compartment and felt it kept their valuables super safe and protected especially on busy trains in big cities.
Arcteryx Granville 10 is one of the best waterproof messenger bag
Specs
Dimensions (CM) – 40 X 25 X 12
Weight (KG) – .5
Price (USD) – 140
Capacity (Litre) – 10
We can't always commute in the sunshine, unfortunately. If your work or life has you on the bike and in the streets no matter the conditions, the least you can do is show up prepared. Arcteryx slapped their weather resistance knowledge onto a city safe messenger bag with taped seams to keep your journal dry rain, snow or shine. Weather resistance isn't the only trick this bag has up its sleeve, either.
This minimalist bag is out to prove that big storage capability can come in lightweight packaging. You won't find loads of specialised storage options underneath the hood, but there is a laptop compartment and a sneakily handy mesh pouch with a surprising amount of storage.
While this sleek messenger is small enough to fit inside the rain cover, you can leave it outside and watch the water bounce right off the pack.
Our team feel this is the best messenger bag for international travel out there with the superior level of protection against the elements. They just loved the rugged yet minimalist and stylish exterior and felt when it came to weather resistance, it was pretty much bulletproof and could withstand some pretty wild weather!
Looking for a technical and water-resistant messenger bag? Want more options? Have a gander over at the Nomatic Messenger Bag, it might just fit the bill.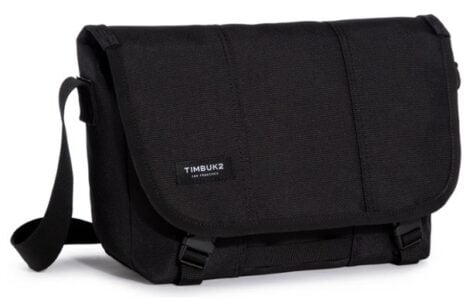 Meet the best small messenger bag: Timbuk 2 Classic
Specs
Dimensions (CM) – 27 X 10 X 22
Weight (KG) – .45
Price (USD) – 79
Capacity (Litre) – 9
The Timbuk Classic series has been a best selling messenger for decades. The choices have opened up over the years, and the Timbuk 2 brought along an 'extra small' size option perfect for crowded subways.
These new messenger bags are designed so they don't have to sacrifice storage for size. This small but mighty bag handles well above its weight thanks to the organisation options that maximise the efficiency of the available space.
You can comfortably swing it over your left shoulder and head off at high speeds through crowded streets on your bike with no dramas. This bag holds close behind your back and won't swing around in traffic. Best of all, they even found space for a water bottle pocket.
Our team loved this bag and felt it was their best carry-on messenger bag with its compact size and yet spacious interior. They felt it was perfect for travelling with essentials without being tempted to overpack and get pulled up by the airlines. They also loved the super comfortable and padded strap which again is perfect for those long lines at the airport.

Do You Want to Travel FOREVER??
Pop your email in below to get a FREE copy of 'How to Travel the World on $10 a Day!'.
WANDRD Tech Bag is our top pick for the best messenger tech bag
Specs
Dimensions (CM) – 22 X 12 X 6
Weight (KG) – N/A
Price (USD) – 75
Capacity (Litre) – 3.5
Delicately walking the line between bum bag (fanny pack) and messenger bag, Wandrd's tech container stows electronics, cords, and accessories securely amongst several divider pockets.
The comfortable containment system is perfect for a camera, plus a few lenses, or all the entertainment you need on an overnight flight. You can choose from a few different sizes to find the perfect fit for every piece of your arsenal.
Unlike some of the other bags on our list, this tech bag is trying to reinvent hip storage. Their entire M.O. revolves around intelligent design, innovative storage facilities and stylish looks. The result is tons of unique organisation features that are especially handy when space is at a premium.
If you're looking for a way to break free from tangled cords and digging through your entire bag for a spare battery, try keeping it all together and organised with this tech messenger.
Our team felt this was the best small messenger bag on the market and it offered a great amount of storage for such a small and compact bag. For those looking for a pack that will complement and go alongside another day pack or larger backpack, as a place to store valuables in a safe spot, this is ideal. For such a small bag it's also full of features including several different zippered sections and a tough weather proof exterior.
Looking specifically for a tech bag or camera bag? Check out our dedicated guides to the best tech bags and for the best camera bags out there for more options.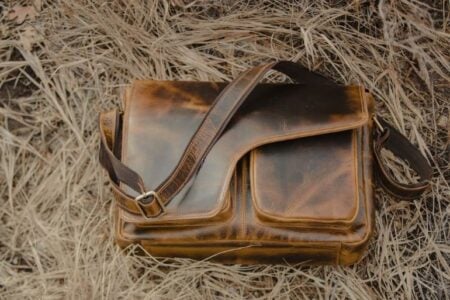 Buffalo Leather Messenger is one of the best leather messenger bag
Specs
Dimensions (CM) – 40 X 30 X 10
Weight (KG) – N/A
Price (USD) – 269
Capacity (Litre) – N/A
This Buffalo Leather Messenger represents Kodiak's best foray into the technically advanced storage category yet. It shines from inside out, with specialised pockets for your phone and cords and a padded strap that locks your laptop into place. Fun features like these push the bag into consideration for an everyday carry as well as a carry-on.
Outside the bag, you'll find two more pockets and a zippered pouch for the little things. All in all, you'll have space for everything you need for an overnight trip and a quick stop at the gym on the way home.
Aside from all those fancy tech specs and handy pockets, Kodiak once again rounded out the edges with fine brass parts holding together the shoulder strap and main closures. The top grain buffalo bag ages like fine wine and stores it all with unbeatable leather style to earn its place on our list.
Our team loved the unique style of this messenger bag with the half flap allowing easier access to one of the pockets yet keeping the other secure. They felt it was ideal for commuting where you need to grab your travel card or headphones quickly yet are conscious of keeping your other valuables safe and protected. They also appreciated the inner dividers and pockets to keep all their stuff organised.
Loving the leather but need more options? You're in luck! We've put together a guide to the best leather bags so you'll be sure to find the right one for you!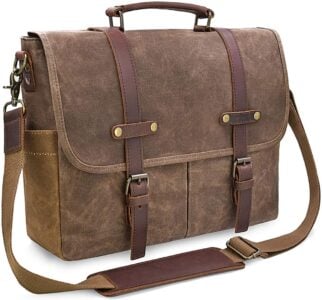 Our top pick for the best messenger laptop bag is Shoulder Messenger
Specs
Dimensions (CM) – 38 X 11 X 31
Weight (KG) – 1.3
Price (USD) – 55
Capacity (Litre) – 12
No gear review list is complete without offering up a great budget option. This shoulder bag takes the signature cool style of the messenger bag and makes it affordable, as well as functional.
The water-resistant canvas helps keep costs down without sacrificing quality, and the crisp buckles help the bag expand and store a surprisingly high capacity.
Also helping the cause are 5 exterior pockets and 3 inner compartments. The padded laptop case can fit laptops up to 16" which makes this shoulder messenger perfect for commuters with full-sized portable computers.
There's nothing more multifunctional than a messenger bag with water bottle holders. This cheap faux leather bag wants to take the message and spread it to the working class with this affordable and effective laptop holder.
The team loved the waxed canvas option of the messenger bag here along with the leather features. They felt it worked well both to protect their gear and also looks wise too. They felt it had a super durable and hard-wearing feel and felt it was a bag that they could see themselves owning for a long time.
Need a travel bag specifically for your laptop? Have a look at the best laptop backpacks for more options.
#9 Most Stylish Messenger Bag – The Harvard
For most stylish messenger bag, checkout The Harvard
Specs
Dimensions (CM) – 41 X 30 X 12
Weight (KG) – N/A
Price (USD) – 152
Capacity (Litre) – 10
Mahi sneaks their second messenger bag onto our list of contenders with this fine English Saddle leather bag. There is no question about this bad boy. It's not a purse, it's a certified satchel wrapped in vintage brown leather.
The ivy league accoutrement has space for a full-sized laptop and a reinforced shoulder strap that has no trouble lugging heavier loads.
You can store everything you need for a day at work comfortably inside, and everything you need for the commute in the handy buckled exterior pockets. One on the front and two on the sides give space for your wallet, keys, phone and books while the interior stays secure and safe in a cotton lining.
Just like the cork bag, this top-class messenger was handmade and comes guaranteed with a no-questions-asked year-long warranty.
The team just loved how stylish and professional this bag looked and felt it was just perfect for those heading off to work in the city or study at a fancy university! They also felt the addition of the many external pockets and internal dividers was the perfect way to keep all their gear separated and organised/
On the hunt for other professional bags? Check the best commuter backpacks out there and see which one fits.
#10 Best Airport Messenger Bag – Timbuk 2 Flight
Timbuk 2 Flight is our top pick for the best airport messenger bag
Specs
Dimensions (CM) – 25 X 40.5 X 13
Weight (KG) – .68
Price (USD) – 89
Capacity (Litre) – 14
Most messenger bags are built around a two-wheeled commute, but this Timbuk 2 option bucks the trend by focusing solely on getting you through busy travel days. The flight-ready bag keeps everything locked down with security-proof plastic buckles and gate-check-ready waterproof lining. It's also one of the most comfortable messenger bags out there too.
Just under the flap, you'll find zippered pockets where you can easily slide your passport and phone while clearing customs. Inside the bag is a comfortable laptop compartment easy enough to access when it's time to remove all electronics larger than a phone.
Once you've made it to your seat you can slide the bag comfortably in front of you and access your goodies without unpacking everything. It's a great alternative to other types of travel bags out there.
Between the water bottle holder and see-through zippered pockets, I could spend all day coming up with new ways to optimise this colourful bag's storage, and you'll have plenty of time to experiment yourself because this bag is protected by a lifetime warranty.
With the colour, the team felt this was one of the coolest messenger bags on our list and was one that rather than looking preppy and stuffy, this bag looks more youthful and fun whilst still retaining a professional vibe. They also felt it was a great lightweight messenger bag option and worked well for international travel too as it fits perfectly underneath a plane seat.
Looking for more options so you can look professional when you travel? why not check the best business travel backpacks out there and see if you find the right one for you!
The best present of all… is CONVENIENCE!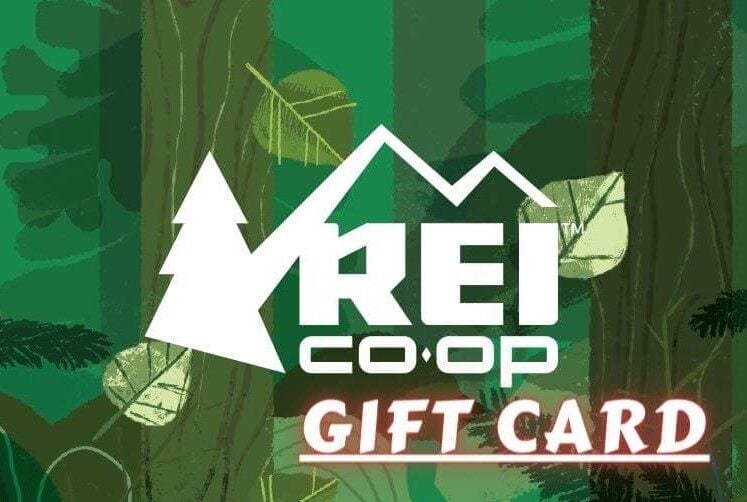 Now, you could spend a fat chunk of $$$ on the WRONG present for someone. Wrong size hiking boots, wrong fit backpack, wrong shape sleeping bag… As any adventurer will tell you, gear is a personal choice.
So give the adventurer in your life the gift of convenience: buy them an REI Co-op gift card! REI is The Broke Backpacker's retailer of choice for ALL things outdoors, and an REI gift card is the perfect present you can buy from them. And then you won't have to keep the receipt. 😉
Buy on REI!
Best Messenger Bags

| Name | Capacity (Litres) | Dimensions (CM) | Weight (KG) | Price (USD) |
| --- | --- | --- | --- | --- |
| Kodiak Leather Messenger | 10 | 38 X 27 X 10 | N/A | 175 |
| The Messenger (Vegan) | 8 | 37 X 28 X 8 | N/A | 141 |
| Cordova Messenger | 5 | 27 X 30 X 7 | N/A | 159 |
| Arcteryx Granville 10 | 10 | 40 X 25 X 12 | 0.5 | 140 |
| Timbuk 2 Classic | 14 | 41 X 27 X 13 | 0.69 | 89 |
| WANDRD Tech Bag | 3.5 | 22 X 12 X 6 | N/A | 75 |
| Buffalo Leather Messenger | N/A | 40 X 30 X 10 | N/A | 269 |
| Shoulder Messenger | 12 | 38 X 11 X 31 | 1.3 | 55 |
| The Harvard | 10 | 41 X 30 X 12 | N/A | 152 |
| Timbuk 2 Flight | 14 | 25 X 40.5 X 13 | 0.68 | 89 |

Our GREATEST Travel Secrets…
Pop your email here & get the original Broke Backpacker Bible for FREE.
How and Where We Tested To Find The Best Messenger Bags
To test these packs, we laid our mits on each of them and took them out to test them properly over a decent amount of time. We were sure to give each bag to different members of our team spread all around the world to get a balanced perspective when it came to deciding what the best messenger bag on the market was.
Packability
A bag is designed to carry stuff and as such, top points are awarded for how packable one is. When it came to picking out the perfect messenger bag we looked at how well each bag facilitates effective packing and maximises the space available. So we tested this by packing and unpacking the bags and seeing how it actually felt to put your stuff in it and get access to it when you needed it too.
Weight and Comfort of Carrying
Messenger bags have a hard job when it comes to carry comfort, often they contain heaps of paper, books, laptops, tablets and other accessories that all weigh quite a lot. To add to this, they are carried on one shoulder too. So for us, this was an important category because no one wants to be left with aching shoulders, especially when commuting after a busy day at work.
With this in mind, we added extra points for those bags that were as light as possible before being packed, distributed their weight well and had a comfortable and protective shoulder strap.
Functionality
In order to test out how well a pack fulfilled its primary purpose we used it for this purpose. So when it came to picking the best messenger bags we looked at how well they carried a laptop, diary, paper work and other work-related accessories. We also looked at how well they functioned whilst getting on and off trains, in busy environments and how they faired on a long walk.
Aesthetics
Some people say that travel gear doesn't need to look good as long as it functions. Well, we think that's BS because at the end of the day, cool messenger bags have got to look good … or they're not cool and they're not making our list! Period!
Durability and Weatherproofing
Ideally, in order to really test out how durable a bag is, we'd do something extreme like dropping it out of a plane or taking it to some fancy facility, but we're a bit more low-key than that. Instead, we inspected the bags as well as making sure to use them for a decent amount of time. We looked at things like the seam sewing quality, the materials used, the build quality of the pack, and how the fixtures and fittings felt to use such as zips and clips.
After that, well we went old school and poured a litre of water over each bag to see if it leaked! Those that did were swiftly removed from our list!
Final Thoughts On The Best Messenger Bags
Hopefully, you're starting to get the message (get it!). Locking up shop and hitting the streets without one of these fine companions strapped across one shoulder is holding you back. We've always had a soft spot for loose messenger bags that make navigating crowded streets much simpler than trying to avoid wrestling through the crowd with an unwieldy backpack.
With enough space to always have a snack handy, a change of clothes, or everything you need to conquer a tough day, These bags are no longer bicyclists and niche luggage picks, they are legitimate tools ready for business and travel.
The messengers on our list look good, pack light, and travel strong. Large clunky luggage and heavy backpacks all have their places in a backpacker's arsenal, but any savvy adventurer leaves room in the kit for everyday carry. There's a lot to be said about the freedom travelling light can give you.
That's where these bags excel the most. For daily commutes, carry-on bags, or free days getting lost in a new city, lightweight messengers can't be beaten. Now that we've seen what the best messengers are capable of offering, all you have to do is choose your own variant.
Every one of the best messenger bags in the business has certain quirks that make them excel in certain areas. Whether you want the largest shoulder carry on the market, the most technically advanced materials, enough pockets to give all your gear a home, or an affordable bag that isn't trying to reinvent the wheel, you can find solace, and storage, in one of the bags on our list.
If you're not sure which category best defines you, go for an all-rounder. The good thing about messenger bags is that while each bag does something different, they all represent the same fundamental bag design and are more or less interchangeable.
Each bag on our list can be comfortably worn while biking, walking, talking and kickboxing (maybe not!). That means there is no wrong answer, besides single-use plastic.
Looking for something same, same but different? Have a look at our guide to the best sling packs then instead, it offers similar benefits to a messenger bag but offers a slightly different style and size.
---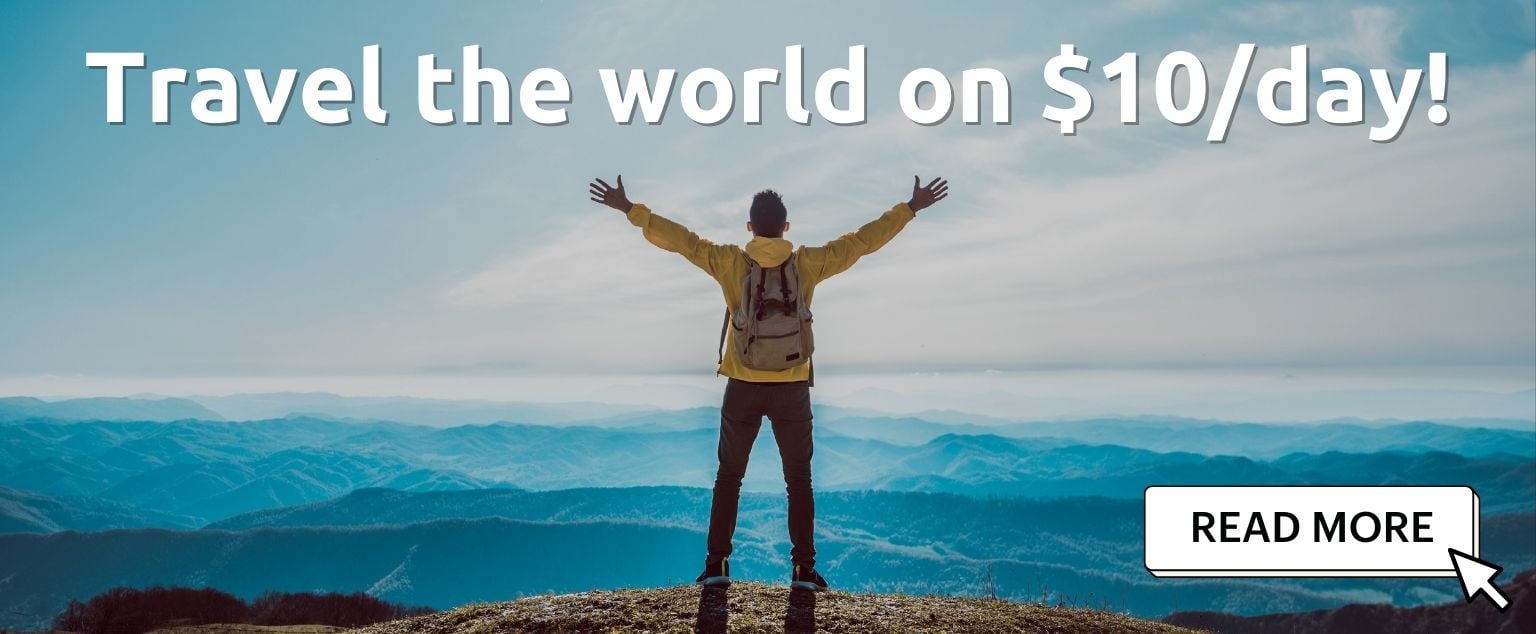 And for transparency's sake, please know that some of the links in our content are affiliate links. That means that if you book your accommodation, buy your gear, or sort your insurance through our link, we earn a small commission (at no extra cost to you). That said, we only link to the gear we trust and never recommend services we don't believe are up to scratch. Again, thank you!