The Nomatic Messenger Bag is something that we're loving at the moment. It may not be for everyone – in fact, it's almost certainly not for everyone – but for anybody looking for a bag to supplement their travel or everyday life, it's an awesome option.
To help you figure out if this bag really is for you or not, we are gifting to you our ultimate Nomatic Messenger Bag Review. We've really gone IN on this one, making sure that pretty much everything is covered.
Once you've gone through our review of this Nomatic bag, we reckon you'll have a MUCH better idea of how much this modern luggage solution will suit you and your style – or not. Now's the time to decide!
Quick Answers – Is the Nomatic Messenger Bag for You?
The Nomatic Messenger Bag is perfect for you if what you are looking for is something stylish. Because this bag has been designed with style in mind. 100%.
The Nomatic Messenger Bag is perfect for you if you are after a comprehensive daily carry laptop bag, but don't need it to convert into a travelling bag.
The Nomatic Messenger Bag is perfect for you if you don't like to travel light – or at least, lighter.
The Nomatic Messenger Bag is perfect for you if you want a bag with carry-on capabilities
Basically, the Nomatic Messenger Bag has organization and style down to a T. It's an award-winning messenger bag for a reason: because it does what it was made to do well.
However, it's not exactly a dual-use bag.
Whilst this bag is great, almost perfect, for anyone with a laptop and a few electricals, cafe-hopping or going to meetings (or even if you want something for actual 9-5 work), it's the sort of thing that can easily convert into travelling or even casual, daily use bag.
So with that in mind, let's have a look at who WON'T like this bag…
Winter is coming… WARM UP!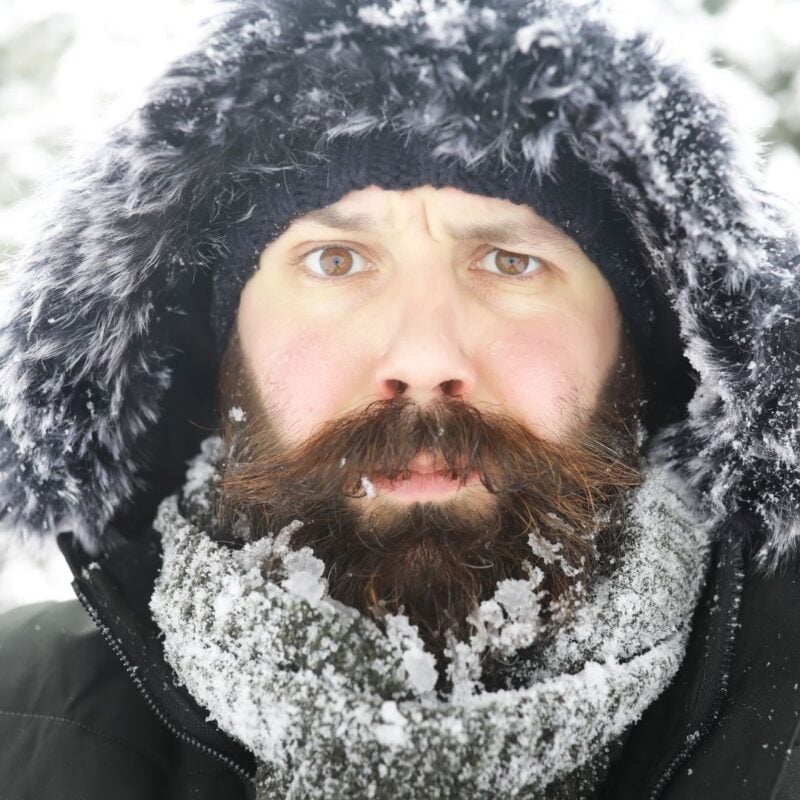 Get up to 50% OFF when shopping gear for the winter on REI.
Warm up for the holidays and SAVE on outdoor gifts all the way through Dec 18!
View on REI
Quick Answers – The Nomatic Messenger Bag is NOT for you
The Nomatic Messenger Bag is NOT for you if you want something at all flexible. This baby is for laptops only, essentially.
The Nomatic Messenger Bag is NOT for you if you don't like the idea of a quite business-centric, black and grey colour scheme.
The Nomatic Messenger Bag is NOT for you if you like the idea of one bag travel. You'll definitely need something else for the rest of your stuff.
The Nomatic Messenger Bag is NOT for you if having a dedicated space for your laptop isn't a priority.
Like pretty much anything in the world, no matter how good we say the Nomatic Messenger Bag is, it won't be for everyone.
For all those who are considering this pretty awesome bag, no doubt you're loving the design and the aesthetic of Nomatic's messenger bag offering – not to mention all that scope for organization.
If you're still not sure, don't worry.
We're about to get down to the nitty-gritty of what makes the Nomatic Messenger Bag tick and find out if it's truly for you…
Who Are Nomatic?
First things first: if you've got this far in our Nomatic Messenger Bag review and you're still wondering, 'who the heck even ARE Nomatic?' then, well, we should tell you. They're the new kid on the block of bag-making companies out there, a Kickstarter (and IndiGoGo) success story that just keeps on growing.
Funnily enough, it all started with a crowdfunding campaign for an innovative wallet. From there the company have been dedicated to making products for "life on the move" – products which are all about function and quality.
And that's something you'll find out further as you read our Nomatic bag review!
Different Nomatic Products (Please Read!)
Of course, we are talking about the Nomatic Messenger Bag in our review. It's important to note, however, that there are other Nomatic products out there which may do the job better for some people. It's all about what sort of traveller you are, how you are going to use the product, and what, ultimately, you want out of a luggage solution. Let's run through a few of 'em…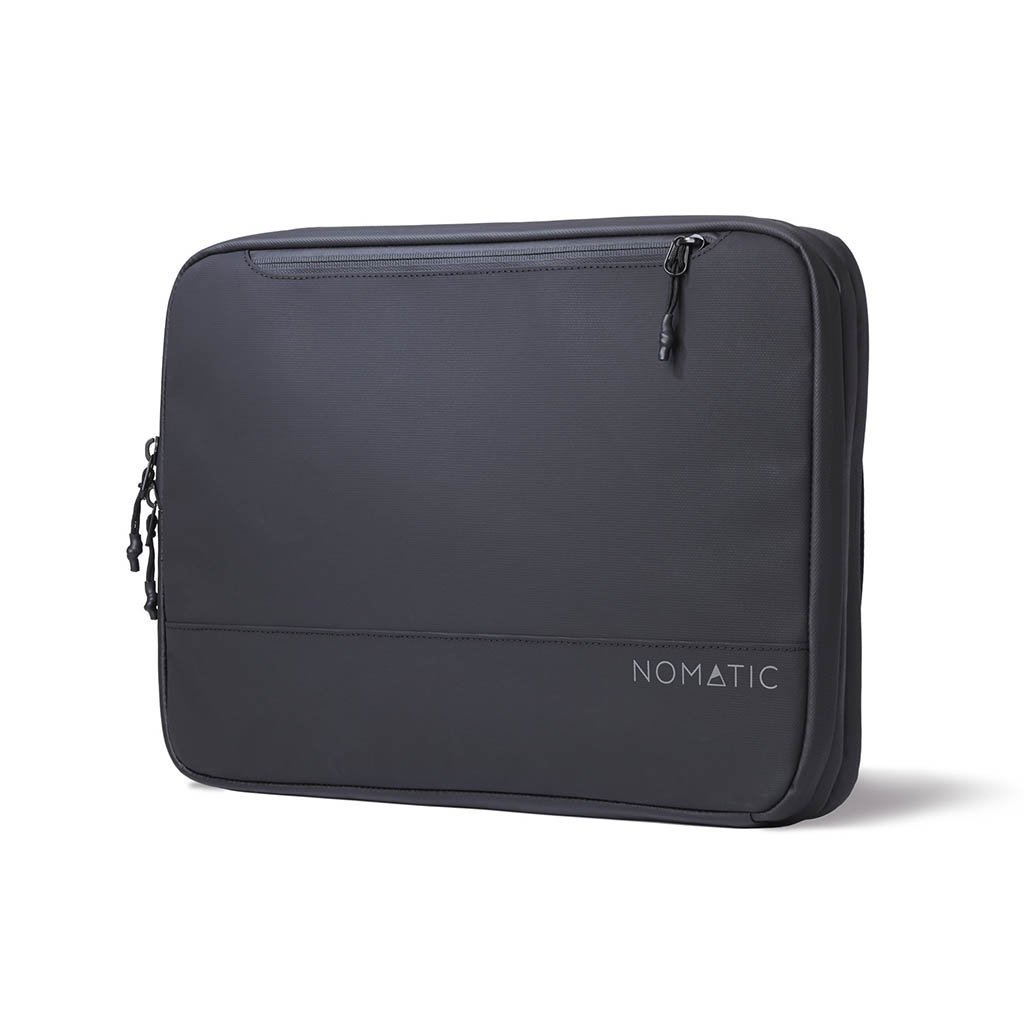 The Nomatic Tech Case is basically an even more slimmed-down version of the Nomatic Messenger Bag. In essence, this one is a carry-case for your laptop and nothing more.
Size is the biggest difference. Whilst the Nomatic Messenger Bag can actually fit some stuff in it but is relatively neat, it looks downright bulky next to the Nomatic Tech Case! Measuring up just 11 inches by 15 inches (2″ deep), it's designed specifically for your laptop – maybe a notebook, and some pens, too.
There's the usual decent amount of pockets, compartments and zippers you'll see in every Nomatic bag option, too.
You wouldn't have to carry this around under your arm, either. There's a detachable shoulder strap, which is a nice touch.
Another nice touch is the roller luggage sleeve. This means you're able to use this offering in conjunction with another Nomatic product, the Nomatic Carry-On Pro – or any roller luggage out there, to be honest!
Let's sum up those features of the Nomatic Tech Case…
Laptop sleeve – The dedicated laptop sleeve on the Nomatic Tech Case really keeps your gear nice and secure when you're on the go
Internal organisation – You can bet your bottom dollar that any Nomatic product will come packed with pockets and zippers for your stuff; this one is no different
Slim profile – The Nomatic tech case is far from chunky and gives it top marks in the portability department
Removable strap – Carry it under your arm, put it in a bigger bag, carry it on your shoulder. The possibilities are endless!
Durable/water resistant – Testament to the quality of Nomatic products, even this little laptop bag is made with durable, water resistant material
Roller luggage sleeve – This really makes the Nomatic Tech Case something that is a breeze to travel with. Nobody likes having to carry a load of gear through an airport!
It is easy to think that something like the Nomatic Tech Case would have been made as an afterthought, but it's a dedicated product in itself.
The same attention to detail, the same design style and the same durability have been incorporated into this product, just like it would have been in any other Nomatic offering.
We're definitely fans!
The Nomatic Messenger Bag and the Nomatic Tech Case are all about shoulder carry, but the Nomatic Backpack is a similar sized option that allows for a little more flexibility.
Again, it's a dedicated laptop bag – except this time, worn on your back. Boasting more room than both the messenger bag and the tech case, the backpack has a 20L capacity. There's even the option the expand the Nomatic Backpack to 24L.
Size is definitely the biggest difference.
That said, with that comes the ability to pack more into this one than the others. Another huge difference is the potential to use this bag as something OTHER than a laptop bag. Go to the mall, use it on the daily, or even use it for an overnight (maybe even 2 nights) stay somewhere.
Like all Nomatic offerings, however, it is totally tricked out with a bunch of features…
Roller luggage sleeve – Like the Tech Case, this one can be used on roller luggage; perfect for longer trips away
Magnetic water bottle pocket – Lies flat on the bag when not in use, but fits a bottle of your hydrating liquid of choice when in use. Simple
Cord pass through – Use a spare battery pack on your phone whilst you're on the go, or use it for headphones.
Retractable key leash – Attach your keys to this handy feature and you'll never have to dig around for them again!
Sunglasses case – Nomatic have even thought about your sunglasses here. It's super convenient to have somewhere to put 'em.
Organisational pockets – A neat freak's dream, there's dozens of little compartments inside the Nomatic Backpack for cords, chargers, headphones, loose change, notebooks… You name it!
RFID Safe Pocket – Stash your wallet here and keep your money safe from e-thieves
There's a lot going on with the Nomatic Backpack. There's a lot we can say about the Tech Case, too.
But neither of them quite match exactly the precise functionality of the Nomatic Messenger Bag. Even though the Backpack can be carried like a duffel, it's still not a purpose-built for that: it's a backpack.
Which leads us nicely to…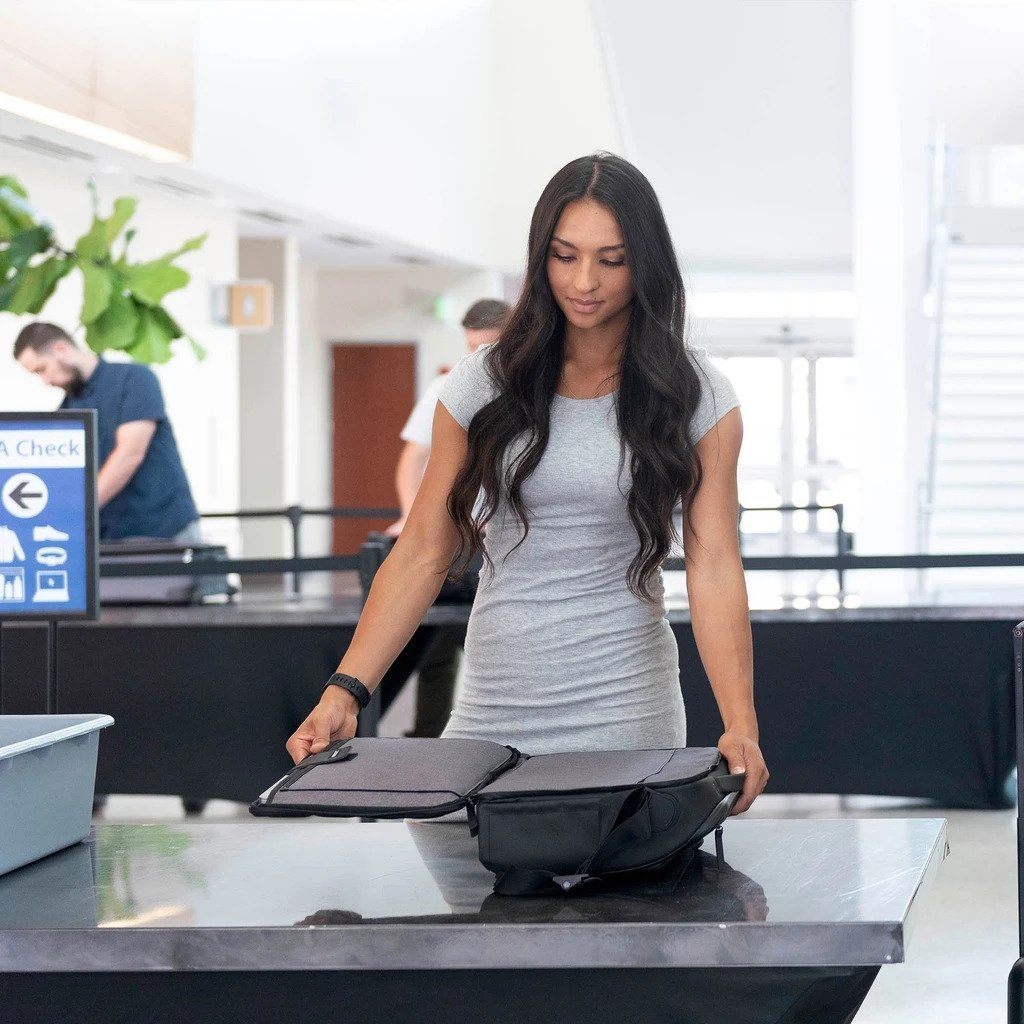 Here we are: the bag we're looking at right now. It's not something you can throw everything in and go on a one-bag adventure for the weekend. It isn't multifunctional. However, when it comes to a smart and stylish laptop bag for day-to-day use, the Nomatic Messenger Bag – with its minimal design and useful, high quality features – is great. Even if you can't put shoes and a sweater in it.
The best present of all… is CONVENIENCE!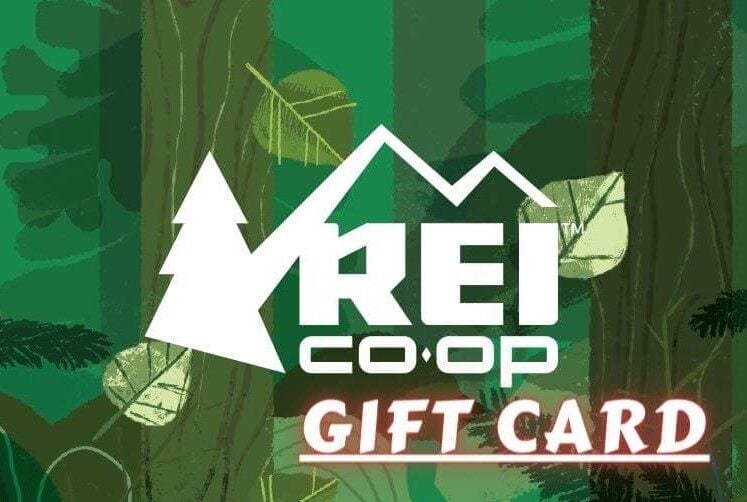 Now, you could spend a fat chunk of $$$ on the WRONG present for someone. Wrong size hiking boots, wrong fit backpack, wrong shape sleeping bag… As any adventurer will tell you, gear is a personal choice.
So give the adventurer in your life the gift of convenience: buy them an REI Co-op gift card! REI is The Broke Backpacker's retailer of choice for ALL things outdoors, and an REI gift card is the perfect present you can buy from them. And then you won't have to keep the receipt. 😉
Buy on REI!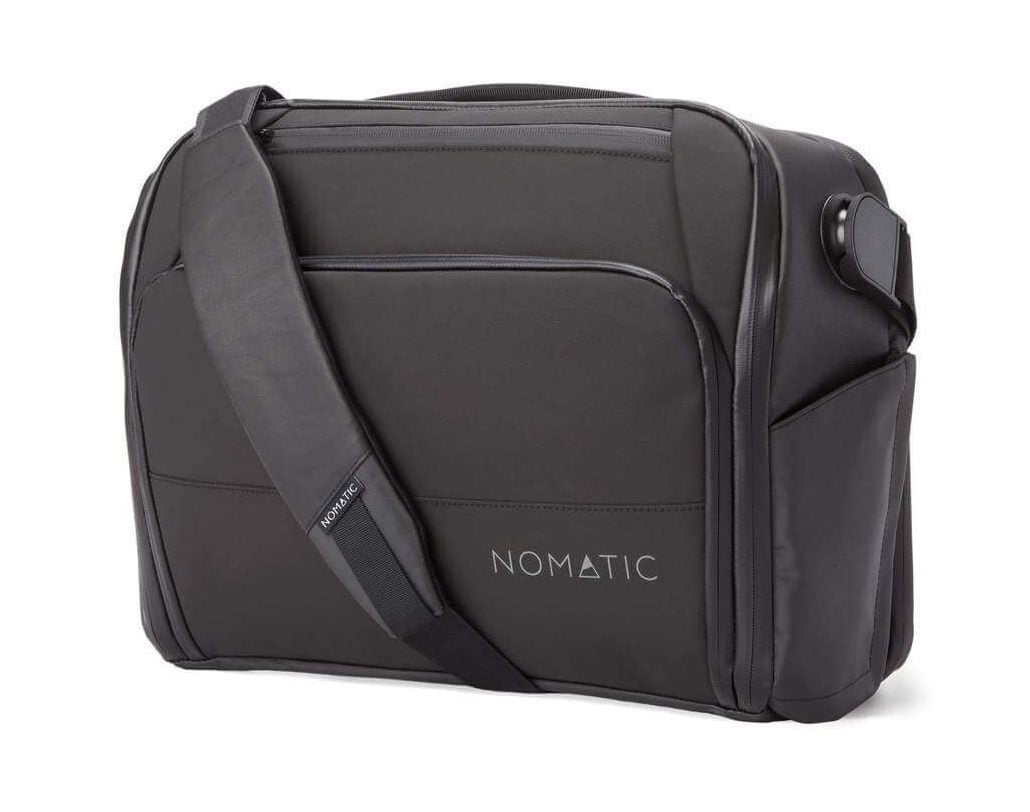 Right, this is where our Nomatic Messenger Bag review really gets into the finer details.
There's loads of features here, so this section might seem long. But that's totally a good thing! A s**t ton of features = well thought out design, in this case.
Nomatic have done super well at creating a messenger bag that is not just not lame, but actually cool. We're down with this bag, but let's run through all the nifty features that make us like it so much…
Custom Magnetic Buckles and Adjustable Strap Length
One of the best things about the Nomatic Messenger Bag is its strap. Not just the strap, but the way it attaches to the bag itself is pretty genius.
For ultimate comfort and function, the buckles that attach the straps to the bag have 360 degree motion, allowing the strap to rotate depending on where the bag sits on your body. Comfy!
There's also an ingenious way to turn this from a messenger bag into a briefcase. Simply rotate the strap to the opposite way you would wear it, pull, and – hey presto! They're off. Nothing fiddly about that.
And when you want to turn it bag into a messenger bag, the buckles fit back on the bag like magic – twist 'em round and you're good to go.
Of course, like all good bags, the strap is adjustable. And it's not one of those adjustment straps that feels like you need super strength to make it actually work. It works smoothly and seamlessly.
Is the Nomatic Messenger Bag Carry on? (Spoiler alert – yes!)
Yes, this chic lil' bag is definitely carry on sized.
It's dimensions are as follows: 12 inches high by 16.5 long, with a depth of 5.5″. It's got a weight of 3.8 pounds (unpacked).
That means that you can easily use the Nomatic Messenger Bag as hand luggage. Easy!
Roller Bag Sleeve
And what makes a bag that's fit for carry on even MORE convenient?
Having a roller bag sleeve so it can become one with your suitcase, that's what!
There's a sleeve at the back of the bag, meaning that it will easily slip over your roller suitcase, making for some supreme ease of travel. It's designed to be used with the Nomatic roller luggage they've got going on, but really you can slip this over the handle of any roller luggage.
Trust us: you'll be loving this feature when you're at the airport. No more having to actually carry two things at once!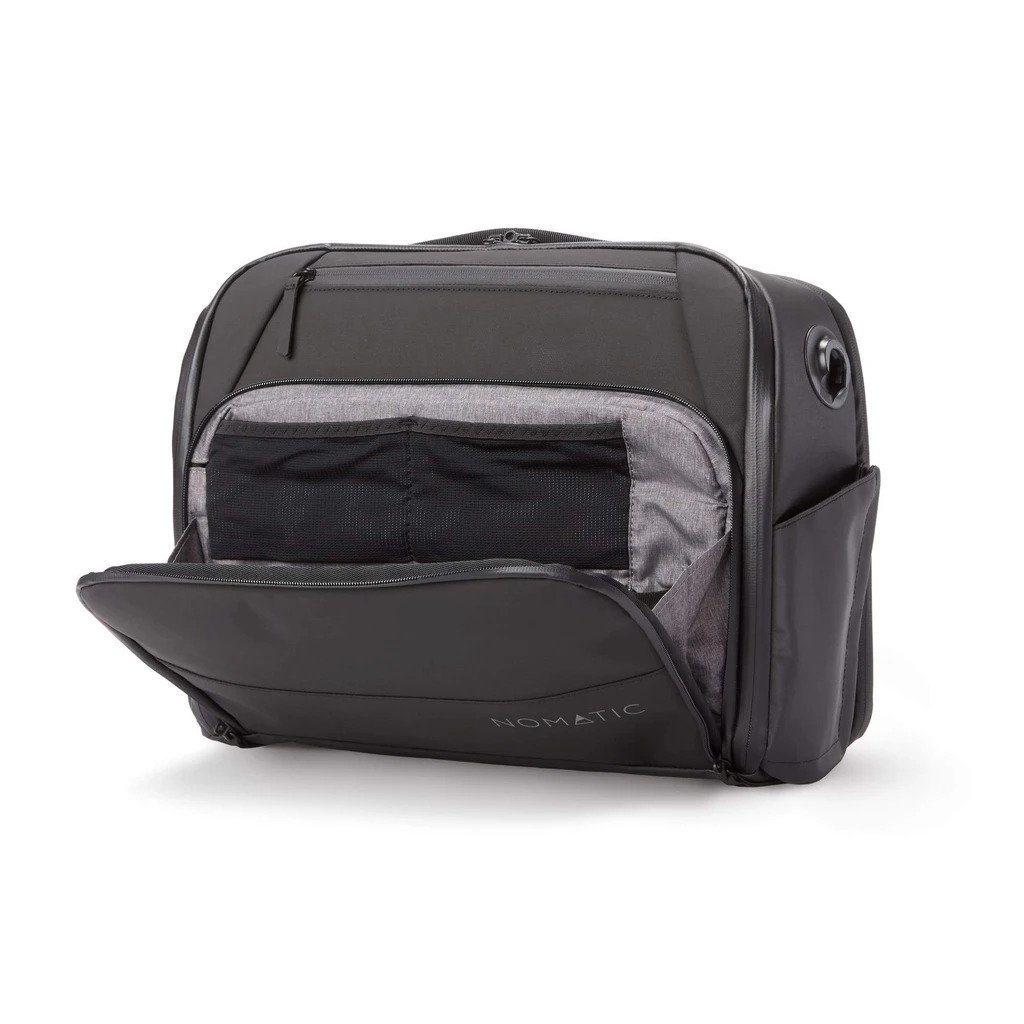 Organizer Panel
Who wants their stuff to be in a complete mess when they're travelling? Not us, that's for sure.
The organizer panel on the Nomatic Messenger Bag gives you PLENTY of room for all your stuff. There's literally a place for everything with sleeves for notebooks, pockets for change, headphones, tickets – all that important stuff that you need with you when you're on the move.
If you're using this for work, then the last thing you want is clutter – which makes the organizer panel a godsend. Getting into a meeting with the Nomatic Messenger Bag in briefcase mode, you'll be very glad that you're not opening your bag up to get out a pen and having to search through the abyss to find one.
It's super convenient, and one of our fave things about the Nomatic brand in general: top organization!
Briefcase / Shoulder Carry
We mentioned that genius strap earlier, right? It's cool and all that it's so easy to take on and off, but what you get here is the ability to turn the Nomatic Messenger Bag from a shoulder bag into a briefcase.
This is cool because, well, carrying a bag like this briefcase-style just looks smarter than as a messenger bag. We're not saying it's not sleek WITH the strap – because it is. We're just saying that no strap is smart-ER.
So there's that.
But there's also the added convenience of not having the strap flapping about when you're putting this in an overhead locker on a plane, or have it riding via the roller sleeve on your luggage. It gets things out of the way and makes travelling, and simply getting around, a breeze.
Lifetime Warranty
There's a lifetime warranty on the Nomatic Messenger Bag, like all Nomatic products. Any defects you find will be fixed free of charge.
How can you not like that?
Quick Access Fleece Pocket
The fleece pocket on the Nomatic Messenger Bag is a nice addition. Having to open up your bag fully to get one thing out of it can be annoying. You may not think it at the time, but once you've been given a feature like this one, trust – you'll never go back.
This quick access pocket is zippered. You simply unzip and reach in to grab whatever valuable, or document, you feel like grabbing.
For us, it's all about using this one as a smartphone pocket. It's fleece-lined as well, so you can rest easy that your precious shizz isn't getting scratched beyond oblivion on any rough surfaces.
Magnetic Water Bottle Pocket
Like pretty much all Nomatic products, the Nomatic Messenger Bag comes with the brand's tried and tested magnetic water bottle pocket.
We love how this thing lies completely flat (because it's magnetic) on the side of the bag, helping to keep the chic silhouette of the bag in shape when the water bottle pocket is not in use.
When you do want to use it, simply pull it open and slip in your water bottle of choice. Could even be tea. Or Mountain Dew. Whatever you feel like.
One thing that's cool about this is, although this is a more 'business-y' offering than some other Nomatic stuff, it's still got the water bottle pocket to remind you to stay hydrated! It's important!
Durable and Water Resistant
With YKK zippers and tarpaulin material, this shoulder bag has been made to last for basically ever.
It's water resistant. This means that if you get caught in a shower, your belongings should be perfectly fine inside this well-constructed bag. It's got a solid finish for extra durability without looking too much like a rugged, outdoors-y bag at all, for when you're at the mall, a meeting, or some other city-based thang.
As a bonus, the logo of the bag is reflective, meaning it's not overly obvious by day, but at night means you're a little more visible than if the bag was just all black.
RFID Safe Pocket
There's nothing worse than worrying about your belongings in a new city or town. Sucks.
This top bag comes complete with a lockable RFID safe pocket. This means you can be safe in the knowledge that your bank cards, and your passport, are here. No chance that any e-thieves will be swiping your money if you use this super handy pocket, that's for sure.
Accessories Pocket
The accessories pocket gives you even MORE organization. There's the organizer panel, which is cool and all, but the accessories pocket takes it up a gear.
There are a load of little mesh pockets here, all ready to help you to compartmentalize your stuff.
The mesh pockets themselves are pretty small, so it really is for small accessories. Think airbuds, gum, an extra battery pack – all that sort of small stuff that could easily be mashed together in an oblivion of chaos at the bottom of your bag. Nobody wants that. Especially not Nomatic, who really take organization to the next level.
Documents Pocket and TSA Ready Laptop / Tablet Compartment
Easy access. That's one of the main things we love about the Nomatic Messenger Bag – and this pocket is the cherry on top.
This one folds out 90 degrees from the bag itself, allowing ease of access for when you want to get your hands on any document. A speech (maybe?) or an itinerary you've printed off, just to be old school.
In this pocket is where you'll find the TSA ready laptop and tablet compartment. With room to fit a 15″ laptop, this allows you to get through airport security with ease. It's super irritating when you have to go through airport security and somehow extract your laptop from your bag…
Instead, the Nomatic Messenger Bag makes this process super, super simple.

Our GREATEST Travel Secrets…
Pop your email here & get the original Broke Backpacker Bible for FREE.
Final Thoughts on the Nomatic Messenger Bag
What more can we say?
Basically, if what you're looking for is a chic but functional solution for everyday, professional use, then you will literally love the Nomatic Messenger Bag.
If you want something you can put things other than work stuff in, then this bag probably isn't for you. It's not exactly an overnight bag.
But, if you're into the sleek design of this one, other Nomatic products should fit the bill for you if you're looking for something than can take your laptop and everyday work junk, but also double up as a weekend or short travel bag. The Nomatic Backpack should do.
So what do you reckon? What's your opinion of the Nomatic Messenger Bag? Nifty – or not so much? Let us know your thoughts in the comments below!
What is our final score for the Nomatic Messenger Bag? We give it a rating of 4.3 out 5 stars!
Want more? Check out the best messenger bags to see if one is the right fit for you.

---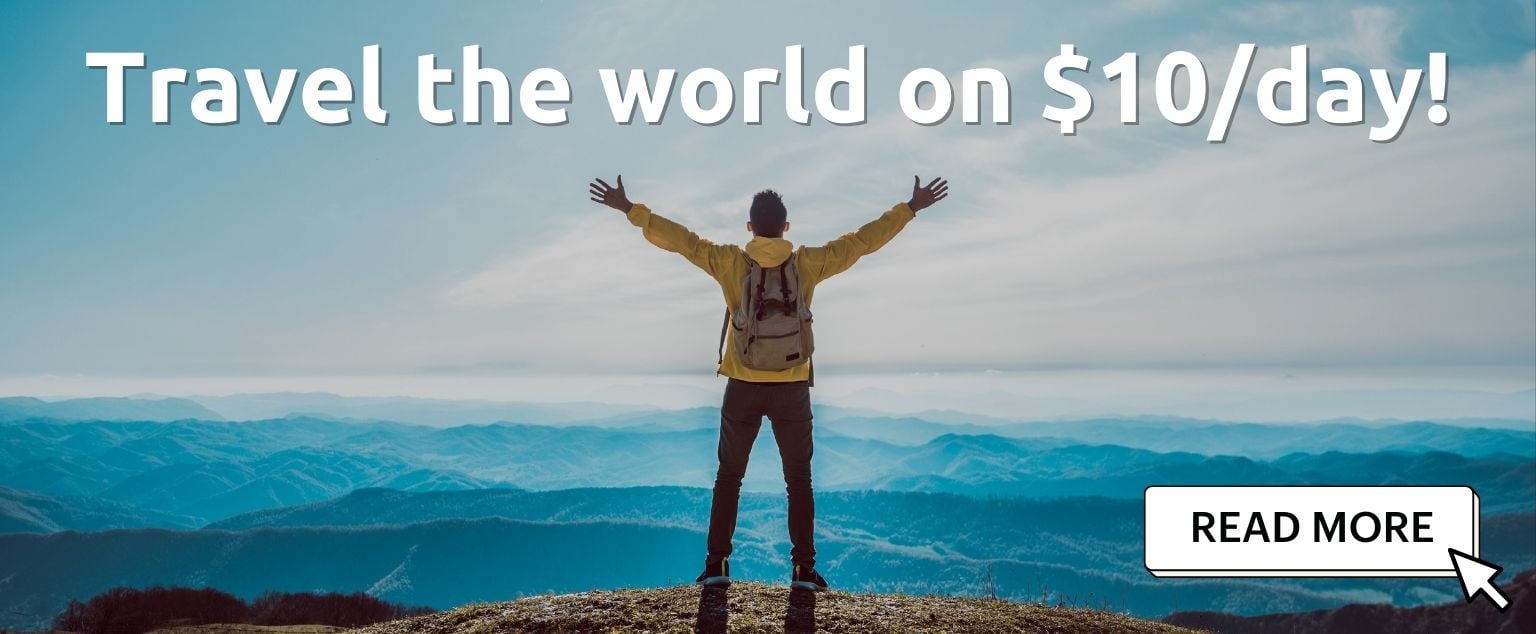 And for transparency's sake, please know that some of the links in our content are affiliate links. That means that if you book your accommodation, buy your gear, or sort your insurance through our link, we earn a small commission (at no extra cost to you). That said, we only link to the gear we trust and never recommend services we don't believe are up to scratch. Again, thank you!