From long road trips to weekends at the cabin, camping coolers are an easy solution for transporting food and preventing things from spoiling. If you're not a fan of dehydrated camping food, or you're traveling with young kids who are picky eaters, having a decent cooler can solve your meal dilemmas.
There's a lot of variety and literally hundreds of camping coolers to choose from. They range from high-end and expensive coolers capable of keeping things frozen for days, to cheap plastic ones which probably won't last even 24 hours.
So, how do you select the best camping cooler? Well, you're in luck because we've done the research to come up with this list of excellent camping coolers for a variety of travel needs, as well as a guide about what to look for when purchasing a cooler.
Quick Answer: These are the Best Coolers for Camping of 2022
Overall Best Cooler for Camping
Best Cooler for Camping in Big Groups
Best Cooler for Camping in Big Groups
Yeti Tundra 75 Cooler
> $$$
> Capable of holding up to 50 cans
> High quality locks
Best High-End Backpack Cooler
Best Budget Camping Cooler
Best Budget Camping Cooler
Coleman 52 Quart Cooler
> $
> Designed to be able to hold 250 pounds
> Cup holders on each corner of the lid
Best Budget Cooler for Road Trips
Best Softshell Camping Cooler
Best Softshell Camping Cooler
Yeti Hopper Flip 18 Soft Cooler
> $$
> Made from a waterproof and highly durable thermoplastic
> Has both a top handle and a padded shoulder strap
Best Wheeled Camping Cooler
Best Powered Camping Cooler for Groups
The Best Coolers for Camping 
Do You Want to Travel FOREVER??
Then pop your email address in below and we'll send you a FREE copy of 'How to Travel the World on $10 a Day!' – make travel your LIFE.
#1 – Overall Best Cooler for Camping
Overall best cooler for camping is Yeti Tundra 45 Cooler
Specs
Cooler Type: Hardshell
Weight: 23 pounds
Gear Capacity: 32.9 liters
Yeti has truly revolutionized the field of camping coolers. Although they are among the more expensive coolers on the market, they are also super high quality and built to last for years. It's an upfront investment, but one that pays off over time. 
The 45 cooler is big enough to pack a decent amount of provisions and ice, but still small enough that it fits well in the trunk or backseat of most vehicles. It's great for everything, from group BBQs to weekends at the cabin, and the 3-inch thick insulation of polyurethane foam is capable of keeping the cooler cold for days. 
Another great quality of the Yeti coolers is the latches which the company has called "T-Rex Latches." Not only do they provide a tight and durable seal, but they are also replaceable in the event that one does break. 
You can turn the Yeti Tundra 45 into a bear resistant food container by purchasing two extra padlocks. The cooler is also compatible with dry ice, which lasts much longer and keeps things colder than regular ice. 
Unloaded, the cooler weighs 23 pounds, so it can get heavy once it's filled up with food and drinks. It's easier to carry with 2 people, and the textured grips on the haul-handles provide a secure and comfortable hold. 
Pros
Dry ice compatible
Keeps things cold for days
Good handles and latches (replaceable if needed)
#2 – Best Cooler for Camping in Big Groups
Our pick for best cooler for camping in big groups is Yeti Tundra 75 Cooler
Specs
Cooler Type: Hard-sided
Weight: 30 pounds
Gear Capacity: 70.75 liters
With the Yeti Tundra 45 taking the spot for overall best camping cooler, it should come as no surprise that the best cooler for groups is simply a larger version. The Tundra 75 is capable of holding up to 50 cans and will stay cold even longer than the Tundra 45 cooler. 
It's also dry-ice compatible and features the same high quality locks, which are replaceable. 
Measuring 33.25 x 17.9 x 18 inches and weighing 30 pounds when empty, this cooler can be a bit of a beast to haul around. The carrying straps on either side make it easier to carry with two people. You can also purchase separate straps to secure the cooler in a boat or truck using tie down slots. 
Pros
Large capacity
Good handles and latches
Keeps things cold for days
Cons
Can be cumbersome to move
Expensive
#3 – Best Backpack Cooler
Meet the best backpack cooler: REI Co-op Cool Trail Pack Cooler
Specs
Cooler Type: Soft-sided backpack
Weight: 3 pounds 3 ounces
Gear Capacity: 38 liters
This convenient backpack-style cooler is easy to bring along camping, thanks to the padded straps and hip belt. Gone are the days of awkwardly toting around bulky coolers, now you can sling it on your back and keep your hands free!
With a 38 liter capacity and measuring 22 x 17 x 9 inches, the backpack is big enough for an overnight trip or a picnic on the beach with friends. There are also external gear pockets and extra straps on the front where a camping chair or beach towels can easily be attached. 
The Trail Cooler Pack can also function as a typical day pack if you remove the cooler insert. Unfortunately, the zippers on the pack aren't waterproof, so the pack will leak if tipped on its side.  
Pros
Good carrying capacity
Comfortable straps and can function as a regular backpack
Affordable
Cons
Won't keep foods as cold as hard-shell coolers
Zippers aren't waterproof and will leak
#4 – Best High-End Backpack Cooler
Yeti Hopper Backflip 24 Cooler is our pick for the best high-end backpack cooler
Specs
Cooler Type: Soft-shell backpack
Weight: 5 pounds
Gear Capacity: 23.8 liters
For a backpack cooler that's a higher quality than the REI Cool Trail Pack, Yeti has the solution. The 24 Backflip Hopper is made to the same high standards as other Yeti products, and also comes with the same expensive price tag. 
The pack features both padded shoulder straps and a removable chest and hip belt for carrying extra heavy loads. You won't have to deal with leaks though, thanks to the signature Hydrolok Zipper which provides a watertight seal. 
You can purchase an additional pouch which can be attached to the front, and there are loops on the pack for securing other gear. Depending on how much ice you have in the pack, it's good to keep things frozen for at least a day. However, it can be longer, depending on the outside conditions and how much you open and close the pack. 
Pros
Padded shoulder straps and waistband
Leak proof zipper
Cons
Expensive
No external pockets
#5 – Best Budget Camping Cooler
Our pick for best budget camping cooler is Coleman 52 Quart Cooler
Specs
Cooler Type: Hard shell
Weight: 8 pounds 11.2 ounces
Gear Capacity: 49.2 liters
If you're looking for a camping cooler that's not going to empty your wallet, then the Coleman 52 quart is a good choice. Although it won't meet the same quality standards as Yeti coolers or the like, it's still going to work fine for a picnic or overnight trip. 
The swing-up handles are sturdy, but definitely much easier for two people to carry together. It is lighter than other coolers on this list, but can still get quite heavy once weighted down with food and beverages. 
Another great feature of the Coleman is that the top is designed to be able to hold 250 pounds, making it suitable to use as a chair while you're out at the campsite. There are also cup holders on each corner of the lid to help prevent your drinks from spilling. 
Pros
Budget friendly
Large storage capacity
Lid can function as a seat
Cons
Lower quality material
Awkward handles
#6 – Best Budget Cooler for Road Trips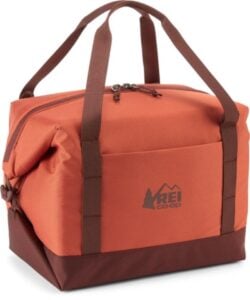 REI Co-op Pack Away 12 Soft Cooler is one of the best budget cooler for road trips
Specs
Cooler Type: Soft-shell
Weight: 1 pound, 3 ounces
Gear Capacity: 17 liters
If you're on a car trip and want the convenience of having a bag of snacks or cold beverages next to you on the front seat, this Pack Away soft-shell cooler is a great choice. It can be carried either as a tote bag or shoulder bag, and folds flat for easy storage. 
Although it's certainly not going to keep ice frozen for as long as other coolers, it still functions perfectly well for picnics, day trips, or even overnights, if you're not opening it too much. 
The cooler itself is designed to be leak proof, but the zipper is not waterproof, so it will drip if tipped on its side. For riding in a car this isn't much of an issue, but it is something to be mindful of while transporting it. 
Weighing only 1 pound, 3 ounces, the Pack-Away 12 is much lighter than other cooler options and still fairly durable, thanks to the polyester shell and abrasion-resistant nylon bottom. 
Pros
Affordable price
Lightweight and easy to store
Tote handles and shoulder strap
Cons
Won't keep things cold as long
Zipper isn't leak proof
The best present of all… is CONVENIENCE!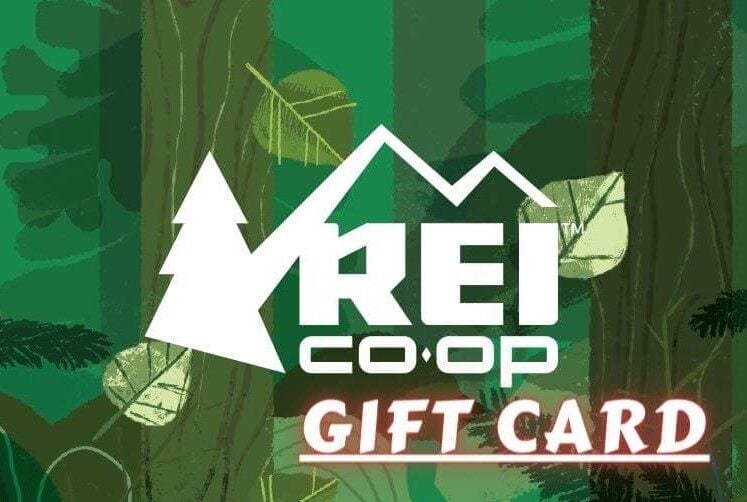 Now, you could spend a fat chunk of $$$ on the WRONG present for someone. Wrong size hiking boots, wrong fit backpack, wrong shape sleeping bag… As any adventurer will tell you, gear is a personal choice.
So give the adventurer in your life the gift of convenience: buy them an REI Co-op gift card! REI is The Broke Backpacker's retailer of choice for ALL things outdoors, and an REI gift card is the perfect present you can buy from them. And then you won't have to keep the receipt. 😉
Buy on REI!
#7 – Best Softshell Camping Cooler
Our pick for best softshell camping cooler is Yeti Hopper Flip 18 Soft Cooler
Specs
Cooler Type: Soft-shell
Weight: 5.1 pounds
Gear Capacity: 17.8 liters
This soft-shell cooler performs on par with many hard-shell models, but doesn't have the added weight or clunky design. The shell of the cooler is made from a waterproof and highly durable thermoplastic that can withstand the bumps and abrasions of an adventurous lifestyle. 
Thanks to the leakproof HydroLok zipper, you won't need to worry about anything spilling while you're on the go. The cooler has both a top handle and a padded shoulder strap for easy transportation. 
The biggest drawback to the Yeti Hopper 18 is the price. Like other Yeti products, you can expect superior quality, but with a high price tag attached. However, if you're looking for a soft-shell cooler capable of keeping items cold for over a day and that doesn't sweat, then the Hopper 18 is your best option.  
Pros
Very durable
Leak proof zipper
Comfortable shoulder strap
#8 – Best Backpack Cooler
Dam 2-In-1 Backpack Cooler Cb30 is our pick for the best backpack cooler
Specs
Cooler Type: Soft-sided backpack
Weight: 2.75 Pounds/ 1.24 Kg
Gear Capacity: 50 Litre Backpack with 10.5 Litre cooler storage
Sometimes once we've packed up for a casual adventure out, like a few beers on the beach or a local hike, you turn and look and think, dam, so many bloody bags!! Before you know it you've got a cooler, camera bag, laptop case and a backpack full of clothes and other bits. That last-minute picnic or your daily commute ends up being a logistical nightmare! Well, no longer!
If you're anything like me you hate walking around with bags in your hands. I don't know, but it just ruins the vibe for me. I like to shove everything on my back and have my hands free to use my camera and explore properly without dragging a massive cooler or low hanging tote bag with me! That's why I just love the convenience of this cooler.
Ok, so you've not got as much scope as with the other coolers. With its 7.5 Litre section, you're not going to feed the 5000 here. But it's ideal for packing a few beers (you can fit 6 330ml cans so pretty decent), a picnic, supplies for a small BBQ or just your lunch and refreshments for your hike.
What's better is the versatility of this bag. You can take it out for your weekend adventures and alongside your beer or food, you'll have room for your camera, jackets, a towel as well as a safe spot to keep your shades, phone, wallet and keys safe.
Then when Monday rolls around this sleek and lowkey backpack can be used for your daily commute. The cooler is the ideal spot to keep your lunch cool and the padded laptop compartment and added organisational pocket will keep everything you need for a day at the office all together. There's even heaps of room for your gym kit too!
The 2-1 Backpack also comes in a smaller 50 Litre version too with a 10 Litre cooler section which will hold around 12 cans! It also comes in black, grey, and light tan.
Pros
Super easy to carry
Can be used as a 2-1 regular backpack and cooler
Has laptop storage
Cons
Cooler section is a lot smaller than in a dedicated cooler
#9 – Best Wheeled Camping Cooler
RovR Products RollR 60 Cooler is our pick for the best wheeled camping cooler
Specs
Cooler Type: Hard-shell with wheels
Weight: 49 pounds, 7.9 ounces
Gear Capacity: 56.78 liters
Coolers can only get so big before they're impossible to manage without wheels. Weighing almost 50 pounds, even while empty, the RovR RollR 60 would probably be too much of a beast if it didn't come with high-quality all-terrain tires. 
This cooler is practically a mini fridge you can bring with you while camping. The compartmentalized interior helps keep everything organized, and there's a pop-up wagon bin on top so you can haul other gear to your campsite. 
RovR says this cooler will keep things cold for up to 10 days. Of course, this depends a lot on the external temperature and how often you're opening and closing the cooler. You should be able to count on 3 or 4 days of keeping your provisions cool. 
You can also make the RollR 60 a bear-resistant food container by purchasing two separate padlocks to use on the front corners. Be sure to double check whether your vehicle can accommodate the full 27 x 22 x 22 inches of this cooler before purchasing it. 
Pros
Very durable
Keeps things cold for 4+ days
Wheels are designed for rough ground
#10 – Best Powered Camping Cooler for Groups
Meet the best powered camping cooler for groups: Dometic CFX3 75 Dual Zone Powered Cooler
Specs
Cooler Type: Electric hard-sided
Weight: 61 pounds
Gear Capacity: 75 liters
Although the Dometic is way out of the price range of most campers, it's still worth mentioning as a totally kick-ass product that hands-down takes the prize for fanciest camping cooler. 
If you're planning on traveling long-term in your vehicle, then it might be worth considering investing in this refrigerator-style electric cooler. 
The 3-stage dynamic battery is designed to prevent your car battery from dying, while still keeping everything inside nice and cold. You can monitor the cooler's activity and current settings by downloading the convenient app which allows you to adjust it on your phone. 
There are two storage compartments within the cooler, each with an independent temperature setting for frozen or cool items. 
If there's one thing that would be helpful to include on the Dometic CFX3 75, it would be wheels. However, there's a good chance the cooler will probably just remain in your vehicle, so you won't have to haul it back and forth too much. 
Pros
Electric control of interior temperature
Two separate zones for cooling and freezing
Controlled from mobile app
Cons
Very expensive
Heavy and takes a lot of power to run
No wheels
#10 – Best Camping Cooler for Fishing
Our pick for best camping cooler for fishing is Wilderness Systems Catch Cooler
Specs
Cooler Type: Soft-sided backpack style
Weight: 5 pounds, 4.1 ounces
Gear Capacity: 27.6 liters
This camping cooler was designed specifically for fishing. Inside the cooler there are separate places for storing fish and food items, and separate access points to keep everything neat and organized. 
You also won't need to worry about sharp fish fins puncturing the inside of the cooler, since it's made from durable 420-denier ripstop nylon. The shoulder straps of the pack could honestly do with a bit more padding, but chances are the cooler will just be in your boat most of the time anyway.
The insulation is good for keeping things cold for about a day, which is usually plenty for a short fishing trip. Some people have reported an issue with the zippers snagging, but that it didn't affect the durability or performance of the cooler. 
Pros
Separate compartments for fish and food
Designed for carrying fresh fish
Mesh nets on top for extra gear
Cons
Shoulder straps could use more padding
Zippers sometimes snag
#11 – Best Insulated Tote Cooler
Hydro Flask 35L Insulated Tote is our pick for the best insulated tote cooler
Specs
Cooler Type: Soft-sided tote bag
Weight: 1 pound, 4.8 ounces
Gear Capacity: 35 liters
This casual camping cooler certainly won't last for days like one of the hard shell Yeti ones, but if you're looking for something inexpensive to carry some picnic items, then the HydroFlask Tote is the perfect choice. 
With a capacity of 35 liters, it's big enough to transport a decent amount of camping provisions or just keep groceries cool while you're out running errands. The durable, waterproof material will hold up against some bumps and scratches and the zippers are water resistant to help prevent leaks. 
The tote is only designed to keep contents cold for about 4 hours, sometimes a bit longer depending on the external conditions and how much ice you have. Although it's not meant for days out in the woods, it's perfectly suitable for family car trips or bringing a picnic lunch to the beach. 
Pros
Lightweight and durable
Waterproof fabric, water resistant zippers
Affordable
Cons
Will only keep things cold for about 4 hours
How to Choose the Best Camping Cooler
Now that you've had a chance to look at some of the best camping coolers on the market, how do you go about picking the right one? Depending on what model and brand you go for, camping coolers can be a bit expensive, so it's worth doing some research before making a purchase.
In this section, we'll go over all the basics about what to look for in the best camping coolers, and what style of cooler is most appropriate for your own lifestyle and planned use. 
Material Used and Type of Insulation 
There are a lot of options when it comes to the type of material and insulation in a camping cooler. Typically the better the material and insulation are, the more expensive the cooler will be. 
High grade coolers, like Yeti, use polyethylene, a food grade material that is capable of holding dry ice. Other camping coolers, like Coleman, use polyurethane, which has similar insulation properties but isn't compatible with dry ice. 
Soft-shell coolers will usually have a nylon exterior, then layers of insulation on the inside. Depending on the style of soft-shell, some coolers are a bit more rigid than others. The Yeti soft-shell coolers for example are almost as durable as many hard shell coolers, while other products like REI cooler backpacks won't be able to withstand quite as much abrasion. 
When considering different types of camping coolers, think about how long you'll generally need to keep things cold. If you regularly go out in the woods for a week at a time, it's worth investing in a higher quality cooler. For picnics or transporting groceries, a cheaper soft-shell will probably work just fine. 
Weight 
You may have noticed when looking through our list of camping coolers, that hard-shell varieties are certainly not lightweight. Even before food or ice is added, these coolers can weigh 30 or more pounds. 
If you're planning on doing any sort of hiking with your cooler, a heavy hard-shell cooler is definitely not for you. Backpack style coolers are the best option if you plan on carrying the cooler for any considerable distance, although totes or shoulder bags could also work. 
Usually heavier coolers are designed for groups where you'll always have two people on hand to help haul it around. Long-term solo car travelers, who plan on leaving the cooler in their vehicle, could also benefit from a larger and heavier cooler.
Before going and purchasing a cooler, test out the weight with items around the house to get an idea of how heavy it will be. It's also a good idea to take measurements of your backseat or car, if you're planning on getting a larger cooler, to make sure it will fit. 
Price 
There's a wide range in price for camping coolers based on the factors we just discussed; like material, size, and durability. Although it may be tempting to get a cheaper cooler, remember that these usually don't last as long or work as efficiently. It might actually be more budget-wise in the long run to get a more expensive variety.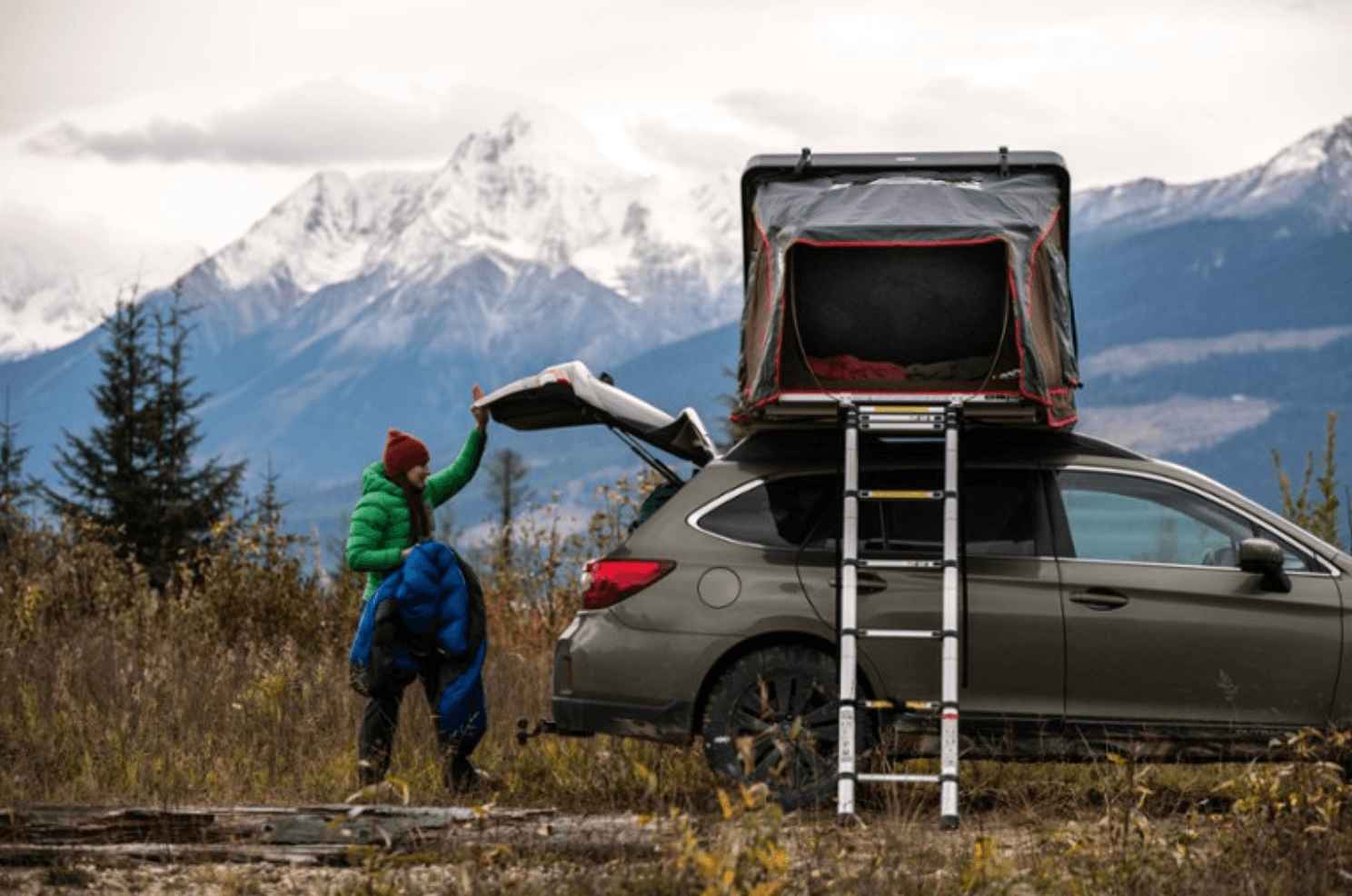 With a higher price comes higher quality. If you know that you'll be using your camping cooler on a very regular basis, or planning on using it for long trips when you'll need things kept cold for days, then a more expensive cooler is probably worth the price. 
However, there are plenty of more reasonably priced options that will still perform well, but not take such a big chunk out of your wallet. 
Best Use 
How you're planning to use your cooler will affect which variety will be best for you to purchase. For group camping trips, getting a larger cooler, or possibly one with wheels, is probably your best option. 
If you do most of your traveling in your car, your only restriction on size will be whether or not the cooler fits in the trunk or backseat. However, if you want to haul a cooler along to a campsite or transport it, you're much better off with a smaller backpack or shoulder tote cooler.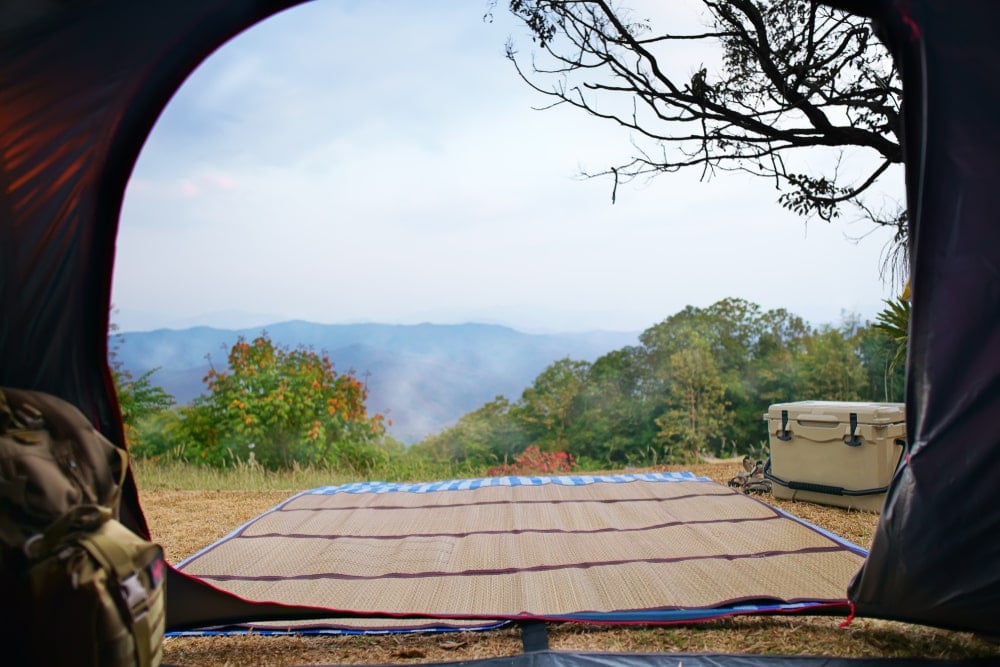 Some coolers are designed with more specific purposes in mind, such as transporting fresh-caught fish, or fitting on a certain type of kayak for day tours. If you're getting a cooler for a specialized purpose, make sure it's compatible with your other gear. 
Most of the best camping coolers work well in a variety of situations, whether you're bringing along some beer for a weekend camping trip with friends, or planning a family road trip and need a cooler to pack provisions for the ride. 
FAQ about the Best Coolers for Camping
Still have some questions? No problem! We've listed and answered the most commonly asked questions below. Here's what people usually want to know:

Unlock the The Broke Backpacker's GREATEST Travel Secrets!
You pop your email here, and we promise to send you only travel content that's actually relevant — sounds like a pretty good deal to us!
Final Thoughts on the Best Camping Coolers 
There's no doubt that camping coolers are a great way to make transporting food and beverages easier. The wide variety of cooler sizes, styles, and materials means that you'll have plenty of options to choose from when purchasing a camping cooler. 
From days on the lake fishing to summer road trips to a week-long music festival with mates, coolers can serve you well in a variety of travel and adventure settings. 
If in doubt, by far our favorite camping cooler option is the Yeti Tundra 45.
Hopefully you've found something on our list of the best camping coolers to fit your needs and specifications. Now, while you're on the road, you can count on having a cold drink or fresh meal on hand wherever you go. 
---
Thanks for reading – that was fun! 😀
We bring you epic FREE content!
Find out how YOU can help support us.
We're a big site with a big team and this job isn't always easy. But we do it because we love it – we love providing epic and free content. We love the knowledge that our content keeps you adventuring. We don't ask for money, but if you'd like to find out how you can help the site in more organic ways, click the button below.
Thank you for your support 🙂
---
Bye for now, but not forever!
If you want MORE top-tier Broke Backpacker content like this, then sign up for our weekly newsletter below to get the latest and greatest!
And for transparency's sake, please know that some of the links in our content are affiliate links. That means that if you book your accommodation, buy your gear, or sort your insurance through our link, we earn a small commission (at no extra cost to you). That said, we only link to the gear we trust and never recommend services we don't believe are up to scratch. Again, thank you!