Picturesque and magical landscapes awaiting Norway's fjords are known throughout the world for their dramatic scenery and epic views. And your best way to see them? While a cruise could be nice, you won't get much time to really explore; choose a road trip instead to find the coolest viewpoints and the best natural features!
At first glance, it'll be tough to pack it all in. After all, the landscape means there aren't many motorways and dual carriageways; twisty mountain passes and roads built into islands can add time onto your trip. We're here to help you!
Leave us to plan your road trip to Norway so you can focus on packing. We've found the best routes so you can see the most gorgeous fjords and islands, stop off at the best places to eat and stay comfy and warm at night. Get ready to be swept off your feet!

Do You Want to Travel FOREVER??
Pop your email in below to get a FREE copy of 'How to Travel the World on $10 a Day!'.
Why Roadtrip in Norway?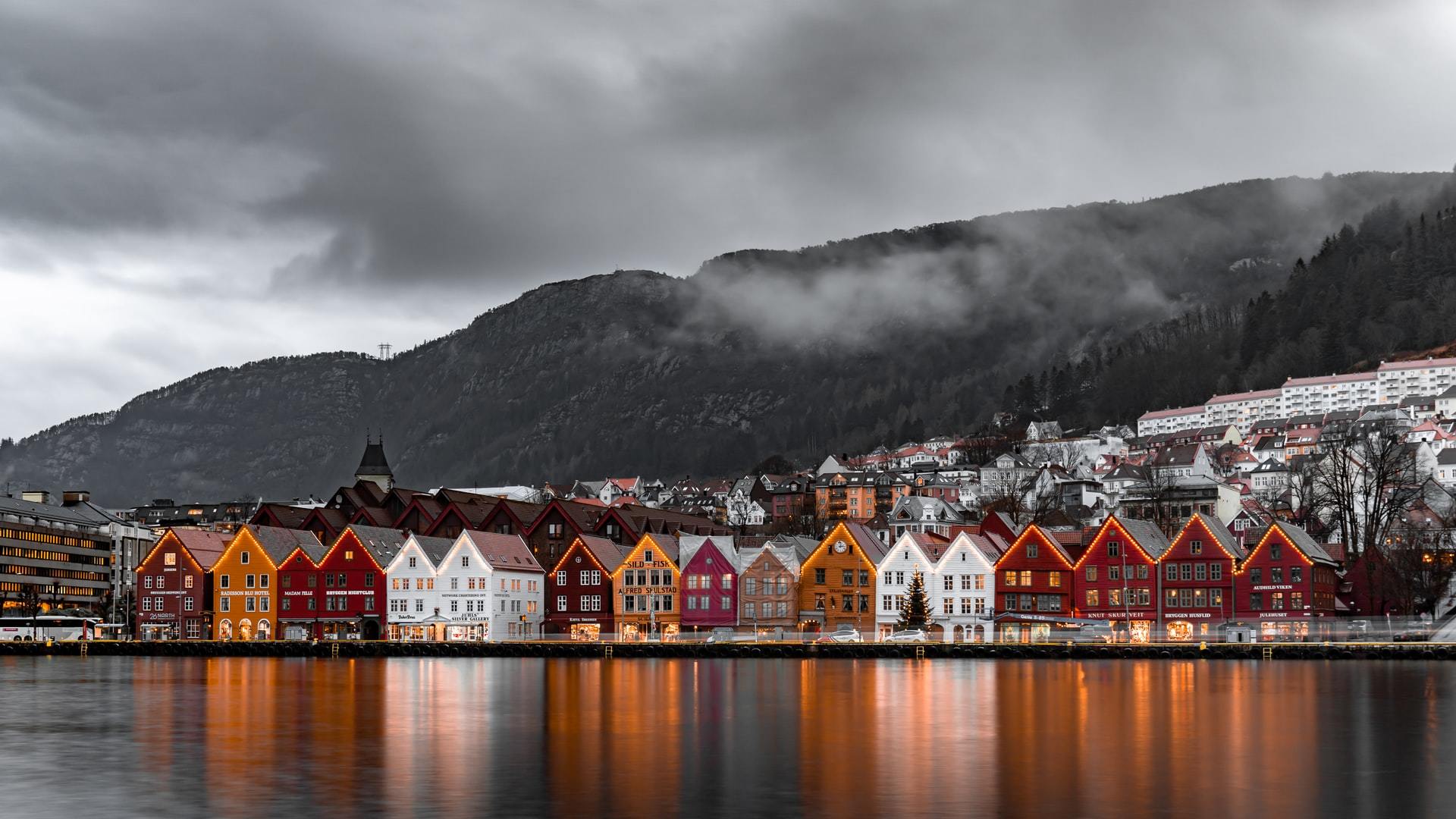 If you're not already seduced by Norway's spectacular natural beauty, we might have to twist your arm a bit to plan your road trip. Let's take a look at the top five reasons to drive in this Scandinavian gem.
Fjords and Glaciers: Norway's landscapes are almost completely unique in the Northern hemisphere. The coast is met by impossibly steep fjords, rubbing shoulders with some of the largest glaciers in Europe.
Epic Roads: Assuming you're not on a road trip just to see as much as you can and you really enjoy driving, you'll love Norway. The Atlantic and Eagle Roads are some of the most challenging in Europe. And they're pretty, too!
Cool Design: You might think the Scandinavian design is reserved for indoors, but the clean and crisp lines are blended with nature throughout Norway – you'll see what we mean at rest stops, services, and viewpoints.
Outdoor Activities: You'll only be in your car for a few hours a day. Once you get out, take advantage of incredible hiking and cycling in summer or skiing and dog-sledging in winter.
24-hour Sunlight: Summer travellers to Norway can drive safely at any time of day the further north they go. If only there was something to see during 24-hour darkness in the winter? Well, we suppose the Northern Lights will do! 😉
The only reason you won't be convinced to embark on a road trip in Norway now is that you can't drive… But before we get into these incredible trips, let's get the boring stuff out of the way.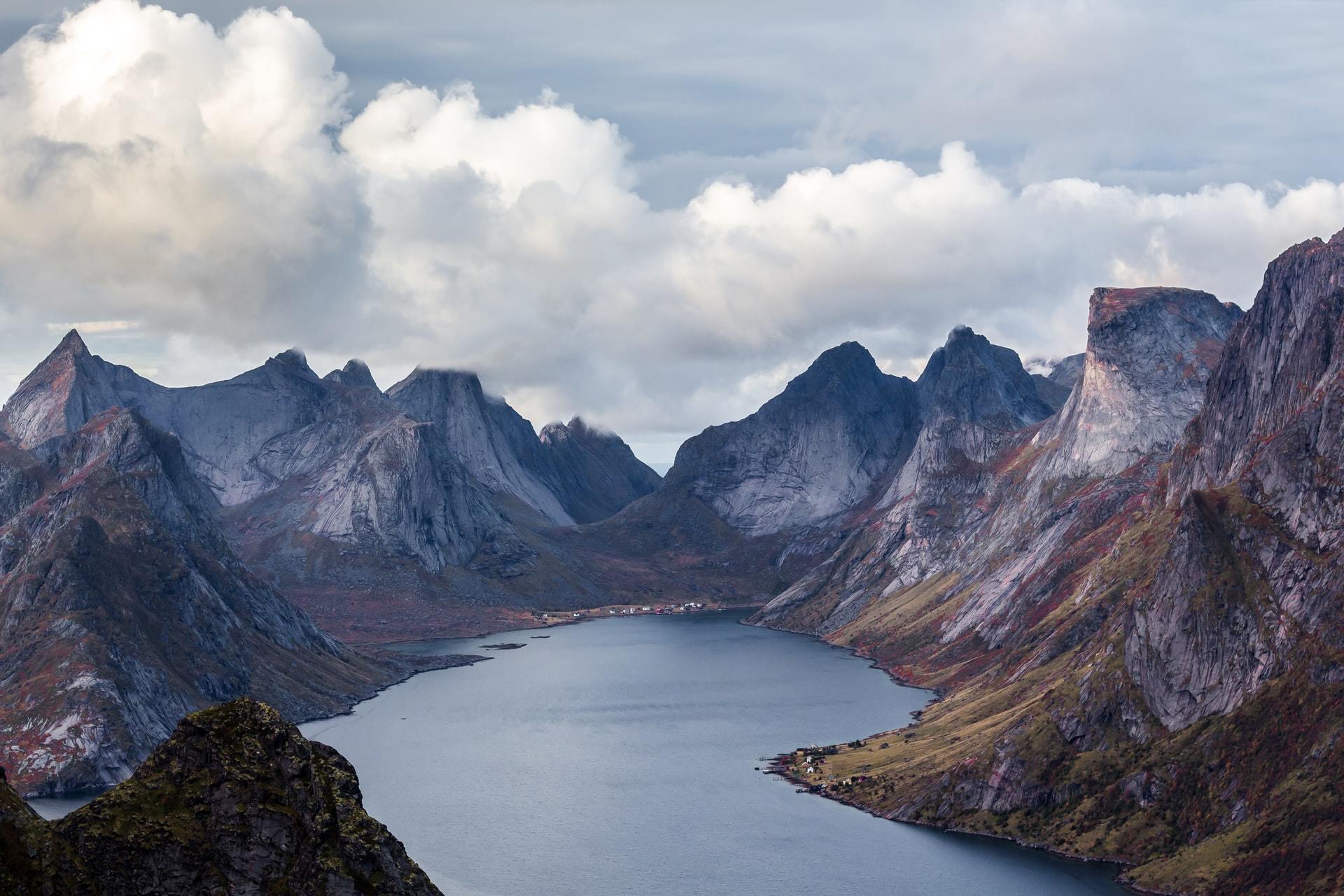 Now that we've got all the boring (but essential) stuff out of the way, let's jump right into the three best Norway road trips!
From: Steinkjer
To: Bodø
Total Distance: 922km
Days: 5
Top Road Trips Stops: Leka Island, Torghatten, The Seven Sisters Range, Saltstraumen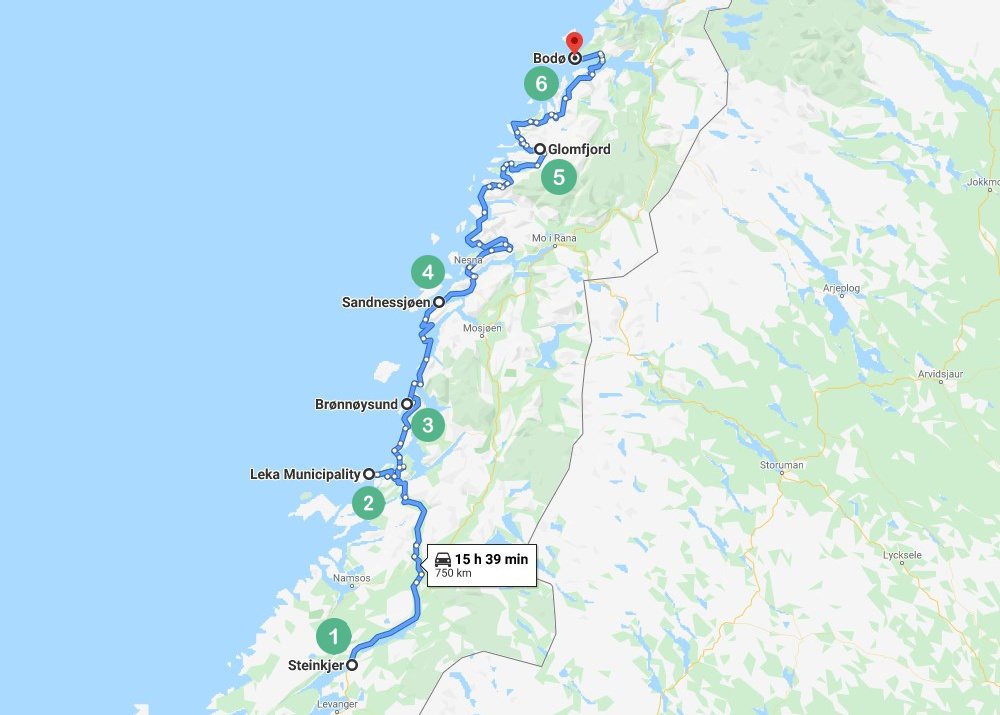 While this road trip can be done in 650km, there are a few detours you won't want to miss. Kystriksveien is the ultimate Norwegian coastal drive, and it's also one of 18 National Scenic Routes in the country.
It could be a good idea to bring your bike along with you. The best way to travel along Kystriksveien is slowly, so that you can stop off at any of the 14,000 remote islands on the coast, as well as see some of Norway's favourite backpacking spots.
Glacier walks and best Norway mountain hikes are all on the menu before stopping at a lovely village inn for the night. By the time you end your trip, you'll be in the Arctic Circle!
Road Trip Highlights:
Hiking on Leka Island
Torghatten Mountain
Syv Søstre (Seven Sisters) Mountain Range
Svaristen National Park
Saltstraumen Maelstrom
24-hour sun (summer)/Northern Lights (winter)
Day 1: Steinkjer to Leka (3 hours)
Before leaving Steinkjer, check out the Egge Museum – an open-air farm north of the town. Then, set your satnav for Leka Island. Assuming you leave early, you'll have the whole afternoon to enjoy Leka's hiking trails. There are more than fifty! Thanks to flat roads, it's a lovely place for cycling. You will need to get a ferry over to Leka Island, and it won't be the last ferry you take on this Norwegian road trip. Consider picking up a Nordland Pass that guarantees free travel on ferries and buses for NOK 995 (around $112USD/£85GBP).
Day 2: Leka to Brønnøysund (2.5 hours)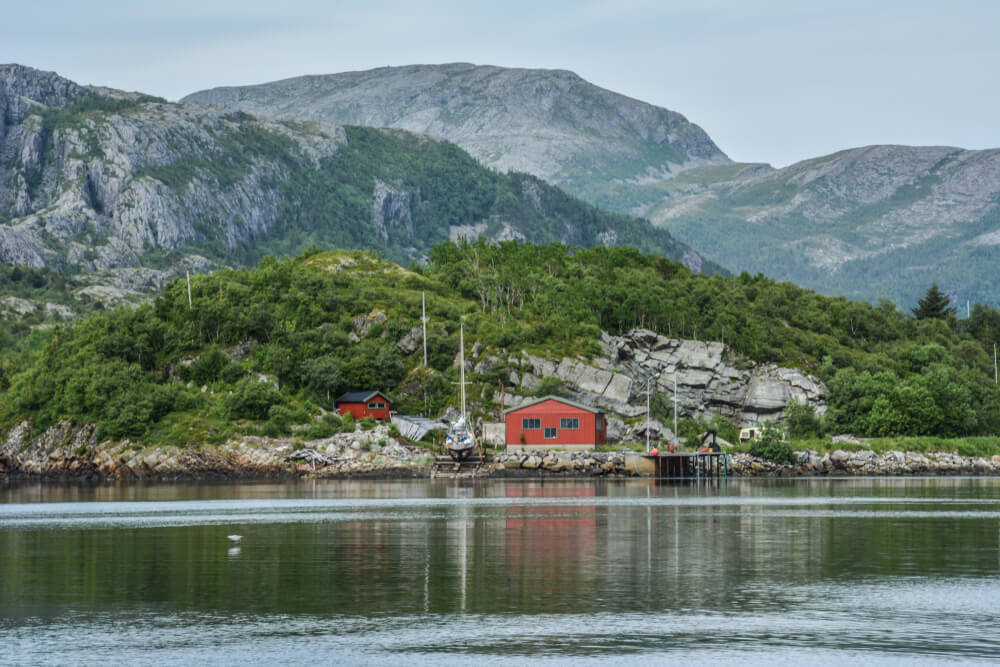 Leave Leka on the Gutvik Ferry. Admire the landscape of the Helgeland Coast (often regarded as the most beautiful coastline in Europe) as you head north to Holm.
It's another ferry across the Vennesund before your final target of the day – Brønnøysund. Here, you'll come across one of the most iconic landmarks in Norway – Torghatten Mountain. This is a mountain where people come for the middle, not the peak; that's because there's a hole in it!
Best Stops: Hike to the hole in Torghatten Mountain, Walk on Brønnøysund's pier
Where to Eat: Strandrestauranten, Svang, Norwegian Aquaculture Center Cafe
Day 3: Brønnøysund to Sandnessjøen (3 hours)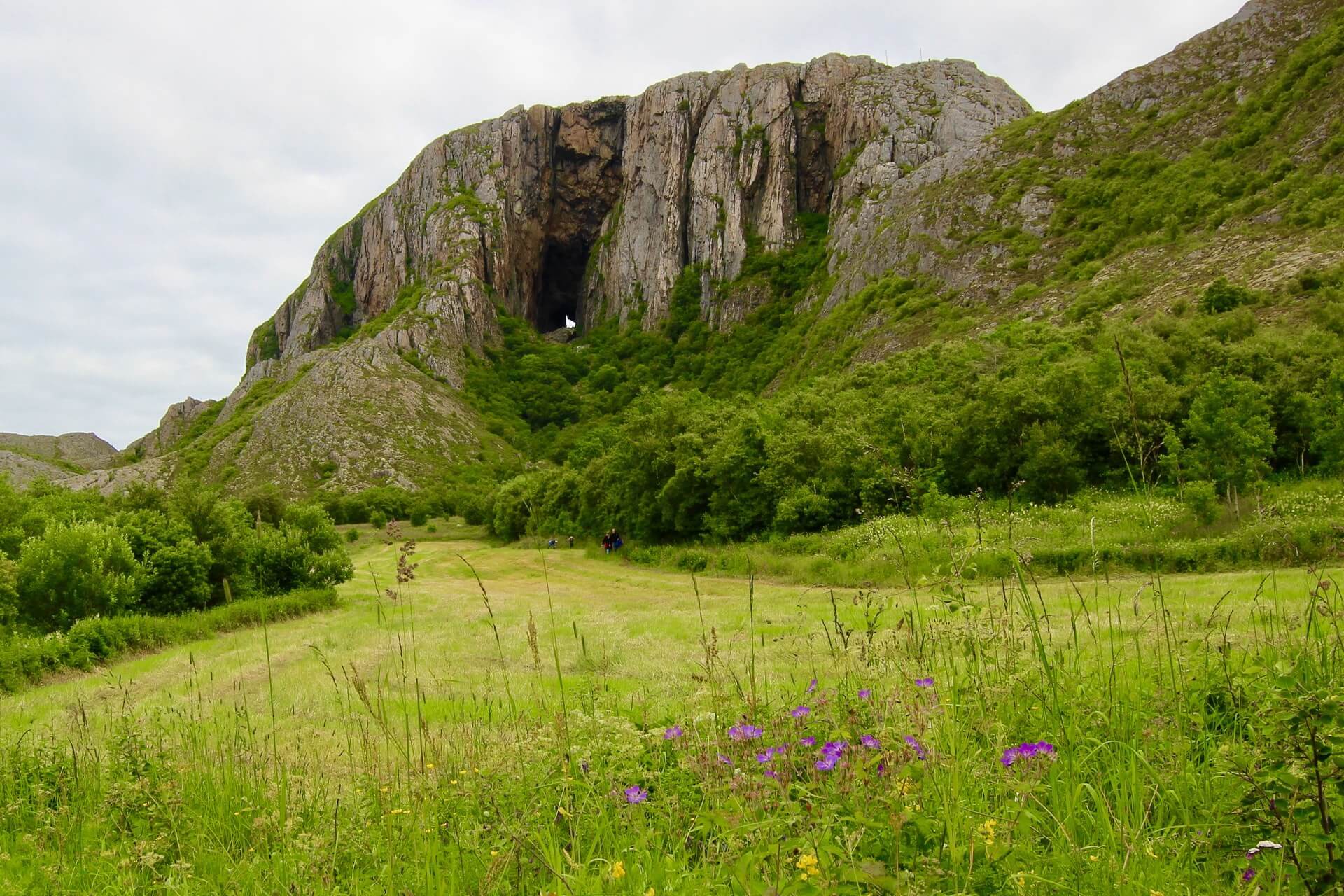 It's north again on day three of your trip. You'll be travelling mostly along the coast with a couple of ferry rides. Before the second ferry ride from Forvik to Tjøtta, be sure to stop off for a coffee.
The coffee roasting factory is right by the ferry – just lookout for a sign saying Kaffebrenneriet. The highlight of day three is just before you reach Sandnessjøen – the Seven Sisters Mountain Range.
The seven mountains are all between 900 and 1,100 metres tall. If you're really fit and active, you can get to the peaks of all in one loooong day. The views are spectacular!
Day 4: Sandnessjøen to Glomfjord (5 hours)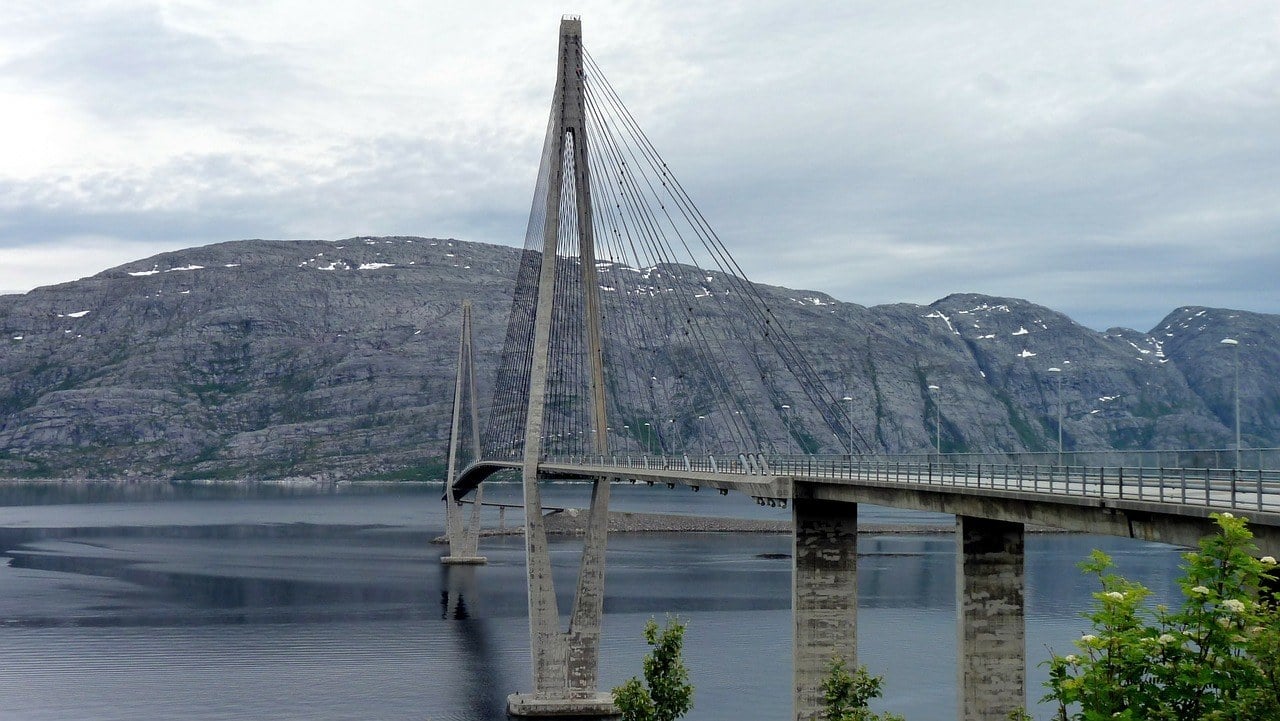 Today is the biggest driving day – five whole hours! But don't worry, it'll pass by quickly as you skirt along fjords on the smooth and well maintained FV17 road. And it won't be all in the car: you'll be taking three ferries!
You can skip one of the ferries, however, and take a journey along the coast to Mo i Rana – also known as the Arctic Circle Town. You're now officially in the Arctic! If you're travelling during the summer, that means 24-hour sunlight.
The standouts here are not places to stop at – rather, what you see from the ferries. The Svartisen National Park viewed from Ågskardet to Forøy will truly take your breath away.
Day 5: Glomfjord to Bodø (2 hours)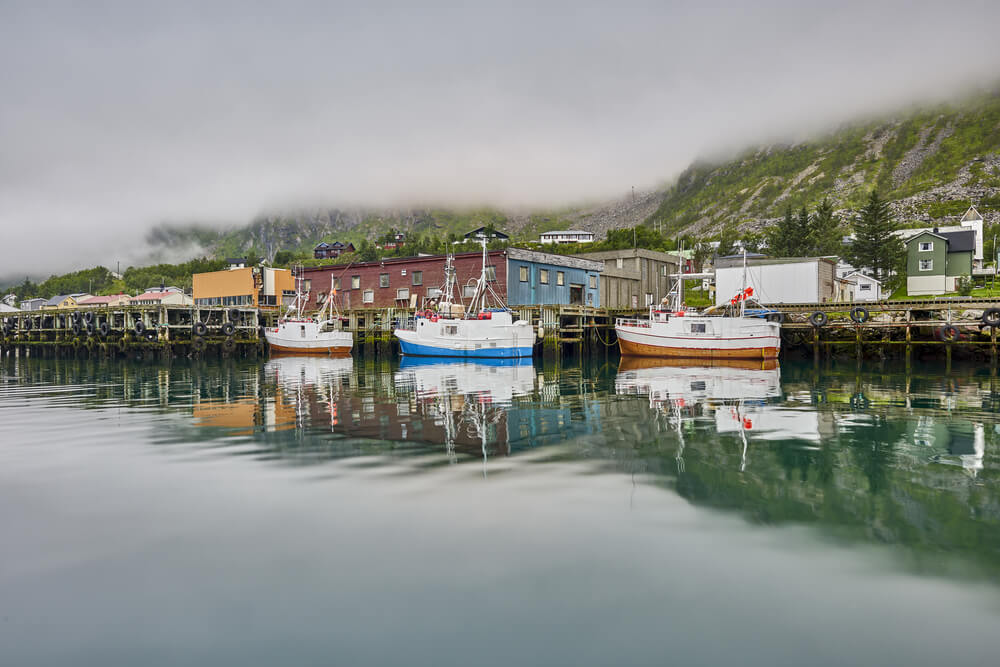 If you've arrived at Glomfjord late, you can afford to spend some more time at the Svartisen Glacier on the final day of your trip. With just two hours to drive, take it easy and enjoy.
Stop off at stunning Storvika, where there's a sandy bay and blue waters. You'd be brave to swim in them, though! The last thing to check out before reaching Bodø is the Saltstraumen Maelstrom – the strongest whirlpool in the world – from afar, obviously.
If you have more time after reaching Bodø, we'd definitely suggest carrying on to the Lofoten Islands – it'll be quicker if you take a ferry.
Is This the Best Daypack EVER???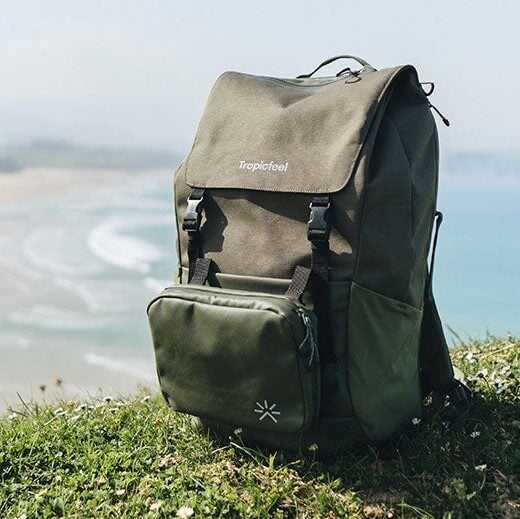 We've tested countlessday packs over the years, but the Tropicfeel Shell is something else. There are a lot of flashy backpacks on the market but not many come with a detachable wardrobe.
Weatherproof, eco-friendly, durable, feature-loaded, and comfy as fudge brownies: these are just some of the words people might use to describe the Tropicfeel Shell. But we just call it bloody beautiful.
Learn More • View on Tropicfeel
Small Pack Problems? 😉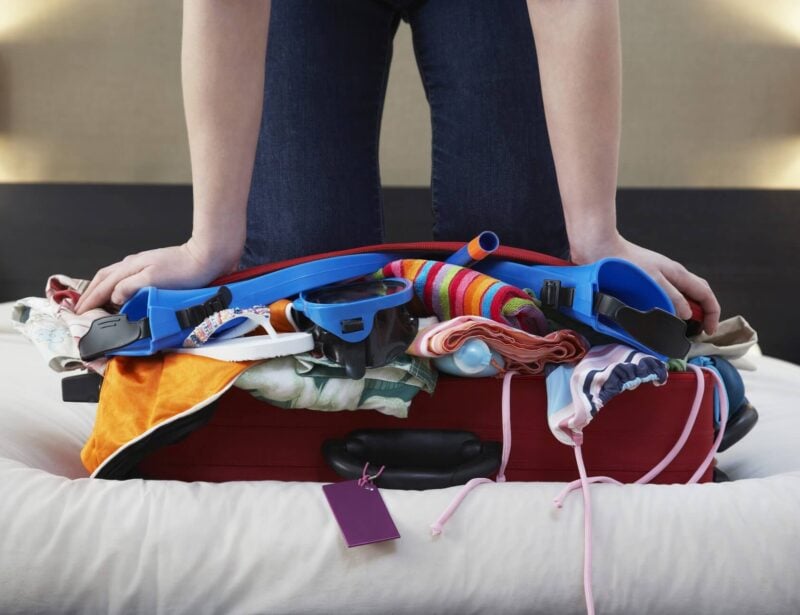 Wanna know how to pack like a pro? Well for a start you need the right gear….
These are packing cubes for the globetrotters and compression sacks for the real adventurers – these babies are a traveller's best kept secret. They organise yo' packing and minimise volume too so you can pack MORE.
Or, y'know… you can stick to just chucking it all in your backpack…
Get Yours Here
Read Our Review
From: Bergen
To: Kristiansund
Total Distance: 679km
Days: 7
Top Road Trips Stops: Bergen, Sogndal, Geirangerfjord, Åndalsnes, Alesund, Atlantic Ocean Road, Kristiansund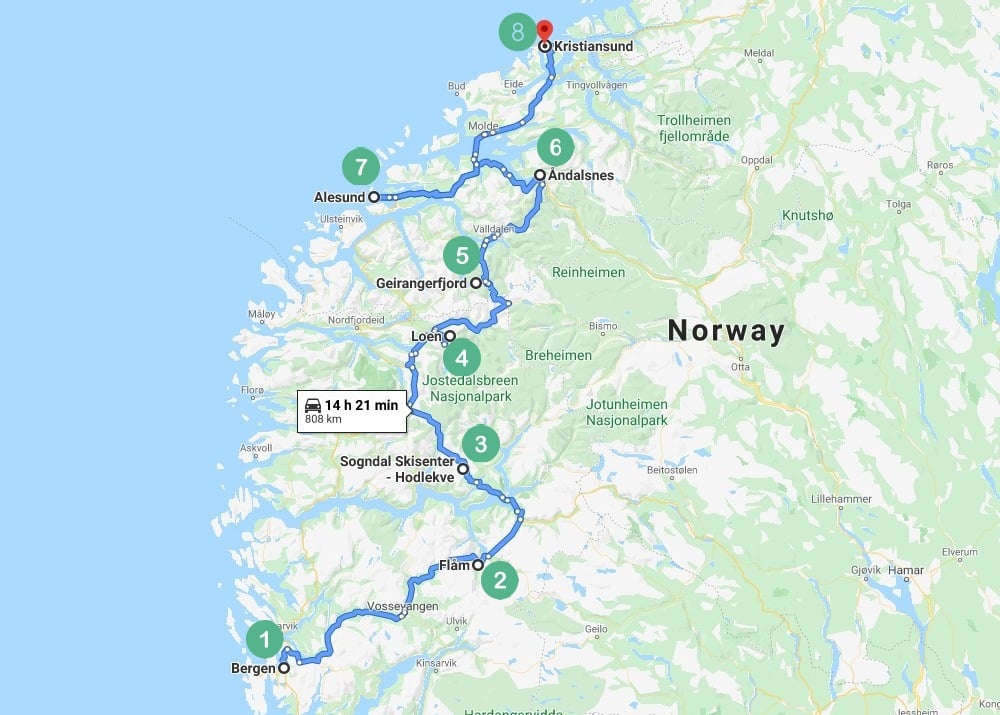 If you want to drive on the most epic roads in Norway while seeing jaw-droppingly beautiful natural sights, then this winding route through western Norway is the perfect place for your road trip.
Pass through the Jostedalsbreen National Park and ride on two of the best-known roads in the country – The Eagle Road to Eidsdal, the Troll Ladder (Trollstigen) and the Atlantic Ocean Road – one of the most impressive feats of engineering in the country.
Fjords and driving are the two cornerstones of a Norway road trip – and this offers both in abundance!
Road Trip Highlights:
Bergen Wharf
Flåm Railway
Sogndal FjordLoen Skylift
Geirangerfjord
Eagle's Road
Trollstiga
Atlantic Ocean Road
Day 1: Bergen to Flam (2.5 hours)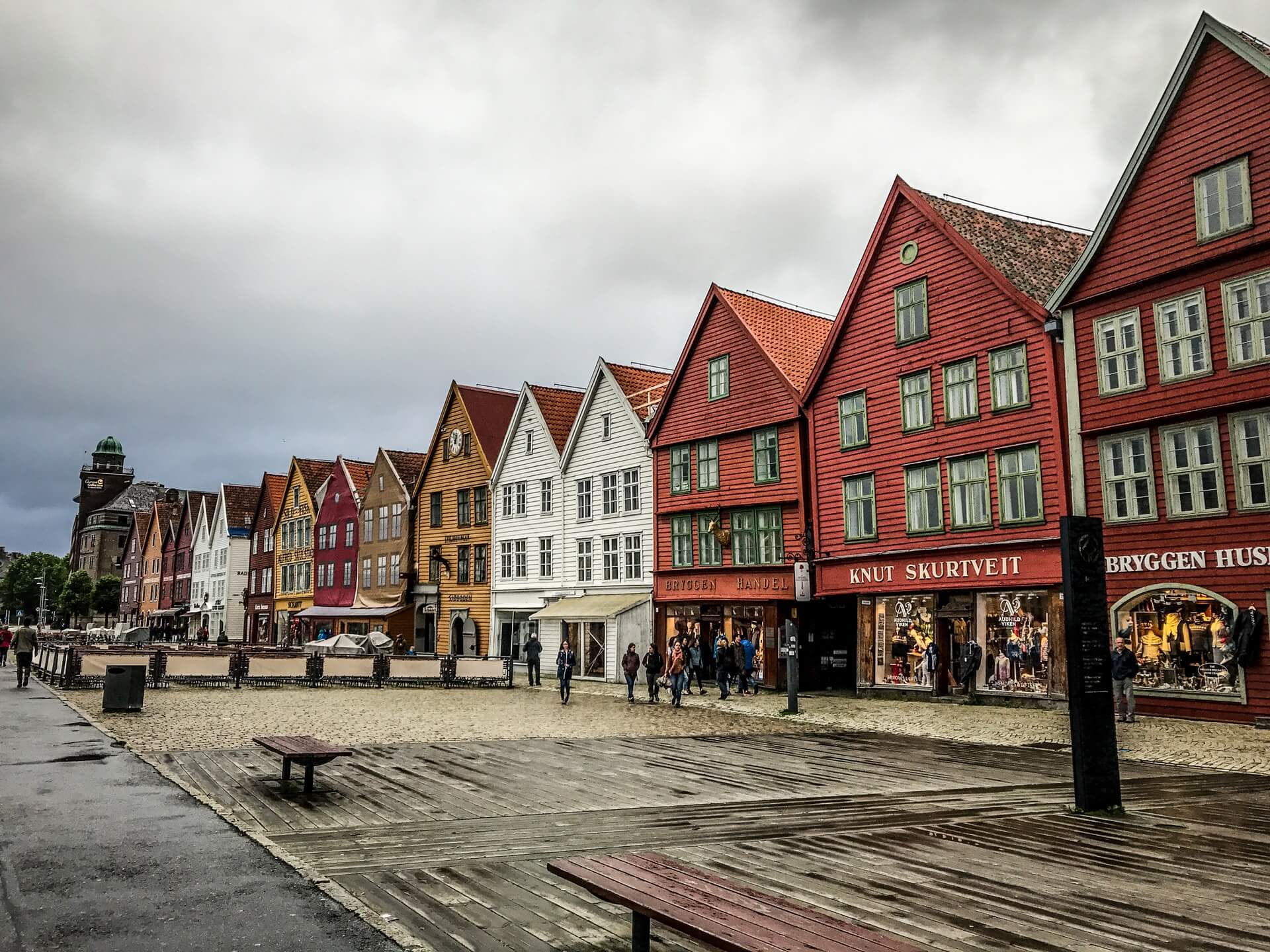 Begin your trip in one of Norway's prettiest cities. Before getting in your car, be sure to have a coffee and breakfast at the brightly coloured what of Bergen – a UNESCO World Heritage Site.
Don't spend too long here, though – it can get expensive. Then, head east to Voss and the Tvindefossen Waterfall. Make a stop at Flam and swap your car for the train to experience one of the most stunning railway rides in the world.
If you have more than a day to spend in Bergen, consider taking the funicular up Mount Fløyen or visiting the Grieg Museum.
Day 2: Flam to Sogndal (1.5 hours)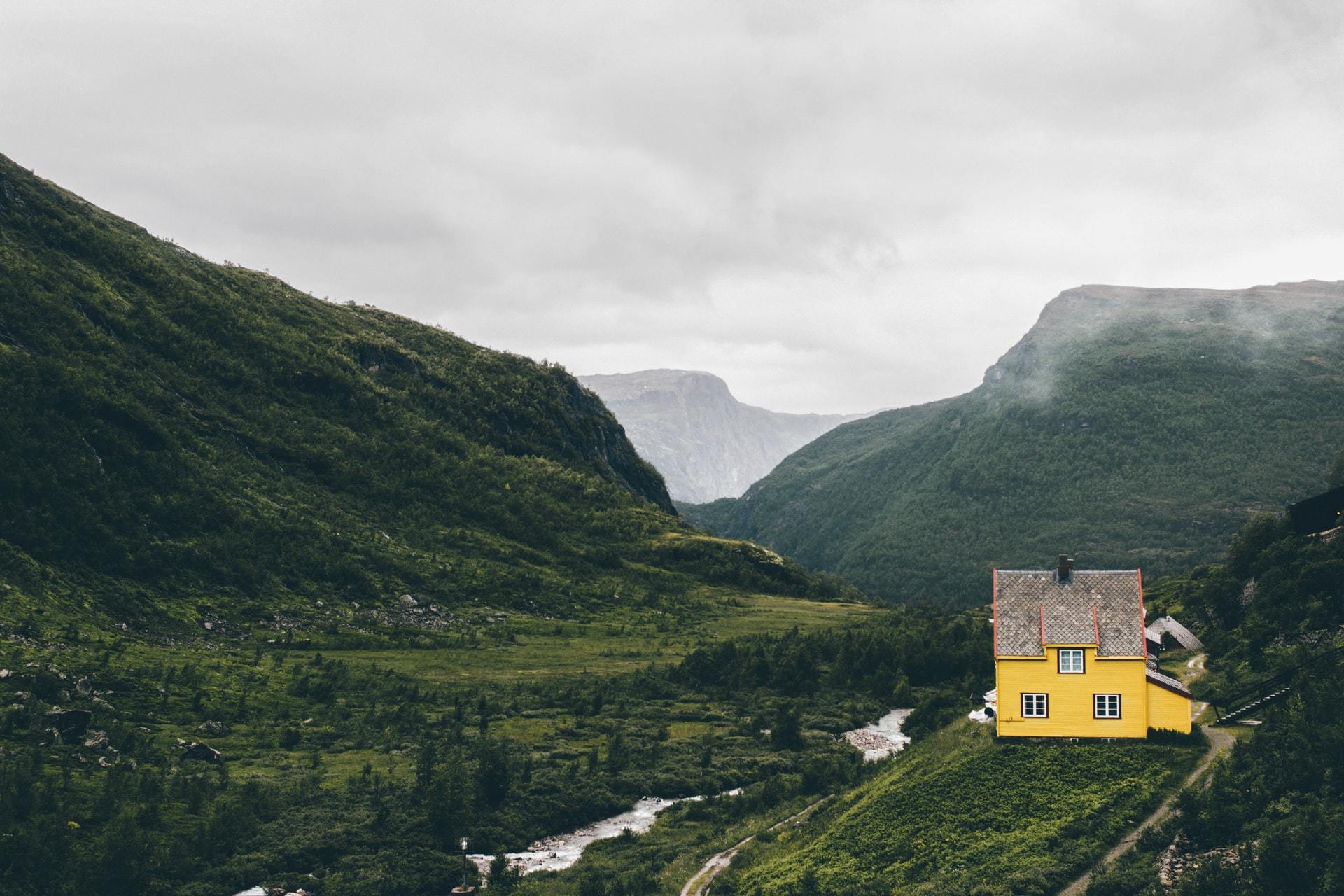 One of the shorter driving days, day two is all about enjoying your surroundings. If you've ever seen an advertisement for Norway, you've probably been looking at Sogndal – the longest and deepest fjord in the country.
If you don't mind making the drive a little longer, head past Sogndal to the Gaularfjellet Utsikten. The mountain has a lookout point which incorporates Norwegian design into the gorgeous landscape.
If you'd prefer to stay closer to sea level, there are lots of opportunities around Sogndal for swimming and/or kayaking.
Best Stops: Gaularfjellet Utsikten, kayaking in Sogndal Fjord, Boeyabreen Glacier, Urnes Stave Church.
Where to Eat: Dampskipskaien, Villmarka, BesteBakken
Day 3: Sogndal to Loen (2 hours)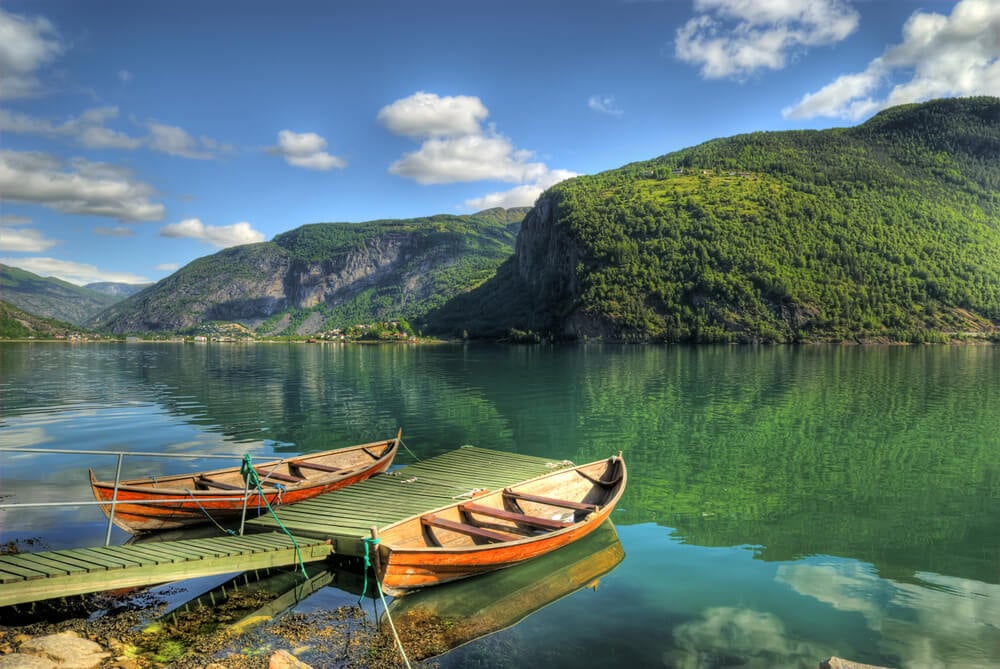 Another short drive today; you'll be driving along the edge of the Jostedalsbreen National Park to Loen. Stop off in Fjærland for the Norwegian Glacier Museum, where you can learn about the surrounding national park.
Another place to stop off in Fjærland is Bokbyen. Known as Norwegian Booktown, it's quite possibly the most beautiful bookstore in the world. Pick up something to read when you're a passenger, or for the evening.
On arriving in Loen, take a walk around the town. You can leave a bracing hike up Mount Skåla until tomorrow morning!
Best Stops: Norwegian Glacier Museum, Bokbyen (Norwegian Booktown), boat cruise from Loen, Mount Skåla hike, Loen Skylift
Where to Eat: Cafe Veitastrond (Fjærland), Restaurant Andrine, Stryn Kaffebar & Vertshus (Loen)
Where to Stay: Oldevatn Camping, Mindresunde Camping, Tiny House in Loen, Arnestova Cottage, Loen
Day 4: Loen to Geirangerfjord (1.75 hours)
Another short journey today – it's not a good idea to just skip Geirangerfjord. This part of Norway is a UNESCO World Heritage Site. The beautiful fjord is known for its snow-capped mountains, green forests, and some of the most amazing waterfalls in the world. One you can't miss is the Seven Sisters Waterfall (not to be confused with the mountains we wrote about in the first road trip).
Seven separate streams fall more than 250 metres into the fjord below. Other notable falls include the Suitor and Bridal Veil waterfalls.
Best Stops: Seven Sisters Waterfall, Norwegian Fjord Centre, Hike to Vesterås Farm
Where to Eat: Westeras Gard, Brasserie Posten, Restaurant Utsikten
Day 5: Geirangerfjord to Åndalsnes (2 hours)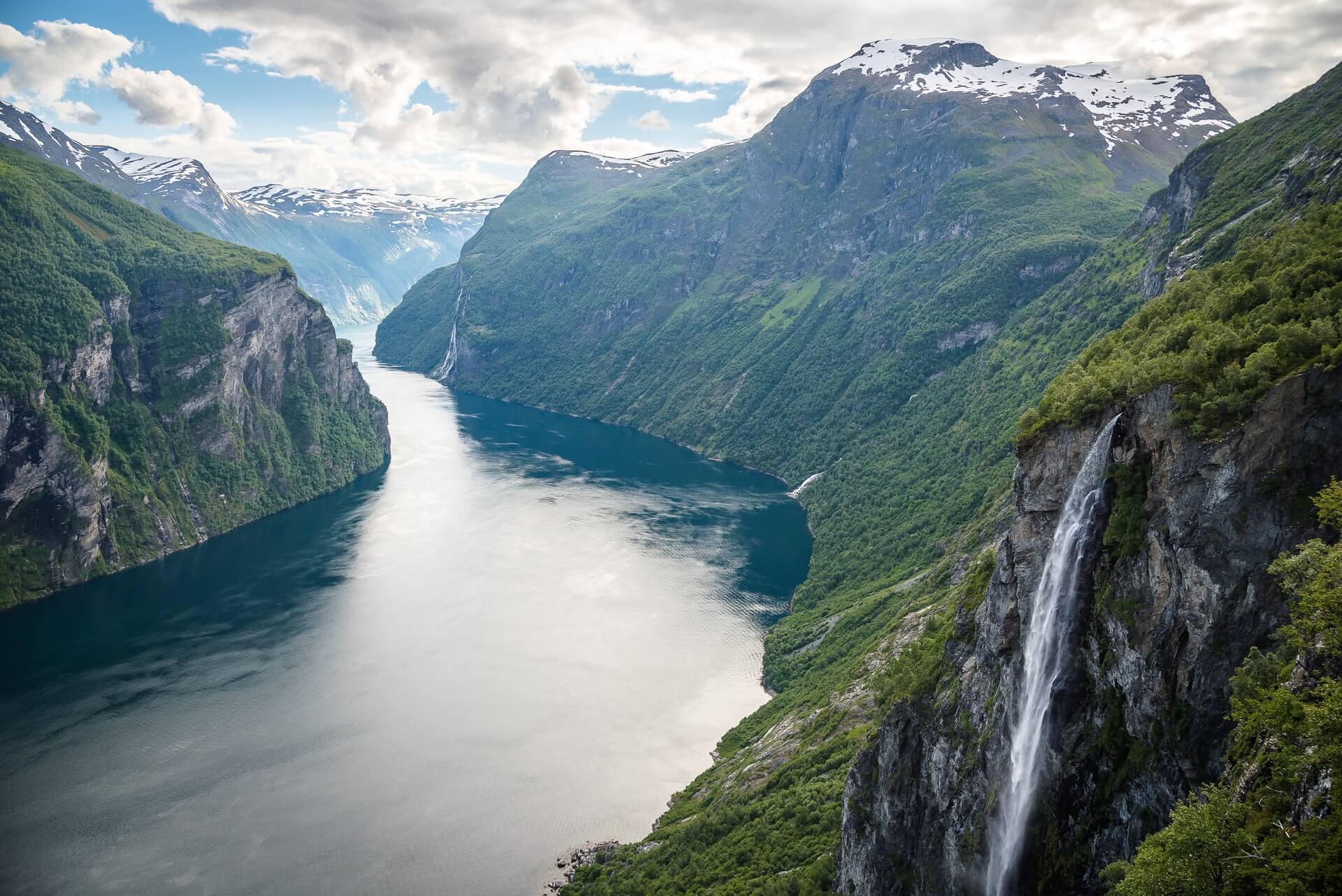 If you knew anything about road trips in Norway before you read this article, chances are you've already heard of (or seen) the ribbon that cuts its way from Geiranger to Åndalsnes. The Eagle's Road to Eidsdal and the Trollstiga (troll's ladder) are two of the most dramatic roads in the world.
Packed with hairpin bends, each opens onto a new completely spectacular view. While we've said the drive today is two hours, that's not factoring in stops. Be sure to stop off at Ørnesvingen viewing platform, and those at Flydalsjuvet and Gudbransjuvet Gorges.
There are some waterfalls to look out for too!
Best Stops: Ørnesvingen viewing platform, viewing platforms at Flydalsjuvet and Gudbransjuvet Gorges, Dei Sju Systre Waterfalls, Norwegian Mountaineering Centre (Åndalsnes), Bispevatnet Lake
Where to Eat: Sylteormenbakeri, Trollstigen Cafe, Sodahlhuset
Day 6: Åndalsnes to Alesund (2 hours)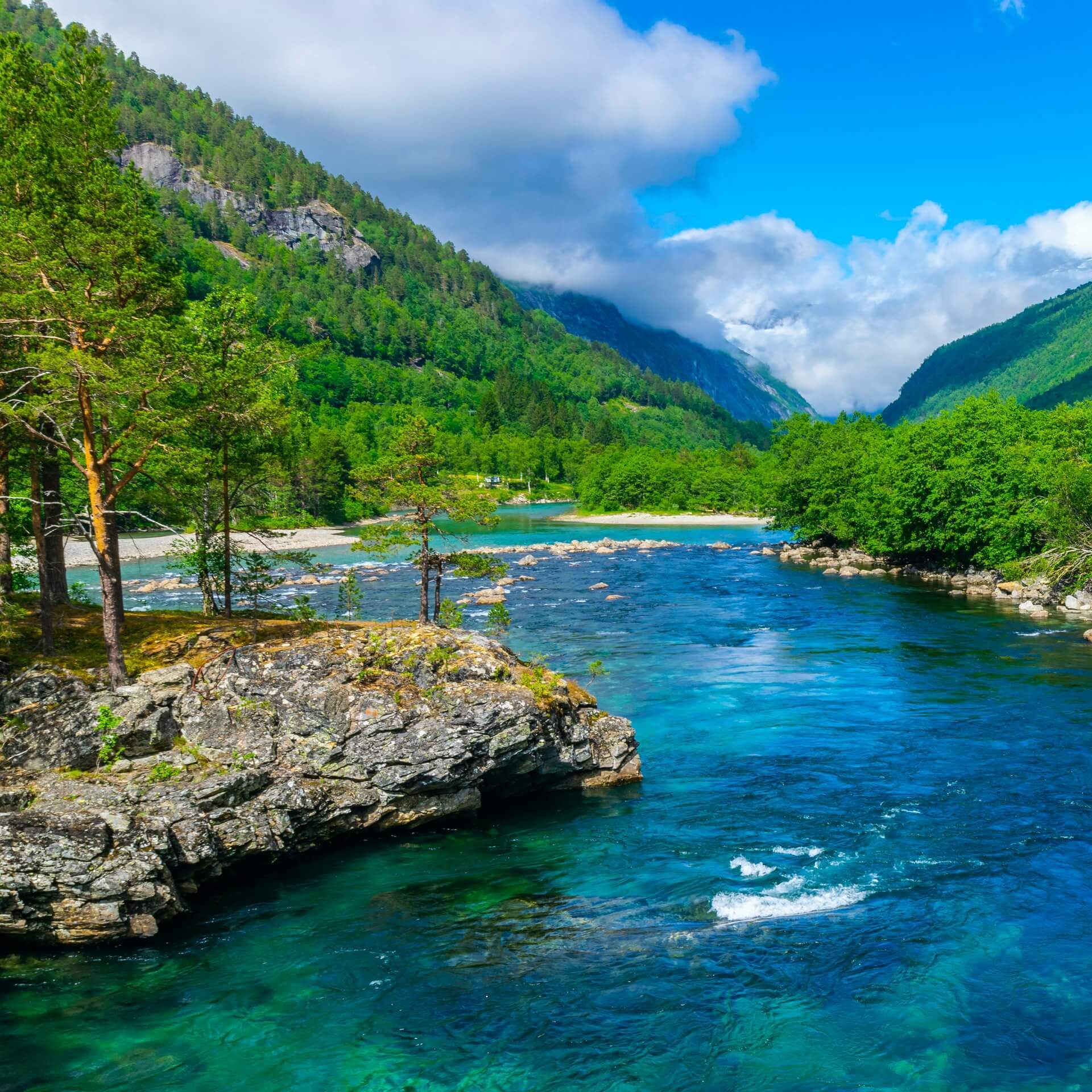 We've been keeping the driving to a minimum so you can make the most of your surroundings so far, and that's no different as you come to the end of your trip.
Don't be in too much of a hurry to leave Åndalsnes, because the hiking in Romsdalen is absolutely incredible. Spend the morning exploring the hiking trails or taking the Via Ferrata. Or perhaps, check out the Rampestreken viewpoint and look out over the town.
Before your legs give out, make your way to your car for a chilled out drive to Ålesund. The coastal city is famed for its Art Nouveau architecture.
Best Stops: Via Ferrata/Hiking in Romsdalen, Rampestreken Viewpoint, Aksla Mountain Ålesund, Alnes Lighthouse
Where to Eat: Lyst Cafe, Molo Brew AS, Evergreens, Draape Kaffehus
Day 7: Alesund to Kristiansund (3.5 hours)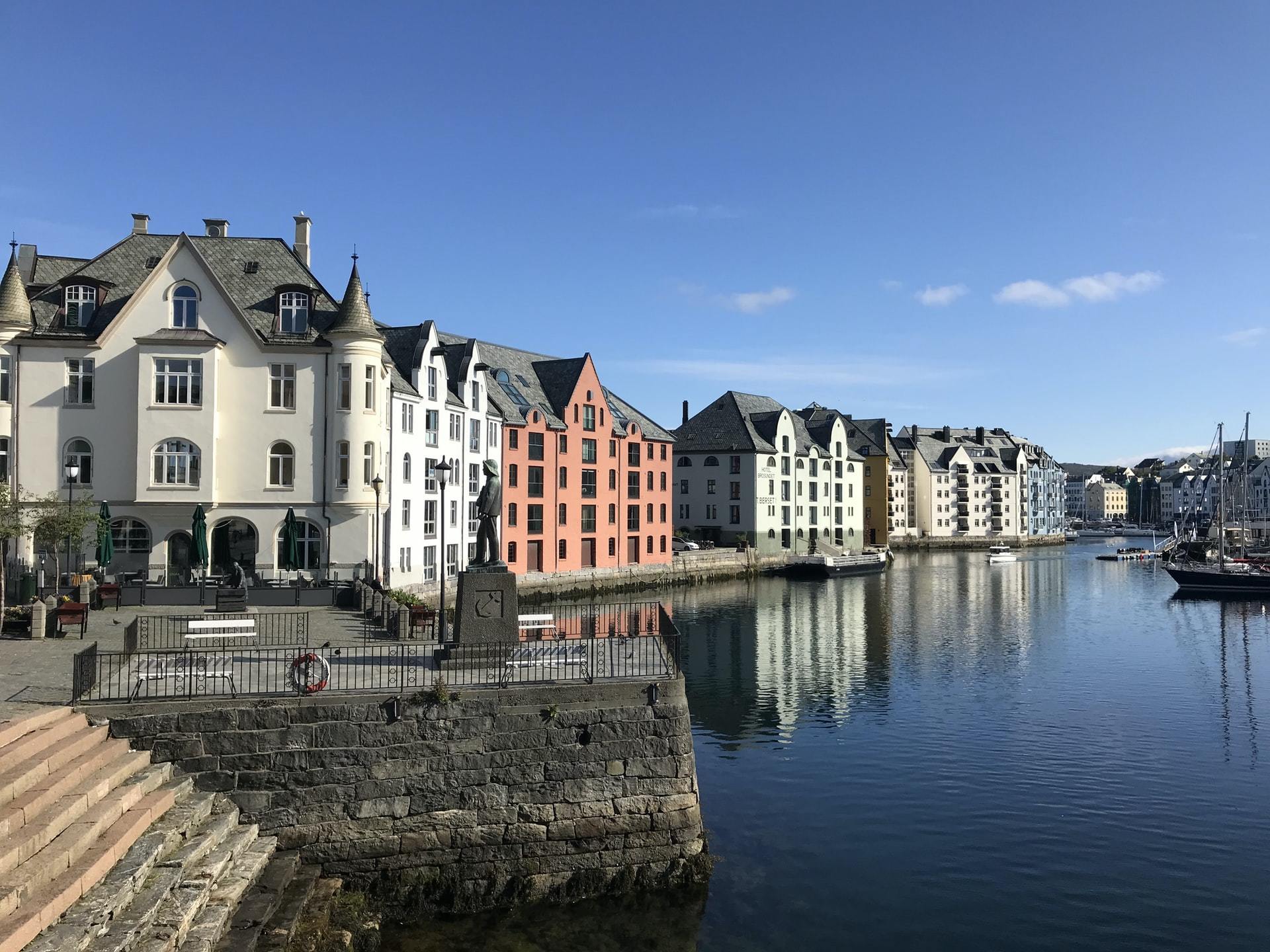 We've saved the best for last. One the final day of your road trip in Norway, you'll be travelling on one of the most incredible roads ever constructed. As you travel from Alesund, you'll notice more pretty fjords, but once you get to Vevang, things change.
The road that connects Vevang and Kårvåg is said to be Norway Engineering's feat of the century. Built in 1989, bridges connect a number of islets and islands for 8km. The bridges seem to hang in the air, and the roads really blend into the land.
The area looks truly spectacular from above, so it may be an idea to get out of the car and take photos with your drone, should you have one. If not, you can always admire the view from Askevågen Viewpoint.
The only downside? If there's a storm, the road can seem dangerous and intimidating. A truly spectacular end to your Norwegian road trip before you end in Kristiansund.
From: Bergen
To: Bergen
Total Distance: 428km
Days: 4
Top Road Trips Stops: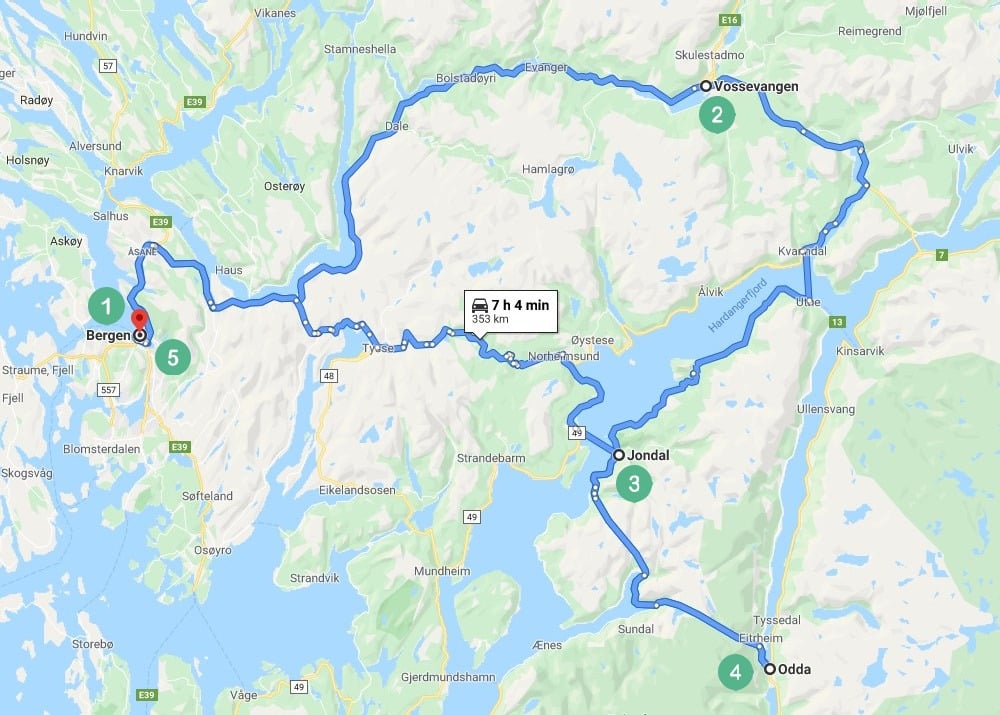 Our third and final road trip is a lot shorter, so it'll suit travellers who don't have as much time in Norway. It's no less beautiful though – and it'll be following the path of the Hardangerfjord Scenic Route. It encapsulates what Western Norway is all about – stunning fjords and scenery, but with the chance to hike, bike, and even enjoy a spot of white-water rafting.
You'll conquer one of the most famous sites in the country, too, the Trolltunga Mountain. For those looking for something a little more chilled out, check out some of the local traditions. These include boat building and growing fruit. This beautiful part of Norway certainly won't disappoint!
Road Trip Highlights:
Day 1: Bergen to Vossevangen (1.5 hours)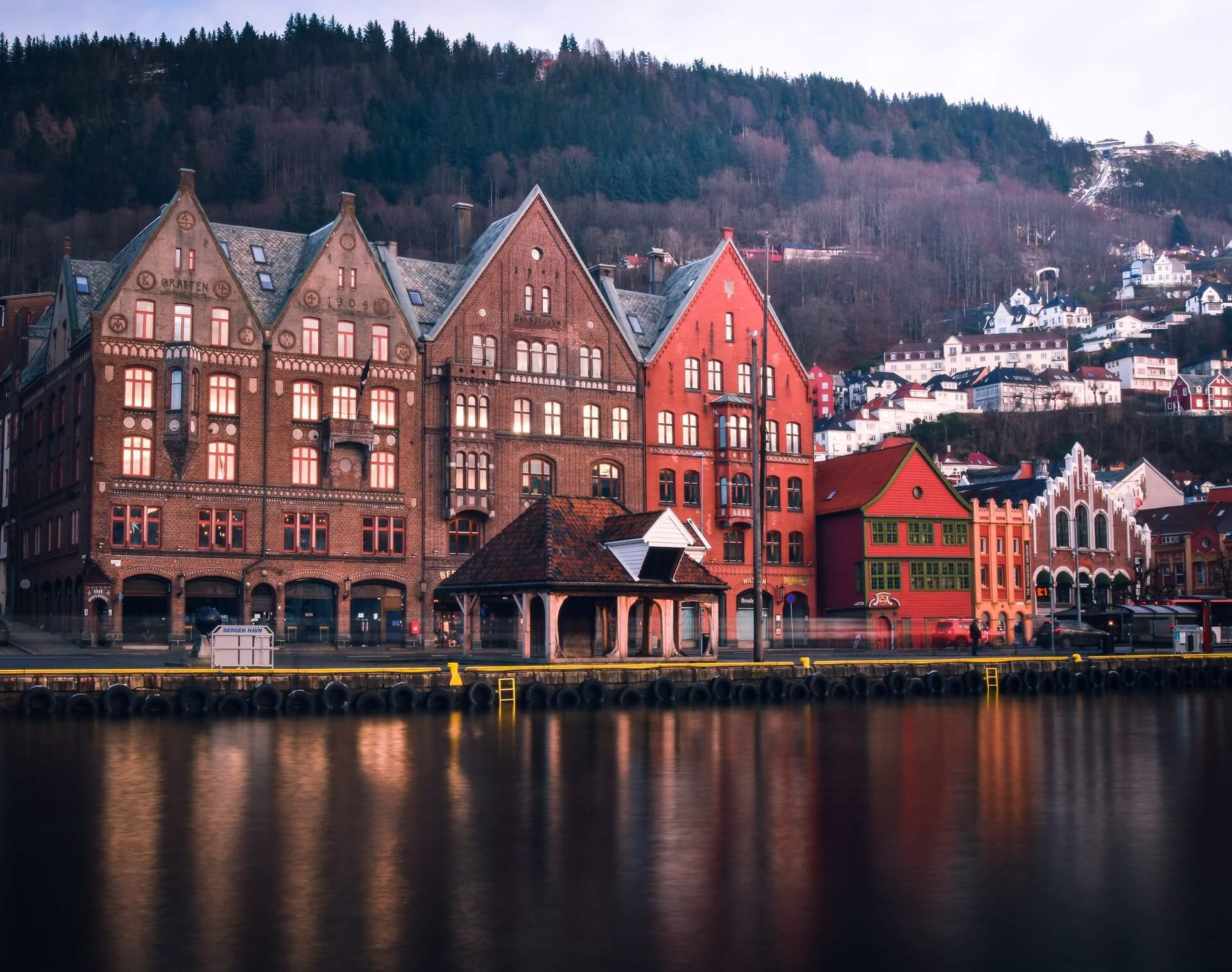 Day one won't see you reaching the Hardangerfjord just yet. Instead, start off in pretty Bergen; it is one of the biggest cities in Norway and an easy place to pick up a car.
Spend the morning exploring town, perhaps dropping into the shops and coffee houses on the colourful wharf. Hikers will be pleased to know that there are seven hills surrounding the city you can hike on! Once you're ready to head off, point your vehicle towards Vossevangen.
No matter what time of year it is, there's something to get involved with. In summer, you'll be able to enjoy everything from birdwatching to white water rafting, while winter visitors can make the most of skiing and snowboarding.
Day 2: Vossevangen to Jondal (2 hours)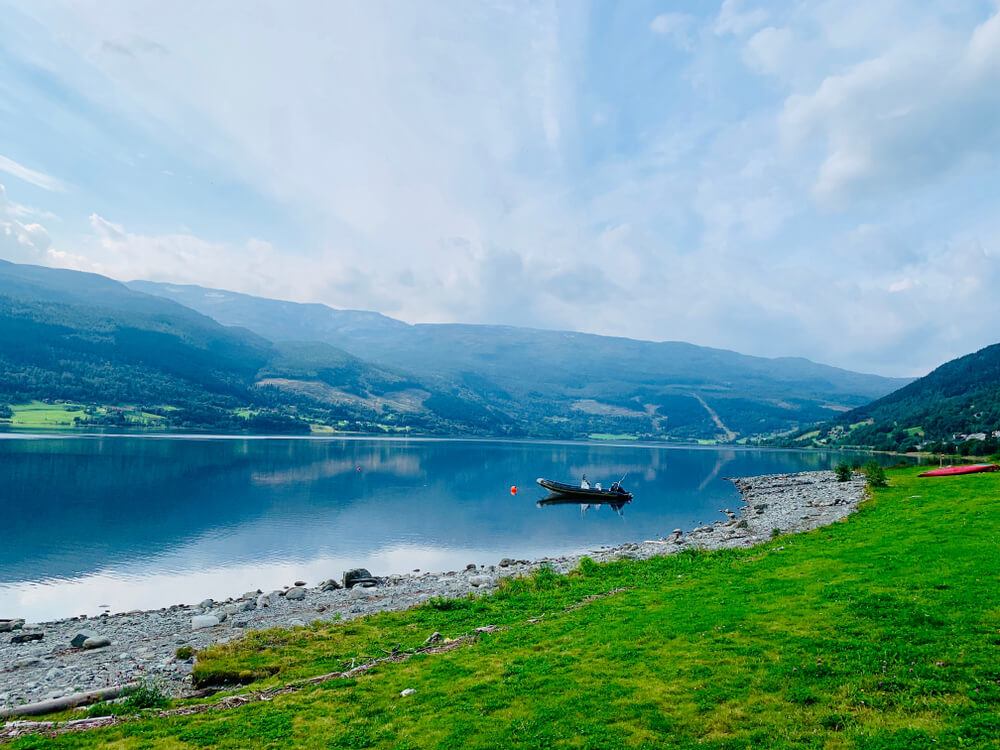 Continue on from Vossevangen to Granvin at the northeast side of Hardangerfjord. However, before you reach Granvin, you'll come across Skjervsfossen.
These twin waterfalls gush from a height of 150 metres, and there is a network of paths, stairs, and viewpoints from which you can enjoy the waterfalls. Carry on towards another waterfall, Steinsdalsfossen – but not before you stop off at Steinstøberget rest.
There are places to fish and BBQ, and you can enjoy views of both Hardangerfjord and the Folgefonna Glacier. Be sure to stop off at Steindalsfossen, which you can walk underneath without getting wet. Stop here for the evening or continue to Jondal by ferry.
Best Stops: Sjkervsfossen and Steindalsfossen waterfalls, Steinstøberget Rest Stop
Where to Eat: Den Grøne Cafe, Jaunsen Gjestgjevarstad Restaurant, Meieriet Restaurant
Day 3: Jondal to Odda (1.5 hours)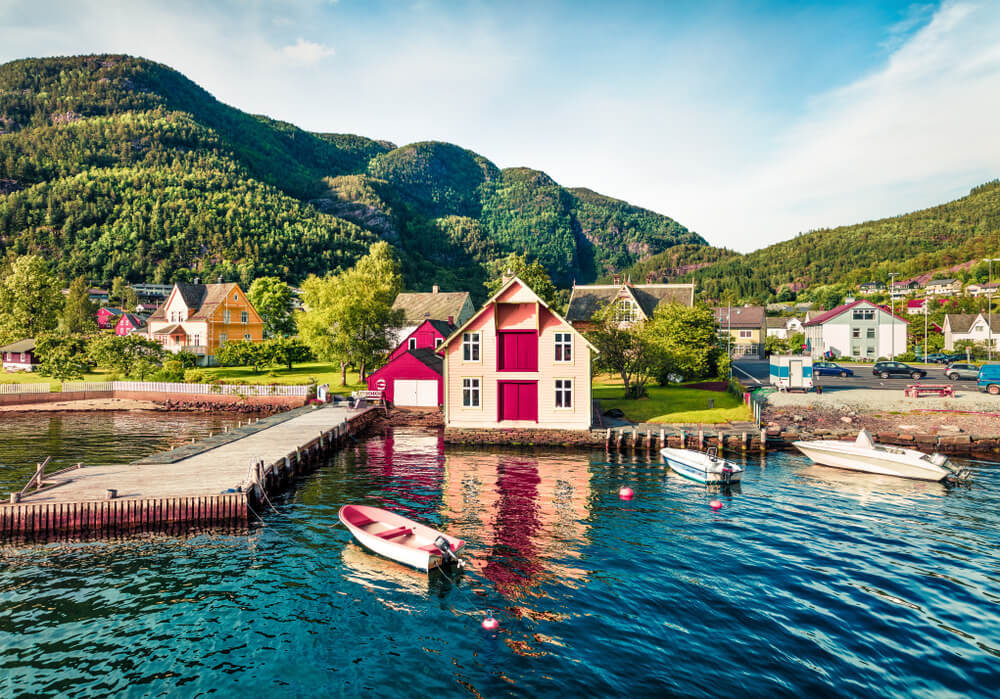 You can get from Jondal to Odda in around half an hour if you take the mountain road. However, why not drive along the side of the Hardangerfjord past Utne.
The views are much more spectacular, though the road can get busy at times. If you can, try and get a late checkout at your accommodation from the night before – you're going to need the energy for the evening's activity – beginning your climb up one of the most famous sights in Norway, Trolltunga!
This is one of the most photographed sites in Norway; while the lip which juts out above Lake Ringedalsvatnet is not the peak of the mountain, it takes a brave person to sit on the end!
Day 4: Odda to Bergen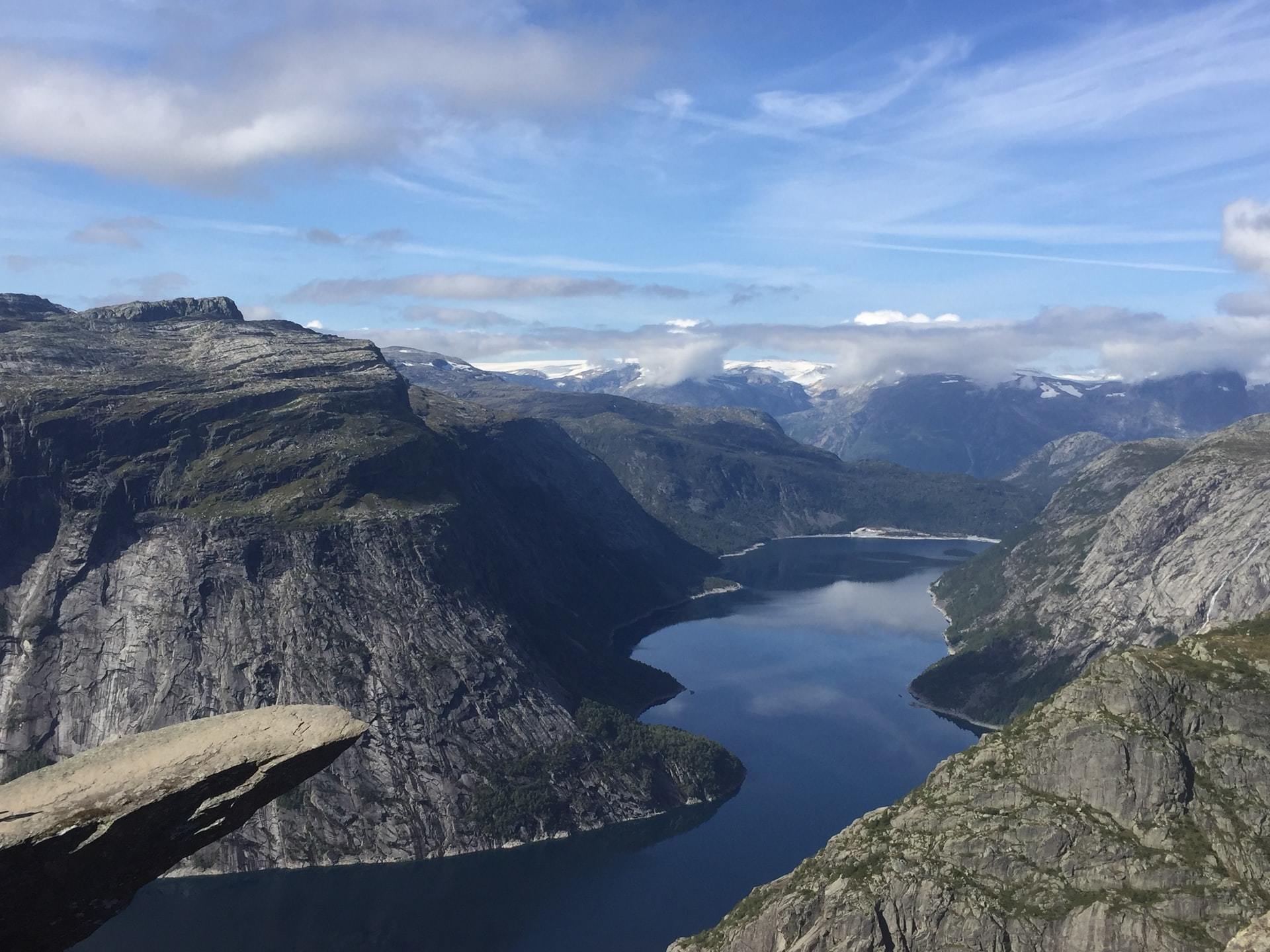 Your final day will start off early, but the nighttime hike to watch the sunrise from Trolltunga is something not to be missed! You can then choose between heading back down to Hardangerfjord if you have time, or just doing the journey all the way back to Bergen.
Of course, if you've stayed in Odda the night before, hike up during the day instead. It's still utterly spectacular. Trolltunga is one of Norway's most strenuous hikes, so don't drive back if you're feeling exhausted!
Driving in Norway
Though Norway is full of mountain roads that would turn a rally driver's stomach at first glance, you may be surprised that it's the safest place in the world to drive. With only two road traffic deaths per 100,000 inhabitants, accidents are almost non-existent!
Norwegian drivers are generally quite chill, and most of the roads aren't that busy anyway. It can be quite expensive though; the reason these roads look so good is that motorists pay tolls to maintain them. The biggest challenge of driving in Norway is the distances. It can take 30 hours to get from north to south!
Renting a Vehicle in Norway
You should be able to pick one up from most cities, towns, and airports. However, if you're travelling at a busy time, you should book in advance to avoid disappointment. You should also have had your license for at least one year.
Here are some other things to take into consideration:
Age Surcharge: Though you can drive a car at 18 in Norway, the minimum age for rental is 19. There is an extra charge if you're under 25, starting from around 120NOK per day ($13USD)
Bond/Deposit: The deposit on hold is the amount of the excess to rent a car in Norway. That's normally around 10,000 – 12,000NOK ($1,125USD – $1,350USD).
Additional Driver Charge: Don't want to be the designated driver? Consider adding another driver to your policy. It can cost as little as 40NOK ($5USD). Drivers under 25 will pay more.
Be sure to remember insurance, too. You must have at least third party insurance to drive in Norway, but it's better to have fully comprehensive. Because it's mandatory, rental companies often charge over the odds. Check out RentalCover.com, who can give you the best deal on car rental car insurance in Norway.

Don't have a car? Well, we're going to have to sort that out! Use rentalcars.com to find the best deals on the web and save heaps of cash!
Road Rules in Norway
You can drive in Norway if you have a driving license issued in an EU/EEA country for as long as it is valid. Licenses from outside the continent can be used for three months.
The first thing to remember is to switch on your lights. No matter what time of day it is, drivers must have them on. Right-hand drive cars must have black triangles fitted so as not to dazzle oncoming motorists. Cars must also be equipped with at least one high-visibility vest and a warning triangle in case of an accident.
Drinking and driving is a big no here. With severe penalties for driving under the influence of alcohol, it's best not to take any risks. The legal limit is 0.02% blood alcohol. You should also refrain from using your mobile phone; the penalties for doing that while driving are pretty serious too!
Last of all, one of the unofficial Norwegian road rules. There are lots of long downhill stretches when you're driving here. When appropriate, drive in a low gear rather than constantly using the brakes. You'll have less risk of them overheating that way. Be sure to keep an eye on your temperature gauge whenever you're driving – the engine can overheat going uphill!
Insurance in Norway
All drivers in Norway must be equipped with third party insurance. However, this only covers damage caused by fire and/or theft.
If you feel happy taking this, go for it. However, the more cautious driver out there may want to take out fully comprehensive insurance.
That way, you'll be protected in any accidents or collisions (though hopefully, you won't need it). RentalCover.com offers a range of insurance options, including super collision damage waivers and roadside assistance cover. It's best to be prepared so you can save your NOK for a tasty pickled herring!
ALWAYS sort out your backpacker insurance before your trip. There's plenty to choose from in that department, but a good place to start is Safety Wing.
They offer month-to-month payments, no lock-in contracts, and require absolutely no itineraries: that's the exact kind of insurance long-term travellers and digital nomads need.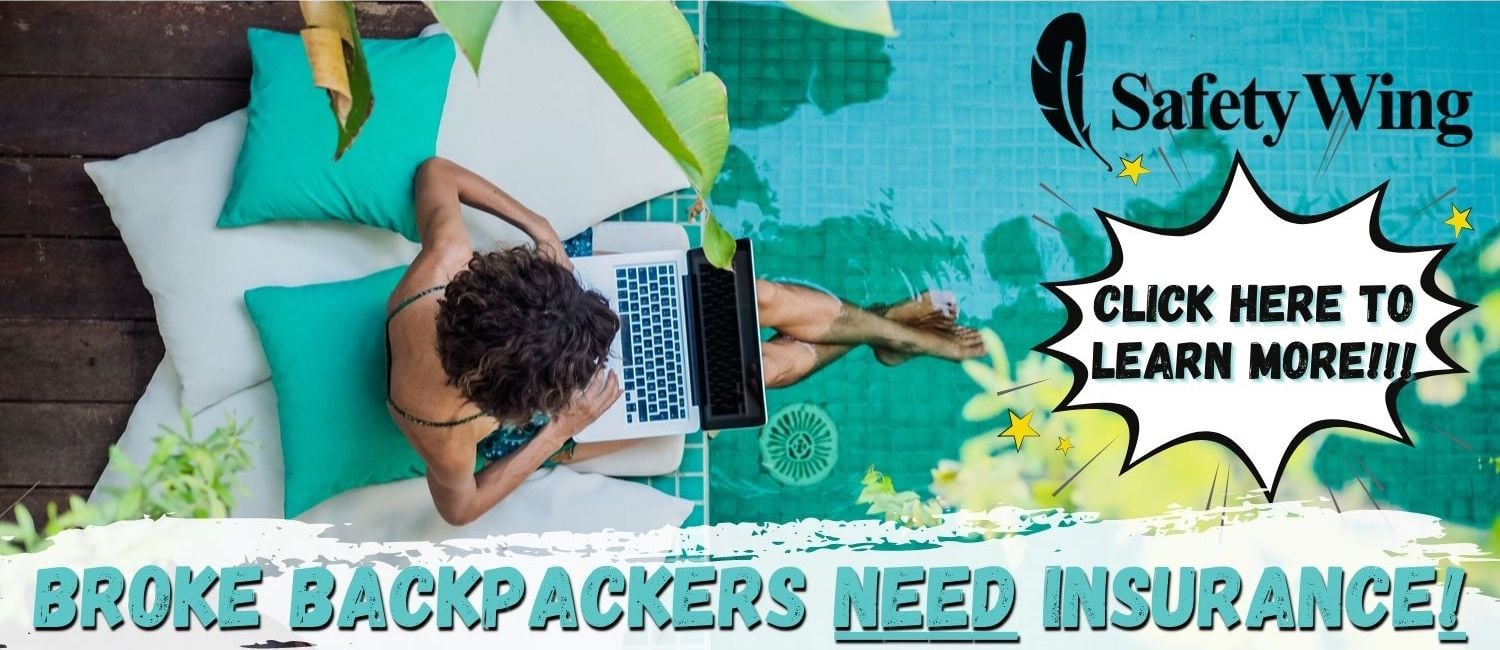 SafetyWing is cheap, easy, and admin-free: just sign up lickety-split so you can get back to it!
Click the button below to learn more about SafetyWing's setup or read our insider review for the full tasty scoop.
What To Pack for a Road Trip in Norway
If you're not careful, Norway wilderness will smack ya to next Monday. There are six road trip essentials I never go traveling without: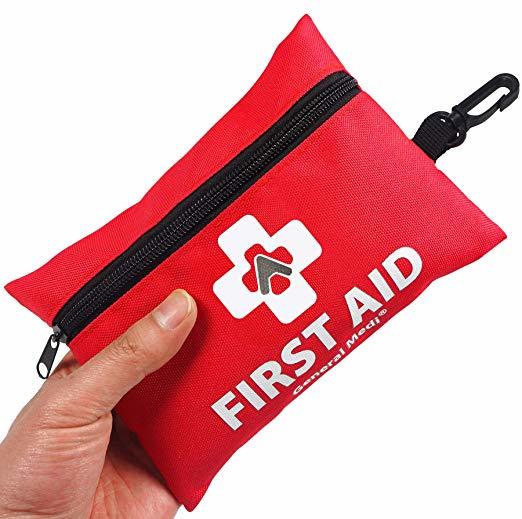 1. First Aid Kit: Even if you don't plan on doing anything extreme on your trip, like hiking, climbing, or other extreme sports, you never know what could happen. You could cut yourself while cooking, smash a finger in a car door, or burn yourself on a hot radiator. A first aid kit will be able to handle most of these minor situations.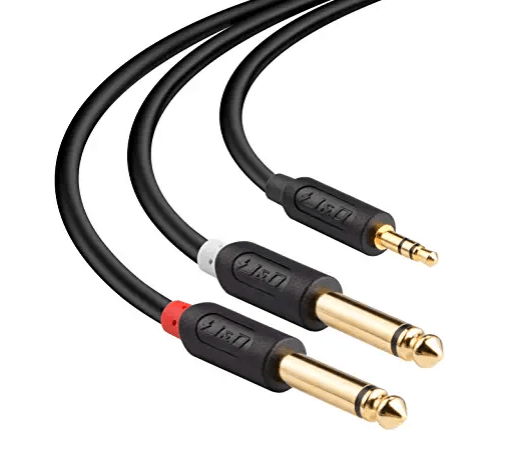 2. Aux Cord: One of the only things to do on a long car ride by yourself is to listen to music or a podcast. Since most people use their phones as an MP3 player these days, an auxillary cord is crucial to preserving your sanity. If there is no auxiliary port in your car, buy a radio transceiver or use a portable speaker.
3. Phone mount: It's very dangerous to be looking down at your phone while driving. If you need to have access to your phone, for maps and what-not, buy a mount for it. This way, you can keep your eyes on the road and your phone won't be far from your field of view.

4. Headtorch: Every backpacker should have a head torch! A decent head torch could save your life. If you want to explore caves, unlit temples, or simply find your way to the bathroom during a blackout, a headtorch is a must. Currently, I'm using the Petzl Actik Core rechargeable headlamp – an awesome piece of kit! Because it's USB chargeable I never have to buy earth polluting batteries.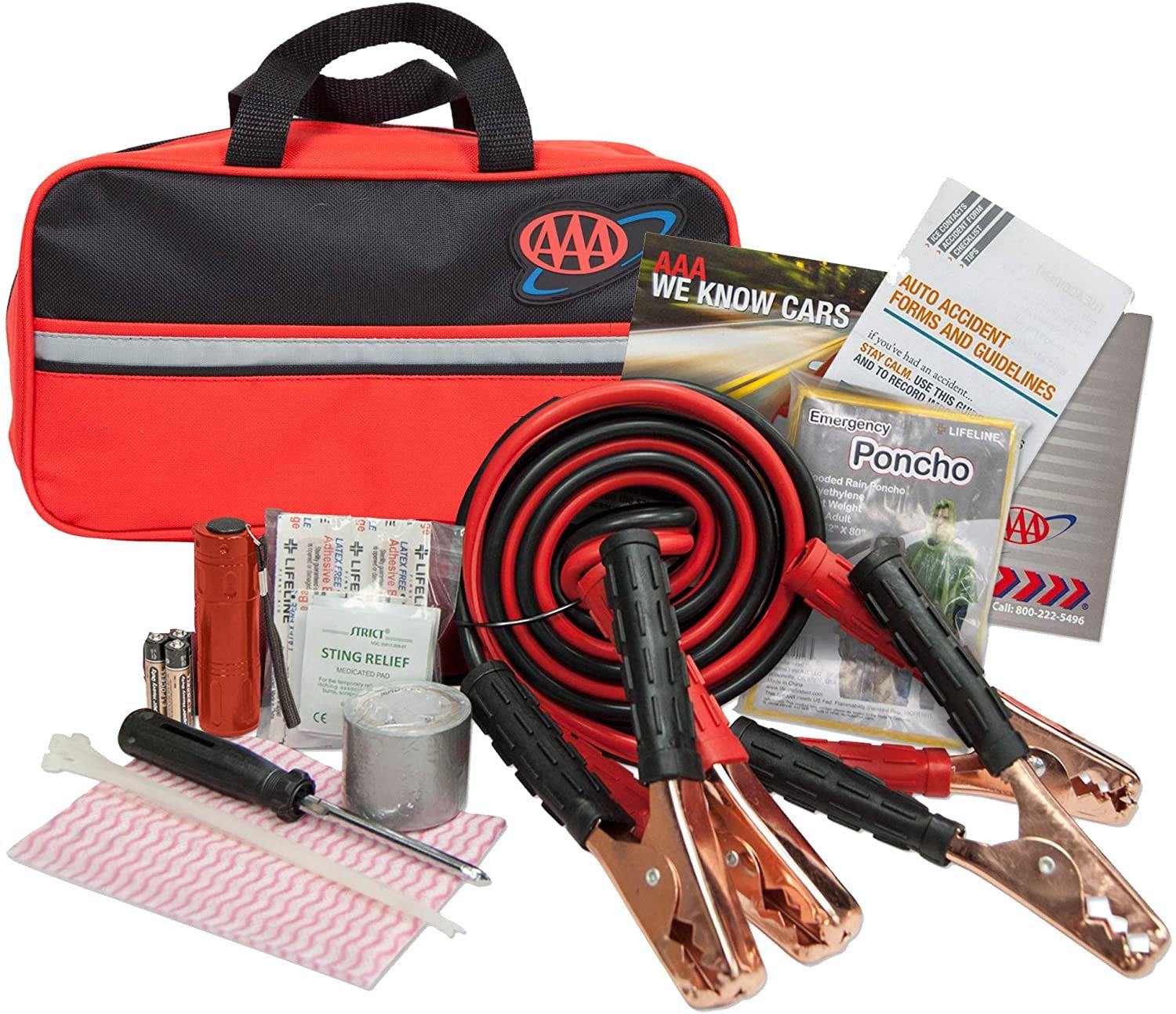 5. Roadside Emergency Kit: Just like you never know what could happen to yourself, one never knows what can happen to their car. A vehicle can mysteriously fail, break, run into a ditch; all that and then some. Most emergency kit include a pair of jumper cables, a tow rope, a set of essential tools, and ties.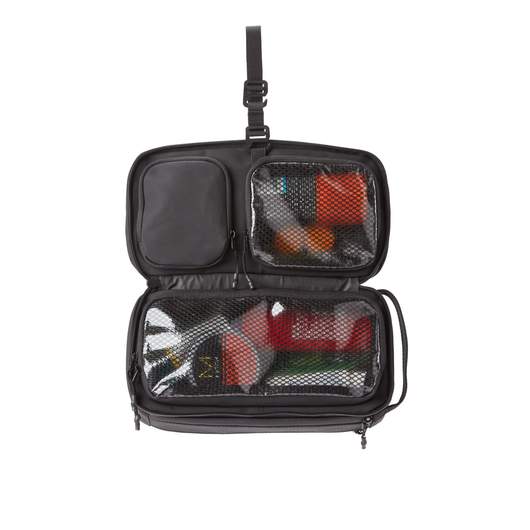 6. Toiletry Bag: I always travel with a hanging toiletry bag as it's a super-efficient way to organise your bathroom stuff. Well worth having, whether you are hanging it from a tree whilst camping, or a hook in a wall, it helps to have quick access to all your stuff.
For plenty more inspiration on what to pack, check out my full road trip packing list.
Final Thoughts on the Best Road Trips in Norway
Now that you know exactly how to plan your road trip in Norway, you're probably already looking up rental cars or putting pins in your map. We don't blame you!
Norway's epic roads offer the opportunity not only to challenge yourself as a driver but also to see some of the most beautiful landscapes in Europe – if not the world. Sit on Trolltunga viewpoint, tackle the Great Atlantic Road, or just park up in Bergen's pretty old town and enjoy a coffee.
With so much variety across this magnificent country, you can tailor your road trip completely to your travel style. Whether it's Oslo, Tromso, or Geirangerfjord, there's NORWAY you'll forget your epic trip here.
---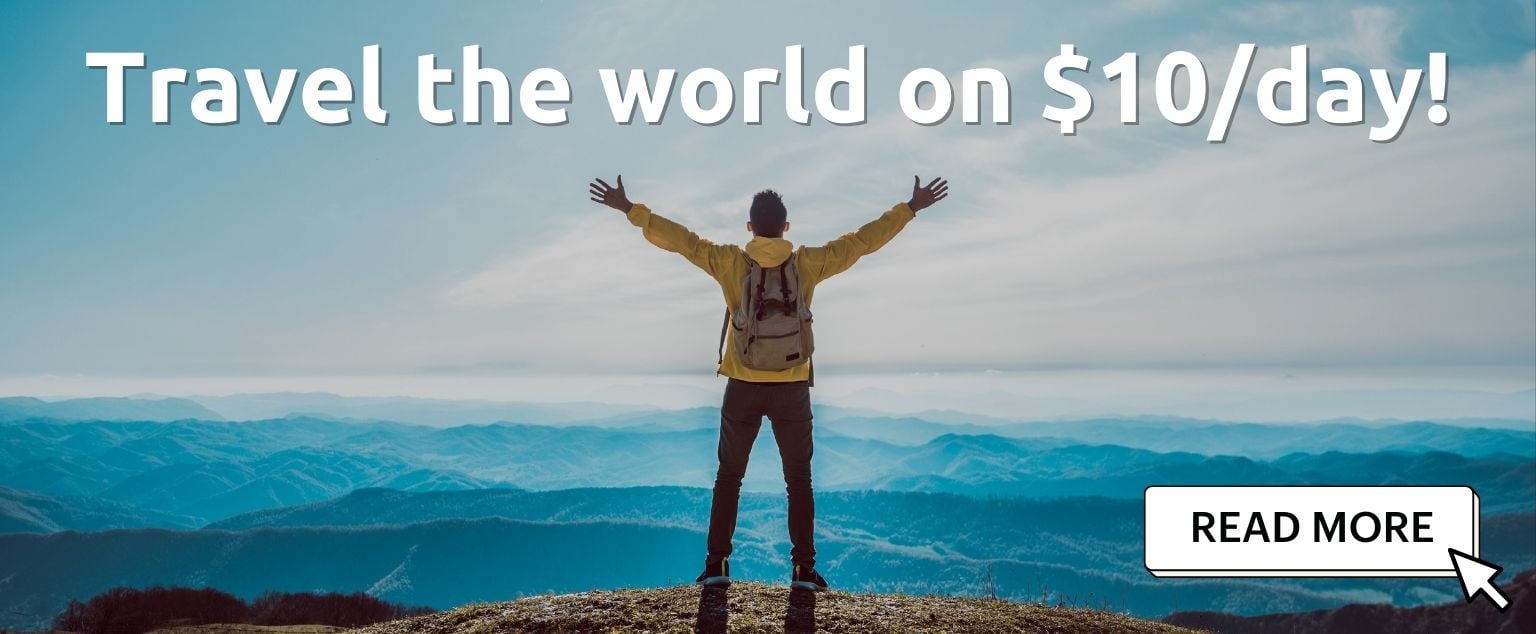 And for transparency's sake, please know that some of the links in our content are affiliate links. That means that if you book your accommodation, buy your gear, or sort your insurance through our link, we earn a small commission (at no extra cost to you). That said, we only link to the gear we trust and never recommend services we don't believe are up to scratch. Again, thank you!