With its fjords and fishing villages, Norway is a legendary place to travel. It's got it all: glaciers, mountains, epic hikes in national parks, midnight sun and the northern lights. Not to mention its environmental credentials and Viking heritage.
However, if you're planning a trip to Norway you've probably been met with people saying "oohhh Norway is expensive. Better remortgage your house!" But is that really true? Is Norway expensive? or can you travel around the Scandinavian nation on a budget?
Well, the truth is that yes, Norway does often come with a hefty price tag attached. Alcohol, food and accommodation doesn't come cheap. But that's not to say you cannot travel on a budget.
That's what this guide is here to help. If you're visiting Norway but don't want to pay a fortune for it, this guide covers all the finer details you need to make a budget for travelling to Norway a breeze.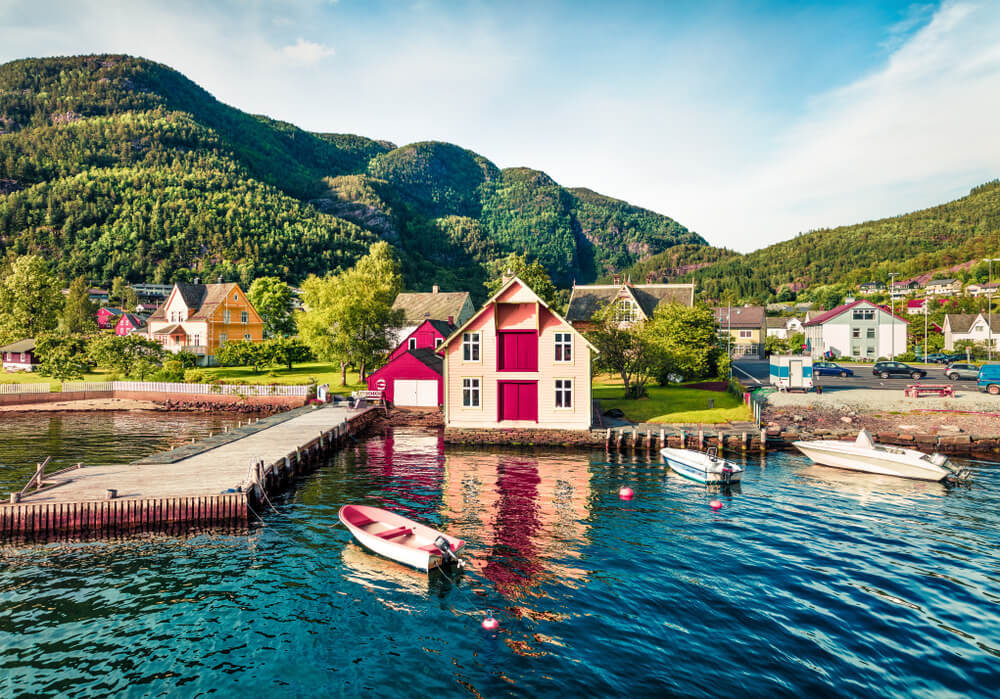 Do You Want to Travel FOREVER??
Pop your email in below to get a FREE copy of 'How to Travel the World on $10 a Day!'.
So, How Much Does a Trip to Norway Cost on Average?
The budget you have in mind for your Norway adventure will largely depend on different factors. First of all, there's the obvious stuff – namely, the accommodation and flights – then there's everything else: food, drink, souvenirs, sightseeing.
In this guide, I will be covering the following:
How much it costs to get there
Food prices
Norway travel cost
Prices of things to do and see
Cost of sleeping arrangements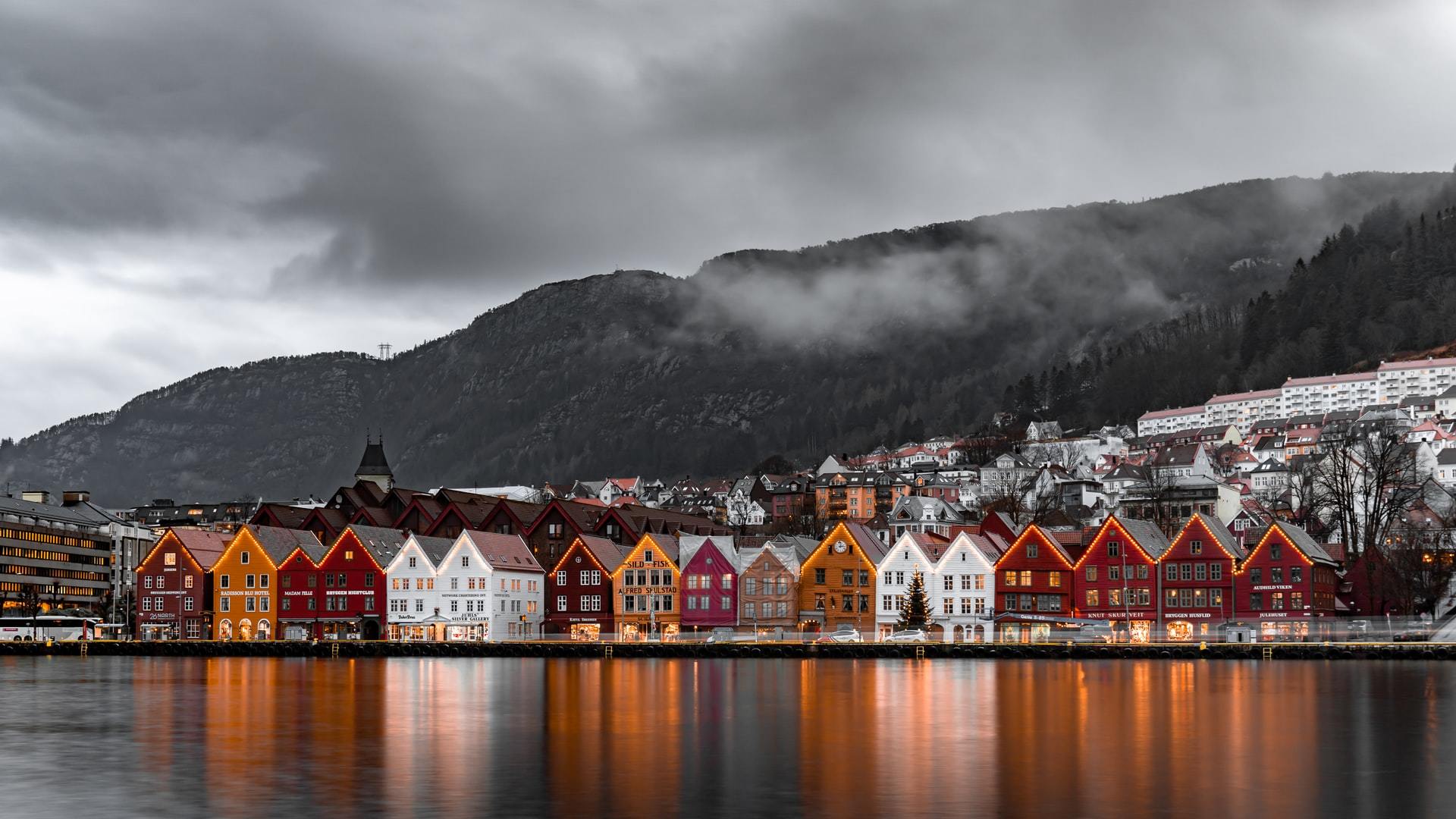 Note that the travel costs listed are estimates, and are subject to change. Prices are listed in US Dollars.
Norway uses the Norwegian Kroner (NOK). As of June 2022, the exchange rate is 1 USD = 9.81 NOK.
The general cost of a two-week trip to Norway has been summarised in the table below:
2 Weeks in Norway Travel Costs
Is Norway Expensive

| Expenses | Estimated Daily Cost | Estimated Total Cost |
| --- | --- | --- |
| Average Airfare | $789 | $789 |
| Accommodation | $30-150 | $420-2,100 |
| Transportation | $0-60 | $0-840 |
| Food | $30-50 | $420-700 |
| Alcohol | $0-25 | $0-350 |
| Attractions | $0-200 | $0-2,800 |
| Total (Excluding Airfare) | $120-485 | $840-6,790 |
| A Reasonable Average | $200-350 | $2,500 – 4,800 |
ESTIMATED EXPENSE: $338 – $789 USD for a roundtrip ticket.
How much you pay for your flight to Norway essentially depends on where you are in the world. If you're flying from somewhere in Europe, you'll be paying short-haul prices (i.e. not loads). On the other hand, if you're flying from North America, or Australia, getting to Norway is expensive indeed.
It is possible to get cheaper flights to Norway if you change when you decide to travel. High season (June) generally sees prices peak, while low season (the winter months) can be more affordable for flights. The cheapest month to travel to Norway is January.
The busiest airport in Norway is Oslo Gardermoen Airport (OSL). It's pretty far from the Norwegian capital though, being around 47 kilometres (29 miles) away. That's a 23-minute train ride; you might want to factor this additional cost into your travel budget.
Wondering about the average cost of getting to Norway by plane? Here are some flight prices from several international air travel hubs:
New York to Oslo Gardermoen Airport – 338 – 789 USD
London to Oslo Gardermoen Airport: 10 – 99 GBP
Sydney to Oslo Gardermoen Airport: 667 – 2024 AUD
Vancouver to Oslo Gardermoen Airport: 685 – 1504 CAD
If you're in London, you've lucked out on plane tickets to Norway. They can be super cheap. If you're in Sydney though, these prices fluctuate pretty wildly, but generally, they're hella expensive. It is possible to make it cheaper by option for a flight with multiple connections. It may take a lot longer, but it could also save you a good chunk of cash.
Sites like Skyscanner are a good place to start if you want to save money. Having the cheapest possible flights to a destination lined up in front of you definitely helps make an informed decision that's best for your travel budget.
ESTIMATED EXPENSE: $30 – $150 per night
When it comes to working out the answer to the question, is Norway expensive, one of the main things to look at is the price of accommodation. The Scandinavian nation has an image of being a modern country with a high cost of living, but that doesn't mean your trip needs to break the bank – far from it.
There's a wide selection of affordable accommodation that can be easily booked. From trendy budget-friendly city-centre hotels to tiny houses in rural mountains and affordable hostels, there's something for everyone.
Let's take a look at some of the accommodation options on offer in Norway that will help you keep well within your travel budget.
Hostels in Norway
For those of you looking to travel to Norway on a shoestring budget, hostels in Norway are definitely the way to go. There's a decent backpacking scene across the country with a good choice of modern hostels to choose from. Staying in a hostel can make a budget-friendly trip to Norway totally doable.
The cheapest hostels in Norway start at around $30 per night.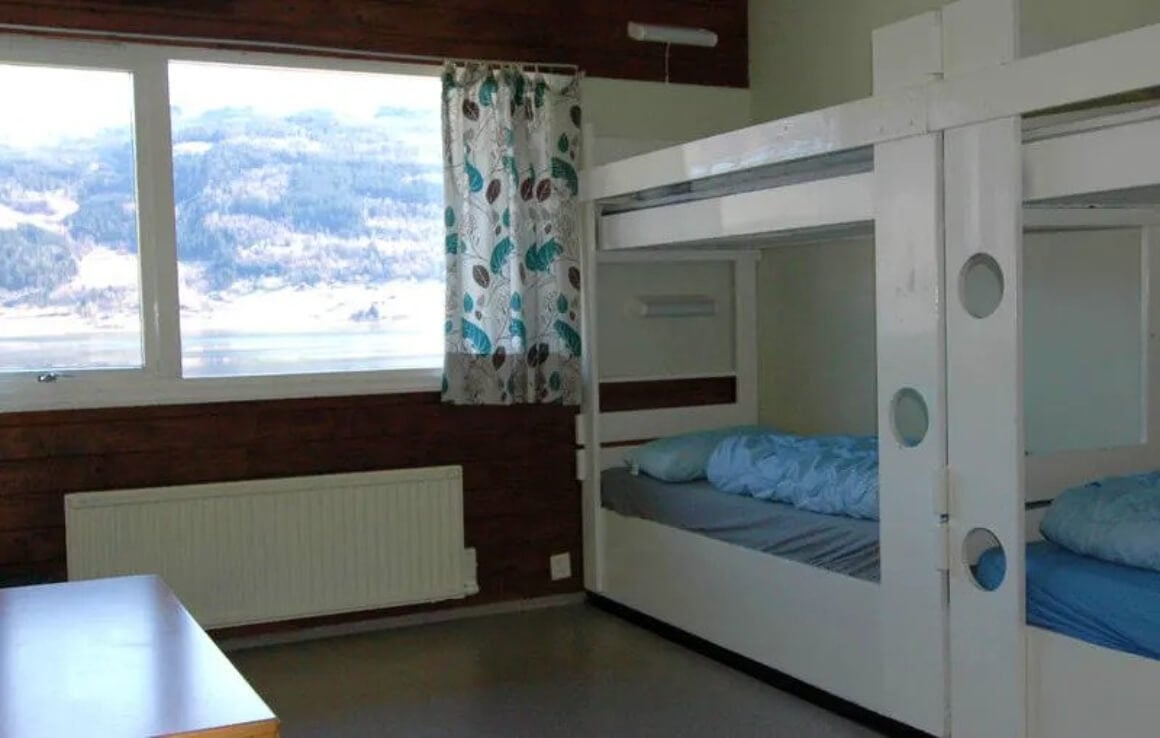 Norway's hostels aren't always the trendiest in the world, but they are usually professionally run, clean and situated in convenient locations for sightseeing and epic outdoors adventures. Opting for a bunk in a dorm also means you get to use the hostel's kitchen facilities, hang out in the hostel lounge and make a few friends along the way.
If that seems like the kind of place you want to stay, here are a few of Norway's top hostels for you to check out:
HI Bergen Hostel Montana – Located surrounded by the mountains in Bergen, this affordable hostel (part of the Hostelling International chain) offers an all-you-can-eat breakfast buffet included in the price. Organising excursions through the hostel helps you explore further.
Voss Vandrarheim – This awesome hostel is situated right on the shores of Lake Voss. It's ideal for anyone who wants to get stuck into outdoor activities during their Norway trip. Public transport is walkable from the hostel, making it extra convenient for independent travellers.
Tromsø Activities Hostel – Situated in the historic centre of the northern city of Tromsø, this is an affordable accommodation option complete with kitchens, guest lounges and activities on offer throughout the year (think budget-friendly northern lights tours).
Airbnbs in Norway
Another one of the best ways to travel to Norway cheaply is to book yourself into an Airbnb. There's a huge choice of properties to select from, so it's easier to find the ideal base to suit your budget (and style, let's be honest).
In cities, you can expect contemporary apartments in cool local neighbourhoods, while in rural areas it's all about cosy huts and cottages close to skiing and hiking on beautiful mountainsides.
The cheapest can be priced as low as $65-100.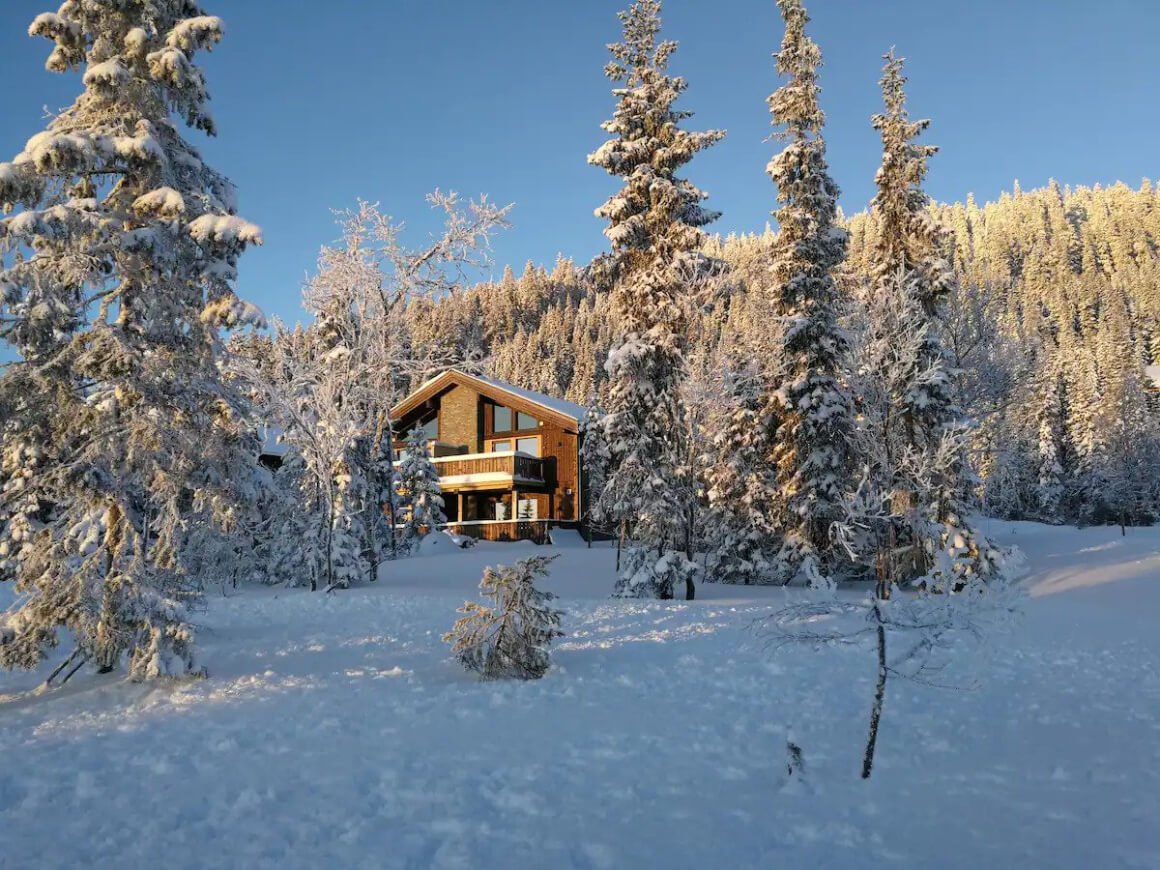 Choosing to stay in an Airbnb in Norway is usually cheaper than booking into a hotel. Even if it's not cheaper, having your own place also comes with the added bonus of self-catering amenities.
A kitchen means you can make your own meals which can save some serious dollars for you to spend elsewhere on your trip; you might even get your very own washing machine, too.
Here's just a small selection of the top Airbnbs in Norway to get you started…
Charming Small House Holmenkollen – Everyone's into tiny houses nowadays, but this tiny house is a historic cabin in the woods just outside Oslo. Surrounded by nature (literally: the roof has grass on it), it's only a five-minute walk from here to the metro. The best of both worlds.
Oslo Seafront Apartment – Also situated in the Norwegian capital, this Airbnb is a modern property on the fifth floor of an apartment block. It's beautifully decorated, you get a sweeping harbour view from the balcony, and the central location is fantastic for exploring.
Sjusjön Alpine Hill Apartment – If you like skiing, you'll love this place. It's a three-bedroom apartment set in an Alpine-style lodge. This well-equipped Airbnb is the perfect place to return for a chill after a day on the slopes or hiking the trails here in summer.
Hotels in Norway
You're probably trying to work out: is Norway expensive for hotels? Well, the thing is that hotels in Norway can be pretty expensive, but don't worry. Yes, it's true that there are some seriously stylish and pricey hotels in Norway, but there's a decent choice of affordable hotels, too.
Budget-friendly hotels in Norway start at around $70 per night. Not too bad.
Staying in a hotel definitely isn't the cheapest way to travel in Norway, but with the cost also comes convenience. Hotels are usually found in the best locations, close to public transport and near to top tourist sights, especially if you want to stay near attractions in Oslo.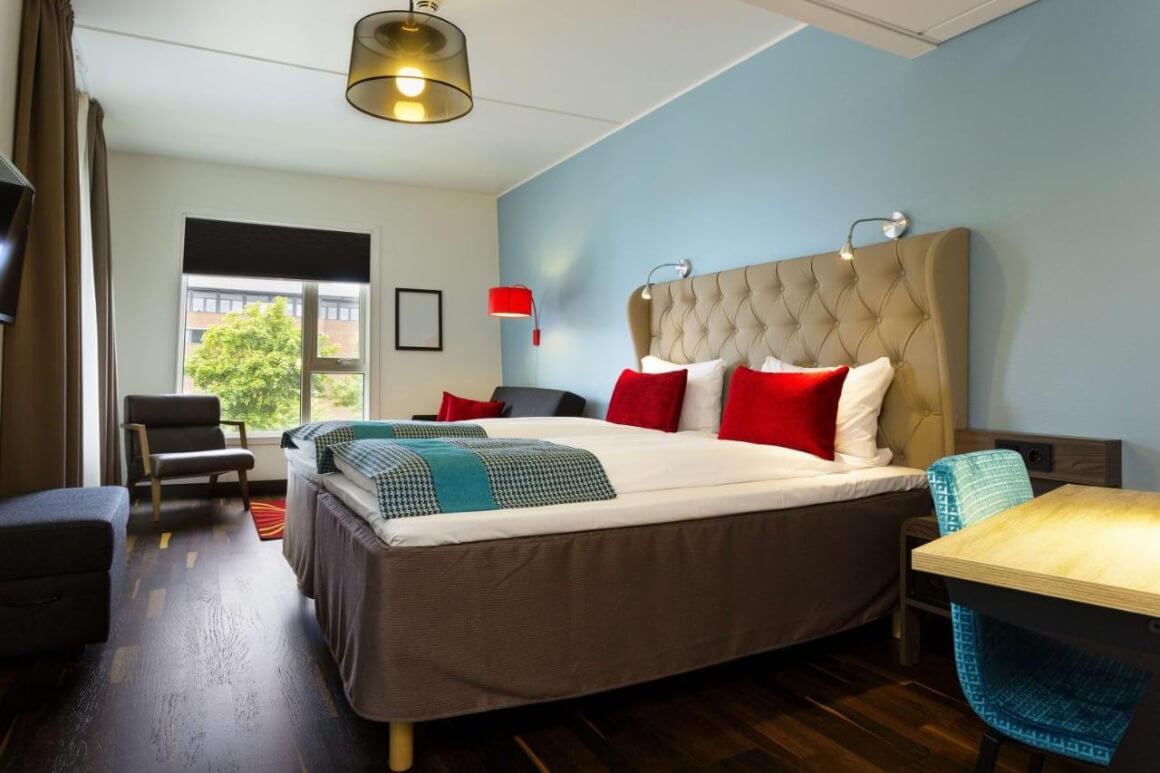 You also get to have hotel amenities at your disposal such as fitness centres, restaurants, bars and – of course – housekeeping.
Thankfully, Norway has a few good-budget hotel chains that mean you can stay in a hotel even if your budget is modest.
These are the best options if you're only going to be spending a few nights in one place, most likely a city, and want to make the most of your time. They're compact, modern and in easy-to-reach locations.
So, let's take a look at some of the best cheap hotels in Norway:
Citybox Bergen Danmarksplass – Part of a nationwide chain, the Bergen Citybox offers funky interiors, cool, clean bedrooms, and onsite amenities all at reasonable prices. It's like a boutique hotel, but affordable for backpackers and budget travellers.
Scandic Stavanger City – In the southwestern city of Stavanger you'll find this cheap-and-cheerful hotel. Its list of amenities include a gym, an on-site shop and a bar, while the location – just a five-min walk from the centre of town – is ideal.
The Verdandi Hotel – The Verdandi Hotel may be small, but the location couldn't be better for exploring Oslo. Rooms are fresh and clean, and the staff are friendly. There's also a good bar downstairs for drinks.
Is This the Best Travel Pack EVER???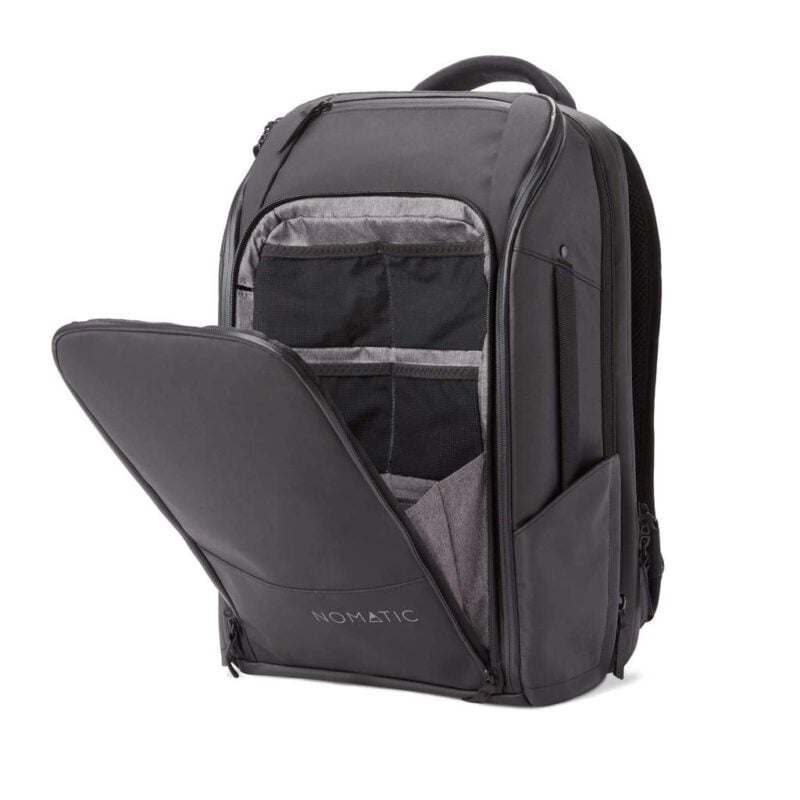 ESTIMATED EXPENSE: $0 – $60.00 USD per day
It's not exactly cheap to travel around Norway, but it can be done affordably. For the most part, it all depends on what mode of transport you go for. Specifically, your options will be trains and buses, with a few ferries, too.
Public transport services are very good quality across the country, even if the distances can be super long. After all, from north to south, Norway measures up at a rather large 1,770 kilometres (1,100). Getting from A to B can be time-consuming, as you'd imagine.
But it's all very modern. You can buy your train tickets online, or book buses through apps. The national government runs a lot of services, while local governments look after local/regional transport systems. There are a few private companies operating buses and ferries, too.
To help you figure it all out, read on for more detail on how to get around once you've touched down in Norway.
Train Travel in Norway
The rail network in Norway is run by the government organisation, Vy. This railway system connects the main cities (including Oslo, Bodo, Bergen and Trondheim), and is efficient and well run.
You won't run into too many problems while using it, and even if you do have to travel long distances, the Vy trains are comfortable. The carriages are spacious, and there's enough room to stash your luggage.
On longer routes, you may even get to use sleeper trains. These are clean and a good alternative to flying; in some ways, since you save on the cost of accommodation for a night, sleeper trains can be a budget-friendly option.
However, train travel in Norway is expensive, and it can quickly eat up a sizeable chunk of your budget. Thankfully, there are ways around having to pay full price for tickets.
First of all, book in advance. The earlier you book, the cheaper the fare (tickets can be bought up to 90 in advance of your trip).
While there's no government-run train pass you can get in Norway, what you can do is opt for the Norway Pass that's offered by Interrail. The pass doesn't have to be used on consecutive days (good deal), but must be used within one month.
Interrail Norway Pass prices for two different age groups are as follows:
3 days – $155 (12-27); $178 (28+)
4 days – $179 (12-27); $207 (28+)
5 days – $200 (12-27); $232 (28+)
6 days – $220 (12-27); $254 (28+)
8 days – $255 (12-27); $295 (28+)
If you know where you want to go, train travel can be pretty cost-effective in Norway – particularly if you do opt for the Interrail pass. Otherwise, you might be better off standing in line for the bus…
Bus Travel in Norway
Buses are cheaper than trains in Norway. If you're on a tight budget, and you plan on travelling around this Scandinavian nation, buses will be your principal mode of transport. In some places, buses will be the only public transport you can rely on, serving smaller towns, villages and remote areas of the country.
Like trains, long-distance public buses are also run by Vy, the government-owned transport company. There are a few private organisations that whisk people around Norway by bus, too.
In high season, it's a good idea to buy tickets in advance, but it's normal to turn up and buy your ticket as you board the bus you want to travel on.
Buses are also more budget-friendly than trains because of the series of discounts that may apply to you. For example, there are cheaper fares for students, senior citizens, children and families.
A good example of long-distance travel by bus in Norway is the Lavprisekspressen service that takes you from Oslo to Stavanger. It's a long journey, around eight hours forty-five minutes, and costs either $10 for a night bus, or $62 for daytime service.
As well as (sometimes) being pricey, buses also have limitations. Even though the network is efficient, there are a few inconveniences that you may come up against using buses in Norway, e.g. notably reduced services outside of high season, on weekends and public holidays.
Ferry travel in Norway
Norway has an uber-long coastline, and as such there's a whole load of ferry services that run from place to place across the nation. Not only that, but there are also numerous connections by sea to a selection of European destinations, including daily ferries to Germany, the Netherlands, Sweden and Denmark.
Travellers most often use Norway's selection of boats and ferries to explore the epic fjords. Sometimes even getting a public, run-of-the-mill ferry (as opposed to a tour), can offer up stunning vistas in addition to getting you where you want to be.
In fact, in the fjords and the far north of the country, ferry services are the way to get around. Boat services in these more rugged parts of Norway are the quickest way to get around, given the roundabout routes the roads take.
One particularly famous (but very expensive) ferry route you should know about is the Hurtigruten. This travels from Kirkenes to Bergen, calling at 34 ports along the way. You can book individual or multiple legs, depending on where you want to go.
Prices for ferry travel and express boats vary, depending on the route and time of year. Norway can be expensive for boat journeys in high season, plus it can be busy. The key thing is to balance out convenience with experience; I figured that if I can get essentially a fjord tour while also getting from A to B, then ferries win every time.
Getting Around Cities in Norway
Norway's cities are well connected by public transport. Each municipality controls its own public transport. Each location tends to have its own specific app, website, and ticketing prices.
In the capital, for example, Oslo's public transport is run by Ruter. The network includes a metro (T-bane), tram, bus and ferries. You can download an app to help you plan your journey and buy tickets.
But is Norway expensive for city explorations? Not really. For example, in Oslo you can buy a 24-hour, two-zone ticket for $11 (that covers all modes of transport on the network).
An extra money-saving tip for travelling around the capital is to snap up an Oslo Pass. Not only does this give you free access to many of the city's museums, it also gives you free transport on zones 1 and 2. Basic costs for the Oslo Pass are as follows:
24 hours – $45
48 hours – $67
72 hours – $83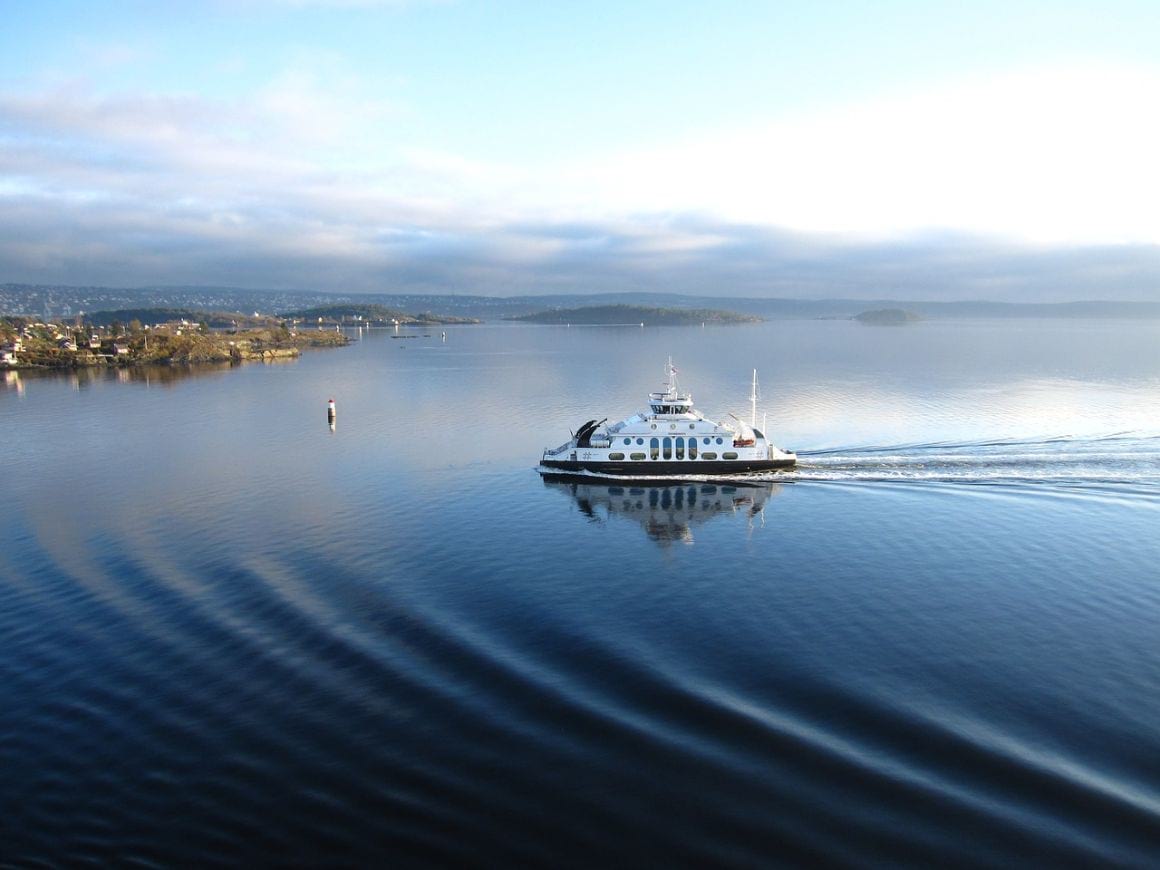 In other cities and towns in Norway, public buses make up a large portion of the public transport. In Trondheim, the public transport network is called AtB, while in Bergen it's Skyss.
Most places have a main bus station with tourist information offices nearby. Tickets can be bought on board, or from kiosks. Like Oslo, other municipalities also offer travel cards and passes to make the most of your trip.
One bonus of travelling in Norway's towns is that bus routes usually connect with other modes of transport; e.g. you can get off a ferry and straight onto a bus that's been scheduled especially.
Renting a Car in Norway
Is Norway an expensive place to rent a car and drive around? Well, like its public transport and accommodation, yes it is. It won't exactly break the bank if you're only doing a small stint of driving, but prices can mount up over time.
However, hiring a car in Norway is pretty much the only way to explore the country's most remote locations. The other alternative would be to hire a driver, which makes renting a car look positively budget-friendly.
Having your own wheels also means you have freedom and flexibility to have one epic road trip in Norway. But there are definitely a few things to consider before you get behind the wheel.
Firstly, there's time: tackling the nation's fjords and car ferries can take a lot longer than you think. Then there are the winter conditions. These can be challenging for those who aren't used to driving on roads with ice and snow. Roads can often be completely closed altogether.
When it comes to cost, the price of car hire is relatively expensive in Norway. Those aged under 25 will usually have to pay more to hire a car, too. There's also the cost of tolls (there are a whole bunch of toll stations) and ferries to factor in to your budget.
Finally, the cost of fuel in Norway is high. There's no getting around that. The more remote the area, the more expensive it gets.
In short, unless you really want to drive, renting a car in Norway is not budget-friendly. You can make it cheaper if you're renting for a long period of time, as the car hire rate usually drops. The average cost per day of hiring a car in Norway is around $97.
Want to save some cash and explore Norway by rental car? Use rentalcar.com to find the best deal possible. There are some great prices on the site and they aren't difficult to find.
ESTIMATED EXPENSE: $30-$50 USD per day
People don't tend to know much about the Norwegian food scene outside of gastronomic hotspots like Oslo. That's not exactly an unfair assessment, though: Norway isn't exactly famed for its cuisine.
However, there's a whole range of traditional treats on offer across the country, as well as more modern marvels to sample. It's a nation of varied landscapes, with homegrown ingredients to match. Expect cheese, seafood and plenty of meat.
Here are some Norwegian delights that you should try on your travels here:
Kjøttkaker – This common dish is a winter warmer that will make you feel warm and fuzzy inside. Kjøttkaker is meatballs swimming in gravy with a side of boiled potatoes and cabbage. A staple that you'll find everywhere: cafes, restaurants, people's houses. It costs around $15.
Smørbrød – A Scandi classic. This is an open-faced sandwich: rye bread topped with a variety of ingredients, including cold cuts, fish and other tasty mixtures. Usually priced around $13-14.
Raspeball – These epic potato dumplings are a cocktail of mashed spuds and flour. They're a perfect stodgy accompaniment to the fatty cuts of mutton (or bacon) they usually get served with. A hearty dish for winter. It costs around $14.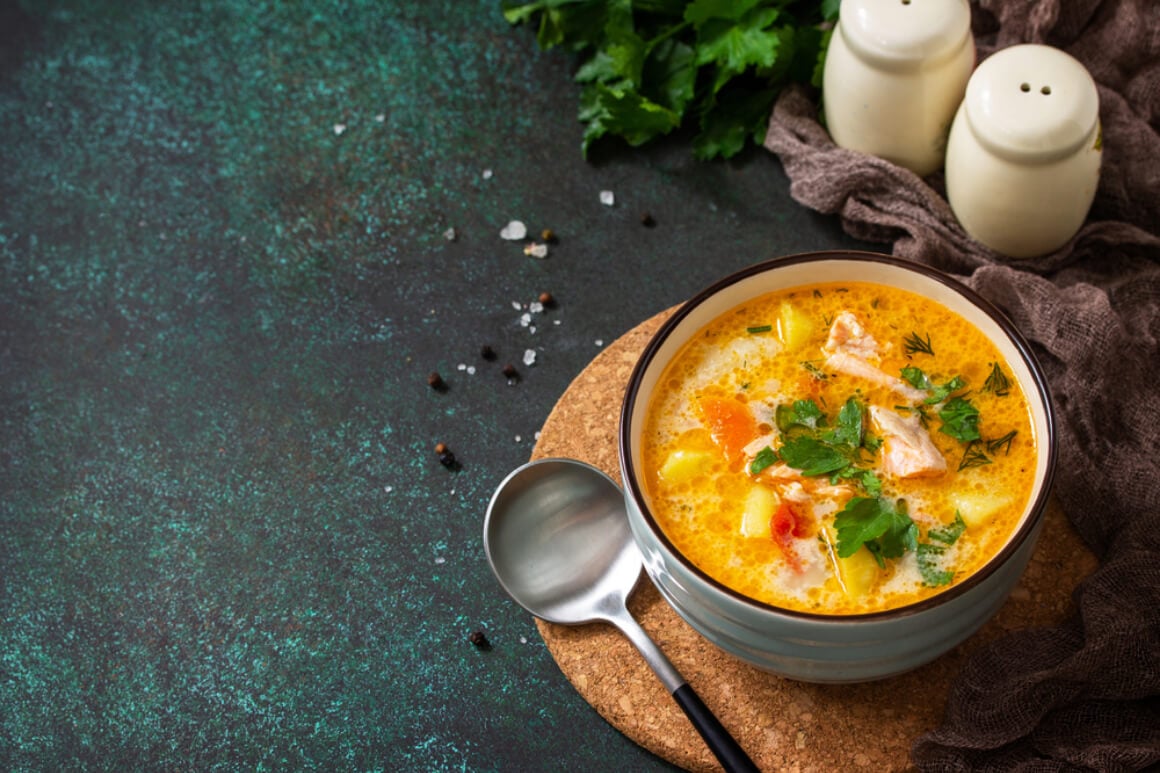 Norway is famously not cheap, and as you can see, that includes food. But you can still keep costs low. Here are a few pointers to keep within your daily budget…
Seek out a lunch deal – Most cities and towns feature kafeterias (cheap cafes, basically) where lunch deals are king. You can usually get a good-sized, hearty lunch for anywhere between $15-20. This often includes a drink, a main dish and a side.
Pack a picnic – It might not be gourmet, but if you have your own kitchen to use, use it. Stock up on basics at the supermarket (more on these later), make sandwiches, take them with you when you're out exploring. Not glamorous, but the scenery more than makes up for it.
Opt for accommodation with breakfast – This is a much more affordable way to start the day than either having to stock your own cupboards or searching out a breakfast spot yourself. Hotels often feature buffet breakfasts, so I recommend stocking up!
Where to Eat Cheaply in Norway
Norway is expensive for food – relatively, at least – but it's all about being smart with your money. That means choosing where you eat, and what you eat, wisely. Here are some more ways that you can keep your stomach (and taste buds) happy while you're in Norway without breaking the bank too much…
Head to kiosks – In essence, kiosks are super handy fast-food joints. You can find these hole-in-the-wall options in most towns and cities. They serve takeaway snacks that include hot dogs and pizzas. A lunch costs around $10 from one of these.
Shop at local markets – Even in the most remote villages, you'll usually find a fish market where you can find not only fresh fish, but also freshly cooked fish. They're deliciously grilled and served at a fraction of the cost you'd pay at a tourist joint. And it's a local experience, too. That's if you like fish, of course.
Kick back at cafes – Get a good cup of coffee and a pastry to go alongside (or a sandwich) for around $5-6. For some reason, Norwegian coffee is really good, so I recommend making the most of the country's cafes where you can.
But there are always things you can do to make your gastronomic journey in Norway even cheaper. By that, I mean going to the supermarket. Here are two of the cheapest supermarkets in the land…
Kiwi – Big supermarket chain with hundreds of discount stores; you'll see it all over the place. It's pretty much the place to go for cheap groceries in Norway.
REMA 1000 – Also with hundreds of stores across Norway, REMA 1000 is inspired by German supermarket chain Aldi (also cheap). There's a wide product range and cheap prices.
ESTIMATED EXPENSE: $0-$25 USD per day
Norway is notoriously expensive when it comes to alcohol. It's very heavily taxed, thanks to (almost) all alcohol in the country being sold by the government monopoly, Vinmonopolet. Wines, strong beers and spirits – anything over 4.75% ABV – are controlled by this state-run entity.
But that doesn't mean you can't find it anywhere. Quite the opposite: you can find all sorts of alcohol being sold at bars, restaurants, cafes and cocktail bars across the nation. And if you do want to drink, you'll have to for it.
On the whole, 500ml of beer at one of these establishments costs upwards of $9; the cost of a glass of wine starts at around $8. Depending on where exactly you're drinking (not just city, but type of establishment), prices can be even higher.
Norway is one of the most expensive countries in Europe for alcohol, with prices 120% above the average.
Even so, there are a few tipples worth trying if you're into sampling local drinks…
Aquavit – This distilled vodka-like spirit is made from potatoes. It's served ice cold in small glasses. Very bitter and strong (at least 37.5% ABV).
Craft beer – Norway may be famous for Carlsberg and a selection of other lager-like beers, but in recent years modern craft breweries have been making waves. A notable example is Ægir microbrewery, one of the most popular in the country.
If you want to have a drink, but you don't feel like coughing up for the sometimes outrageous prices charged at bars and restaurants, then you'll be heading to the supermarket.
Weaker beers and other low-ABV alcohol can be brought here relatively cheaply. Otherwise, stronger alcohol can only be purchased from the state-run Vinmonopolet; here a bottle of wine costs around $8. Much cheaper.
ESTIMATED EXPENSE: $0-$200 USD per day
Norway is a literal smorgasbord (or should I say smørbrød?) of nature, culture and history. In the cities, it's all about wandering around checking out architecture and museums, centuries-old cathedrals and medieval backstreets.
Most art galleries have free admission, as do museums, so you won't have to worry too much about factoring the cost of attractions into your budget. Plus there are things like the Oslo Pass (which I mentioned earlier), which gives you free entry to a bunch of attractions.
While the attractions themselves aren't too pricey, sometimes simply being in cities in Norway is expensive. That's where the country's breath-taking nature comes in.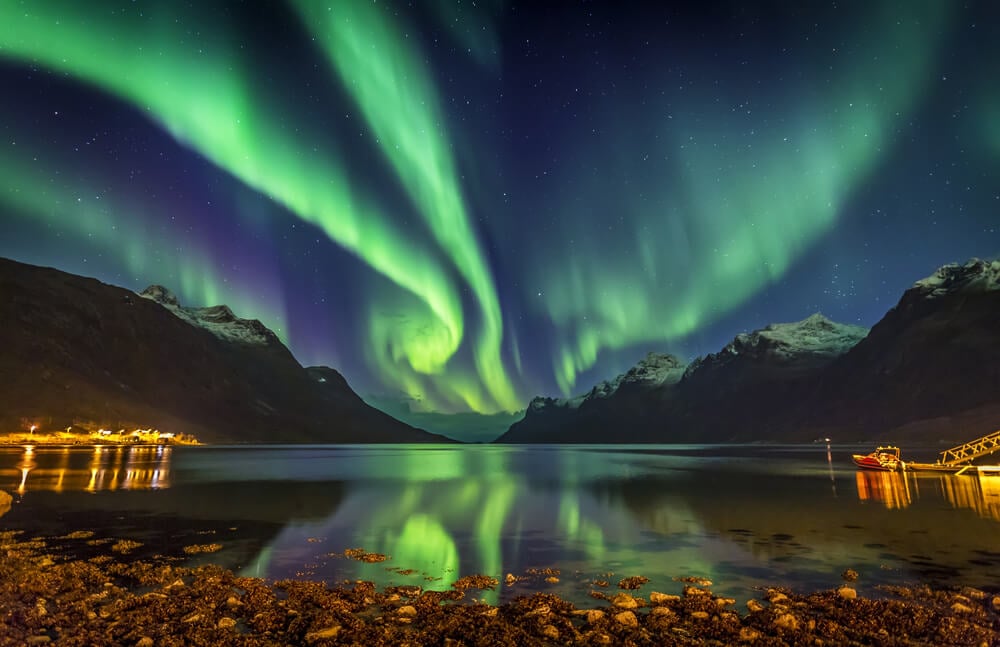 From its fjords to the epic hiking in warmer weather, Norway has a whole lot going on for outdoorsy people who love to get out and explore countrysides and coastlines. The good thing about Norway is, pretty much no matter where you go, you'll never be too far from some amazing hiking.
But if you're here to ski or snowboard, prepare to fork out for the privilege. Per day, ski passes cost an average of approximately $52. They can be cheaper, but they're very often more expensive. Usually, a week's ski pass gives you a 10-20% discount.
Here are some extra tips to help you see attractions in Norway while safely saving those pennies…
Get around by bike – In Oslo and other cities in Norway, the town centres are the domain of bicycles. There are plenty of bike lanes, bike-sharing schemes and bike rental places to use. This means getting around for a nominal fee, and getting to travel further around the city, and seeing more stuff as a result.
Don't spend money – That may sound obvious, but it really is that simple. Hiking is free, exploring historic neighbourhoods is free, and taking yourself on urban art walks is free. There are plenty of things to do in Norway that don't involve spending cash. You've just got to do your research.
The Future of the SIM Card is HERE!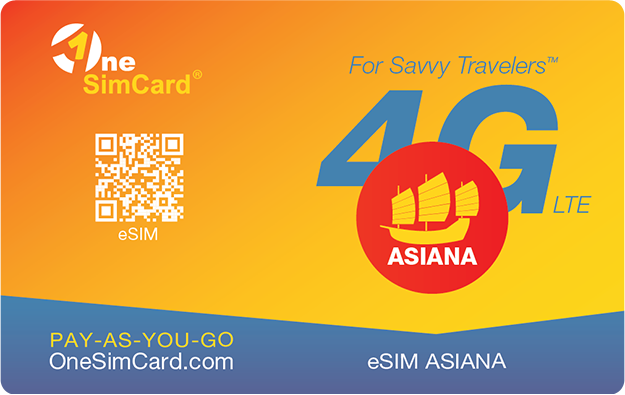 A new country, a new contract, a new piece of plastic – booooring. Instead, buy an eSIM!
An eSIM works just like an app: you buy it, you download it, and BOOM! You're connected. It's just that easy.
Is your phone eSIM ready? Read about how e-Sims work or click below to see one of the top eSIM providers on the market and ditch the plastic.
Buy an eSIM!
So your budget for travelling around Norway is shaping up to be pretty comprehensive so far. You've got your flights sorted, accommodation booked, the cost of food and drink factored in, and you know all about how much it costs to get around the country.
One last thing to remember is unexpected costs. This can be anything from luggage storage to the cost of souvenirs, or even cleaning supplies for your Airbnb. The point is, it's good to be prepared just in case you need to spend more money. Around 10% of your budget should do.
There's also…
Tipping in Norway
Tipping isn't that much of a thing in Norway. It's not like the US, where tipping up to 20% is expected of customers. Instead, tips are usually included in restaurant (and other) bills as gratuity charges.
If a service charge isn't included in your restaurant bill, and you want to show your appreciation, then feel free to leave a tip; around 10-15% is acceptable.
In bars and pubs, however, tipping is not the done thing. If you really want to show thanks for good service, then simply round up to the nearest 10 kroner.
At hotels and other tourist accommodation options, tipping is also not expected. But you can offer hotel workers like porters and room service staff a tip. It's discretionary and not expected.
For other services, like taxis, you can round up the fare, or give around 20 kroner ($2) for a particularly helpful or friendly driver. You can also give a discretionary tip to your tour guide if you feel like it.
In short, tipping in Norway depends on the customer, not the establishment. If you want to tip, go ahead, but it's not something you desperately need to factor into your budget.
Get Travel Insurance for Norway
Travel insurance isn't exactly the most exciting thing in the world, but it sure can be useful. Nobody knows what's around the corner (pandemic, anyone?), so it's a sensible idea to be prepared for anything.
Now, travel insurance isn't a cure-all, definitely not, but it is an extra cushion of cash for those just-in-case scenarios. Maybe you need another night at a hotel, maybe you lose your bank card – whatever. At the very least, it's worth thinking about.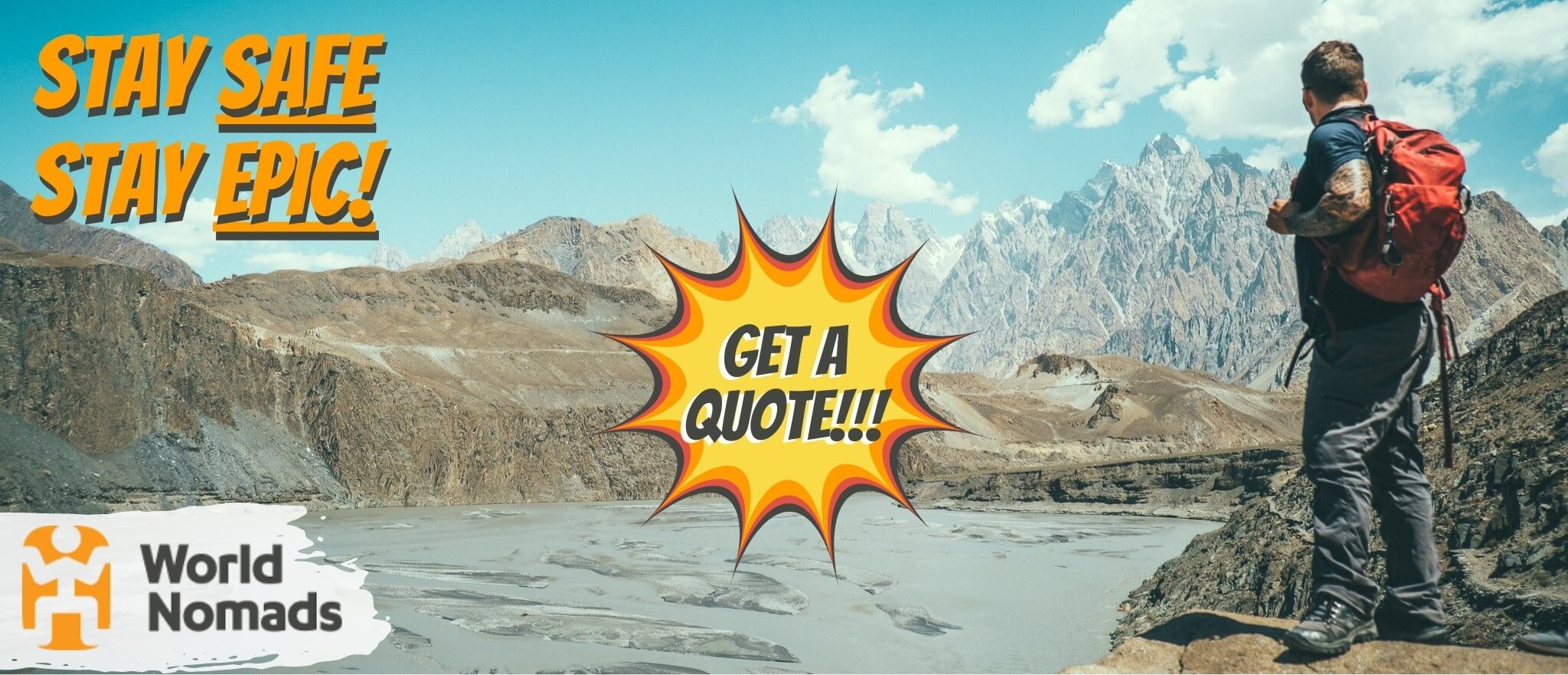 World Nomads' mission is to support and encourage travellers to explore their boundaries. They offer simple & flexible travel insurance, and safety advice to help you travel confidently.
They've been doing it since 2002 – protecting, connecting, and inspiring independent travellers just like you.
Get a quote below or read our in-depth review!
World Nomads provides travel insurance for travelers in over 100 countries. As an affiliate, we receive a fee when you get a quote from World Nomads using this link. We do not represent World Nomads. This is information only and not a recommendation to buy travel insurance.
Some Final Tips for Saving Money in Norway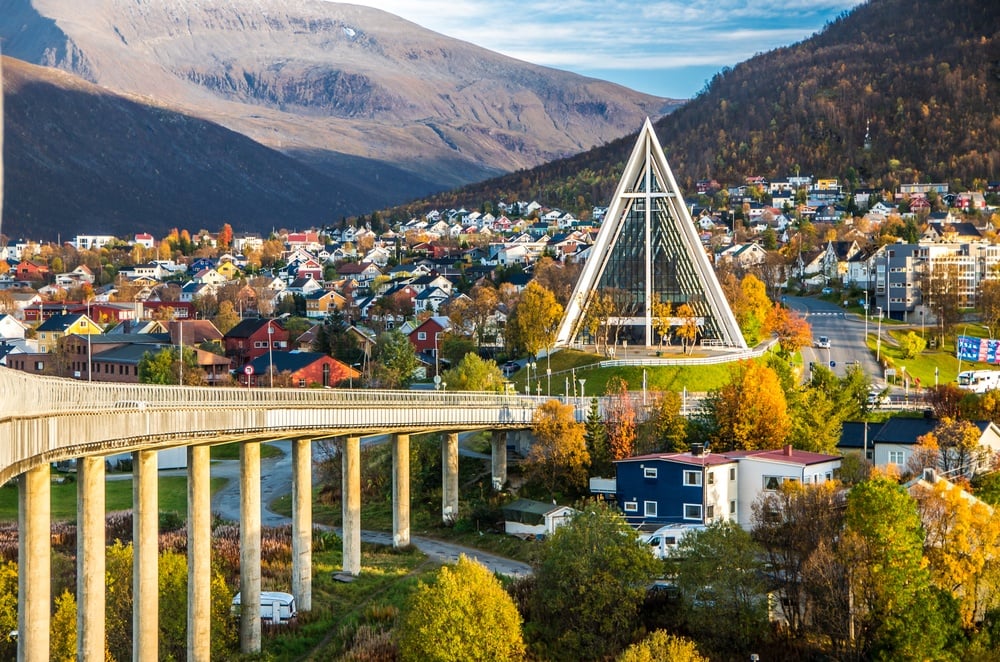 Need more tips? Why not. Here are yet more top ways to make travel to Norway less expensive…
Visit in low season – Flights, transport and accommodation get pretty expensive in Norway when it's high season (May to July). With that in mind, simply travel there in winter. It's cheaper and popular attractions won't be so busy. Spring or autumn also work for nicer weather.
Keep an eye on how much spending money you use each day and set a daily budget for yourself: If you blow the budget on a Full Moon party one day, try and do some activities in the following days that keep you under budget.
Hit up the national parks – Norway's national parks are incredibly beautiful. They're free to enter and provide a stunning wilderness to explore or just soak up from some well-placed accommodation. Well worth your time.
Try out camping – Not just in national parks, but near beaches (yes, they exist in Norway) and other natural spots, you'll find campsites. Ranging from very basic to luxurious, the thousands of campsites are way cheaper than staying in a hotel or guesthouse.
Go self-catering – Self-catering is a good option for two reasons. 1) It's cheaper accommodation anyway. 2) You can make your own food. It's not like being in the Mediterranean, where food is a definitive part of the culture, so buying your own groceries and cooking them up is the perfect way to travel to Norway on a budget.
Earn money while you travel: Teaching English while traveling is a great way to make ends meet!
Watch the locals when it comes to food and purchases: Take a look and see what they are paying for certain items and then follow suit.
Have a water bottle: Don't waste money on plastic, bottled waters; carry your own and refill it in the fountains and the tap. If you're worried about potable water, get a filtered bottle, like the GRAYL, which filters out 99% of viruses and bacteria.

Our GREATEST Travel Secrets…
Pop your email here & get the original Broke Backpacker Bible for FREE.
So, is Norway Expensive, in Fact?
Well, yes: Norway is expensive. There's no beating around the bush, really. But that doesn't mean that your trip has to be super expensive. Don't be put off by the expensive alcohol and the cost of renting a car – and all the rest.
There are plenty of ways to make a trip to Norway decently affordable. You may have to make some sacrifices (i.e. not eating out and definitely not drinking in cocktail bars), but in exchange you'll get to see so much more of a country that's got so much to offer.
What we think the average daily budget for Norway should be:
If you keep things cheap, a good budget for Norway can range between $100 to $170 USD per day (give or take a big hit every now and then for train travel).
---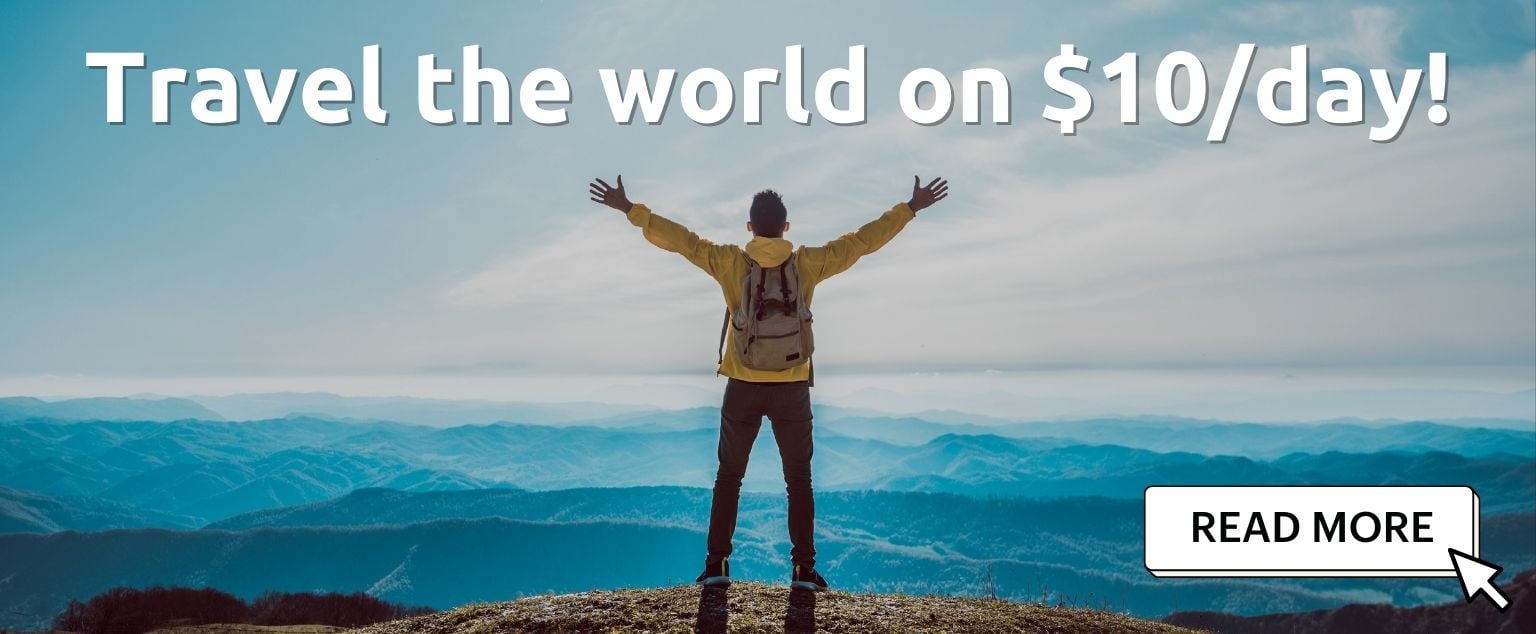 And for transparency's sake, please know that some of the links in our content are affiliate links. That means that if you book your accommodation, buy your gear, or sort your insurance through our link, we earn a small commission (at no extra cost to you). That said, we only link to the gear we trust and never recommend services we don't believe are up to scratch. Again, thank you!