Epic Fjords, crisp, fresh air and the sparkling majestic Northern Lights. This is what Backpacking Norway offers to travellers. Despite being one of the most expensive countries on earth, Norway remains a dream travel destination and each year welcomes over 33 million visitors.
Norway's charms are abundant, unique and unforgettable. Whether you fancy taking in the design aesthetics of Oslo, dog sledging in Tromso, or sipping wine on a Fjord cruise Norway has something for everybody.
With so much on offer, it can be hard deciding where to go to Norway. Also, being notoriously expensive it can also put a lot of strain on your budget.
This is why we made this kick-ass Norway backpacking guide.
Why Go Backpacking in Norway?
Norway is unique, beautiful and altogether special. However, it is also seriously, painfully expensive to travel Norway and to get the most out of it you will need a pretty generous budget. The trick is not to linger too long in the country and to try and cram your itinerary in as fast as possible to save cash.
You may also wish to go easy on nights out and meals in restaurants. Instead, make your Nordic adventure all about the great nature and breathtaking outdoors which you can enjoy for free.
Before you book your trip to Norway you really need to decide what it is you want to do and see and plan carefully. You also need to be mindful of what time of year you go. Not only does the weather change dramatically between summer and winter, but so does the daylight situation.
In the far North (Tromso/Lapland) the sun doesn't really set during high summer and on the other hand, during winter the sun never really rises – the eerie "blue light" of winter is something to experience.
We will go into further detail about all of these points in this backpacking Norway guide.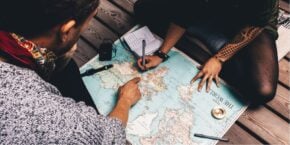 Heading Off-Grid? • Download This Guide as a PDF!
Sign up to The Broke Backpacker's EXCLUSIVE VIP AREA below and download our top backpacking guides as PDFs – go offline with peace of mind!
Best Travel Itineraries for Backpacking Norway
There are endless different ways to explore Norway. You can do weekend break to the cities, fly to Lapland for Christmas or take a Fjord Cruise. However, here are a couple of ideas for Norwegian itineraries.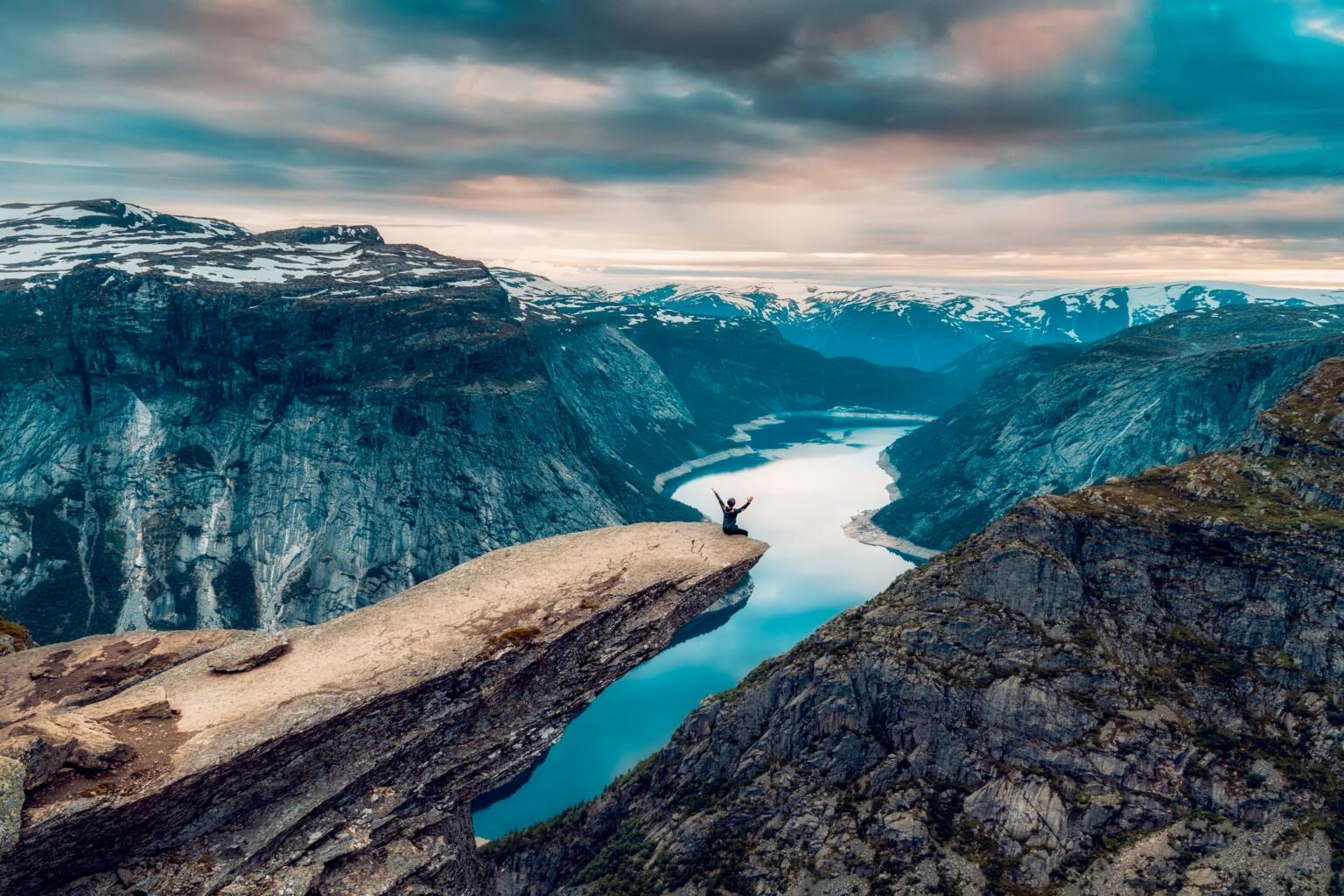 Backpacking Noway 7 Day Itinerary – An Introduction
This Norwegian itinerary begins in Stavanger which is located at the Southern end of the country and is well connected to Europe and Oslo. After getting acquainted with the town take in the Pulpit Rock hike and if you have an extra day, the Kjeragbolten hike.
After that head to pretty Bergen and take in the harbour and the classic Stave Church. If you have time and energy then there are great hiking options including Trolltunga.
From Bergen, make the incredibly photogenic drive to the little town of Geiranger where you can admire the Fjord from land, from kayak or leisure boat. The next drive from Geiranger to Andalsnes takes in the stunning "Trolls Ladder" switchback road.
From here make your way to Oslo and be sure to visit Munch's The Scream in the National Museum. If you have money, Oslo has a great bar and club scene and it also has an airport to fly you home!
Backpacking Norway 10 Day Itinerary – The Highlights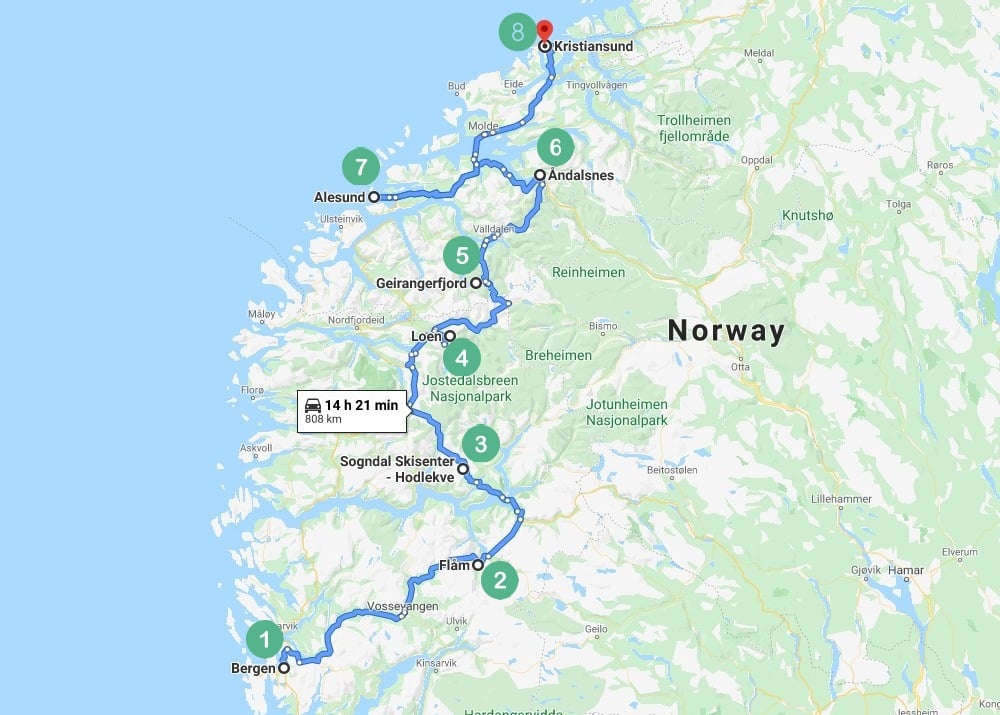 This whirlwind tour of Norway is the best of both worlds: you make an epic Norwegian road trip, do plenty of hiking, and experience a wide variety of different landscapes, towns, and cities.
Ever wonder where those epic photographs of people standing on cliffs in Norway with an amazing view of the mountains and fjords perfectly positioned in the backdrop were taken? The answer: most definitely somewhere along this backpacking route. Though, I can say with certainty that Pulpit Rock and Trolltunga are likely the images of Norway you have in your mind's eye.
This is an action-packed itinerary with plenty of those "wow" moments occurring on a daily basis.
If you have slightly longer than two days, I suggest going on a few longer hikes, going on a sea-kayaking overnight trip through the fjords, camping in a Norway national park or two, and getting to know the tiny villages scattered along the way.
Backpacking Norway 2 week Itinerary – The Arctic North
If you're not afraid of the cold (or of 24-hour daylight if you come in summer) then head to Norway's Northernmost never-regions for a true glimpse of the Arctic.
Start in pretty Tromsø, a university town with a young, welcoming populace. Visit the Ice Cathedral and maybe try to catch a glimpse of the Northern Lights. You can also visit lovely Senja from here.
Next head east for the rock carvings of Alta, then Nordkapp which is as far north as you can go in Norway by land. Spend some time with the native Sami people over at Karasjok and Kautokeino.
Then, catch a flight to Svalbard which remains one of the most unique places I have ever been to. Spend 3/4 nights here before departing.
Places To Visit in Norway
Norway covers a pretty long landmass and stretches the full length of Scandinavia. Therefore, the climate, geography and culture do vary as you go. Where exactly you go backpacking in Norway will depend on what you want to get out of the experience and what time of year you intend to visit.
Oslo
Norway's capital is an elegant, clean and friendly city of 680,000 people. In terms of Norwegian geography, it is pretty far to the south and is actually nearer to London than it is to Svalbard. This means that the weather and daylight situations never get too extreme either way.
The city feels like other Northern European cities except for the Scandinavian design aesthetics of Oslo's neighbourhoods and mighty harbour looking onto the Fjords.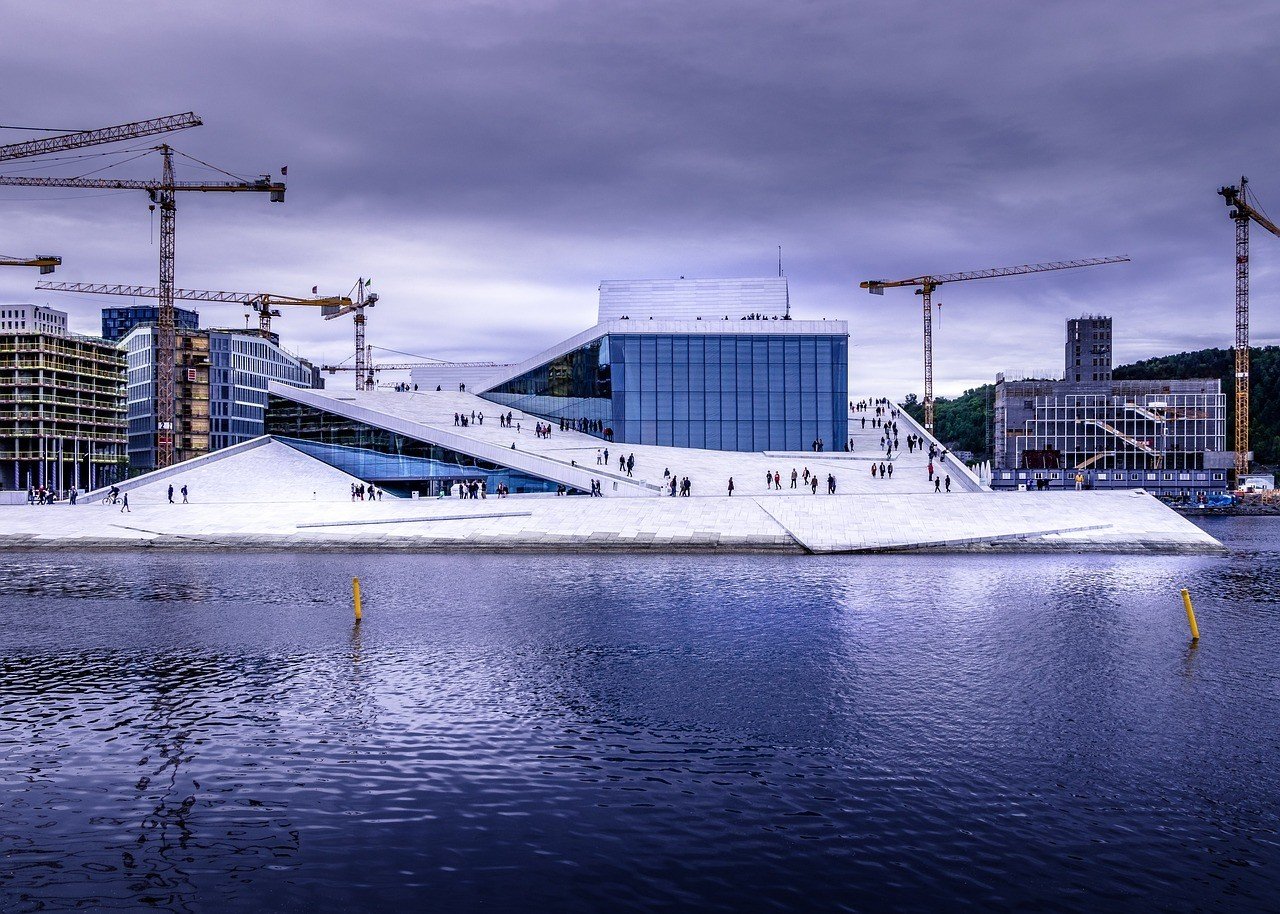 There is a thriving coffee shop scene as well as plenty of lively bars and clubs – however, eating out and socialising here is seriously pricey, and the locals are definitely not the most welcoming in Europe. Instead, why not hang out in one of Oslo's cool hostels and drink the free tea?!
The Oslo Art museum also houses a few Edward Munch's including the legendary "The Scream" which looks even more amazing in real life and cannot be missed – the best thing in Oslo to do.
Oslo is well connected to the rest of Europe and Norway and you will probably pass through the capital. Luckily there are plenty of amazing Airbnbs in Oslo. However, the city itself is probably not quite the romantic vision Norway you are searching for so I do not advise lingering too long. Instead, head for the Fjords, the woods or the Northern territories as soon as you can.
Svalbard
Svalbard is a Norwegian territory located some 2000 North of the mainland and is actually inside the arctic circle. It was once a mining colony and now exists as a research facility and a hub for adventure tourism. To reach Svalbard you will need to take a flight from Tromso/Oslo or Northern Finland.
Svalbard is dramatic. It is pretty much the end of human civilization. It is the final, icy frontier before the great apocalyptic winter wasteland. Think of it as a combination between Game of Thrones' "The Wall" and some futuristic colony on an ice planet. The international, transient population only numbers 2000 meaning there are more polar bears here than people.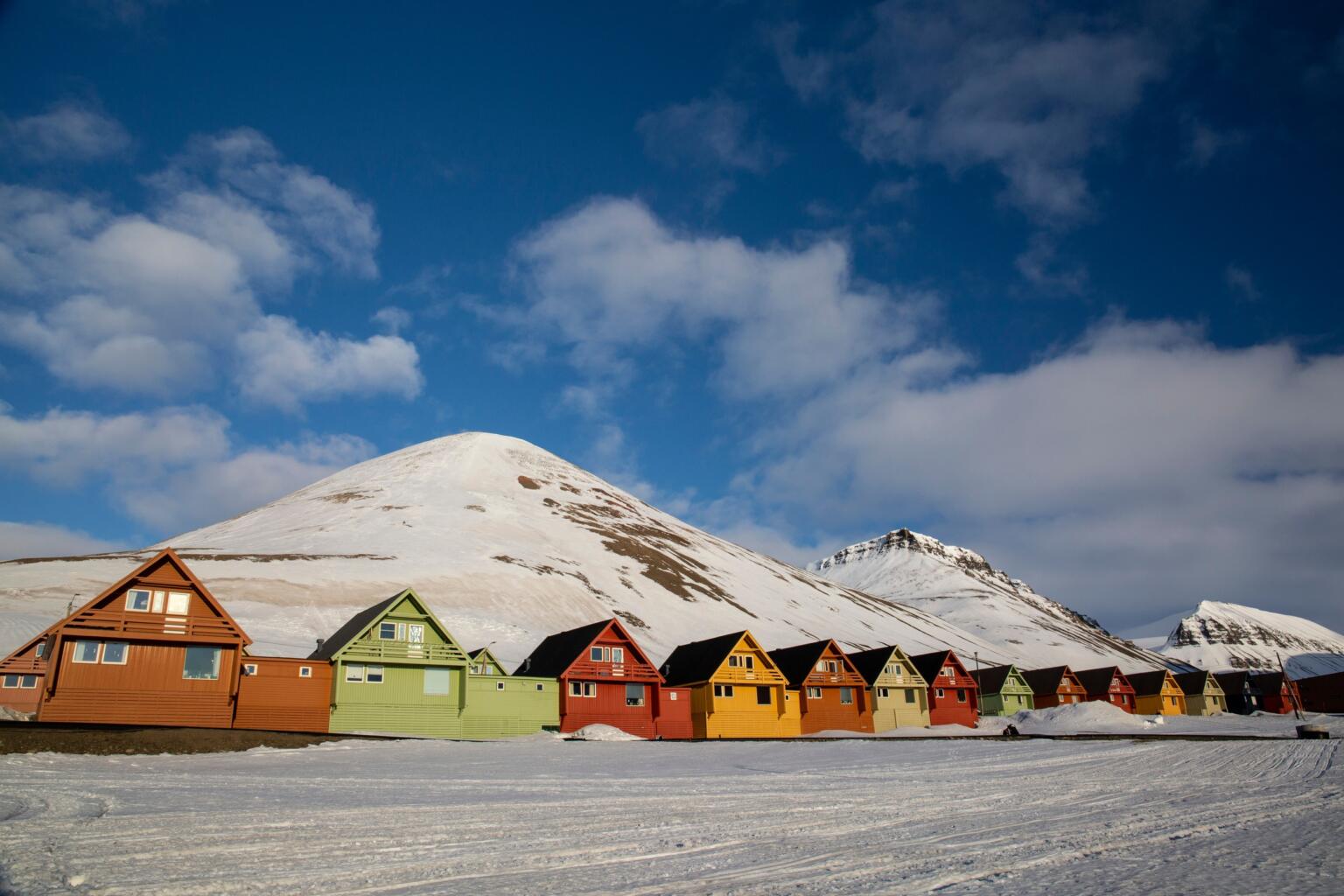 Note that in mid-summer, it stays light 24 hours and in the depths of winter it is 24 hours pure darkness. Waking up at 9 am in darkness is unsettling but is one of the most unique travel experiences of my life. For obvious reasons, Svalbard is most popular during shoulder seasons (March/Apr & Oct/Nov).
There is quite a lot to do up in Svalbard including hikes, caving and Northern Lights tours. However, if you want to see the Northern Lights we suggest sitting in a bar and keeping an eye on the Northern Lights forecast (shown on TV screens) – when you get the go-ahead, take a taxi to Mine 7 and watch the horizon. You will have to fly to get to Svalbard and accommodation is pricey. However, tax breaks mean that food, drink and booze is cheaper than on the mainline.
Stavanger
Stavanger is the gateway to some of the most spectacular scenery in Norway. It is a 7 hour+ drive from Oslo FYI. Most people opt to fly here, and if you are short on time, taking a flight is definitely the way to go. You can manage with the train easy enough if you don't plan on renting a car in Norway.
Stavanger is pleasant enough, though really it will just be your base. The real draw of the area lies in the surrounding regions. One must do the classic hike to Pulpit Rock, which you can get to from Stavanger via public transit.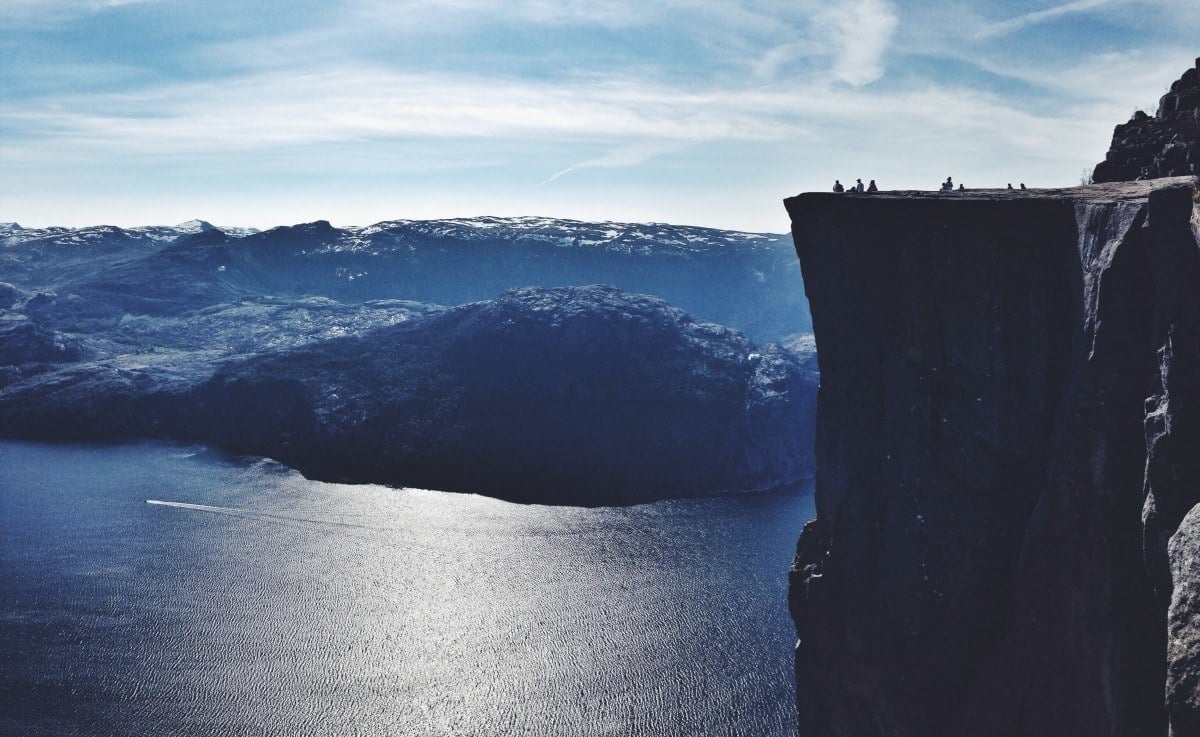 After arriving in the village of Tau, there is a bus service that drives backpackers to the start of the Pulpit Rock hike. The hikes is about four miles return. This is a classic Norwegian hike and by definition is very popular. I advise coming as early as you can to try and escape the crowds.
Kjeragbolten
The Kjeragbolten hike is one of the most iconic and beautiful hikes to be found in Norway. I know, I know, everything is beautiful in Norway, right? But Kjeragbolten is something special still. You'll see.
The start of the Kjeragbolten hike is roughly two hours from Stavanger. This 12 km hike will take between 6-7 hours from start to finish. The views along the way are truly incredible. Again, the Kjeragbolten hike is very popular so do your best to start earlier in the day.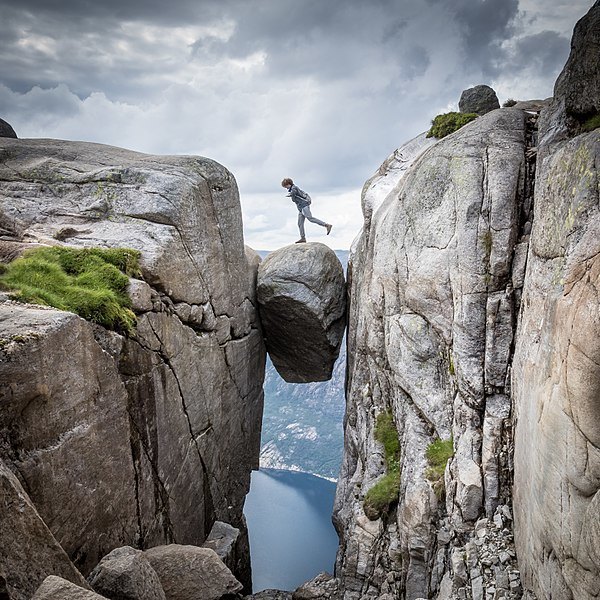 Bear in mind that this hike is a bit more intense than the Pulpit Rock hike. The Kjeragbolten hike is also home to the now-famous (thanks Instagram) massive rock that is wedged between two cliffs a great distance from the ground (several thousand feet!). Please don't be the next backpacker to fall to his/her death from this boulder for the sole sake of taking an epic photo.
Bergen
Charming Bergen is actually the 2nd largest city in Norway and yet it wonderfully retains the feel of a small, harbourside town. It's surrounded by mountains and fjords, including Sognefjord, the country's longest and deepest. There are a few hostels in Bergen as well as some campsites if you are on a tight budget.
If you are visiting Norway for a short break or a weekend, staying in Bergen is ideal. The lovely spot is well connected by air and offers a true glimpse of Norway which you may not quite get in cosmopolitan Oslo.
The Hanseatic Wharf, first established in the 14th century, is a welcomed sight upon first arriving in Bergen. Apart from being very easy on the eyes, the wharf is now a UNESCO World Heritage site.
There is plenty to eat and drink along the wharf so come hungry. The Bergen Fish Market is another quintessential Bergen experience. There is plenty of things to eat and taste along the way.
The mountains nearby are indeed very close and accessible. The most accessible mountain directly from town is Fløyen. You can take the Fløibanen cable car to the top. Once there you are blessed with incredible views in all directions. You can carry on hiking and explore further into the mountains if you're keen.
As well as climbing the Fjords and dining on fish, you can pass time in Bergen by visiting its cool museums and visiting the unique "Stave Church" which originally dates from 1152 – although it was totally destroyed and rebuilt in 1992.
Trolltunga
Damn it Norway. The beautiful hikes just keep on coming in an endless glaciated stream. The Trolltunga hike begins from the village of Tyssedal.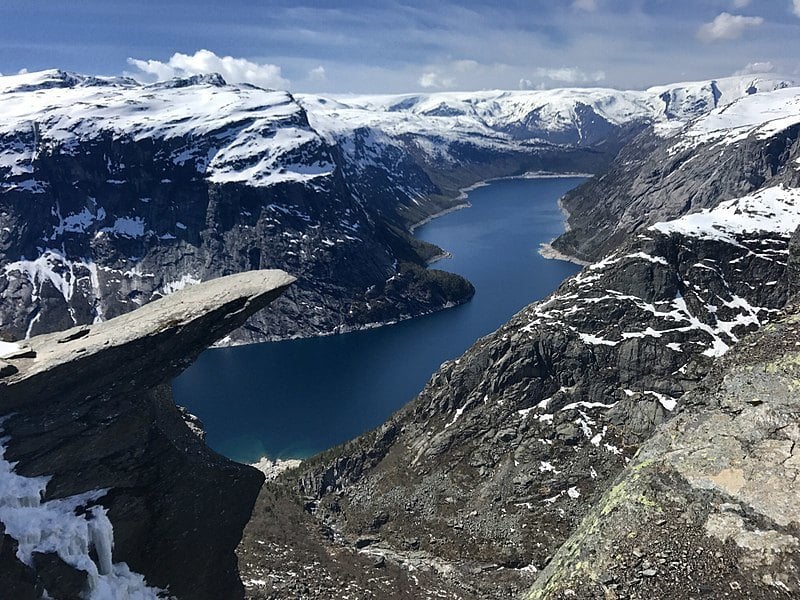 There are basically two ways to tackle the Trolltunga hike. The first option: you can opt to hike the undulating switchbacks to the top. For the Second option: The Sky Ladder tour offers up a mixture of mountain biking and via ferrata style climbing to reach the top. Making the Sky Ladder Tour sounds more interesting, though I did not personally do it.
In total, the Trolltunga hike is about 23 km and will take you all day (8-10 hours). By day's end, you will have successfully experienced one of the true highlights of backpacking Norway.
Travel CHEAP and Make a Difference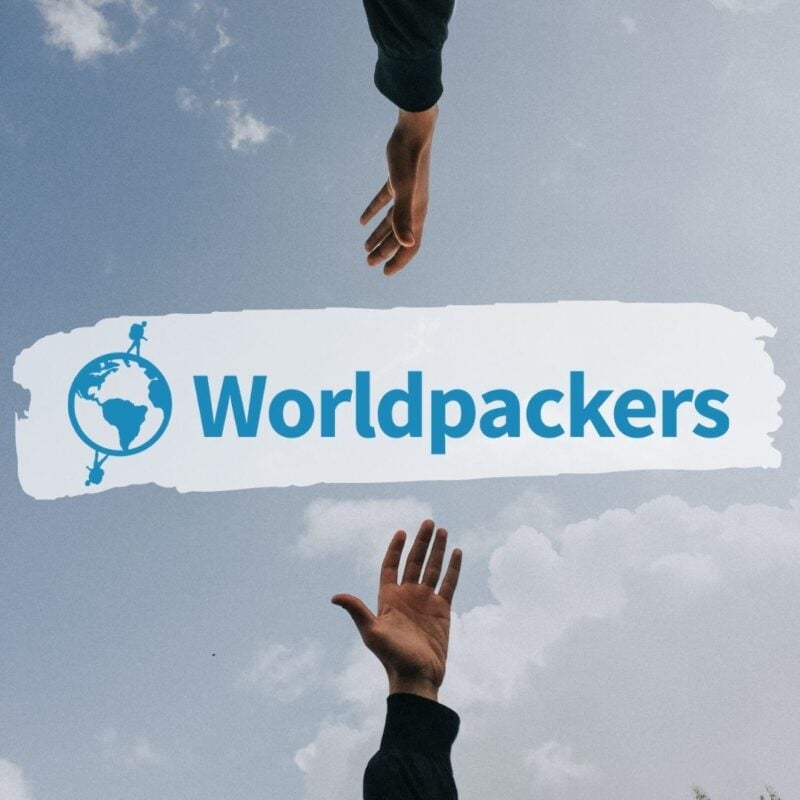 Worldpackers connects travellers with hostels, schools, NGO's and many more. Get free accommodation in exchange for volunteering a few hours a day. You won't just save serious $$$, you'll experience a different culture, cool projects, meet new people and integrate into the community in a different way.
Broke Backpacker readers get a $10 discount when you sign up. Use the discount code BROKEBACKPACKER. Plus, get 3 free months on your membership during their summer promo!
Travel well with Worldpackers
Balestrand and Geiranger
Your drive to Balestrand will take you across the stunning Aurlandsvegen Snow Road. There are several worth while viewpoints along the road so take your time and enjoy it. Backpacking Norway is filled with these sorts of opportunities and if you rush you will simply miss them!
An alternative is heading to a lower elevation road and driving the Lærdalstunnelen tunnel, the longest tunnel in the world (24.5 km or 15.2 miles).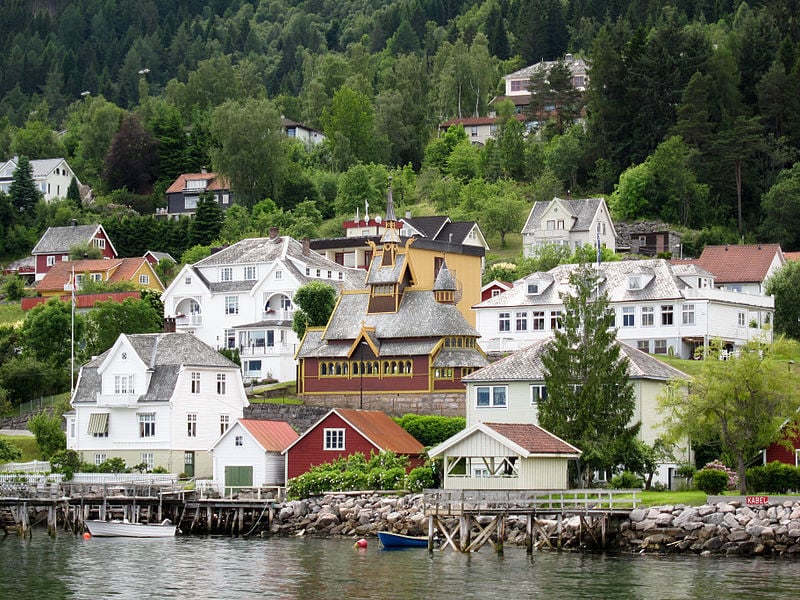 Once in Balestrand, be sure to pop into Ciderhuset. They make some very tasty local cider, jams, and other fruit-based products. Gekkens is the best spot in town to grab lunch or a coffee.
Geiranger is another one of Norway's magical outdoor playgrounds. The main activities here center around the fjords and surrounding mountains.
Rent a kayak an explore some of the fjords. Or alternatively, you can go for a mountain bike ride. Indeed, there is also plenty of awesome hikes in the area as well. In Geiranger, there are a few shops and places to eat when you need to refuel.
Alesund
Alesund is a port town on the west coast of Norway at the entrance to the Geirangerfjord.
If you have a day or two to just chill out, Alesund is a good place to do that. A hike to the Aksla Viewpoint is a good place to get to grips with the layout of the land.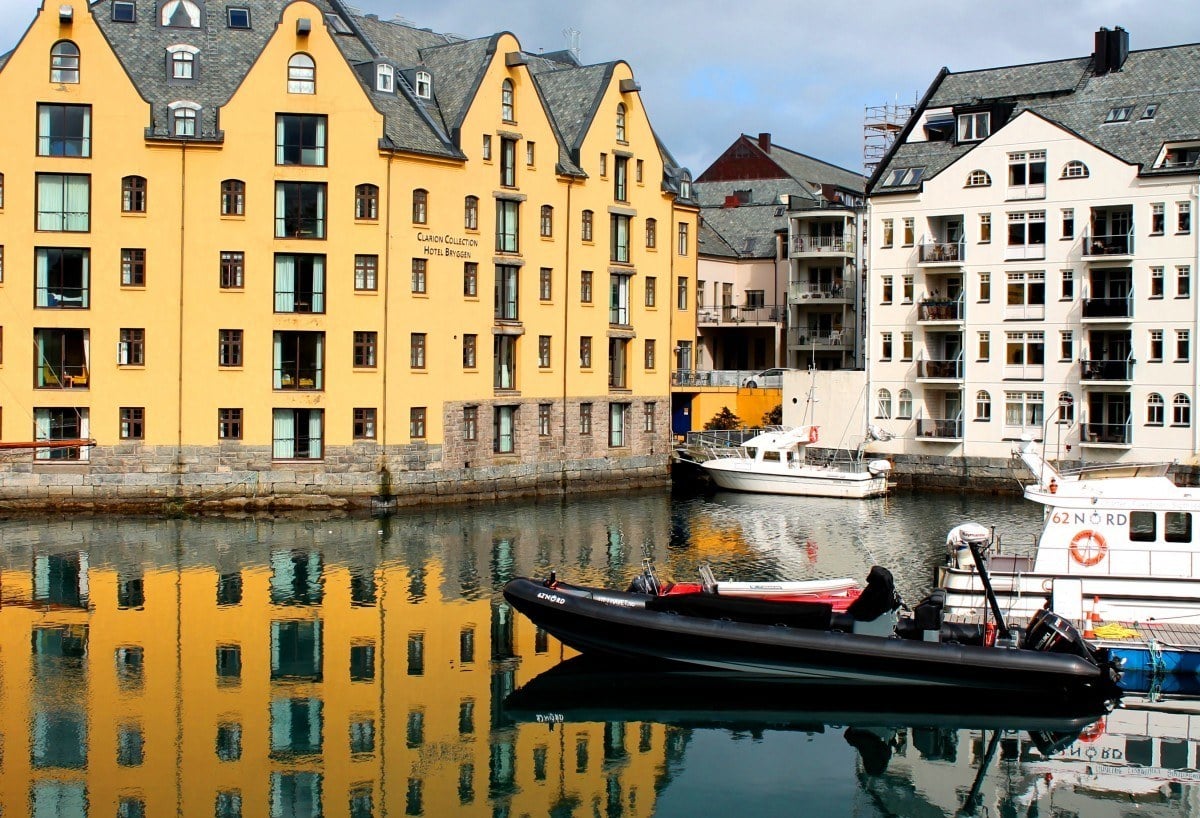 I know, I mentioned Alesund is a good place to rest, and it is! Though if you have some extra energy be sure to get into the epic Sunnmore Alps. You will find a stunning array of walking trails and the typical mind-blowing Norwegian scenery.
Tromso
Tromso is situated on the Northernmost tip of mainland Norway. Its Northern extremity means that it gets the phenomena of the midnight sun in summer and the eerie blu arctic light in mid-winter. The city itself is like a Christmas card of wooden houses and pine forests.
The main attractions of the town are the Ice Cathedral and the panorama view from Mountain Floya.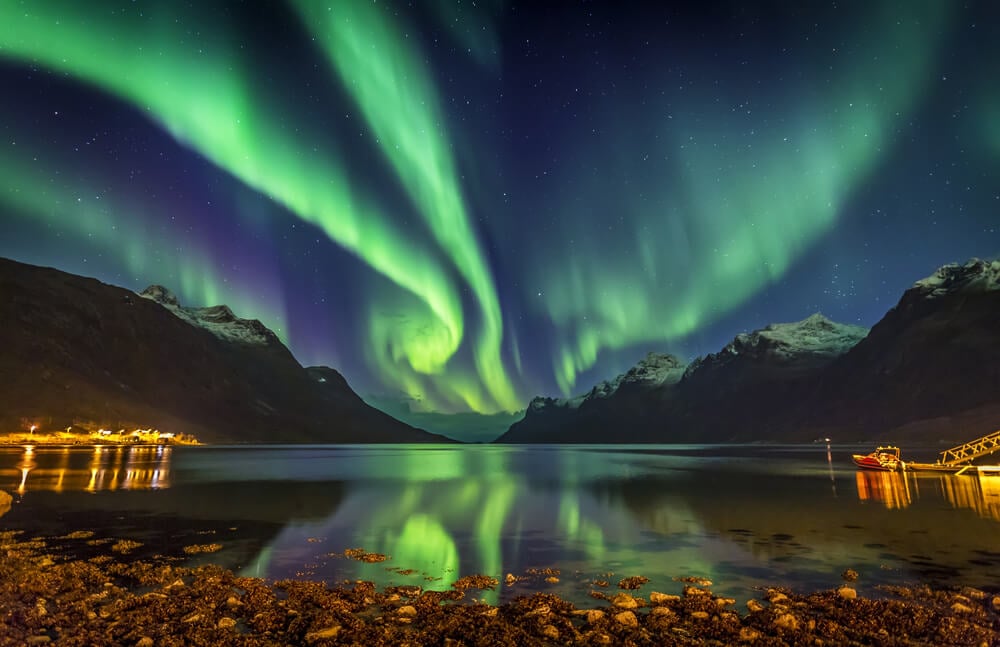 The city is a very popular staging point for Northern Lights tours and they leave every night during the dark months. However, you can probably arrange the same experience yourself at a fraction of the cost.
There are also loads of dog sledging opportunities and other winter activities. There are no hostels in the city so finding a place to stay in Tromso is tricky if you are on a budget – booking a room via Airbnb is what I did.
Tromso airport also handles 2 flights a week to Svalbard.
Lofoten and Nordland
The Lofoten Islands are like a compact version of Norway offering midnight sun in the summertime and the Northern Lights the rest of the year. The mountains are spectacular and whilst not exactly high they offer vantage onto the beautiful fjords, crystal clear waters and white beaches. The locals are also very friendly, welcoming and used to tourists.
If you are short on time then the Lofoten Islands can be visited in a single day trip from Svolvær. Most day trips visit Kabelvåg, Henningsvær and Gimsøya beach.
The Fjords
The Norwegian Fjords are the stuff of traveler legend and for many, a visit is a once in a lifetime experience. However, there is no single place known as "The Fjords" and they can be found across Norway stretching the length and breadth of the nation.
There are in fact over 1000 of them although some are more spectacular than others. Oslo, Bergen and Tromso all have Fjords surrounding them for you to gaze into or try to climb.
Eidfjord is a small, attractive village positioned near Hardangerfjord. if you have a car, take the route that goes by Steinsdalsfossen. It's kind of pretty, I guess (sarcasm). The village is about a 3 hour drive from Bergen if you make a few stops.
Eidfjord will be your base of operations for exploring the surrounding area. Specifically, for hiking the epic Trolltunga. Be sure to make it to the Vøringfossen Waterfall.
If you are not vibing with Eiffjord, you can also stay in Tyssedal or Odda.
Fjord Cruises are very popular as a way to really up close with the Fjords and also take in quite a bit of Norway. They are however very expensive.
Lapland
No, it's not lap dancing club (imagine how expensive that would be in Norway!). Lapland is perhaps best known as the fictional home of Santa Claus and every December teems with the children of wealthy parents on a once in a childhood trip to meet Santa and his Elves. Lapland actually straddles Norway, Finland, Sweden and even Russia.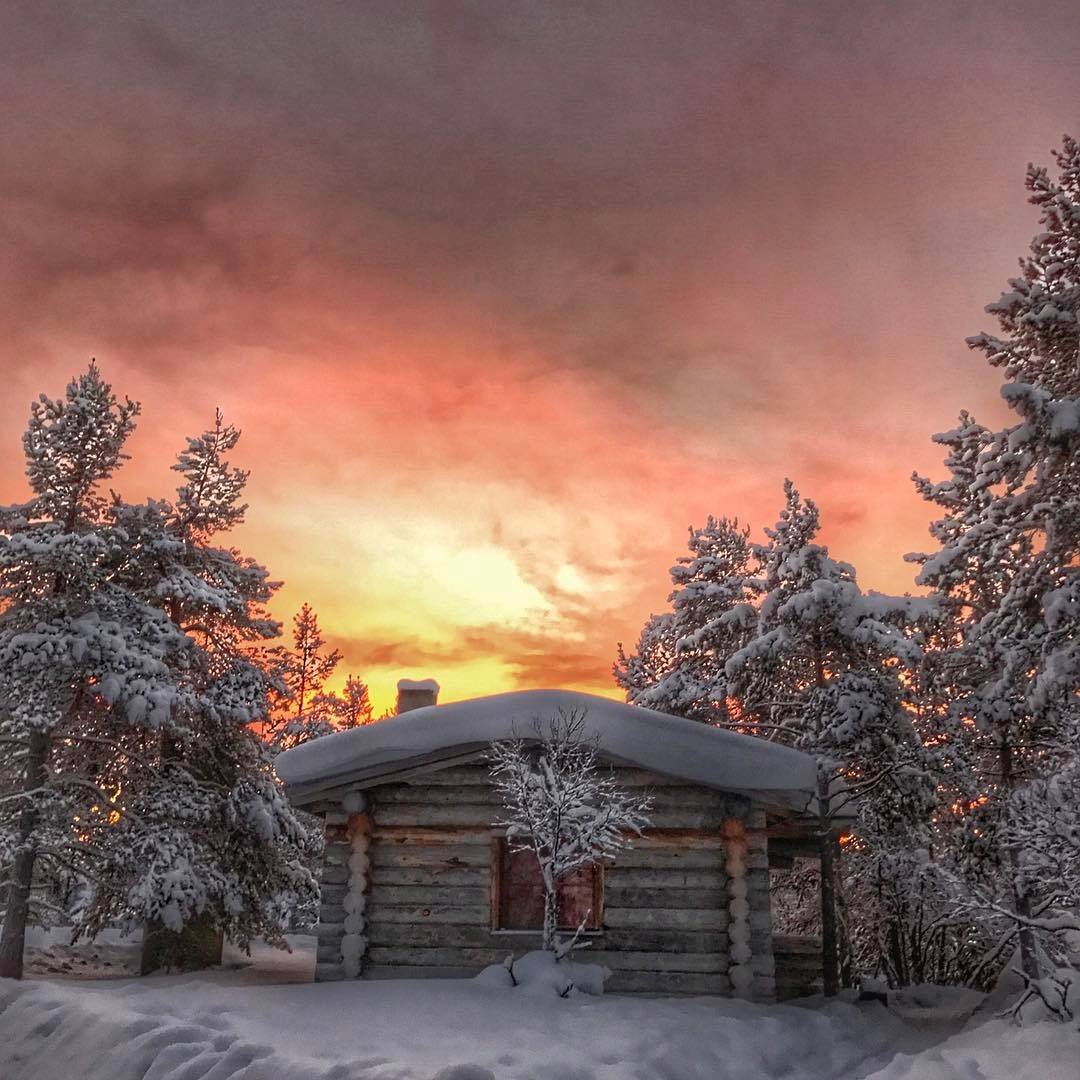 Lapland is a truly beautiful, magical and pretty wild part of Norway which remains home of the indigenous people, some of whom still live a semi-nomadic way of life.
If you wish to visit Norwegian Lapland then head for Alta and Kirkenes as both connect to Oslo.
Getting Off the Beaten Path in Norway
The tourist trail in Norway is pretty slim to be honest and finding a quiet corner is very easy. The best way to experience the Norway less traveled is to get a car and drive through the Fjords and check out the smaller towns.
Another golden idea is to randomly pick towns and villages to visit based on the availability of Couchsurfing hosts – finding hosts in Oslo can be hard as users are cynical but if you pick a lesser known town, the host may well have never had a request before!
I have tried this technique all overt he works and ended up in some lovely places I would never have found otherwise.
Is This the Best Backpack EVER???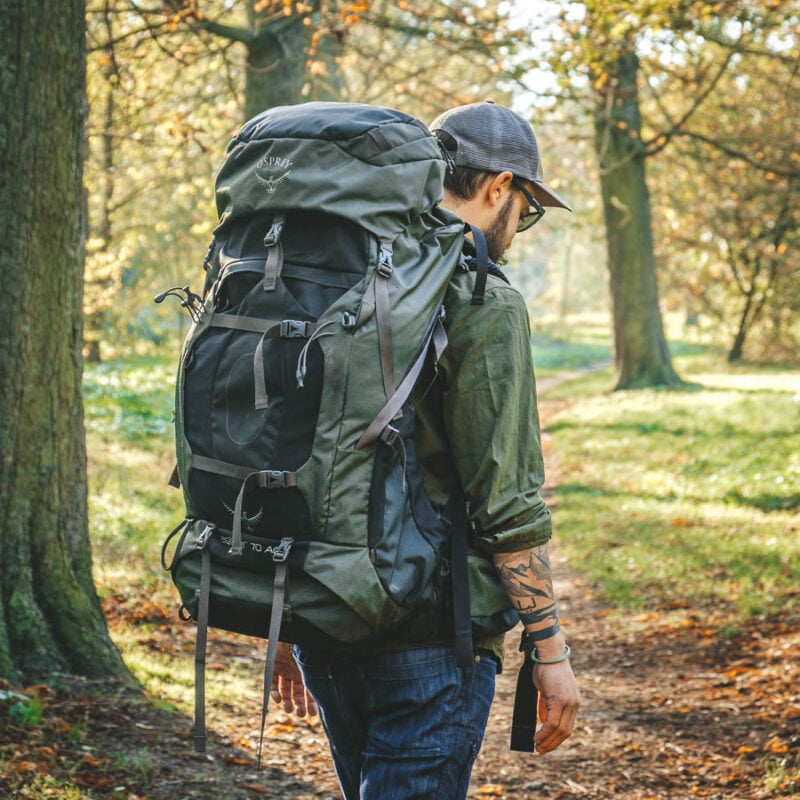 Top Things to Do in Norway
Norway offers endless opportunities for getting out into nature, cultural immersion, and generally having your mind blown. But let's look at some of the definitive things to do in Norway.
1. Northern Lights Tour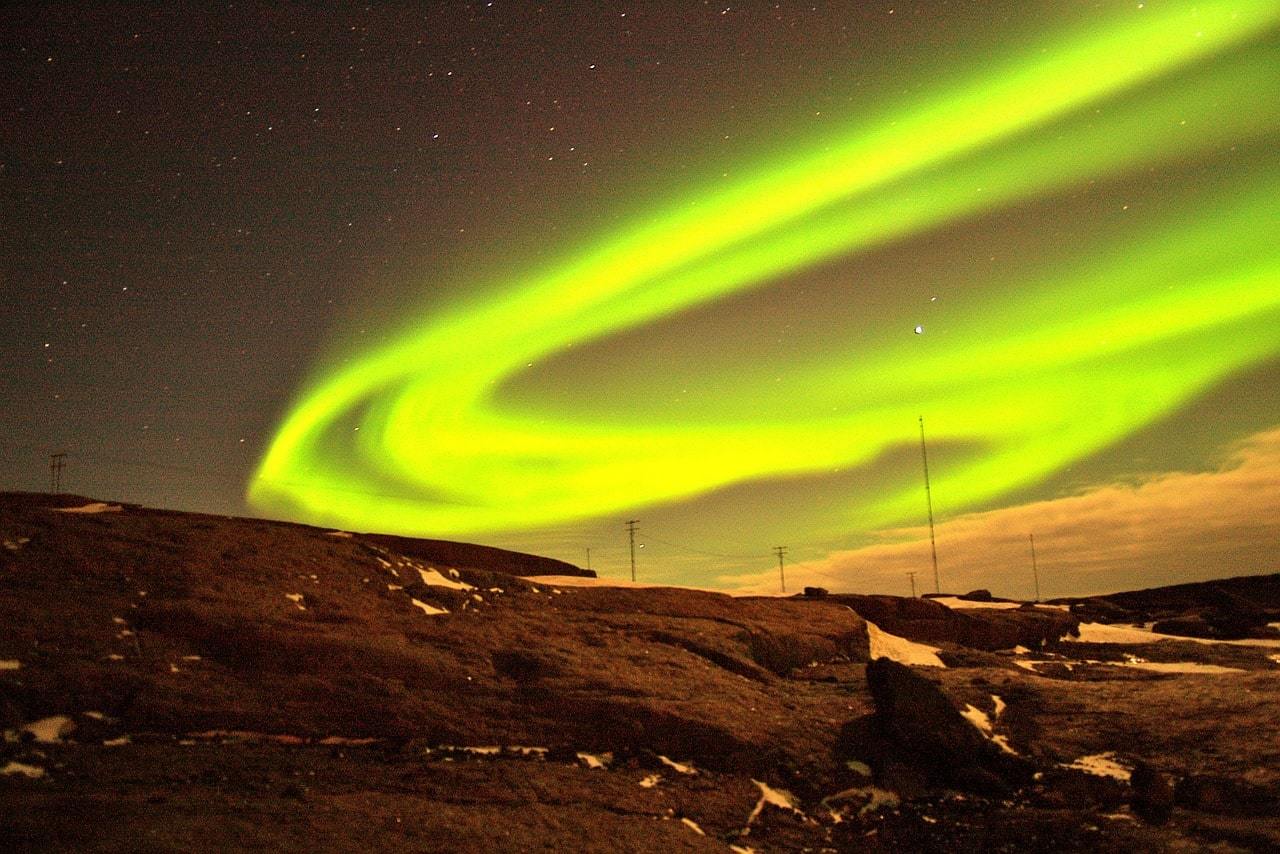 The poster boy of Nordic tourism is surely the majestic Northern Lights or 'Aurora Borealis'. Witnessing the almost supernatural natural phenomena for yourself can certainly be a soul-stirring experience.
If you are headed to Norway then you absolutely should try and see them yourself. The best time is between October – March and they cannot be seen at all during summer. Note that you have a better chance of seeing them the further North you go.
However, please note that you are not guaranteed to see them, if it is cloudy or if the solar activity is wrong they will not be visible. Also, if you do see them, note that they may not exactly be what you expected, and a few travelers have returned underwhelmed by the experience.
There are loads of Northern Lights toys operating across Norway. Note that all they essentially do is charge you $50+ to pack you onto a coach, drive outside of town and wait. It is therefore worth trying to do it for yourself either by renting a car or simply walking up a hill as far away from light pollution as you can get.
2. Fjord Cruise
The Norwegian Fjords are steep and beautiful sea cliffs that trace pretty much the full length of the country. Whilst you can take a trip to the nearest Fjord from anywhere in Norway, the quintessential way to take them in is via a Fjord Cruise. Some Fjord Cruises also cross the Bering Sea and go all the way to Svalbard.
Note that Fjord Cruises are NOT cheap and there is no way to cut costs. It will however be the trip of a lifetime.
3. Trekking Glaciers
Norway is all about the great outdoors and the natives just love to get into the forests, mountains or nearest cabin for some fresh, crisp Northern air.
There are plenty of National Parks across Norway where you can hike or trek til your hearts contents. Even most towns and cities have a great hiking trail on their doorstep. In Tromso, for example, you can follow the path along the Fjordal Coast and you'll feel transported.
Small Pack Problems? 😉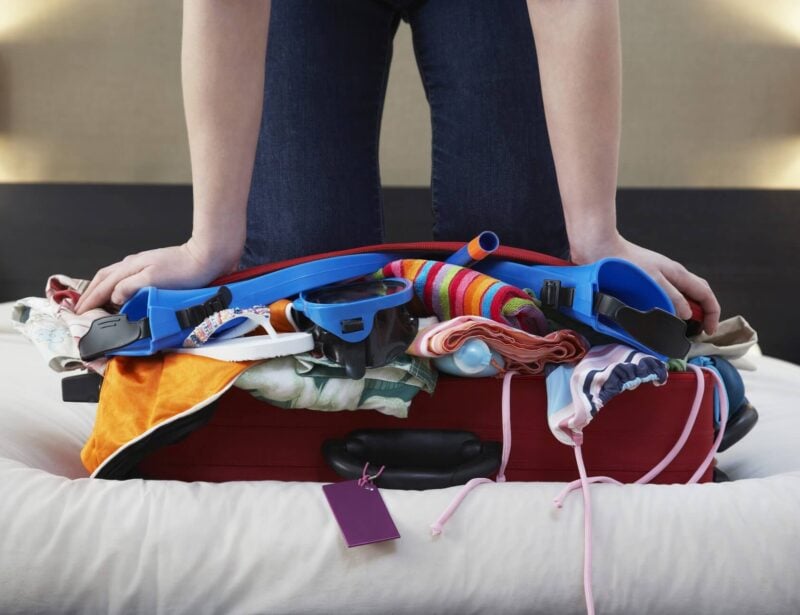 My missus travels with all her clothes in ziplock bags: don't be like my missus. UP YOUR PACKING GAME!
Packing cubes for the globetrotters and compression sacks for the real adventurers – these babies are a traveller's best kept secret. They organise yo' packing and minimise its volume too so you can pack MORE.
Or, y'know… you can stick to ziplock bags.
View Our Fave Cubes
Or Check Out the Sacks!
Backpacker Accommodation in Norway
Accommodation in Norway is pricey. Hostel dorms can set you back $30 and there aren't any hostels at all in Svalbard, Tromso or a lot of popular spots. Hotels and guest-houses are also expensive so your best option is to try and find a spare room on Airbnb.
You can obviously try Couchsurfing but I never had any luck – too many savvy locals realised they could make a few bucks renting that couch real estate out to travellers and switched to Airbnb.
Some hostels charge extra for letting you use kitchen facilities. For this reason, Airbnb is often a better option. Check-in advance. Shame on your Norwegian hostels!
Best Places To Stay in Norway
Norway Backpacking Costs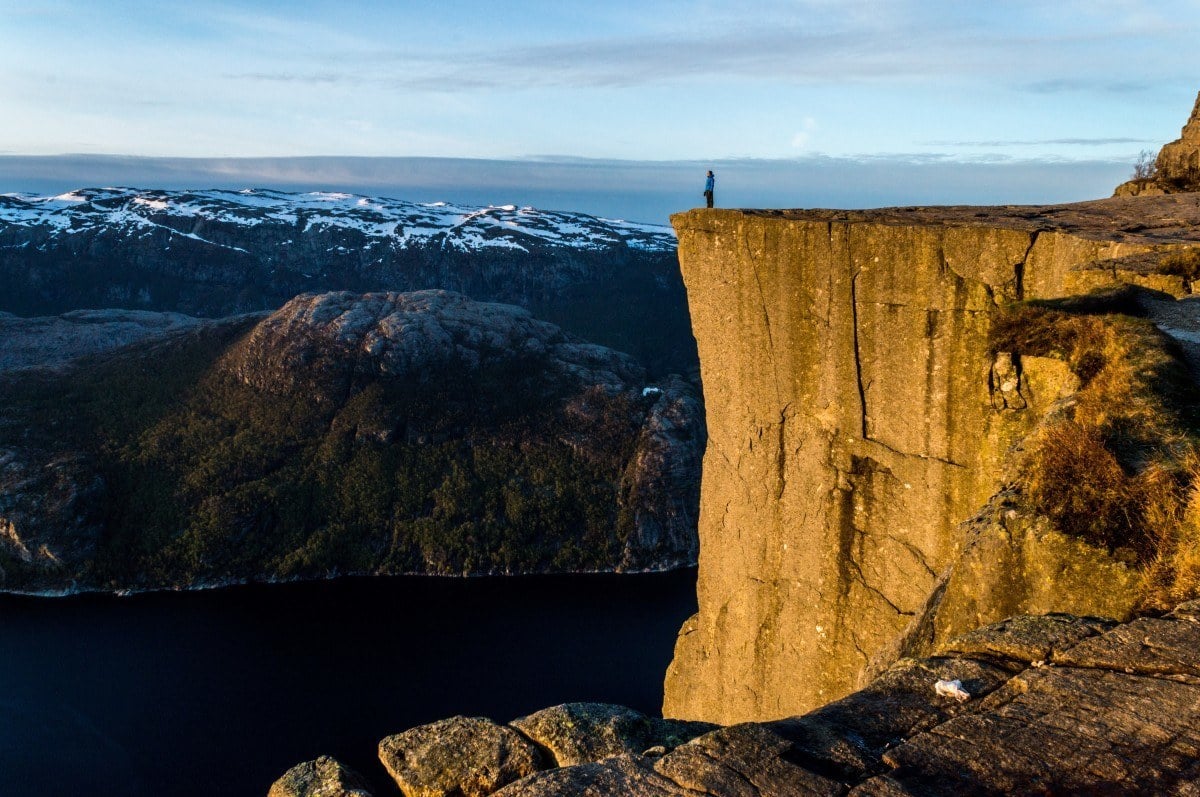 A Daily Budget in Norway
Obviously your daily budget will vary depending on your travel style, what you do and how hard you hunt for bargains. However, these loose averages are a pretty guide to use a starting point.
Norway Daily Budget

| Expense | Broke Backpacker | Frugal Traveler | Creature of Comfort |
| --- | --- | --- | --- |
| Accommodation | $22 | $40 | $100 |
| Food | $15 | $20 | $60 |
| Transport | $5 | $8 | $20 |
| Nightlife | $18 | $25 | $50 |
| Activities | $10 | $15 | $25 |
| Totals per day | $70 | $108 | $255 |
Money in Norway
Norway uses the Norwegian Krone (NOK). Cash points are widely available. Card payments are also widely accepted if not preferred, including in taxi's or on busses.
As of July 2020, $1 USD = 9.12 NOK
Travel Tips – Norway on a Budget
Norway is seriously expensive. It is one of the most expensive countries in the world and unless you are rich, you feel the pain of this. However, there are a few things you can do to try and cut your costs.
Take as much food with you from home as you can. Pack dried noodles, pasta and tinned goods and cook them in your Airbnb or hostel.
Note that wild camping in open country is enshrined in Norwegian law.
Avoid eating out or drinking as much as possible. Even alcohol in a supermarket carries very high taxes.
Also, try to avoid tours unless they are necessary. You can usually seek out the Northern Lights yourself – you just need to get away from excess light pollution and find a good vantage point.
Why Should You Travel to Norway with a Water Bottle?
Plastic washes up on even the most pristine beaches… so do your part and keep the Big Blue beautiful!
You aren't going to save the world overnight, but you might as well be part of the solution and not the problem. When you travel to some of the world's most remote places, you come to realise the full extent of the plastic problem. And I hope you become more inspired to continue being a responsible traveller.
STOP USING SINGLE-USE PLASTIC! If you'd like some more tips on how to save the world.
Plus, now you won't be buying overpriced bottles of water from the supermarkets either! Travel with a filtered water bottle instead and never waste a cent nor a turtle's life again.
Save $$$ • Save the Planet • Save Your Stomach!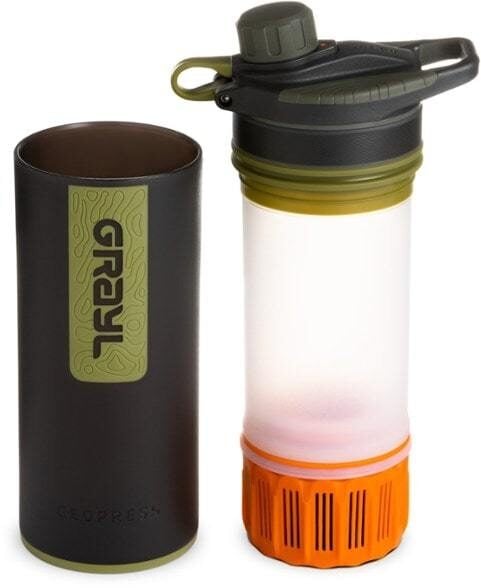 Drink water from ANYWHERE. The Grayl Geopress is the market's leading filtered water bottle protecting your tum from all the waterborne nasties. PLUS, you save money and the environment!
Single-use plastic bottles are a MASSIVE threat to marine life. Be a part of the solution and travel with a filter water bottle.
We've tested the Geopress rigorously from the icy heights of Pakistan to the tropical jungles of Cuba, and the results are in: it WORKS. Buy a Geopress: it's the last water bottle you'll ever buy.
Buy a Geopress!
Read the Review
Best Time to Travel to Norway
The time of year you visit Norway will inform your experience of it. If you visit in summer expect pleasant, long days. Summer is a great time to go camping and hiking the long trails. Note that if you do visit in summer you won't see the "Christmas card perfect" side of Norway and the Northern Lights will probably not be visible.
Winter is the exact opposite of the above. The weather can be dangerously cold if you don't wrap up (see the packing section, proper winter gear is necessary) and the nights can be endless. In Oslo and the South, there will be 4 to 5 hours of daylight each day. In Tromso and the North, the sun never rises but you get the spooky, beguiling blue light between 12 – 3. In Svalbard, it says pitch-black 24/7 during December and January.
To try and get the best of both, it may be worth visiting in October to March. This is also the prime Northern Lights spotting period. However, accommodation prices will spike at this time.
Festivals in Norway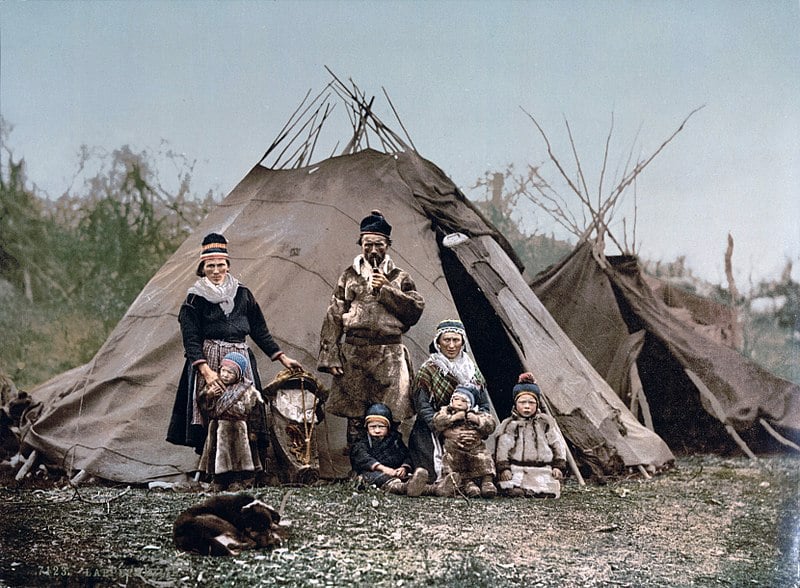 Nordlysfestivalen (Northern Lights Festival) is a celebration of music in all its forms, from opera to jazz, and from chamber music and symphonic orchestras to modern tunes. Taking place late in January each year, this festival is special for both the music and the locations chosen for the concerts.
Northern Troms – The Sami are the indigenous people of Northern Scandinavia with a vibrant culture and their own language (that's also recognized as one of Norway's official languages). Riddu Riu Festivàla, ("little storm on the coast") in Sami, is an international indigenous festival that's been happening each July for 25 years. Expect a pretty diverse program ranging from music and films to workshops, literature, and performances.
Midnight Sun Festival – Island of Værøy – A truly underground, psychedelic festival set on a stunning beach in Northern Norway. Expect 3 days of Psytrance and dancing under the never-setting sun.
What to Pack for Norway
If you are visiting in summer, expect pleasant days, cool nights and occasional rain. Therefore we suggest packing a combo of long and short sleeves, pants and a good rain jacket. Norwegian's generally dress well and smartly so do make an effort (we're talking to you, American readers!).
Winter is cold and you will need to pack properly. If you are going North, bring thermal undergarments, wool socks, thick gloves, a thick ski hat and a thick, warm, waterproof jacket. Here is my tip: when I visited I bought an old ex-rental ski-jacket from an outdoor rental shop in my home-town. Failure to prepare will ruin your trip.
Also, try to bring everything you need for your trip with you as buying toiletries or adapters on the ground in Norway will be far more expensive than back at home. I also recommend packing your bag with as many packs of dried noodles and pasta as you can to save food costs.
Staying Safe in Norway
Norway is a prosperous and peaceful land peopled with mild natives. Crime is relatively rare except for the odd drunken scrape and the child-eating Trolls which once plagued the villages have been hunted out of existence.
The biggest dangers facing travellers to Norway are natural ones. The cold can be deadly if you are unprepared – wrap up warm and do not get too drunk as falling asleep in the snow can kill you.
Driving can also be hazardous if you are not used to icy roads. Also, do not stop your car in the road to watch the Northern Lights as this is illegal.
If you visit Svalbard, polar bears are also a danger although they rarely venture inside the town limits. Do not stray outside of the town limits without either a guide or a gun.
Sex, Drugs, and Rock n' Roll in Norway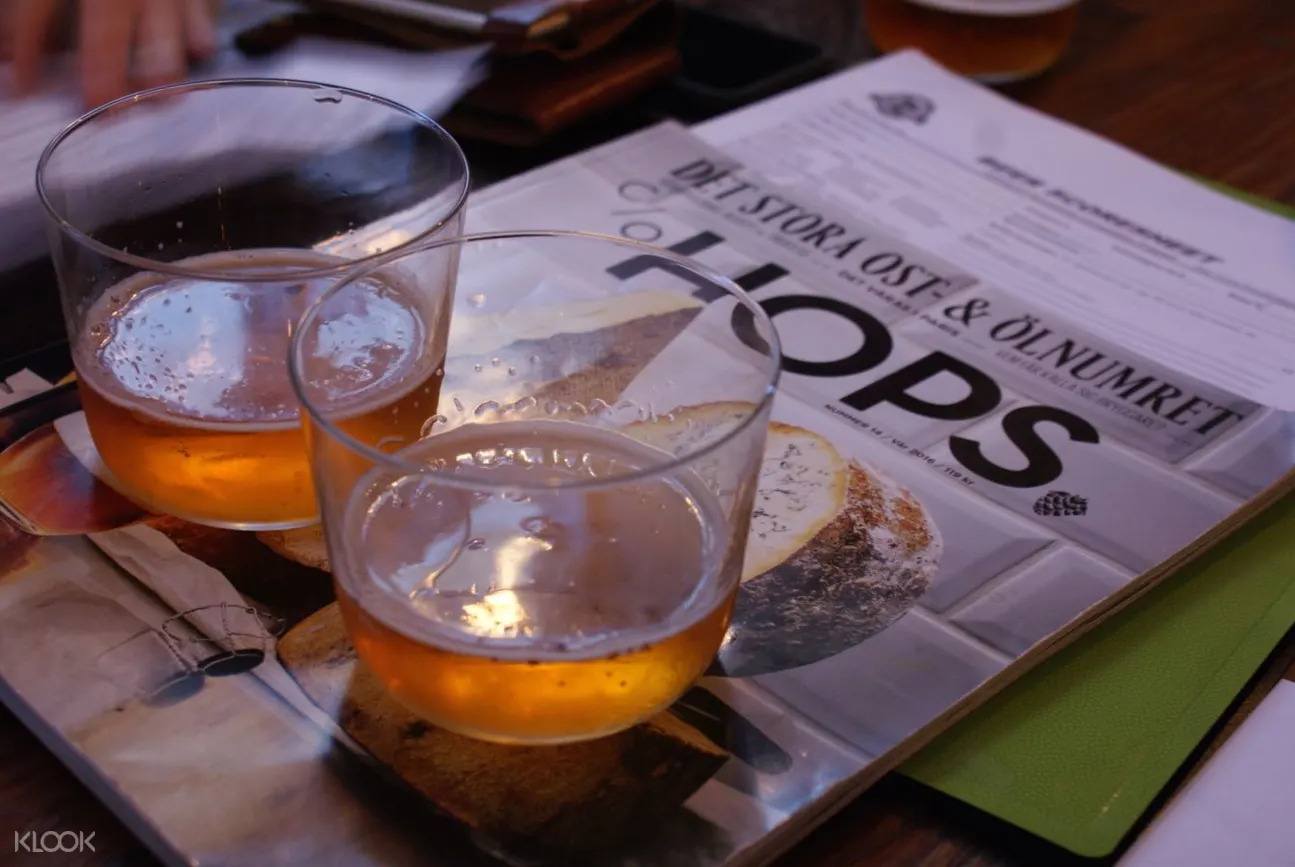 Scandinavians have a reputation for being a little more reserved than us "Southerners" but my God, they do like a drink! There are plenty of bars and pubs across Norway serving whatever tipple takes your fancy. There is also an established club scene in Oslo and other big cities.
Drugs in Norway are now decriminalised meaning you will not be prosecuted for use. However, this does not mean that they are legal or socially acceptable. Like anywhere in Europe, you can find weed, MDMA and cocaine in cities if you know where to look. Prices can be very expensive though.
Psychedelic mushrooms also grow abundantly in the forests but unless you know exactly what you are looking for, we do advise against foraging.
World Nomads Travel Insurance For Norway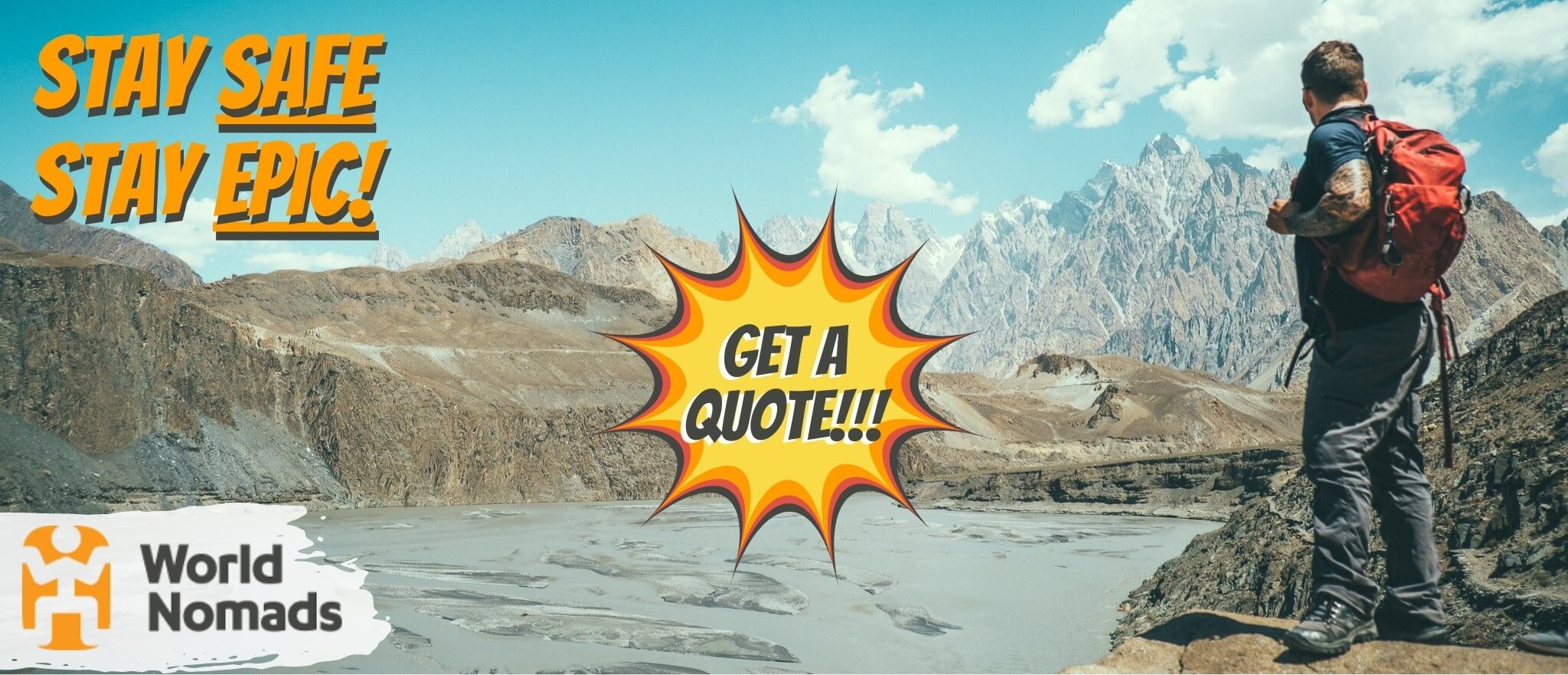 World Nomads' mission is to support and encourage travellers to explore their boundaries. They offer simple & flexible travel insurance, and safety advice to help you travel confidently.
They've been doing it since 2002 – protecting, connecting, and inspiring independent travellers just like you.
Get a quote below or read our in-depth review!
World Nomads provides travel insurance for travelers in over 100 countries. As an affiliate, we receive a fee when you get a quote from World Nomads using this link. We do not represent World Nomads. This is information only and not a recommendation to buy travel insurance.
If you have an accident in Norway, your medical bill may require a remortgage to pay. Therefore we suggest getting insured before you set out.
How To Get Into Norway
Norway is well connected by air to the rest of Europe and Oslo handles daily flights from all over the world. A lot of budget airlines also stop at Stavanger, Bergen, Oslo and even Tromso meaning you can usually fly into Norway pretty cheaply. Land borders with Finland, Sweden are porous and you may not even realise you have crossed them.
Entry Requirements for Norway
Norway is NOT in the EU but is in the EEC meaning it has adopted the EU entry and immigration policies and is part of the Schengen Zone. EU citizens do not need a visa to enter. You may need a Schengen Visa to enter Norway although citizens of many nations do not even need this.
Most nationalities can enter the Schengen zone visa-free for up to 90 days in a period of 180 days, but to stay longer than 90 days requires a bit more planning.
Forget boring accommodation… book yourself an EPIC STAY!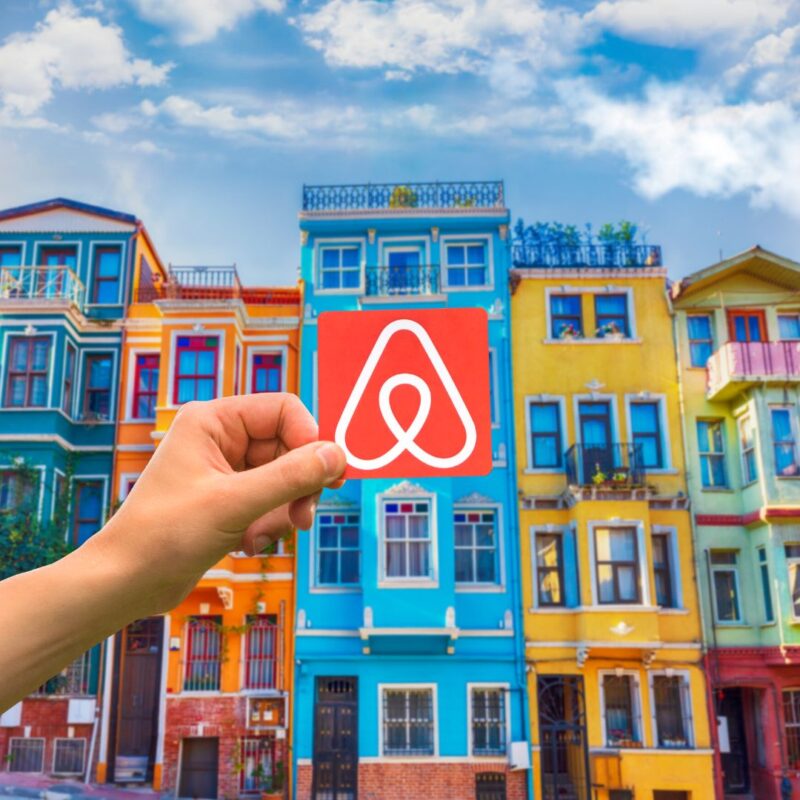 Why stay in a naff hotel when you can stay in a cosy, stylish local house instead? And for half the money too!
Stay somewhere EPIC and save your hard-earned dollars — from houses to barns to castles and caves, there is an Airbnb for every occasion!
Book an EPIC Stay
How Get Around Norway
Norway covers a very large, long landmass and distances between towns and cities are pretty big. There is an extensive and handy train network connecting the country and some of the journeys are very scenic.
However, train travel in Norway is expensive. Perhaps counter-intuitively, it can often be cheaper to fly between destinations especially if you are going from far North to South.
Traveling by Bus in Norway
In terms of inner-city travel, bus networks are efficient and reliable. Many prefer card payment over cash. Taxies are regulated making them fair and honest and take card payment too – however, they are expensive.
Petrol costs are also the highest in Europe. Driving to Norway also means you have to drive through some other, expensive Scandinavian countries.
Visiting Norway? Don't risk having to sit on the floor or change your itinerary because you missed the last ticket at the station! Find the best transport, best time and the best fare with 12Go. And why not use what you've saved to treat yourself to something nice upon arrival?
It only takes 2 minutes! Book your transport on 12Go now and guarantee your seat easily.
Hitchhiking in Norway
Hitchhiking in Norway is certainly possible. It works best away from big cities in rural and semi-rural areas and in the Northern parts is often a legitimate way to commute! However, some travellers have commented that they sometimes found it hard to find a ride. Non-white visitors may also particularly struggle to find a ride.
Onwards Travel from Norway
As we said, Oslo airport connects to the whole world and there are budget flights to either European destinations from Bergen & Stavanger too. Land borders are with Finland and Sweden and can be easily crossed by bus, train or private vehicle.
There is also a border with Russia. This is not porous and you will need a Russian visa to cross.
Working in Norway
There is no legal minimum wage in Norway but in practice, the base line is $12.50 per hour. "Unskilled" workers do comparatively well in Norway and it is a temping place for some ex-pats to live and work. However, note that living costs are very high so this does need to be factored in.
To work in Norway, you will need to have a good go at speaking Norwegian which is not the easiest to learn. However, my British friend did find work as a postman with only a basic grasp of Norwegian.
A notable alternative is tourism work in Svalbard – the default language in Svalbard and many comers head there seeing work as bar tenders, cooks and tour guides.
Work Visa's in Norway
Citizens of the EU and EEA can live and work in Norway freely. Everybody else will need a residency and residence permit. The type of permit you need will vary depending on what job you are intending to do and employments must be secured in advance.
Teaching English in Norway
Teaching English in Norway is an option for native speakers. However you will need a TEFL, a degree and possibly even a university teaching qualification.
Volunteering in Norway
Volunteering abroad is an amazing way to experience a culture whilst helping your host community. There are plenty of different volunteer projects in Norway including teaching, construction, agriculture and pretty much anything.
Norway may not need as much support from volunteers as other less-developed nations, but there are still opportunities available. Hospitality, farming, and gardening are all areas where travelers can offer up some time and skills. Other opportunities include social work and taking tours. If you're not an EEA citizen, then you'll need to obtain a permit in order to volunteer.
Want to find some awesome volunteering opportunities in Norway? Then signup for Worldpackers, a platform that connects local hosts with volunteer travelers. As a Broke Backpacker reader, you'll also get a special discount of $10. Just use the discount code BROKEBACKPACKER and your membership is discounted from $49 a year to only $39.
Programs run through reputable work exchange programs, like Worldpackers, are generally very well-managed and highly reputable. However, whenever you are volunteering do stay vigilant especially when working with animals or children.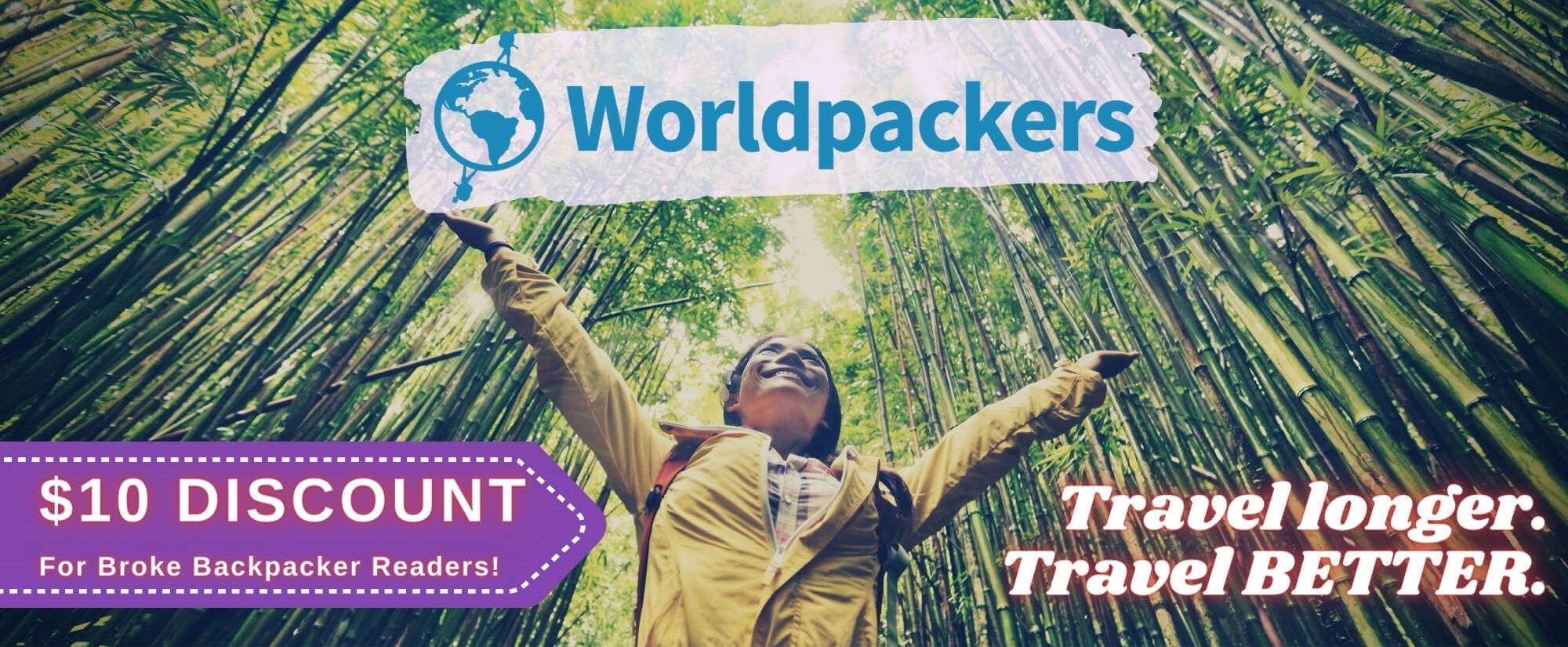 Worldpackers: connecting travellers with meaningful travel experiences.
What to Eat in Norway
Norwegian specialities include reindeer meat which can be dried and turned into jerky, eaten as steak or made into a burger. Seafood is also ubiquitous and delicious. Norwegian rye bread and crackers are a staple but can be a bit dry and bland for visitors.
Pizza and sandwiches are also available from 7/11's and can be useful for those eating on a budget.
Kjøttkaker – This simple dish remains a staple of Norwegian family meals. It's seasoned, kneaded mincemeat with a variety of ingredients, such as onions or rusk, pan-fried in cakes. Best served with either mashed peas or creamed cabbage.
Smalahove – Salted, smoked sheep's head, boiled and served with potatoes and the omnipresent kohlrabi mash. Not for the faint-hearted and best washed down with some good ale – as this is often served in pubs rather than a restaurant that won't be a problem.
Bergensk fiskesuppe – Norwegians eat a lot of seafood but this one is worth a special mention. It's a subtle fish soup of Bergen. Usually made from Pollock and stock, double cream is added for added creaminess. Perfect on a cold day (of which there is no shortage when backpacking Norway.
Norwegian Culture
Norwegians are for the most part friendly, hospitable and humble. They are not naturally outgoing like some other Europeans and can sometimes come across as frosty. However, if you persevere you will find them quite warm and very happy to celebrate and show off their county.
Useful Travel Phrases for Norway
Many Norwegians (especially the young ones) speak English very well and will be happy to do so. However, English proficiency is less common in rural areas. Also note that in some areas efforts to speak a little Norwegian will be very highly appreciated.
Here are some helpful Norwegian Phrases;
Yes – Ja
No – Nei
Thank you – Takk
Thank you very much – Tusen takk
You're welcome – Vær så god
Please – Vær så snill
Excuse me – Unnskyld meg
Where is …? – Hvor er …?
How much is the fare? – Hvor mye koster billetten?
One ticket to …, please. – En billett til …, takk.
How do you say this in Norwegian? – Hvordan sier man dette på norsk?
A polar bear ate my friend – En isbjørn spiste vennen min
Books to Read about Norway
These are some of my favorite travel reads and books set in Norway, which you should consider picking up before you begin your backpacking adventure…
Phillip Pullman – Northern Lights – This children's fantasy book also appeals to adults, I read it when I was 18 and loved it. It is a fantasy theological masterpiece set across parallel universes.
Fellowship of Ghosts: A Journey Through the Mountains of Norway –Join the author as he hikes through the mountainous terrain of central Norway and recounts the tales of those who have walked before him.
Jo Nesbo – The Snowman – Noric Noir probably needs no introduction to you. Scandinavian crime novels are now world famous and have spawned countless film and TV adaptations. Jo Nesbo is one the genres leading proponents.
A Brief History of Norway
The earliest agricultural settlements of Norway appeared between 4000 – 5000 BC. From the late 8th century the Norwegian sea-faring and Viking ages began which also saw the first unification of Norway. Christianity arrived in the 11th century which is when the first Stave Churches were built.
In 1397, Norway entered into the Kalmar Union with Sweden and Denmark and remained a part of this until the end of the Napoleonic wars in 1814. However, it took a short war with Sweden before Norwegian independence was fully recognised & realised.
Nazi Germany occupied Norway in WWII from 1940 until 1945 although a bitter and heroic campaign of resistance was waged throughout.
Oil was discovered in Norway in 1969 which began its modern period of prosperity. Today it remains one of the wealthiest countries on earth.
Some Unique Experiences in Norway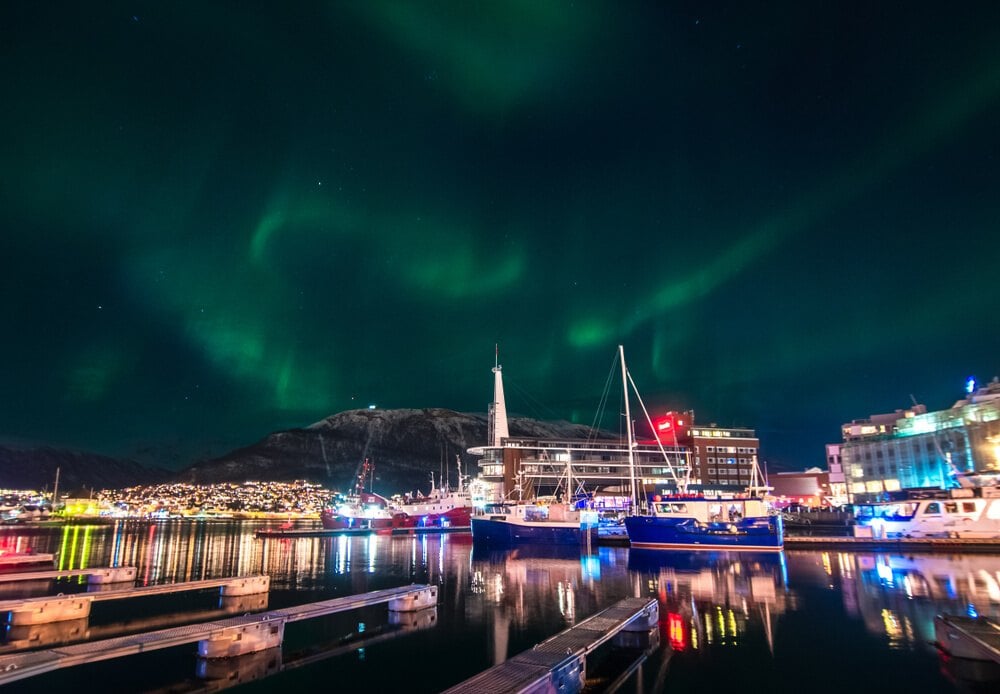 DON'T DIE OUT THERE! …Please 🙂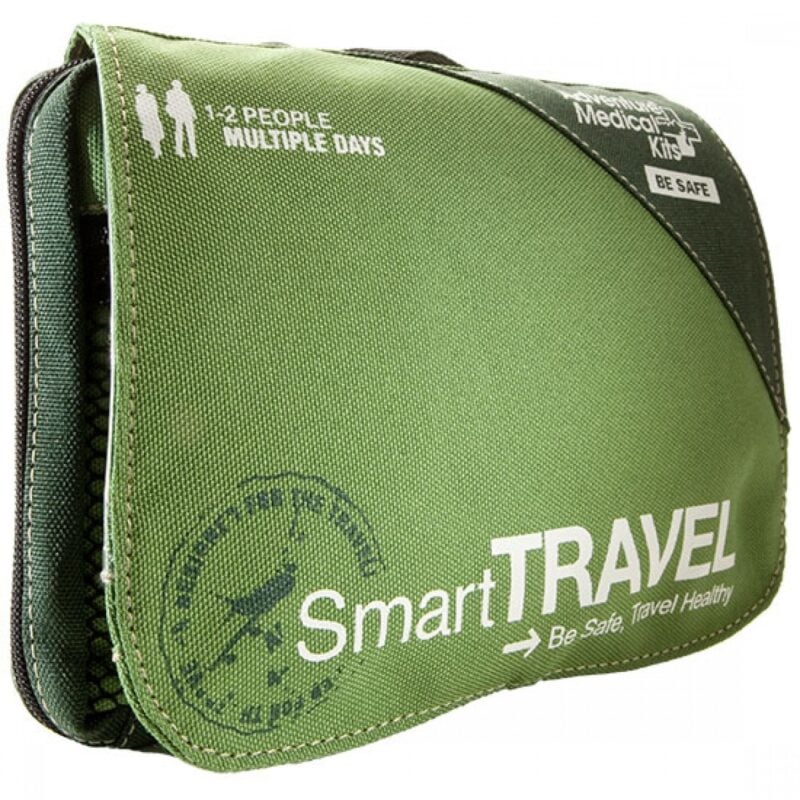 Things go wrong on the road ALL THE TIME. Be prepared for what life throws at you.
Buy an AMK Travel Medical Kit before you head out on your next adventure – don't be daft!
Buy on REI
Final Advice Backpacking Norway
So there we have it. Whilst it will be expensive, Backpacking Norway is an experience you will never forget. You will remember the crisp air and majestic nights for years to come.
Just remember my usual harping advice: don't be an asshole on holiday – drink only what you can handle, be respectful, and don't be a shit-stirrer.
---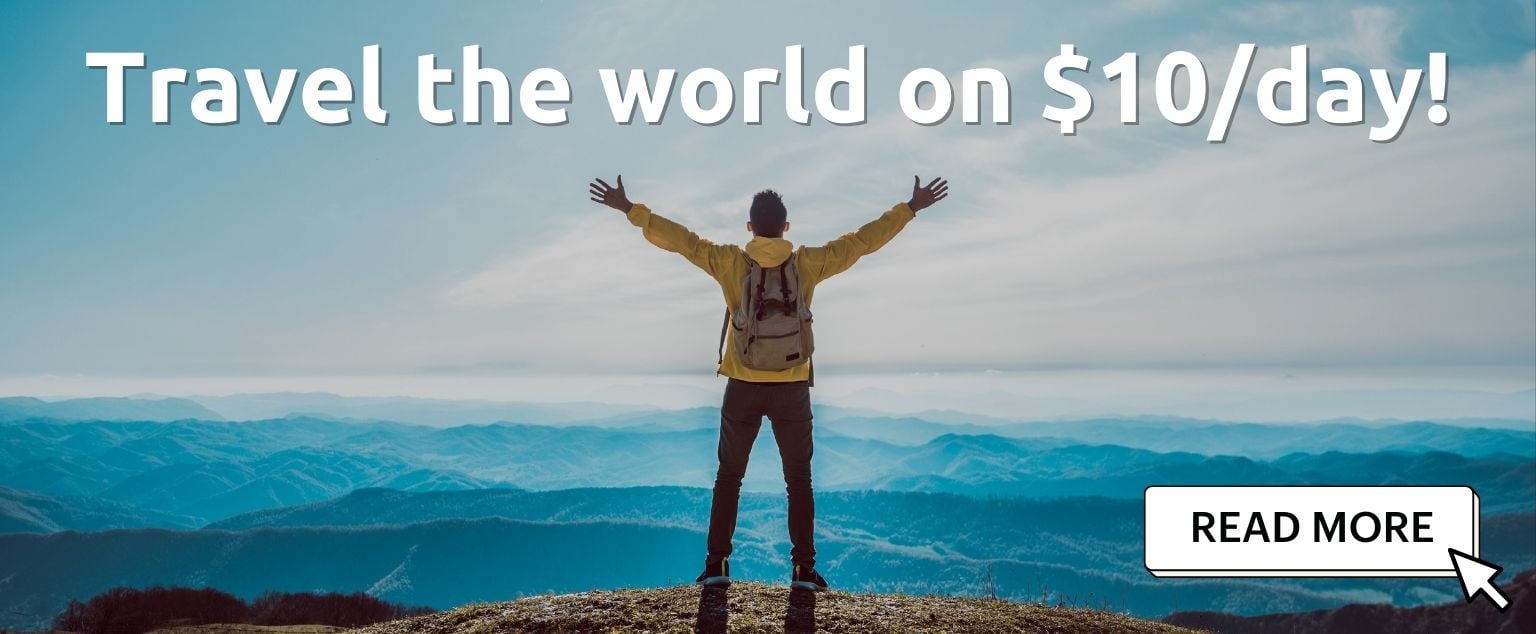 And for transparency's sake, please know that some of the links in our content are affiliate links. That means that if you book your accommodation, buy your gear, or sort your insurance through our link, we earn a small commission (at no extra cost to you). That said, we only link to the gear we trust and never recommend services we don't believe are up to scratch. Again, thank you!