The Northern Lights are a soul stirring phenomena that draw thousands of visitors to the northernmost reaches of the planet every winter. The sparkling display isn't easy to spot and many people even make a few attempts to catch a glimpse.
Unfortunately, it's almost impossible to plan a trip around them and they are not guaranteed. You can't check out any forecasts more than an hour or so in advance as they depend heavily on sun activity Even the forecasts that exist aren't always that reliable…
This is where we come in! We can't make any promises, but there are some ways you can make spotting the galactic phenomenon more likely. In this guide, we've got some hints and tips on how to increase your odds, and what to do when you actually see them.
So let's get started.
What are the Northern Lights?
Dancing in the night sky, the Northern Lights are among Earth's most beautiful natural phenomena. Also known as Aurora Borealis, this gorgeous light display is caused by gas from the sun –this is known as a coronal mass ejection. When it hits the Earth's magnetic field, the colliding particles cause different frequencies of light to occur.
There are three main types of light – green, purple and red. The colour you see depends on how deep the CME hits the magnetic field. Purple is usually the first colour you see, and if you ever see red, the chances are you're probably able to see all three colours.
Beautiful light display aside, the CME that causes the Northern Lights can also damage some of our electric grids on earth. Scientists keep an eye on them so they can study this and better prepare our infrastructure. These studies have resulted in a number of websites available that can tell you how likely you are to see the lights at any given time.
So why are they more common the closer you get to the Arctic Circle? This is just to do with the shape of the earth's magnetic field and the way it tilts. It's also much darker in the far north during the winter months meaning the lights aren't interrupted by sunlight. You can actually see similar lights in the Southern Hemisphere (Aurora Australis) but given it's much harder to visit Antarctica, it's unlikely most people will get the opportunity.

Do You Want to Travel FOREVER??
Pop your email in below to get a FREE copy of 'How to Travel the World on $10 a Day!'.
When is the Best Time to see the Northern Lights?
In the winter! It's possible to see them all year round (depending on where exactly you are), but interference from sunlight is at its lowest during the winter. If you're visiting a destination above the Arctic Circle in winter, it's actually possible to see them throughout the 'day' thanks to the Polar Night. This is when the entire region is plunged into darkness for a month surrounding the winter solstice.
Aurora season can stretch anywhere from late August to early March depending on where in the world you are. The best season is from November to February. You'll find tours are much more effective during these months too. Note that if you are into the Arctic Circle in summer, you won't be able to see them as there is simply too much daylight.
Where Can You See the Northern Lights?
It's a common misconception that the further north you go the better your chances are – this isn't entirely true and the reality is more complex. In fact, the closer to the Arctic Circle you get the better. For most people, this means travelling northwards, but once you start to get closer to the North Pole your chances decrease again as adverse weather tends to be obstruct the sky.
As mentioned above, the earth's natural tilt influences where the CME hits the planet's magnetic field causing the lights. The Arctic Circle naturally tilts in the direction of these ejections, which is why they're stronger in this region. The circle runs through much of Northern Europe, Canada and Alaska – although the peak zone is a little bit further south on the Atlantic Ocean.
Should You Join a Northern Lights Tour?
It depends on what you want from the tour! This is a naturally occurring event with little scope for prediction, so a tour won't guarantee anything. The longer you book a tour the better your chances, but you could be spending weeks in a destination and not see the lights at all. You need to keep these odds in mind when booking anything in the aurora zone.
So why do people book a tour? They're really handy in the event the lights show up when you might be otherwise occupied. Tours have staff on hand throughout the night to come get you as soon as the lights appear. They also have trained photographers that can help you take gorgeous photos of the lights.
Ultimately, however, many people book tours knowing that they'll at least get some other form of excursion out of them. Week-long tours will take you on a different activity every evening – usually dog sledding, snowshoeing and other adventure activities. This can save you money if you wanted to do those things anyway.
I once joined a Northern Lights in tour in Iceland that drove us out into the countryside but we didn't see anything. Therefore it proved to be a rather expensive, pointless bus ride.
The 11 Best Locations To See The Northern Lights
1. Alaska (United States)
As the northernmost state in the United States, Alaska is the only place in the country where you are likely to see the Northern Lights. Deep in the interior you will also find some fascinating Alaskan cultural attractions.
In the town of Fairbanks you can enjoy the ice art competition that is held in February or March every year, whilst heading further north will take you to some of America's most remote communities.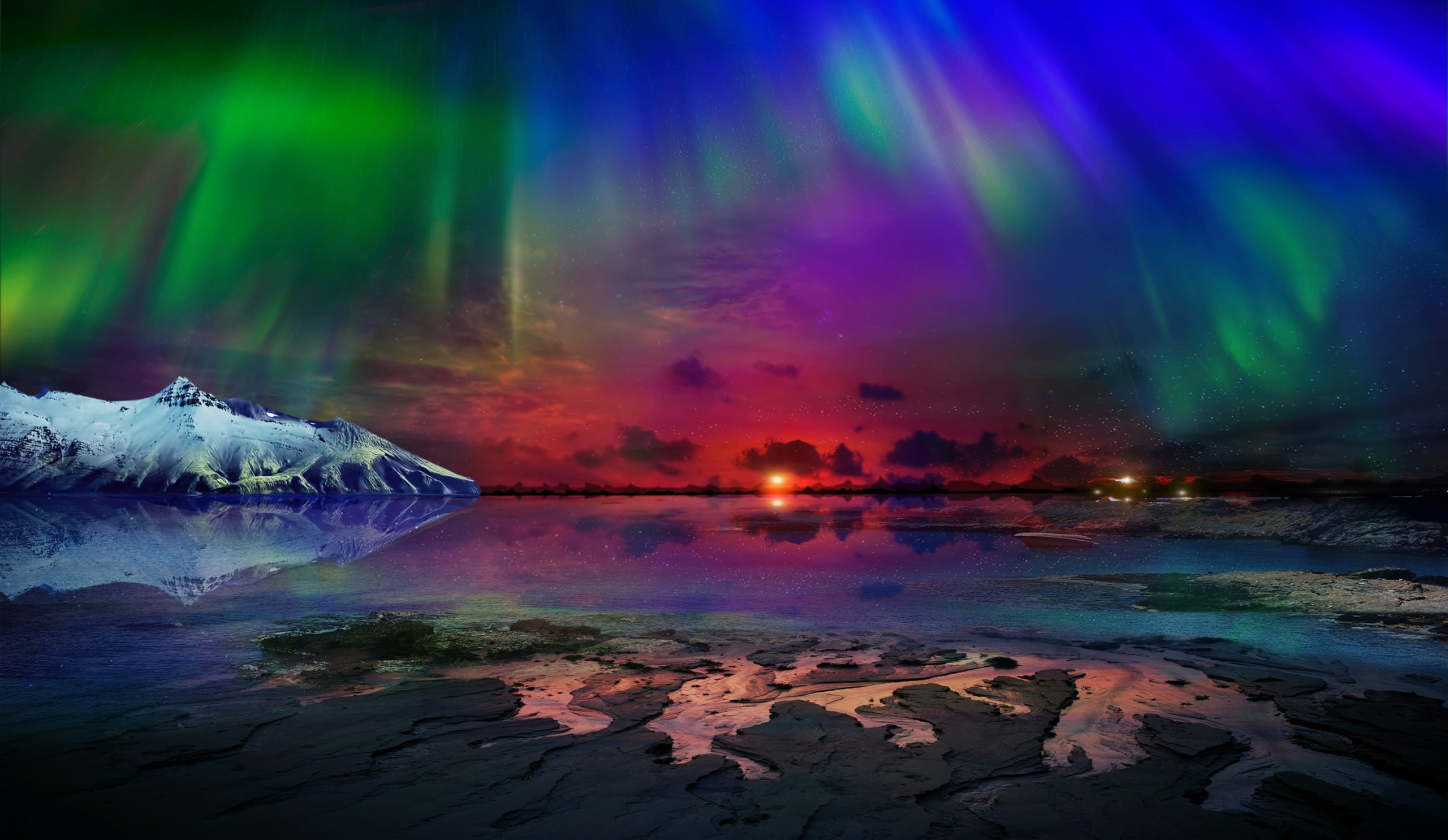 Where to see the Northern Lights: It's possible to see them from all over the state, but you'll have better choices heading to the interior or the far north. Utqiagvik is the northernmost settlement, but it's hard to get to. Fairbanks is your best bet, and has some connections with more northerly destinations.
When is the best time to visit: In the far north you can see them year round (except during the midnight sun months). Your best chances are during December and January – especially if you are opting to stay in Fairbanks.
Best way to see the Northern Lights: There are a wealth of options available in Alaska, but it is best known for the flight tours. These give you the chance to head right into the sky and witness the aurora from an unforgettable vantage point. You can also try see them as part of a Alaska Roadtrip.
How to get there: Fairbanks has its own airport with reasonable connections across the United States and Canada. You'll find more flights available at Anchorage, however – especially if you are arriving from abroad. You can then get a connecting flight to Fairbanks, or hire a car and take the six hour drive.
Where to stay: Billie's Backpackers Hostel; Pike's Waterfront Lodge; Aurora Cabin
2. Nunavut, Yukon and Northwest Territories (Canada)
The three northern territories of Canada have a special autonomous status thanks to the large indigenous populations within them. This makes it a fascinating area to visit even if you don't get to catch the Northern Lights.
Northwest Territories is the most visited of the three (though they're all somewhat off the beaten path) with interesting insights into First Nations culture and the region's mining history. Yukon is the easiest to get to with regular connections to Vancouver, whilst Nunavut is the most adventurous (but arguably most rewarding) choice.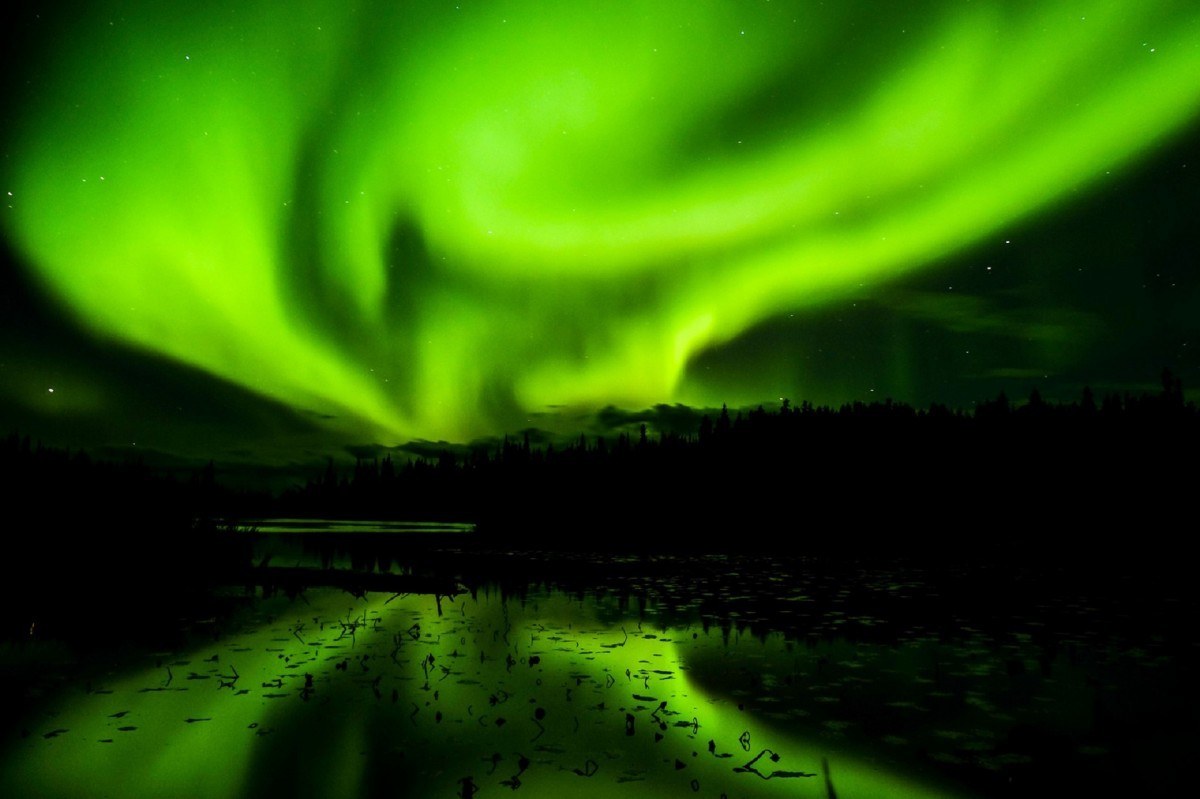 Where to see the Northern Lights: Nunavut, Yukon and the Northwest Territories are the northernmost regions of Canada and are by far your best chance of seeing the Aurora Borealis. Yukon and the Northwest Territories are the most visited, but Nunavut is another fantastic option if you want to head even further off the beaten path.
When is the best time to visit: In Yukon and the Northwest Territories it is a good idea to visit between November and February. If you venture into the northern reaches of Nunavut, you'll have a reasonable chance of seeing them between August and March.
Best way to see the Northern Lights: If you would rather have a guided tour, it is worthwhile heading to Yellowknife in the Northwest Territories. There are also some tours in Yukon though these cost a little bit more and are more spread out. You essentially book tour guides for a period of one to five days who will then keep an eye out, come collect you when the lights appear and help you with photography. In Nunavut you're on your own, making this a great spot for camping trips.
How to get there: If you're arriving from the United States, you can grab flights to Yellownife in the Northwest Territories or Whitehorse in Yukon. You can also take trips from Vancouver up to Yukon if you're using the popular city as a base. The only airport in Nunavut is in Iqaluit, and you'll have to fly from a Canadian airport. The city is not accessible by car.
Where to stay: Grace Lake Villa; Be Still Cabin
3. Greenland
When most people think about the Arctic, the first image that comes to mind probably looks a lot like Greenland. This fascinating country is actually an autonomous territory within the Kingdom of Denmark. You won't find much Danish culture here, however, as the local Greenlandic population have reclaimed their history and traditions.
It's notoriously hard to get to which adds to the desire to get there. It doesn't get more off-the-beaten path than this. Even if you don't get to see the Northern Lights, you will be rewarded with a unique culture and unspoiled landscapes.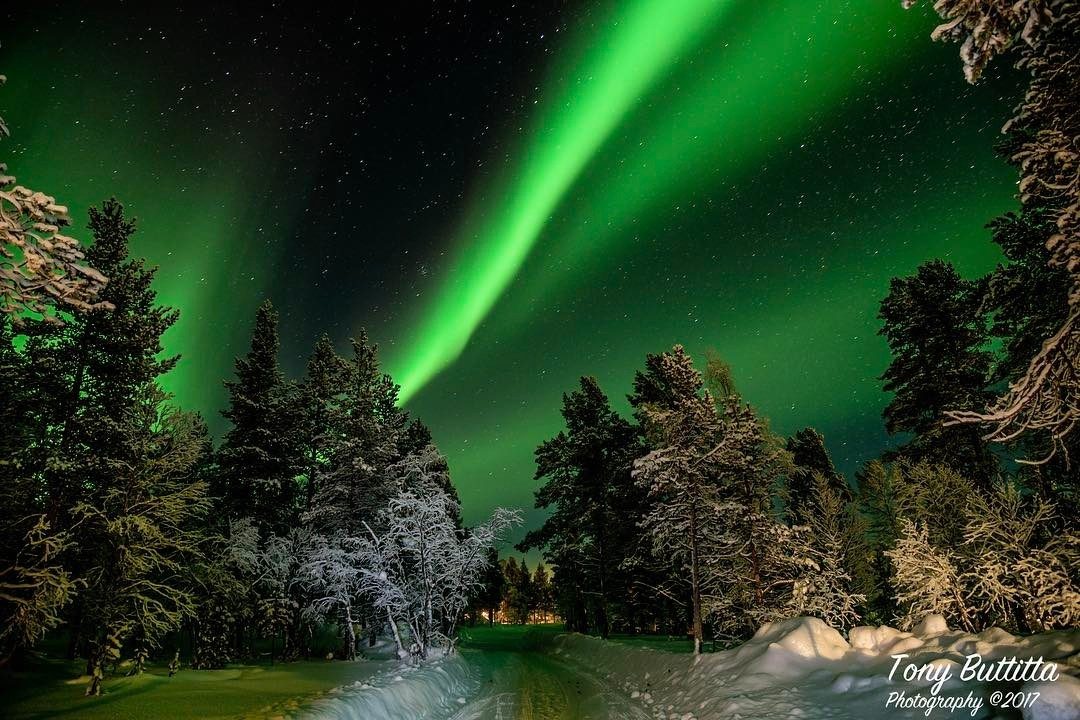 Where to see the Northern Lights: Stick to the southern coast for the best chance of catching the Aurora. Nuuk is the largest settlement on the landmass and where you will find some of the best tours. Ilulissat is another great destination, offering a surprisingly hip atmosphere for such a small town.
When is the best time to visit: Your best bet is between November and January, but it's possible to see them between September and March (especially if you're based in Nuuk).
Best way to see the Northern Lights: Private boat charters are commonplace for trips to Greenland but these will set you back quite a bit (in an already super expensive destination). Alternatively, dog sleds and snowshoeing are other great ways to chase the aurora. The latter is particularly popular during the dark winter months.
How to get there: Kangerlussuaq Airport is the only international terminal on the island. There are somewhat regular flights to Canada from there, as well as more frequent connections to Iceland and Denmark. You can choose to stay in Kangerlussuaq, but to get to Nuuk or Ilulissat you'll need a domestic flight.
Where to stay: Hotel Arctic; Central Nuuk
4. Iceland
Iceland is the only country located entirely within the aurora zone. It just skims the Arctic Circle, so you'll get at least a few minutes of daylight through the solstice. Ultimately, however, the Northern Lights isn't even one of the best reasons you should take a trip to Iceland.
Quirky cafés, mesmerising landscapes and geothermal spas make this a must visit destination for many people. Its location at the crossroads between North America and Europe has also resulted in it becoming a major layover destination.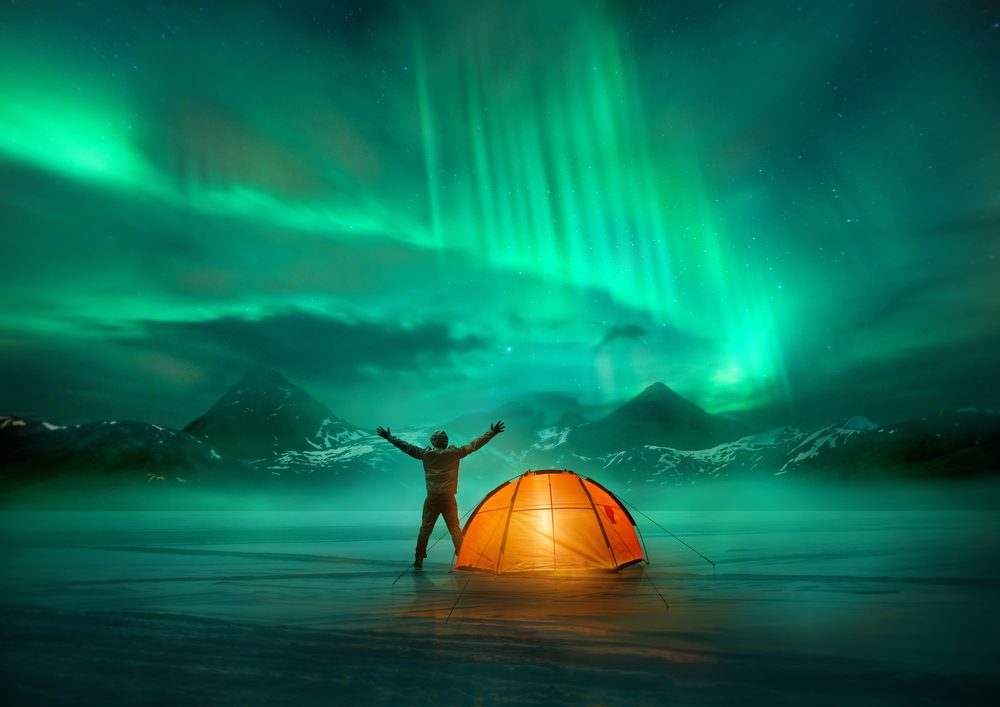 Where to see the Northern Lights: The entire island – so you backpack all of Iceland and live in hope! Well, mostly – you'll have to get out of Reykjavík. Iceland is a nation of astounding landscapes, so you'll get some epic photography if you head towards the scenic regions. Rural accommodations also offer you a peaceful escape in some of the best places to see the aurora.
When is the best time to visit: Any time from September to April, though the strongest season is around the solstice. Keep in mind that it's dark most of the time in December and January, however. So if you're planning day time excursions it's best to stick to February or March.
Best way to see the Northern Lights: Every way imaginable is possible in Iceland, so feel free to take your pick. Iceland is a great destination for hiring out a trendy Airbnb, and those Airbnbs outside Reykjavík offer some great aurora views. Iceland's geothermal landscape also means you can even enjoy the glimmering lights whilst soaking in a mineral spa.
How to get there: Keflavík Airport has some great connections across Europe and North America – including budget flights from the UK, Ireland and Scandinavia. It's a popular stop-off point when travelling between the two continents, so you can also choose to extend your layover to include some time in Iceland. A great way to enjoy some aurora hunting on your way to another destination.
Where to stay: Midgard Base Camp; Frost and Fire Hotel; Njardvík Cabin
5. Shetland (United Kingdom)
We're pushing it a little with this one, but Shetland is your best chance to catch the Northern Lights in the UK. The Scottish Highlands occasionally get them, but you're talking about once or twice a year and they're usually pretty dull.
Known locally as the Mirrie Dancers, you can usually spot them a few times per month from the archipelago during the height of winter. Realistically, however, the best reasons to visit Shetland are the unique viking heritage, peaceful landscapes and isolated vistas.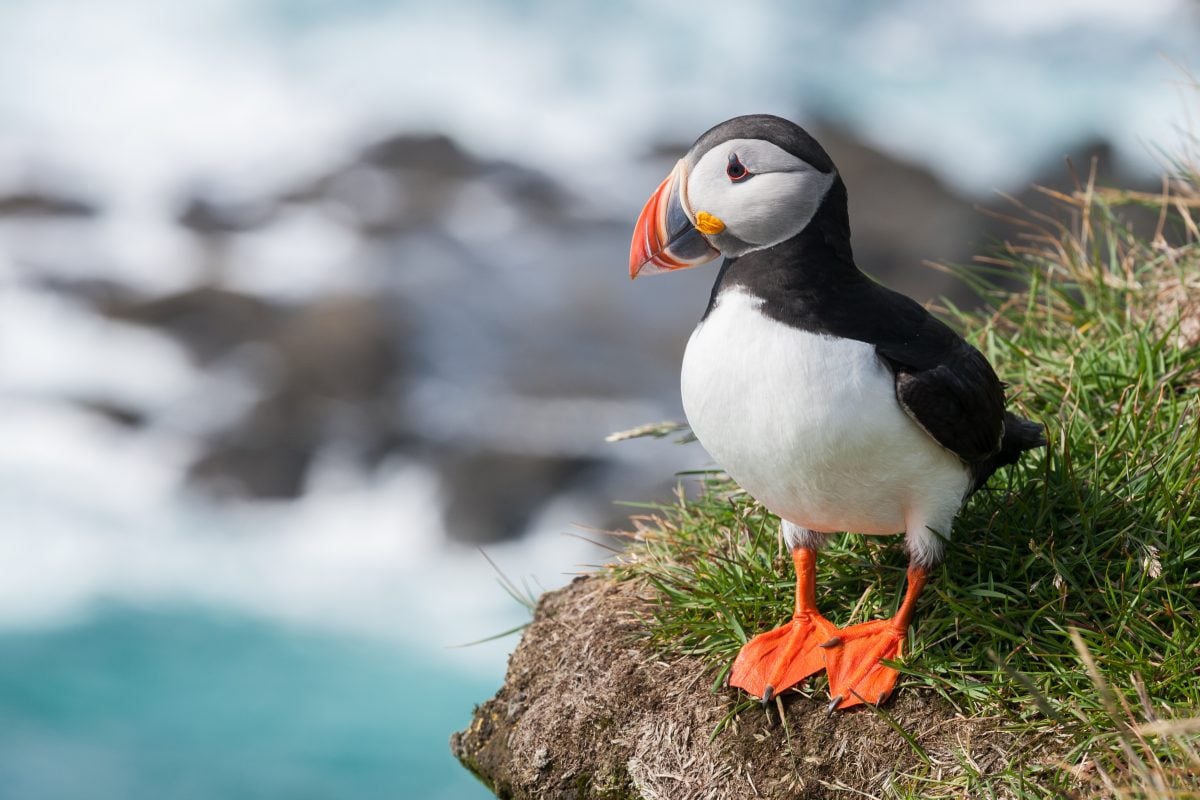 Where to see the Northern Lights: Shetland is a super small destination, but you'll still have better chances the further north you go. Unst is the northernmost inhabited island in the United Kingdom, so you'll have better chances there. All considered, however, the most important thing is to stay outside Lerwick.
When is the best time to visit: Catching the Northern Lights in Shetland is rare, but you'll have the best chance from late November until early January. The aurora season extends from October until March overall, but don't bet on seeing them outside the weeks closest to the solstice.
Best way to see the Northern Lights: If you're lucky, one of the best ways to see the Northern Lights up here is on the overnight ferry from Aberdeen. The North Sea is tumultuous, but there's something magical about watching the lights whirl around the sky whilst lighthouses flash in the distance. If you don't see them then, Shetland is a great destination for wild camping (thanks to Scotland's liberal freedom to roam laws). To keep the locals happy, make sure you leave nothing but footprints "and a well buried sh*te."
How to get there: There are regular flights from Edinburgh, Aberdeen and Glasgow to Lerwick and Sumburgh – these take about an hour. They can also get quite expensive for tourists as locals enjoy heavily subsidised fares. If you're sticking to a budget, there are also overnight ferries from Aberdeen. You can include a stop in Orkney on the way for some great archaeological attractions.
Where to stay: Busta House Hotel; Unst Cottage
Small Pack Problems? 😉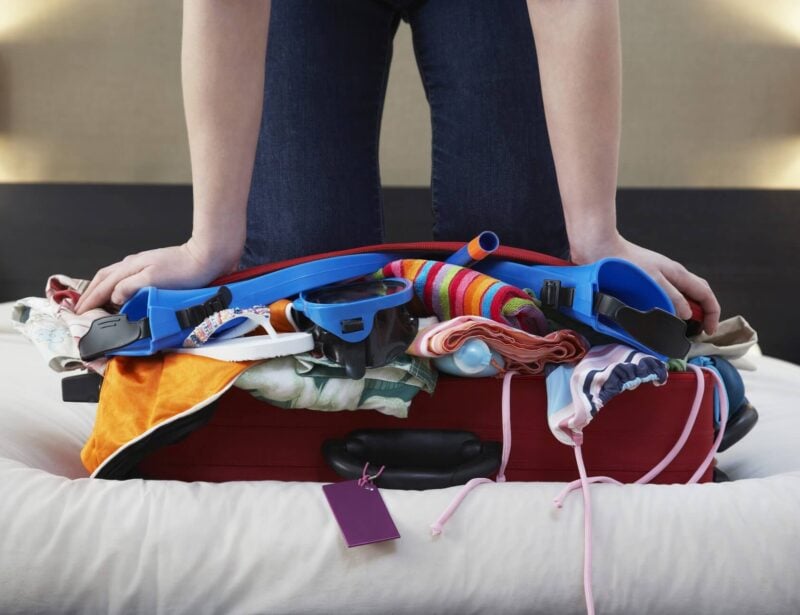 Wanna know how to pack like a pro? Well for a start you need the right gear….
These are packing cubes for the globetrotters and compression sacks for the real adventurers – these babies are a traveller's best kept secret. They organise yo' packing and minimise volume too so you can pack MORE.
Or, y'know… you can stick to just chucking it all in your backpack…
Get Yours Here
Read Our Review
6. Norway
The northern stretches of Norway are located within the Arctic Circle, so there are actually a few great spots to spot the lights. Most of the cities in the country are in the south, so you're also unlikely to have to deal with light pollution. If you are travelling to Norway, head North to see the lights.
Tromsø is one of the most popular winter destinations in Europe for aurora chasers. It is above the Arctic Circle, so at the tailend of winter you get to enjoy the photogenic blue light hours. It's also a major hub for learning about Arctic Culture.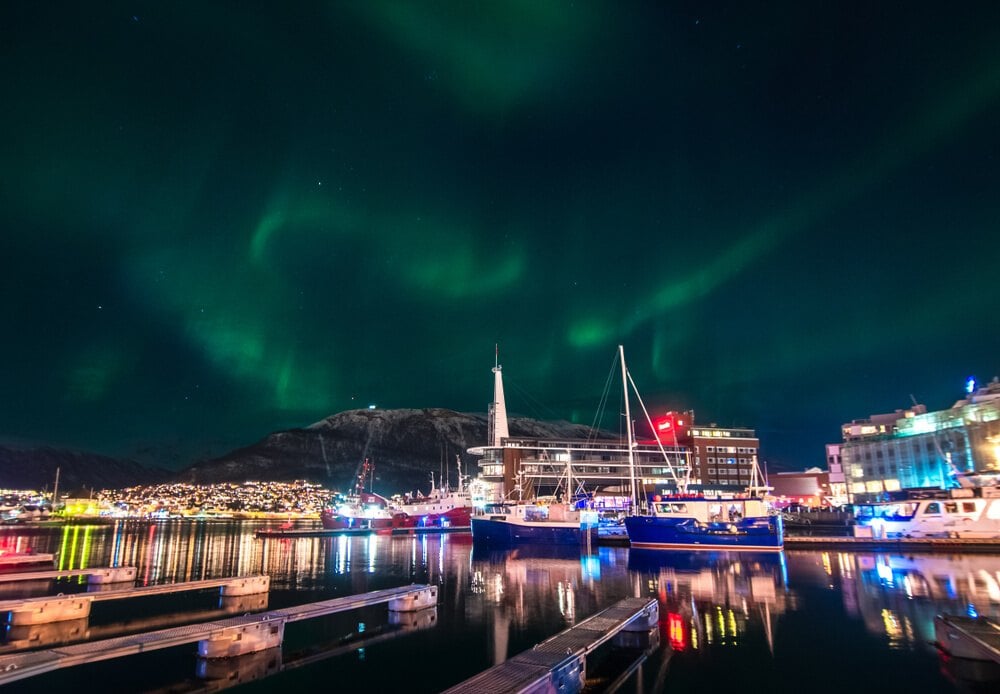 Where to see the Northern Lights: The further north you go the better your chances. We love Tromsø as it's the largest city in the Arctic Circle. The population is small enough that you can still enjoy some great views of the lights in the evenings – although the surrounding hills offer some even better views.
When is the best time to visit: Aurora season runs a little later here so you'll have to plan to visit between October and March. Keep in mind that Tromsø experiences no daylight for a month around the solstice, so if you have other activities planned it might be better to plan a trip in October, February or March.
Best way to see the Northern Lights: Hiring out a cabin in the rural areas is a great way to escape the crowds and enjoy views that are unspoiled by light pollution. In Tromsø you can opt for a seven day pass that lets you take different tours every night for a week.
Even if you're not lucky enough to see the lights, you'll still gain some fun memories from these epic trips. If you're big on hiking you can even head up to some viewpoints in the surrounding hills – though don't venture too far in the darker months and always check conditions at the tourism office.
How to get there: You'll find cheap flights to both Oslo and Bergen – but for going as far as Tromsø it's best to stick to the capital as your entry point. Flights are somewhat affordable (by Norwegian standards) and are even cheaper if you book them as a single trip. Norwegian Airlines offer budget flights across Europe and North America.
Where to stay: Tromso Activities Hostel; Scandic Ishavshotel; Bird's Nest
7. Svalbard (Norway)
Way north of mainland Norway, Svalbard is one of the most unique destinations you can visit. The secluded location has created a massive community spirit on the main island, and tourists are welcomed as part of this community during their short stay.
It's closer to the North Pole, so the Northern Lights aren't as clear here as they are in Tromsø. That being said, they're a staple part of life during the winter so you have decent odds of catching one of the duller displays.
Where to see the Northern Lights: Svalbard is perhaps the best placed spot in the world to catch the Northern Lights. It's deep in the Arctic Circle so the polar night lasts a little longer. During this period you can see the lights at any time – lunchtime shows are your best bet. You will probably stay in Longyearbyen, the only sizeable settlement in Svalbard, that still doesn't suffer from much light pollution.
When is the best time to visit: Between October and February is the main aurora season. The arctic night stretches from November to January, giving you the highest odds of catching any solar activity but snow clouds can block the view. Both October and February are popular with tourists as you also get to enjoy the blue daytimes, offering some truly unique photos.
Best way to see the Northern Lights: A backpacking trip to Svalbard is great for adventure activities with tour providers offering dog sledding and snowshoeing throughout the year. There is a risk of running into polar bears (locals legally have to carry a shotgun if they leave Longyearbyen), so it's best to stick to tours rather than try it on your own. For this reason, we also must insist you opt for an established accommodation as camping can be fatal.
How to get there: There are flights direct from Oslo to Longyearbyen. There aren't any road networks outside of the main town, so you'll basically be stuck there for the entire time. If you can, stock up on essentials in Oslo before taking the flight up.
Where to stay: Gjestehuset 102; Svalbard Hotell; Sea Lodge
8. Sweden
Bordering Norway and Finland, it makes sense that the northern reaches of Sweden are also great spots for catching the Northern Lights. The great thing about backpacking Sweden is that the public transport infrastructure here is exceptional. If you want to get from the capital to Swedish Lapland you don't need a car.
Upper Norrland is home to the best places for catching the aurora. Here you will find the world famous ice hotel, charming log cabins and Sami culture. Nearby towns have major student populations, offering cheaper (by Swedish standards) restaurants and a youthful spirit.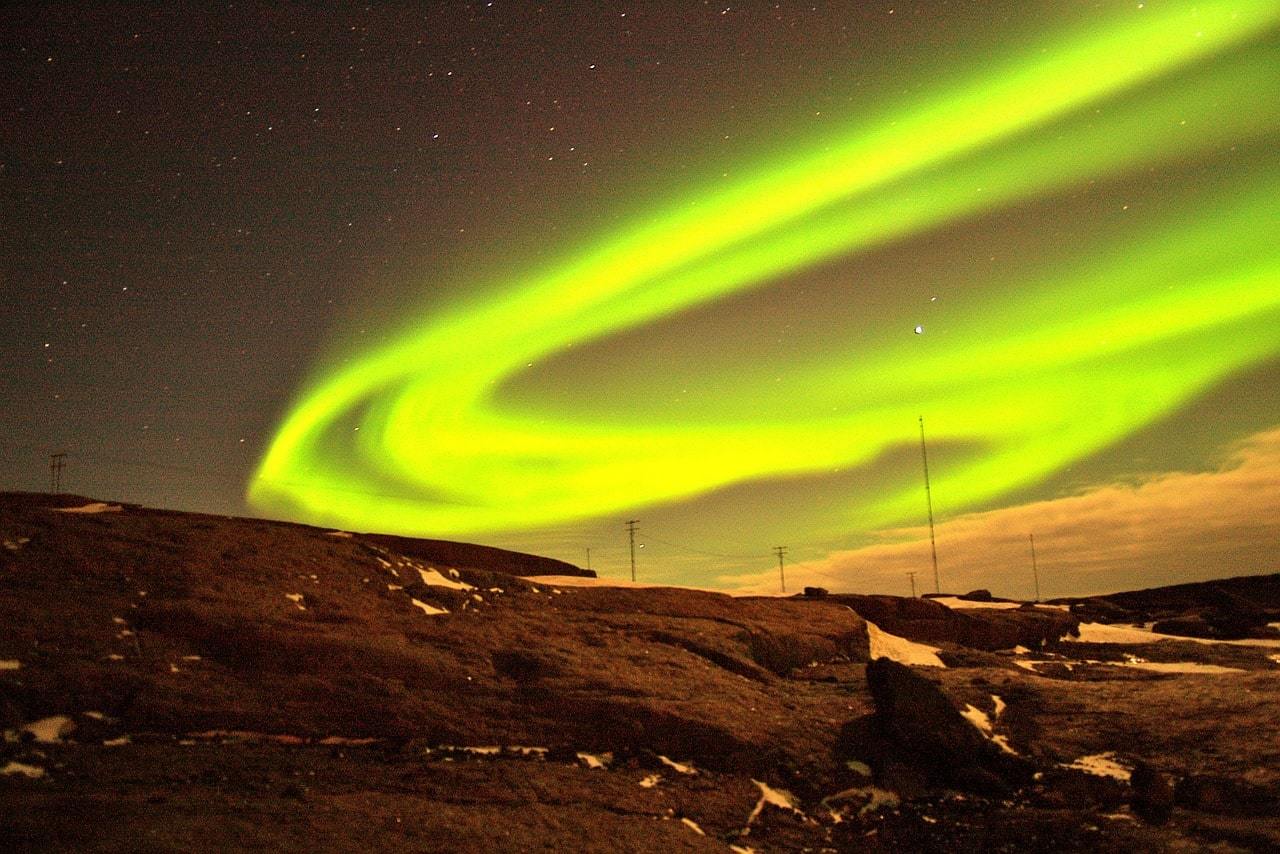 Where to see the Northern Lights: Swedish Lapland, in the far north of the country, is your best bet. Kiruna, specifically, is the aurora tourism hotspot of the country. You might also catch the lights as far south as Umea and Lulea if you'd rather stay somewhere with other things going on.
When is the best time to visit: From Kiruna you can catch the lights from as early as September right through to March. In Umea and Lulea you will have better odds through the month of January.
Best way to see the Northern Lights: There's not a lot going on in Swedish Lapland, making it the perfect choice for a rural escape. The scenery here in winter is pretty spectacular, so you'll also get to enjoy some incredible photography opportunities.
How to get there: Stockholm and Gothenburg are the most popular airports in the country, although Copenhagen is connected to Malmö over the Öresund Bridge. Getting around is pretty easy with the national railway connecting all three cities with Umea and Lulea. There are also some budget friendly bus options. From Lulea you can travel onwards to Kiruna by public transport. Yes, even during the heavy snow!
Where to stay: RIBO Apartment; Camp Ripan; Karlsvik Apartment
9. Finland
Lapland is known across Europe as the home of Santa Clause! Santa's Village is on the outskirts of Rovaniemi and is a once-in-a-lifetime experience for kids. Aside from festive attractions, you can also enjoy dog sleds and snow hikes in the area.
The Arctic Circle runs right through Lapland, so you have pretty decent chances of seeing the Northern Lights here. Some of the most beautiful glass igloos that you find plastered all over the travel mags are located here — just keep in mind it's a super expensive destination.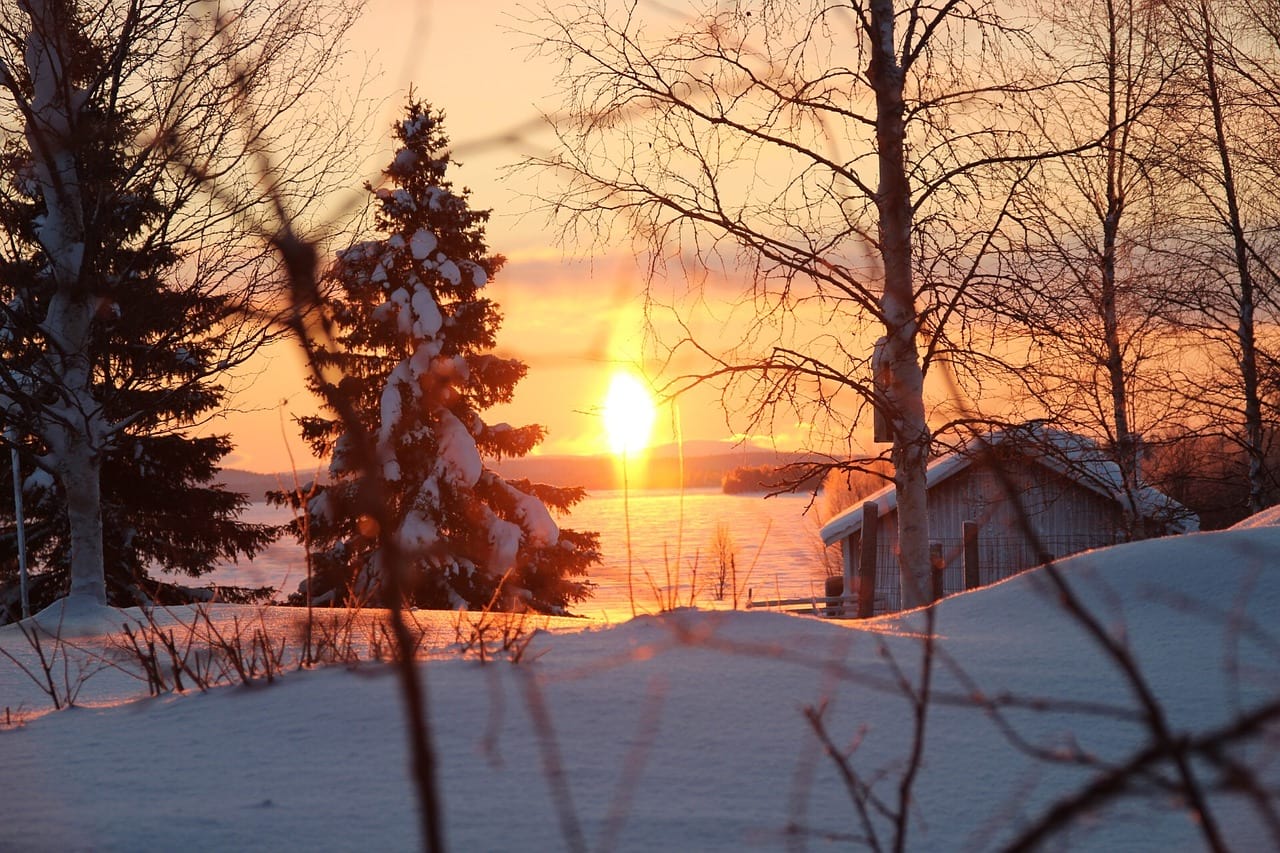 Where to see the Northern Lights: Similar to Sweden, your best bet is visiting the Lapland region in the far north. Rovaniemi is the largest settlement in the region and offers the best array of attractions. Of course, the further north you head the better your odds are – but there really isn't that much in it as long as you're in Lapland.
When is the best time to visit: Between September and March, but if you're sticking to Rovaniemi, we reckon it's worth aiming for either December of January. December is peak tourist season, and will offer some great attractions to keep you distracted if the lights don't appear.
Best way to see the Northern Lights: From Santa's Village. This is by far the most popular attraction in the area, and you'll have a great selection of tours on offer. Whether you want to go husky sledding, try your hand at snow photography or indulge in local sauna culture, you'll find what you're looking for here. There's also something extra magical about gazing at the Northern Lights at Christmas.
How to get there: There are direct flights from Rovaniemi across Europe during the peak winter season. You can also benefit from regular train connections from Helsinki, Tampere and Sweden. There aren't really any budget flights into Finland, but if you're committed and find an unbeatable deal, the ferry from Estonia isn't too expensive.
Where to stay: Hostel Cafe Koti; Glass Resort; Kemijärvi Cabin
10. Russia
Stretching from Norway to North Korea, Russia takes up the entire northern coast of Asia and Eastern Europe. It should come as no surprise that it is also a great destination for spotting the Northern Lights.
Cities in the northwest were important to the USSR government during the Cold War, so you'll find some of the biggest settlements in the Arctic here. They've also retained much of their Soviet-era architecture and monuments, so often act as a time-capsule into the past.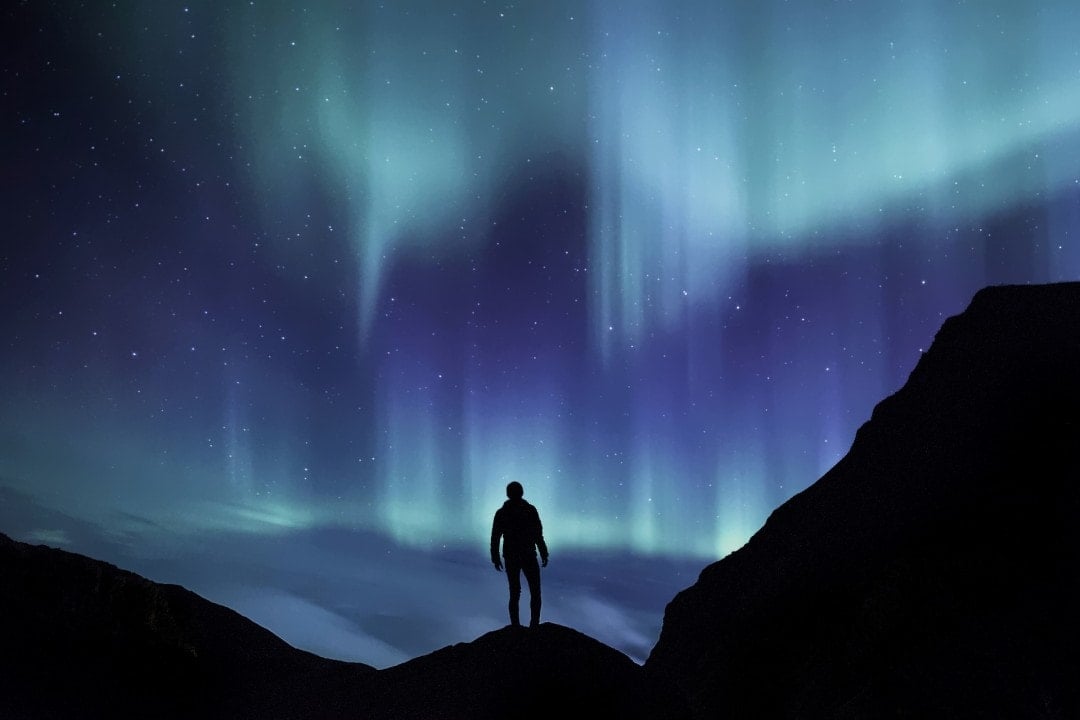 Where to see the Northern Lights: The Kola Peninsula is the most accessible region in Arctic Russia with regular overnight train journeys from St. Petersburg. Murmansk is the largest city. If you'd rather stick a little further south (just outside the Arctic Circle so you still get to enjoy daylight) then we also recommend Arkhangelsk.
When is the best time to visit: The sun disappears from the end of November right through to mid-January, so this is your best time to see them across the region. Murmansk has about the same chance of a sighting as Svalbard during the Arctic night. If you need a little sunlight to get by, October and March also have pretty good odds.
Best way to see the Northern Lights: Murmansk will be your main base, but you'll have to get out of the city to actually see the lights. The light pollution makes it almost impossible to see even the strongest aurora. Thankfully there are some great tour operators in the area that can keep an eye out for you and take you out to more rural areas as soon as a sighting is likely.
How to get there: St Petersburg offers overnight train connections to both Murmansk and Arkhangelsk. The latter is also well connected to Moscow. In terms of flights, you will be better off flying from the capital.
Where to stay: Hostel Vershina; AZIMUT Hotel Murmansk; Arkhangelsk Studio
11. The Arctic Ocean
Ok, but how? Well, there are some great cruise lines offering aurora tours of the Arctic Ocean. Ideally, you should hop onboard a tour that takes you to places you already want to visit. Arctic cruises are often the easiest way to visit remote destinations like Greenland, the Faroe Islands and Nunavut.
Seeing the Northern Lights from the ocean is an unforgettable experience. The clear horizon makes it look like they go on forever. During brighter auroras you might also get to see the light twinkling on the water.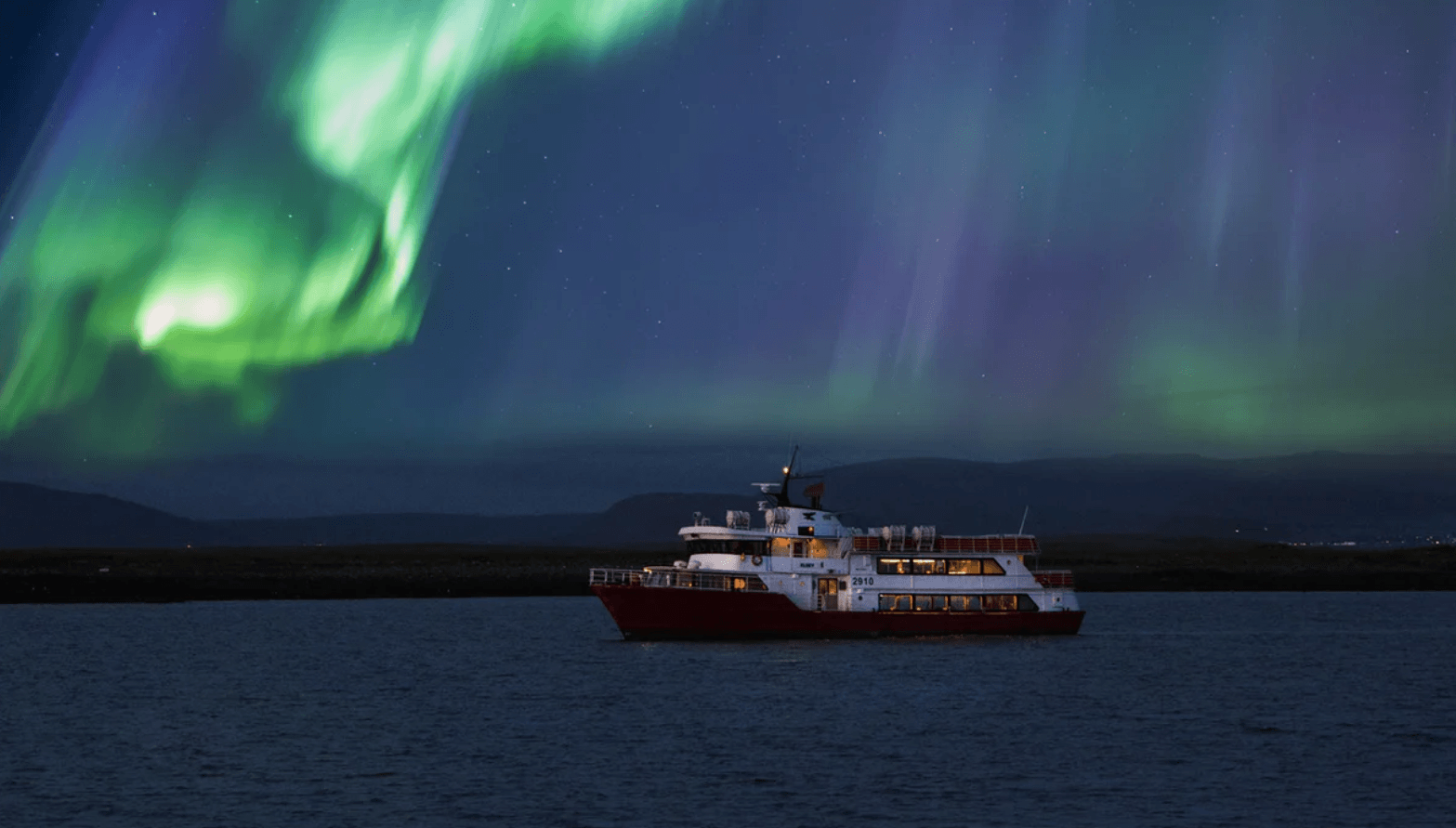 Where to see the Northern Lights: Everywhere! The Arctic Ocean is pretty much contained entirely within the Arctic Circle. Of course, if you're enjoying a cruise you'll have to stick to the southern reaches where ice is less of a concern. The most popular cruises are in the Norway, Iceland, Greenland area.
When is the best time to visit: There are plenty of cruises that are designed for catching the aurora, so you can actually enjoy some decent odds from the end of August right through to April. As with everywhere else, however, your best chance is for a trip that takes place from November to February.
Best way to see the Northern Lights: Check if the tour is built around the Northern Lights, and then check the reviews! Some cruises use the aurora as a marketing ploy but don't spend any significant time in the best spots. That being said, nothing is guaranteed, so keep an eye out on where the excursions stop. The Faroe Islands and Greenland are pretty tricky to visit during a normal excursion, so we recommend building these into your cruise.
How to get there: The most popular trips depart from Norway and finish in either Greenland or Canada. You can also check out the cruises that take in the North Sea. If you don't want to fork out on a cruise, the ferry from Denmark to the Faroe Islands, Iceland and Greenland is an excellent alternative.
Where to stay: On the boat! Please!
Is This the Best Backpack EVER???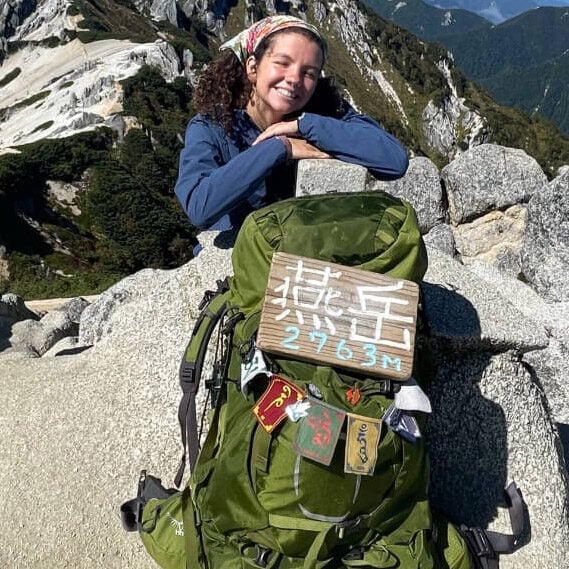 What You Need to Know
We can't say it enough – nothing is guaranteed! You need to prepare for the worst. For this reason, we recommend you choose a destination you would like to visit anyway. All of the places mentioned above come with other reasons to visit them, so treat the aurora borealis as a happy extra that might show up at some point.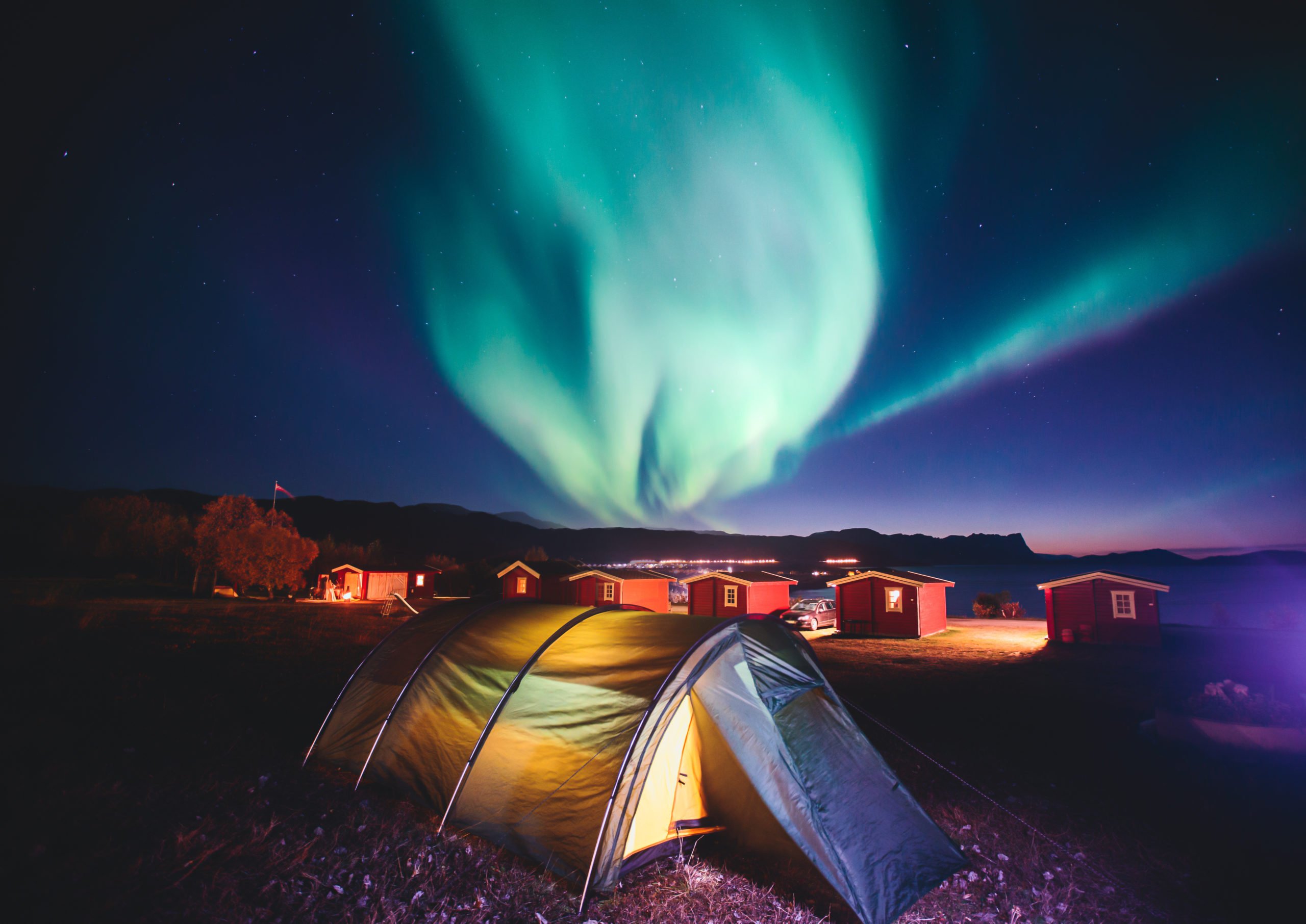 If you're planning on staying in any of the above destinations, make sure you stick to somewhere relatively rural. The bigger cities come with light pollution, making it super hard to see anything. Places like Reykjavík, Murmansk and Lerwick will diminish your chances. The good thing about these places is that it's usually only a ten minute drive to escape the pollution.
You also need to understand that sometimes the lights aren't that great. Just because they appear doesn't mean you will get the show stopping displays that are advertised. Weaker CMEs result in weaker lights.
Your best bet is to download an app that shows you the data on when you're most likely to see the lights and how strong they're likely to be. We recommend this one.
How to Dress
Cosy! The lights can last for hours, so you'll probably be standing out in the cold for a long time (unless you can afford one of the glass bubbles). Many underestimate how cold it can be in the Arctic Circle. This isn't the same as winter in New York, London etc. This is bitterly cold.
Think beyond just gloves, hat and a big coat (check out our guide to the best cold weather jackets) – layering is important. It's scientifically proven that more layers are better than thick layers.
Also keep in mind that gloves can impede your photography, so find a pair that fit well enough that you don't need to take them off.
How to Photograph the Northern Lights
The most important step is to bring a good camera (and we have a few recommendations for the best DSLR camera for traveling). It used to be impossible to take photos of the aurora with a smartphone, and in most cases, this still applies. The newest Samsung and iPhone models can take decent photos of super bright Northern Lights using night mode, but these still won't be as good as photos taken with a DSLR.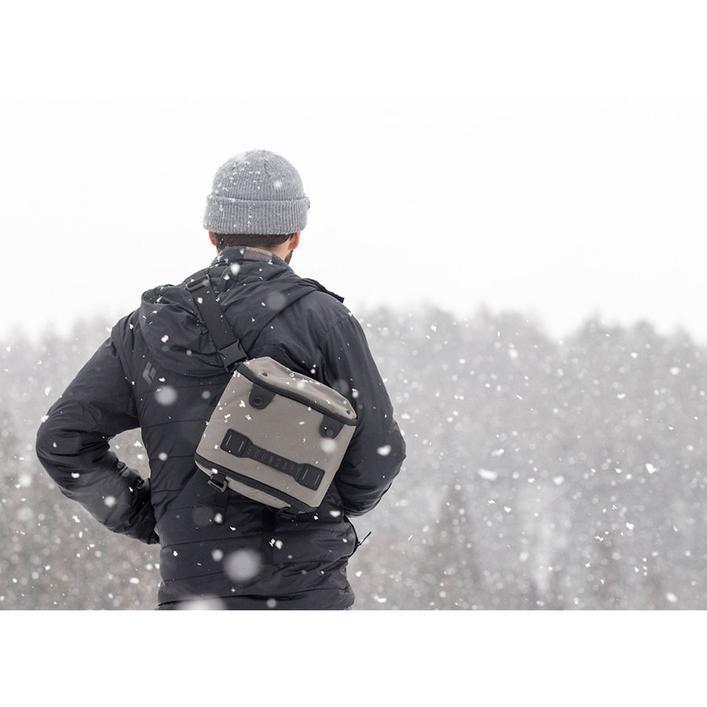 If you haven't used a DSLR before these can be quite intimidating. Thankfully there are plenty of fantastic resources online to help you. Consider trying out some night photography at home before you embark on your trip. Galactic photography is what you're aiming for, so if you can get a clear picture of the stars you're already doing well.
In terms of technical settings – adjust your focus to infinity the day before, set it to a wide aperture (f2.8 at best, but up to f4 if your lens is limited) and put the ISO as high as you can. Keep in mind that some cameras will reduce quality at high ISOs, so test this out beforehand. Your exposure time should also be as long as possible, but the best option depends on how fast the aurora's moving. You can go up to fifteen seconds for slow moving lights.
Ultimately, it all depends on the conditions. There are some great resources across the internet to help you understand the technical concepts. If you're really worried, you can also book a professional to help you.
ALWAYS sort out your backpacker insurance before your trip. There's plenty to choose from in that department, but a good place to start is Safety Wing.
They offer month-to-month payments, no lock-in contracts, and require absolutely no itineraries: that's the exact kind of insurance long-term travellers and digital nomads need.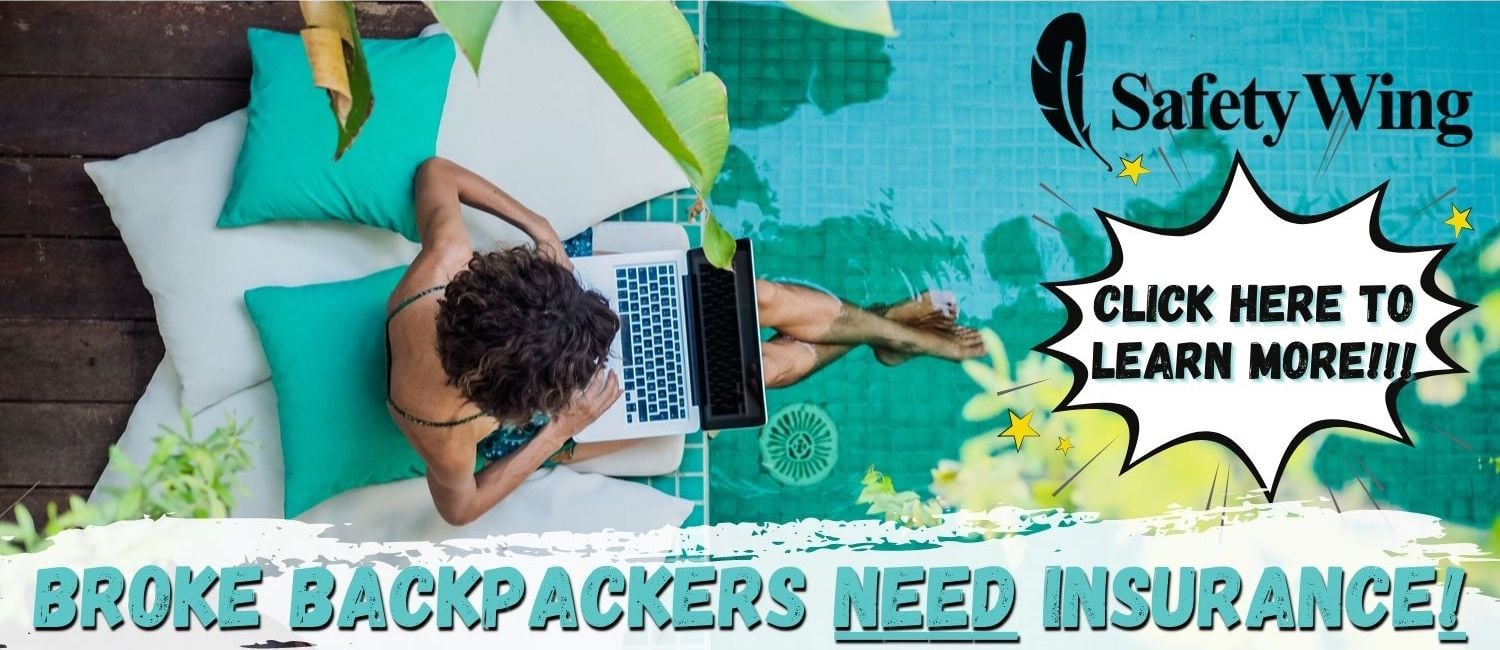 SafetyWing is cheap, easy, and admin-free: just sign up lickety-split so you can get back to it!
Click the button below to learn more about SafetyWing's setup or read our insider review for the full tasty scoop.
Do They Justify the Hype?
Most of the time? No. Not to be a downer, but many people that go on the aurora excursion will tel you it's as an overrated travel experience. Whether it's because they didn't appear, or because they appeared quite weak, you really can't guarantee you'll see mind blowing sights.
The good news? If they're strong, they are incredible. This is a once in a lifetime experience, and witnessing the beauty the earth's atmosphere can produce is jaw dropping.
If we had one piece of advice to make sure you don't leave disappointed it would be to book a trip to somewhere you want to go anyway. This way, even if you don't get to see the lights you'll still have an incredible trip.
---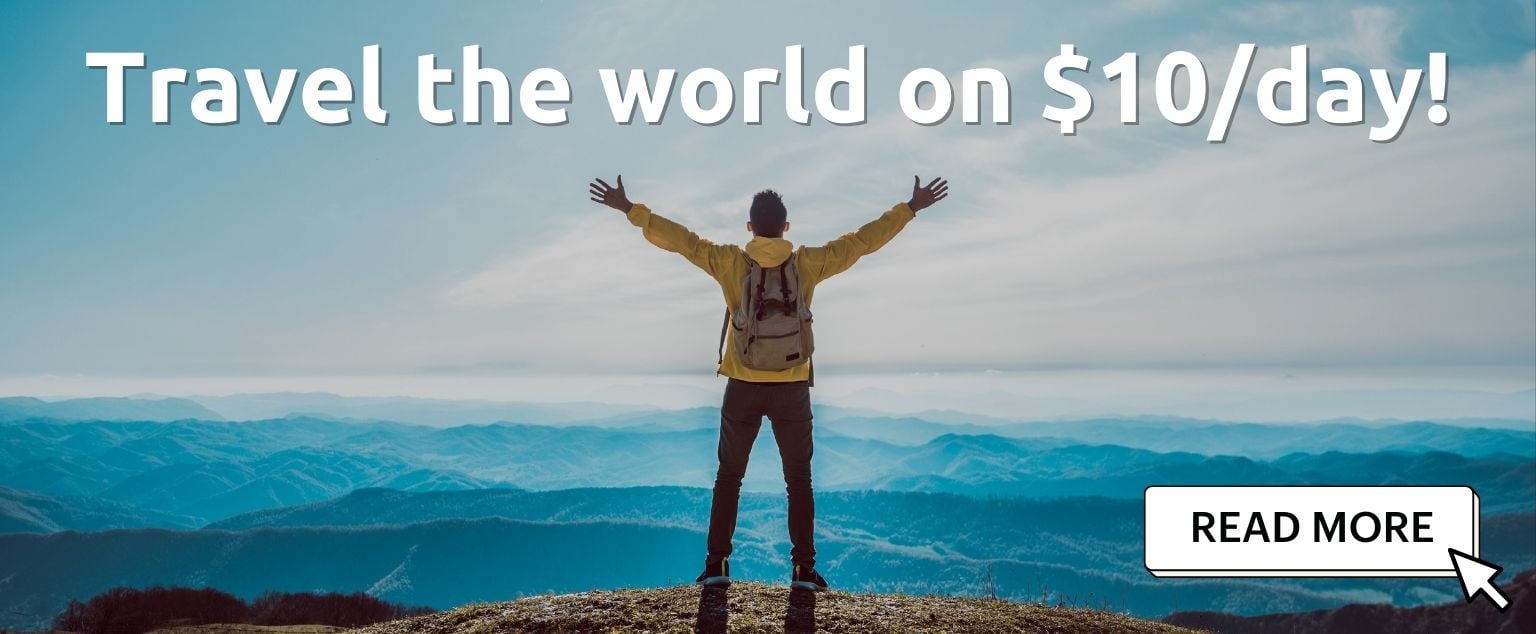 And for transparency's sake, please know that some of the links in our content are affiliate links. That means that if you book your accommodation, buy your gear, or sort your insurance through our link, we earn a small commission (at no extra cost to you). That said, we only link to the gear we trust and never recommend services we don't believe are up to scratch. Again, thank you!