By now we have all seen the epic Instagram shots of Iceland in all her stunning glory. Waterfalls the size of office blocks, steaming volcanic terrain straight out of Lord of the Rings, braided rivers carved out of ancient valleys, blue-tinged ice caves, and the purple-green hues of the Northern Lights have come to define iconic adventure in Iceland.
Visiting Iceland is a must for photographers, backpackers, or families looking to experience arguable one of the most beautiful countries in the world.
So the question is: what is the best way to travel in Iceland? My typical answer to this sort of question is pretty straightforward: go independently, do some research, and figure it out as you go. Whilst that travel style can be very rewarding and is our favorite way to travel – hear me out…
Going on an organized holiday in Iceland has many benefits. Iceland is a very expensive country and it is easy to spend a couple of hundred bucks a day (or much more) if you are not careful. Going on an organized Iceland tour can actually end up being cheaper than going alone – plus you don't have to do any of the hard work of planning the trip.
Below, I am going to cover some of my favorite Iceland tour itineraries offered by the backpacker-centric adventure tour companies like GAdventures and Intrepid. In addition, I have selected the top 5 Iceland day tours from other operators if you don't feel like committing to a multi-day group tour.
You won't find any luxury tours on this list, so if that is your style, you may want to look elsewhere (except for maybe one semi-luxury boat expedition).
Let's have a look at the highlights of each trip, tour duration, and other important details hidden in the fine print.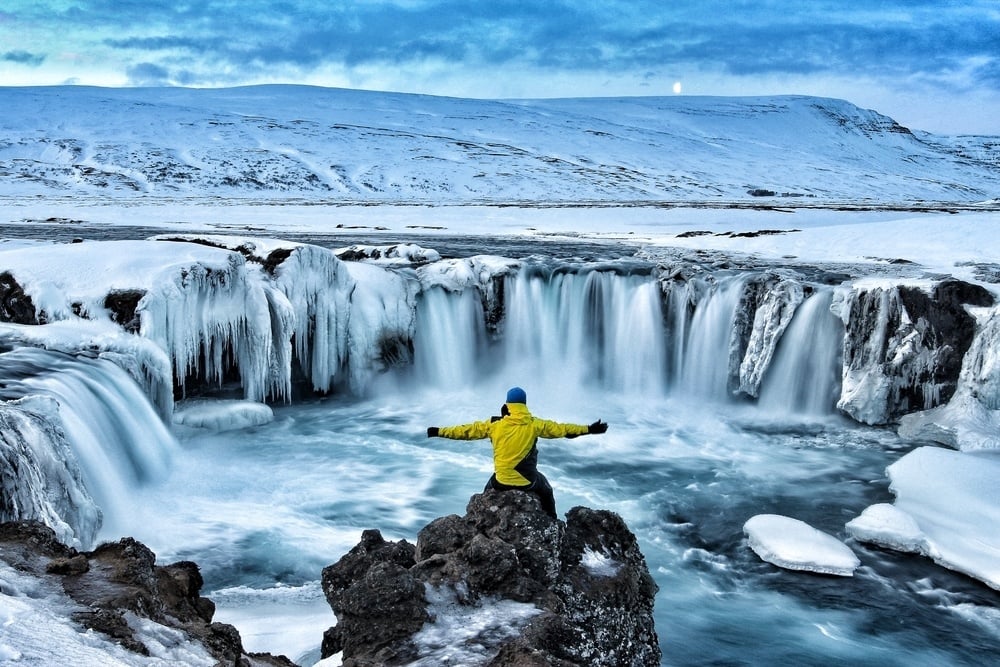 Best Iceland Holidays for 2021
A great blessing bestowed upon the country of Iceland is that no matter where you go – the landscapes are incredible. You will just need to determine what your priorities are and how much time you want to spend in the country.
Iceland does not make up a vast landmass compared to other countries and the road networks are such that great distances in between some of the major points of interest are not really a factor (no 12 hour driving days) – which to me, makes a group tour situation less daunting.
For any organized tour, especially for folks on a budget, maximum bang for your buck is what we are all after.
So what sort of Iceland tours deliver that experience? Read on…
Trip Details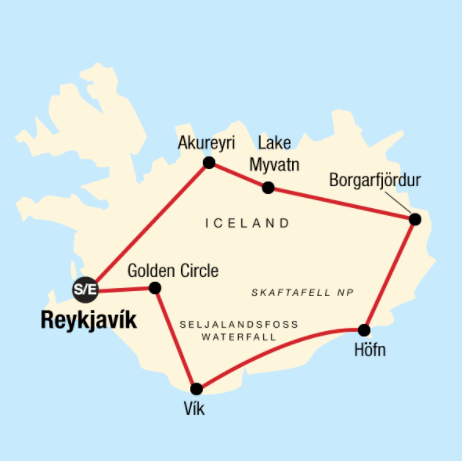 Days: 7
Price: $2124 USD
Group Size: 10 -12 pax
Fitness Required: Average
Accommodation: Small hotels, guest houses, and inns
Meals Included: 6 breakfasts
Service Level: Standard (meaning comfortable, but not luxury)
View Full Itinerary
Trip Details
Days: 7
Price: $2124 USD
Group Size: 10 -12 pax
Fitness Required: Average
Accommodation: Small hotels, guest houses, and inns
Meals Included: 6 breakfasts
Service Level: Standard (meaning comfortable, but not luxury)
This Best of Iceland Tour is the best way to see all of the most exciting highlights of Iceland in a short amount of time.
The route follows a clockwise whistle-stop of key destinations like the lava formations of Dimmuborgir, Godafoss Waterfall, the Eastern Fjords, Jökulsarlon Glacier Lagoon, and the famous Seljalandsfoss and Gullfoss waterfalls. Days are action-packed. Each day is slotted with plenty of activities and photo opportunities with a fair amount of scenic drive tip spliced in. The trip follows the legendary Iceland Ring Road after all.
Intrepid Tours run a very similar trip to this GAdventures tour. Here is the Classic 8-day Iceland Trip from Intrepid.
Keep in mind that this trip will not take you to some of the more remote or off the beaten track places in Iceland. With seven days to work with, there is not a lot of room in the itinerary to do much solo exploring. That said, you always have the option to stay on in Iceland once the tour ends and do some independent travel on your own.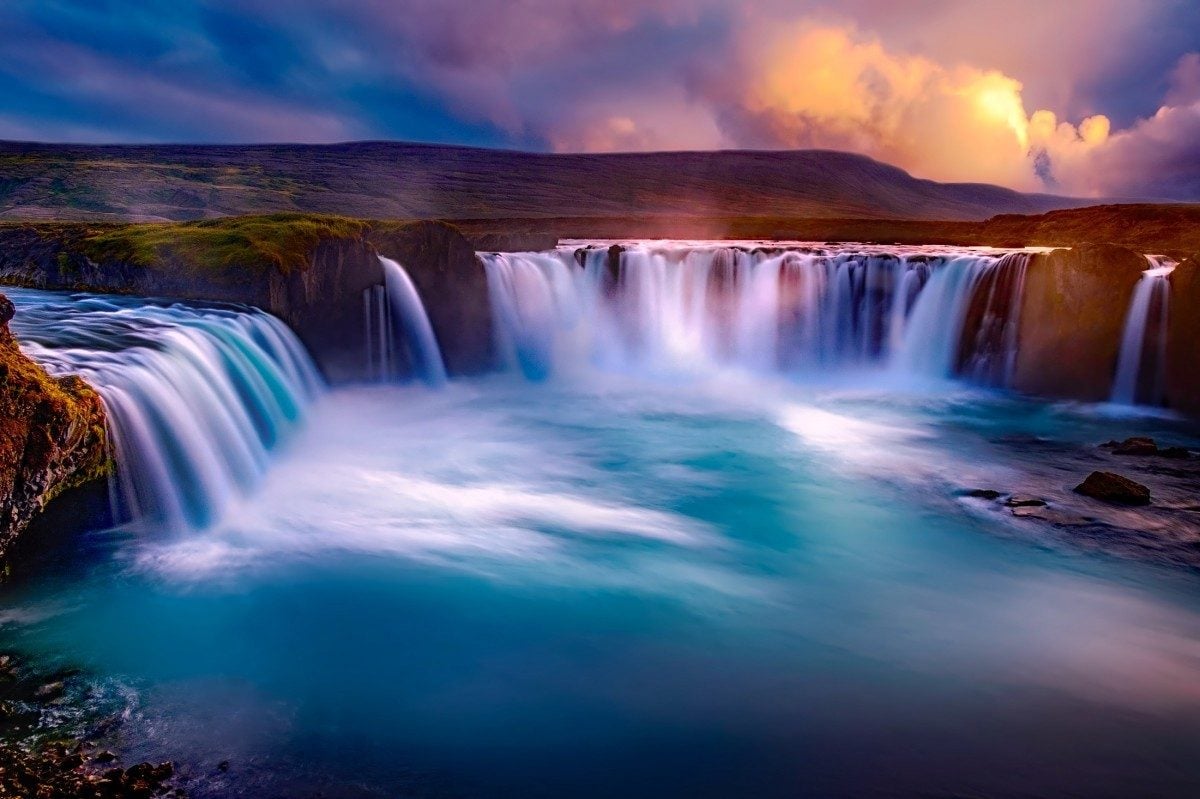 Who is this tour best for?
Travelers short on time, inexperienced backpackers, couples, families with not super young children, photographers. I recommend this trip to people coming from outside of Europe.
If you are flying from Australia for example, you will want more than just a 4-5 day tour to make it worth your while.
Cons:
Does not include meals other than breakfast.
Extra activities (like the Skaftafell National Park Glacier Hike) not included.
Trip Details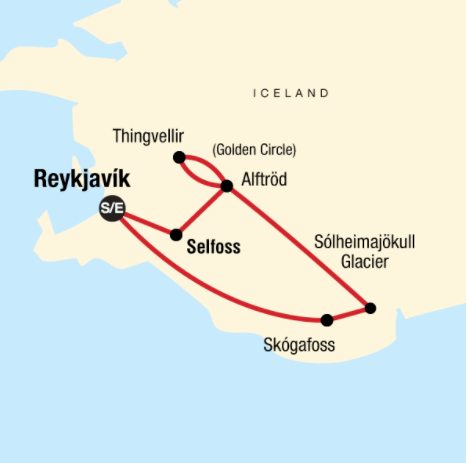 Days: 7
Price: $1912 USD
Group Size: 12 -16 pax
Fitness Required: Average
Accommodation: Small hotels, guest houses, and inns
Meals Included: 6 breakfasts, 2 dinners
Service Level: Standard (meaning comfortable, but not luxury)
The thought of visiting a country named "Iceland" in the wintertime sounds like signing up for some sort of sadistic suffer-fest. Well, if you are equipped with the right gear, going on an Iceland winter tour will be rewarding in a myriad of ways. Ever heard of the Northern Lights? Yeah, they are best viewed in the winter! Another plus is a fraction of international tourists visit Iceland in the winter compared to the summer months – so attractions will be less crowded with the mobs of selfie-taking yahoos.
Highlights of this winter adventure include visits to the epic glaciers and waterfalls, the Northern Light displays (duh!), and a slower-paced visit to Iceland's capital Reykjavik.
For most people, the main reason to come to Iceland in the winter boils down to the universal human desire to experience the Northern Lights. Take away everything else this trip has to offer (which is plenty awesome) and this trip is still very attractive to me. Viewing/photographing the Northern Lights is a once-in-a-lifetime experience – and all of the other fantastic scenes one encounters on this trip make it that much sweeter.
Check out a comparable (and cheaper) Iceland Winter tour from Intrepid.
Who is this tour best for?
Travelers short on time, people who like some independence while on tour, both inexperienced and experienced backpackers, people who don't want to drive in winter conditions, photographers with a lust for the Northern Lights.
Cons:
Most lunches and dinners are not included
Daylight is in short supply during the winter
Is This the Best Travel Pack EVER???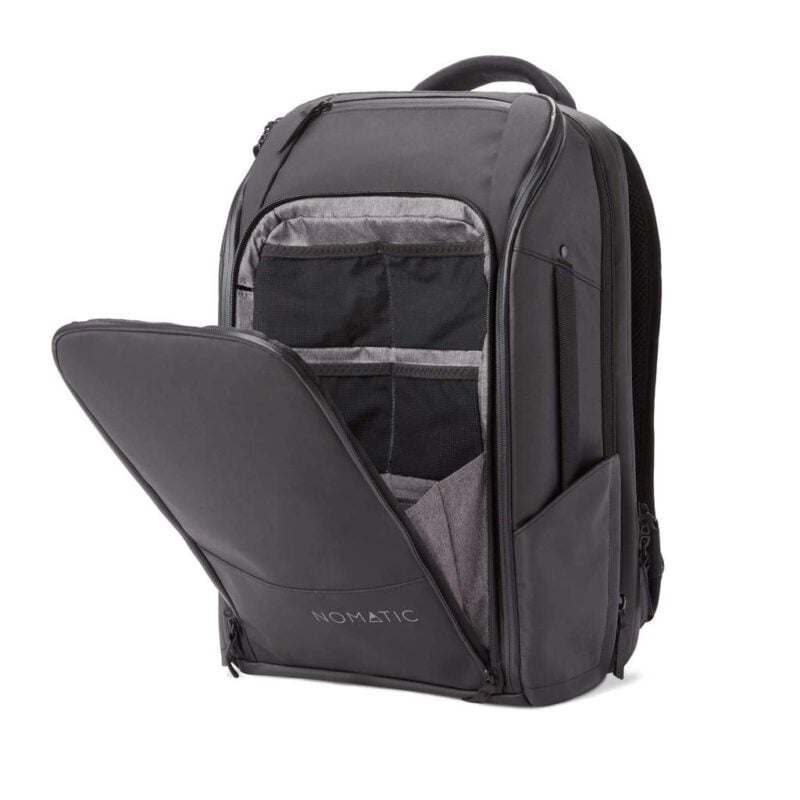 Trip Details
Days: 14
Price: $7399 USD
Group Size: Max 134
Fitness Required: Basic/Below Average
Accommodation: Quad-, triple-, twin-share cabins, or suites. Single also possible.
Meals Included: 14 breakfasts, 13 lunches, 14 dinners (booze is extra)
Service Level: Borderline Luxury
This Arctic marine adventure is unlike any other trip on my list. To start with, it is the longest Iceland GAdventure Tour and it is also multi-national. Greenland, Norway, and Iceland are all on the itinerary (departing from Norway). Taking in the Artic coastline by boat offers up the chance to see a variety of whale species, interact with local indigenous communities, and engage in in-depth learning regarding the culture, nature, and changes currently taking place in the social and natural ecosystems of the Arctic.
Some things to note: very little of the itinerary actually takes place in Iceland. The last few days of the tour, clients will be visiting Reykjavik, but do not venture outside of the city for tour activities. My advice? If you are keen on taking in the wonders of the Arctic sea by boat and seeing some of Iceland (I mean, you can't just visit Reykjavik and call it a day, right?), stay on in Iceland for a week of independent travel.
If you can swing a three-week holiday in the Arctic and Iceland (with a week of solo travel after the tour ends) – you will have seen some of the most beautiful landscapes of your life in that period.
Check out an equally exciting Arctic marine adventure from Intrepid.
Who is this tour best for?
Families, older travelers, bucket-listers, photographers, history and wildlife buffs, people interested in an educational and hands-on holiday, folks with deep holiday pockets.
Going on a sort of cruise trip like this may not be for everyone or every travel style (the price is certainly not for everyone either). If you enjoy traveling by ship and all of the comforts that come along with that sort of experience – this GAdventures tour is probably the dream trip of a lifetime for you.
Cons:
Expensive
Ship capacity/group size is quite large.
Trip Details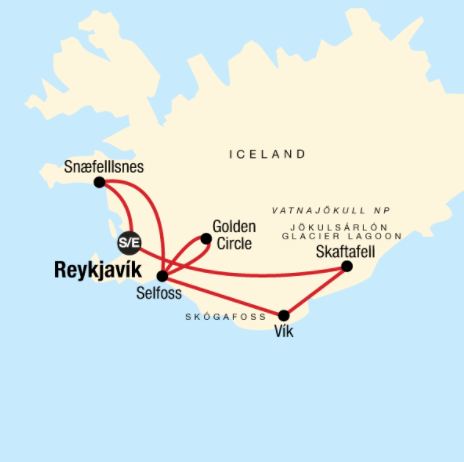 Days: 9
Price: $3699 USD
Group Size: Max 16, Avg 12.
Fitness Required: Average
Accommodation: Hotels
Meals Included: 8 breakfasts, 2 lunches, 1 dinner (booze is extra)
Service Level: More on the Luxury Side, comfortable, modern staterooms.
Though only two days longer – this "Explore Iceland" tour offers a wider variety of incredible landscapes than the "Classic" 7-day tour. The actual itineraries are quite different – and if you are a landscape obsessed photographer like myself – this is the tour to go on if you can afford the extra cost.
Some of the major highlights you get on this tour but don't get on the Classic Tour include going to the Golden Circle and going to the lesser-visited Snæfellsnes Peninsula. Though fast-paced, the Explore Iceland tour gives you more time on the ground in Iceland – and I know that photographers don't like to be rushed. Generally speaking guests on this trip have more freedom to do their own thing at the various sites and are not herded from one site to the next as much (this is inherently part of any group tour).
Imagine 9 days of hot springs, volcanic landscapes, glaciers, lagoons, ice fields, and pretty much everything else in between – this is what you are signing up for so be sure the bring lots of batteries. Your shutter finger will be tired at the end of each day – that I can guarantee.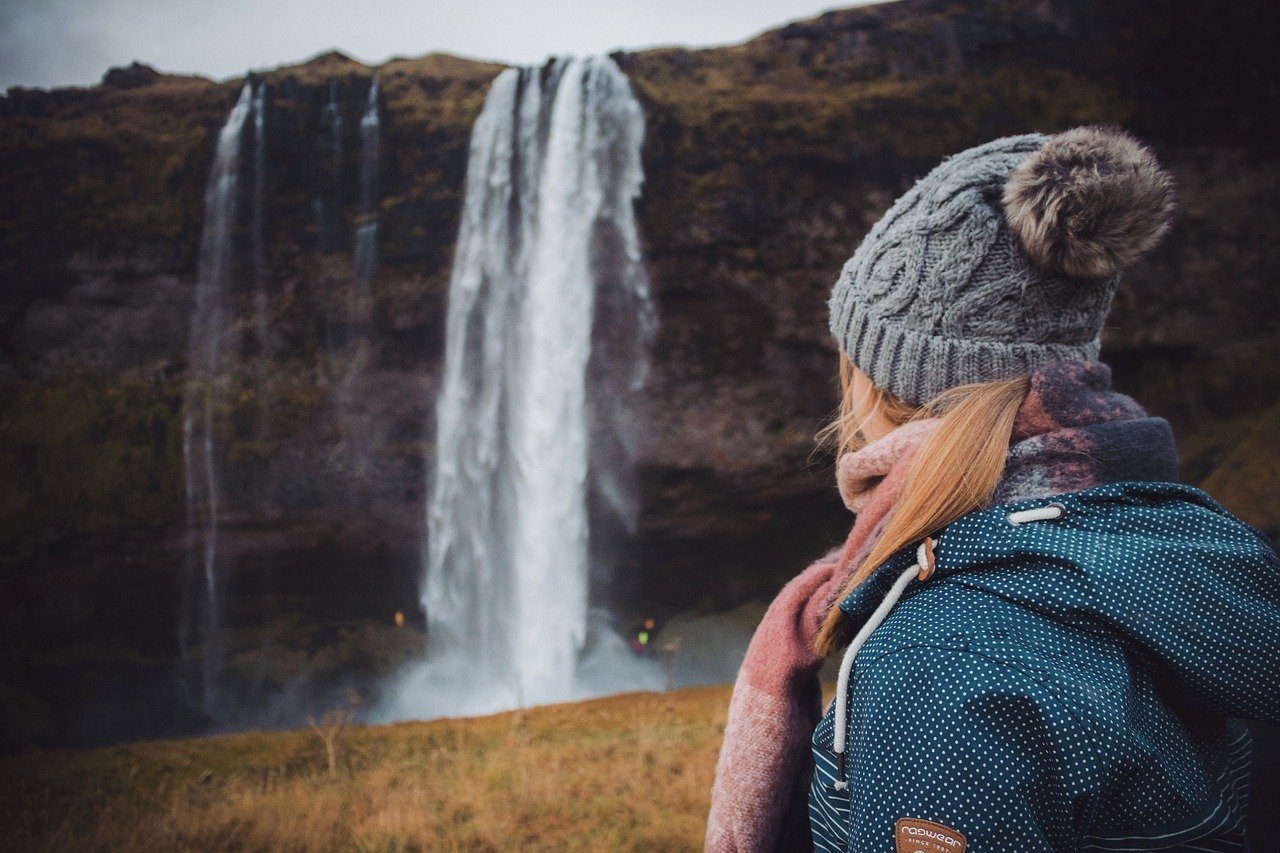 Who is this tour best for?
Photographers, couples, 25 years old+, nature enthusiasts, solo travelers, anybody wanting to get a more well-rounded tour of Iceland.
Cons:
Expensive
Most dinners are not included
Trip Details
Days: 7
Price: $1337 USD
Group Size: Min 1, Max 16 (age Min 18, Max 29)
Fitness Required: Average
Accommodation: Camping andf Guesthouse
Meals Included: 2 breakfasts, 1 dinner (booze is extra)
Service Level: Basic
Camping in Icelands sounds like a dream to many. Yep, indeed it is pretty special. This exciting 7-day tour from Intrepid is specfically tailored for the younger backpacker crowd (maximum age to join this trip is 29). If you are a young person just starting out as a backpacker, this an excellent way for you to meet other like-minded people, while also getting a valuable expereince camping outside in the wilds of Iceland.
This is an entry-level camping trip, which means you won't be trekking for hours on end to reach your campsite. Another bonus is you get to stay at multiple campsites across Iceland.
Major highlights of this trip include camping along the South Coast and Thorsmork Valley, a visit to the famous Skogafoss waterfall, and having the hands-on experience of camping with your new friends.
Note that if you want to enjoy group camping meals, you'll need to pay an extra ISK 20,000 (approx EUR 160). Actually this is a pretty good deal considering how much food costs in Iceland. You also don't want to be the only one who did not contribute to the group meal fund because it won't be cool to be standing around watching other people cook and enjoy their tasty dinners.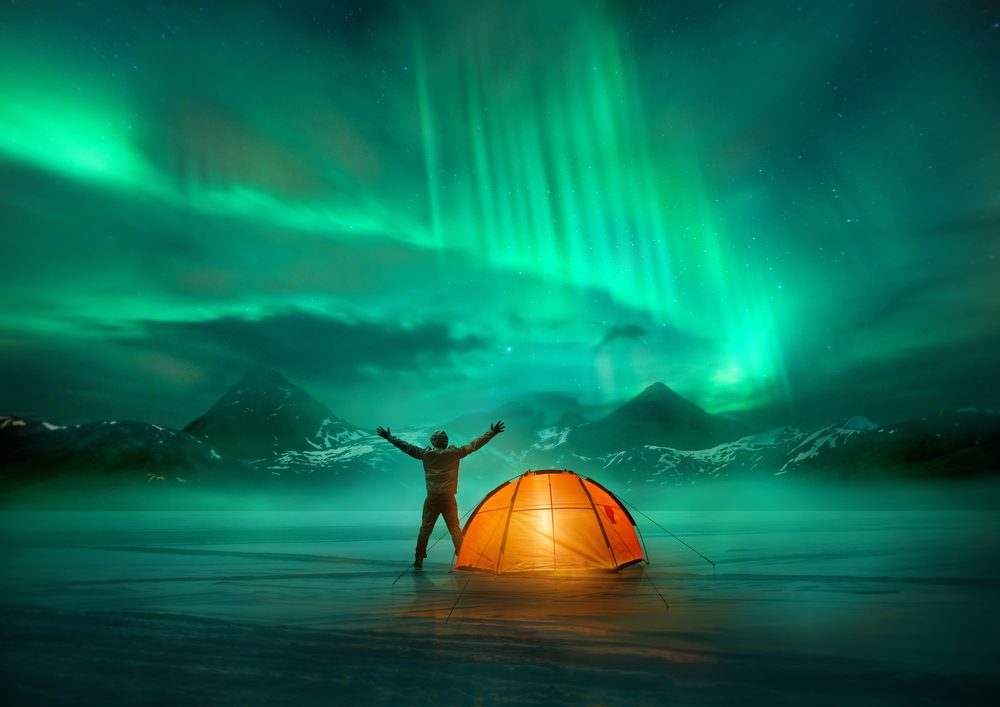 Who is this tour best for?
Young backpackers under 30, gap year students, university students on holiday, young solo travelers/ couples, young photography enthusiasts.
Cons:
29 is the maximum age limit.
Most dinners are not included.
Trip Details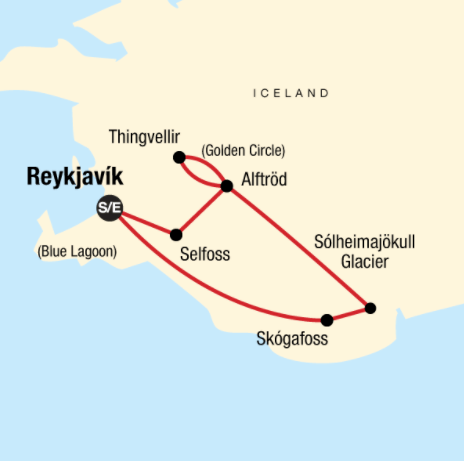 Days: 5
Price: $1549 USD
Group Size: Max 16, Avg 12.
Fitness Required: Average
Accommodation: Small family-run hotels or pensions and hotels
Meals Included: 4 breakfasts, 2 dinners
Service Level: Standard (meaning comfortable, but not luxury)
So you only have 5 days to explore Iceland? This is the trip for you. Whilst not a bare-bones price by any means, Iceland is an expensive country as we all know. The short-form "Classic" tours offer you the chance to see the most stuff in Iceland in the shortest possible window. Frankly, it is unlikely that a solo traveler could back in this much activity on their own in the same amount of time.
Waterfalls, epic glaciers, and even a chance to see the Northern Lights are all on the menu. Fast travel is probably my least favorite way to travel, but I understand too that some people have time (and budget) constraints. My advice is to go with a longer tour if indeed you do have the budget and time to do so. That said, this trip packs in much of the iconic landscapes and awesome experiences one can get a good taste of this incredible island nation without totally breaking the bank in the process.
Keep in mind that if this trip runs from October onwards, it will be cold!
Looking for an even cheaper Iceland budget tour? Check out this Iceland Express tour from Intrepid.
If at this point you are thinking, "man I just don't want to do a group tour". Well, I'll say, fair enough. If you are keen on checking out Iceland as an independent traveler, then you must check out our super in-depth backpacking Iceland travel guide. It is loaded with everything you need to have an awesome time backpacking Iceland on your own.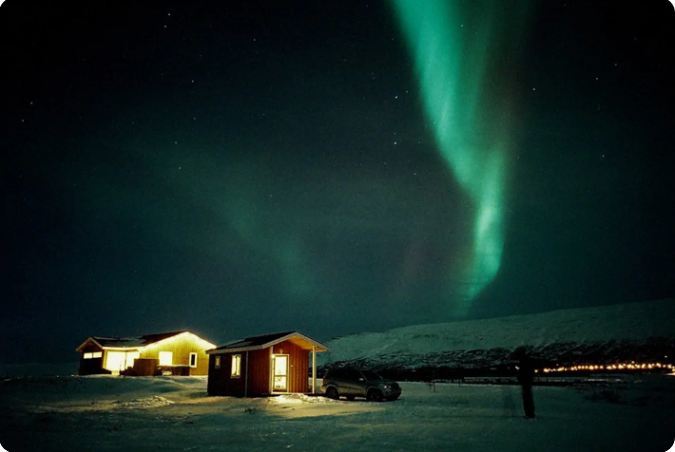 Who is this tour best for?
People short on time, young backpackers, budget travelers, bucket listers.
Cons:
5 days is not enough to really feel settled in the country
No lunches are included
Best Iceland Day Tours
So you are headed to Iceland, but joining a tour group is not really your style. Fair enough. There are still plenty of awesome day tours one can book that are less committing than a week-long tour.
In fact, some experiences such as viewing the Northern Lights at sea or ice climbing on a glacier require joining an organized tour of some sort. Below, I have assembled a list of the top 5 best Iceland day tours.
#1 Cruise under the Northern Lights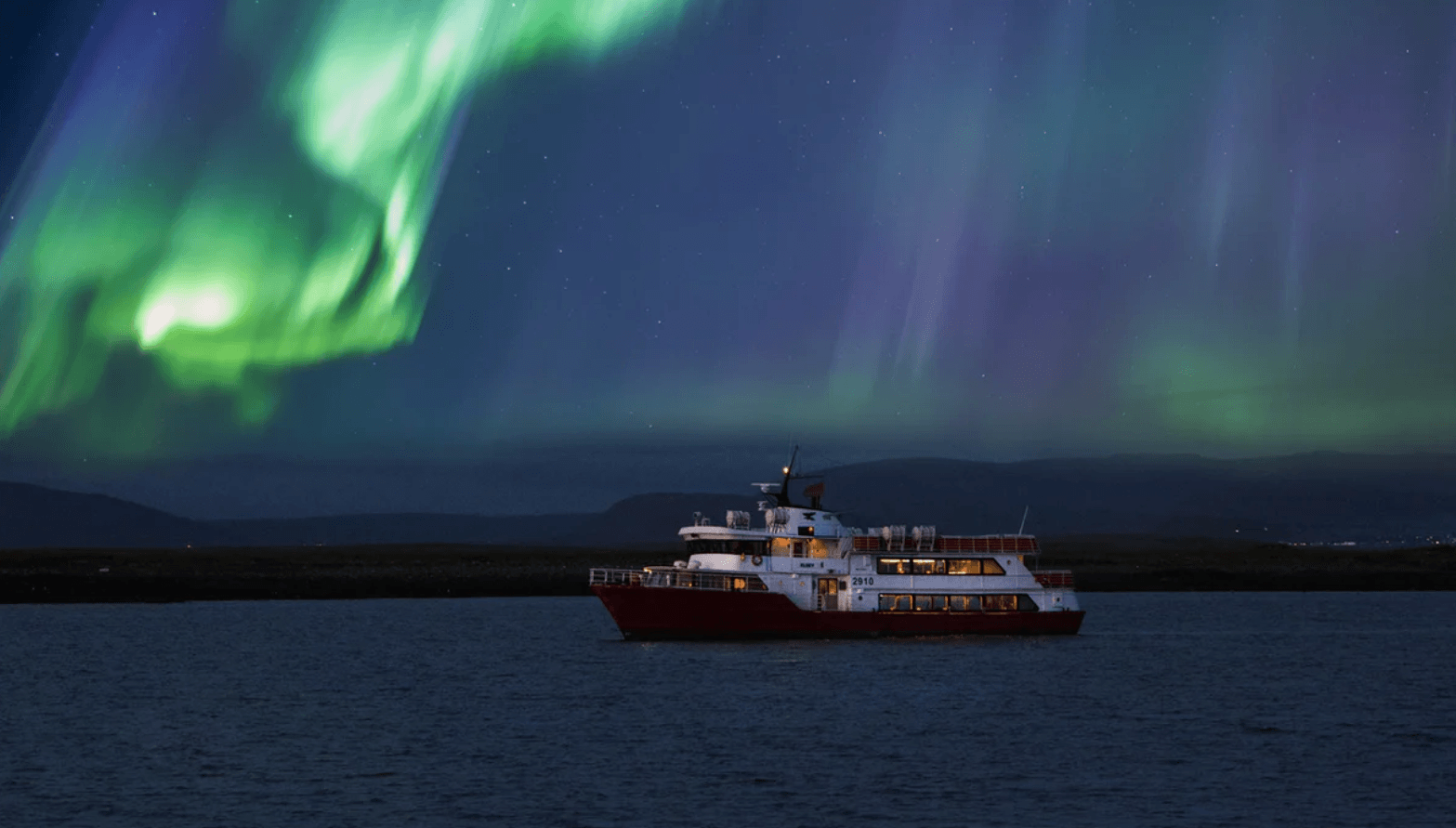 Company: Travelade
Enjoy a unique perspective of the Northern Lights by hopping on a boat and heading out to sea. This trip is short and sweet and should have you back in your hotel bed by 1 am. Most companies also provide you with the gear you need to stay dry, but as always, pack a good down jacket to go under the waterproof layer provided.
In my opinion, you want to take advantage of every single opportunity/possibility you have to see the Northern Lights.
#2 Go on a Reykjavik Pub Crawl
Company: Travelade
Going on a pub crawl somewhere like Prague is a right of passage for most young backpackers. This tour is not that kind of pub crawl. This is a classy pub crawl. Enjoy high-class adult beverages and some of Reykjavik's swankiest cocktail joints. Food and drinks (there is a limit) are included. This is not a backpacker binge-fest sort of pub crawl – which is great because it means anyone can enjoy a night out without the main goal being drinking the cheapest and strongest stuff as quickly as possible.
If you enjoy craft cocktails and trying weird food (like fermented shark) – this tour is bound to be a great time on your way in or out of Reykjavik.
#3 Go Inside a Glacier
Company: Travelade
This one is pretty self-explanatory. You get to walk inside of a glacier! I mean, how often in life does an opportunity like this arise? In fact, you'll be heading inside the 2nd biggest glacier in Iceland – via the Langjokull ice tunnels.
The tour is around 4 hours from the small town of Húsafell. No glacier walking experience is required as the tunnels themselves are safe to walk around with crampons for someone who has never used crampons before. If ice climbing is not your thing (read on for my favorite ice climbing trip), this is still a chance for you to make your Iceland Holidays active.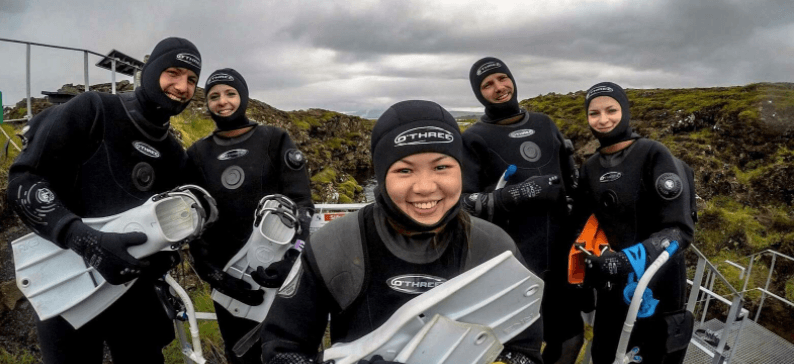 Company: Get Your Guide
Spending your afternoon snorkeling in freezing cold water may not sound like everyone's idea of a good time. Actually, it sounds like torture or some sort of Wim Hof Method practice.
Enter the all-mighty dry suit. Get yourself kitted out in a top of the line dry suit and take the plunge for an underwater photography adventure. There are plenty of unique things to do in Iceland, and cold-temp snorkeling is at the top of that list. Also, you won't be snorkeling just any old place. The Silfra Fissure in Pingvellir National Park is where the Northern American and European tectonic plates collide.
Don't expect to see tropical fish or amazing coral displays – this is not that kind of snorkeling trip – which hopefully is obvious. Do expect to see exceptionally clear glacier water and some pretty amazing rock formations though! Hot toddy anyone?
Company: Klook
No Iceland vacation would be complete without a little real adventure, right? To hell with whale watching – let's climb some ice! This truly unique day trip has it all: epic landscapes, a unique physical activity, and just enough edge to get your adrenaline pumping. You will have truly earned that expensive beer come evening time.
This trip features a glacier walk and ice climb with ane experienced local guide. All of the day trips you can do in Iceland, ice climbing is a way to connect with the glaciers on another level – literally. If you are up for a challenging experience, and the chance to possibly discover a new love of ice climbing you did not know you possessed, then this is the trip for you.
Quick Guide to Visiting Iceland
Best Time to Visit Iceland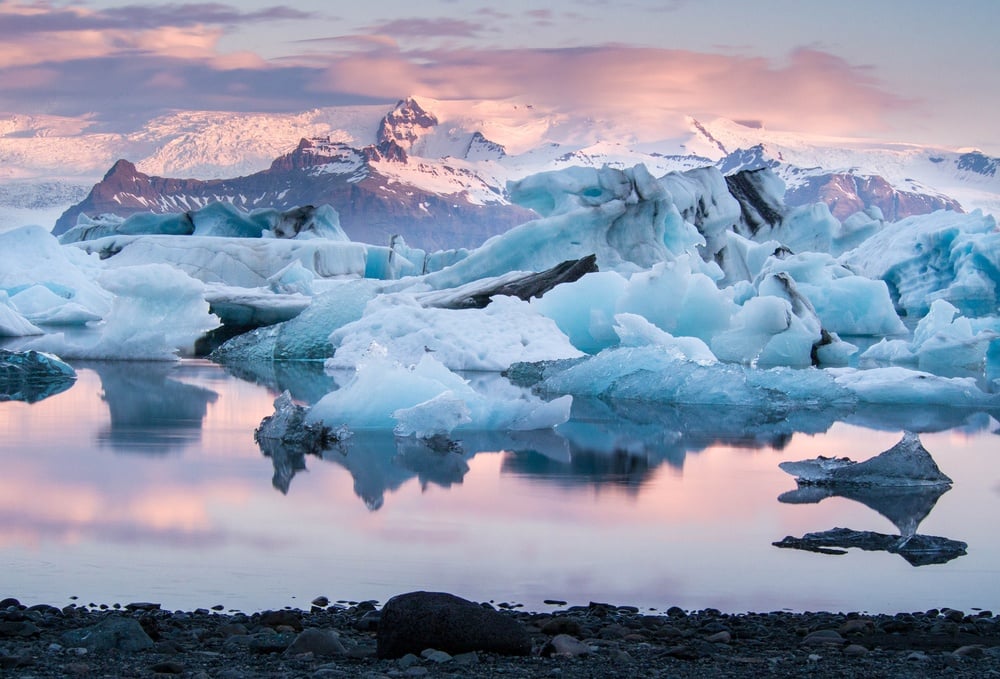 When you plan to visit Iceland will have an impact on your experience there. As mentioned before, the summer months are typically the most popular time to visit Iceland, though if you go in the fall/winter, you have a better chance to see the Northern Lights. It all comes down to what YOU want to see.
Some might argue that September is the best time to visit Iceland. This is because crowd numbers are relatively low, many of the central highland roads are still open, most accommodation options are still open, and there is still enough daylight hours to really pack in a sufficient amount of daily activities/sites. The early part of October is also one of the best times to visit Iceland, as is reflected by many of the tour dates on this list.
In terms of winter months, February is arguably the best month to visit. Viewing the Northern Lights is still possible, daylight hours are more abundant then say in December, and many of the ice caves are still accessible.
Iceland being what is it – pretty much every month of the year offers benefits for visitors. The landscapes are so breathtaking and dramatic, that your photography will not be much affected if you come in September vs in May.
Remember the Northern Lights are not always easy to see, so if you want the best chance of seeing them, come to Iceland in the winter!
June – August is the summer season, which is usually the business time to visit Iceland. Be prepared for up to 24 hours of daylight!
Travel Insurance for your Iceland Holidays
Sorting out your travel insurance before the start of any trip is always a good idea. Take it from me. A few years ago I took a fall on a hike in Kgyryzstan and fell directly onto my camera. I did not have insurance. It sucked. Alas, never again will I fall onto an uninsured camera!
Especially in this new world where flight cancellations and baggage delays are all too common, you want to be covered.
Whether you are going on a short trip to Iceland or an extended far-roaming stay, you should consider travel insurance.
If you plan on doing any physical adventure activities in Iceland, be sure to triple check the insurance plan you are considering, to ensure the planned activities are covered in case of an accident. Want to learn more about World Nomads? Check out our World Nomads Insurance review.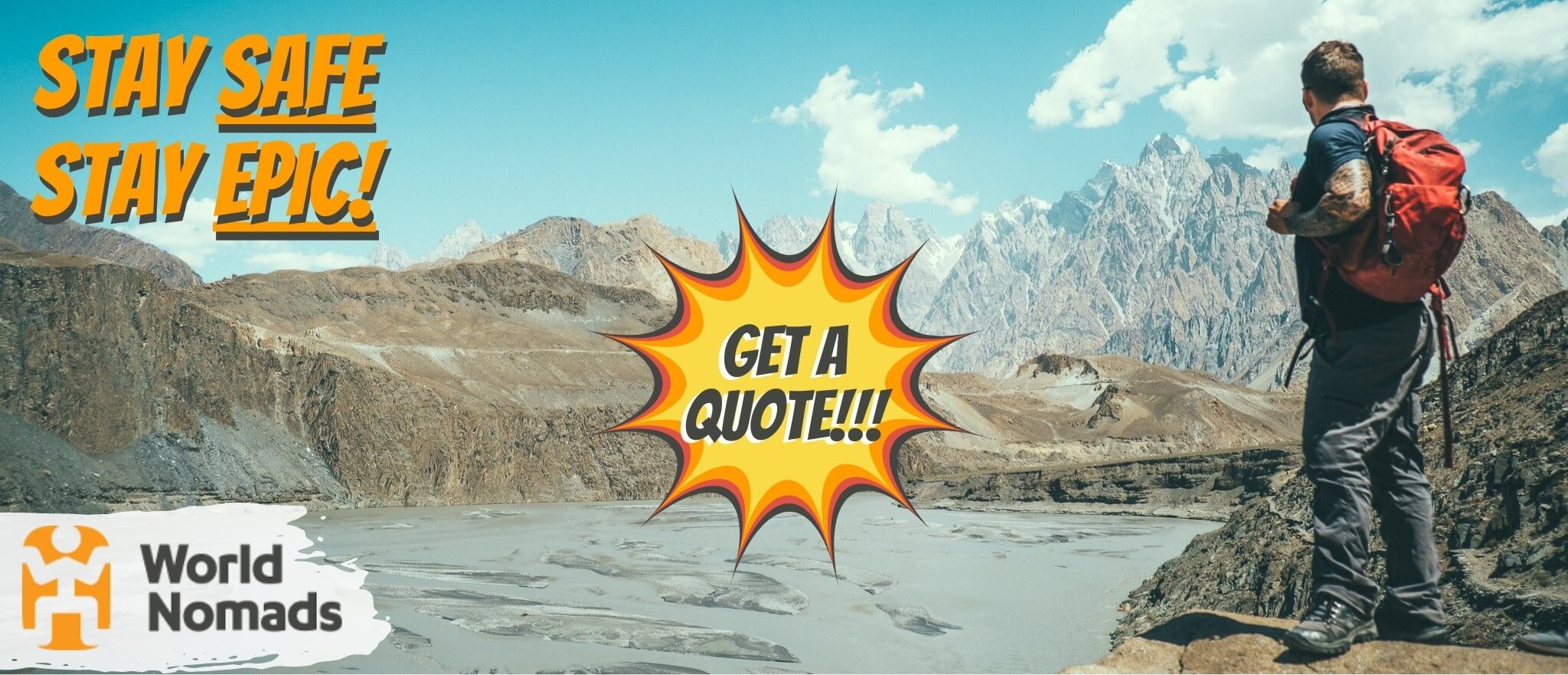 World Nomads' mission is to support and encourage travellers to explore their boundaries. They offer simple & flexible travel insurance, and safety advice to help you travel confidently.
They've been doing it since 2002 – protecting, connecting, and inspiring independent travellers just like you.
Get a quote below or read our in-depth review!
World Nomads provides travel insurance for travelers in over 100 countries. As an affiliate, we receive a fee when you get a quote from World Nomads using this link. We do not represent World Nomads. This is information only and not a recommendation to buy travel insurance.
What to Pack for Iceland
Iceland is not the sort of place where you can get away with packing your flip flops and shorts alone. You'll need to put some thought into what you'll need to stay warm and comfortable as you brave the wilds and cold climate.
We have actually written an entire article on this subject of gear to pack for adventures; check out our EPIC post on the Best Backpacking Gear.
So, you can't be bothered to read another article and you are after a 5-second summary of what to pack for Iceland? Here is some essential gear for Iceland:
Synthetic Clothing when possible
Plenty of warm socks
Beanie
Gloves
Cozy stuff to sleep in (I guess they call those pajamas)
Final Thoughts on the Best Iceland Holidays
There you have it, friends. If images of iconic Iceland and thoughts of big days out on an adventure doesn't get you stoked on life (especially after all of the lockdown times of the COVID era), nothing will.
For some people, organized tours are not the way to go, but I assume if you made it this far into my article, then you are keen! For backpacker/adventure travel types looking for an awesome Iceland holiday, you now have some of the best and most affordable options out there. I wish I could have presented more in the way of budget options, but as you are likely to find out if you don't know already, Iceland is a very expensive country and most Iceland tour packages reflect that reality.
Just a reminder, the best budget Iceland tour on my list is the Short Classic Route.
Whichever trip you end up going on, one thing is certain: Iceland is about to blow your mind.
Wishing everyone a great time and best of luck when chasing those Northern Lights.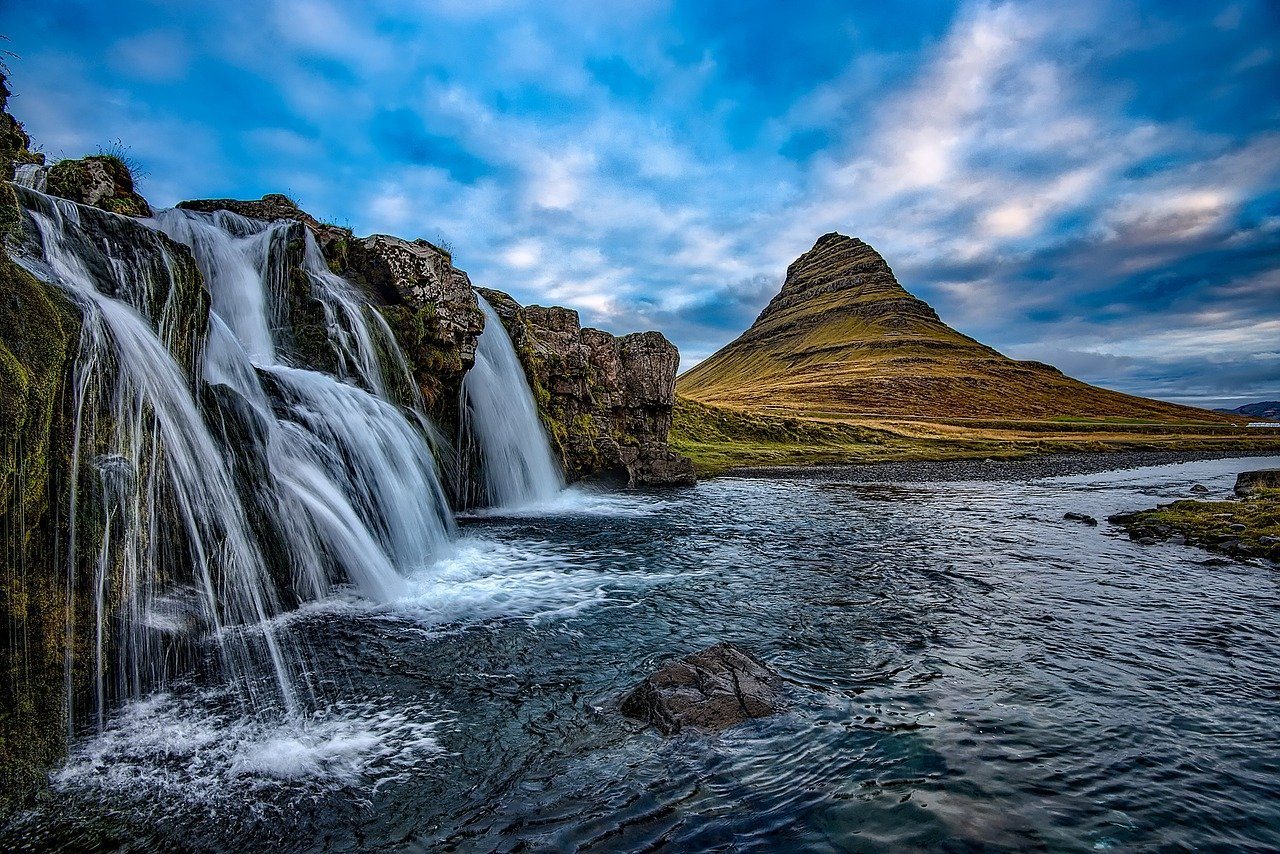 ---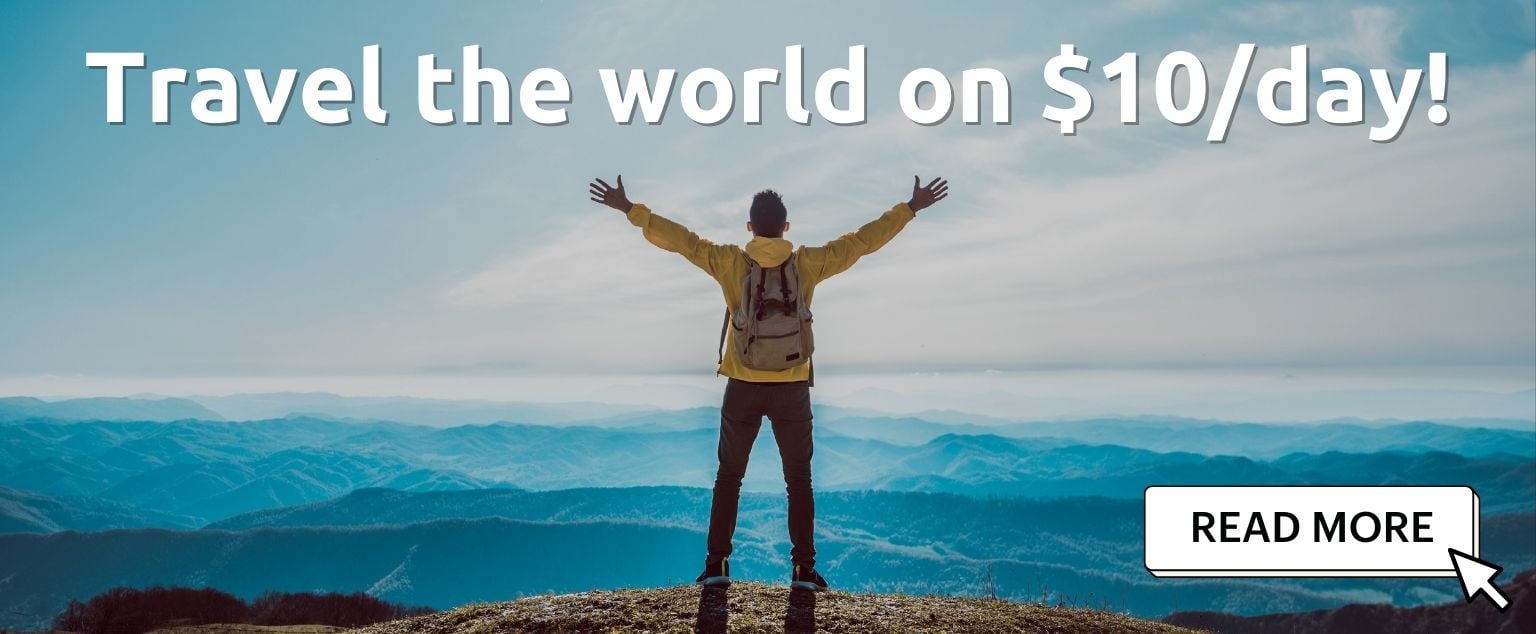 And for transparency's sake, please know that some of the links in our content are affiliate links. That means that if you book your accommodation, buy your gear, or sort your insurance through our link, we earn a small commission (at no extra cost to you). That said, we only link to the gear we trust and never recommend services we don't believe are up to scratch. Again, thank you!