The trekking in Kyrgyzstan is some of the best that I have ever done. The landscape is extremely diverse, shifting from variegated desert to verdant steppe to soaring mountains and sometimes appears more kaleidoscopic than real. The people are also among the coolest that I've met as well – they are truly nomadic and are very capable in their own habitats.
Kyrgyzstan is still relatively untouched by mass tourism. There are so many trails here and such large tracts of open nature that one could get lost for days. For those who want to go on a real adventure and want to take part in a truly epic hike, Kyrgyzstan is hard to pass up.
There are lots of trekking opportunities in Kyrgyzstan; maybe too much. (Is there such a thing though?) If you want to see the best of this country and not waste any time, you'll need some guidance before you head there.
This trekking guide for Kyrgyzstan is for all the hopeless hikers out there; the ones that stay up all night long thinking about the next trail. It will show you where to go, what you need to do to get ready, and what you should expect. I take great pride in presenting it to you, my fellow broke backpackers, and hope that it will serve you well.
Kyrgyzstan is a gem of a country. It has some of the most stunning landscapes that I've ever seen and few other destinations can compete it with its natural diversity. For outdoor lovers, Kyrgyzstan is a paradise, and I have no problem sharing it is one of my all-time favorites.
Kyrgyzstan is backpacking gold. it has everything: lush pastures, soaring mountains, psychedelic deserts, and even red-sand beaches (if you count the impressively large Issyk Kul). In the course of a week, you could potentially visit almost every landscape imaginable on God's green earth. It's like the New Zealand of Central Asia and may even rival the original one day (in terms of tourism).
Trekkers and hikers will have the most opportunities to experience Kyrgyzstan. Whilst much of the country can be enjoyed from the seat of a car, the best lies in the backcountry. Kyrgyzstan's greatest treasures are its wildernesses and they can be yours with only a few days of walking.
So, to those who are considering an adventure tour in Kyrgyzstan, I say: "Bravo!" With a bit of enthusiasm, some patience, and the proper planning, you'll get to enjoy this majestic country to the fullest.
Without further ado, let's talk about trekking in Kyrgyzstan and what you need to do to start!
Accommodation in Kyrgyzstan
Before you can begin your hike in Kyrgyzstan, you need to set up a base for yourself. This means finding a good place to buy supplies, organize transport/guide, and wash your grimey ass after you just spent a week in the mountains. If there's beer around town, then you got yourself a winner for sure!
But Kyrgyzstan isn't exactly overflowing with accommodation. In fact, most of the county is devoid of any sort of conventional lodging outside the tourist areas. There are traditional yurts to sleep in but a lot of them are in the middle of nowhere. This means you will only have a few solid choices when it comes to finding places to stay in Kyrgyzstan.
At the moment, hotels are the most common form of accommodation. You can find a hotel in just about any town. Local guesthouses are also ubiquitous and we usually prefer these to hotels in Kyrgyzstan because they're cheaper, more intimate, and are usually run by super friendly families.
Airbnbs and hostels are not really popular in Kyrgyzstan yet and are kind of hard to find outside of the big cities. It possible to book a good apartment still but they're usually limited in availability.
Bishkek, Osh, and Karakol are the three main hubs for organizing treks in Kyrgyzstan. These towns have outdoor shops, grocery stores, guiding companies, and any other business that one would possibly need before starting a hike. Being the largest, Bishkek and Osh are the most convenient cities to find lodging.
Getting Around Kyrgyzstan
Given the extreme nature of the landscape, one would think that getting around Kyrgyzstan would be tedious. It is over 90% mountainous terrain, after all, which doesn't exactly bode well for roads.
But it's actually incredibly easy to travel in Kyrgyzstan! The roads are actually in decent condition and there are regular flights across the country.
Most people use some sort of vehicular travel in Kyrgyzstan. This comes in the form of public transport, renting a car, or hiring a private driver.
Public transport: Regular buses run connect all major Kyrgz cities. These vary between the large mainliners that run between Bishkek and Issyk Kul to smaller minibusses or marshrutkas. Note that marshrutkas are often just local drivers with a van and that prices are not always set (especially for foreigners).
Personal transport: A lot of tourists end up renting their own car to get around Kyrgyzstan. Most opt for a 4×4, which is good if they plan on going into the mountains. If travelers just want to stick the highways, a sedan would get the job.
Private driver: If you're without a car and the bus isn't an option – either because it's full or there is no bus to where you want to go – you'll need to hire a private driver. Paying for a driver is obviously going to be more expensive. Negotiate before you get in the car.
If you need to travel from Bishkek to Osh, I highly recommend taking a flight. Air Manaus is amazingly cheap and the flight only takes 45 minutes. Conversely, driving between the two cities can take several days.
When to Go Trekking in Kyrgyzstan
The best time to go trekking in Kyrgyzstan depends greatly on where you want to go and what you're willing to put up with. If you're looking for a short hike in the lowlands of the country, you will have a much larger window. If you want to go gallivanting in the mountains for days at a time, you'll only have a couple of months when you can do so.
July-September offers the best possible conditions for hiking in Kyrgyzstan. The trails are usually clear (barring a late winter), the weather is more stable, and the mountain passes are as open as they'll ever be. The rivers should be relatively calm as well – since peak snowmelt has finished – which should make for easier crossings.
There are some downsides to visiting Kyrgyzstan during these peak months: prices are always higher, guides/drivers are in shorter supply, and trails are usually busy with fellow hikers.
If you want good prices and good weather, September is the best month. It'll be cold above 2,500 meters, but that's why God invented nice, warm down jackets.
It IS possible to trek in June, but you'll be rolling the dice. There's still lots of snow in June and the rivers can be overflowing with melt-water. (Trust me, you don't want to mess with a raging river.) We went trekking around the Batken area in mid to late-June and got snowed on three times (in June!) and ended up crossing some dicey avalanche-prone terrain at 3,500 meters.
If you want to do a hike at a lower elevation, like at Fairytale Canyon or Konorchek Canyon, you'll be able to from spring to autumn. There may be some snow around late-October but it shouldn't be too much.
Horses are a very important part of Kyrgyz culture. They provide transportation, subsistence in times of need, and a companion when the rider is lonely. Kyrgz people live in constant contact with these animals and enjoy sharing their way of life with foreigners.
Horse trekking is one of the most popular things to do in Kyrgyzstan! Few activities can compare to exploring the endless jailoos (summer pastures) and epic mountain scenery by horseback. If you have any inkling do take part in something unique, then you should definitely consider a horse trek in Kyrgyzstan.
There are many ways to go horse trekking in Kyrgyzstan. Sometimes, you'll just be on the horse for an hour or two. Other times, you may need to ride a horse for a 6-8 hours a day although we don't recommend newbies do this (your hips will be destroyed).
Horses can also be used as pack animals for longer expeditions. This can be a good option if you don't want to pay to ride your own horse and don't want to be burdened with your bags at the same time. Horse porters can usually carry a load for 2-3 people.
To learn more about this type of experience, I recommend reading our dedicated guide to horse trekking in Kyrgyzstan. It'll cover a lot more details than we can in this lone section.
Let's cut to the chase and start talking about the real reason y'all are here: where should you go hiking in Kyrgyzstan! Here are 15 ideas:
1. Trek to Ala-Kol via Karakol Valley and Altyn Arashan
Total distance: 25-38 miles (40-65 km) depending on if you take jeeps
Total days: 3-4 days
Best time of year: July to September
Difficulty Rating: Semi-difficult
At a glance: Visit a stunning alpine lake perched at 3,100 m and follow it up with some wonderful hot springs.
Ala-Kul is usually the first place that pops on people's radar when they start researching trails in Kyrgyzstan; for good reason, of course.
Situated at an elevation of 3,100 meters and encased on nearly every side by rugged peaks, Ala-Kul is drop-dead gorgeous. The lake itself has a habit of changing colors as well. One moment it's a brilliant aquamarine and the next it's a bottomless shade of cobalt. This phenomenon actually gives the lake its name, Ala-Kul, which means lake of "lake of many colors."
The classic hike to Ala-Kul begins in the Karakol Valley and ends at the hot springs of Altyn Arashan. Both are great ways to begin and end your trip.
Due to its fame, Ala-Kul is one of the most popular hikes in Kyrgyzstan. Several tour companies include it in their itinerary as it would be tragic to miss this place.
Independent hikers can do this hike if they wish. There are many established campgrounds that they can use and the trail is well-trodden. Just make sure you have the right gear and map still.
2. Horse Trekking to Song Kul via Kyzart Pass
Total distance: 22 miles (35 km)
Total days: 2-3 days
Best time of year: July to September, can be done in winter with proper prep
Difficulty Rating: Moderate
At a glance: Arrive at one of Kyrgyzstan's most famous destinations in style – by riding a horse of course!
Song Kul is a must-see place in Kyrgyzstan, no doubt about it. Resembling the arctic tundra of Alaska or perhaps the alpine plateaus of Pakistan, Song Kul is a dreamscape suspended in the mountains above the country. Seeing it slowly unfold in front of you for the first time is an unforgettable experience and I enjoy it every time I visit.
Though lots of travelers opt to drive to Song Kul, riding a horse onto the jailoo is the ultimate way to arrive!
The horse trek itself starts in the small community of Kyzart, about 2-3 hours drive from Bishkek. From there, you mount your loyal steed and immediately head into the mountains. Over the course of the next two to three days, you'll cross vast meadows, nomadic camps, and under soaring peaks before eventually arriving at Song Kul.
Once you make it to Song Kul, it's all about rest and relaxation. Chances are, you will stay in a local yurt, which is a great experience. If you booked a tour with KCBTA, they will also introduce you to the native lifestyle. That means trying local products, drinking kumus, and milking mares (yes, mares; not cows).
If you use our special discount code, TheBrokeBackpackerKGZ312, you'll also get 10% off your KCBTA tour as well. ?
Day Hike through Konorchek Canyon
Total distance: 6 miles (10 km) round trip, optional side trips
Total days: 1 day
Best time of year: April to May, September to October
Difficulty Rating: Moderate
At a glance: Discover why Kyrgyzstan's desert landscape is often compared to the likes of Utah.
Whilst traveling around Kyrgyzstan, my friend and I started referring to Kyrgyzstan as "Coloradostan." Why you ask? Well aside from having an amazing beer scene (let's not digress), Kyrgyzstan also features similar geography to Colorado. Mountains give way to rolling hills which eventually turn into red-rock deserts.
Yes, Kyrgyzstan has deserts. Beautiful deserts, in fact, littered with psychedelic rock formations, squat petrified goblins, and blazing red spires; all the stuff that you'd normally expect in the American Southwest.
Now, Fairytale or Skazka Canyon usually gets most of the attention. It's good but the best desert hike in Kyrgyzstan is definitely at Konorcheck. Konorcheck is bigger and features a lot more to see and do.
Konorcheck is very cool to explore. As you walk around, the red-rock appears to melt all around you, like a crayon left out in the sun. When you walk higher, towers begin to appear in the distance. It's all very trippy.
4. Hike to Travelers Pass near Peak Lenin
Total distance: 12 miles (19 km) round trip
Total days: 1 day
Best time of year: July to August
Difficulty Rating: Semi-difficult
At a glance: Spend the day hiking above Tulpar Kol to gain epic views of one Kyrgyzstan's largest mountains.
Peak Lenin is probably one of the easiest 7,000-meter peaks to visit in the world. You can take a jeep just before the base camp at Tulpar Kol (3,500 m), and from the mammoth mountain dominates everything.
Adventurous types will probably want to get their kicks and go for a longer walk though. People can trek either 20 minutes from the yurts at Tulpar Kul or continue further towards the ABC (Advanced Base Camp) and stop at Travelers Pass along the way.
At 4,130 m, Travelers Pass offers one of the best views of Peak Lenin possible. From this vantage, you can see not only the mountain but vast swathes of multi-colored rock, glacier, and jailoo.
Beyond Travelers Pass is the Advanced Base Camp (4,400 m). It is definitely possible to continue your hike to there but you will need an extra day to do so. There is a basic campground at ABC that is mostly inhabited by climbers attempting the summit.
Contact KCBTA to arrange transport, lodging, and tours around Peak Lenin.
5. Overnight to the Ak-Sai Glacier in Ala Archa
Total distance: 8 miles (13 km) round trip
Total days: 1 day
Best time of year: July to September
Difficulty Rating: Moderate
At a glance: Get out the capitol for the day and make a day hike to a glacier… (wait you can walk to a glacier in A DAY from Bishkek?!)
One of the coolest parts about hiking in Kyrgyzstan is that the trail is never too far away. Even the largest city in the country, Bishkek, has a number of trails close by; great trails, in fact!
Right outside of Bishkek is Ala Archa National Park. Within an hour, you could drive from the city and be hiking in some of Kyrgyzstan's best alpine landscapes. The park even hosts a peak that is nearly 5,000 meters higher than anything in the Rockies or Alps. That's impressive.
The best hike in Ala Archa has got to be the one up to Ak-Sai Glacier. It's a relatively straight forward hike but is a bit demanding when done as a day hike. The fact that you can visit a glacier in a single day from the capital city makes the challenge more than worthwhile.
Grab your car and head to the mountains for a weekend. If you don't have transport, contact Show Me Bishkek for help.
6. Expedition to Khan Tengri via Enlycheck Glacier
Total distance: 50-62 miles (75-100 km) depending on if you want the helicopter ride
Total days: 2-3 weeks
Best time of year: July to August
Difficulty Rating: Difficult
At a glance: Trek up the epic Enylcheck Glacier to see one of the most perfect peaks in the world.
This is one of the greatest hikes in not only Kyrgyzstan but all Central Asia; the one that people wait an entire lifetime to do. To see Khan Tengri (7,010 m) is a humbling experience as few other places in the world can match its extraordinary grace and power. (Yes, I talk like this about mountains.)
Khan Tengri, meaning Lord of the Heavens in Kazak, is a mountain that should only exist in storybooks. It's near perfect pyramidal shape has inspired people to call it the most beautiful mountain in the world. It's so perfect that someone on SummitPost even described it as "like a kid's drawing of a mountain."
To see Khan Tengri either requires a multi-week expedition up the Enylchek Glacier and/or a (pricey) helicopter flight. Most organized tours include both in their itinerary; a walk in and a ride out.
Because of the demanding nature of this walk, tours can be expensive. You can try and organize a trek yourself to see Tengri but, honestly, it may not save you any money or stress. You'll need permits, glacier equipment, porters, a guide, and all for several weeks.
7. Horse Trekking in Jyrgalan
Total distance: varies
Total days: varies
Best time of the year: June to September
Difficulty Rating: Easy-Moderate
At a glance: Rolling greens hills, swathes of lush woods, and your loyal steed. Simple as that.
There are lots of places to go horse trekking in Kyrgyzstan; a lot. Song Kul, the Alay Valley, Issyk Kul, all of these and more have more than enough horses and guides to make your Lord of the Ring dreams come true.
One of the best places to go horse trekking is Jyrgalan. Located very close to Karakol, Jyrgalan is like a slice of Switzerland in Central Asia. The scene is pastoral, the people are extremely warm, and life just seems easier here.
There are lots of horse trekking tours in Jyrgalan that visit a wide variety of locations. Ride over to the Chaar-Jon Panorama for expansive views of the range. Maybe duck into Robbers Canyon and pretend you're chasing after devilish horse thieves. You can even go on multi-day hikes with the proper guide and spend a night in the mountains. No matter where you choose, your imagination is sure to run wild.
8. Hike to Kol-Suu Lake
Total distance: 9 miles (15 km) round trip
Total days: 2-3 days
Best time of the year: July to September
Difficulty Rating: Moderate
At a glance: Walk or ride to see one of the most elusive lakes in Kyrgyzstan; one that is disappears some years…
I already told you that Kyrgyzstan was a magical land, but if I told you that there was a lake that actually disappeared sometimes? Would you believe me?
Deep in the southern reaches of Kyrgyzstan, on the border of China near Naryn, there is a lake that is sometimes there and sometimes not. Some who venture here see a shimmering body of water enclosed by giant walls of stone. Some see nothing but an empty desert.
To be honest, there is no magic behind Kol-Suu. When there is lots of snow in the winter, the lake is full during the summer. If it's been a dry year, the lake will be empty.
Regardless of whether it's full or not though, Kol-Suu is still worth visiting. The hike to Kol-Suu itself is pretty easy and only takes a day or two depending on how much time you want to spend there. The trailhead also starts in the Ak-Sai Valley, a harshly beautiful place that is often called "The North Pole of Kyrgyzstan."
Ask KCBTA if the lake is full or not and about jeep tours in the Ak-Sai region.
9. Trekking in "Asian Patagonia" and the Karavshin Valley
Total distance: 62 miles (100 km) round trip
Total days: 7-9 days
Best time of the year: Mid-July to September
Difficulty Rating: Difficult
At a glance: Explore one of the most remote parts of Kyrgyzstan and discover hidden granite towers.
When we first heard about this place it was described simply as "Patagonia." A bold statement, if you had asked us then, but we were convinced nonetheless.
"Asian Patagonia" is a title given to a part of the Turkestan Range in the tumultuous Batken region. Straddled on a small strip of frontier between Tajik and Uzbek borders, the area is mostly neglected by tourists. For those who do want to visit, it's a long drive west from the southern capital of Osh.
The beginning of the trek doesn't provide much respite. The first few days are long hauls as the central part of the range, where the best scenery is fortified by many high mountain passes. Once you get over these though, it's paradise.
The inner sanctuaries of the Turkestan Range are breathtaking. The Karavshin Valley, Ak-Sai Peak, Alexander Blok Peak, everything is beyond words. Best of all, there's no one around; the region is devoid of hikers.
If you want to go on a real adventure, consider Asian Patagonia. You WILL need a guide to go here and we suggest reaching out to KCBTA; they're one of the few companies in the country that organize treks here.
10. See the Best of Arslanbob
Total distance: 11 miles (17 km)
Total days: 1 day
Best time of the year: April to October
Difficulty Rating: Easy
At a glance: Visit the most picturesque waterfalls in Kyrgyzstan, along with meadows and mountain views, around Arslanbob.
Arslanbob was initially described to us "every Kyrgyz' favorite place." Tucked away into the mountains north of Osh, Arslanbob is a really, really lovely area. Walnut groves blanket the countryside and give the village a really whimsical feel.
There are many waterfalls in the forests around Arslanbob and these are among the best in Kyrgyzstan. Most are within reach of the town and are easily visited by a day hike.
It is possible to go on a whistle-stop tour around Arslanbob and see the best of the village's scenery. Walking is an option but we recommend riding a horse because it really adds to the whole experience. You can contact the local KCBTA to help organize horses and a guide.
11. Trekking in the Height of the Alay via Jiptick Pass
Total distance: 37 miles (60 km)
Total days: 5 days
Best time of the year: Mid-July to September
Difficulty Rating: Moderate
At a glance: Trek over the Alay Mountains from Osh to Sar Mogul, experiencing quintessential Kyrgz alpine scenery along the way.
The long way round to Sary Mogul from Osh; but a spectacular one for sure!
The Height of the Alay trek is one of the highlights of Southern Kyrgyzstan. It offers expansive views of the Alay Mountains and the distant Pamir Range. Peak Lenin can be seen at several points along the trail though there is plenty more to see besides it.
The Height of the Alay trek starts big and ends big as you're in the mountains from the get go. Along the way, you'll visit gorges and jailoos but the two passes – Jiptick Pass and Sary Mogul Pass – are the highlights of the trip.
Whilst this trek is meant to begin and end in Osh, you can take an extended break in Sary Mogul and even visit Peak Lenin for a day or two. You can head back to Osh whenever you're ready.
It is possible to stay in yurts along the trail but you'll need to check ahead of time. Contact the local KCBTA to inquire.
12. Trek to Boz-Uchuk Lakes via Jyrgylan
Total distance: 28 miles (46 km)
Total days: 3 days
Best time of the year: June to September
Difficulty Rating: Moderate
At a glance: See a wilder side of Jyrgylan and start trekking into the nearby Ala-Too Range.
This is a relatively new trail in a relatively new touristy area, yet Boz-Uchuk is already making rounds on the web. Lots of travel bloggers have spoken how this is their favorite place in Jyrgylan and maybe even the whole country. I'd say that it's definitely earned the right to be counted among the best treks in Kyrgyzstan.
The trek starts in the town of Jyrgylan itself though you quickly get into the backcountry. The hike involves two passes and will take several days to complete. There are a bunch of little hikes you can add on as well and you could easily turn three days into five here.
What can be said about the lake except that it's another fine representative of Kyrgyzstan: clean, pure, beautiful, and wild. If you're lucky, you'll have the lake all to yourself though that may not be the case in the future as the area becomes more popular.
13. Horse Trekking from Chong-Kemin to Issyk Kul via Tamchy Pass
Total distance: 18 miles (30 km)
Total days: 2 days
Best time of the year: July to September
Difficulty Rating: Moderate
At a glance: Horse trek from the bucolic Chong-Kemin over the mountains and descend down to the iconic Issyk Kul.
The Chong-Kemin Valley is a paragon of Kyrgyzstan's national park system. Founded to preserve the rich yet sensitive local ecosystem, Chong-Kemin hosts a multitude of flora and fauna. The landscape shifts from jailoo to forested to alpine before dropping down to the Issyk Kul region where the desert takes over.
There's lots to do in the Chong-Kemin. You could go white water rafting, watch a game of buzkashi, and even hear the story of Manus as told by a local poet. There are several treks in the area as well, so you won't be lacking for things to do.
The best way to end your excursion in the Chong-Kemin is to actually do a horse trek over the Tamchy Pass to Issyk Kul. This trail will give you one of the rawest impressions possible of the Chong-Kemin and is a great way to connect it to Issyk Kul. Whilst others are stuck driving on the main road, you'll be arriving to Issyk Kul like a real nomad.
14. Trek to Kol Mazar aka the Holy Lakes
Total distance: 48 miles (77 km)
Total days: 4-5 days
Best time of the year: June to October
Difficulty Rating: Moderate
At a glance: Follow in the footsteps of pilgrims and visit one of the holiest lakes in Central Asia.
For those who are visiting Arslanbob and want to spend some extra time in the area, the trek to Kol Mazar is a great addition. This hike features the usual Kyrgyz mountain scenery, including gorges, peaks, and alpine lakes. What makes this hike special is that one of the lakes is considered one of the holiest places in Central Asia for Muslims.
The hike up to Kol Mazar is nice but not spectacular. You'll pass by a few notable sites, like the anti-climatic Holy Rock, and have plenty of views of the local valleys. On the first night, you'll camp at the base of Friendship Pass below the lakes themselves.
When you reach the actual Holy Lakes, you may be tempted to jump in but this forbidden; the waters are considered off-limits by pilgrims so bathing is frowned upon. Just admiring the beautiful turquoise shades of the lakes though are enough to satiate the senses.
15. The Ak-Suu Traverse
Total distance: 56 miles (90 km)
Total days: 6-7 days
Best time of the year: Middle of July to September
Difficulty Rating: Difficult
At a glance: Tackle this beast of a hike that crosses multiple passes and visits some of the most stunning parts of the Ala-Too Range.
The Ak-Suu Traverse connects almost every single notable location in the Ala-Too Range. This includes, but is not limited to Ala-Kul, Boz-Uchuk, Altyn Arashan, and Telety Pass. It is the ultimate trek in the Karakol region and will leave you breathless in more than one way.
The beginning of this hike is the same as Boz-Uchuk. Instead of turning around and heading back to Jyrgylan afterwards, you continue on deeper into the Ala-Too.
Over the course of the next week, you will need to conquer a total of five passes. We cannot not sell this trek short and say that it will be easy. There will be sweat, there will be blood, and there will (hopefully) be beer at the camps.
The last pass is Telety and just beyond that is the end of the road. The trail ends at the famous Jeti Oguz rock formations. If you didn't have a drink on the trail up until this point, you've certainly earned one now.
The costs of hiking in Kyrgyzstan can vary greatly as there are a lot of different factors to consider. For example:
Are you bringing your own gear to Kyrgyzstan?
Do you think that you will want a guide or porters?
What kind of comforts are expecting like booze, quality of food, etc?
How much time do you have?
How long will your hike(s) be?
These are a couple things that you need to consider before you start trekking in Kyrgyzstan.
It's difficult to sum how much a trek in Kyrgyzstan will cost on average because there are quite a few expenses involved. For trekkers who to do things themselves, I've included some ballpark figures immediately below. Those who want to book a tour with a local Kyrgyz company will not have to worry about these numbers.
For more information on how much a trek will cost in Kyrgyzstan, refer to the sections below.
*The guide or porter will usually double as a cook so I wouldn't worry too much about hiring a dedicated one.
Independent or Organized Hiking Tours in Kyrgyzstan?
Choosing between hiking on your own or with a tour company in Kyrgyzstan really comes down to how much you're willing to spend. Those who want to be as comfortable and enlist the help of local guides will probably end up spending more money. For those who organize everything themselves and don't mind skimping on some luxuries, Kyrgyzstan can be very cheap.
Basically, money buys you convenience in Kyrgyzstan. If you are short on time, don't have any appropriate gear, and know very little about the country, going with an organized tour is probably the best option. The people you hire will prepare everything for you and, since their experts, will show you the best time possible.
Going with a tour company in Kyrgyzstan will also allow you to see parts of the country that you may have not been aware of. Local guides know their country very well and can show you glimpses of their own favorite places.
All that being said, it is definitely possible to organize your own treks in Kyrgyzstan. Of course, you will have to get together all of your own food, gear, transport, and so on. You will also have to make the decision if you want to pay for a guide or not.
So if you want to prep your own trekking itinerary in Kyrgyzstan, never fear; we're about to cover the logistics in the following section. Pay close attention, my fellow dirt-baggers.
While beautiful, Kyrgyzstan can be a harsh place sometimes. The weather in Kyrgyzstan can be unpredictable – downright scary at times – and could potentially ruin your trip.
You want to be sure to the best possible equipment for your Kyrgyz adventure. Here's a list of gear that you must have before setting out:
Good hiking backpack – Get something robust, weather-resistant, and at least 65 liters.
Down jacket – Nights can be cold in Kyrgyzstan, even in the summer.
Light rain jacket – Afternoon storms are common.
Sleeping pad – I personally can't sleep without one of these. Also, they can be used as floaties when you're swimming!
Hiking boots – Make sure they are comfortable and NOT brand new. An exception here is the Keen Targhee II which can be worn straight from the box.
3-season sleeping bag – A 15-degree should be fine. 0-degree would be better at higher elevations.
First-aid kit – You never know what could happen.
Headlamp – One of the most useful things you can have when traveling.
Other Useful Items
3-season tent –If you're organizing your own trek and don't want to rent one.
Synthetic clothing – Enough to last however long you'll be in the wilderness.
Wool socks – These keep your feet warm and not prone to chafing.
Gloves – If your hands become cold easily.
Camera – Trust us; you'll be using one of these a lot.
Gaters – When it comes to walking through snow, these are a godsend.
Hat or buff – The sun, when out, can be very strong in Kyrgyzstan.
Gas-burning stove – Don't forget the proper cookware and utensils as well.
Trekking poles – There are some crazy inclines/descents in Kyrgyzstan; these will save your knees.
Good knife – For cutting all those cucumbers and tomatoes you're going to be eating.
Quick-drying towel – Always handy.
Water bottle – Though the water is generally clean in the mountains, having a water bottle with a built-in filter will ensure you don't get sick.
Some form of navigation – A map and compass, a GPS, a guide; whatever works for you.
There is a lot more that you can bring with you besides these items. Be sure to check out our comprehensive Kyrgyzstan packing list post for more details!
Packing Your Own Gear vs Renting in Kyrgyzstan
When it comes to gear, I always recommend bringing as much of your own as possible. You'll know how to use your own equipment better, plus you'll know exactly how good it is as well. When you use someone else's stuff, you never really know what to expect.
Don't get me wrong: there is plenty of good outdoor gear to be found in Kyrgyzstan. Many of the more reputable travel companies and gear suppliers in Kyrgyzstan, indeed, do have a good selection. But still: I much prefer having my own equipment.
Bringing your own outdoor gear to Kyrgyzstan will also help you cut costs. Even if the rental prices are low, it's still an avoidable expense, and expenses, no matter how small, always add up.
If for some reason you had no choice and absolutely needed to organize new gear in Kyrgyzstan, it is possible. Most loaned gear comes from the tour companies so be sure to inquire with your what their stock is like.
If you wanted to go through an independent rental company, you only have one choice: the Trekking Union of Kyrgyzstan (TUK) located in Bishkek.
If it's impossible to rent a certain piece of gear, you'll probably have to go to the shop and buy something new. Alex KG usually has the best prices in Bishkek. Red Foxand Gergert are also good choices, albeit more expensive.
So you have all of your gear packed, know where you're going, and are itching to get out into the Kyrgz mountains; you're almost there, my friends!
There are a couple more pieces that we need to suss out first. You'll obviously need to get a food packing list together plus you'll need to make sure you have some form of navigation. Also, do you know if the area you're going to requires permits or not?
These are aspects of your adventure that you'll need to address once you're actually in Kyrgyzstan. Luckily, the country is used to people organizing treks on the fly, so there is plenty of support available.
Let's take a look at the details.
Hiring Porters, Horses, and/or Trekking Guides in Kyrgyzstan
This is the first thing that you should be addressing when you arrive in Kyrgyzstan. Do you think that you will need a guide in Kyrgyzstan? Are you prepared to do everything on your own without one? Are you aware how convenient they are?
Unless you're doing one of the more popular treks in Kyrgyzstan, like Ala-Kul or around Jyrgylan, having a guide can be very useful. They know the environment, are strong as hell, and, most crucially, can speak the language.
Hardly anyone speaks English in Kyrgyzstan; Russian and Kyrgyz are the two most common languages here. If you can't speak either of the latter two, you are going to struggle a lot. Seriously, having someone who can translate and speak with locals is immensely helpful, especially when you're walking in the middle of nowhere.
Having a horse to porter your stuff is also really nice. Horses are extremely hearty creatures and can usually carry a load for two. Having one means you can also pack items that would normally be very cumbersome for you, like proper cookware, a mess tent, and plenty of extra food. At $15/day, horses are also a great deal.
Keep in mind that horses can usually bear a load of 50 kilos or 110 pounds. Also, the guide will probably want to put his stuff on the horse as well.
Regular porters are not quite as convenient as horses. They are more expensive, will only carry 20 kilos or so, and are not always professional. These porters may be your only choice though – some trails are too technically difficult for horses to navigate.
For the price you're paying, you should make sure the porters are good. If one porter comes particularly well-recommended, give him a raise and make him your guide.
Packing Food
Once you've got your supporting team hired, the next step is to buy and pack all of your food. The amount of food you need to pack obviously depends on how many people are in your group, how long you'll be hiking, and how much you can porter.
There are lots of different kinds of markets in Kyrgyzstan. Some are more traditional bazaars where locals shop; others resemble more western-style supermarkets. Shopping at either will work.
Because they are so convenient, I usually recommend shopping at the supermarkets. These have the greatest diversity of products and you can find everything at these from produce to canned meats to dried goods. Shopping at supermarkets will be more expensive.
The bazaars are good for buying cheap local products like fresh vegetables, spices, and bread. If you have some sort of porter on your trek, I highly recommend loading up on stuff from these.
Packing food for an epic backpacking trip can be a bit of an art. You need to be able to strike a balance between packing enough to eat well and not packing so much that you'll break your back.
Generally speaking, I usually allocate around a kilo of food per day for myself. Certain people may need more or less. If you need help packing, ask your guide or use an online resource, like our wilderness cooking guide.
Using Local Maps
Topographic maps of Kyrgyzstan can be found in most outdoor gear shops. These will include the usual markings, elevation readings, etc that you would find in any other ordinary map. If you've never used a map before, I suggest you study some cartography guides.
Note that Kyrgyz hiking maps are usually written in Russian and use kilometers. Some labels may be unreadable to non-Russian speakers. If you need a map of Kyrgyzstan in English, you should probably buy one before you leave for Kyrgyzstan.
Whilst knowing how to use a map and compass is always the most reliable form of navigation, having a GPS also works. Just remember to know how to use the device before you actually go into the wilderness and bring something to charge it, like a portable battery.
If you have a guide, chances are you don't need any sort of navigation at all. The guide will have their own set of maps and know the landscape better than anyone else.
Staying with Local Kyrgyz in Yurts
Staying with a local family is hands-down one of the best things to do in Kyrgyzstan. These people will shower you with generosity, hospitality, and more candies than Willy Wonky would if you visited the Chocolate Factory. They may also expose you to kumis, a semi-alcoholic beverage made from fermented mare's milk that tastes as good as it sounds.
Most Kyrgyz families spend the summer hanging out in the jailoos (summer pastures) with their kids and herds. For shelter, they'll sleep in a yurt: a traditional nomadic dwelling that is made from wooden beams and thick fabrics. Many families set up multiple yurts and host travelers who happen to pass by.
I love staying in yurts: they're super warm, surprisingly spacious, and just a really unique experience. Most are situated in some picturesque setting as well, like at the base of a mountain or near a lake. The photo ops are numerous and irresistible.
Finding a yurt to stay in is simply a matter of walking up to the head of the house and asking if you can stay. If you're out hiking, you may stumble across several yurts that you can possibly sleep in.
If you're with a local guide, they will most likely know the local families and will probably call one ahead. This is one of those moments where having a guide really pays off: they can connect you with real people and offer some really authentic experiences.
The alternative to staying in yurts in Kyrgyzstan is staying at an established campground. These vary quite drastically from primitive to semi-luxurious sites. For example, there's an established campground at Ala-Kul where you can have a good meal and even a bottle of wine! At around $50 per night though, it's pretty expensive.
Permits for Restricted Areas
Not every part of Kyrgyzstan is freely open; some areas require a permit to visit. These regions are often politically or ecologically sensitive, so the government limits or outrights bans people from going there. Examples of places where you need a permit are:
Enylcheck region, including Khan Tengri.
Tash Rabat.
The Turkestan Range and Krygz Patagonia.
Pretty much anywhere along an international border.
If a region requires a permit for you to visit, that does not mean you cannot go there. It simply means you need to apply for a permit with the proper authorities.
Most permits are organized when you book a tour with a Kyrgyzstan trekking company. They usually include this permit in the price of the trip and that's all you'll really need to worry about.
If you want to skip the tour and obtain a permit yourself, it is possible but will probably be tedious. Going directly to a local government agency may be an option but I don't have any experience with this. Most people try to ply the tour companies and ask to buy a permit sans the tour package. Visit Karakol and KCBTA are good companies to reach out to in this case.
Trekking Safety in Kyrgyzstan
Nature has a way of sneaking up on people and ruining all of their plans. Even on the clearest, brightest day, things can always go wrong in the wilderness. You need to be prepared in case the shit hits the fan and possibly ready to hit the eject button.
There are lots of hazards that you need to be aware of when trekking in Kyrgyzstan. Here are a couple of biggies:
River crossings: Did you know that drowning is often the #1 cause of death in the outdoors? Yep, people think that just because they took some swimming lessons at the pool, they can conquer a raging river. When a river is gorged on snowmelt and going full-speed, it's like a speeding freight train. Be very careful when crossing rivers and consider alternative routes if needed.
Unpredictable weather: The weather in Kyrgyzstan can turn in an instant. Beautiful mornings often give way to afternoon thunderstorms and you do not want to be in the wrong place when one rolls in. Arrive at camp before 4 pm or risk the wrath of nature.
Ill-tempered horses: Sometime horses are just assholes. They'll buck, kick, and may even bite. If a horse is being difficult, avoid being around them. You don't want to be on the receiving end of it's foul mood.
Unexpected injuries: Avoid situations that may put you in danger and make sure you have a first aid kit. Better yet, brush up on some first aid so you'll know what to do.
Exhaustion: Some people, myself included, don't know how to set limits. Often times, they'll walk for 12 hours without considering that they'll be wrecked for days afterwards. Listen to your body and take a break now and then.
And don't forget to take out Travel Insurance for your trip! I have been using World Nomads for some time now and made a few claims over the years. They're easy to use, professional and relatively affordable. They may also let you buy or extend a policy once you've started your trip and are already abroad which is super handy.
ALWAYS sort out your backpacker insurance before your trip. There's plenty to choose from in that department, but a good place to start is Safety Wing.
They offer month-to-month payments, no lock-in contracts, and require absolutely no itineraries: that's the exact kind of insurance long-term travellers and digital nomads need.
SafetyWing is cheap, easy, and admin-free: just sign up lickety-split so you can get back to it!
Click the button below to learn more about SafetyWing's setup or read our insider review for the full tasty scoop.
---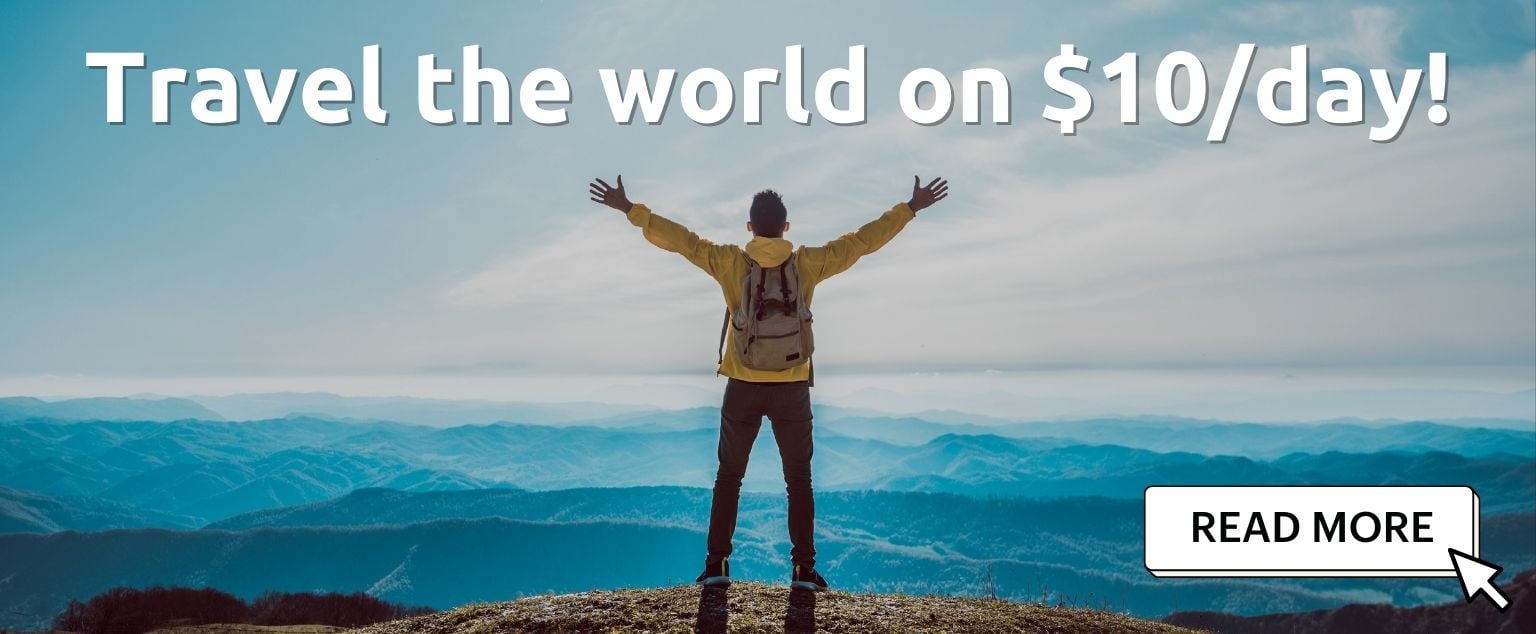 And for transparency's sake, please know that some of the links in our content are affiliate links. That means that if you book your accommodation, buy your gear, or sort your insurance through our link, we earn a small commission (at no extra cost to you). That said, we only link to the gear we trust and never recommend services we don't believe are up to scratch. Again, thank you!