Kyrgyzstan is one of those undiscovered places where the idea of "adventure" is constantly being redefined. Heard about a beautiful lake in the mountains? There's another one twice as beautiful hidden deeper. Thought that Kyrgyzstan was only about horses and eagle hunters? There's way more to do here besides these.
Seriously, there are so many things to do in Kyrgyzstan and most of them probably haven't even been discovered yet! Such is the untapped potential that this country possesses.
I've spent a considerable amount of time in Kyrgyzstan in search of the most worthy places and activities. I was sure to visit some of the most well-known locations in the country but still made an effort to go off the beaten path. I saw some of the norm, some of the new, and some of the just-plain weird.
This guide is meant to cover as many as highlights as possible of Kyrgyzstan: what to do, what to see, what to eat, and more. If you make it to the end of this article, you will be thoroughly prepared to visit this amazing country yourself. More importantly, I hope that you will be inspired to travel here.
So let's get to it!

Unlock Our GREATEST Travel Secrets!
Sign up for our newsletter and get the best travel tips delivered right to your inbox.
The Absolutely Mandatory Things to Do in Kyrgyzstan
1. Spend the night in a yurt, or build your own
Yurts are the best places to stay in Kyrgyzstan. It is the most iconic sight in Kyrgyzstan, known intimately by pretty much every single person in the country. It's on the flag, in the fields, and in people's backyards. You see this structure and you immediately know it's from here. If Kyrgyzstan was Miley Cyrus, then this is its wrecking ball.
The yurt.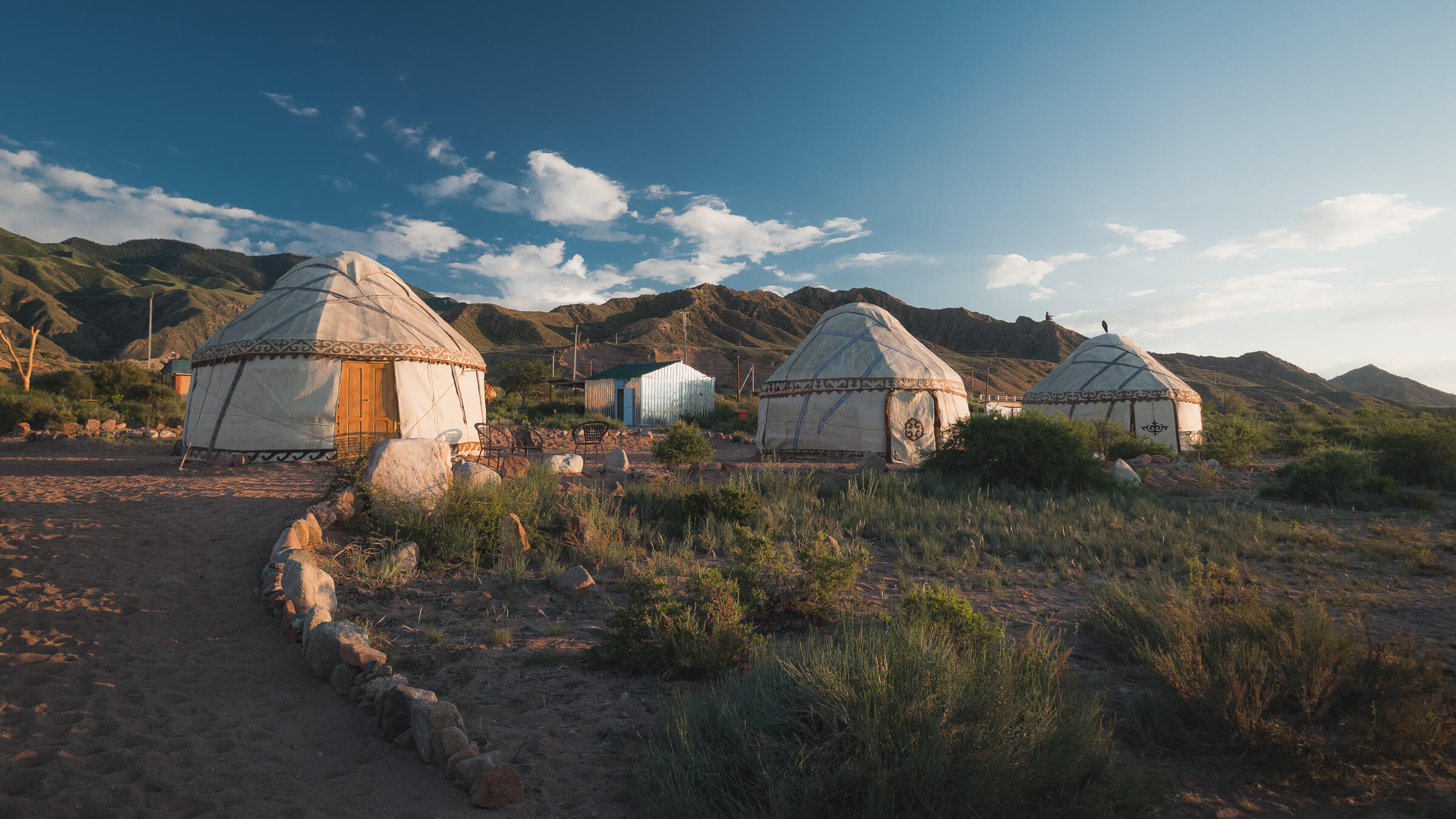 A simple yet ingenious structure that is warm and spacious yet easy to construct and move around. It is one of the single most important parts of the Kyrgyz lifestyle and arguably one of the reasons why the culture still exists to this day. Without the yurt, life would be very hard on the steppes of Central Asia.
Staying in a yurt is really fun and interesting. Contrary to what may think about tents or other temporary structures, yurts are actually super comfortable to sleep in. They're much bigger once you're inside one and, when a fire is lit, super toasty. You can even build a yurt with proper guidance!
If you plan on staying in a yurt, be aware that Kyrgyz people still burn coal to keep warm. If you're opposed to the burning of coal, be sure to mention something.
2. Try horse riding or horse trekking
In Kyrgyz culture, the horse is just as important as the yurt. Horses have many roles in Kyrgyzstan: transport, beast of burden, provider of milk and meat, friend on long, lonely days. It is both a nomad's best friend and arguably the source of his own vitality. Without a horse, a nomad would be nothing.
Even in a modern Kyrgyzstan, horses are still a prominent part of society. As more people visit the county, horse riding and other horse-based tourism is becoming even more popular as well.
When visiting Kyrgyzstan it is 100% possible to ride a horse, even if you have never done so before. Kyrgyz horses are usually very well trained and their masters are very good at making new riders feel comfortable. On the off chance you get a wilder horse than usual, the lead rider will notice and advise you as such.
There are lots of great horse treks in Kyrgyzstan . Kyzart to Song Kul is particularly popular trip as are the horse trails around Jyrgylan; these are only a few ideas. You could organize a horse trek almost anywhere so long as the horses and their owners are comfortable with the terrain. In my experience, it takes a lot to make either of these parties nervous.
3. Relax on the shores of Issyk Kul
Without a doubt, Issyk Kul is one of the most surreal places that I've ever seen in my travels. Being here is like being on another planet. Imagine seeing a red-sand beach, lapped by crystal-clear water and in the distance, across the enormous lake, you see snow mountains. To me, this sort of place feels more appropriate on Mars than Planet Earth.
Issyk Kul is one of the largest and deepest lakes in the world. Due to its massive size and slight salinity, it never freezes in the winter either, a phenomenon that actually contributed to its name. The word Issyk Kul means "hot lake" in Kyrgyz language.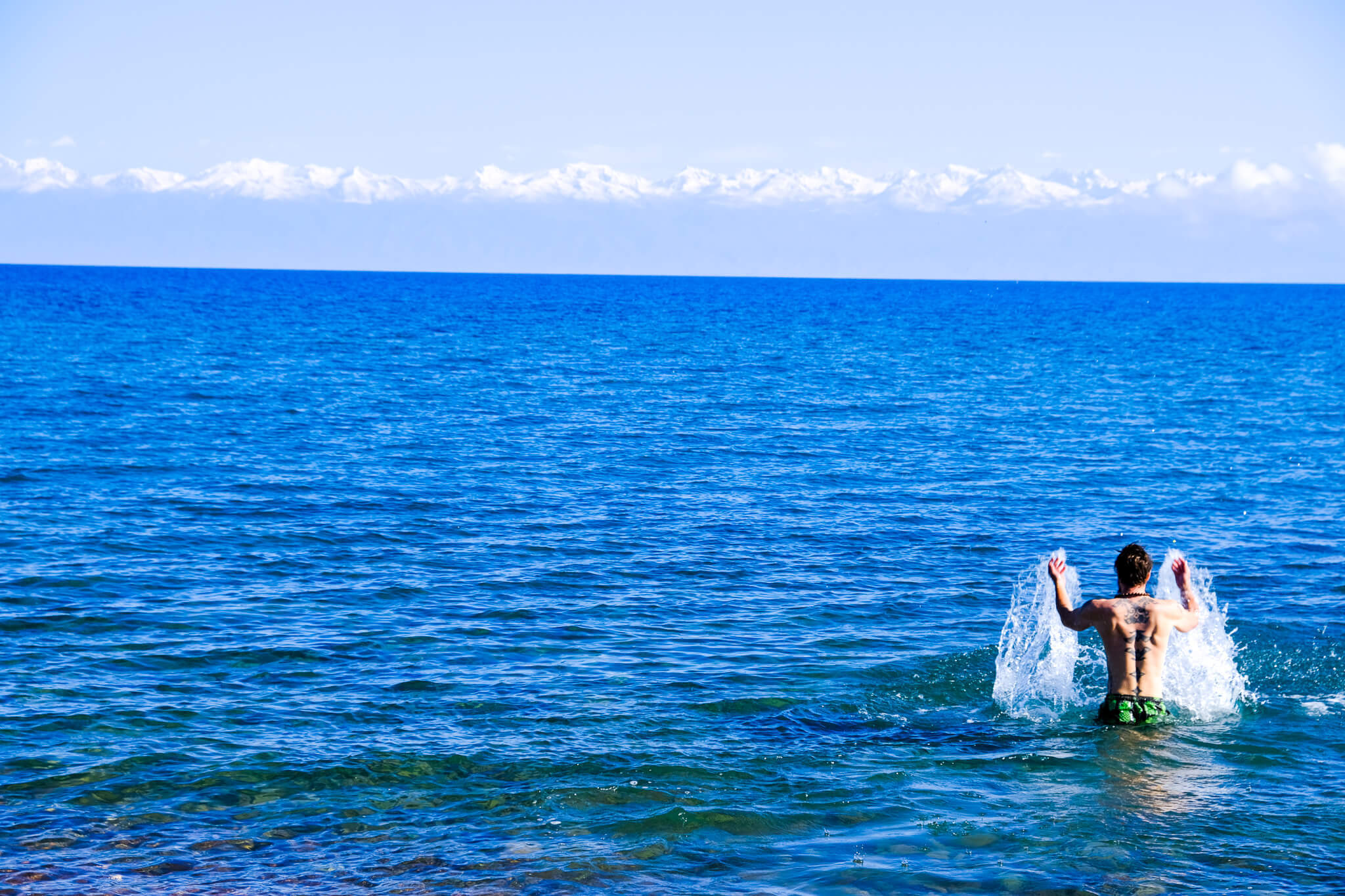 There are plenty of things to do around Issyk Kul. Whilst here, you can join a sunset cruise, go on a road trip, or just lay on one of the beaches if you like. Some of Kyrgyzstan's top destinations are also found around the lake, like Jeti Oguz, Barskoon Gorge, Chopon Alta. No matter how you look at it, Issyk Kul is stunning and should not be missed.
4. Trek to Ala-Kul
The trail to Ala-Kul is one of the most famous hikes in Kyrgyzstan at the moment. This trek has it all: mountain passes, dense woods, waterfalls, yurt stays, and a lake that contains quite possibly the most beautiful water in the country.
Ala-Kul refers to an alpine lake located at the top of mountain pass in between Karakol Valley and Altyn Arashan. In Kygyz, the name Ala-Kul actually means "Lake of Many Colors." Locals gave this name to the lake because they believed it was never the same shade; it would constantly shift from blues to greens to even black on stormy days. When you visit Ala-Kul, you'll find that the name is quite appropriate.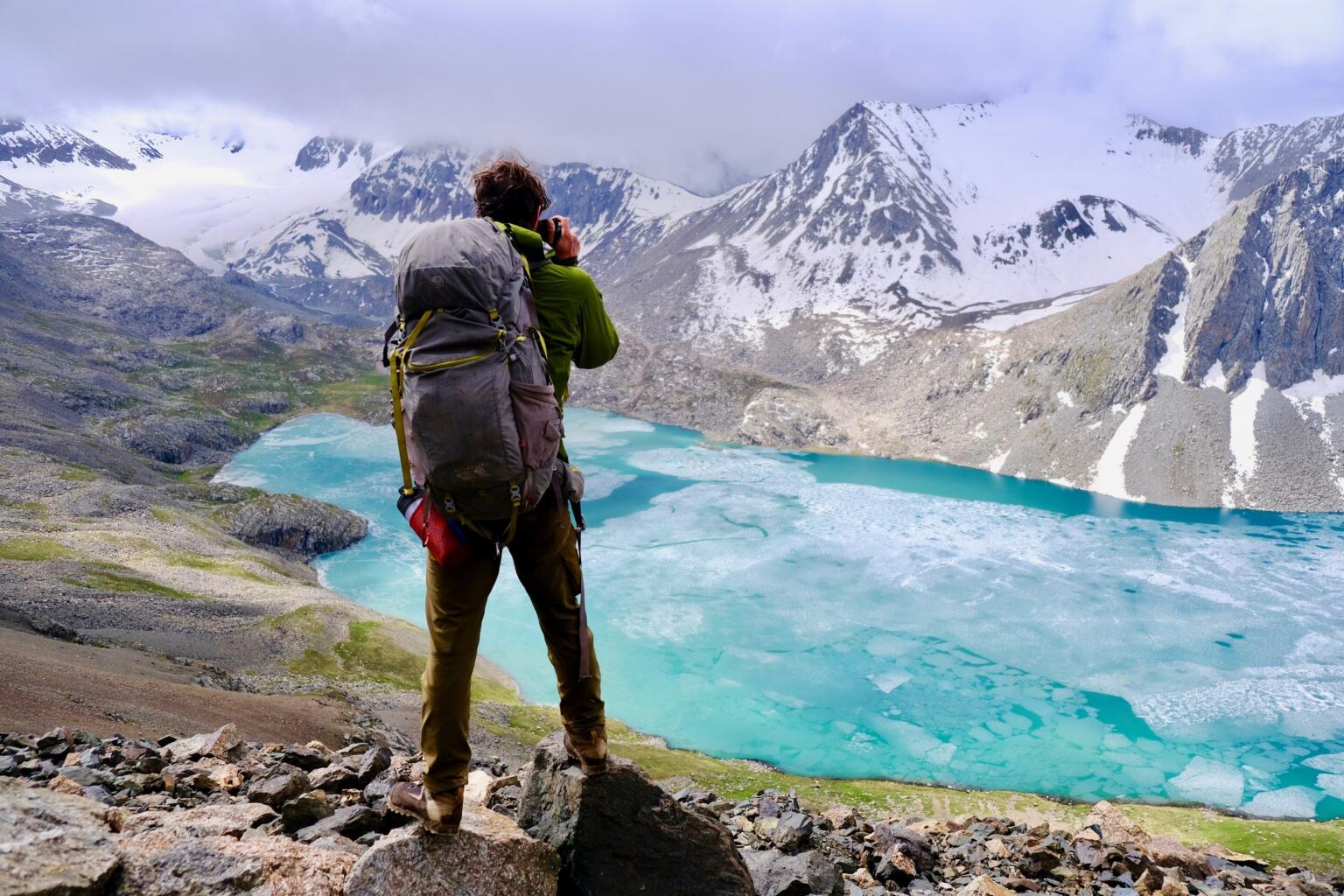 The average amount of time it takes to finish the entire hike to and from Ala-Kul is around 3 days. Fast hikers can complete the trip in as little 2 days and some extreme folks have even completed it without stopping to sleep! I recommend spending your time on this one though so you'll get actually get to enjoy the hike without feeling rushed.
Did I forget to mention there's also wine and vodka sold at the Ak-Sai Travel encampment at Ala-Kul? Yee, that's a win in my book.
5. Watch some nomad games
Kyrgyzstan is one of the biggest proponents of the nomadic lifestyle. Many Kyrgyz people are very proud of their lineage and love to celebrate it. One way they do this by participating in old nomadic games that would've been commonplace hundreds of years ago.
Here are a couple of nomadic sports still practiced in Kyrgyzstan:
Alysh : "Belt wrestling." Kind of looks like judo, or two people fighting over a really cool nice of pants. Practiced by both men and women.
Er Enish : Wrestling whilst riding on a horse. As if either of those things weren't hard enough separately.
Shagai : "Bone throwing." Kind of like a slightly morbid way of playing bocce-ball.
Kok-boru or buzkashi : The most badass sport ever invented. A team of horse riders fight over the body of a dead goat and try to put into a large hole (usually a stack of tires).
Winter is when most Kyrgyz practice nomadic sports as there isn't a whole lot else to do at this time. In the summer, most people are busy working or tending herds. If you reach out to local tour operators, they can help you find a match or, in more cases, can get a group of nomads together and organize a match for you to watch.
6. See an eagle hunting demonstration
Eagle hunting is a very old and very respected tradition in Krygz nomadic culture. As the name implies, eagle hunting is the act of raising local golden eagles to track and hunt prey either for sport or sustenance i.e. food, pelts, etc. It is the same tradition that you see in other Eurasian countries where nomadism is lauded, particularly in Kazakhstan and Mongolia.
It goes without saying that hunting with eagles isn't really necessary in the modern era. In fact, most of the native Kyrgyz population has abandoned the tradition altogether. That being said, there are still a select group of people that are doing their best to keep the nomadic spirit alive.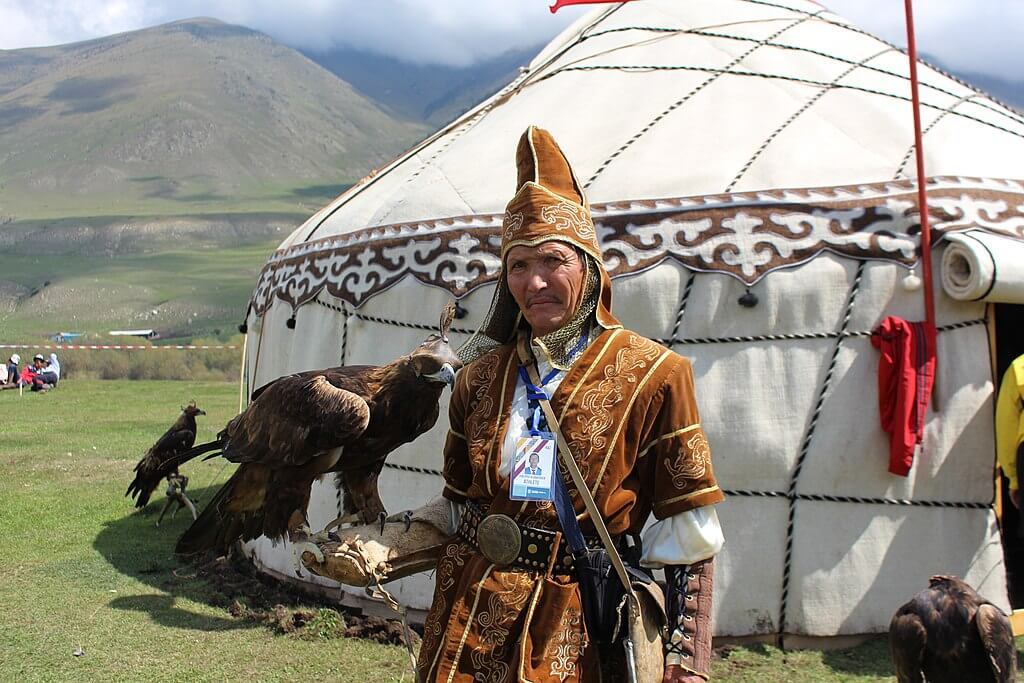 The Salbuurun Federation , based in the town of Bokonbayevo on the south shore of Issyk Kul, are the preservers of eagle hunting traditions. This small group of locals offer eagle hunting shows to those interested in learning. They are both educational as well as exciting because, let's be honest, what's cooler than watching a dude control an animal with a wingspan as long as a full grown man. Of all the reasons to visit Kyrgyzstan, seeing traditional games is one of the foremost in my mind.
Small Pack Problems? 😉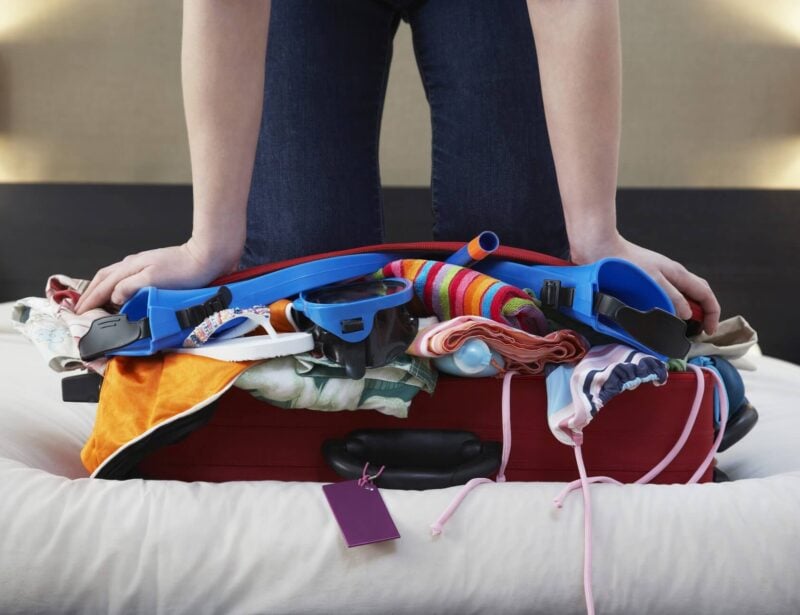 My missus travels with all her clothes in ziplock bags: don't be like my missus. UP YOUR PACKING GAME!
Packing cubes for the globetrotters and compression sacks for the real adventurers – these babies are a traveller's best kept secret. They organise yo' packing and minimise its volume too so you can pack MORE.
Or, y'know… you can stick to ziplock bags.
View Our Fave Cubes
Or Check Out the Sacks!
7. Wash your worries away at Altyn Arashan
Native Kyrgyz people talk about Altyn Arashan like some people talk about chocolate or pumpkin spice lattes: they both go weak in the knees and start to ooze out words like they were 6-years old again. "I looooooovvvvveeee Altyn Arashan" locals gush when I ask them their opinion of the place.
After visiting Altyn Arashan myself, I must admit that it is definitely a dreamy spot. The scenery is picturesque and to be expected from Kyrgyzstan: a gentle valley, rushing river, mountain views, and herds of horses everywhere. If I was to judge Altyn Arashan based upon looks, I'd say that it still gets high marks.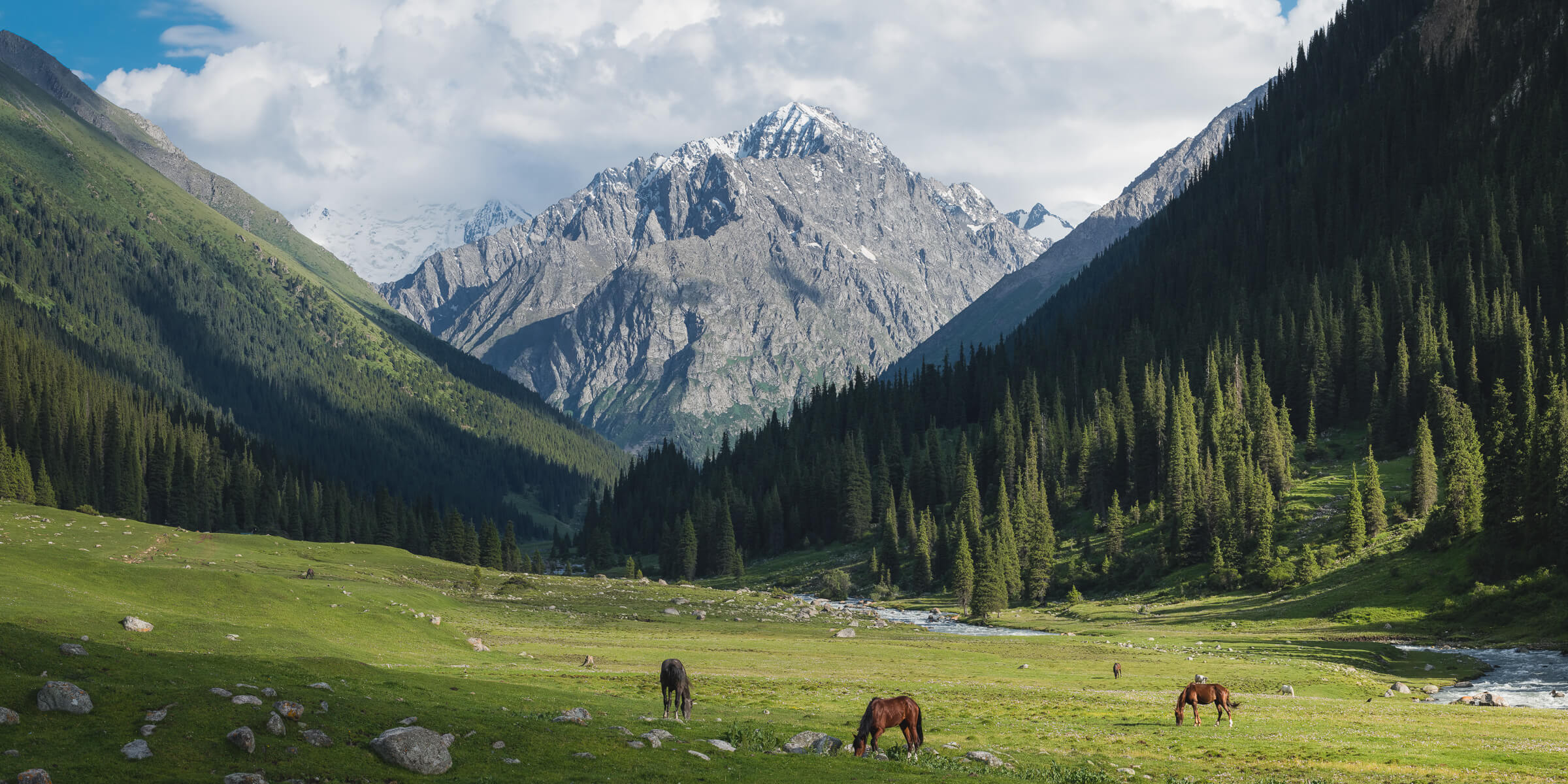 But the best part about Altyn Arashan isn't even the scenery: it's the hot springs. My god, the hot springs here are just divine. The temperature of the water is seriously perfect; not too hot and not too cold. The wooden saunas where the water is pumped into really are spot on as well; dark, rustic, atmospheric, all things to set the mood for a good soak.
Altyn Arashan is the perfect place to end a hike or even a trip in Kyrgyzstan. There are few things that can top a relaxing bath in the hot springs followed by a nap underneath those mountains.
8. Visit Song Kul
Song Kul is usually the first place in Kyrgyzstan I visit . At 3016 meters, it is the highest lake in Kyrgyzstan; it is also one of the most beautiful, even more so than Issyk Kul. It is alpine glory in the purest form; a raw, unfiltered landscape surrounded by imposing mountains and topped by an enormous sky. It is like a scene out of Alaska but far more accessible.
What makes Song Kul so special is the fact that you can get here quite easily the day you arrive in Kyrgyzstan. With a 4-wheel drive vehicle, you can travel to Song Kul from Bishkek in only four hours; four hours! That means it's possible to wake up on the plane and fall asleep at an alpine wonderland in the same day.
Song Kul is a pretty relaxed place; people mostly come here to get away from the noise of the real world. You can go horse trekking around the lake itself but really the best things to do here is just chill. Also, the locals love to ply unsuspecting tourists with promises of delicious kumis (more on that stuff later though).
How to Experience Kyrgyzstan's Culture
9. Eat manta, shashlik, and shorpo
Vegetarians, I have bad news: Kyrgyzstan is a very carnivorous culture. Meat is the hors d'oeuvre, the starter, the main, and the desert for almost every meal in this country. So, if you don't want to hear about it, then I suggest you skip the next few paragraphs.
Traditional Kyrgyz food prepares meat in a variety of ways. Grilled, minced, boiled, charred, you name it. Some dishes are a bit tougher to swallow than others (if a nomad offers you the chance to eat sheep's head, then I wish you luck) but others really stand out.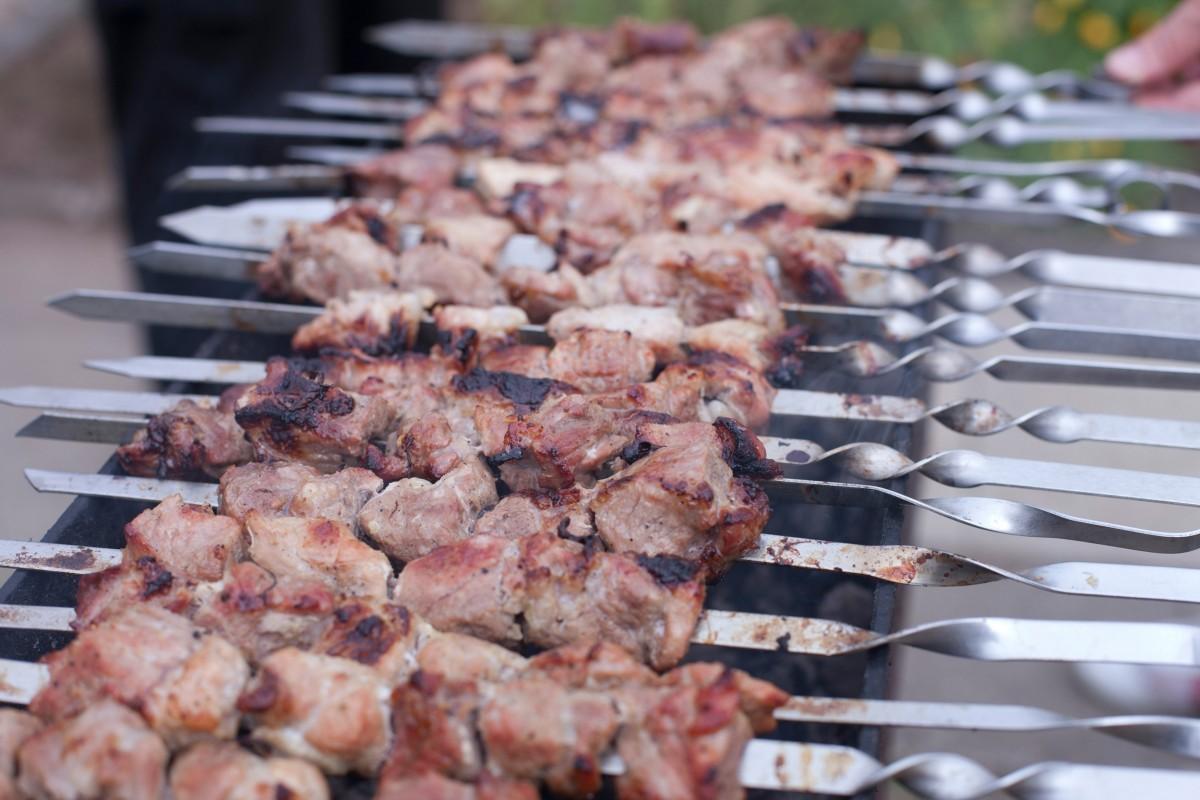 Shashlik , which is essentially shish kebab, was introduced by the Russians and is much-loved in the country. Manta is the Kyrgyz version of dumplings and they are notably good in the south where they're served with yogurt. Hearty shorpo , or boiled beef/lamb in broth, will seriously keep you warm in subzero temperatures.
Now back to the vegetarians (you can open your eyes again). There are still some solid non-meat dishes in Kyrgyzstan. Salads are quite popular, especially those involving tomato, cucumber, and carrot. Bread is ubiquitous (and delicious) and eggs are also commonplace. With a little ingenuity, you can still eat well in Kyrgyzstan. Just learn how to say "no meat" in Russian (it's " ya ne yem myasa ") and you'll be fine.
10. Visit a local bazaar or market
Kyrgz people love a good market. Besides being their one-stop-shop for everything from groceries to household products, the local markets also double as social gatherings. More than anything, locals often come to these markets just to drink tea and shoot the shit for the day.
There are several types of markets in Kyrgyzstan. The traditional bazaar is the most common type you'll find and probably the most exciting. The bazaars are where the action happens; you'll see people trading products with more enthusiasm than a broker in the Wolf of Wall Street at these. Osh, Karakol, and Bishkek all have their own local bazaars that you can check out.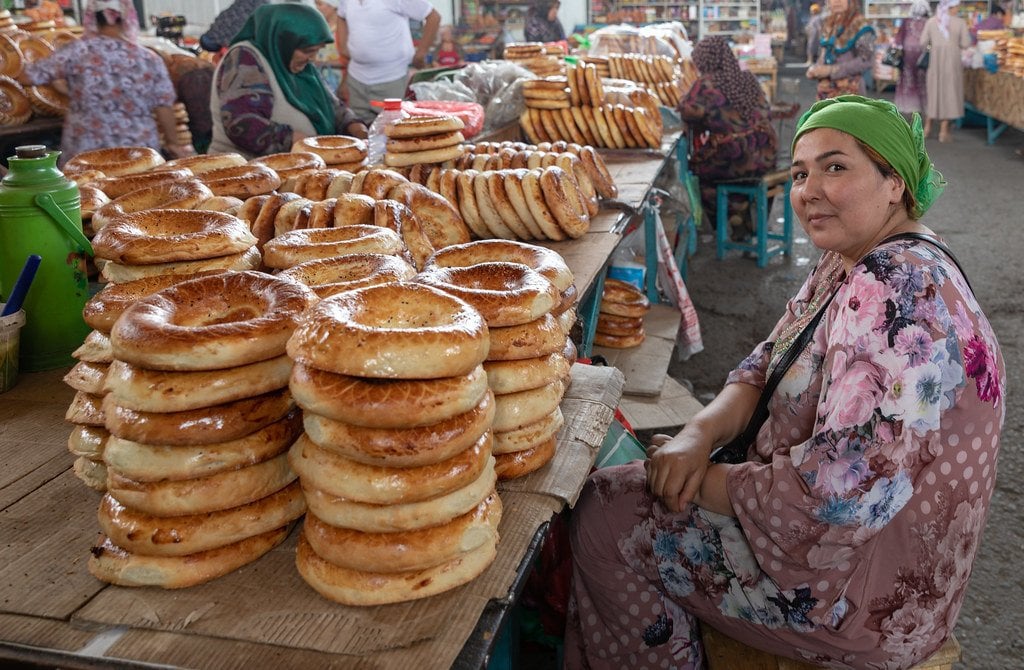 One of the more unique things to do in Kyrgyzstan is attending the weekly Animal Market in Karakol . Here, locals buy, sell, and trade domesticated animals, and seeing it would give you a very unfiltered view of the country. It starts very, very early on Sunday morning – around 2 am – and usually wraps up by 10 am.
For those who are wondering as well, yes, you can buy your own horse or goat at the Animal Market if you really wanted to. Speaking for myself, I've always daydreamed of wandering around Kyrgyzstan with a loyal steed, Spaghetti Western-style.
11. Stop by the Burana Tower
It's not much compared to other Central Asian architectural feats, like the madrassas of Registan or glittering towers of Nur-Sultan, but the Burana Tower is still worth seeing. Although humble, it is one of the most significant archaeological sites in Kyrgyzstan and offers a fascinating history lesson.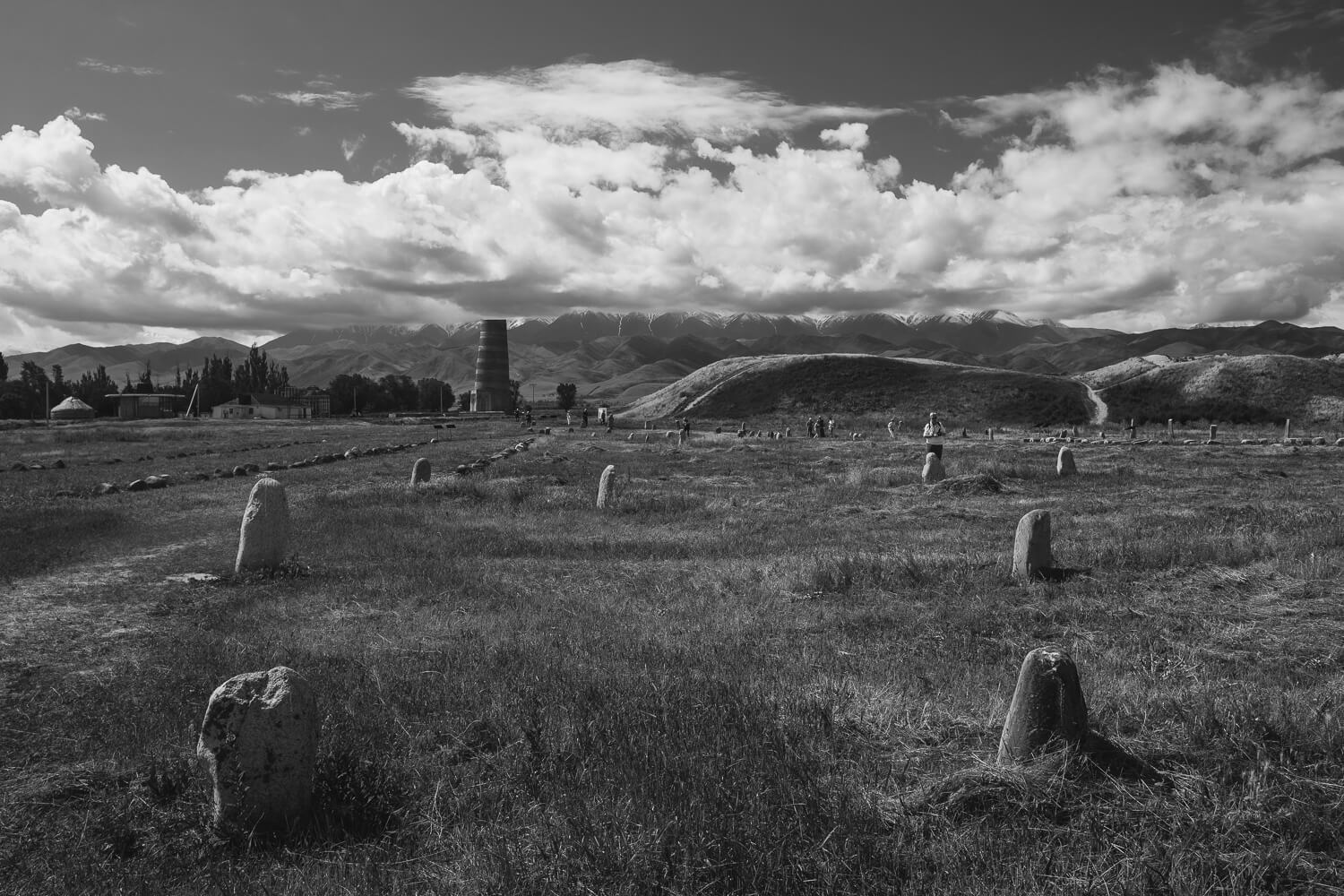 The Burana Tower is a crumbling, now restored, minaret that once a part of a much grander city called Balasagun. It was built by the Karakhanids who were, at one point, one of the more powerful dynasties in Kyrgyz history (before the Mongols came and wiped the floor with them). Fun fact: they were one of the first people to blend nomadic and Islamic lifestyles.
Nowadays, the Burana Tower is not as large as it used to be but much of the intricate stonework is still preserved. The setting for the tower ain't too shabby either – the Ala-Archa Mountains loom in the background and, together with the tower, make an excellent photo op. Behind the tower there is also a field of warriors totems, called bal-bals, that shouldn't be missed either.
12. Buy or make some traditional felt accessories
Kyrgyz people use felt for all kinds of purposes, from building yurts to making clothing to ornamentation. Felt is strong, cheap, and does a great job of keeping the cold; all useful qualities when you live a nomadic lifestyle in a sometimes harsh environment.
When you visit Kyrgyzstan, there will be lots of opportunities to pick up some local handmade products. You can buy a handcrafted souvenirs in the bigger cities like Bishkek or Karakol but it's better to go straight to the source. By something from a local family if you have the chance. If you're passing through Kochkor, there's a great felt shop in the center of town as well.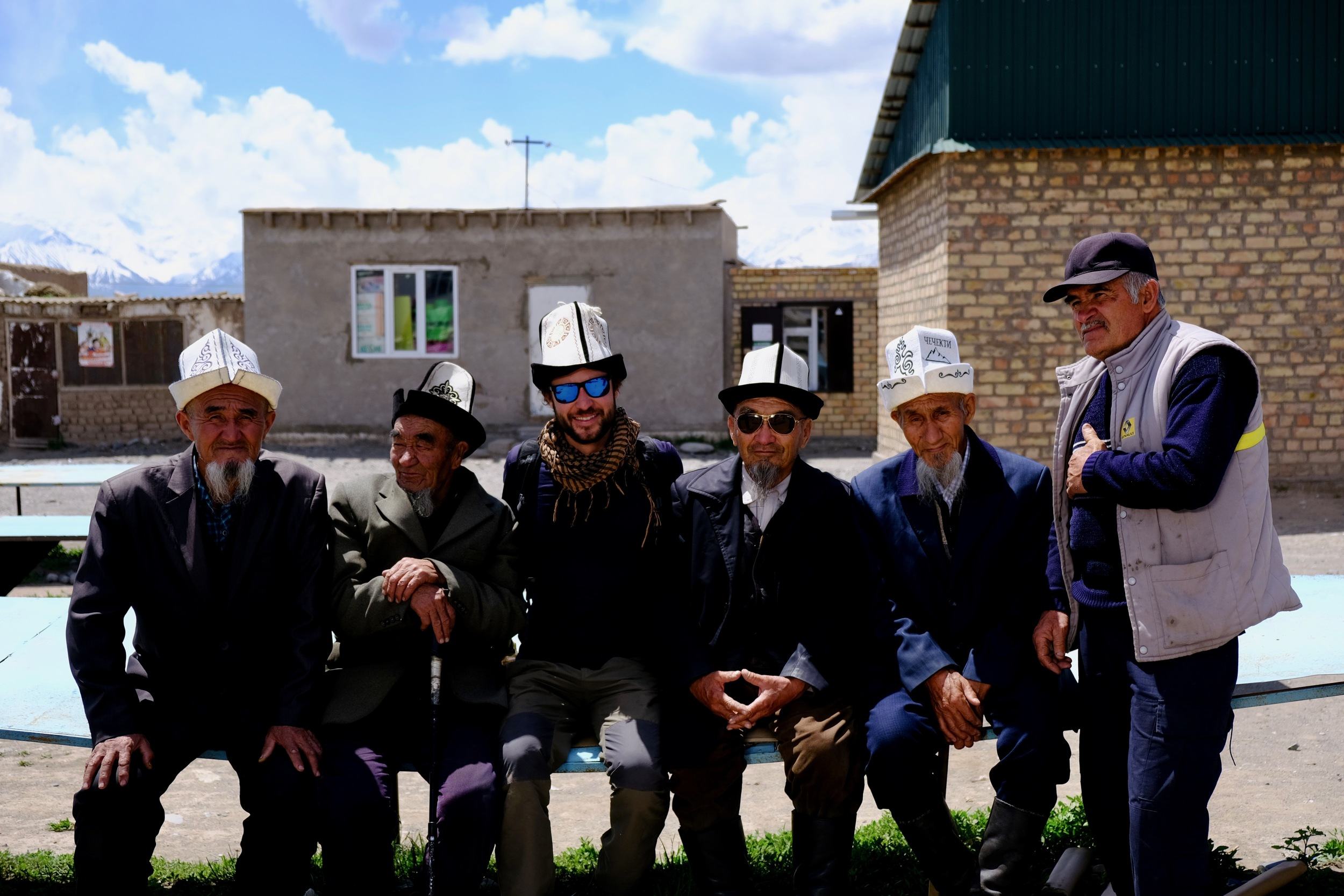 It is also possible to make your own felt products in Kyrgyzstan. Several organizations offer workshops explaining the art of Kyrgyz handicrafts and the story behind the designs. For example, you'll learn why it is Kyrgyz men wear the kalpak hat and what they mean in terms of social status. If you're handy with a needle, you may even get to rock your own.
13. Learn about the Silk Road
Central Asia has a fascinating history due in part to its location smack-dab in the middle of the Silk Road. Because it has literally been the crossroads for one of the greatest routes in human history, Central Asia has lowkey had a big influence on both the Western and Eastern worlds.
There are many moments in Central Asian history worth talking about. Papermaking was introduced to the West following a great battle in modern-day Kyrgyzstan, where Chinese Tang prisoners were taken and forced to divulge their secrets. It was Kazak raiders that lead Barbur into exile over the Khyber Pass, where he would eventually found the Mughal Empire in India. These are just a few of many from the Silk Road.
While visiting Kyrgyzstan, you'll have the opportunity to travel on the literal Silk Road. Locations like the Burana Tower, Tash Rabat, and Osh are all prominent Silk Road landmarks and each offers a different side of the historical route. Visit as many as you can then move onto other countries, like Uzbekistan and Tajikistan, to learn even more.
14. Search for old nomadic engravings
Some of the most precious art in Kyrgyzstan is not located in any sort of gallery or historic building. Most of it is actually found outdoors in the most unsuspecting of places: on a bunch of rocks.
Over the course of many generations, nomads have journeyed across the steppes of Kyrgyzstan and, in their wake, left inscriptions on local stones. These engravings often depict the life of the nomad as they travel, whether they were a herder, a refugee, or a warrior.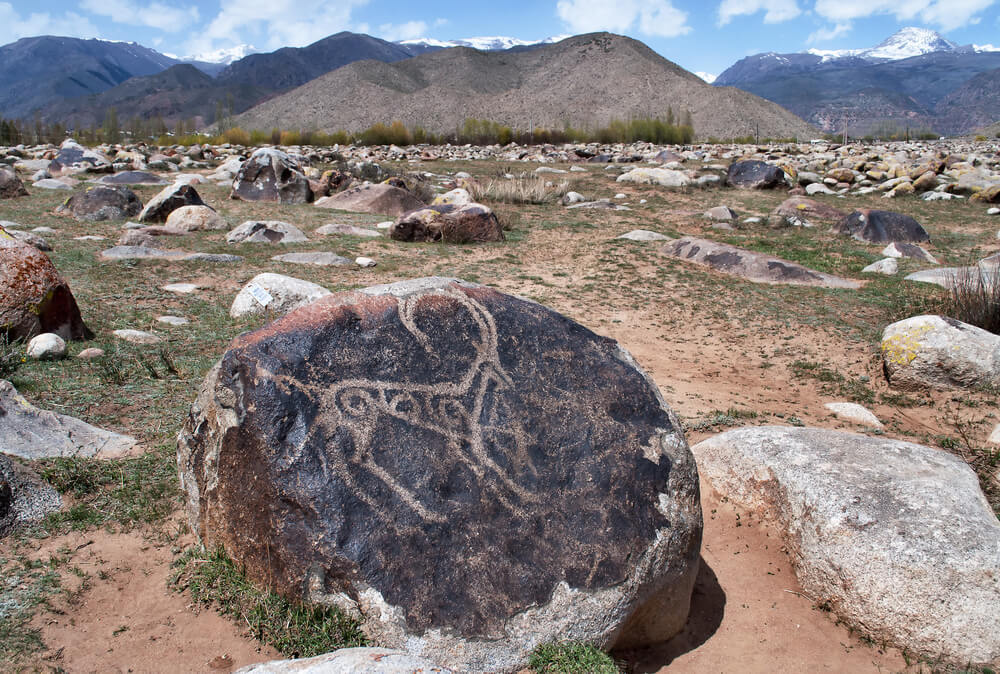 Nowadays, Kyrgyzstan hosts some of the most impressive outdoor galleries in the world. The totemic bal-bals at Burana Tower and the markers at Cholpan Alta are two excellent places to see nomadic petroglyphs. The best petroglyphs are found in the fields at Saimaluu Tash though, where it is believed that over 10,000 rock engravings can be found.
Is This the Best Daypack EVER???
Some More Adventurous Things to Do in Kyrgyzstan
15. Go off the beaten path in the Batken
The Batken is one of the most unknown and under-visited sections of Kyrgyzstan for many reasons. For one, this area is located in a very remote corner of the country, sandwiched between Tajikistan and Uzbekistan. For another, the Batken has been pretty turbulent in the last few decades – because of its precarious location between the two other countries, there have been border skirmishes here in the past.
But the Batken is not totally off limits to tourists and those who actually venture out this far will definitely be rewarded. The Batken is one of the most interesting and exotic parts of Kyrgyzstan. Due to its position in the relatively conservative Fergana Valley, life here is far more traditional than the north. If the bustling bazaars – oasis of everyday life in Batken – don't make you energized, then the rugged landscape will.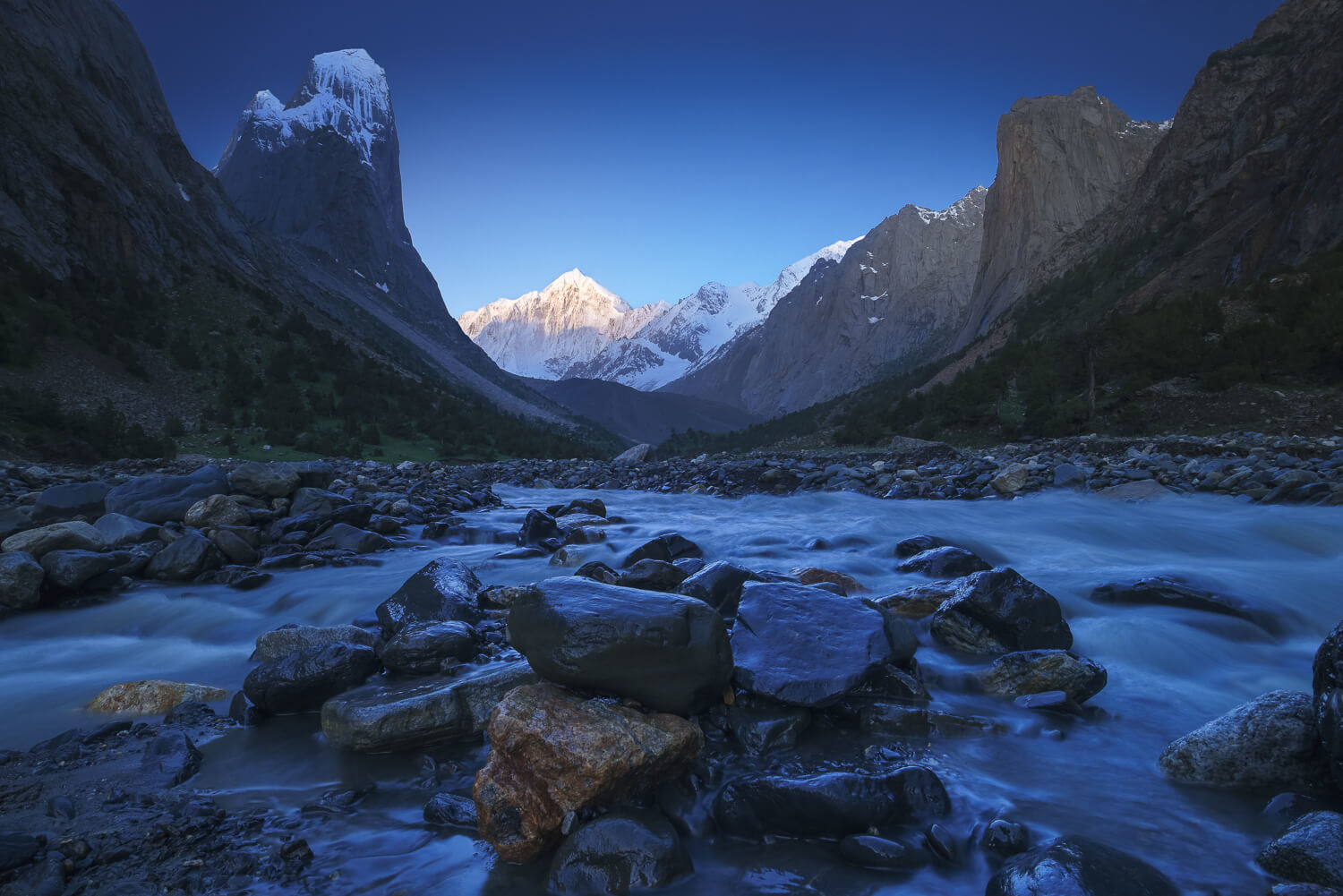 The Batken hosts one of the most spectacular mountain ranges in Kyrgyzstan: the Pamir-Alay. The spine of the range, which separates the Batken from the Alay Valley, has so many cool hikes; none are more epic than Asian Patagonia. Kyrgyz Patagonia consists of a collection of valleys, like the infamous Karavshin, and visiting them all over the course of an 8-day hike has to be one of the best things to do in Kyrgyzstan.
16. Experience the colors of "Coloradostan"
When traveling around Kyrgyzstan, I found myself saying the same thing over and over again: "man this place REALLY reminds of Colorado…"
Why did I find these two places so similar? Well, travel to both one day and it'll be immediately obvious!
Kyrgyzstan and Colorado look extremely similar. Both feature the same geographic mix of mountains, plains, pines, and painted deserts. In one snapshot of either country, you can see some of the deepest blues, greens, reds, and oranges you've ever witnessed in the natural world.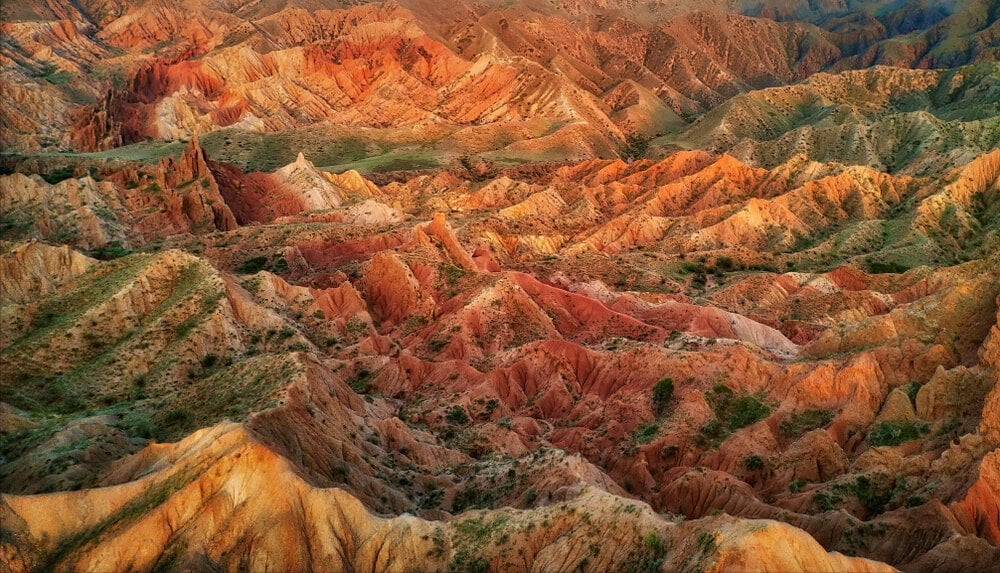 On another note, people are equally obsessed about the outdoors in either country. Granted, both groups go about life differently – Kyrgyz have their horses and yurts whilst Coloradans have their hatchbacks and camping hammocks – but let's not split hairs here! The point is I think that both groups of people would get along very nicely.
So to me, Kyrgyzstan is like the Colorado of Central Asia. Biskek could arguably be called the Denver of Central as well (you'll see why later).
People like to call the former "Colorful Colorado" and I think that Kyrgyzstan deserves a similar title. Perhaps kaleidoscopic Kyrgyzstan? (That's a mouthful.)
17. Go on a Jeep excursion in Kyrgyzstan
When visiting Kyrgyzstan , it is highly recommended that you deviate a little from the usual course. I'm not just saying that you should try to venture somewhere more remote; I'm also suggesting that you LITERALLY leave the road.
There is so much open land in Kyrgyzstan and so many places with no apparent path. Highways, whilst generally good here, are only for suckers who want to see the most touristy stuff. If you stick to the roads most-traveled in this country, you're going to miss out on a whole lot of good shit.
Try organizing some sort of off-roading trip in Kyrgyzstan while you're there. Talk to KCBTA about visiting the Ak-Sai Valley near Naryn and maybe even think about going to deeper into the wild Kakshal-Too. Maybe think about making the epic overland journey from Northern to Southern Kyrgyzstan via Kazarman as this is one of the most unseen areas of the country.
18. Try your luck at Kel-Suu
On the topic of the Ak-Sai Valley, I'd like to share with you one of the most mysterious things to do in Kyrgyzstan while you're there… That is, go on the hunt for a lake that is there one day and gone the next. (Oooooooo.)
Kel-Suu is famous for being the lake that is sometimes there and sometimes not. Some who venture here see a magnificent lake with perhaps the most beautiful emerald water in the country. Others see only an arid desert inhabited by nothing except the crooked shadows of the surrounding skeletal peaks.
So what's the deal?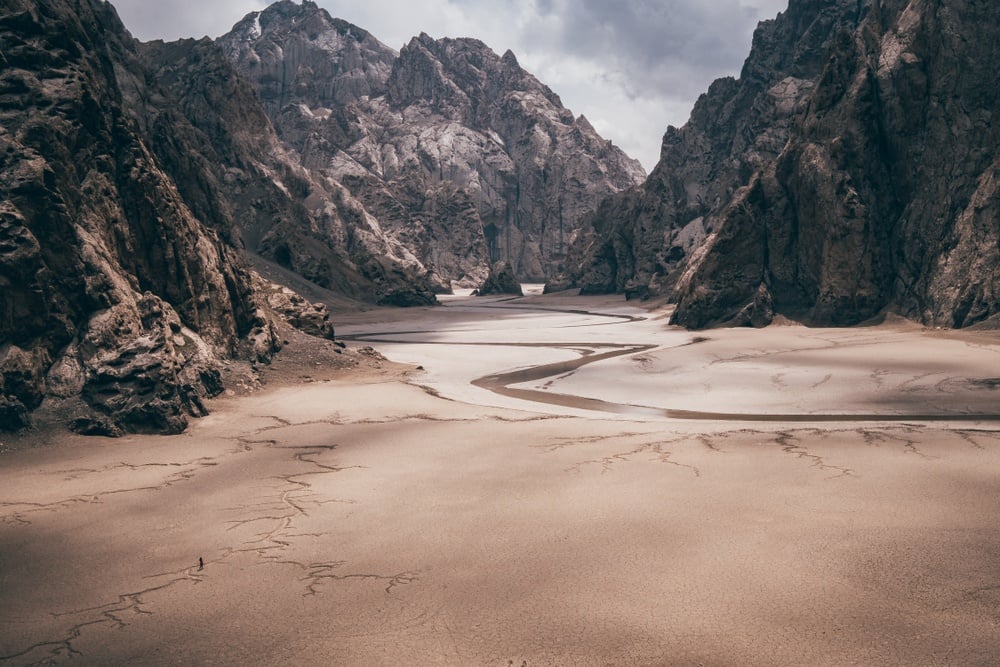 Well Kel-Suu isn't magical, at least not in the Harry Potter sense; it does not miraculously disappear overnight and is no way illusionary.
In reality, Kel-Suu exists during years of healthy snowfall – when the snow melts, the icy water fills the basin thus creating the lake. When it has been a dry year, the lake never forms.
Regardless of how it is formed though or whatever state it is in Kel-Suu is still very cool to visit. It is a reasonable half-day hike to reach the lake from the Ak-Sai Valley as well, so you could easily knock this one out in a day if you'd like.
19. Go white-water rafting in Chon-Kemin
The Chon-Kemin Valley is a favorite weekend trip for residents of Bishkek. It is only 90 minutes away from the city and is a very bucolic place to run away too. Some people just enjoy visiting here for the pastoral beauty and the chance to stay in one of the many log cabins. But one of the best things to do in Chon-Kemin is to go white-water rafting.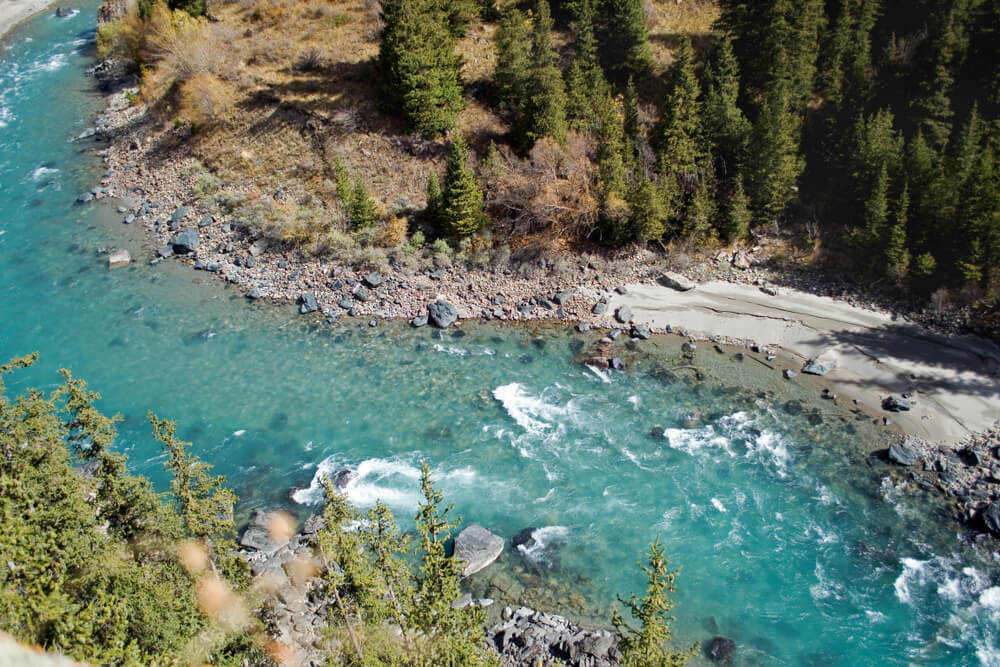 There are some great rapids to hit on the Chon-Kemin River. Difficulty levels range from Class 4 to Class 5, which means that this river is not for beginners. The water can be really rough on this river and, for oar whores, really fun as well!
Reach out to a local tour operator, like Show Me Bishkek , to help organize rafting trips in Kyrgyzstan. If you'd like, they can actually organize overnight rafting-campings trips for you as well.
20. Ride in an ex-Soviet helicopter and witness a stunning peak
This is one of the most epic things you can do in Kyrgyzstan for several reasons:
You get to see the breathtaking Khan Tengri.
Get to walk on one of the largest non-polar glaciers in the world.
Get to ride in a former Soviet military chopper like a goddamn paratrooper.
Honestly, those three reasons are pretty convincing if you ask me.
Let's start with Khan Tengri. Seriously, this is one of the most gorgeous mountains in the world. It's summit, a near-perfect pyramid, is like something from a storybook.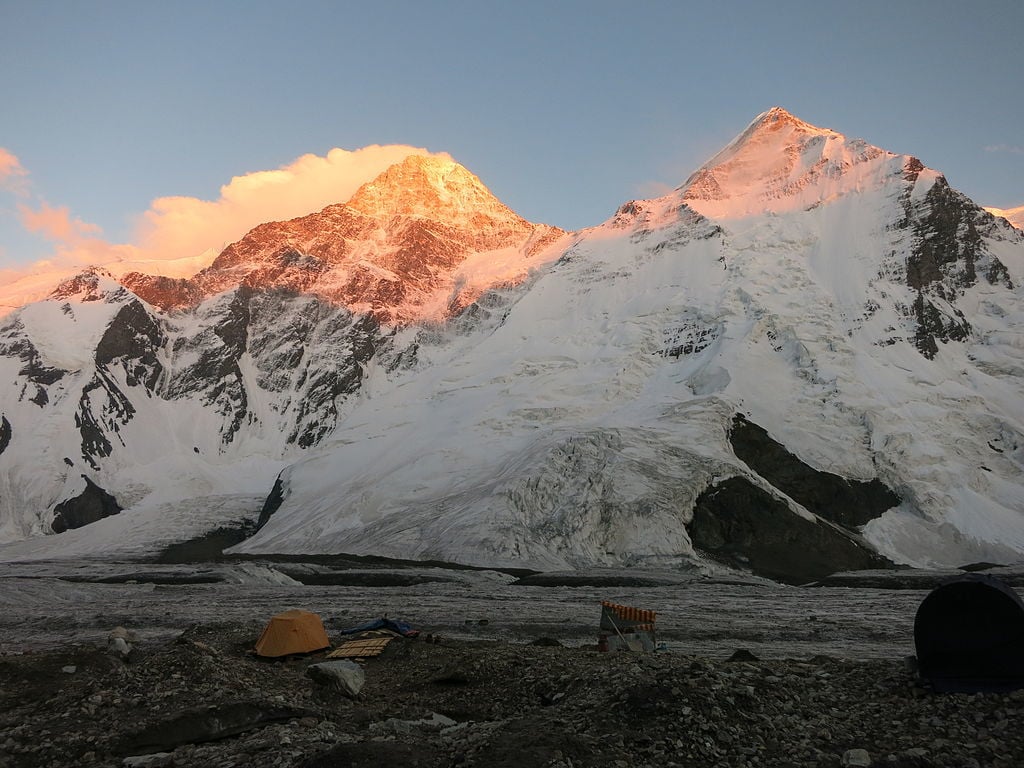 To see this mountain, normally one would have to undergo a 2-week expedition. For those short on time, taking a chopper there is much more convenient. Plus, the panoramic views from the chopper would be pretty hard to top.
Taking a helicopter to Khan Tengri and the Enylcheck Glacier is not cheap though. At the moment, Ak-Sai Travel are the only operators to offer this kind of tours and they charge $750 for a single, round-trip tour. Backpackers had better start saving up for this one if they are really keen.
What to Do in Kyrgyzstan's Cities
21. Go on a brewery tour in Bishkek
Who would've thought that tucked away into relatively unknown city like Bishkek was a thriving beer scene? Yes, thanks to its quality ingredients and Slavic influences, the brew in Bishkek is actually top quality. If I'm being perfectly honest, it's actually really fuckin' good.
There are a number of places to drink beer in Bishkek. Steinbrau is a staple of the scene and it's been in business for over twenty years now. (Those twenty years will be obvious when you first walk in.) Blonder Pub , once a creaking medieval-themed bar, is now an upscale Bavarian-themed beer bar with a super chic outdoor dining area.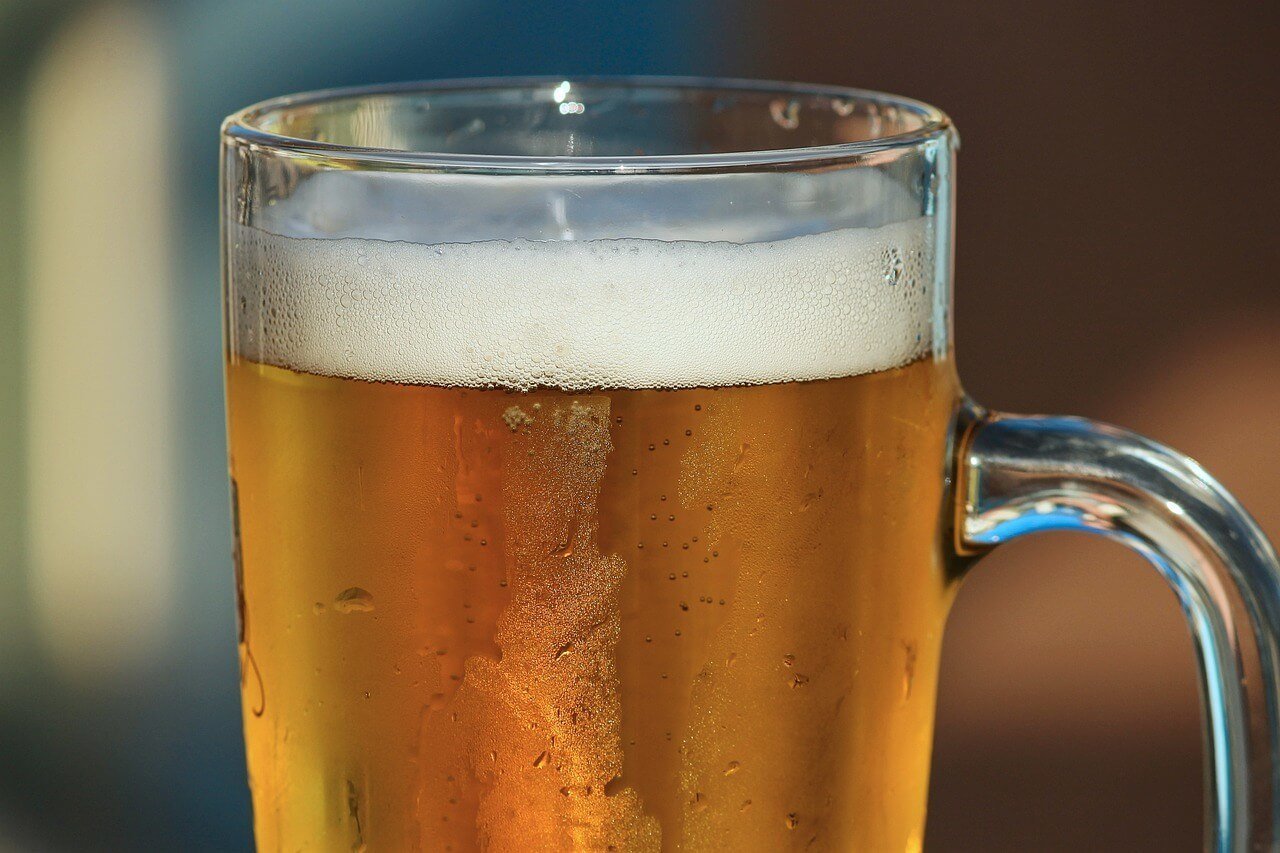 But the most respected beer bar in Bishkek has to be Save the Ales. Not only is this the first craft brewery in Kyrgyzstan but it's also owned and managed exclusively by women. Whilst I'm very proud of these ladies for making a name for themselves in an otherwise masculine-dominated society, at the end of the day, they deserve ample credit for just making damn good beer.
22. See a different side of Kyrgyzstan in Osh
If Bishkek is the ritzy, cosmopolitan part of Kyrgyzstan (relative terms), then Osh is the cultural ark. Whereas Bishkek is relatively new – it was created as an outpost for the Russian Empire – Osh's existence goes back thousands of years. It is touted as being older than Rome by the locals, a statement that is probably not too far off the truth.
For over two thousand years, Osh has been one of the most important outposts in Central Asia. Not only was it vital to trade on the SIlk Road but it was also revered by pilgrims. Located in the center of town Sulaiman-Too is extremely significant – UNESCO claims that is "the most complete example of a holy mountain anywhere in Central Asia," which is a damn-good endorsement if you ask us.
History aside, Osh offers the most authentic cuisine in Kyrgyzstan. Street food is the most popular form of eating around here, although you can find slightly fancier digs at places like Kurmanzan Datka Cafe if needed.
23. Experience Dungan culture around Karakol
In the late 19th-century, there was a mass exodus of Chinese Muslims – known as Dungans – from the province of Kashgar. For a multitude of reasons, they fled from China and headed over the Tian Shan, eventually landing in Karakol. At the time, Karakol was just a Russian outpost. Over the years, the Dungans become ingrained in the town and eventually made it their own.
Nowadays, Karakol is primarily a tourist town and serves as a base for those that want to go trekking in the Ala-Too Mountains. That being said, the Dungan culture is still present if you know where to look.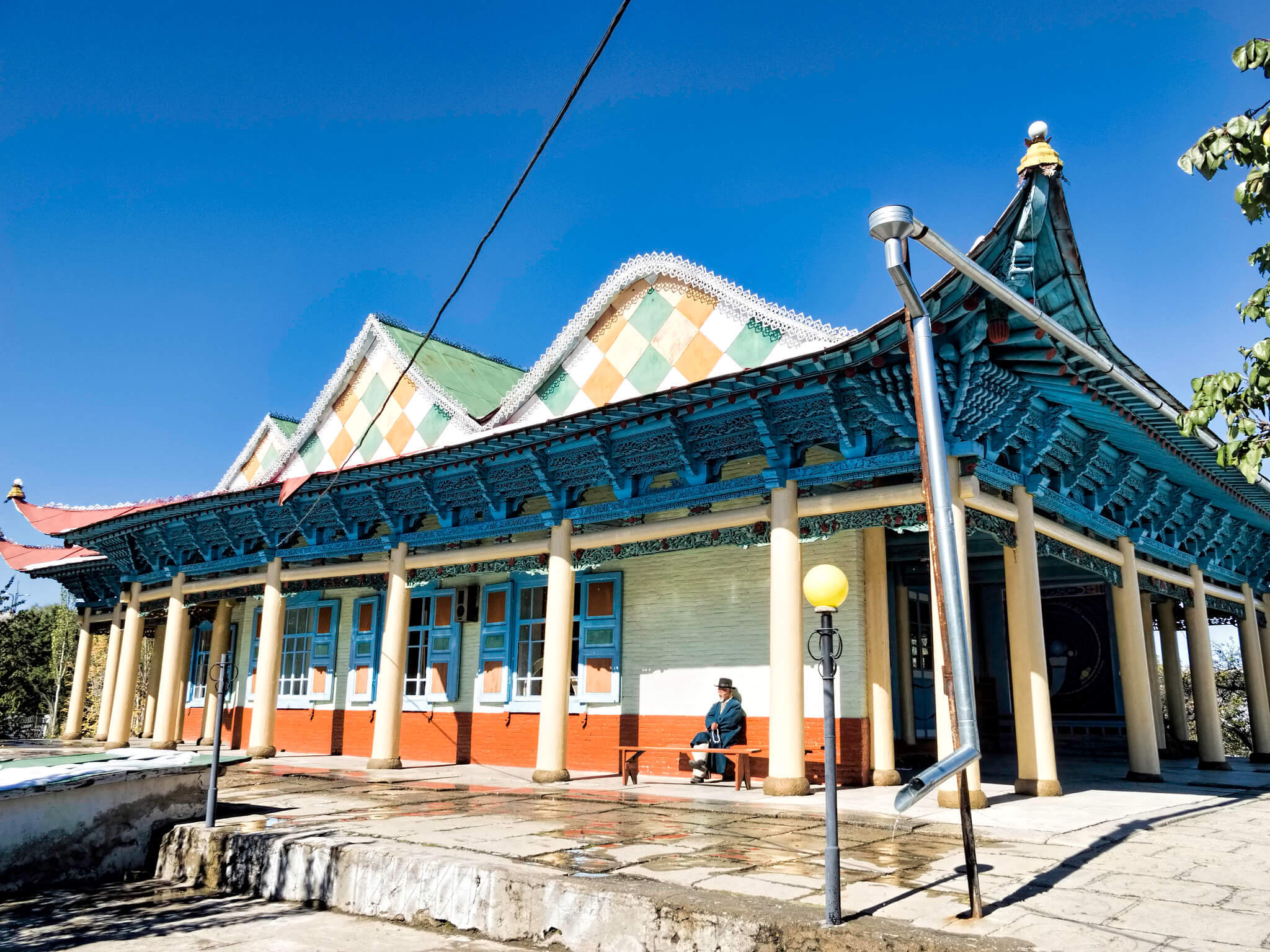 The most prominent Dungan landmark in Karakol is the Dungan Mosque – a weird mashup of Islamic and traditional Chinese architectural styles. Food-wise, lagman (fried noodles) is a classic Dungan dish and can be found in almost every restaurant in Karakol as well.
The best way to immerse yourself in Dungan culture though is to explore the surrounding villages outside Karakol. Yrdyk is the most well-known Dungan village in the vicinity and many people visit for the chance to eat an authentic meal with a local Dungan family.
24. Stay with a local family
The best way to get to know and understand a culture has always been through homestays. This is the most direct and unobstructed way of actually communicating with native people, not to mention a great way to try authentic cooking.
Like many other nomadic or Asian cultures, hospitality is paramount in Kygyz society. Guests are treated with the utmost reverence when they visit and are showered with treats, stories, merriment, and laughter.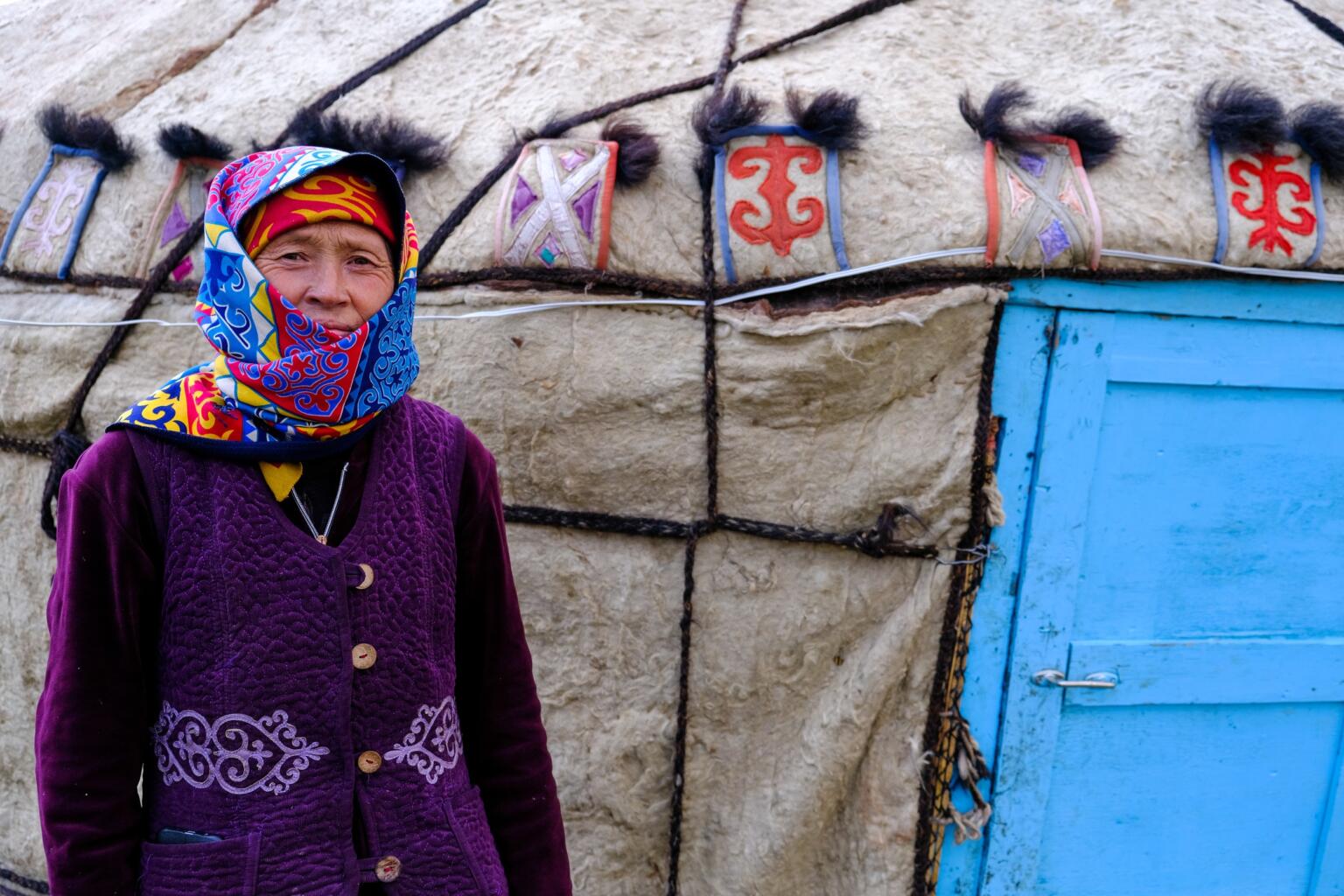 The great thing about Kyrgyzstan too is that it hasn't been ruined by mass tourism either. The locals here are genuinely happy to see foreigners in their country and are extremely eager to please them. I can only hope that as tourism increases in Kyrgyzstan over the coming years, this sort of hospitality and friendliness will not become diluted.
To be frank, staying with a local family is also a great way to travel cheaply in Kyrgyzstan. Local homestays often charge only $10-$15 for room and board – that's a bed, dinner and sometimes breakfast included – which is a way better than any hotel can offer.
Some Different and Unusual Things to Do in Kyrgyzstan
25. Check out Hippophae Camp
Full disclosure: I didn't actually make it this spot on my last trip to Kyrgyzstan. BUT, the way that my Kyrgyz friend described it to me made me really regret not going.
Hippophae was described to me as "the place where all the hippies go to do drugs and have trance parties." Was that enough to peak my interest. Honestly, yes, because I wasn't expecting any sort of crazy shit like this in Kyrgyzstan.
But is that everything to Hippophae Camp? I don't think so at all.
I've heard Hippophae also described as a place of spiritual strength, where people can practice yoga and meditate together, as well as a center for alternative living. Judging from their Instagram account , I think vegetarians would probably dig this spot as well.
For those that really want to do something different in Kyrgyzstan, I recommend checking out Hippophae Camp. If not for yourselves, then for me, your humble guide; I've heard great things about this place and would love to know more.
26. Find remnants of the Soviet Union
Like most of Central Asia, Kyrgyzstan used to be a part of the Soviet Union back in the day. It was one of the most distant parts of the former republic yet was still cherished thanks to its plentiful uranium mines. Although the Soviets continued the suppression of nomadic culture started by Russian imperialists, Kyrgyzstan was still able to develop somewhat thanks to The Reds.
Even after it's dissolution, parts of the Soviet Union still remained in Kyrgyzstan. The largest statue of Vladimir Lenin in Central Asia still stands in Osh. In Karakol, there is a shop that deals exclusively with old Soviet antiques (it's on the corner of Zhamansariev and Toktogul Streets). There's even a Soviet ghost town located in Enylcheck; here you'll find the empty buildings of a once bustling factory town.
These are all novelties leftover by the Soviet Union. Granted , there's nothing epically Soviet here: you're not going to stumble upon an abandoned missile silo and you don't want to go into those mines . But, that being said, it's still cool have these glimpses of life under the former world power.
27. Get lost in an endless walnut forest
Did you know that world' largest walnut forest is in Kyrgyzstan? Wait, "walnuts" I hear you whispering softly… "sweet, delicious walnuts?" I see you salivating my readers and getting your nutcrackers at the ready. Patience! I will tell you about this magical place in Kyrgyzstan now…
In the center of Kyrgyzstan near the small mountain town of Arslanbob lies this enchanted walnut forest. It measures almost 150-square miles in diameter, hosts trees that are over 500-years old, and is 100% pure, naturally grown. All impressive statistics if you ask me.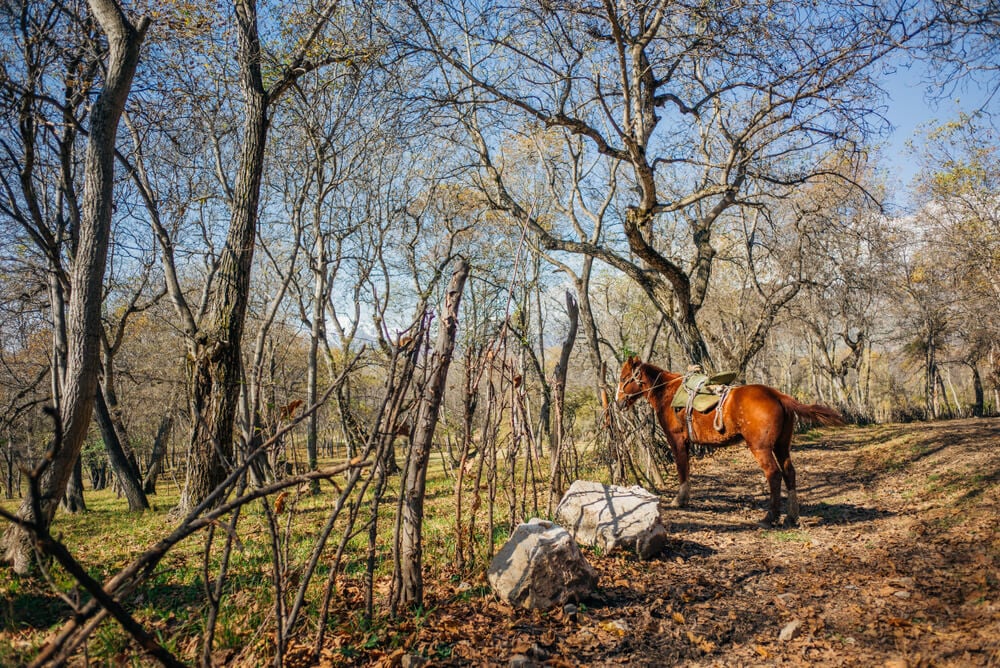 For residents of the surrounding villages, this walnut forest is a source of pride, joy, and sustenance. During the autumn people retreat into these woods for days at a time in order to harvest the nuts. Camps are set up and families spend most of the day chatting and picking. Sometimes, someone brings a bottle of vodka or wine and then the whole thing turns into a celebration.
If you want to experience a real Kyrgyz celebration, the walnut harvest of Arslanbob might be your ticket. Plan your trips around mid-September and peaks in October when the harvest starts.
28. Drink kumis
This is one of those cultural oddities that one really tries to appreciate, but struggles mightily trying to.
Kumis is, essentially, fermented mare's milk. During certain seasons, mares are milked (not an easy task mind you) and their milk is then fermented for an extended period of time where it is allowed to mature. In the process, sugars beget alcohol and the milk becomes preserved. Thus kumis is essentially alcoholic milk that comes from a female horse's tit.
If that sounds kinda gnarly to you, it is. Kumis is one the strangest, sourest, most difficult things that I have ever drank. The experience is seriously hard to describe. It's still worth taking a few sips to see for yourself, although, I warn you that the novelty of the act will wear off soon.
Despite its acquired taste, kumis is a delicacy in Kyrgyzstan. Nomads trade this stuff in local markets like it was the white truffles in France. Some locals even go on vacations specifically to drink kumis – they believe that by drinking it their bodies will be purified of toxins. I think that last bit is code for shitting constantly.
29. Start the Pamir Highway and drop by Peak Lenin
The Pamir Highway is one of the greatest roads in the world. Aside from being the second-highest road in the world, after Pakistan's KKH , it also offers some extremely unique experiences. The Pamir Highway offers adventurers the chances to see rare wildlife, like the Marco Polo sheep, and visit isolated communities in the Wakhan Corridor, among other activities. Of course, mountain views will be plentiful as well.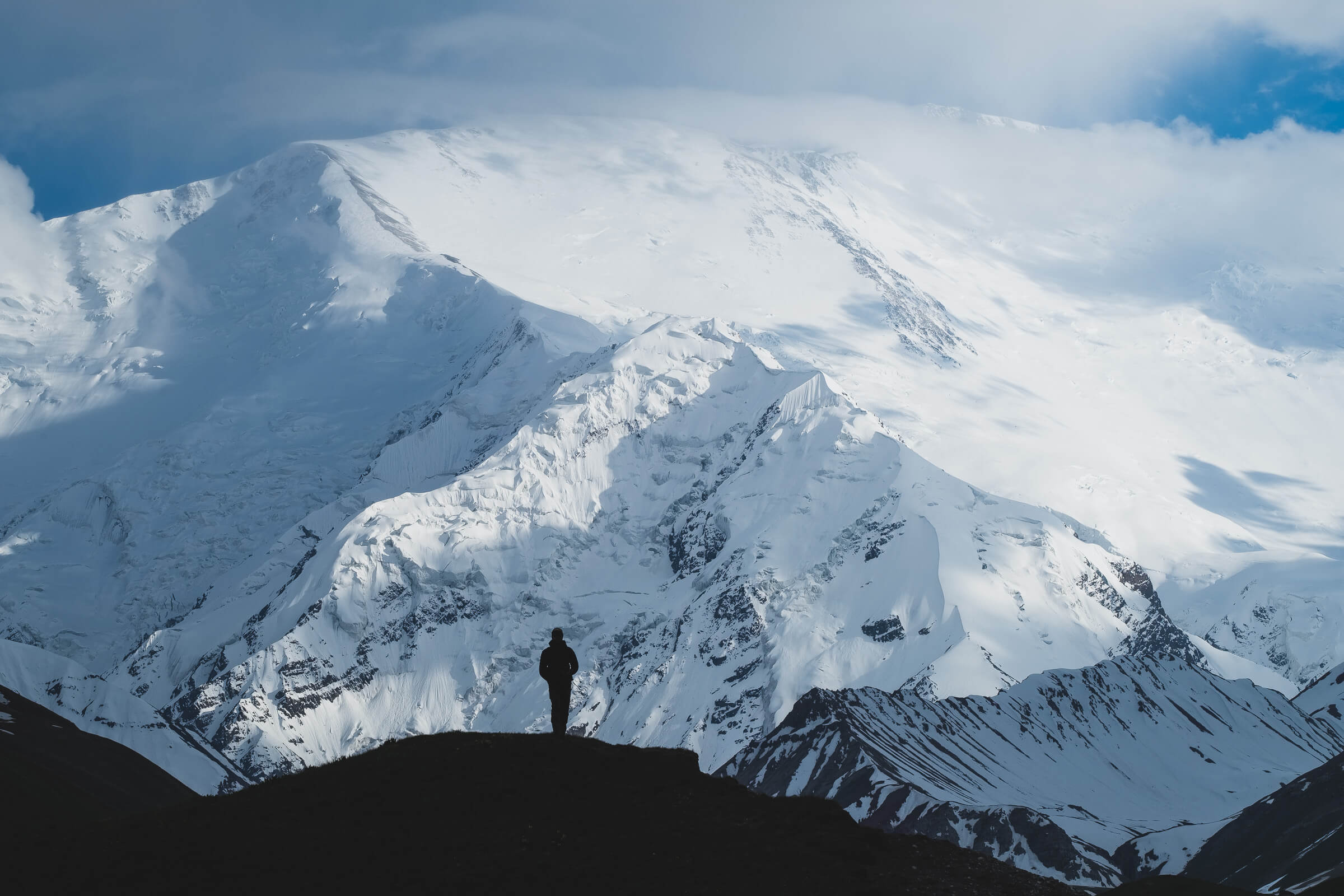 The first leg of the Pamir Highway lies between Osh and the Kyrgyz-Tajik border in the Alay Valley. Road trippers should plan on spending at least 2-3 days exploring this area and should definitely make the trip to Peak Lenin and Tulpar Kul . Peak Lenin is one of the easiest 7000+ meter peaks to visit and the (first) base camp can easily be reached in a day from the highway.
Most people actually organize their Pamir transportation in Osh or Bishkek. Both of these cities offer more options that what some may find in Tajikistan. If you need help getting started, try reaching to Iron Horse Nomads online.
30. Join an animal conversation tour
The snow leopard is one of the great national treasures of Kyrgyzstan. In recent years, the government has really ramped up conservation efforts in order to protect the species. Thanks to initiviates like these, snow leopards are allowed to prosper in the country and are actually on the rise, say some sources.
Animal tourism is one way that foreigners can support local conservation efforts. By investing more money in saving these animals so that they can be seen in the wild, there will be more pushback against poachers. You can potentially see these creatures in their natural habitat and potentially save them at the same time.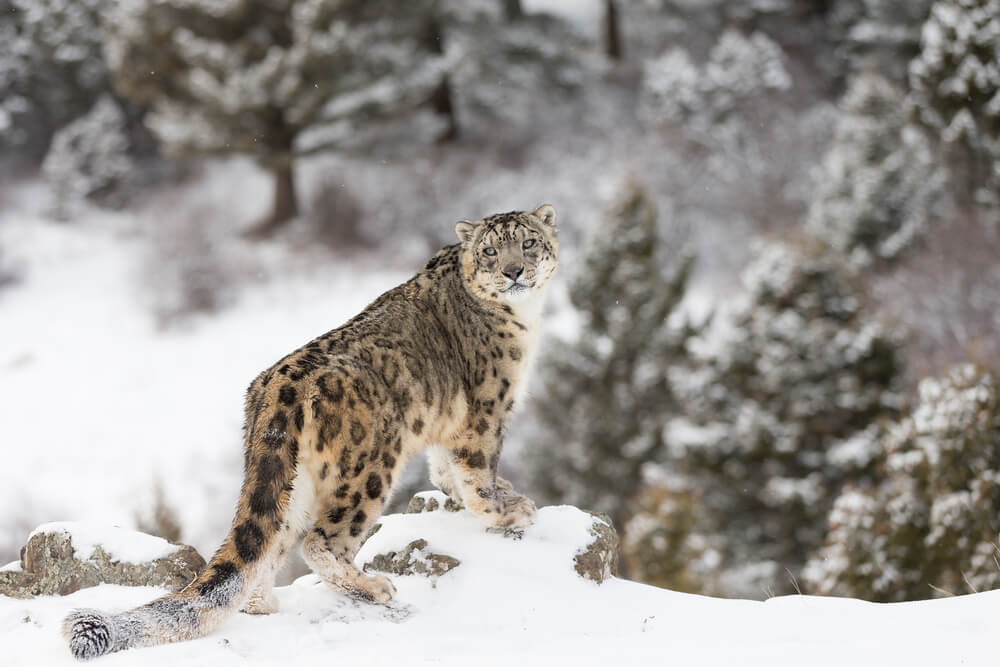 KCTBA is one of the few local operators that offers specially crafted wildlife tours in Kyrgyzstan. They plan on releasing new itineraries in the future that will allow groups to help set camera traps in the wild to track snow leopards. This is certainly one of the most unique tours in Kyrgyzstan and would be worth checking out.
FAQ on Things to Do in Kyrgyzstan
Here are some quick answers to common questions about what to do and see in Kyrgyzstan.
What to Consider before Traveling to Kyrgyzstan
Don't forget to consider the following before planning your trip to Kyrgyzstan!
Finding Accommodation in Kyrgyzstan
I've already mentioned that staying in yurt is one of the best things to do in Kyrgyzstan when you visit.
But what do you do if there are no yurts nearby? Luckily, there is more lodging in Kyrgyzstan than just this.
There are lots of conventional types of accommodation in Kyrgyzstan, like hotels and guesthouses. In the most trafficked parts of the country, like Bishkek and Karakol, there are even hostels as well! So regardless if you're a backpacker, a dirtbagger, or a holidayer, there is something for you here.
Check out some of our favorite places to stay in Kyrgyzstan.
Best Hostel in Kyrgyzstan – Tunduk Hostel
Tunduk Hostel is the place to stay for passionate travellers and people who like to have a relaxing atmosphere at home, while being in the middle of the 'living centre' of Bishkek! They offer private rooms, dorms, and a kyrgyz-style decorated room, "The Yurt".
Living in Kyrgyzstan, it can be quite a unique experience, especially when you visit the country for the first time. That's why we chose this Airbnb. The Yurt is basic and clean but can be a bit of a culture shock for people that don't expect it. That's why there are western amenities like a toilet (how we know it), a tiny bar and hot water. Breakfast is included too.
Orion Hotel Bishkek provides 5-star accommodation in Bishkek. It also features a sauna, meeting rooms and a heated pool. Babysitting/child services, a 24-hour reception and a concierge are just some of the available services at the hotel.
Safety in Kyrgyzstan
Overall, I'd rate Kyrgyzstan as a very safe place to visit. Compared to some other countries that I've been to, Kyrgyzstan is pretty damn tame and there were only a few occasions where I felt a little bit on-edge or like I needed to be careful.
To be honest, the Kyrgyz cities can be a little sketch in places. Being the largest city and all, Bishkek does have its dicey moments, especially after dark.
But as is the case when traveling in urban areas, a little common sense and a healthy dose of awareness can go a long way. Just be attentive when you're walking around alone and be aware of your surroundings. Bad things can happen in Kyrgyzstan and 99% of these happenings can be avoided by exhibiting the usual safety habits.
The political situation in kyrgyzstan does leave a bit to be desired. Corruption is rampant in the country and sometimes it feels like a coup is always around the corner. Be prepared to deal with crooked cops soliciting bribes and keep an eye on the news for possible political upheavals.
Really though, you should be paying the most attention when you're outdoors. Mother nature is sometimes ruthless and will hesitate to throw dangers your way. Drowning, rockfall, injuries, angry horses, thunderstorms; it is possible to encounter all of these things when going outdoors in Kyrgyzstan so be alert.
Travel with peace of mind. Travel WITH a security belt.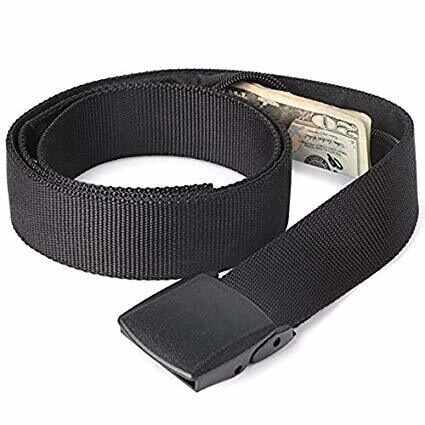 Get your cash stashed with this awesome Pacsafe money belt. It will keep your valuables safe no matter where you go.
It looks exactly like a normal belt except for a SECRET interior pocket perfectly designed to hide a wad of cash or a passport copy. Never get caught with your pants down again! (Unless you want to.)
Hide Yo' Money!
---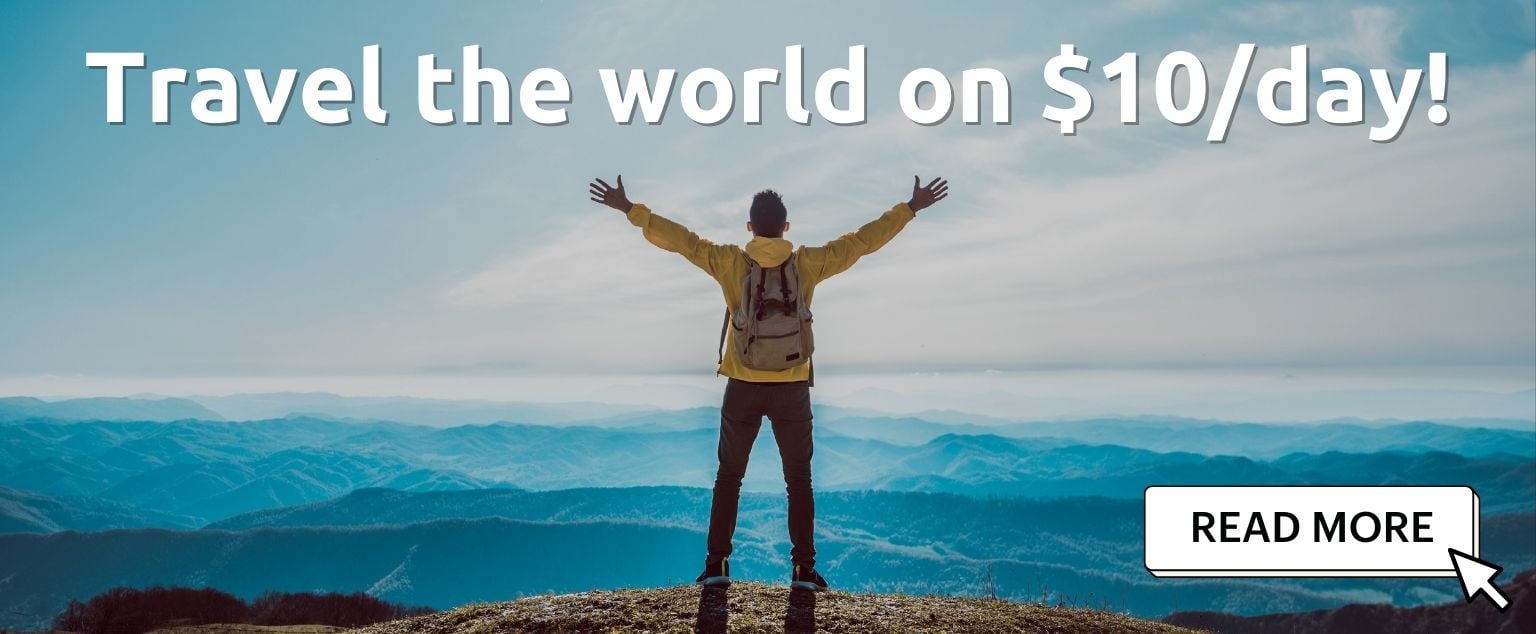 And for transparency's sake, please know that some of the links in our content are affiliate links. That means that if you book your accommodation, buy your gear, or sort your insurance through our link, we earn a small commission (at no extra cost to you). That said, we only link to the gear we trust and never recommend services we don't believe are up to scratch. Again, thank you!