Move over New Zealand; get the hell out of here Nepal; step aside Patagonia; there's a new adventure capital of the world: Kyrgyzstan!
Visiting Kyrgyzstan should be at the top of everyone's bucket list: it's beautiful, welcoming, accessible, and, crucially, still relatively untouched. Few westerners have made the trip out to Central Asia and its crown jewel, which means there's more for the rest of us adventurous backpackers!
There are lots of reasons to travel to Kyrgyzstan; too many to count. What really makes this country so special? What about it makes my heart flutter?
Sorting through the possibilities, I've racked my brain and come with the absolute 15 TOP reasons to visit Kyrgyzstan. These highlight the best of the country and separate it from the rest. By the end of this article, I am confident that you will believe in Kyrgyzstan just as much as I do and will start planning your trip there immediately.
So what are we waiting for?! Let's get to it!
1. Kyrgyzstan is a mecca for outdoor fanatics
Kyrgyzstan is adventure tourism gold. Rock climbing, white-water rafting, mountain biking, wildlife safaris, the list goes on. If you like to get dirty and love a good adrenaline rush, then Kyrgyzstan should be nipping at your heels.
It should go without saying that the hiking in Kyrgyzstan is also spectacular. Trails are numerous, well-maintained, and extremely rewarding. If needed, there are plenty of experienced adventure guides to be found and they can show you some real stunning hikes.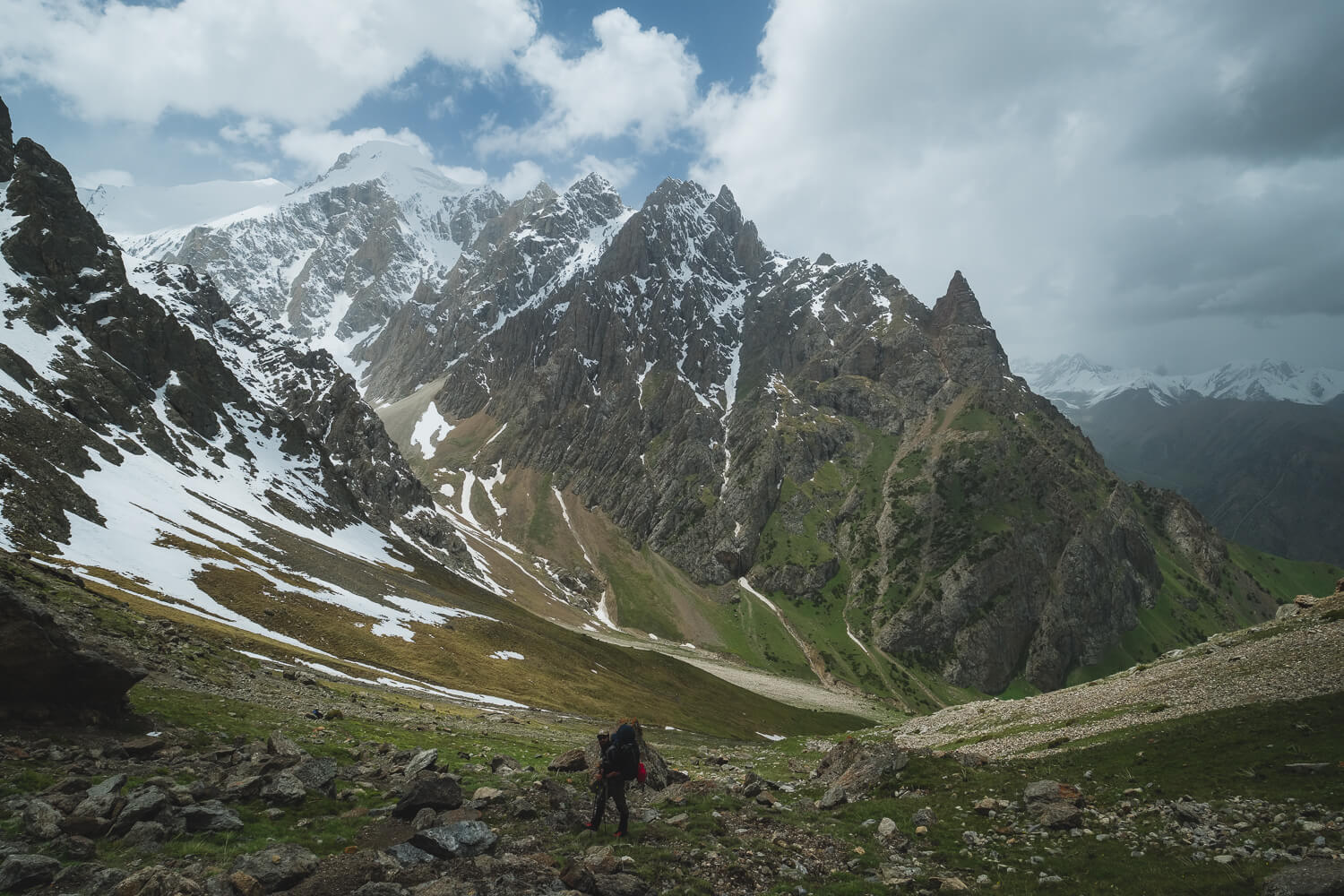 One of the coolest things about Kyrgyzstan is that there is always some new and fantastic place to explore! Every year, there is some village or wilderness discovered and it doesn't take long before adventurers start to flock there. A couple of years ago, it was Jyrgylan; now people are starting to rediscover the Batken; what will it be next year?
Visit Kyrgyzstan now and fulfill your dirt bagger dreams. Go in search of the next great trail or introduce a new extreme sport. Now is the time, before Kyrgyzstan becomes outed and overrun with mainstream tourists.
Be sure to check out our comprehensive trekking guide for Kyrgyzstan to learn more.
2. Sleeping in a yurt is awesome
So where should you stay in Kyrgyzstan? In a yurt! The yurt is the national symbol of Kyrgyzstan. So ubiquitous is this structure, that it is even depicted on the country's national flag. When visiting Kyrgyzstan, it should be 100% mandatory to sleep in one of these.
A yurt is a semi-permanent residence made from wood beams, felt, and animal hides. It sort of resembles a large tent but is more durable and decorated. They are surprisingly spacious and can be very comfortable to sleep in, especially when the locals light a stove inside.
Yurts were and still are integral to nomadic society. They are warm enough to insulate against the harsh winters of Central Asia yet mobile enough to pack up and move around by horse. Without the yurt, life on the steppes would be much bleaker.
There are yurts everywhere in Kyrgyzstan, even in the cities! Yurts are meant to be appreciated when out in nature though, where the mountains and lakes are right at your doorstep. Nothing beats a cup of tea and some warm bread on a chilly morning at 3000+ meters.
Yurts are the best places to stay in Kyrgyzstan, by far. Hotels come and go but the chance to stay in a traditional home built by nomads in the mountains…that opportunity only comes when you visit Kyrgyzstan and Central Asia.
3. The people are very warm and totally badass
In many nomadic cultures, there are unwritten rules about hospitality: guests are treated like royalty and no expense is overlooked as it is the host's duty to make sure everything is taken care of. To be hosted is an honor, to be a host is a privilege.
Kyrgyzstan is no exception. The people here, true to their nomadic roots, are extremely hospitable. When staying with local families, my friend and I were showered with treats, bountiful food, and more than enough kumis (one was enough actually).
Curious about us and our lives, we were also bombarded with more than a few questions. Many of these were lost in translation – Russian is the most common language and English is rare. Regardless of how much was actually understood, we were still very glad to be amongst such authentic and good-natured people.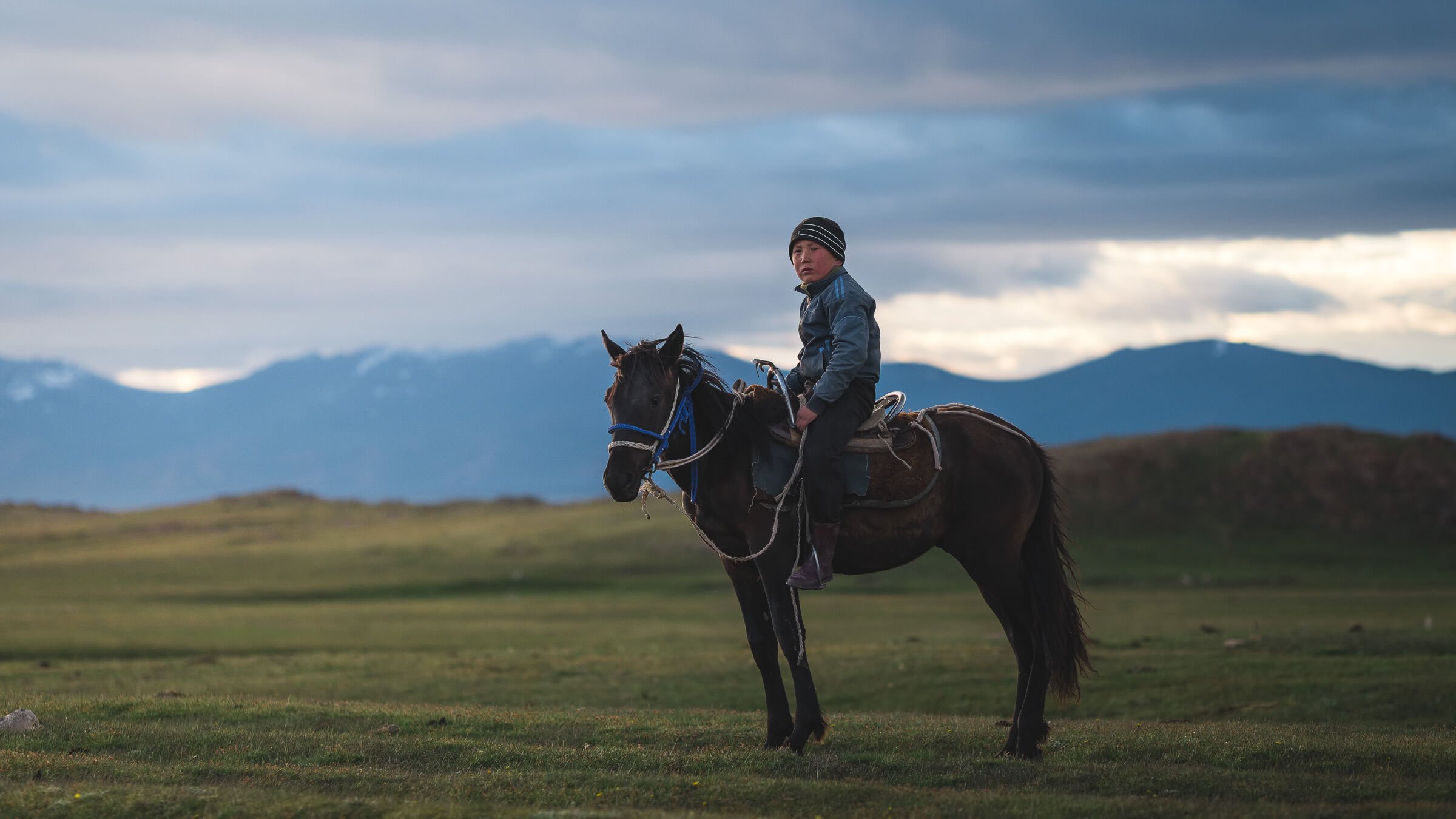 But I'm also going to be frank: you don't screw with a Kyrgyz either. These people are some of the toughest, burliest folk that I've ever met. The men have fists like bowling balls and are built like tanks. The Mongolian/Siberian lineage is obvious from the beginning.
Even a seemingly unassuming Kyrgyz can mess someone up. I once saw a one-armed taxi driver punch another driver in the jaw for no apparent reason. Hell, we were still in the cab! (We think the other guy made a one-armed joke or perhaps the driver just really liked us and didn't want to share.)
Few cultures can mix warmth and strength so effortlessly as someone from Kyrgyzstan. They'll take you into their homes and maybe even fight for you as well.
4. Nomadic culture is extremely unique
Central Asia is the land of the horse, the rider, and the free spirit. For centuries, Kyrgyz people have been roaming the steppes, either in search of prosperity or on their way to the next big conquest. After all, these are the descendants of the Mongols and Ghenghis Khan and riding is in their blood.
Whilst the Kyrgyz are doing less marauding these days and are living a more modern lifestyle, many still practice their nomadic traditions.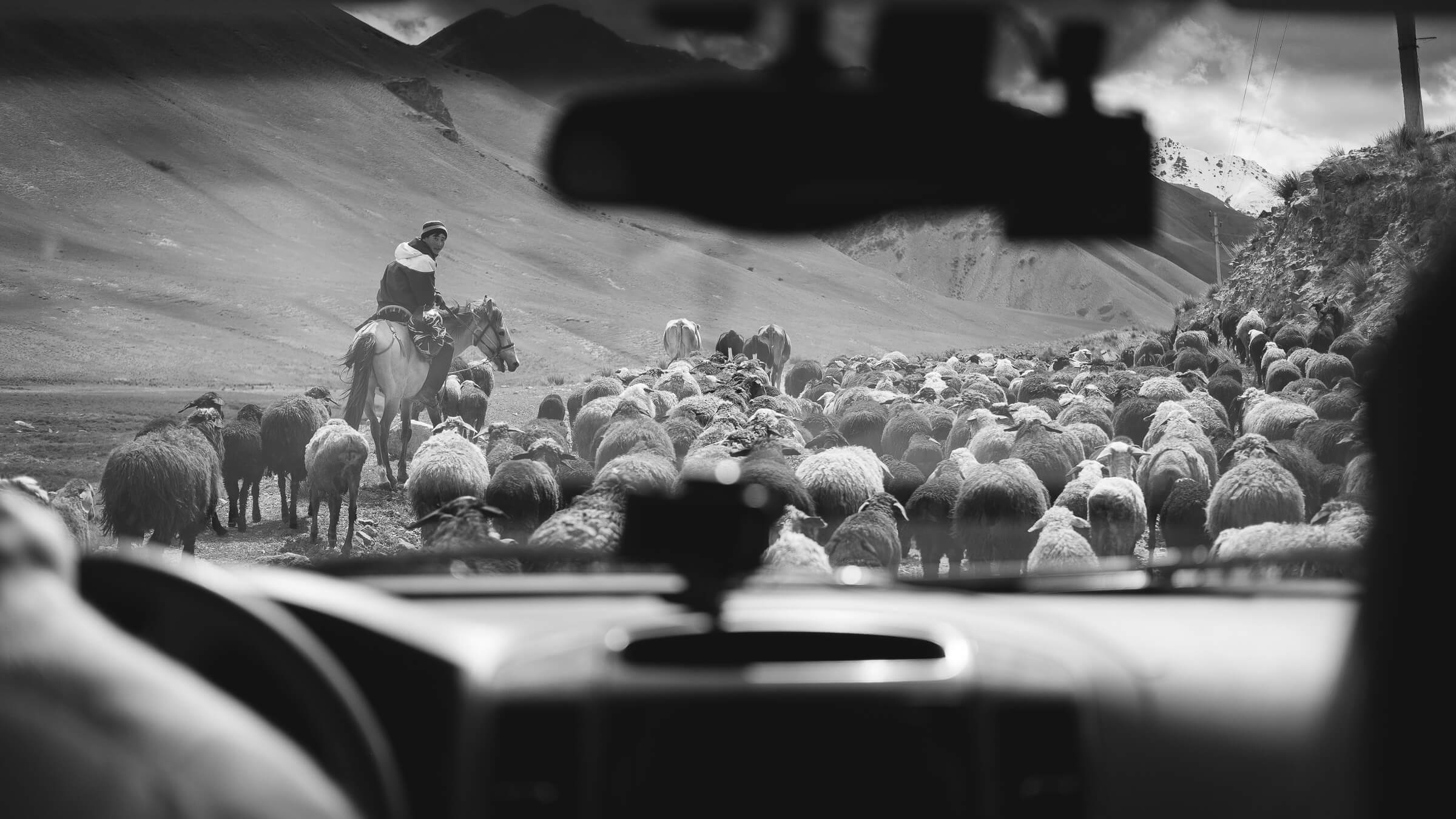 Yurts are still used regularly. Lots of natives still own and ride horses very often, and it is normal for a family to escape to the high meadows in the summer to let the horses graze. These are just a few of the many nomadic traditions of Kyrgyzstan; there are many more to discover if you immerse yourself.
If you want to get a full dose of nomadic culture, then there is no better place to do so then by watching some traditional games. Eagle hunting, En Erish, and Shagai are all among the most unique and eye-catching sports in the world. If you happen to catch a game of Kok-boru then you will be in for a real treat as it is one of the most brutal games ever played. Viewer discretion advised.

Do You Want to Travel FOREVER??
Pop your email in below to get a FREE copy of 'How to Travel the World on $10 a Day!'.
5. It's one of the best places to go horse riding
If you haven't ridden a horse before, then lemme tell you now: there is nothing else quite like it. The power, the speed, the connection; horses are among the most spectacular of Earth's creatures. The chance to live out your Lord of the Rings fantasy should make the matter pretty final as well. (Or maybe that's just me?)
Being a nomadic culture, horses are very important to Kyrgyzstan. They are means of transport, a source of subsistence, and a friend on lonely rides. They can be found almost everywhere in the country, from the countryside to backyards to even on the side of the highway.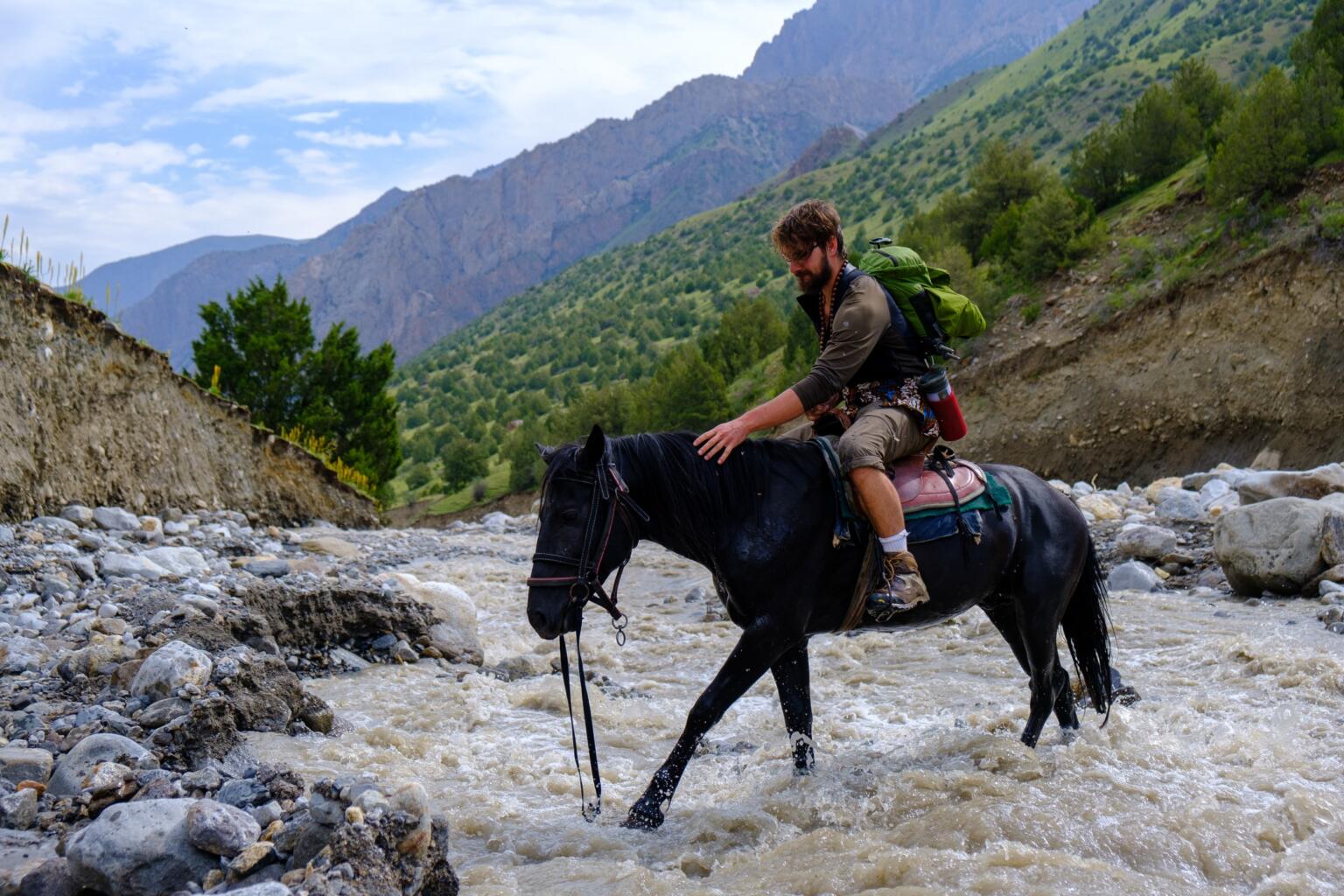 Local horsemen are more than happy to organize horse rides while you visit Kyrgyzstan. Even if you have never ridden before, the guides can teach you what to do and the horses are very well trained. There may be an occasional horse with a bad attitude but the guide will let you know when to leave them alone.
If you want something a bit more adventurous, consider organizing a horse trek in Kyrgyzstan. For several days, you'll ride a horse through Kyrgyz grandeur and pack everything that you need to survive including food and tents. It's a very unique way to experience the country and is not possible in many others around the world.
6. The random cafes in the middle of nowhere
Traditional Kyrgyz cooking is pretty standard: lots of bread, meat, soups, and boiled vegetables. All food that is great for keeping warm in the mountains and giving energy on those long hikes.
You can find good food in most Kyrgyz cities. Bishkek has some great restaurants that offer everything from classic Central Asian cuisine (find Navat Restaurant) to more contemporary international food. Osh is famous for its street food and fried pastries. Karakol is well-known for Dungan lagman and less-known for Kafe Aychurok, which has the best skewers (shashlik) in the country.
But the best place to find GREAT Kyrgyz food? You'll have to go a bit off the beaten path for that.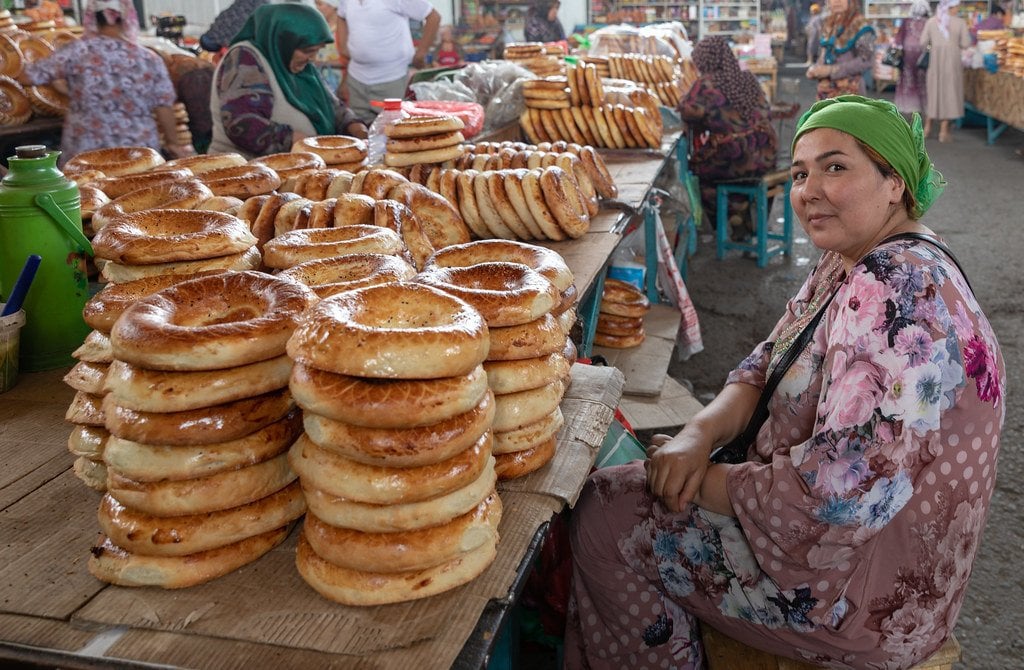 We always found the best food in Kyrgyzstan when driving in the middle of nowhere. We'd stop in a sleepy little town or at a roadside stop and would be in heaven. There was a derelict farm on the way from Osh to the Batken that made the BEST dumplings (manta). Somewhere outside of Sary Jaz, we were introduced to the wonders of shorpo – beef slowed cooked in broth that melts off the bone.
It's still possible to find good food around the most popular places in Kyrgyzstan. But to find the absolute best is an adventure in itself. Ask the locals where they eat and give the tiny hole-in-the-walls a chance; you won't be disappointed.
7. Visiting Kyrgyzstan is relatively easy
Kyrgyzstan is sometimes the recipient of a bad reputation. Maybe it's the proximity to the Middle East or maybe it's the presence of the word "stan" in the name, which can evoke other, more violent countries, like Afghanistan. Whatever the reason, some people think that it could be difficult or dangerous to visit Kyrgyzstan.
This couldn't be farther from the truth — Kyrgyzstan is one of the safest and most accessible countries that I've ever visited.
For one, unlike neighboring Uzbekistan and Tajikistan, most nationalities can travel to Kyrgyzstan visa-free.
Secondly, getting around Kyrgyzstan shouldn't be a hassle. Regular buses connect most of the major destinations and tourist lodging is common. For those who want to go their own way, Jeeps and SUVs are quite easy to rent in Bishkek. All of the above usually comes at a good price as well.
Granted Kyrgyzstan isn't perfect. The going can be rough at times as infrastructure is poor in places. Mother Nature is never to be crossed either; the only time that I felt intimidated was when I was in the wilderness and luckily I had an experienced guide with me.
Kyrgyzstan should not intimidate anyone. It is a welcoming and beautiful country that should be visited by everyone in my opinion.
8. The landscapes are stunning and extremely diverse
Of all the countries I've visited, Kyrgyzstan is probably the most geographically varied that I've ever seen. There are enormous forests of walnut and fir, vivid deserts, lush meadows, high-alpine lakes, and mountains that top 7000 meters. It's like the entire West Coast of the USA – from the Rockies to Alaska – were packed into a single state the size of California.
There are just so many landscapes to choose from in Kyrgyzstan. In the course of a single day, one could arrive in the city, visit a tundra, and then chill on the beach.
You don't even have to hike into the middle of nowhere to see stunning landscapes! Most are accessible with a good 4×4.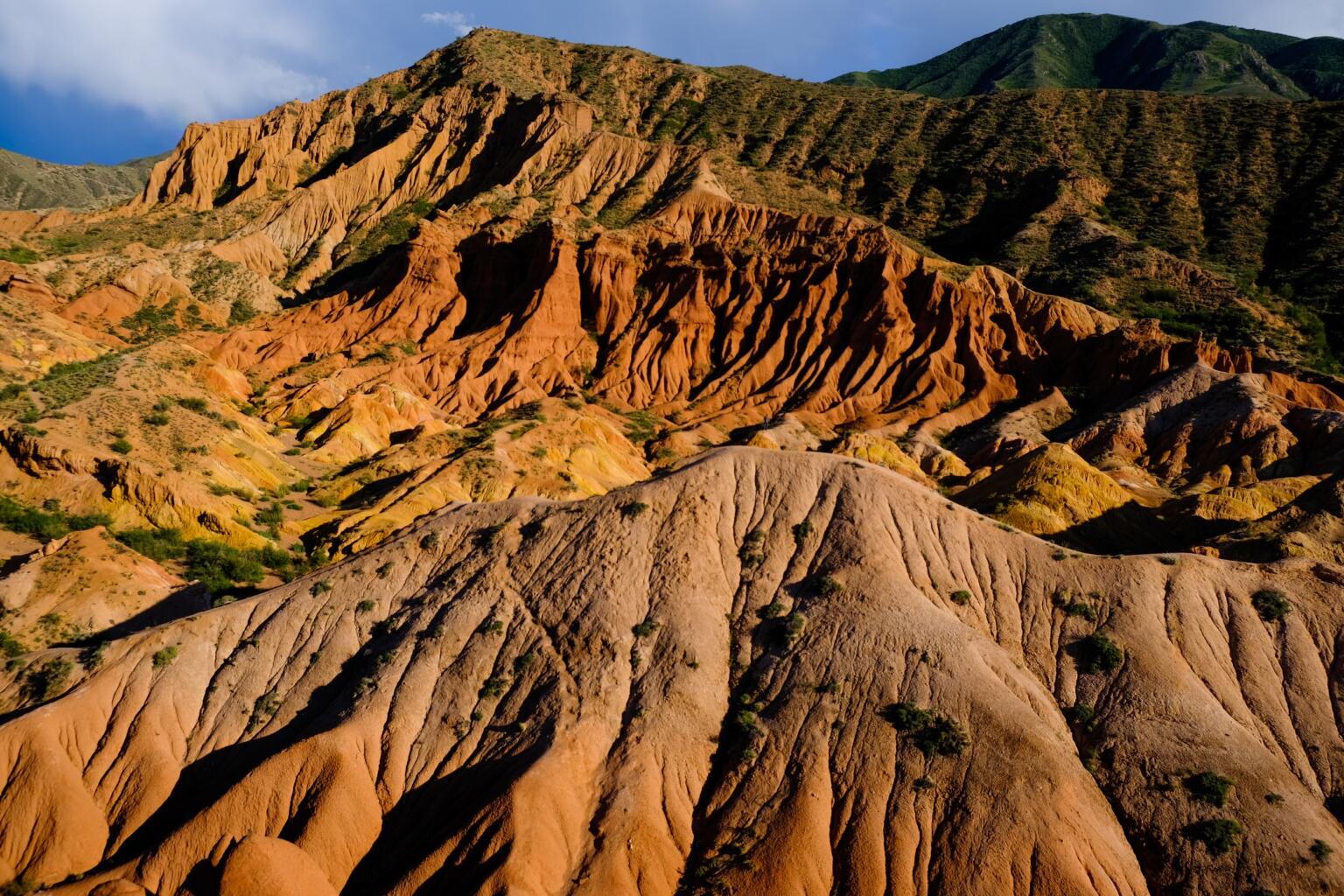 Granted, Kyrgyzstan does not border any ocean or sea, but it does have Issyk Kul. This is one of the largest lakes in the world and features sandy beaches, crystal clear water, and a truly surreal view of the surrounding mountains. It's also slightly salinated, so at least you can imagine you're on the coast.
Places like New Zealand, Oregon, Chile all get credit for being the most geographically diverse regions in the world. Yet, none of these can offer what Kyrgyzstan does (ok New Zealand is pretty damn tough to beat, admittedly).
If you're a nature lover, Kyrgyzstan will be a paradise.
9. Bishkek is like the Denver of Central Asia
There are a few more things you should know before visiting Kyrgyzstan. Completely flat, mountains within an hour's drive, a burgeoning beer scene, functioning alcoholism; sure sounds like Denver to me. Yet, what I just described could also be said about Bishkek as well. Yes, Bishkek, one of the world's smallest and most unknown international capitals could also be one of the most under-appreciated.
Bishkek is by no means big or even that interesting. Outside of a few museums and parks, there are few sites in the city worth visiting. If you wanted action, you'd have to visit Bishkek's Kazakh neighbor, Almaty, which is much more energized.
But Bishkek should not be judged solely as a tourist destination. Instead, it should be considered a great place to take a break after spending a week or two in the wilderness. It has everything you need to revitalize your spirits: good vibes, good food, and good beer.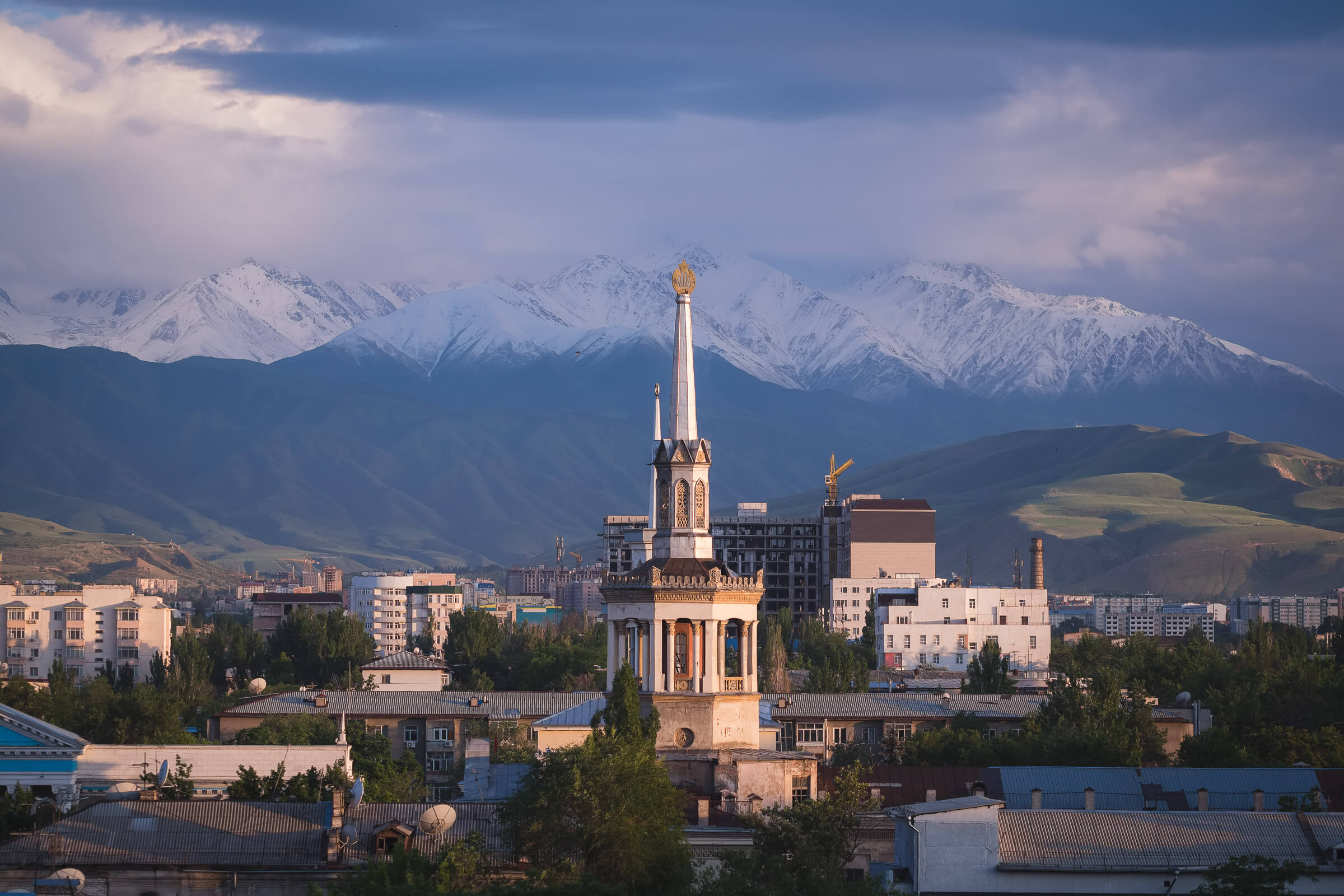 Beer bars, the go-to watering holes for thirsty hikers, line the avenues and are very high-quality. Blonder Pub, which is a bit more upscale, has a beautiful outdoor area and a great selection on tap. Save the Ales is one of the most significant breweries in the world, being the first craft brewery in Kyrgyzstan AND run solely by women.
If you're looking for more opportunities to sample the local wares, Bishkek also has several speakeasies. There's one in particular near the Lion Shoe store on Kiev Street that I really enjoy – it doubles as a hair salon by day and a cocktail bar at night.
When you're ready to escape to the mountains again, the Ala-Archa Mountains are less than an hour away. With a maximum height of 4,895 meters, they also put the Colorado Rockies to shame.
Is This the Best Backpack EVER???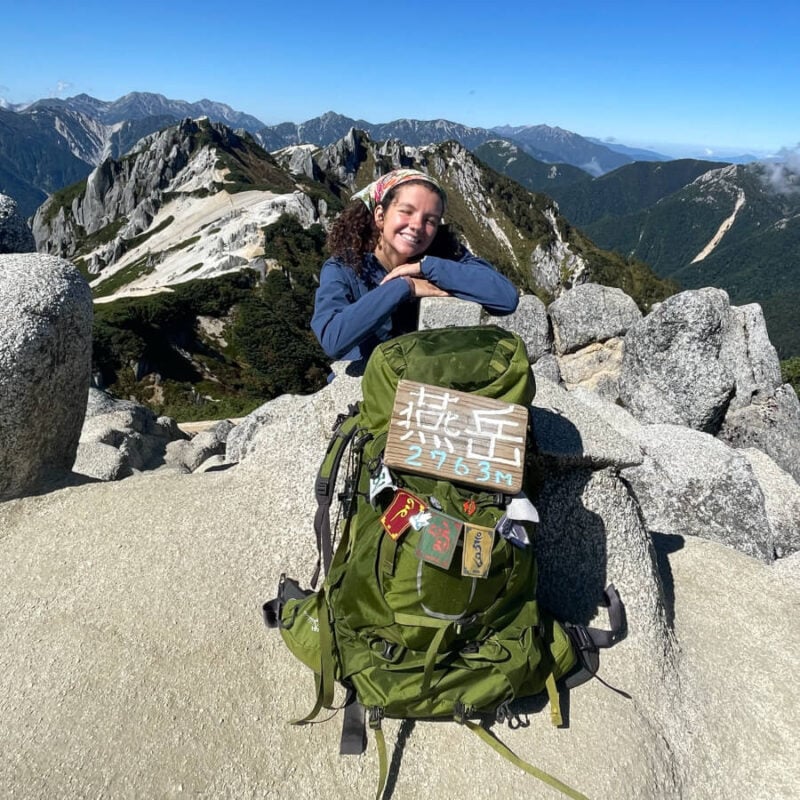 10. Everyone is beautiful
Before I visited Kyrgyzstan, I had no idea how the locals might appear. I knew that they were of Asian heritage but did they look like more prominent Asian ethnicities, that is Chinese or Japanese? Would they appear more Russian due to the presence of the former Soviet Union? Or perhaps they resemble more the mountain tribesmen of Northern Pakistan.
Well, all of the above is true – Kyrgyzstan is a melting pot of cultures and, consequently, it's residents are quite diverse. Tall, blond Russians were common on the streets of Bishkek and, interestingly, there was a large Indian diaspora in the capital as well. Many stood out but in no way did they appear left out.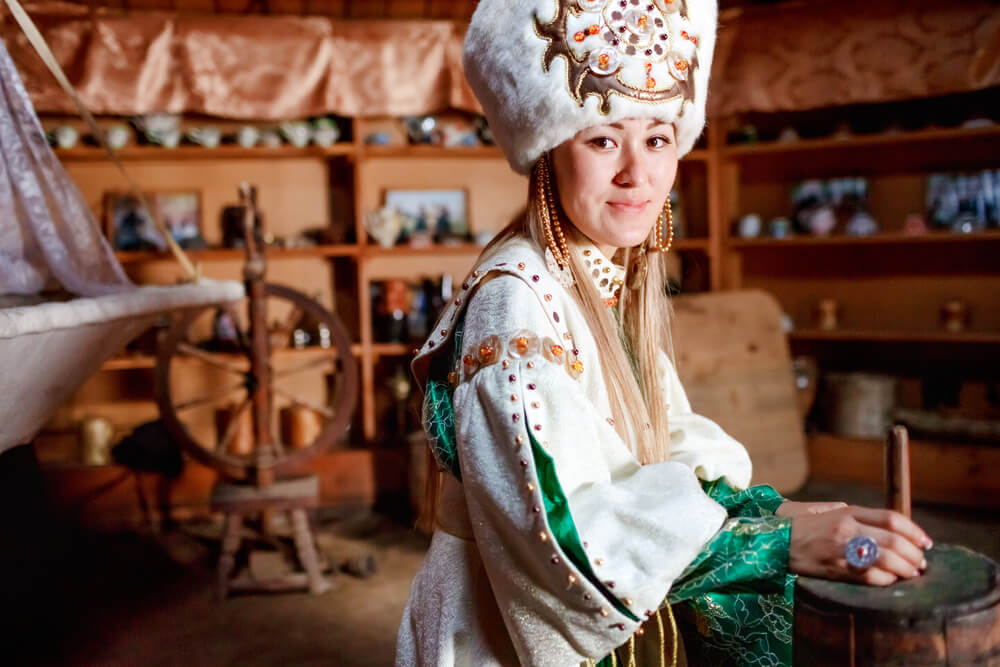 The appearance of the Kyrgyz people themselves was especially surprising. Yes, the Asian gene pool was most apparent but these were not the dainty people I was expecting. Men were barrel-chested and were close to my height (191 cm), something that I was not used to in Asia. The women were also curvy and full-bodied, a trait that is more common in European types.
Like all mixed races, Kyrgyz people are also easy to look at. I'll be frank and say that there were several times when my friend and I were at a bar and I wished I didn't have a girlfriend at the time.
11. The history is fascinating
Kyrgyzstan, like most of Central Asia, is one of the great crossroads of the world. Many of history's great powers have passed through here, whether on the legendary Silk Road or on the way to conquer. Mongols, kingdoms of China, the Soviets, all of these and more have played a part in Kyrgyz history.
The most famous historical attraction in Kyrgyzstan is the Silk Road, arguably the greatest overland route in human history. The road passed right through the country on the way to Persia. Osh, the largest city in Southern Kyrgyzstan, was one of the most important outposts along the Silk Road and is believed by some to be older than Rome.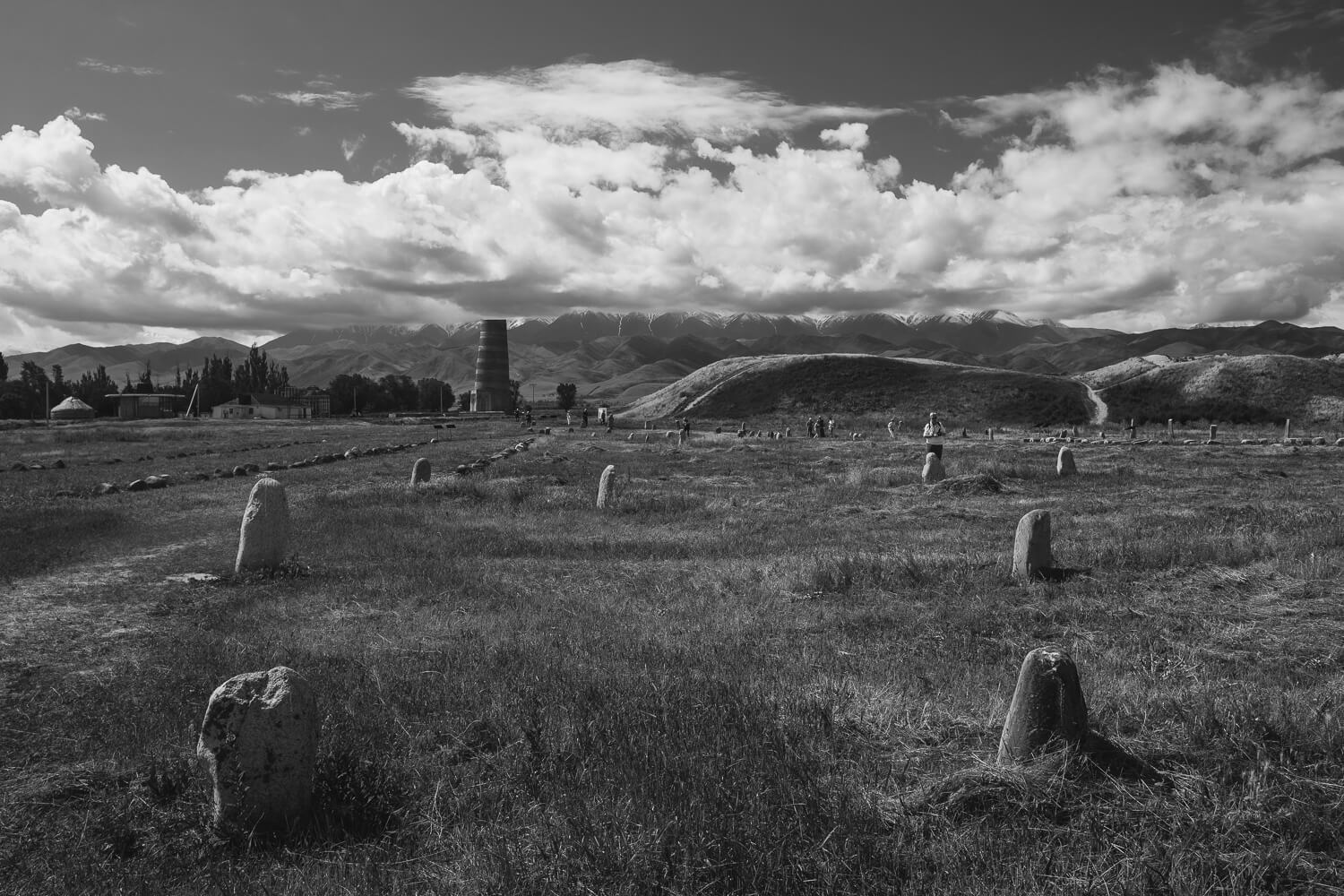 Then in the 19th century, Russia and Great Britain flexed their imperial muscles here in a shadowy battle of wits. Referred to as the "Great Game," this period is marked by exploration, expansion, and paranoia. Many historians call it the "original Cold War."
When the Soviets came, they admired Kyrgyzstan for its pastoral beauty and vast resources. Russian citizens holidayed at Issyk Kul and climbed in the Tian Shan, whilst the government amassed huge stores of uranium for the nuclear programs. The side-effects of the unchecked mining are still felt to this day.
These are only highlights of the much more complex story that is Kyrgyzstan. Visiting will allow you to learn much more about the history of the country. You'll see the remnants of the Soviet Union, the Mongols, and more, all in one place.
12. The hot springs are divine
There are loads of hot springs around Kyrgyzstan! Whether you want to bathe in a Russian-style sauna, complete with a bottle of vodka, or go all-natural in a wild spring, also complete with a bottle of vodka, makes no difference. There are more than enough thermal baths to go around!
For those staying in Bishkek, the Issyk Ata Springs are right outside the city. Further abroad in the Ala-Too Mountains and Karakol, you'll have the chance to visit the thermal springs of Altyn Arashan, whose water is the most perfect temperature. If you want something more wild, there are some primitive springs near Enylcheck that only a few people know about.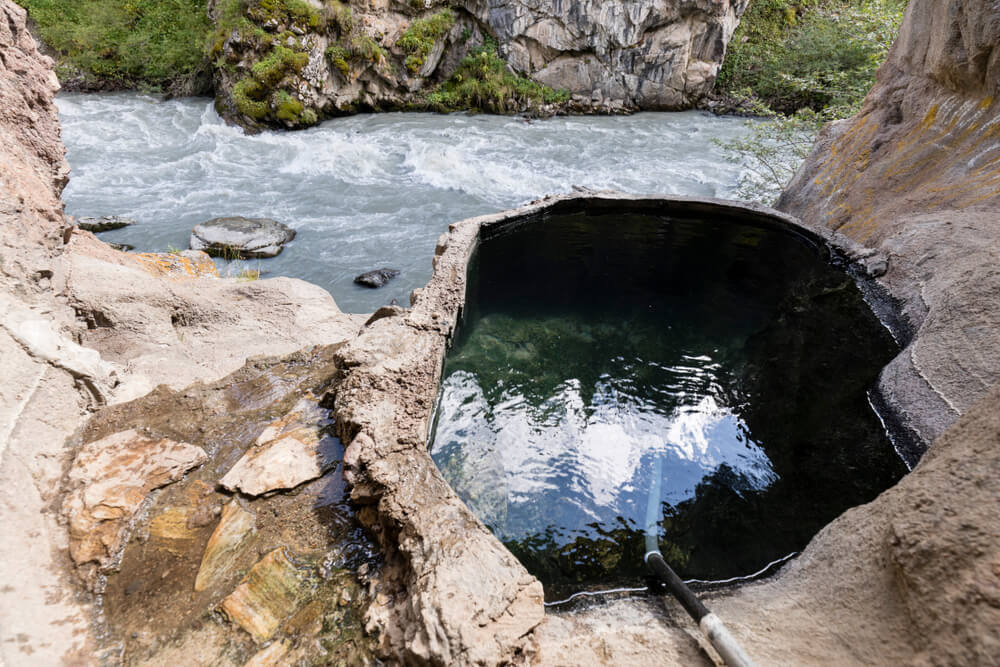 Regardless of where you choose to go, the thermal waters of Kyrgyzstan are amazing to soak in. Besides being very relaxing, the water is also believed to have healing properties thanks to an abundance of minerals. Perfect after a long hike or if you have dry skin. So make sure you include a swimsuit in your Kyrgyz packing list cause you don't want to miss these!
13. Southern Kyrgyzstan is starting to open up
The South is one of the most isolated parts of Kyrgyzstan, both geographically and culturally. Separated from the north by high mountains and an altogether different way of life, the South is like a whole different country. It used to be difficult to travel here but that is beginning to change.
The most common way to reach Southern Kyrgyzstan has been by road, either from the north via Talas or the east via Kazarman. Both trips would normally take several days to finish. But thanks to new (and cheap) airline routes between Bishkek and Osh as well as a proposed modern highway over the Fergana Mountains, it has never been physically easier to travel here.
On the other hand, ethnic tensions, which have boiled over in the past and have led to travel warnings, are now starting to simmer. There is still a noticeable "us vs them" attitude in Southern Kyrgyzstan – against both Tajiks, Uzbeks, and Northerners – but relations appeared to be civil when we were there.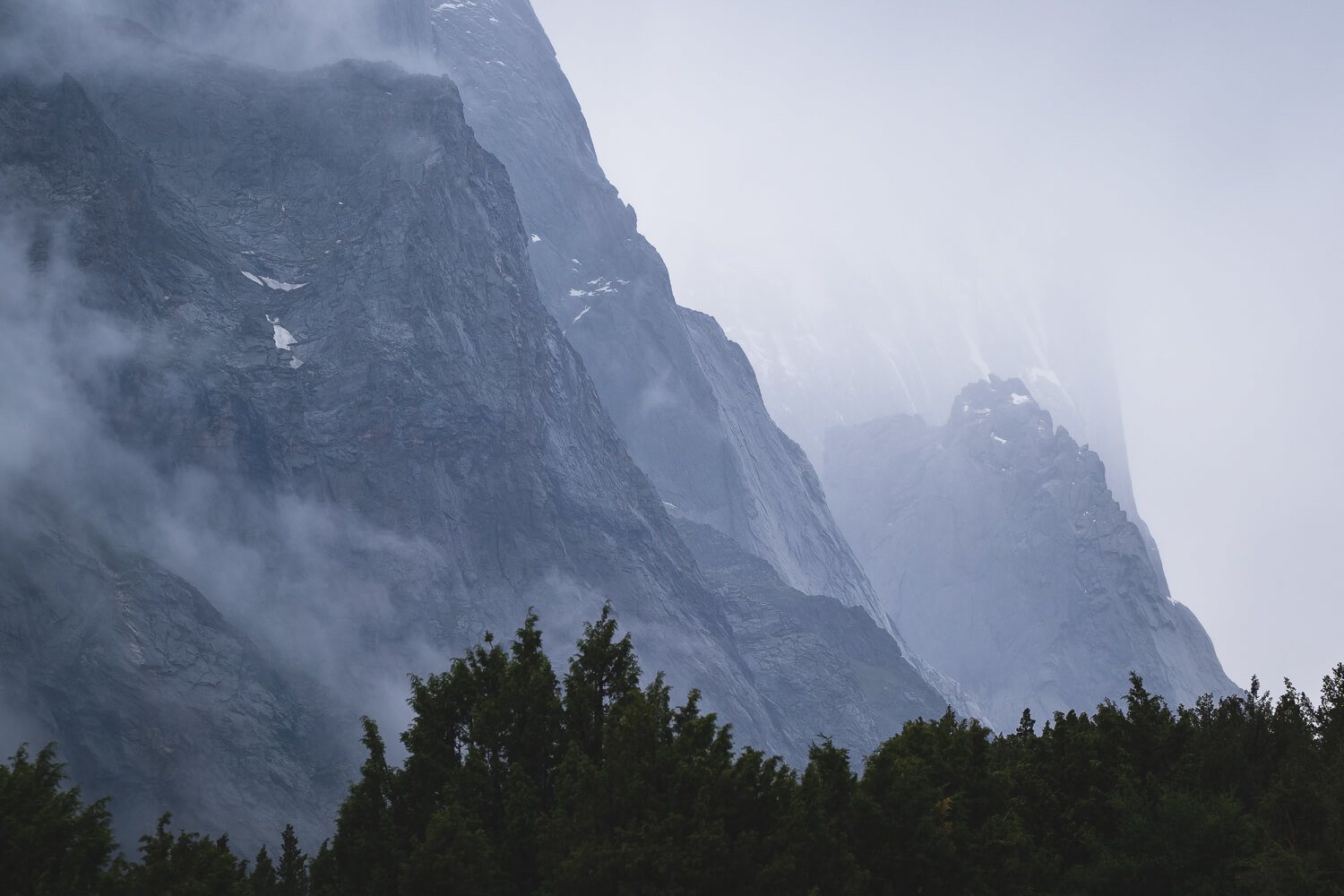 Although different at first, we found Southern Kyrgyzstan to be very open to travelers. It can be difficult at times, with tourist infrastructure lagging behind the north, but that only made things more interesting.
Southern Kyrgyzstan should not be taken for granted. Aside from being the gateway to climbing the mammoth Peak Lenin and starting the Pamir Highway, it hides far more hidden gems than the North. The Batken in particular, once shut off to foreigners, is starting a resurgence and offers some of the best treks in Central Asia, like the appropriately named the Asian Patagonia. Get here now.
14. It's a great entryway to the rest of Central Asia
A lot of people may have considered traveling to Central Asia and may have been intimidated by it at the same time. Countries like Uzbekistan and Tajikistan – raw, insular, and politically complicated – are very appealing but could be a bit much for the inexperienced traveler. Turkmenistan is, justifiably, a complete mystery to most and Kazakhstan is still trying to get over the Borat jokes.
Visiting Kyrgyzstan, on the other hand, is very straightforward. We've already talked about it, but the fact that most can visit without a visa, combined with affordable prices and good people, means that Kyrgyzstan is very accessible.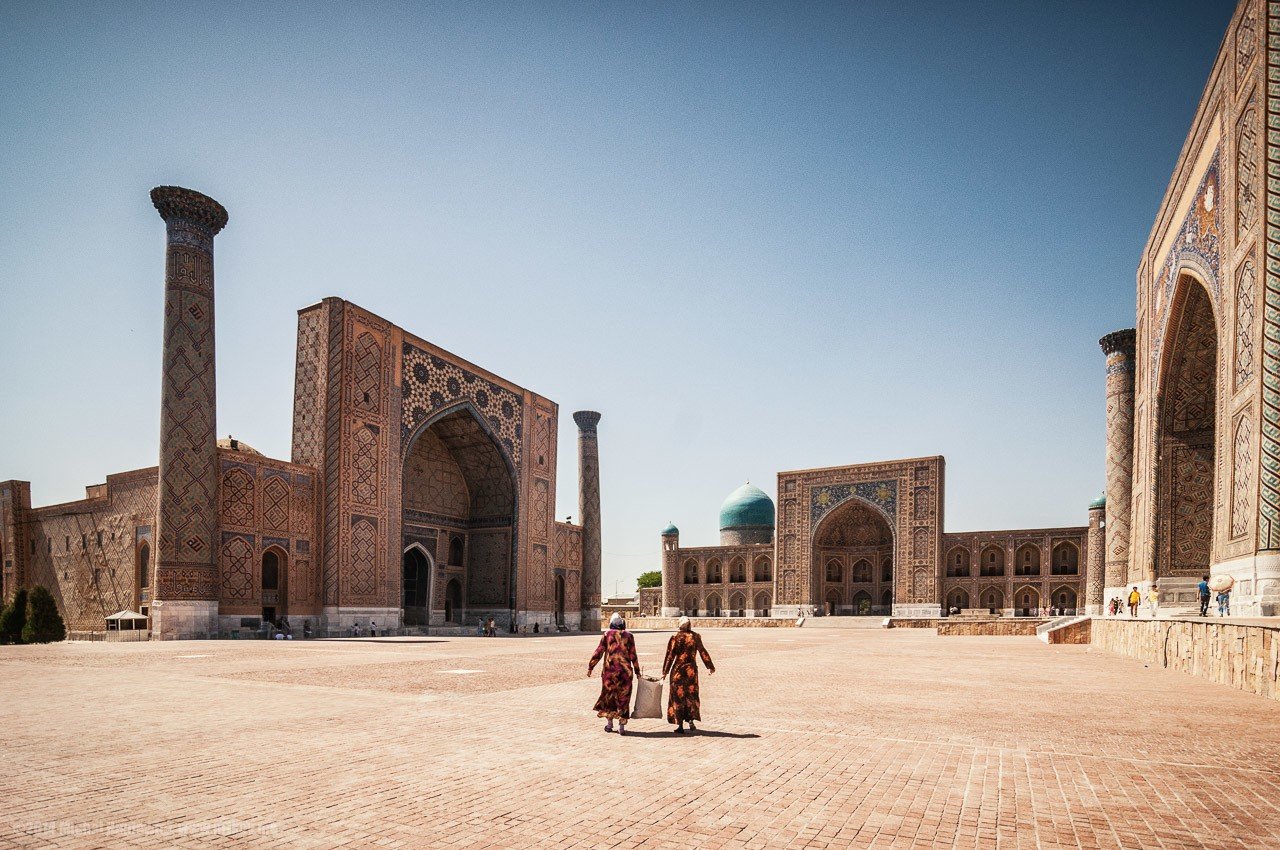 If one wanted to go on an epic journey through Central Asia, Kyrgyzstan would be a great place to start. It is conveniently located in the middle of the other countries, which makes hopping around relatively easy. Most of Kyrgyzstan's international borders, except for a few tricky ones, are open to tourists as well.
Head to Kyrgyzstan first and feel it out. If you like the vibes, you'll probably dig the likes of Uzbekistan and Tajikistan. The chance to visit the madrassas of Bukhara and Registan or the remote Wakhan Valley shouldn't be ruled out as these are breathtaking destinations. Use the opportunity of visiting Kyrgyzstan, turn it into something greater, and visit the rest of Central Asia.
15. It's not really "discovered"…yet
At the moment, Kyrgyzstan is not a popular international destination. In 2017, it received 3.3 million tourists which, though respectable, is still low compared to other Asian countries. In 2017, neighboring Kazakhstan received almost 7 million and India received almost 10 million*. Simply put, Kyrgyzstan is quiet compared to its neighbors.
And yet, Kyrgyzstan had almost half as many visitors 10 years prior. Tourism in Kyrgyzstan is growing every year, and the Western markets of Europe and the USA haven't even shown up yet! Most of the visitors to Kyrgyzstan are Russian or Kazak.
At the moment, tourism in Kyrgyzstan is still in its infancy and the country is still far away from being taken over by the masses. The trails are not yet crowded and the locals are not yet jaded by rampant holidaymakers.
But tourism in Kyrgyzstan is developing rapidly and every year more and more people are visiting. Who knows when it will be absorbed into the machine of mass tourism. Get here now before all of those wild places are choked with crowds and KFCs.
*Statistics provided by the respective tourism boards of Kyrgyzstan, India, and Kazakhstan.
---
---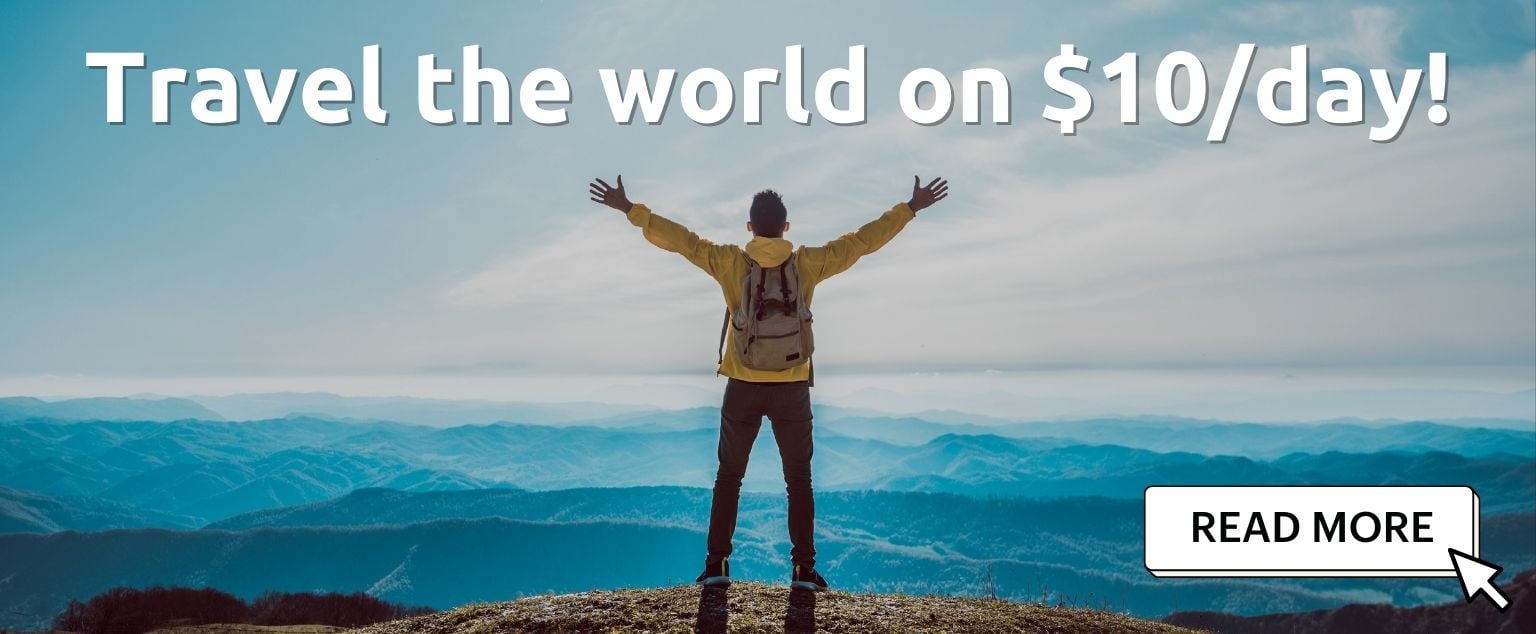 And for transparency's sake, please know that some of the links in our content are affiliate links. That means that if you book your accommodation, buy your gear, or sort your insurance through our link, we earn a small commission (at no extra cost to you). That said, we only link to the gear we trust and never recommend services we don't believe are up to scratch. Again, thank you!