Let me fill you in on a (not so secret) secret: Kyrgyzstan is set to be the next BIG backpacker destination and if you are thinking of planning a trip here, congratulations! You are making an excellent choice. It is a wild, wild country full of off the beaten path potential, yet relatively easy to travel in and get about on the cheap.
Nowhere else in Central Asia (or most of the world for that matter) will you find such a perfectly set stage for backpacker exploration and adventure. Kyrgyzstan truly offers up the perfect recipe for keen backpackers looking for a powerful, uniquely personal, travel experience.
While Kyrgyzstan may be the easiest of the "Stans" to travel in, this complex country does take a bit of time to figure out and connect with. I am here to show you the way…
Below, I provide honest, fresh advice on where to go backpacking in Kyrgyzstan, backpacker accommodation, suggested Kyrgyzstan itineraries, top things to do in Kyrgyzstan, how to travel the country, daily travel costs, best treks, Kyrgyzstan budget travel hacks, and all the other nuts and bolts that go into making an epic Kyrgyzstan travel guide.
Settle in amigos, let me show you what backpacking in Kyrgyzstan is all about…
Why Go Backpacking in Kyrgyzstan?
Kyrgyzstan ticks all of the boxes that light my backpacker fire. You'll find inspiring alpine landscapes, endless trekking opportunities, exposure to Kyrgyz nomadic culture, azure high-altitude lakes, 7000-meter mountains, delicious cheap food, reasonable budget accommodation options, well connected public transport, yurt camps, gold-toothed smiling locals, oh, and some of the cheapest Vodka found this side of mother Russia.
Let's take a look at where to stay in Kyrgyzstan. Kyrgyzstan's geography is very important to understand from a cultural and activity perspective. Northern Kyrgyzstan is a popular adventure playground for backpackers looking to connect with Kyrgyz culture and truly special trekking destinations.
The majority of Kyrgyzstan's tourism infrastructure is located in the north, which makes it one of the easiest and most approachable areas to travel in the country.
From the capital Bishkek, most places of interest are less than 6 hours drive away, and sometimes far less than that. The famous Song Kol and Issyk Kul lakes are in the north, as is the Tian Shan range (Celestial Mountains).
Numerous well-established yurt camps and hiking trails are found throughout the mix of the rugged steppe, forest, and desert landscapes in Karakol, Jyrgalan, Fairy Tail Canyon, Chon Kemin, and Barkskoon Gorge, and the above-mentioned lakes.
The south is another matter entirely. From the southern city of Osh and beyond, there is a palpable difference in the air. Southern Kyrgyzstan is the wild west in many respects.
There is little to no backpacker infrastructure apart from a few hot spots like Lenin Peak Base Camp/Tulpar Kol. Southern Kyrgyzstan is also much more religious (Muslim majority) and conservative.
The Fergana valley— which has shared borders in Kyrgyzstan, Uzbekistan, and Tajikistan— has been a place of constant ethnic tensions and sporadic violence for decades.
Kyrgyzstan is exceptionally diverse and taking the time to appreciate its different areas is a clear must.
Best Travel Itineraries for Backpacking Kyrgyzstan
Below I have crafted a few Kyrgyzstan travel itineraries to help you form a logical route for your time in the country.
These routes are just suggestions based on the itineraries I utilized during my time spent backpacking Kyrgyzstan. Each of these routes can be customized, reversed, or reworked to fit your interests and schedule.
#1 Kyrgyzstan Itinerary – 8-10 Days: Highlights of the North
If you have come to Kyrgyzstan for only eight days, then you certainly want to be armed with a plan to ensure you can see and do as much as humanly possible. This trip length will be quite hectic and action-packed.
That said, because of the relatively short distances, you can have an awesome set of experiences in just an eight-day window. Here are my suggestions:
Start your trip in Bishkek but save the exploration of the capital to the end of the trip. Drive to Song Kul from Bishkek via a stop at Burana Tower and stay the night with a nomadic family at a yurt camp.
Horse trekking can also be organized at Song Kol (either as a day trip or an overnight horse trek). Song Kol is an excellent place to chill out after your long journey by plane (or road) to Kyrgyzstan.
From Song Kul head to Issyuk Kul. Here you can check out the spectacular Fairy Tale Canyon, found on the south side of the lake. Eagle hunting demonstrations are also available in the villages around the southern shore.
Because you are short on time, I recommend hiring a car/jeep to take you to Karakol Valley so that you can start a three-night trek in the Celestial Mountains.
You don't need a guide to do this trek, but if you are doing it solo, you'll need to stock up on food and other supplies in Karakol. The three nights of the trek are spent at Karakol Valley, Ala Kul lake, and Altyn Arashan.
You can opt for a rest day in Karakol following the trek. For the next day, you have several options: go check out Jeti Oguz, Barksoon Gorge, or simply chill out at Issyk Kul with wine and a good book (after a swim).
Then it's back to Bishkek or a night of craft beer and amazing food before flying out the next day. Breathe.
#2 Kyrgyzstan Itinerary 2 Weeks: A Proper Look at the North
With two weeks at your discretion, you suddenly have a few more options. This route can follow most or all of the eight-day route mentioned above with a few tasty additions along the way.
I would still stick to the north because you don't have enough time to make the journey south. Plus, there is plenty to do and experience in the north anyway.
In addition to what the eight-day itinerary has to offer, here are some suggestions to help you fill an additional (almost) week in Kyrgyzstan's northern areas…
Check out Sary Jaz, a region bordering with China. Permits are required to get in here, but the juice is worth the squeeze. You won't find many other foreigners here. When done in a jeep, the Ring of Sary Jaz is a spectacular way to take in a big chunk of the landscape in two days.
Another place to check out in Sary Jaz is the old Soviet mining town, Engilchek the nearby Kara-Tash hot springs.
Go for a horse trek in Jyrgalan, one of the most popular horse trekking destinations in Kyrgyzstan, and probably the easiest place to organize a horse trek as well. Jyrgalan is a nice place to check out if you don't mind sharing the trail with other foreigners.
You could head further south of Bishkek to Naryn for a couple of days for more off the beaten path trekking options.
Ala Archa National Park is just 40 km from Bishkek. This place is excellent if you want to get some nature time in without being too far from the city.
If you have had enough of the mountains (how could you though?!) you can head back to Bishkek for two or three days and enjoy the cosmopolitan side of the capital. Though anything more than two or three days and you'll likely get bored.
#3 Kyrgyzstan Itinerary 1 Month: North and South Highlights
With a month on your hand, you can certainly head south to check out the scene. You can opt to start in the south if you wish.
After taking in the north (see above itineraries), you can opt for a flight from Bishkek to Kyrgyzstan's second-biggest city, Osh (about 45 minutes). You can take a small bus overland, but it takes about 12 hours. If you have time and you are on a budget, the bus makes more economic sense.
Osh is worth spending a couple of days in, though the highlights of the south lie a few hours south of the city.
Head to Sary Mogul, a dusty, rather ugly ramshackle village five hours south of Osh. Sary Mogul is the jumping-off point to Tulpar Kul and Lenin Peak Base Camp. Tulpar Kul is worth the visit whether you plan to make the trek to Lenis Peak or not.
For those with a serious adventure appetite, an amazing way to spend eight days in the south is to tackle a big trek in the Batken/Karavshin Valley region. Deemed the "Patagonia of Central Asia", This place is truly wild, also requires permits to visit, and is as about as off the beaten path as you can get in Kyrgyzstan. More on trekking in the Batken later in this Kyrgyzstan travel guide.
#4 Kyrgyzstan Itinerary 2+ Months: The Whole Damn Thing
One can never actually see the "whole damn thing" on one trip (unless you visit Monaco or another 3-kilometer long country). That said, with two months in Kyrgyzstan, you can give it an honest go.
Since most travelers from Western countries get a 60-day tourist visa on arrival it isn't hard to stay in this Central Asian outdoor mecca for that amount of time.
If you plan on using up your entire 60-day tourist visa in Kyrgyzstan then you can move at a sloooooooow pace.
In my opinion, the only real reason why you would want to stay in Kyrgyzstan for two months would be to 1. go on numerous multi-day treks in many different parts of the country or 2. settle down in Bishkek for a month to live out the digital nomad dream working online.
So, building on the above-mentioned itineraries, I have the following suggestions for you to fill an additional month in Kyrgyzstan:
Take the time to discover more unique destinations in southern Kyrgyzstan. Explore the Fergana Valley. Go trekking in the Alay Mountains.
For a challenging, lengthy, and drop-dead gorgeous trek through the Alay, tackle the 8-day trek which crosses the epic Jiptick Pass. Don't worry, more details about all of these epic treks later in this Kyrgyzstan travel guide.
My advice: take the time to really get to know a place instead of just passing through on a whirlwind tour. Spend time with locals and make the effort to learn a bit of the Kyrgyz and/or Russian languages. Travel overland, hitchhike and generally travel like you are in no hurry, because friend, you aren't.
Places to Visit in Kyrgyzstan
From the lakes, mountains, and steppe country of the north to the rugged and dusty south, Kyrgyzstan is a vast land with many interesting places to check out. For the most part, traveling in Kyrgyzstan is safe and there are only a handful of areas that require special government permission to enter.
Each region of Kyrgyzstan has something special and rewarding to offer backpackers if you know where to look. From my experience, I found only a handful of places that were bust with foreigners, which is a positive sign that Kyrgyzstan has yet to fully erupt into a Nepal-like adventure destination.
Apart from the popular Karakol area and Song Kol, backpackers are far and few between. Exploration potential is limitless… at the moment.
Again, the overall vibe in the north versus the south is markedly different and you will find the largest practicing Muslim populations living in the south. The rural areas of the north are still home to large numbers of seasonal nomadic herders, though these numbers are a fraction of what they were in centuries past (especially pre the Soviet Union).
Let's take a look at some of the top places to visit in Kyrgyzstan…
Backpacking Bishkek
Except for neighboring Almaty, Bishkek is hands down one of the most liberal and fun capital cities in Central Asia.
For being a capital, the streets are pretty quiet, and just about everywhere you go there is a huge presence of university students from all over the world. Though it may not seem so at first, a lot is going on at night as well – you just need to know where to look.
While Bishkek lacks impressive monuments, mosques, and world-class museums, it does win huge points for its craft beer scene, cheap accommodation, and tasty, affordable eateries. I am sure with time Bishkek will only become cooler (and it is in a pretty good spot as it is).
The only notable attractions around town are probably Ala-Too Square and Osh Bazaar. Personally, my favorite thing to do in Bishkek is to visit the amazing (and underrated) craft beer bars. A few breweries to check out are Save the Ales, Blonder, Brewster, and Steninbrau. Ask the staff for the "beer cheese"; they will know what you're talking about.
If you need to change cash and a local SIM card, go to the GUM Shopping Mall. If you need electronics, go TSUM Center. Hiking equipment? Red Fox is a popular chain but expensive; Alex.kg is more affordable.
There's quite a bit to do outside of Bishkek as well. Ala Archa National Park, home to several nearly-5000m peaks, is only 45 minutes away by car. Burana Tower, one of the most significant cultural landmarks in Kyrgyzstan, is 90 minutes away. If you'd like to organize a tour to either of these, our friends at Show me Bishkek can help.
Bishkek is the central transportation hub of the country. You can sort out public transport or a taxi to just about anywhere from here.
Backpacking Song Kol
If Song Kol (also spelled Song Kul and Son Kul) happens to be your first real destination outside of Bishkek, then you won't be disappointed. Song Kul is a super green, hilly area of high altitude Central Asian steppe centered around a large salty lake. Traditionally, this area was used by nomadic herders during the summer months as grazing ground for their animals.
Depending on what you want to do, your experience in Song Kul can either be very chill or very active. The main draw of Song Kul, apart from the obvious beauty, is the yurt camps. Small, family-run yurt camps dot the shore and offer up an authentic taste of nomadic life. Some yurt camps are more authentic than others, however.
For backpackers, I suggest seeking out a yurt camp that has no frills: no super fancy beds, yurts, or neon lights. These high-end yurt camps are expensive and will not give you the desired experience of staying with a family.
The real yurt camps are nice too, and often they just bear the name of the family.
Horse trekking is also a popular activity around the lake. One can combine a multi-day hike with horse trekking to Song Kol if you have the time and budget to do so.
I'd say a few hours of riding horses around the lake is enough as the area is rather flat (hills are in the background) and the landscape doesn't change much. The best option would be to do the hike/horse trekking combo if you have the budget for it. Horses cost about $20 an hour for day trips. If you are doing a multi-day adventure, there is more room for negotiation.
Backpacking Issyk Kul
Issyk Kul is a sight to behold. It is the seventh deepest lake in the world, the tenth-largest lake in the world by volume, and the second-largest saline lake after the Caspian Sea. In any case, the lake is MASSIVE and takes some time to properly explore.
Before heading onwards to Karakol, you should spend a night or two exploring the southern area of Issyk Kul. The south side is the much quieter, more backpacker-friendly part of the lake. The north side of the lake is built up, expensive, and full of Russian's on holiday.
There is a WHOLE LOT to do around Issyk Kul. Fairytale Canyon aka Skazka is full of surreal rock formations and vivid colors. There's a pretty waterfall in Barskoon Gorge and beyond is the Arabel Plateau, which sometimes requires permits to access.
The one thing you have to do is be a part of an eagle hunting demonstration. The Salburun Federation, based in nearby Bokonbayevo, organizes these at $50 a pop. They'll explain to you the cultural significance of the eagle hunter while demonstrating.
Among the various yurt camps, Bel Tam is one of the oldest and best run. Continue down the road from Bel Tam, and you will find other, more quiet yurt camps. Some even have wifi! You should not have to pay more than 2000-3000 SOM per person night (includes breakfast).
The key to picking the best place to stay in Issyk Kul is to make sure the camp has good beach access. There isn't a whole lot to do once you arrive at a remote yurt camp, so having the option to go for a swim off a beautiful red-sand beach is an obvious must. (The best beaches are after the Bel Tam yurt camp FYI.)
To visit the top sites in the area, you will either need to rent a car or hire a taxi. There are public buses that run along the lakeshore en route to Karakol or Bishkek, but these will prove to be unhelpful when it comes to seeing the sites in Issyk Kul.
Backpacking Chon Kemin
Chon Kemin makes for another excellent base for adventure activities. This wide, green, almost Swiss-like valley has a little of everything. For backpackers after a little white water rafting, Chon Kemin is the place to do it.
There are also several fine treks in the area, pretty much all of which can either be done on foot or with horses (or a combination of both).
If you are looking for cultural experiences, I'd say you can find that in Chon Kemin; you'll just have to pay for it. Like a few other places in Kyrgyzstan, the interesting cultural elements of Kyrgyz traditional life are not practiced often enough that you will just stumble across them.
Things like Kyrgyz folk shows/music, eagle hunting, nomadic games, etc must be organized in advance (and sometimes are not all that cheap).
For me, this kind of takes the authenticity out of what backpacking is about, and doesn't make sense financially for solo/couple backpackers. If you plan to come to Chon Kemin, come for the adventure activities and stay for beautiful views and nice people.
You can organize just about anything in Chon Kemi through our friend, Aziz, from Kemin Guest House. Here is his Whatsapp: +996 703295919.
I would advise you not to stay at his guesthouse, for the sole reason that it is almost too nice, and thus quite expensive, with a single room costing around $60.
Backpacking Karakol
Karakol is the uncontested adventure capital of Kyrgyzstan. Endless treks, jeep excursions, climbing trips, and cultural events can be organized in the city. But if you are expecting an Aspen or Chamonix vibe, you will be sorely disappointed.
I was pretty surprised to find that despite Karakol being the most popular city for foreigners in Kyrgyzstan, it remains largely undeveloped, dusty, and has the feel of an old Soviet frontier town of sorts.
In terms of on the ground attractions in Karakol, there are a few interesting spots to check out. The Holy Trinty Cathedral is the most beautiful building in the city.
On the opposite side of town, you'll find the Dungan Mosque, a rather uninspiring, yet curious structure resembling a Buddhist temple. The coolest thing about this mosque is the fact that it survived the wrath of the Bolsheviks (who destroyed all of the other mosques in the city).
The biggest highlight for me in Karakol was getting down on some seriously good BBQ pre and post trekking. The Kafe Aychurok (on the main street) has the best shashlik (meat skewers) of all time. The prices are reasonable and the feasting is next level. This is a bring-your-own-beer sort of joint and is well worth doing. Bring your meat-eating A-game.
There are also a few decent groceries and bakeries in town, so you should have no problem cooking a few meals and getting food supplies for your upcoming trek.
There are a handful of hostels in town too, but I recommend staying at Duet Hostel.
Backpacking Sary Jaz
A little known gem lies just a few hours from Karakol. If you have the time, you should 100% go check it out.
Sary Jaz is a border region between Kyrgyzstan and China. The landscapes found here are every photographer's dream. Better yet, you are very likely to not see another single backpacker out there. There are a few different options for where to go and what to do in Sary Jaz.
Sary Jaz area is part of Khan-Tengri National Park. It is the largest national park in Kyrgyzstan and has greatly contributed to the protection of rare and endangered species of flora and fauna, primarily the snow leopard population.
I should note that to enter into Sary Jaz you need to obtain a government permit (which costs about $35) and you also need to take a local guide with you. If you have a little extra cash in your budget, the 1 – 4 day trip (depending on how you plan it) is well worth it.
Option 1: Ring of Sary Jaz: Epic mountain views, a high pass, braided river systems, awesome campsites, stunning star photography opportunities.
Option 2: Sary Jaz to Enylchek and Hot Springs: This route takes you to another part of the Sary Jaz region. Here, you can visit an old abandoned Soviet mining town (Enylchek). There are still people living nearby, but there are numerous massive dilapidated brick apart blocks that you can walkthrough. It is a pretty eerie experience, but cool nonetheless.
The cost of doing this trip: up to 3 people – 265 USD per person with an SUV 4×4 for transport. I know, I know, these ain't backpacker prices, but it is worth it, I tell you!!
Backpacking Jyrgalan
The hill country around Jyrgalan is the most popular horse trekking destination in Kyrgyzstan. Its green meadows, picturesque mountains, and accessibility from Karakol have helped to skyrocket its popularity.
Most people opt to base themselves in the village of Jyrgalan, where there are various guesthouses and yurt stays available. Expect to pay around 3000 SOM per person per night.
If you visit from the middle of July onward, it is possible to do the iconic Echkili Tash trek, which takes 4 days and around 70 kilometers to complete. Be sure to ask locals if the passes are indeed free of heavy snowpack or not.
Multiday horse treks are the name of the game in Jyrgalan as well, and if you hire a local guide and cook, there almost certainly will be a couple of pack horses rolling with you.
You certainly do not NEED a guide to go trekking in Jyrgalan. If you plan on setting off on your own, be sure to come prepared with supplies bought in Karakol as the options for buying decent trekking food are quite limited in the village.
Backpacking Osh
Osh is located in the south of Kyrgyzstan in the Fergana Valley and is the country's 2nd largest city. Osh has quite the storied past and was a major outpost for traders on the Silk Road. The city is also one of the oldest settlements in Central Asia.
After recovering from spats of ethnic violence in 2010, Osh is now experiencing a period of relative calm, though there will always be noticeable tension between the Kyrgyz and Uzbek communities.
Like most cities in Kyrgyzstan, Osh is more of a jumping-off point than it is a destination. One can spend a few days roaming the bust streets, trying tasty food, and utilizing the decent internet connections found in the cafes.
Accommodation in Osh is cheaper than in Bishkek and a decent guesthouse or apartment should cost between USD 20-30.
Here some things to do in Osh:
Visit the massive Lenin Monument: the monument is located on the edge of Park Im. T.satylganova.
Street Art: Check out all of the cool street art and graffiti plastered across the buildings in the city center.
Stop by the new Sulayman Mosque: To get there is about a 30-minute walk from the city center.
Climb Sulayman Mountain: For epic views of the city and the mosque, hike up to the top of the iconic Sulayman Mountain.
Eat Pizza and Drink Beer: California Cafe is an awesome spot to grab a cold beer and to chow down on some damn good pizza. Brio Cafe has, without question, the best coffee in town. For authentic Kyrgyzstani food, go to Kurmanzhan Datka Cafe.
Backpacking Arslanbob
When it comes to picturesque mountain towns in Kyrgyzstan, Arslanabob can hold its own with the best of them.
A good place to start upon arriving in town is to check into the CBT guesthouse. From here, you can organize and/or get up to date information on fishing in the area, horse trekking adventures, and just about anything else outdoor-related that Arslanbob has to offer.
There is an awesome day trip to the walnut forest waterfalls. You don't need a guide to do this trek, so don't trust the locals if they tell you that you need a guide!
From Osh, the journey to Arslanbob takes about 3 1/2 hours.
Backpacking Sary Mogul
In terms of dusty, scruffy towns in Kyrgyzstan go, Sary Mogul is pretty damn dusty and scruffy. Upon arrival, I determined that it was best to not even spend the night there, though the folks at the local CBT guesthouse were very nice and helped me organize a jeep to Tulpar Kul yurt camp.
There isn't anything of interest in Sary Mogul, so like me, you will probably just pass through en route to Tulpar Kul and Lenin Peak Base Camp. A few locals-only cafe shacks serve fried bread, tea, and strong instant coffee.
Backpacking Tulapr Kul
To reach Tulpar Kul takes about an hour and a half by jeep via a bumpy 4×4 track. Tulpar Kul is a medium-sized yurt camp surrounded by small lakes. One can get a cozy yurt (with a fire inside), nice meals, and a good base for exploring the surrounding mountain trails.
Because the camp sits at around 3500 meters, it can be cold here (it snowed on me when I was there) so come with the appropriate clothing.
Marmots are about as common here as gold teeth are in all of Kyrgyzstan! Lenin peak Base Camp is only a short walk (around 25 minutes) from Tulapar Kul. In the height of the season, it will be busy with climbing expeditions and not the most peaceful place to stay.
From Tulpar Kol, it is a 3-hour walk up (2 hours down) with roughly 500 meters of altitude gain to the famous Traveller's Pass (4000 meters).
From the top of the pass, you have a perfect view of Lenin Peak standing tall almost 3 kilometers above. Pray for clear skies and prepare to be wowed.
Ask anyone working at the yurt camp in Tulpar Kul or Lenin Peak Base Camp for directions, the route to the pass is straight forward. Note that heavy snow can be present at any time of the year. Ask about conditions before setting off. Hiking with proper waterproof boots and gaiters is a must if there is some snow on the trail.
Getting Off the Beaten Track In Kyrgyzstan
If you have found your self rambling along through Central Asia, congratulations! In terms of backpacker scenes, Central Asia is raw and in the infant stages of tourism.
That said, Kyrgyzstan does have its hot spots where you will almost certainly find foreigners. Apart from places like the Karakol area treks, Song Kol and Issyk Kul, fellow backpackers are far and few between.
If you want to experience a truly wild part of Kyrgyzstan, head south the Batken/Karavshin valley region. There is relatively no information online about this place (we aim to change that soon). You'll want to organize a local guide in Bishkek before going south. The Batken region is one of the most remote places I have ever been, and you need a guide to go there.
Don't listen to people who tell you that Jyrgalan is off the beaten path. That's bullshit.
Jyrgalan is now one of the most popular places in the whole country. Trust us, if you want REAL adventure, head to the Batken. Our friend Aslabek at the CBT office in Bishkek can help sort you out. Tell him we sent you and maybe he will give you a special price.
Request that your guide be Suliman from the village of Ozgorush (were the trek starts); he is a wonder of a man and a badass guide.
A 9-day (!) trek in the Batken will cost you between $600-700 and will include transport to/from Osh horses for supplies, food, guides, and a cook.
Things to Do in Kyrgyzstan
The activities listed here are only a few of many. If you'd like to hear some more ideas, be sure to visit our comprehensive article on what to do in Kyrgyzstan!
1. Go for a Multiday Trek
If you come to Kyrgyzstan and do not go for a badass trek somewhere, then you have failed miserably.
2. Attend a Nomadic Games Event
From goats head polo matches (Koko Boru) to strength competitions to javelin throwing, the Kyrgyz people are serious about their brand of sport… and seeing them in action is quite the sight to behold. Nomadic sports are well entrenched in modern-day Kyrgyz society and occur at various times all over the country.
The ultimate competition takes place at the World Nomad Games, which occurs every year, though not always in Kyrgyzstan. For the past three years, the games have been held in Cholpon-Ata, Kyrgyzstan, but this year (2019) the games are taking place in Turkey.
3. Take a Swim in Issyk Kul
When that fierce sun is shining down, perhaps nothing else in the world is as refreshing as a dip in the crisp waters of Issyk Kul. Have beers on standby.
4. Try Kumis
What the hell is Kumis? Well, my friends, Kumis is a slightly alcoholic concoction of fermented mares milk. To be honest with you I kind of hated kumis, but trying it is a sort of right of passage for people backpacking in Kyrgyzstan.
5. Horse Trekking
Kyrgyzstan is a land of horse culture. It is in the blood of the people like baseball is in the blood of Americans. Get yourself on a horse and head into the mountains. Kyrgy horse treks are a great reason to visit Kyrgyzstan.
6. Check out an Eagle Hunting Demonstration
Over the centuries, nomadic people's honed their falcon husbandry skills to an art. When you see a demonstration, no actual animal is hunted, but watching how the hunters work with their birds is quite amazing.
7. Stay in a Yurt
Similar to trekking, you can not visit Kyrgyzstan and NOT stay in a yurt. If you want to learn more about yurts, it is possible to help build one at some yurt camps.
8. Eat Manta
Manta is the Kyrgyz version of dumplings. They are delicious and they are prone to be eaten in glutinous quantity.
9. Visit Sary Jaz
You may have gathered by now that the Sary Jaz region is one of my favorite places in Kyrgyzstan. Get off the beaten path, hire a jeep, and go see it for yourself. If possible, try to camp out there.
10. Try Kyrgyz Booze
From brandy to vodka to whiskey, there is no shortage of tasty spirts to try. In Bishkek, sampling some of the craft beers is a must.
Backpacker Accommodation in Kyrgyzstan
It's pretty easy to find reasonably priced backpacker accommodation in Kyrgyzstan. You won't find dirt cheap accommodation as one can in South East Asia or Nepal, but the going rate hovers between $25 – 40 USD, depending on what you are after.
The hostel scene in the country is limited to just a few cities, but when you do stumble across a hostel, they are typically super cheap (like $6-8), basic, and just what the budget backpacker ordered.
Most yurt camps charge between 2000-3000 SOMS per night and usually come with breakfast.
Luxury chalets and fancy yurt camps are cost-prohibitive and should be avoided.
Camping is part of Kyrgyz/nomadic culture, so there are limitless locations across the country where you can pitch your tent for free. Of course, always make sure that you are not camping on someone's private land and always practice Leave No Trace principles.
Couchsurfing is also slowly gaining traction, though I did not personally Couchsurf whilst backpacking in Kyrgyzstan.
I've listed out some of my favorite hostels in Kyrgyzstan below for you to check out.
Best Places to Stay in Kyrgyzstan
Kyrgyzstan Travel Costs
Perhaps the most important information for backpackers visiting Kyrgyzstan is cost. Backpackers on a tight budget may find certain aspects of traveling in the country expensive, whereas other stuff may come across as cheap.
Eating in Kyrgyzstan is pretty inexpensive. You can get a solid meal for between $3-7, more of course if you are eating at a fancy brewpub in Bishkek.
Public transport is also very affordable. When you can find them, hostels are cheap as chips.
So, when is where is Kyrgyzstan expensive? Activities. Organizing a guide/cook/porter team can be very expensive, especially for solo backpackers. Horse trekking isn't too expensive, but if you are going for multiple days, it certainly will not be cheap.
Also, yurt stays are not quite as cheap as I thought they would be. All and all you can travel Kyrgyzstan on a tight budget, but you need to anticipate some high costs if you plan on going on any 4×4 jeep trips, hiking with a guide, white water rafting, etc.
Groceries from a supermarket or small shop are reasonable and one can easily cook an excellent meal for $10 worth of store-bought ingredients.
I recommend Couchsurfing as much as you possibly can. The more you Couchsurf and hitchhike, the more money you can spend on wine, good hummus, and activities like paragliding. Pure and simple.
Having a good tent and sleeping bag are crucial to budget backpacking. Both will save you a ton of money on accommodation. Whilst backpacking in a place with few hostels, having the right gear and ability to camp out (when possible) is very important to keep costs to an absolute minimum.
Below is a list of what you can expect to spend daily (excluding car hire) whilst backpacking Kyrgyzstan.
Kyrgyzstan Daily Budget
Money in Kyrgyzstan
The currency of Kyrgyzstan is the SOM. At the time of writing $1 = 69.74 SOM.
ATMs are widely available in all major cities. I do recommend bringing in foreign currency like dollars, euros, or pounds to change in Bishkek, Osh, or Karakol.
If you do plan on changing hard currency, I suggest that you shop around at a few different money exchanges as the rates can vary slightly and you want to get the best bang for your buck.
I found that Kyrgyzstan is mostly a cash-based economy, so outside of Bishkek, you likely will not be able to use your debit/credit cards to pay for things.
Tip: Find out whether or not your bank in your home country has fee-free international withdrawal. If so, activate it for your trip or for whenever you travel abroad. Once I discovered my bank card had that option, I saved a huge amount in ATM fees! When traveling to Kyrgyzstan on a budget, every SOM counts right?
Travel Tips – Kyrgyzstan on a Budget
Camp: With plenty of stunning mountains and forests to explore, camping saves you money and can help you get off of the beaten path on an epic adventure. You have no excuse not to camp in Kyrgyzstan.
Cook your own food: Travel with a portable backpacking stove or stay at a hostel with a fully-equipped kitchen. Cooking your own food to save some serious cash whilst backpacking across Kyrgyzstan. Camping gas is available at any of the outdoor shops in Bishkek or Karakol.
If you plan to do some overnight hiking trips or camping without a local guide/cook team having a backpacking stove will be ESSENTIAL to your success. My two personal go-to stoves are the MSR Pocket Rocket 2 and my Jetboil.
Pack a Grayl Geopress: save money (and the planet) every day! Stop buying bottled water!
Why You Should Travel to Kyrgyzstan with a Water Bottle
Plastic washes up on even the most pristine beaches… so do your part and keep the Big Blue beautiful
You aren't going to save the world overnight, but you might as well be part of the solution and not the problem. When you travel to some of the world's most remote places, you come to realise the full extent of the plastic problem. And I hope you become more inspired to continue being a responsible traveller.
Plus, now you won't be buying overpriced bottles of water from the supermarkets either! Travel with a filtered water bottle instead and never waste a cent nor a turtle's life again.
Best Time to Travel to Kyrgyzstan
Due to its geographical location on the Central Asian steppe, the weather window to visit Kyrgyzstan is quite short. Since the main attraction of the country is the mountains and the trekking adventures you can have, the most obvious time to visit Kyrgyzstan is from June – September.
If you arrive too early or too late, many of the best treks in the country will likely be inaccessible due to heavy snow and ice conditions. Many of the high mountain passes can be covered under a mass of snow well into June and early July.
July and August is the best time to be in Kyrgyzstan from a weather perspective. The result is that these months are also when the country receives the most foreign visitors.
Beyond early-mid October, the weather will start to turn cold again and snowfall in the mountains is almost a given.
Keep in mind that snow can fall at any time of the year in the mountains (especially when you get above 3500 meters).
Wintertime in Kyrgyzstan is super quiet, so if you don't mind the cold, you are likely to find very few other backpackers around during the cold season. Activities like snowshoeing, skiing and ice climbing are all possible in the winter.
Festivals in Kyrgyzstan
Throughout the year there are various festivals and events taking place across the country. Since the location and dates of any given event may differ from year to year, it is always best to ask locals for up-to-date information.
Nooruz: This springtime festival is celebrated throughout Central Asia. Song, feasting, and sports just about sum up the activities. March 21st is when it usually goes down.
Bishkek Jazz Festival: 3 days of smooth tunes in the capital. April.
Summer Nomadic Festivals: Nomadic games take place in various regions of the country. Locals along with Community Based Tourism (CBT) help to organize various horse sports, eagle hunting and song/dance. These events are attended by locals as well as foreigners. According to Caravanistan, The most important events are the horse games festival in Kyzyl-Oi (end of July), the eagle hunting festival in Bokonbayevo (end of August), the games in Sary-Mogol, and the shepherds festival in Karkara valley, near Char Kuduk (end of August). Contact CBT to find out exact dates and planning.
Kurban Ait: This is the Muslim holiday Eid Al-Adha, only Kyrgyz style. As in the Arabic world, this holiday involves a sheep/goat sacrifice and big BBQ's. Kyrgyz people love it.
Orozo Ait: Date changes.Called Eid Al-Fitr in the Arabic world, this celebration ends Ramadan with tons and tons of food. For ethnic Uzbeks, Ramadan is an important holiday. Kyrgyz people take a more lackadaisical approach to the holiday.
What to Pack for Kyrgyzstan
On every adventure, there are five things I never go traveling without:
For plenty more inspiration on what to pack, check out my full packing list for Kyrgyzstan!
Staying Safe in Kyrgyzstan
Is Kyrgyzstan Safe? In general, I found Kyrgyzstan to be one of the safest countries I have ever visited. That said, Kyrgyzstan is not immune to problems.
Some things to be aware of:
Political/Ethnic Tension: Kyrgyzstan is a melting pot of different cultures and political factions. Occasionally, these tensions flare up and rioting and violence threaten the stability of any given city or region. Though no major violence episodes have happened since 2010 (Bishkek riots), just recently (August 2019, there were reports that Kyrgyz ex-President Atambayev was plotting a coup, and some days of rioting erupted again in the capital because of it.
Natural Hazards: Kyrgyzstan is a wild place full of real wilderness areas. When setting off on treks, always be mindful of potential rockfall, dangerous river crossings, landslides, ticks, extreme cold, heavy snowfall, and icy alpine passes. Always check in with locals regarding trail conditions and hazards before setting off on your trek.
Petty Theft: The "big" cities in Kyrgyzstan are generally safe, but as always, do not leave your valuables in plain sight, and don't walk around late at night drunk and loaded with cash. It's common sense!
Police Bribery/Corruption: Kyrgyz police are corrupt. Not all of them, but many of them, especially the highway cops. If you are driving a rental car around the country, you will almost certainly get stopped at some point and asked to pay a bribe of some sort even if you did not break any driving laws. The best strategy is to be patient and stay cool/calm whilst trying to make it clear that you don't know what the hell they are talking about. The is a game of stalling for time. After enough time has passed and it is clear that the cops won't be getting any money from you, they will let you go, probably out of boredom. Resist paying bribes at all cost!
Sex, Drugs and Rock 'n' Roll in Kyrgyzstan
Kyrgyz people like to get down. You would never know that Kyrgyzstan is a Muslim majority country since alcohol is available everywhere. Perhaps due to the long-lasting Russian/Soviet influence, Kyrgyz folks like to celebrate with vodka, beer, brandy (like Cognac), and just about everything else.
During my time there, I did not come across any weed/hash smoking or drug use, but I am sure it is around (people smoke weed in every country, right?).
Alcohol is definitely the name of the game in Kyrgyzstan. If you find yourself at a Kyrgyzstani birthday party or around a campfire with the right people, be prepared to get a little tipsy and then some.
The dating scene in the cities is a complex topic. In Bishkek, there is a western-style dating culture, and apps like Tinder will prove to be useful to you (for men and women).
In the southern parts of the country, especially in rural areas, alcohol consumption is less common as people are more conservative and religious. If you end up at a conservative Muslim persons house in the south, do show some respect and do not drink around them unless they offer booze to you.
Travel Insurance for Kyrgyzstan
Traveling without insurance would be risky so do consider getting good backpacker insurance sorted before you head off on an adventure.
I have been using World Nomads for some time now and made a few claims over the years. They're easy to use, professional and relatively affordable. They may also let you buy or extend a policy once you've started your trip and are already abroad which is super handy.
World Nomads' mission is to support and encourage travellers to explore their boundaries. They offer simple & flexible travel insurance, and safety advice to help you travel confidently.
They've been doing it since 2002 – protecting, connecting, and inspiring independent travellers just like you.
Get a quote below or read our in-depth review!
World Nomads provides travel insurance for travelers in over 100 countries. As an affiliate, we receive a fee when you get a quote from World Nomads using this link. We do not represent World Nomads. This is information only and not a recommendation to buy travel insurance.
Getting Into Kyrgyzstan
Being a landlocked country, there are only two ways into Kyrgyzstan: by land and by air.
Most people arriving by air will need to catch a connection in Istanbul, Moscow, or Dubai. There are some particularly cheap flights from Istanbul with Pegasus Airways. There is no national Kyrgyz airline.
One option is flying into Almaty and then transferring to Bishkek by bus or plane. Almaty is much more connected and there are several local airlines with daily international arrivals.
Kyrgyzstan shares a land border with almost every other Central Asian nation. If coming from Uzbekistan, you'll cross into Kyrgyzstan via the Ferghana Valley, either at Batken or Osh.
From Tajikstan, the only option is in the south near Sary Mogul; this probably the most used land crossing thanks to the Pamir Highway.
From Kazahkstan, crossing via Almaty into Kyrgyzstan is the most obvious way. But there's another land-border near the eastern edge of Issyk Kul that is also open to tourists in the summer. This is a convenient crossing if you're coming from Charyn Canyon or Altan Emil.
Entry Requirements for Kyrgyzstan
Good news my friends! Kyrgyzstan has the most relaxed visa policies of any Central Asian nation. Foreigners holding passports from Europe, the USA, Australia, New Zealand, Canada, and many others can get a 30 or 60-day visa on arrival with zero hassle attached.
If you have been traveling around other parts of Central Asia, I am sure you will find this headache-free visa a welcomed relief.
Extending a Kyrgyz visa is possible in Bishkek, Karakol, and Osh. You will for sure need a copy of your passport and your visa, your passport, a letter stating your reason for extension (you can write in English), a passport picture and money (of course!).
Overstaying your visa: Do not do it, is the short answer. If you do overstay your tourist visa, you will like have to pay fines above 10,000+ SOM. Better to get an extension or leave the country before your visa is up.
How to Get Around Kyrgyzstan
When planning out how to get around Kyrgyzstan, you do have several options:
Renting a Car in Kyrgyzstan
If you want to see the country with the aid of your own wheels, renting a car is definitely an awesome option.
You can sort your car rental in just a few minutes. Booking in advance is the best way to ensure you score the lowest price and your choice of vehicle. Often, you can find the best car rental prices when you pick up the rental from the airport.
Make sure you cover your rental car with a RentalCover.com policy. It covers your car against any common damages such as tires, windscreens, theft, and more at a fraction of the price you would pay at the rental desk.
The main roads in Kyrgyzstan are pretty good and the drivers in the country are not nearly as reckless as I have seen in other countries.
If you have the time (and money) you can try for an epic Pamir Highway road trip, which would take you from Southern Kyrgyzstan into Tajikistan. If you rent a car and plan on crossing international borders, make sure that your car rental policy allows for that.
Hitchhiking in Krygyzstan
Hitchhiking is quite common here. I often saw locals hitching on the side of the road. Often, they are only getting short distance rides.
For foreigners, you may find that some locals will be keen to give you a lift, whilst others are not interested. On the busy roads around Issyk Kul, hitchhiking short distances should prove to be reasonably easy.
As always, if someone stops to pick you up and they give you bad vibes, do not take the ride. There will always be another one. Also, you should take care that you don't accidentally flag down a taxi driver. In your mind, it is a free ride (because you were hitchhiking), and for them, they are expecting a payment, which can lead to some pretty awkward (and potentially expensive) circumstances.
Onwards Travel From Kyrgyzstan
Kyrgyzstan is surrounded by many fascinating countries. The easiest countries to visit from Kyrgyzstan are Tajikistan and Kazahkstan as both of these countries also have pretty relaxed visa policies.
To get into China or Uzbekistan, you will need to apply for a visa in advance. You'll also need to arrange for a guide in China because you'll be arriving in the province of Xingjiang. Right now, the region is very tightly controlled by the Chinese government. Uzbekistan is slightly less traveled, but well worth it as there are many beautiful places to visit in Uzbekistan.
If you have plans to go to Afganistan after Tajikistan, it is possible to apply for your visa in Biskek.
Check out my friend Alex at Lost With Purpose for an account of her experience applying for an Afghan Visa in Bishkek. Check out her other article about applying for an Uzbek visa in Bishkek here.
Working in Kyrgyzstan
It may not be there yet, but I think that Bishkek could be a legit digital nomad spot. There are lots of places to work, the cost of living is reasonable, and the internet is (mostly) reliable. I am tempted to move to Bishkek solely based on the nice cafes and quality beer!
Bishkek has some truly awesome cafes to work out of. If you are a digital nomad, you will love the cafe culture in the city. Even if you don't work online and want to pop into one to drink a legit espresso, there are many options to choose from. My favorite place to get my coffee is the Kiwi-owned Sierra Coffee.
Outside of the cities, there is not much in the way of wifi or internet connection. Large swaths of the country are undeveloped and have not yet been overrun by data towers.
In Bishkek, I went to the O! (the top cellular company in Kyrgyzstan) store and picked myself up a SIM card. Depending on the kind of package you take, you can pick up a SIM and some 4G data for between 500 – 1000 SOM.
I also bought an O! wifi USB stick, which proved to be very, very handy for someone like me who works online. The stick costs about $30 and came with more data than I needed. If you need a reliable internet connection on the go, I suggest that you buy one, as the free wifi you get around Bishkek is not always good.
Volunteer in Kyrgyzstan
Volunteering overseas is a great way to experience a culture whilst doing some good in the world. There are lots of different volunteer projects in Kyrgyzstan which you can join ranging from teaching, to animal care, to agriculture to pretty much anything!
Voluntourism is pretty new to Kyrgyzstan, so there aren't many options as of yet. Language exchanges are becoming more common throughout the country, although English teaching is not widely demanded. More rural locations sometimes provide opportunities to help with animal care and digital marketing. Keep in mind that volunteers in Kyrgyzstan require a visa prior to arrival.
Our go-to platform for finding volunteering gigs is Worldpackers who connect travellers with host projects. Have a look at the Worldpackers site and see if they have any exciting opportunities in Kyrgyzstan before signing up.
Alternatively, Workaway is another excellent common platform used by travellers searching for volunteering opportunities. You can read our review of Workaway for more info on using this terrific platform.
Volunteer programs run through reputable work exchange programs like Worldpackers and platforms like Workaway are usually very well-managed and reputable. However, whenever you are volunteering do stay vigilant, especially when working with animals or children.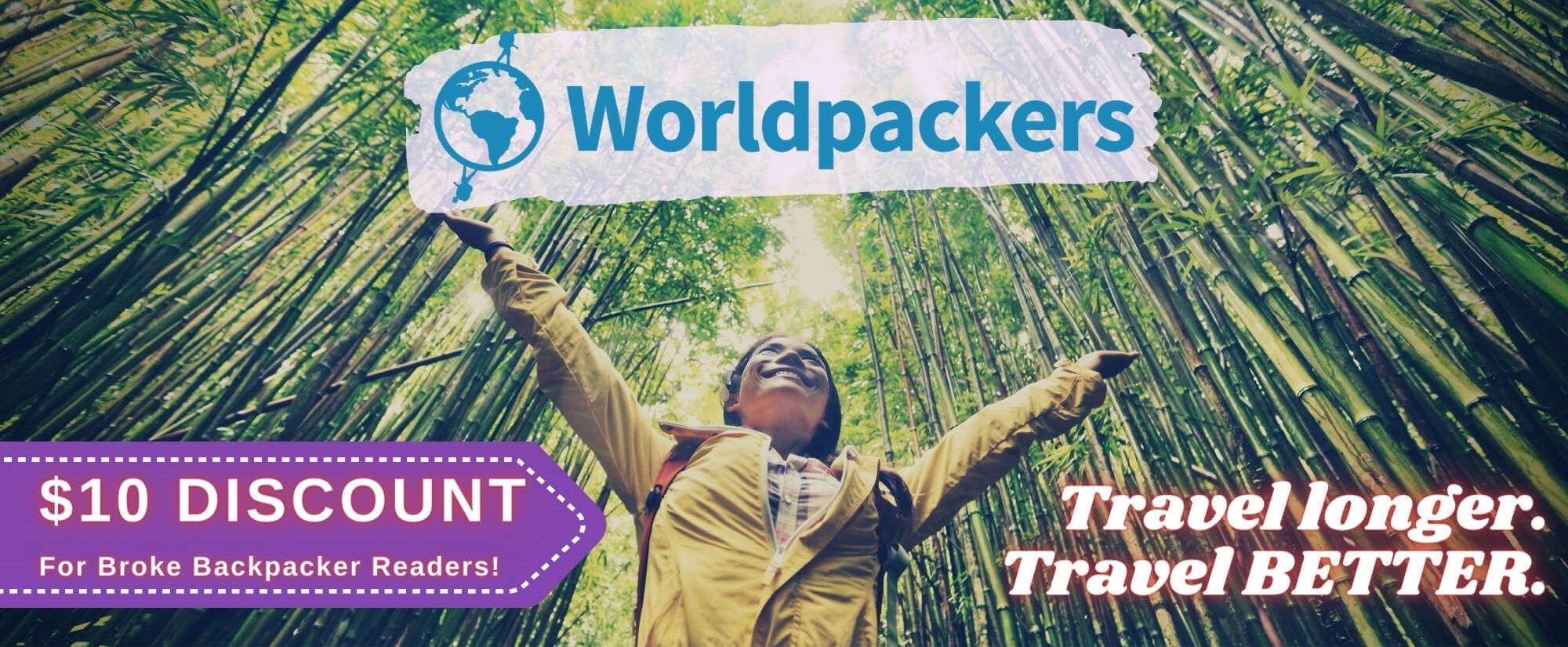 Worldpackers: connecting travellers with meaningful travel experiences.
What to Eat in Kyrgyzstan
One of the best parts about backpacking is all of the new tasty food that you get to try.
Kyrgyz food is pretty heavy on the meat dishes, but if you can handle copious amounts of animal protein than you are going to love Kyrgyz cuisine. Vegetarians do have some options, but be aware that vegetarianism is a foreign concept here.
If you're in Bishkek, you'll have the most variety as the culinary options in the city are vast. In addition to amazing Kyrgyz and Russian food, you can find Indian, Italian, Chinese, Kebabs, and endless burger and pizza joints of varying quality.
Whatever you do, do NOT make the mistake of getting the Mexican food at Chili Peppers. It was one of the most disappointing and overpriced meals I have had in the last 10 years of traveling.
Kyrgyz Culture
Kyrgyz hospitality is a thing of beauty. I met some of the nicest people in nearly a decade of traveling here, and I must say the people in Kyrgyzstan are wonderful.
Sometimes people can indeed come across as a little cold or distant, but I think that is a product of 1. not being confident in English/speaking with foreigners and 2. leftover social norms of the Soviet Union days.
For the most part, Kyrgyz people are welcoming, generous, happy, and confident; all of which make for pleasurable interactions as a foreigner.
At first glance, some Kyrgyz males may appear a bit rough around the edges (and some of them are), but once you get them to open up a little bit (perhaps after a shot of vodka or 6), they will be putting their arm around you and laughing stoutly in no time.
Take the time to get to know some locals and you will likely have made friends for life.
Books to Read whilst Backpacking Kyrgyzstan
Reading on the road has always been an important part of my travels. There is nothing like a good book about a place to help you connect with the country you are visiting. Here are a few awesome books set in Kyrgyzstan for you to check out!
Travel Phrases for Backpacking Kyrgyzstan
Kyrgyzstan has two official languages: Kyrgyz and Russian. English is becoming more common, but I experienced plenty of lost in translation moments all the same.
The thing I found the most challenging was my lack of knowledge of the Russian/Cyrillic alphabet. If you have the time to learn the alphabet and a few words of Russian, you will be able to read all of the confusing signs and menus.
Here are a few helpful Kyrgyz phrases to help you on your journey:
A Brief History of Kyrgyzstan
The history of the Kyrgyz people and the land now called Kyrgyzstan goes back more than 2,000 years. As the Silk Road trade routes became more and more utilized over the centuries, Kyrgyzstan became an important trading and migrant hub. Historically, Kyrgyzstan was a nation of nomadic people. Much of that way of life was impacted when the Soviets rolled into town.
Over the last two hundred years or so, Kyrgyzstan has seen plenty of major changes and developments. Until the fall of the Soviet Union in 1991, Kyrgyzstan remained stuck behind the Iron Curtain.
Soviet power was initially established in the region in 1918, and in 1924, the Kara-Kyrgyz Autonomous Oblast was created within the Russian SFSR.
In 1924, an Arabic-based Kyrgyz alphabet was introduced, which was replaced by Latin script in 1928. In 1941 Cyrillic script was adopted. Many aspects of the Kyrgyz national culture were retained despite the suppression of nationalist activity under Joseph Stalin, who controlled the Soviet Union from the late 1920s until 1953.
Kyrgyzstan gained/declared its full independence from the USSR on August 31, 1991.
Kyrgyzstan in Modern Times
Since the fall of the USSR, Kyrgyzstan has slowly been finding its way in the world. Modern life in Kyrgyzstan seems to be headed in an overall positive direction, though some areas do suffer from high rates of unemployment and poor education.
The Kyrgyz Revolution of 2010, also known as the Second Kyrgyz Revolution, the Melon Revolution, the April Events or officially as the People's April Revolution, began on April 2010 with the ousting of Kyrgyz president Kurmanbek Bakiyev in the capital Bishkek.
It was followed by increased ethnic tension involving Kyrgyz people and Uzbeks in the south of the country, which escalated in June 2010. The violence ultimately led to the consolidation of a new parliamentary system in Kyrgyzstan.
During the general mayhem, exiles from the Uzbek minority claim they were assaulted and driven to Uzbekistan, with some 400,000 Kyrgyzstani citizens becoming internally displaced.
Victims interviewed by media and aid workers testify to mass killing, gang rape, and torture. Then-head of the Interim government Roza Otunbayeva indicated that the death toll is tenfold higher than was previously reported, which brings the number of the dead to 2,000 people.
On 9 June violence erupted in the southern city of Osh with ethnic Kyrgyz rioting, attacking minority Uzbeks and lighting their property ablaze. By the 12th the violence had spread to the city of Jalal-Abad.
The spreading of the violence required the Russian-endorsed interim government led by Roza Otunbayeva to declare a state of emergency on 12 June, in an attempt to take control of the situation. Uzbekistan launched a limited troop incursion early on, but withdrew and opened its borders to Uzbek refugees. The clashes killed up to 2,000 people, mostly Uzbeks, and another 100,000 were displaced.
As of 2019, Kyrgyzstan is experiencing a period of calm, though as I said before, the ethnic tensions between the various groups will probably always exist. For the sake of all of the people involved, I hope that peace lasts and that the country continues to prosper.
Trekking in Kyrgyzstan
When it comes to trekking, you should know by now that Kyrgyzstan is a hiker's paradise. To be honest with you, there is a lifetime worth of noteworthy trekking experiences in Kyrgyzstan.
But, since you likely do not have a lifetime to spend in the country, here are a few of my personal favorites:
Ala Kul/Celestial Mountains trek: This trek is probably the most famous multi-day hike in Kyrgyzstan. One can tackle this hike in 4 days (by starting around Jeit Orguz) or it can be done in three days (starting from the Karakol Gorge). The obvious highlight is the landscape around Ala Kul, a very impressive alpine lake set against jagged mountain peaks. Plus the hike finishes at Altyn-Arashan where you will find hot spring pools (and wine). If you only do one trek in Kyrgyzstan, then this is the one for you. Note: you do NOT need a guide to do this trek.
Kyzart Village to Song Kol Lake trek: If you want another classic Kgryz trek with far fewer crowds, the hike from Kyzart village to Song Kol Lake is where it's at. This trek combines stunning alpine scenery, mountain passes, rolling green pasture land, and a cultural yurt stay all in one sweet package. This trek can also be done as a combination horse/hiking trek.
The Patagonia of Central Asia trek: I have already described this trek in the Batken/Karavshin valley region of the south, but alas here it is again. This challenging 9-12 day trek is NOT for beginners, but those with some experience will find this hike one of the best adventures experiences to had anywhere. If numerous alpine passes, desert landscapes, raging rivers, juniper forests, and towering granite walls sounds like your idea of a good time, go to the Batken.
Ala Archa National Park treks: You do not have to stray far from the capital Bishkek to get into some awesome mountains. Several marked trails run throughout the park, offering access to some fine day hikes. The Ak-Sai waterfall trek (7km) makes for a good warmup to other more demanding hikes in the area.
Lenin Peak Summit: You may hear people say that Lenin Peak is the easiest 7,000-meter mountain to climb in the world. Whilst this may be true to a degree, let's be clear: 7,000 meters is 7,000 meters. To climb Lenin Peak is not so much a technical challenge as it is a physical and mental one. If you are an experienced hiker with a decent level of fitness, climbing Lenin Peak could be very rewarding. Climbing the peak takes roughly three weeks and will cost you a pretty penny as you do need to be on a guided trip. If Lenin Peak is in your future, best of luck!
Final Thoughts on Backpacking Kyrgyzstan – Being Respectful
Go to Kyrgyzstan, trek your ass off and have the time of your life, do the things you've dreamed of, but be respectful along the way. Traveling the world makes you an ambassador for your country, which is awesome. We can make a positive impact on people when we travel and get rid of any ugly stereotypes that may be associated with your country…
Always be respectful when entering churches, mosques, or conservative communities.
Climbing on ancient shrines or mosques, national monuments of martyrs (or Lenin), or other historical artifacts should be avoided. Duh! Learn to appreciate the cultural treasures Kyrgyzstan and don't be that dickhead who adds to their demise.
Responsible travel is the best kind of travel. Be kind to the planet that we all love to explore so that the people in the future will still have a planet worth exploring.
Well there you have it, amigos, we have come to the final act of this epic Kyrgyzstan travel guide.
I hope you have found this guide inspiring and helpful! Kyrgyzstan is an amazing country and I had the time of my life exploring it with my brother in arms, Ralph Cope.
I hope you also have an amazing time traveling in Kyrgyzstan. Have a nice shot of kumis on me (the joke is on you)!
---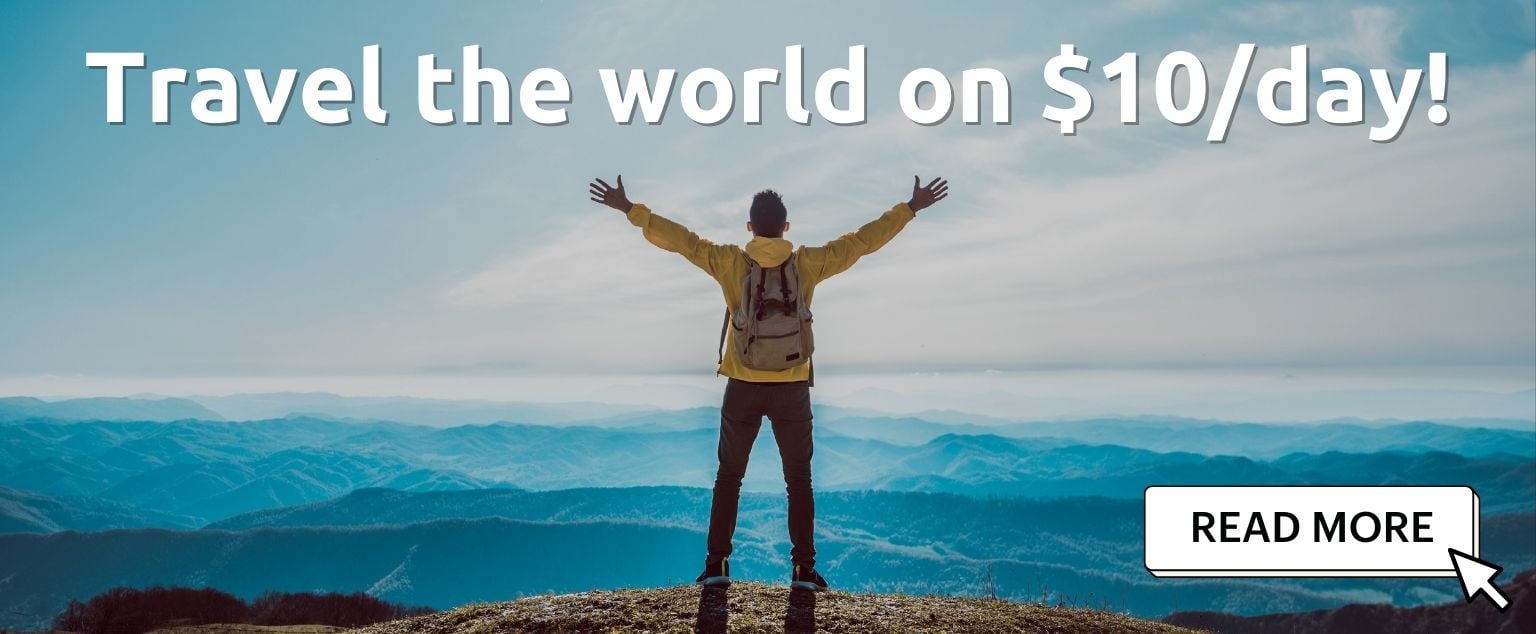 And for transparency's sake, please know that some of the links in our content are affiliate links. That means that if you book your accommodation, buy your gear, or sort your insurance through our link, we earn a small commission (at no extra cost to you). That said, we only link to the gear we trust and never recommend services we don't believe are up to scratch. Again, thank you!